25 Best Indoor Date Ideas in Singapore
Because it's practically summer all year round here, some of the best date ideas in Singapore often involve being indoors (or at least something that includes aircon units).
So if you're fresh out of ideas for your next date, this post can hopefully give you some tips while keeping that romantic flame burning long and hot (while being cool indoors!).
What can couples do for fun inside?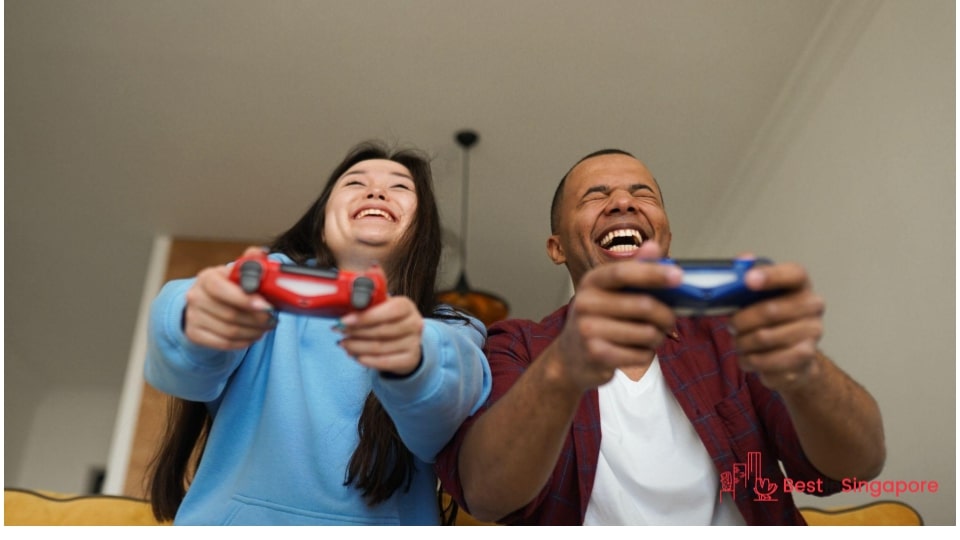 What can couples do for fun indoors when in Singapore? Plenty!
We've rounded up both fun cheap date ideas and those that can cost a bit but will never be short on creativity, enjoyment, and romance. 
For this post, you can expect the following indoor date suggestions:
Stay-at-home date activities
Watching live performances
Hearing great music
Getting physically fit together
Being competitive with games and activities
Stay-at-Home Date Ideas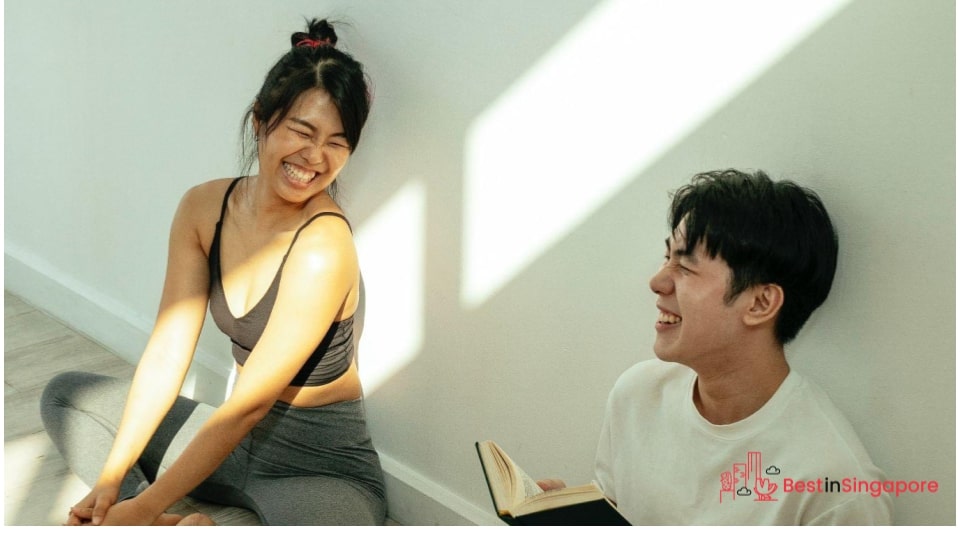 There's always a good reason to make home date plans in Singapore. The top two reasons typically involve the hot weather and your budget.
With that in mind, the following suggestions aim to be fun, thrifty, and something to bond over for card-carrying, certified homebodies!
1. Cook for each other at home
Romantic Rx: Check out the best cooking classes in Singapore for menu ideas and cooking techniques
Want to treat your significant other to a fine dining experience minus the astronomical expenses? It's easy enough to do at home with the right ingredients, proper ambience, and maybe some mood music.
It's okay to splurge a bit on some wedding anniversary flowers if the occasion calls for it. Otherwise, a bit of home cleaning and some mood lighting should be enough for a swoon-worthy (and budget-conscious) dinner setup.
Call ahead for private catering services if you want it to be a surprise. But if you have the time and inclination, cooking your favourite dishes (whether on your own or together) should make the date even more memorable.
You can even surprise each other with a potluck dinner date by preparing meals you've both never tried before!
2. Play some video games
Romantic Rx: Invest in some his-and-hers gaming headsets for the added cuteness factor
Gamer couples might find this suggestion old-hat but still quite welcome. To tap into your shared passion, get your gaming laptops out and have an online gaming night together.
Line up your favourite games and get your preferred gaming snacks and beers ready for hours and hours of competitive fun. You can take your pick from RPGs, fighting games, driving games, mystery solving, and running or driving games. 
Or if you're feeling extra retro, why not bring out some old-fashioned board games like Monopoly? It can keep you focused on each other without the distractions of other online gamers.
3. Do couples yoga
Romantic Rx: Add some colourful resistance bands to level up your shared routine
If you're both fitness fanatics, consider doing your yoga routine together. And if you're new at it, there are some apps you could download for couples' yoga and other exercises you can perform in sync.
It's the best time to try new moves and positions that you aren't confident doing alone. However, care must be taken that you won't perform difficult manoeuvres without proper guidance, which could result in injury.
Doing yoga together can help lower your stress, anxiety, and other worries. Being in each others' presence can also promote harmony, trust, inner peace, and a connection that goes beyond the physical.
4. Mix new cocktail drinks
Romantic Rx: Consider the best alcohol delivery services in Singapore for the utmost convenience
Have fantasies of becoming a mixologist or a bartender? Why not surprise and impress your beloved with a new drink expressly created for them?
It's an even better idea if you're already planning to have a romantic dinner at home. But instead of boring old wines, mix a new cocktail drink that can go well with your date's personality as well as the night's menu.
You can look up cocktail recipes beforehand so you'll know which ingredients to stock up on before your date. And as our romantic prescription goes, you can always get some booze brought to your doorstep by reliable delivery services.
5. Netflix and chill
Romantic Rx: A pizza delivery before a Netflix marathon is always a great idea!
This activity would likely be approved by couples who've become so comfortable with each other that staying in is a good thing for them. And if it involves being in pyjamas while snuggling on the sofa, even better.
This is a thrifty yet familiar date for true homebodies who would rather do a streaming marathon and finish an entire season together.
So if you and your SO like being yourselves and cosying up to each other instead of getting dolled up for date nights, schedule this for next weekend's TV activity!
Depending on the occasion or mood, you can choose a theme to binge-watch beforehand. Queue up some horror, romcom, action-adventure, or sci-fi for uninterrupted Netflixing (and snacking).
Watch a live performance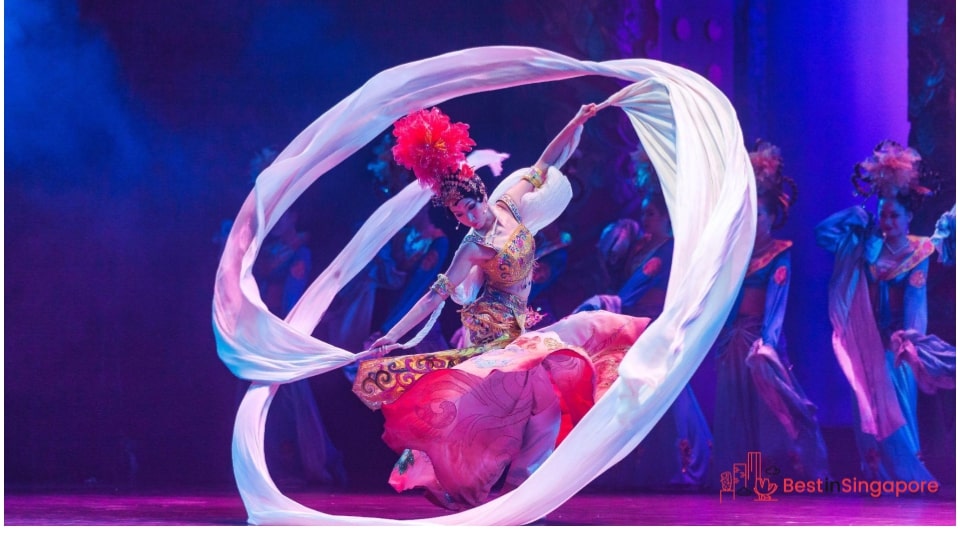 It's always thrilling to get front-row seats (or even a bit further back) to see a live performance. Whether it's live music or a theatrical show, you're sure to enjoy sitting or standing at an indoor venue with your date to see some top-performing artists.
6. See a theatrical performance at Ngee Ann Kongsi
Location: 391A Orchard Road #24-04/05/06, Ngee Ann City Tower A (S) 238873
Operating hours: Monday to Friday: 8:30 AM to 5:30 PM, closed on weekends
How to get there: Take the 106, NR6, NR7, 1N, 2N, 3N, 4N, 5N, 6N, 7, 14E, 14, 16, 65, 111, or 1 Bus or the Orchard MRT
If you're a theatre fan with a special inclination towards local performances and artists, then head over to the Ngee Ann Kongsi theatre for your next date.
This cultural centre aims to improve public access to the arts, particularly in Chinese culture. That's why it offers performing arts events such as the Teochew Opera Extravaganza as part of its cultural festival and other shows.
The local performing troupe Wild Rice has also been known to perform regularly at the Ngee Ann Kongsi theatre, so check out the site's home page for current theatre schedules and events. 
7. Catch an acoustic performance at Timbre @ The Substation
Location: 46 Armenian Street, Singapore 179936
Operating hours: Sunday to Thursday: 6 PM to 1 AM; Friday to Saturday, 6 PM to 2:30 AM
How to get there: Take the 106, 197, 33, 51, 851, or 85 Bus or the Bras Basah MRT
Love the sound of unplugged music by way of acoustic guitars and naked vocals? You're likely to enjoy what Timbre @ The Substation has to offer for you and your date, then.
Aside from being considered one of Singapore's best live music spots, there are also good food and drinks to try there. Timbre gives an overall casual, laidback ambience, which is a great backdrop for the frills-free music it offers.
And while it's technically an open-air venue and not strictly an indoor one, the cosiness and warmth of its wooden furniture and hardwood floor perfectly complement the al fresco setup.
8. Listen to live jazz covers at Cool Cats
Location: 32 Beach Road, Singapore 190001
Operating hours: Wednesday to Saturday, 8:30 PM to 1 AM; closed on Sunday to Tuesday
How to get there: Take the 36 Bus or the East-West Green MRT
Cool Cats, as its name implies, is more than just a run-of-the-mill cocktail bar in Singapore. It's a jazz venue that features both local and international jazz acts doing covers of the classics.
What makes this place so unique is the speakeasy vibe it gives off. There are squashy armchairs, small round tables, and creative cocktails served up that can make you feel like you've stepped back in time.
So if you want to listen to jazz standards by Miles Davis and other famous blues or jazz performers, head on over to Cool Cats. And we won't blame you if you and your date want to dress up to the nines for it.
9. Witness a free performance at the Esplanade – Theatres on the Bay
Location: 1 Esplanade Drive, Central Area
Operating hours: 6 AM to 2 AM daily
How to get there: Take the 10, 100, 111, 131, 133, or 961M Bus or the Esplanade MRT
Now here's a theatrical and musical experience you can enjoy—and most likely for free, too! That's because the Esplanade's Annex Theatre holds regular shows for the general public at no cost.
Of course, that's not the only performance venue in this intriguingly shaped location. The Esplanade's indoor halls have hosted shows and performances spanning different genres, from classical music to hip-hop, from both local and international performers.
But it's best to check out what shows are on at the official Esplanade website so you can plan your date ahead. 
(Or don't if you're a spontaneous couple who likes to be surprised.)
10. Dance to Latin beats at Cuba Libre
Location: 01-13 Blk. B Clarke Quay, 3 River Valley Rd., Singapore
Operating hours: 6 PM to 2 AM daily
How to get there: Take the 143, 147, 166, 190, or 197 Bus or the Clarke Quay MRT
Do the salsa, the rumba, or the cha-cha in a venue that provides Cuban music you can dance to. Cuba Libre is one such venue, and live performers make the experience even more memorable there.
So if you both love Latino music, head on over to Cuba Libre. This Latin American bar is open daily and also serves up great alcoholic beverages, bar chow, and mouthwatering main dishes.
The venue and music provide a refreshing vibe for those tired of the usual club music. And nocturnal dancers have plenty of time to get ready, as live music starts around 10 in the evening and goes on until the wee hours.
Get musical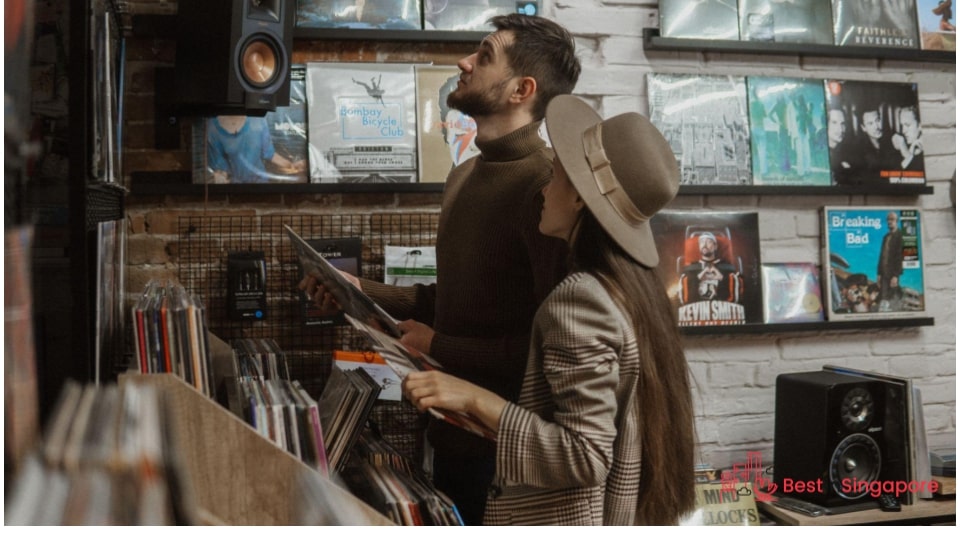 Singapore offers plenty of date ideas for music lovers as well. Aside from open-air venues, those who prefer to do music appreciation indoors will find many options here.
11. Dig for vinyl records at Choice Cuts Goods + Coffee
Location: 451 Joo Chiat Road. #01-07. Katong Point. Singapore 427664
Operating hours: 9 AM to 6 PM daily
How to get there: Take the 10, 16, 32, 36, or 48 Bus or the Eunos MRT
Choice Cuts Goods + Coffee might sound like a deli, but it's a vinyl record store and cafe combined. It offers seriously good brews and all-day hipster breakfast meals like smashed avocado toast and artisanal pastries.
On certain weekends, you can even catch live music nights featuring select DJs. It's not unusual to have impromptu jam sessions among vinyl enthusiasts too.
Couples who are certified vinyl heads—and even those just starting to collect records—can dig for records all day at this place. And it's open daily, so you won't have to worry about missing out on a copy of your favourite pressed music!
12. Enjoy some jazz music at Blu Jaz Cafe
Location: 11 Bali Lane, Historic Kampong Glam, Singapore 189848
Operating hours: Monday to Thursday, 12 NN to 1 AM; Friday, 12 NN to 2 AM; Saturday, 3 PM to 2 AM; closed on Sundays
How to get there: Take the Bugis MRT or the 10, 100, 33, 80, or 980 Bus
Blu Jaz Cafe is considered one of the best jazz clubs in Singapore, and with good reason. It has successfully combined live jazz music with a simple yet delicious menu that hits the gustatory spot.
Its beverage menu is nothing to scoff at either. From mocktails to premium red and white wines, there's plenty of libation to sample as you sway to the night's rhythms.
Local jazz musicians and performers play at Blu Jaz Cafe on most days of the week (except Sundays). But if you're on the lookout for a particular performance, it's best to check out the website for show schedules and announcements.
13. Listen to live bands over dinner at Hood Bar and Cafe
Location: 201 Victoria Street, #05-07 Bugis Street, Singapore 188067
Operating hours: Monday to Wednesday, 5 PM to 1 AM; Thursday to Saturday, 5 PM to 3 AM; Sunday, 5 PM to 1 AM
How to get there: Take the 12, 175, 61, 7, 80, or 857 Bus or the Bugis MRT
It's always exhilarating to hear live bands, especially if the audience knows how to practice live music etiquette. Luckily, the habitues of Hood Bar and Cafe know how to appreciate live band music respectfully yet enthusiastically.
So if you want your next date to have an exciting backdrop of live band music, head on over to Hood Bar and Cafe. It's open until the early hours of the morning daily and features a wide genre of music to groove to.
There are great draft and craft beers on the menu and some tasty bar chow to accompany the great sounds. The ambience is also quite striking, with street wall-inspired murals all over the place. 
14. Discover the next big musical artist at *SCAPE
Location: 2 Orchard Link, Scape Mall, Singapore 237978
Operating hours: 12 NN to 10 PM daily
How to get there: Take the 971E, 77, 106, 123, 7, 14, 16, 36, 65, 111, 174E, 174 or 175 Bus or the Somerset MRT
It doesn't take a music producer to know when the next big recording artist is performing right before them. Such is the situation that live music venues like *SCAPE present.
*SCAPE is an organisation and grassroots movement created by the youth for the youth. Aside from helping them establish their enterprises, it also has a live music venue to present fresh new talent every evening of the week.
Its offshoot project called *SCAPE Underground has discovered and featured young artists who perform hip-hop and indie music. The group has its rehearsal and recording studio to present these talents' sounds to an even wider audience.
15. Rock it out at The Crazy Elephant
Location: 3E River Valley Road, Clarke Quay, Singapore
Operating hours: 5 PM to 3 AM daily
How to get there: Take the 143, 147, 166, 190, or 197 Bus or the Clarke Quay MRT
Couples who simply love rock music shouldn't give The Crazy Elephant a miss. By its name alone, you'll know you'll have a rocking good time.
It's more casual and rugged than other live music venues, but therein lies its charm. Its interiors are graffitied to add a gritty atmosphere, which pairs well with the live music acts it features every night.
So if smooth jazz and R&B are too boring for you, head on over to where the music is loud, raw, and unapologetic. 
Get physically fit together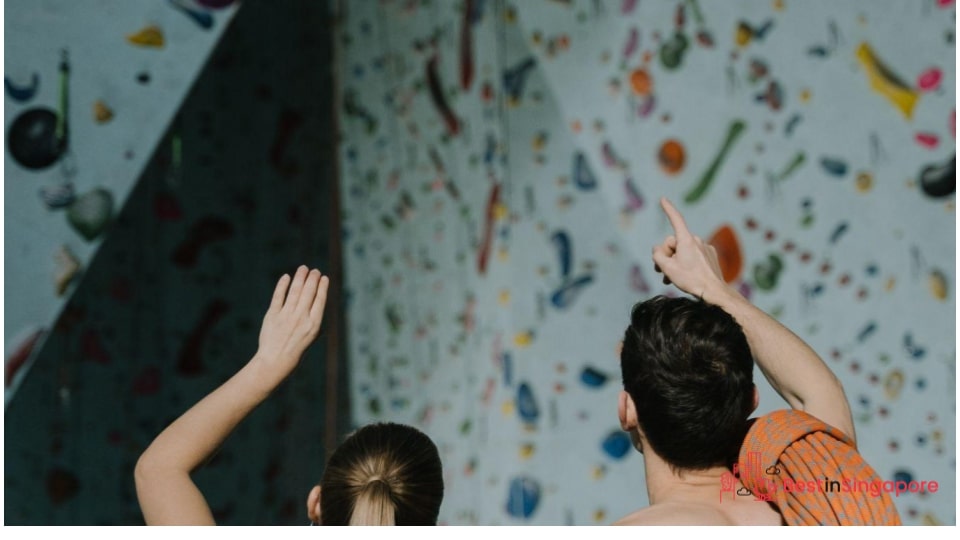 They say the couple who works out together stays longer together. Okay, we don't know who said that, but you have to admit that it's a pretty catchy motto.
So why not become each others' personal trainers and make your next date something that will make your relationship stronger, sturdier, and healthier?
16. Climb walls together at The Rock School
Location: 1 Tampines Walk, #02-81, Singapore 528523
Operating hours: Monday to Friday, 11 AM to 10 PM; Saturday to Sunday, 9 AM to 9 PM
How to get there: Take the Bedok Station MRT or the 129, 23, 27, or 969 Bus
When things figuratively make you want to climb the walls out of frustration, then we suggest literally climbing the walls…preferably with your date!
The Rock School makes it to our list of the best rock climbing options in Singapore. As its name implies, it's not just a colourful wall-climbing venue but also one that teaches climbers proper indoor rock climbing, too.
So if you want your relationship to reach dizzying heights, consider enrolling in the venue's ClimbFit programme, which is created for adults to further develop their climbing skills. 
17. Roll away at HiRoller Indoor Skating Rink
Location: 1 Pasir Ris Cl, Level 5 E! Hub @ Downtown East, Singapore 519599
Operating hours: 11:30 AM to 9 PM daily
How to get there: Take the 3,5,6,12,17,21,89, 354 or 358 Bus or the Pasir Ris MRT
Get your balance on and bop to the music while you're at it. You can feel like you're in a retro 80s or 90s rom-com when you hit HiRoller indoor skating rink together.
The throbbing disco music and lights should cover up any slips or falls, so don't worry too much about it. And you'll have a choice of inline skates or quad roller ones according to your preference and experience.
While you're at it, you might want to check out the venue's themed Saturday programme which curates music according to the theme. You can show up in funny costumes or headgear and just have fun trying not to fall!
18. Jump around at Bounce
Location: 09-01 Cathay Cineleisure Orchard 8 Grange Road Singapore 239695
Operating hours: Monday to Friday, 10 AM to 10 PM; Saturday to Sunday, 9 AM to 10 PM
How to get there: Take the North-South Line or the 14, 16, 175, 5, 502, 54, or 75 Bus
Trampolines may be associated with indoor playgrounds, but that doesn't mean you and your date can't bounce around in glee on one!
Bounce is an indoor trampoline park that's not just family-friendly but offers activities for couples as well. Its menu of activities includes a free jump arena, a dodgeball section, the Slam Dunk, and others.
The site has Olympic-grade trampolines for the utmost safety. So if you consider trampolining good for cardio, agility, and muscle toning, make sure to take your date here very soon. 
19. Kick the blues away at Zesty Kickz
Location: 6A, #02-25 Shenton Way, Downtown Gallery, Singapore 068815
Operating hours: Monday to Friday, 10:30 AM to 9 PM; closed on weekends
How to get there: Take the 10, 106, 131, 167, 97, or 970 Bus or the Tanjong Pagar MRT
Ditch the boring old cardio routines and try kickboxing as a couple next time. Get your heart racing in each others' presence and sign up for a kickboxing class at Zesty Kickz soon.
What makes this kickboxing studio stand out is its instructors. You can expect professional athletes who've mastered kickboxing and are skilled enough to pass what they know to students.
In particular, Zesty Kicks offers private training sessions for individuals and couples who want to train at their own pace. A coach will track your progress and craft workouts around it for optimal results.
20. Express yourself in dance at Converge Studios
Location: 137 Cecil Street #02-01 Singapore 069537
Operating hours: Monday to Friday, 5 PM to 10:30 PM; Saturday, 12 NN to 4:30 PM; Sunday, 11 AM to 3:30 PM
How to get there: Take the 531, 541, 547, 652, 653, 655, 656, 657, 661, 662, 663, 664 or 66 Bus or the Telok Ayer MRT
Trip the light fantastic by taking dance classes in Singapore together. You won't need to commit to longer lessons, though, because some dance studios allow one-off sessions for enthusiastic students.
One such venue is Converge Studios. It takes pride in its roster of talented and skilled dance instructors who know the ways of popping, locking, and other moves to teach beginners to professionals.
So if you and your partner have always wanted to learn some fancy dance moves, head on over to Converge Studios. You can select styles from jazz-funk to hip-hop or even customise your couple dance if you want!
Play some competitive indoor games and activities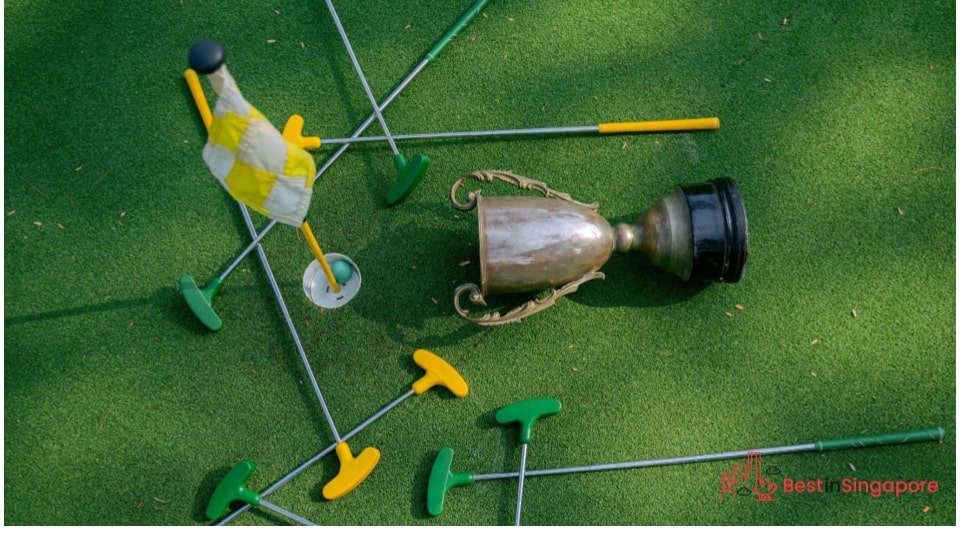 If you're bored of competing against each other using your gaming laptops, now's the time to step out of the house and level the playing field. The following suggestions are fun, creative, and still competitive enough to keep you and your date on your toes.
21. Play some miniature golf at Holey Moley
Location: 3B River Valley Road Singapore 179021
Operating hours: Monday to Friday. 3 PM to 11 PM; weekend, 12 NN to 11 PM
How to get there: Take the 143, 147, 166, 190, or 197 Bus or the Clarke Quay MRT
Miniature golf is always a hit among first-time dating couples because it presents such a casual, cute, and fun way to bond.
In particular, Holey Moley offers a whimsical couple experience by way of pop culture-themed golf courses and obstacles. It can take the edge off the competition somewhat because of the quirky way it encourages putting and hitting tees.
Holey Moley also offers a menu of food and drinks reflecting the fun and whimsy of its golf courses. Check it out if you feel like nourishing yourself and playing mini golf up until closing time.
22. Do some target practice at Axe Factor
Location: The Grandstand, 200 Turf Club Road, #01-32A/B & 34A/B, Singapore 287994
Operating hours: Tuesday to Sunday, 12 NN to 10 PM; closed on Mondays
How to get there: Take the 151, 154, 156, 174, 67, 74, or 970 Bus or the Sixth Avenue MRT
Axe Factor is first and foremost a target practice range where players aim to hit the target board bullseye using a mini axe. But it has also become a favourite activity among stressed people who need to blow off some steam.
It's perfectly fine to see a psychiatrist when you've been feeling frustrated or out of sorts. But given the chance to throw things around for catharsis, wouldn't you take it?
There are trained guides to make sure nobody (especially not your date!) gets injured during all that axe-throwing, so don't worry. Just focus on getting all the tension out of the way so you can truly enjoy the rest of your date.
23. Get the ball rolling at Orchid Bowl
Location: 1 Orchid Club Rd, #01-33 Orchid Country Club, Singapore 769162
Operating hours: Sunday to Thursday, 11 AM to 11 PM; Friday to Saturday, 11 AM to 1 AM
How to get there: Take the Yishun MRT, then the free shuttle bus
Orchid Bowl made it to our list of the best bowling places in Singapore because of its decade of professional bowling services and amenities. It's a family-friendly place that's also perfect for fun dates.
It's a good place for couples with a budget because of its affordable rates. Even the bowling shoes and socks rental are quite cheap at just $1.90 per pair.
And since they're open late on the weekends, you can try what they call "cosmic bowling," which is when the lights are switched off. That's when glow-in-the-dark bowling happens complete with dance music and disco lighting!
24. Go on a virtual adventure at V-Room
Location: 277 Orchard Road, Orchard Gateway, #02-02, Singapore 238858
Operating hours: Booking required
How to get there: Take the 106, 123, 175, or 502 Bus or the Dhoby Gaut MRT
Want to jump on current gaming trends while enjoying a date with that special someone? Then a trip to V-Room might just fill the bill.
Whether you want to take down virtual zombies together or find your way out of a locked room, there are plenty of virtual reality games you can try at this place.
You can even defuse a bomb together or try to keep virtual diners happy before the time runs out.
It's a thrilling, exciting, exhilarating date idea that will allow you to bond over strategies and techniques to win as a couple.
25. See who makes the best art at Spin Paint House
Location: 61 Kaki Bukit Place Eunos Techpark, Printaid Building #04-00 Singapore 416233
Operating hours: Tuesday to Friday, 3 PM to 9 PM; Saturday, 10 AM to 9 PM; Sunday, 10 AM to 8 PM; closed on Mondays
How to get there: Take the 137, 15, 5, or 59 Bus or the Eunos MRT
Creative competition never hurt anyone, and it certainly can spice up an indoor date night! In the case of Spin Paint House, you can channel your inner Jackson Pollock together in an art jamming session.
Spin Paint House offers different activities for artistic people and couples with unique ways to paint all over canvases. The most popular one involves spinning a pendulum that holds paint and letting physics create colourful patterns for you and your date.
And the great news is that you don't need a fine arts degree or background to accomplish something colourful and creative.