Top 9 Gyms for the Best Kickboxing in Singapore
Are you searching for new physical activity that can turn into a hobby? If so, we highly recommend that you check out these gyms that offer the best kickboxing in Singapore!
Kickboxing has become one of the most famous physical activities in Singapore because it targets a lot of muscle groups, allowing you to be stronger and lose weight faster. If you enroll at these gyms with the best kickboxing in Singapore, achieving your dream body will be much easier!
Since we want to help you out, we did the work ourselves and searched for reputable gyms with the best kickboxing in Singapore. We guarantee that you won't be disappointed with the options we found!
Top Gyms for the Best Kickboxing in Singapore
1. Savate Club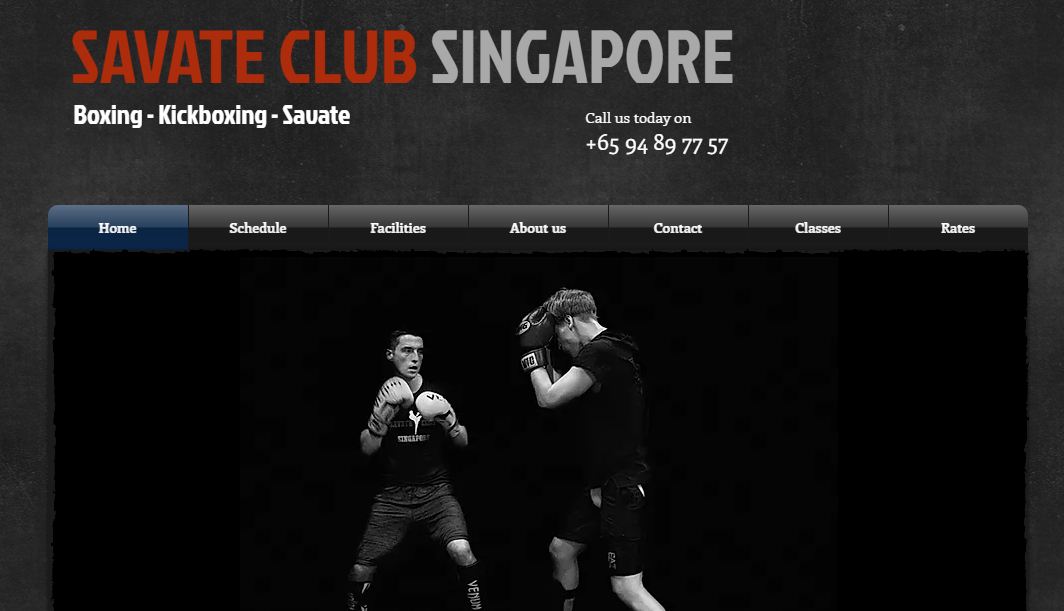 BEST FOR
Comprehensive and strategic lessons
CLASSES
Kickboxing and Boxing
WEBSITE
https://www.savateclubsingapore.com/
ADDRESS
PESEB Stadium yo:HA @ Evans, 26 Evans road 259367 Singapore
CONTACT DETAILS

+65 94 89 77 57 |

[email protected]

OPERATING HOURS
Weekdays: 8.00pm-9.30pm
At Savate Club, you can learn strategic techniques and tactics to improve your skills as well as strengthen your endurance. Their classes include educational and exciting sessions consisting of technical drills, strength and conditioning, and sparring.
Their team of sports experts will match up with your pace so you can learn every tactic and style that you need to have. They do the training at a well-equipped gym so you can be comfortable and safe while doing the routines.
The place also ensures a productive and positive ambience so you'll be more engaged and motivated to achieve your goals. That's why they're known to offer some of the best kickboxing in Singapore!
Highlights
Fully-equipped gym
Various routines for endurance and speed
Affordable rates
2.  Zesty Kickz

| | |
| --- | --- |
| BEST FOR  | Group Classes and Personal Training |
| CLASSES | Kickboxing, Muay Thai, Circuit Training, and Corporate Wellness |
| WEBSITE | http://www.zestykickz.com/ |
| ADDRESS | 6A, #02-25 Shenton Way, Downtown Gallery, Singapore 068815 |
| CONTACT DETAILS | +65 9800 5009 |
| OPERATING HOURS | Monday – Friday, 10:30 AM – 9:00 PM |
If you're looking for a kickboxing gym in Singapore that offers a wide range of classes, then look no further than Zesty Kickz. Some of its physical classes include circuit training, Muay Thai, high intensity workout, and of course, kickboxing.
However, if you want a more private session, then you may opt for their personal training classes. You will be assigned a coach who will monitor your progress and help you reach your goals by coming up with workout programs every session.
We also consider it the top gym for the best kickboxing in Singapore because its coaches are professional athletes who have been doing the sport for quite some time now.
Highlights
Private classes
Experienced coaches
Customer Reviews
Here are some feedback by clients on Google Reviews:
"Effective and fun Muay Thai and Kickboxing classes for all levels, and for all workout goals. Classes are suitable for beginners as Instructor Vinz will patiently guide you from the start and also helps you to progress based on your comfort level. Classes are also very suitable for advance-level boxers as Vinz will also guide and push you to your next level. Highly recommended for everyone!"

"Very comfortable place for practice. Instructors and trainers are all amiable. Quality courses and seminars held. I thoroughly enjoyed the learning experience and will come back continually for further upgrades."
3.  Impact MMA

| | |
| --- | --- |
| BEST FOR  | Mixed Martial Arts |
| CLASSES | Kickboxing, No-Gi Grappling, BJJ, Mixed Martial Arts, Muay Thai, Wrestling, and Boxing |
| WEBSITE | https://impactmma.com.sg/ |
| ADDRESS | 6A, #02-25 Shenton Way, Downtown Gallery, Singapore 068815 |
| CONTACT DETAILS | +65 6223 8275 |
| OPERATING HOURS | Monday – Friday, 12:15 PM – 9:45 PM |
Signing up for kickboxing classes in Singapore can get a bit expensive. It's a good thing that Impact MMA is here to offer affordable kickboxing classes with some of the best kickboxing athletes around, which is why we consider it one of the top gyms for the best kickboxing in Singapore.
What's more, it has produced a lot of professional athletes and fighters who make use of the skills that they learned with Impact MMA. It also has a team of trainers and instructors who will motivate you to keep going during workouts and will help you achieve your goals in terms of body and strength.
If you want to try its classes first, you may sign up for the free classes in BJJ and Muay Thai. Walk-ins are also welcome to the gym, so people can still work out even if they're not an exclusive member of the gym.
Highlights
Professional athletes
Trial classes
Accepts walk-ins
Customer Reviews
Take a look at these reviews proving that Impact MMA is among the top gyms for the best kickboxing in Singapore:
"I've been training here at Impact MMA for 6 years already, and the simplest way I can summarise why this gym is so amazing is the way everyone who trains here is like part of a huge family. We've got beginners to highly advanced practitioners of various martial arts who are willing to go above and beyond their responsibilities to bring everyone up to achieve their best. I'm really glad to have discovered this gym, and the length of time I've trained at it is testament to the quality and balance of tough training and great vibes."
"Honestly I love training at Impact MMA.The coaches here are very caring,friendly and easy going.Its very easy to connect with them when i have doubts about a certain technique that i'm unsure of.Its been close to about 3yrs I have train here, I can safely say its like my second home here whereby I just love the positivity inside the gym where they accept you in any background you come from.Always during trainings the coaches will drill/instill some good values in us which I learnt a lot from it.The coaches will groom you according to what you want to achieve in the gym"
4.  Evolve MMA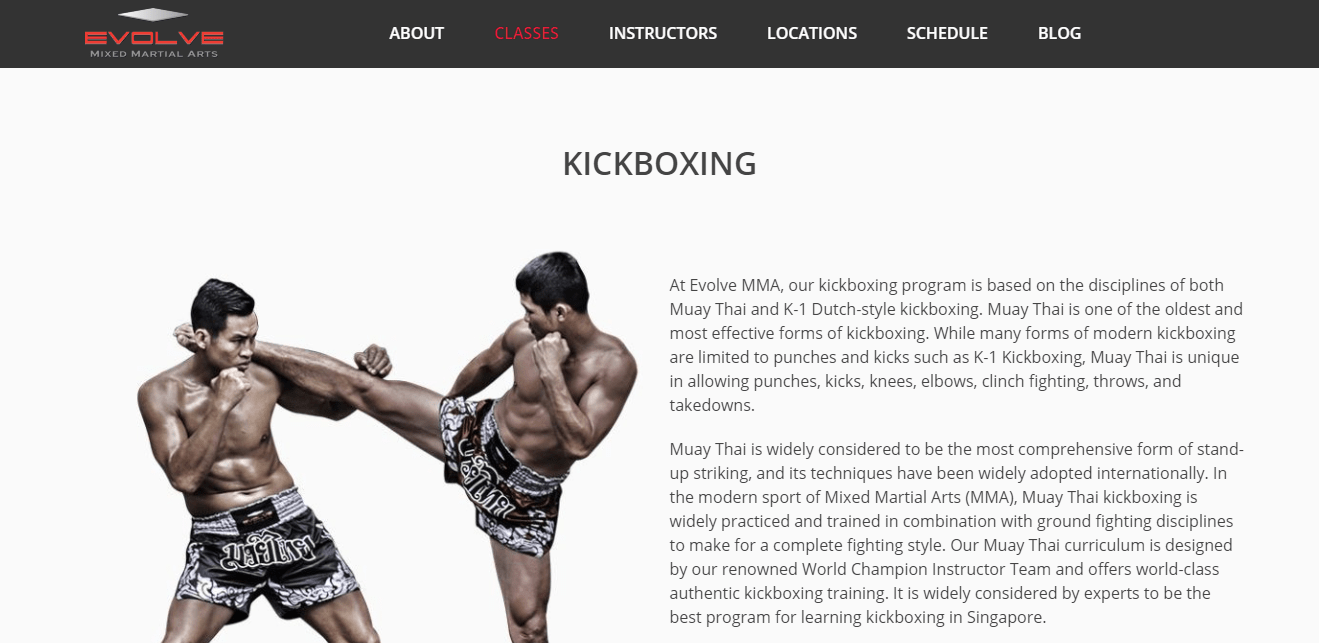 BEST FOR 
World Champions as Coaches
CLASSES
Kickboxing, BJJ, Muay Thai, Boxing, Mixed Martial Arts, Self-defense, Wrestling, and Warriorlift
WEBSITE
https://evolve-mma.com/
ADDRESS
11 Tanjong Katong Rd, #02-52, KINEX 437157

 

26 China Street Far East Square #01-01 Singapore 049568

CONTACT DETAILS
+65 6288 2293
OPERATING HOURS
Monday – Friday, 6:30 AM – 8:00 PM
It's no secret that Evolve MMA is one of the top gyms in Singapore that offers a wide variety of physical activity classes. Some of these classes include jiu jitsu, mixed martial arts, wrestling, boxing, muay thai, and kickboxing.
What puts it among the top options for the best kickboxing in Singapore are the classes taught by World Champions. Everyone will surely learn the best techniques and moves because they're guided by the best athletes in kickboxing.
If you're still a bit intimidated with kickboxing, you may opt for the beginners' classes for the first few days. We guarantee that you will already learn a lot in these classes.
Evolve MMA also encourages its members to join local and international competitions which can not only boost skills but confidence as well.
Highlights
World Champion coaches
Beginners classes
Multiple branches
Unlimited classes 7 days a week
Customer Reviews
Evolve MMA has an average rating of 4.9 on Google Reviews based on 153 comments. Here are some of the feedbacks:
"Love being part of the gym, most of the instructors are really friendly and patient. Especially the Boxing/Muay Thai Krus who are so fatherly, passionate in teaching and fun to learn from :') The staff and fellow students are all really fun to hang around and the gym truly feels like one big family. The schedule is also really amazing, probably one of the best and fully packed gym schedules you'll ever find. Highly recommend Evolve Kinex, it'll definitely be your second home."
"I can't speak more highly of this gym. Every member of staff embraces every level of ability. I feel safe, strong, nurtured and supported by a team of unparalleled professionals in a clean and secure environment while learning from elite players  – WORLD CHAMPIONS."
5.  DFX Martial Arts
| | |
| --- | --- |
| BEST FOR  | Competitive Rates |
| CLASSES | Kickboxing, Taekwondo, Mixed Martial Arts, Muay Thai, Jiu Jitsu, Wushu and Judo |
| WEBSITE | hhttp://www.dfxmartialarts.com/ |
| ADDRESS | Singapore |
| CONTACT DETAILS | [email protected] |
| OPERATING HOURS | Monday – Friday, 8:00 AM – 8:00 PM |
DFX Martial Arts Offers a wide variety of self-defense classes that intend to make members stronger and even more confident. Some of the classes offered include kickboxing, judo, wushu, taekwondo, Muay Thai, jiu jitsu, and a whole lot more.
Each class is taught by a professional and experienced instructor who has years of experience under their belt. You will be confident that you're in the hands of knowledgeable experts in self-defense, specifically kickboxing.
We consider it one the leading options for the best kickboxing in Singapore because of its cheap and competitive rates. While other gyms overcharge clients, DFX Martial Arts ensure that its classes are accessible to a lot of people.
Highlights
Long list of classes
Cheap rates
Experienced instructors
6. WAKO Kickboxing

BEST FOR 
Experienced Coaches
CLASSES
Active Kickboxing
WEBSITE
https://www.wakosingapore.com/
ADDRESS
47 Beach Rd, #03-03 Kheng Chiu Building, Beach Rd, Singapore 189683
CONTACT DETAILS
+65 8363 5661 | +65 9761 5523 | 

[email protected]

OPERATING HOURS
Monday – Friday, 10:00 AM – 8:00 PM
WAKO Kickboxing is considered the leading authority in kickboxing in Singapore, boasting a team of coaches who are champions in their own right. It's one of the main reasons we call it the top option for the best kickboxing in Singapore.
It specialises in active kickboxing lessons that are open for both boys and girls. Customers may also choose how many kickboxing sessions they want to have, allowing them to find the right program that fits their time and budget.
Highlights
Well-awarded institution
Certified kickboxing coaches
7. Inspire Fitness Asia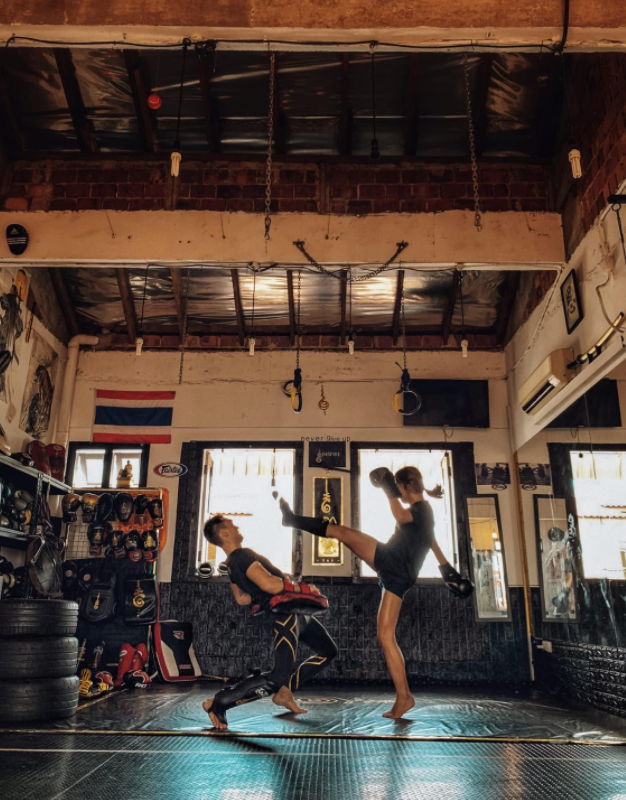 If you're looking for a Muay Thai Boxing gym that offers personalised training programs and group sessions, then you should try Inspire Fitness Asia.
This gym, which was founded in 2014, offers both group and individual sessions to those who seek it out. Their classes include Thai boxing, strength and stretch training, body sculpting, fighters training, and personal trainings. 
They also offer various training packages, which cater to groups, pairs, and individuals — giving them the choice between several class passes to make the most of their money. 
If you want to mix up your classes with different disciplines, this could be the gym for the best kickboxing in Singapore for you.
Highlights
Private and group sessions available
Corporate fitness bootcamps
Self-defense workshops
Team building games and activities
8. JR Muay Thai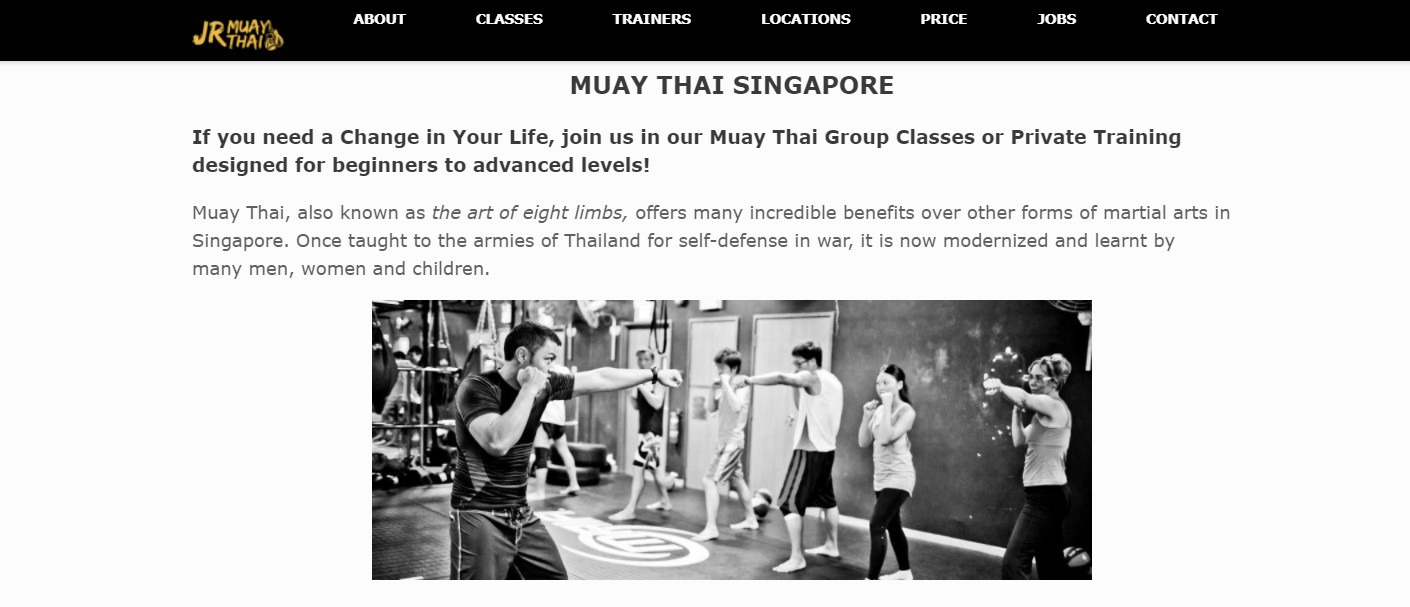 BEST FOR 
Muay Thai Classes for Children and Adults
CLASSES

Muay Thai Classes

Beginners
Kids
Muay Thai Kickboxing
Muay Thai Workshop / Team Building
Private Lessons
Traditional Muay Thai
Women

WEBSITE
https://jrmuaythai.com
ADDRESS
At Your Convenience [Private & Corporate]

 

Bukit Batok and Jurong West [Group Class]

CONTACT DETAILS
[email protected]
OPERATING HOURS
Monday:
11:00 – 21:00
Tuesday:
11:00 – 21:00
Wednesday:
11:00 – 21:00
Thursday:
11:00 – 21:00
Friday:
11:00 – 21:00
Saturday:
10:00 – 18:00
Sunday:
10:00 – 18:00
If we're talking about Muay Thai boxing, then there is no forgetting JR Muay Thai.
JR Muay Thai is made up of several gyms, each with trainers capable of teaching beginners, children, and adults.
Depending on the gym chosen (or recommended), JR Muay Thai caters to corporate groups, regular groups, and even private training. No matter the client handled, JR Muay Thai makes sure that students know the basics before moving on to other lessons.
With JR Muay Thai, clients can expect to have better health all while learning the necessary skills for self-defence. 
JR Muay Thai accepts enquiries via email, and is open seven days a week. 
Hands down if you want the most authentic training, this is the best kickboxing lessons in Singapore for you.
Highlights
Private training and group sessions available
Several gyms scattered across the island
Trained and experienced trainers
9. Fighter Fitness MMA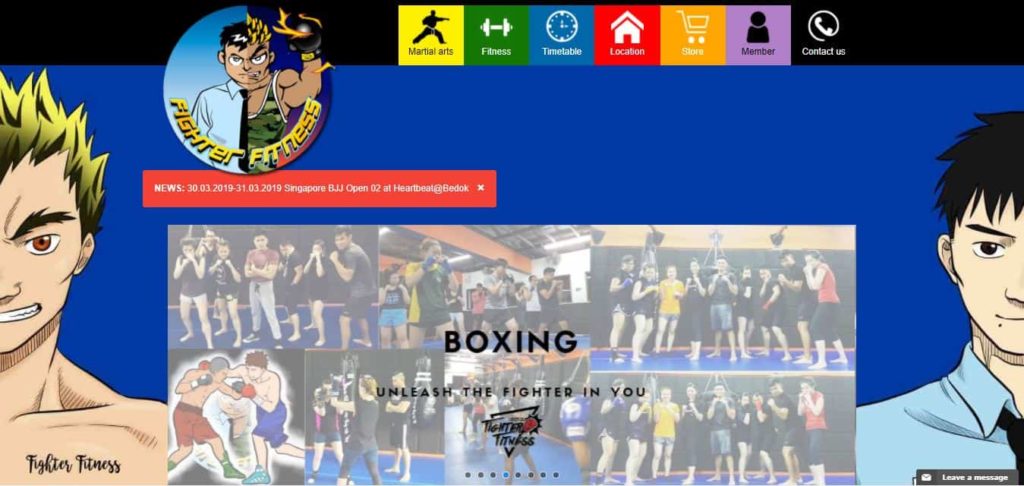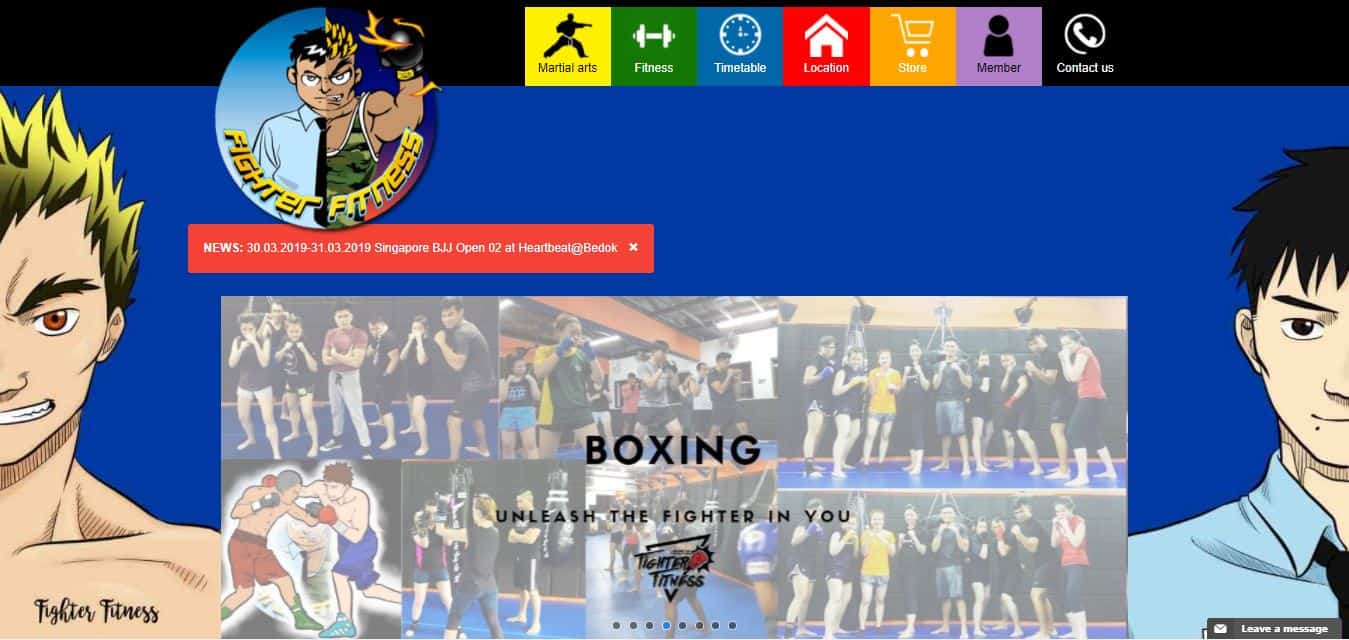 CLASSES
Kickboxing, boxing, muay thai, krav maga, wing chun, jiu jitsu
WEBSITE
http://www.fighterfitness.sg/
ADDRESS
Jurong East: Block 353 Jurong east street 31, #01-111 (2nd floor)Singapore 600353
Hill View: 63 Hillview avenue, #09-04 Singapore 669569
Geylang: 456A Geylang Road Singapore 389415
Little India: 123B serangoon Road Singapore 218028
Katong: 865 Mountbatten Road, Katong shopping center, #B1-37 Singapore 437844
CONTACT DETAILS
Jurong East:

[email protected]


Hill View: +65 6684 3055 |

[email protected]


Geylang: +65 6684 3055 |

[email protected]


Little India: +65 6684 3055 |

[email protected]


Katong: +65 6684 3055 |

[email protected]
Fighter Fitness focuses on combat sports like kickboxing and martial arts like krav maga, jiu jitsu, judo, muay thai, MMA, and wing chun. It provides training for these sports that are good for all ages, even for kids.
This kickboxing gym in Singapore provides training drills not only to help you learn specific techniques and stances but also to let you enjoy. Fighter Fitness's drills even ask you to partner up so that you can practice lightly before any fight.
For overall fitness, Fighter Fitness also does more mild activities like hatha yoga, tai chi, and of course, boxing yoga. These can be good options for relaxing after exerting yourself or a great way to immerse yourself in the sport if you're still a beginner.
But the best thing that we like about Fighter Fitness is that it has over five different locations that you can visit.
Probably the only thing we don't like about this gym is that it only has one instructor with definite kickboxing expertise. But at least, there are seven other instructors who specialize in boxing as well as in other martial arts.
Highlights
Teaches specific techniques
Fun yet productive training and drills
Five locations in Singapore
Boxing yoga and other fitness class options
And with that, we conclude our list of the top gyms for the best kickboxing in Singapore. If you've tried out the classes of any of these gyms, don't hesitate to share your experiences with us!
By the way, if you want a more personal approach to fitness, then we highly recommend the best personal trainers in Singapore. With the help from these trainers, achieving your body goal will be easier!