The 26 Best Pilates Studios in Singapore for 2021
Interested in learning Pilates or deepening your practice of it? Either way, this article's for you, because it's about the best studios for Pilates in Singapore.
The quality of a Pilates class in Singapore is determined by many things, of course. There's the expertise of the instructor, the quality of the gym, the presence and performance of the equipment, and so on.
We considered all of those things when looking for the best studios for Pilates in Singapore. In the final analysis, we ended up with these studios that we thought to be ahead of the rest.
These are the studios we'll go over now. Without further ado, here's our list of the best Pilates studios in Singapore!
1. OPTIONS PILATES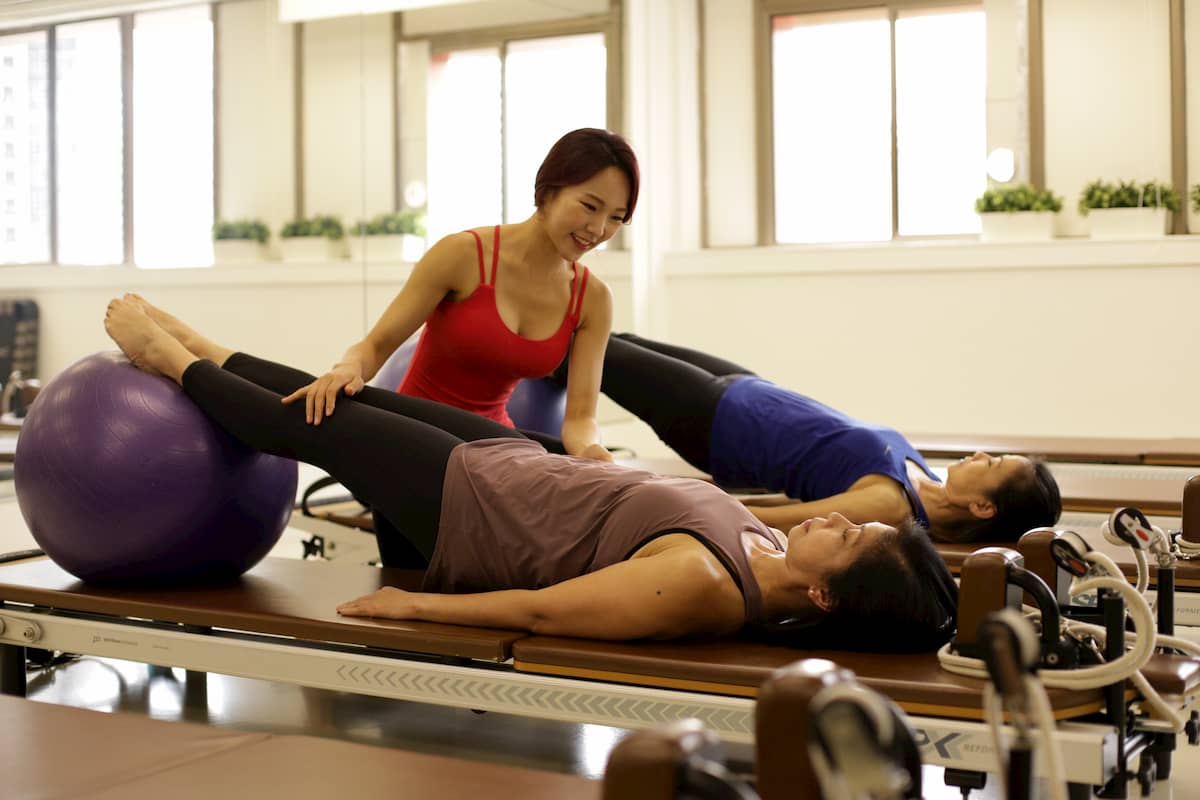 OptionsPilates has fully certified instructors who teach a contemporary approach to Pilates taking into account the modern knowledge we have of how the body works. Classes are kept small for more personal attention from the Singapore Pilates instructor so you can be guided and helped as much as necessary.
Service Highlights
All their instructors are trained through internationally recognised Pilates certifications, where movement is grounded in the modern knowledge of anatomy and how the body works, to make sure all workouts are effective and safe
Some classes include Pilates private classes, semi-privates, reformer group classes, pre/post-natal and JungleSports
2. Pilates Fitness 
Pilates Fitness offers different class types that will help you lose weight, reduce body aches, and more.
They promise that each session will be personalised based on your level and needs so that you will be able to focus on doing your best.
They usually have more than 60 classes per week, which makes them convenient for those who have strict or awkward schedules.
The main highlight of their services is the couple prenatal class where the parents-to-be will learn how to take care of themselves and be prepared for parenthood. Due to the frequency of their classes, we think this is the best Pilates in Singapore for busy parents-t0-be. 
Service Highlights
Monthly flow challenge
Special promotions
Workshops and training
Customer Reviews
Customers loved Pilates Fitness for its trial class, which they said helped them figure out if they're suited for the lesson or not before taking the leap to sign up for a class schedule.
Some were also impressed by their claim to be the first Pilates studio in Singapore that has lifestyle classes for weight loss, body aches, prenatal, and even for corporate purposes.
Gavy Ng recommended the studio and left this top-rated feedback on Google Reviews:
"Have been attending regularly at this studio for over a year. Enjoy the classes. With different focus each month, you don't feel like the classes are the same and and instructors also give us options to challenge our limit, without hurting ourselves. The class size is not too big and cost is reasonable. Highly recommend"
3. Breathe Pilates
BEST FOR 
Modern Pilates Methods, Physiotheraphy
PRICING
Rates
WEBSITE
http://www.breathepilates.com.sg/
ADDRESS
Locations
CONTACT DETAILS
+65 6850 5082
OPERATING HOURS
Monday – Friday: 10am – 730pm

 

Weekends: 930am – 130pm

Public Holidays: closed
Breathe Pilates is known for their healthcare professionals, who support each member of their classes with care and expertise.
They also have a wider range of classes than average, including private sessions for more customised exercises, and even rehabilitative programs to help you regain energy and peace.
You will be able to learn new techniques with their internationally-trained team, which has years of experience.
The best feature of their services is the offering for physiotherapy, where therapies, programs, and methods will serve as treatments for musculoskeletal and neurological conditions. This is a long-term process to maintain a healthy body and mind.
We think Breathe is the best Pilates classes in Singapore for those who prefer private lessons and wish to customise their classes to cater to personal situations.
Service Highlights
Private lessons
Fitness training programs
One-on-one consultation
Customer Reviews
Customers say they have noticed that instructors from Breathe Pilates focus on educating participants with health practices that improve their daily lives. They aim to increase body awareness, flexibility, posture, and the like in a way that improves students' everyday tasks.
A reviewer became a loyal customer due to this and claimed to keep coming back because of their excellent classes and instructors. Here's what the reviewer wrote on Google Reviews:
"I am into my third year with Breathe Pilates. I started with private Gyrotonic lessons before joining a group reformer class after a year. I thoroughly enjoyed both experiences; it is a lovely studio and the instructors are great. The sessions have been very beneficial in managing back pains caused by my scoliosis condition."
4. Pilates Plus

BEST FOR 
Traditional Pilates Techniques
PRICING
Rates
WEBSITE
https://www.pilatesplus.sg/
ADDRESS
10 Anson Road, #17-13 International Plaza, Singapore 079903
CONTACT DETAILS
+65 62211845
OPERATING HOURS

Mon-Thu 7am-8pm

Fri 7am-2:30pm

Sat 9am-5pm
At Pilates Plus, instructors teach mostly the fundamentals but still include advanced classes to enhance the fitness potential of each client.
For those who have never tried doing Pilates before, it would be good to start with this place. They also promote classes for elders, athletes, and everyone who wants to stay fit and healthy.
And if you're looking for affordable pilates in Singapore, their rates are quite attractive as the private and group sessions come in packages. Groups that are comprised of different physical levels find that this is the best pilates sg package for them.
Service Highlights
Accessible scheduling through a mobile app
Trial sessions
Special promotions
Customer Reviews
Pilates Plus proudly present their classes in fun ways to help their clients enjoy the exercises while encouraging them to do their best, especially when they reach the advanced classes.
Jessie Tan shared the improvements she had experienced on the official Facebook account:
"I had very stiff and sore shoulders from desk bound work. After some stretching miracle, it was totally loosen up and it felt really good. Working out at PilatesPlus has given a whole new meaning to the Pilates that I have known before this. I highly recommend that you try them out."
5. SmartFit Pilates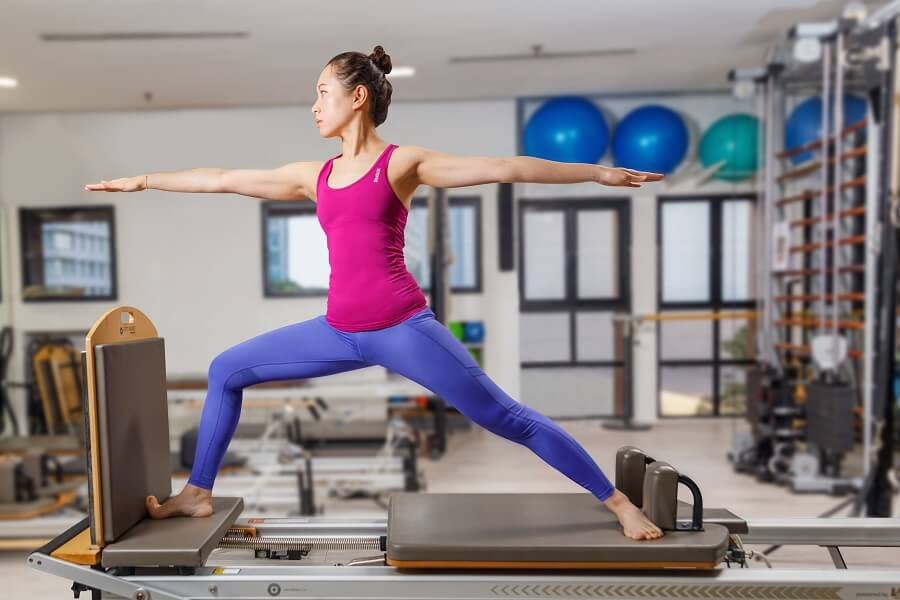 BEST FOR 
STOTT Pilates® and functional training
PRICING
5 Group Classes for just $199
5 Private Sessions for only $600
(new clients only)
WEBSITE
https://www.smartfit.com.sg/
ADDRESS
91 Tanglin Road, 04-03, Tanglin Place, Singapore 247918
CONTACT DETAILS
Web smartfit.com.sg
Email [email protected]
Phone (English) +65 85718549
Phone (Korean) +65 98534014
OPERATING HOURS
Contact for more information
SmartFit is a boutique Pilates studio in Singapore with a welcoming international community of clients. What sets them apart from other fitness studios is SmartFit's holistic approach to health and fitness; supporting and training you on the journey toward your goals as well as through injury recovery and rehabilitation.
Their highly-qualified team of STOTT Pilates instructors are some of the best in Singapore, each specialising in their own area of expertise including posture correction, pre-natal and post-natal Pilates, sport-specific training (particularly for golf, horseriding and basketball), and more.
SmartFit offers one-on-one Private Sessions that are totally tailored to the individual, as well as small group classes in Reformer Pilates, Mat Pilates, TRX and Pilates-Infused Yoga. Each class is limited to a maximum of 4 clients so you get the support and attention you need for a safe and highly effective workout.
Their Pilates Singapore classes are also given by multilingual instructors so that's also helpful. 
Service Highlights
STOTT Pilates® and functional training
Private Sessions totally tailored to you
Small group fitness classes in Reformer Pilates, Mat Pilates, Pilates-Infused Yoga, TRX, KinetiCube for Golf and KinetiCube
State-of-the-art Pilates and fitness equipment
Sessions available in English, Korean, Mandarin, Russian or Tamil
Customer Reviews
5-star Facebook review from Wu Ye-Min:
 "The instructors are amazing. Have been going there for 5 years now. They are professional and friendly. I even did it during my pregnancies! Love these ladies"
6. The Moving Body Group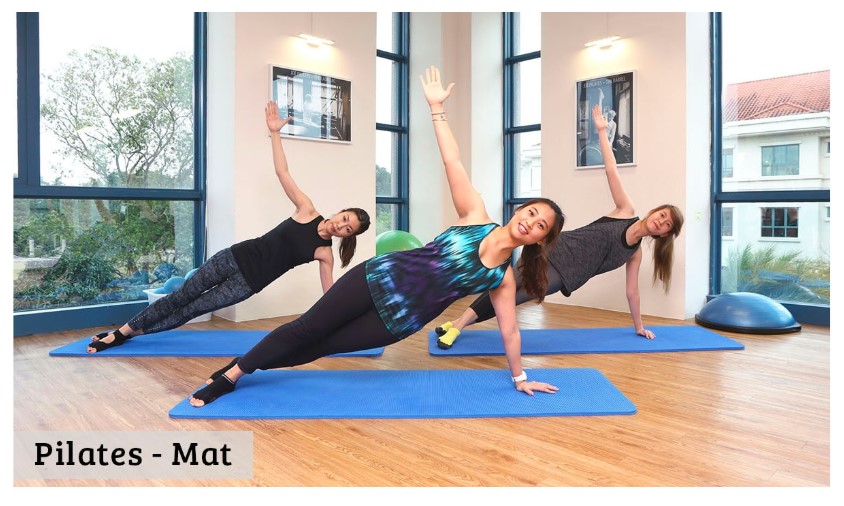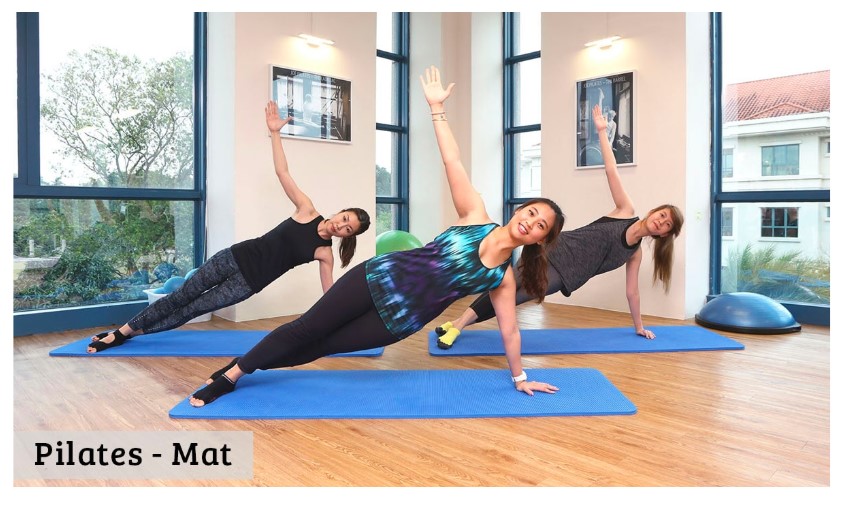 The Moving Body Group provides a holistic approach to help clients achieve freedom through movement including Pilates, GYROTONIC®, Functional Training, Physiotherapy and Massage sessions. They have highly-trained multi-national instructors who are trained and knowledgeable in supporting their clients' goals.
Service Highlights
They have the widest range of Pilates and GYROTONIC® equipment in Singapore
Customer Reviews
Facebook recommendation from Georgia Hong:
"Teachers are great . Body alignment emphasis by trainers and friendly, caring environment with well maintained equipment."
7. Central Pilates


At Central Pilates Singapore your well-being is their priority and to bring symmetry back to your life. They have a highly qualified team of professional Pilates instructors who will work with you to achieve your goals.
Those looking for Pilates for beginners in Singapore will also enjoy their classes as they incorporate art and creativity in their sessions.
Service Highlights
REHABILITATION PROGRAMMES
PRE/POST NATAL
SPORTS SPECIFIC
CORE STRENGTHENING
STRETCHING AND TONING
BACK CARE
NECK AND SHOULDER PAIN ALLEVIATION
POSTURE AND ALIGNMENT
DANCE SPECIFIC
Customer Reviews
5-star Google Review from Denis Smith:
"I have been doing Pilates for several years with Central Pilates. I tried several studios and found I didn't improve. I have severe back pain that left me unable to do basic activities. After a few sessions at Central I found that my pain levels had reduced significantly. The team are wonderful, friendly and understanding. They are well trained and have a sharp eye for detail and faulty movement patterns. Highly recommend this studio."
8. Body n'Sync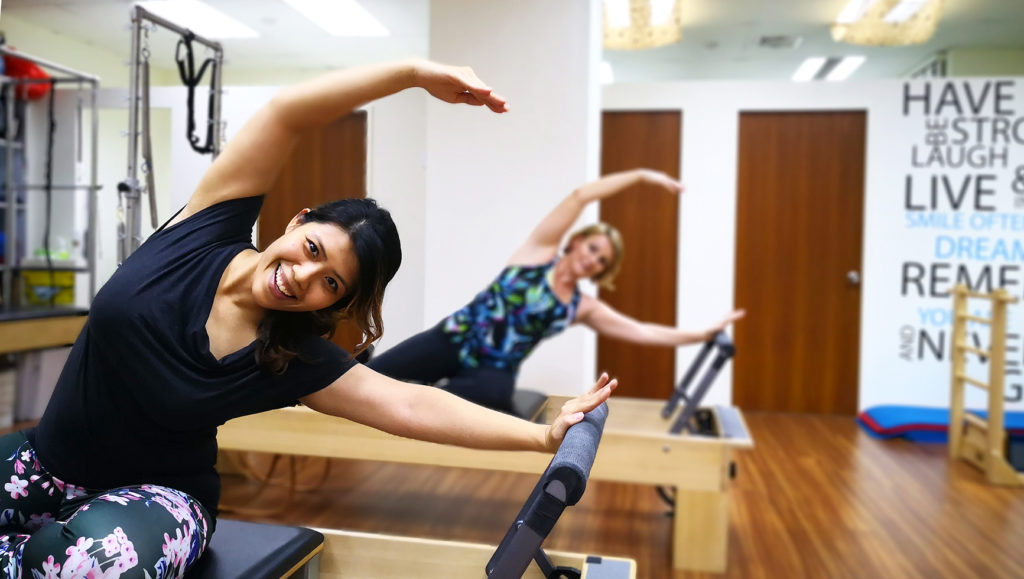 BEST FOR 
Barre, Rhythmic Pilates and Express Lunch classes
CLASSES
https://www.bodynsync.sg/timetable/
WEBSITE
https://www.bodynsync.sg/
ADDRESS
No. 14 Robinson Road, #02-03/04,
Far East Finance Building, Singapore 048545
CONTACT DETAILS
Telephone +(65) 69090533
Company Mobile +(65) 85253339
OPERATING HOURS
Monday – Friday: 9am – 8pm

 

Saturday: 10am – 3pm

(Closed on Sundays and Public Holidays)
If you're looking for a particular type of class such as reformer Pilates in Singapore, this one's for you. Whether you want Mat or Reformer Pilates, or solo or group class, Body n'Sync has the class for you!
As you join their classes, you can relax and refocus your mind while honing your body to new, toned heights.
From improved posture to a stronger back, uncover a rejuvenated new you through Pilates!
Service Highlights
Reformer Pilates
Matwork Pilates
Beginner Matwork
General Matwork
Stretch & Tone Matwork
Pre-Natal
Active Aging
Custom Group Matwork Classes
Pilates Instructor Course
Physiotherapy
Muscle Release & Massage Therapy
Customer Reviews
This studio has its share of fans because of its experienced instructors and very wide range of offerings. Many are happy with that they a studio that offers Pilates Reformer in Singapore. 
Here's a 5-Star Facebook Review from Utami Sugianto:
"Got me to do a 4' plank!!! Learned to love Pilates!!"
9. Absolute You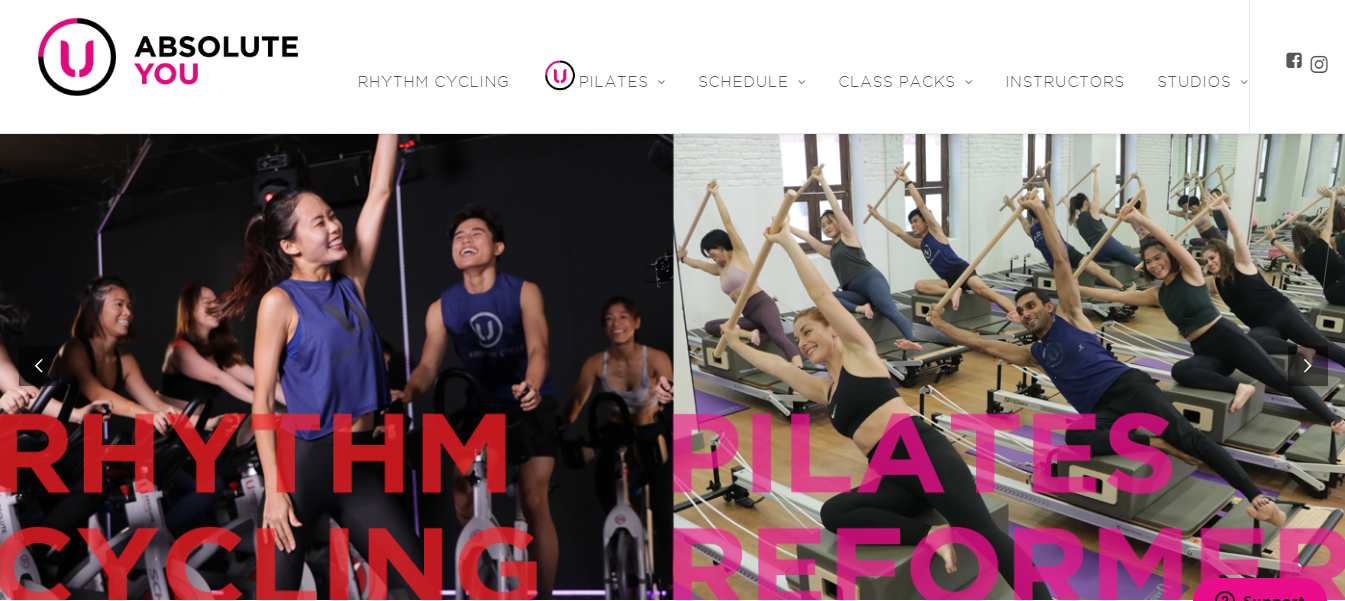 BEST FOR: Class packs for easy access to all classes at all studios
PRICING: Rates
WEBSITE: https://absoluteyousingapore.com/
ADDRESS: 3 different studios
CONTACT DETAILS: 6732 1522
OPERATING HOURS: Schedule
Absolute You is a perfect place if you want to stay fit while having enjoyable activities supervised by professional coaches. The studio introduces bespoke specialized programs like Pilates and Rhythm cycling designed by their US master instructors.
Absolute You is also reachable as they currently have 3 studios in Singapore that all exhibits premium class packs that you will truly enjoy.
To maximize the gym's classes, you may also avail their Ultimate Class Packs which will give you passes to all of their classes at all studios.
Should you want to see first which class is suited best for you before actually going all in, you can always avail their Ultimate Trial Pack. What a steal, right? So if you're curious about their Pilates Singapore price, contact their studio for a chat.
For easier access and transaction, you can download Absolute You Singapore app so you're always connected to them anytime, anywhere.
Service Highlights
Professional instructors

Enjoyable activities

Great deals on classes
Customer Reviews
Absolute You is praised for their wonderful team of professional and accommodating instructors as they really give the appropriate guidance that their members need. They are also commended for the total quality of their classes that are generally engaging and fun. Here are some of the feedback they got that were posted on Google Reviews.
"It's like partying on a bike without the alcohol and hangover. Instructors are amazing and very experienced. Love the vibes, awesome music styles and community!"
"Spin classes at absolute is always full of energy! Instructors are friendly and engaging! Would definitely recommend my friends to try out!"
10. FITNUT LOFT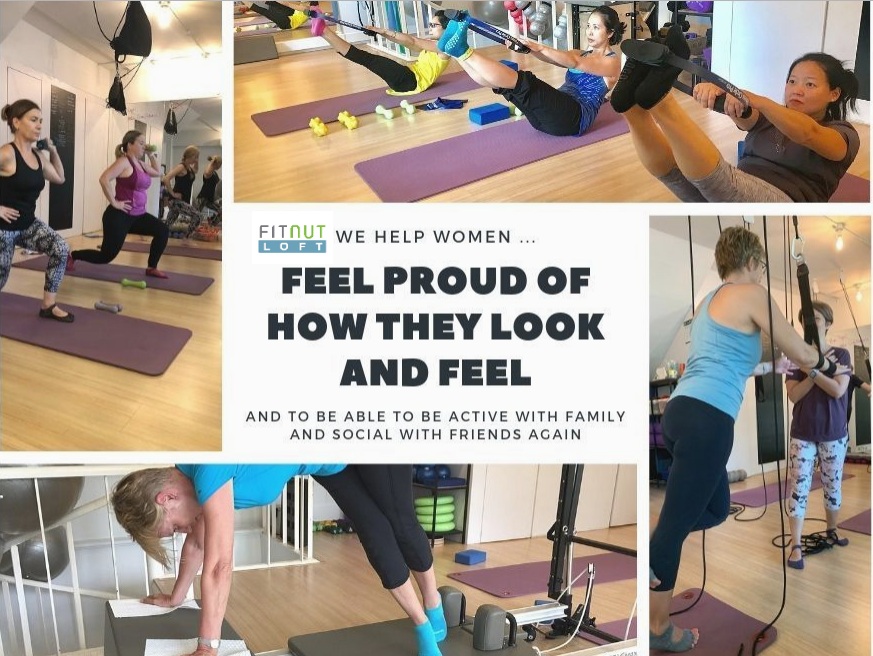 FitNut Loft was created to help women improve their health and develop a sustainable lifestyle through Pilates.
Established by a breast cancer survivor, the centre has Pink FitNut Breast Cancer Online Coaching. This is an event held twice a year in order to help other survivors stay fit after battling the illness. 
If you want to know more about their program, you can visit their website or talk to them through email address or phone number. They will gladly help you out on your journey to becoming healthy. 
Service Highlights
Weight Circuit and Pilates Combo

Suspension training

Cardio-trampolining and floor work combo

Rehabilitative, myofascial release, and gentle mat Pilates

Mix Pilates and weight training
Customer Reviews
Nothing can beat a business who aims to support women in sustaining their health. As such, FitNut Loft has been the choice of many when it comes to Pilates.
Here's what one customer said about the place:
"I love the small community of Fit Nutters, it feel personal. There's also the perfect choice of classes, and the coach's are very skilled. I've seen a huge improvement in my strength and overall wellbeing. I give them 10/10!" – Caroline Cook
11. Pilates BodyTree


BEST FOR 
Singapore's 1st Mobility Fitness Training Studio.
PRICING
Contact for more information
WEBSITE
http://www.pbt.com.sg/
ADDRESS
Central Studio
137 Cecil Street, Hengda Building, #12-01 Singapore 069537West Studio
11 Slim Barracks Rise
Level 3, NTU Alumni Club
Singapore 138664
CONTACT DETAILS
http://www.pbt.com.sg/contact/
OPERATING HOURS
Contact for more informationLocations
Pilates BodyTree is best known for tailoring programes to fit their clients' needs and uses evidence-based strategies to help them achieve their goals; being pain-free or improvement in their performance.
They also have group classes organised based on objectives/benefits of the class types so they are able to customise classes that suits them best.
Service Highlights
Personal training – http://www.pbt.com.sg/personal-training/
Group classes – http://www.pbt.com.sg/group/
Customer Reviews
Faceb0ok Recommendation from Henry Lim Chun Ming:
 "I joined Pilate BodyTree since last week because I am interested in taking pilate as i want to broaden my horizon. I never regret taking pilate even though it is just my 1st lesson today+ MFA lesson last week."
12. Focus Pilates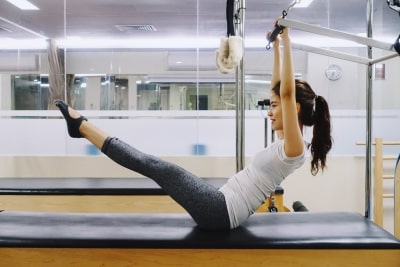 | | |
| --- | --- |
| BEST FOR  | Fitness, Rehabilitation, and Sports Conditioning |
| PRICING | Rates |
| WEBSITE | http://www.focuspilates.com.sg |
| ADDRESS | Raffles Place 22 Malacca Street, #08-00 RB Capital Building (Royal Brothers) Singapore 048980 |
| CONTACT DETAILS | +65 6235 3938 / +65 6327 2072 |
| OPERATING HOURS | Monday – Thursday: 7.30am – 8.30pm I Friday: 8.30am – 6pm I Saturday: 8.30am – 5.30pm I Sunday: 9am – 2pm |
The main highlight of Focus classes is to provide Pilates sessions, physiotheraphy, and rehabilitation courses for the athletes. This might be the ideal option for the athletes who are recovering from injuries and want to maintain their health.
They have a wide variety of Pilates classes, unlike many other studios. They also have prenatal and postnatal classes for parents.
Yoga classes and classes for those recovering from common injuries are offered as well.
Service Highlights
Running assessment and conditioning
Prenatal and postnatal classes
Off-peak packages
Customer Reviews
The broad scope of Focus Pilates sessions has made it easier for their clients to explore and try different kinds of Pilates exercises. Daphne and Mathieu expressed their thoughts about the studio and wrote this feedback on the official website:
"We originally joined Focus Pilates with an open mind and a few aching body parts. The instructors carefully trained us up and within a matter of weeks we felt a noticeable difference in our strength, stamina and flexibility. Little did we know just how beneficial Pilates could be for us. Over time, we have moved up through the different class levels and have gotten to know the Focus Pilates team pretty well. If you are looking for a place to expand your mind and work out your body like you've never done before, we would invite you to come along for a session or two"
13. Upside Motion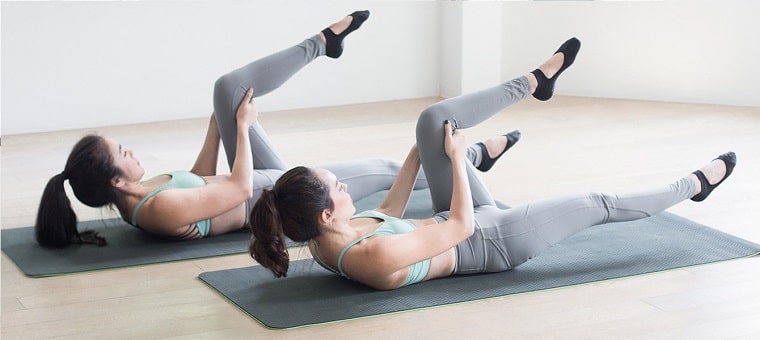 There are only select studios that offer Pilates Reformer machine in Singapore, and Upside is one of them.
Being located at the places within the centre of Singapore, Upside Motion is one of the most accessible Pilates studios for city dwellers. There are a lot of transportation options near each location, so getting there is easy.
There is also no need to worry if there is a difference in the range of classes because all studios offer the same scope of programs. You can also manage your class schedule on their mobile app.
In their Pilates class, they provide Pilates Mat and Reformer training. The classes focus on body alignment and breathing techniques.
Service Highlights
Aerial, Barre, and Yoga training
Perks points for free classes and merchandise
Introductory affordable offers
Customer Reviews
In the past years, Upside Motion has been featured in various media and press stories. These achievements and their compelling classes and instructors have earned the trust of many customers.
Nick gave them this review on Google Reviews:
 "Clean and peaceful studio. Enjoyed my pilates mat and reformer classes here. Very attentive, encouraging and highly skilled instructors who help me achieve better form and inspire me to push myself harder for the workout. Will definitely try out their aerial, barre and yoga classes too."
14. SP+ Pilates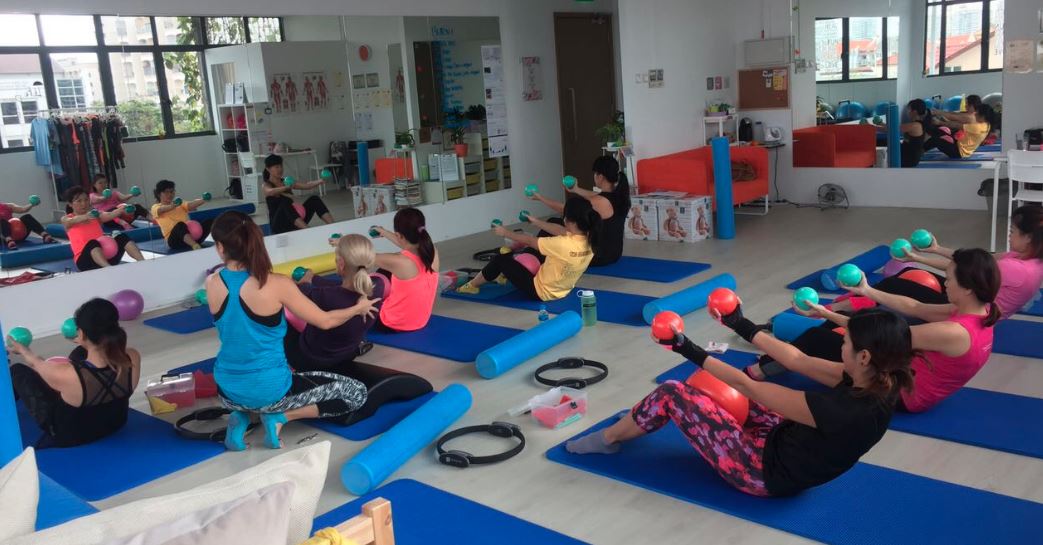 SP+ Pilates' motto is "Positivity always! Progress over Perfection!" SP+ Pilates' motto is "Positivity always! Progress over Perfection!"
They believe that "Being Fit" does not happen overnight, it involves us changing our mindset and committing to a continuous journey. With this, their instructors are committed to working with you to Stay Positive with Steady Progress throughout your journey. They believe that "Being Fit" does not happen overnight, it involves us changing our mindset and committing to a continuous journey. With this, their instructors are committed to working with you to Stay Positive with Steady Progress throughout your journey.
Service Highlights
Pilates and Yoga group classes
Pilates and Yoga group classes
Customer Reviews
5-star Facebook review from Damien Tan ダミアン: 5-star Facebook review from Damien Tan ダミアン:
"Have been going for classes for over 6 months, so this review is definitely long overdue. Stef is a great instructor and is always attentive and takes notes of your histories, strengths, and aims. The lessons are often fun, interactive and never boring. You will never know what you're in for until you stepped into classes on that day, which makes it all the more fun and interesting. Definitely would recommend to anyone who is looking for a pilates class/ instructor."
15. Pilates Smith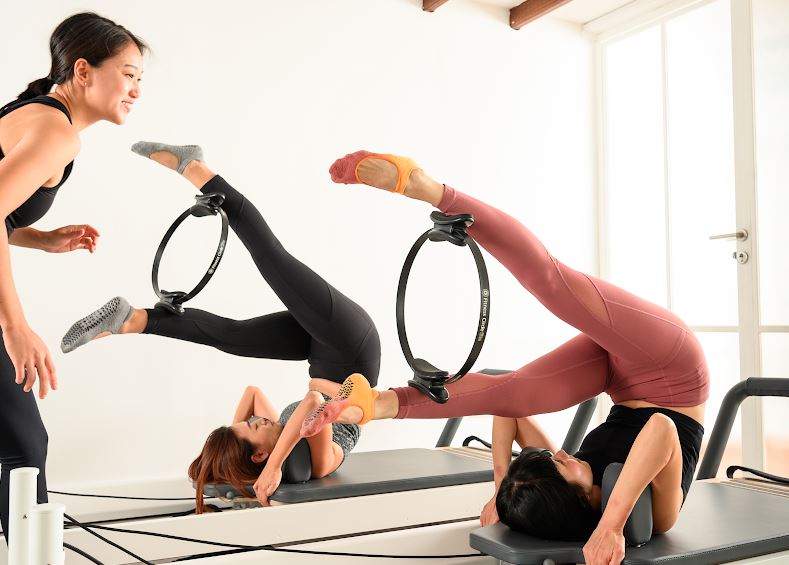 Pilates Smith's philosophy is that your age, body type, and fitness level is not a barrier from discovering the wonders of Pilates. So even if you are a first-timer who is making that switch to an active lifestyle, or a seasoned athlete looking for new ways to stay in top form, you can be sure of a fulfilling workout in their classes. In your sessions with Pilates Smith, you get to burn the calories and stress away while regaining your strength and vitality, with plenty of fun and good vibes thrown in.
Service Highlights
Their classes are designed using Reformer, Mat or Chair, and incorporating various Pilates tools in every repertoire
With a maximum of two people in one class, their instructors can fully focus on your unique needs and capabilities, thus letting you achieve your fitness goals in a more targeted and efficient way
They created a group mat class in City Hall studio, with 10 mats only, for full body workouts not only to shape and tone a long, strong physique but improve flexibility, strength and coordination
Customer Reviews
Xu Xiao's five-star Google Review:
"It's the best Pilates class I've ever been. Managed to get a better posture and back pain relief! Recommend to do the trial class. You will Love it.."
16. Core Fitness Physiotherapy & Pilates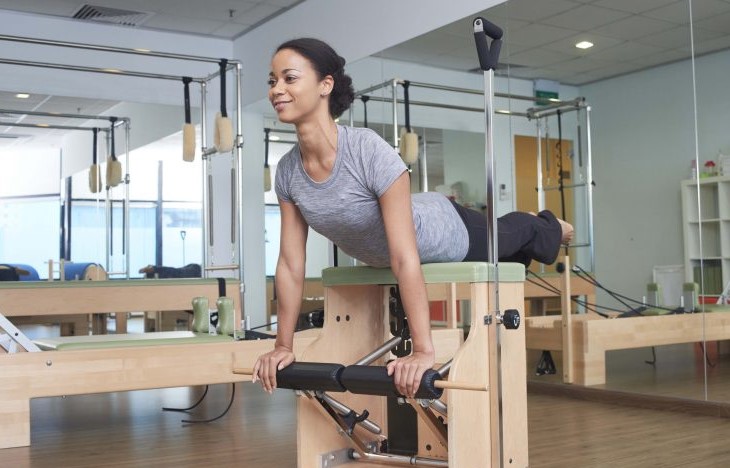 Core Fitness Physiotherapy & Pilates offers Pilates sessions are customised to correct your posture and keep your body away from postural aches and pains. They focus on promoting good health through good posture, strong alignment and balance in the musculature in the body.
Private Pilates allows for different exercises to be modified in terms of difficulty from beginner to advanced and intensity as the body conditions itself and adapts to the exercises. You need to work carefully and precisely, with the exercises modified or adjusted to suit your particular needs.
Service Highlights
Core Fitness Physiotherapy & Pilates is a fully equipped Pilates studio that uses all machines such as the Reformer, Trapeze table, Wunder chair, Barrel and Core Align to stretch and strengthen the whole body from the core to the extremities
Their instructors are highly trained to maximise the features of each Pilates equipment to help you achieve your goals quickly
Customer Reviews
Facebook recommendation from Niki Harding:
"This is the best place for Gyrotonics and Pilates Private one to one lessons, with the best teachers….peaceful and focused exercise!!!! Highly recommended."
17. Tirisula Yoga Studio


Tirisula Yoga Studio is Asia's Finest Yoga Training School. With over 40 Years' Experience, they are the oldest, most experienced yoga training school in Singapore providing over 4,000 yoga courses. Their experts have more than 20 years of experience and more than 40,000 hours of teaching time.
Service Highlights
Tirisula Yoga routines are based mainly on the Ashtanga Vinyasa style, originally as taught by Sri TKV Krishnamarcharya, Guruji BNS Iyengar and Yoga AcharyaV. Sheshardri of Mysore (Primary and Secondary Series) which originated over 1500 years ago. This style involves your learning a simple sequence and practicing this sequence repeatedly in a space with other students without being led by a tutor. The tutor guides and provides adjustments in posture.
Their yoga classes have varifying difficulties (starting from beginner)
Customer Reviews
5-star Facebook review from Adriana Esquivel:
"My favourite Yoga studio in Singapore. The best yoga teachers and the best TTC. I've been seeing my progress with every class, the prices are reasonable and the lessons are amazing. The Yoga Teacher Training Course was a unique experience full of deep knowledge, and the perfect balance between theory and practice. Lots of Asanas, but also meditation, Pranayama, philosophy and psychology of the human being. I could not ask for more. Thanks for all."
18. COMO Shambhala Urban Escape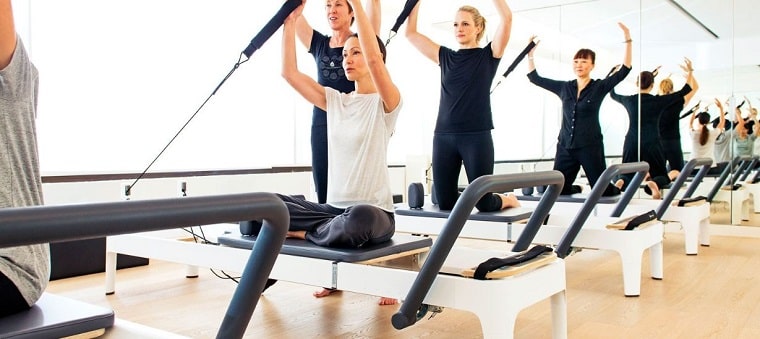 BEST FOR 
Matwork, Barre, and Reformer Classes
CLASSES
http://www.comoshambhala.com/singapore/classes/pilates
WEBSITE
http://www.comoshambhala.com
ADDRESS
402 Orchard Road #06-01/02 Delfi Orchard Singapore 238876
CONTACT DETAILS
+65 6304 3552
OPERATING HOURS
Monday to Thursday – 7:30am – 9:00pm

 

Friday – 7:30am – 6:00pm

Saturday – 7:30am – 7:00pm

Sunday – 9:00am – 6:00pm

Public Holiday – 9:00am – 5:00pm

Please check on openings for public holidays.
COMO Shambhala Urban Escape offers basic classes such as matwork classes and the Reformer. Each class has its own levels to let clients enhance inner and outer body features and motivate them to do their best.
Barre exercises are also provided. Similar to other studios, they have both private and group sessions. Aside from these, you can also get a relaxing massage to complement the yoga and Pilates experience
The studio is open all days of the week. Just make sure to always check their class schedule so you can fit it in your schedule.
Service Highlights
Professional instructors
Offers prenatal workshops
State-of-the-art facilities
Insight library
Customer Reviews
Most clients of COMO Shambhala Urban Escape have come to experience a staycation or a fun-filled and adventurous trip. Pilates classes might only be listed as one of their activities to try but customers say their Pilates program is very well run.
Marco left this 5-star rated comment on Google Reviews:
"Best studio in Singapore! The environment is an oasis of peace in the middle of Orchard: clear, bright and spacious. The teachers are of very high quality: precise, punctual, polite and prepared. Strongly recommended, especially to people who are looking for iyengar."
19. MOMENTUM LAB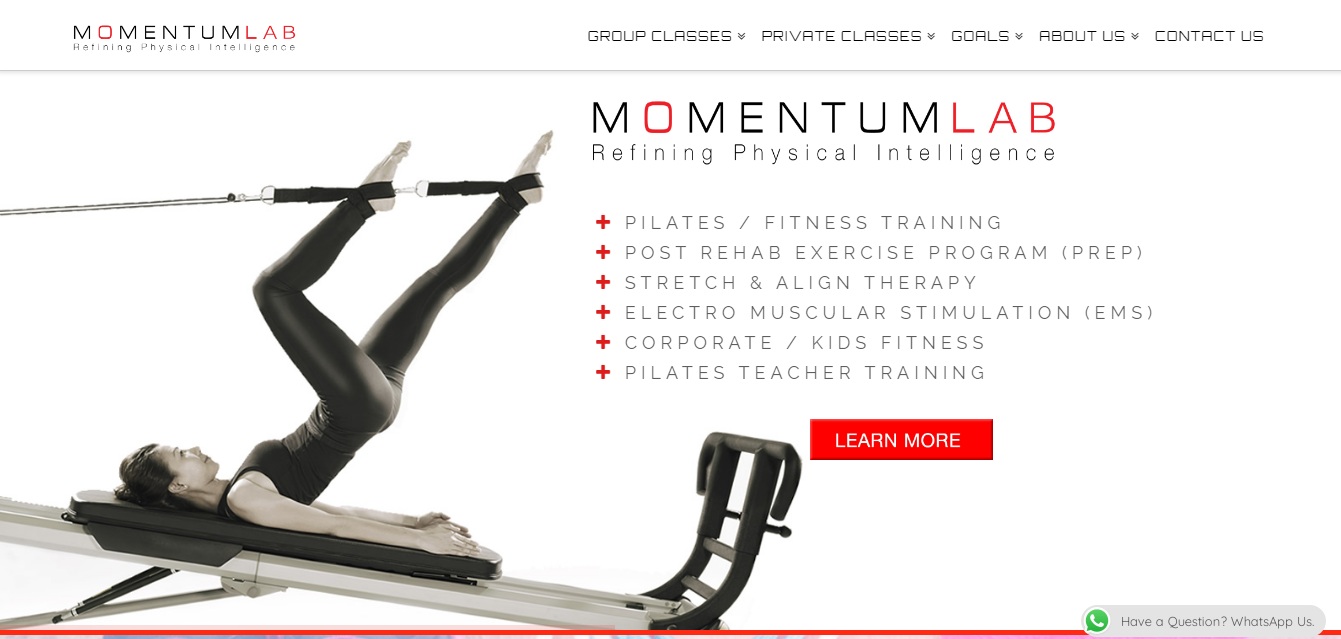 BEST FOR
Pilates, Functional Training, Post Rehab and Stretch & Align
CLASSES

https://momentumlab.sg/group-classes/

 

WEBSITE

https://momentumlab.sg/

ADDRESS

805 Bukit Timah Road #01-06 Sixth Avenue Centre, Singapore 279883

CONTACT DETAILS
+65 6339 2210 / +65 8228 1337 | [email protected]
OPERATING HOURS

Monday to Friday: 7:30AM to 8:30PM

 

Saturday : 8AM to 3PM (last appointment at 2PM)

Sunday : 8AM to 3PM (last appointment at 2PM)

Closed on Tuesday
Momentum Lab believes that to achieve a flexible and agile body, one should train not only the muscles but the neuromuscular system as well. Through their qualified professional trainers, customers will be sure to have a pleasant and gratifying experience at Momentum Lab.
To ensure that you are comfortable, they offer both private and group classes so you could train by yourself or with your friends. They also provide customised personal classes so you will surely be able to attain your personal fitness goals.
Another thing worth mentioning is that Momentum Lab also offers online sessions for the time being. So you won't need to leave the comfort of your home to stay in shape.
Highlights
Customized personal classes

Offers both private and group classes

Qualified professional trainers
Customer Reviews
Customers are happy with the classes taught at Momentum Lab and are impressed with the expertise of their trainers. Here are some reviews left by their satisfied customers:
"The group classes are very interesting and I like classes like CardioPunch, Gravity Pilates and HIIT classes. The trainers are professional, knowledgeable and friendly. I feel comfortable training in Momentum Lab as compared to going to the bigger gyms are you get familiar with the regulars and it is fun to train together." – Melissa Heng
"I like Momentum Lab as it is small, intimate and very personalised. They focus a lot on pre and post-routine, so you do not injure yourself. I enjoy all of their classes, especially the high intensity and cardio ones." – Sidney Go
20. Pilates Flow @2nd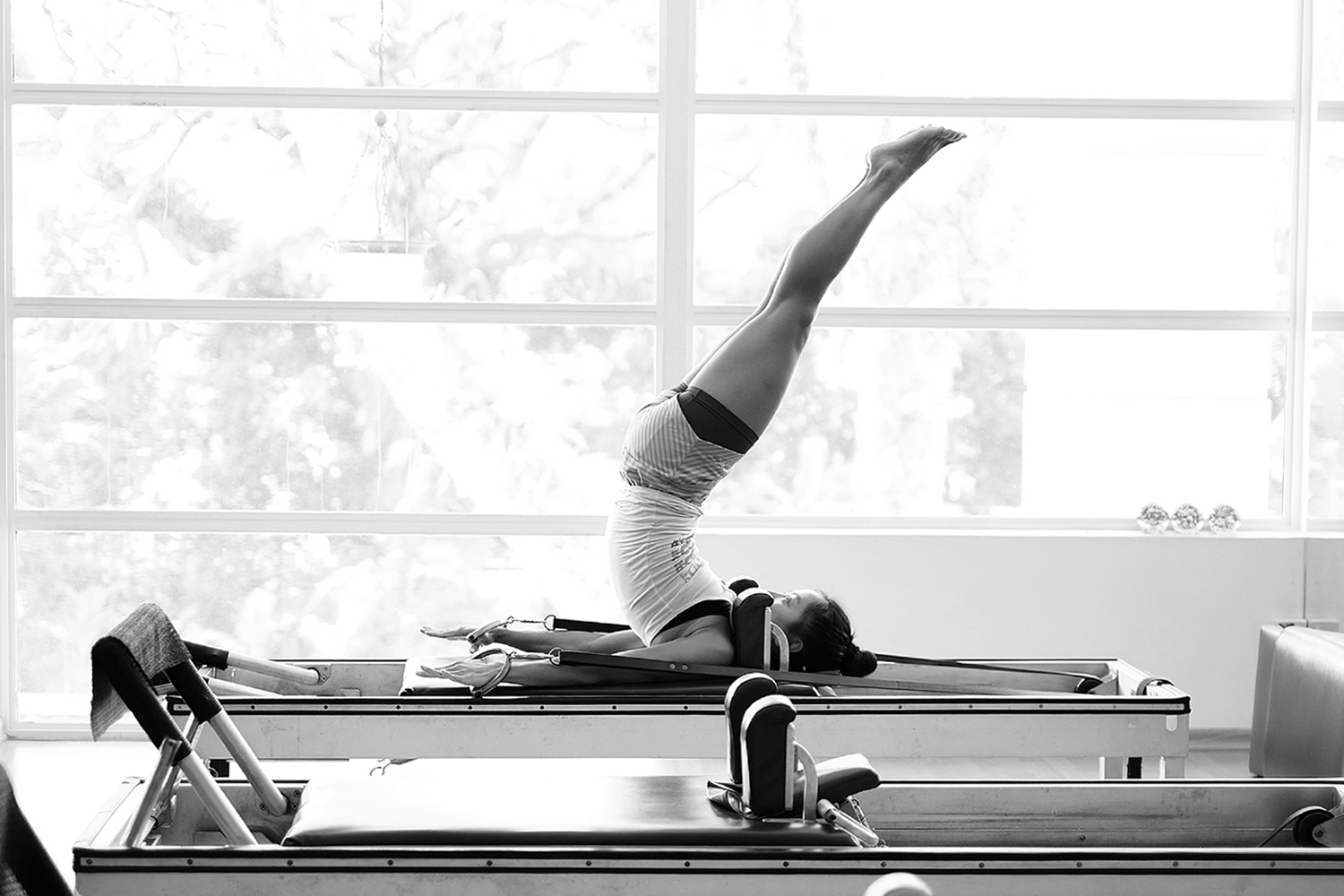 What makes Pilates Flow @2nd stand above the rest?
They are a classical Pilates method studio whose mission is to teach and maintain the integrity of Joseph Pilates' original work in its unadulterated form. So that you can enjoy that balance of strength, flexibility, grace and control in your body, where it truly matters.
The instructors at Pilates Flow are also certified in the True Pilates method from the school of Romana Kryzanowska, one of the most vigorous and thorough trainings in the world.
Amanda Owens has shared on Pilates Flow's page, her feedback regarding the excellent training that she was able to experience with them:
"This studio offers the highest level of Pilates training. The teachers are wonderful and very skilled."
21. FlyWith Fitness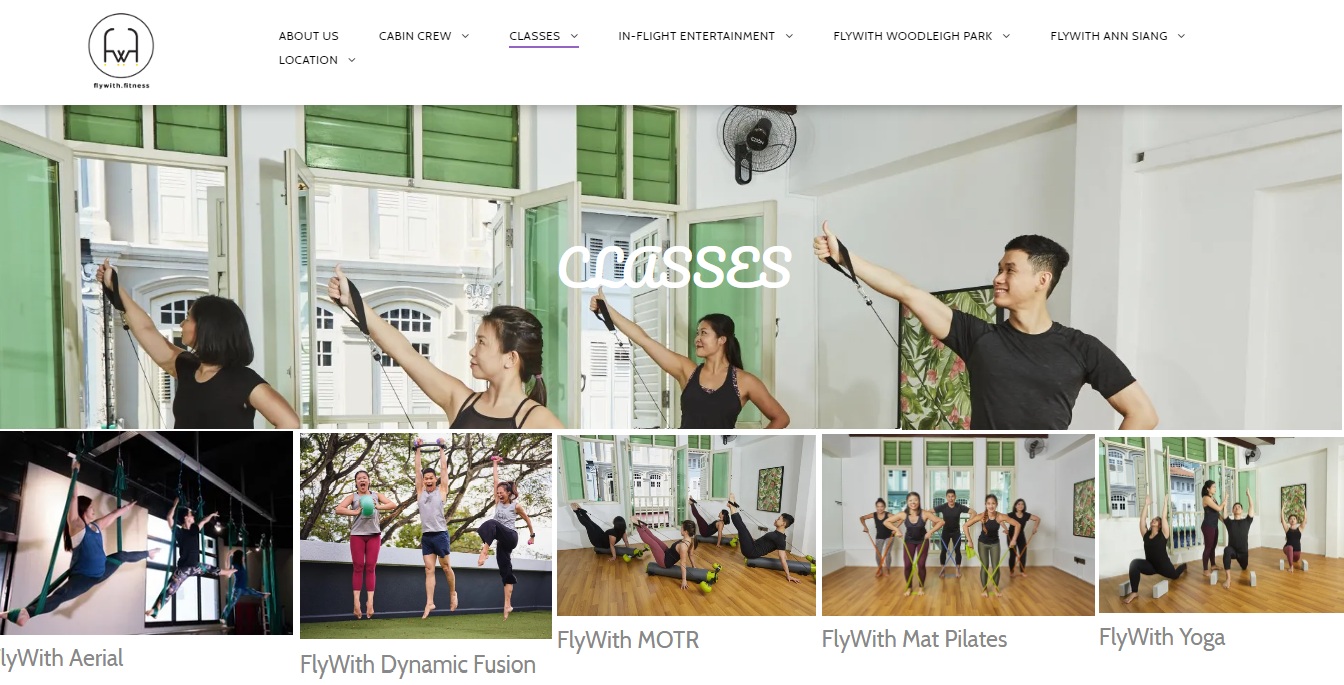 Focusing on wellness, mindfulness, and nutrition education, all at once? Yes, it's possible. FlyWith Fitness has a whol-listic system which combines these three important factors in one's health, while practicing pilates. 
FlyWith Fitness' vision is to let each of their students feel a natural high, with a strong emphasis on Aerial, Pilates and Yoga techniques. Students are also able to choose classes ranging from high, medium, to low sweat, according to their goal, and to ensure that each class is uniquely-tailored and fit for each student.
Service Highlights
Whol-listic approach

High, medium, low sweat class

Uniquely-tailored classes
22. Health2U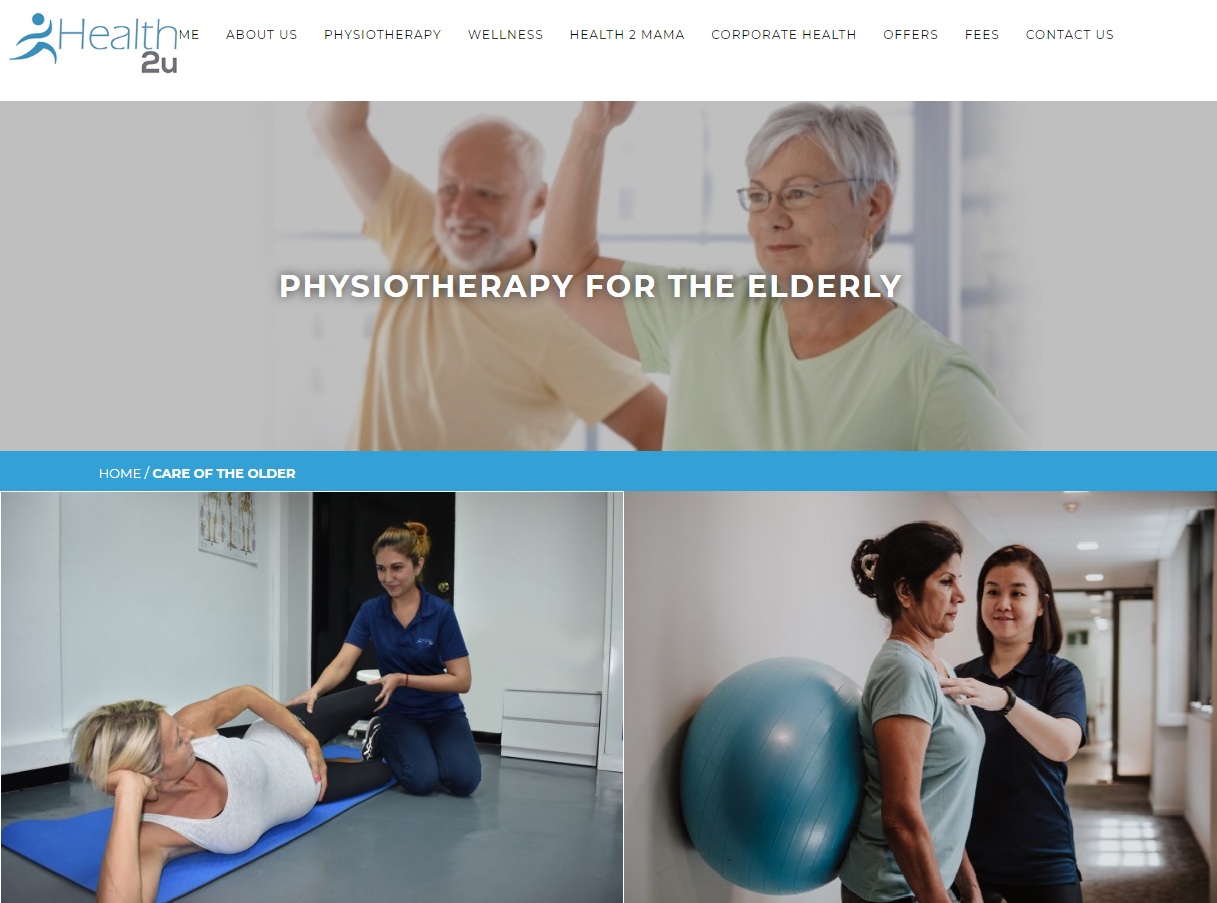 BEST FOR

Professional physiotherapy, Pilates, Sports Massage, Neurological physiotherapy, Care for the Elderly, Pre and Post natal physiotherapy, Baby massage, Paediatric physiotherapy, Diastasis recti treatment, Fitness and Personal Training, Corporate health

PRICING

https://www.health2u.sg/fees/

 

WEBSITE

https://www.health2u.sg/

 

ADDRESS

101B Telok Ayer Street, 03-01, Singapore, 068574. 

 

03-01, 101 Telok Ayer Street, 068574

CONTACT DETAILS

+65 6255 5250 |

@health2u.sg

OPERATING HOURS

Sunday

9am–6pm

 

Monday 7am–10pm

Tuesday 7am–10pm

Wednesday 7am–10pm

Thursday 7am–10pm

Friday 7am–10pm

Saturday 7am–6pm
Health2u aims to match the speciality of their therapist with the needs of their clients.
They have a team consisting of several therapists with different specializations such as pain, after surgery, sports injury, pre and post natal, neurological problems, paediatric and care of the elderly. Their service is very convenient as they are offering appointments in the early morning, evening and weekends.
The Pilates is taught by a physiotherapist and is known as clinical pilates, which means you get the benefits of having a physiotherapist with their expert knowledge and training, individualising the exercises for the patient.
They also have a home visit service where the therapist provides all the usual clinic or studio equipment to you, at your home or work, to make the experience easier for the customer.
Highlights
Convenient service (choose between a home visit or the clinic, same price)
Customized training to individual needs
Fitness, massage, pre and post natal and nutritional services
Customer Reviews
Their customers were very satisfied with their service since Health2u really aims to give the customer what they really need based on their problems.

"Recommended by friend and have been a couple of times in relation to issues with upper back and heel problems. Laura has been great at explaining the problems and what needs to be done to achieve results which can already been seen. Would highly recommend! 5 STARS"
23. Advantage Pilates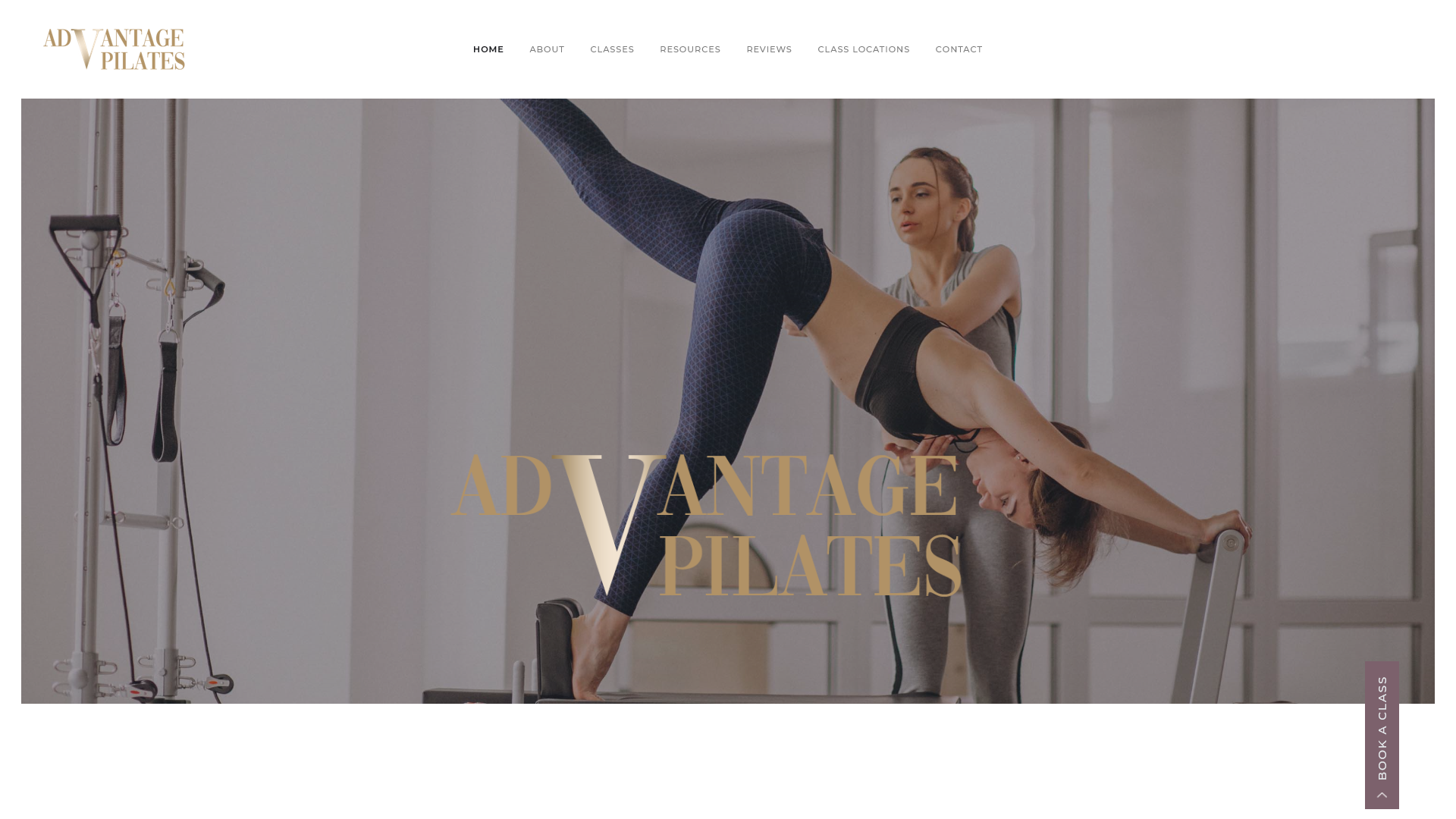 BEST FOR 
Pilates Workout
CLASSES
Pilates Introduction, Pilates Intermediate, Pilates Advanced, Pilates Gliders, Pilates HIIT and Stretch, Pilates Stretch and Relax
WEBSITE
https://advantagepilates.sg/
ADDRESS

20 Cecil St, #05-02 Plus Building (Formerly GSH Plaza), Singapore 049705

Advantage Pilates Centre, 1 Marine Parade Central #12-04

CONTACT DETAILS
 +6588318599  | [email protected]
OPERATING HOURS
Refer to website class schedule
Advantage Pilates' mission is to enhance their client's wellbeing, mainly through providing a positive and holistic environment that is free of judgement. They aim to inspire and challenge everyone to try Pilates, so that one can work on not just achieving, but exceeding their personal fitness goals.
They offer detailed and personalised workouts, as well as individual exercise classes– both of which work on achieving the right balance of strength and flexibility. They also make sure to offer affordable, all-inclusive programs that are suitable for all ages, body types, and fitness levels.
Their vision is to become a leading Pilates Studio that transforms their clients' quality of life through graceful movement. They also provide wellness products and services for their clients to have a well balanced body.
Service Highlights
Customer Reviews
Here are some reviews left by satisfied clients:
"I never thought that I'd attend an exercise session with my mum because of her multiple back problems and knee ailments but @advantagepilatessg made it happen."
"I attended Tiffany's Advanced Pilates: It was a great workout, the amount of perspiration on me was like doing cardio. I indeed could feel my waistline on day 2 after Pilates class. Day 1 was a day of muscle aches. Great for toning body!"
24. Off Duty Pilates

Next on the list is Off Duty Pilates. They offer a multitude of classes, both for personal and group schedules.
Their instructors are experienced and professionals, which readily allows them to customize the level of difficulty based on their clients' progress. This helps ensure everyone can keep up while also taking into consideration the limits of their bodies.
What makes them different is that their pilates is more than just for rehabilitation but also available for people who want to keep fit and love doing it.
And lastly, Off Duty Pilates is one to consider for its convenient location. It's easily accessible by different modes of transportation, which makes it a good option for anyone, whether they have a car or not.
You can head to their website to check out more details or pick a schedule for your decided Pilates class.
Service Highlights
Hybrid training
Sculpting classes
Starter group packages
Customer Reviews
Check out what some clients of Off Duty Pilates have to say about them:
"A very cosy studio with warm colours. the music goes along well with the workout! private session was very personalised and after some sessions, I know my own body so much better!"
"I've always wanted to try Reformer Pilates for quite sometime now but pilates classes are generally quite pricey and I couldn't really see myself practicing at the few pilates studios I checked out so the idea was put on hold.
However, I finally decided to give it a go when I heard about Off Duty Pilates and I'm so glad I did! Since my first lesson over a month ago, I've been going for weekly classes and I found myself really looking forward to the different challenges every class brings and it has been a tremendous help in managing my stress and overall wellbeing!
Appreciate all the brilliant instructors at Off Duty Pilates, thank you for helping me finally get to a place where I actually enjoy working out consistently!"
25. Pilatique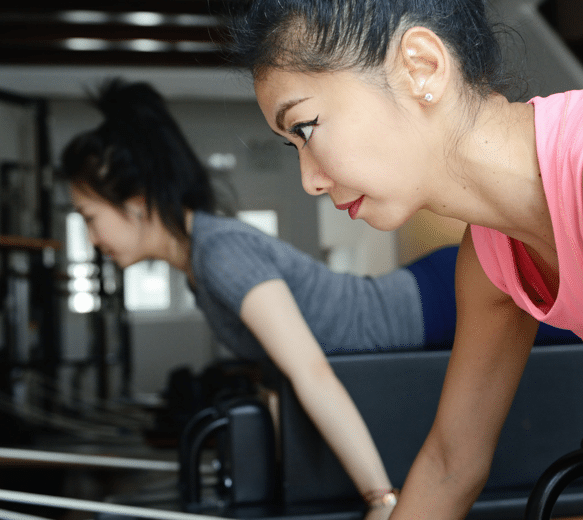 BEST FOR
Stott Pilates
CLASSES/PRICING
PRIVATE & DUET PILATES
REHAB-CLINICAL PILATES
REFORMER GROUP CLASS
WEBSITE
https://sg.pilatique.com/
ADDRESS
8 Gemmill Lane, Singapore 069250
CONTACT DETAILS
Mobile: +65 9820 2686
Tel: +65 6221 3630
Email: [email protected]
OPERATING HOURS
Monday to Friday: 7:00 am – 9:00 pm
Saturday: 7:00 am – 5:00 pm
Sunday and Public Holidays: Closed
Established in 2005, Pilatique is one of the best studios to consider if you're looking for one in Malaysia and Singapore. It's started by husband and wife Melissa Wong and Steven Khoo, with an aim to provide pilates methods that are effective as they are beneficial.
Pilatique offers personalized pilates classes for leisure and therapy alike. They have three groupings available; a private or duet session or a small group with friends.
The programs they offer are safe for everyone and available with varying levels of difficulty.
To top it all off, Pilatique is a certified company to teach aspiring pilates instructors, too, already having trained over 600 pilates instructors over the years.
If you're interested in taking up one of their classes, you can head to Pilatique's website and acquire their complimentary consultation! Questions and further inquiries can be sent there as well, especially if you're thinking of training to be a pilates instructor.
Service Highlights
Training for aspiring pilates instructors
One-on-one lessons
Customized sessions for therapy pilates
26. Power Moves Pilates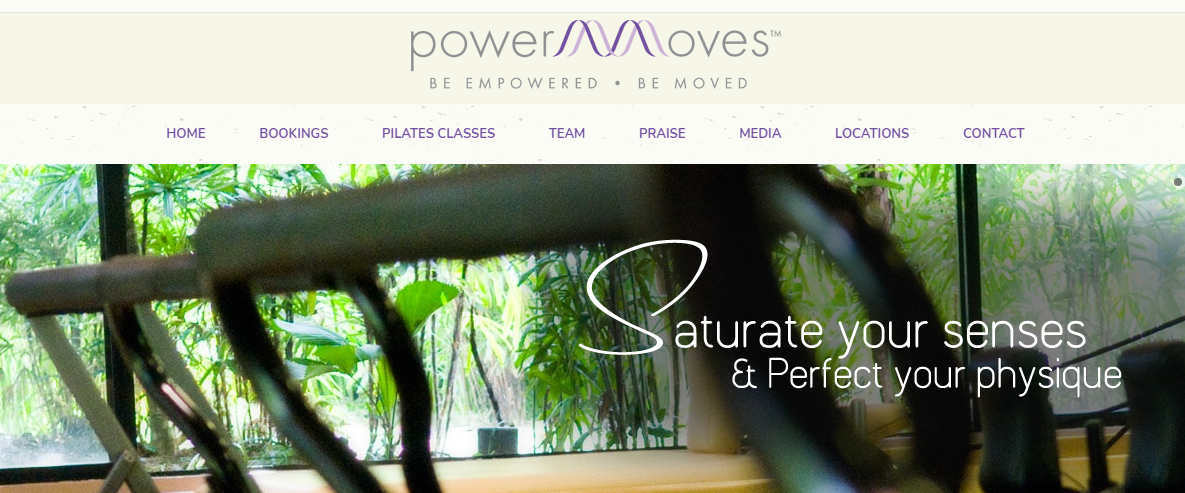 BEST FOR
Tranquil and accessible location
CLASSES/PRICING
Pilates Classes
Pilates Matwork
Pilates Reformer
Power Pilates Promise
Unlimited Matwork
PreNatal Pilates
Privates and Duets
WEBSITE
https://www.powermoves.com.sg
ADDRESS

6 Dempsey Road, Singapore 249683

@ NOVENA SPECIALIST CENTRE

8 Sinaran Drive, #02-05, Singapore 307470

CONTACT DETAILS

(65) 6458 2221 – Dempsey

(65) 6458 2221 – Novena

OPERATING HOURS

Mon to Thu

8:30am to 1:30pm
Next on our list is PowerMoves Pilates, a studio that endeavours to help clients strengthen their bodies and invigorate their minds.
One of the things that sets PowerMoves Pilates apart from other Pilates studios is its location, which are distinctive studios at Dempsey Hill and Novena Hub. These studios showcase tranquil, lush environments conducive to pursuing better health.
Not only that, but they are also equipped with the necessary equipment to hold various classes.
These classes welcome everyone, and typically address fitness needs that have to do with core training, strength and flexibility, abdominal functionality, and more. 
Group sessions are extremely popular at PowerMoves, but clients are welcome to book for private sessions as well.
PowerMoves makes it easy to engage Pilates at their locations thanks to the easy online booking process available on their website. 
Service Highlights
Public and private sessions available
Has two locations on the island
Welcomes beginners and experienced attendees alike
27. The Pilates MVMT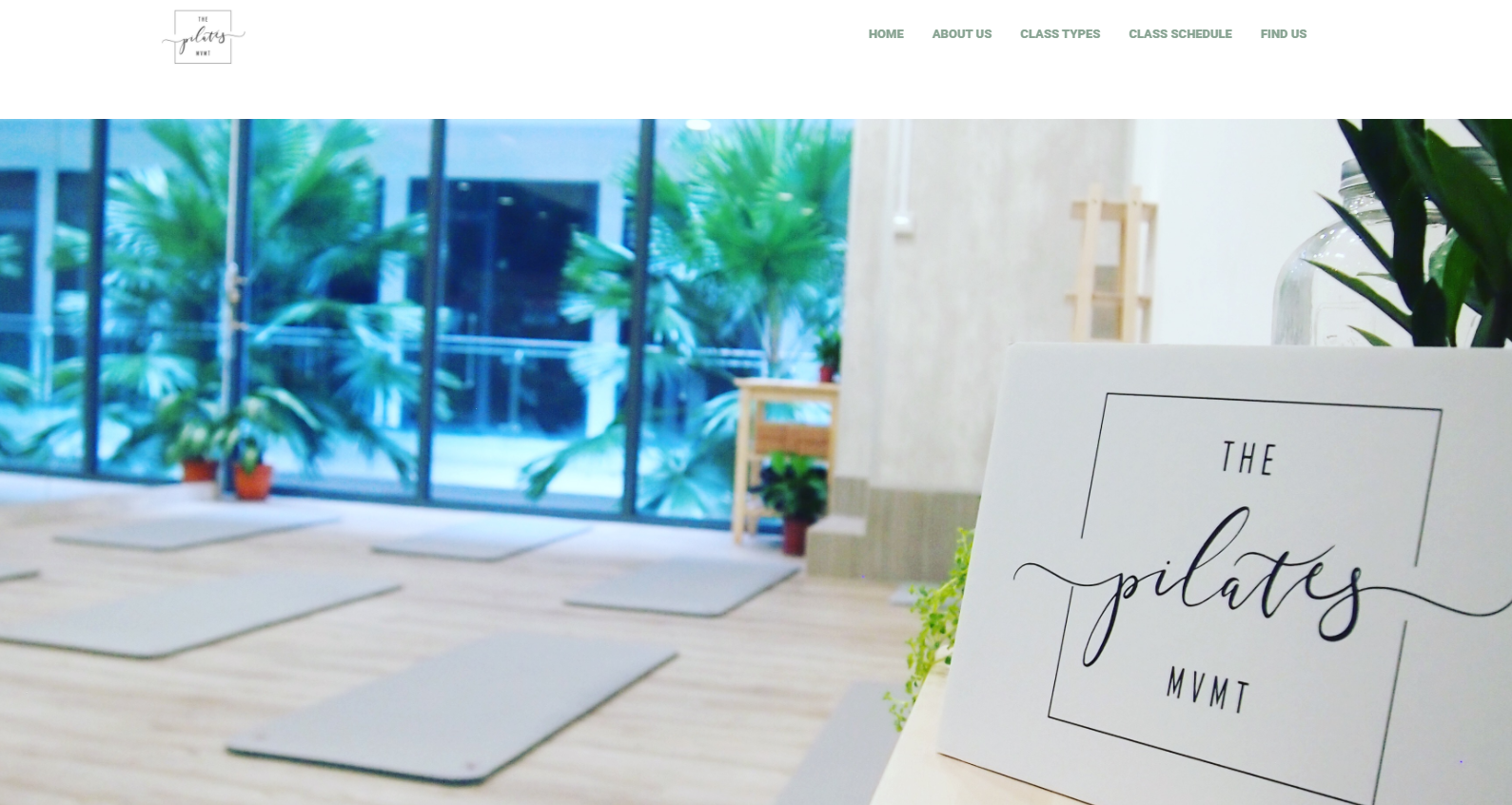 | | |
| --- | --- |
| BEST FOR | Small Group Classes |
| CLASSES/PRICING | Group Mat Classes, Private Pilates Classes, Rebound Classes |
| WEBSITE | http://thepilatesmvmt.com |
| ADDRESS | 183 JALAN PELIKAT #01-62/63 SINGAPORE (537643) |
| CONTACT DETAILS | +65 9660 7644 |
| OPERATING HOURS | By appointment only |
Next on our list is The Pilates MVMT, a boutique Pilates studio that endeavours to maintain the essence of Pilates through personalised attention in small group classes, all of which are priced reasonably. 
The Pilates MVMT welcomes fitness enthusiasts of all levels, believing that Pilates, and good health in general, should be accessible to all. Classes are carefully curated to accommodate the various skill levels of the attendees without compromising the skill of the sessions.
The instructors at The Pilates MVMT are to thank for these sessions. They are very friendly and experienced, carefully handling the classes and providing modifications to increase or decrease the difficulty of each exercise.
Those who are hesitant of training with others will be happy to note that The Pilates MVMT is a safe, non-judgmental space that accommodates up to 5 people only for group sessions. The studio is very peaceful as well, and features Pilates Reformer machine and 2 Pilates Chairs for Private 2-1 & 1-1 Pilates classes.
Service Highlights
Private and group sessions available
Classes are strictly by appointment
Typically has classes every day of the week
---
And with that, we wrap up our list of the best studios for Pilates in Singapore.
The next time you feel like you need to heal your mind and body and release tension, try the Pilates classes at these studios. Tell us too what you thought of their programs!
If you're interested in trying even more programs to improve your health, by the way, you may want to consider yoga as well. Look up our list of the best yoga classes in Singapore for some ideas of where to start!