Interested in learning Pilates or deepening your practice of it? Either way, this article's for you, because it's about the best studios for Pilates in Singapore.
The quality of a Pilates class is determined by many things, of course. There's the expertise of the instructor, the quality of the gym, the presence and performance of the equipment, and so on.
We considered all of those things when looking for the best studios for Pilates in Singapore. In the final analysis, we ended up with 7 studios that we thought to be ahead of the rest.
These are the studios we'll go over now. Without further ado, here's our list of the best Pilates studios in Singapore!
1. Pilates Fitness
Pilates Fitness offers different class types that will help you lose weight, reduce body aches, and more.
They promise that each session will be personalised based on your level and needs so that you will be able to focus on doing your best.
They usually have more than 60 classes per week, which makes them convenient for those who have strict or awkward schedules.
The main highlight of their services is the couple prenatal class where the parents-to-be will learn how to take care of themselves and be prepared for parenthood.
SERVICE HIGHLIGHTS
Monthly flow challenge
Special promotions
Workshops and training
CUSTOMER REVIEWS
Customers loved Pilates Fitness for its trial class, which they said helped them figure out if they're suited for the lesson or not before taking the leap to sign up for a class schedule.
Some were also impressed by their claim to be the first fitness studio that has lifestyle classes for weight loss, body aches, prenatal, and even for corporate purposes.
Gavy Ng recommended the studio and left this top-rated feedback on Google Reviews:
"Have been attending regularly at this studio for over a year. Enjoy the classes. With different focus each month, you don't feel like the classes are the same and and instructors also give us options to challenge our limit, without hurting ourselves. The class size is not too big and cost is reasonable. Highly recommend"
2. Breathe Pilates
BEST FOR 
Modern Pilates Methods, Physiotheraphy
PRICING
Rates
WEBSITE
http://www.breathepilates.com.sg/
ADDRESS
Locations
CONTACT DETAILS
+65 6850 5082
OPERATING HOURS
Monday – Friday: 10am – 730pm

Weekends: 930am – 130pm

Public Holidays: closed
Breathe Pilates is known for their healthcare professionals, who support each member of their classes with care and expertise.
They also have a wider range of classes than average, including private sessions for more customised exercises, and even rehabilitative programs to help you regain energy and peace.
You will be able to learn new techniques with their internationally-trained team, which has years of experience.
The best feature of their services is the offering for physiotherapy, where therapies, programs, and methods will serve as treatments for musculoskeletal and neurological conditions. This is a long-term process to maintain a healthy body and mind.
SERVICE HIGHLIGHTS
Private lessons
Fitness training programs
One-on-one consultation
CUSTOMER REVIEWS
Customers say they have noticed that instructors from Breathe Pilates focus on educating participants with health practices that improve their daily lives. They aim to increase body awareness, flexibility, posture, and the like in a way that improves students' everyday tasks.
A reviewer became a loyal customer due to this and claimed to keep coming back because of their excellent classes and instructors. Here's what the reviewer wrote on Google Reviews:
"I am into my third year with Breathe Pilates. I started with private Gyrotonic lessons before joining a group reformer class after a year. I thoroughly enjoyed both experiences; it is a lovely studio and the instructors are great. The sessions have been very beneficial in managing back pains caused by my scoliosis condition."
3. Pilates Plus

| | |
| --- | --- |
| BEST FOR  | Traditional Pilates Techniques |
| PRICING | Rates |
| WEBSITE | https://www.pilatesplus.sg/ |
| ADDRESS | 141 Cecil Street #02-03, Tung Ann Association Building, Singapore 069541 |
| CONTACT DETAILS | +65 62211845 |
| OPERATING HOURS | Monday to Saturday – 7am–7pm |
At Pilates Plus, instructors teach mostly the fundamentals but still include advanced classes to enhance the fitness potential of each client.
For those who have never tried doing Pilates before, it would be good to start with this place. They also promote classes for elders, athletes, and everyone who wants to stay fit and healthy.
Their services are highly affordable too, as the private and group sessions come in packages.
SERVICE HIGHLIGHTS
Accessible scheduling through a mobile app
Trial sessions
Special promotions
CUSTOMER REVIEWS
Pilates Plus proudly present their classes in fun ways to help their clients enjoy the exercises while encouraging them to do their best, especially when they reach the advanced classes.
Jessie Tan shared the improvements she had experienced on the official Facebook account:
"I had very stiff and sore shoulders from desk bound work. After some stretching miracle, it was totally loosen up and it felt really good. Working out at PilatesPlus has given a whole new meaning to the Pilates that I have known before this. I highly recommend that you try them out."
4. Upside Motion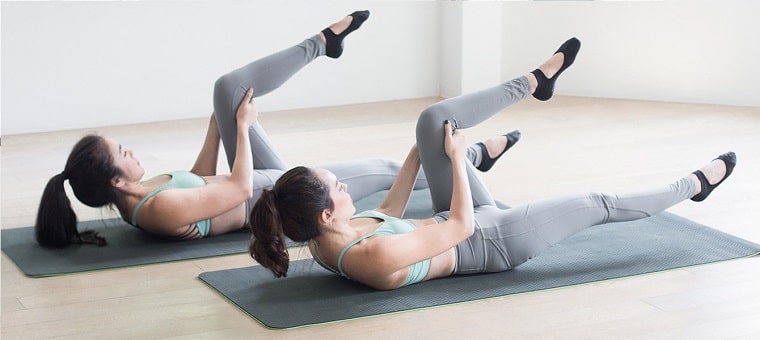 Being located at the places within the centre of Singapore, Upside Motion is one of the most accessible Pilates studios for city dwellers. There are a lot of transportation options near each location, so getting there is easy.
There is also no need to worry if there is a difference in the range of classes because all studios offer the same scope of programs. You can also manage your class schedule on their mobile app.
In their Pilates class, they provide Pilates Mat and Reformer training. The classes focus on body alignment and breathing techniques.
SERVICE HIGHLIGHTS
Aerial, Barre, and Yoga training
Perks points for free classes and merchandise
Introductory affordable offers
CUSTOMER REVIEWS
In the past years, Upside Motion has been featured in various media and press stories. These achievements and their compelling classes and instructors have earned the trust of many customers.
Nick gave them this review on Google Reviews:
 "Clean and peaceful studio. Enjoyed my pilates mat and reformer classes here. Very attentive, encouraging and highly skilled instructors who help me achieve better form and inspire me to push myself harder for the workout. Will definitely try out their aerial, barre and yoga classes too."
5. Focus Pilates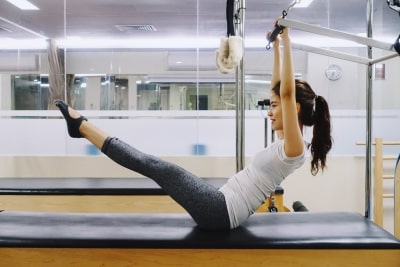 | | |
| --- | --- |
| BEST FOR  | Fitness, Rehabilitation, and Sports Conditioning |
| PRICING | Rates |
| WEBSITE | http://www.focuspilates.com.sg |
| ADDRESS | Raffles Place 22 Malacca Street, #08-00 RB Capital Building (Royal Brothers) Singapore 048980 |
| CONTACT DETAILS | +65 6235 3938 / +65 6327 2072 |
| OPERATING HOURS | Monday – Thursday: 7.30am – 8.30pm I Friday: 8.30am – 6pm I Saturday: 8.30am – 5.30pm I Sunday: 9am – 2pm |
The main highlight of Focus classes is to provide Pilates sessions, physiotheraphy, and rehabilitation courses for the athletes. This might be the ideal option for the athletes who are recovering from injuries and want to maintain their health.
They have a wide variety of Pilates classes, unlike many other studios. They also have prenatal and postnatal classes for parents.
Yoga classes and classes for those recovering from common injuries are offered as well.
SERVICE HIGHLIGHTS
Running assessment and conditioning
Prenatal and postnatal classes
Off-peak packages
CUSTOMER REVIEWS
The broad scope of Focus Pilates sessions has made it easier for their clients to explore and try different kinds of Pilates exercises. Daphne and Mathieu expressed their thoughts about the studio and wrote this feedback on the official website:
"We originally joined Focus Pilates with an open mind and a few aching body parts. The instructors carefully trained us up and within a matter of weeks we felt a noticeable difference in our strength, stamina and flexibility. Little did we know just how beneficial Pilates could be for us. Over time, we have moved up through the different class levels and have gotten to know the Focus Pilates team pretty well. If you are looking for a place to expand your mind and work out your body like you've never done before, we would invite you to come along for a session or two"
6. COMO Shambhala Urban Escape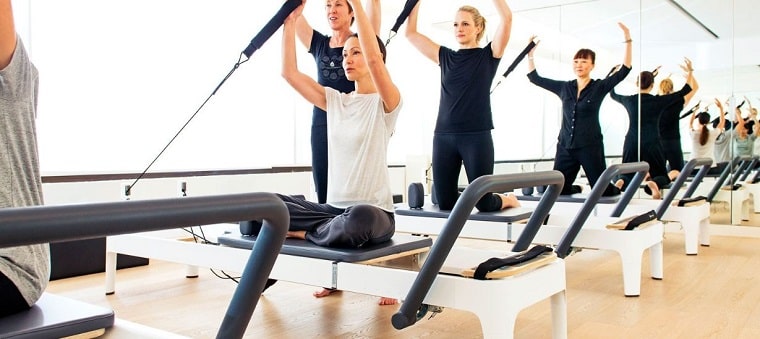 COMO Shambhala Urban Escape offers basic classes such as matwork classes and the Reformer. Each class has its own levels to let clients enhance inner and outer body features and motivate them to do their best.
Barre exercises are also provided. Similar to other studios, they have both private and group sessions.
Since this studio is located at a hotel and resort, you can also enjoy other amenities like workshops and recreational activities.
SERVICE HIGHLIGHTS
Cardio Tramp and Jumpboard options
Additional lifestyle activities
Yoga workshops
CUSTOMER REVIEWS
Most clients of COMO Shambhala Urban Escape have come to experience a staycation or a fun-filled and adventurous trip. Pilates classes might only be listed as one of their activities to try but customers say their Pilates program is very well run.
Marco left this 5-star rated comment on Google Reviews:
"Best studio in Singapore! The environment is an oasis of peace in the middle of Orchard: clear, bright and spacious. The teachers are of very high quality: precise, punctual, polite and prepared. Strongly recommended, especially to people who are looking for iyengar."
7. Body n'Sync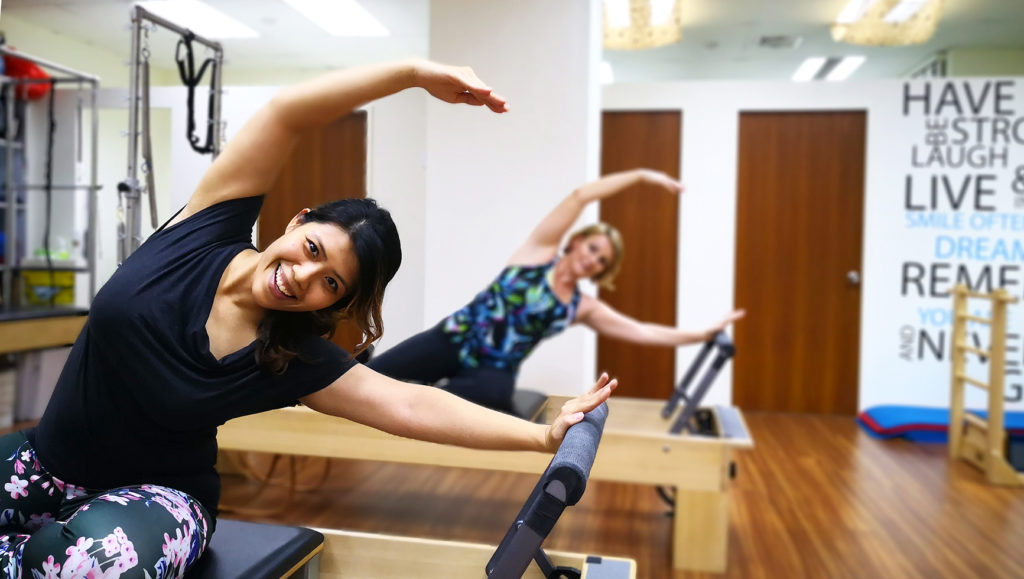 BEST FOR 
Barre, Rhythmic Pilates and Express Lunch classes
CLASSES
https://www.bodynsync.sg/timetable/
WEBSITE
https://www.bodynsync.sg/
ADDRESS
No. 14 Robinson Road, #02-03/04,
Far East Finance Building, Singapore 048545
CONTACT DETAILS
Telephone +(65) 69090533
Company Mobile +(65) 85253339
OPERATING HOURS
Monday – Friday: 9am – 8pm

Saturday: 10am – 3pm

(Closed on Sundays and Public Holidays)
Whether you want Mat or Reformer Pilates, or solo or group class, Body n'Sync has the class for you!
As you join their classes, you can relax and refocus your mind while honing your body to new, toned heights.
From improved posture to a stronger back, uncover a rejuvenated new you through Pilates!
SERVICE HIGHLIGHTS
Reformer Pilates
Matwork Pilates
Beginner Matwork
General Matwork
Stretch & Tone Matwork
Pre-Natal
Active Aging
Custom Group Matwork Classes
Pilates Instructor Course
Physiotherapy
Muscle Release & Massage Therapy
CUSTOMER REVIEWS
This studio has its share of fans because of its experienced instructors and very wide range of offerings.
Here's a 5-Star Facebook Review from Utami Sugianto:
"Got me to do a 4' plank!!! Learned to love Pilates!!"
8. FITNUT LOFT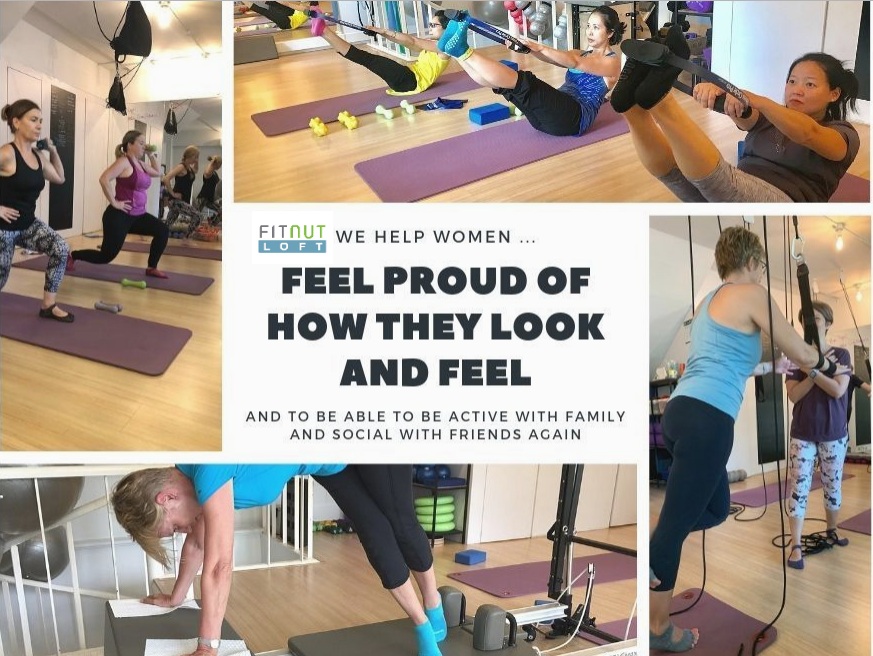 FitNut Loft was created to help women improve their health and develop a sustainable lifestyle through Pilates.
Established by a breast cancer survivor, the centre has Pink FitNut Breast Cancer Online Coaching. This is an event held twice a year in order to help other survivors stay fit after battling the illness. 
If you want to know more about their program, you can visit their website or talk to them through email address or phone number. They will gladly help you out on your journey to becoming healthy. 
BEST FOR

Weight circuits and Pilates combo

CLASSES

https://www.fitnutloft.com/book-now/

WEBSITE

https://www.fitnutloft.com/

ADDRESS

2 Pandan Valley #01-201 Pandan Valley Condo, Singapore 597676

CONTACT DETAILS

+65 8686 8299 │ support@fitnutloft.com 

OPERATING HOURS

Monday: 8:00 am – 8:00 pm 

Tuesday – Friday: 7:30 am – 3:00 pm

Saturday: 7:30 am – 12:00 pm
SERVICE HIGHLIGHTS
Weight Circuit and Pilates Combo

Suspension training

Cardio-trampolining and floor work combo

Rehabilitative, myofascial release, and gentle mat Pilates

Mix Pilates and weight training
CUSTOMER REVIEWS
Nothing can beat a business who aims to support women in sustaining their health. As such, FitNut Loft has been the choice of many when it comes to Pilates.
Here's what one customer said about the place:
"I love the small community of Fit Nutters, it feel personal. There's also the perfect choice of classes, and the coach's are very skilled. I've seen a huge improvement in my strength and overall wellbeing. I give them 10/10!" – Caroline Cook
9. Absolute You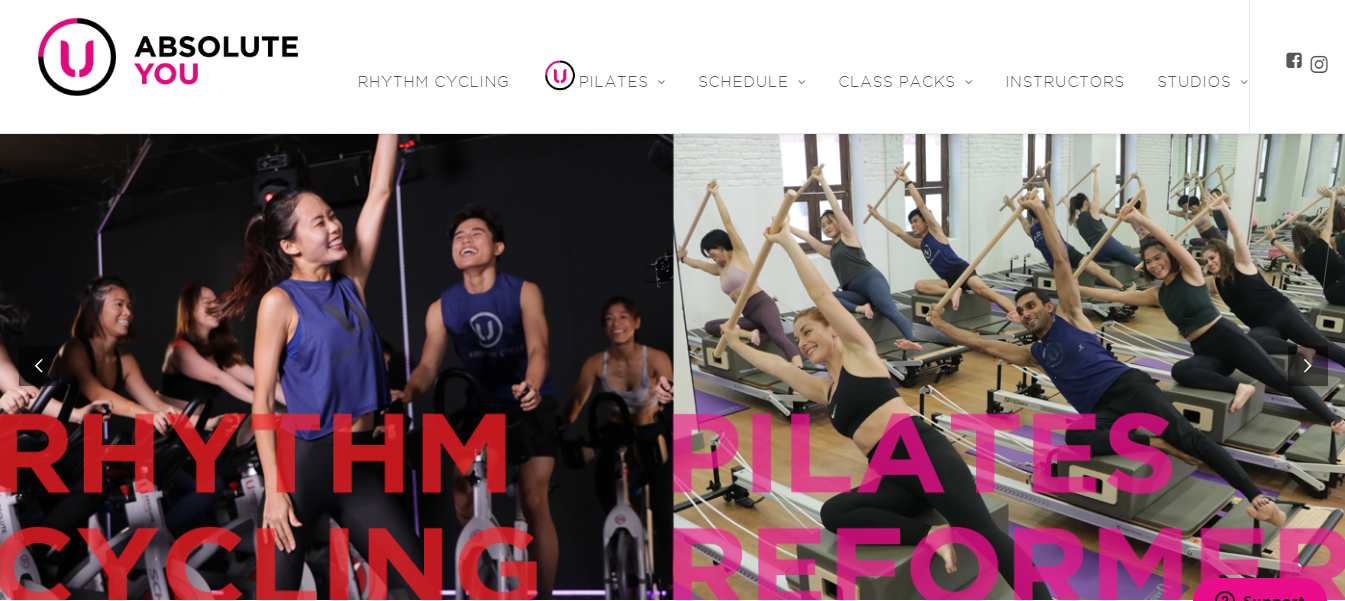 BEST FOR: Class packs for easy access to all classes at all studios
PRICING: Rates
WEBSITE: https://absoluteyousingapore.com/
ADDRESS: 3 different studios
CONTACT DETAILS: 6732 1522
OPERATING HOURS: Schedule
Absolute You is a perfect place if you want to stay fit while having enjoyable activities supervised by professional coaches. The studio introduces bespoke specialized programs like Pilates and Rhythm cycling designed by their US master instructors.
Absolute You is also reachable as they currently have 3 studios in Singapore that all exhibits premium class packs that you will truly enjoy.
To maximize the gym's classes, you may also avail their Ultimate Class Packs which will give you passes to all of their classes at all studios.
Should you want to see first which class is suited best for you before actually going all in, you can always avail their Ultimate Trial Pack. What a steal, right?
For easier access and transaction, you can download Absolute You Singapore app so you're always connected to them anytime, anywhere.
SERVICE HIGHLIGHTS
Professional instructors

Enjoyable activities

Great deals on classes
CUSTOMER REVIEWS
Absolute You is praised for their wonderful team of professional and accommodating instructors as they really give the appropriate guidance that their members need. They are also commended for the total quality of their classes that are generally engaging and fun. Here are some of the feedback they got that were posted on Google Reviews.
"It's like partying on a bike without the alcohol and hangover. Instructors are amazing and very experienced. Love the vibes, awesome music styles and community!"
"Spin classes at absolute is always full of energy! Instructors are friendly and engaging! Would definitely recommend my friends to try out!"
And with that, we wrap up our list of the best studios for Pilates in Singapore.
The next time you feel like you need to heal your mind and body and release tension, try the Pilates classes at these studios. Tell us too what you thought of their programs!
If you're interested in trying even more programs to improve your health, by the way, you may want to consider yoga as well. Look up our list of the best yoga classes in Singapore for some ideas of where to start!
---
*Images are taken from each company's official websites/social media.