If you have ever taken yoga classes, you might probably hear of Pilates. The only difference between the two is the use of equipment. Unlike yoga, Pilates has a specific type of exercising apparatus in each class. However, both of them provide an improvement in physical and inner strength. Whether you are working with a full-time job or taking on a wonderful journey of motherhood, taking Pilates lessons would be a great help for you to have a healthy lifestyle. Without further ado, take a look at this list of best Pilates studios in Singapore!
1. Pilates Fitness
Pilates Fitness offers different class types that will help you lose weight, reduce body aches, many more. They assure that each session will be personalized based on your level and needs so that you will be able to focus on what's really important. They usually have more than 60 classes per week, hence, it will be more convenient to adjust your schedule. The main highlight of their services is the couple prenatal where the parents-to-be will learn how to take care of themselves and be prepared into parenthood.
SERVICE HIGHLIGHTS
Monthly flow challenge
Special promotions
Workshops and training
CUSTOMER REVIEWS
Customers loved the Pilates Fitness for it has a trial class and they were able to know if they're suited for the lesson or not, before engaging in a class schedule. They claim to be the first fitness studio that has lifestyle classes for weight loss, body aches, prenatal, and even for corporate purposes. Gavy Ng recommended the studio and left this top-rated feedback on Google Reviews:
"Have been attending regularly at this studio for over a year. Enjoy the classes. With different focus each month, you don't feel like the classes are the same and and instructors also give us options to challenge our limit, without hurting ourselves. The class size is not too big and cost is reasonable. Highly recommend"
2. Breathe Pilates
BEST FOR 
Modern Pilates Methods, Physiotehraphy
PRICING
Rates
WEBSITE
http://www.breathepilates.com.sg/
ADDRESS
Locations
CONTACT DETAILS
+65 6850 5082
OPERATING HOURS
Monday – Friday: 10am – 730pm

Weekends: 930am – 130pm

Public Holidays: closed
Breathe Pilates is known for their healthcare professionals that will support each class and help you enhance your wellness. They also have a wider range of classes that include private sessions for more customized exercises rehabilitative programs to help you regain energy and peace. You will be able to learn new techniques with their international team that has years of experience. The best feature of their services is physiotherapy where therapies, programs, and methods will serve as treatments for musculoskeletal and neurological conditions. This is a long-term process to maintain a healthy body and mind.
SERVICE HIGHLIGHTS
Private lessons
Fitness training programs
One on one consultation
CUSTOMER REVIEWS
Breathe Pilates focuses on educating their students with practices that are applicable to daily lives. They aim to increase body awareness, flexibility, posture, and other body and mind features. A reviewer became a loyal customer and kept on coming back because of their excellent classes and instructors, thus giving this feedback on Google Reviews:
"I am into my third year with Breathe Pilates. I started with private Gyrotonic lessons before joining a group reformer class after a year. I thoroughly enjoyed both experiences; it is a lovely studio and the instructors are great. The sessions have been very beneficial in managing back pains caused by my scoliosis condition."
3. Pilates Plus

| | |
| --- | --- |
| BEST FOR  | Traditional Pilates Techniques |
| PRICING | Rates |
| WEBSITE | https://www.pilatesplus.sg/ |
| ADDRESS | 141 Cecil Street #02-03, Tung Ann Association Building, Singapore 069541 |
| CONTACT DETAILS | +65 62211845 |
| OPERATING HOURS | Monday to Saturday – 7am–7pm |
At Pilates Plus, instructors use mostly the basic fundamentals but still include advanced classes to enhance the fitness potential of each client. For those who have never tried doing Pilates before, it would be good to start with this place. They have the simplest up to the most difficult practices. They also promote that their classes are for elderlies, athletes, and everyone who wants to stay fit and healthy. Their services are highly affordable for the private and group sessions come with packages.
SERVICE HIGHLIGHTS
Accessible scheduling through a mobile app
Trial sessions
Special promotions
CUSTOMER REVIEWS
Pilates Plus proudly present their classes with fun and delightful vibes to let their clients enjoy the exercises while encouraging them to do their best, especially when they reach the advanced classes. Jessie Tan shared the improvements she had experienced on the official Facebook account:
"I had very stiff and sore shoulders from desk bound work. After some stretching miracle, it was totally loosen up and it felt really good. Working out at PilatesPlus has given a whole new meaning to the Pilates that I have known before this. I highly recommend that you try them out."
4. Upside Motion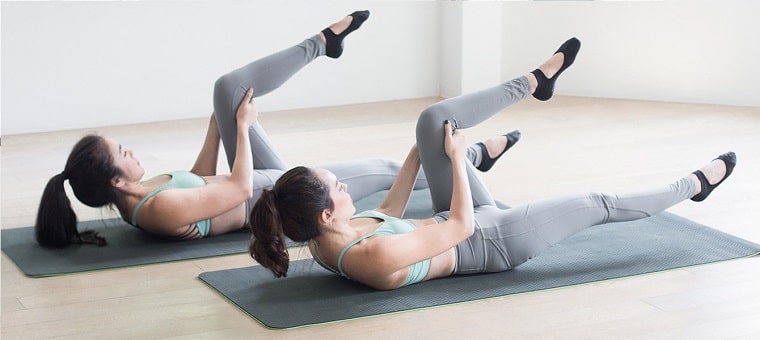 Being located at the places within the center of Singapore, Upside Motion is one of the most accessible pilates studios. There are a lot of transportation options near each location. There is also no need to worry if there is a difference in the range of classes because all studios to offer the same scope of programs. You can also manage your class schedule on their mobile app. In their Pilates class, they provide Pilates Mat and Reformer that focuses on body alignment and breathing techniques.
SERVICE HIGHLIGHTS
Aerial, Barre, and Yoga training
Perks points for free classes and merchandise
Introductory affordable offers
CUSTOMER REVIEWS
For the past years since they have established, Upside Motion has been featured in various media and press. These achievements and their compelling classes and instructors have earned the trust of many customers. Nick gave this wonderful review on Google Reviews:
 "Clean and peaceful studio. Enjoyed my pilates mat and reformer classes here. Very attentive, encouraging and highly skilled instructors who help me achieve better form and inspire me to push myself harder for the workout. Will definitely try out their aerial, barre and yoga classes too."
5. Focus Pilates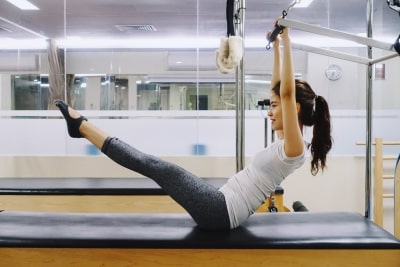 | | |
| --- | --- |
| BEST FOR  | Fitness, Rehabilitation, and Sports Conditioning |
| PRICING | Rates |
| WEBSITE | http://www.focuspilates.com.sg |
| ADDRESS | Raffles Place 22 Malacca Street, #08-00 RB Capital Building (Royal Brothers) Singapore 048980 |
| CONTACT DETAILS | +65 6235 3938 / +65 6327 2072 |
| OPERATING HOURS | Monday – Thursday: 7.30am – 8.30pm I Friday: 8.30am – 6pm I Saturday: 8.30am – 5.30pm I Sunday: 9am – 2pm |
The main highlight of Focus' classes is to provide Pilates sessions, Physiotheraphy, and rehabilitation courses for the athletes. This might be the most ideal option for the athletes who have been recovering from injuries and want to maintain the wealth of their health.
They have a variety of Pilates classes unlike with the other studios. They also both have prenatal and postnatal classes for the parents. Yoga classes and common injuries and treatments are being offered as well.
SERVICE HIGHLIGHTS
Running assessment and conditioning
Prenatal and Postnatal classes
Off-peak packages
CUSTOMER REVIEWS
The broad scope of Focus Pilates' sessions has made it easier for the clients to explore and try different kinds of exercises. Daphne and Mathieu expressed their thoughts about the studio and wrote this feedback on the official website:
"We originally joined Focus Pilates with an open mind and a few aching body parts. The instructors carefully trained us up and within a matter of weeks we felt a noticeable difference in our strength, stamina and flexibility. Little did we know just how beneficial Pilates could be for us. Over time, we have moved up through the different class levels and have gotten to know the Focus Pilates team pretty well. If you are looking for a place to expand your mind and work out your body like you've never done before, we would invite you to come along for a session or two"
6. COMO Shambhala Urban Escape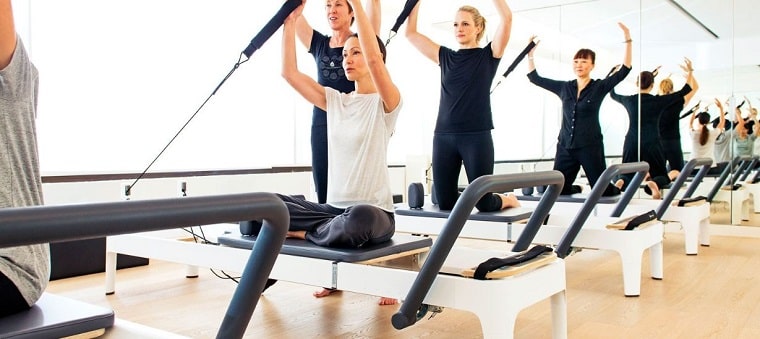 BEST FOR 
Matwork, Barre, and Reformer Classes
CLASSES
http://www.comoshambhala.com/singapore/classes/pilates
WEBSITE
http://www.comoshambhala.com/singapore/classes/pilates
ADDRESS
402 Orchard Road #06-01/02 Delfi Orchard Singapore 238876
CONTACT DETAILS
+65 6304 3552
OPERATING HOURS
Monday to Thursday   7:30am – 9:00pm

Friday                          7:30am – 6:00pm

Saturday                     7:30am – 7:00pm

Sunday                        9:00am – 6:00pm

Public Holiday             9:00am – 5:00pm

Please check on openings for public holidays.
COMO Shambhala Urban Escape offers basic methods such as matwork classes and the Reformer. Each class has its own levels to let the clients enhance inner and outer body features and motivate them to do their best. Barre exercises are also being provided which opt for most athletes' needs. Similar to other studios, they have private and group sessions. Since it is located at a hotel and resort, you can also enjoy their other amenities where you can have workshops and recreational activities.
SERVICE HIGHLIGHTS
Cardio Tramp and Jumpboard
Additional lifestyle activities
Yoga workshops
CUSTOMER REVIEWS
Most clients of COMO Shambhala Urban Escape have come to experience a staycation or a fun-filled and adventurous trip. Pilates classes might only be listed as one of their activities to try but once they have taken a class, it has become their must-go-to places. Marco left this 5-star rated comment on Google Reviews:
"Best studio in Singapore! The environment is an oasis of peace in the middle of Orchard: clear, bright and spacious. The teachers are of very high quality: precise, punctual, polite and prepared. Strongly recommended, especially to people who are looking for iyengar."
7. Body n'Sync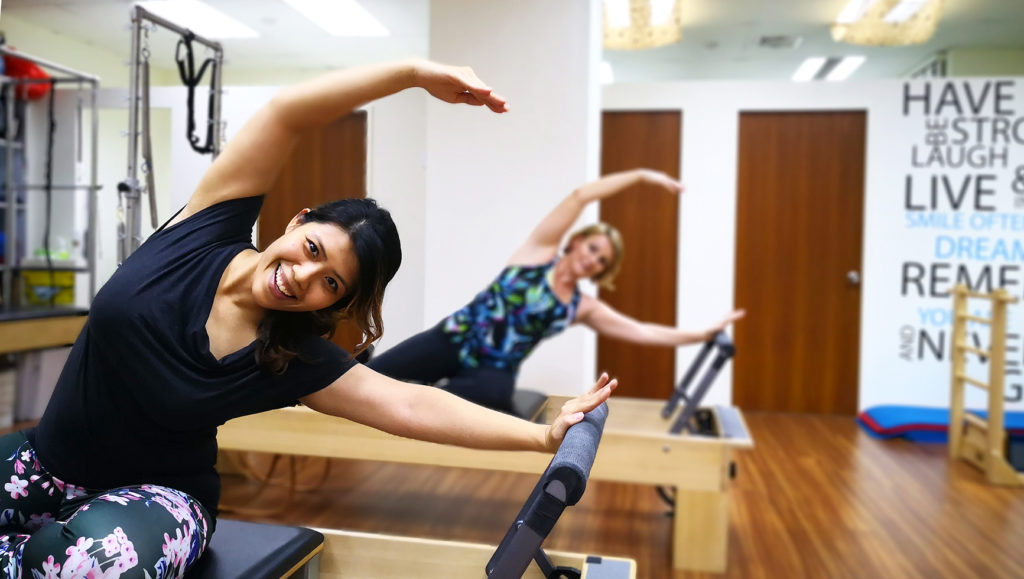 BEST FOR 
Barre, Rhythmic Pilates and Express Lunch classes
CLASSES
https://www.bodynsync.sg/timetable/
WEBSITE
https://www.bodynsync.sg/
ADDRESS
No. 14 Robinson Road, #02-03/04,
Far East Finance Building, Singapore 048545
CONTACT DETAILS
Telephone +(65) 69090533
Company Mobile +(65) 85253339
OPERATING HOURS
Monday – Friday: 9am – 8pm

Saturday: 10am – 3pm

(Closed on Sundays and Public Holidays)
Whether you want Mat or Reformer Pilates, solo or group class, Body n'Sync has the class for you! As you join their classes, you can relax and refocus your mind while honing your body to new, toned heights. From improved posture to a stronger back, uncover a rejuvenated new you through Pilates!
SERVICE HIGHLIGHTS
Reformer Pilates
Matwork Pilates
Beginner Matwork
General Matwork
Stretch & Tone Matwork
Pre-Natal
Active Aging
Custom Group Matwork Classes
Pilates Instructor Course
Physiotherapy
Muscle Release & Massage Therapy
CUSTOMER REVIEWS
5-Star Facebook Review from Utami Sugianto:
"Got me to do a 4' plank!!! Learned to love Pilates!!"
Aside from Yoga, Pilates is also a form of exercise and therapy in which you will be able to heal your mind and body and release all the tensions. These activities will surely bring improvement and comfort in our daily lives.
Images are taken from each company's official websites/social media.