8 Places for the Best Live Music in Singapore for 2021
Dining out with family and friends is more fun when there's live music in Singapore. As there are a lot of bars, pubs, lounges, and restaurants to choose from for that, we've narrowed down your options to a few places that have the best live music in Singapore!
All venues offer different styles and music choices! So whether you like a casual, classic, or modern style, our list of restaurants with live music in Singapore should be able to offer what you want.
1. Crazy Elephant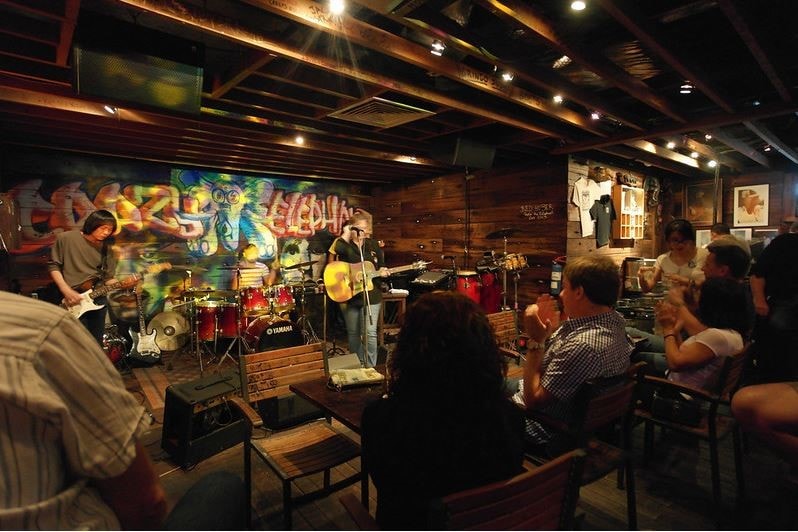 BEST FOR 
Casual and rock 'n' roll blues music
WEBSITE
https://crazyelephant.sg/
ADDRESS
Clarke Quay, 3E River Valley Road, #01-03/04, Singapore 179024
CONTACT DETAILS
(+65) 6337 7859
OPERATING HOURS
Tuesday to Thursday: 6pm–2am

 

Friday & Saturday: 5pm–3am

Sunday: 5pm–2am

Monday: 6pm–1am
If you're searching for a casual bar with a Singapore live band where you can bring your friends to hang out and watch live music shows, you may visit Crazy Elephant. For over a decade, they've been serving their customers with delicious treats, cocktails, accommodating services, and live music in Singapore.
You can listen to some rock 'n' roll blues music played by their band, The Blues Rock Renegades. There's also a pool table provided so you can play some games after dining.
There are no reservations required, no cover charges, and no dress codes. You can enjoy your visit here for as long as you want, without additional fees.
Highlights
Rock 'n' roll blues music
No reservations required
No dress codes 
Customer Reviews
Most customers have enjoyed their experience at Crazy Elephant. Though some wished for an additional pool table, they still recommended it for those who want to relax after long hours of work.
That's why they're considered one of the bars that offer the best live music in Singapore. A customer from Google Reviews left this feedback: 
"The house band is great. I've been a few times. Same house band with different singers. Lovely place for evening drinks. More importantly the place had excellent service. Highly recommended for people who wanted to chill out after work." 
2. Cool Cats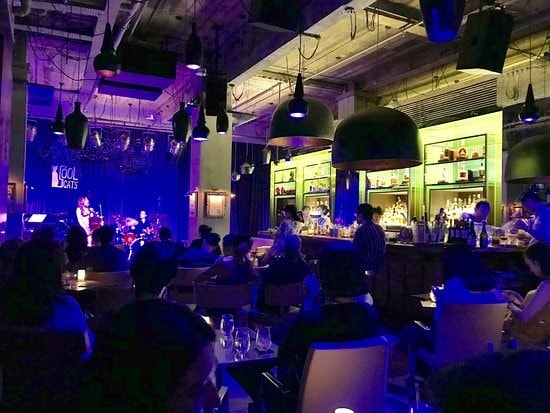 BEST FOR 
Jazz and R&B music
WEBSITE
https://www.coolcats.sg/
ADDRESS
The NCO Club, 32 Beach Road, Singapore 189764 (The nearest parking available at Level B3 of South Beach)
CONTACT DETAILS
+65 6818 1920
OPERATING HOURS
Wednesday – Saturday: 8:30pm–1am

 

(Chinese New Year) Hours might differ
 For a sophisticated vibe with premium entertainment, you should go to Cool Cats, as they also have the best live music in Singapore.
Unlike the previous option, they have a dress code, which is a smart-casual style and there's also an age policy that only those 18 years old and above are allowed to enter the venue.
Their music mainly focuses on blues, jazz, and R&B so they feature live bands in Singapore that specialise in that genre. When it comes to their menu, they offer signature cocktails, beverages, and snack bars. 
Tip: If you're looking for a Chinese live band bar in Singapore, it's worth contacting them as they may have access to many bands!
Highlights
Blues, jazz, and R&B music
Dress code: smart casual style
18 years old and above
Private events 
Customer Reviews
Cool Cats has received a lot of compliments from their customers saying that they're very satisfied with the overall service and performances.
Plenty of them love the relaxed atmosphere and recommend the place for an evening of chill Singapore live music. 
A customer from Google Reviews wrote: 
"Exactly what you'd think of when you think of a jazz bar. Behind the heavy door is a wide open room filled with plush sofas and chairs and chic decor. The acoustics and audio system in the place is much better than many other bars out there and does the musicians justice. Good music aside, the cocktails are fantastic. Creative and well-executed, you're unlikely to find similar drinks (unless it's the classics) elsewhere. As a bonus, the drinks are all inspired by some significant jazz historical event. The snacks menu is mostly seafood-focused, you won't find your fries here. But that's okay, their chili cashews and freshly toasted, warm and flavorful that you won't miss the overpriced truffle fries."
3. Wala Wala Cafe Bar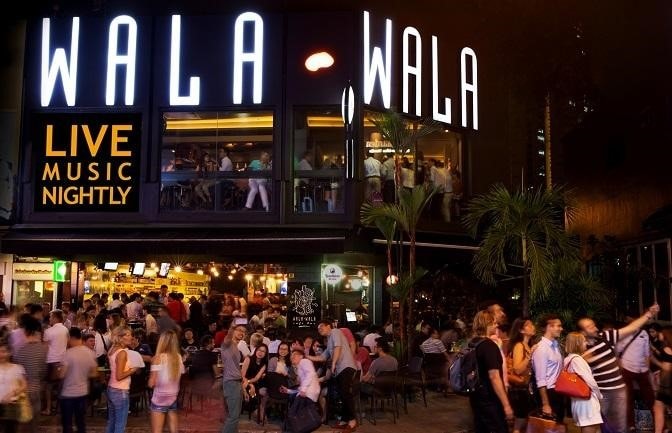 BEST FOR 
Cozy and chill night out, Western cuisine
WEBSITE
http://www.walawala.sg/
ADDRESS
31 Lorong Mambong Holland Village Singapore 277689
CONTACT DETAILS
65-64624288
OPERATING HOURS
Monday to Thursday: 4pm to 1am

 

Friday: 4pm to 2am

Saturday: 3pm to 2am

Sunday: 3pm to 1am
 For those who are looking for a place where they can just chill and feel the night breeze as they and enjoy live music in a restaurant in Singapore, Wala Wala Cafe Bar can be the perfect venue!
This two-storey place has a terrace where you can watch the night sky while you do some catching up with your family and friends! In their menu, they mostly have Western cuisine including pizzas, pasta, chicken wings, and more.
You can drop by at their place to relax and have a good time and listen to some of the best live music in Singapore!
Highlights
Pop, rock, soul, acoustic folk sessions
High-quality beer selection
Western cuisine
Customer Reviews
Some customers said that the service might slow down once the place has been filled. Still, they highly recommended the place and praised the live music bar in Singapore as well as the amazing food menu. 
"I'm a musician and I can confidently say that this is probably the best music bar in Singapore. The selected musicians who perform each night are all of high calibre. The room has been professionally prepared for live performances and they have an amazing soundman there that can deliver great sound to both performers and audience at the same time. The variety of food is good and more importantly we've been enjoying what we've been eating. Service slows down a little when the room is packed, but generally the team are attentive and wiling to serve. It's one of my favourite go to places for good music and food : )" 
 4. Maduro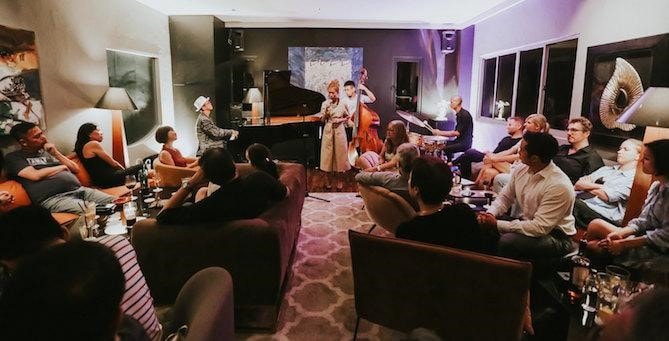 BEST FOR 
Classical music performances
WEBSITE
http://www.maduro.sg/
ADDRESS
40C Harding Rd, Level 3, Singapore 249548
CONTACT DETAILS
+65 9756 4775
OPERATING HOURS
Tuesday to Thursday: 4pm–1am

 

Friday & Saturday: 4pm–2am

(Chinese New Year) Hours might differ
Maduro is quite unique and different from your usual live band restaurant in Singapore.
Do you prefer listening to classical music while having some wine or whisky? If so, then Maduro might be the ideal venue for you!
Just from a glance at this lounge bar, you can immediately see the elegant design and full stage set up where classical music streams are performed throughout the day. At their bar, they have a vintage collection of wine and whiskey.
They also offer other classic cocktails. With their music sessions and drink selections, they're indeed one of the top bars with the best live music in Singapore. 
Highlights
Wine and Whisky bar
Classical music
Elegant style 
Customer Reviews
Most customers were saying that they felt at home during their visit to Maduro. A customer posted this review on Google Reviews: 
"This jazz club is an absolute diamond. We were ambling home after a dinner up at Dempsey Hill and found this gem. The team found a seat for the four of us and made sure we felt at home. The drinks were excellent! Beautifully balanced "barman's choice" cocktail. …the music. This is why we'll be coming back. Maduro pays homage to some fantastic musicians. Truly worth the visit."
 5. Hard Rock Cafe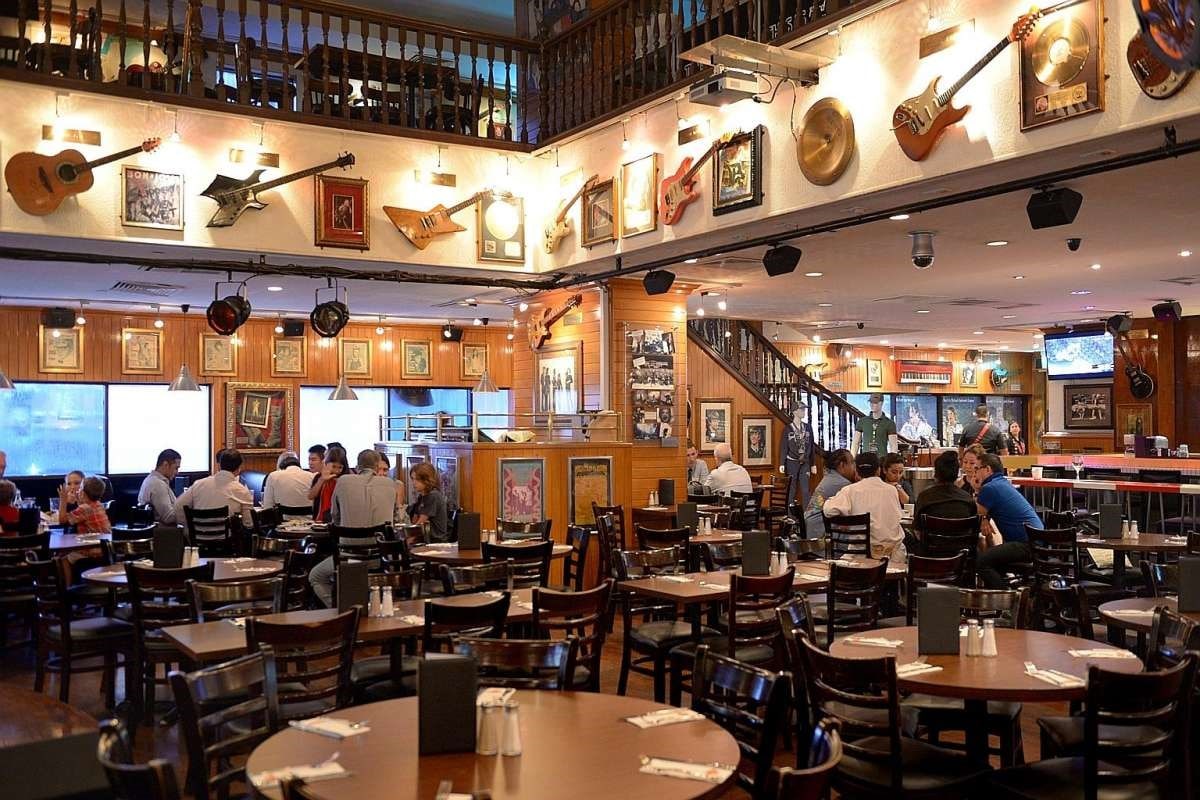 BEST FOR 
American classics and traditional cuisine
WEBSITE
https://www.hardrockcafe.com/location/singapore/
ADDRESS
 50 Cuscaden Road, Hpl House #02-01, Singapore
CONTACT DETAILS
+65 6235 5232
OPERATING HOURS
Sunday to Thursday: 11:30am–10pm

 

Friday & Saturday: 11:30am–10:30pm

(Chinese New Year) Hours might differ
 Being located at the heart of the city, Hard Rock Cafe is easy to find. Drop by whenever you want to enjoy lively music during the weekends.
If you're a fan of American classics but want a twist of local flavour, then you should take a chance on their dining menu. Along with their cocktails and mocktails, you can surely enjoy good food and good company here. 
This is a top go-to, classic place if you simply need good food and a great live band in Singapore.
Highlights
American classics and local signature dishes
Cocktails and mocktails 
Customer Reviews
Hard Rock Cafe is a famous bar that is recognised internationally. They've also proven to offer some of the best live music in Singapore.
Many customers were very impressed with the song choices and live performances. A customer gave shared this review on Google Reviews:
"Very enjoyable the live band. It make us laugh, happy, distress and we like the music the singers too. The live band in Hard Rock Cafe Orchard, the songs are good. We will be able to request what song we want to. It is good that Hard Rock Cafe, has a live band. But, it is good if weekend like Saturday there must also a live band. Hope to have on weekend.♥️??♥️" 
6. LuLu's Lounge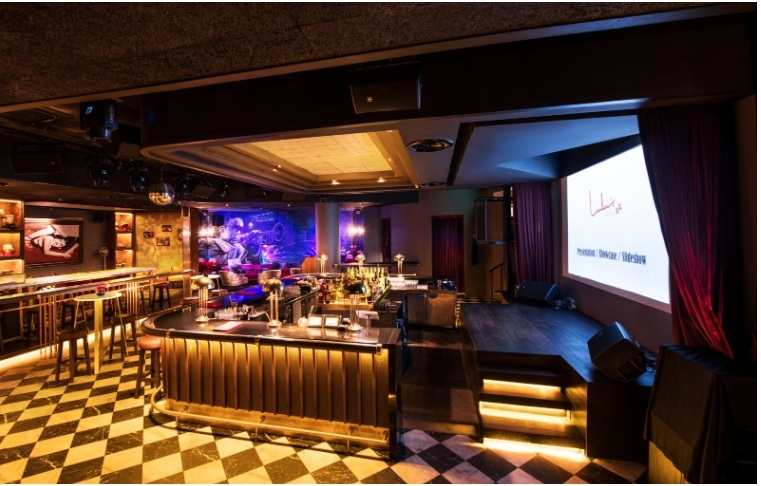 BEST FOR

All-style music and late night parties

PRICING

Menu

WEBSITE

http://lulus.sg/

ADDRESS

Pan Pacific Hotel (marina) 7 Raffles Blvd S039595

CONTACT DETAILS
9829 1922 | [email protected]
OPERATING HOURS

Wed 8pm-3am – Ladies Night

 

Thurs 9pm-2am – Latin Band (till 11.30pm)

Fri 9pm-5am

Sat 9pm-5am – Café Bizarre
If you are up for some playful, jazzy night, Lulu's is the best place to go. It features a true open format with Live jazz, funk/soul, disco, pop, hiphop/rnb, house, dancehall and rock.
Aside from live acoustics, Lulu's also hypes up the night by offering retro DJ performances for some late night dance parties and post-dinner drinks.
Also, have a taste of their uniquely blended cocktails that brings 1960's New York back-alley lounge feels while enjoying the live music and appreciating the bar's scenic nightlife.
Because of the wide range of musical genres that they cover, plenty have considered them to be the go-to place for live music in Singapore for 2021.
Highlights
Accommodate private and corporate parties

Jazz, Rock, RnB, Hiphop music

State-of-the-art interior and exterior designs
Customer Reviews
Lulu's has become one of the crowd's favorites because of the bar's fun and energetic vibe which is best for after-work, private, and corporate parties. Here's what one of their customers wrote in the review.
"Edgy, whacky, definitely a unique experience. On a Friday, there is live music, DJ, live singing, interspersed with counter top dancing and live bongo drums. Very good crowd. Many mid 30s to early 40s expats and we heard some 70s 80s remixes as well. Post 1 AM got to hear very cool dance music. No entry fee but you should dress "appropriately" to enter. Cocktails range from 20 to 35 $. Definitely recommended."
7. Blu Jaz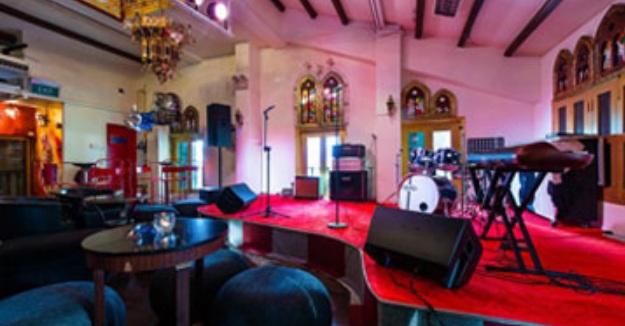 BEST FOR

Live music and private events

MENU

Menu

WEBSITE

https://www.blujazcafe.net/

 

ADDRESS

11 Bali Lane, Historic Kampong Glam

 

Singapore 189848

CONTACT DETAILS

+6581262936/+6591990610
Are you in the mood for some jamming sessions while sipping your favorite cocktail? Go ahead and let yourself enjoy the multi-leveled bar of Blujaz Cafe. They take pride in their wide selection of food and beverages that perfectly match the total ambiance and music in the area.
Everyday, different groups and bands perform in Bluejaz Cafe and they are free of charge. This plus a bunch of affordable snacks and drinks will definitely make your night a blast.
Should you need to place to have your own party settled, the bar also accommodates such.
Highlights
Live music and bands

Affordable snacks and drinks

Lively bar ambiance
Customer Reviews
"Lovely bar located close to Arab street. Fan of jazz music do visit this place. It is always crowded so please do reservation before, you can walk in as well but you might have to wait to get a seat. The food is good too, a variety of food options! The drinks menu offers some nice Cocktails."
8. HERO'S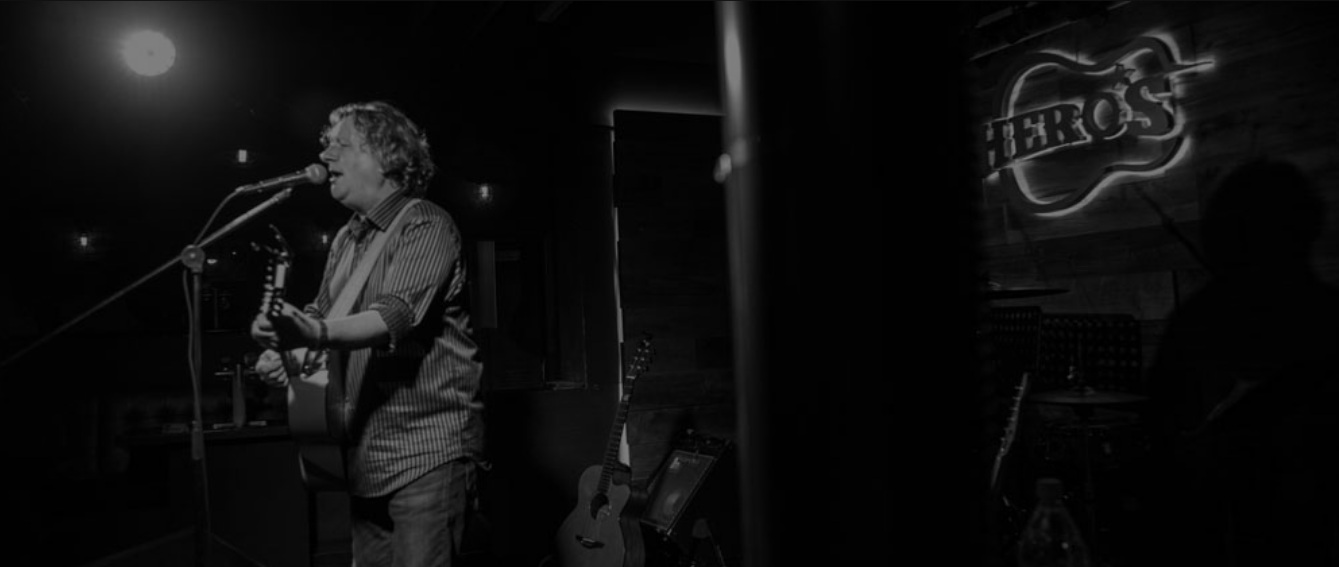 BEST FOR
Party music and live sports
WEBSITE

http://heros.sg/

ADDRESS

69 Circular Road, #01-01, Singapore 049423

CONTACT DETAILS

+65 6438 6058

OPERATING HOURS
Monday – Friday:

11:00 am – 3:00 am

 

Saturday: 3:00 pm – 4:00 am
Hero's is a sprawling 2,500 sq ft live music and live sports venue located in a prime spot on Circular Road. Decked out in a contemporary yet timeless Old Western Saloon style, it features a fully-stocked bar with specialty cocktails and shots to appeal to drinkers of every taste.
The venue's most unique feature is its VIP area, where customers can pour their own ice-cold draught beer with beer taps build right into their table. Simply let your server know how much you'd like to drink, or spend, and start pulling pints.
The kitchen, helmed by home-grown company Foodcoholic, serves up a mouth-watering range of pub grub and heartier mains, including kebabs, wraps, pizzas and pasta – perfect to enjoy while watching sports or listening to your favourite tunes played live.
Hero's resident band performs a mix of rock and pop numbers nightly from 10pm, while guest bands take to the stage in the evening and over the weekend.
Look out also for killer theme parties, which the bar holds simultaneously with sister outlet Mogambo Bar & Restaurant.
Highlights
Self-serve tables

Rock and pop live music

Live sport streaming

VIP table
Customer Reviews
Hero's does not only let you taste their cold beer and listen to their live music but also encourages customers to interact with one another. Kaito Nakatte, one of their customers, posted this review on Google:
When I walked in through the doors, I was greeted with a live band. It always gives me good vibes when I walk into a bar with a live performance. Owner and staff was also equally welcoming and friendly. The bar can get a bit crowded but hey, I got to talk to some new people. That was the fun part.
Do you know other places that must be included on the list? Let us know all about it and share with us why you recommended it.
And if you're looking for other places to spend a night out, here are some of the best clubs in Singapore! You will absolutely love these hangouts as they come with fair entrance fees, breathtaking views, and of course, good music and great food!