11 Best Indoor Playgrounds in Singapore for Kids
Every parent wants their kids to have fun and make sure that they're safe at the same time. One great way to do it is to bring to them to the best indoor playgrounds in Singapore.
To help you create more unforgettable memories with your children, we've gathered the most well-known indoor playgrounds in Singapore where they can explore different exciting things!
1. The Artground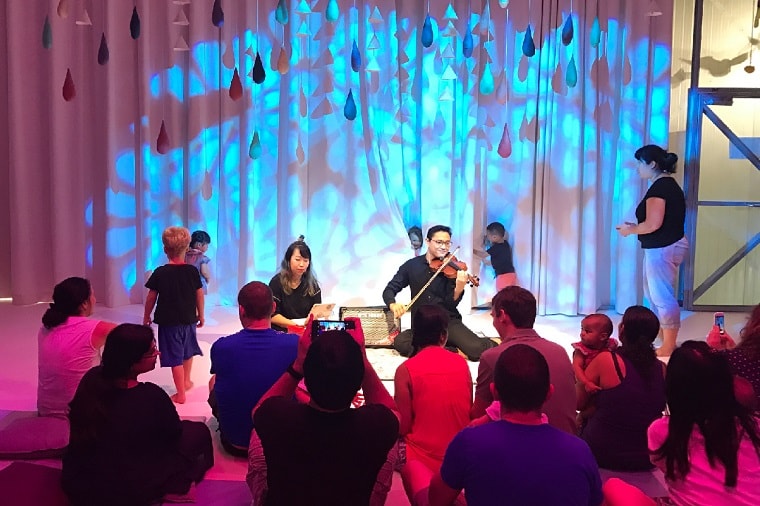 | | |
| --- | --- |
| BEST FOR  | Developing creativity |
| WEBSITE | https://theartground.com.sg/ |
| ADDRESS | Goodman Arts Centre 90 Goodman Road Block J #01-40 Singapore 439053 |
| CONTACT DETAILS | + 65 6925 0621 |
| OPERATING HOURS | Schedule |
If you want an indoor playground in Singapore that encourages and nurtures kids' creativity, The Artground should be on your list.
Parents can help develop their kids' creativity, even at a young age. At The Artground, kids can explore a variety of art forms to further encourage creative endeavour.
Each interactive space allows the children to practice their creativity and develop a sense of art appreciation. Their activities include workshops, performances, storytelling sessions, and craft activities.
Whether you want them to explore performing arts, literature, or crafts, they offer accessible services. With their broad range of art programmes, they can truly be the best indoor playground in Singapore for artistic kids.
Except for weekends, The Artground is a free indoor playground in Singapore that can be enjoyed by children of all ages.
Highlights
Arts workshops and performances
Storytelling sessions
Art & craft activities
Free entry (except for weekend activities) 
Customer Reviews
Most customers seem to have had a delightful experience at The Artground. They said that their kids were overwhelmed with fun and interesting activities.
 A customer posted this on Google Reviews:
"My kids seem to enjoy it lots. An air-conditioned place to run. Has a feeding room. Possibly a safe place to meet up and have kids run around. Free entry weekdays – art charity. Weekend may have activities that require payment ?$10. There is a tiny library, chalk board, 2 small sides, a climbing house, a few tents. I am unfortunately not a very arty person so I didn't quite appreciate the art so much 🙂 It is next to the bus stop, but a fair walk to walk around the compound to the entrance – then a walk past Cafe Melba to block J."
2. Tayo Station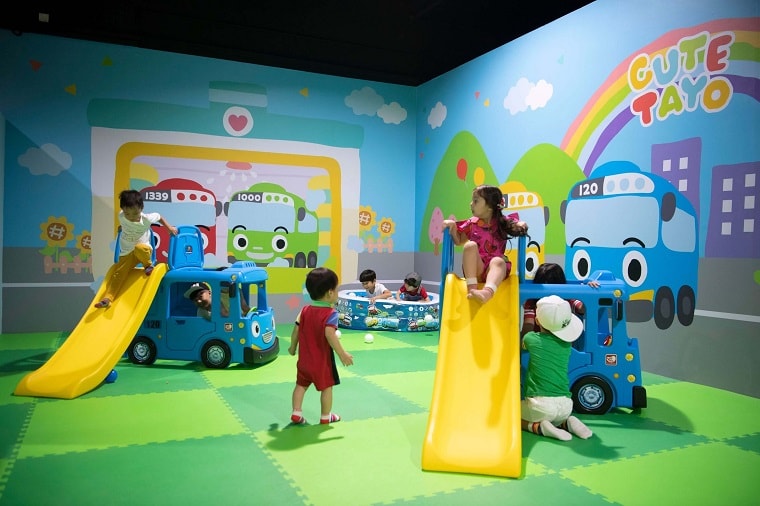 BEST FOR 
Variety of Tayo-themed activties
PRICING
Tickets
WEBSITE
https://www.tayostation.com/
ADDRESS
E!Hub, Downtown East, 1 Pasir Ris Close, Level 3, S(519599)
CONTACT DETAILS
+65 6283 7900
OPERATING HOURS
Weekdays & School Holidays: Unlimited
Eve of PH & Weekends: 4 hours
PH, Teacher's Day & Children's Day: 2 hours
Business will operate as usual on Chinese New Year.
Tayo Station offers a variety of activities  for your children to enjoy. They have attractions, entertainment spaces, and interactive areas that are all Tayo-themed.
The place offers mini manual rides, dig and play activities, playground, ball pool, shows, and toy store as well. They even have party rooms where you can celebrate your kids birthday or achievements.
If you want to just chill and relax, they also have a seating area where you can watch your kids as they play!
Overall, we find that Tayo Station is one of the best indoor playground for toddlers in Singapore.
Highlights
Recreational games and activities
Birthday party packages
Tayo The Little Bus show
School trips 
Customer Reviews
Both parents and kids have enjoyed their experience at Tayo Station. They complimented the fully-packed activities and interactive areas. They also mentioned the great staff service.
This is why it's part of our list of the best indoor playgrounds in Singapore. A customer from Google Reviews wrote: 
"We had a ball of a time at Tayo station! (And I'm talking about us parents as well =p) Packed with all sorts of fun activities and stations, it was a guaranteed fun day. There was a huge ball pit, a road circuit with actual cars you can drive around in and an adventurous maze, to name a few. It wasn't only fun, but well organised and educational at the same time. Staff was extremely friendly and accommodating, catering to the needs of both kids and parents. I think it was a bit too fun that we had to drag the kids out of here, but no worries cos they had the best nap on the way home. We'll definitely be back!"
3. Pororo Park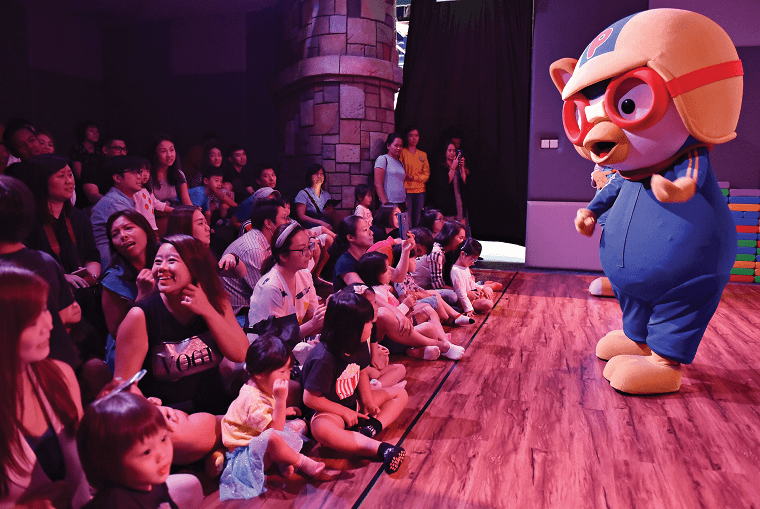 BEST FOR 
Pororo attractions
PRICING
Tickets
WEBSITE
https://www.pororoparksg.com/
ADDRESS
6 Raffles Boulevard, Marina Square #02-29, S(039594)
CONTACT DETAILS
+65 6250 9700
OPERATING HOURS
Weekdays & School Holidays: Unlimited
Eve of PH & Weekends: 4 hours PH, Teacher's Day & Children's Day: 2 hours
If the previous option mainly revolves around Tayo, this place is entirely filled with Pororo-themed areas. So if your kids have always wanted to see Pororo, then this could be your chance!
They can get to visit the forest village and meet Pororo and his friends. They can also do some pretend grocery shopping at the Petty's supermarket.
Moreover, the park also includes a ball pool, express train ride, Pororo's house, playground, little theatre, toddler area, toy store, and bouncy castle.
Classrooms provide exciting activities and the cafe also serves delicious treats to keep the kids from being hungry. What more could you ask for? Pororo Park is indeed one of the best indoor playgrounds in Singapore!
Highlights
Pororo meet and greet sessions
Birthday party venue
Pororo & Friends live daily shows
School trips
Thematic Daily Classes
Customer Reviews
Parents shared that they were able to see their kids be engaged in certain activities. They highly recommend the place and said that they're very much willing to come back.
A customer from Google Reviews gave this feedback: 
"Pororo Park is a haven for families that wants to have fun. Brought my 18 months old daughter here and she had a blast! We're so happy to see playing with other kids and knowing she is socializing well makes us happy as parents. We were also able to have a chance to join their monthly theme activities and this month's theme 'Ocean is Fun' . It was a very engaging and fun activity for kids to learn how to recycle. It also create awareness for kids to love the ocean by not throwing their rubbish in the sea. We will sure go back again! Thank you Pororo Park!"
4. My Little Climbing Room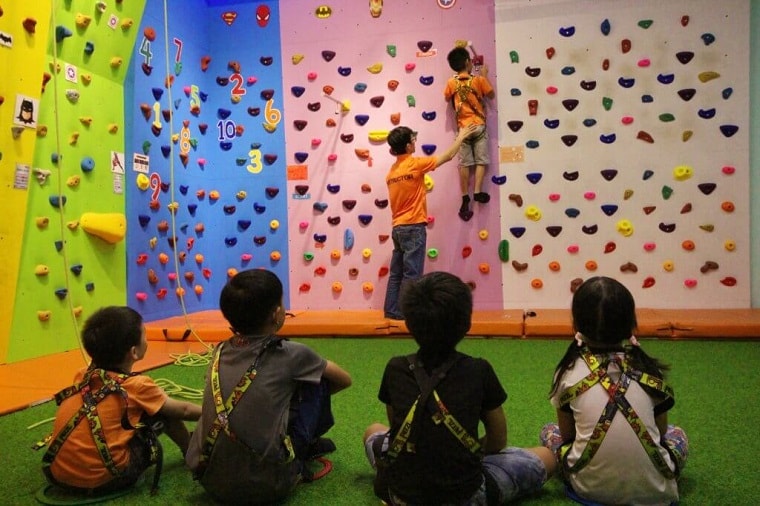 | | |
| --- | --- |
| BEST FOR  | Physical activites and sporty lifestyle |
| PRICING | Fees |
| WEBSITE | https://mylittleclimbingroom.com/ |
| ADDRESS | 183 Jalan Pelikat, #B1-101 Singapore (537643) |
| CONTACT DETAILS | 8774 2883 |
| OPERATING HOURS | Thursday, Friday: 2pm – 7.30pm Saturday, Sunday: 10am – 7.30pm |
To motivate your children to do healthy and fulfilling activities, you may visit My Litle Climbing Room. This indoor climbing playground is mainly built for kids to enjoy a total body workout.
It'll help them develop their sense of balance, coordination, strength, and flexibility. Each course is accompanied by safety equipment and measures so there's no need to worry too much about the kids in it either.
With its secured facilities, talented instructors, and fun challenges, they're one of the best indoor playgrounds in Singapore.
Highlights
Play sessions
Climbing class
Party venues 
Customer Reviews
Many parents were very impressed with the facilities of My Little Climbing Room and consider them one of the best indoor playground in Singapore in 2021.  They shared that they've seen improvements in their kids' climbing skills after attending some classes.
A customer form Google Reviews wrote:
"Our kids are 8yr and 4yr and love it here. The team are very friendly and knowledgeable. They even have a small box of toys for the really young kids with no attention span for climbing. As encouragement the kids are given a reward chart, you get stickers for completing different sections and if all are completed they're given some sweets. My eldest has mastered the climbing really well now we're waiting for the extra unit to open where they will teach climbing techniques to them also. You can book online or sometimes we just ring if it's last minute. Do check beforehand in case they are at full capacity. Bring your own grip socks, adults need socks too. Membership is also available." 
5. Little Bear's House
BEST FOR
Interactive activities and facilities
WEBSITE
http://littlebearshouse.sg/
ADDRESS
21 Lichfield Road Singapore 556841
CONTACT DETAILS
+6569746398 | 

[email protected]

OPERATING HOURS
Mon – Fri: 9.30 – 18.00 Sat – Sun: 8.30 – 18.00
Public Holidays: 8.30 – 18.00
Little Bear's House aims not only to entertain children but also help them develop their social and cognitive skills by providing them with an interactive facility where they could play while learning.
This indoor playground provides high quality no-battery and no-screen toys as they encourage them to experience traditional yet fun-filled activities like puzzles, doll houses, train sets, etc. 
The team of Little Bear's House guarantees that they always keep their facilities clean where your children can freely and safely enjoy the activities. They also have other rooms dedicated for nursing and diaper changing for their guests convenience.
Highlights
Educational activities and toys
Pantry for guests
No age limit for children
6. Happy Castle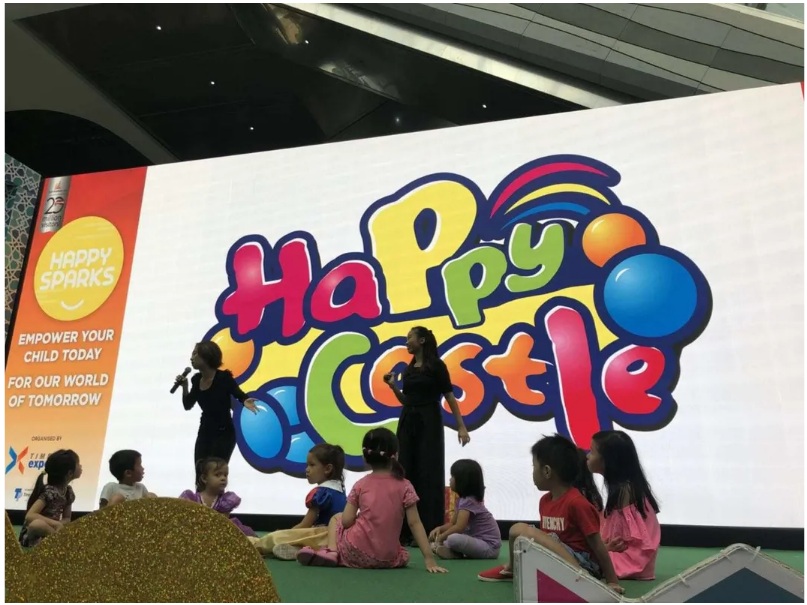 Happy Castle has some of the state-of-the-art facilities when it comes to indoor playgrounds. Through their play sets, you can be able to train your kid's motor skill and develop intelligence by tactile stimulation and learning while having fun playing with their fellow kids all at the same time.
They have 6 available outlets across Singapore, all are equipped with fun and interactive facilities for your kids to enjoy. You can choose whether you want to avail their 10 hr or 20 hr unlimited use which is accumulated by minutes and most importantly does not expire.
They also offer a free flow of ice cream for its members so your kids will definitely enjoy their day at Happy Castle.
Highlights
Free flow of ice cream
Unlimited use of facilities
Multiple locations for easier access
7. My Gym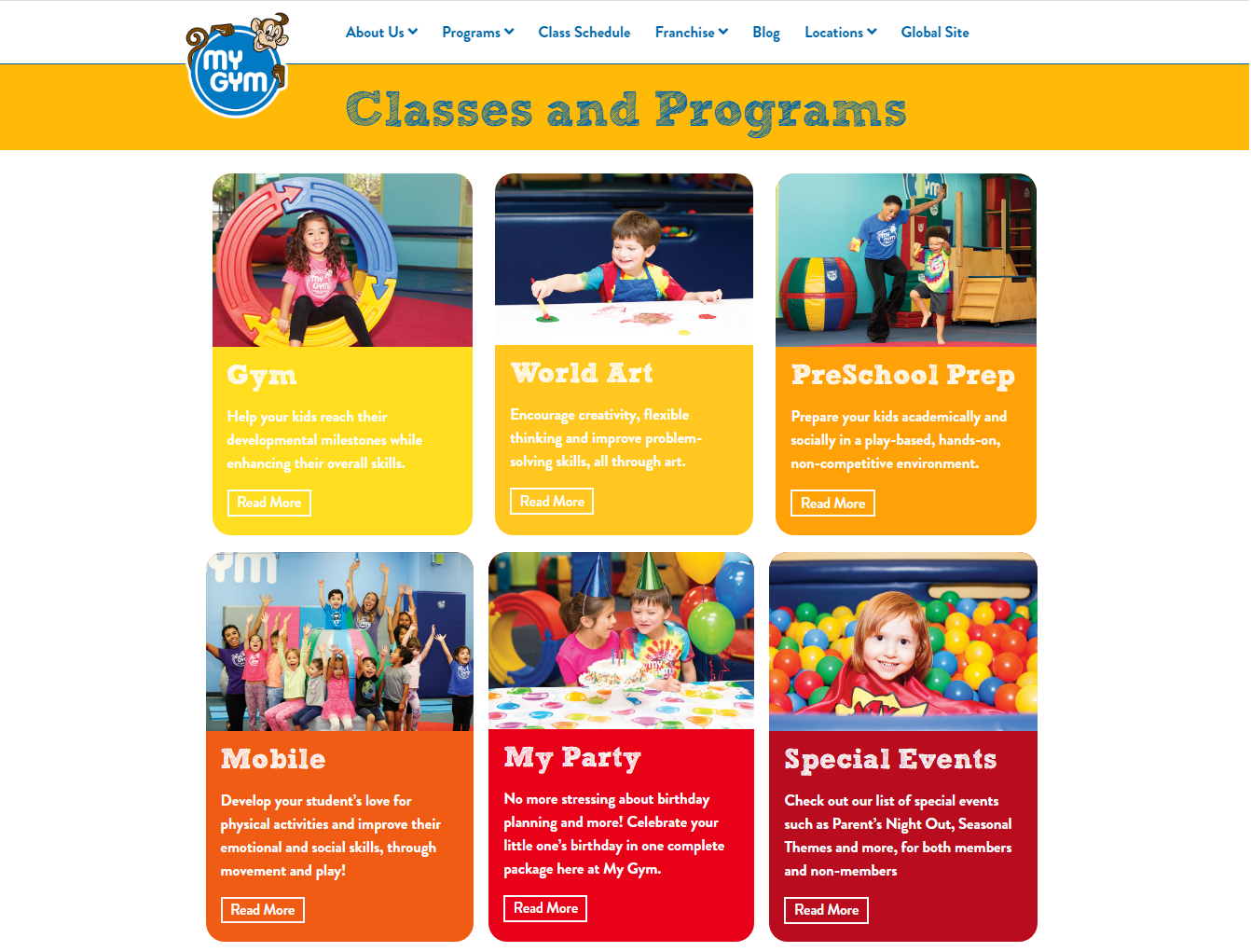 BEST FOR
1st mile development program
WEBSITE
https://www.mygym.com.sg/ 
ADDRESS
35, Rochester Drive, Rochester Mall, #03-24/25/26 Singapore 38639 

180 Kitchener Road, City Square Mall, #B2-47/48 Singapore 208539

1 Kim Seng Promenade #03-106 Great World City Singapore 37994

3 Gateway Drive, Westgate, #04-39 Singapore 608532

80 Marine Parade Road, #15-03 Parkway Parade, Singapore 49269

681 Punggol Drive, Oasis Terrace, #03-02/03/04 Singapore 820681

300 Tampines Avenue 5, NTUC Income, #05-05, Singapore 529653
CONTACT DETAILS
Buona Vista 
(+65) 6684 9220

City Square Mall
(+65) 6238 9828

Great World
(+65) 6235 4070

Jurong East
(+65) 6465 9205

Marine Parade
(+65) 6440 9916

Punggol
(+65) 6787 1178

Tampines
(+65) 6789 7061
OPERATING HOURS
https://mygym.com.sg/locations/location/
MyGym is an ideal play place for the young, from infants to preschoolers as they specialize in 1st mile development. They are equipped with various activities that allow your kids to explore and discover new things, embrace new skills, and learn how to socialize with others.
This award-winning indoor playground has been operational for the past 30 years and has proven the effectiveness and value of their programs for children.  
To ensure that each kid is given full attention, MyGym strictly enforces a small student-to-teacher ratio especially while participating in the activities.
Highlights
Wide range of programs and activities
Multiple easily accessed locations
Award-winning established program
8. Power Kids Gym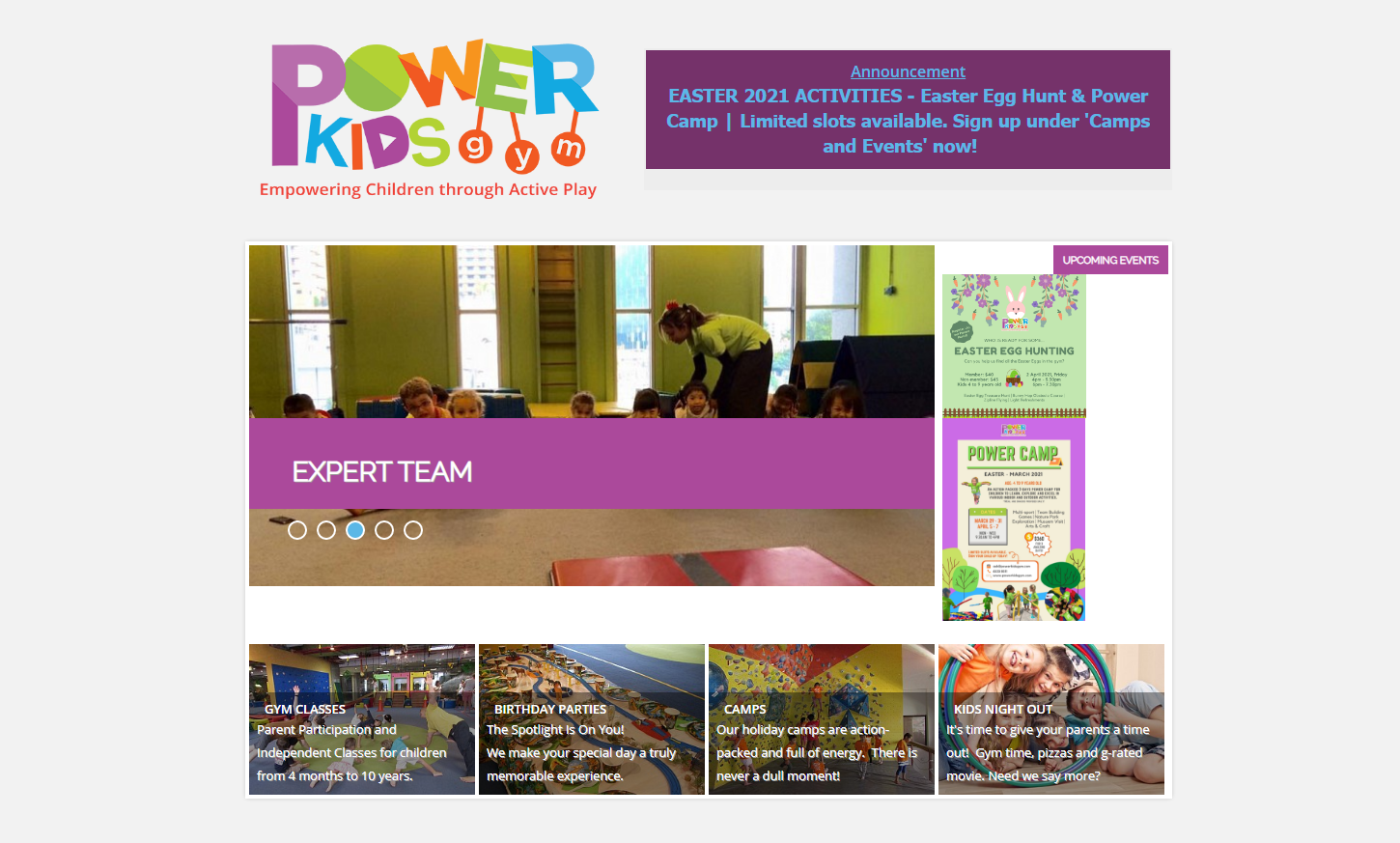 Power Kids Gym strives to create an environment that stimulates and nurtures children, one where they are safe as they  their physical, cognitive and emotional skills. 
They offer a unique range of programmes for babies, toddlers, nursery and school age children up to 10 years old. Each class is unique to the age group they teach. Plus, they're loaded with progressive activities that guarantee laughter and lots of fun. 
Highlights
Active classes for children of various ages
Caters to birthday parties
Free open gym when child is signed up for classes
9. Amazonia Singapore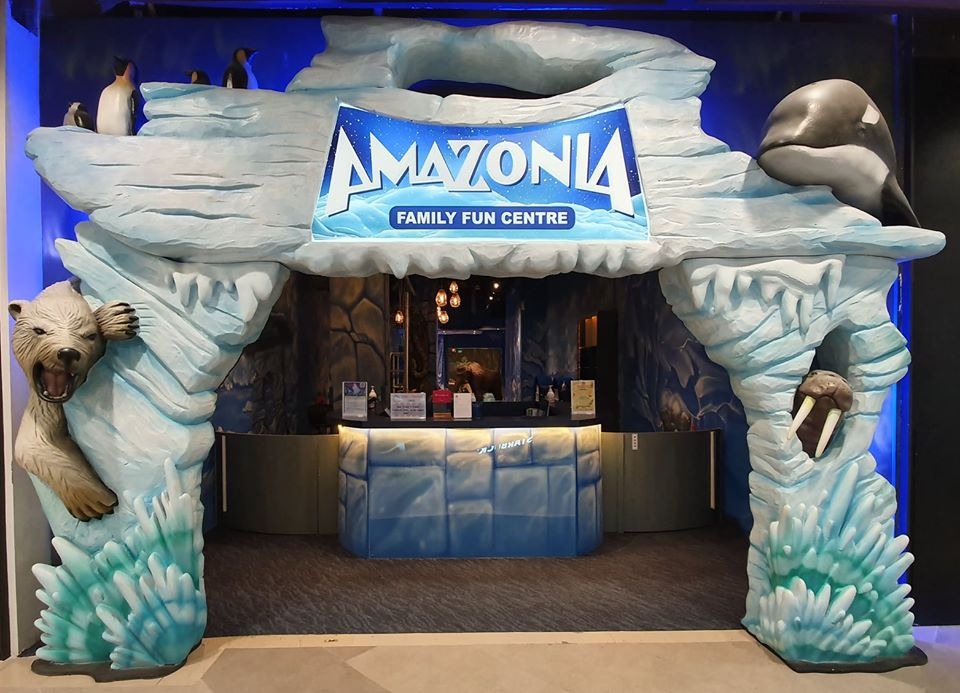 BEST FOR
Birthday parties / group dates
WEBSITE
https://www.amazoniafun.com/
ADDRESS
1 Kim Seng Promenade, #03-113 Great World, Singapore 237994
CONTACT DETAILS
+65 6836 2544
OPERATING HOURS
Monday – Friday: 09:30 AM – 21:00 PM
Saturdays: 09:30 AM – 21:30 PM
Sundays: 09:30 AM – 20:00 PM
RATES
rate starts at $27.00 SGD / toddler and adult
For all rates, click here.
Opened back in 2011, Amazonia is one of the longest running indoor playgrounds in Singapore. They have over 3,000 square feet of play gym, and is also home to the highest wave slide in Singapore.
They currently have a new theme of "Ice World" which features the North and South poles as well as their cold atmosphere. Parents who has kids celebrating birthdays find that this is their go-to for parties. 
Amazonia has plenty of packages and promos that fit your group or party needs so it pays to follow their social media to get updated.
Pros
Great for groups of kids
Well established and experienced with parties
Cons
May not be for you / your child if you want quiet play time
Customer Reviews
Being one of the longest running indoor playgrounds in Singapore, Amazonia has gathered a lot of reviews online. 
Here's a recent review by Ee Siang Fong, who praised Amazonia's safety and hygiene protocols:
"Great place for the kids and even the accompanying adults too. It is not ginormous but this place is best enjoyed with the little ones and if possible their friends. Ball pits are fun and the slides are great. Overall place is kept clean and hygienic. There are hand sanitizers at every turn of the corners. With the capping of the number of pax also meant less crowd and queues and more time to play"
10. Snow City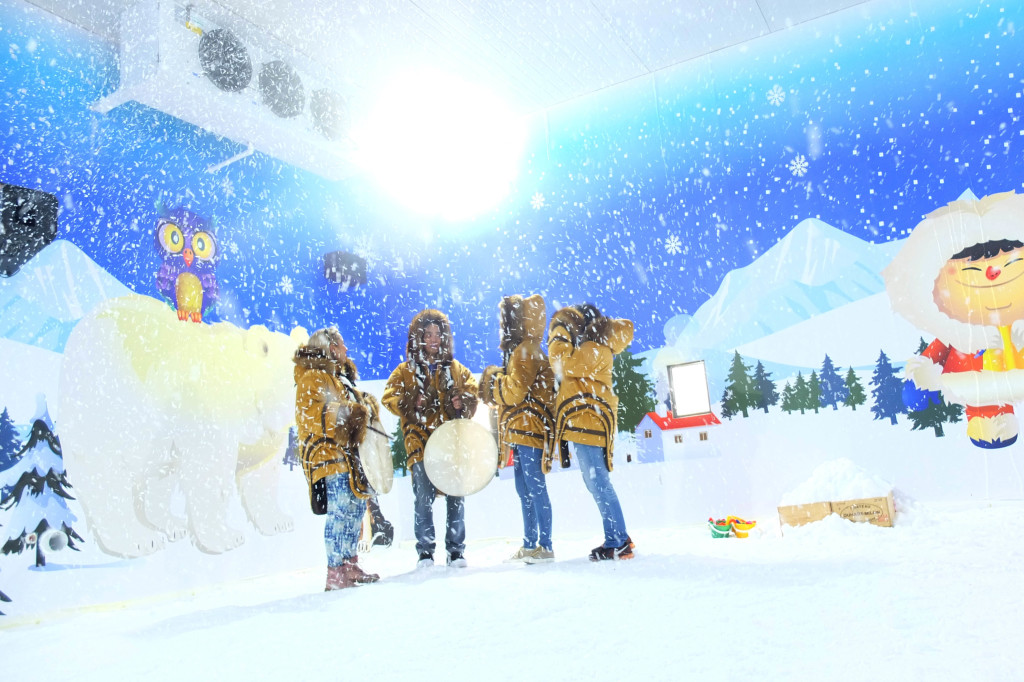 BEST FOR
A cool, indoor snow experience
PRICING
rates begin at $17.00 SGD per child / hour
WEBSITE
http://www.snowcity.com.sg/
ADDRESS
21 Jurong Town Hall Rd, Singapore 609433
CONTACT DETAILS
+65 6560 2306
OPERATING HOURS
Monday – Friday : 10:00 AM – 17:00 PM
Saturdays and Sundays: 10:00 AM – 18:00 PM
For families who want a quick and easy fix of snow and cold weather, Snow City is the best indoor playground in Singapore for them. Snow City is Singapore's very first family-centric indoor snow playground centre. 
Popular with both tourists and locals, Snow City has three levels of indoor snow adventure and snow slopes 60-metres long for guests to enjoy sliding down to. 
There are life-sized snow sculptures and different zones and chambers that will delight children of all ages. There are two restaurants inside Snow City so families can easily spend an entire day there.
Pros
Parents can cool off while kids play
Great for kids of various age range
Cons
For toddlers and smaller children, supervised play is a must
Change of clothes may be needed.
Customer Reviews
Snow City has plenty of online reviews given that it was opened in the year 2000 and has been operating for over 20 years. 
Here's one of the latest reviews by Chewloong Lim:
"Although a small venue, it's a very nice place to cool off and spend quality time with your family. Estimated time spend here is about 2 hours. You need to book a time slot before heading down to avoid disappointment.
There is a long wait time for bumper car but it's a nice experience especially for the kids. Please add in the pants if you don't mind wearing a wet jeans for the rest of the day."
11. Kaboodle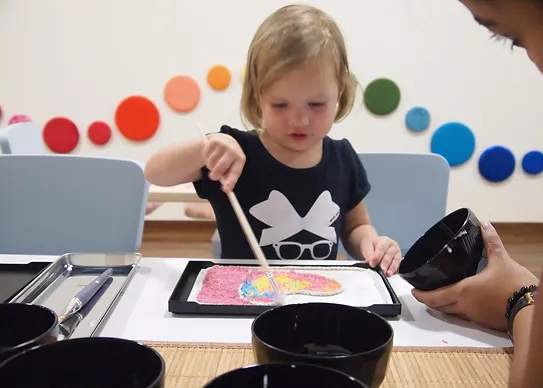 BEST FOR
Creative Growth and Learning
WEBSITE
https://www.kaboodle.com.sg
ADDRESS
88 East Coast Road, #02-06 Katong Square, Singapore 423371
CONTACT DETAILS

[email protected]


T: +65 6247 7020
M: +65 9126 1805 (Operating hours only)
OPERATING HOURS
Monday: 9am – 5pm
Tuesday: Closed
Wednesday: 9am – 5pm
Thursday: 9am – 1pm, Closed in the afternoon
Friday: 9am – 5pm
Saturday: 9am – 5pm
Sunday: 9am – 5pm
Kaboodle is an indoor play space that encourages the development of creative intelligence and growth of children aged 1 to 12 years. They are best for fun and engaging activities that promote learning.
Kaboodle is not just a regular playground as it motivates children to build, craft, and play through various activities. They have wet, active, block, and creative play areas for children to play in. 
Their programs include Messy Play, drama, music, and dance, learning mandarin, baby sensory, and thematic play. These are partnered with Lucy Sparkles & Friends, Hanziland, Mini Mucky Pups, and Mucky Pups. 
Programs have their own respective schedules of days and time slots. They are also available for certain age groups and are priced per class. 
At Kaboodle, admission rates are priced at $15 for those under 35 months, $20 for children at 3 to 16 years old, and $10 for adults aged 16 years and above with the inclusion of a drink. Admissions last for 3 hours on weekdays and 2 hours for weekends and public holidays.
Pros
Has wet, active, block, and create play areas
One-on-one magic and juggling lessons available
Available for party functions
No additional charges on Messy Play
Learning Mandarin
Adults can be accommodated
Cafe area for adults
Cons
Other programs have additional fees
Closed on Tuesdays and Thursday afternoons
Customer Reviews
Here are some Google reviews of parents for Kaboodle: 
"Fantastic venue for hosting your kids birthday party. Spacious, well lit play area, separate cafe area for the adults, overall a very good location. They even had a separate wet play area where the kids were busy breaking down ice fossils and fishing out gems from a tub. Simple but very effective in keeping kids occupied. The owner and staff were very helpful and helped out with the entire arrangement including their own cutlery and setting up the food we ordered from outside. Highly recommended!" – Krishnadas
"Great little place for imagination to go wild. There is the main building area for the kids to build whatever they fancy out of the blue blocks, and another sensory play area for the little ones – that includes water play, play dough, etc. friendly staff as well. The kids always enjoy their time there." – Jean Chai
---
And that's our list of the best indoor playgrounds in Singapore! Letting them be exposed to different environments will help their development… so take your time choosing that perfect place where your kids can learn and enjoy new things!
If you have more places in mind, let us know about them. Tell us about your favourite places to go with your kids!
And for more fun activities, see these best kids activities in Singapore! At these places, both parents and kids can spend more time together and build fun memories that'll last forever!