Get the Best Cooking Class in Singapore! 13 Top Places (2021)
Have you always wanted to learn how to cook some dishes but just never found the opportunity to learn how? If so, you should see our list of the great places that offer the best cooking classes in Singapore.
We've narrowed down the top places that cater to Asian, European, and even local dishes.  With this list, you can surely find the best cooking class in Singapore for you!
1. Food Playground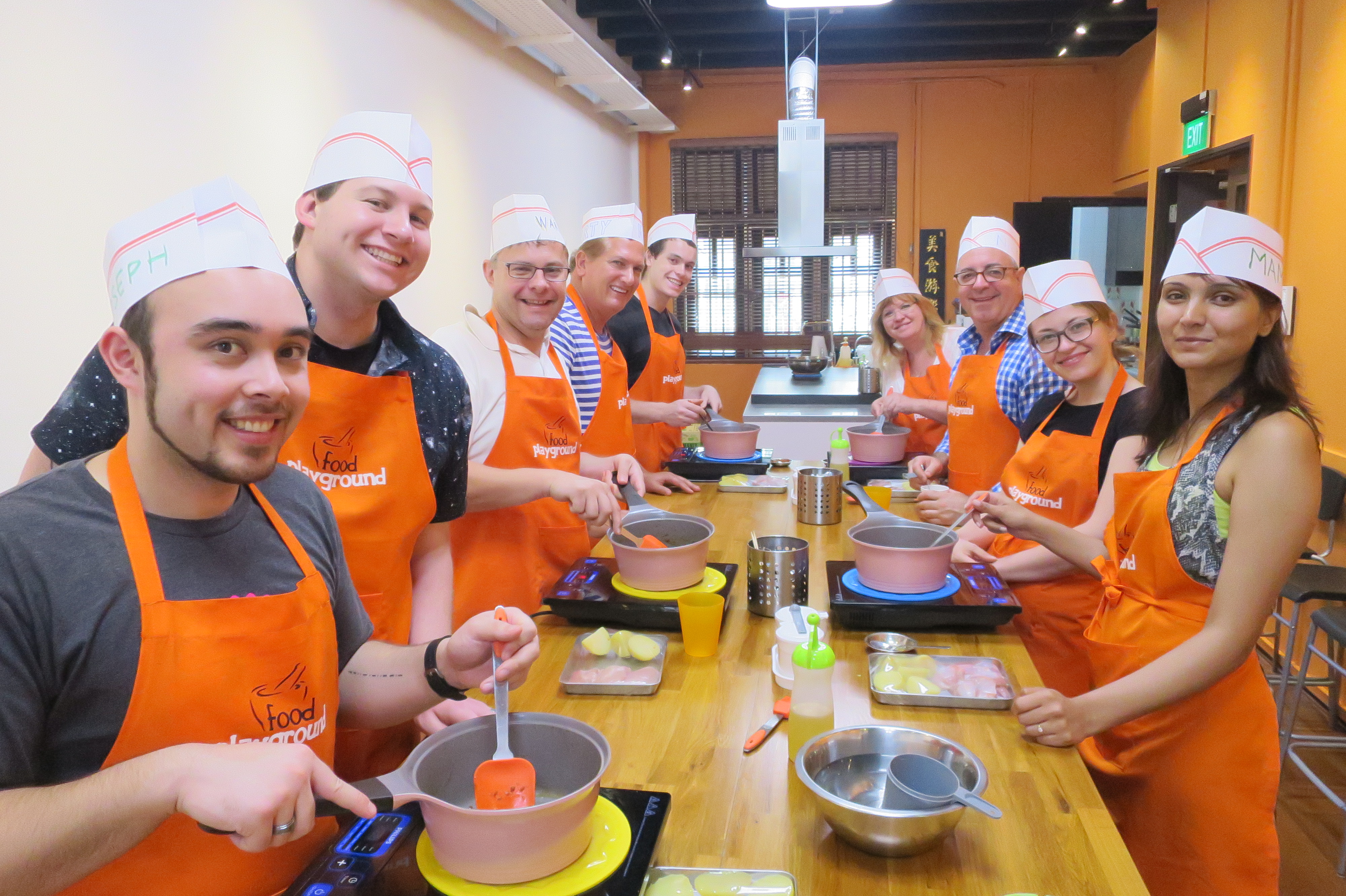 | | |
| --- | --- |
| BEST FOR | Unique cooking classes and fun activities |
| PRICING | https://www.foodplayground.com.sg/cultural-cooking-class.html |
| WEBSITE | https://www.foodplayground.com.sg/ |
| ADDRESS | 24A Sago Street, Singapore 059020 |
| CONTACT DETAILS | 9452 3669 |
| OPERATING HOURS | https://www.foodplayground.com.sg/booking.html |
Food Playground is not just about learning how to cook different kinds of Singaporean recipes, but also incorporating some friendly activities that will make the process even better.
They have three kinds of cooking programs. There's Cultural Cooking Class where you are introduced to Singapore's tasty and colorful culture and heritage by exploring a variety of local and authentic cuisine. 
Next is Cooking Team Building which is recommended to be done indoor and in groups so you get to bond and get to know your team while discovering the delicious food Singapore has to offer.
Lastly, there's the Amazing Heritage Race. It's like a combination of the two aforementioned classes but this time is done outdoors with the next level of challenges and activities. Exercise your brain and muscles while enjoying the tasty dishes along the way.
We recommend their fun cooking classes in Singapore for groups or those looking for an unique team building activities. 
Customer Reviews
Unique and interactive cooking classes

Offers a cultural immersion experience for travellers and expatriates

Hand-on cooking experience
Customer Reviews
With a perfect 5.0-rating on Google and 113 reviews, Food Playground is definitely one of the most favorite, if not the most, cooking schools in Singapore. It's unique and interactive take on cooking class makes everything enjoyable and a whole lot easier. A previous customer of theirs has written this review on Google.
"MAGNIFICENT that's all I can say we learnt about local delicacy's, how the recipes were created everything you needed know. The class taught us everything we needed to know about the food and culture highly recommend. My family and I only spent a few days in Singapore however I still think that it was time well spent thank you so mush to our teacher Mary for all the laughs and history."
2. ABC Cooking Studio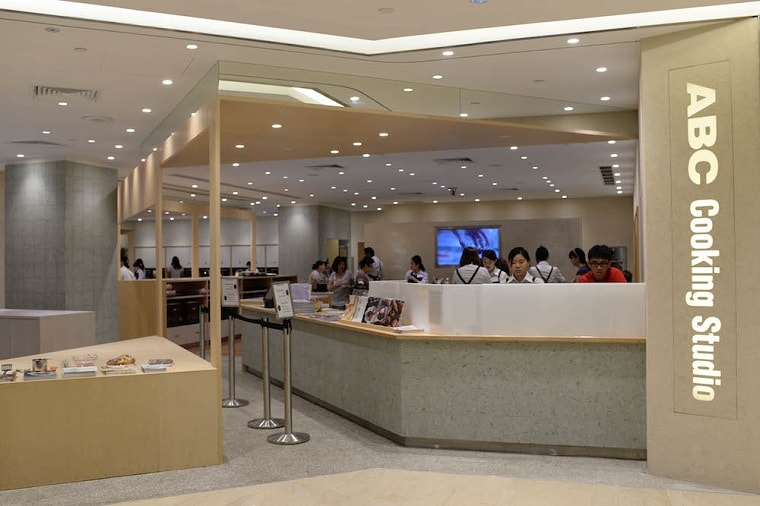 For those who are on a tight budget, and are looking for cheap cooking class in Singapore, ABC Cooking Studio might be the ideal place for you! Their courses are offered at reasonable prices.
Their services include a cake course, bread course, cooking course, wagashi course, and kids' course. They offer trial lessons in case you want to try out some classes and learn the scope of their courses first.
For over a decade, they've been providing different courses and even letting their clients plan their own schedule. With all these services, they're one of the places that have the best cooking classes in Singapore. 
Highlights
Bread, cake, cooking, wagashi courses
Kids' courses
Chinese New Year treats
Affordable rates
Customer Reviews
Many clients were generally satisfied with the services of ABC Cooking Studio. Particularly, they were impressed with the accommodating staff and skilled instructors.
A former client recommended the place and wrote this on Google Reviews:
"Overall, I am really satisfied with my experience. I made a booking over the phone and was looking forward all week to it. However, when I arrived for my allocated class at Westgate, it wasn't recorded in the system. After chatting to the manager (menghui), she very kindly slotted us and personally took us through a class. She was very knowledgeable and I took away heaps of tips and tricks from her. Highly recommended."
3. Little Green Kitchen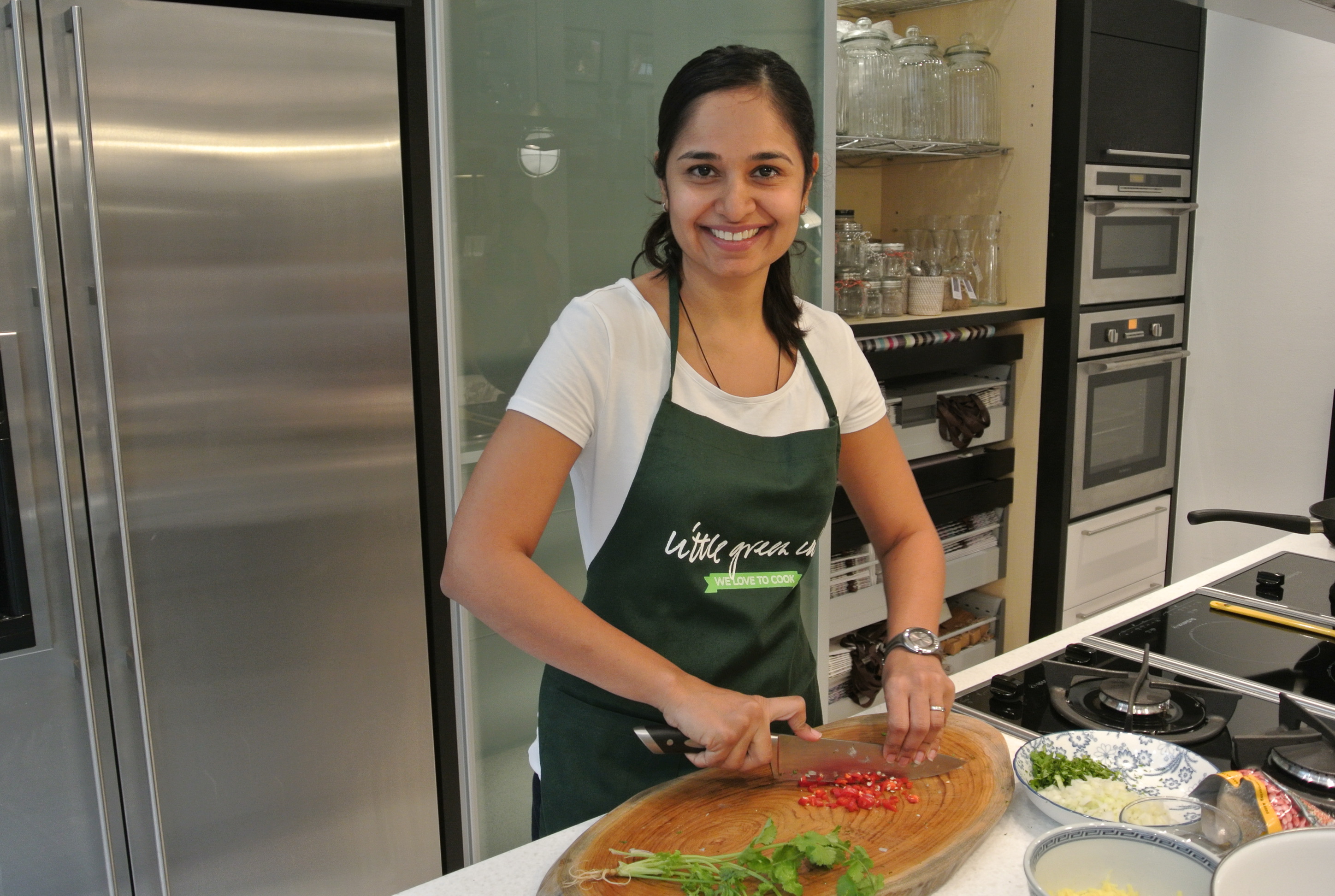 | | |
| --- | --- |
| BEST FOR  | Vegetarian cuisine |
| PRICING |  $85 per person. Private classes can be arranged with minimum 4 persons. |
| WEBSITE | http://www.littlegreenkitchen.com.sg/ |
| ADDRESS | 1 Hacienda Grove, #03-05, Upper East Coast Road |
| CONTACT DETAILS | +65 9763 1483 |
| OPERATING HOURS | Schedule |
If you're starting a healthy lifestyle, you may consider attending some classes at Little Green Kitchen where you can learn vegetarian cooking lessons in Singapore.
All of their lessons involve healthy vegan cooking in the form of salads, soups, tofu, and authentic cuisine as well as gluten-free dishes. Their cooking class sg schedule is posted online.
Aside from this, they also have meal consulting services, which are very helpful if you have a specific diet that must be followed. That's why this place may have the best cooking classes in Singapore for those who are health conscious.
Highlights
Vegetarian recipes
Meal planning and consulting services
Private dining 
Customer Reviews
Little Green Kitchen has gained the trust of many clients because of their impressive cooking tactics and unique and healthy recipes.
Many reviews highly recommend them for basic to advanced vegetarian Singapore cooking class. 
A client posted this review on the studio's official Facebook account:
"I wanted a course that showed me how tofu can be handled and cooked with. At the Mastering Tofu course I learned new techniques that I will be incorporating into my families regular meal plan. The tofu cutlets were a huge hit with the kids!"
4. Cookery Magic
BEST FOR 
Authentic Singaporean cooking experience
WEBSITE
https://cookerymagic.com/
ADDRESS
117 Fidelio Street Singapore 458492
CONTACT DETAILS
+65 9665 6831
OPERATING HOURS
Daily, except Sundays

 

11.00am – 2.00pm

or 2.30pm – 5.30pm

or 6pm – 9pm
For those who are interested in learning local dishes and other authentic Asian recipes, Cookery Magic can be the perfect place for you.
Aside from cooking authentic dishes, they also offer classes that involve signature recipes. They have daily cooking classes, so if you want to take a glance of their lessons, you can easily drop by anytime.
This is perfect for those visiting Singapore and want to take away a skill. After all, the best souvenir is a meal you did yourself that you learned from a cooking course in Singapore!
Highlights
Signature asian dishes
Corporate classes
Private and online cooking classes
Customer Reviews
Most clients have enjoyed the outdoor cooking classes of Cookery Magic. They said that they had fun and learned new recipes.
A client gave this feedback on Google Reviews:
"I attended Ruqxana's class last week to learn to cook local Singapore food whilst on holiday.  What a fantastic way to spend a couple of hours! It was so much more than a cookery class. I had a fabulous time learning about the ingredients, the authentic outdoor kitchen and Rukhsana's great gift for making people feel welcome and relaxed whilst cooking amazing dishes which I am sure to cook again. Thank you Cookery Magic for a fabulous experience."
5. Brettschneider's Baking & Cooking School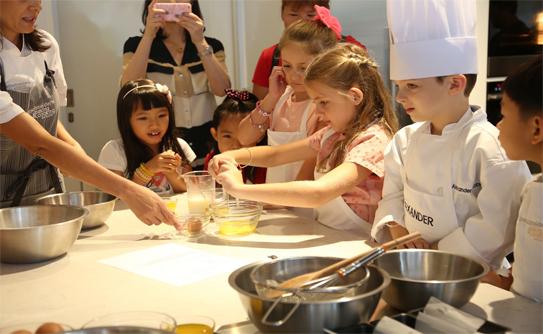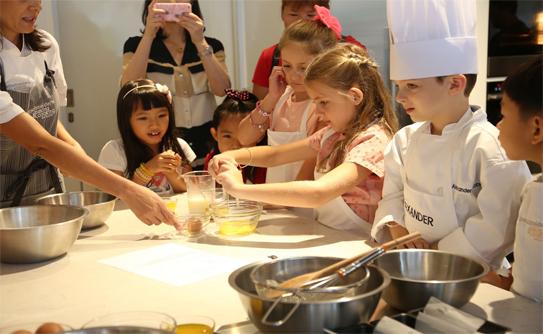 | | |
| --- | --- |
| BEST FOR  | Exclusive baking and cooking classes |
| WEBSITE | https://bakingandcookingschool.com/ |
| ADDRESS | 1 Greendale Avenue Singapore 289495 |
| CONTACT DETAILS | +65 6463 5508 |
| OPERATING HOURS | Daily: 9am–5pm |
If you want to attend a class that is more focused on baking, then you should visit Brettschneider's Baking & Cooking School. They focus on modern cuisine, and are known for having a great balance of traditional and contemporary tastes.
Even if you're already a professional cook, they guarantee you that you'll still be able to learn something new, including unique techniques. They even offer 2-day masterclasses for those who are really eager to learn.
Apart from this, they also provide studio rentals for private gatherings or corporate events. Due to their services, they've been known to have the best cooking classes in Singapore. 
If it is something up your alley, you can contact them to ask if they offer private cooking classes in Singapore. 
Highlights
Barista latte art classes
Studio rental
Online shop 
Customer Reviews
Brettschneider's Baking & Cooking School has earned a lot of praise from their clients. They received positive responses because of their high-quality products and easy-to-learn techniques.
A reviewer left this feedback on Google Reviews:
"Did the 5-day bread baking course. Learnt from the masters, Dean and Jenna, assisted by the wonderful Jay. A great course to quickly level up bread making. I had no experience in bread making at all, but the techniques taught were easy to learn. The products? Amazing, fluffy, professional looking and tasting bread. My friends think I'm a pro now. The icing on the cake? Freshly prepared lunches, breakfast and tea accompanied with great coffee, and a free signed copy of Dean's Bread book."
6. Culinaryon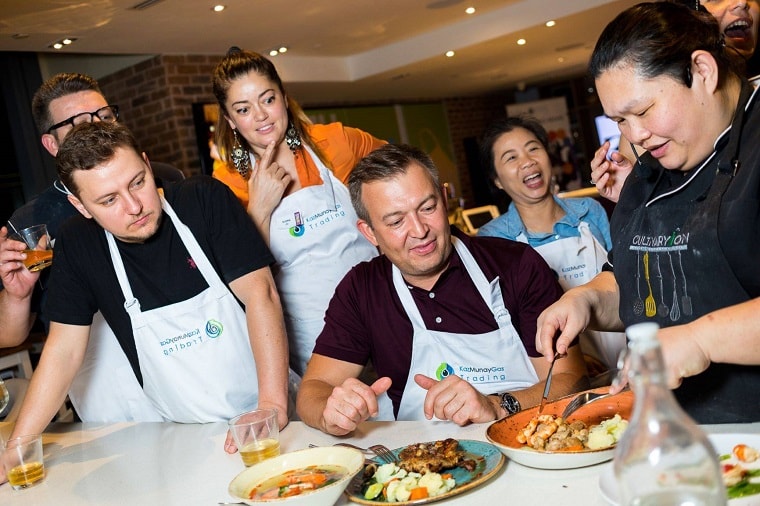 | | |
| --- | --- |
| BEST FOR  | Team-building activities |
| WEBSITE | https://culinaryon.sg/ |
| ADDRESS | 11 Unity Street #01-23/24 Robertson Walk Singapore 237995 |
| CONTACT DETAILS | +65 3163 4499 |
| OPERATING HOURS |  daily 10:00am to 11:00pm |
At Culinaryon, you can get to experience delightful cooking activities with your family, friends, and even colleagues. As they say, learning cooking courses in Singapore would be so much fun if you're with a larger crowd!
If you're planning for a family bonding or team building venture, this might be the place that offers the best cooking classes in Singapore. You don't only get to learn new recipes, you can also meet new friends.
You learn cooking in Singapore, and you also build bonds and friendship with colleagues. A definite win-win situation!
They offer different kinds of packages that cater to both professional and personal purposes. This includes cocktail masterclasses, culinary quests, and many more.
Highlights
Team-building activities
Birthday events and kids parties
Masterclasses
Customer Reviews
Most clients expressed their happiness as they got to learn and have fun with their experience at Culinaryon. A reviewer wrote this feedback on Google Reviews:
 "It was so fun cooking with my colleagues and learning how to make our own fresh pasta. The pasta making and the creamy mushroom pasta ranked tops in experience. Cooking chicken in tomato broth and making chocolate cake was so so. We came at 6:30pm and we were already hungry so we started nibbling on our ingredients! We didn't get to eat till 9pm! Culinary served us good wine but it would be great of there were some snacks, too."
7. Carrotsticks and Cravings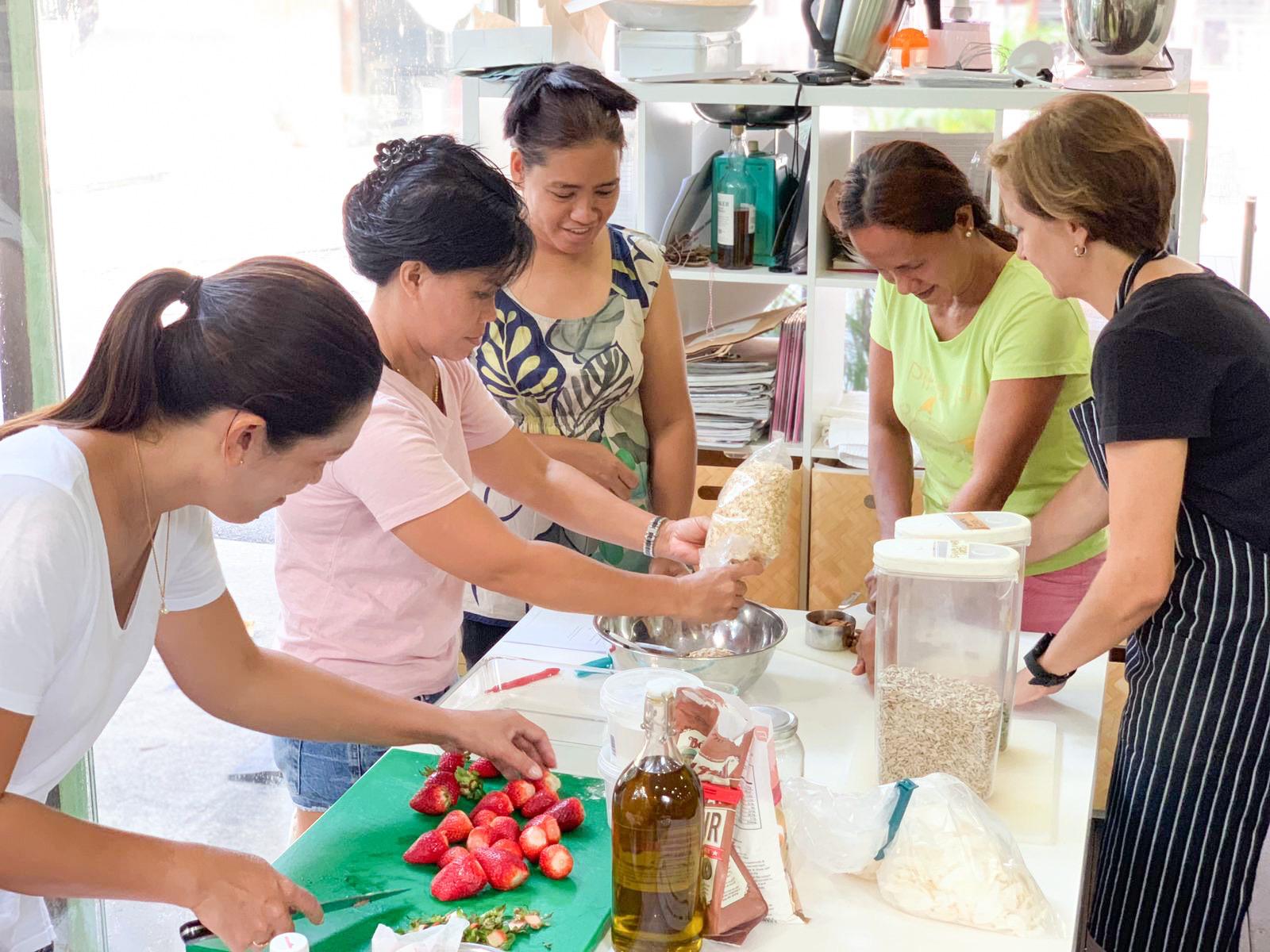 Keeping up a healthy lifestyle? Would it interest you to enroll in a cooking class in Singapore that primarily features a healthy food haven? If your answer is yes, you might want to check out Carrotsticks and Cravings.
It is run by Terri-Anne, an expat from Melbourne who is passionate about creating superfoods and creating healthy recipes. She offers an extensive range of recipes, from breakfast to dinner. She even has vegan and gluten-free options, as well as snacks and drinks.
Can't get enough of her impeccably delicious recipes? You might want to purchase her own cookbooks, available in electronic copies so you'd be able to explore other dishes exclusively created by Carrotsticks and Cravings.
Customer Reviews
Healthy sets of food

Accessible online cookbook

Wide selection of recipes
Customer Reviews
Carrotsticks and Cravings does not limit its reach to online cookbooks alone. As a matter of fact it has two cafes around Singapore, both offering truly delightful and healthy dishes. Jully Kim, a previous customer said these exact words about the company.
"Loved this place!! Healthy and good food, aesthetically pleasing as well, with such kind staff. You can have a whole meal, or just coffee and some croissant/sandwich. Sitting outside was lovely!"
8. The Little Things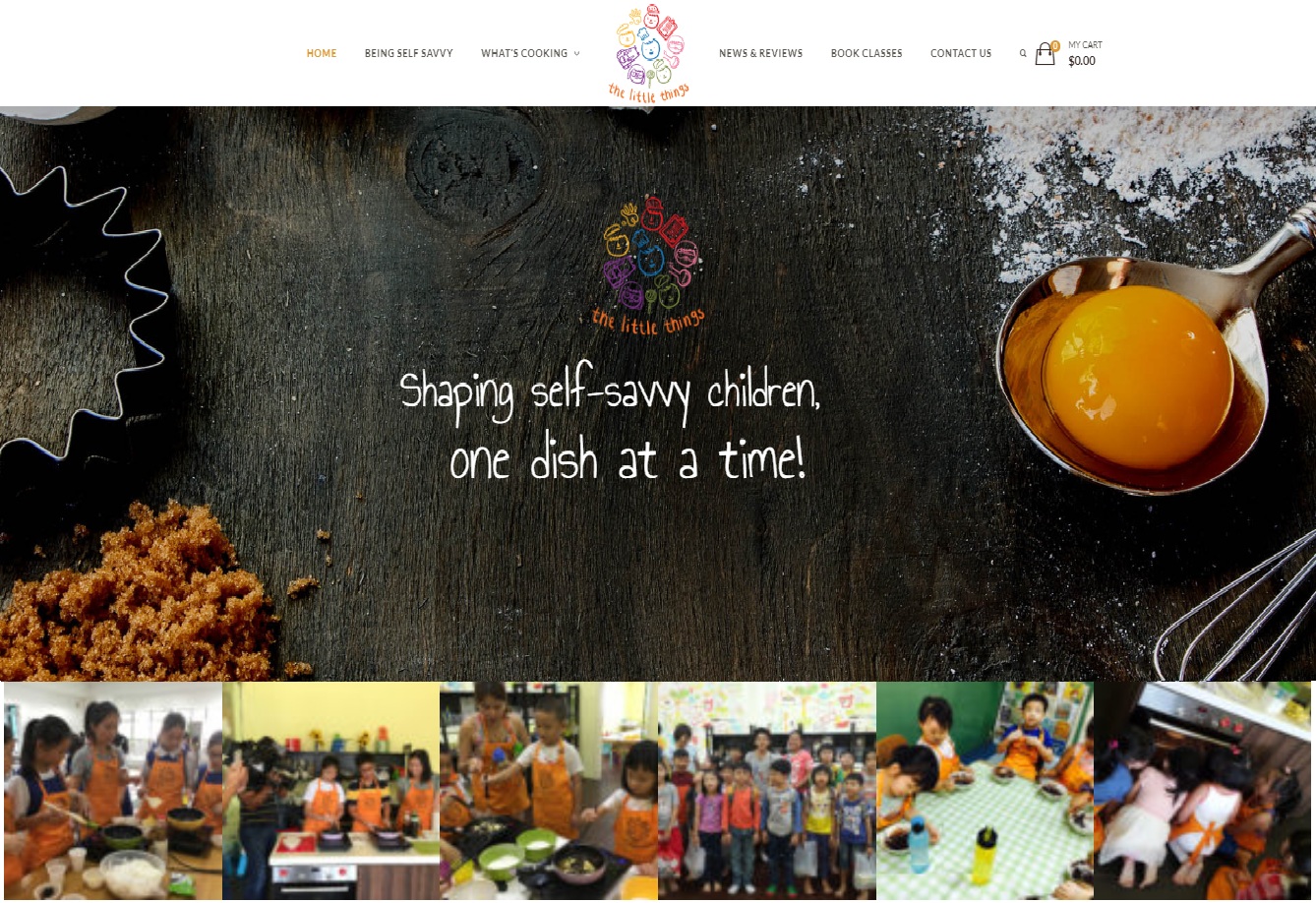 It's never too early to learn and get into a cooking workshop in Singapore!
Let your kids explore the fun world of kitchen and discover new cuisines at a very young age with the help of the very professional and extremely friendly team of The Little Things.
Sure, kids love to eat but having to cook them on their own is a whole other experience. At The Little Things, they create workshops and programs that are suitable for different age ranges. 
They can teach your 2-year old kid on how to make his favorite banana pancake, while the juniors can practice kitchen cutlery and handle raw ingredients. Meanwhile, their older ones can explore new dishes and experiment on their own.
Every week, children take on a variety of experiences and challenges such as meal-planning, food preparation, food cultures, etiquette, presentations, and termly Community Involvement projects. This does not only get them to enjoy cooking but help them in their overall development.
Definitely the best cooking class in Singapore for kids of all ages and skill levels. 
Customer Reviews
School Visits/Corporate Workshops

Programs are designed for all ages

Weekly self-savy program

Healthy and delicious meals
Customer Reviews
The Little Things is applauded for their hands-on approach especially because the classes primarily cater to kids. Not only do the kids enjoy their experiences in the kitchen, but the parents are also delighted with the programs and all the healthy meals served. A client has left this review:
"Wow, 1 term has gone fast! We love the attentive nature of the teachers, the fun environment, the learning, the simple recipes, the interaction, the follow-up emails for feedback, and especially the photos! All in all, great class. This is Kayla's favourite class out of all her enrichment classes!"
9. Tools of the Trade
BEST FOR

Wide range of cooking classes for different cuisines

PRICING

Classes

WEBSITE

https://tottstore.com/

ADDRESS

2 Tampines Central 5, #02-14 Singapore 529509

 

3 Temasek Blvd, #02-427 Singapore 038983

CONTACT DETAILS
+65 6219 7077/+65 6238 1578 |  [email protected]
OPERATING HOURS

Fri-Sat: 11:00am – 9:30pm | Sun-Thu 11:00am – 9:00pm
Tools of the Trade is a one-stop culinary destination for anyone who cooks, bakes or hosts. You can enjoy classes and workshops from any of their two locations— Century Square and Suntec. 
Both of their stores feature state-of-the-art facilities where you can explore an extensive range of dishes and improve your skills in the kitchen.
They offer a wide range of cuisine lessons so if you're looking for a Chinese cooking class in Singapore, there's no doubt that they offer it. 
The company offers a comprehensive set of classes, showcasing different authentic dishes from all over the world. From their website alone, you can select the type of cuisine you wanted to learn, level of difficulty, specific chef to be trained under, and all other specifics that will lead you to the class most suited for you.
Customer Reviews
Affordable classes

Authentic and signature recipes

Fun-filled activities

Premium quality cookware
10. Allspice Institute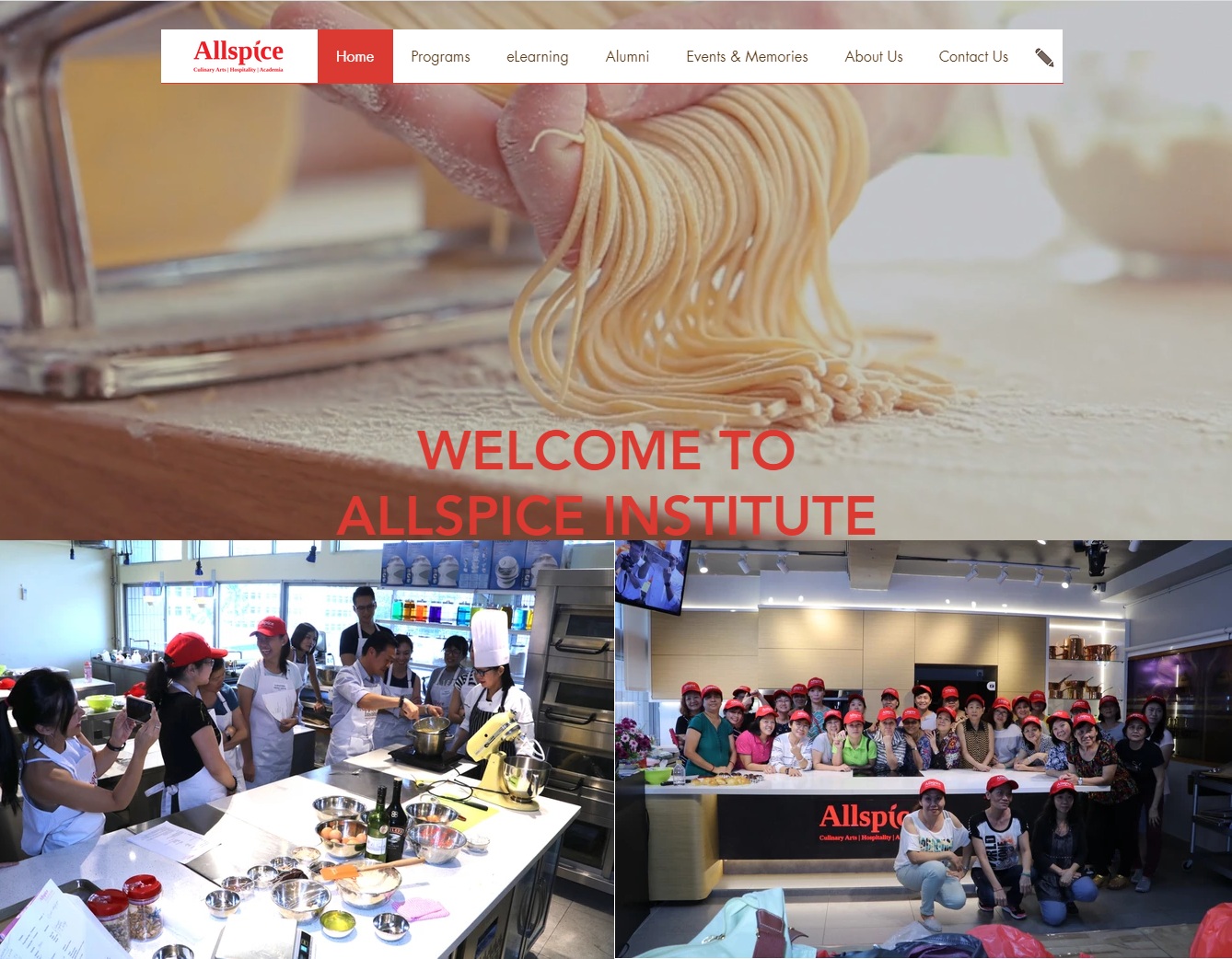 BEST FOR

Japanese and Chinese cuisine, Baking and Pastry classes

PRICING

Programs

WEBSITE

https://www.allspice.edu.sg/

ADDRESS

BLK 162, #07-3545 Bukit Merah Central, Singapore 150162

CONTACT DETAILS

65 6276 0760 / +65 6377 9303/ +65 9880 6183 

 

OPERATING HOURS

Mon-Fri (8:30am – 6pm); Sat (9:00am – 12:30pm)
Allspice Institute features not only cooking and baking but also programs on hospitality, teambuilding and shipyard safety which are vital in preparing their students for the professional world of global cuisine & hospitality.
Their cooking classes primarily focus on Japanese cuisine, coupled with some short programs on Peranakan cooking workshops. These classes come in different levels— beginner, intermediate, and advanced.
Each of their cooking and baking classes include topics on Basic Food Safety, Hygiene and Sanitation for an overall kitchen experience.
Customer Reviews
Comprehensive cooking and baking programs

Expert chefs

Offers e-learning facilities
Customer Reviews
AllSpice Institute does not only promote cooking as a hobby but they actually prepare their students for the real and actual chef responsibilities that will bring them to an international kitchen. Here's just one of the many testimonials from their previous students.
"Studying at Allspice Institute is like a big family to me. The teachers and Chefs helped me a lot. Before I came to Singapore, I do not know anything about cooking- but now after successfully completing the course, I feel very happy and more confident as I can cook, bake for my friends, and also find good jobs in fine dining restaurants like Novus, and huge professional kitchens like SATS"
11. Coriander Leaf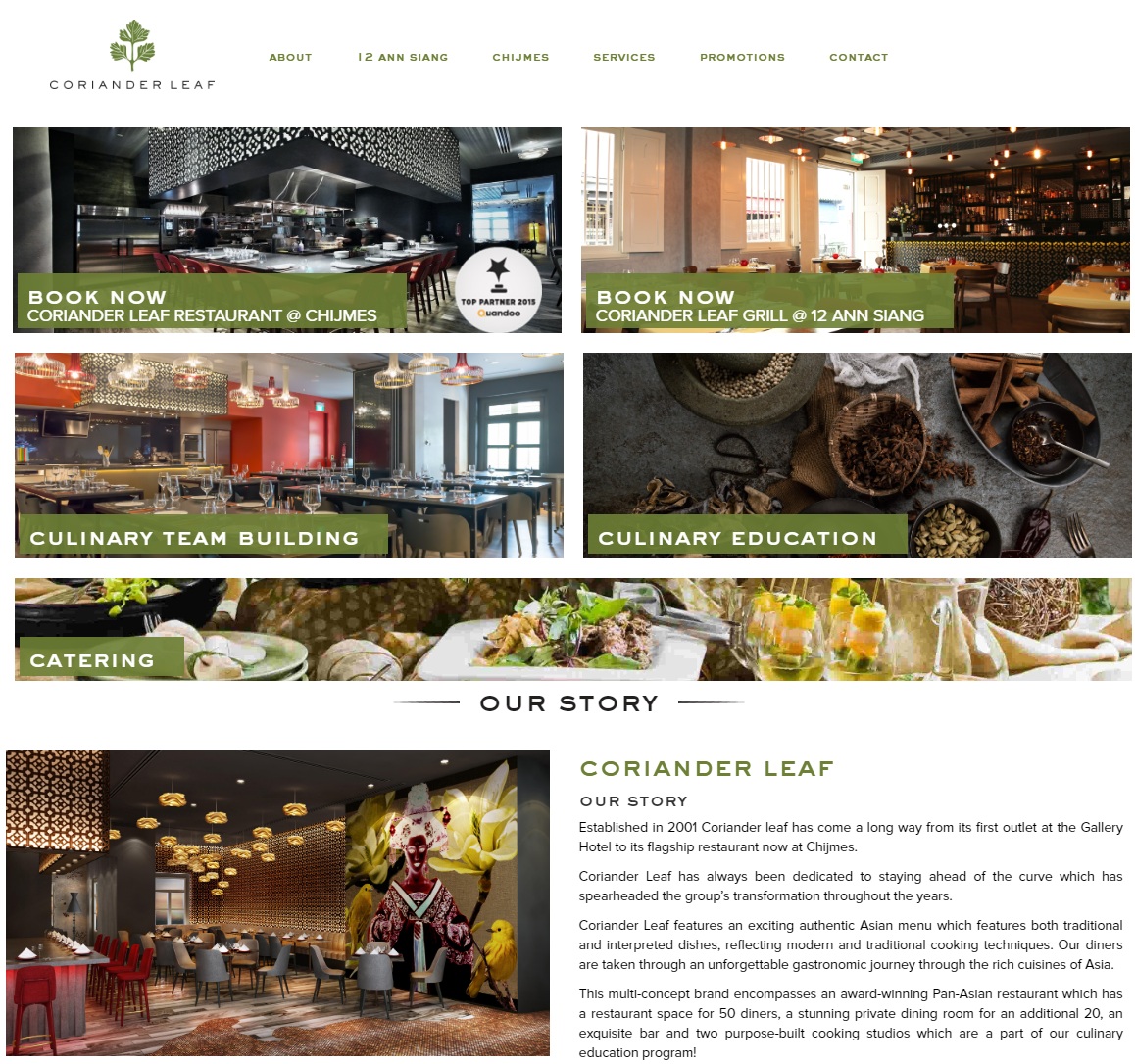 BEST FOR

Asian cuisine 

PRICING

http://corianderleaf.com/culinary-education/class-catalogue-2/

WEBSITE

http://corianderleaf.com/

 

ADDRESS

#02-01 Chijmes, 30 Victoria Street, Singapore 187 996 

 

12 Ann Siang Road, Singapore 069 692

CONTACT DETAILS

Coriander Leaf (Chijmes)

 

+65 6837 0142/+65 9390 2162 | [email protected] 

Coriander Leaf (Ann Siang)

+65 6222 7276/+65 8302 8366 | [email protected] 

OPERATING HOURS

Coriander Leaf (Chijmes)

 

Mon – Fri 12pm – 2:30pm (closed on PH)

Dinner: Mon – Sat 6pm – 10:30pm (last order 10:30pm)

Coriander Leaf (Ann Siang)

Mon – Thu 5:30pm – 11pm

Fri – Sat 5:30pm – 1am

Closed on Public Holidays & Sundays
If you are interested to know what unique dishes other Asian countries take pride in you should not miss out on the cooking classes offered by Coriander Leaf. These classes feature different cuisines of some Asian countries like Singapore, Thailand, Vietnam, India, Lebanon, etc.
A one day class normally creates 6-8 dishes from a single choice of country and costs an average of $160.00.
Everyday, they strive to create unique and innovative twists to these traditional dishes so each class will have a whole new level of flavors. 
So, if you want to explore dishes from your neighboring countries without having to visit them one by one, maybe you can start by enrolling in some of the cooking classes offered by Coriander Leaf.
Highlights
Asian cuisine cooking classes
Creative twists to traditional Asian dishes
Emphasis on home cooking and easily-replicated dishes
12. Ti Yan Academy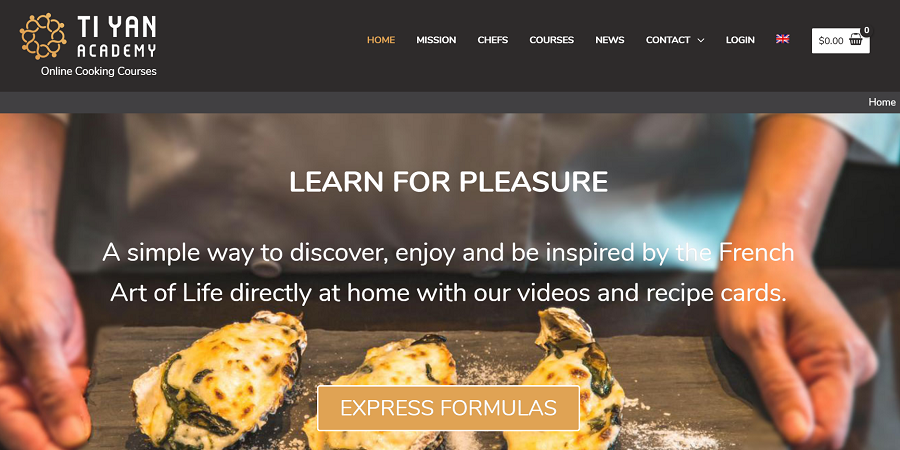 If you're looking for a class that will help you learn different French-inspired delicacies from the comforts of your home and without time restrictions, Ti Yan Academy's the one for you!
Master recipes ranging from simple to difficult, with easy to follow cooking videos and academic textbooks provided just for you. It doesn't matter if you're doing it for leisure or a career change, Ti Yan Academy will make sure you'll be able to grasp all the technicalities and professional rules slowly and with careful precision.
Ti Yan Academy offers express and professional formulas to choose from for when you decide if you want to take it easy or not. Have everything at the tip of your fingers and a click of a mouse, what you want, you'll surely get, only if you try out Ti Yan Academy's classes, all of which are at $28 to start.
Hint: Enrolling for a couple cooking class in Singapore is a great date idea!
Customer Reviews
Step-by-step videos provided
Quantity of serving can be adjusted or changed
Certified authentication on French cuisines for future use
13. Commune Kitchen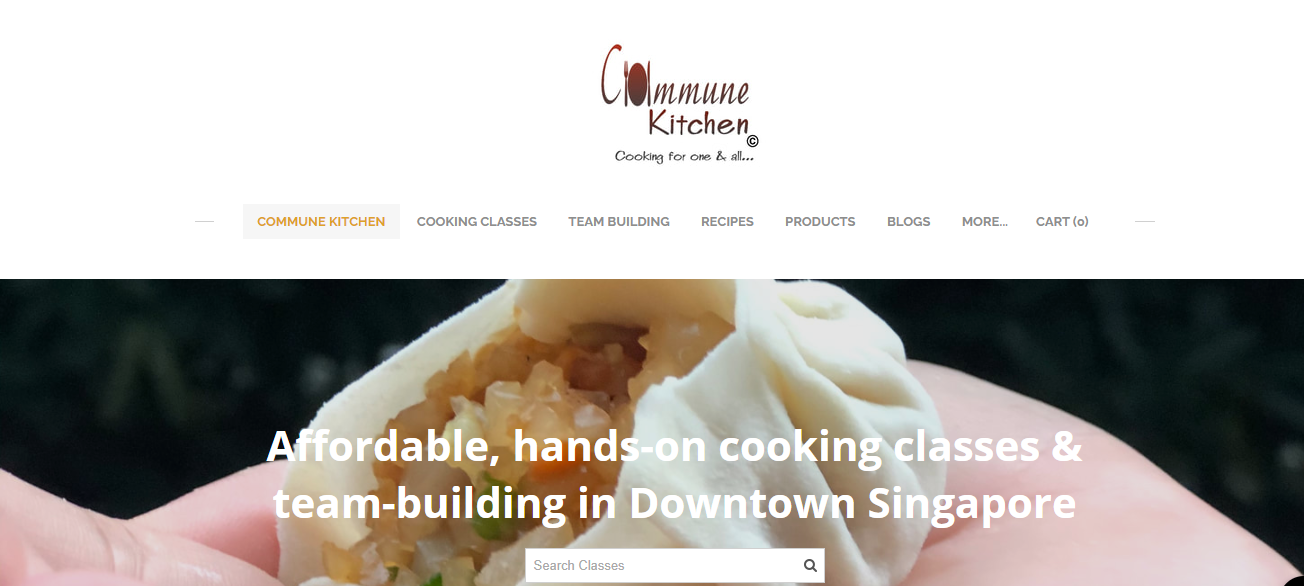 BEST FOR
Cooking classes and Team building
WEBSITE
https://www.communekitchen.com/
ADDRESS
Commune Kitchen Pte. Ltd
OUE Social Kitchen
Level 3, Downtown Gallery
6A Shenton Way, Singapore
CONTACT DETAILS
[email protected]/65 88214805
OPERATING HOURS
Monday to Saturday 10:00 to 8:00PM
Commune Kitchen is a Singapore-based cooking school led by head chef Payal Thakurani. Chef Thakurani is an esteemed cooking instructor, consulting chef and author.
Commune Kitchen offers affordable, hands-on cooking classes for people of all ages. Cooking classes and team-building sessions are located conveniently in Downtown Singapore.
Affordable classes and sessions are conducted in a state-of-the-art kitchen near Tanjong Pagar MRT. Commune Kitchen's signature cooking classes are Chinese dumplings, and xiao long bao, along with South-east Asian cuisines, and gluten-free, vegetarian, and plant-based cooking.
Cooking classes and team-building sessions are held conveniently in Downtown Singapore.
Highlights
Cooking classes in a state-of-the-art kitchen
Affordable, hands-on courses
Easy-to-follow instructions
Customer Reviews
Here are some examples of the feedback posted by customers on Google Reviews:
"We went for a dumpling workshop with the kids (6+8). They were the only children and still had tons of fun. Safe distancing and all the safety mesures were in place, and we still got a homey and cozy feeling of the whole team. Thank you so much! We'll come again!"
"Amazing event team offering a range of cooking lessons, they're are amazing to follow and the recipes are great!
Great afternoon spend learning to make chinese dumplings!"
That's it for our list of the places that provide the best cooking classes in Singapore! These are the spots where you can learn the most, whether you're an amateur or professional already.
Have you already chosen which class would you like to take? Share it with us and tell us why you decided to try it.
After you've learned new recipes, you may also need some new kitchen cookware, so check out our roundups of the best of them… such as the list of the best Dutch ovens in Singapore! With a large one, you can prepare several servings for a festive celebration!