The 33 Places for Best Piano Lessons in Singapore
Want your kids to develop musicality at a young age? Are you aiming to be a great pianist in the future? Or do you simply want to learn to play the piano as a hobby? Whichever it is, we've listed the most well-known academies that teach the best piano lessons in Singapore!
See our list below to find out more about the scope of their classes and which one is the nearest your place!
1. The Happy Pianist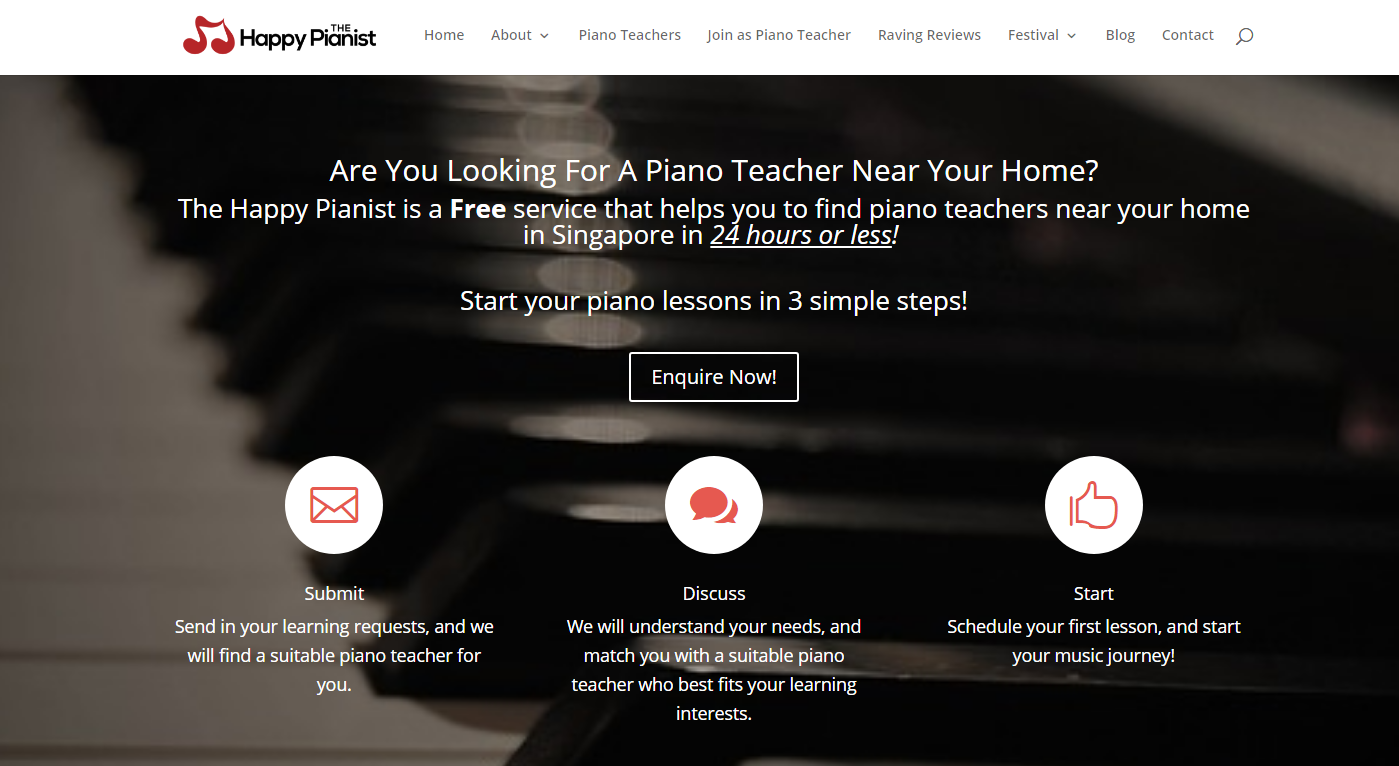 The Happy Pianist strives to make piano lessons accessible for those who wish to learn or improve. Working with them allows clients the opportunity to locate talented piano teachers that best suits their current skill set, schedule, and even desired lessons. 
Another fact worth noting about the Happy Pianist is that they thoroughly screen each piano teacher in their catalogue. Clients won't need to worry about coming across teachers who lack the necessary background or can't competently teach, as The Happy Pianist only works with exemplary pianists.
Those looking to learn other instruments need not look further either, as The Happy Pianist also offers violin, cello, guitar, and music lessons. 
Highlights
First class session is free
Experienced and qualified teachers
Piano moving and tuning services
Customer Reviews
Here are some verified reviews from previous clients:
"Mark has been very helpful in responding to my queries and we are very happy with the recommended music teacher. Ms Vivian has been a good match for my children and they enjoy her lessons. Thanks Mark!"  -Jasmine Seah, Facebook Reviews
"I was looking for a one to one tutor for my kid a few months back. Mark contacted me after I left my contact online. He was (and still is as I recommended him to my friends later) friendly and helpful and everything I could ask for. He looked into my family's needs and recommended a range teachers for me. We tried out with different teachers including Teacher Yolanda and my 4 years old wanted to continue with Teacher Yolanda. She really enjoyed learning from this patient, experienced and professional young teacher and has been improving ever since. Thank you so much for all the help The Happy Pianist and I really appreciate it!" -Fan Wenying Wendy, Facebook Reviews
2. D-Flat Studios

BEST FOR 
Piano lessons for kids
WEBSITE
https://www.dflat.com.sg/
ADDRESS
Tanglin Studio:

356 Tanglin Road
Belvedere Block A, Level 3
Singapore 247674

CONTACT DETAILS

Email: [email protected]

+65 6225 7175
+65 9778 3603 (WHATSAPP)

OPERATING HOURS
Tuesdays – Fridays 10am – 9pm
Saturdays 9am – 6pm
Sundays 9am – 2pm
D-Flat Studios has consistently been voted one of the top Music Schools in Singapore. The highly experienced teaching faculty dedicates itself to providing quality music lessons to children and adults, adopting a "Performance-based learning" philosophy. Many of their teachers are also performers and practitioners, and they regularly hold masterclasses, recitals and performances.
They are currently located at Tanglin Road. They also have a large and successful branch in Kuala Lumpur, Malaysia. The school specialises in individual piano and vocal lessons for kids, and they also offer group classes for adults, vocal lessons, holiday jazz and musical theatre workshops.
Unlike conventional music schools, this boutique school boasts large learning classrooms, big enough to fit 6 pianos in! They adopt a holistic approach to develop a child's ability to understand and play music. Emphasis is placed on sight-reading and aural, aimed at honing note-reading and listening skills. As children progress in their piano studies, they are also introduced to other musical fields. The development of an inner ear is key to enjoying music. Therefore, age-appropriate and level-appropriate exercises are introduced during class time.
Beyond the classroom, their masterclasses, annual recitals, concerts, FB Live talks are designed to enhance the Ministry of Education's philosophy of Co-Curricular Activities: Experiential, Conceptual and Application.
What sets them apart is also their belief in using technology to enhance the musical experience. They do this through music theory and sight-reading applications, videos, reference performances and similar, in the classroom, and during home practice sessions.
Highlights
Central located on Tangiln Road
Curates Theory and Sight-Reading applications into lessons
Group classes for adults learning chord charts/pop songs
Individual one on one instruction for adults and children
Classical, jazz, contemporary styles of music
Use of technology is encouraged in our classrooms to enhance learning experiences
Visit their blog at https://www.dflat.com.sg/blog for more updates and happenings
3.  Music Lifestyle Academy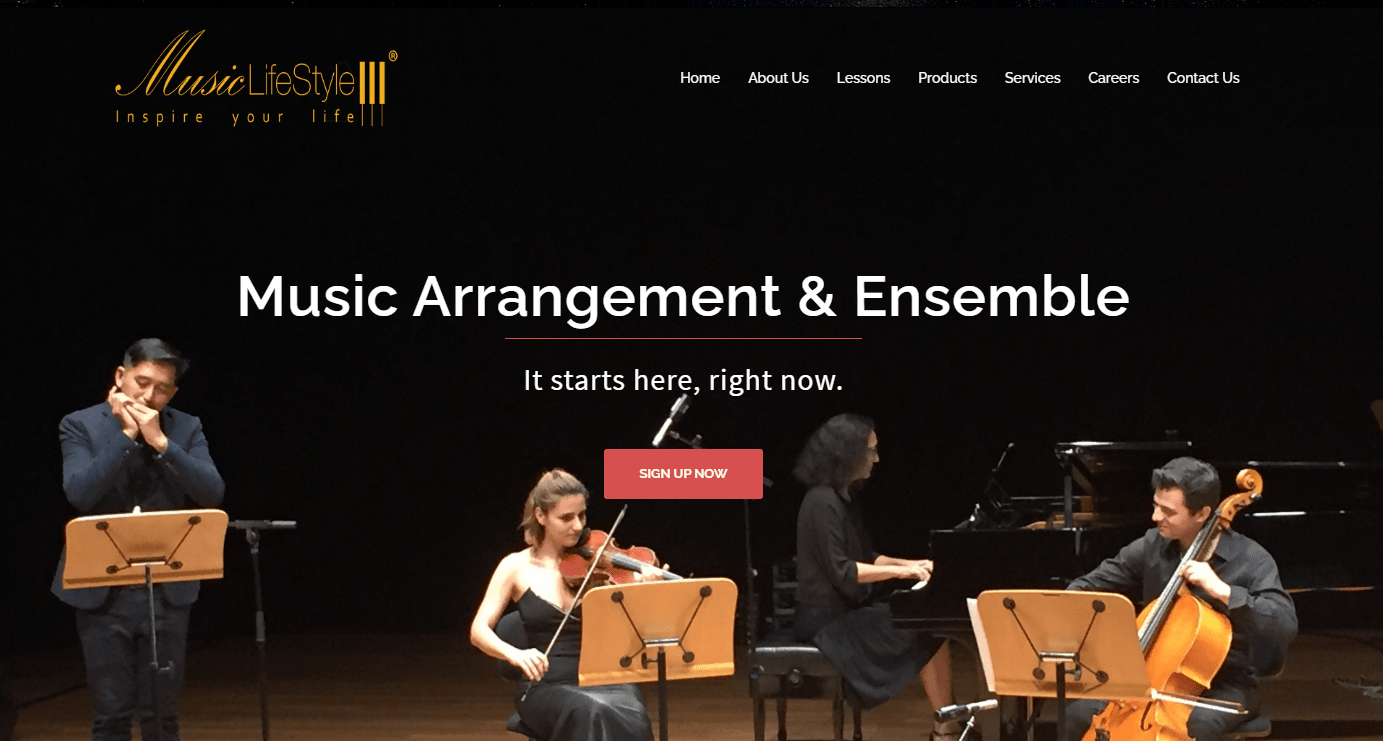 BEST FOR 
Piano classes for aspiring music educators or performers, Virtual live piano lessons
WEBSITE
https://musiclifestyle.sg/
ADDRESS
No.6 Eu Tong Sen Street, The Central #03-30 Singapore 059817
CONTACT DETAILS
+65 6221 5221
OPERATING HOURS
Monday – Friday       11:00 AM – 9:00 PM

Saturday – Sunday   10:00 AM – 8:00 PM
For those who prefer to take piano classes at home, Music Lifestyle Academy is the perfect choice for you. They provide lessons that are customised based on the student's skill level and offer a flexible schedule to fully accommodate the student into progressing at his/her own pace.
Their best piano lessons in Singapore include engaging and rewarding courses where you can learn pop, classical, and jazz. This academy helps students achieve their goals of being musical educators or performers in the future.
Moreover, their skilled instructors specialise in preparing students for practical and theoretical exams to get into international music academies. From the techniques up to the overall musicianship, you can learn everything you need to pass the exam.
Highlights
Classes for kids and adults
Creates opportunities to perform in-house and public events
Musical instruments shops
piano maintaining packages
Customer Reviews
Music Lifestyle Academy was able to produce students who've achieved a successful career in the music industry. Some students shared that because of the comprehensive piano classes, they were able to learn different techniques and styles.
A student gave this feedback:
"As the name suggests, Music LifeStyle has taught me that learning never stops when it comes to music. Pursuing music is a lifelong journey and it has become a very important part of my life. With qualified and friendly teachers, Music Lifestyle provides students like me with a conducive and supportive environment to grow as a musician. I was also provided with opportunities to perform publicly at Music Lifestyle's annual recitals which left me with fond memories and an inspiration to work harder. I would like to thank my teacher, for her patience and guidance over the years."
4.  Ossia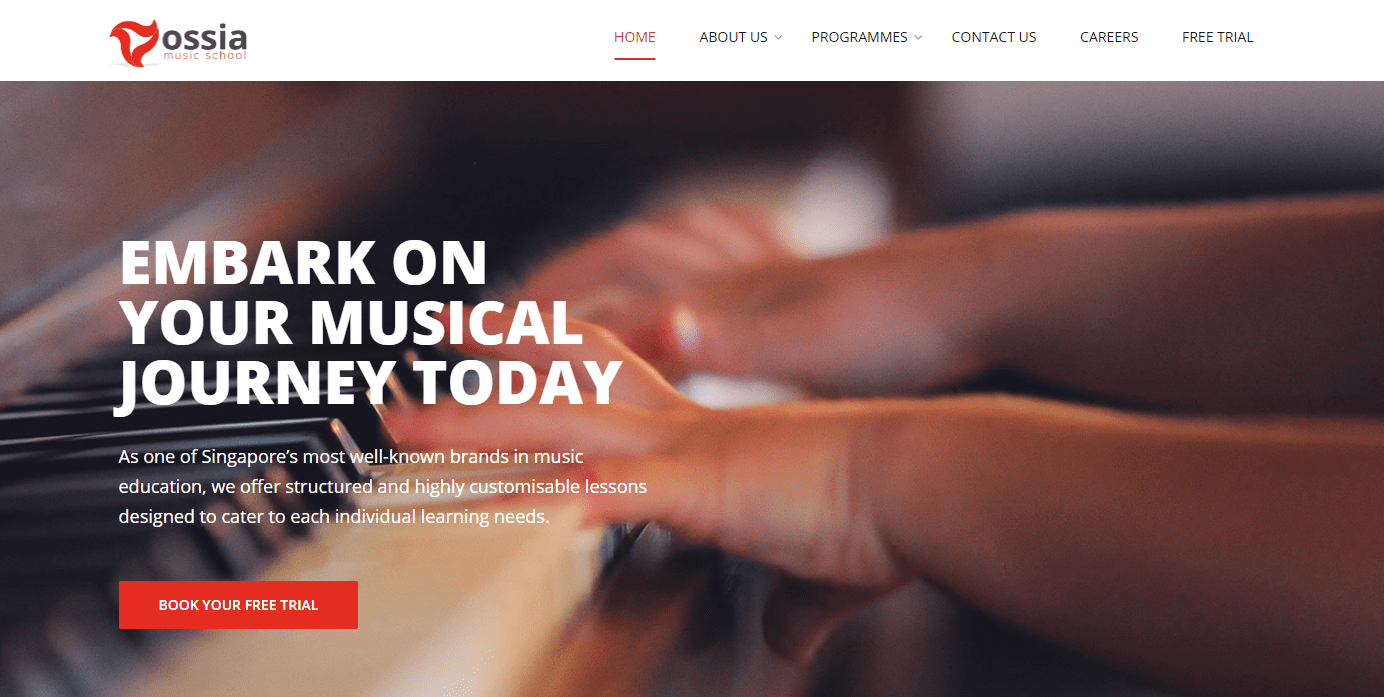 Having a dilemma about taking piano lessons because of the costly fees? If so, then you should take a look at the classes offered by Ossia.
They conduct personalised and affordable courses to meet every individual's needs. They even offer piano rental packages for the students to have cost-effective options and help them practice regularly at home.
Together with their attentive and lively teachers, you can be sure that you'll experience consistent progress throughout each class. They teach Baroque, Classical, Romantic, and Contemporary styles through their well-structured syllabus.
They also organise recital spaces, allowing the students to perform. If you've finally decided to inquire with them, you can try their free trial music lesson, which will be your guide in choosing the right course for yourself.
Highlights
Tailored lessons
Free trial lesson
Performance opportunities for students
Piano rental packages
Customer Reviews
Students from Ossia said that the academy truly has the best piano lessons in Singapore because of their well-curated courses available at low cost.
A student posted this review:
"Since 2017, I have been taught by Ms Lee Zi Huan. She is a very caring and thoughtful teacher throughout these few years and I am very grateful for her guidance and patience. She is also very flexible in her schedule and she has a sense of humour during lessons and she never fails to make me laugh. I have improved tremendously under her guidance and I have achieved decent grades for my exams. Thanks you Ms Lee!"
5.  Groove Music School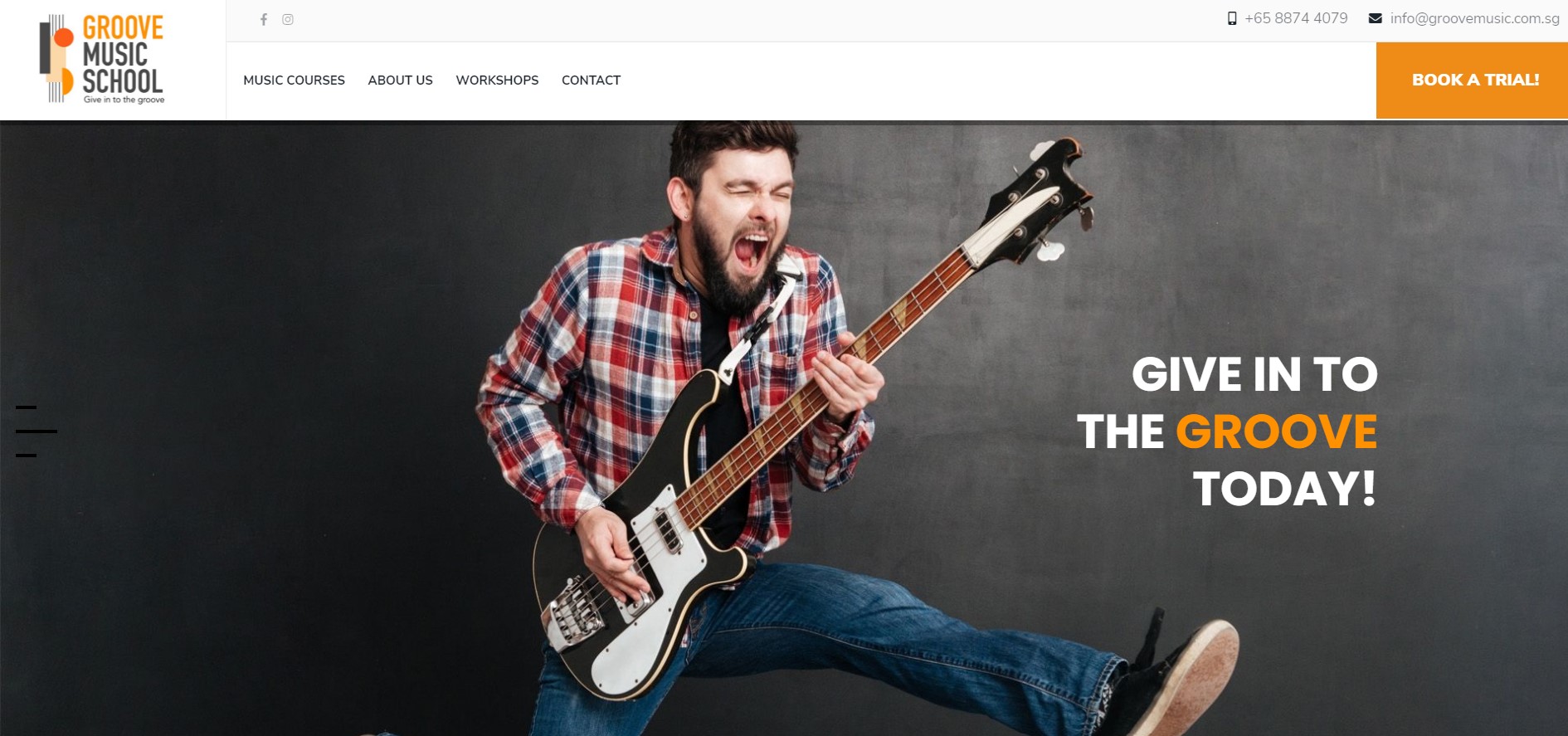 | | |
| --- | --- |
| BEST FOR  | Affordable piano lessons |
| WEBSITE | https://www.groovemusic.com.sg/ |
| ADDRESS | 177B THOMSON RD, LEVEL 3 GOLDHILL SHOPPING CENTRE, SINGAPORE 307625 |
| CONTACT DETAILS | +65 8874 4079 |
Groove Music School is a music learning space for people from all walks of life.
With a network of dedicated and experienced teachers, they impart musical knowledge and provide memorable experiences to their students. The school's environment is thoughtfully designed to feel safe and comfortable for learning and creative expression.
Another thing we can recommend them for is the experience that their teachers have. Most of their instructors have been in the industry for years, giving them the knowledge and ability needed to teach little ones how to play all kinds of instruments.
Plus their way of teaching isn't like any other school too. They personally get to know their students while they teach them the basics. 
Highlights
Experienced teachers
Safe, comfortable, and conducive
Fun and engaging workshops
Customer Reviews
Here's what some people have to say about Groove Music School:
"Not your typical classroom-style of learning, teachers here build a relationship with the students and willing to go the extra mile. I was guided all the way from start to end with regards to making a guitar purchase. They provided very useful tips. I recommend Groove if you're looking for really a community of genuine people who love and breathe music. Also very nice place!"

"AJ is a great teacher. He is able to breakdown the music into understandable parts and weaves in music theory principles while teaching me songs that I enjoy."
6. Juzmusic Academy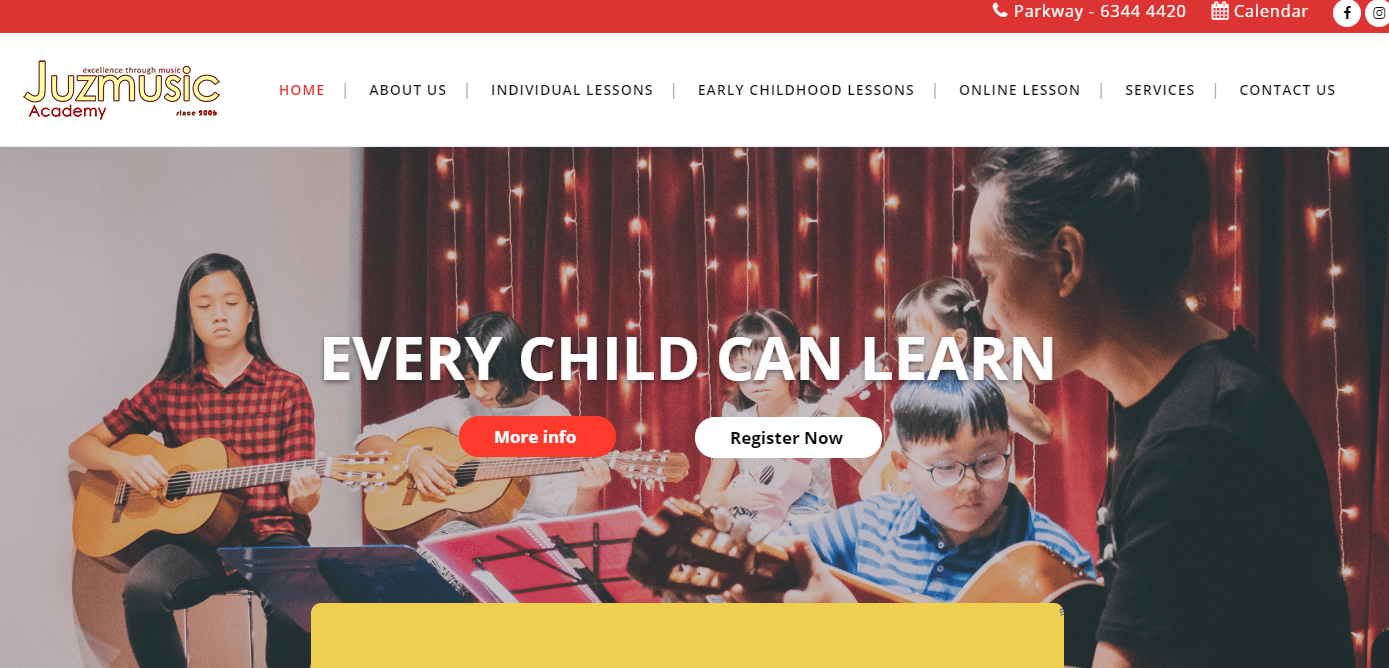 | | |
| --- | --- |
| BEST FOR  | Early piano childhood classes |
| WEBSITE | https://juzmusic.com/ |
| ADDRESS | 1 Marine Parade Central, #09-04, Parkway Centre, S 449408 |
| CONTACT DETAILS | 63444420 |
Searching for a music academy that focuses on teaching little ones? At Juzmusic Academy, every child can learn music lessons, for they offer early childhood courses for toddlers, preschoolers, and even babies!
They have different programmes and each is designed for a specific age group. For babies and toddlers, they have a Junior Discovery course where nursery rhymes and chants are used to help prepare your child to learn piano.
Meanwhile, the Junior Playtime programme gives the toddlers and preschoolers the chance to play keyboard and even read music scores. They'll be able to learn keys, musical perceptions, and more.
Last but not least, with the Junior Musician classes, kids aged four to six years old will learn piano techniques and develop discipline while playing and practising.
They're one of the few academies that can accommodate kids of all ages. Parents can easily see the progress of their child through the track records, scoring merits, and examinations.
Highlights
Private piano lessons
Different junior programmes
Monthly recitals
Regular in-house musical training for the teachers to ensure that their skills are continuously updated and improved.
Customer Reviews
As an award-winning music school, they've proven that they indeed provide the best piano lessons in Singapore. Parents mentioned that their children were able to gain confidence while performing, thanks to the comprehensive courses and attentive instructor.
Here's feedback from one of the parents:
"It is in Juzmusic where my son has learned to enjoy his music lessons. The good thing about Juzmusic is that they don't just teach but they impart the love of music which made my son improved tremendously."
7.  Studio 72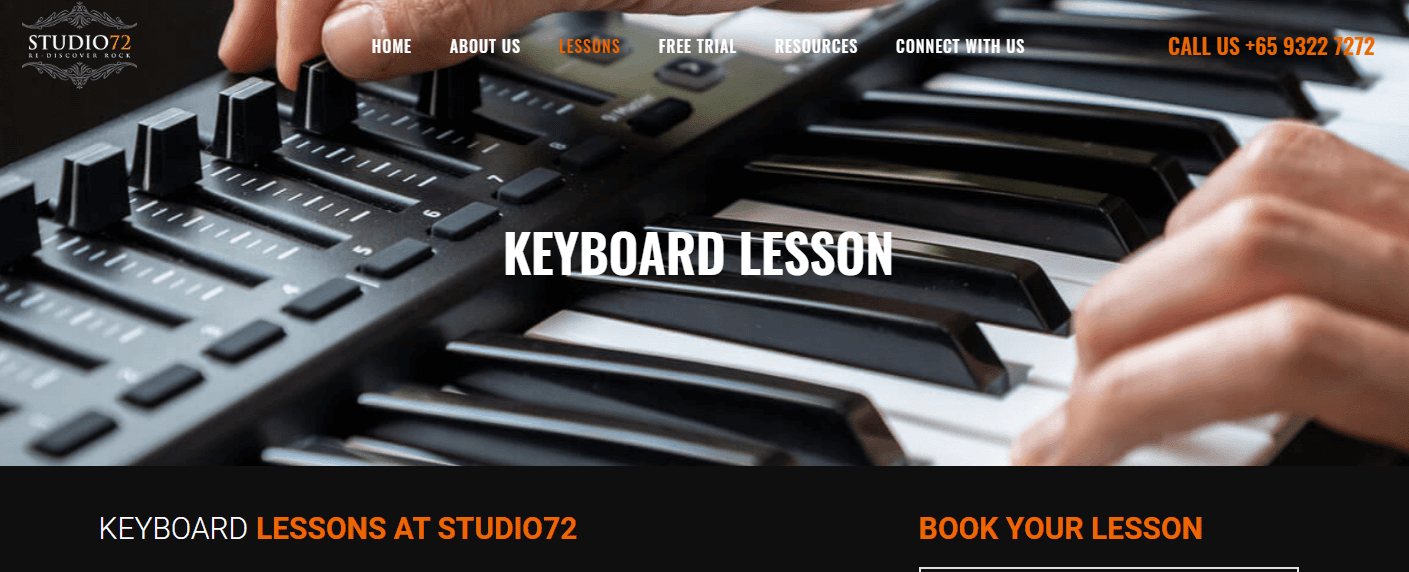 BEST FOR 
Keyboard lessons
WEBSITE
https://www.studio72.sg/
ADDRESS
45A Circular Rd, Singapore 049400
CONTACT DETAILS
+65 9322 7272
OPERATING HOURS
Weekdays: 12:30–9pm

Weekends: 10am–7pm
For adults who want to pursue a musical career path or rekindle their passion for music, Studio 72 is the place to be! They help aspiring musicians reach their dreams of becoming a professional artist.
Unlike other studios, they provide a unique academy experience with their stylish environment. Music lessons are conducted by veteran musicians and mentors so you can easily improve your skills.
Their curriculum mainly consists of keyboard lessons. You can either have a solo performance or play the lead in a group.
Highlights
Gigs and jamming sessions
Flexible schedule
Song composition
Customer Reviews
Studio 72 has become known for their best piano lessons in Singapore due to their cool and relaxed yet productive learning environment.
A student wrote this feedback:
"I couldn't believe myself – I did it !!!! … Studio72 is not just another music school but a superb place to learn music with warm and friendly ambience. Teachers are very professional, inspiring and patient, I must "hats-off" to them for being so patience with me "a grandma of two, Merdeka Generation, without music background, left-handed, never play any musical instruments before". With the encouragement of the teacher, (OMG! I DID IT!!!) and 26.7 Friday night event was indeed truly a great opportunity for me to perform live on stage and am still having hangover!!! I am very thankful. Now, looking back on my first day of lesson, I can feel significant improvement and I always look forward to go for my classes. I highly recommend Studio 72 to whoever wish to learn music to rediscover yourself."
8. Silversnow Music School

BEST FOR 
Bespoke piano lessons
WEBSITE
https://www.silversnowmusic.com/
ADDRESS
Roxy Square II Shopping Centre
50 East Coast Road, #02-90
Singapore 428769Bukit Timah Shopping Centre
170 Upper Bukit Timah Road, #02-77
Singapore 588179Sims Urban Oasis
4 Sims Drive
Singapore 387387
CONTACT DETAILS
64406805 / 64631103

98391632

OPERATING HOURS
By appointment only:

Weekdays: 9am – 10pm

Weekends: 9am – 7pm
Silversnow Music School first opened its doors in 2016. Despite its short time in the field, the school has managed to receive several accolades that prove its capability of providing quality music lessons.
While they offer one of the best lessons for Piano in Singapore, it doesn't stop there. Silversnow Music School also has Violin, Guitar, Ukulele, Flute, Vocal Training, Music Theory, and Music Appreciation for all ages.
One of the best aspects of Silversnow Music School is that the instructors understand that no two students are the same. This is why their lessons adjust based on the student's skills and aptitude.
Highlights
Award-winning Music School
Offers free lessons for those who purchase the Essex 123S piano
Understanding and passionate mentors
Widest range of music lesson times available every day
Holds Annual recitals for students
Offers flexible schedule scheduling
Customer Reviews
"I came across this school as I was searching for a school in this area. Although it is a relatively new school, I liked the fact that its cosy and the service staff was very helpful and friendly in addressing my questions. I wanted my kids to learn and appreciate music and have fun learning it, and I think the teachers have been able to do just that. They are firm yet friendly and encourage the kids to freely express themselves and the kids always look forward to their lessons. Location wise, it is also very convenient as there are buses to the doorstep."

9. Mr Shawn Ong | Piano Lessons

BEST FOR 
Piano Classes for All Ages
WEBSITE
Mr Shawn Ong
ADDRESS
16 Ang Mo Kio Ave 2, Singapore 567699
CONTACT DETAILS
+65 9822-7245
OPERATING HOURS
Sunday 3:00 PM–5:00 PM
Monday 9:00 AM–2:00 PM
Tuesday 9:00 AM–12:00 PM
Wednesday 9:00 AM–12:00 PM
Thursday 11:00 AM–6:00 PM
Friday 9:00 AM–5:00 PM
Saturday Closed
Mr Shawn Ong is a classical pianist and piano instructor who embarked on his musical journey at a young age. Most of his life is spent honing his craft, resulting in him being one of the best choices for piano mentors.
With over 10 years of experience in piano teaching, Mr Shawn Ong boasts a 100% passing rate for students' graded ABRSM examinations.
Those under his mentorship are known to excel. Not only that, but they're also given the chance to perform in annual concerts. Students who are the cream of the crop are even sent to join local and international competitions.
Highlights
Bachelor Degree with Honours in Classical Music
Over 10 Years Teaching Experience
100% ABRSM Passing Rate
Offers free trial class
10. Melodious Piano Studio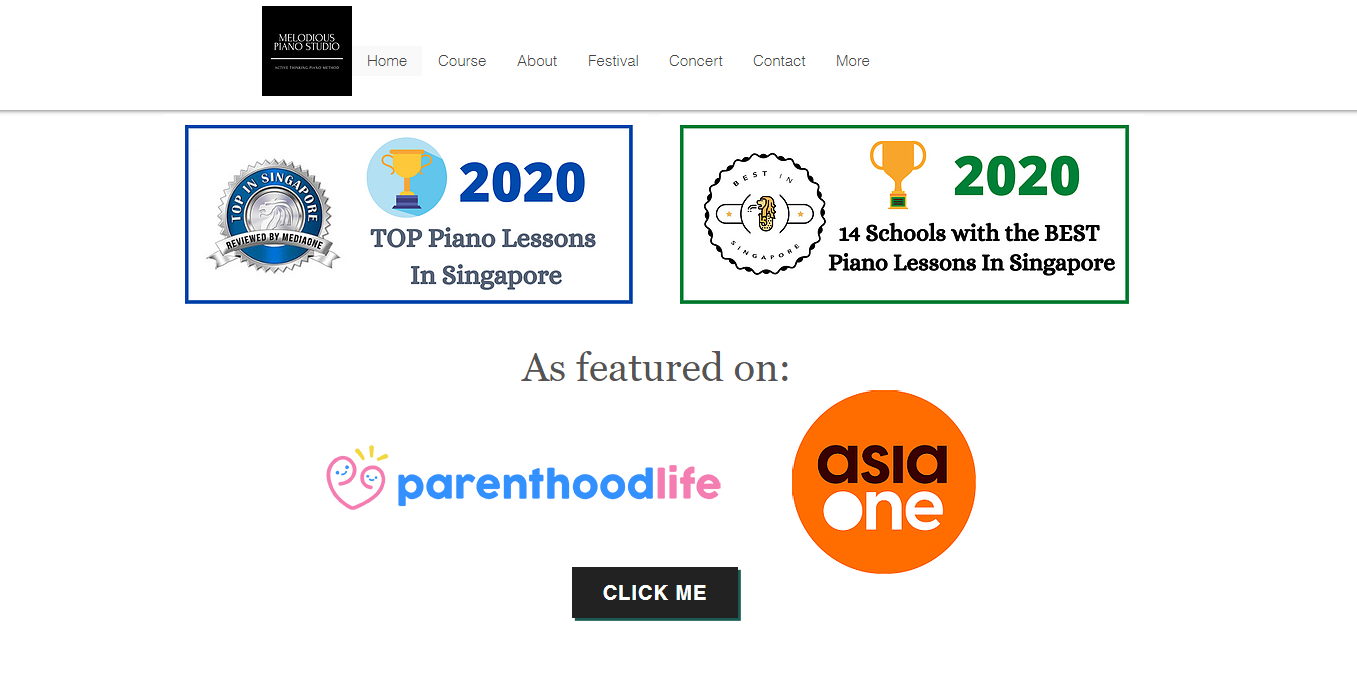 | | |
| --- | --- |
| BEST FOR  | Personalised Piano Lessons |
| WEBSITE | https://www.sgpianoteacher.com/ |
| ADDRESS | 106, Yishun Ring Road, 02-199 760106 |
| CONTACT DETAILS | 96993214 |
| OPERATING HOURS |   |
Ms Liew of Ms Liew Piano Studio recognises the uniqueness of her students. This is why she strives to provide a place of learning where students can learn through their own way at their own pace.
She's open to mentoring those who wish to pursue piano playing. It doesn't matter if one wishes to do so for fun or for examinations and competitions. Ms Liew will do her best to ensure that her students have the needed knowledge and skills to succeed.
Highlights
Mentor of highly accomplished students
Owns a Distinction in Diploma in Piano Performance LTCL
Has a high distinction in Diploma in Teaching (Early Childhood Music) by the London College of Music
Customer Reviews
Here is a review left by a satisfied client:
"My 9 years-old daughter takes piano lessons with Ms Liew after changed for few teachers. She is a very patient and professional teacher especially teaching young children. My daughter has speedy progress after 3 years with her. She creates an environment that is motivating and inspiring. Ms Liew has a reward chart for my daughter to motivate her to practice and always reward her with presents. My daughter has scored a Merit in her Grade 5 theory despite her young age. I would highly recommend Ms Liew if you want to see progress in piano learning."
11. Play By Ear Music School

BEST FOR 
Pop Piano and Jazz Piano Music lessons
WEBSITE
https://www.play-by-ear.net/
ADDRESS
245A/B Victoria Street, Bugis Village, Singapore (188032)
CONTACT DETAILS
Tel: 63387939  | Email: [email protected]
OPERATING HOURS
Monday – Friday 1130am-9pm
Saturday – Sunday 11am-5pm | Public holidays closed
Play by Ear is a music improvisation school that first opened its doors to the public in 2003. Since then, the school has offered Pop Piano, Jazz Piano, and Pop Vocal Lessons to countless students in Singapore.
Play by Ear is also the headquarters for .B.E.S™ (Study of Contemporary Music Improvisation & Aural Techniques), a global teaching methodology for adults, teens, and children.
PBE dedicates itself to inspiring and nurturing musical talents. Mentors from PBE are kind, understanding, and will go through great lengths to see students' success in their chosen musical field.
Highlights
Free online courses available
Offers workshops
Mentors all ages
12. Paul's Piano Studio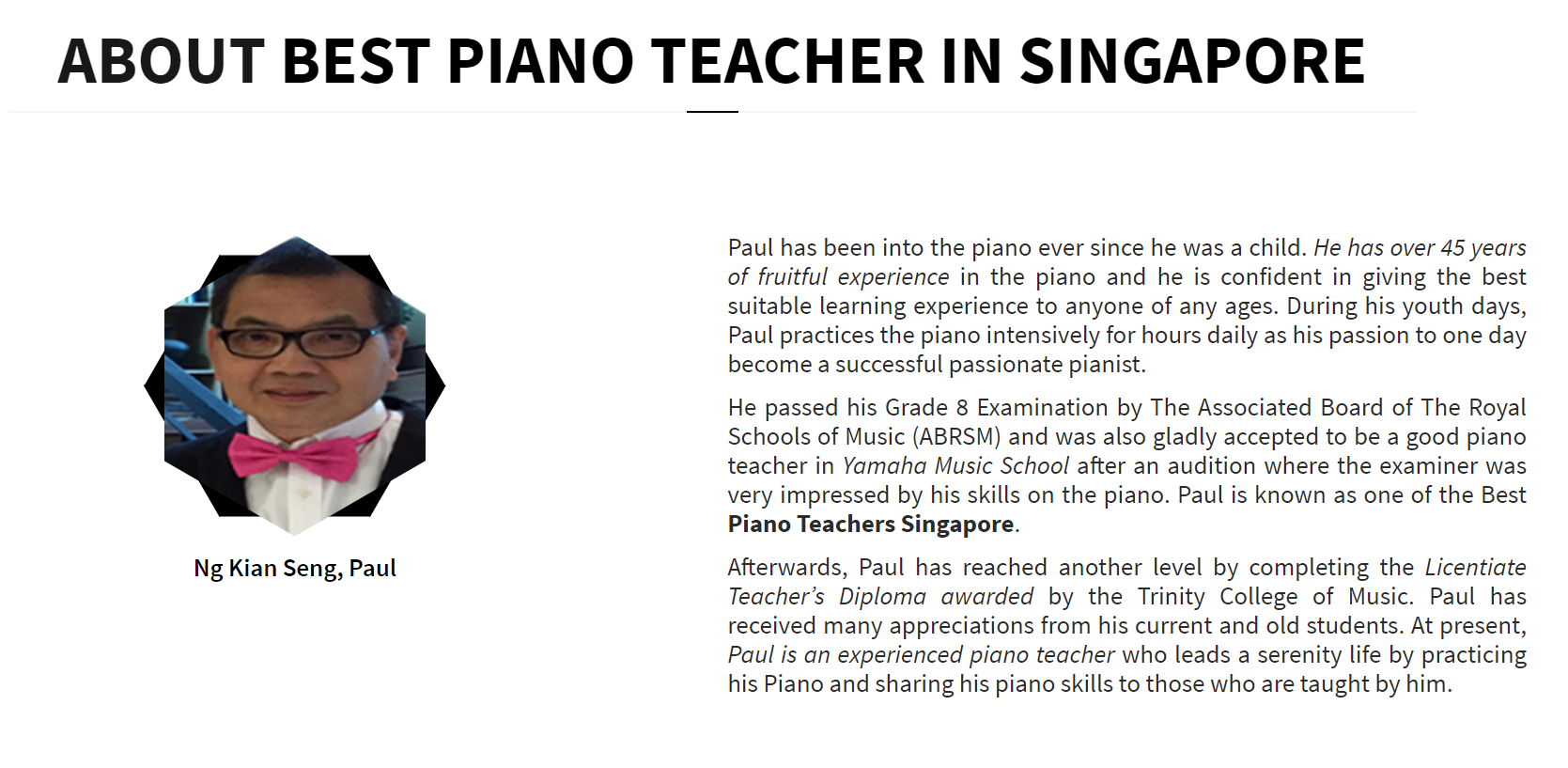 BEST FOR 
Piano Lessons for Beginner and Advanced students
WEBSITE
http://www.pianoteacherinsingapore.com/
ADDRESS
317A Anchorvale Road #12-226 Singapore 541317
CONTACT DETAILS
6286 1137

9270 5370

OPERATING HOURS
 
Ng Kian Seng, Paul has over 47 years of experience in playing the Piano. His vast background in playing the piano began in his youth. This continued on as he passed examinations and was later accepted to be a piano teacher in Yamaha Music School after an audition where the examiner was very impressed by his skills on the piano.
Nowadays, Paul is regarded as one of the best piano teachers in Singapore. He's capable of teaching students at any level.
Highlights
47 years of experience in piano playing
Completed the Licentiate Teacher's Diploma awarded by the Trinity College of Music
13. Violin and Piano Music Studio

Violin and Piano Music Studio is run by two talented artists, husband and wife Ms Tan and Mr Ng. Ms Tan is in charge of the piano while Mr Ng teaches violin.
Aside from being highly fluent in their crafts, Ms Tan and Mr Ng are also passionate about music and teaching. They are offering quality piano lessons, violin lessons and theory lessons to children, teenagers and adults living in Singapore.
One of the best things about this music studio is that students are taught how to love music and their instruments while honing their crafts.
Highlights
Music enrichment (online materials) is available
Hosts annual concerts for music students
14. The Music Works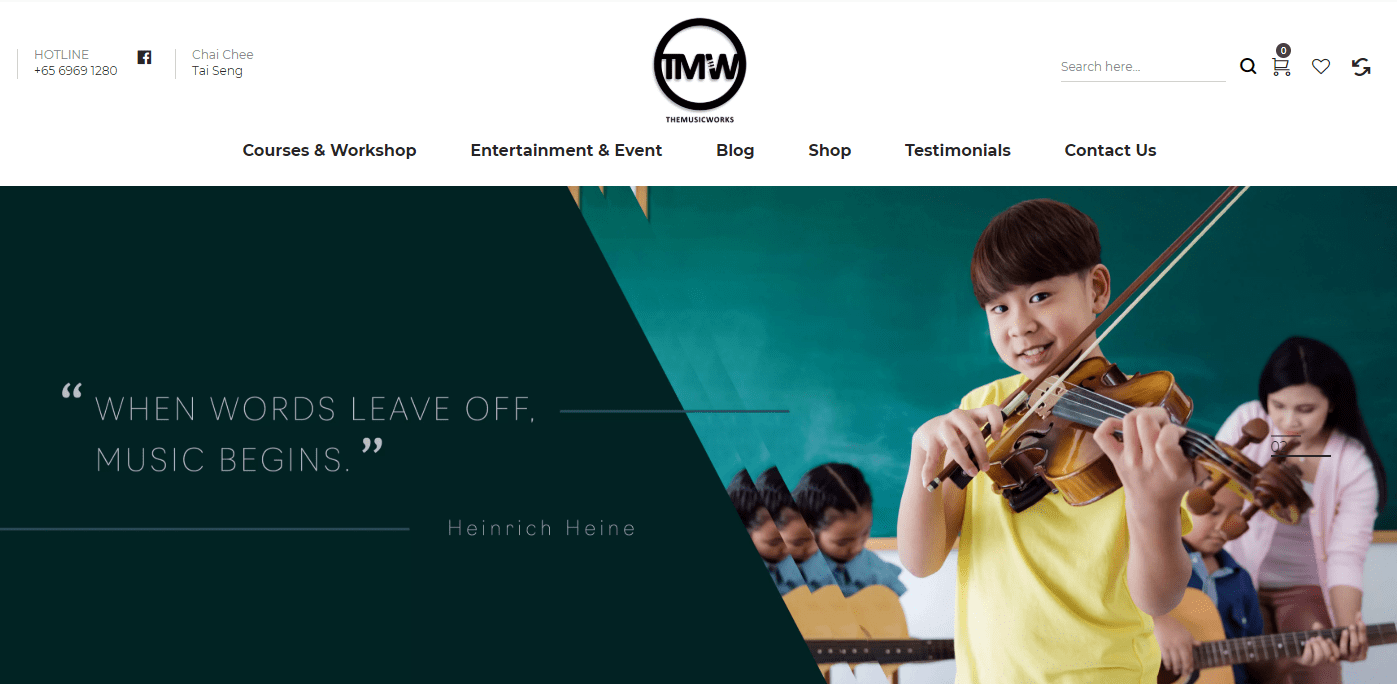 | | |
| --- | --- |
| BEST FOR  | Kids and adult piano courses |
| WEBSITE | https://tmw.com.sg/ |
| ADDRESS | 750 Chai Chee Rd, #01-13A Viva Business Park, Singapore 469000 |
| CONTACT DETAILS | +65 6909 3618 |
| OPERATING HOURS | Daily, 12–8pm |
The Music Works has many professionally trained music teachers who focus on bringing out the full potential of every individual. They offer a wide selection of classes, courses, and workshops, all arranged and planned for all ages and skill levels.
They conduct lessons for both digital and traditional piano playing. The instructors will guide you step by step to make sure that you don't miss anything.
For the kids, they have classical piano lessons that consist of basic courses, suitable for children 4 years and older. On the other hand, contemporary piano lessons are for those who are older than toddlers — the lessons help boost creativity and cognitive development.
Pop and jazz piano lessons are mainly designed for adults who are beginners as well as those who simply want to regain their forgotten skills.
Highlights
Individual and group classes
Musical instruments shop
Entertainment and events services
Customer Reviews
Most students at The Music Works said that they had fun and productive experiences in each class. This is why the academy is recognised for their best piano lessons in Singapore.
A student left this review:
"My first review but certainly a heartfelt one! I have been learning piano here for the last year or two and I have had no bad experiences; the overall learning environment and overall vibe to the place is amazing. It's just superb to learn from teacher grace and truly an experience if learning I would recommend to anyone! keep it up guys!"
15. Rocktone Music Academy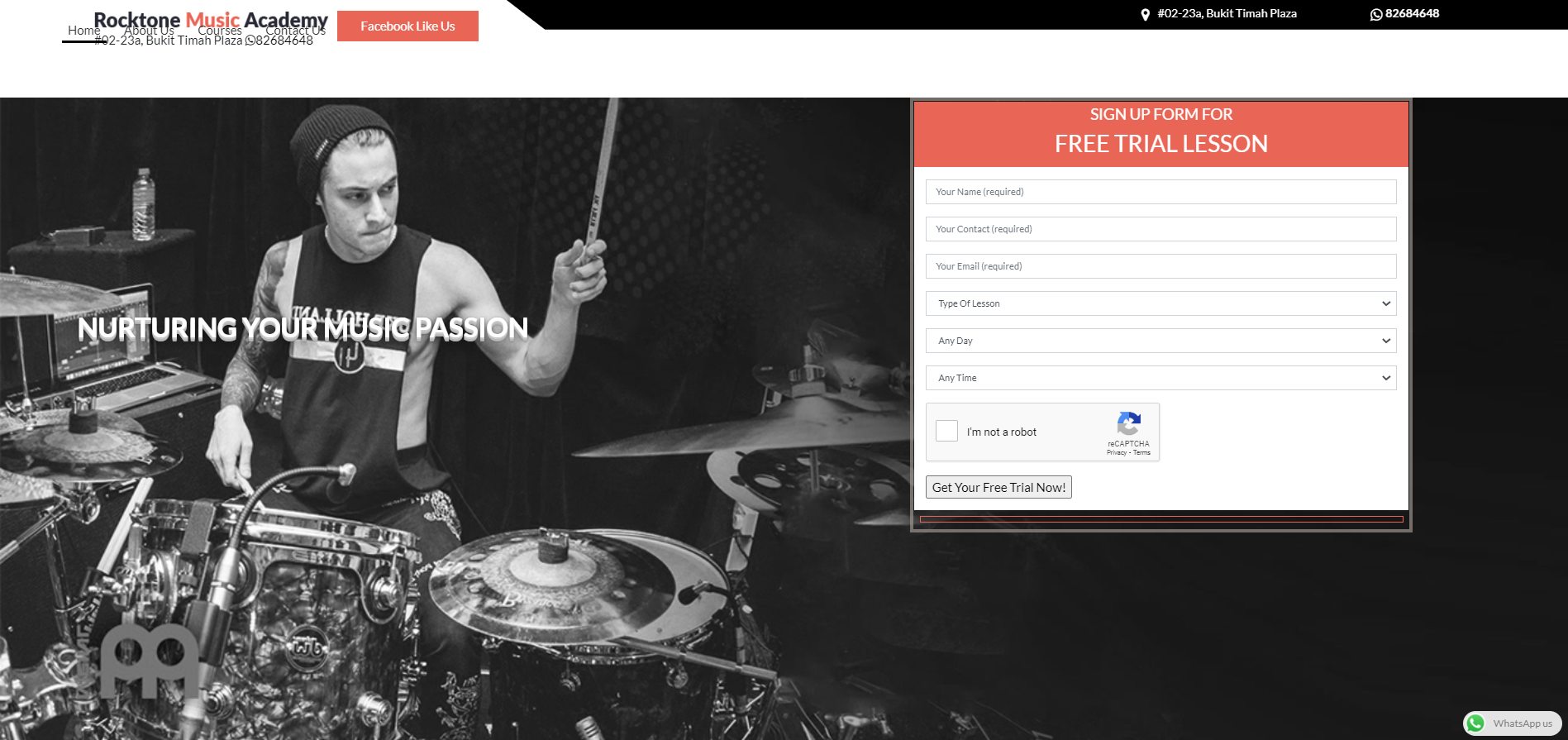 BEST FOR 
Conducive Learning and Rehearsal Environment
WEBSITE
https://www.rocktonemusic.com/
ADDRESS
1 Jalan Anak Bukit #02-23a
Bukit Timah Plaza S588996
CONTACT DETAILS
[email protected]
+65 8268 4648
OPERATING HOURS
Monday : (Open by appointment)
Tue – Fri: 2pm to 8pm
Sat & Sun: 10am to 6pm
Rocktone Music Academy provides a wide variety of music courses for any aspiring musician. They offer lessons for instruments of many kinds.
They are the preferred music school by many in Singapore. With their spacious and conducive learning environment, you can rest assured that Rocktone Music Academy will provide the best piano lessons for you.
Highlights
Free music lesson trial
Highly qualified musicians
16. Edventure Music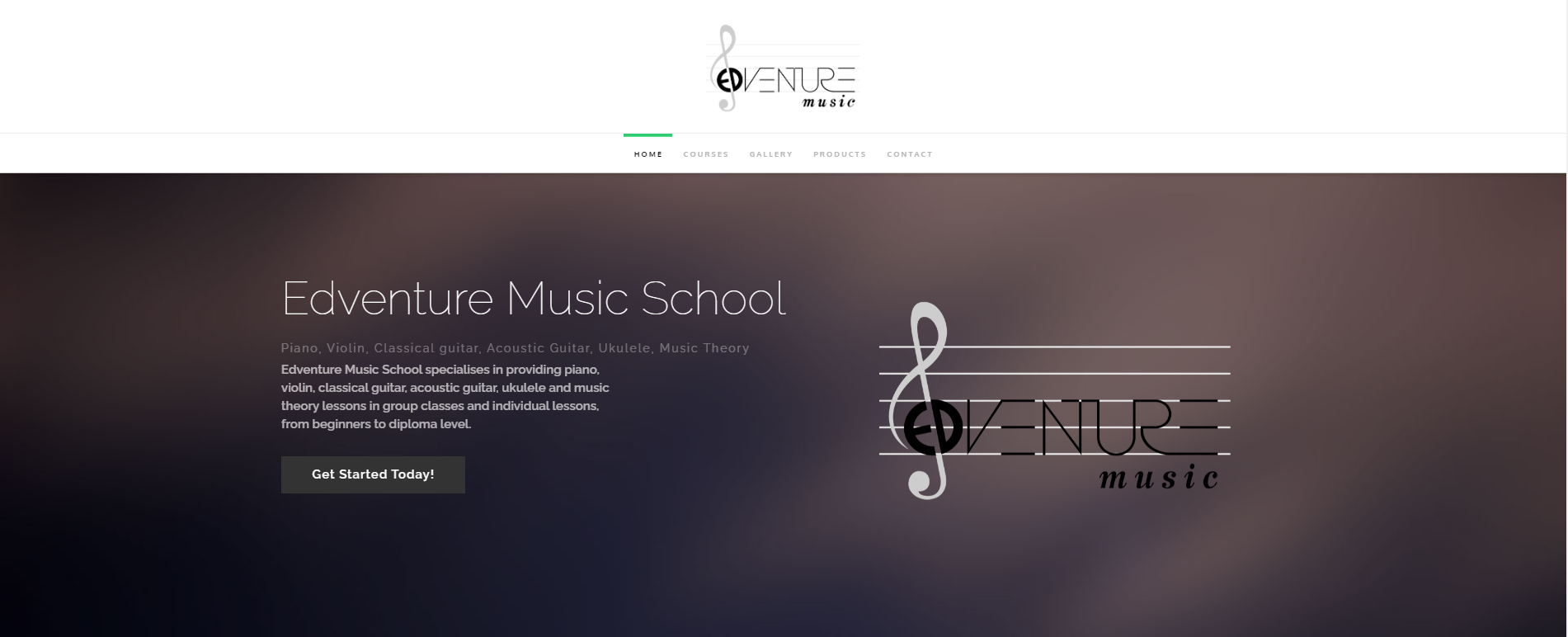 BEST FOR 
Piano, Violin, Vocals, Acoustic Guitar, Classical Guitar, Electric Guitar, Ukulele and Music Theory Lessons for Groups and Individuals
WEBSITE
Edventure Music
ADDRESS
Studio Address
433 Tampines Street 43, #01-67
Singapore 520433

224B Compassvale Walk
Singapore 542224

CONTACT DETAILS

Number Number: 98890433

OPERATING HOURS
N/A
Edventure Music School is known for offering music lessons for many instruments– from guitars to pianos and more. They offer group classes and individual lessons, suited for anybody with different learning paces.
Their qualified and experienced teachers are focused on nurturing a child's interest in music. With their classical and pop classes, anyone can get their music hobby started.
Highlights
Specialises in teaching various instruments
Qualified and experienced teachers
17. Shu Hui Music
When it comes to quality home piano lessons, Shu Hui Music is one of the best choices. The teacher's passion for piano motivates her to teach her students well.
With more than 8 years of piano teaching experience and a comprehensive syllabus, there's no doubt that any student that enrols will learn something new. Schedule a lesson now!
Highlights
Patient and creative teacher
8 years of piano teaching experience
Comprehensive syllabus
Discount promotions available
18. Do Rei Mi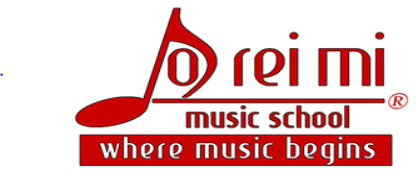 BEST FOR 
Kids Music Lessons
WEBSITE
http://www.doreimi.com.sg/
ADDRESS
Blk 342 Jurong East Street 31, #03-01 S600342
CONTACT DETAILS
6560 0190 or [email protected]

Phone/Whatsapp: 9089 0926

OPERATING HOURS
Tuesday to Friday (1:30pm to 9:30pm)
Saturday and Sunday (9am to 5pm)
Searching for a music school that offers Piano, Flute, Violin, Guitar, Ukelele, and Theory lessons? Then check out Doreimi Music School! They provide their students with an opportunity to learn and explore music as well, as to inspire and nurture the next generation of musicians.
Composed of highly experienced music teachers, Doreimi is dedicated to develop students through their four (4) main aspects — Technical Proficiency, Ensemble Training, Analytical Skills, and Performing Skills. More than that, they offer other services like live instrumental music for any events, studio rental, aural training, and piano accompanist.
If you enrol yourself now, you can experience the numerous organizing events of Doreimi that you will surely enjoy!
Highlights
Offers lessons for a wide range of instruments
Holistic learning
Has private lessons/home lessons
Other services available
19. FamilyTutor
FamilyTutor helped numerous students and parents match their perfect piano teacher. They also to build a good rapport and meaningful relationship with the student and even with the student's whole family!
With that, the FamilyTutor team believes that when they send a piano teacher to a client's house, the client and their family members should feel comfortable. FamilyTutor wants all of their customers to feel good having the piano tutor over at their home.
They strive to put their clients in good hands of their piano tutors. Having great piano lesson for their clients means a lot to the team and do not compromise the quality of their service.
Highlights
Professional piano teachers
Affordable sessions conducted at the comfort of your home
Up-to-date modules and teaching materials
Customer Reviews
Here are feedback from previous clients of FamilyTutor:
"FamilyTutor has helped me match a friendly and knowledgeable part-time piano teacher Ms. Low, who is now also my friend. Ms. Low has been very patient with me since my family engaged her from 2 years ago when I was still struggling with my Grade 5 theory and practical exams. I am very glad that Ms. Low understands my school schedule and allows me to change the timings whenever I really need to. I am appreciative of everything Ms. Low has done for me." – Ms. Jeslyn, ABRSM Grade 8 Piano Learner
"Both my daughter and son are put under the care of Mr. Eugene who is a great piano theory and practical teacher. Every week, he comes to my house to tutor both of them for 3 hours straight and ever since I started engaging him, he has sort of become a valuable family member of ours. He also goes beyond his call of duty to give advice to my little ones regarding how to choose a music career. I am grateful for him, and my wife and I will continue to engage him for many years to come as long as my little ones like his lessons." – Mr. Ong, Dad of Grade 3 Learners
"My girl didn't like it when I first put her to learn the musical instrument, but Ms. Angeline slowly made her fall in love with not only piano but music as a whole. Ms. Angeline is very patient and she regularly comes to our house for lessons despite being busy in NUS everyday for her classes. She is responsible and I am happy to have her as my girl's tutor. I also recommend FamilyTutor to other family members who want to engage piano teachers for their children." – Mr. Steven Lim, Dad of Grade 5 Learner
20. Sunflower Piano House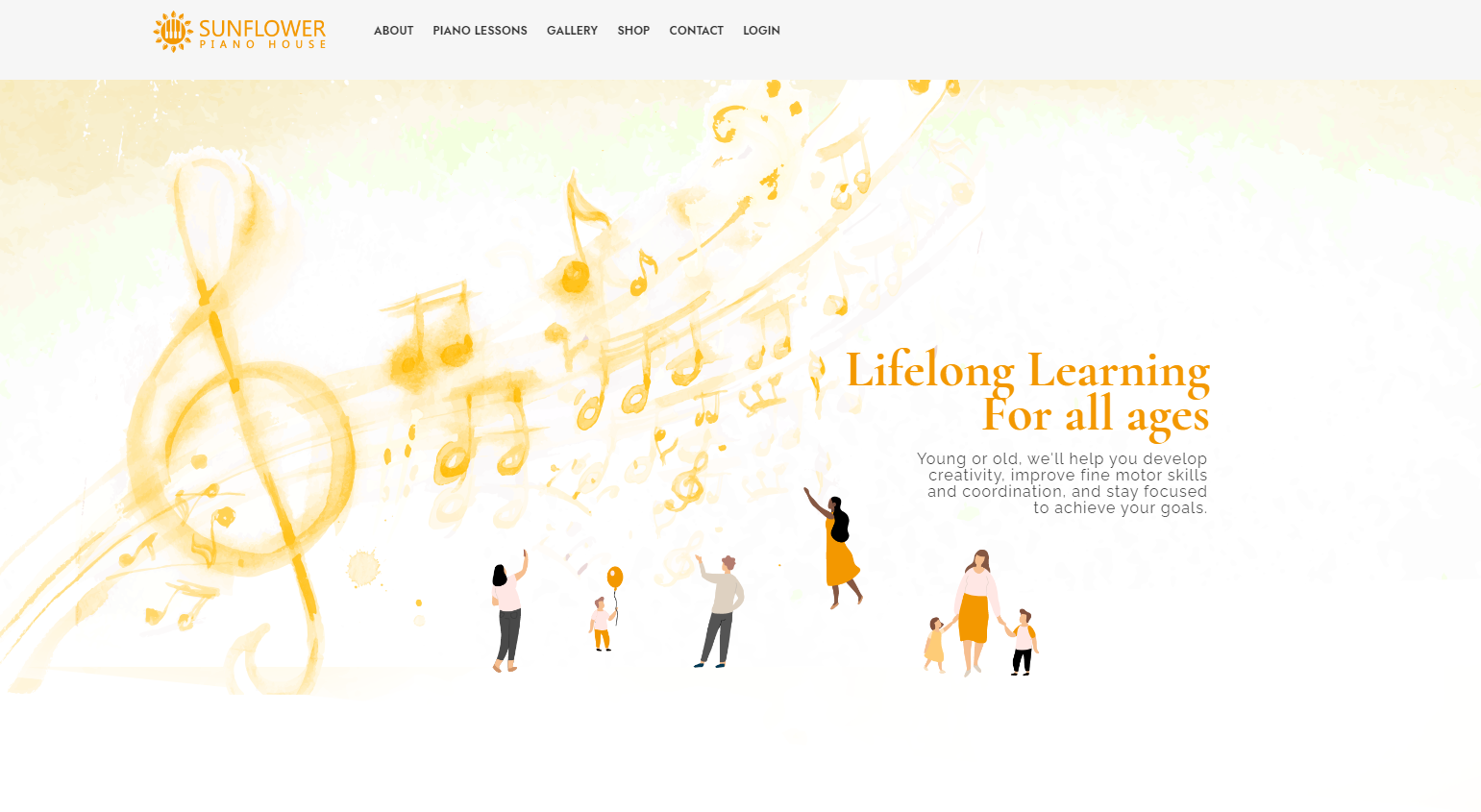 Sunflower Piano House is a humble school that strives to help the people of Singapore develop creativity and coordination when playing the piano. Sunflower Piano does so by offering holistic and customisable piano lessons, with their teachers always available to adjust the pace to meet the students' needs.
Aside from its core offering, Sunflower Piano House is also commended for its teachers. Every single one of them have years of experience playing the piano, and has the passion for music as well as teaching, making them highly qualified individuals to teach those who are interested to learn.
The last reason why Sunflower Piano House is on this list is because the school does not discriminate by age. Both young and old are welcome to come by and apply for lessons. 
All that's needed is the drive to learn, and Sunflower Piano House will accept the student regardless of how old they are and what they know.
Highlights
Free trial piano lessons for new students
Accepts students of any age
Lessons tailored to fit student's skill level
21. Sylvia Ng Piano Studio
The joy of playing and making music must never be lost, even when one pursues music seriously. 
At Sylvia Ng Piano Studio, students will never have to worry about losing their passion for music. Nor will their enjoyment be taken away by too strict piano teachers.
Instead, students can expect their passion to be cultivated as they widen their wealth of knowledge about piano playing. This is what Sylvia Ng dedicates herself to: teaching students the art of piano playing all the while protecting and even encouraging the fun of it.
Now, what makes Sylvia Ng an excellent student aside from her approach to teaching? Well, for one, she has an extensive background in music, having pursued it for both undergraduate and post-graduate learning.
She had been an exceptional student while still in school and, in turn, an even better teacher with all the skill and expertise she has amassed over the years. Some of her students are known globally for being exemplary pianists, some even have titles to their name.
With that said, if you're interested in pursuing music, be it a hobby or more, then you may want to check out Sylvia Ng Piano Studio soon.
Highlights
Individual and group lessons available
Performance classes and student recitals are held regularly
Renowned pianist and teacher
22. KJ Music Studio
The ability to cultivate students' love for music while teaching them the foundations and principles of music is no easy feat. Sometimes, teachers fail in this endeavour, but not Tan Kian Joo, the man behind KJ Music Studio.
Tan Kian Joo (KJ) graduated with a Master of Music degree in Flute performance from the Royal Northern College of Music at Manchester, United Kingdom. He specialises in both the flute and piano, and constantly strives to impart his knowledge on the next generation through individualised music lessons that encourage passion and balances it out with technical knowledge.
Aside from the excellent teaching approach, KJ Music Studio landed on this list for a few other reasons. One: The group of teachers who also perform professionally.
Two: the proven track record of students' successes in Music examinations. And third: the performing opportunities offered to each and every student.
KJ Music cares and they're passionate for learning, which is why it isn't at all surprising that students new and old deem them as one of the best piano lessons island-wide. 
Highlights
Free trial piano lessons for new students
Music lessons are fun and engaging
Students can also learn confidence, self-discipline, patience and perseverance
23. Singapore Piano Lessons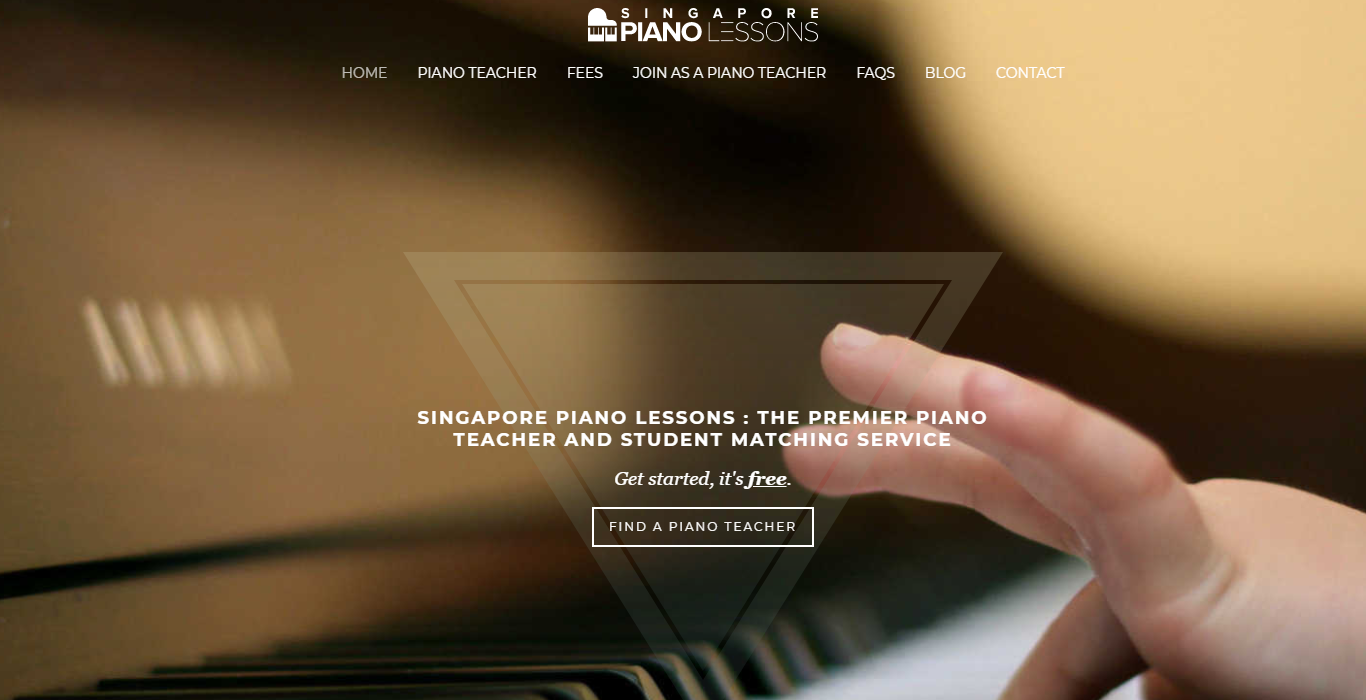 Finding the piano teacher that suits you is a trial and error endeavour that typically takes one or two tries to get right. If you're in the same boat and have experienced countless failures, or perhaps simply want to find piano lessons quickly, then you may want to consider Singapore Piano Lessons.
Singapore Piano Lessons is a hub of some sorts that connects students with piano teaches from all over Singapore. One of the best things about this hub is that they have numerous connections with piano virtuosos, making it easy for children and adults alike to find a teacher that fits them best.
Another interesting fact about Singapore Piano Lessons is that they can accommodate pianists who wish to do it for fun or for something more serious like studies or a professional career. 
So, if you're looking to learn the piano today, you may want to consider enlisting the help of Singapore Piano Lessons to find you a well-fitted teacher.
Highlights
Matching services may be as short as 24-hours
Customisable piano lessons
No registrations fees
24. Alternate Tone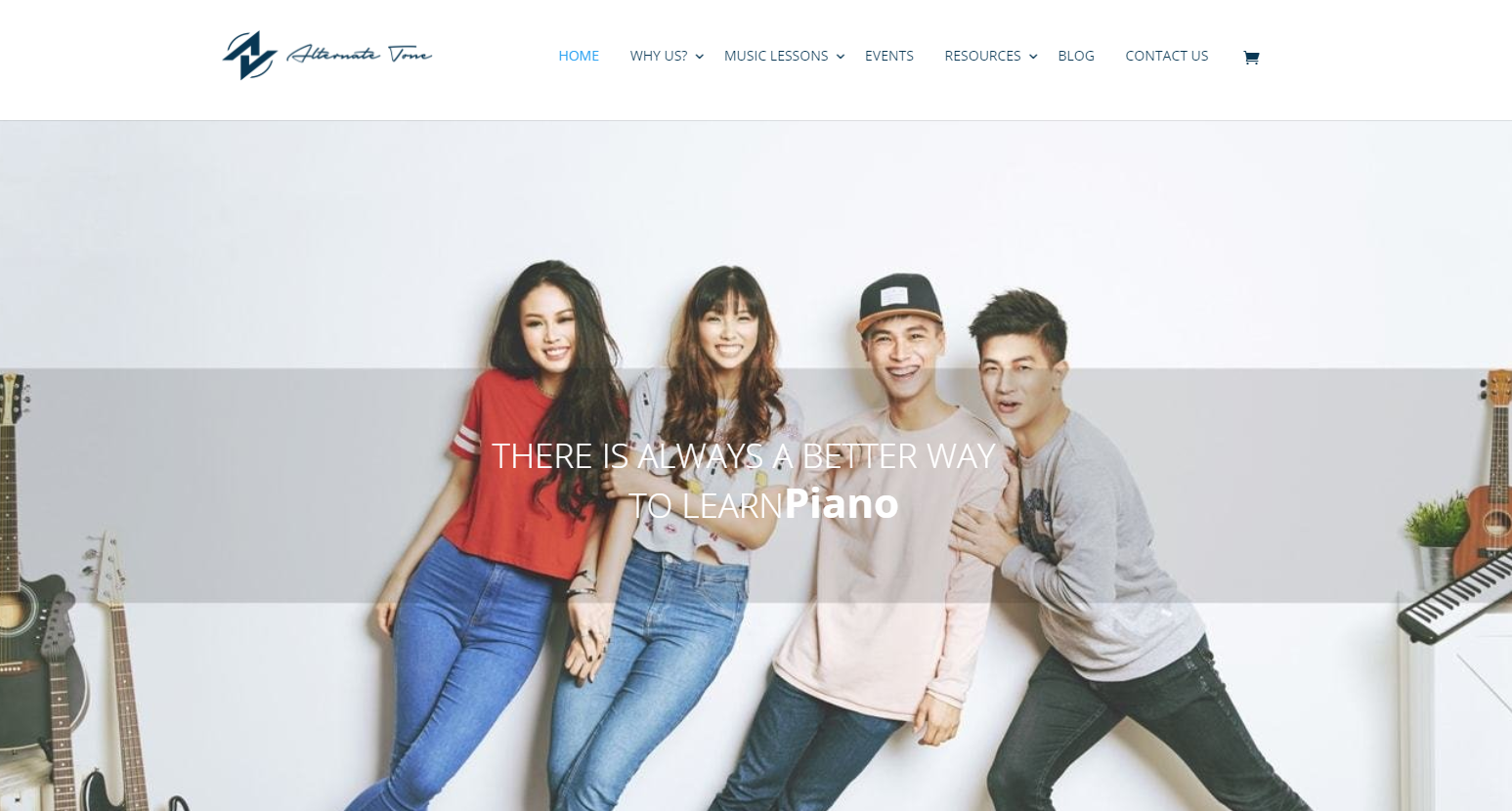 | | |
| --- | --- |
| BEST FOR | Progressive Lesson Plans |
| CLASSES | Guitar, Piano, Singing, Song Writing, DJ Courses |
| WEBSITE | https://alternatetone.com/ |
| CONTACT DETAILS | +65 8115 9378 | [email protected] |
| OPERATING HOURS | Contact for more lessons |
If you're looking for a music school in central Singapore, then look no further than Alternate Tone.
Alternate Tone is a contemporary music school that specialises in courses for pop piano, electric and acoustic guitars, singing, song writing and deejaying. Each and every course from Alternate Tone is carefully tailored to suit both the needs of child and adult students.
Given its personalised nature, the courses at Alternate Tone has successfully raised over 400 musicians, all of whom started at different skill levels, many of which had been novices at the start of their lessons. Aside from being personalised, the courses are comprehensive as well, adapting to the needs and progressing skill level of the students.
Now, it's also worth noting that these are not the only reasons why Alternate Tone is on this list. 
We also commend the fact that they strive to teach music in a creative way, similar to how performers play music. Doing so has led to Alternate Tone to crush the mold of classroom-style learning; instead, they supplement creative energy and offer inspiration to all of their students.
Highlights
Free trial piano lessons for new students
Professional piano teachers
Personalised and progressive lesson plans
25. Juliet Piano Studio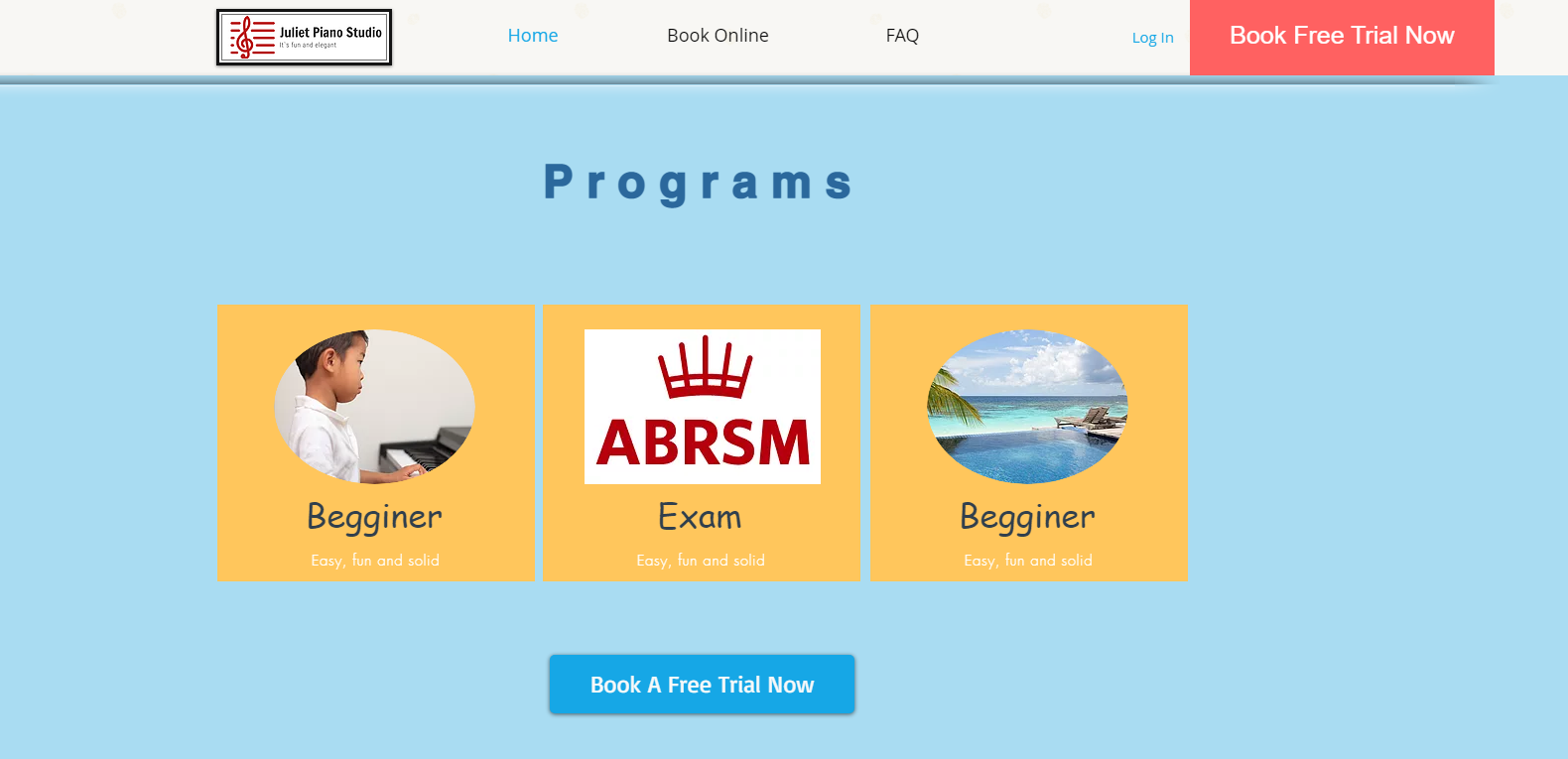 BEST FOR
Fun and Customised Piano Lessons
CLASSES
Classes for all levels, including ABRSM exam level
WEBSITE
https://www.julietpianostudio.com/
CONTACT DETAILS
OPERATING HOURS

Monday to Friday 2:00PM – 9:00PM

Saturday to Sunday 9:00AM – 9:00PM
Learning to play the piano shouldn't be dreadful and mind-numbing. Instead, it should be as enjoyable as leisurely playing.
If you want to study the piano in a fun way, or perhaps want the same for your child(ren), then why not consider Juliet Piano Studio?
This piano studio may be smaller compared to the other options on the list, but it more than makes up for its size with the quality of its lessons. See, studying the piano at Juliet Piano Studio means gaining access to personalised lesoons, some wherein students can learn on their own pace, with the syllabus accommodating their current skill level.
Another reason why we put Juliet Piano Studio on this list is its rates. The studio offers some of the most affordable rates in the field, allowing students from all walks of life to learn how to play the piano.
If you have further inquiries, the studio is open seven days a week, with a whole day schedule for the weekend and afternoon schedule for the weekdays. 
Highlights
Free trial piano lessons for new students
6 years of piano teaching experience
Affordable rates
Regular feedback is provided to students and parents
26. Cristofori Music School

BEST FOR
High quality and reliable instruments and classes
CLASSES
Piano Lessons
Guitar Lessons
Violin Lessons
Drum Lessons
Ukulele Lessons
Pre-School Music Academia
Music Theory Lessons
WEBSITE
https://cristofori.asia/main/
CONTACT DETAILS
OPERATING HOURS
Locations
If you're looking for a music school that can also provide the instrument, then you may want to consider Cristofori Music School for your list. 
Cristofori Music School is a global brand that strives to move Singaporeans' lives with music and passion. The brand was established more than forty years ago, and its goal remains the same.
Now, how does Cristofori Music School work towards this goal? For one, Cristofori offers a wide array of musical lessons, including but not limited to lessons for guitar, violin, and piano. 
These lessons are carefully adjusted to meet the students' current skill levels and needs. Moreover, Cristofori guarantees that only experienced musicians and artists are in charge of these lessons.
Another thing worth noting about Cristofori is that it sells musical instruments. There are numerous household names in Cristofori's shop, which offers both quality and affordability.
All in all, Cristofori Music School makes an excellent one-stop-shop for aspiring musicians due to their curated music lessons and shop.
Highlights
Affordable musical instruments
Holistic musical learning
Curated and tailored classes
27. Forte Music Training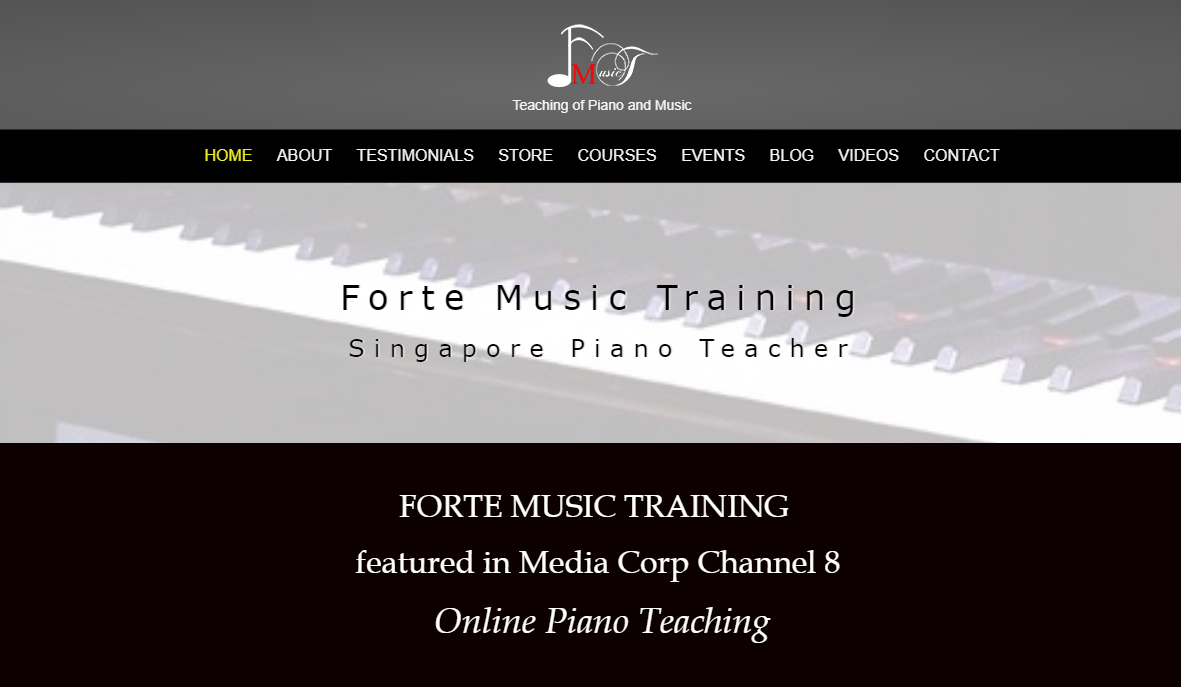 Forte Music Training was established by one Dorothy Chia, an author, trainer and pedagogue who holds a Master of Music in Piano Pedagogy and Performance from the University of Michigan, Ann Arbor. Not only that, but a Bachelor of Arts (Honours) from the College of St. Catherine, St. Paul, Minnesota.
As we can see, Dorothy Chia's background in music is one of the most extensive on this list, and it only progresses with the years she has spent teaching music in Singapore, which amounts to 20 years as of now. 
Aside from her depth of knowledge, Ms Dorothy also offers musical accessibility through the numerous studios she teaches at. These studios are located in Potong Pasir, Woodlands and Seletar Hills, so students can easily find a studio location that is closest to their homes.
Highlights
1992 winner of the prestigious DH Baldwin Fellowship
Experienced piano instructor
Numerous studio locations found island-wide
28. Alpha Piano Studio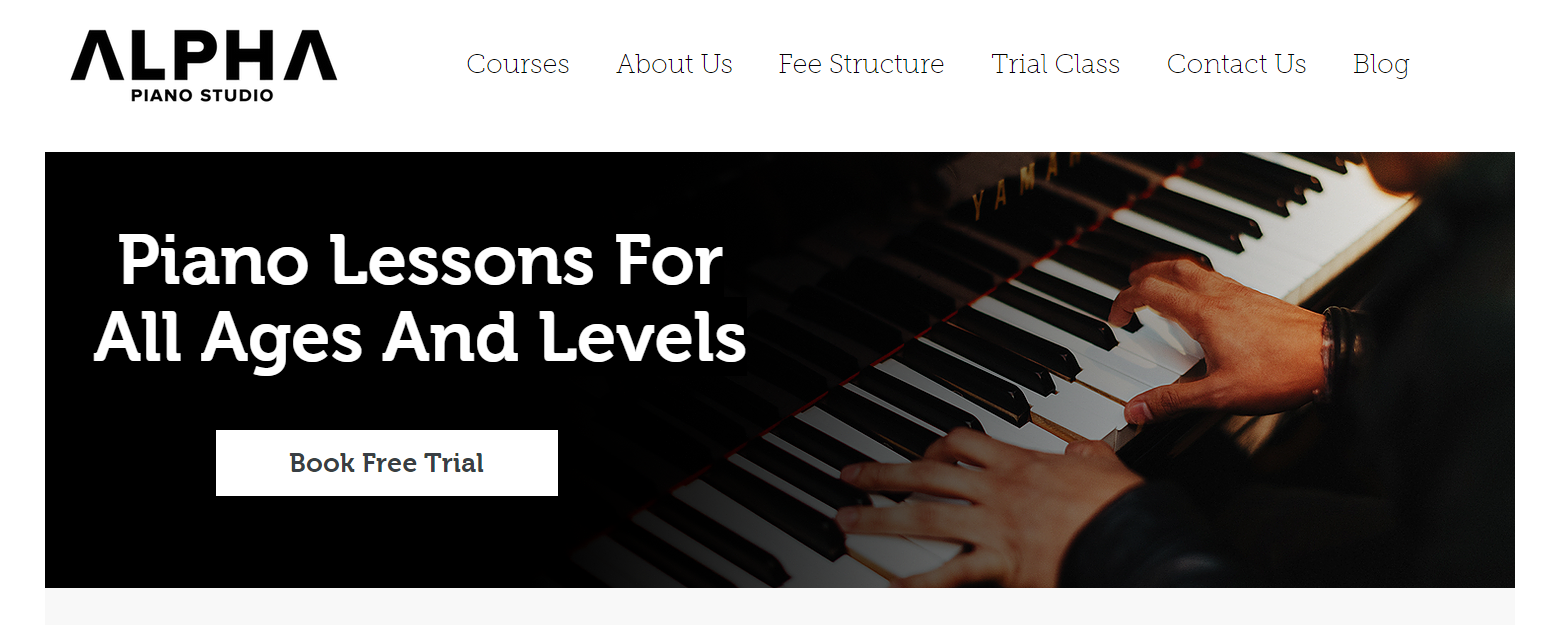 Alpha Piano Studio was established in 2012, with one simple goal in mind: To offer one-on-one classes for music enthusiasts of all ages. Children as young as five and and adults as old as seventy are welcome to Alpha Piano Studio.
One of the best things about Alpha Piano Studio is that it curates classes to fit the students' current skill level in order to recognise their varying strengths. At the same time, Alpha Piano Studio works to establish a strong basic musical foundation that will follow the students for the rest of their lives.
At the core of every class is the desire to help develop a deeper appreciation for music in the students' daily lives.
Now, it's worth noting that the quality classes aren't the only reasons why we recommend Alpha Piano Studio. The other reason is the studio's, well, studio.
Located just a few minutes away from Yew Tee MRT, Alpha Piano Studio offers a room with an upright piano and another with a high-quality digital piano paired with a playback system to run tracks on.
Highlights
Classes tailored to meet the students' needs
Caters students of all ages
Studio holds an upright piano and digital piano
29. Karina's Piano Lessons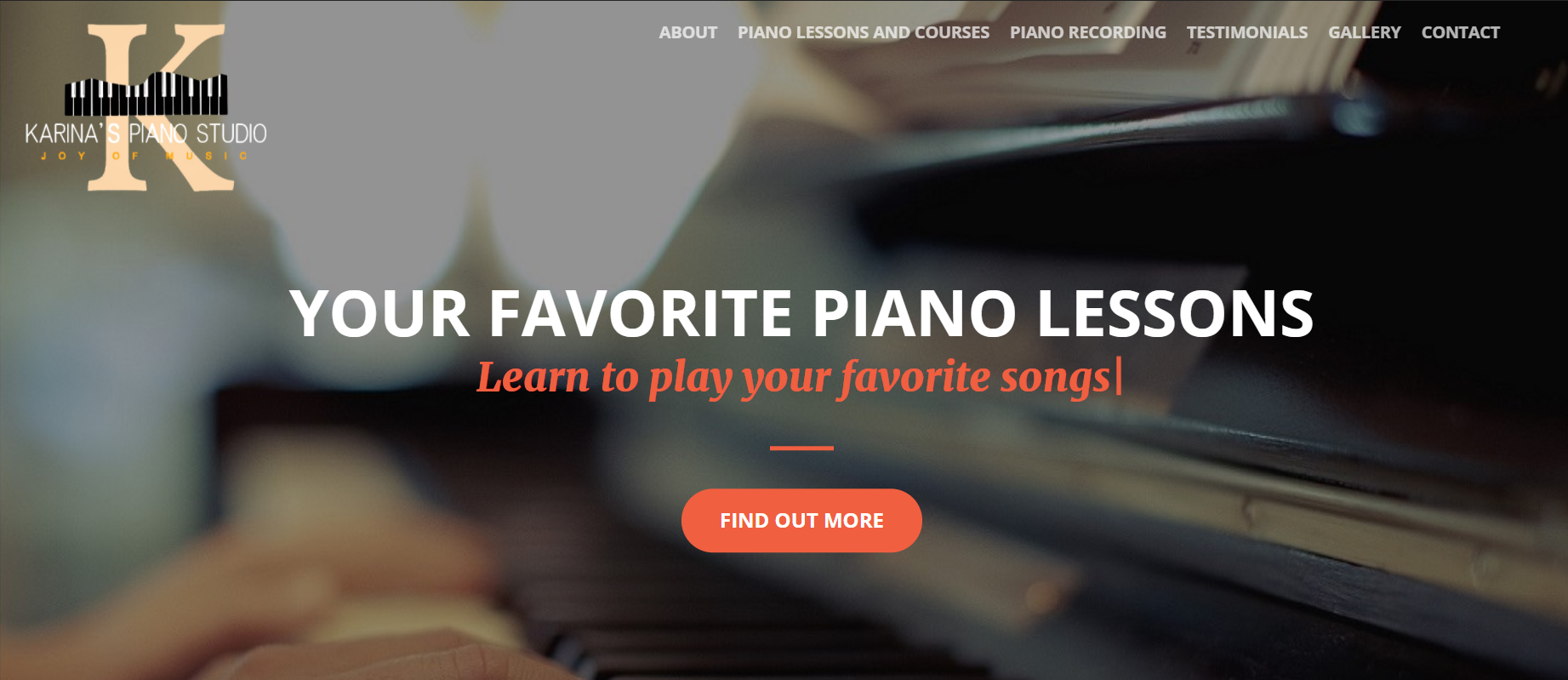 | | |
| --- | --- |
| BEST FOR  | Piano Lessons for All Ages |
| WEBSITE | http://karinapiano.com/ |
| ADDRESS |   |
| CONTACT DETAILS | +65-9389-5883 |
| OPERATING HOURS |   |
Ms Karina Lou of Karina's Piano Lessons is well-versed in music education. Her vast background in the arts began with a Bachelor of Arts (Hons) Music from Goldsmiths, University of London. This continued on to Masters of Music Education at the National Institute of Education, Singapore.
Those who are looking to train for examination attainment will benefit greatly from her mentoring as Ms Karina is very familiar with the ABRSM syllabus. She's capable of teaching all grades, and even those who want to pursue the piano for enjoyment.
Highlights
ABRSM Practical and Theory
Beginner – Grade 8
Diploma Studies
Aural Training
Music History
30. Stradivari Strings
Stradivari Strings is a music school that features top-grade music curricula and maestro-level teachers for every course that they offer. Founded back in 2010, they have since then been serving clients with quality music education and offer a wide range of instrument lessons such as drums, piano, and violin among many others.
What we find exemplary is their one-stop place for all music needs as they offer rental and repair services along with a shop in which all can be easily accessed online so clients can conveniently look at their offered selection.
Despite the possible recurrence of professionals in the field, they make sure to customize their approach to every student they encounter to make sure that their approach is effective in terms of cost, time, and knowledge.
Among their offered services, we found that their piano lessons are especially age-based and accommodate students of all ages in which professionals can adjust their approach of self-discipline and pace to aid the overall learning and performance experience of their students.
There aren't any rates readily available on their website but interested individuals can easily book their session online in which they can schedule a private session at their very home, at the piano teacher's location, or at the Sultan Palace.
Highlights
Accommodates online lessons
Cost-efficient lessons
Exemplary teacher professionalism
Customer Reviews
Here are some reviews from their clients:
"I taught myself to play basic piano many years back but stopped as I found that I would not improve without a piano teacher. Stradivari Strings found a great coach for me — teacher Matthew. As an adult learner, my pace of learning is not as fast as a young child. However, Matthew is always patient and explains the playing techniques patiently. I highly recommend him to anyone looking to start piano lessons."
"My son is at ABRSM grade 5 level and I was looking for a senior-level coach to take him up to advance level. Stradivari Strings placed him under the guidance of piano teacher Matthew. Right from the first lessons, my son got on well with him and I am happy that we have engaged him to be our permanent piano coach."
31.

Curtis Music School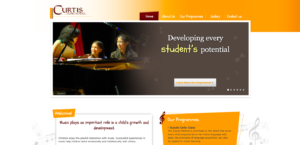 BEST FOR
Instrument Lessons
WEBSITE
https://www.curtismusicschool.com.sg/
ADDRESS

559 Bukit Timah Road
#02-02A King's Arcade
(next to Coronation Shopping Plaza)
Singapore 269695

CONTACT DETAILS

(65) 6465 4998

OPERATING HOURS
Contact for more information
Curtis Music School has been nurturing musical potential for more than a decade. 
What awes about this school is how they've consistently been committed to delivering exceptional teaching, offering the finest music curriculum in an excellent collaborative learning environment. 
We like how they're able to give their students a strong foundation that allows them to become confident in playing their instruments. 
They offer numerous instrument classes like piano, violin, cello, guitar, ukelele and singing taught by experienced and accomplished teachers. 
We think one of the things you'll like about them is how the teachers provide a positive and supportive learning environment for all of their students. 
Given all these, we highly recommend Curtis Music School and we think they're worth your consideration!
Highlights
More than a decade of nurturing musical potential 
Collaborative learning environment 
Variety of music and instrument classes 
32. Jenny's Piano Lessons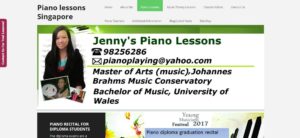 Jenny's Piano Lessons is a business that offers ABRSM-standard piano lessons to both aspiring students and those individuals who would like to train in teaching piano lessons to others as well. Furthermore, headed and operated by a highly certified pianist, Jenny herself, students can be sure that they receive well-coordinated and effective piano lessons from her.
We like she is able to provide both private home lessons and give her students effective learning aids and shortcuts to better help students improve their skills at their own pace in between her lessons.
Aside from this, being in the teaching industry for over 20 years, her approach to teaching her students is both flexible and systematic wherein it has proven countless times highly effective for both professionals and beginners.
Though note that the lessons aren't readily packaged, and clients may need to inquire with her regarding the rates and varieties that they offer.
Overall, with their fun concerts, diploma courses, and highly accommodating approach to piano lessons, we highly recommend them to interested individuals who would like to avail of professional piano lessons.
Highlights
Unique and easy-to-understand approach
Diversely experienced professionals
Certified curricula
Customer Reviews
Here are some reviews from her clients:
"Excellent teacher who makes piano lessons interesting and difficult pieces easy!" – Mary Sim, Diploma ABRSM
"Jenny takes initiative to organise piano concerts and free masterclasses. She produces her own scale templates to make learning music scales easy." – John Lim, Parent of 8 year old student.
33. The Piano Solution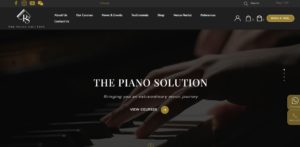 The Piano Solution is a center that accommodates a wide range of piano lessons through careful cultivation and efficient pedagogy methods that can be versatile to each student that they encounter.
We like that their approaches are techniques go with the latest ABRSM musical examination requirements and musical theory to better give individualized lessons and efficiently absorb and apply all techniques.
Furthermore, each lesson is personalized also to the preferences of the student wherein their instructors and materials are able to infuse their intended genre along with realistic goals to further the learning experience of each student.
Note though that rates aren't readily available on their website and interested individuals may need to undergo assessment and inquiry with them beforehand along with studio rentals as well.
Nonetheless, with their highly equipped facilities, versatile syllabus, and professional instructors, we strongly recommend clients in the area looking for individualized piano lessons to check them out.
Highlights
Personalized lesson approaches
Equipped facilities
ABRSM certified syllabi 
Customer Reviews
Here are some reviews from their clients:
"My daughter (age 7) has been learning the piano from Teacher Ang for almost two years now. Mr Ang is not only an excellent teacher but is also an accomplished pianist/vocalist himself. With a combination of Classical compositions, technical drills and short fun pieces, he has helped my daughter to learn a variety of new pieces, develop her sight reading capabilities and improve her technique, while most importantly keeping it fun for her at all times. I would highly recommend Mr Ang as a teacher of music."
"Teacher Christine Natalie is highly experienced in piano teaching, she is passionate about music, and she brings this passion into her teaching, this naturally stimulate the learning interests. Her fun loving character also brings about positive vibes in our children. She is not just purely focus on exam pieces like some other teachers do. She often prepares wide selection of music pieces in order to broaden student's exposures. At the same time, she is quite strict with fundamentals, this is to set the standards high from beginning. She constantly sets periodic targets for kids to achieve. And assess and modify the plan based on their progress. In overall, my two girls have benefited quite a lot after switching to Teacher Christine's teaching in past one year. Esp for our younger one, as she has started early with Teacher Christine, she has laid a solid foundation in her piano learning journey, her progress is much faster than we expected. We all have enjoyed Teacher Christine's teaching very much. She certainly is highly recommended for families have serious plan in children's piano learning."
And that's our list of places with the best piano lessons in Singapore! If we missed other great options, feel free to send in your recommendations to us!
And if you want to start practising at home, here are some of the best electric pianos in Singapore! They're suitable for all skill levels so you can certainly find the one that's right for your needs.