The 13 Schools for the Best Guitar Lessons in Singapore
Looking for something productive to do with your extra time? If you've always wanted to learn how to play a musical instrument, maybe now's the right time to sign up for the best guitar lessons in Singapore to make better use of your spare hours.
Even if you're only planning to make a hobby out of playing the guitar, attending the best guitar classes in Singapore is still recommended. There are techniques which will make it easier for you to learn the instrument that only the best guitar teachers in Singapore can teach, so better start looking for them now.
Anyway, we're here to help with that. We did some work ourselves and asked locals for recommendations on music schools that offer the best guitar lessons in Singapore.
You'll get to know more about them here, so make sure to read our list until the end!
1. Studio 72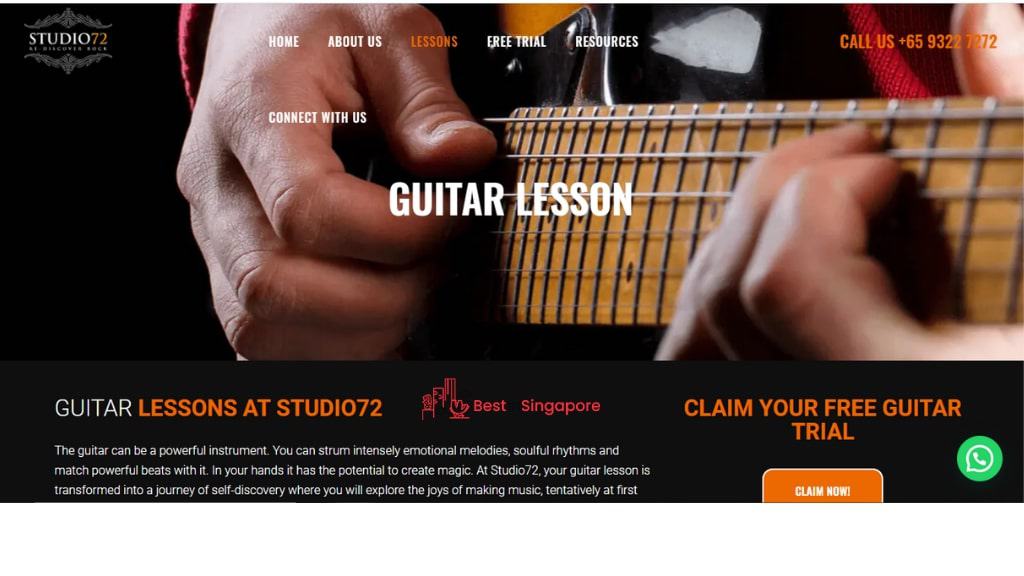 | | |
| --- | --- |
| BEST FOR | Well-crafted music lessons |
| CLASSES | Guitar lessons, ukulele lessons, vocal lessons, drum lessons, and keyboard lessons |
| WEBSITE | https://www.studio72.sg/ |
| ADDRESS | 24B Circular Rd, Singapore 049380 |
| CONTACT DETAILS | +65 9322 7272 |
| OPERATING HOURS | Monday – Friday: 12:30 PM – 9:00 PM |
Studio 72 is a professionally-run music academy that provides well-crafted music lessons to students of all ages. It's regarded as one of the premier music schools on the island due to its high-class facilities, inclusive learning environment, and professional team of instructors.
Some of the music classes provided by Studio 72 are guitar lessons, vocal lessons, ukulele lessons, and keyboard lessons, among others. Every class is facilitated by some of the best music teachers on the island.
On top of that, every music lesson is specifically designed by professional and veteran musicians to make sure that students are equipped with the right musical skills, from techniques to performing on stage.

Studio 72 may offer a wide range of music lessons, but it's most famous for having the best guitar lessons in Singapore. Its guitar classes are tailored to both children and adult students, introducing them to basic guitar knowledge as parts, basic chords, and even proper posture while playing.
Highlights
Flexible schedule
Professional music teachers
Accessible for kids and adults
2. Alternate Tone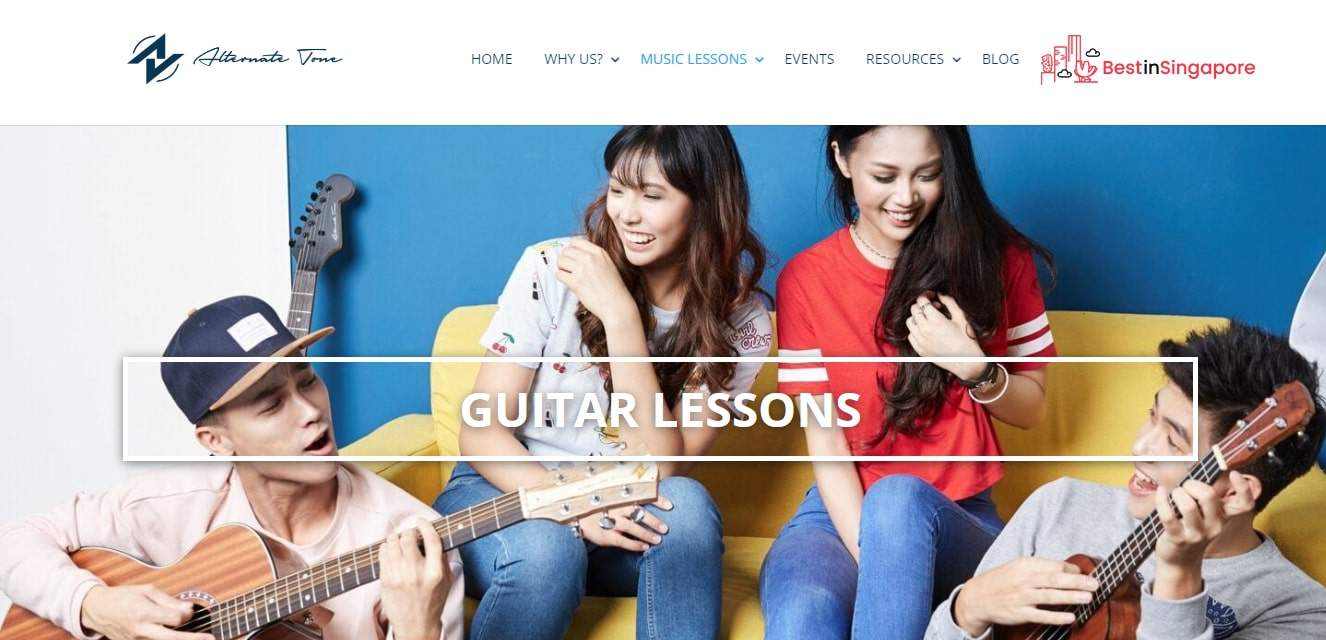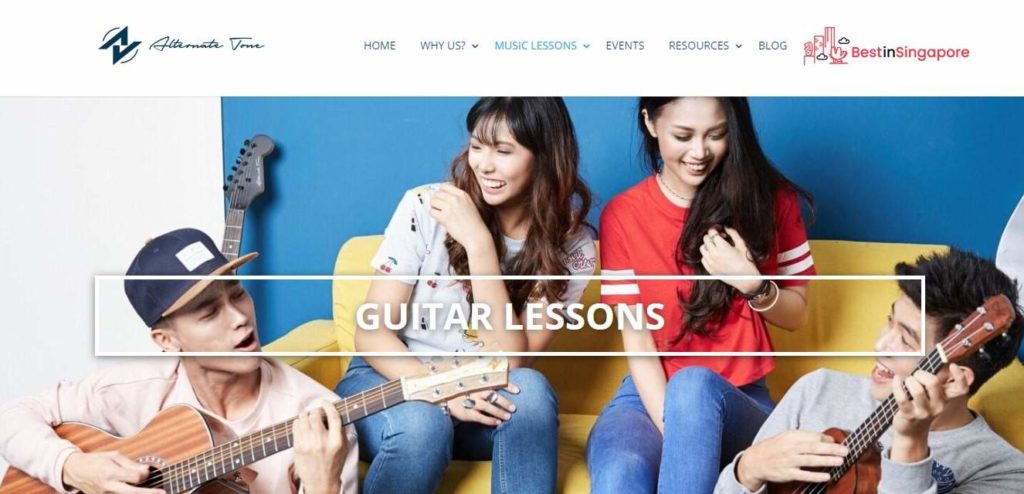 | | |
| --- | --- |
| BEST FOR | Personalised lessons |
| CLASSES | Guitar lessons, piano lessons, vocal lessons, songwriting lessons, and DJ courses |
| WEBSITE | https://alternatetone.com/ |
| ADDRESS | 29b Seah St, Singapore 188385 |
| CONTACT DETAILS | +65 8115 9378 |
| OPERATING HOURS | Monday – Sunday: 11:30 PM – 9:00 PM |
Alternate Tone offers music classes that can be enjoyed by both children and adults, allowing them to enjoy the entire process without pressure. It provides a friendly environment that encourages students to reach their own goals.
If there's one thing that makes Alternate Tone different from other music schools, it'd have to be its belief that there are no one-size-fits-all teaching plans. All of its music lessons are personalised to match the proficiency and skill of every student.
Speaking of music lessons, Alternate Tone offers guitar lessons, singing lessons, vocal lessons, songwriting lessons, and even DJ courses.
One reason we consider it one of the top schools for the best guitar classes in Singapore is the fact that its classes are catered for beginner and advanced students. Students will learn to play all types of music as well, including rock, metal, and jazz.
Highlights
Customised classes
Dedicated music instructors
Comprehensive music programs
Customer Reviews
Take a look at some of the experienced shared by its students:
"I have been taking Guitar lessons at the school with teacher Mike and Piano lessons with Han for a few months. I highly recommend this place to those working adults who are still hesitating. People here know exactly what you want and will tailor to your needs."
"Accessible and easy to get to this place, it's just opposite the brass basah complex. Love the environment there and It's definitely a great place to learn music as lessons are catered to you and teachers are passionate about teaching."
3. Swee Lee Music Academy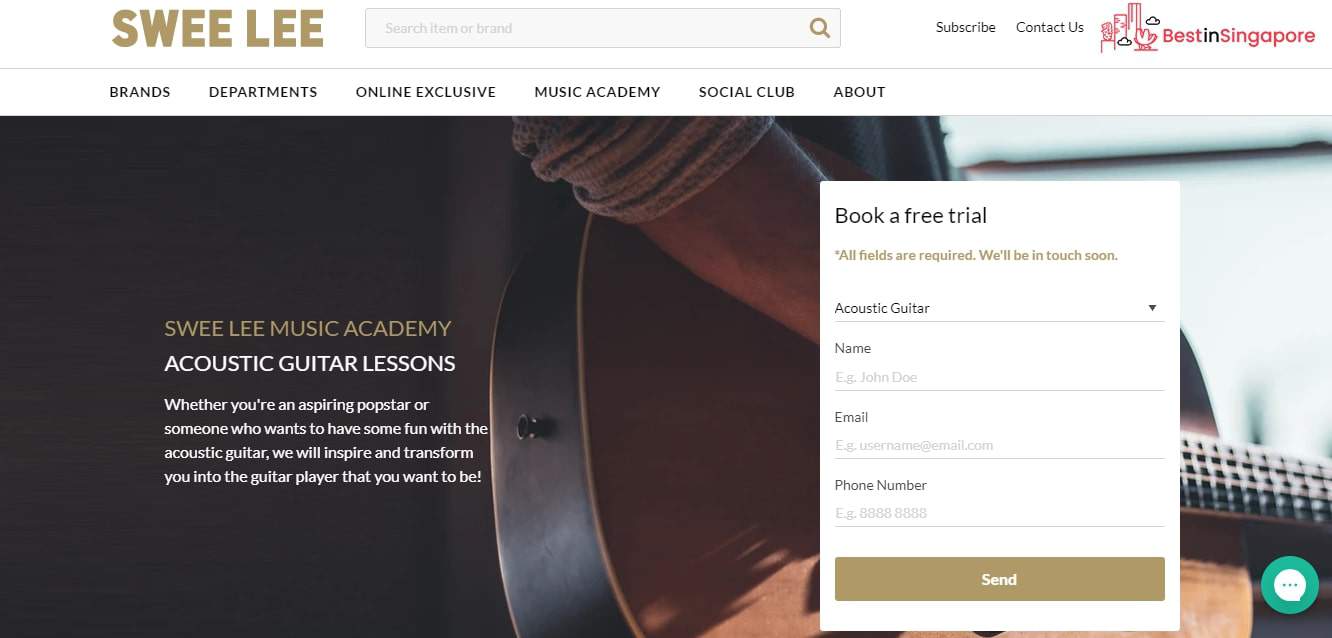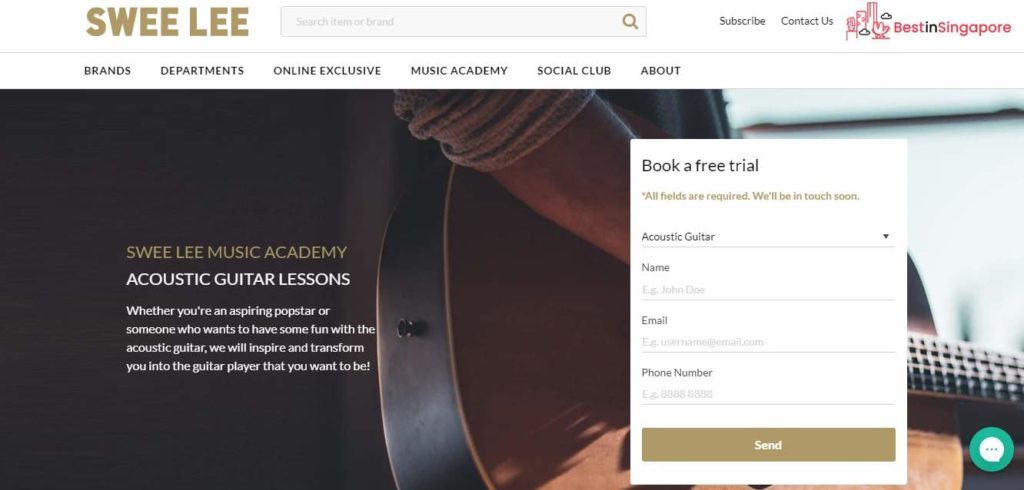 | | |
| --- | --- |
| BEST FOR | Veteran music instructors |
| CLASSES | Acoustic guitar lessons, electric guitar lessons, bass guitar lessons, ukulele lessons, and drum lessons |
| WEBSITE | https://www.sweelee.com.sg/ |
| ADDRESS | 12 Jalan Kilang Barat, #03-01 Singapore 159354 |
| CONTACT DETAILS | +65 3163 5618 [email protected] |
| OPERATING HOURS | Monday – Friday: 10:00 PM – 5:00 PM |
While primarily known as a retailer of musical instruments, we believe that Swee Lee Music Academy offers one of the best guitar classes in Singapore as well. Its music courses are suitable for anyone, even those with zero knowledge in music.
Swee Lee Music Academy starts off its music lessons with music theory for students to have a solid music foundation. It will then adapt a methodical approach with the help of a trusted musical syllabus, while customising the lessons to match the student's pace and needs.
Students will be taught every basic and advanced guitar technique through practical lessons. Its instructors will help them understand music scores and notation as well, something that's absent in other school's guitar lessons.
Highlights
Experienced music teachers
Personalised music lessons
For beginners and advanced students
4. Classique Music And Match Piano Lessons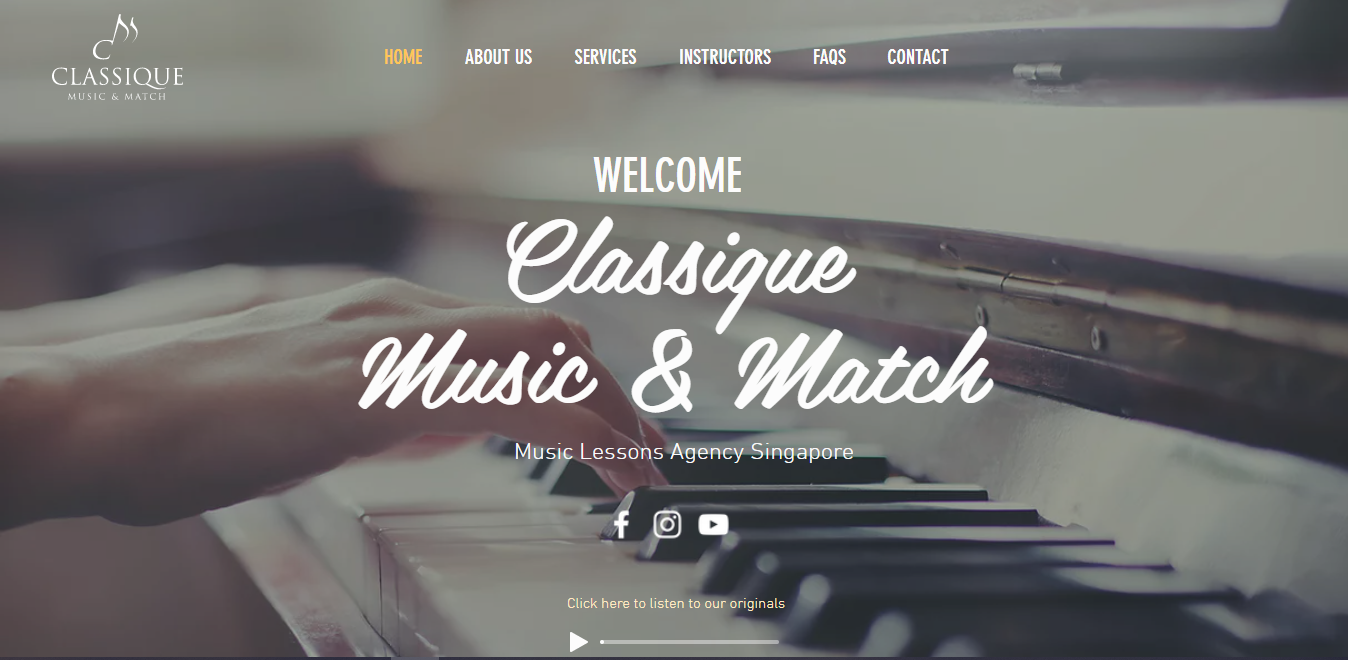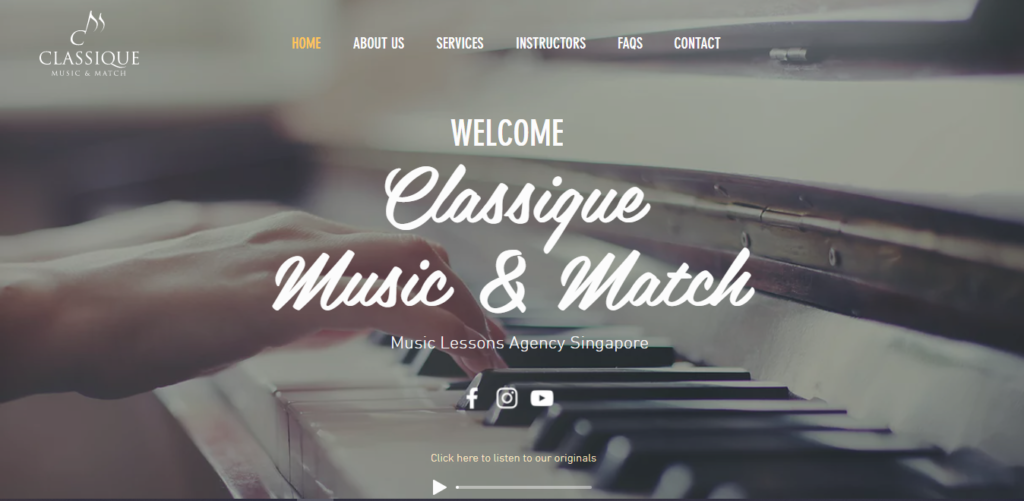 | | |
| --- | --- |
| BEST FOR | Matching of student to instructors |
| CLASSES | Piano, violin, guitar, ukulele, drums, vocal |
| WEBSITE | https://www.classiquecmm.com/ |
| ADDRESS | Yishun Street 11, Singapore 760121 |
| CONTACT DETAILS | +65 8443 8652 |
| OPERATING HOURS | Monday – Sunday: 10:00 AM – 10:00 PM |
Do not be fooled by its name because Classique Music And Match Piano Lessons also has music lessons for other instruments. It offers piano, guitar, ukulele, violin, drum, and vocal lessons.
What makes Classique Music and Match Piano Lessons unique is that it offers a free session for you to find the instructor that perfectly matches your learning style. For guitar lessons, you can choose among two of their instructors, Avery and Faisal.
They conduct their private guitar lessons once every week unless you request for more sessions.
Another great thing about this music school is that its instructors will also teach music theory and proper playing techniques. With this specialty, Classique Music and Match can build a strong foundation for its students.
Highlights
Classical foundation
Match students to teachers
Weekly lessons
Lessons at your home or instructor's home
5. Kingdom Music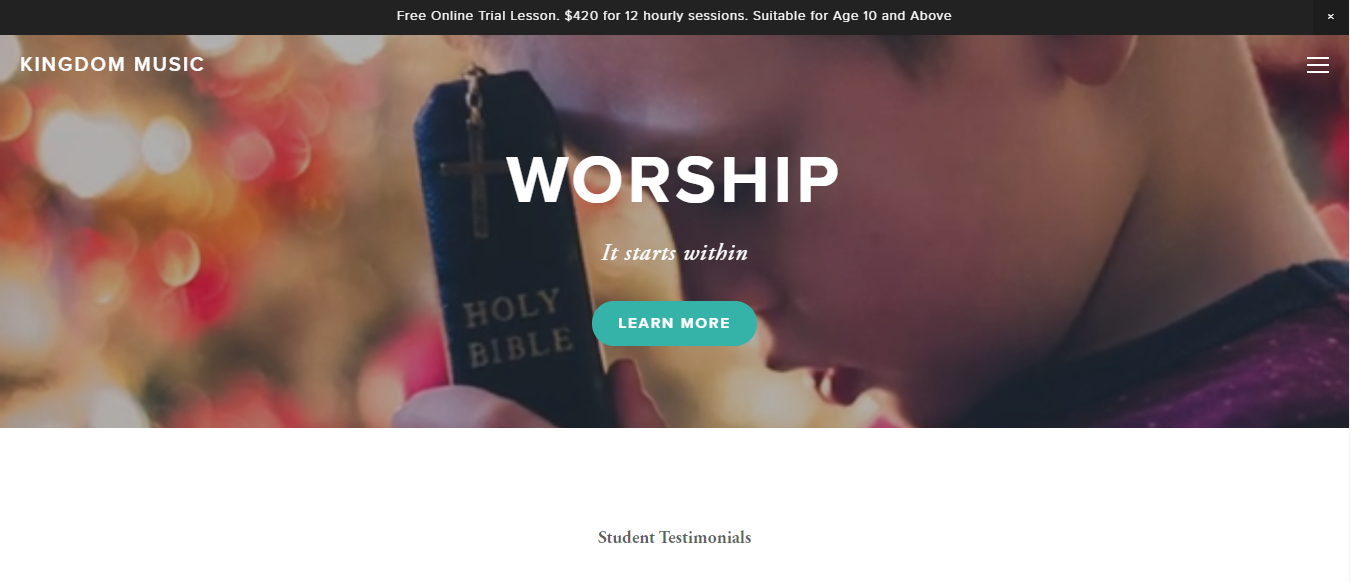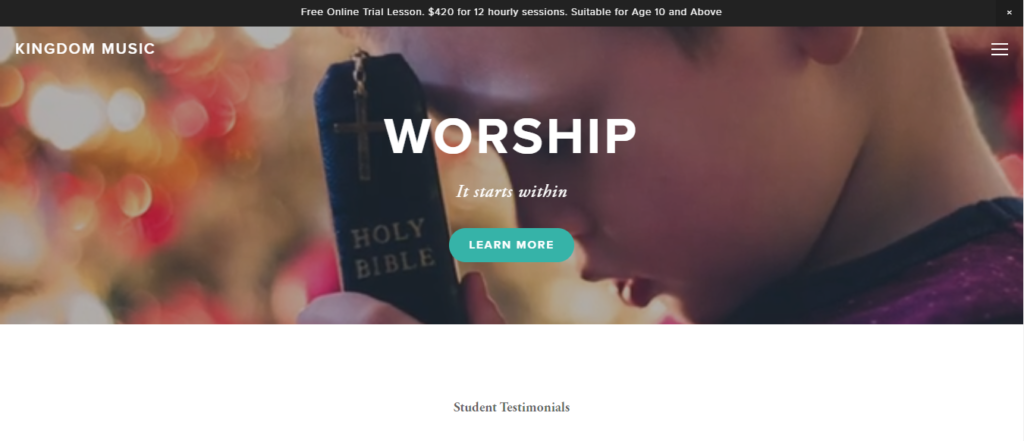 BEST FOR
Worship music
CLASSES
Bass and acoustic guitar, keyboard, violin, drums, vocal
WEBSITE
http://www.kingdomusic.com/
ADDRESS
1 Orchard Rd, Singapore 238824
CONTACT DETAILS
+65 9731 7467
OPERATING HOURS
Monday – Friday: 10:00 AM – 10:00 PM
Saturday: 9:00 AM – 6:00 PM
Kingdom Music aims to train children, adults, and even groups to utilise their talents and serve The Almighty.
Kingdom Music's lessons cover acoustic guitar, bass guitar, drums, voice, violin, and keyboard. It also offers these classes online for accessibility.
Its instructors teach guitar fundamentals, chords, and rhythmic styles. But what makes Kingdom Music's guitar program unique is that it also teaches the common chord progressions for worship songs.
Because Kingdom Music offers accessible online classes and coaching, it also accommodates students who want to learn music in their own native language.
Highlights
Free lesson demo
Online classes and coaching
Music-playing for worship purposes
Customer Reviews
Read what a Kingdom Music's student has to say about their learning experiences with the music school:
"I have been attending lessons at Kingdom Music for the past 5 months and have enjoyed playing in a band setting on both the acoustic and electric guitars. It has helped me improve my skills through interacting and learning to play in sync with the other musicians, and through coaching I've been able to increasingly build on my foundational skills. I've enjoyed learning in an encouraging and fun environment where the focus is ultimately on equipping ourselves to worship in new and interesting ways."—Hannah Oh, Electric Guitar, Drums
"What a talented musician and a patient coach! He teaches me the wonderful variations on songs that I have always wanted (but not able) to play and makes me sound really good !" David H, Guitar
6. TravelClef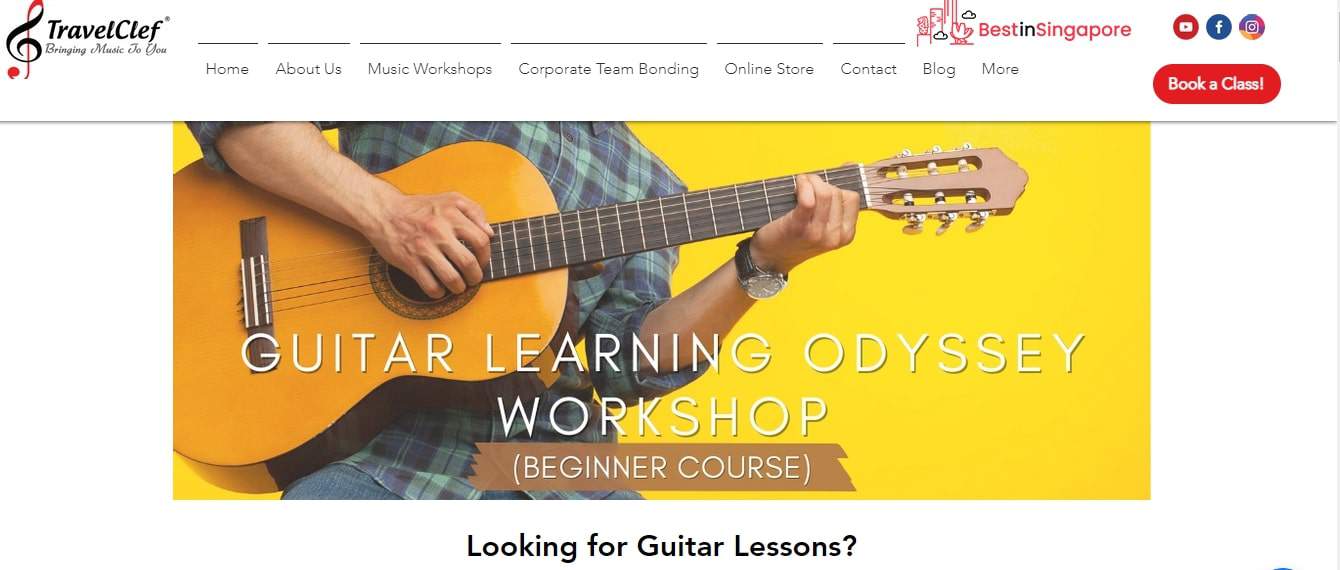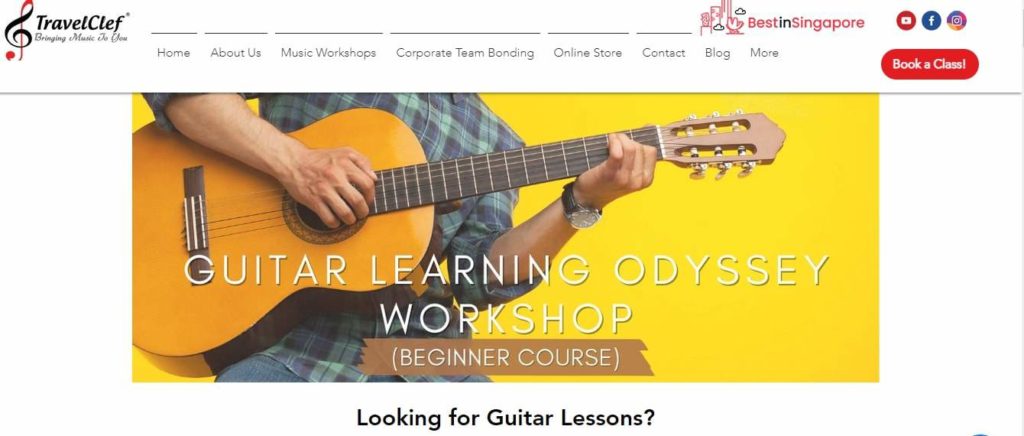 | | |
| --- | --- |
| BEST FOR | Guitar lessons for adults |
| CLASSES | Guitar lessons, ukulele lessons, cajon lessons, keyboard lessons, and drum lessons |
| WEBSITE | https://www.travelclef.com/ |
| ADDRESS | 12 Jalan Kilang Barat, #03-01 Singapore 159354 |
| CONTACT DETAILS | +65 8820 3186 |
| OPERATING HOURS | Monday – Friday: 10:00 AM – 4:30 PM |
If you're looking for the best guitar lessons in Singapore for adults, then we can't recommend checking out TravelClef enough. Its guitar course is designed specifically for beginners with no prior musical experience.
Apart from that, TravelClef can help you sing and play with a guitar in just 3 hours! It's the perfect school to sign up for a guitar class if you're constantly busy and don't have enough time on your hands.
Instead of weekly lessons, TravelClef teaches one-time music lessons where concepts and techniques are easy to digest and understand. It's truly the perfect choice for busy professionals who want to learn the guitar fast.
TravelClef hosts guitar lessons for corporate team building and public workshops as well. So if you're searching for a fun and productive activity to do with your colleagues, then attending its classes will be more than worth it.
Highlights
Quick, one-time classes
Competitively priced classes
Flexible schedule
Customer Reviews
Here are some comments by students who have attended its guitar classes:
"The lesson is very well thought out and provides a very solid foundation for a beginner. I am very impressed how I can really play the songs after I completed the class. Both Sean and Benjamin are very dedicated and committed to teaching all the students well whereas Edmund is very attentive to the students, he watches us while we are practicing, to make sure we do it right and are on the right pace."
"A quick way to learn to play a musical instrument! The instructors are encouraging & professional while the flexible schedule let you do quite at your own pace. There are jam sessions which would be a fun & good way to practice in a group except that it's pretty late in the evening."
7. Hark Music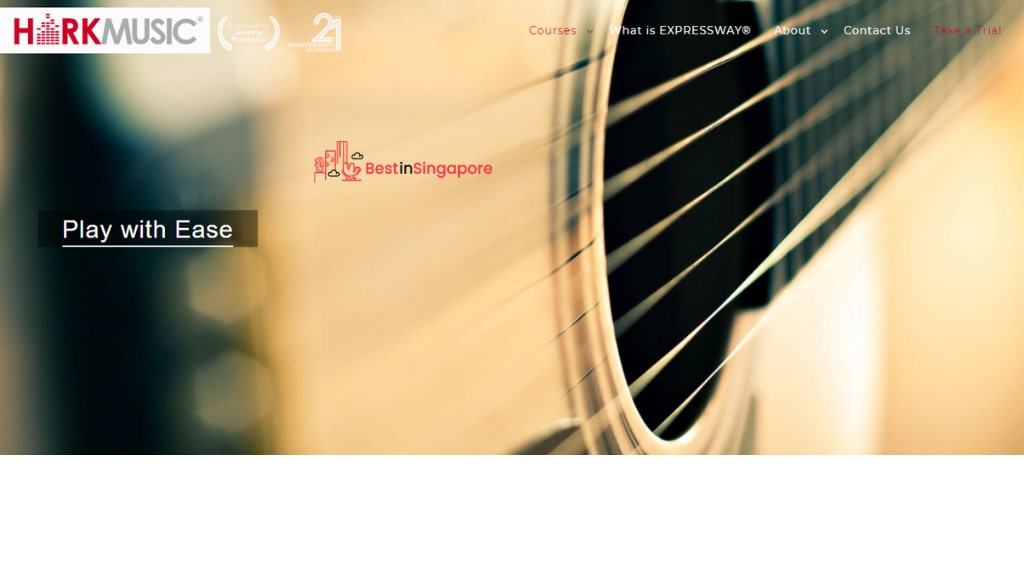 | | |
| --- | --- |
| BEST FOR | Comprehensive guitar lessons |
| CLASSES | Guitar lessons |
| WEBSITE | https://www.harkmusic.com/guitarlessons/ |
| ADDRESS | 62, Prinsep Street (opposite POMO) Singapore 188660 |
| CONTACT DETAILS | 6333 0733 |
| OPERATING HOURS | Monday – Friday: 1:00 PM – 10:00 PM |
Apart from housing some of the best guitar teachers in Singapore, Hark Music promises comprehensive, informative, and exciting music lessons to its students. It's no surprise that its guitar course remains a top choice for most students for almost 21 years now.
Hark Music offers four guitar lesson settings: small group, private coaching, jumpstart, and online coaching. If you like learning with other students, feel free to opt for its group classes which, according to most students, are the ideal setting to learn the guitar.
Another reason we call it one of the top schools with the best guitar lessons in Singapore is that it doesn't rush students to learn everything quickly. Hark Music offers a conducive and friendly learning environment where students aren't pressured.
Highlights
Online coaching
Experienced music teachers
Different class settings
8. Sonare Music School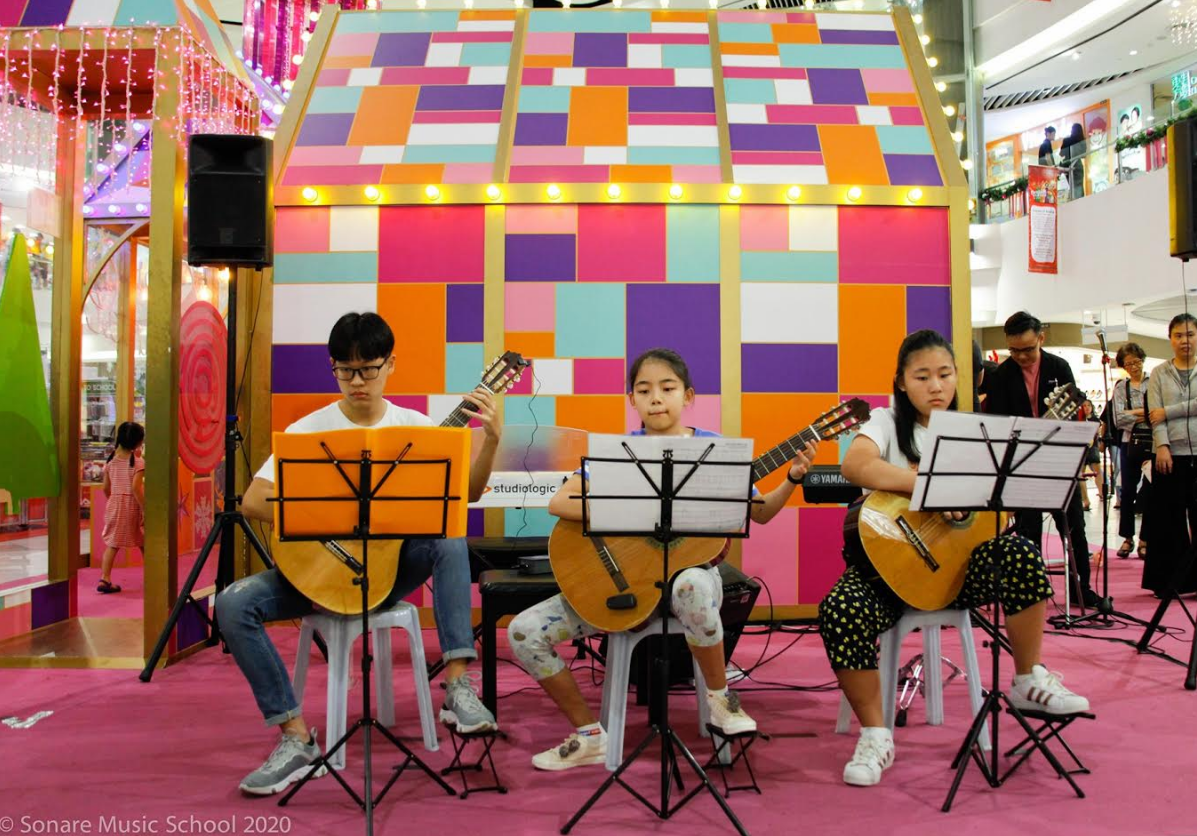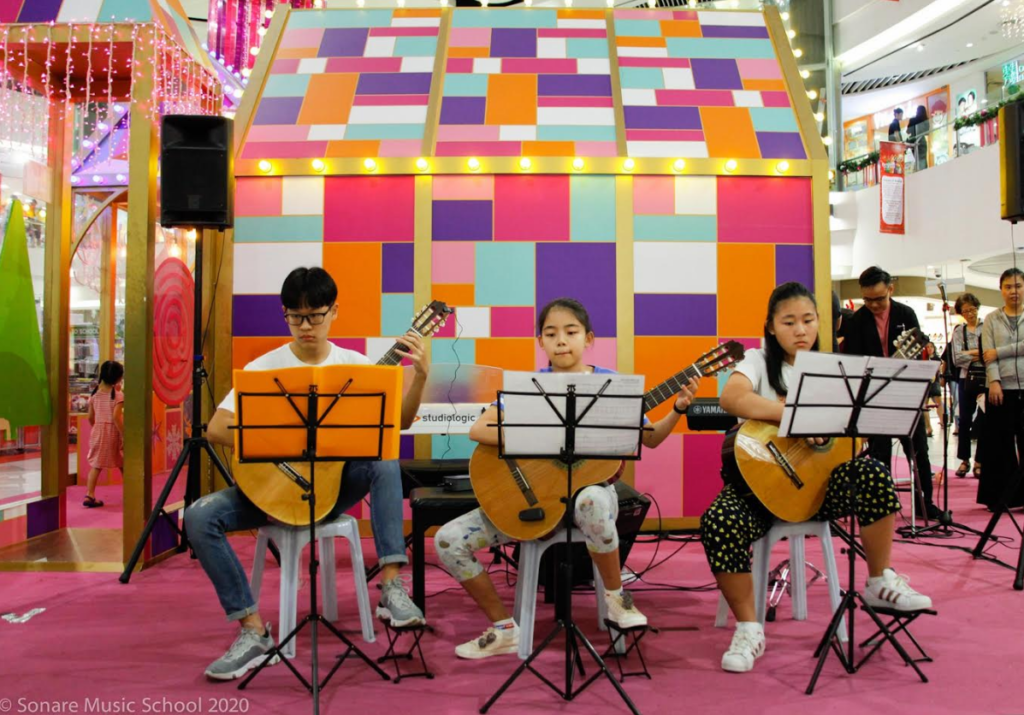 BEST FOR
Wide Variety of Music Lessons
CLASSES

Classical Piano
Leisure Piano

Classical Guitar
Ukulele
Acoustic Guitar
Electric / Rock Guitar
Violin

Electronic Organ
Electronic Keyboard

Theory of Music

WEBSITE
http://www.sonaremusic.com.sg
ADDRESS

1 Sengkang Square




Compass One #03-24




Singapore 545078

CONTACT DETAILS

Tel: 6547 3456




Email: [email protected]

OPERATING HOURS

Monday – Friday: 10:30 AM – 9:30 PM




Saturday & Sunday: 10 AM – 9:30 PM
Sonare Music School is a top choice for music lessons in various instruments. Their lessons include guitar lessons, piano lessons, organ lessons, and more.
Their studio and equipment are of high quality to better facilitate their student's learning. With the help of their experienced and knowledgeable instructors, you'll be able to learn to play any instrument you're interested in.
Highlights
MOE-registered music school
Wide range of music lessons
Dedicated, caring teachers
Affordable rates
9. Asia Music School
BEST FOR
Music Lessons
CLASSES

Piano, Keyboard, Violin, Drum, Guitar, Ukulele, Vocal, Flute, Cello, Guzheng, Erhu, Pipa, Theory, Latin/Zumba Dance, Holiday Program

WEBSITE
http://www.asiamusic.edu.sg
ADDRESS

Blk 931 Yishun Central 1
#01-105 Singapore 760931

CONTACT DETAILS

Tel No. : (65) 6756 1265
Fax No : (65) 6756 1265

OPERATING HOURS

Monday to Friday ( 11:00am – 9:30pm )
Weekend ( 9:00am – 8:00pm )
Public Holiday ( 12.00pm – 6.00pm )
Asia Music School offers personalised music lessons in various instruments. Some of their covered instruments include violin, guitar, drum, singing, and more.
Their instructors all come from renowned music conservatories, so you can rest assured that they're knowledgeable in their craft. Individual and group lessons are available for those who are interested.
Highlights
High quality music lessons
Numerous instruments available
Personalised individual or group music courses
Appointed examination centre by Rockschool Singapore
10. 35 Guitar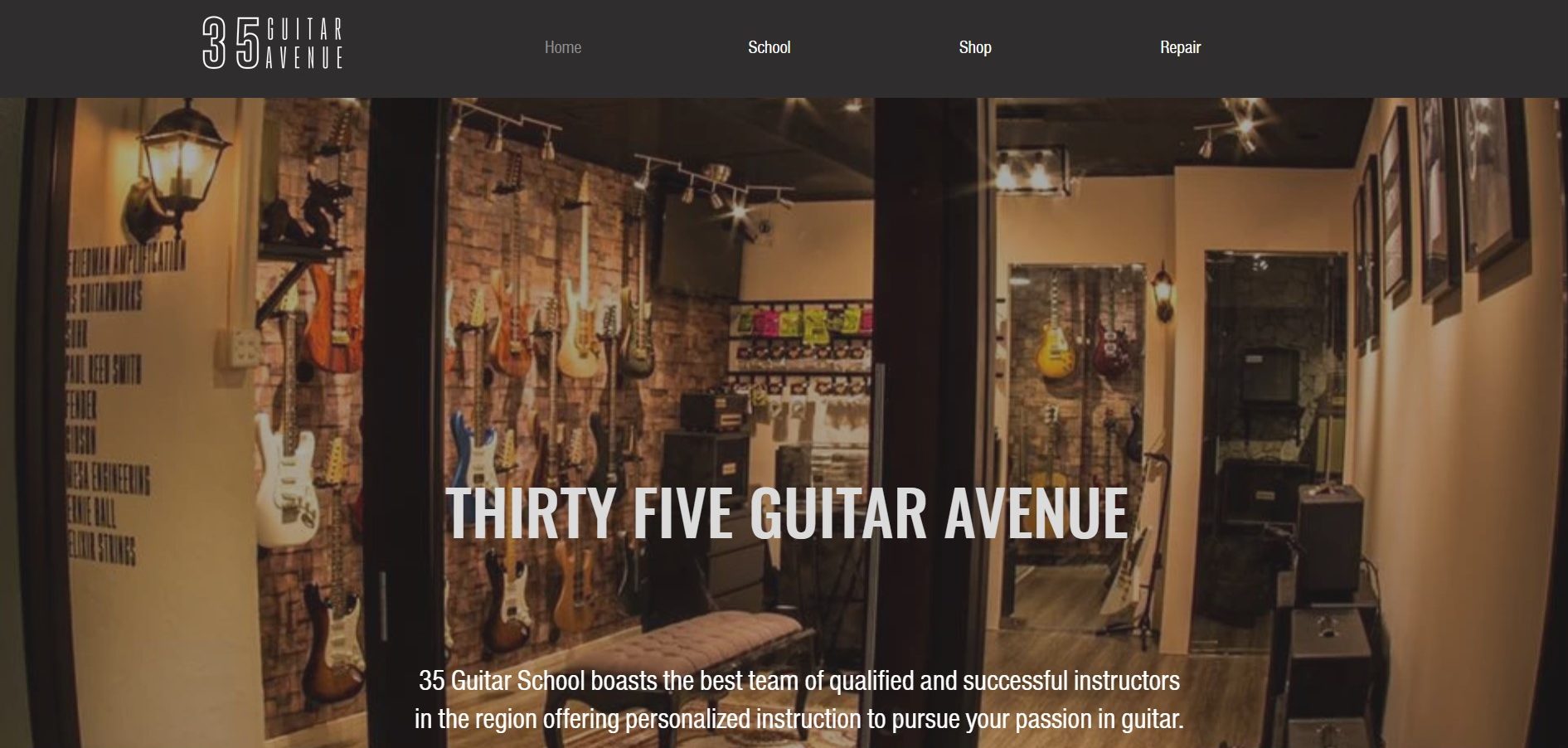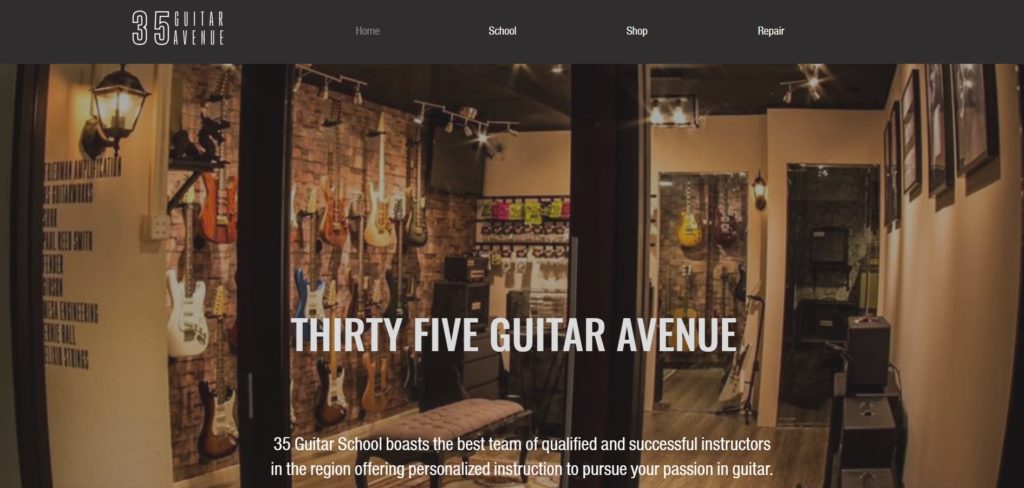 BEST FOR
Any guitar style
CLASSES
Guitar Lessons
WEBSITE
http://35guitar.sg/
ADDRESS
35 Selegie Road #01-30 Parklane Shopping Mall Singapore 188307
CONTACT DETAILS
+65 89527432
[email protected]
OPERATING HOURS
Tuesday – Sunday: 12-8pm
35 Guitar is known all over Singapore to provide amazing musical education to students. Those of which that have went though their guidance are now great musicians enrolled in prestigious music colleges and have won multiple competitions.
They offer one-on-one classes to carefully guide students with what to do, both in basic and more advance guitar skills.
What's more, is that there is an option to record the session in case the student wants to look back on the teachings that session or to check on the progress each practice.
Don't waste time searching for any other academies that offer guitar lessons, acquire professionals. Contact 35 Guitar to book sessions.
Highlights
Flexible schedule
Available for all levels and ages
Online and offline guitar lessons
11. Shu Hui Home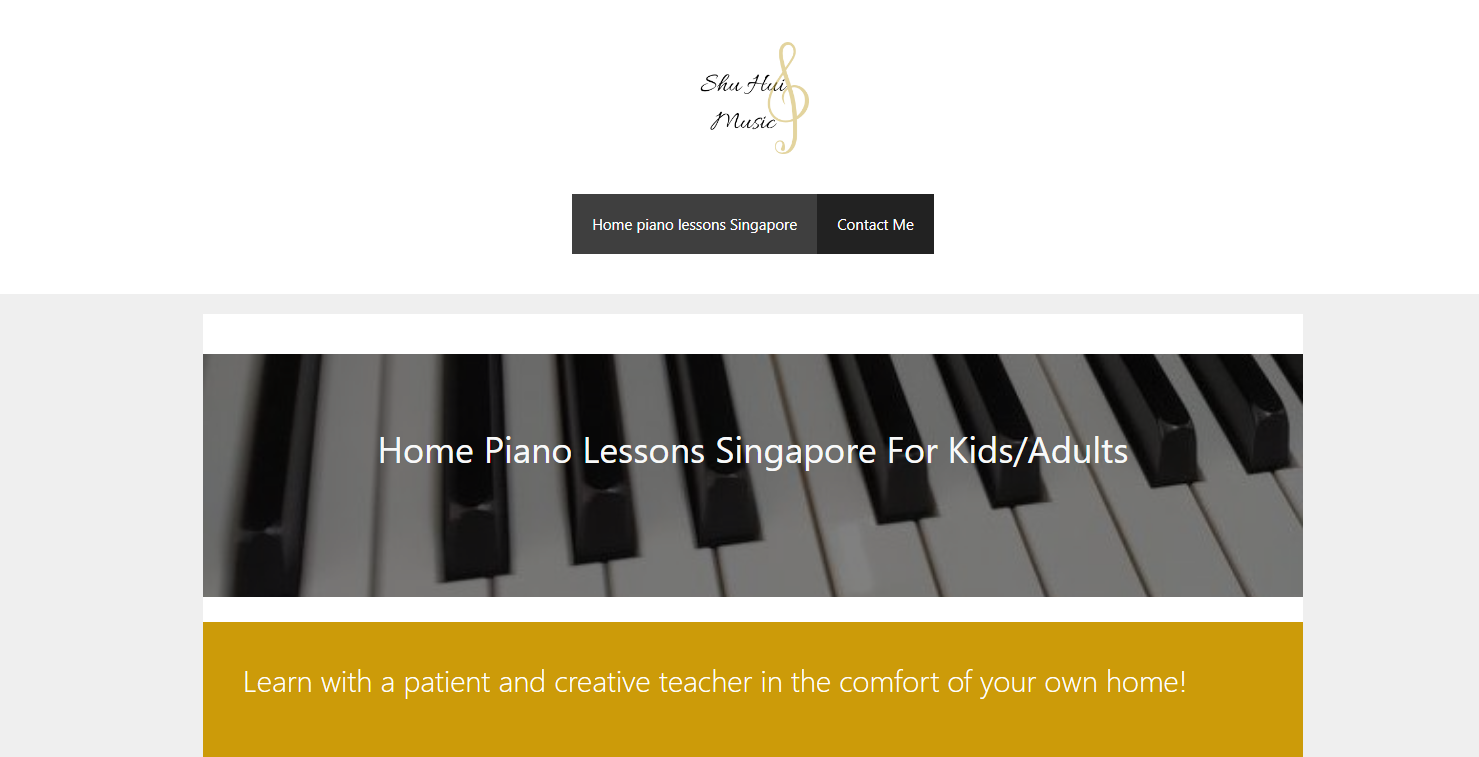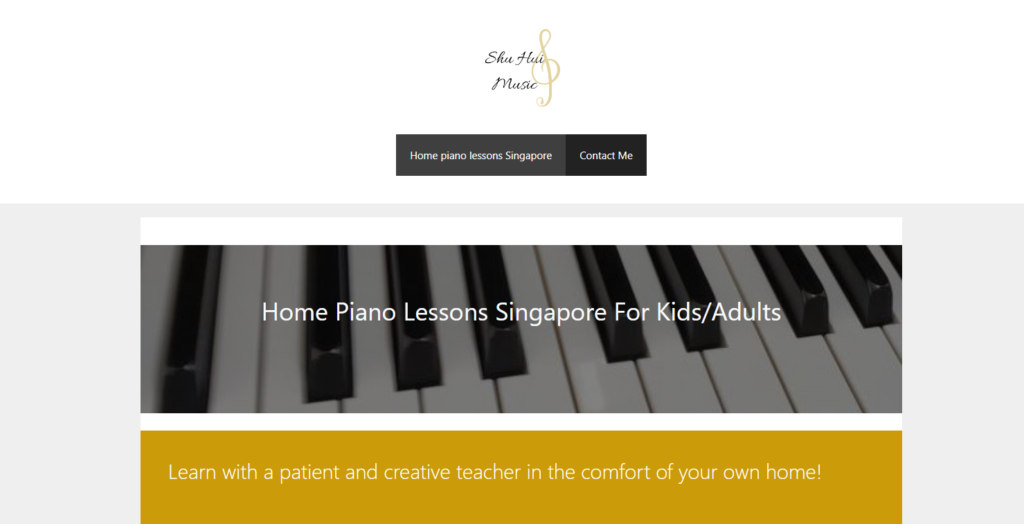 When it comes to quality home guitar lessons, Shu Hui Music is one of the best choices. The teacher's passion for music motivates her to teach her students well.
With an extensive background in teaching and playing music, as well as a comprehensive syllabus, Shu Hui Music competently teaches students regardless of their skill level.
Highlights
Patient and creative teacher
Comprehensive syllabus
Discount promotions available
12. Music Delight School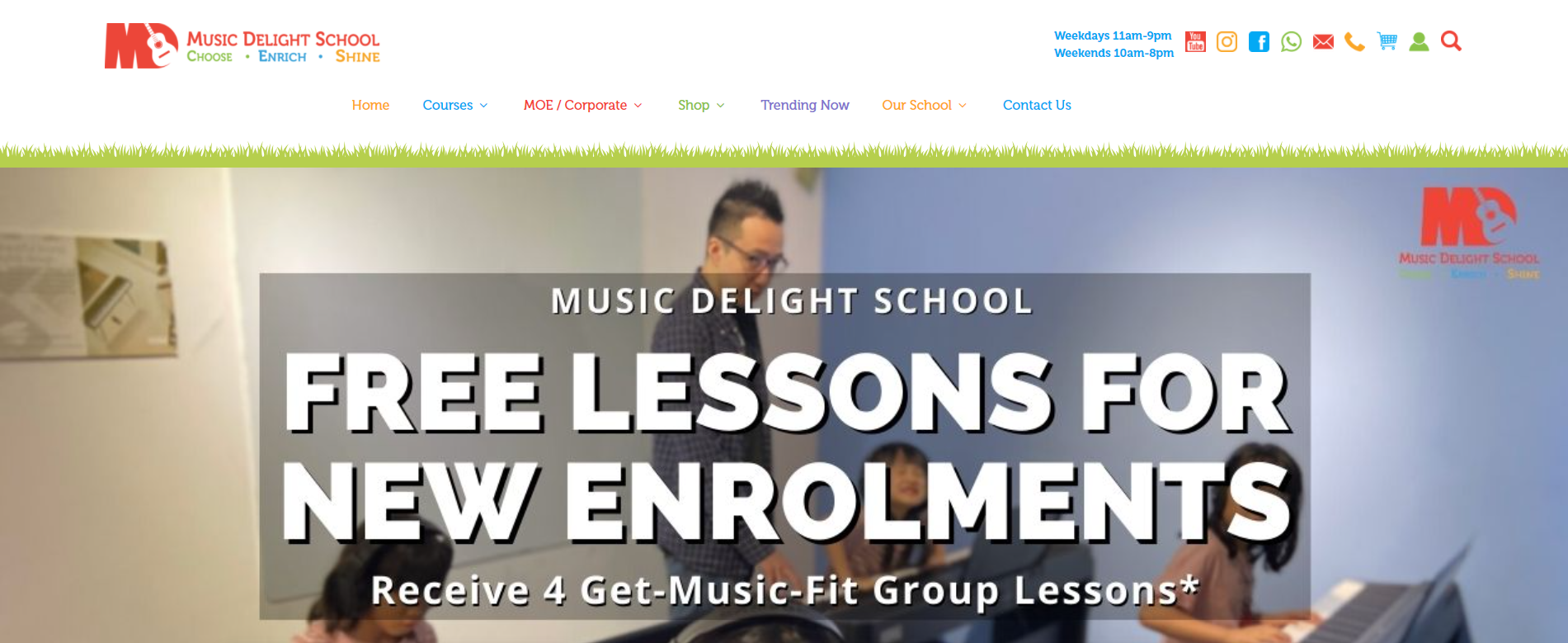 BEST FOR
Guitar lessons
CLASSES
Piano, Violin, Drum, Ukulele, Guitar, Keyboard, Vocals, Tots Delight, Music Theory
WEBSITE
https://www.musicdelight.com.sg/
ADDRESS
1 Pasir Ris Central Street 3
#05-05 White Sands
Singapore 518457
CONTACT DETAILS
Whatsapp for Trial 87323268
[email protected]
OPERATING HOURS
Weekdays 11am-9pm Weekends 10am-8pm
Music Delight School makes music learning fun & delightful. Having taught thousands of Guitar & Ukulele students, they also conduct Piano, Keyboard, Drums, Vocals, Music Theory.& Early Childhood Music Education lessons. Through understanding their student's interests, they teach songs that students would like to play while guiding them through syllabus Grades 1-8.
Their teachers are groomed with a passion to ENRICH each student, enabling students to SHINE as performers.
Besides 1-to-1 lessons, their instructors have been conducting Music Curriculum & CCA sessions in Primary, Secondary & Tertiary institutions.
Highlights
More than 10 years of experience
AMIS certified and eIRS registered instructors
Instructors are positive & energetic, ensuring a great learning experience
13. Advent Music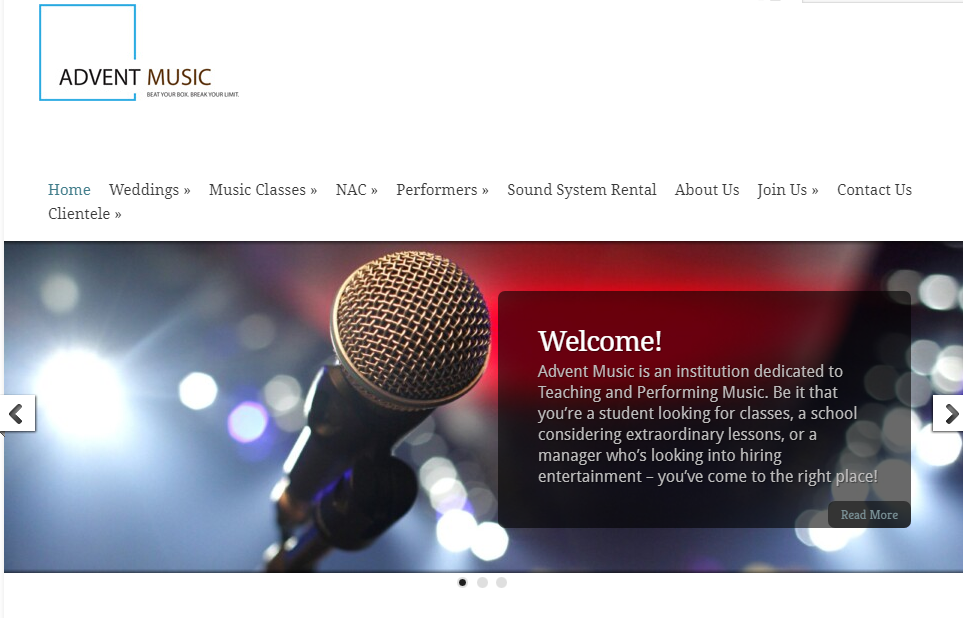 When it comes to appreciating, studying, and performing music, Advent Music has almost everyone beat. This long-standing institution offers lessons for various music fields, which include guitar, ukulele, singing, percussions, and many more.
Students that opt to learn with Advent Music will find themselves under the care of passionate musicians with years of experience in the music field, both as performers and teachers of the theoretical foundations of music.
Unfortunately, no classic instruments are taught at Advent Music, but those who are interested in more modern mediums will find themselves blossoming in such an encouraging space.
Highlights
Instruments can be provided for the students
Wide array of instruments and mediums to learn
And that's the end of our list of schools with the best guitar lessons in Singapore. If you've decided which school to go with, share your pick with us in the comments!
We recommend checking out our list of the schools with the best piano lessons in Singapore, if you're interested in learning the piano as well. We made sure to include only those schools with experienced instructors and positive reviews from students.