Reviewing the Best Bass Guitars in Singapore
Whether you're a beginner or a professional musician, being equipped with the best bass guitar in Singapore can definitely help you play music beautifully, more so than using bland, run-of-the-mill instruments.
If you're clueless as to where to find the best bass guitars in Singapore, worry no more — we made a list of what you're looking for. There are a lot of bass guitars sold on the island, but we narrowed it down to the ones worth your attention.
When purchasing the best bass guitars in Singapore, you have to take note of a lot of factors. If you don't know about these things, we'll share them before introducing our picks.
That way, it will be easier for you to choose from our list of the best bass guitars in Singapore. Anyway, let's start!
Factors to Consider When Buying a Bass Guitar
If you're a professional musician, you probably know what one should look out for when purchasing a bass guitar. Feel free to skip this section if you so!
Bass players would also agree that it's not that hard to find a bass guitar to work with as it basically boils down to your skill and experience. Still, it doesn't hurt to know a few basics about bass guitars when buying for the first time.
Some of the things beginners should look out for are the type, body materials, neck material, and string type.
Let's discuss each point below.
1. Bass Guitar Type
Many, especially beginners, aren't aware that there are different types of bass guitars, each of which has its own unique features and structure. If you're wondering whether you need an acoustic bass guitar in Singapore, we suggest you do your research to find which type suits you best.
There are four types of bass guitars, but we'll only discuss the two most commonly known and used bass guitars.
By far the most common type is the electric guitar. If you want more freedom while playing, then we strongly recommend trying your hands on an electric guitar.
Electric guitars allow players to change volume and tone, and mix their frequencies. This type is also the most expensive option, though.
On the other hand, acoustic bass guitars can produce sounds by making vibrations to the paddle. Acoustic guitars are perfect when you're on the go because they don't need any amplification or supplementary materials.
2. Body Materials
The composition of a bass guitar has a huge impact on the type and quality of sound it produces. One of the most important parts of a bass guitar is the tone wood (the wood that it's made out of).
Tone wood can enhance the sound and tone produced by a bass guitar — which is why it's such an important factor to consider. It can also be classified into two: hard woods and soft woods.
If you want brighter and snappier sound, go for a bass guitar with hard wood. It's also great if you want the sound to cut across the room.
On the other hand, soft wood produces a warmer and gentler sound.
3. Neck Material
Similar to the body of the bass guitar, the neck's material contributes to the quality of the sound produced by the bass guitar. It can determine the durability of the bass guitar as well, and whether it can endure years of regular and intense usage.
If the body's made from only 2 types of wood (usually, anyway!), a neck can be made from 7 types. For this list, we'll only talk about hard maple and ebony, though, as these are the most common out of all 7 wood types.
In terms of durability, hard maple wood claims the top spot as it's strong, hard, and extremely dense. It's commonly used in electric bass guitars and electric guitars because it's known for producing incredibly vibrant sounds.
Meanwhile, ebony has the same qualities as hard maple wood, which explains why it's the second most-preferred material for the neck.
4. String Type
It's worth noting that strings are replaceable. However, the type of string you choose will define your tone and sound, so we recommend taking time to look for a string that produces the type of sound you're after.
There are at least five types of strings sold in the market, but roundwound and flatwound strings are the most well-known ones because they're cheap and easy to find.
Both are capable of producing a wide variety of frequencies, from bright to metallic ones. However, flatwound strings are known for their distinct muted sounds.
The Best Bass Guitars in Singapore 
Now that you know what to consider when picking out the best bass guitar in Singapore, you're probably ready to see our picks.
Check them out below to see which of our picks match your idea of the best bass guitar.
1.   Yamaha TRBX174 
Best for Affordability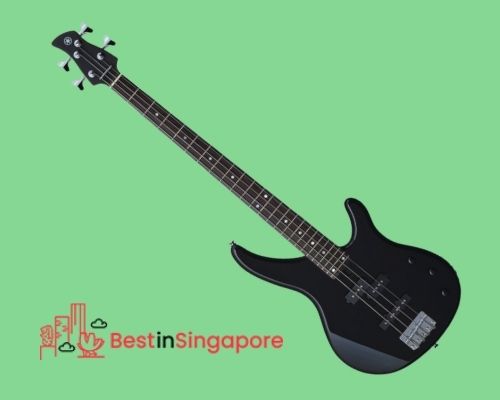 Price: $299.00
If you're looking for an affordable bass guitar in Singapore, then we strongly recommend checking out the Yamaha TRBX174. For no more than $300, you can get your hands on one of the best bass guitars in Singapore.
The Yamaha TRBX174 comes with a high-end active and passive circuit for extreme flexibility and fine tonal control. If you want a more aggressive sound, this one has four-control circuits for master volume, balance, and equalizer.
What's more, the Yamaha TRBX174 features gold plated parts, providing bass players with increased conductivity and reliability. In terms of pickups, it comes with oversized pole pieces and ceramic magnets for a clearer and more powerful tone.
Despite its cheap price, you'll get to play like a professional musician with the Yamaha TRBX174.
Highlights
Affordable price
Durable built
4-control circuits
2.   Ibanez TMB100
Best for Sleek Design
Price: $363.93
If you want a bass guitar with a sleek and cool design, then look no further than the Ibanez TMB100. It sports a chrome bridge and tuners on top of the metallic black body — which is why we call it one of the best bass guitars in Singapore.
In terms of musicality, it doesn't fall short as well. You can expect a powerful and punchy tone from the Ibanez TMB100 because of its poplar body and maple neck, both of which are ideal materials for a perfect-sounding bass guitar.
More than these, it comes with a jatoba fingerboard with 20 medium frets that won't hurt your fingers while playing. For its pickups, it has both Dynamix P and Dynamix J, which provide soft and rock tones, and mid-rich R&B tones as well.
Lastly, we highly recommend this bass guitar in Singapore to those who want to learn how to play the bass guitar because it's easy to use.
Highlights
Retro design
4 strings
DXP and DXJ pickups
Made from quality wood
Customer Reviews
Take a look at what buyers have to say about the TMB100:
"My Talman came up great and played wonderfully. The bass has an excellent preamp that gives a wide variety of tones from subtle to extreme, but is very easy to dial in, even for a beginner, unlike instruments with more complex control layouts I had an issue with the volume/balance control and Sweetwater shipped the part right to me. First purchase from Sweetwater and won't be my last."
"This bass is impressive. The sound is fat, and the feel is surprisingly good. This is the backup bass that squeezes its way between you and your high-end go-to bass. The only thing cheap about it is the price. When someone hears it, they like it, then you tell them the price and it shocks them."
3.   Michael Kelly MKE5QAC 
Best for Gig Musicians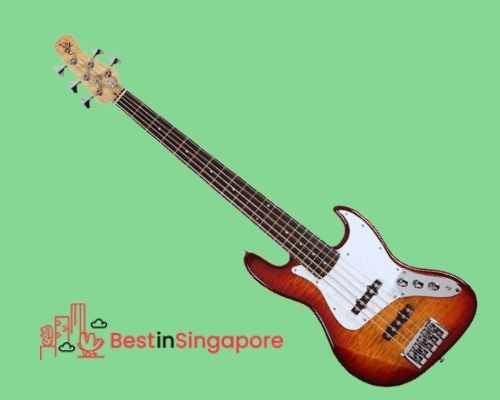 Price: $825.00
The Michael Kelly MKE5AQC is the perfect bass guitar in Singapore to accompany gig musicians for their nightly gigs. Not only is it of the perfect weight, it features a body shape and contour for maximised comfort while travelling and playing.
As per its hardware, it boasts innovative pickups and controls that haven't been seen in other models of bass guitars before. It also comes with a bypass switch that makes it easier to shift from one tone to another.
What's more, its neck is made from quality quilt maple while its body is built from premium alder. Such materials make it one of the most durable and best bass guitars in Singapore that professional musicians would want to get a hold of.
It might be a bit more expensive compared to the previous options in our list, but every purchase comes with a guarantee that more people will be in love with your performances at your nightly gigs.
Highlights
Chrome hardware
Contoured body
Bypass switch
4.   Black Rose Bass Guitar
Best for Affordability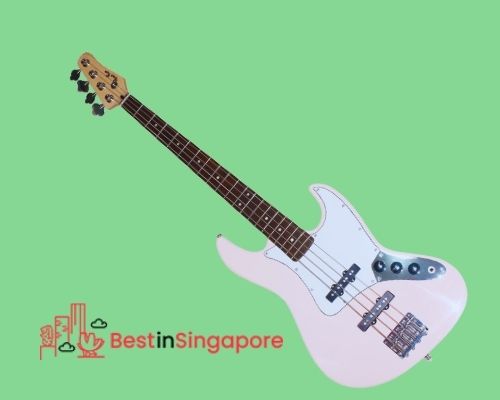 Price: $349.00
In terms of the look and design, Black Rose Bass Guitar surely doesn't disappoint. It's extremely rare for a bass guitar to sport a pink colour, which makes this an automatic attention-grabber — so if you're a musician who likes to turn heads, you're going to love this bass guitar!
What's more, it comes with two volumes and one tone control for improved and easier playing. There's also a merbau fingerboard that doesn't cause finger discomfort while playing — which is why we consider it one of the best bass guitars in Singapore.
Its neck, on the other hand, is made from hard maple, so durability wouldn't be an issue with the Black Rose Bass Guitar. It's guaranteed to accompany musicians for a long while even if it's used rigorously almost everyday.
However, there aren't a lot of extra features with the Black Rose Bass Guitar… but consider it's price, as it's such a steal nonetheless!
Highlights
Pink colour
Durable build
Soft fingerboard
5.   G&L L-2500
Best for Overall Value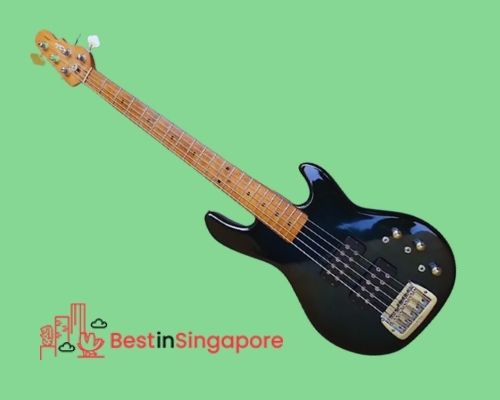 Price: $1000.00
If you can spare extra money on a professional bass guitar, you might want to check out the G&L L-2500. It's one of the widely used bass guitars — popular among professional musicians, composers, songwriters, and the like.
In terms of the price, we can't recommend it to casual players and beginners because you might not immediately see where your money is going with the G&L L-2500. It comes with various complex features that only professional musicians can understand and make use of.
Meanwhile, professional musicians won't have a problem with its build and shape as it's designed to provide comfort while playing and carrying. It's made from hard-rock cherry maple, so there won't be issues with its durability as well.
Lastly, it comes with a pair of the trademarked Magnetic Field Design that makes it easier to find your preferred tone no matter your position is. It even works while you're lying down!
Highlights
Hard-rock maple
Tri-Tone system
Contoured body
6.   Davis Guitar – LTD RB-1005 5-Strings Bass Natural
Best for Durable and Sleek Design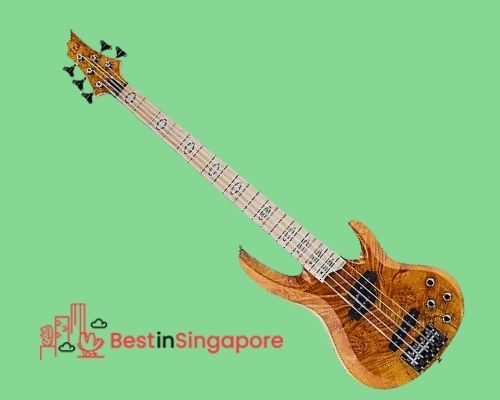 Price: $1,680.00
If you're looking an eye-catching bass guitar in Singapore that is beautiful as it is durable, then LTD Guitar's RB-1005 5-Strings Bass Natural is perfect for you. It has a unique swamp ash body and burled maple solid top, connected to a thin U-shape maple/walnut neck. It's fingerboard is also created from maple.
You'll also receive the best sustain for your notes, as this guitar has an amazing Gotoh bridge. Meanwhile, its Grover tuners keep everything cinched down and in-tune, even through heavy crunches and string-stretching licks.
You won't easily find another bass guitar that has all the best qualities packed in one masterpiece, so this is definitely something you should invest in.
Highlights
Bolt-­On Construction
34″ Scale
Swamp Ash Body
Burled Maple Solid Top
5-Piece Maple/Walnut Neck
Maple Fingerboard
And with that, we conclude our list of the best bass guitars in Singapore ideal for both casual and professional players. We hope you were able to pick at least one that you believe can help you play musical pieces better.
If you know of other bass guitars sold on the island, don't hesitate to share their names with us. You're also free to tell us why you think it's among the best bass guitars in Singapore.
By the way, if you're also looking for an acoustic instrument, we recommend checking out our list of the best acoustic guitars in Singapore. These acoustic guitars are perfect for beginners and pro musicians as well!