8 Best Probiotics in Singapore for Healthy Gut and Immunity
Looking for an effective supplement to add to your daily routine? With the best probiotics in Singapore, you can maintain a healthy digestive system, boost your immune system, andex enjoy many more health benefits!
That's because probiotics in Singapore are good bacteria that can keep your digestive and immune system healthy. They can also help you lose weight and even improve your cholesterol and blood pressure!
With these various health benefits, probiotics are obviously useful supplements. But with the many options available on the market, how will you know which probiotic supplement is the right one for you?
To help you with that, we've already narrowed down your options and listed the best probiotics in Singapore!
However, if it's your first time to buy one, it'd be better to know first some key features to look out for when choosing the right probiotic for you.
How to Choose the Best Probiotics in Singapore
Probiotics vary in forms and ingredients. Some might not be suitable for your needs; therefore, it's highly important that you know the composition of a probiotic before you buy it.
Anyway, here are the factors that you must consider when buying a probiotic:
1. Health Issues It Addresses
First of all, you must ask yourself if you need a probiotic for your gut issues or you simply want to boost your immune system.
If you have gut problems, then you'd need a higher dose of certain probiotic strains. Multi-strain probiotics are more effective than single-strain ones, so a probiotic with more than 5 strains is highly recommended to improve gut health.
This kind of probiotic is a practitioner one, by the way: it's only sold through medical practitioners.
For those who just want to gain healthier stamina, you may opt for the ones with fewer strains. There's no need for a prescription or special probiotic in this case, as you can use a regular one from your local drugstore.
These might not be as strong as the practitioner-brand options, but they can still provide necessary nutrients for general health.
2. CFUs in the Probiotic
CFU is a measurement of how potent a probiotic is. Look for the one that guarantees CFU at expiry so you can be sure that it'll contain at least the amount of good bacteria stated on the label.
3. Whether or Not It's Allergen-free
There are lots of probiotics on the market that contain GMOs and allergens. So, make sure to read the list of ingredients before buying.
Check if the probiotic has allergens such as dairy, soy, wheat, fish, bovine, and crustaceans. If it has, then you might need to look for another one, just to be safe.
4. The Form It Takes
As mentioned earlier, probiotics come in different forms including powder, liquid, and capsule.
The capsule is the most recommended form because it helps ensure that the bacteria will make it through your stomach acid and into your gut. Liquid probiotic supplements are also proven to be highly effective.
The Best Probiotics in Singapore
Let's now take a look at our picks for the best probiotics in Singapore! We chose these based on their effectiveness and harm-free ingredients.
So see our list below to find out more about their offered health benefits!
1. Probiotic+ BASE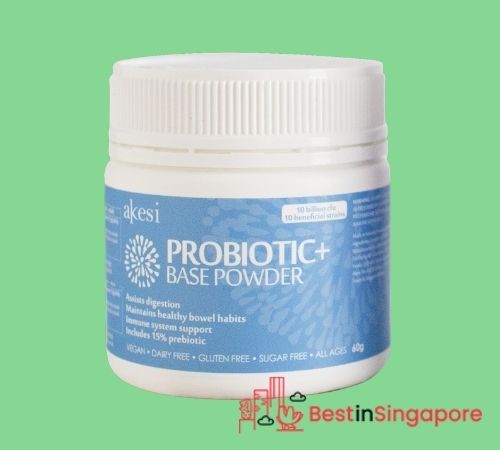 Price: $55.00 (or you can subscribe to save!)
Akesi's Probiotic+ BASE is for the whole family – including adults, children, newborns, pregnant, and breastfeeding mothers. It can be added to any food, drink (including formula and expressed breastmilk), and basically anything that is at or below body temperature.
Each serving of Probiotic+ BASE contains 15% prebiotic fibre and 10 billion cfu of 10 probiotic species, this means it is excellent for supporting your existing good gut bugs while strengthening your immune and digestive systems.
Compared to other products, this one only requires a single daily serve (and doesn't have to be with a meal), which is easier to fit in your daily routine and also means this product is better on the wallet too.
Plus, you'll also save up this way because a 60-gram tub would then last you more than a few weeks.
Pros
Prebiotic and probiotic
Assists digestive health
Protects and nourishes the gut microbiota
Immune system support
Maintains healthy bowel habits
Single daily serve
Versatile, flavourless, and dissolvable powder
Singapore company but made in Australia
Customer Reviews
Here's what some people have to say about Probiotic+ BASE:
"The versatility has made it so easy for our family to have probiotics every day. My husband and I mix it in our yoghurt, and it dissolves quickly in our baby's bottle of formula. I love that we're all getting prebiotics too, which I haven't found in many other probiotic products."
Here's another one:
"I liked the fact the Akesi products include a diverse range of strains rather than just 1-2 strains that I had seen with other probiotics."
2. Lactomin Advance + Probiotics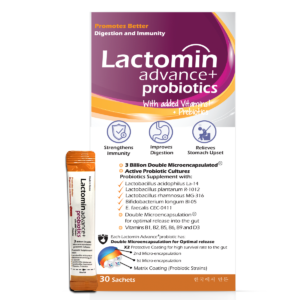 Price: $49.00 (or you can subscribe to save!)
Need help relieving stomach upset, bloated stomach or the queasy feeling after an oily or heavy meal? Lactomin Advance + Probiotics can help do that job naturally and quickly.
Lactomin is a powdered probiotic, packed in aluminum stick sachets. Being individually packed promotes greater convenience, protection and can be taken anywhere, anytime.
Lactomin has 3 billion CFU, which is ideal for daily probiotic supplementation. Each probiotic strain is double microencapsulated, with our patented MCC double microencapsulation to provide high survivability, stability and optimal release of the probiotics into the intestinal gut.
Lactomin has added prebiotics, and vitamins which are essential for a healthy functioning digestive system.
Check out this video to know more about this product.
Pros
5 Protected Specific Probiotic Strains
Lactobacillus acidophilus La-14
Lactobacillus plantarum R-1012
Lactobacillus rhamnosus MG-316
Bifidobacterium longum BI-05
E.faecalis CEC-0411
Promotes good digestive health and immunity
Helps to relieve stomach upset and constipation
Works fast
Great taste
Vitamins B1, B2, B5, B6, B9, D3
No refrigeration
Customer Reviews
Customer Reviews
They have a long list of great customer reviews; and why do they choose and keep using Lactomin? Simply because it works well for them.
One of their customer's reviews are as follows:
"Most people are familiar with probiotics and generally it helps the digestion. So why Lactomin? For one it is easy to take daily and taste great. I suffer from loose stool and can be frequent, after taking Lactomin for few days, I saw great improvement and I was back to normal. I have also tested it if any of my family members had stomach upset/diarrhoea, after taking it with few sachets at one go, it worked fast and the stomach upset was gone. I love this and highly recommend it as it shows results and is value for money."
3.  NooCube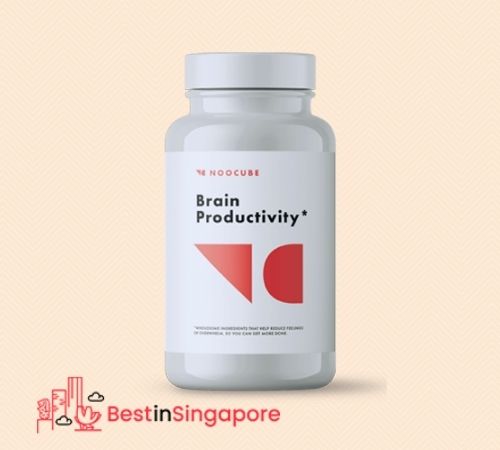 Price: $39.99
NooCube is a synergistic blend of nootropics that helps support and enhance your focus, mental speed, and memory. It safely and effectively improves your cognitive functioning with its powerful blend of vitamins, amino acids, and other essential building blocks– everything you need to attain a healthy and well-functioning brain.
All of this product's ingredients have been rigorously tested for safety and are backed by extensive clinical studies. Each capsule contains Alpha GPC, Cat's Claw, Oat Straw, Huperzine A, Bacopa Monnieri, L-Theanine, L-Tyrosine, Pterostilbene, and Resveratrol.
Each bottle of NooCube contains 60 capsules, and based on a recommended serving size of 2 capsules per day, each bottle contains 30 servings.
The amazing blend of vitamins make us consider this to be one of the best probiotics in Singapore especially for brain health.
Pros
Enhances your cognitive function
Heightens your concentration and focus
Improves your memory and learning
Customer Reviews
Here's what some people have to say about NooCube:
"NooCube helps me focus and think clear, it is the real deal!"

Here's another one:
"I can multi-task so well with NooCube, it's almost like there's two of me!"
4.   Blackmores Probiotics+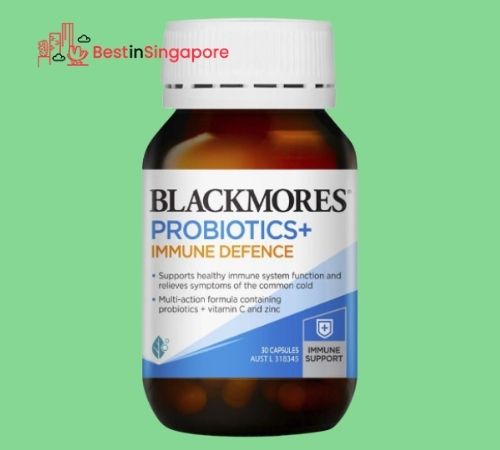 Price: $59.90
The Blackmores Probiotics+ supplement features a dual-action formula containing a total of 5 strains, providing 30 billion good bacteria. It's a good choice for restoring digestive balance and maintaining a healthy immune system.
It also has an additional prebiotic that offers some nutrition for gut flora. Aside from these, it helps relieve symptoms of bloating and gas, so if you often experience stomach problems, this can be the best probiotic in Singapore for you!
There's also no need to refrigerate this one because it already has a specialized formulation and packaging process that prevents moisture from harming the good bacteria. Hands down, we consider this to be one of the best probiotics in Singapore for long-term storage.
Pros
5 strains
Restores digestive balance
Prebiotic for gut flora
Cons
Not quite effective for all bloating cases
5. Nano Singapore Digestive Wellness Formula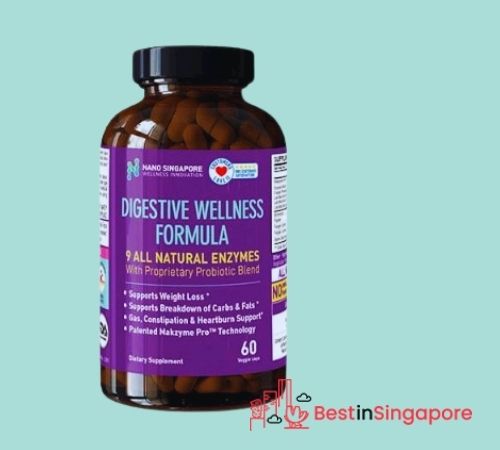 Price: $22.17
The Nano Singapore Digestive Wellness Formula offers 40 billion CFU in each dose, making it highly effective for boosting the immune system. Similar to the previous option, it also has 5 strains but this one comes with all-natural enzymes, fruits and vegetables that provide essential nutrients and probiotics.
It can help ease your digestion as well as reduce weight gain. Moreover, it has anti-ageing effects, so if you also want to supplement your skincare routine, this might be the best probiotic in Singapore for you!
Pros
40 billion CFU
Anti-ageing effects
Contains all-natural enzymes
Helps reduce weight gain
Non-GMO organic ingredients
Cons
Might take a longer time to see the improvements for some cases
Customer Reviews
Being one of the most popular probiotic supplements on the island, the Nano Singapore Digestive Wellness Formula has gained a lot of positive responses from customers. They said that it truly relieves stomach bloating problems and gives all the nutrients needed for daily needs.
A customer posted this review:
"A supplement, natural enzymes with proprietary probiotics, good for digestion, free from stomach bloating, it reduces weight gain and it also detoxes our body. Cool product."
6. DUOLAC Care Probiotics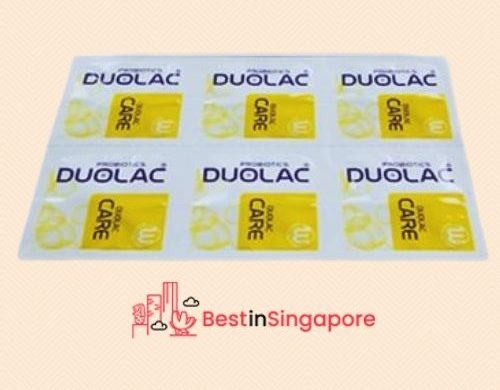 Price: $99.99
Compared to previous options, the DUOLAC Care Probiotics features a little higher amount of strains than most, with a total of 6 different probiotic strains. These strains are good for maintaining the balance of intestinal microflora for a healthy gut.
This best probiotic in Singapore is made with a dual coating technology to ensure long-lasting effects in the intestine. It's also a Halal-certified supplement that contains no lactose and gluten.
Pros
6 different strains
Maintains digestive system
Reduces bloating problem
Reduces weight gain
Cons
Customer Reviews
Many customers have recommended the DUOLAC Care Probiotics supplement because it can really help resolve stomach problems and reduce weight gain as well. A customer shared this experience:
"I had a very bad gastric problem for many years now. Recently I just had a peptic ulcer in my stomach and was advised by the doctor to take another brand of probiotic. But it seems the effect was quite slow and the problem still there. So I decided to search online for the best probiotic & with the most positive reviews. I found this product & decided to give it a try. After taking it for a week, it really surprisingly helps & my stomach problems obviously reduced. I strongly encourage those who have gastric problems to give it a try. I'll stick on to duolac & will strongly recommend it to my friends & family."
7. Atomy Probiotics 10+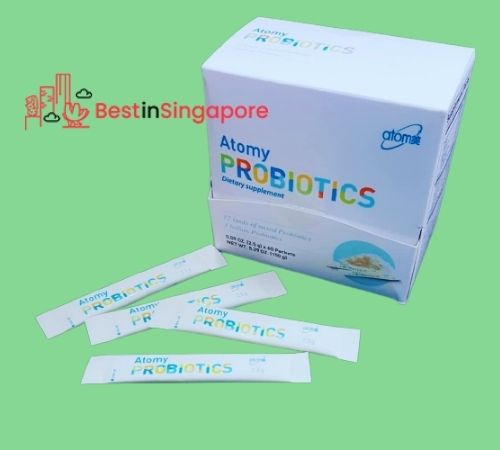 Price: $15.99
The Atomy Probiotics 10+ is a powdered supplement. It also features a greater number of strains than most, amounting to 12 different probiotics that help improve the overall health of your digestive system.
With this best probiotic in Singapore, you'll see faster improvements in your digestive health. You may simply mix it up with water or other drinks to bring out its tasty orange flavour, giving you a refreshing drink as part of your daily meals.
Pros
12 different strains
Powdered form
Can be mixed with other drinks
Orange flavour
No refrigeration required
Cons
8. BioGaia Protectis Baby Probiotics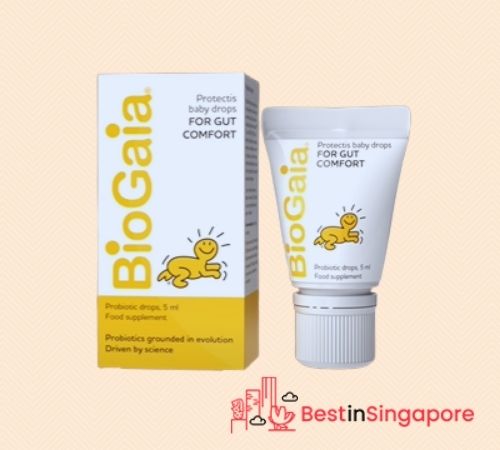 Price: $29.90
If you're searching for the best probiotics in Singapore that's suitable for your kids, the BioGaia Protectis Baby Probiotics supplement might be the best probiotic in Singapore for your needs. It comes in liquid form so you can easily add some baby drops to your child's drink/food.
This food supplement has patented lactic acid to promote natural balance in the gut. It's recommended by paediatricians as it's one of the safest probiotics for infants.
Just mix 5 drops of it with water and shake well for a great blend. Also, it's advisable to not mix it with hot drinks or food because the heat may damage the good bacteria.
Pros
Safe for long-term use
One dose contains 100 million live Lactobacillus
Clinically studied probiotics for infants
Recommended by paediatricians
Cons
Slightly hard to get the last few drops out of the container
Runs out quickly
Customer Reviews
Parents were impressed with the effectiveness of the BioGaia Protectis Baby Probiotics. They said that it works well for those who have digestive problems.A customer left this feedback:
"Like that it's a form of probiotics. Seemed to help with his bowel movements. Not sure if it helped with his regurgitation but it was less. Could be also cause he grew older. Hate the part at the end where you can't seem to get Annie out despite still being able to see quite a fair bit inside."
And that's our list of the best probiotics in Singapore! If we missed other great options, you may also share your recommendations with us!
For those who are searching for specific supplements such as the ones that can be included in a fitness routine, you might want to try one of these best workout supplements in Singapore! These can help you gain stronger stamina so you can try new and challenging workouts!