The 6 Best Multivitamins in Singapore
Taking multivitamins has become quite a necessity to make sure that our body is receiving all the nutrients it needs, boosting general health and preventing chronic diseases.
Multivitamins can help increase energy levels, improve mood, reduce stress and anxiety, maintain muscle strength and many more.
So if you have a poor appetite or your diet doesn't include whole foods, a daily dose of multivitamins is the most recommended solution by many health specialists. However, choosing the right supplement can be a bit overwhelming, especially with the countless brands and types available in the market.
Therefore, we've listed some key points to watch out for when looking for the best multivitamins in Singapore.
How to Pick the Right Multivitamins
You can only get the best health benefits if you chose multivitamins most suitable for your body's needs or dietary restrictions. Here are some of the most important factors that you need to consider before buying a pack of multivitamins.
1. Types of Multivitamins
First of all, multivitamins come in lots of variations so you must be aware of your own nutritional needs. Listed below are some of the most common multivitamins:
Omega-3 Fish Oil – It's an essential nutrient that focuses on preventing and managing heart disease and stroke, as well as lowering blood pressure and triglycerides. This type is greatly advisable for those who don't eat enough fatty fish and need great support for chronic diseases.
Vitamin D – This vitamin is needed for the body to absorb calcium and strengthen bones, teeth, and muscles. So for those who often experience body pains, toothaches, or have weak physical health, make sure to take supplements that have vitamin D.
Vitamin B12 – This one helps maintain healthy nerves and blood cells, lowering risks of anaemia. This vitamin is necessary for those who have low levels of iron in the body, inherited blood disorders, or chronic conditions that cause the body to not have enough red blood cells.
2. Absorption
The absorption rate of multivitamins mainly depends on its form, which can come in capsules, tablets, liquid, and powder. They also come in gummies, chewable, and injectable.
Liquids are absorbed quickly on the body while capsules and tablets are absorbed at a slower rate. Consult with your dietician or nutritionist to know which among these forms are best for your health.
Also, try to take the multivitamins with food to avoid stomach discomfort.
3. Daily Value
Daily Value refers to the level of the nutrients and vitamins that a supplement has. It's wise to choose one that offers as close to 100% of Daily Value as possible, especially if you usually eat fewer fruits and vegetables.
If your current diet is already well-balanced, then there's no need to overdo it with multivitamins. Too many multivitamins can cause nutrients to build up in the body and become toxic.
You can easily check the Daily Value details at the nutritional facts list that's usually labelled at the back of the packaging.
4. Gender and Age
As you experience the different stages of life, your nutritional needs also change. This is why each multivitamin complex is adapted to meet the needs of a certain group of people.
Women
Vitamin supplements that are made for women usually contain calcium because women can start losing bone density in their twenties. To improve dry or brittle hair, nails, and skin, pick a multivitamin that has biotin, a nutrient made of water-soluble B vitamins.
During pregnancy, it's recommended to take prenatal multivitamins that include folic acid, iron, calcium, vitamin D, DHA, and iodine. These nutrients boost healthy growth and development and help prevent birth defects.
Men
For all the men out there, it's wise to choose a multivitamin that has a lot of vitamin D. This can help your body to produce testosterone, maintain strong bones, and support brain health as well.
There's also a need to consider those with vitamin B that promotes red blood cell health and vitamin K that supports proper blood clotting.
Seniors
Multivitamins that are rich in vitamin D are good for older adults. This essential nutrient helps improve skeletal health, reducing body pains.
For adults over the age of 50, a higher intake of vitamin B12 is most recommended because vitamin B12 gets harder to absorb as you grow older.
Another essential nutrient that's recommended to elders is potassium. This can help in lowering blood pressure and any risks of chronic diseases development.
Children
For the kids, they need to have reliable multivitamins that support healthy growth and development. Pick the one that contains vitamin A for a healthy immune system and tissue and bone repair.
Calcium is also a vital nutrient to build and strengthen the bones. Children's multivitamins must also include vitamins B12 and D for optimal brain development.
5. Industry Seal
Lastly, look for the industry seal on the product to check if the supplement passes the industry standards. Certified seals are from US Pharmacopoeia (USP), ConsumerLab, NSF International, and UL.
These organizations approve vitamins that have been tested for contamination of arsenic, lead, bacteria, and other potentially harmful substances to ensure that the consumers can safely take the supplements. They also conduct tests to determine if the vitamins can dissolve properly in the body.
Best Multivitamins in Singapore
Let's now take a look at what we've gathered based on their effectiveness and overall Daily Value of the nutrients. Each of them is also specifically made for a certain gender and age range so you can surely find the right one for you!
1. Centrum Silver Adults Multivitamin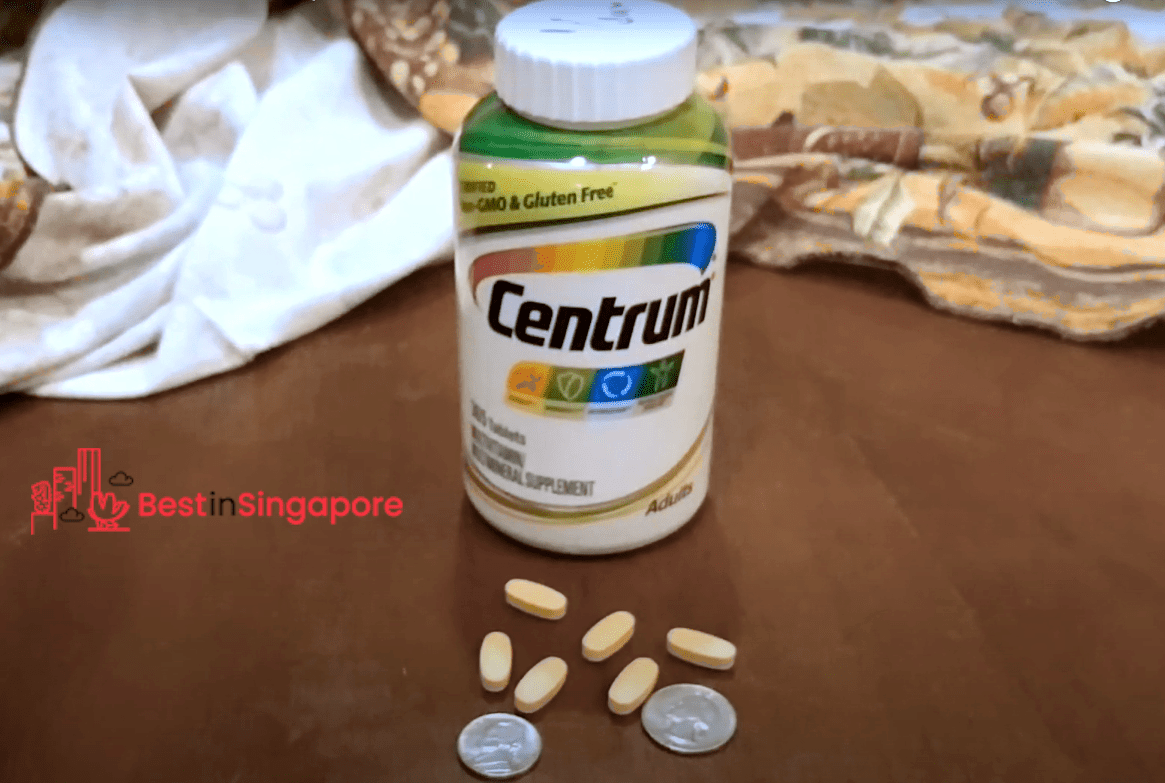 Price: $47.00
As you grow old, you must adjust your nutrient levels to match the changing needs of your body. So for those who are already in their 50s or beyond, the Centrum Silver Adults Multivitamin is one of the top-recommended supplements.
This supplement is made up of essential vitamins and minerals that help keep your eyes, brain, and heart protected from the risks that come with ageing. This includes vitamin A, B, C, and E as well as zinc, promoting general wellness.
Aside from these, it also has thiamin which helps maintain the proper function of muscles and nervous system. There's also riboflavin which helps with energy production and manganese which is necessary for bone strength and metabolization.
It comes in a tablet form which has a smooth and clear coating for easier swallowing. Most importantly, it's highly suggested to take it once daily with food.
Good for eye, bones, skin, and oral health
Improves mental strength
Chewable and easy to swallow tablet
Not completely gluten-free
Customer Reviews
Many elders mentioned that they've been taking the Centrum Silver Adults for several years and that it truly improves general health, especially with eye health. They also shared that they've seen positive progress after having one tablet per day and became active and energetic.
A customer posted this feedback:
"I have used these vitamins for years. Easy on the stomach and not off the charts expensive. They give a nice balance of your RDA for the essentials. No side effects. I know they work. When I have run out or forget to take them with me when traveling, I can definitely tell a difference in my general well being."
2. Blackmores Women's Vitality Multivitamin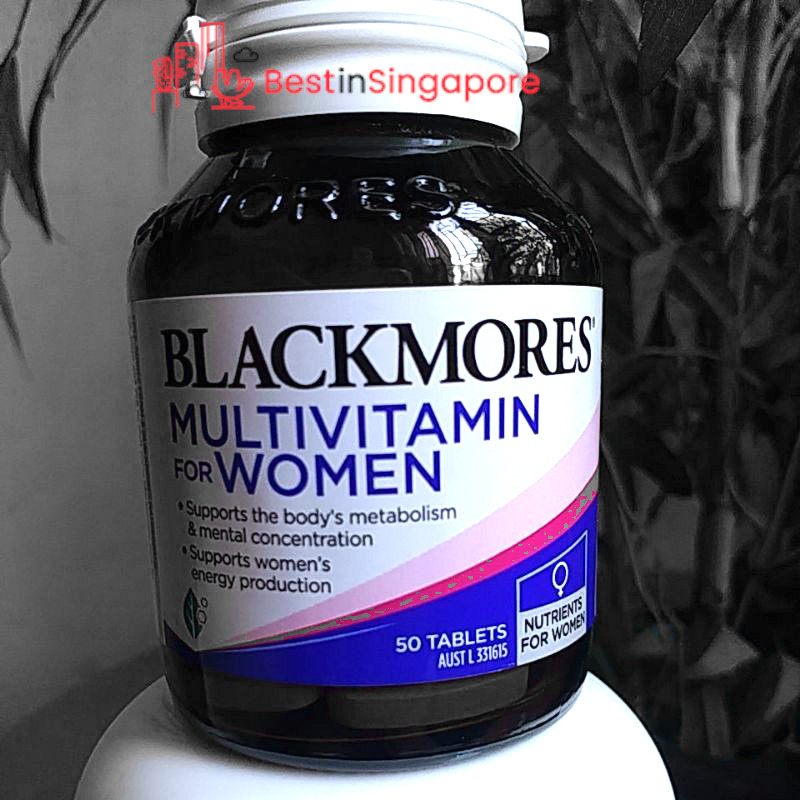 Price: $41.90
Whether you're a single woman dealing with hectic work schedules or a mother who's always busy taking care of the children, you probably don't have enough energy to keep up with every day's tasks. Luckily, there's the Blackmores Women's Vitality Multivitamins which can be a great companion in your daily lifestyle.
This multivitamin features Siberian ginseng that boosts energy levels and reduces nutritional gaps. It contains a comprehensive mixture of vitamins, minerals, and even herbs, beneficial for women's health.
If you're struggling due to mood swings, it also has folic acid, vitamin B12, and iron that supports a healthy response to stress in the body.
For absolute detoxification, it has milk thistle which contains strong antioxidants. They support normal liver function and protect your body against harmful substances like alcohol.
As one of the best multivitamins in Singapore, it has a total of 24 nutrients which are specifically chosen to improve general well-being. Similar to the previous option, it's recommended to take 1 tablet once a day with a meal to ensure optimum use.
Reduces mental fatigue
Relieves tiredness
Supports body metabolism
Maintains heart health
Supports the immune system
Reduce the risk of cell damage
Might take slightly longer to feel the difference
Customer Reviews
The Blackmores Women's Vitality Multivitamin has earned positive reviews from the customers who have experienced improved energy production as well as increased appetite. They also said that they didn't experience any side effects.
A customer wrote this review:
"Perfect multi vitamin and great price. These vitamins last for five months which is great value. I can't buy them any cheaper anywhere else. As Blackmores is a great Australian brand I trust them to give me all the vitamins I may miss out on in my diet."
3. Swisse Men's Ultivite Multivitamin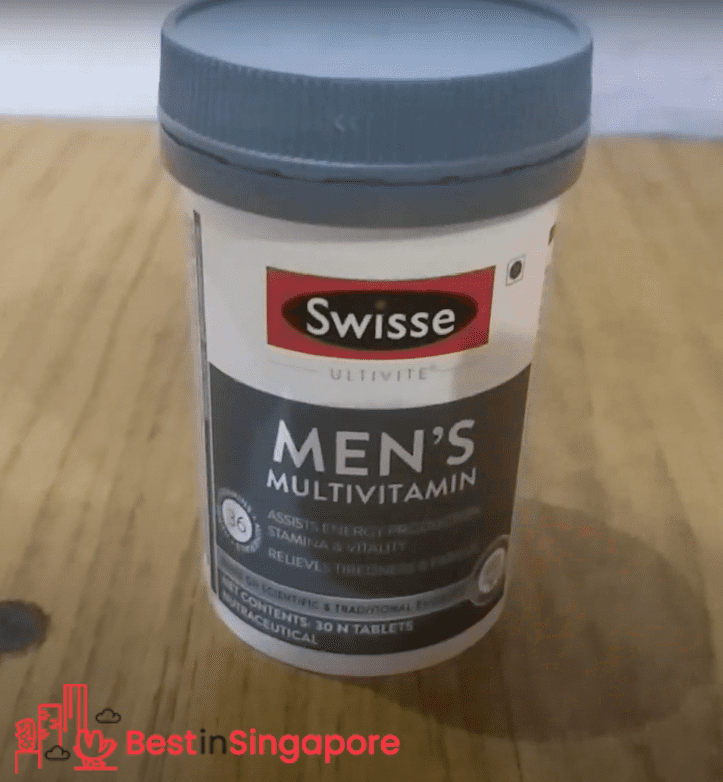 Price: $34.50
For men who are striving hard and have busy and active lifestyles, the Swisse Men's Ultivite Multivitamin can help you keep up with the everyday hustle. It's made with a high-quality combination of premium nutrients including vitamins, minerals, antioxidants, and natural herbs.
Its formula is specially tailored for men's general wellness where it provides stamina and vitality support and improves immunity.
Compared to other men's multivitamins, this one comes with a unique set of non-toxic herbs not found in other supplements. These natural herbs help the body and mind to resist all kinds of stressors, enhancing mental alertness and mood.
It features a variety of B-complex vitamins to maintain energy and metabolism, as well as magnesium to strengthen the muscles.
Since this supplement has no added lactose, egg, yeast, and artificial flavours, it can also complement any dietary restrictions.
The recommended dosage for this multivitamin is also 1 tablet daily and can be taken during or immediately after a meal. You can also break it into half if you're having a hard time swallowing the tablet.
Enhances mood
Boost energy
Supports stamina and vitality
Improves immunity
Supports healthy muscle function
No added sugar/artificial sweeteners, soy, and dairy
Not suitable for vegans
Tablet is quite big
Has a slightly distinct smell
Customer Reviews
Customers shared that since they started using the Swisse Men's Ultivite Multivitamin, they felt more energetic while working and even noticed that their mood got better despite being in a stressful environment.
They also said that it aids in digestion and reduces inflammation as well. A customer left this feedback:
"I used to take the more common brand names of multivitamins and tried this on a hunch. I was pleasantly surprised how much better the quality is compared to the "Average" multivitamin. This helps with your hairs, skin, nails, mood, and helps keep excess water out of your body so you don't look bloated. Yes, it's a little more expensive, and I'm always looking for cheap deals myself. But I have decided that this is one product I'm willing to pay more for because it makes such a difference in my life. I have been telling just about anyone I can about this great vitamin and have been boasting it's benefits for the last 12 months. Google the product for yourself and you will see how many other people like this as much as I do. Please try this for yourself, you will be impressed and will want to use this from here on out."
4. Nordic Naturals Prenatal DHA Multivitamin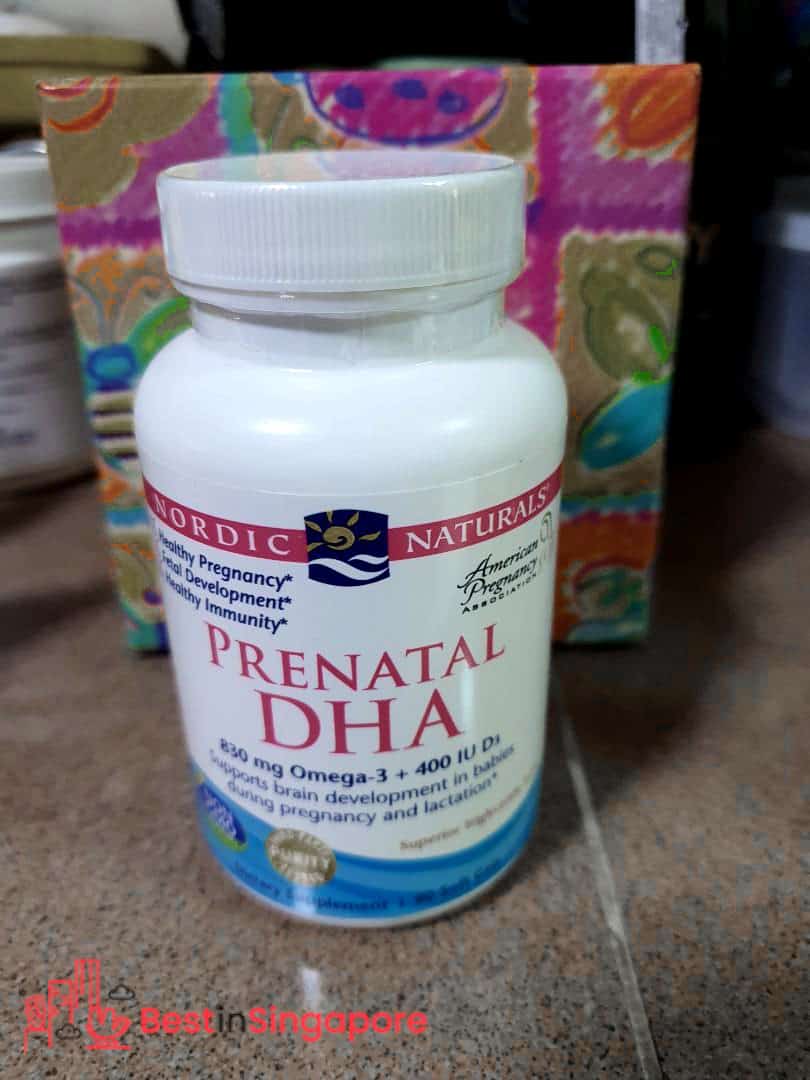 Price: $75.60
As we all know, expectant mothers need extra health support during the whole pregnancy. This includes taking the right supplement such as the Nordic Naturals Prenatal DHA Multivitamin which contains essential building-block nutrients for a healthy pregnancy and development of the baby.
This award-winning multivitamin features freshly-sourced omega-3s that are needed for the brain development of the baby. It also helps improve the mother's mood before, during, and after pregnancy.
It comes in small and easy-to-swallow soft gels, available in strawberry flavour or unflavoured.
It's suggested to take 2 soft gels daily, with food. But if you're allergic to iodine, anticipating surgery, or using blood thinners, it's best to consult with your physician first.
Natural omega-3s
Mood support
Small soft gels
No fishy aftertaste
Gluten-free, dairy-free, non-GMO
Softgels are quite sticky
Customer Reviews
Most parents shared that the supplement has made their pregnancy much easier and that their kids were able to gain good nourishment and grow healthy. A customer gave this feedback:
"Used these along with my Rainbow prenatals during my first pregnancy and had no issues. My son was born prematurely at 34 weeks and impressed doctors by getting released from the NICU weeks ahead of schedule. He's now 18 months, super sharp and super healthy. He's bigger than most kids his age (full-term babies). It certainly has to do with good genes and good nourishment that started from day one. Would definitely take DHA for the next pregnancy!"
5. Ocean Health Children's Multivitamins & Minerals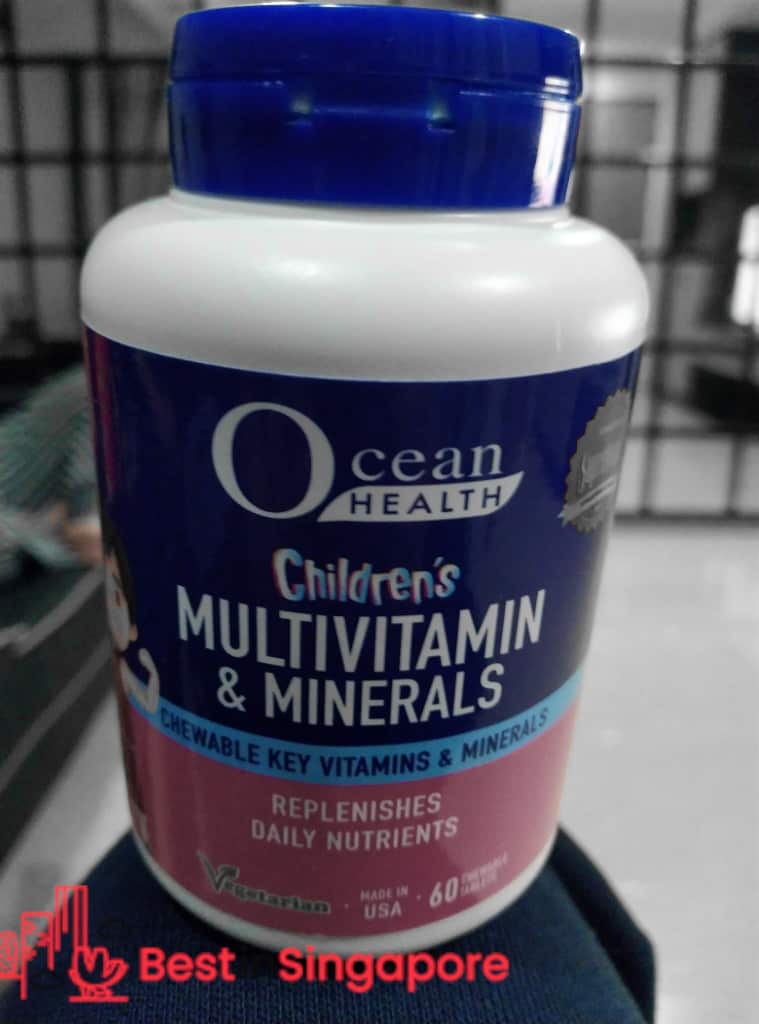 Price: $18.00
As the kids grow older, their body will need great health support to ensure progressive development. The Ocean Health Children's Multivitamins & Minerals is formulated with all the essential nutrients needed for a child's healthy growth.
It comes in delicious chewable tablet forms that are perfect for picky/fussy eaters. This way, your kids can get used to it very quickly.
Moreover, it doesn't have any added sugar, gluten, artificial flavours, or preservatives, making it healthier and safer for kids.
This best multivitamin in Singapore is suitable for children 4 years old and above. It's recommended to take 1 to 2 tablets daily or as prescribed by your doctor.
Enhances child's immunity system, brain function, and physical growth
Chewable tablet
Doesn't have sugar and preservatives
Customer Reviews
Many parents said that their kids loved the Ocean Health Children's Multivitamins & Minerals because of its chewable form. They also said that it truly boosts the immune system as well as improves the cognitive functions of the children.
A customer posted this feedback:
"It's great and easy to consume for children"
6. Kids Complete Multivitamins Gummies – 60 CT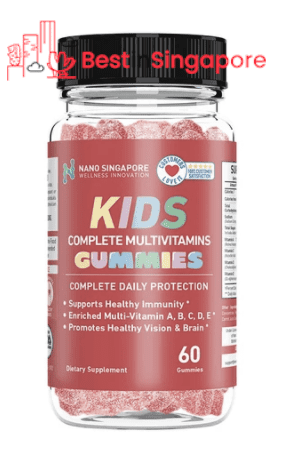 Price: $18.00
Ensuring that our kids are getting the nutrients they need to grow up healthy and happy may seem like a daunting task, but not when we have trusted and tested vitamins and other medications by our side.
For children, we introduce Nano Singapore's Kids Complete Multivitamins Gummies. The bottle contains 60 gummies jampacked with various vitamins and minerals that will boost our children's immunity and health.
Even better is that the gummies are sweet like candy, making it easy to take for picky and non-picky children!
Enhances child's immunity system, brain function, and physical growth
Chewable tablet
Doesn't have sugar and preservatives
Customer Reviews
Many parents have praised Nano Singapore's Kids Complete Multivitamins Gummies. Here are some comments:
"Really great for kids to take vitamins!"
"My kids love nano sg multi vitamins and I notice that they fall sick less as well. Thanks"
FAQs About the Best Multivitamins in Singapore
____________________________________________________________________________
There you go! That's our list of the best multivitamins in Singapore! Have you already decided which among our picks would be a great addition to your diet? Tell us all about it!
For those who are looking for a specific type of multivitamins like the ones that contain Omega-3s, here are some of the best fish oils in Singapore! These supplements feature Omega-3 fatty acids that offer multiple benefits for the heart, skin, and mental health.