Top 24 Shops for the Best Engagement Ring in Singapore
Getting lost with all the jewellery shops around the island and you can't still find the perfect and best engagement ring in Singapore?
Well, we've got your back! We listed the most recommended places that make the most beautiful and elegant rings for your proposal.
A ring symbolises a lot in your relationship such as the eternal bond between two people That's why we've gone to different places just to give you the top jewellery shops that offer the best engagement ring in Singapore.
Our list consists of shops with affordable price ranges and accessible locations. With this list, you can easily find the best one that'll suit your style.
1. Michael Trio
When we talk about the best engagement ring in Singapore, Michael Trio will always be mentioned. This is because of their best-selling collections that feature different kinds of diamonds and more.
One of the best things about them is that you can design your own ring by choosing your preferred diamond and setting. You can also request to engrave a hidden message or symbol on the inner band to make it more special.
Aside from this, they have wedding bands as well as necklaces, bracelets, and earrings.
Highlights
Wide range of diamond selections
Jewellery sets
Gift sets
Customer Reviews
Most customers praised the lovely and amazing ring designs as well as the fair price ranges. They also mentioned the accommodating staff that helped them find their desired style.
A customer gave this feedback on Google Reviews:
"The whole experience has been wonderful, the product is fantastic and the price is very reasonable. Iris Liew in particular was very attentive to my needs and she made me feel very comfortable, constantly making sure all my queries have been answered and that I purchase the ideal engagement ring. Indeed my wife was very happy with the ring design, Michael Trio has been awesome."
2. Carrie K. Jewellery
Buying a diamond ring is a daunting task for many. To help make the process easier, Carrie K. provides complimentary gemstone workshops to help you understand what are the factors to look out for when selecting your perfect gemstone.
What sets this brand apart from the rest, apart from their award-winning designs, is their highly customisable rings.
One of which being the Milgrain Morse Solitaire Ring, which allows you to personalise your love note in morse code making it uniquely yours. From gemstone to ring band colour, every detail can be customised to your heart's desire to create your perfect engagement ring.
Those looking to make their Big Day even more special can speak to their in-house designer to create a one-of-a-kind ring that tells your love story.
Highlights
One-of-a-kind engagement and wedding ring designs
Online resource centre on their website with beginner's guides for buying engagement rings
Complimentary workshop to learn jeweller's tips and tricks to selecting the perfect diamond or gemstone (conducted in person or over zoom)
3. Jann Paul
When it comes to engagement rings, Jann Paul creates classic and grand styles with their variations of diamond cuts. So, if you and your partner prefer a more detailed and splendid diamond design, then they can offer the best engagement ring in Singapore for you!
They even provide customisation services in which you can have your personally designed ring by choosing a certain cut. Worldwide shipping is also part of their service, which is very convenient for foreign customers.
Highlights
Customised rings
Worldwide shipping
Customer Reviews
Jann Paul has received plenty of compliments from customers who've shared about the beautiful collections that they've seen and the affordable prices as well. A customer posted this review on Google Reviews:
"Had a pleasant experience getting an engagement ring here at JannPaul . Was assisted by Marie who is very knowledgeable and patient , and gave great advice to help me select the most suitable diamond within my budget. Thank you once again for the wonderful experience!"
4. Daughters Diamonds
Daughters Diamonds aims to help their beloved clients make the most romantic wedding proposal by starting with crafting the most elegant engagement ring there is. Whether it's with Diamonds, Sapphires, Emeralds or any other gem of your choice, they make sure to create a unique design reflecting the details of your love.
The shop is not only known for their work of art but also for the high quality materials they use for their rings. They make sure that these rings last for eternity, just like the couple's love for each other.
If you wish to have your engagement ring customized, the team will happily do so.
Highlights
Large inventory of engagement rings
Offers bespoke rings
Classic and modern designs
5. L'Excellence Diamond
Trusted over generations, L'Excellence is a family enterprise with 70 years of invaluable expertise in diamonds and precious gemstones. It is the only jewellery name with such a unique heritage, encompassing all aspects of a gemstone's journey, starting from gemstone mining and gemstone wholesale to the art of French fine jewellery craftsmanship.
Today, the family legacy continues to share its gemmological expertise and to craft precious jewels in celebration for life's milestones such as engagement rings, wedding bands, cufflinks and meaningful anniversary jewellery presents and family heirlooms.
L'Excellence is the go-to place when it comes to choosing the perfect engagement ring, as they offer direct access and expert guidance on a selection of quality diamonds, an interactive communication in the customisation of your unique ring design and finally the crafting of your ring with top notch French quality standards. Your most reliable and expert Engagement ring Jeweller in town.
Highlights
Fine Quality Diamonds and Precious Gemstones
GIA (Gemmological Institute of America) Certification
Bespoke French Fine Jewellery
Bespoke Engagement ring Specialist
Long standing Family Legacy and Expertise in Diamonds and Gemstones
Exceptional rating: 5 stars Google Review
Customer Reviews
L'Excellence customers appreciate fine quality and exquisiteness. For such, they choose to entrust L'Excellence team to craft Bespoke jewellery that will demonstrate their unique style and personality, in the finest tradition of French artisan savoir faire.
L'Excellence delivers nothing short of exceptional, they truly devote their considerable expertise and undivided attention to every single client, aficionado and enthusiast, so look forward to visit them, by prior appointment only, in their beautiful Raffles Place Showroom with view on the MBS, and get immersed in the truly fascinating world of diamonds and gemstones.
It is not surprising that it has a stellar record of 100% satisfactory rating from their clients. Here's one client review sharing about her unforgettable experience with L'Excellence.
One of the best diamond jewellery stores I have ever been to! I purchased a pair of custom earrings from L'Excellence Diamond and Sylvie was with me every step of the way on my journey to pick a style that suits my personality. She attentively asked detailed questions on what I am looking for in my earring and drew a few exquisite sketches for me to choose from. I would definitely go back for my next jewellery purchases! – Erlin Kwek
6. Vivo Diamonds
Vivo Diamonds offers a broad range of engagement ring collections — from the simplest up to the grandest design, they have it all. So you can surely find the one that you've been looking for.
They also let you make your own ring or pendant design. Bracelets, earrings, and necklaces are also included in their collections.
Highlights
Customised ring and pendant design
Signature diamond rings
Online shop
Customer Reviews
Soon-to-wed couples were able to have their ideal rings with the creative and innovative designs of Vivo Diamonds. A customer shared this experience on Google Reviews:
"I made both Engagement ring and wedding bands in Vivo Diamond with customized designs, which I and my wife created with our initials. We met Mr. Isaac and discussed the idea and designs. He was so confident that he could make the rings we want. That made us happy and he also gave us some good ideas based on his experiences. Finally, we achieved the rings with unique designs. Vivo diamond could deliver what customers want with 100% Satisfaction. The price is also reasonable. Strongly suggest to look for Vivo Diamond if you have your own unique idea for customized rings."
7. FonderDiamond
Match your best and romantic proposal with some of the finest diamond engagement rings offered by FonderDiamond. The shop has a huge selection of fine stones which you can have customized depending on your desired style and shape.
In just 3 steps, you can achieve your dream engagement ring. First, you choose the diamond including the carat size and shape. Next is the setting whether you want it a halo, side stone, or tension ring. Next, combine them together and voila, there's your ring.
You may visit their showroom to see more of their collection personally and in detail.
Highlights
Wide range of diamond selection
Custom-made rings
Diamonds in various shapes
Customer Reviews
Their clients loved how the team is very friendly and accommodating with their clients making it a lot easier to choose which ring to purchase.
"George attended to me and he was very knowledgeable. He help me find a very beautiful diamond by using their light performance tools, and after that he offer a free Sarine Report to confirm our selection.
When i received my proposal ring, I have to say i never see a diamond so beautiful from any other shop, It's so shiny and sparkling. what they said is true that top 2% most beautiful diamonds.
Definitely I would proudly recommend Fonder Diamond!"
8. Vault Fine Jewellery Pte Ltd
If you want a rather extensive selection of gold rings with gigantic gemstones, Vault Fine Jewelry Pte Ltd is the best place to go. They offer different types of stone such as sapphire, tourmaline, diamond, emerald, etc.
For a luxurious type of engagement ring, the shop sure does offer their collection at very affordable prices.
Their prices come with complementary engraving if you want to customize yours with you and your partner's initials.
Highlights
18k gold ring
Large selection of gemstones
9. Gen. K Jewelry
If you want to steer clear from the typical gold or diamond engagement rings, you might want to check out the Jade collection of Gen.K Jewellery instead. Their jewelleries range from earrings to necklaces, all guaranteed to be of the highest quality.
These rings are made to order so you can send them the exact finger measurement to make sure that it perfectly fits.
Highlights
Made to order
Pay in installments
Affordable prices
10. GIOIA Fine Jewellery
No matter how well-planned your proposal is, if you don't have the perfect ring, everything will be ruined. Thankfully, GIOIA Fine Jewellery offers to custom make your engagement ring according entirely to your preferred style and accessories.
They have an extensive range of gemstones and diamond cuts to choose from, well-guaranteed that everything is of the highest quality.
Highlights
Large inventory of gemstones and diamonds
Bespoke engagement rings
24-7 non-obligated online advisory
Customer Reviews
"Thanks Cheryl & Clarence for their great service! They are very helpful and approachable. They patiently discussed on the details of my customized engagement ring and contributed their ideas to enhance it. The end product is simply amazing and my fiancee loves it a lot."
11. Draco Diamonds
Take all the time you need in choosing the best engagement ring for your partner as Draco Diamonds offers a huge inventory of engagement rings that will definitely leave you in awe.
Their rings can have huge diamonds or gemstones, depending on your preference. Nevertheless, everything is guaranteed to be perfectly made and stunningly beautiful.
You may also opt to order a custom-made one and their team will happily provide them for you.
Highlights
Large selection of engagement rings
Genuine stones
Customizable
Customer Reviews
"Will definitely recommend Draco Diamonds! Javian was very friendly, and patient with me throughout the entire process — from the first meet up (sharing of the 4Cs of a diamond) all the way to the completion of the customised engagement ring. Thank you once again for helping me to find the perfect engagement ring that is customised for my fiancée! She love it a lot!! ?"
12. Tessellate Co
Tessellate.Co is a well-known jewellery store in Singapore that was established in the mid-2014. They are known for their minimalist styles of jewellery which brings out the beauty of the gems itself. Most of the designs were inspired by the travel experience of their founder.
Like any other jewellery stores, Tessellate.Co provides unique designs and customized accessories. Thus, customers can provide their personal designs. Further, they offer worldwide shipping for free.
The good thing about this shop is that they have the finest 925 Sterling Silver and Brass which can be worn by sensitive skin. Their jewellery can be used every day without any worries and hesitation as there's no nickel included. Furthermore, their service is for a cause. For every item sold, they have a percentage of share on sending out underprivileged children to schools.
Highlights
Fashioned and Unique Jewelry
Free Worldwide Orders
Minimalist Styles and Made to Last Jewelry
Has Charity and Donations Fund
Nickel free accessories
Customer Reviews
The shop is passionate about giving satisfaction to the pieces of jewellery they offer to their clients. Here are what their customers say about the store:
I love it, its something unique that I don't have in my earring collection yet. Definitely will do a second purchase again soon! – Samantha
The ring is unique and the gemstone has some kind of rustic yet feminine look. – Jaime
13. Rachel P Jewels
Blue Diamonds Jewellery is a brand that first opened its doors in 1992. Throughout the years, they served their clients with beautiful and professionally crafted jewellery. In recent times, they opened Rachel P Jewels, their branch that specialises in modern customisation engagement designs.
Both are known for creating jewellery that symbolises dreams, hopes, loves and friendships. Their craftspeople, including polishers, gemstone setters, and engravers have countless years of combined experience in design and craftsmanship.
Blue Diamonds Jewellery's diamonds and gemstones are accredited and certified with an established institute such as Gemological Institute of America (GIA), Gem Research Swisslab (GRS) and the American Gem Society (AGS).
They also offer different services such as bespoke, restoration, repairs, polishing, remounting and pearl stringing. As such, the shop can create modern jewellery out of your old-fashioned rings or accessories.
Highlights
Sub-branch of Blue Diamonds Jewellery
Offers bespoke engagement designs
Customer Reviews
Rachel P Jewels can be your best choice in restoring or crafting your jewellery. As a fact, here is one of the customer's feedback:
Rachel is such a wonderful customer service oriented person we've encountered and we were so happy to be served by her. My engagement ring was done as how I want it to be and it's so beautiful. Thank you so much for your hospitality and we will definitely recommend her service to everyone out there.- Silvia S
14. Jewels Galleria
Established in the year 1987, Jewels Galleria set up a jewelry boutique of handcrafted jewelry pieces. They create elegant rings, bracelets/bangles, necklaces, earrings and pendants that can be paired on any other styles. They have been operating for almost 30 years in the fashion industry providing stylish and elegant designs.
The shop offers different services such as engraving—where they enable customers to personalize a piece of jewelry by carving either name, phrase, date, symbols or a small design on their masterpiece. Other services offered are restoration and resizing. However, this is only available for bracelets, necklace and or ring. There is also a polishing service that restores an accessory's original shine and brilliance. Their services will take 5 working days or earlier depending on the service rendered.
Highlights
Seasonal and Fashioned Jewelry
Takes 5 days or earlier to work on your jewelry
Offers engraving service
Customer Reviews
They have been very diligent on giving customers satisfaction. Here is the proof from one of their satisfied customers:
Went into the store looking for birthday present for our friend. We were served by warm, knowledgeable staff that presented to us fine jewellery that's within our budget. Bought a set of semi precious stackable ring in rose gold for S$720. They even offered to clean my jewellery for me! Highly recommended!- Lily Cheang
15. eClarity
Get ready to be amused by eClarity's large pool of options for engagement rings from the fanciest to the most creative ones. Their wedding bands come in different colors and styles so you can freely choose two that best represent you as a couple.
Should you want a more luxurious one, they also offer quite a number of diamond rings in different cuts.
They also offer to craft bespoke rings and other jewelries for you. Just let the team know your desired design and size.
Highlights
Wide range of designs
Competitive prices
Bespoke
Customer Reviews
Here's a review from one satisfied and delighted customer.
"Their service is splendid. Really love the ring we bought! Jimmy was very helpful when we visited as we couldn't decide. On the day of collection he was also giving advices on how should we take care of the ring! Recommend this place a lot!"
16. August Bespoke Jewelry
August Bespoke Jewellery is one of the most trusted shops in Singapore to provide you with accessories and pieces to gift your loved ones. The store has a wide range of selection, from engagement rings to necklaces and elegant earrings. Rest assured that you'll be able to find the perfect item that you have in mind.
The staff at August Bespoke Jewellery knows that your future spouse deserves only the best. So, if you're not satisfied with their catalogue, you can avail their personalised jewellery.
All you need to do is state your ideas and budget, and they'll do their best to deliver.
The passion and love placed in each item of jewellery are shown in how intricate the designs are. With August Bespoke Jewelry, only satisfaction is accepted, so they'll do everything to make sure you're happy with your very own piece.
Highlights
Skilled jewellery maker
Knowledgeable jeweller
High-quality gemstones
Personalised engagement rings
Customer Reviews
Below are some of the testimonies of previous clients, proving just how amazing August Bespoke Jewelry is in creating fine pieces to wear.
"Amazing is the word to describe Amanda! Amazing Amanda has shared tons of information on diamonds and gemstones and she is definitely the person to look for if you're looking to propose or get a ring! Highly recommended as she's super friendly and patient as well."
"My friend had just proposed and was sharing her entire journey of the ring purchase with Amanda to us. Very impressed with what I was told, I decided to contact Amanda to find out more. Amanda was just amazing and reassuring throughout the entire journey. She took time to really understand what we were looking for and gave us lots of advices so we can purchase the ideal diamond! Thank you once again Amanda and I would highly recommend Amanda!!"
17. Mulia Jewelry
Mulia Jewelry was built with the belief that each piece of jewellery should be created unique and of the most superior quality. Mulia has not only accumulated a huge following within Indonesia's most affluent community, but also a fast-growing fan base in Singapore.
The company firmly believes against the mass-producing of pieces. They make our jewellery like they are meant for dear, loved ones.
It is in this way that Mulia Jewelry keeps making high quality and exclusive pieces for their loyal customers. They want to give their customers the best that they can get.
Highlights
Promos and discounts
Free quotation
Free overseas shipping
Customer Reviews
"Georgeous engagement ring with a cushion cut blue sapphire taking centre stage.
"Thank you for the fabulous ring. My fiancee really loves it!"
18. Jewelry Shopping Guide
When it comes to jewellery shopping, you deserve to know all your options. Jewelry Shopping Guide is sure to help you with just that.
They offer comprehensive guides for both gemstones and jewelry. With their assistance, finding the jewelry of your dreams might happen sooner than you think.
Highlights
Connected to multiple retailers
Comprehensive shopping guides
19. Jumbo Gold & Diamonds
Jumbo Gold & Diamonds is a well-known 3rd generation precious metals & diamond dealer. Visiting them is always interesting because of they are a friendly outfit ready to share golden nuggets of information about diamonds and precious stones.
Utilizing the latest equipment in diamond technology, they are able to model the light performance of their diamonds and periodically manufacture the best diamond cuts. They have an extensive inventory of GIA diamonds, sapphires and engagement rings.
With many glowing reviews from google, you can count on Jumbo Gold & Diamonds to craft your perfect engagement ring.
Highlights
Best diamond cuts based on light performance
Bespoke custom jewellery
3rd Generation, over 40 years of experience
Very responsive, many good reviews
Reasonably priced
20. Les Precieux
Being featured in several media publications, Les Precieux has become one of the leading jewellery shops on the island.
Their trademark style is a classic vintage design that's known to be timeless so their collections will never go out of style, making them a good place to get the best engagement ring in Singapore that you can pass on through generations.
They offer different stone shapes and settings available, and you can even choose whether you want a diamond or gemstone as your main base. They also have a guide for the gentlemen as most of them are not familiar with choosing an engagement ring.
Highlights
Diamond and gemstones range
Wedding bands
Customer Reviews
Many customers have recommended the engagement ring collections of Les Precieux because they were very much impressed by the set of stones and settings. A customer from Google Reviews left this review:
"I just got engaged yesterday, and the engagement ring was so beautiful! It was everything that I wanted. Thankful for the wonderful service by Janice during our appointment! She was so patient with us, and was ready to answer all of our questions! She even suggested gemstones and settings for my finger size! I just want to say that I'm thoroughly impressed with the service and gems that Les Precieux has to offer! Thank you guys so much!"
21. ORRO
If you're looking for an engagement or wedding ring, or perhaps just a ring to pamper yourself with, then ORRO is an excellent place to consider for your next visit.
ORRO is known for having one of the largest collections of ring setting designs in Singapore, all under one roof and with thousands of designs to choose from. Here, you may be able to try and choose from countless different ring settings to see which one looks best on your finger.
In terms of pricing, you won't have to worry about breaking the bank, or allotting at least two months of your salary to get the ring of your dreams. ORRO has got your back.
See, ORRO offers their engagement rings at a fraction of the price that one would be expected to pay for quality jewellery.
The shop is able to do so because it specialises in lab-grown diamond stimulants which emulate the brilliance of a naturally mined diamond, with the assurance that their gems are completely indistinguishable from a naturally mined diamond of the same size.
Apart from the literally thousands of ring designs you'll find at ORRO, they also offer jewelry customisation where you'll be able to create & personalise a ring or any jewelry piece that is unique to yourself.
Highlights
Wide range of designs (thousands of designs, no joke!)
Fine quality lab-grown diamond simulants
Bespoke ring, earrings, necklace & bracelet customization service
Local and International shipping available
22. More Than Diamonds
That one person we decide to spend the rest of our lives with deserves an engagement ring that's as unique as them, and that's why More Than Diamonds is part of this list.
Custom jewellery is their specialty. They combine your vision with their style to come up with pieces made specially for you.
They're especially perfect for you if you like a minimalist style—this sets them apart from other shops in Singapore.
If wearability and having a long-lasting design is vital to you, then it's time to stop looking around because More Than Diamonds is the one for you.
Still unsure but curious about them? They have a showroom you can go to in order to see if their designs suit your taste!
Highlights
Custom engagement and wedding rings
Offers resetting & redesigning of jewellery
More than a decade of experience
Minimalist style
Customer Reviews
"I went to more than diamonds to customise an engagement ring. Sara and Chris provides very professional advice and constantly keep your concerns (budget and resizing) in mind. They are very friendly people, so throughout the customisation process you feel very comfortable about making changes to the design. Most important, I feel that Sara and Chris understands the significance of this ring and works to ensure that the ring would reflect the importance of your marriage proposal. Thank you Sara and Chris."
23. Larissa Landinez Contemporary Jewelry
Larissa Landinez' handcrafted pieces are inspired by Italian craftsmanship and design. She offers unique and bespoke jewelry, and we think this is the perfect shop to purchase an engagement ring from.
They handcraft unique contemporary engagement rings, and Larissa's signature design is the Firenze square ring.
The Firenze square ring can be worn alone or with the matching wedding band and its unique shape and design will truly set you apart from the rest!
What's more is that you can also customise your ring to add any details that will reflect your style and anything that has a special meaning to you to make it much more personal.
Many of her customers are very happy about the craftsmanship, design and quality of her work, and this is why we recommend Larissa Landinez Contemporary Jewelry.
Highlights
Contemporary handcrafted jewelry
Based on Italian craftsmanship and design
Unique designs
Customisable rings
Customer Reviews
"Larissa is a true artist and a pleasure to deal with. The quality of her work and attention to detail is exceptional. I am blown away with the piece she created for me. If you buy a piece of Larissa's work, you will never regret it. Truly beautiful craftsmanship accompanied with great service and communication. Thank you so much."
"I have received my band today, everything about this band is gorgeous, it is more than I expected . Knowing that this was made for moi makes it even more beautiful, it is everything I had hoped for. Larissa was so patient, attentive and great to work with. Outstanding craftsmanship. Thank you so much"
24. The Canary Diamond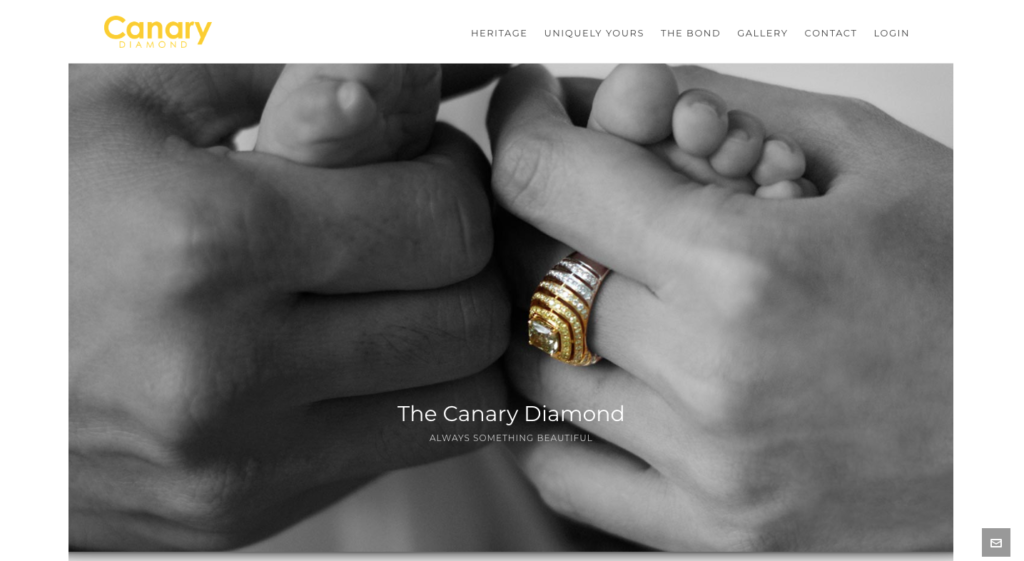 Next on our list is The Canary Diamond founded by William and Judy Lam last 2000. The Canary Diamond Company was founded on William's passion for fine gemstones and exquisite jewelry.
He named this company after his favorite diamond, a yellow diamond with a distinct golden hue known in the trade as The Canary Diamond.
It is impressive that William's vision and exquisite eye for beauty aided him as a designer, earning him numerous design awards (including the prestigious GIA International Design Award) and the respect of many in the jewelry industry. He has judged numerous Asian jewelry design competitions and mentored many aspiring designers. Some of his protégés have since won international awards and become well-known fine jewelry designers, demonstrating his dedication and contribution to the industry.
These moments in the life of William enabled them to be a leading jeweler, as they have one of Singapore's largest collections of Ideal cut GIA certified diamonds.
They are here to help you every step of the way and every moment of your life, from purchasing precious gemstones, selecting a diamond ring for your engagement, celebrating the birth of a child, or commemorating a special milestone in your life.
As their motto says "Always Something Beautiful at The Canary Diamond," their bespoke jewelry service and one-of-a-kind designs ensure that they can translate your ideas and vision into pieces of jewelry that are unique to you and your loved ones.
With proper care, The Canary Diamond's jewelry will last forever, as will the memories and values it represents for future generations. That's why you are in safe hands with them.
Highlights
Trusted Bespoke Fine Jeweler
Exceptional service
Stunning inventory of GIA certified diamonds, rounds and fancies
Superior Gemstone Craftmanship
Exquisite bespoke fine jewelery design
Customer Reviews
"My husband got my engagement ring from The Canary. 2022 is our 5th year together and he has been going back to the same sales consultant for anniversary gifts including this paved diamond wedding band. Winnie has been really helpful in guiding him and of course I am the one to benefit the most! We appreciate her expert advice, non hard sell experience and empathy. No gift is too small for her to serve us well. Thumbs-up!" – Faith Lim
"When you walk into a store line Canary, it is important that you have confidence and trust, while deciding on your purchase. Johnny helped to instil this with thoughtful, detailed explanation, from the various mines to the type of cut of the gem stone. I made my first purchase from Canary ten years ago for my wife's engagement ring, and it was easy for me to return, to commemorate our 10th year anniversary, because of Canary's consistent service and superior grade in their products. Highly recommended." – Timothy Goh
And that's a wrap for our list of the best engagement rings in Singapore! If you've already visited a shop from our list, share your thoughts about their collections, as we'd like to know more about it!
As you go on looking for the best engagement ring, you might as well find the best wedding photographers in Singapore! As excited as you may be about the big day, you probably feel the same way about your proposal. These photographers can capture every moment of your special day!