The 25 Best Jewellery Shops in Singapore
Searching for a wedding or engagement ring? Or perhaps, you just want to reward yourself with a glamorous accessory? Then take a look at our list of the best jewellery shops in Singapore — you'll certainly find the jewellery you've been looking for in them!
We chose the best jewellery shops in Singapore based on absolute quality and reasonable prices! Take a look at these:
1. Poh Heng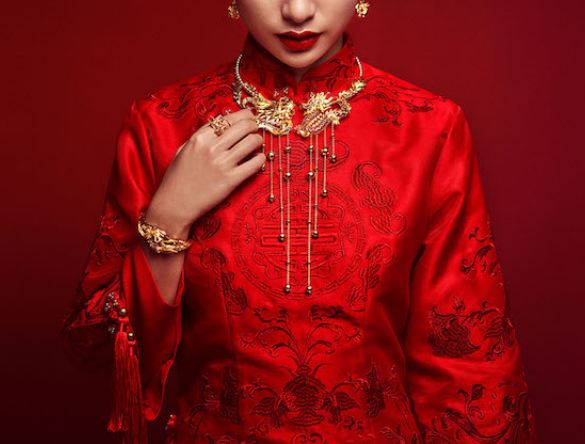 Poh Heng's jewellery collections are mostly inspired by Chinese culture, creating well-curated accessories that reference different beliefs and traditions — including ones that bring luck and good fortune.
They have anklets, earrings, pendants, bracelets, rings, necklaces, and more! They also have certain collections for engagement and wedding purposes.
Highlights
Personalised gifts
Corporate gifts
Customer Reviews
Customers were delighted with their jewellery from Poh Heng. They also mentioned the accommodating staff and named them as one of the best jewellery shops in Singapore.
A customer from Google Reviews wrote this feedback:
"Perfect place for jewelry lovers!I bought a pair of diamond earrings for my mother's birthday and she likes it. Thanks to the staff who assisted me in choosing the perfect give for the most important woman of my life."
2. Lee Hwa Jewellery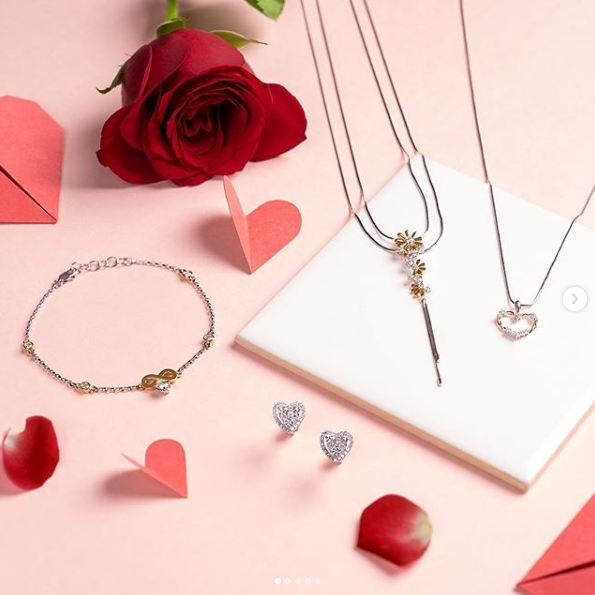 Lee Hwa Jewellery offers premium diamond collections that come from well-known brands such as Destinee, Stenzhorn, and many more! Whether it's for Valentine's, an anniversary, a proposal, or a wedding, they have everything you've been looking for!
The most exciting thing is you can design your own jewellery with them. They also have several branches all over the island, making it easy for you to visit their shop.
Highlights
Premium jewellery brands
Accessible location
Customer Reviews
Most customers complimented the modern quality designs of Lee Hwa Jewellery, saying that they're one of the best jewellery shops in Singapore. A customer posted this review on Google Review:
"Always at the forefront of jewellery design, Lee Hwa Jewellery is the trusted leading jeweller that offers high quality and stylish jewellery for modern and trendy women."
3. Carrie K. Jewellery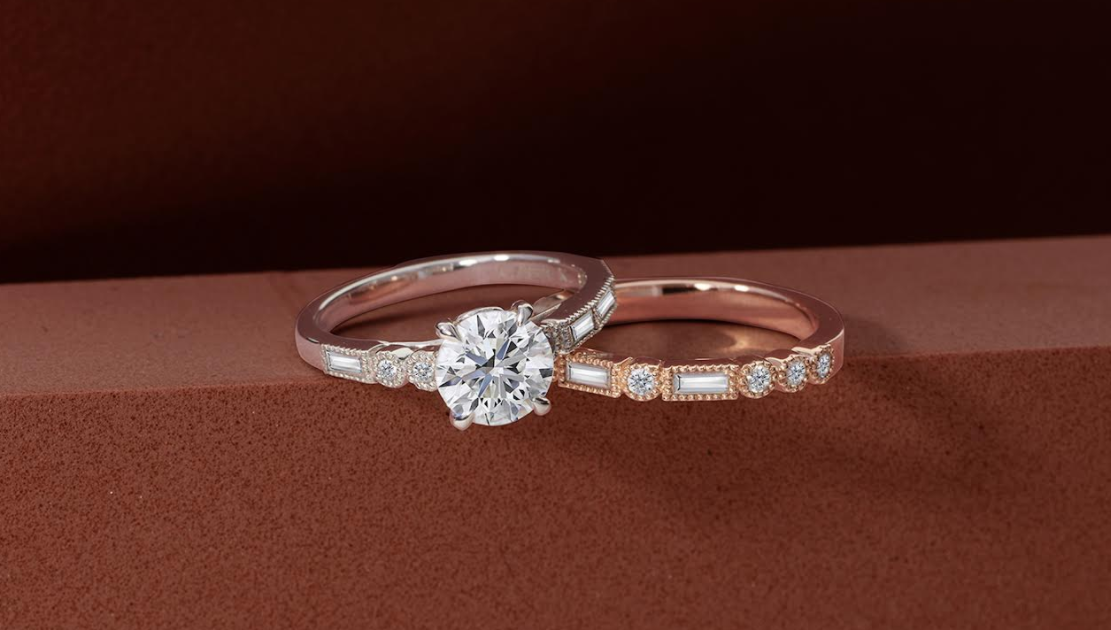 | | |
| --- | --- |
| BEST FOR | Unique & Personalised Engagement Rings |
| PRICING | Shop |
| WEBSITE | https://www.carriekrocks.com/ |
| ADDRESS | 111 Middle Rd, #02-02 National Design Centre, Singapore 188969 |
| CONTACT DETAILS | (+65) 9061 2880 |
| OPERATING HOURS | Monday – Sunday, 11am to 7pm (By Appointment Only) |
If you prefer pearls over diamonds, then Carrie K. might be the best jewellery shop in Singapore for you! They have different types of pearls, proving that pearl accessories are not only for elegant and luxurious events but for casual occasions as well.
For their wedding rings, they offer customisation services if you have a particular design in mind. Heirloom revival services are also available for those who have rings that have been passed on through several generations — this will bring back the style, colour, and quality of the ring with an enhanced design.
Highlights
Customisation services
Heirloom revival services
Customer Reviews
Customers were very satisfied with the customised rings that they've received from Carrie K. A customer shared this experience on Google Reviews:
"An exceptional experience and product. The story telling that went into the design and the craftsmanship is of the highest quality. I decided to go through the journey of having a custom engagement ring made, the thought of this was scary at first but after meeting Carrie and the team i was glad i did. The whole experience was worth it well beyond the dollar value, memories and unique experiences are priceless. My wife now has a one of a kind engagement ring and wedding ring that will last a life time, I even had my wedding ring made with Carrie K. High quality and true story telling that can be translated into fine jewellery design is a rarity. Thanks Carrie K. Looking forward to continuing making memories with you and your team."
4. Choo Yilin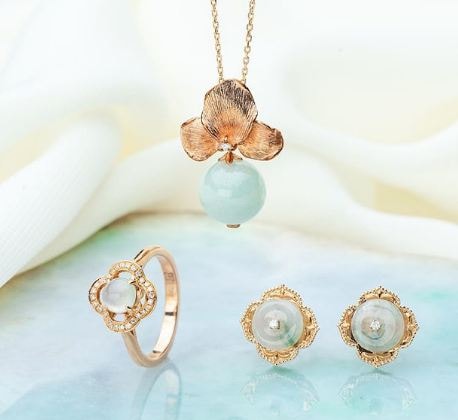 | | |
| --- | --- |
| BEST FOR | Classic Chinese style with a modern twist |
| PRICING | Shop |
| WEBSITE | https://chooyilin.com/ |
| ADDRESS | 333A Orchard Rd, #02-23, Singapore 238897 |
| CONTACT DETAILS | +65 6733 1131 |
Choo Yilin features a perfect combination of classic and modern jewellery designs. They have earrings, bracelets, and necklaces, rings and many more!
They also offer jewellery care services, so if you're not familiar with how to properly take care of your jewellery, they can be the best jewellery shop in Singapore for you!
Highlights
Traditional and modern designs
Jewellery care services
Customer Reviews
Choo Yilin has gained the trust of many customers because of their reliable services and variety of options, most especially with their well-curated personalised collections.
A customer from Google Reviews gave this review:
"I came across Choo Yilin during my wedding preparation as I was searching for some jewelry for my big day. Yilin was helpful throughout the customization process of my earrings and necklace, and took the patience to explain the different options I had. The entire process was smooth and I felt comfortable trusting Yilin and her team. The end products were of course made to perfection, which I believe will be kept for a long time."
5. Flower Diamond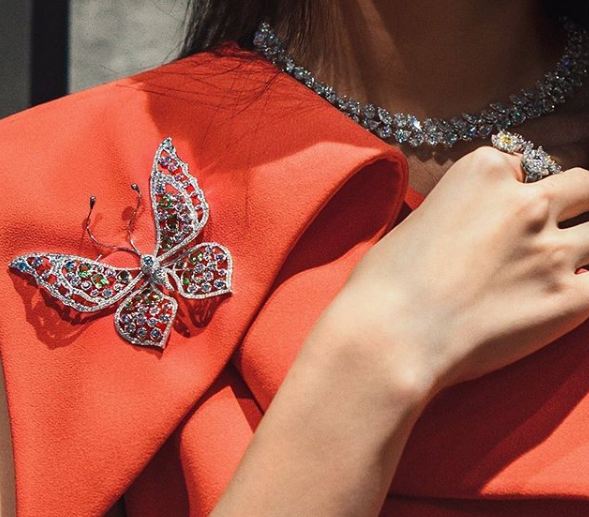 | | |
| --- | --- |
| BEST FOR | Luxurious jewellery collections |
| PRICING | Shop |
| WEBSITE | https://www.flowerdiamond.com/ |
| ADDRESS | 391 Orchard Rd, #03-02, Takashimaya Shopping Centre, Ngee Ann City, Singapore 238872 |
| CONTACT DETAILS | +65 6734 1221 |
Flower Diamond is one of the longest-running and best jewellery shops in Singapore that has been creating luxurious and sophisticated designs. Their creations have also been recognised by various international artists and even royalty!
They're widely known for their Butterfly Collection, which symbolises femininity and elegance. They also have a whole lot of other collections such as wedding and engagement rings, gift ideas, and even a Merlion-inspired collection!
Highlights
Wide range of jewellery collections
Care and maintenance services
6. Tessellate Co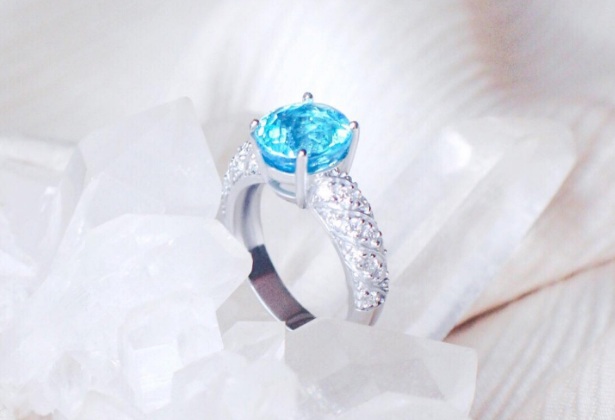 If you're looking for everyday jewellery that will last you a lifetime, check out Tessellate Co's massive collection of precious gems that are made into accessories, each uniquely designed to enhance the beauty of each stone.
The shop uses only the best quality of sterling that can be worn even by people who are generally sensitive to jewellery. Inspired by experiences of the owner during her travel escapades, have a piece of their great styles.
You may choose between minimalist designs to quirky and fun details, and still be sure that it will always be stellar.
Highlights
Free Worldwide Shipping
Fast Service
Professional Customer Service
Customer Reviews
Take a look at Tessellate's wonderful reviews from clients who have previously bought items from their store:
"Bought 2 sets during the Circuit Breaker – 925 Silver Classic Series Earrings – Pamela Drops (Moonstone) and the 925 Silver Classic Series Earrings – Pamela Drops (Labradorite) . Love them ! Classic, natural and simple. Goes with everything! The company was efficient and responded well. Even threw in 2 mask for TLC. Keep it up ! We will make through this stronger." – Adeline Yap
"I got my wedding band from Tesselate.Co and it's my favourite piece of accessory! May and her team were really patient with me in guiding me through the ring customization process and I got a morganite ring with diamonds set on white gold. I love their precious stones and will definitely want to another piece!" – Amanda Tan
7. JannPaul Diamonds
| | |
| --- | --- |
| BEST FOR | Super Ideal Cut Hearts & Arrows diamonds |
| PRICING | Contact them for a free quotation |
| WEBSITE | https://www.jannpaul.com/ |
| ADDRESS | 545 Orchard Rd, Singapore 238882 |
| CONTACT DETAILS | +65 67332925 | [email protected] |
With the owner's 40-year experience, JannPaul was established in 2010 to provide clients with the finest cuts of diamonds and premium curated jewellery. Offering amazing designs for rings, you may choose to buy one from their collection or take them up for customisation!
Wherever you are in the world, best believe that JannPaul can still provide you the best of service, having been able to ship their wonderful accessories to over 150 countries to date. But if ever you're in Singapore, enjoy the free shipping and the excellent personal service they'll be gicing you.
Highlights
World's highest standard of the classic 57 faceted,8 Hearts & Arrows Rounds.

Sole distributor of the World's first Cushion Hearts & Arrows diamond.

Designed, patented and sole distributor of the World's first Octagon 8 Hearts & Arrows, Decagon 10 Hearts & Arrows, Cushion 10 Hearts & Arrows

Free customization services.
Customer Reviews
Make sure to check out the feedback of JannPaul's beautiful diamond pieces to urge you to take up their service:
"Thankful and appreciated to Marie that from zero knowledge of diamond ring to fully grasp hold of how the selection of diamond for the ring works. They will provide initial diamond orientation upon the first walk in visit to their jewellery store. The entire buying process was well served by Marie, her thoughtful advice will cater to individual budget. Apart from that. their store provides customisation with 3D printings. Highly recommended and be sure to look for Marie!" – Zion Sim
"The experience buying from JannPaul was great. I remember how frantic I was when I first started to look for a proposal ring, but Joey assisted me in every way possible in order to have the proposal ring ready before my flight. The lesson provided was also enriching and broaden my knowledge on diamonds. Definitely will be back to JannPaul for my Wedding band!" – Alex Lee
8. Far East Gems and Jewellery
Far East Gems Jewellery offers the best gemstones there in all of Singapore. Want to know how? Well, it's because they work with gemologists who have their own lab to certify how authentic these gems are and their quality when used in accessory.
All details are taken into consideration, with no minor flaws left in the finished products. This guarantees that the raw materials used in the items you buy from their shop starts at high-grade and ends up still as high-grade.
They also have a private museum you could look into to see perfectly maintained stones that are so beautiful, you'd want to take them home to keep!
Highlights
Specialised gemologists
Professional ring makers
Cost-efficient
Customer Reviews
These reviews show how promising Far East Gems Jewellery is as a shop. Make sure to read them below:
"I wanted to buy my dream Ring for my Wife to be. It was a headache. I wanted something that was special and customised. And yet not cost me an arm. The owner is a second generation gemologist who guided me to the make the best purchase for the love of my life."
"Great and informative place for precious stones and other land formations. Best part, it's also kids friendly, so we had an educational session for the whole family."
9. eClarity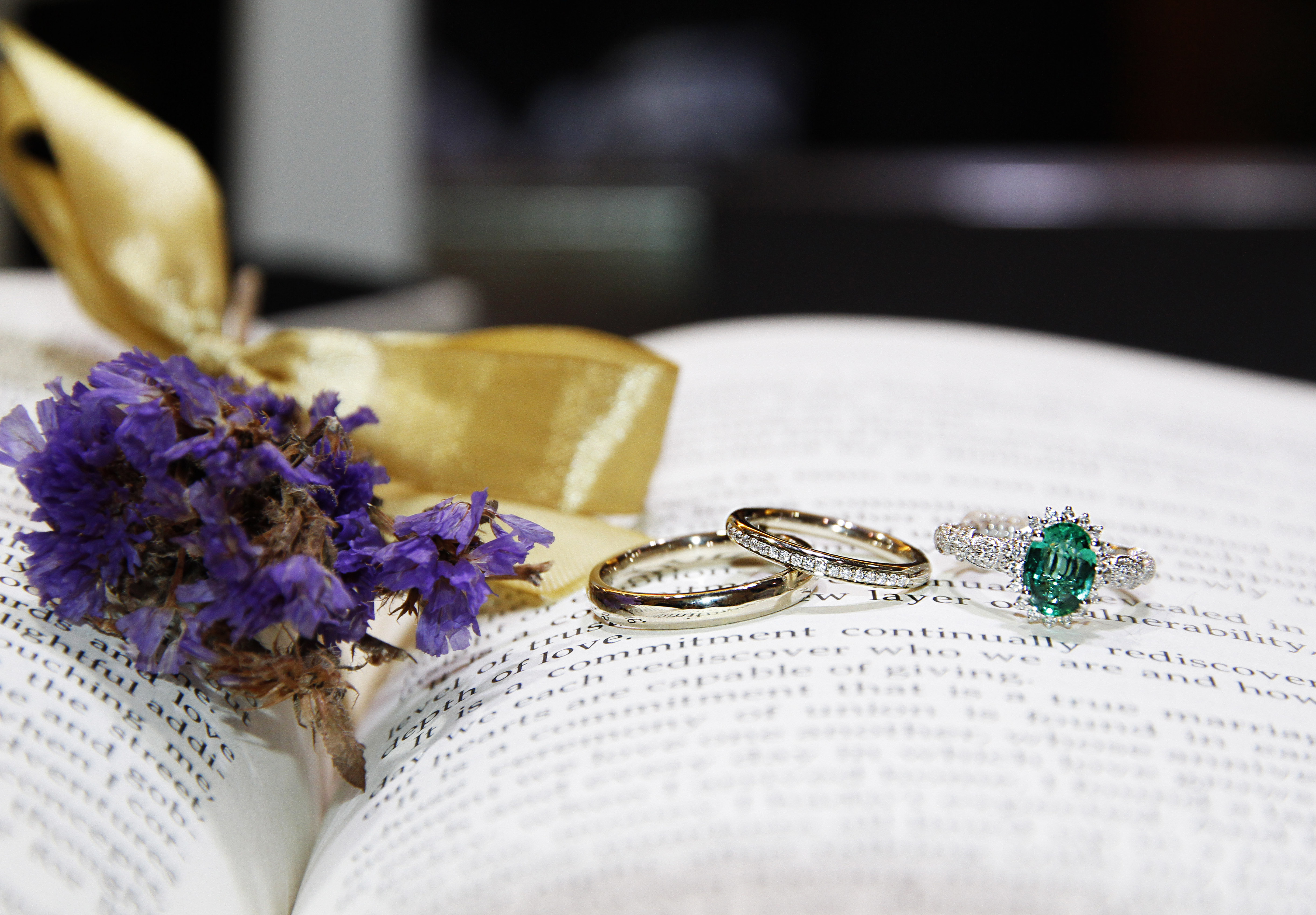 | | |
| --- | --- |
| BEST FOR | Wedding Bands, Engagement rings |
| PRICING | Starts from $100 |
| WEBSITE | https://www.eclarity.com.sg/ |
| ADDRESS | 391B Orchard Road, #21-05A Ngee Ann City Tower B, Singapore 238874 |
| CONTACT DETAILS | +65 9833 1220 | [email protected] |
eClarity has a wide variety of options to offer; from the customisations of bands to wholesale designs, rest assured everything is of premium quality.
As a global seller of jewellery not only in Asia, but also in the United States and Australia, eClarity has proven their topnotch service and craftsmanship through wonderfully made designs that people fawn over.
With a dream that once started in the year 2000's, was established in 2005, and now has continued to skyrocket, they truly are one of the finest gem of a shop out there, along with their products.
Highlights
Great prices
Wide selection
Knowledgeable salespeople
Pleasant customer service
Customer Reviews
Most clients are deeply grateful for how amazing service is at eClarity. They always make sure to make each of their customer's dream, come true. Here are two of the best reviews left to the shop:
"loving the pair of earrings i got from eclarity! service was great and they were very accomodating even though i asked for faster customization turnaround. thanks for the lovely earrings! i love them!!" – Min Si
"Their service is splendid. Really love the ring we bought! Jimmy was very helpful when we visited as we couldn't decide. On the day of collection he was also giving advices on how should we take care of the ring! Recommend this place a lot!" – Jin Hao
10. Lustre Jewellery
Lustre Jewellery is one of the first jewellery shops in Singapore that offers a collection containing only hand-made pieces. Every piece is created carefully and with great detail, resulting in luxurious looks.
Don't fret, though, because the price does not reflect the excellent craftsmanship that goes into every design. Lustre Jewellery is also known for their affordable pieces, most of which are priced around $300.
They believe that each accessory should each be able to stand alone and be able to harmoniously blend with other items, if need be. So if you're looking for jewellery that is at top quality but at a very reasonable price, then look no further as Lustre Jewellery is ready to provide for you.
Highlights
15% off for first online order
Prompt delivery
Great deals
Fabulous designs
Unique pieces
Customer Reviews
Lustre Jewellery has gained quite a following considering the quality of their work. Take a look at what they have to say about the shop's products and services:
"Really love my purchases! A great lady to deal with. Great patience , explain the different varieties abd advise based on individual style." – Felicia Tan Shu Fen

"I ordered my first pair of amethyst and tourmaline earrings. Love them so much. The quality, design and finish is perfect!! Can't recommend this store enough!" – Kristen Chen
11. Fonder Diamond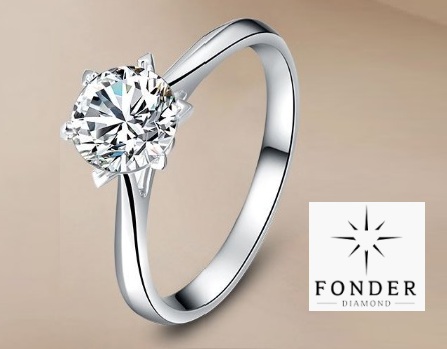 With their diamonds GIA Graded to be at the world's top 1% of said crystal, Fonder Diamond prides themselves in curating only the finest of diamonds all over the world. Each piece is hand-crafted carefully, creating intricate details any client would surely fall in love with.
From engagement rings to wedding bands, make sure to check out their selection, as well as their site in order to fully customize your accessory to however you'd like to be. With Fonder Diamond, your imagination is the limit.
Highlights
Free diamond upgrade
Lower Operational Costs
Free lifetime warranty
Specialist Showrooms
Streamlined Procurement Chain
Customer Reviews
Here are some reviews left behind by satisfied clients of the shop:
"Very informative explanation of how the diamond cuts, clarity, colour. Now my Boyfriend is expert in choosing a diamond! Lol. He is so proud of himself when I said, it's so nice!" – Chua RuiPing
"George attended to me and he was very knowledgeable. He help me find a very beautiful diamond by using their light performance tools, and after that he offer a free Sarine Report to confirm our selection.
When i received my proposal ring, I have to say i never see a diamond so beautiful from any other shop, It's so shiny and sparkling. what they said is true that top 2% most beautiful diamonds.
Definitely I would proudly recommend Fonder Diamond!" – Jalyn Neo
12. Orient Jewellers
Gold is greatly associated with love, passion, and royalty; and Orient Jewellers makes sure that every piece of the precious metal serves its purpose. Established in the early 1970's, the shop has been nothing short of amazing, providing gold accessories that are jaw dropping and worth every single penny.
If you're not into Gold, Orient Jewellers also offers a variety of items made from precious gems like Jade and Pearls, that would surely catch your eye. You can also check out Orient Ateliers, the shop's line which offers bespoke jewellery made with precious stones.
Highlights
Wide variety of choices
Friendly and knowledgeable staff
Great service
High standards
Accessible Location
Customer Reviews
A lot of customers were wowed with how personable Orient's services are. From the moment you step in the shop up until you're ready to leave, their staff makes sure you're pleased and happy. Below are some reviews that can verify:
"Wonderful service from Mr Koh for gift selection!!" – Neilson Tan
"Amazing amazing experience at Orient Atelier! Wonderful customer service and splendid product expertise. Ensured that the ring I made was to my every whim and fancy and the finished product sang!" -Grace Lau
13. Embrace Jewellery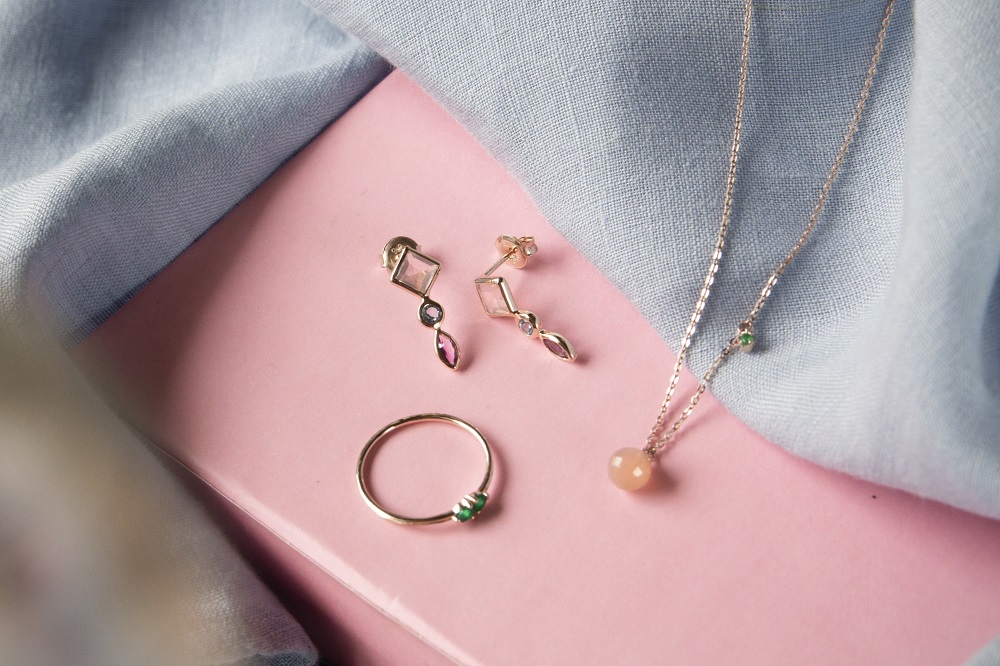 Your accessories should be as distinct & stylish as you are, and be a reflection of your personality! Embrace Jewellery has always been about making women feel good, and celebrating the confident women, someone who knows what she loves.
Started in 2008 by Shareen Wong, a radio personality now on Class 95FM. We are a multi-label store featuring jewellery curated from some of the best designers worldwide from Spain to Italy and of course from right here in Singapore. We also feature our own house collection – The Embrace Collection where we work with designers and trusted jewellery manufacturers the world over to create a line of quality, understated, gorgeous jewellery. Handcrafted in 925 Sterling silver with gold or rose gold accents, and featuring natural gem stones.
Highlights
Deal of the Day
Great service
Offers a big variety of quality jewellery
Customer Reviews
Here are some reviews left behind by customers of the shop:
"This is definitely my favourite favourite place for gorgeous gorgeous jewellery!! And what's more is the wonderful ladies manning the shops at Holland V and Taka! They make the shopping experience extra wonderful!!" – Kelly Phua
"It i my pleasure to support a local brand that I love. Looking at jewellery pieces at Embrace sparks much joy for me!" – Candice L
"Beautiful design as always! Subtle but elegant!" – Audrey T
14. The King's Bespoke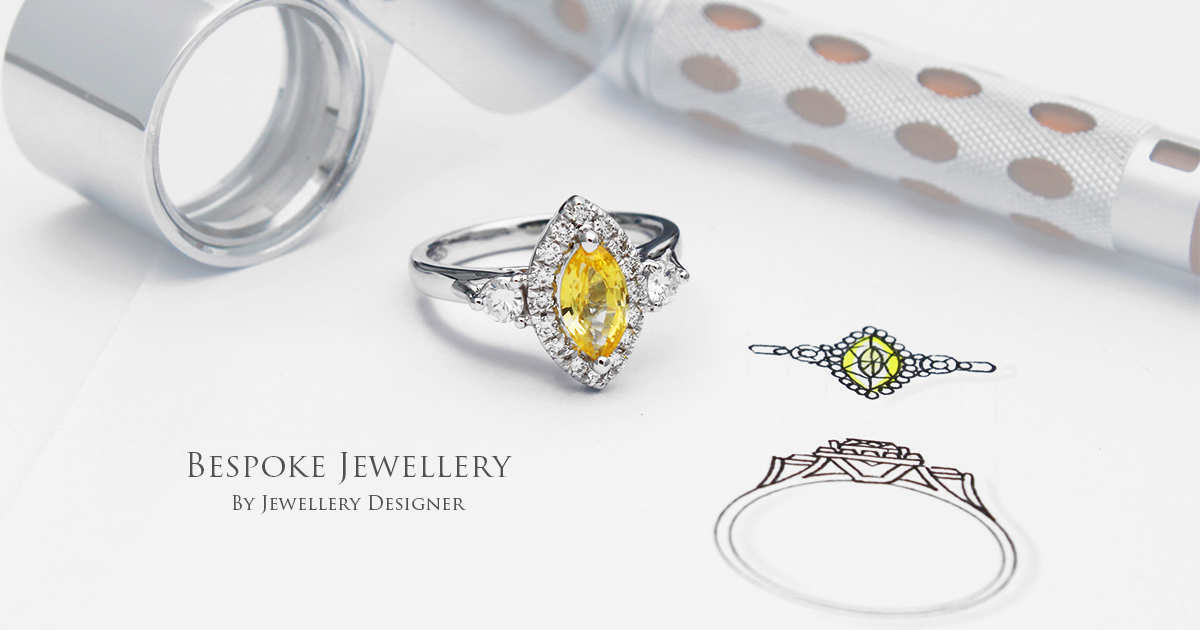 BEST FOR
Bespoke Jewellery
PRICING
Contact for more details
WEBSITE
http://www.tkbespoke.com/
ADDRESS
26 Kandahar St., Level 3, Singapore 198888
CONTACT DETAILS
+65 6734 3172 | [email protected]
OPERATING HOURS
Tuesday – Friday 11:00am – 5:00pm
Saturday 11:00am – 3:00pm
Through the years, The King's Bespoke has become a symbol of authenticity, quality, and beauty in the world of precious gems– mainly due to their gemological expertise and global sourcing experiences. They are a brand owned by the Far East Gem Group.
They use their private museum– "The Gem Museum," as it's aptly named– to give consumers a deeper appreciation of the beauty and rarity of gemstones. This helps customers determine if they really are getting the best quality service they deserve.
By adopting these comprehensive business approaches, The King's Bespoke has been assisting customers get finer quality pieces of jewelry. What are you waiting for? Become one of those customers and give their shop a visit!
Highlights
Wide range of high-quality gemstones
Personalised bespoke jewellery services
Experienced Jewellery Designer and Gemologists
Customer Reviews
Here is a review left by a very satisfied client:
"My experience with The King's Bespoke has been exceptional. They have worked with me to get an engagement and wedding ring precisely fit what my fiancee wished for. They were also patient with the dozens of questions that I had and the many days that I visited their store. Moreover, they are open, honest and they are a credible jeweller. With all of these qualities, I'd return to work with them on new jewelry pieces again." – Guleed Al
15. Mulia Jewellery

Mulia Jewellery started as a family business back in the 1970s. Soon after, they grew and took over the seas, reaching mainland Singapore.
The success of the business is mainly to their attention to detail. The great craftsmanship that they possess is displayed through their customised and readily made jewellery.
Mulia Jewellery's quality exceeds expectations as they create their pieces from the smallest of details. Handpicked precious metals and gems that are inspected countless times before being presented to their customers
Given this, they surely can be your trusted Jeweler, from their ready made pieces to your own customized dream jewellery for you and your loved ones.
Highlights
High end quality jewellery
Customised jewellery
Great craftsmanship
Customer Reviews
"After going to several shops, i realised Mulia has one of the better quality and value-for-money diamonds. Hence, i decided to go with her as my number one choice. She helped me to customise my unique setting for my fiancee and even went the extra mile to enhance it. Even though the first outcome of the ring was not ideal, She brought it back to her craftsman and met me a few times until I am extremely satisfied. Mulia is one of the better jeweller in the market and I will definitely recommend it to my friends and family."

"Service is excellent. Ira has comprehensive knowledge of the products and explains thoroughly to the customer. Quality of the product is great and the design is very classy. Very flexible in terms of arrangement to meet up with customers."
16. Empire Treasures
Empire Treasures showcases a line of luxurious jewellery in Asia, made with the world's highest-quality precious stones. The founder of Empire Treasures travels around the globe to source and hand-select the finest Burmese gemstones with great value and rare colours.
Empire Treasures houses a highly-skilled team of jewellery designers and craftsmen, every of their gemstones are crafted into classic, elegant and unique masterpieces.
They believe that every personalized or ready made piece should represent the owner's unique experience and that they convey their story through their gemstones with their own styles that speak the most to their customers.
Highlights
Quality Customer Service
High Quality Gemstones
Customer Reviews
"Excellent service and attitude from Jen and Michelle. Jen was the one who served me, and she was very patient throughout the whole process, from asking of questions to the jewellery production. Although there's many back and forth questions asked, she kept her professionalism and didn't hesitate to rush to sell the product to me within the day. Really appreciated it and would look for them for quality gemstone pieces. Highly recommended!"

"Highly recommended to shop here. Received good quality service from Jen who gave extremely helpful answers and recommendations despite our constant questions. She was also very patient and never rush us to choose even though they are near closing time. Really satisfied with their service and their gemstone selection."
17. On Cheong Jewellery
BEST FOR

Jadeite collections

PRICING

Shop

WEBSITE

https://www.oncheong.com/

ADDRESS

HQ: 251 South Bridge Road, Singapore 058800.
New Bridge: 239/241 New Bridge Road,

Singapore 059438

CONTACT DETAILS

HQ (65) 6223 4788 NB (65) 6323 5833

OPERATING HOURS

HQ: Monday to Saturday, 11:00 am to 5:30 pm
NB: Daily 11:00 am to 8:00 pm
On Cheong Jewellery first opened its doors to the public in 1936. Since then, the brand has grown to be one of the largest and most trusted in Singapore, after it has unfailingly provided quality jewellery pieces to all of its clients.
With that being said, at On Cheong, there is an emphasis on one-of-a-kind designs and genuine customer-merchant partnerships. The team goes above and beyond when it comes to servicing clients, resulting in every single one leaving On Cheong's store satisfied with their purchases.
It's also worth mentioning that On Cheong has received a handful of accolades since it first began operating. Some to note of are Singapore Quality Class (SQC) with People and Service niche and Singapore Health Award 2019 and SRA Platinum ACE Award for Luxury Watches/ Jewellery in 2018.
Highlights
Bespoke jewellery pieces
Jewellery cleaning, refurbishing, and repair
Engraving services
18. Gen K Jewelry
Gen K Jewelry was established to create beautiful items made of gemstones, while creatively combining traditional and modern designs. They're a one-stop shop that can cater to all your jewelry needs.
The establishment is popular for their jade jewelry, with each piece being made of Type A Burmese jade, as well as semi-precious gemstones that are chosen due to their high quality. Although each are hand-made and done with the greatest precision, you'll be surprised to know that they're selling these at an affordable price.
If you're looking for jewelry at the higher end of the spectrum then make sure to check out Gen K Jewelry's Prestige Collection, their set of intricately designed pieces made with finer gemstones and diamonds. It's something you should definitely buy if you have the capacity to do so.
Highlights
Great service both online and in the boutique
High quality jewels
Wide range of designs
Customer Reviews
Most of their customers have raved about how beautiful each of their jewelry pieces are. The intricate details and high quality gems are something they come back for. Look at what very satisfied clients have to say after ordering from Gen K Jewelry:
"I bought my bridal jewellery/ Si Dian Jin from Gen K in May 2019, so this review is overdue! Till today, I still wear my bridal jewellery on a regular basis – for work and for special occasions.
Gen K offers a wide range of high quality modern jade jewellery, and I was pleasantly surprised at the pocket friendly prices too."
"My experience at Gen K has been wonderful from start to end. The staff are very patient and professional, and were able to recommend me jewellery pieces suitable for my skin tone, as well as simple and classy designs that I liked very much. I also appreciate the great customer service, especially with the clear and constant communication over WhatsApp and phone calls with me."
19. DeFRED Jewellers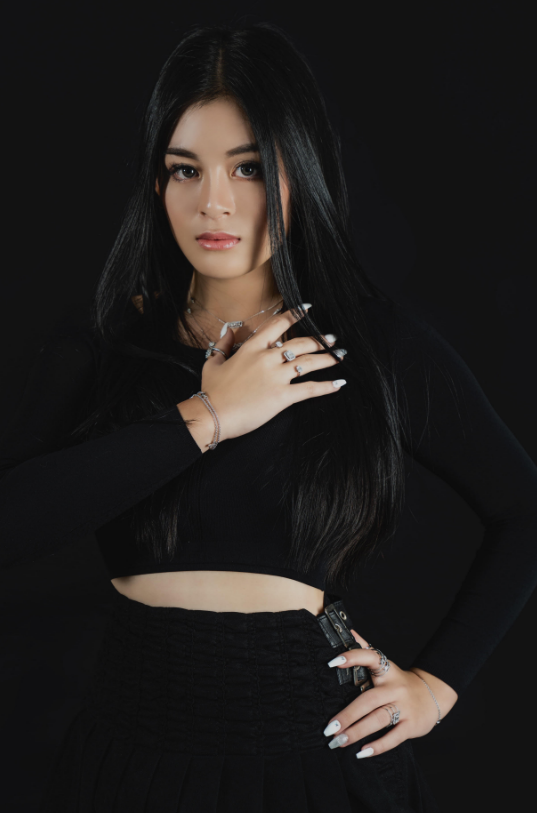 BEST FOR
Gemstones
PRICING
Shop
WEBSITE
https://defred.com.sg/
ADDRESS
391A Orchard Road
#08-07, Ngee Ann City Tower A
Singapore 238873
CONTACT DETAILS
6732 1228
OPERATING HOURS

Monday to Friday -10AM to 7PM

Saturday – by appointment only

Sunday & Public Holidays – Closed
DeFRED Jewellers has been in the industry since 1984, starting off as a supplier for jewellers– but eventually branching off to making his own brand and small boutique.
DeFRED Jewellers creates their pieces with exceptional quality, inspiring designs, and impeccable workmanship. Even after 35 years in the industry, they never fail to set the standards in their business and still continuing to value their word to give the best quality of service.
Using their distinguished and timeless method of traditional jewellery-making, they present a modern collection led by diamonds and precious stones. Their pieces are truly head turners, as the luxury their jewelry holds are of top quality. Both pre-made and customised pieces are available, so consult with the DeFRED team now if you want to have a fancy jewellry of your own.
Highlights
Diamonds and Precious Stone Collection
Customisation of Jewelry
20. State Property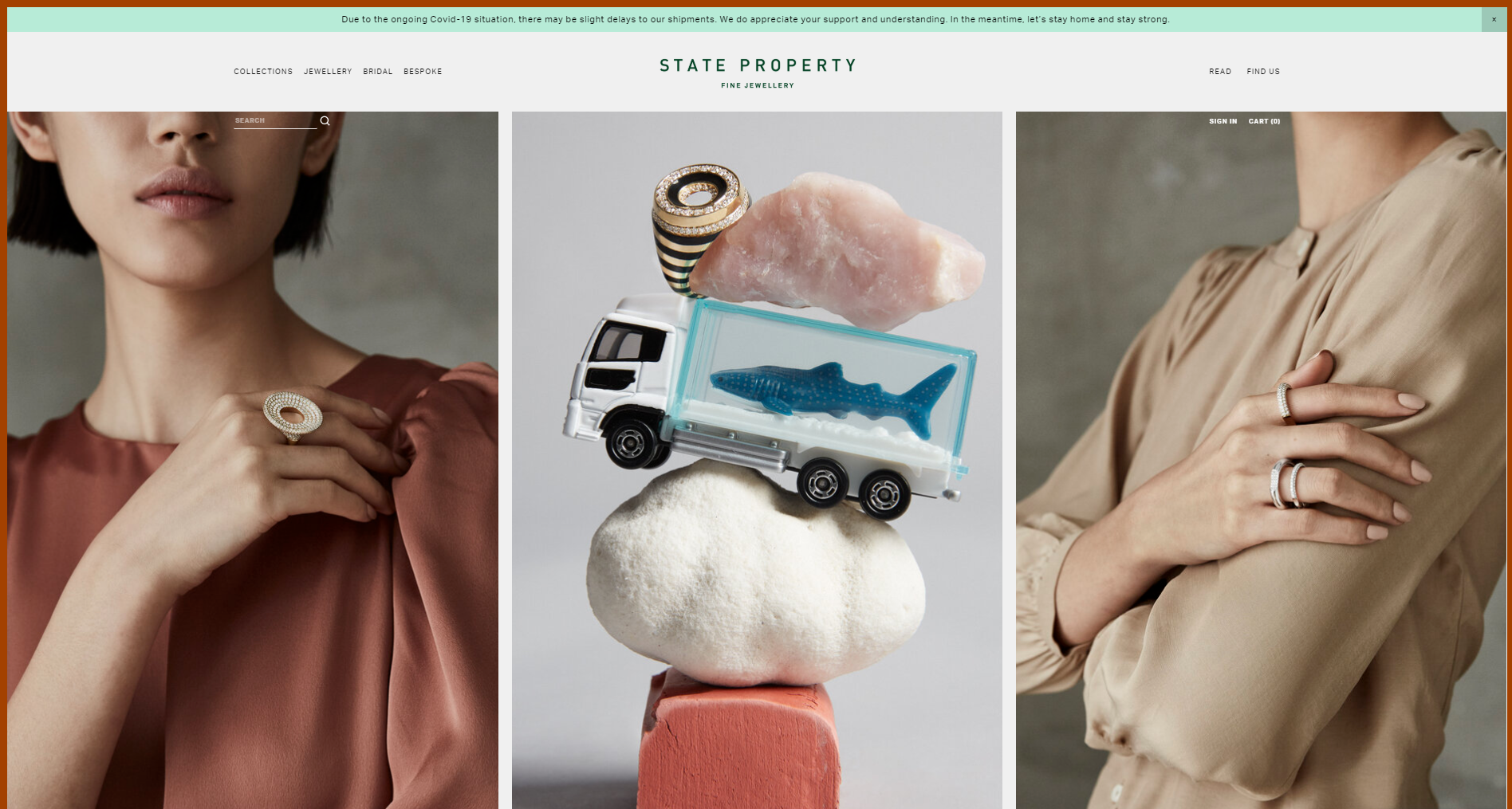 State Property is an award-winning jewellery shop established in Singapore by an amazing jeweller and industrial designer. They're known for their integration of contemporary designs with traditional methods when crafting jewellery.
They offer a wide array of designs to choose from, ranging from your simple necklaces, to more complex nature-based rings and bracelets. They proudly present a line of exceptional designer jewellery crafted with exquisite taste. Each piece is ensured to be tackled with the utmost attention, down to the finest detail.
They combine passion, inspiration, and skill, to offer you only the finest of jewelleries. You may get their collection wherever you are in the world, not just in Singapore! Visit their jewellery shop now and feel the elegance and uniqueness of each accessory.
Highlights
High-end jewellery
Bridal jewellery
Personalised pieces
Customer Reviews
Each customer that State Property has accommodated felt nothing but great satisfaction on their products and customer service. Check out what two clients had to say after their experience with the establishment:
"Thoroughly enjoyed the relationship forged with state property, their staff and founders. Service is genuine and personal. Got more than what I bargained for with their bespoke service. Excellent!"
"Really down to earth service. Listens to customers ideas. Designs are cool and unique. Made an engagement ring there. Would recommend."
21. LeCaine Gems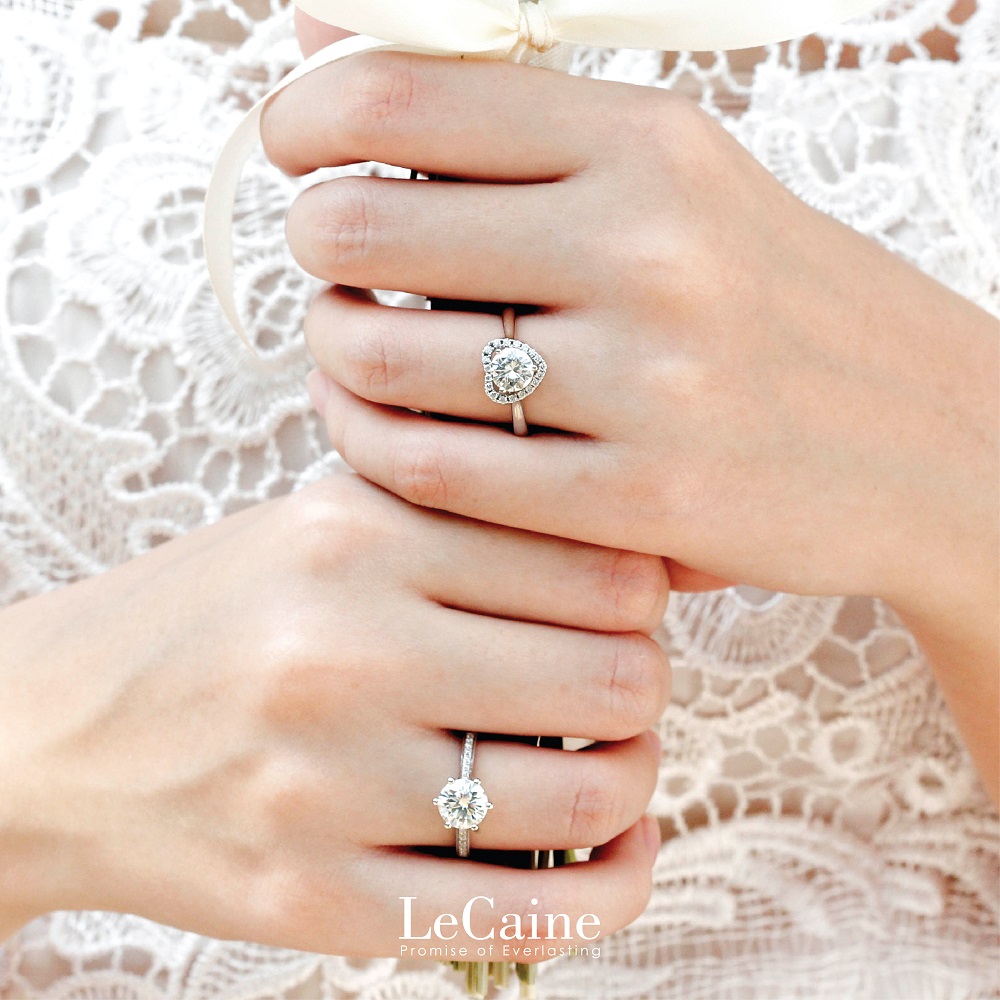 LeCaine Gems is an online jeweller that crafts fine jewellery from Singapore and Hong Kong. They make customized elegant, bespoke styles personalised for any occasion.
By combining conflict-free lab-grown diamond alternatives, such as Moissanite, and ethically sourced gemstones, they create stunning, luxurious jewellery that is affordable and reasonably priced. Each piece of handcraft jewellery is intricately created by their experienced craftsmen to perfection.
They constantly challenge themselves by putting excellent workmanship a top priority in all of their designs. Whether it is a classic or statement jewellery, it often surpasses their clients' expectations– that is what they want to achieve in every transaction.
Highlights
Affordable Prices
Moissanite Jewellery
Customer Reviews
Here is a review left by a very satisfied client:
"Excellent design and workmanship on my engagement ring! Great service as well! Definitely recommended 10/10"
"Excellent service and meticulous craftsmanship! Absolutely love this gorgeous ring! Thank you!"
22. VotreCherie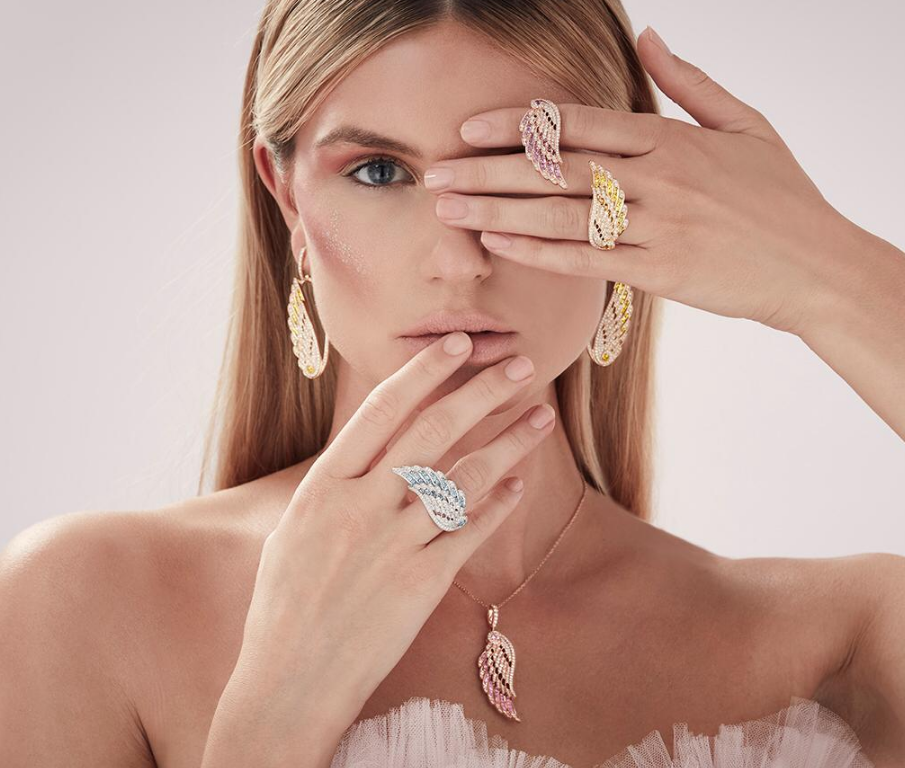 Votrecherie is dedicated to providing elegant jewellery at affordable prices. Their prices may be low, but its quality certainly isn't.
They have a wide range of products to offer, most of which combines bespoke designs with vintage art. No matter your personality, you're sure to find a piece that you'll love.
Highlights
Hand-crafted jewellery at reasonable prices
Offers same day delivery
23. La Putri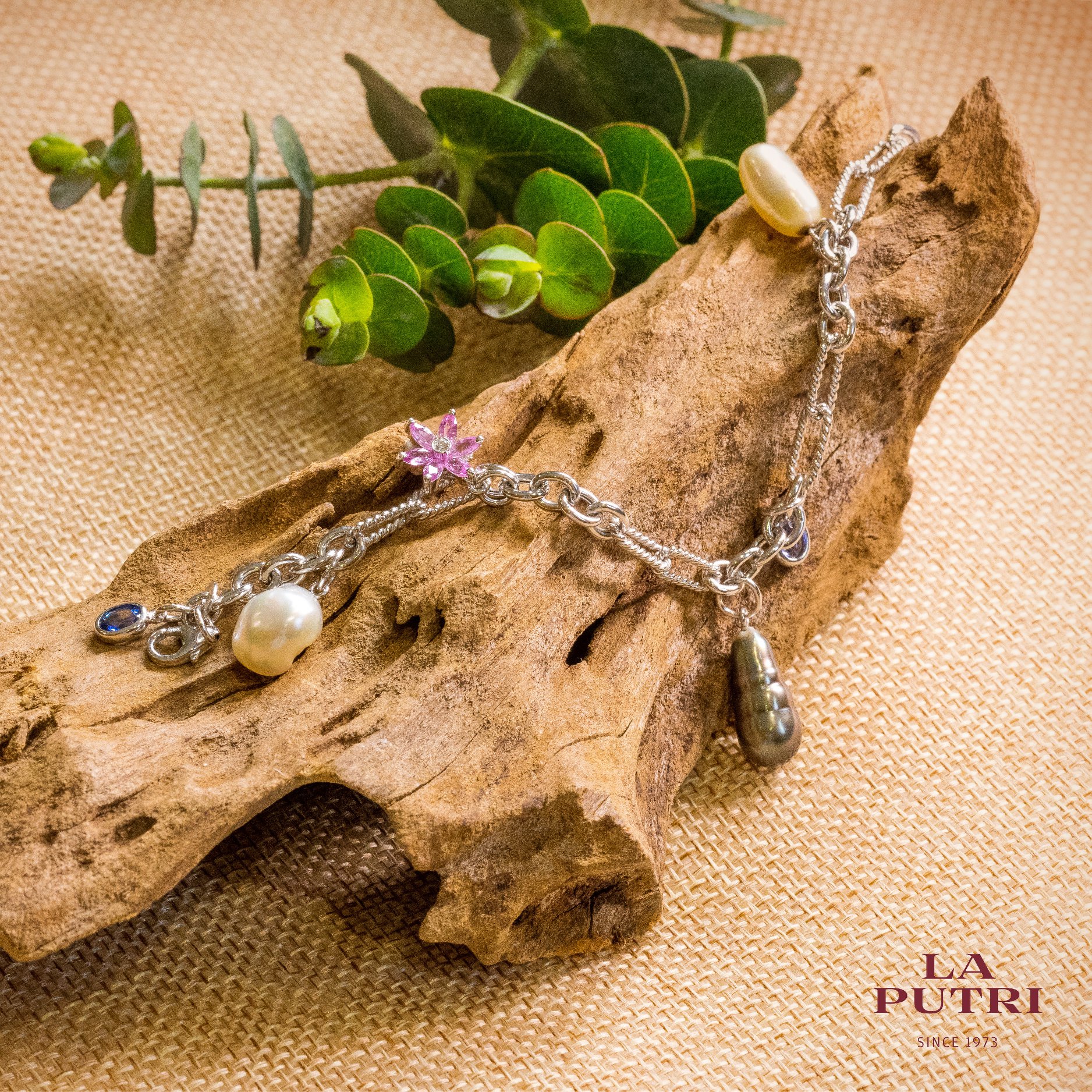 BEST FOR 
Bespoke Jewellery
PRICING
Enquire for more information
WEBSITE
https://laputri.com/
ADDRESS
#02-15 Mandarin Gallery
333A Orchard Road
Singapore 238897
CONTACT DETAILS
Tel: (65) 6733 3345
Email: [email protected]
OPERATING HOURS
24/7
La Putri helps their clients create the best jewelry no matter the special occasion. They aim to provide high-quality jewelry that's worth becoming a family heirloom.
Their experienced jewelers are capable of accommodating a high degree of customisation no matter the kind of accessory. They make sure to use only the best quality materials and gemstones for their items.
They have a wide variety of loose gemstones available. Any jewelry they create is sure to fit their client's preferences and requests.
Highlights
High level of customisation
Uses the best materials available
Wide collection of loose gemstones
Expert jewelers
24. Azen Jewelry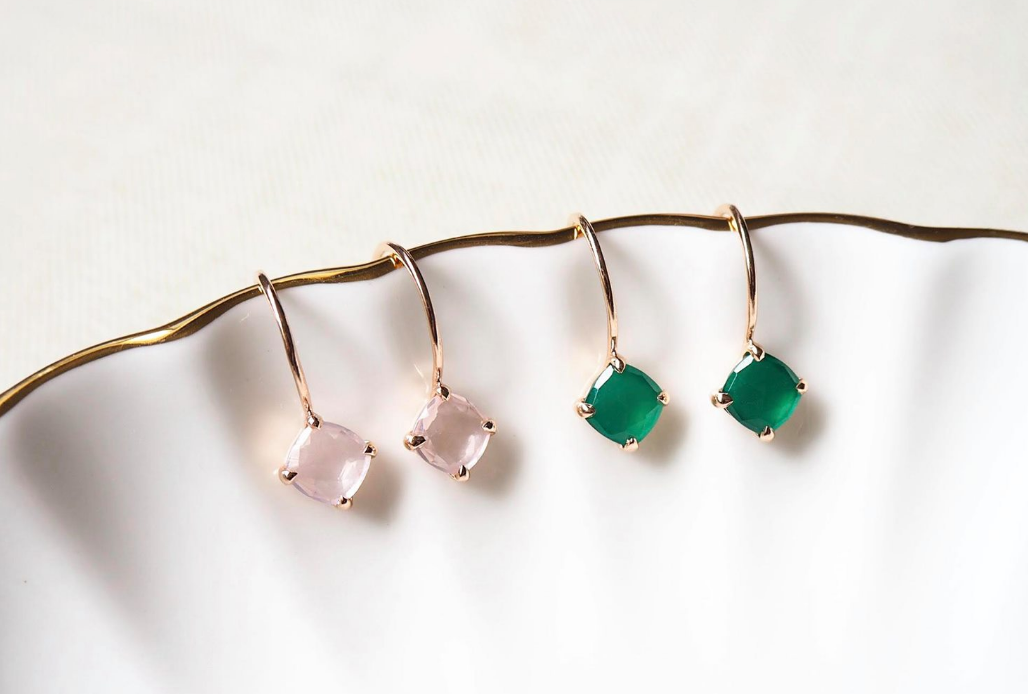 Azen Jewelry's collection features simple, modern designs that will surely fit any style or taste. By working closely with their artisans, Azen Jewelry ensures both quality and aesthetic, all the while preserving and even highlighting the uniqueness of the precious stones used in their jewelry pieces.
The shop is also the exclusive distributor of Gemstone Jewellery, a jewelry brand known for its handmade pieces. 
Highlights
Free local shipping
Corporate gifts
25. MoneyMax Jewellery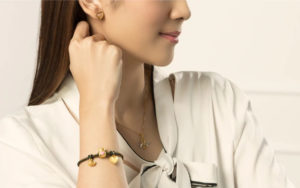 As a go-to shopping destination for jewellery, watches and bags, there's no wonder why we've added MoneyMax Jewellery here. 
We like how they carry brand new gold jewellery, fine jewellery, and even different brands of pre-owned luxury watches and designer leather bags. This truly gives shoppers the best of a variety of options.
When it comes to their jewellery, you might have a difficult time finding just one that you'd like to buy because of their many beautiful options. We wish you luck going through their catalog!
Another thing we like about them is that they offer promos like free local delivery for purchases over $150 and $5 off the first purchase if you sign up. 
But we know that not everyone likes signing up for many websites, so we love their option of guest check out. You can still purchase without the need to create an account!
Although one downside that we've observed is that they only ship within Singapore, so if you're from another country, you'd need a local address. 
Overall, we think it's a great shop to purchase jewellery from. 
Highlights
Free local shipping over $150
Sells

brand new gold, fine jewellery, pre-owned luxury timepieces and leather bags
And that's our list of the best jewellery shops in Singapore! If you'd like to recommend more shops, let us know, as we may add them to our list!
If you're looking for an engagement ring in particular, though, then take a look at these top places where you can see some of the best engagement rings in Singapore. Their collections are filled with high-quality yet affordable designs!