20 Best Places to Get a Massage in Singapore: The 2023 List
After a long day of working, a soothing and revitalising massage would be the perfect way to end your week. For that, you need to know the spas with the best massages in Singapore.
The spas we've rounded up in below are all impressively-maintained, have beautiful facilities, and most importantly, some of the best professional masseurs around!
So, the next time you feel like a body massage in Singapore, try out the following spots:
1. Great Wall TCM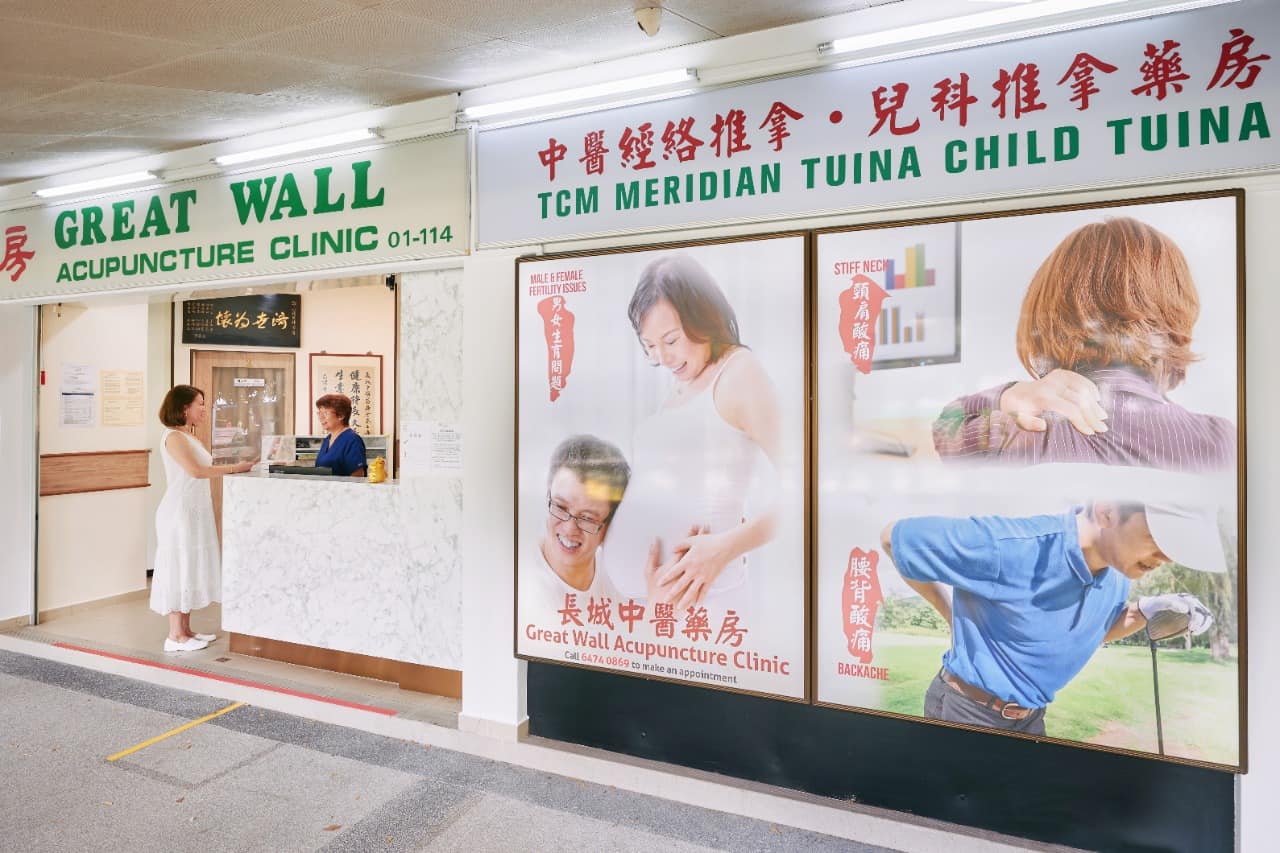 SERVICES

Fertility Treatment, Shingles Treatment, Pain Management Treatment, Weight Management Program, TCM Massage, Chinese Herbal Medicine, Acupuncture, TCM Cupping Therapy, Skin Scraping (Gua Sha)

WEBSITE

https://www.greatwalltcmclinic.com.sg/

ADDRESS

Blk 75-D Redhill Road #01-106 & #01-114 Singapore 154075
(Opposite Redhill MRT Station)

CONTACT DETAILS

(65) 64740869

OPERATING HOURS

Monday to Sunday, 9.30am – 8.30 pm
Great Wall TCM is a reputable TCM institution established since 1977, hence it is no wonder that it is one of the go-to places for TCM treatments. Great Wall TCM has currently garnered close to 200 reviews with an average score 4.7 stars on Google review, giving us confidence in the quality of its services.
While Great Wall TCM provides a variety of services, such as their TCM treatments for Fertility (Male and Females), Gynaecological issues, Shingles etc, the services we liked the most is their Tuina (TCM Massage) service.
We especially loved how their experienced therapists are able to combine Gua Sha (Skin Scraping), Cupping therapy and Tuina (TCM Massage) into an effective TCM Pain management treatment protocol.
It is amazing how their Tuina (TCM Massage) when combined with Cupping therapy and Gua Sha (Skin Scraping) is able to release all the tension in our problem areas, namely our neck and shoulders, causing us to feel lighter and "shiok" after a Tuina (TCM Massage) session with them.
Any desk bounded office warrior suffering from muscle aches caused by working long hours in a bad sitting posture, or what their TCM Physician like to humorously call "Laptop Syndrome", should definitely consider paying them a visit to release all the tension in muscles that is causing you pain.
However, it is important to note that their TCM Massage services are so popular that walk-in patients will face difficulties getting a Tuina (TCM Massage) session, as most of their Tuina (TCM Massage) sessions are already being reserved by appointments. This is especially so during the weekend.
Hence, it is highly recommended that either you call or email them to make an appointment first if you intend to visit them for Tuina (TCM Massage) so that you can be assured of a treatment slot when you are there.
Service Highlights
Reputable TCM institution with a long standing history
Serviced by MOH registered TCM physicians and experienced therapists
Specialty treatments for Fertility (Male and Female), Gynaecological issues, Shingles & Pain related issues
Ability to combine Gua Sha (Skin Scraping), Cupping therapy and Tuina (TCM Massage) into an effective TCM Pain management treatment protocol
Excellent service with 4.7 Stars for Google review
Operates daily (Except public holidays)
2. Soul Massage Singapore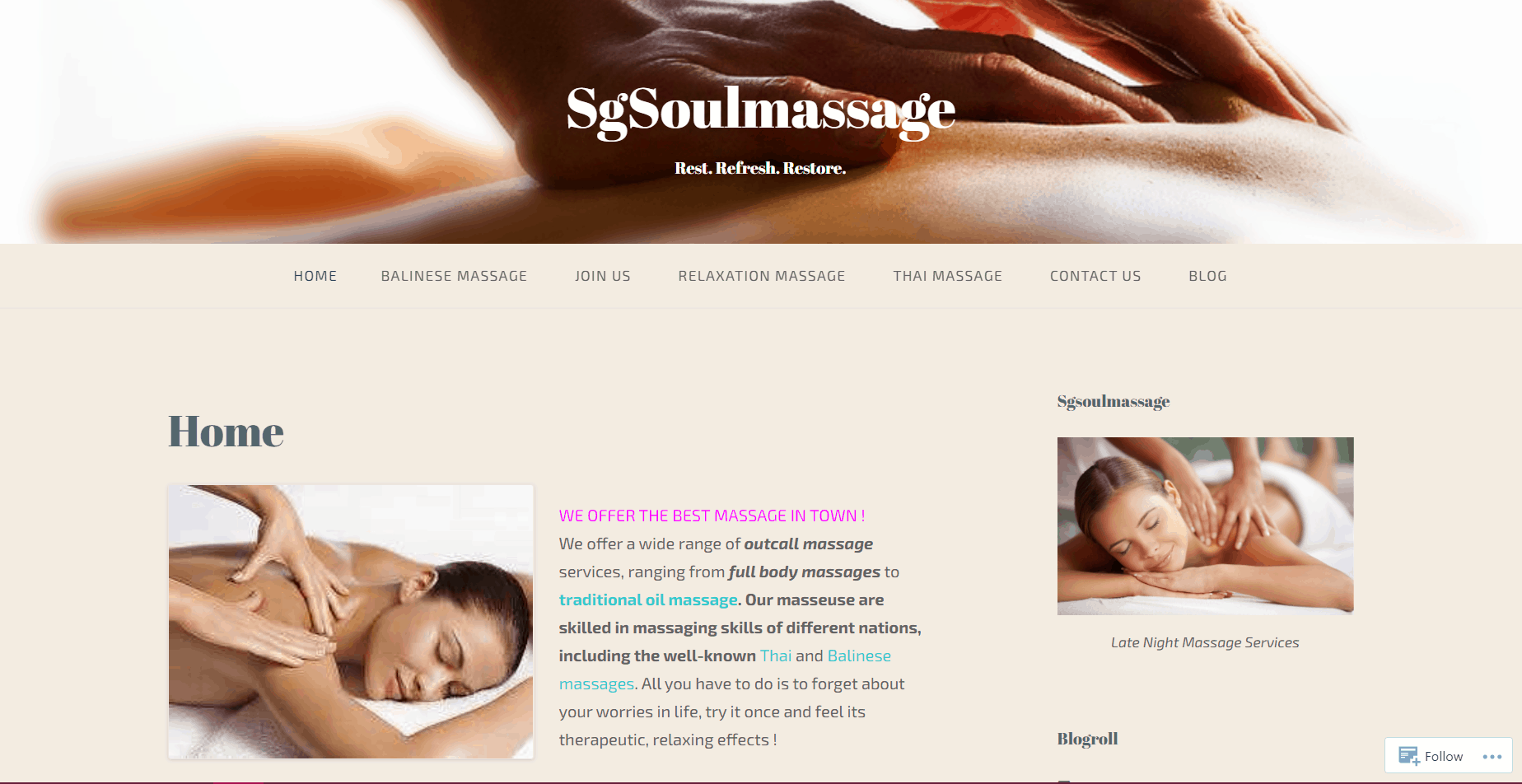 SERVICES

Full Body Massage, Traditional Massage, Thai massage, Balinese Massage

WEBSITE

ADDRESS

Singapore

CONTACT DETAILS

+65 8695 3378
[email protected]

OPERATING HOURS

10 AM – 1 AM
If you want to get a massage in the comforts of your own home then Soul Massage Singapore is the one you should call. They provide a wide variety of full body and traditional massage services.
No matter what you choose, they will strive to deliver a therapeutic and relaxing massage experience. Their masseuses are knowledgeable in massages from numerous nations, such as Thai and Balinese massages.
Their services are available from 10 AM to 1 AM the next day, giving you ample time to relax at various hours of the day. If you book their services, you can expect a swift arrival time of under one hour.
Soul Massage Singapore's massages are perfect for relaxing at the end of the day, especially if you don't have the energy to travel to a massage parlor. Given their quality services and flexible time slots, there's no reason why you shouldn't consider scheduling an appointment with them.
Service Highlights
Outcall services
Wide range of massages
Arrives within one hour
Open during most hours of the day
3. Spa Esprit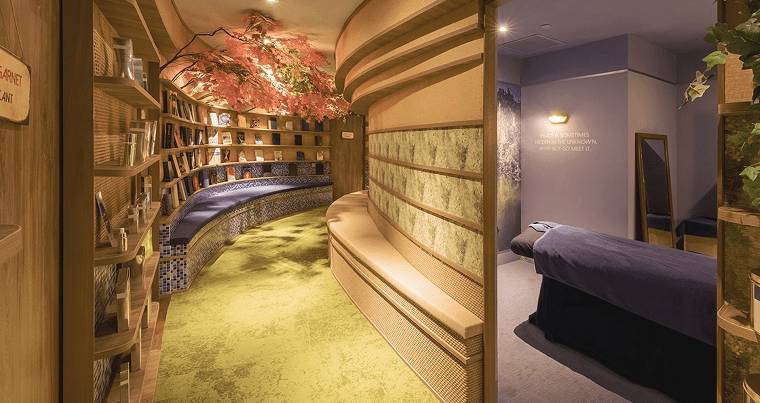 Spa Esprit provides original massages and signature blends of essential oil. They proudly offer both traditional and contemporary massages with reasonable prices so you can have a high-quality massage without stressing over your budget.
With their extensive outlets, you can easily find the branch nearest to your area and try their services. This means that whenever you randomly search if there's a 'massage near me now' in Singapore, you're bound to find a branch near you.
Their rates are also competitive so if you're looking for good massage places in Singapore with great rates, you must consider Spa Esprit.
Service Highlights
Beautiful and cosy interiors
Facial and body massages
Affordable price
Customer Reviews
Spa Esprit is one of the longest-running centres for massage in Singapore, making them a reliable and trusted brand for many customers. Throughout the years, they have continued to innovate in their field, which customers have received positively.
Eunice Ong recommended their services and gave these compliments on the company's official Facebook account:
"Great ambience and love the massage! Felt so relaxed after. Staff were all very professional and friendly. Would definitely recommend. Amazing results · Luxurious experience · Professional masseuses · Nice changing rooms"
4. Aramsa The Garden Spa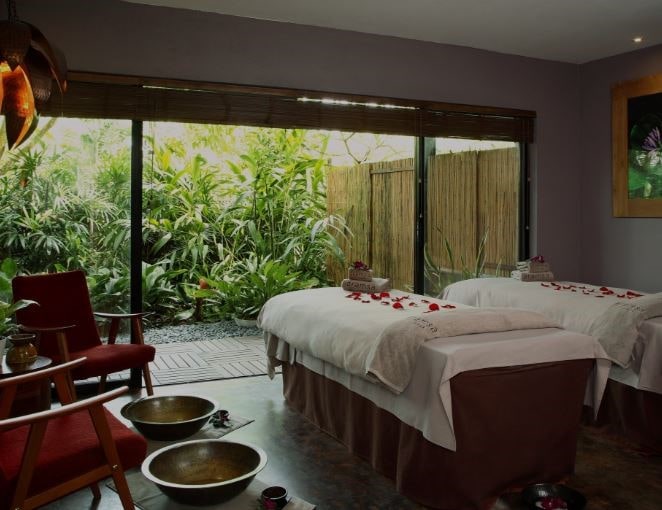 BEST FOR
Traditional Asian spa experience
SERVICES
Spa Packages
WEBSITE
http://aramsaspas.com/
ADDRESS
1384 Ang Mo Kio Avenue 1 Bishan Park 2 Singapore 569932
CONTACT DETAILS
+65 6456 6556
OPERATING HOURS
Monday to Thursday – 10:00am – 10:00pm

Friday to Sunday – 10:00am to 10:30pm
Located at a national park that embraces the beauty of nature, Aramsa The Garden Spa has one of the most attractive spas on the island.
Aside from this, the spa packages, amenities, and facilities will also delight you. Because of their amenities and tranquil environment, The Aramsa could be the best massage place in Singapore for you if you prefer exclusivity and privacy.
Service Highlights
Special packages and deals
Private space
Yoga practices
Customer Reviews
The Aramsa is an award-winning place for massage in Singapore that has captured the interest of many prestigious institutions and customers. Customers say the place's ambience is second-to-none if you're looking for a luxe spa experience.
Many reviews rave about getting the best massage in Singapore in the Aramsa.
Clara left this feedback on Google Reviews:
"The scenery and the location is beautiful. You'd feel like you stepped into a resort in Bintan – I loved the massage so much that I fell asleep. Afterwards I was brought to the lounge and served ginger lemongrass tea and some biscuits which really ended my spa session well. If you are looking for a truly rejuvenating experience, this is the place to go."
5. Nimble/Knead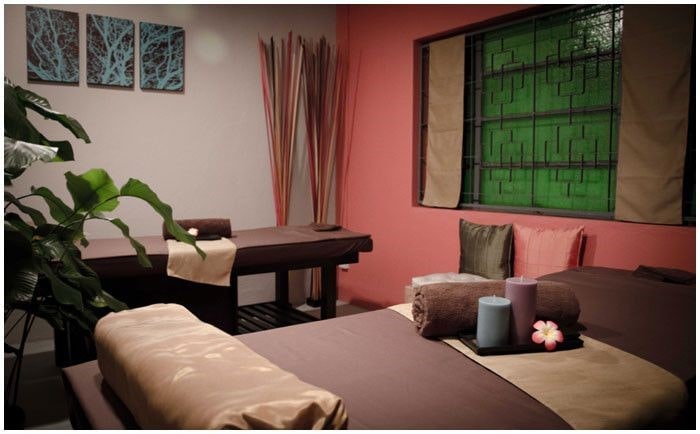 BEST FOR
Prenatal massages and international therapies
SERVICES
Rates
WEBSITE
http://www.nimbleknead.com/
ADDRESS
66 Eng Watt Street #01-28 Tiong Bahru Estate, Singapore 160066
CONTACT DETAILS
+65 6438 3933
OPERATING HOURS
Daily – 11am to 10pm

Last appointment at 9:15pm
The Nimble/Knead gives their customers the most relaxing body massages done by their skilled therapists.
They offer a variety of massage styles from all over the world, from Thailand to Indonesia, Sweden, China, and even Japan.
They also offer a great prenatal sg massage for expectant mothers who want to relieve all of their body aches and be able to sleep tight. They also offer a jacuzzi bath as well as dinner in their little garden.
Service Highlights
Combo body massages
Foot massage
Prenatal massages
Customer Reviews
Nimble/Knead has impressive facilities, spa services, and professional staff, according to their faithful clients. Ping Shiuan Chua praised the facilities and wrote this on Google
"Very neat and clean environment. Masseuse is very skillful, with a good mix of strength and accuracy. I felt much better afterwards! Place is not too cold and environment is very cozy and soothing. Tried the full body massage for first-timers and I'm certainly pleased with the result. Highly recommended!"
6. Healing Touch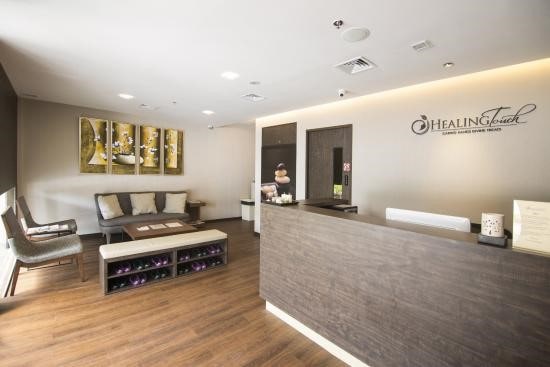 For over a decade, The Healing Touch Spa has been operating on the island. It has won multiple awards due to its therapeutic massages, which many have praised for their efficacy.
Most massages are influenced by Asian massage traditions at this establishment. They also provide slimming services that have proper detoxification and facial treatment for healthier skin.
Service Highlights
Special promotions
Slimming detoxification
Reasonable prices
Customer Reviews
The Healing Touch has a lot of customers happy to spread awareness of it on social media, with the vast majority of them providing positive reviews for the spa. A reviewer wrote this on the official Facebook account:
"Joey from orchid country club branch delivers outstanding service. She enquired about my condition and focused on the areas where I had the most complaint about. She pays attention to customer's needs and perform massage accordingly."
7. Feet Haven Reflexology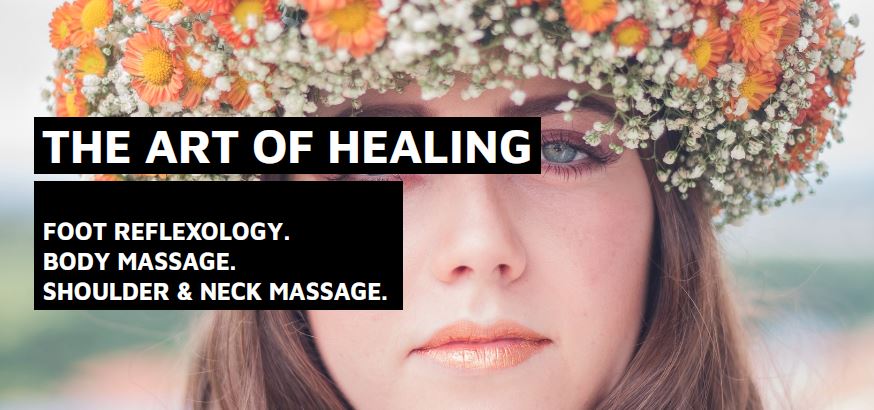 BEST FOR
Relaxed foot massage
SERVICES
Foot reflexology, body massage
WEBSITE
http://www.feethaven.com/
ADDRESS
Katong Branch, 136 East Coast Road, S428821
Row of Shophouses Beside i12 Shopping Mall
CONTACT DETAILS
+6563447311
OPERATING HOURS
Sun to Thursday ( 12 Noon to 10pm)
Fri & Sat & Eve of PH & PH ( 12 noon to 1030pm)
Feet Haven Reflexology is a hidden gem where you can find tranquility and solitude while your feet get rejuvenated. Away from the bustling cities and located in quaint, indie spots of Singapore, this boutique feet reflex brand is popular amongst Singaporeans, tourists, and expatriates looking for relaxation and rejuvenation.
Service Highlights
Foot reflexology
Body massage
Membership program
Gift vouchers
Customer Reviews
5.0-Google review from Niraj Kumar Chib:
"This place is the best massage place I have ever been to. I am from Australia and I always visit them whenever I am in Singapore. Go and talk to Mandy and she will take care of you. All the massage therapist are very trained and professional. Will recommend to everyone."
8. The Thai Spa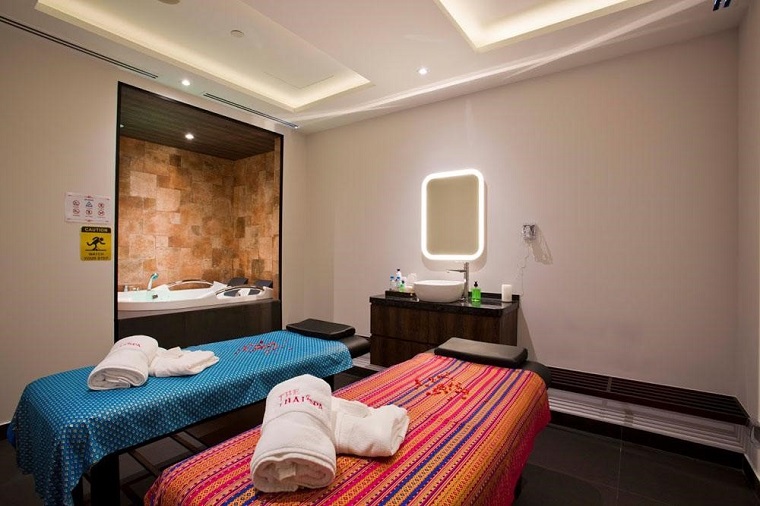 | | |
| --- | --- |
| BEST FOR  | Authentic Thai therapies |
| SERVICES | Rates |
| WEBSITE | https://www.thethaispa.com.sg/ |
| ADDRESS | Suntec City, Raffles City and Plaza Singapura |
| CONTACT DETAILS |  +65 6252 4400 |
| OPERATING HOURS | Daily, 11am–9:30pm |
One of the most popular highlights of visiting Thailand is their getting a traditional Thai massage. Luckily for you, you a Thai massage in Singapore is convenient and just as relaxing.
As the name indicates, you can experience a healing traditional Thai body massage at this spa. These rituals will help you gain peace of mind as well as allowing you to release all the tensions and relax your body.
Their combination of modern and traditional techniques as well as customising treatments to their clients' needs has earned made them the go-to for Thai massage spa in Singapore.
Service Highlights
Combination of modern and traditional techniques
Swedish and Balinese massages
Facial, skin, and body treatments
Customer Reviews
Aside from various types of massages, The Thai Spa also offers treatments for skincare, body, and facial care. This makes it a one-stop spa for most customers, who say their services are extremely professional.
Debbie Tan shared this experience on Google Reviews:
"Extremely happy with the amazing treatment 🙂
Visited The Thai Spa on my way back from a lunch outing with friends. Must say that the masseuses in this spa are very very experienced. Simply loved the technique that they applied. I had terrible pain on my back. They offered me a complimentary upgrade with free herbal balm massage. It has been a couple of days since I visited and my pain has completely vanished. They have amazing inaugural offers also. In love with The Thai Spa. Will highly recommend to friends and visit back soon. A mini Thailand in Singapore ❤❤❤"
9. NING Spa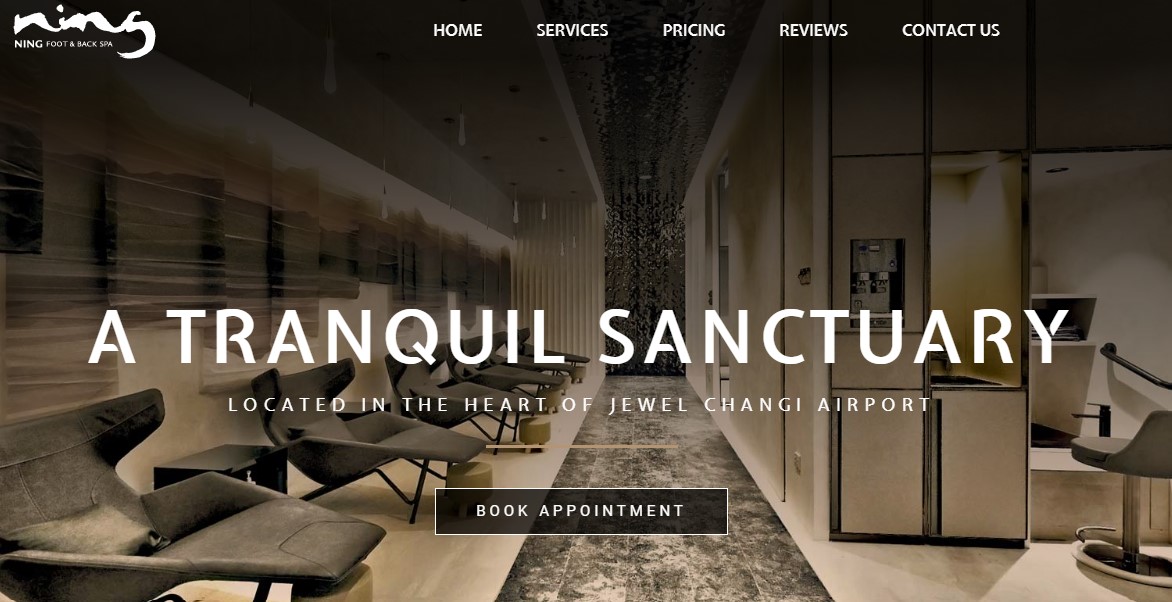 BEST FOR
Luxury massage
SERVICES
Foot & Leg massage
Back & Shoulder massage
Full Body massage
Jet Lag Therapy
WEBSITE
http://www.ningspa.com/
ADDRESS
Jewel Changi Airport, #04-215/216
78 Airport Blvd, Singapore 819666
CONTACT DETAILS
Phone: +65 6612 1313
Email: [email protected]
OPERATING HOURS
10:00 AM – 10.00 PM
Monday – Sunday
A first-class massage luxury, the origins of 'Ning' translates to peace and serenity in Chinese; a succinct expression that encapsulates the Spa's Eastern influences and geographical location in Asia.
Service Highlights
Located in Changi airport, ideal if you're seeking massage for your jet lag problems with their jet lag therapy service
A combination of foot massage, electric hot stone massage and award-winning Detonix treatment, perfect for travellers who want to get rid or prevent post-flight woes.
Customer Reviews
Dee-Anne Blackwell's Facebook recommendation:
"While waiting for a connecting flight we had the most amazing massage on our feet and legs, we felt so refreshed for our next flight… highly recommended."
10. House of Traditional Javanese Massage & Beauty Care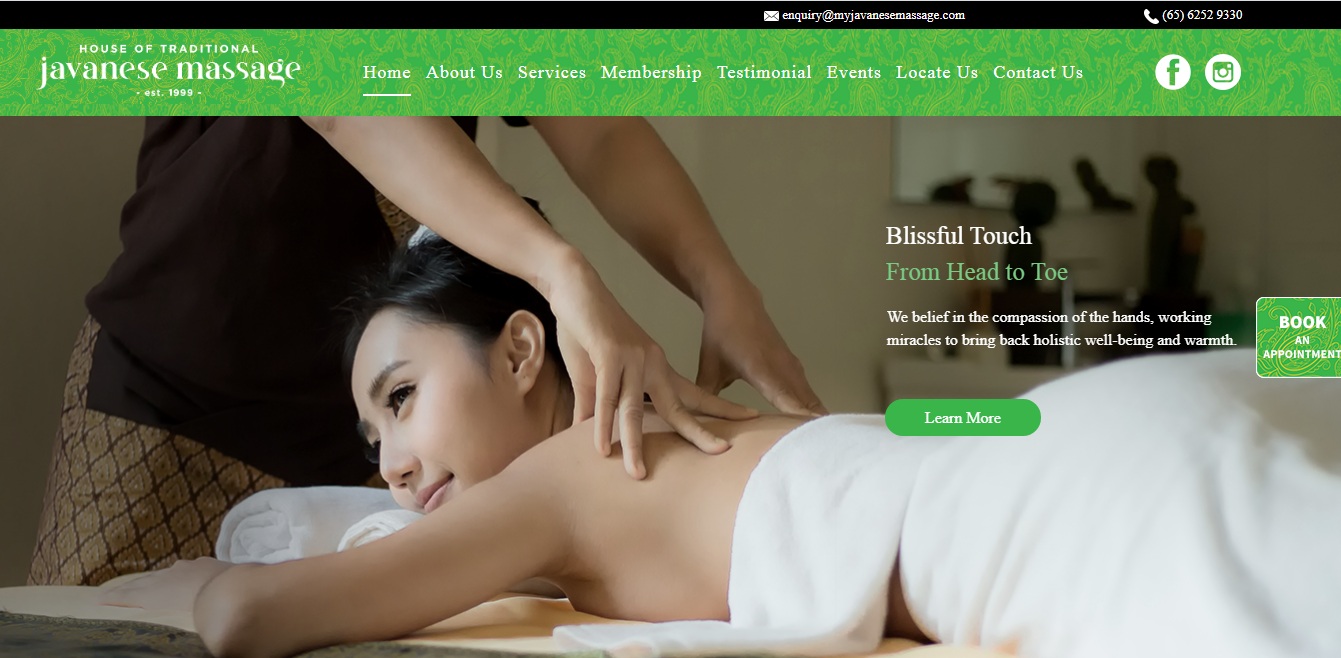 BEST FOR
Deep thumb pressure traditional Javanese massage
PRICING
Contact to get a quote
WEBSITE
House of Traditional Javanese Massage & Beauty Care
ADDRESS
783 Bukit Timah Rd, Singapore 269760

1 Goldhill Plaza, Singapore 308899

102 Jln Jurong Kechil, Singapore 598602

598 Sembawang Rd, Singapore 758456

154 West Coast Road, #02-21, West Coast Plaza, Singapore 127371

11 Tanjong Katong Rd, #03-14, Singapore 436950

598 Yishun Ring Rd, 01-10, Singapore 768698

KINEX Mall, 11 Tanjong Katong Rd, #03-14, Singapore 437157

148 W Coast Way, Singapore 127071

440 Pasir Panjang Rd, Singapore 118782

20 Eastwood Rd, Singapore 486442

CONTACT DETAILS
(65) 6252 9330; [email protected]
Stressed? Just want a good time? Treat yourself to a traditional Javanese massage!
The House of Traditional Javanese Massage rightfully earned its name as it has been serving authentic Javanese care for more than decades and has gone on to run 10 branches all over Singapore.
Recharge and revitalize your mind, body, soul through a deep thumb pressure massage like no other. You deserve it!
Service Highlights
Wide range of massages including aromatherapy and reflexology
Fertility, pre-, and postnatal care massages
Beauty care services such as slimming, lymphatic draining, and cupping
Recognized as Singapore SME of the Year in 2015
Customer Reviews
For this customer, going back to The House of Traditional Javanese Massage is an easy yes:
"Called up from my hotel and took a cab….they greeted me with smiles. Had a masseur for 90 min. Relaxing plus told him my neck area needed attention. Very clean with great warm tea afterwards. Would I go back again…yes. Thanks."
Meanwhile, this customer lauded its consistency in providing good service:
"The best Javanese Massage.. I come here often and always get nice experience. A good place that has become my all time favorite."
11. Precious Foot Reflexology & Massage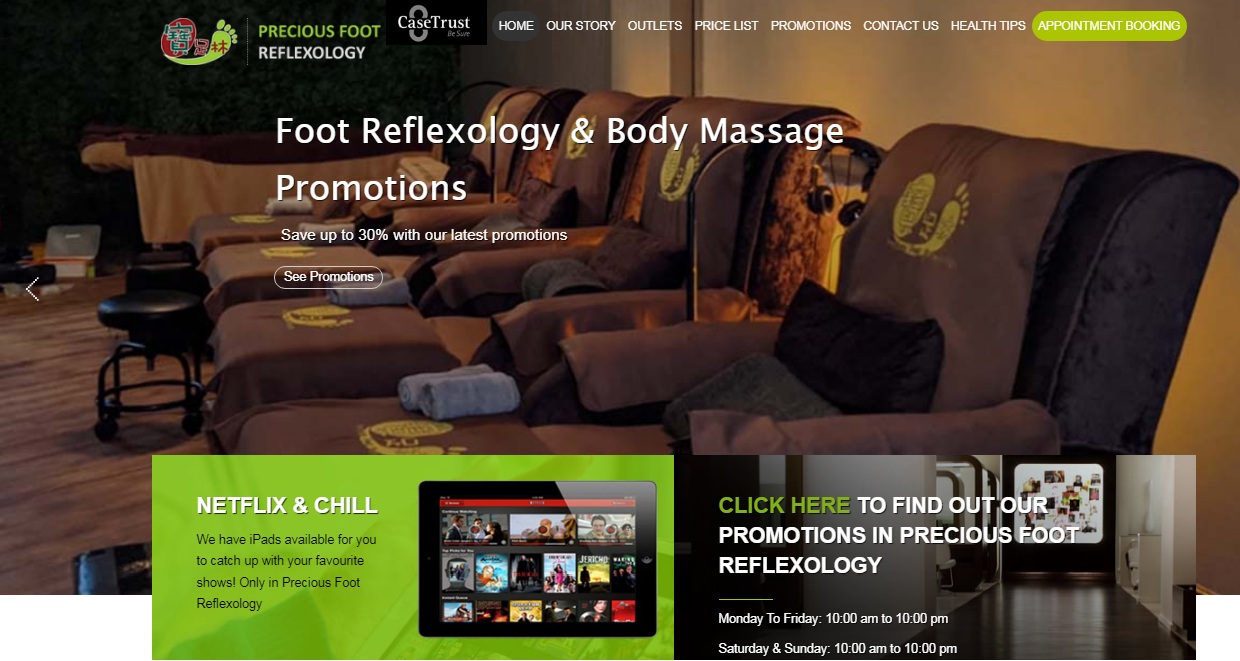 BEST FOR
Comfortable massages and reflexology
SERVICES
Body Massage, Back and Shoulder Massage, Foot Reflexology
WEBSITE
http://www.preciousfoot.com.sg/
ADDRESS
CLEMENTI OUTLET
Blk 443 Clementi Ave 3
#01-71, Singapore 120446
Tel: 8363 4703TOA PAYOH OUTLET
Blk 177 Toa Payoh Central
#01-134A, Singapore 310177
Tel: 6354 1911JURONG OUTLET
Blk 130 Jurong Gateway Road
#01-217, Singapore 600130
Tel: 6563 3766
CONTACT DETAILS
64812388 |

[email protected]

OPERATING HOURS
Monday – Friday:10.00 am – 10.00 pm

Saturday & Sunday :10.00 am – 10.00 pm
Treat yourself for some therapeutic massage at Precious Foot Reflexology & Massage. They are conveniently located in multiple outlets and are all near MRT stations. The spa uses only the best organic essential oils and creams for your maximum comfort.
Their most requested services are foot reflexology and body massage which range from a 45-minute session to 120. Their services are guaranteed to be rejuvenating and extremely relaxing which is a perfect way to end a stressful week.
To achieve a maximum experience, they also provide iPads for you to enjoy some of your favorite shows while getting a relaxing massage.
Service Highlights
Award-winning services
Affordable packages
Three outlets across the country
Customer Reviews
Aside from their undoubtedly amazing massage services, their clients were also pleased by the warm service that their staff is constantly giving.
"Enjoy a very relaxing foot reflexology here. Good staff, good experience, good service, clean & enjoyable environment. Thanks you guys.
Sktan customer service very good."
12. Yuan Dao Healthcare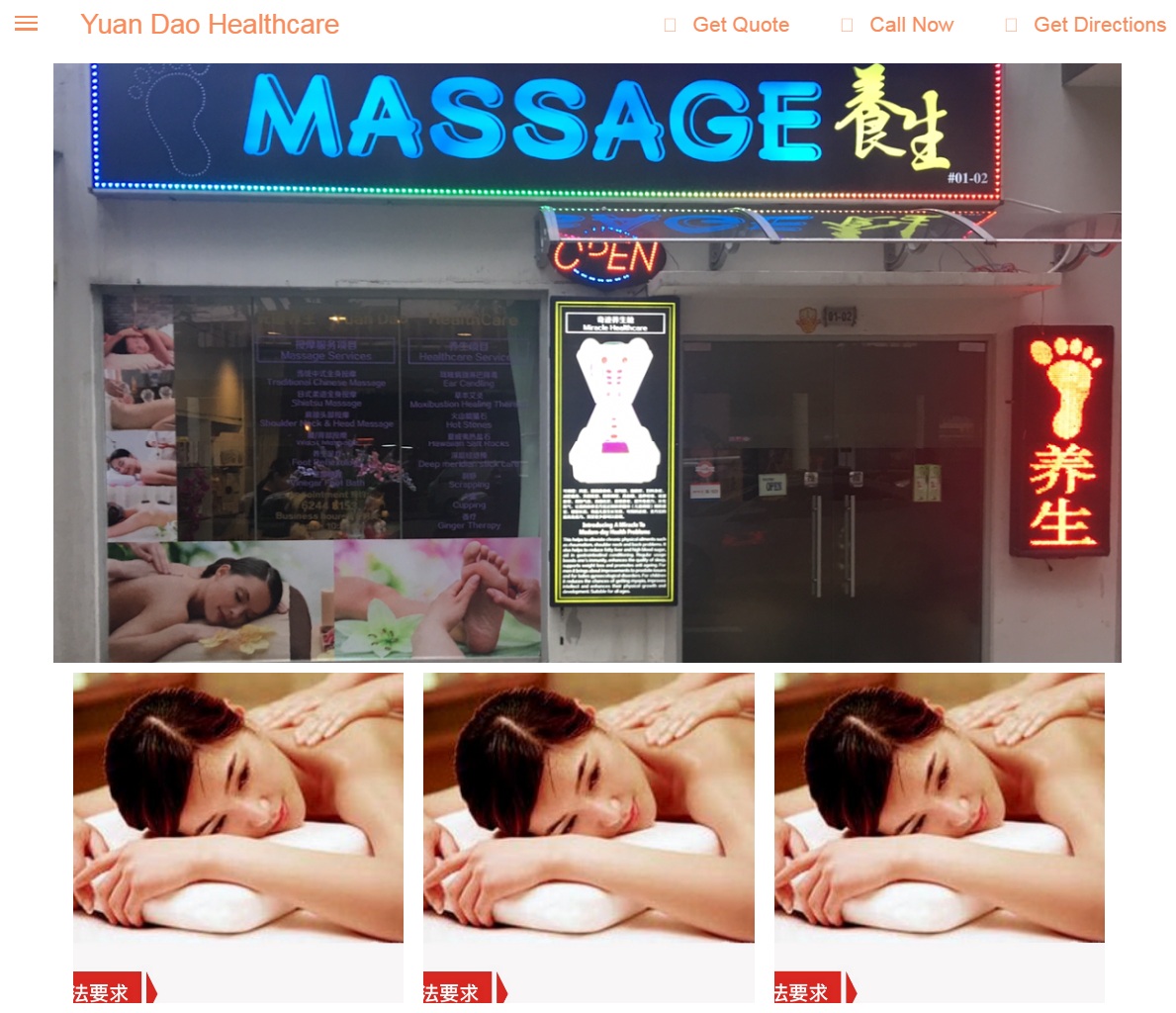 | | |
| --- | --- |
| BEST FOR | Wellness therapy |
| SERVICES | Traditional Chinese Massage, Shiatsu Massage, Foot Reflexology. Ear Candling and cleaning therapy |
| WEBSITE | https://yuan-dao-healthcare.business.site/ |
| ADDRESS | 500 Guillemard Road #01-02 Esta Ruby Singapore 399839 |
| CONTACT DETAILS | 6244 3153 |
| OPERATING HOURS | Mon-Sun: 9:00 am – 10:30 pm |
Yuan Dao Healthcare offers numerous wellness and beauty therapies like massage, foot reflexology, cleaning therapy, hot stones, cupping, etc. that really helps the body to cleanse and relieve stress.
Their massage therapies are applicable for both kids and adults, of course just with variation of pressure and other procedures. Nonetheless, all of their services are guaranteed safe and calming.
They also make sure not only to provide comfort for their clients but also provide them with therapeutic massages that are beneficial to various health concerns, hence their high satisfaction rating.
Highlights
Therapeutic massage
Competitive rates
`100% customer satisfaction
Customer Reviews
Their clients not only did appreciate their relaxing massage services but they also praised their warm and friendly environment.
"Usually I don't do any reviews, But felt to give a review after getting a massage from MIKI. She is very sincere and professional in fixing body pain & stress. Highly recommended"
13. The Posture Lab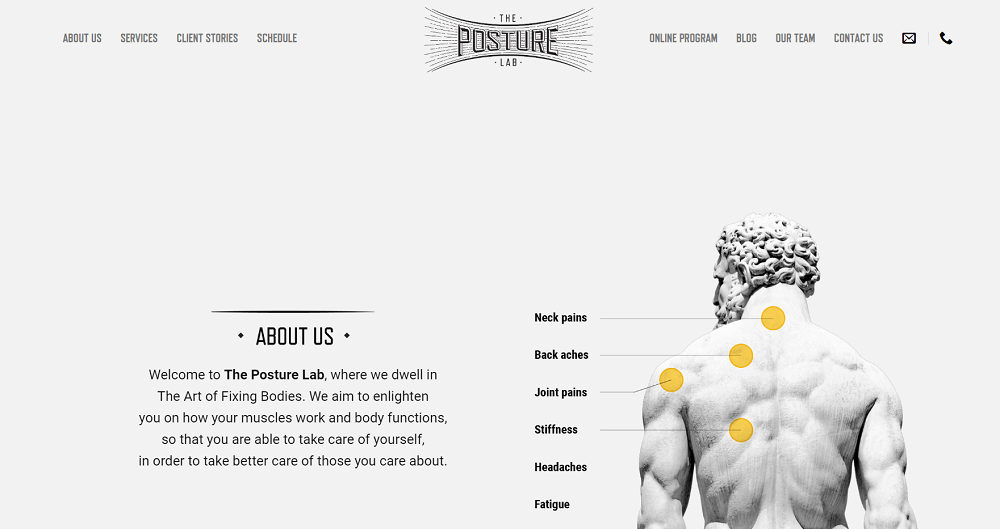 | | |
| --- | --- |
| BEST FOR | Physiotherapy |
| SERVICES | Posture analysis, physiotherapy, sport massage therapy, performance coaching, performance testing |
| WEBSITE | http://theposturelab.sg/ |
| ADDRESS | Orchard: *SCAPE, 2 Orchard Link #02-15, Singapore 237978Jalan Bukit Merah: 11 Jalan Bukit Merah, #01-4454, Singapore 150011 |
| CONTACT DETAILS | Orchard: +65 8792 7172 | Email: [email protected]Jalan Bukit Merah: +65 9424 7154 |
| OPERATING HOURS | 9 AM to 9 PM |
When it comes to 'fixing bodies', The Posture Lab is practically an expert. Their team of specialists is committed to teaching patients how to properly protect their bodies through the extensive services that the Posture Lab has to offer. Some to note of are sport massage therapy and posture analysis.
Aside from the goal of education, the Posture Lab is also committed to empowering their patients to achieve their physical goals. They do so by creating a personalised training method under their Performance Coaching and Testing service. If you believe in absolute care for your body come and be enlightened at The Posture Lab!
Highlights
Experimental and artistic methods
Helps athletes that struggle to perform
Alternative ways of dealing with pains are taught
Customer Reviews
Here are some reviews left by satisfied clients of the clinic:
"It was my first time with posture lab and I loved it. The therapist was very professional and he knew exactly which part of my body needs help without me telling him. At the end of the session, my body felt so much better and he went the extra mile by giving me advice to strengthen up my body as a whole. Thank you posture lab. It's definitely worth it!"

"Have done a sports message here twice and both experiences have been great. Emile was very knowledgeable and answered all the questions I had – he also explained the potential root causes of my pain and suggested things I could do to manage it. This helped to alleviate the anxiety I was feeling about my pain. Would totally recommend!"
14. Pure Relaxology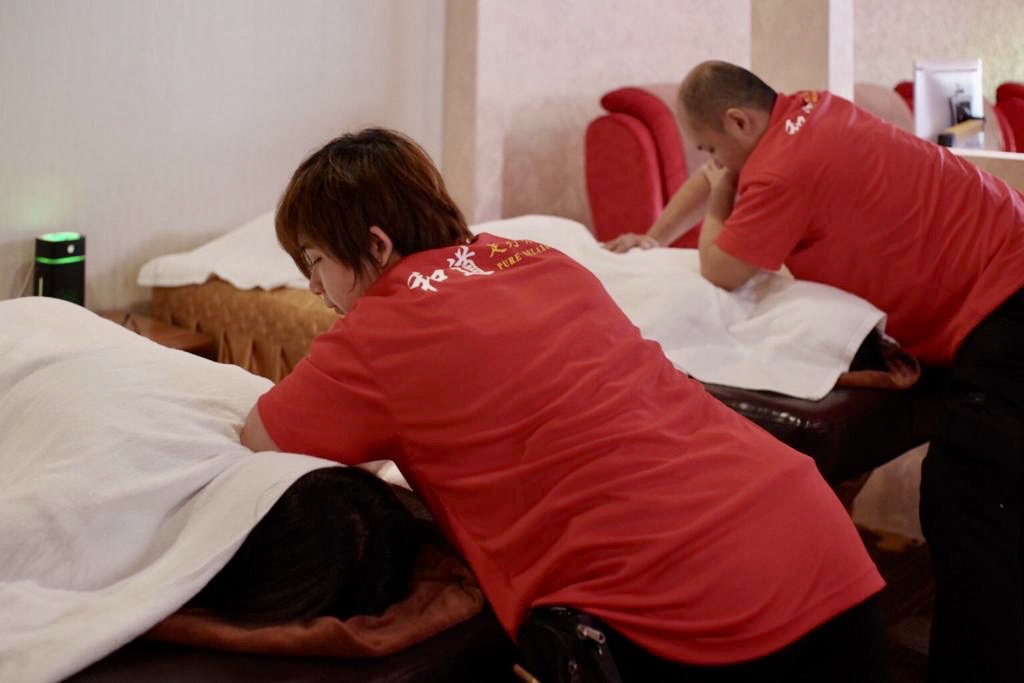 BEST FOR
Foot reflexology and tuina body massage
SERVICES
Foot Reflexology, Tuina Massage, Cupping and Guasha Therapy
WEBSITE
http://www.purerelaxology.com/
ADDRESS
207 Lavender Street S338765
CONTACT DETAILS
+ 65 62982930
[email protected]
OPERATING HOURS
10am – 10:30pm daily (including weekends and public holidays)
At Pure Relaxology, our highly skilled masseurs use the traditional Ruo Shi若石 method of massage to energize meridians and acupoints to balance the flow of qi in the body. The flow of qi and body circulation is improved and muscles are relaxed.
Tuina massage is based on the theory that imbalances of Qi can cause blockages of energy and blood flow in the body. Tuina massage thus stimulates the flow of Qi to promote balance and harmony within the body.
Pure Relaxology specialises in foot reflexology and tuina body massages. We also offer a master level cupping and gua sha coupled with massage to release the extremely tight tension knots and blockages in the body to restore the body's natural flow of energy.
Tucked away in a little corner of Lavender Street with an eclectic mix of neighbours including a tyre shop and car workshop, the unassuming outlet is an oasis of haven once you step inside. The air smells clean and fresh due to the use of disinfecting UV lamp with ozone. The extremely comfortable, fully reclinable massage chairs comes with individual monitor screen, personal headphone and best of all, a wide array of movies to allow total relaxation while having a foot reflexology session.
Highlights
use the traditional Ruo Shi (若石) method of massage to energise meridians and acupressure points to balance the flow of qi in your feet and body
Helps ease tension/muscles knots/ removes blockages from body
Highly skilled masseuse
Comfortable fully reclinable chairs with individual monitor screens and headphones
Customer Reviews
Pure Relaxology has received nothing but 5-star ratings from each of their clients, proving just how amazing they are in providing relaxing care.
"What an amazing gem of a place! Was in the area passing by but had stopped to have a look inside as the place just screamed comfort! Massive comfy seats with a big LED TV screen whilst having a foot massage?! Had a try out of interest and boy was it a good idea. I highly recommend the deep tissue massage and the foot massage thereafter.
I have been to many places like these before but the level of expertise and service from each member of staff was exceptionally good.
I cannot stress how highly I would recommend to anyone to try and I assure you would be feeling as amazing as I did when I left."
"Great customer service and great hospitality. Great massage technique reliefing all the body tensions that I never knew I had. Great facilities as well (comes with TV screen)"
15. Sabaai Sabaai Traditional Thai Massage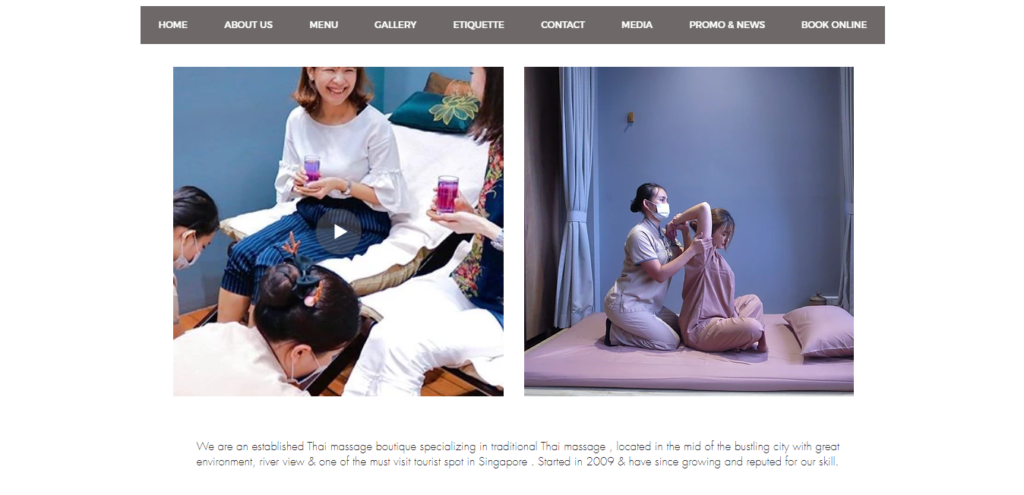 | | |
| --- | --- |
| BEST FOR    | Calming ambience |
| SERVICES | Thai traditional, aroma, signature, and herb massage, foot massage, shoulder and neck massage, head massage |
| WEBSITE | https://www.sabaaisabaai.com/ |
| ADDRESS | 49A Boat Quay, Singapore 049838  |
| CONTACT DETAILS | +65 9337 3715 |
| OPERATING HOURS | Monday – Sunday: 11:00 AM – 10:30 PM |
Sabaai Sabaai Thai Massage offers a variety of authentic Thai massages ranging from 30 minutes to 2 hours.
You can choose either traditional, signature, aroma, or herb massage for a relaxing session at this spa.
Aside from full-body massages, Sabaai Sabaai also provides head, neck, shoulder, and foot massage to help customers with localised pain. It even has a promo called 'New Office Syndrome Massage', which focuses on neck and shoulder massage therapy.
With its location in the middle of the city, you'll find this day spa as an oasis amid your busy and hectic life. What makes it even more appealing is that it has a view of the river, creating a perfectly calm ambience for you and other customers.
Highlights
Authentic Thai massage
Massage for localised body pain
River-side view and fragrances for a calming atmosphere
Loyalty stamps and promos
Customer Reviews
Here are reviews to tell you what customers like best in Sabaai Sabaai Thai Massage:
"One of the best thai massage places you can find here in singapore. Super clean place – nice robes for you to change into, toilet though a bit small was clean – had kirei kirei! Though prices are a little premium as compared to overseas or in JB. You really get a quality full body thai traditional Thai massage that will leave you wanting more. They have a chop system as well as you can collect and get discounts if you are a loyal returning customer…"
"One of the best traditional Thai massage in Singapore. The therapists are skilled and use good pressure to relieve any muscle tension or knots."
16. Fhysio

BEST FOR
Injury prevention therapy
SERVICES
Massage, Physiotherapy, Sports massage, Myofascial course
WEBSITE
https://www.fhysio.com/
ADDRESS
Delfi Orchard 402 Orchard Rd, #02-01/02 Singapore 238876
CONTACT DETAILS
(65) 9777 9203/[email protected]
OPERATING HOURS
Monday-Sunday
9am-9pm
FHYSIO believes that your massage should be as unique as you. They are the only ones in Singapore that provide massages that are even safe for those who had just gone for surgery.
Before the start of each personalized massage therapy session, their in-house physiotherapist will assess your condition. By understanding your situation, their wellness team can safely and effectively tailor the massage to fit your exact needs.
Drawing from eastern and western modalities, they offer 3 types of personalized massage therapy to help you relax and recover.
They have also been offering high-quality Sports Massage courses and Myofascial Release courses to the public and healthcare professionals since 2016. Today, they are the leading Sports Massage course provider in Singapore.
Not sure what's the difference between a Sports Massage and a normal massage? Check out their guide on Sports Massages in Singapore.
Highlights
Affordable personalized massage therapy sessions
Physio-led massages and welcoming studio
Sessions good for targeted stress and pain-relief
Customer Reviews
Here are some feedback left by previous clients:
"Highly recommend. Came in feeling stressed and left feeling relaxed and happy. Will be back again."
"This is the only place I go for a massage now. Therapists really care and have given me the most helpful advice for ways to manage back and shoulder pain between appointments. I feel like they always go above and beyond. The Physiotherapist made sure which area needs to be addressed. They made me amazingly comfortable the entire time. 5 star massage and experience!"
"I'm a runner and I was suffering from quad pain. I tried a lot of recovery methods but they weren't really effective. I started going to FHYSIO and signed up for their personalized massage therapy and it's been so helpful in reducing my pain. I like their professionalism, and the Physiotherapist also gave me really useful advice on what to do and avoid."
17. Squeeze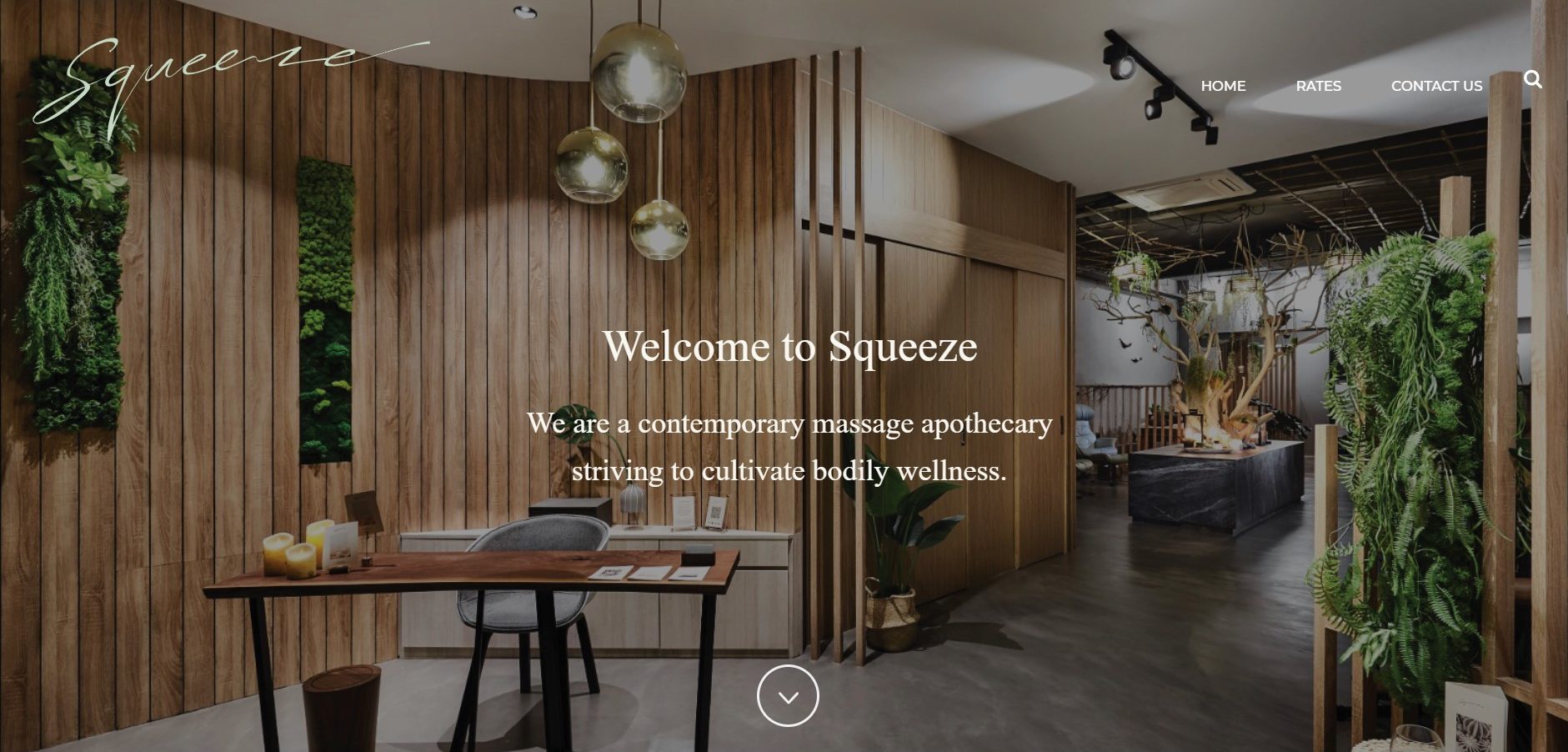 BEST FOR
Express Massage
SERVICES
Foot massage, Back and body massage, All-in-one massage, Express Massage
WEBSITE
http://squeeze.sg/
ADDRESS
171 Thomson Rd, Singapore
CONTACT DETAILS
+65 8777 0171
[email protected]
OPERATING HOURS
Weekdays: 11am — 10pm
Weekends and Holidays: 10am — 10pm
Squeeze is a contemporary massage apothecary offers an extraordinary spatial sanctuary and spiritual experience while embracing traditional techniques in cultivating bodily wellness. Squeeze marriage quality with affordability.
A boutique setup, filled with greeneries, bringing nature into the concrete oasis. Entering into Squeeze, you will feel like home. The decos and the service are welcoming, that made you feel like a getaway to the nature.
High quality therapists, coupled with the beautiful settings and at comparable pricing. A popular place and do make reservations in advance.
Highlights
Beautiful decos and cosy interiors
Skilful therapists
Surrounded with greenery
Garden and getaway concept
Combo massages services
Affordable price
Customer Reviews
Read what Lyn Koh, a very satisfied customer, had to say about Squeeze's massage services:
"Love this place! Great ambiance, smells wonderful! Most importantly, excellent service and super friendly staffs! Will definitely visit again."
18. Spa Nes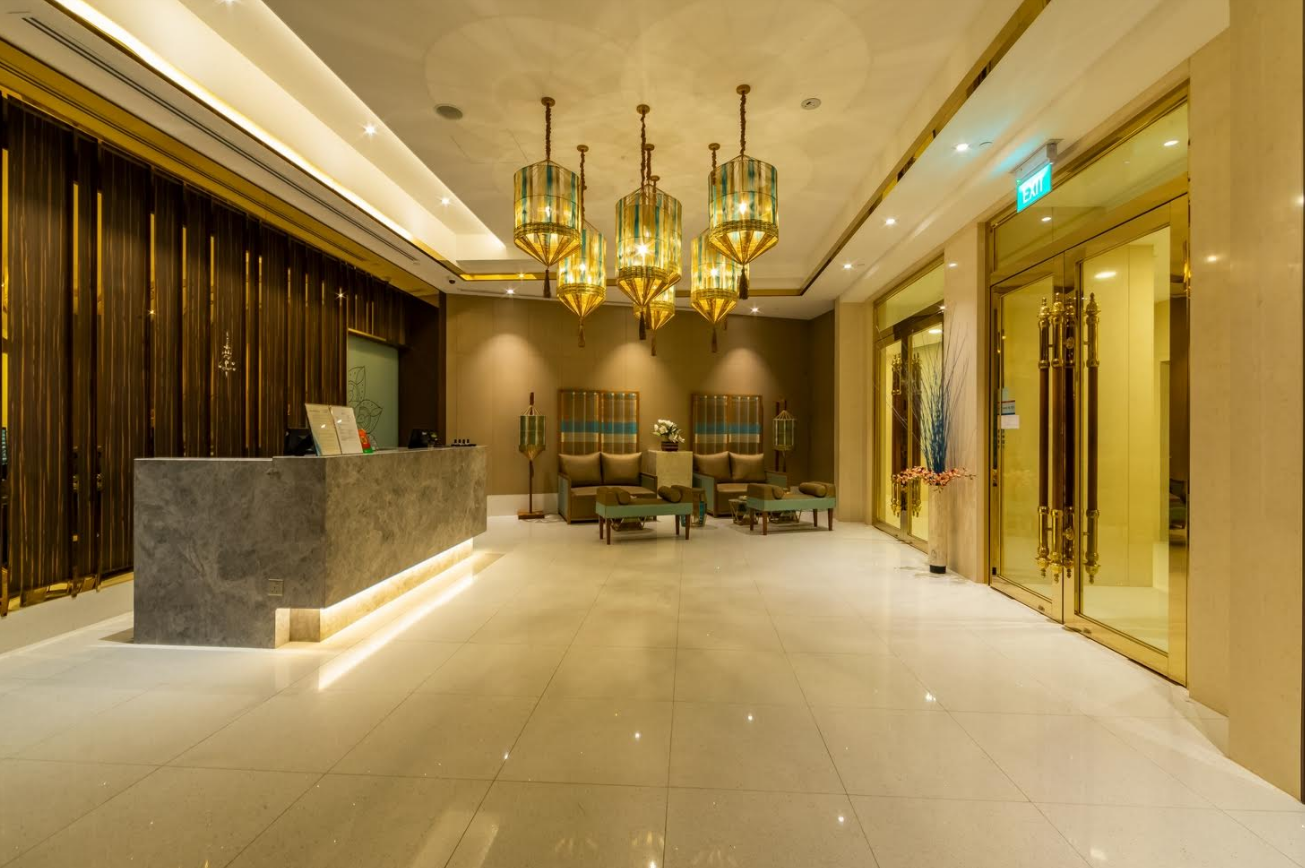 After a long and tiring day in the bustling city, there is no better time to visit Spa Nes to unwind and de-stress.
Proudly being the largest spa in the city spanning up to 13000 square feet, this lifestyle hub is open daily from 11am – 6am, Monday to Sunday. The spa offers top notch amenities like our state-of-the-art hot & cold cryo pool, steam room, jacuzzi and our delicious buffet to fill your belly after a rejuvenating massage.
On top of that, they provide a variety of add-on therapies like body scrub treatments & different kinds of essential massage oils to help maximise the effectiveness of your massage. Their spa treatment therapies are skillfully designed to pamper the body and nourish the soul, wildly living up to its motto, "Always Incubating Vigour".
You may also wish to further indulge in a journey of wellness by soaking in the tranquil settings of their private jacuzzi.
The combination of heat, massage and buoyancy is one of the top benefits of jacuzzi use as it helps to clear the mind. Jacuzzi jets also ease stressed muscles, making you feel brand new. You need to feel it to believe it. Come soak in one in their VIP couple suite which is only an additional $68 for 30 mins.
Highlights
Luxurious and comfortable interior
Wide array of spa and beauty treatments
Open daily
19. Grandeur Spa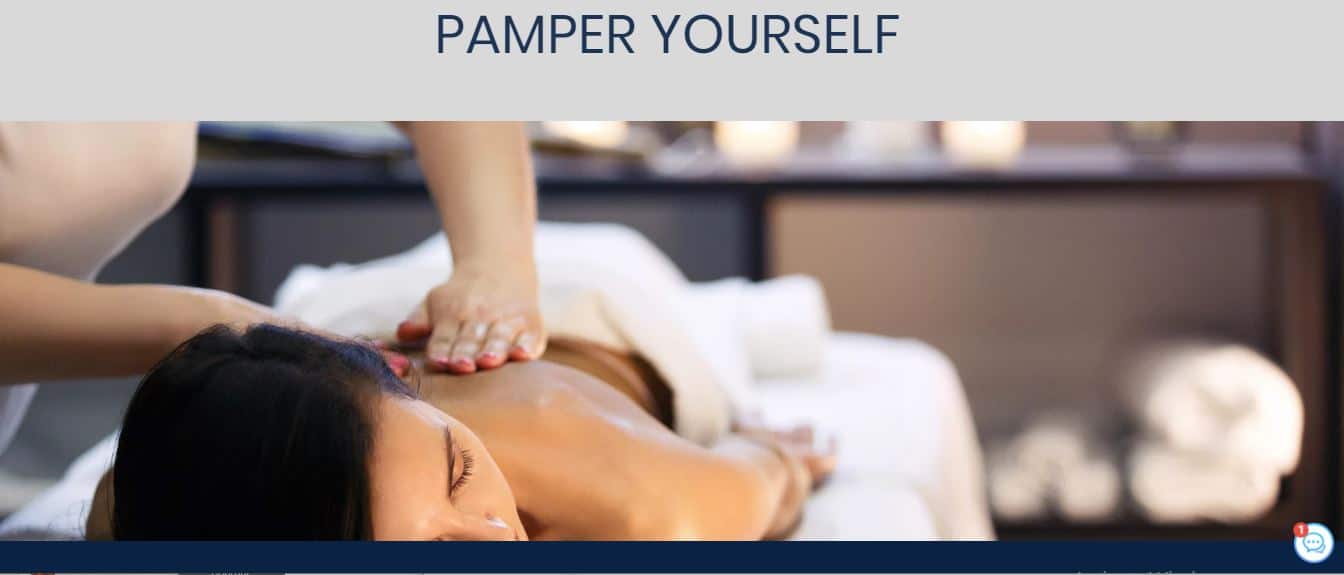 | | |
| --- | --- |
| SERVICES | |
| WEBSITE | |
| ADDRESS | 480 River Valley Rd, Singapore 248365 |
| CONTACT DETAILS | +65 6310 5589 |
| OPERATING HOURS | Monday – Friday: 9:00 AM – 10:30 PM |
Grandeur Spa offers the grandeur traditional and full-body Chinese massage to improve the flow of blood and energy within its clients' bodies. The spa also does hot oil massage therapy and ear candling for added relief.
This spa's massage rates are already affordable on their own, but Grandeur Spa takes its affordability to the next level as it has special discounts. Among its discounts is the Golden Moment, a promo where the traditional massage drops to $55/hour within 9 AM to 2 PM.
And by having over 13 massage therapists, Grandeur Spa can provide such perks to more Singaporeans at a time. This team of masseuses is also very diverse, with some of them speaking other languages like Chinese, Vietnamese, and Malay.
But speaking of masseuses, you should know that some customers found a few massage therapists to be pushy. Some have also complained about poor customer treatment from the front desk staff.
Luckily, Grandeur Spa still reaches out to its customers to try and amend any bad experiences.
Service Highlights
A large team of traditional Chinese massage therapists
Ear candling, ear refreshing, and hot oil massage add-ons
Proficiency in 4 languages
Golden Moment promo from 9 AM to 2 PM
Customer Reviews
Read these reviews about Grandeur Spa to know more about what clients like and dislike about the spa:
"Clean modern affordable massage franchise. Prices are very reasonable and quality of massage is good. Bookings needed. Full body massage with private rooms, and comfortable surroundings. ELSA was friendly and assuring, with really good hands. Will definitely come back again!"—Dominic Ang
"This is my second time visit Grandeur SPA, nice & comfortable place to relax. I very impressive of the Masseur name of Elsa. She is very professional,skillful and friendly. My massage was the perfect balance of therapeutic and relaxation. It was truly a massage therapy and she went above and beyond in every way to get the tension out of my neck, shoulders and back. She is a true professional. Highly recommended !! Will make appointment with her again."—Tan Jia Ching
20. Moomin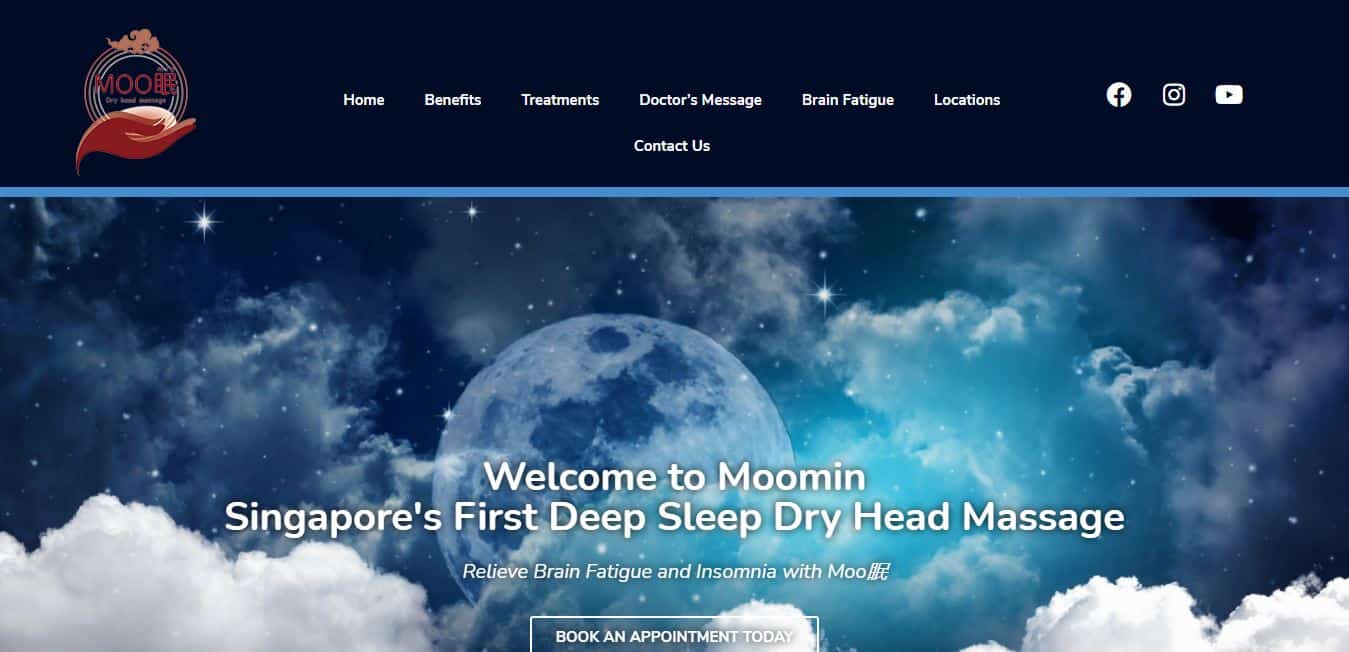 SERVICES

Deep sleep dry massage

WEBSITE

ADDRESS

Funan: 107 North Bridge Rd, #B1-19, Singapore 179105

VivoCity: 1 HarbourFront Walk, #02-96 VivoCity, Singapore 098585

CONTACT DETAILS

Funan: +65 6970 0767

VivoCity: +65 6255 3105

OPERATING HOURS

Monday – Sunday: 11:00 AM – 9:00 PM
Moomin is the first-ever deep sleep dry massage spa in Singapore. So, its main focus is on relieving you of stresses caused by insomnia and other conditions tiring your mind.
It achieves a deep sleep state for your brain by creating a meditative space through scalp relaxation and light kneading. And to offer holistic relief and improve overall circulation, Moomin's therapists also massage stiff muscles.
This massage spa also understands that just about anyone from any age bracket can suffer from sleep deprivation. For this reason, Moomin's massage was designed to cater to adults and even kids as young as 12 years old.
And to truly cater to anyone in need of its help, Moomin is open every day. It may close at an early 8:00 PM, but this early closing time is to allow its clients to take the massage results straight to their own comfortable beds.
However, since Moomin provides massage therapies that enable healthy sleep, it may not be the best spa for those looking for intense massages. At least, that's what we've gathered from its customer reviews.
Service Highlights
2 locations in Singapore
All week availability
Massage for the sleep-deprived or mentally fatigued
Deep sleep massage for all ages
Early closing hours to encourage healthy sleeping habits
Customer Reviews
Here are some reviews:
"I barely slept last night, mobile game in bed, TV noise outside, partner snoring, bathroom break, clean up the kitchen in the middle of the night. I had to be in office with a clear head and decided to sacrifice my lunch for a power nap at Moomin. It really helped when I went back to office after a 40 min session. I think can make the room smell slightly more pleasant to speed up the deep sleep process. I don't appreciate the staff tried to correct my time stamp on the card by suggesting I did not get it deducted in my last session. I have the latest receipts stapled and paid for extra time in my last session. The time stamp was after a good discussion with the same staff at the last session and it was correct. Your system cannot cope with additional payment and add time correctly? Or you don't trust your manual system, handwritten on the physical card?"—Chloe Neo
"It was really good and relaxing. I liked how they actually brief me first so that my expectations are in check and I understand more about their services. At the end, they were not pushy about their package also but I still took it up as felt it was worth it. Never really had came across any other places where they purely focus on the head and help you to relax…"—Anand prabhu
With that, we have our top spots for the best massages in Singapore. We hope that the next time you're in pain and searching where there's a 'massage in Singapore near me' in the middle of the night, that you refer to this helpful list!
Try one of these soon if you sorely need a respite, because treating yourself to a massage is one of the best ways to take care of your body and mind!
Note that you may also benefit from investing in some fitness activities to improve your overall body condition if you notice yourself needing a lot of massages to get by. For example, you can try going to the best yoga classes in Singapore to tone your body as well as promote your mental and spiritual health.
*Images are taken from each company's official websites/social media.