Get Refreshed & Revitalised: 7 Top Medical Spas in Singapore
Beauty and relaxation—what better way to go down the wellness path than with these two end results? And nobody deserves it better than you (well, me too, of course).
I believe the best Medispa centres in Singapore exist to help us gain more confidence in the skin we're in. So let's take a look at some of them, shall we?
Is Medispa in Singapore expensive?
Compared to surgical aesthetic treatments, services at Medispa are relatively affordable. However, they can cost a bit of money depending on several factors.
The clinic's or doctor's reputation, the equipment and medication involved, and the length of the treatment can affect the final invoice. The aesthetician will also consider your skin's condition and how many treatments or sessions will be done.
But here's a table to give you an idea of the average costs of common medical spa treatments.
TREATMENT
AVERAGE RATE
Consultation
From S$70
Acne scar treatment
From S$300 for shallow scars

From S$750 for deeper scars

Medical facial
From S$2,000 for 10 sessions
Rejuvenating/anti-ageing treatment
From S$500
BOTOX
From S$300 per area
How I Chose
I used the following criteria for this listicle:
1. Cove Aesthetics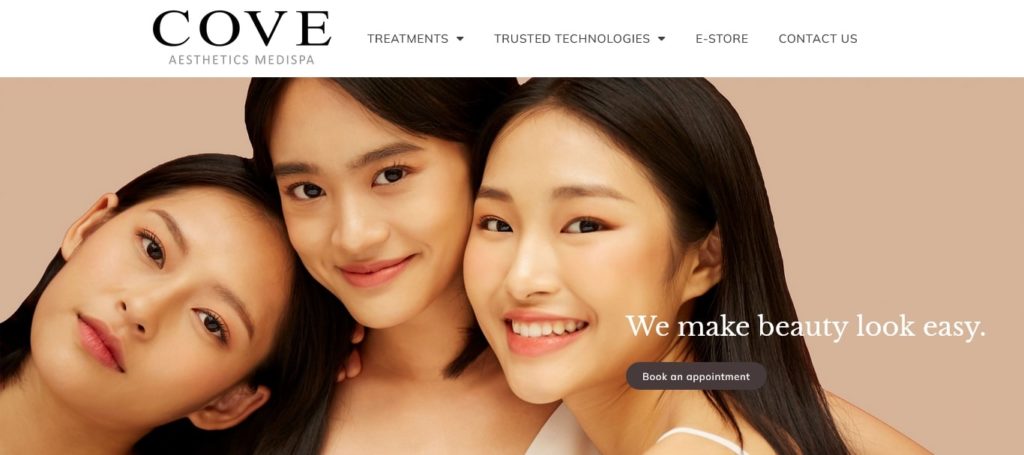 Title
Info
SERVICES
Wonder Lift, AquaGlow, Intense Hydration Facial, Rejuran Baby Skin Booster, Onda Coolwaves, Venus Legacy, DPL Hair Removal, Fat Freeze, Skin Tightening and Lifting, Medical Facials, Skinceuticals, and Body Shaping and Slimming
WEBSITE
https://coveaesthetics.com.sg/
ADDRESS
501 Orchard Road #04-07B Singapore 238880
CONTACT DETAILS
6734 6431

WhatsApp 8299 2920

OPERATING HOURS
Opening Hours: Mon – Fri: 10:00am-8:00pm Sat: 9:30am to 6:00pm Closed on Sundays and Public Holidays
Stepping into Cove Aesthetics Medispa always gives a serene, calming effect like the air is infused with some kind of relaxing enzyme. But it doesn't stop there, as the available treatments are designed to address specific skin or body issues.
I like that there's a thorough consultation period which assesses my current skin needs. Other medispa clinics I've been to recommend (more like push) a treatment straightaway without acknowledging my skin sensitivity.
And if you're into the Korean beauty craze, you'll be happy to know that Cove has FDA-approved Korean beauty technology here, too. Now that's something I'd want to try next.
With the tailor-made treatments and the welcoming warmth I always receive at Cove Aesthetic, there's really nothing I find lacking with this clinic. I do wish it opens every Sunday, though that's quite rare for a medical spa in Singapore.
Doctor-designed treatments
Strictly no hard-sell policy
Treatments are tailored for each individual
Friendly and relaxing ambience
Offers first trials and discounts
Uses only medical-grade equipment
Customer Reviews
Excellent service
"As we aged our skin need more hydration and boost. I tried the Cove HydraFacial and it made wonders to my skin. It feels so smooth and lightens the skin. Aside from the excellent service done by their therapist. I recommend the HydraFacial for everyone!" — Rlin Sanchez
Pleasantly relaxing
"I have enjoyed my 1st and 2nd visit to Cove, starting on the Onda Coolwaves treatment which is pleasantly relaxing. While I expected some discomfort after the treatment, there was none which was comforting for a body treatment newbie like me. The therapist Sharon walked me through each step of the 1 hour treatment and patiently entertained my questions. Vannes is the consultant I first spoke to: be prepared for a dose of reality as she sat down and talked through my concerns and discussed what we could work on first. It has been an open conversation and I enjoyed speaking with the ladies here and learning more about the treatments as I go through them. Excited to see the eventual outcome and the process has been enjoyable to date." — Daphne Lee
2. The Belle Clinic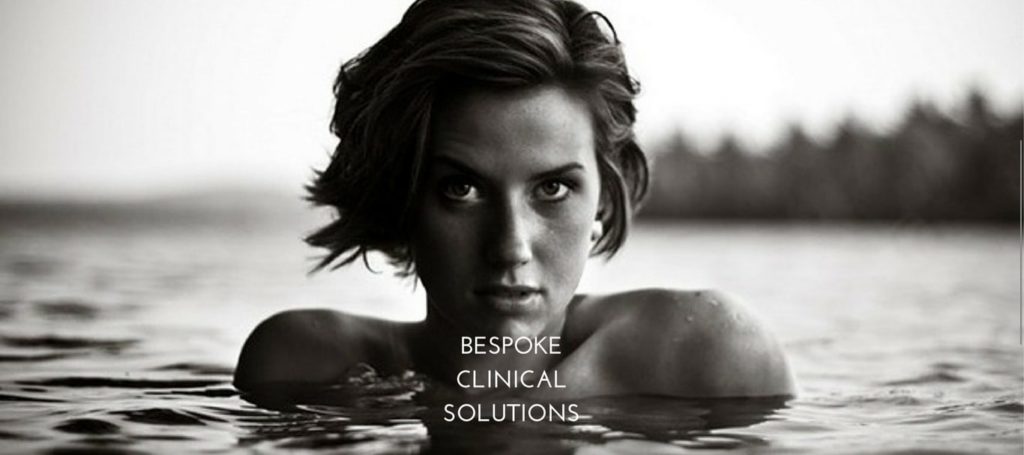 Title
Info
SERVICES
Face lab, body lab, skin lab, sports medicine lab
WEBSITE
https://www.thebelleclinic.com/
ADDRESS
160 Robinson Road, Mediplex @ SBF Center,#03-02, Singapore, Singapore
CONTACT DETAILS

[email protected]

+65-64448108

OPERATING HOURS
Monday to Friday, 10 AM - 7 PM

Saturdays, 9 AM - 2 PM

Closed on Sundays
The Belle Clinic found its way into my review shortlist because it doesn't believe in a one-size-fits-all medispa programme. That's a good enough premise for me.
The team is headed by the highly competent Dr Maybelle Tan whose youthful looks alone are proof of how effective her treatments are. But her impressive medical background and practice both here and abroad made me feel I was in good hands.
The place itself is clean and tastefully appointed without feeling intimidating. And it's got a good range of programmes for the face and body as well as a sports medicine lab.
The Belle Clinic does have its own skincare products that the staff will try to sell to clients. But you can always be firm about refusing them if you don't really think they're for you.
Personalised approach to treatments
Clean, welcoming environment
Highly experienced doctor and staff
Can try to upsell products to clients
Closed on Sundays
Customer Reviews
Flawless experience from start to finish
"Great doctors in a fabulous space. It was a flawless experience from start to finish. Thoughtful aftercare as well." – Sarah Ko
I felt comfortable and at ease throughout the process
"I tried a glycolic facial with Dr Maybelle and I loved the whole experience! From the professional service to the actual treatment, everything was perfect. I felt comfortable and at ease (very important when consulting any doctor – aesthetic or not) throughout the process. A series of sessions are needed for best results, but my skin already looks and feels clearer just after one treatment." – Anthia
3. ASTIQUE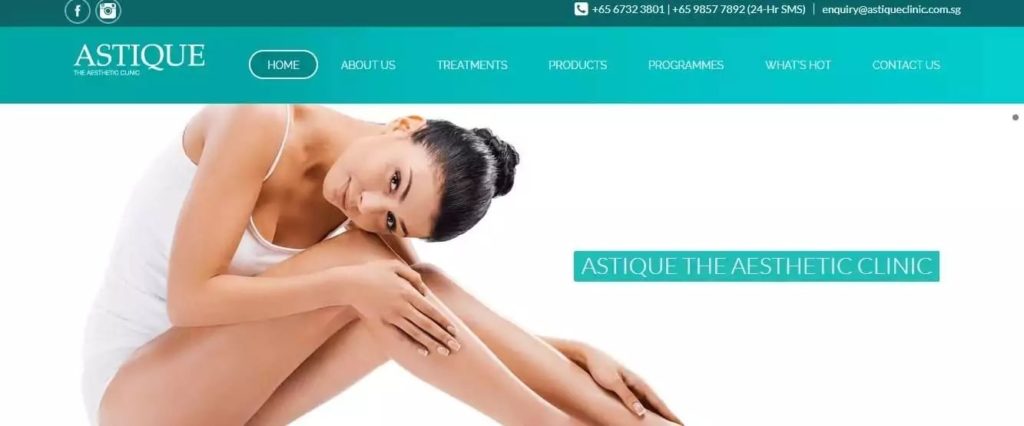 Title
Info
SERVICES
Face, eye, body, injectables, laser, multimodal treatments
WEBSITE
https://www.astiqueclinic.com.sg
ADDRESS
1 Grange Road #12-02 Orchard Building Singapore 239693
CONTACT DETAILS

[email protected]

(65) 6732 3801 | (65) 9182 5969

OPERATING HOURS
Monday to Friday, 11 AM - 8 PM

Saturdays, 11 AM - 4 PM

Closed on Sundays
I heard good things about Astique's acne treatment and its effectiveness, so I decided to check it out for myself. Long story short, my flare-ups greatly improved even after just the first session.
Astique's menu of services is pretty impressive, with its facial care treatments alone covering acne, skin pigmentation, uneven skin tone, wrinkles, and more. But it also offers body and eye treatments like CoolSculpting and dark eye circle rejuvenation.
And if you're shy about getting work done on either face or body, fret not. Astique is strict about patient confidentiality.
Although my personal experience was as near-flawless as my skin (hah! I can dream), I heard complaints about how appointments are harder for those who work during the daytime. But I did notice that Astique's team reached out to rectify the situation.
Good results are seen almost immediately
Plenty of treatments for face and body
Friendly staff
Some complaints about difficult booking
Closed on Sundays
Customer Reviews
Staff are really friendly
"I have been with Astique for many years, the staff there are really friendly and the environment is always comfortable. Dr is professional and I'm a fan of their dual yellow and radiance treatments. A special shout-out to Shabeena who always takes such good care of me. Such a gem she is!" – Aik Chin Goh
Laser treatments are targeted to my specific needs
"I have been with Astique for a number of years and have only had positive experiences so far. The laser treatments recommended are targeted to my specific needs and all laser treatments at Astique are administered by a qualified doctor. Dr Yong explains all the treatments, what to expect with each treatment, possible side effects and follow-up very clearly. My facial therapist, Jessica, is very skilled & personable and her face massages are fantastic! I would recommend her highly! Overall I have been very satisfied with their services." – Jack L
4. Sozo Aesthetic Clinic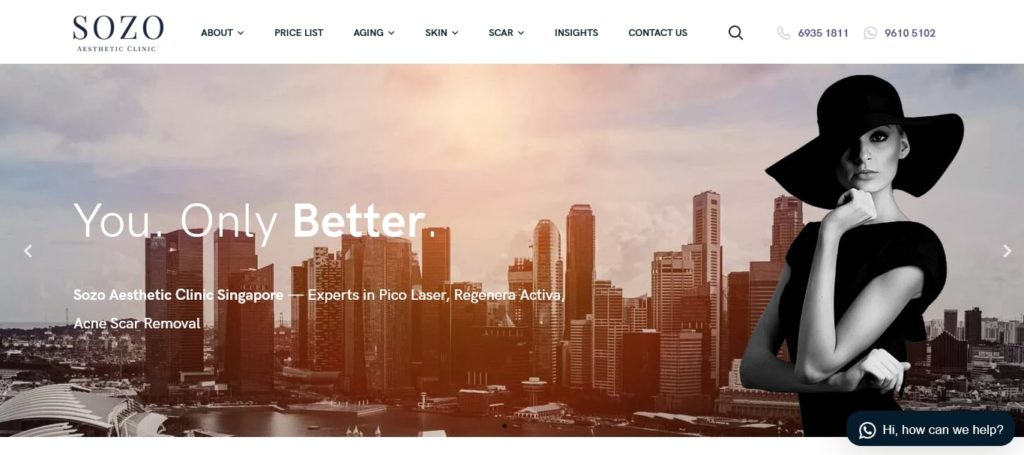 Title
Info
SERVICES
Acne-scar treatment, skin treatments, facial rejuvenation, hair loss solutions, treatment for enlarged pores
WEBSITE
https://sozoclinic.sg/
ADDRESS
1 Raffles Place #05-12/13 One Raffles Place (Shopping Mall) Singapore 048616
CONTACT DETAILS
6935 1811

WhatsApp 9610 5102

OPERATING HOURS
Monday to Friday, 10 AM - 8 PM

Saturdays, 10 AM - 3 PM

Closed on Sundays
It's rare for a medispa in Singapore to also offer special treatments like tattoo removal and scar treatment, but Sozo Aesthetic Clinic does. I'm bookmarking them in case I end up with either a tattoo or a scar I want to remove in the future!
Beyond those, Sozo offers customised sessions for ageing skin, hair or volume loss, as well as different skin issues. Its pricing is upfront and quite fair, with pigmentation removal via laser at just S$150.
The clinic offers programmes targeting everything from hair loss to face lifts, so the prices are also customisable. I like that there's a thorough consultation and no hard selling involved, so the treatments are focused on the client's needs.
It's a bit of a bummer that clinic hours are shorter on Saturdays, which is when I'm typically free to get a facial or other skin treatment.
Does special treatments like tattoo removal
Reasonable and upfront rates
Offers treatment packages
Closed on Sundays
Shortened hours on Saturdays
Customer Reviews
Felt extremely welcome and comfortable on my first visit
"I strongly recommend Sozo Aesthetic. The team was insightful and concise in their explanation for the treatment that I'm receiving. I felt extremely welcomed and comfortable on my first visit yesterday. Look forward to my next visit with them for my tattoo removal. You guys are awesome!" – Stephanie Ang
The treatments are effective and reasonably priced
"The team at Sozo are professional, welcoming, patient and helpful. The treatments are effective and reasonably priced. I also really appreciate their operational efficiency, I never had to wait very long for my appointments, or spend too much time on any treatment. I highly recommend Sozo for your clinical aesthetic needs." – Christina Lim
5. David Loh Surgery
Title
Info
SERVICES
Skin tightening, liposuction, hyaluronic acid fillers, laser treatments, body contouring, B*TOX
WEBSITE
https://davidloh.sg/
ADDRESS
10 Sinaran Drive, #08-35 Novena Medical Center, Singapore 307506
CONTACT DETAILS
+65 6733 5300

WhatsApp +65 9153 1503

OPERATING HOURS
Monday to Friday, 10 AM - 7 PM

Saturdays, 10 AM - 3 PM

Closed on Sundays
Though I haven't personally had fillers, BOTOX, or body contouring treatments (yet), I was pleasantly surprised to discover that these are just some of David Loh Aesthetics' specialities.
That doesn't mean that the clinic can't address regular skin issues such as I have. My current source of insecurity has to do with my enlarged pores, which the helpful therapist reassured me can also be addressed by an intradermal B*TOX treatment.
After hemming and hawing, I finally decided to give it a go. It didn't take too long for me to realise I had smoother, tighter-looking skin with an even skin tone!
The rates here are a bit higher than national averages, though not by much. I like how upfront the clinic is with the prices and how carefully each procedure was explained to me.
Convenient booking process
Wide range of facial and body treatments
Experienced and friendly staff
Slightly pricier rates
Closed on Sundays
Customer Reviews
Very professional and absolutely awesome
"Been with this place since 2015. My therapist is Sammie and she was very professional and absolutely awesome throughout my journey! Best for SHR and aesthetic treatments!" – Agn
The staff is amazing
"I have been going to David Loh surgery clinic for 5 years now, Dr Phoon is amazing, she has a great eye and great hands and always makes you look your best. If you ask for something and she thinks it will not look good, she will tell you and propose something else. She also never overdoes it. The staff is amazing, especially Sammie, who is always here to help! I trust the team completely and cannot recommend them enough." – Lena Delaunay
6. Edwin Lim Medical Aesthetic Clinic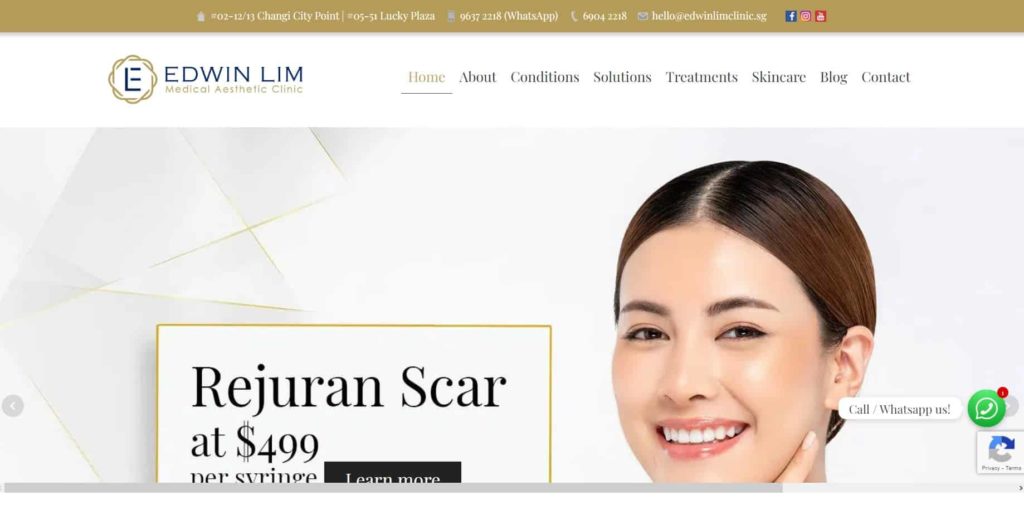 Title
Info
SERVICES
Injectables

BTX for Wrinkles

V-Shaped Face Dermal Fillers for Facial Contouring

Ellanse Filler 少女针

Skinboosters

Rejuran Healer

Rejuran S Acne Scar

Rejuran I (Eye)

Hiko PCL Nose Threadlift

Face and Cheek Threadlift

Profhilo 逆時針

Fillmed NCTF 135 HA Skinbooster Singapore Guide

Laser

Pico Laser

Pico Fractional Laser

Acne Laser

Pigmentation Laser

Glow Bright Laser

Carbon Spectra Laser "Hollywood Peel"

eCO2 Acne Scar Resurfacing Laser

Underarm Whitening Laser

Laser Tattoo Removal

Medi-Facials & Fat Freeze

360 Fat Freezing

Aquapure Medi-Facial

CO2 Oxygen Facial

OMEGA LED Light Facial

HIFU & Other Treatments

Ultraformer HIFU Facelift

HIFU Eyebag Reduction

Laser Mole and Bump Removal

Acne Cortisone + Antibiotic Injection

Subcision Acne Scars

Hair Loss And Hair Removal

Hair Removal Laser

Regenera Activa for Hair Loss

Hair Loss Medications

Hair Growth Supplements

Minoxidil: Hair Loss Medication

Skincare

WEBSITE
https://edwinlimclinic.sg
ADDRESS
East Clinic: 5 Changi Business Park Central 1, #02-12/13 Changi City Point, S486038 Orchard Clinic: 304 Orchard Road, #05-51 Lucky Plaza, S238863
CONTACT DETAILS
Email: [email protected] Phone: 69042218 Whatsapp: 96372218
OPERATING HOURS
East Clinic: Monday to Friday: 11am to 8pm Saturdays: 11am to 6pm Closed on Sundays and Public Holidays Orchard Clinic: By Appointment Only
Edwin Lim Aesthetic Clinic is a facility that provides its clients with comprehensive and research-based aesthetic treatments for treating various face diseases utilizing the best skin treatments and products for each skin type and concern.
Dr. Edwin Lim, the clinic's owner, and operator, is well-trained and talented in treating many skin diseases. His educational experience and renown in the field reflect his dependability and the overall degree of care the clinic gives to its clients.
Clients who have previously utilized their services have complimented them for their effective treatments and experienced staff and professionals that not only deliver the best solutions but also long-term results over extended periods of time.
Fees and treatment packages, however, are not clearly available on their website, so interested patients may need to query further for more information.
Overall, we strongly suggest interested customers check them out because of their diversely experienced team of professionals in the field and personnel, a wide range of therapies provided, and highly regarded treatments conducted.
Widely recognized services and expertise in the field
Wide array of comprehensive and sustainable treatments offered
Highly experienced personnel employed
Rates of their services and treatments aren't readily available
Customer Reviews
Here are some reviews from their clients:
"I had a good experience with Dr. Edwin for my filler facelift treatment. He has a great eye for detail and really understands facial anatomy. I felt completely comfortable throughout the entire process and the results are fantastic. My cheeks look fuller and more lifted – I've received so many compliments already that I look younger!"
"I've visited Edwin Lim for Restylane injection. The experience are excellent! The doctor is very professional and sophisticated during the entire treatment. No hard selling and only gave genuine suggestions. After a few days of the treatment my face shape has improved much more. I'm now satisfied with the results now. Will definitely visit again :)"
7. Skin Master Johor Bahru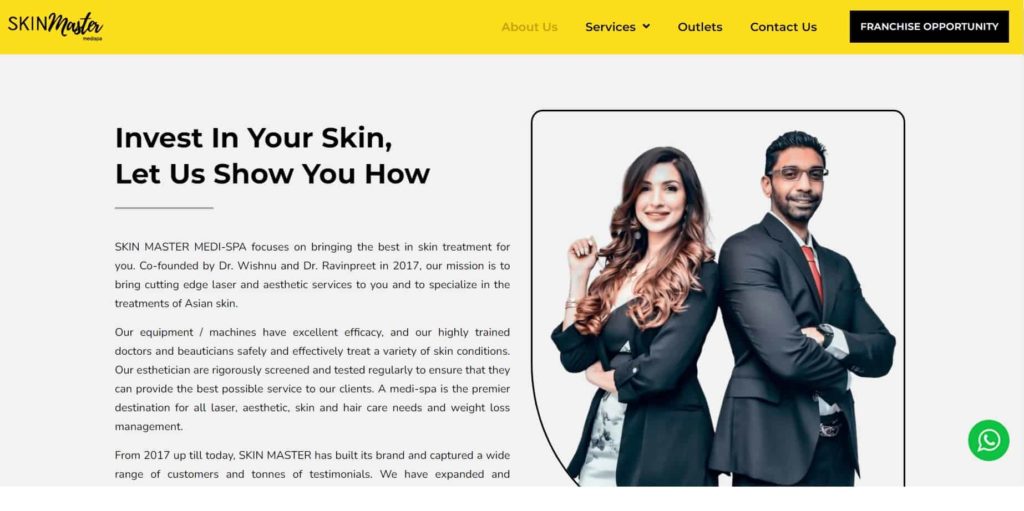 Title
Info
SERVICES
Carbon Peel Laser + Microdermabrasion

Carbon Peel Laser

Oxygen Infusion

Carbon Peel Laser + Oxygen Infusion

Acne Facial

Dermaplanning

Hydrafacial

Dermaplanning + Hydrafacial

Gentleman's Facial

The Signature Facial

Salmon DNA Facial

Skin Lightening

WEBSITE
https://skinmaster.com.my
ADDRESS
Block H-02-12, komersil southkey, Persiaran Southkey 1, Kota Southkey, 80150 Johor Bahru
CONTACT DETAILS
+60 17 717 6806
OPERATING HOURS
Tuesdays – Saturdays (10am-7pm)

Sundays (10am-5pm)
Skin Master Johot Bahru is a clinic spearheaded and operated by two professionals in the field namely Dr. Wishnu and Dr. Ravinpreet and has since then been delivering clients with comprehensive medical and aesthetic services.
Established back in 2017, they have since then expanded their branches in currently in various areas to excellently accommodate and enable people to have convenient access to their area and avoid waiting times as well.
From carbon peels to acne infusions and dermaplanning, we like that they utilize both the latest technologies and equipment for the job to ensure that clients get the best and most tailored experience for their needs and concerns.
Note though that rates of their treatments and packages thereof aren't readily available on their website which interested clients may need to inquire further about this.
Nonetheless, with their excellent variety of aesthetic services offered, comprehensive and professional equipment utilized, and holistic approach to the treatments offered, we highly recommend interested clients in the area to check them out.
Numerous clinic branches available
Excellent and professional team employed
Makes use of the latest equipment and treatments
Rates of their services aren't readily available online
Closed on Mondays
Customer Reviews
Here are some reviews from their clients:
"I've been trying out various of facial treatment here since Dr. Ashreen was working back in 2019 until now & my favourite treatment so far is carbo prp. I have been doing the treatment for 8 sessions last time & going to continue my treatment soon. The journey & experience was very pleasant & effective. I can see alot of improvement on my skin compared to last time. They always offer different kinds of treatment promo's every month & by far 50% off is the most awaited one for me. The price is reasonable & I recommend to all who have interest in trying out their treatment."
"By far my laser experience has been amazing with SkinMaster and I could see the improvement from every session. The staffs all super friendly and have no doubt on their services. Just some suggestions, to perform things slowly for cleansing, scrubbing and some massage as it was done too fast. But overall, I would definitely suggest this place."
FAQs about Medispas
---
More Medispa Resources