The 10 Best Halal Buffets in Singapore
Populated with thousands of restaurants offering food from all over the island, there's no denying that Singapore is one of the top places that every food lover should visit. This tourist-friendly metropolis literally has everything including Chinese restaurants, European diners, French coffee shops, and even the best halal buffets in Singapore
If you're travelling with someone with diet restrictions, then there's nothing to worry about as there are hundreds of halal buffets in Singapore. Singapore is a culturally-diverse island, so there are multiple dining options to choose from.
Anyway, we combed through the island in search of the best halal buffets in Singapore and tried their menus ourselves.
Check them out below!
1.  The Landmark Restaurant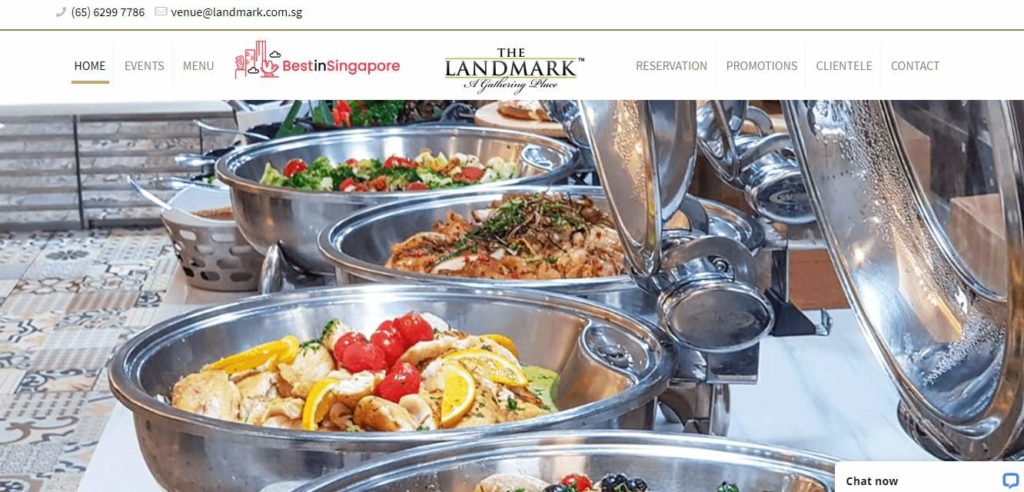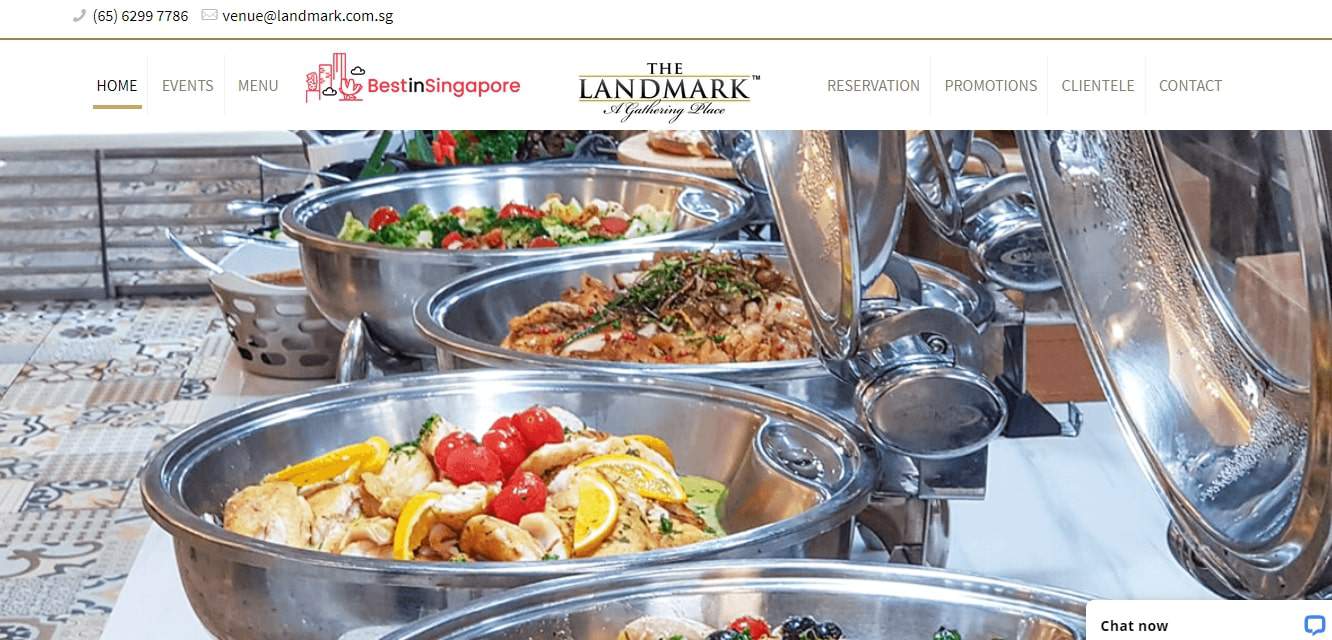 | | |
| --- | --- |
| BEST FOR    | International halal delicacies |
| MENU | Beef Rendang, Ayam Lemak Chilli Padi, Sambal Telur, and Pasta Arrabiata / Marinara   Click here to see the rest of its menu. |
| WEBSITE | https://www.landmark.com.sg/ |
| ADDRESS | 390 Victoria St, #05-01 Poolside, Village Hotel Bugis, Singapore 188061 |
| CONTACT DETAILS | +65 6299 7786 |
| OPERATING HOURS | Monday – Sunday: 12:00 PM – 10:30 PM |
Considered one of the best halal buffets in Singapore, The Landmark Restaurant offers a wide range of sumptuous halal cuisines from different regions all over the world.
It's the perfect spot if you're looking for a luxurious and elegant dining experience. It's known for its lavishly designed interiors that will feel like you're in a different place which makes the overall dining experience a lot of interesting.
Aside from its interiors and vibes, its menu consists of a diverse range of international dishes — including Singaporean, Malaysian, and North Indian cuisines — that diners may choose from.
Some of the standouts from its menu are the Mutton Rogan Josh, Beef Rendang, Sambal Telor, and Thai Chili Lala. Make sure to try these out if you ever find yourself inside The Landmark Restaurant.
You can experience everything that The Landmark Restaurant has to offer at an affordable price. It offers frequent discounts and promos to diners, so don't forget to visit its website.
Highlights
Elegant dining experience
Halal dishes from different countries
Multicultural menu
Customer Reviews
Here are some comments from people who have dined in at The Landmark Restaurant:
"Buffet on the wheels was an excellent food experience at the Landmark. Service was prompt and food was delicious. The x factor was the additional mile taken to provide an excellent service. For instance, I came with a large grp of people and we exceeded the restriction of 5 people per table. The service crew promptly provided a table for my family of three so that we can continue eating there. Keep it up the Landmark!"
"I visited the restaurant together with my family last year. Not just the food variety and their good tastes, but also the atmosphere and their services were also nice! They have a separate place to pray while we are still eating, which made us comfortable. I'd like to come again whenever the situation allows. :)"
2.  StraitsKitchen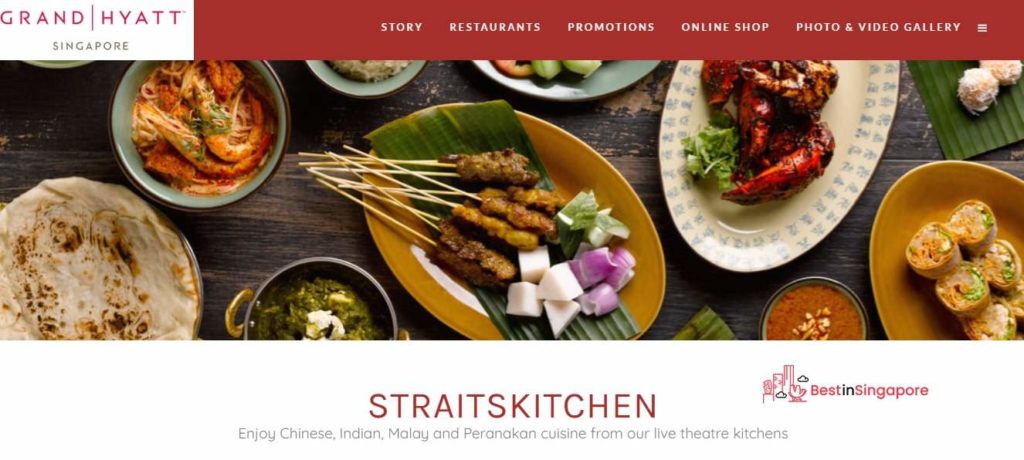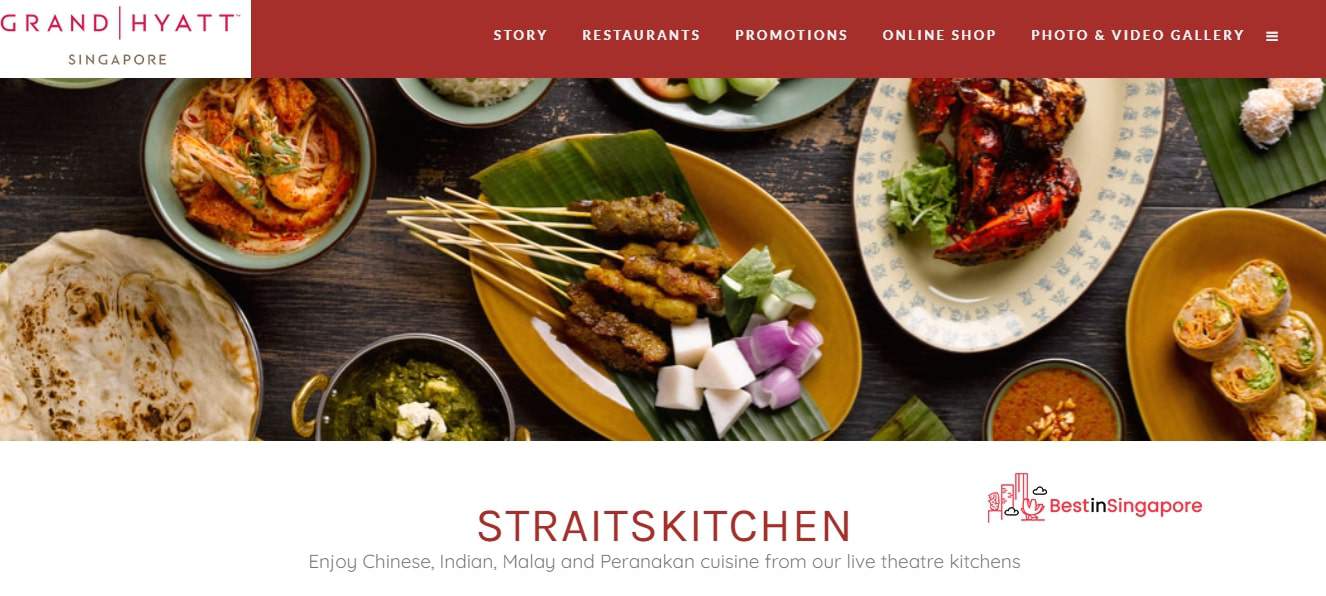 | | |
| --- | --- |
| BEST FOR    | Local cuisines |
| MENU | Roti Prata, Organic Rice Congee, Carrot Cake, Nasi Lemak, Char Kway Teow, Vegetable Biryani, Sayor Lodeh, and Organic Vegetables   Click here to see the rest of its menu. |
| WEBSITE | https://www.singapore.grand.hyattrestaurants.com/straitskitchen |
| ADDRESS | 10 Scotts Road Grand Hyatt, Singapore 228211 |
| CONTACT DETAILS | +65 6732 1234 |
| OPERATING HOURS | Monday – Sunday: 6:30 AM – 10:00 PM |
If you're curious to know what local halal cuisine tastes like, then there's no better option to try than StraitsKitchen. It offers a rich and diverse halal menu, but locals and tourists alike seem to love its take on Singaporean halal.
StraitsKitchen also has different menus for breakfast, lunch, and dinner, with each as diverse as the other. Some of the international cuisines that you can try are Indian, Malay, and Chinese.
Another reason we consider it one of the best halal buffets in Singapore is its lively theatre kitchen. You can take a peek at how its professional chefs prepare every dish behind the counter and hear the lively cooking sounds.
Highlights
International menu
Local Halal dishes
Lively theatre kitchen

Customer Review
Take a look at some of the feedback shared by its customers:
"Best value for $ high tea ala carte buffet in singapore. $34nett/pax for the weekend high tea by purchasing the vouchers on the Hyatt website, the menu is the same as lunch but pays less. Tried everything on the menu, recommended the BBQ wings, carrot cake, laksa , buah kelor chicken, Indian food and kaya cake ! This is the place to feast on all these foods without breaking your wallet. Will buy the vouchers again if available"
"Such a great and memorable experience with Straits Kitchen. Remarkable hospitality, excellence in taste, no compromise with quality! Ambience : 5/5, Hospitality : 5/5, Taste of Food : 5/5. I really enjoyed lunch at this place and looking forward to visiting it again in future for sure!"
3.  Royal Palm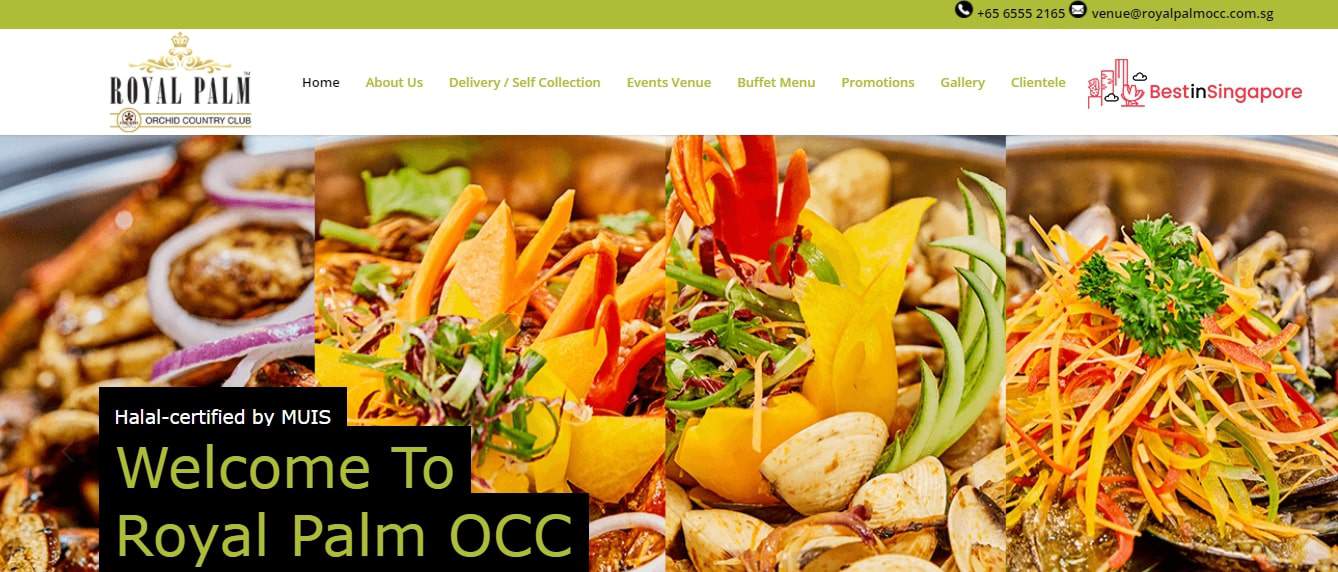 | | |
| --- | --- |
| BEST FOR    | Mediterranean and Indian cuisines |
| MENU | Rosemary Baked Fish, Chicken Sausages, Epok Epok, Spring Rolls, Beef Rendang, and Chili Crab   Click here to see the rest of its menu. |
| WEBSITE | https://royalpalmocc.com.sg/ |
| ADDRESS | 1 Orchid Club Road, #01-21/22, Social Clubhouse, Singapore 769162 |
| CONTACT DETAILS | +65 6555 2165 |
| OPERATING HOURS | Monday – Sunday: 12:00 PM – 10:00 PM |
If you're planning to dine with a large group of friends, then we recommend dropping by at the Royal Palm. It's a large and cozy halal restaurant that can house up to 350 guests, making it one of the biggest dining places on the island.
Royal Palm takes pride in its efficient customer service team — which is why we call it one of the best halal buffets in Singapore. Every guest will be welcomed warmly upon their arrival and directed to a table with the most perfect setting.
What's more, Royal Palm is known for its extensive variety of halal dishes, including local cuisines and international ones such as Western, North Indian and Mediterranean. Every tourist will definitely like its international and diverse menu.
Some of its crowd-favourite dishes are the Fish Head Curry, Prawn Sambal, and Spicy Chili Crab. On top of that, the Royal Palm has an impressive variety of delicious desserts to cap off an already amazing dining experience.
Highlights
Affordable menu
Diverse and international menu
Excellent customer service
Customer Reviews
Here are some comments shared on Google Reviews:
"Was greeted warmly by the staff at the entrance. We were there to settle our deposit for tomorrow dinner. We had reserved 50 seat for our friends. We were ushered to the buffet table and had a quick peek of what to expect for tomorrow dinner. We were very pleased with the spread. Very sumptuous and well set up."
"The restaurant was fantastic, the food was really very tasty and quite a lot to eat . We were happy that we had table service buffet, we never experienced that before so this avoided clashing with other guests at the buffet table. The BBQ prawns were super tasty"
4.  Katong Kitchen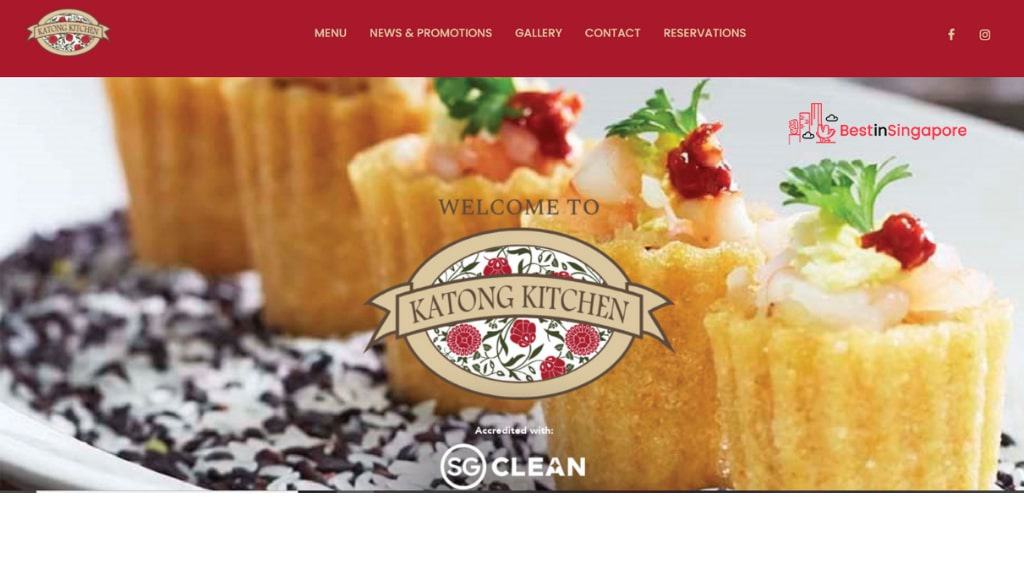 | | |
| --- | --- |
| BEST FOR    | Traditional and modern halal dishes |
| MENU | Pisang Goreng, Cempedak Goreng, Carrot Cake, Roti Kirai,Oyster Omelette, Roti John, Sambal Stingray, Beef Kurmah, and Beef Rendang   Click here to see the rest of its menu. |
| WEBSITE | https://www.katongkitchen.com.sg/ |
| ADDRESS | 25 Marine Parade, Village Hotel Katong, Level 4, Singapore 449536 |
| CONTACT DETAILS | +65 6551 2141 |
| OPERATING HOURS | Monday – Sunday: 9:00 AM – 10:00 PM |
Katong Kitchen is a certified Halal-restaurant that serves both locals and tourists. It's known for offering both traditional and modern halal cuisines, something that most halal restaurants on the island don't offer.
According to tourists, some of the dishes that you shouldn't miss out on are the sambal stingray, sweet and sour seabass, nasi biryani, beef rendang, and beef kurmah. It also offers weekend specials such as cuttlefish, chinchalok mussels, and prawn noodles.
Through its culturally-rich menu, Katong Kitchen aims to show what makes Singaporean cuisines unique from the well-known Indian, Chinese, and Eurasian dishes.
Apart from its impressive menu, Katong Kitchen is famous for its modern and vibrant interiors that accurately reflect the island's Peranakan culture. This is why it's deemed one of the best halal buffets in Singapore by lots of locals and tourists.
Highlights
Competitively priced dishes
Hospitable staff
Spacious and cozy area
5.  Carousel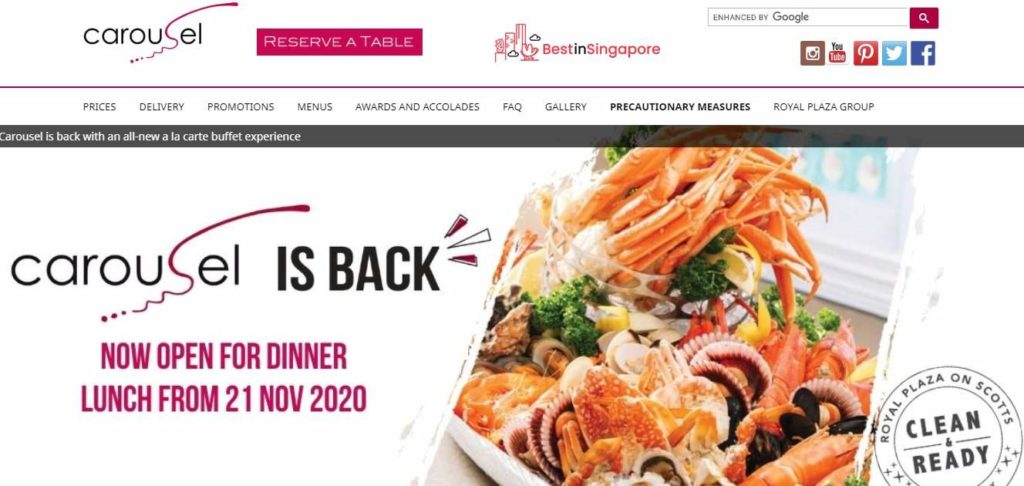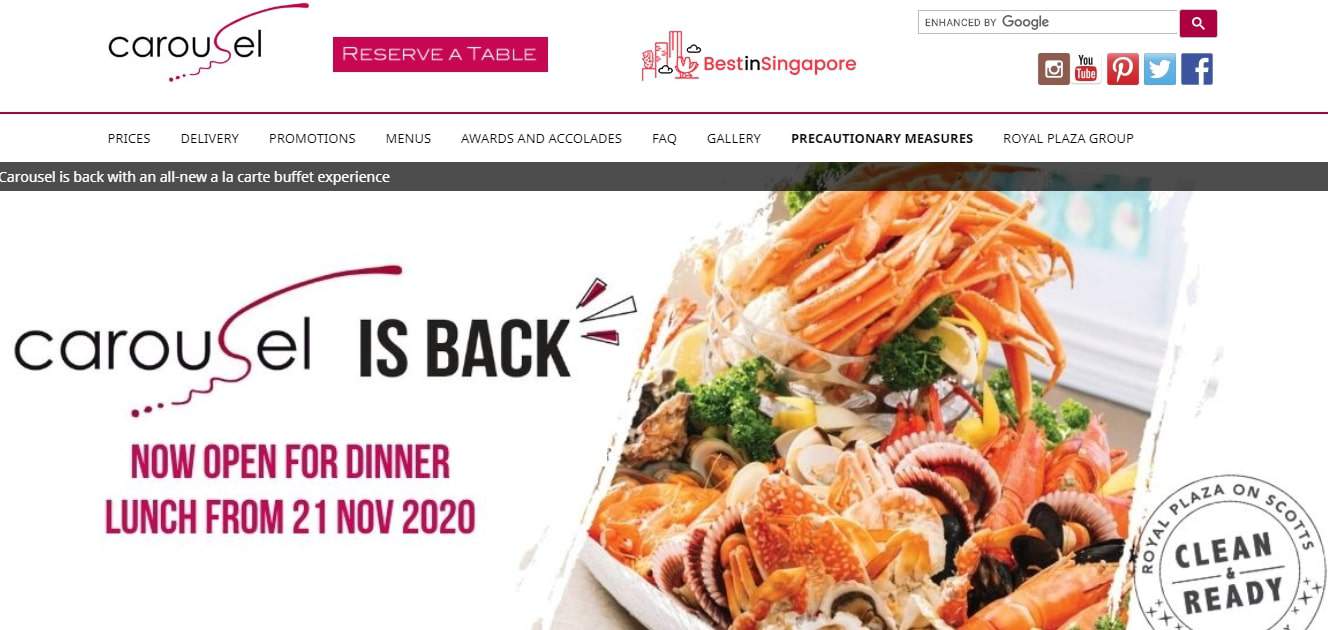 | | |
| --- | --- |
| BEST FOR    | International halal dishes |
| MENU | Click here to see everything on its menu. |
| WEBSITE | http://carouselbuffet.com.sg/carousel/ |
| ADDRESS | 25 Scotts Rd, Royal Plaza, Singapore 228220 |
| CONTACT DETAILS | +65 6219 3780 |
| OPERATING HOURS | Monday – Sunday: 6:30 PM – 9:30 PM |
Carousel has been tagged by multiple review sites as one of the best halal buffets in Singapore. In fact, it's been voted as the best buffet restaurant in Singapore by AsiaOne People's Choice Awards for seven consecutive years.
If you're looking for a halal restaurant that offers more than the same-old, standard halal dishes, then you're not going to be disappointed with what Carousel has to offer.
Carousel boasts a menu that includes Indian, Japanese, Chinese, Singaporean, Malay, and Euroasian halal dishes. You will never run out of options to choose from when dining at this spectacular restaurant.
An unforgettable dining experience wouldn't be complete without excellent customer service, right? Well, it just so happens that Carousel is known for that as well, so we're not surprised that it's considered one of the best halal buffets in Singapore.
If you want to try eating at Carousel again but don't have time, you may opt for its island-wide delivery. Everything on its menu can now be delivered straight to your doorstep.
Highlights
Affordable menu
Multi awarded restaurant
Delivery services
Customer Reviews
As one of the best halal restaurants in Singapore, Carousel has received hundreds of positive reviews from its diners. Here are what some had to say:
"Went there yesterday morning as a walk-in for buffet breakfast. Carousels never disappoint me with their food variety. I had a very good breakfast. Loves the ambience. They even provided me a slice of complimentary birthday cake as requested. Although they seemed to be very busy during that day, they attended me with a smile when needed. Very professional customer service!! If I could rate more stars, I would love too! Thumbs up to the whole team and especially Wan. Highly recommended for halal breakfast.  Definitely I will be back."
"The service from the staff here is really really good! One of the best services for the hotels around Singapore in fact! I had a really enjoyable and lovely time here! Food itself was not too bad as well, albeit not too many choices to be honest, but it is able to fill your tummy up after a while."
6. Captain Kim Korean BBQ & Hotpot Buffet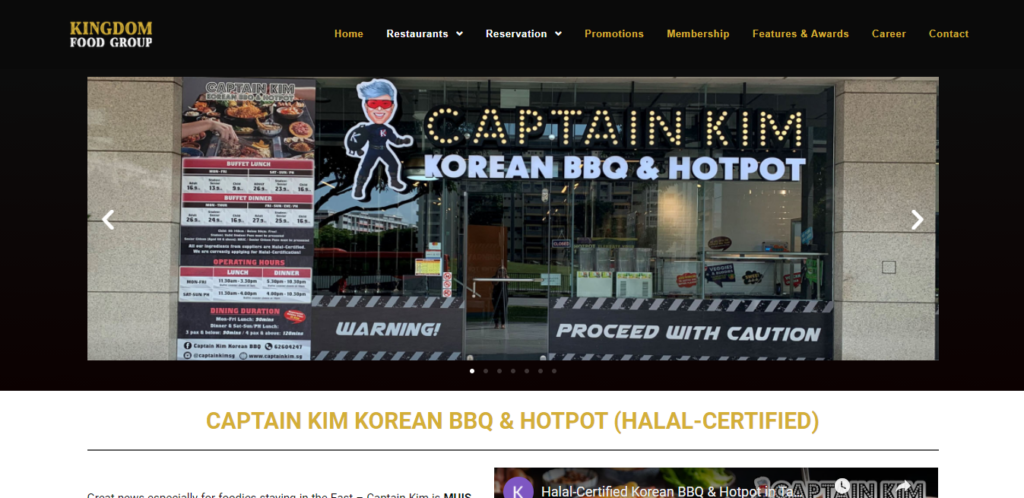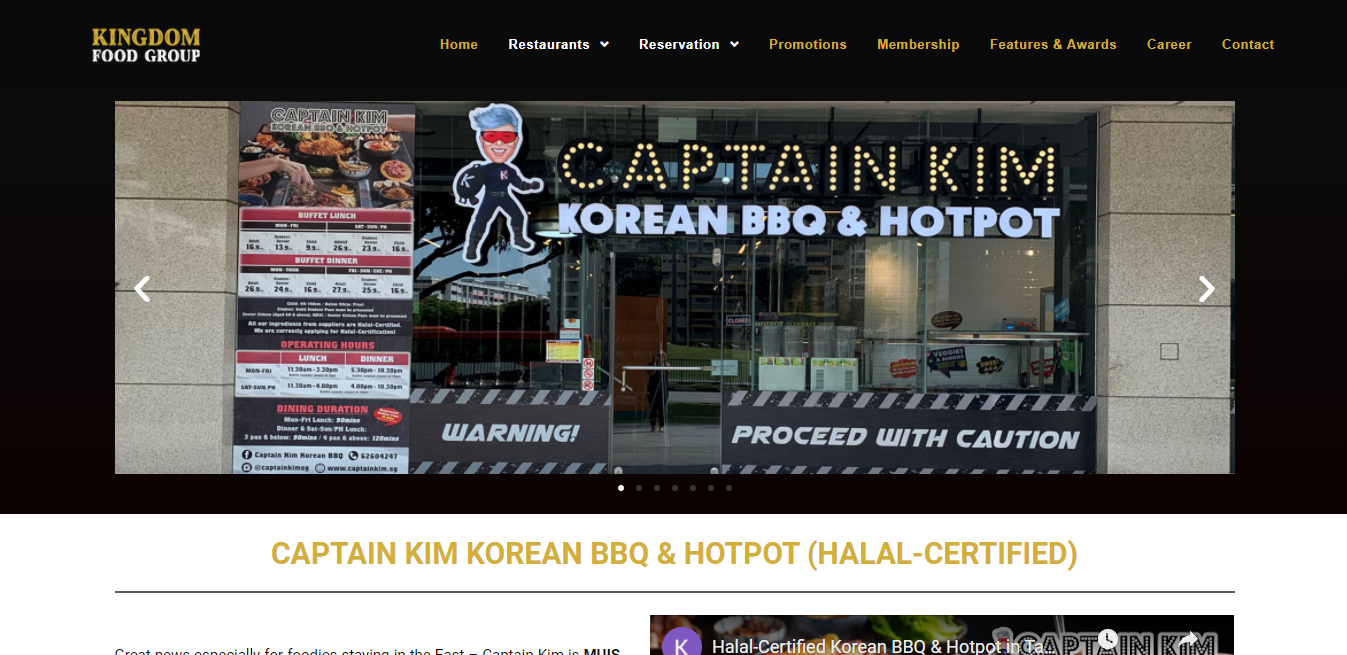 BEST FOR   
Korean BBQ
MENU
Korean BBQ, hotpot, side dishes
WEBSITE
https://kingdomfood.sg/
ADDRESS
300 Tampines Ave 5, #01-06 NTUC Income Tampines Junction, Singapore 529653
CONTACT DETAILS
+65 6260 4247


[email protected]

OPERATING HOURS
Monday – Thursday: 11:30 AM – 3:30 PM, 5:30 PM – 10:30 PM
Friday – Sunday: 11:30 AM – 10:30 PM
If you're craving for some Korean cuisine, then you no longer have to look further because Captain Kim Korean BBQ & Hotpot Buffet has you covered.
This restaurant has a MUIS Halal-certified menu filled with Korean BBQ and army stew hotpot with over 60 different flavours of meat. From its fine selection of meat to delicious side dishes, Captain Kim Korean BBQ & Hotpot Buffet offers great value for a weekday lunch buffet.
You can also enjoy your food easily because the buffet restaurant also serves free-flowing drinks.
Another great thing from Captain Kim Korean BBQ & Hotpot buffet is that children below 90cm even get a free meal! The restaurant also honours senior and student discounts, given that you bring an ID.
Highlights
Senior and student discounts
60 varieties of meat and flavours
90 minutes weekday lunch
5-minute walking distance from Tampines MRT
Customer Review
Captain Kim Korean BBQ & Hotpot Buffet is a great place to hang out with your family or friends. Here's what customers have to say about its menu and ambience.
"My first having lunch at Captain Kim's since we were in the East area and craving for halal Korean food. The place closes at 3.30pm for its lunch session and we arrived at 2.30pm. Had about half an hour to get our food as the buffet counter is closed by 3pm. For 2 pax, 1 hour is just nice to have a normal lunch. We love the Mongolian beef, its meat cut thinly and is chewy even after being grilled. Thank God for the free flow calamansi drink that helps to clear the palate. The glass noodle is yummy, too. However, we wish there were more choices especially for dessert."
"Captain Kim is a halal KBBQ option that is affordable and has delicious food. The staff are very helpful and the atmosphere/decor is relaxing. Cant wait to head back again, especially during weekday lunch, as the prices are especially affordable then."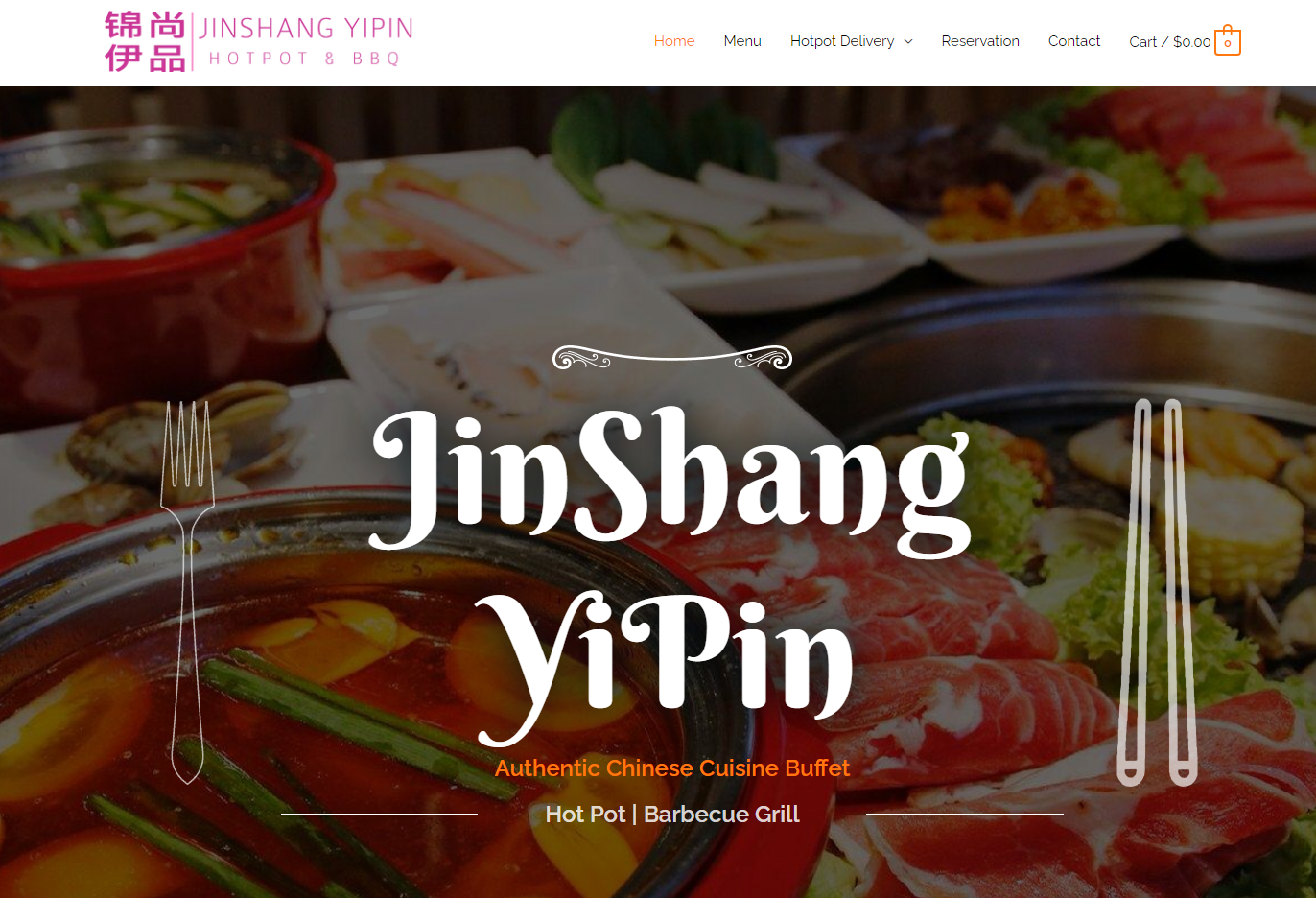 While the Standard menu has few meat options, the quality more than makes up for it. Plus, the selection is balanced out by the extensive hotpot menu offered by the restaurant at an affordable price.
The Premium menu, on the other hand, is perfect for customers looking for more. It adds three more meat options to the menu alongside top-end seafood ingredients for the hotpot.
Jinshangyipin Buffet Hot Pot also offers hotpot delivery for diners looking to enjoy a tasty warm meal at home.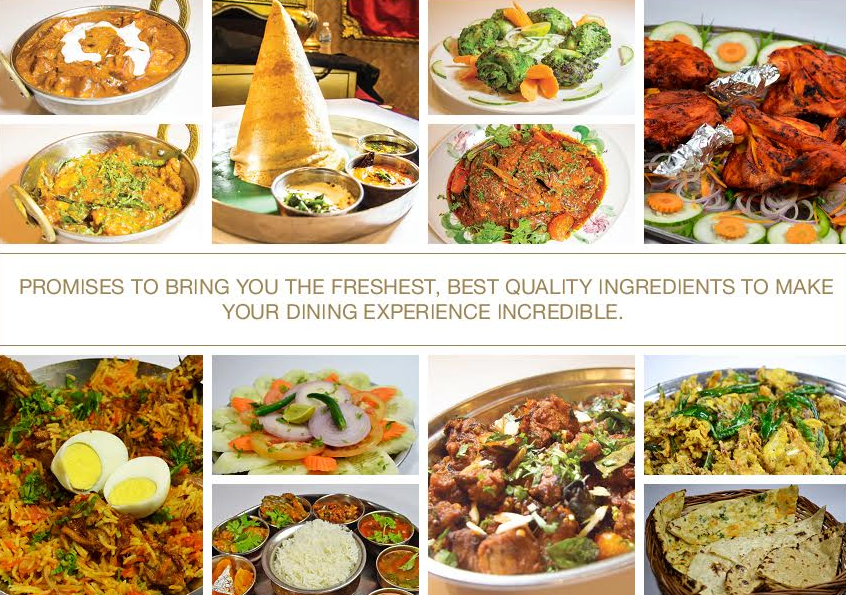 And that's it for our list of the best halal restaurants in Singapore. If you've dined in at any of these restaurants in the past, share your dining experience with us in the comments below!
For more options, we recommend reading our list of the best halal restaurants in Singapore. We featured some of the most in-demand restaurants there!