20 Best Buffet Places in Singapore
Unfasten your belts because we're featuring Singapore's best buffet places today!
We hope this serves as a handy guide for when you feel like filling up your tummy with a wide variety of top buffet offerings.
The Best Buffet Spots in Singapore
We made sure to give ourselves ample time (and expandable waistbands) to present you with a listicle of recommended buffet spots in the country.
We were also guided by the following factors:
Best International Buffets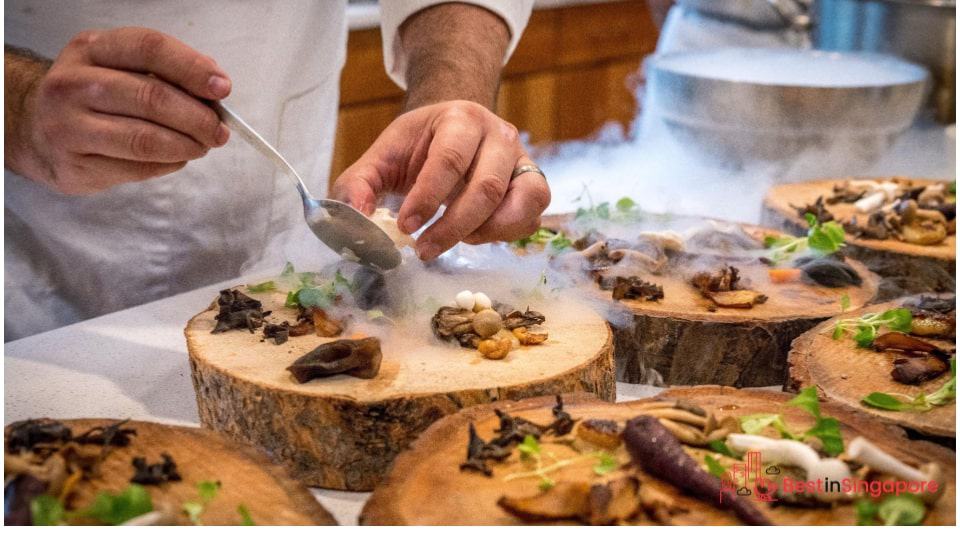 Want to know the top buffet in Singapore serving international cuisine? This section aims to give you a gastronomical world tour via scrumptious food spreads.
1. Edge at the Pan Pacific Singapore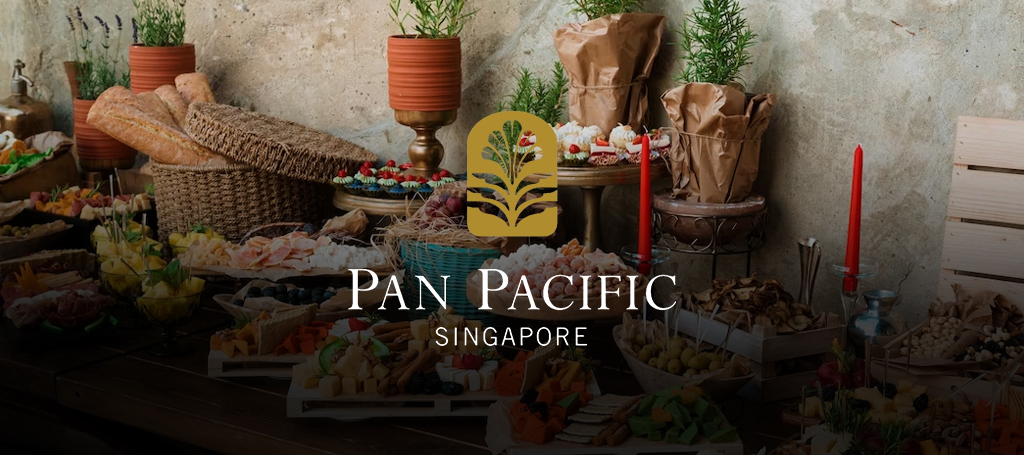 Edge at Pan Pacific provides not just local cuisine but also the region and the Pacific Rim's gustatory offerings. We got pretty excited just by looking at its online menus, to be perfectly frank.
Monday to Friday brunches offer seafood on ice, with mouthwatering treats like black mussels, half-shell scallops, and huge prawns. While other buffets only offer seafood for special events, Edge does this regularly (at just around S$65 per adult!).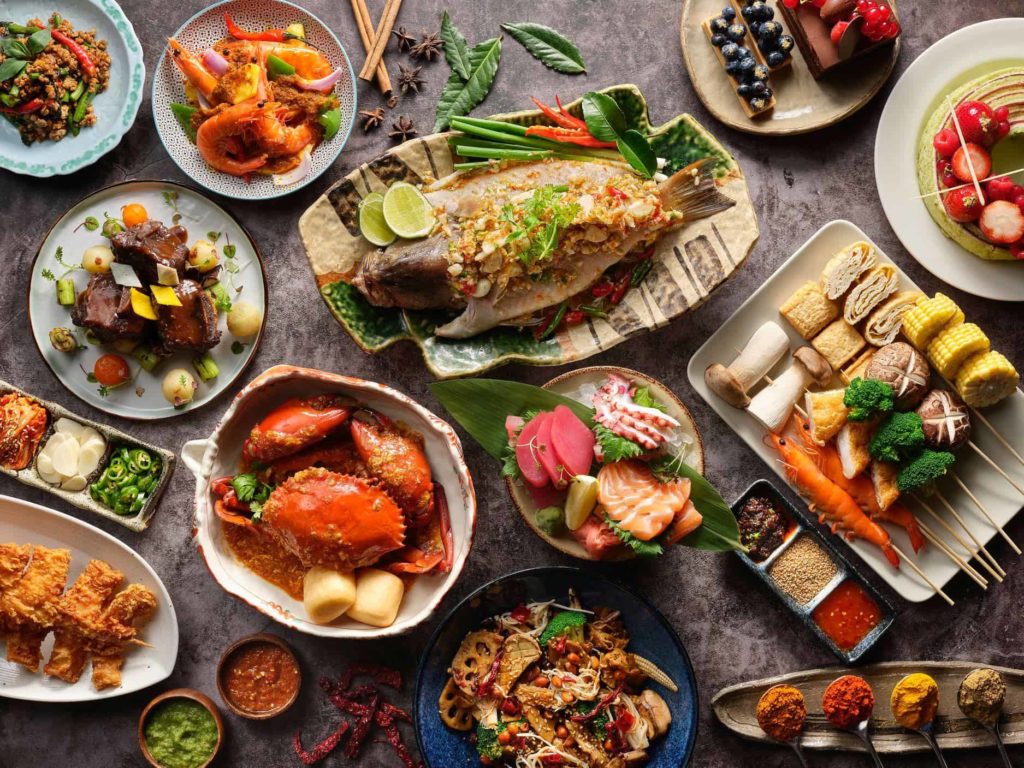 And if you're wondering how the restaurant is doing at the international cuisine forefront, take a look at some of its international awards.
Most recently, it won the 2022 Expat Living's Readers' Choice Silver Award for Best Champagne Brunch.
Of course, you can expect its seasonal rates to be higher (as reflected in the table above). Unfortunately, the restaurant doesn't accept cash as payment.
But with a great cuisine selection and even plant-based options, we find very little to complain about Edge.
Customer Reviews
Seafood was fresh
"The seafood was fresh and the other cooked food was nice, too. Highlights for me were the pork chop and the chilli crab." – Kai de Tan
Durian pudding was delicious
"Durian pudding dessert was sooo delicious. It felt like I was eating an actual piece of cream durian." – Janice Tsai
2. Carousel at Royal Plaza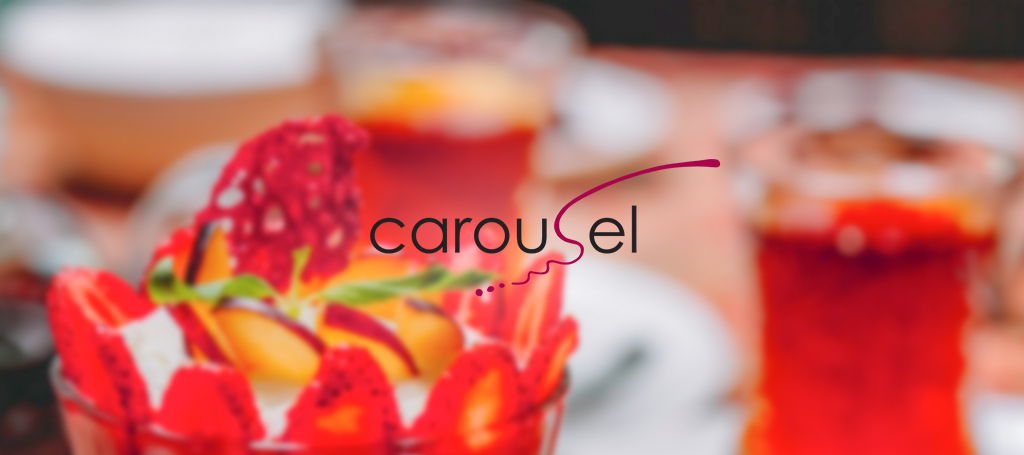 Carousel seems to want its diners to be spoilt for choice. With a buffet spread featuring Asian, Mediterranean, Japanese, and French fare plus an array of scrumptious desserts, we're not exactly complaining.
We also like that all buffets have free-flowing chilled juices. Others typically charge separately for beverages, so this is a welcome gesture from Carousel.
Prices are different for buffets during weekdays and weekends, though not by much. And if you go cashless (which we did), there's a 15% discount courtesy of selected bank partners.
We just wish that the credit card promo is also applicable to breakfast buffets. But since it's quite affordable at just S$25 per adult, there's not a lot to nitpick about what Edge has to offer.
Customer Reviews
Suitable for friends and family gathering
"Celebrating hubby's birthday at Carousel on the father's day. Despite the crowd, the service crews did a good job, they are patient and friendly, and also manage to clear our empty plate promptly. The food variety is excellent, we love the sashimi. Suitable for friends & family gathering." – Ling Tan
Ambience is superb and staff friendly
"This place is amazing. The buffet layout with many varieties of food that taste super delicious. Not forgetting the many choices of desserts available. The ambience is superb and the staffs were friendly, helpful and courteous. Highly recommended!" – Din Neo
3. The Line International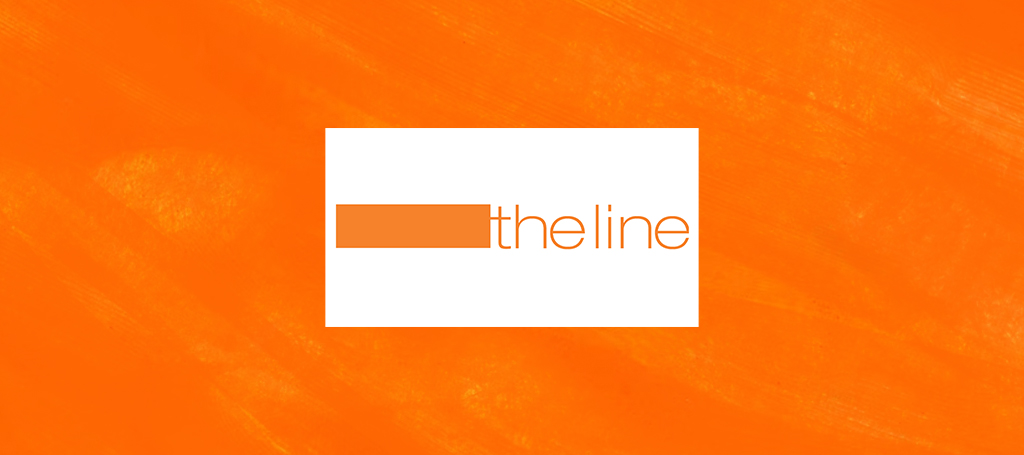 The Line International at Shangri-La offers the flavours of the world via its a la carte and lunch menus. It boasts multinational chefs preparing and curating a smorgasbord of Indian, Western, Middle Eastern, Peranakan, and Asian delights.
However, there's no breakfast buffet at The Line. What it does have is a Sunday brunch menu featuring a great selection of charcuterie items, a carving station, along with Peranakan, Arabic, and Japanese stations plus other delights.
The Line is perfect for a casual buffet experience and doesn't scrimp on the variety of food it offers. However, it only offers a la carte options from Monday to Wednesday, as no buffet lunch or dinner is available during those days.
But we quite like that even non-registered walk-in guests who are below 12 years old can avail of a 50% discount on buffet meals. It adds a welcome note on top of the free children's meal plan for Shangri-La Circle members.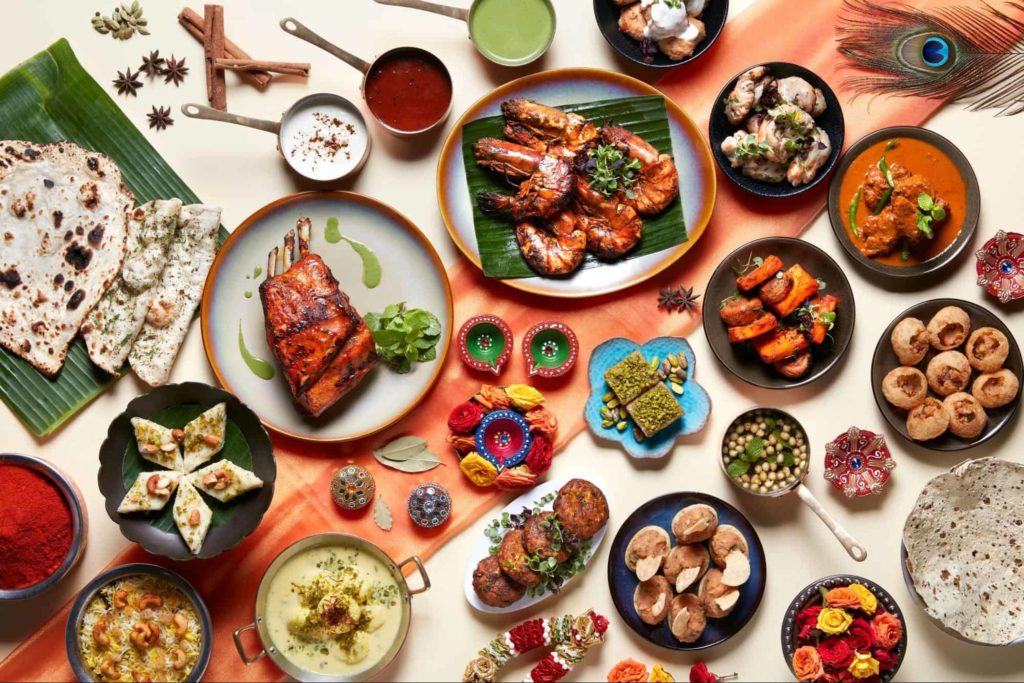 Customer Reviews
Fantastic seafood buffet
"Fantastic seafood buffet! Fresh lobster, crabs, scallops. We thoroughly enjoyed our dinner here and the birthday celebration. The following dishes are our favourites: Fresh lobster and crab, black pepper crab, and aburi salmon sushi.
Fabulous attentive service by the staff Ameen and Fiona who went the extra mile. They are absolute gems!" – Jolene Chua
Delicious seafood splash
"Seafood splash, delicious with 2 laksa or chilli cooking way for the crabs. You may have half a chilli and have laksa. I prefer the chilli way." – Julie Ang
4. Melt Cafe at Mandarin Oriental
We're well aware that Melt Cafe at Mandarin Oriental falls under the international buffets category. However, we can't help but gush over its dessert menu!
There are warm desserts like walnut and cinnamon bread and butter pudding, and cold ones via an assortment of fruit-flavoured gelato. Cheesecakes, tarts, pastries, and seasonal fruits complete the sweet selection.
There's a choice between al fresco dining and eating inside the light-filled main dining space. On nights when there's a light breeze, we recommend dining outdoors amidst the lush yet manicured gardens of the cafe.
We also like that specific dietary requests and restrictions can be accommodated by Melt's chefs and staff.
But honestly, we'd love the experience more if a breakfast buffet is served apart from the lunch and dinner ones.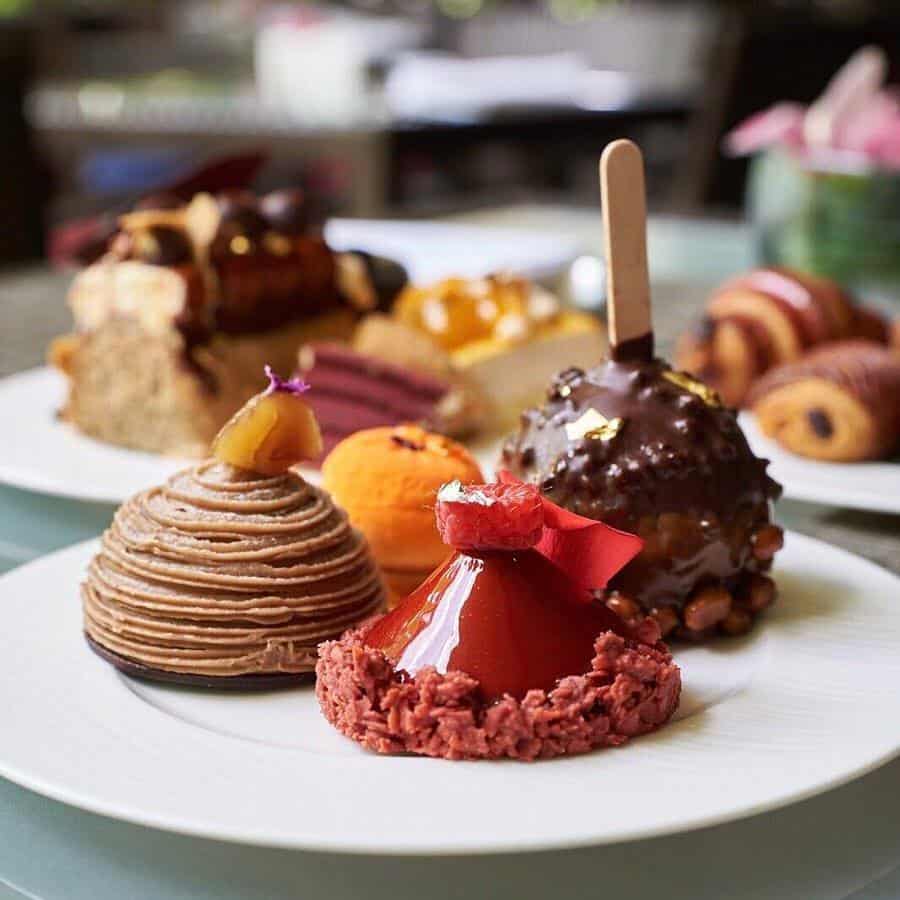 Customer Reviews
Ambience was cosy and suitable for any occasion
"Went for their lunch buffet. The ambience was cosy and suitable for any occasion. The buffet menu consisted of an extended variety of seafood (fresh oysters, crabs, etc), Indian cuisine, and Asian and Japanese counters. Their customer service was really very good. When arrived, we were greeted and introduced to their buffet counters, while they guide us to our table. Water was regularly topped up and empty plates were promptly cleared. Overall experience was good and would recommend others to give them a try." – Stanley
Food was fresh and topped up swiftly
"Best buffet experience since the reopening. Adequately staffed and efficient. Food was fresh and topped up swiftly. Practically zero wait time at the seafood counter. Used plates are cleared as soon as you're done. $70+ after discounts. Special shout-out to Yves and Sean for their impeccable service." – For Peen
5. Colony at the Ritz-Carlton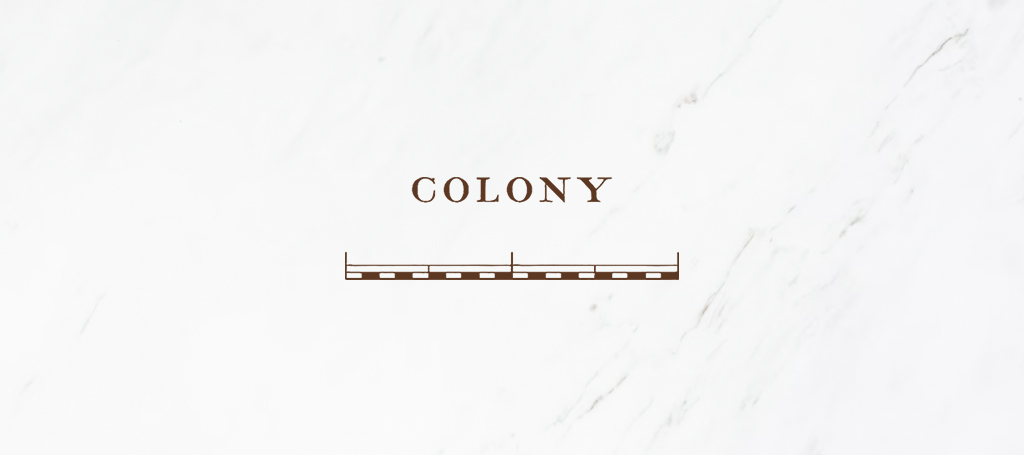 The seafood buffet is available for dinner only every Fridays and Saturdays at the Ritz-Carlton Millenia, but it's gotten quite popular.
Many of its diners have raved about the seafood dinner buffet, in particular, so we thought of giving it a try one Saturday night.
Long story short: we weren't disappointed.
For starters, its ice bar features freshly shucked oysters and all delectable sashimi, while its specials and grille offerings include grilled squid and Boston lobster.
But since it offers international cuisine, delicious tandoori prawn, fish curry, deep-fried soft-shell crab, and other seafood delights are also available. Regular buffet menus for lunch and dinner at the Colony are nothing to scoff at either.
Its Vintage Champagne Brunch may be a bit pricey, but with unlimited pours of Champagne Cristal 2013 and other drinks complemented with a serving of Oscietra caviar, we doubt anyone will complain.
However, we found it a bit disappointing that there's no regular breakfast buffet offered at Colony.
Customer Reviews
Staff are phenomenal
"One of the best experiences in Singapore. Highly recommend the buffet dinner. It is so delicious! We've been twice now and it's the same atmosphere and enjoyment as the first time.
The staff are phenomenal! Friendly and fun, yet very professional." – Mark Azzopardi
Everything was fresh and tasted good
"Was here for the seafood dinner on a Saturday evening. The food was amazing as expected, high quality ingredients prepared exquisitely. Everything was fresh, and the taste was good. The desserts were fantastic as well. This wasn't a cheap meal, but it was worth every penny.
What really shone though, was the staff. From the server at the grill station, professionally serving every order with a smile, to the chefs at the Noodle station preparing each Noodle order with care, to the wait staff and managers who saw to our every need.
We came for the food. But the attentiveness and friendliness of the staff, and the hospitality we experienced, that's what will make us return (again and again)." – Jean Ng
Must-Try Halal Buffets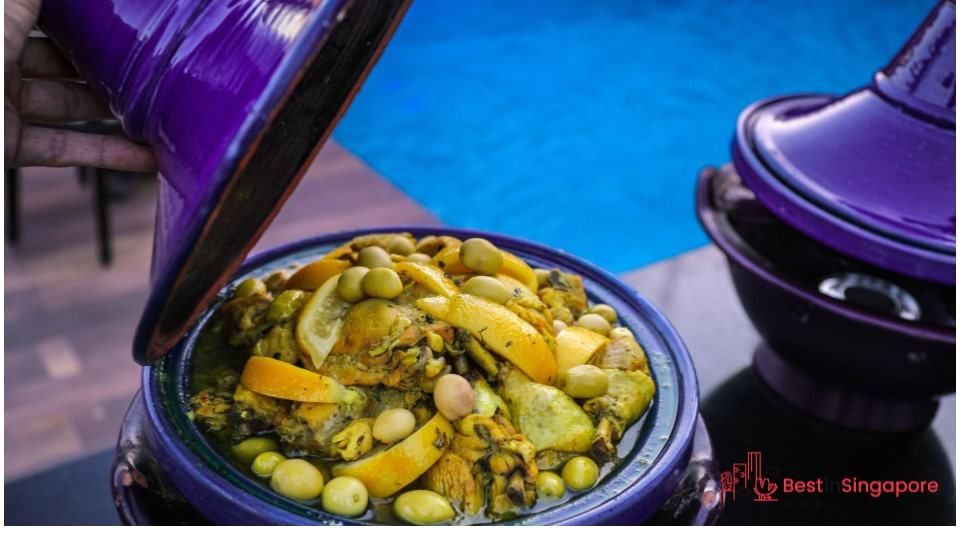 For this section, we'll take a look at the halal buffets in Singapore that meet our criteria for quality. We also made sure to select those that will suit a good range of budgets and tastes.
6. Atrium at Holiday Inn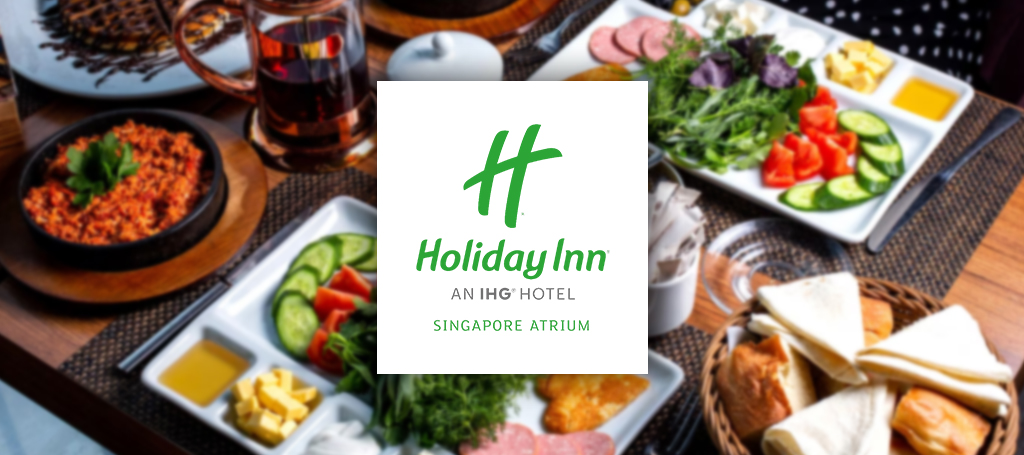 If you're in the mood for something Mediterranean, the Atrium restaurant at Holiday Inn might have what you need. And since it's fully halal-certified, you can rest assured certain dietary restrictions are met.
Dishes like lamb stew with apricot, beef tagine, and Lebanese-style baked chicken got us salivating from the get-go. But Atrium's beef rendang and green curry chicken hit the spot quite nicely for a weekday dinner too.
What's more, kids under the age of five can dine for free with each paying adult! And there are lots for children to enjoy, especially at the desserts buffet with everything from mini apple crumbles to Greek yoghurt with pistachio.
The buffet prices before the discount tend to be on the higher side at the Atrium. But there's currently a 50% dinner buffet discount for adults, so enjoy scrumptious yet affordable dining here while you can.
Customer Reviews
Nice buffet option with varieties to choose from
"Nice buffet option with varieties to choose from. Halal restaurant. Canned/juice drinks are separate charges. Value for money. Usually quite packed especially at weekends. Nice for family hangout as well." – Vicknesh Vijayakumar
Quality food served in small food portions
"Top notch restaurant crews! You've got to go there to experience their service. Quality food served in small food portions (similar concept to Peppermint's). There's wafer biscuit ice cream too." – Nur Rashidah Amren
7. Peppermint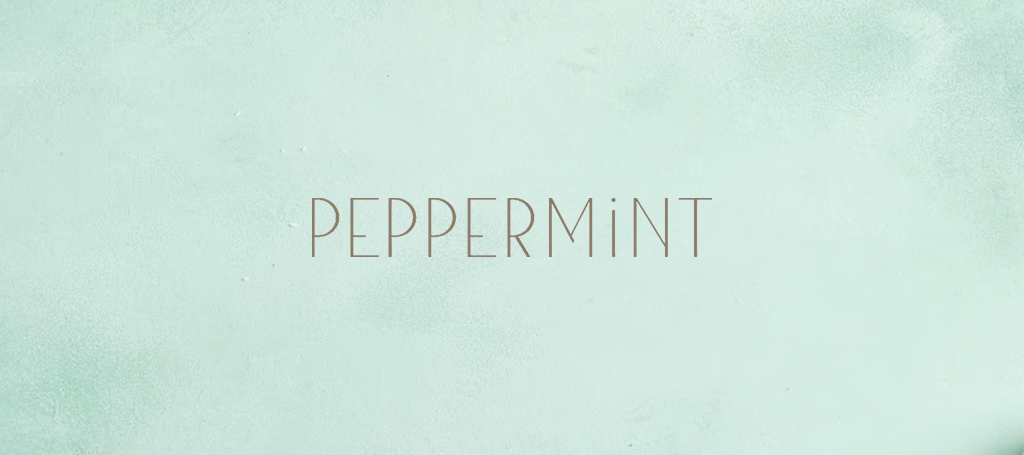 Formerly known as AquaMarine, Peppermint is a smart-casual buffet place at Pan Pacific with a farm-to-table cuisine approach. It believes that healthful all-you-can dining is possible with fresh preparation and carefully curated flavours from all over the world.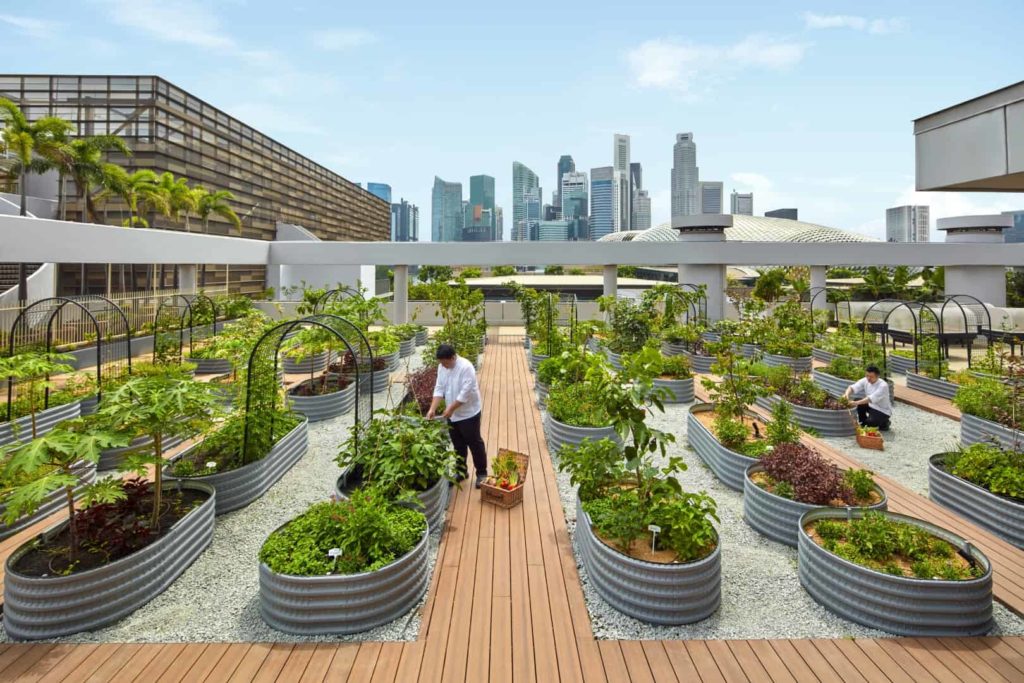 Peppermint further underlines conscious eating with fully halal-certified open kitchens and buffet stations. It also has its own urban farm that grows dozens of fruits, vegetables, and a variety of edible herbs and flowers.
At the time of writing, we opted for the speciality Thailand dinner buffet, which cost around S$88 per adult and S$44 per child during weekdays. It's a great spread that unfortunately ends soon.
The buffet costs are slightly higher on weekends and public holidays. However, we think the delicious and ample Thai delights (especially the seafood) are worth it.
We especially loved the rock lobster with tamarind gravy and the Thai-style braised fish collar with eggplant.
We also appreciate that there are vegan, vegetarian, and gluten-free options for Peppermint diners with special dietary needs.
Customer Reviews
Interiors are beautiful
"Walk into a splendid dinner buffet with efficient and friendly serving staff. Located inside the hotel, the interiors are beautiful with special compartmental rooms for bigger groups. The option to sit in the foyer feels luxurious amidst some tropical chic aesthetics.
The buffet spread seem limited at first but fully surprised at the satisfying small portions. Keep order whenever you need more. A 2-hour chit-chat with family and friends at Peppermint seems short; time sure flies fast. Comfortable!" – Ewan McRidz
Love the tea being prepared
"Really appreciate the female staff. Only remember Malay staff Sabrina she was really nice, gentle and well manner! She deserves a promotion!
Was glad to try a few of their lunch buffet before their last order! My mum loved chicken rice the best! Only miss there was no dessert corner was looking forward! Love the tea being prepared." – Anaid Hep
8. Royal Palm at the Orchid Country Club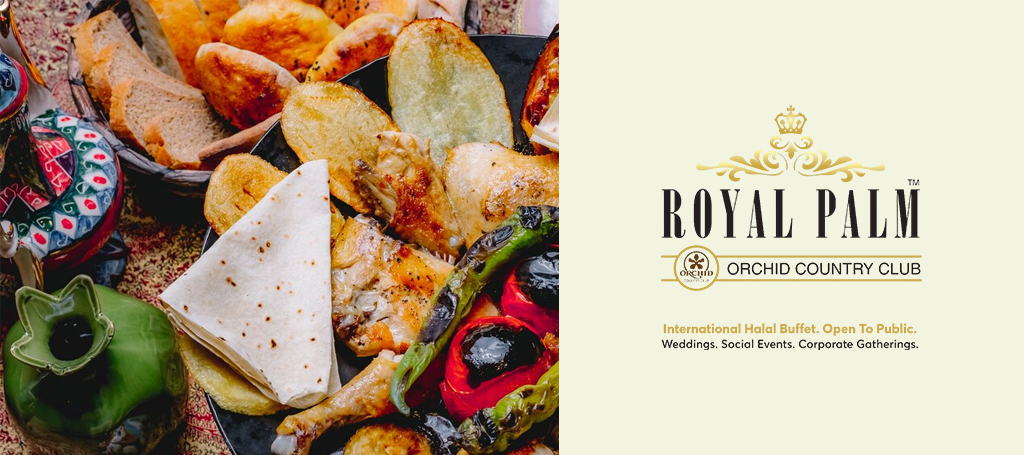 Royal Palm at the Orchid Country Club is another international halal buffet restaurant. It has three sets of buffet options (A, B, and C) for different days of the week.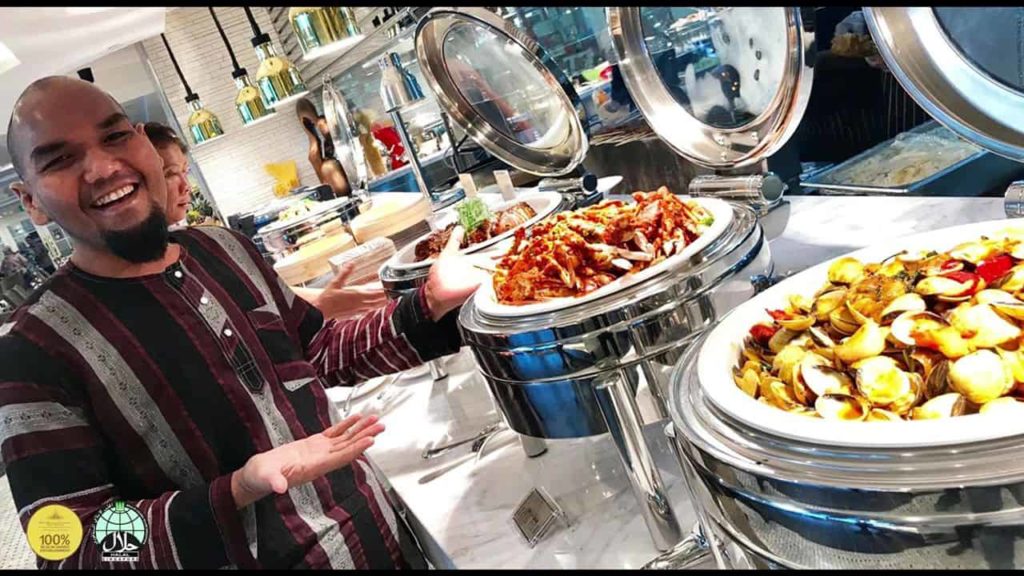 The atmosphere at Royal Palm is decidedly casual, with a somewhat tropical resort twist. There's even a poolside dining option for those who want some fresh air to go with their meal.
Diners often rave about the beef rendang served here, so we gave that a try (it was good). But the stir-fried tom yum prawn was what really tickled our palate and sealed the deal for us.
We also learned that children below three years old can dine for free at Royal Palm!
However, the three lunch and dinner buffet options have somewhat limited items compared to other halal-certified restaurants. And there's no breakfast buffet available at Royal Palm either.
Customer Reviews
Must-try would be the beef rendang
"Great spread of food. Great service, especially by service staff, Ice. She was warm, polite and professional. Could see that she is a very hardworking worker too. Food-wise, we enjoyed the wide international spread. They even had chilli crabs, sambal prawns (their prawns are sooo huge), live BBQ satay and yummy naan. Must try would be their beef rendang. The baby Kailan, fish head, tandoori chicken, and Korean chicken were also super fresh. Free flow of ice cream n wide spread of desserts too. Their kuehs kuehs were yummy." – Josephine Tang
Desserts are superb and service was topnotch
"Brought my wife here for her birthday dinner. Loved how there was a variety of cuisines to choose from, from western to Indian and seafood! It's an eat-all-you-can buffet, definitely worth the price. Desserts are superb and service was top-notch (special shout out to Ice!)." – Irah X. Mamat
Best Dessert Buffets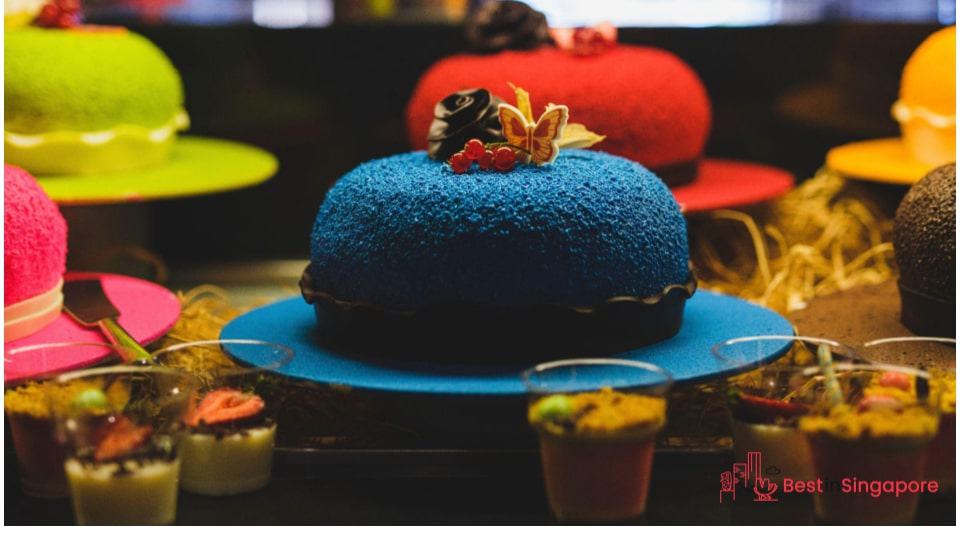 Life is short: we say eat your dessert whenever you want and not just at the end of a meal!
With that in mind, we hope you can find that dessert buffet in Singapore to make your days sweeter and more delectable.
9. Swensen's Singapore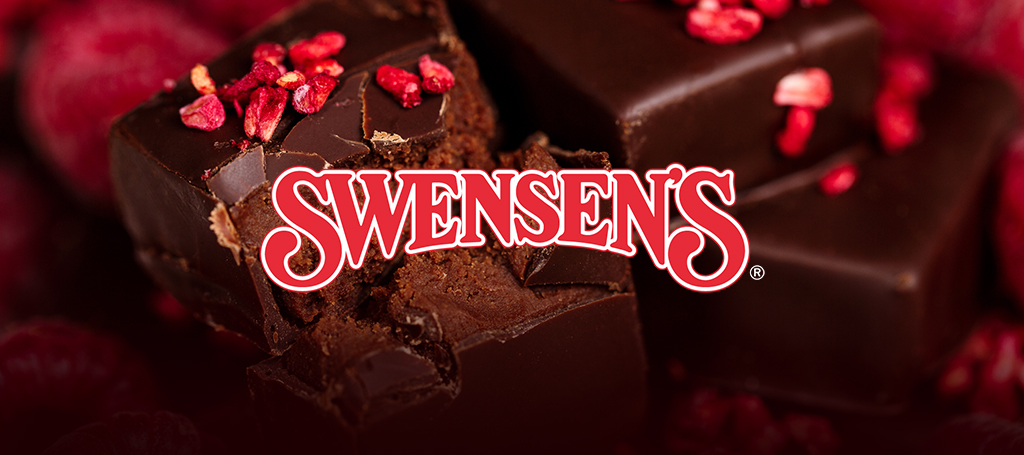 Swensen's has multiple branches across Singapore, so there's no real reason to miss it. And while not strictly a dessert buffet, it does offer regular promotions and discounts that will make anyone feel like it is.
There's one buffet-like promo called (funnily enough) "Topless 15," which features over a dozen topping varieties for the mega sundaes.
Its most popular items include the hot fudge sundae, the weird-sounding "fried chicken" ice cream, and premium pints. The latter features exotic flavours like Durian Supreme and Mao Shan Wang which you can't find elsewhere.
Swensen's has a relaxing and family diner-style ambience to make anyone feel comfortable.
And while better known for its range of ice cream and other desserts, Swensen's also offers plenty of savoury meals like soups, sandwiches, and grilled platters.
We also appreciate that there's an option to have less sugar in the desserts in line with Singapore's National Steps Challenge.
Customer Reviews
Great place to come in your birthday month
"We had a nice dinner and Birthday treat here today. Great place to come in your Birthday month as they give you a free ice cream sundae of your choice. Food was tasty and well cooked too!" – Arjun Trivedi
Blueberry juice is a nice mix with the ice cream
"Swensen's is the place I go for dessert.
Last Friday, we had a waffle promotion with 2 scoops of ice cream with toppings. The waffle is on the softer side. We choose strawberry as the toppings and blueberry juice is a nice mix with the ice cream.
It is a very spacious cafe where they have beautiful stained glass lamps. There are seats which are situated beside clear windows which you can see the scenery outside. They also have cushioned seats as well." – "cse1217"
10. One Ninety Restaurant at Four Season's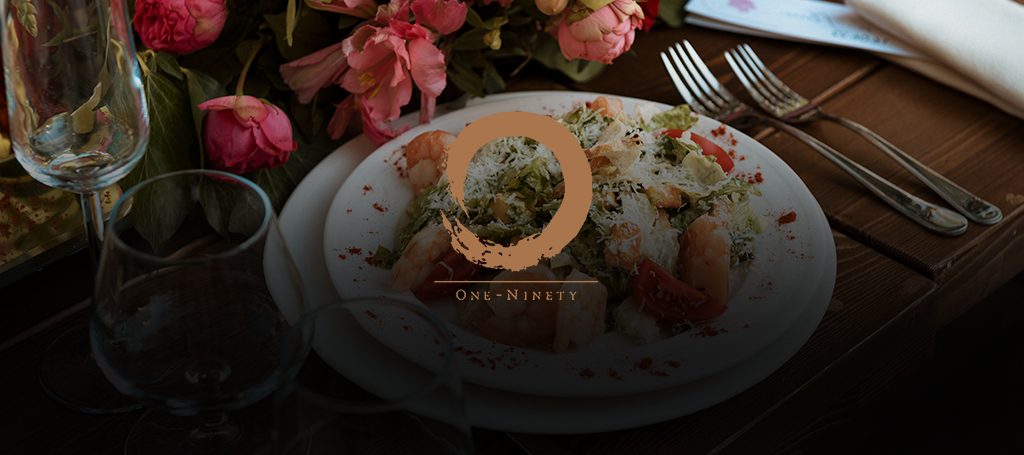 With a modern Asian brasserie design and touches of floral and botanical lushness, being at Four Season's One Ninety Restaurant summons an elevated dining experience.
But it's also a family-friendly dining place, with a children's menu available for hearty morning kiddie meals.
Apart from having signature dishes, we love that the restaurant has a separate dessert buffet. We started with some bread and butter pudding and some lime meringue tarts, which were both quite scrumptious.
We learned that gluten-free requests can be accommodated as well. We highly appreciate that.
Unfortunately, at the time of writing, they don't offer any promo or discount. But you may be pleased to find that the dessert buffet rates are quite reasonable at just S$12 per person.
If you're feeling peckish, try One Ninety Restaurant's affordable semi-lunch buffet that already includes appetisers, a main course, and unlimited access to desserts!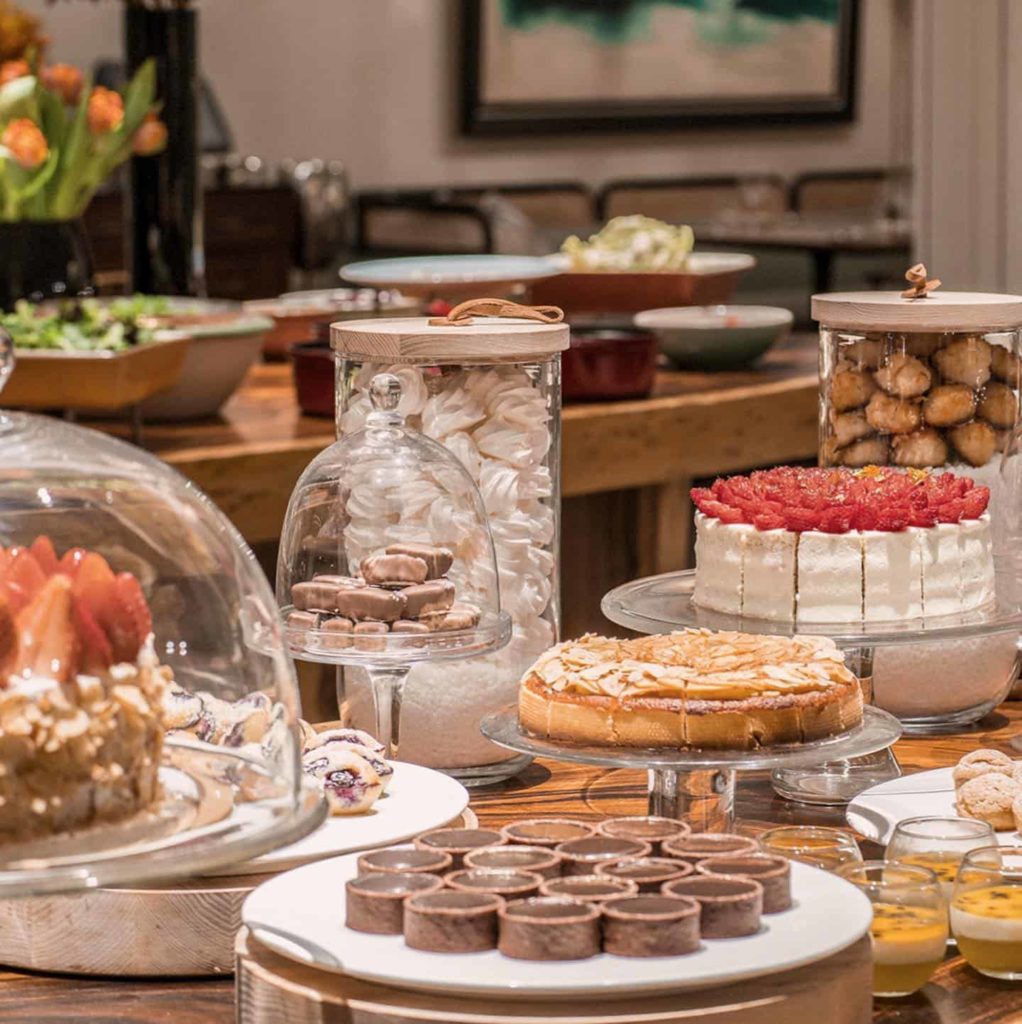 Customer Reviews
Sumptuous food and excellent service
"Quiet and beautiful ambience. Sumptuous food and excellent service. Thank you Four Seasons Singapore and keep up the great work!" – Cecilia Tee
Sevice staff were very attentive
"Had a most wonderful experience at One Ninety bar on Friday evening. The service staff were very attentive and made our meal an extremely enjoyable one. Highly recommended." – Lilane Lau
11. Basilico at The Regent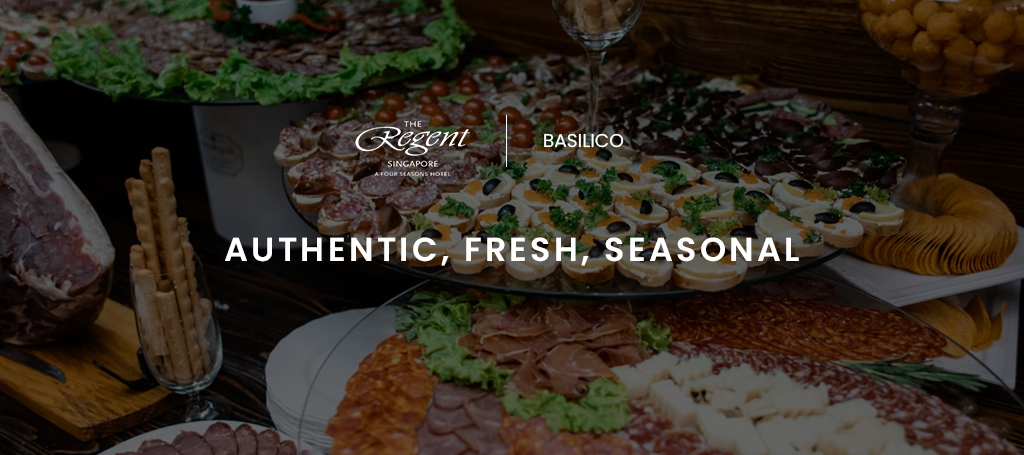 Basilico features mostly Italian cuisine, which is great for those who are fans of it. But we handpicked this place because of its great dessert buffet.
Of course, the desserts reflect the restaurant's theme too. We couldn't wait to try the tiramisu al pistachio and the crostatina di fragole, which were just the right kind of sweet and tasted quite fresh.
We opted for the weekday lunch buffet at just S$68 per person. It already included appetisers, main courses, and desserts (which is what we really came for).
We also chose the weekday lunch buffet because the Bassilissimo Dinner Buffet (at S$98 for adults) has limited dessert offerings.
Diners can request gluten-free, keto, and vegetarian options for the food items. And there's an espresso bar and a walk-in wine cellar because an Italian restaurant wouldn't be complete without them.
Customer Reviews
Cheese platter and desserts were great
"Amazing Italian food and the service was great. Go for the set dinner menu of 4 courses for $88 which is quite worth it. My personal favourite is the Pizza con prosciutto ham which was really generous. The cheese platter and desserts were great too, as we got to try a variety of desserts based on the chef's selection. The chef is not stingy when using premium ingredients such as truffles in the dishes. They also have an upcoming Christmas menu worth checking out." – Donovan Leong
Excellent cheeses, fresh fruit, tasty dessert shooters
"The best buffet in Singapore.
Yes, it's Italian focused but it doesn't compromise on quality at all! The range isn't expansive and I think that's what makes it good- the quality is maintained.
Excellent cheeses, fresh fruit, tasty dessert shooters and scrummy pasta.
It's a little steep at $98+ p.p but for that price, you are getting value and quality." – Sienna Xandem
12. The Courtyard at Fullerton Singapore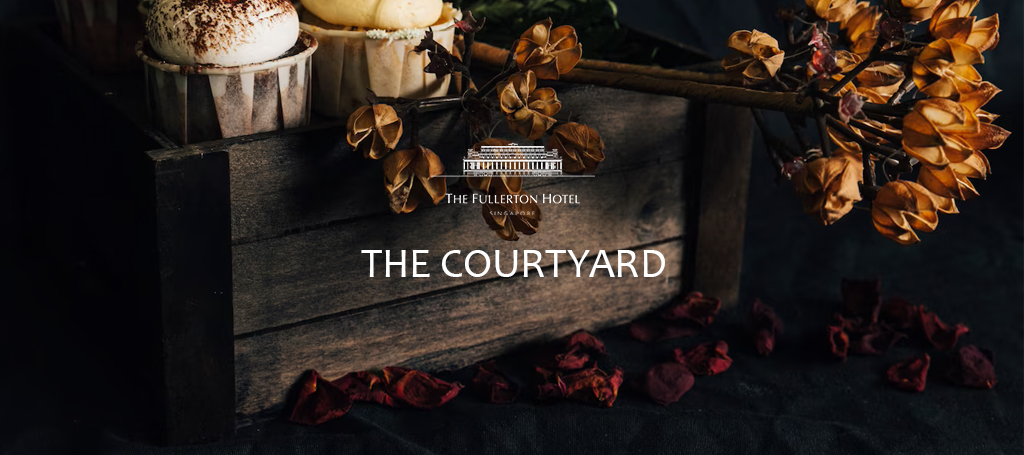 The Courtyard is at the heart of the historic Fullerton Building and offers a traditional English afternoon tea. So if you want to channel your inner royal, consider booking a reservation today.
Because it's a ritual-based meal, you shouldn't expect a traditional dessert buffet spread as others offer. Instead, you can look forward to tea-time items like delicate sandwiches, bite-sized pastries, and freshly baked scones with jam and clotted cream.
The rates are quite affordable at just around S$51 per adult and S$26 per child. The fees are inclusive of a one-time serving of afternoon tea staples along with a cup of tea or coffee.
We wanted to experience something unique and different for dessert, so we tried this one. For us, the experience and nostalgic ambience alone are worth it.
At the time of writing, The Courtyard also features a live harp performance to serenade Afternoon Tea guests from Thursdays to Sundays. We find it a bit of a letdown that this isn't a regular thing, as it lends a soothing atmosphere.
We also must note that if you have special dietary restrictions or requests, you have to inform them about these two days in advance.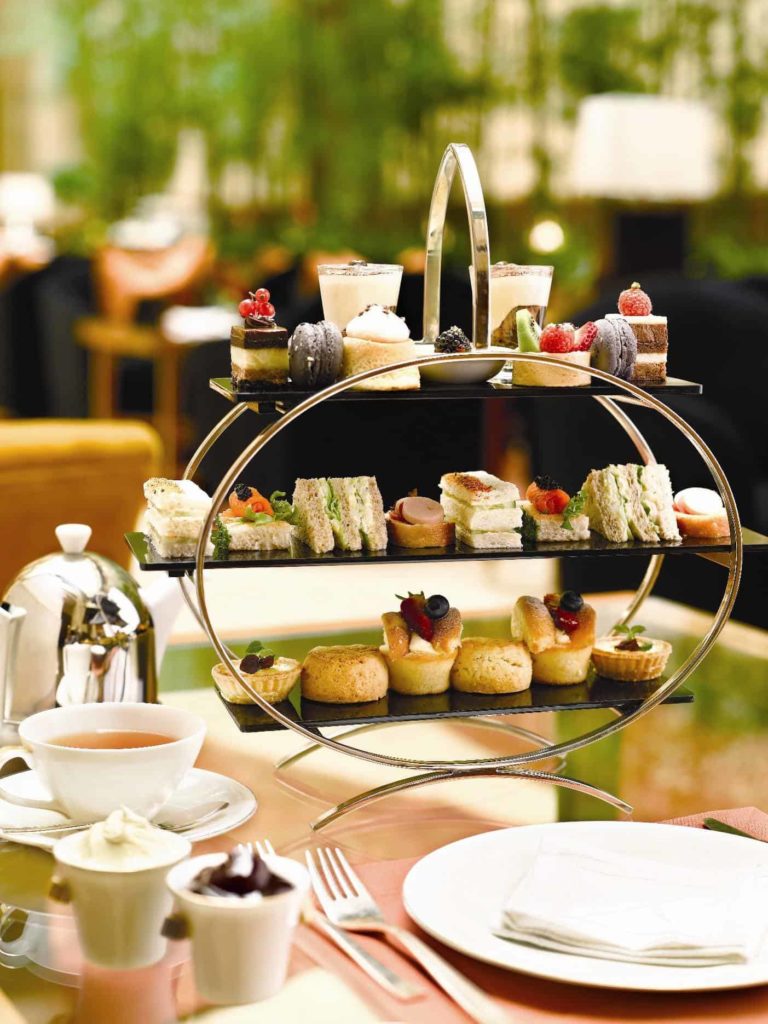 Customer Reviews
Courtyard was nice for coffee and cake
"Courtyard was a nice place for coffee & cake. Peaceful & not so noisy for reading or working on some paperwork." – Cynthia Teo
Service at the breakfast courtyard was great
"Service at the breakfast courtyard was great. And the dining experience too. Great nostalgic atmosphere." – Regina Heng
Top 1-for-1 Buffet Places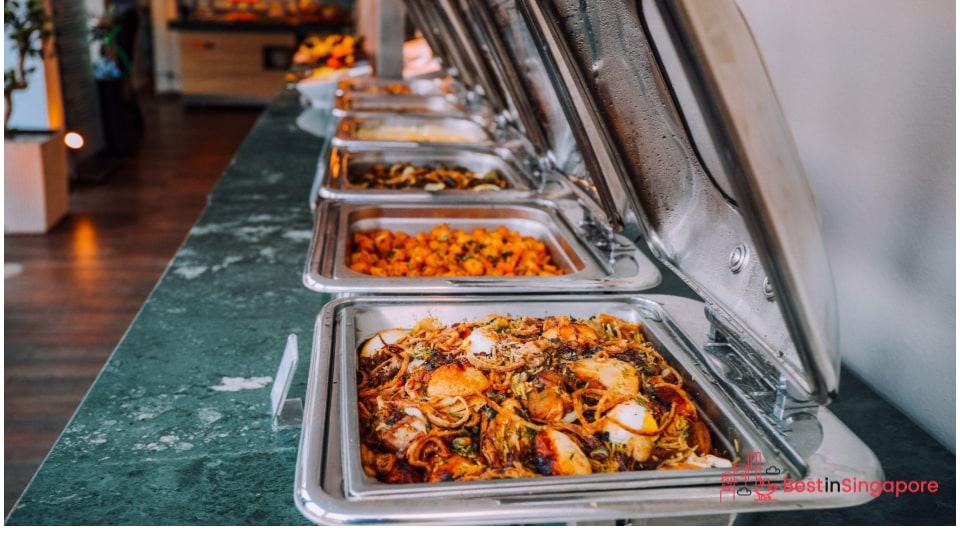 In this section, we're reviewing a couple of 1-for-1 buffets in Singapore that are easy on the pocket while being filling and delicious at the same time. Read on to get to know some burp-worthy buffets on a budget.
13. Window On the Park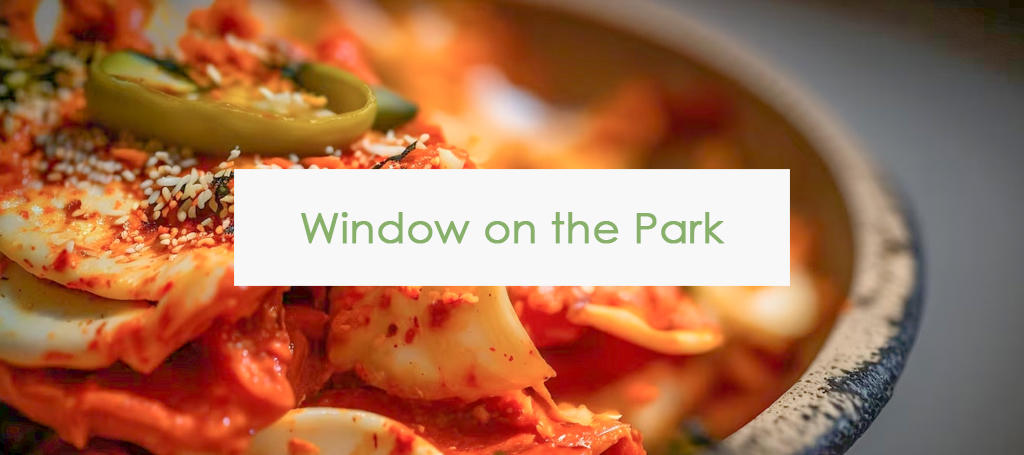 If you're looking for a cosy buffet place, try Window on the Park, which offers both local and international cuisine while being 100% certified halal.
It offers Western fare like marinated roast lamb and pulled beef stew, with some local favourites such as salted egg prawn and baked chicken char siew.
Select tea and coffee drinks are part of the 1-for-1 buffet, though other beverages are sold separately. Don't fret because soft drinks, fresh juice, and mineral water are also being offered as 1-for-1 deals.
Window on the Park's dessert section is not wide but offers some pretty tasty stuff. There's some durian cake and assorted ice cream to try if you want to cap the meal with something sweet.
But if you're on the lookout for seafood promos, you might not find them here. Window on the Park actually charges $20++ per person for its Seafood Shell Out Combo!
Customer Reviews
Decent selection of local and international fare
"Cosy dining ambience and friendly attentive staff. Food was served upon order due to Covid-19 measures and staff frequently came by to check if we needed anything. Decent selection of local and international fare at the lunch buffet and a small but sweet offering of desserts. Highly recommend the umami-packed butter prawns, melt-in-your-mouth seared teriyaki salmon and juicy chicken satay!" – Cynthia O.
Great value for money buffet
"Great value for money buffet. The spread consists of seafood and a variety of local favourites. The kitchen does a good job of keeping the buffet line topped up. Not a big spread but the dishes are really tasty. I particularly like the beef rendang. Yum!" – Lin L.
14. Sun's Cafe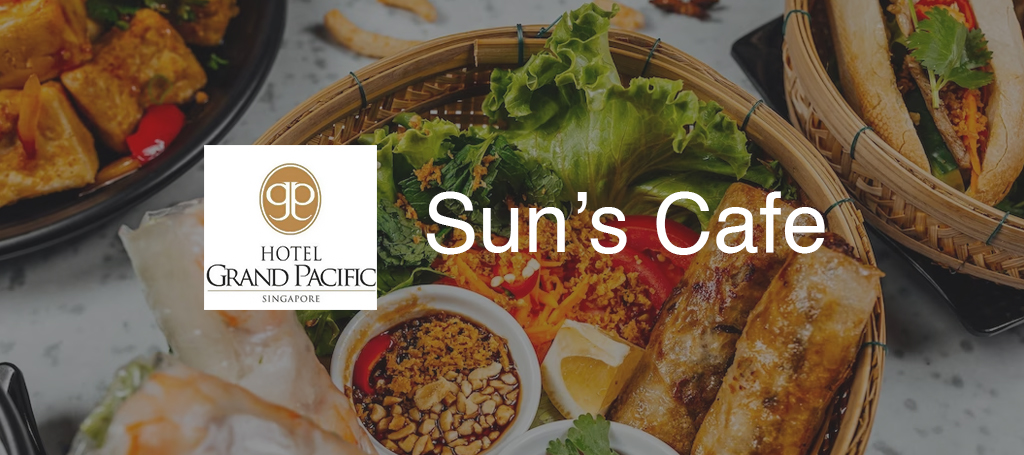 Craving for some eat-all-you-can Peranakan food? Then Sun's Cafe at the Hotel Grand Pacific might just fill the bill.
Named for the ample sunlight streaming in the buffet premises, Sun Cafe is a great place to get lunch while catching up with friends. But check out the place during dinnertime too, as the food alone should be a reason to visit.
Unfortunately, there's no breakfast buffet at Sun Cafe.
The cafe's chef and kitchen team specialise in Nonya dishes, so you can expect authentic Peranakan fare on the buffet spread. Sample some mouthwatering (and unlimited) sambal udang or babi pongteh with busy Victoria Street as your backdrop.
There are also Western dishes and other local offerings, which are only available a la carte. But we believe that Sun Cafe truly shines in its 1-for-1 authentic Peranakan buffet offerings, and they are quite affordable too.
Customer Reviews
Worth it for the price point
"Worth it for the price point. Need to be selective about dishes. Recommend: ngoh Huang, crackers, pig stomach soup (gingery), sambal brinjal, nonya chap chye, curry chicken, ayam pamggang, beef rendang, nonya kueh." – Cynthia Gian
Good Peranakan food!
"Pay using a DBS Credit card to get the 2-for-1 buffet special during lunchtime! Works out to be around $27 or so per person, worth it! Good Peranakan food!" – Eugene Ang
Great Seafood Buffet Spots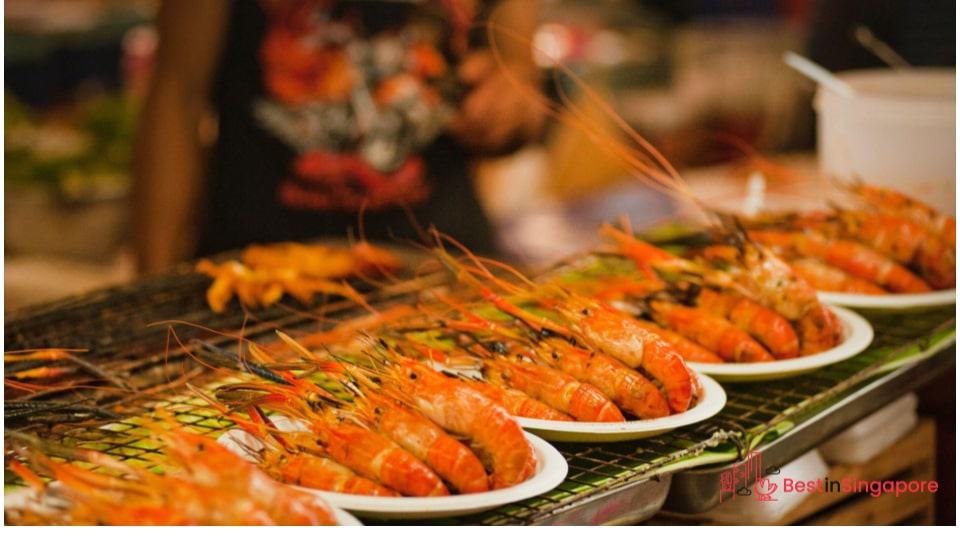 It's probably quite obvious by now that we love seafood with our buffet. And while earlier entries in this listicle also feature them, this section focuses on our recommended buffet that primarily offers seafood.
15. J65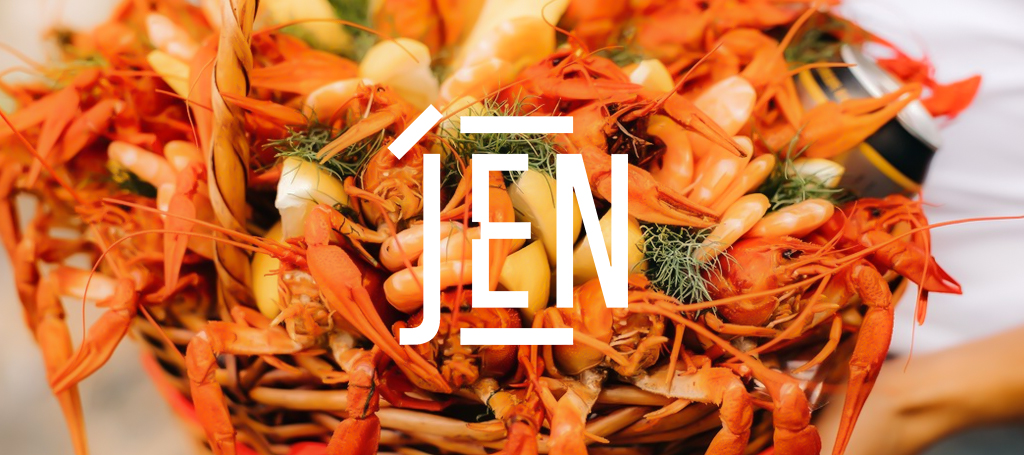 J65 emphasises Singapore's melting pot via its inventive and fresh buffet offerings. And if you're searching in particular for fresh seafood, you'll be happy to know that J65 has its own seafood counter filled with Boston lobster, prawns, black mussels and others.
The show station also features an open kitchen where delectable dishes like squid masala and grilled udang galah with balsamic, chilli, and lime dip are prepared before your eyes.
So if you like your seafood as a feast for the senses, make sure to check out this station.
Seafood is also incorporated in the restaurant's main dishes, including crabmeat fried rice, seafood Thermidor with garlic bread, and spaghetti with smoked salmon. You'll truly feel spoilt for choice here as far as variety (and being a pescetarian) is concerned.
We'd like to note that you might encounter some menu changes, as some items are subject to seasonal availability. The best way to know for sure is to contact J65 beforehand.
Customer Reviews
Varieties of food to choose from
"Excellent place to have your buffet lunch! There are varieties of food to choose from which are mostly Asian delicacies. The food tasted great and tasty. The ambience is superb with a high ceiling and full window glass. The staff are friendly, helpful, courteous and attentive. It's Halal! Highly recommended!" – Din Neo
Serves a very extensive lobster buffet
"The one restaurant in Singapore that serves a very extensive lobster buffet. Been here 3 times already. Have a great variety of lobster dishes including lobster bisque. But the rest of the varieties of food is not a lot though. One great thing about the buffet is, it comes with fresh fruit juices. Goes well with the lobster dishes. And great to end off with a coffee or tea which is also inclusive." – Jeffrey Heng
16. The Kitchen Table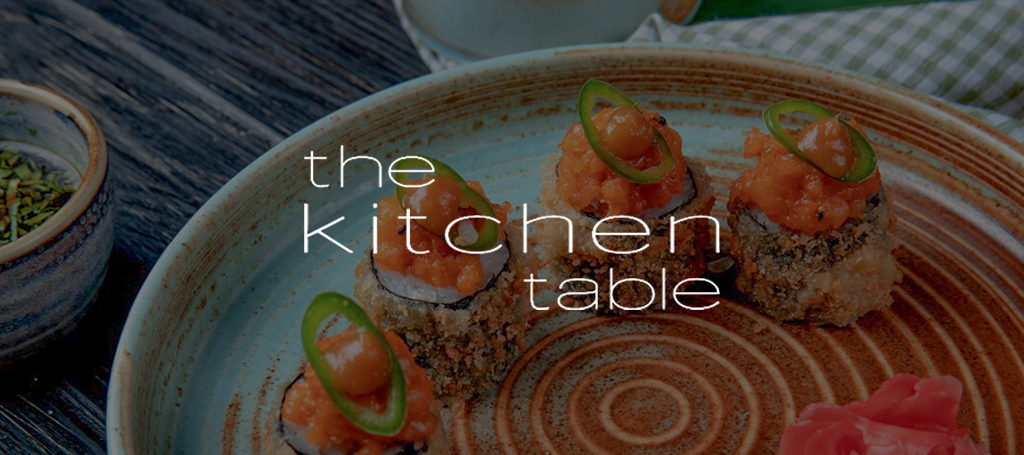 The Kitchen Table at Marriott on Sentosa reflects its location's tropical vibe. It also offers what it cheekily calls "brunch with a side of swim," which is a poolside semi-buffet option.
What do we like about this place? Plenty!
We'll start off with the Sunday Brunchscape, which, while a bit steeply priced, pulls out all the stops starting with an ice bar of the freshest seafood we've eaten.
There's poached lobster, Fine de Claire oysters, and Japanese snow crab legs accompanied by various dressings and sauces.
We enjoyed the free-flowing beverages that came with the package.
While we had mocktails and juices, we're eager to try the brunch featuring free-flowing Moët & Chandon Brut Champagne and selected wines (though it's quite costly at S$188 per person).
And while we understand that these brunches and semi-buffets appeal to older diners, it would have been nice to have a kids' option (or discounts) as well.
Customer Reviews
Creative and appetizing presentation
"Great dining experience! Creative and appetizing presentation and all of the food taste good as they look! Super satisfied! Highly recommended." – Emy DL OC
Had a lovely dining experience
"A big shout out to Xavier & Molly for the awesome service. Celebrated a birthday there on 7 Dec, and had a lovely dining experience. Molly was friendly and helpful throughout while Xavier was attentive and professional. Thumbs up to both of them. Thank you once again, my family and I enjoyed our lunch." – Samantha T.
17. Oscar's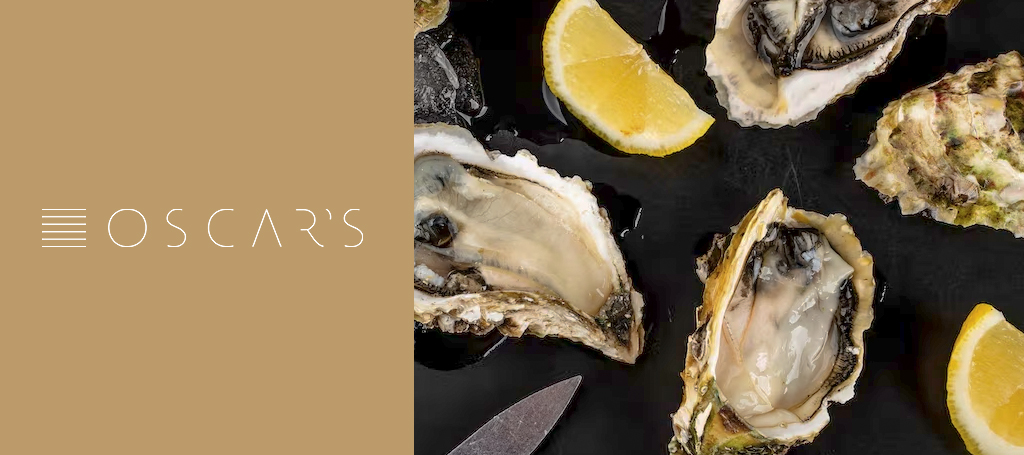 Oscar's is a must-try if you're on the lookout for inventive seafood fare at a fair price. Its regular lunch menu already features a frutti di mare ice bar with seasonal oysters, prawns, and mussels.
But its festive buffet offerings take the cake with an array of fresh seafood for the taking.
There's also a sashimi counter, local flavours featuring cereal prawn, golden fragrant clams, a live station noodles bar for seafood laksa and prawn noodle soup, and even Western seafood stews.
Suffice it to say that your seafood-loving heart will be sated at Oscar's. And the price is quite good for such an extensive lunch buffet menu.
We only wished some Malay or Indonesian preparations were also available to complete the buffet experience. Otherwise, there's good seafood value for money to be had at Oscar's.
Customer Reviews
Great selection of beverages
"Enjoy the Fashionista high tea with a great selection of beverages n the good service provided by the staff!" – Gina Ong
Evening cocktail was delicious
"First time staying and was amazed by the building. The room is spacious and toilet amenities are a top-quality product. The lounge serves high tea with beer who is a first for me. The evening cocktail was delicious too with decent choices of alcohol. Breakfast food is standard and they serve ice cream." – Patrick Wee
Affordable Buffets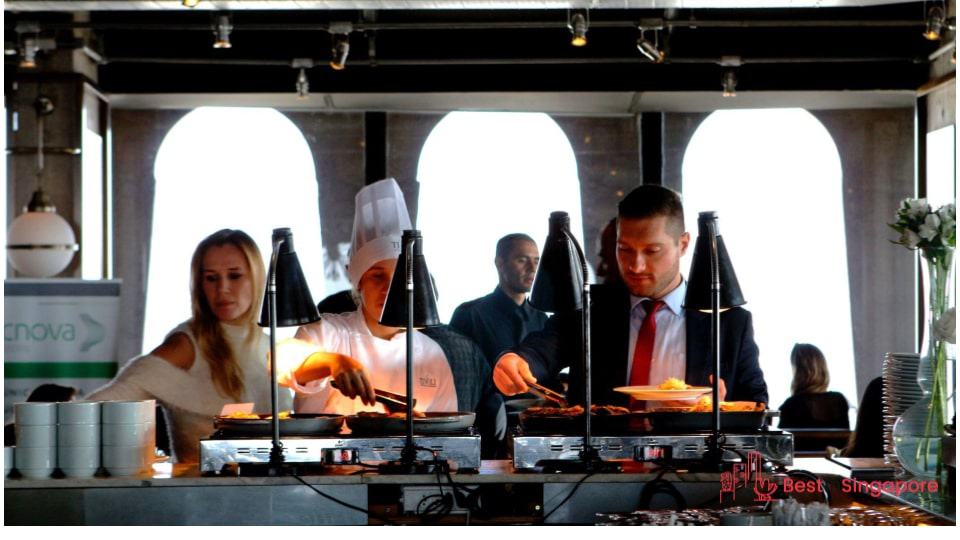 Cheap buffets in Singapore are not exactly a dime-a-dozen, especially for those used to hotel-style buffets. But we did the homework and found a couple that we can wholeheartedly recommend to you.
18. AL JASRA Restaurant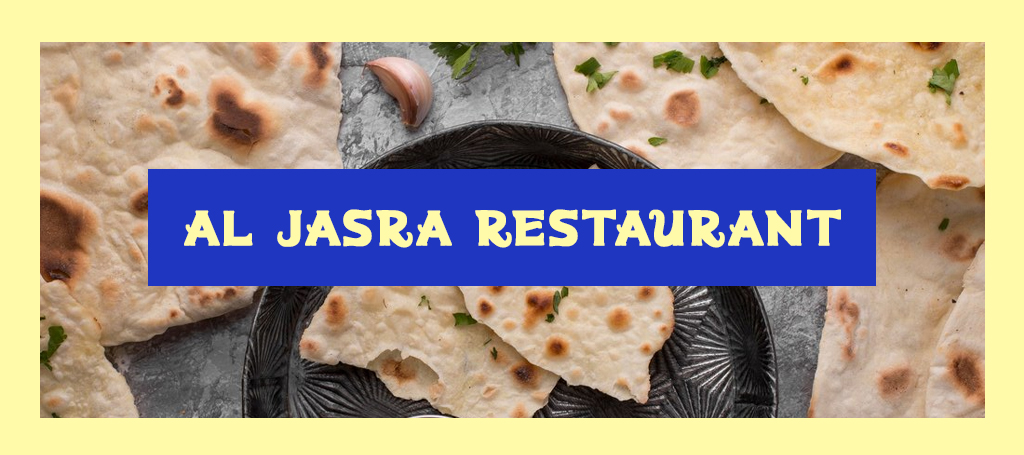 Do you like prata and can eat the stuff on an almost unlimited basis? Then AL JASRA might have the very thing you're looking for just under S$8!
This 24-hour prata joint is fully halal-certified and offers 16 varieties of prata for just S$7.90 per diner. So you can get your fill of savoury and sweet prata any hour of the day and any day of the week.
There are other a la carte offerings on the AL JASRA menu too (you know, in case you want to take a break from all that prata stuffing). Take your pick from nasi biryani, naan, tandoori chicken, and other delectable dishes with a homemade twist.
But bear in mind that the place isn't airconditioned and can tend to get crowded at certain hours (specifically during brunch and lunchtime). So it's best to time your prata eat-a-thon during sleepy hours and when it isn't particularly hot and humid.
Customer Reviews
Food was tasty as usual
"As usual, the food was tasty. Even though the place was crowded the service was good." – Hai Ge
Service is very friendly in this busy restaurant
"The roti bom and many of their classic dishes and drinks are well worth trying. Service is very friendly in this busy restaurant, value for money is excellent, they are open 24 hours, and there really is something for everyone." – Andrew Owens
19. Greenleaf Cafe
Greenleaf Cafe values the experience of natural eating, which is why it offers only South Indian vegetarian cuisine in its buffet menu.
So if you want to eat out with a healthy twist, consider going to this vegetarian buffet. And at just under S$11 per person, it's definitely friendly on the pocket!
Daily lunch and dinner buffets offer such treats as chilli mushroom, paneer Manchurian, mixed vegetable masala, and other tasty dishes that don't scrimp on spices.
The beverages and desserts at Greenleaf Cafe are quite scrumptious too. We felt less guilty knowing we were eating healthy as we scarfed down some carrot halwa with our banana stem juice.
There's definitely value for money to be had here, especially when you don't want guiltless eating even as you eat your fill.
However, keep in mind that their buffets are available from Wednesday to Monday only, so plan your weekly schedule accordingly. They also don't have a breakfast buffet, so just visit for lunch or dinner.
Customer Reviews
Serves good food
"I love this place. Vegetarian food sometimes may not be healthy because of their recycled oil to refry, the use of gluten as mock meats, and healthy ingredients repackaged that don't taste normal.
Luckily none of the above happened here. They are real honest people who decide
to really serve you good food and make a living." – Robin Chan
Different varieties of curries with delicious taste
"One of the best Vegetarian restaurants in Singapore. I would highly recommend this place for lunch. A buffet lunch is the best option. Different varieties of curries with delicious taste makes the buffet lunch more special. I always visit this place whenever I am hungry and I opt for a buffet lunch. Apart from the buffet, There are a lot of other food varieties, which are tasty too. The restaurant is very clean and hygienic." – Basavarajj Kulli
20. Annalakshmi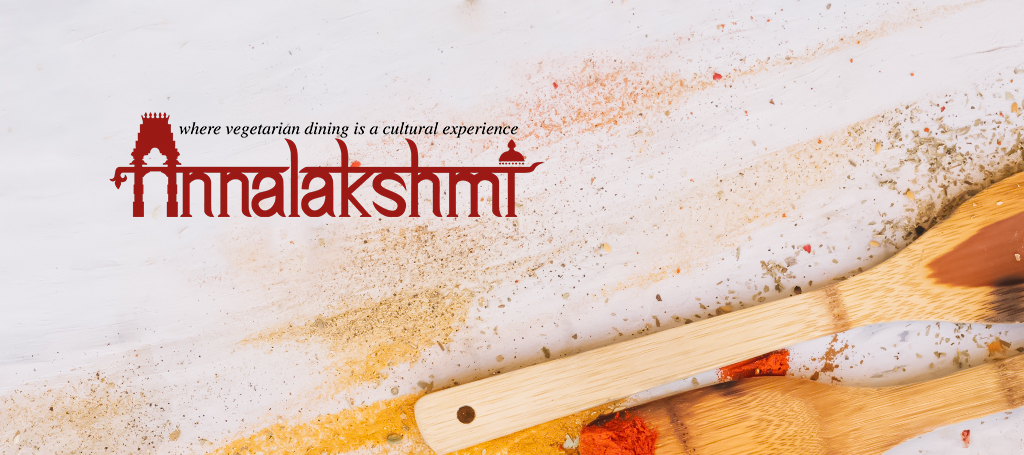 Honestly, what can be more affordable and budget-friendlier than being able to pay what you can afford at a buffet? At Annalakshmi, the impossible seems to have been made possible.
This unique dining concept revolves around its motto: "Eat as you want, give as you feel." So if you are on a tight budget but need to nourish yourself, we think there's no better place to go than to this compassionate Indian vegetarian restaurant.
And if you're expecting a meagre menu based on this concept, you've got another thing coming.
Annalakshmi offers a wide variety of sweet and savoury dishes, including Narmadha and Godavari meals. There are also quick bites if you want to sample a little of everything and authentic Indian beverages to wash everything down.
We're honestly blown away by this concept and are glad that Annalakshmi has moved and reopened at its new premises.
But we must note they're closed on Mondays and don't offer a breakfast buffet. These aside, there's plenty to enjoy in this one-of-a-kind generous joint.
Customer Reviews
Service is excellent and the food was superb
"It's their anniversary today, so they served a nice vegetarian dinner. The service is EXCELLENT and the food was superb. I would recommend EVERYONE to try this." – Huber Deborah Cindy
Like the ambience and space
"Pay from your heart. real good test /truth, etc…patronise for many years. understand the spirit of the founder no doubt I am Christian…..hope Christian owner or founder can also adopt the same spirit philosophy….like the ambience and space too." – End Hong Tan
FAQs on the Buffets in Singapore
---
More Food Articles