The Top 20 Japanese Buffets in Singapore
In the mood to stuff yourself with sushi and yakiniku? As luck would have it, we recently went on a foodie rampage in search of the best Japanese buffets on our little island!
Today we'll share the ones that we think delivered in terms of value-for-money and gut-bursting, lip-smacking flavour. Come on and check out our top selections below.
How We Picked
We assessed the best Japanese buffets in Singapore based on the following criteria:
1. Kiseki Japanese Buffet Restaurant
Japanese buffet with 1-for-1 promo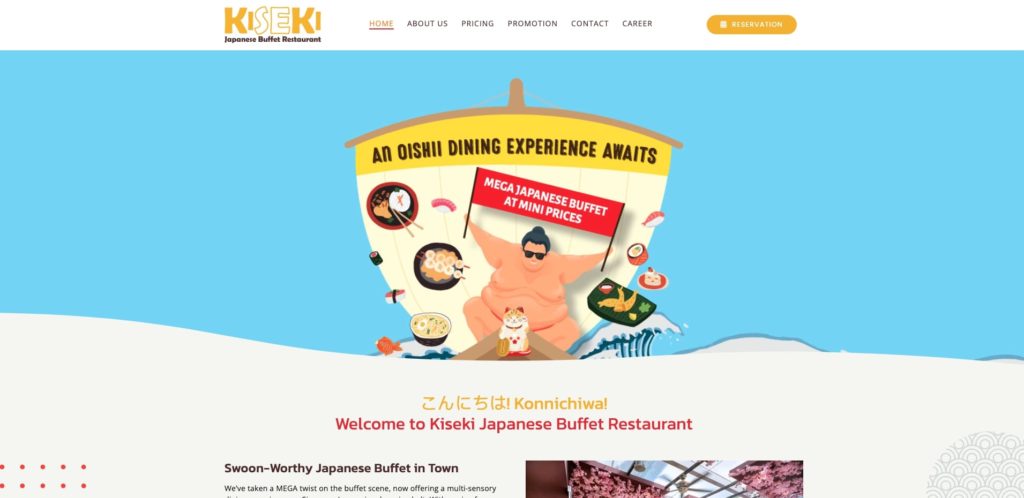 Kiseki Japanese Buffet Restaurant has an eat-all-you-can setup. We noticed during our visit that a lot of the visitors were people with kids, so it seems to be fairly popular with families.
Prices are also very affordable, which is probably why it's such a popular dining spot for celebrations with family and friends. The ambience is cosy, and the restaurant is very clean, thanks to the attentive staff.
Anyway, we think there could be some points for improvement in the pricing and portion sizes. For example, adult prices automatically apply to children above 1.40 metres in height, and we think that could be adjusted upwards.
As for the portions, they're on the small side – which wouldn't matter so much, given that this is an all-you-can-eat restaurant, if refills didn't take a bit of time.
Despite that, Kiseki is still a solid Japanese buffet to visit for a hearty feast with your family and friends! Most of our staff personally enjoyed the food and thought the experience good enough for return trips.
Customer Reviews
Modern Japanese buffet concept
"Last visited before Covid it was crowded and long queue.
Today return visit on Monday just walk in and had a Wonderful dining experience with their new look after some renovation. Excellent service and food taste great! Kudos!"—Wee Aik Yeo, Google Reviews
Accommodating staff members
"love the small hotpot and onsen egg! The ambience is really calming and nice. Staff really friendly too. Told them it was my parents' anniversary and they surprised us with a cute cake! Thanks for the great lunch :)"—Odelia Teo, Google Reviews
2. Mitsuba
Japanese buffet with 1-for-1 promo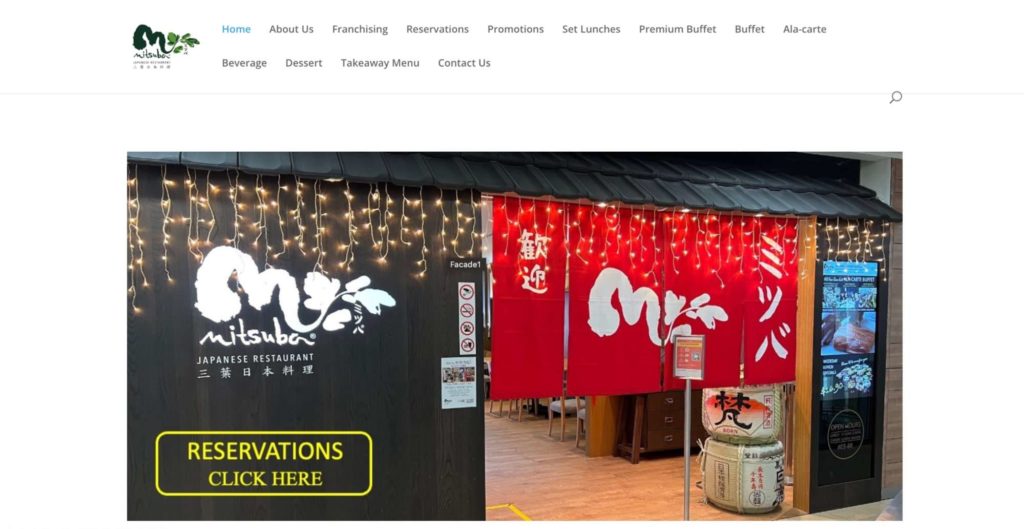 When it comes to Japanese buffets, we always search for listings that offer a wide range of dishes. Food lovers like us are likely to try everything on the menu, and Mitsuba has no shortage of delicious Japanese treats to try!
Finding a table, even without a reservation, wasn't hard for us. The seating capacity here is large, so we took a mental note to invite more friends on our next visit.
Anyway, onto the actual experience: service speed was slower than expected for such a popular Japanese buffet that serves dozens of customers daily. Food-wise, the quality was mostly good, but there were inconsistencies with portion sizes and some dishes.
If you're particular about food quality and service speed, Mitsuba may not be your cup of tea. They could use more consistency in those things, we think.
However, if you're up for a filling meal and dozens of dishes to choose from, Mitsuba is a solid Japanese restaurant to start with.
Customer Reviews
Sashimi heaven
"Awesome ambient and buffet food! The quality of the sashimi is quite good with generous thickness! Just do some reservations and all will be good, as it tends to get full house!"—Essper Tan, Google Reviews
Large seating capacity
"Superb place, recommend to get a reservation to prevent disappointment.
Pretty big place with ample space apart from the next table, food is ordered via IPad and food is served fast (still warm or hot upon serving!)"—Ng Xin Hui, Google Reviews
3. Shin Minori
Japanese buffet with 1-for-1 promo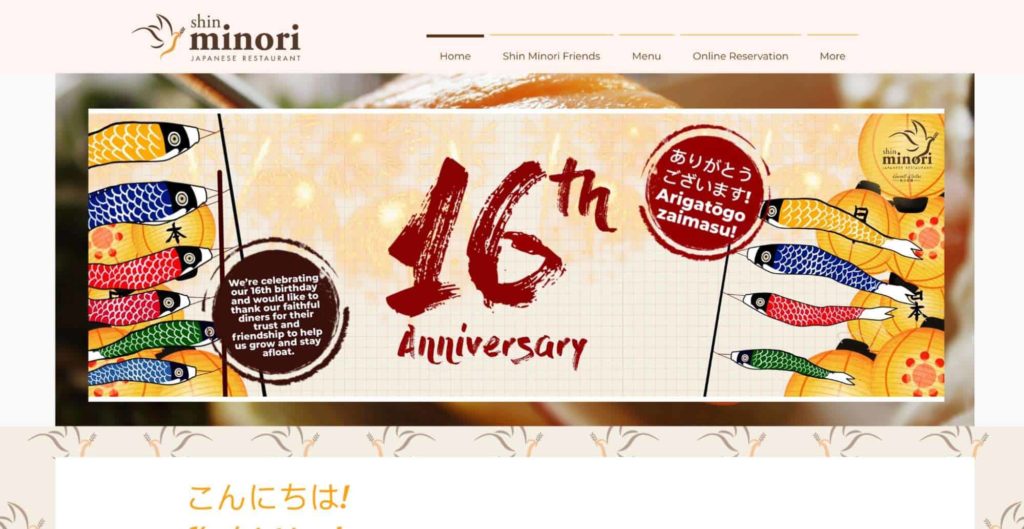 We decided to take our Japanese buffet experience up a notch by visiting Shin Minori, a Japanese restaurant that's a little more on the pricey side, though it does give you what you pay for.
Shin Minori's focus on creating authentic Japanese dishes is what we'd probably have to highlight most in reviewing it. The food, which was abundant in portion sizes and options, was delightfully plated and delicious.
The dining area was also very clean and organised, so there was little room to complain about the ambience. We all enjoyed the buffet, and even though we paid more than usual, we still felt like it was great value for money.
It's probably worth noting, though, that the staff members told us that bill splitting is prohibited. Luckily for us, we all planned to eat from the same menu, so this wasn't an issue.
Otherwise, we probably would have issues with the bill. Despite that, the overall dining experience was excellent, and we'd highly recommend Shin Minori to anyone looking for a more elevated Japanese buffet experience.
Customer Reviews
Organised dining area
"I occasionally eat here and whenever I come back the food keeps getting better. This restaurant's mastery of japanese cuisine is deliciously satisfying. Environment is clean and well-organized. The music gives comforting vibes and lets you have quality time with your family and friends. Staffs are friendly and manager is super understanding and nice. Will always be back for more."—Marc Angelo Silverio, Google Reviews
Large portions
"Good place, lots of menu choices and excellent food. Ramen was very good and comes in big servings. The Japanese oysters are the best! Staff were very accommodating. Will definitely come back again soon! Highly recommended!"—LewdSkywalker, Google Reviews
4. SUKI-YA
Cheap Japanese buffet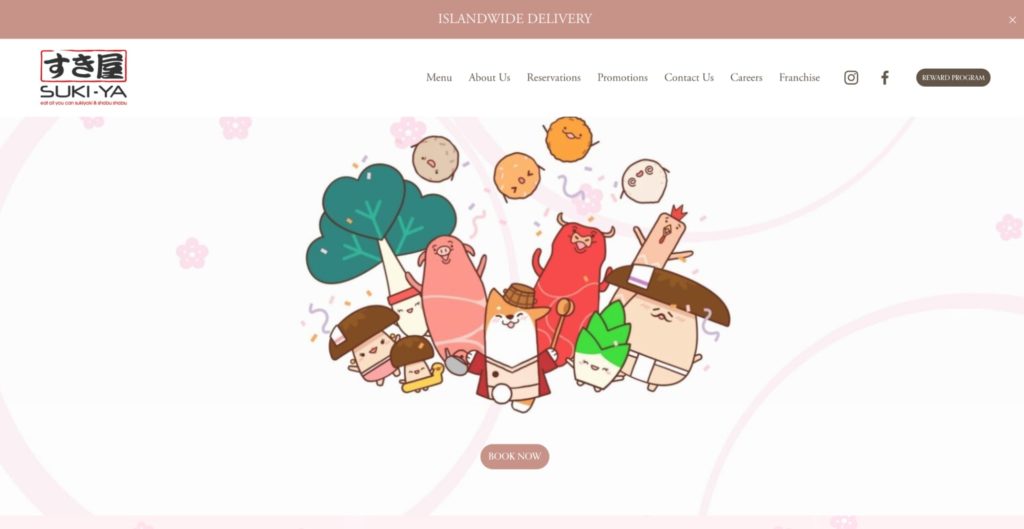 If you want free-flowing meat from your Japanese buffet, SUKI-YA is probably the first place to go – note that you can even order through the Japanese restaurant's online menu. Simply scan the code and order straight from your phone!
It's a pretty smart concept that allowed us to easily order what we wanted without having to get their servers' attention each time. It made ordering so easy that we ended up getting a sample of almost everything on their menu!
Our only complaints? Well, first off, service speed was surprisingly slow.
It took a while for staff members to arrive with our orders. The online ordering system is also a bit glitchy at times, which may have contributed to the slow service speed.
Despite that, we didn't really mind the wait, as the side dishes kept our tummies busy. Overall, SUKI-YA is definitely a must-visit!
Customer Reviews
Attentive staff members
"Highly recommended ! If you're looking for a budget meal price for a lunch & dinner eat all you can buffet , Suki-ya is one of the good places to go. I would like to give commendation for the staff crew, including their lady Manager who were very accommodating to us & help serve the birthday cake. Thanks a lot guys & keep up the good work"—Cez Monis, Google Reviews
Great place to bring friends
"Visited the restaurant during dinner time. Although there is a crowd, there are still seats available. The soups chosen were butaniku and sukiyaki. The service staff of the restaurant is good as even though the restaurant seems to be busy, they are still able to fulfil the orders.
The ambience of the place is quite good too, it is conducive for a catch up with friends."—tomyumdumpling, Google Reviews
5. Kumo Japanese Dining
Cheap Japanese buffet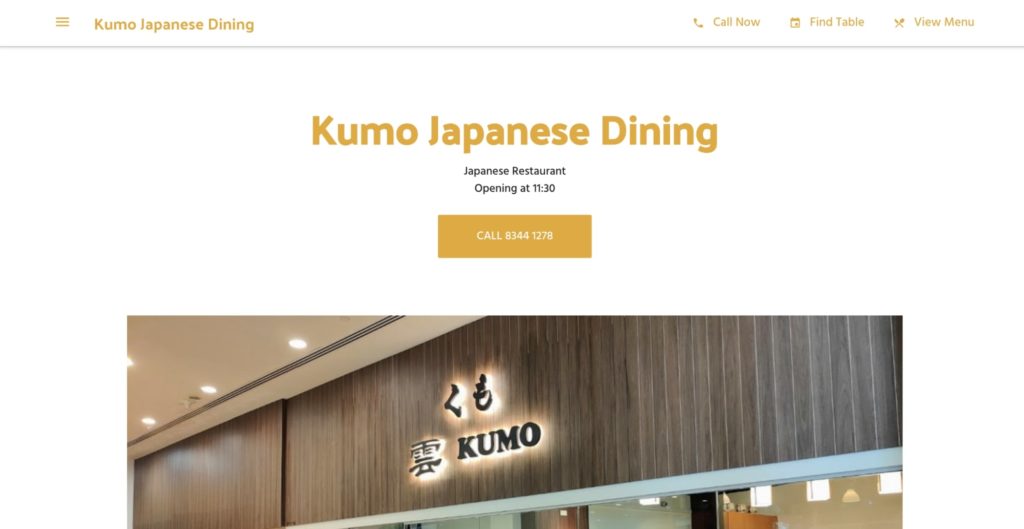 Kumo Japanese Dining is a quaint Japanese restaurant that is popular for its fresh sushi and sashimi buffet in Singapore. We enjoyed trying out the different sushi options, and the freshness definitely lived up to the restaurant's reputation.
True to their reputation, their sushi was fresh and very tasty. The staff members were all very friendly too, and even though we got slightly slow service, it was more due to the high volume of customers.
Given the quality of their food, we thought we'd spend more than usual here, but Kumo was actually a lot more affordable than we expected. It's a huge plus, given what you get for your money.
We just wished there had been more items on the menu. Granted, some halal options are available, but a little more variety in the selection would be much appreciated.
Then again, that would probably have brought down the freshness. It's a general rule of the restaurant industry that it's easier to keep food quality and freshness up with smaller menus or selections, so this complaint of ours is really a minor one.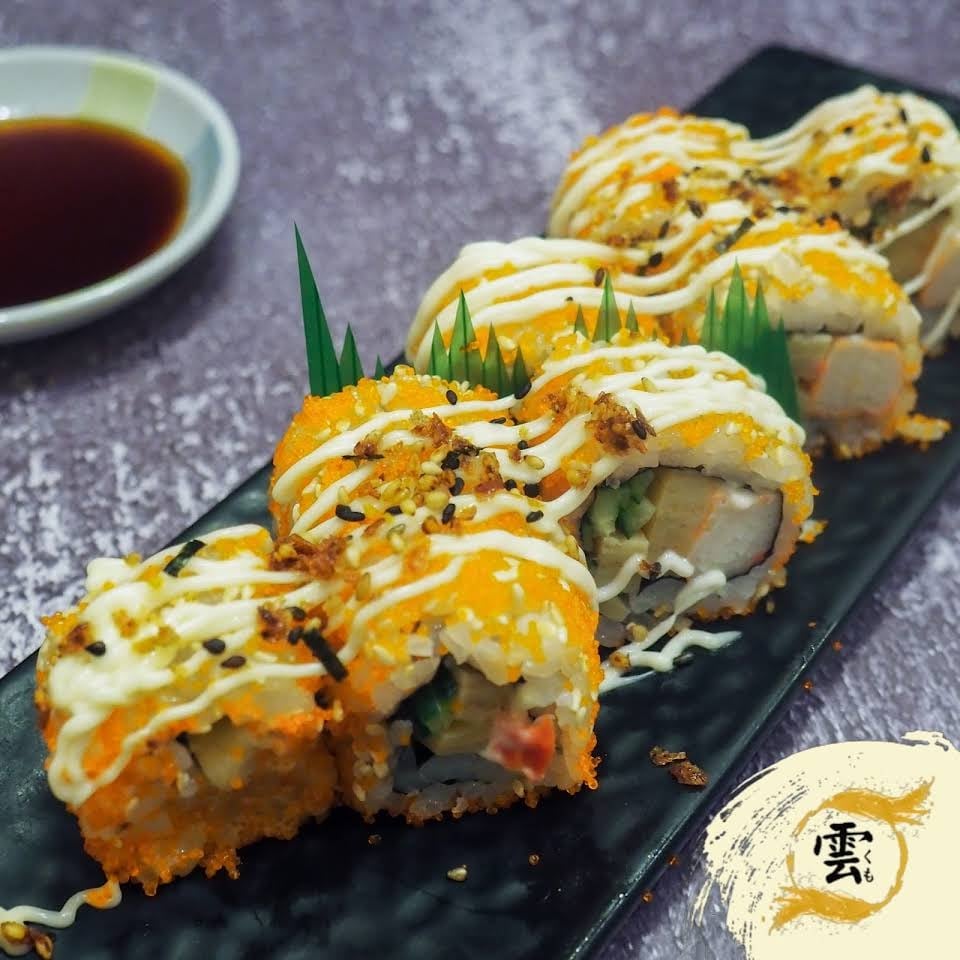 Customer Reviews
Freshness guaranteed
"Great experience at Kumo, fresh sashimi and very nice tempura as well. Sushi options and handroll are also superb. Thank you for preparing the sushi cake as well as we are there to celebrate birthday. Looking to return again soon for another feast."—OJH, Google Reviews
Fantastic service crew
"Good quality food. love the fresh sashimi. the cooked food in small portion so was able to taste more dishes. Service crew was fantastic. didn't have a reservation on a Friday but she made effort to find us a table. Definitely a to-go place for good Japanese food."—Lisa Tay, Google Reviews
6. Shin Yuu
Cheap Japanese buffet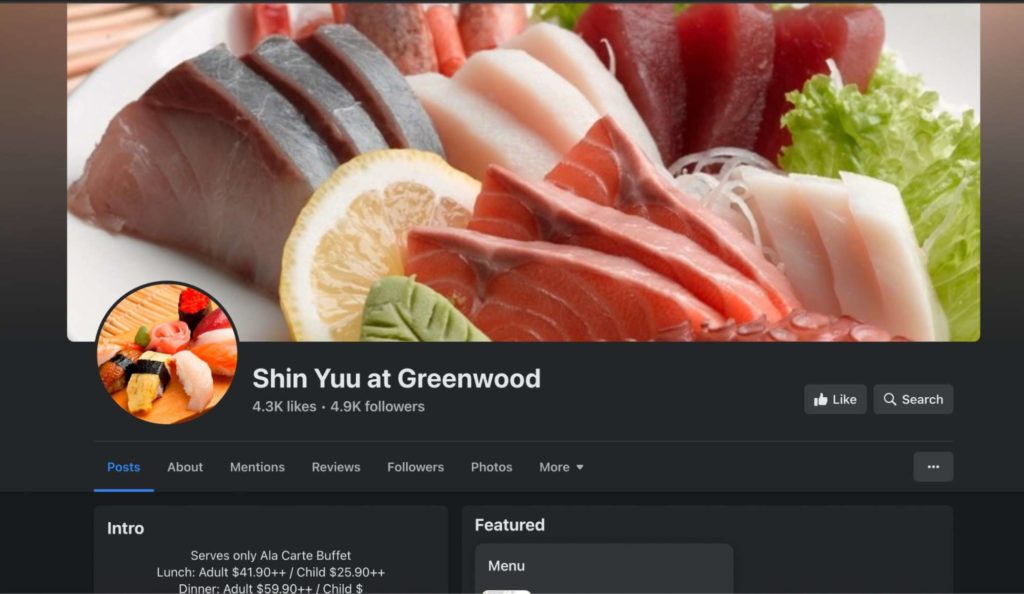 Shin Yuu came to our attention because of the number of recommendations we received for it, with people telling us they have great food portions and quality. Obviously, we had to check them out!
Suffice it to say we weren't disappointed. The buffet menu had many options, and the food portions were huge! You're bound to leave this buffet with a full stomach.
As for the food quality, it was excellent and consistent. We rarely saw any differences in taste or quality after each serving was refilled.
Getting a reservation was also fairly easy, but we tried to adjust our schedules based on Shin Yuu's operating hours. They had a lot of breaks, so we settled on getting an early dinner to avoid missing out on a table.
Anyway, while we enjoyed the buffet a lot, we were disappointed that drinks and dessert weren't included in the buffet price. For the amount we paid, we figured that the whole experience already included all the menu items.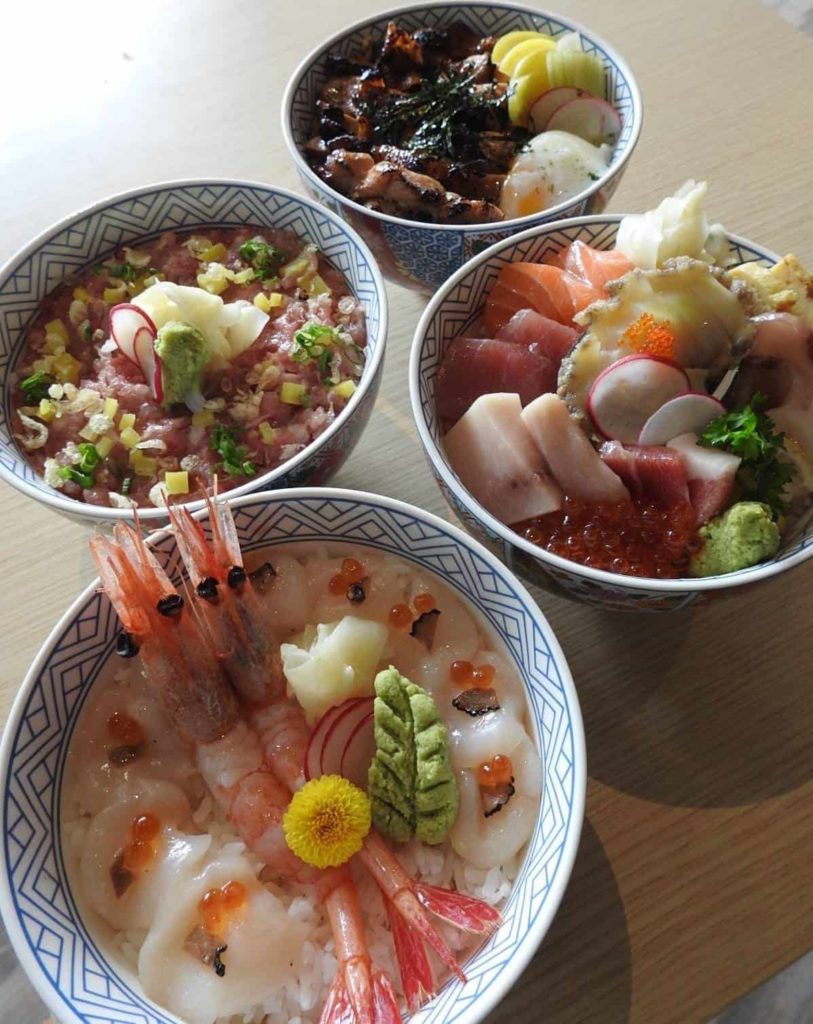 Customer Reviews
Great value for money
"One of the best value for money ala carte japanese buffet in Singapore. They serve a wide variety of food from sashimi (salmon, tuna, octopus, hotate, salmon belly to name a few), to maki, gunkan and also hot food like udon, miso soup, cold soba, etc etc.
All the food tasted great and the portions were good. Only thing I wish was that desserts were part of the buffet, but nonetheless I enjoyed it."—L SY, Google Reviews
Cosy and convivial restaurant
"We've come here for dinner twice, so far both were good experiences! It is a sit down buffet so most of the items are just the right portions, not too large. We like their recommended items on the menu, one of which is the sashimi of course! They have some good sakes too, can ask them to recommend. Restaurant quite cosy too."—Kimberly Chew, Google Reviews
7. Yakiniku Ohji
Cheap Japanese buffet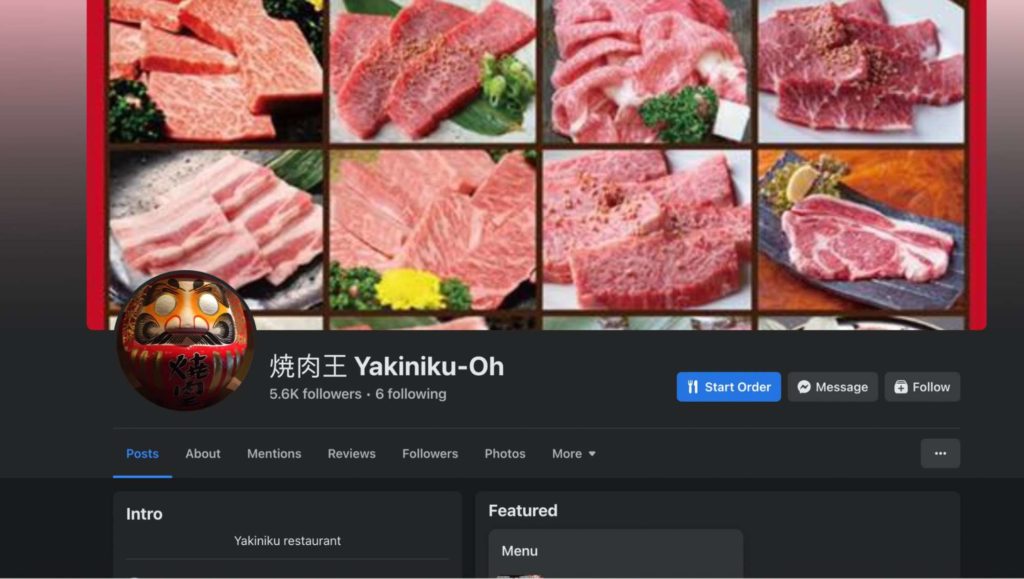 Our visit to Yakiniku Ohji was by far one of the best yakiniku experiences we had while checking out restaurants for this article – and we didn't even need to spend all that much for it!
Paired with the speedy and attentive service from their crew, this means Yakiniku Ohji quickly ended up on our staff's must-visit-again list. We even found out later that a couple of us went there again with their families just a few days after!
Despite their name, by the way, you can get more than yakiniku here. We found several other options available, such as sushi, sashimi, and rice bowls.
The food was pretty much endless and offered great value for money. Unfortunately, all of this means we had to deal with the usual problem we face when a place is actually worth a visit.
Getting a table at the restaurant wasn't smooth. The place is usually crowded even after peak hours, so you might want to reserve a table well ahead of time to avoid long waits.
And like some other entries in this review, drinks aren't included in the buffet price. It wasn't a big deal in the long run, but it would've been the icing on the cake if we had free-flowing drinks to pair with our delicious dinner.
Customer Reviews
Top tier meat selection
"We had the top tier buffet and oh boy.. the meat is soooo good. The main difference is the type of beef, for 57.80 you get wagyu everything. My personal favourite is the harami skirt, beef tongue. Tbh, we remember the number on the menu (recommend to go for 1, 3, 6, 9). The sides were okay at best but hey, its Yakiniku- literally grilled meat. Theres quite a variety for drinks, both alcoholic and fancy drinks like calpis soda. Yumyum! Looking forward to visiting this place again soon. :)"—Jasmine Koo, Google Reviews
Excellent food variety
"Due to time constraints, i had the set menu not bbq.
The salad is so fresh, the vegetables have the crunchy bite.. too bad I underestimated the salad as i thought just a normal salad without the need to take picture.
With good service, they offered to give me curry sauce for the stirred fry pork belly."—Yolly Qi, Google Reviews
8. Shaburi and Kintan Buffet
Japanese BBQ buffet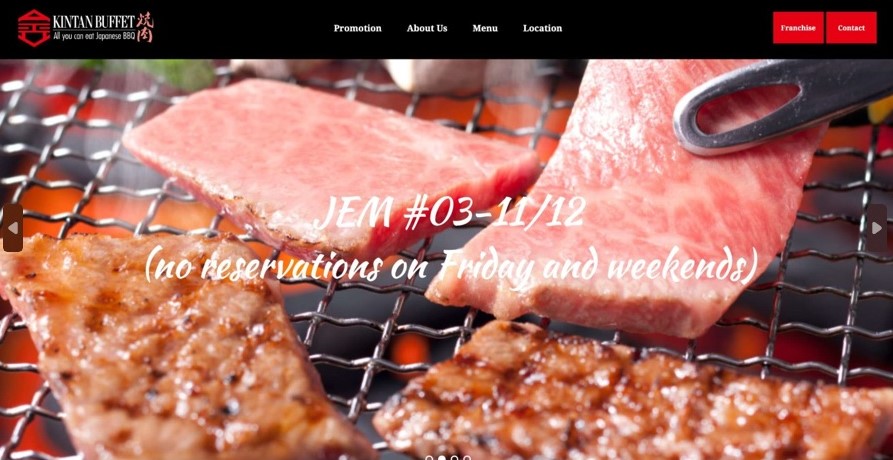 Japanese BBQ buffets like Shaburi and Kintan have no shortage of meat selections, and with the restaurant's premium options and side dishes, we dined to our hearts' content when we visited!
We got the premium set that included wagyu. There was a very tempting teppanyaki section too, and we took a mental note to try it out next time.
In general, the buffet was delicious, and aside from meat, there were other dishes to try, such as ramen and sushi. Refills took a while though, so we needed to be extra patient before we got to try anything else.
We also noted slight inconsistencies with food quality, as the buffet spread tends to clear up quickly. Some choices were taken away and replaced with something else, so you're bound to request an item yourself specifically.
For what it's worth, Shaburi and Kintan was still worth the price and wait. We recommend booking a table ahead of time to ensure good seats.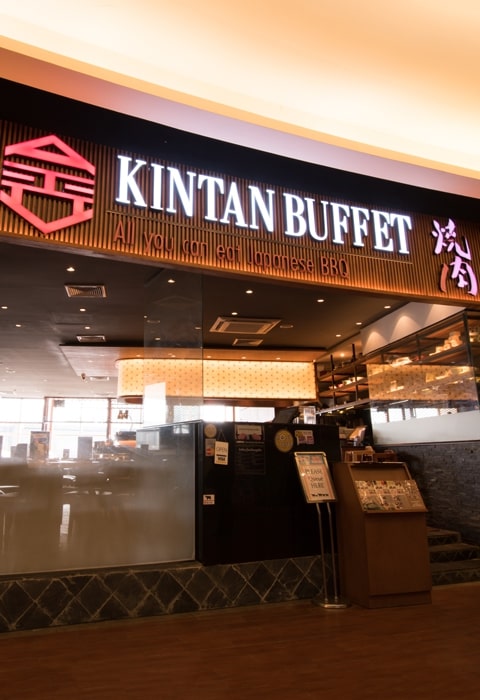 Customer Reviews
Decent range of food options
"This Japanese BBQ restaurant is good on so many levels. Firstly, the ambience is great with its dark decor. Feels cosy.
The selection of meats is decent with beef, chicken and pork. Not the highest of quality but okey for the price.
There is also a buffet spread that is oh-so-good with ready cooked food. There is also a decent range of beverages and also soft serve ice cream."—Lester Chua, Google Reviews
Free-flowing drinks
"We ordered combo course, cause can enjoy hotpot and bbq! The meat and salmon quality are really good, and the buffet counter is variety of foods, got seafoods also, and they have free flow drinks and soft serve ice cream!! 😋 Definitely will come again!"—XY, Google Reviews
9. Himawari
Japanese BBQ buffet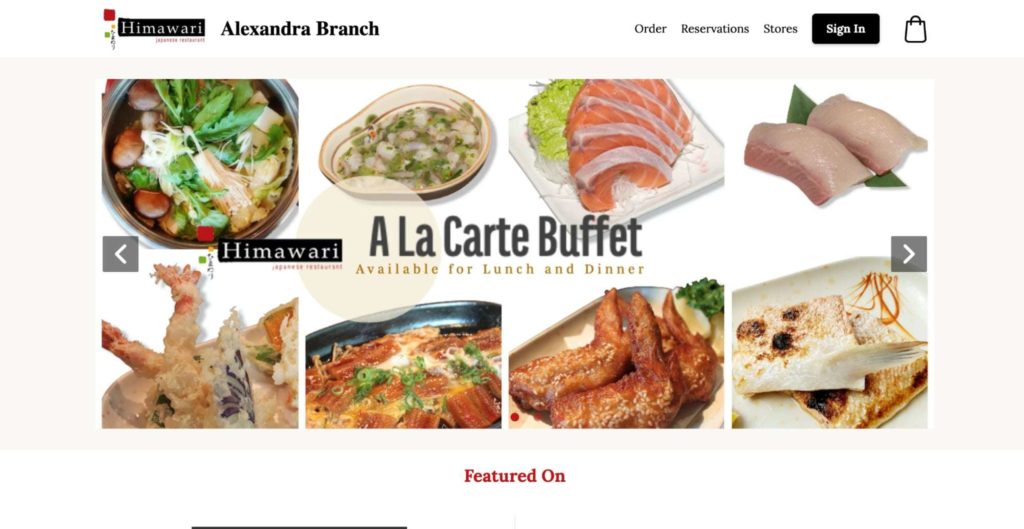 Himawari has an a la carte buffet option that really took the cake for us in terms of variety and range. There were so many items to order on their menu, and the meat section was excellent.
Portions were large too, which we appreciated, but it reflected in the price tag. Eating here was relatively expensive, especially for more than two people, even if the food is arguably good enough to merit the expense.
If you're after a quick lunch, though, Himawari may not be your best option. Service speed was a little slow – but some of our team thought it was easily overlooked due to the friendliness of the staff members.
Anyway, we still recommend Himawari buffet for a dinner date. Probably not a budget one, though.
Customer Reviews
Outstanding portions
"Outstanding value. Impressively thick cuts of fresh sashimi and most generous slices of unagi I have ever seen. Excellent service as well, with very attentive staff (orders collected promptly, food arrived quickly, tea was refilled regularly, etc.). Easily my favorite Japanese buffet in the country."—Sanuja Bose, Google Reviews
Worth the price you pay
"This is my family 1st visit to this restaurant. It was for my son's 23rd birthday celebration. It turned out it was a great decision!!! The raw fish was fresh & serving was extremely generous and after Naka-san found out that it's my son's birthday, he surprised us with the typical Japanese restaurant's service. My son was gifted a sliced of melon; not just any melon but musk melon which happens to be my son's favorite fruit!!! What a treat!!! Thanks for the great food & service @ a great price. It's all worth it!"—Patrick Low, Google Reviews
10. Senshi Sushi and Grill
Japanese BBQ buffet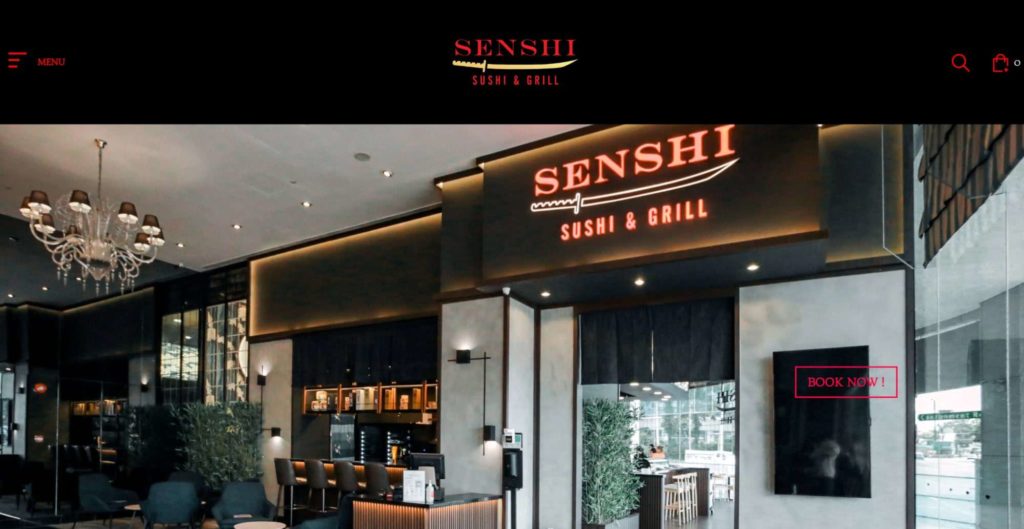 SenShi Sushi and Grill's classy ambience instantly set our expectations for the night when we visited for dinner. The restaurant was elegant, clean, and very inviting.
Plus, it wasn't difficult to get a table here, and the service was excellent!
Of course, it's probably to be expected that staff members are extra-polite and attentive at places that look like this. Still, we appreciated that they made sure that we were pleased with our table and even gave recommendations.
Dish variety could improve, we think, as the selection wasn't very large. Sadly, drinks aren't included in the buffet price either.
The food in this sushi restaurant was excellent, nonetheless. It's definitely an upgrade in terms of ambience and atmosphere compared to some of the other places we went to.
So, if you're looking for a place to take your date and want to make pigging out a bit… classier, we suppose, Senshi Sushi and Grill should be on your list!
Customer Reviews
Delicious food
"Went for dinner buffet, all the food was delicious and nicely done. The dessert cheese cake was awesome . Only comment is some items that we ordered didn't came after long wait. So we had to order again."—Maggie Tiong, Google Reviews
Fresh food at reasonable prices
"Had buffet lunch here on a weekday. I loved the sashimi and the sushi as well as the service here. Simple ordering system and the staff were attentive in checking if the food had arrived. Sashimi was fresh and worth the price of admission."—Hoon K, Google Reviews
11. Gyu-Kaku
Japanese BBQ buffet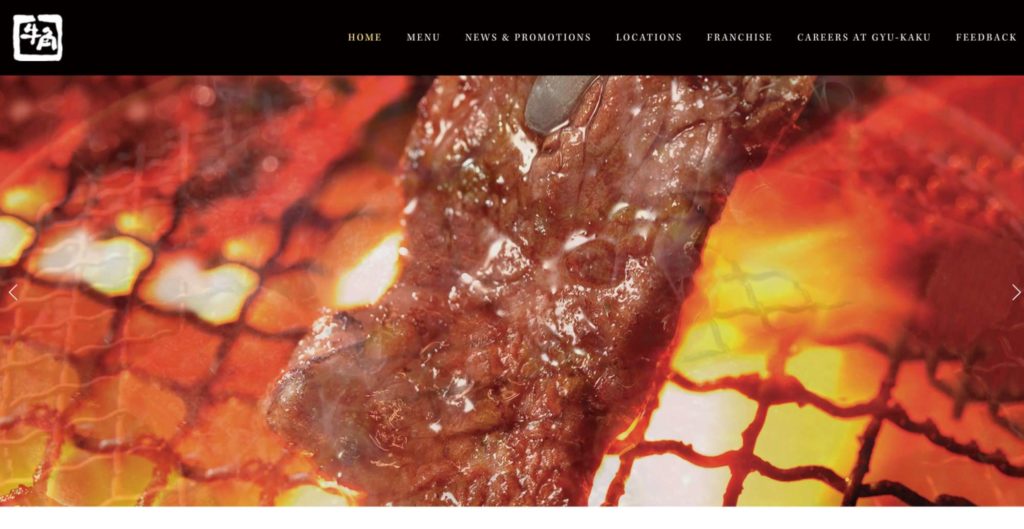 Gyu-Kaku instantly became a hit for us after we tried out the Japanese restaurant's all-you-can-eat wagyu buffet. Good-quality meat is always popular with our staff, you see.
That said, it's a relatively pricey BBQ buffet, with an average of $90 per head. We ourselves didn't mind, since the meat quality lived up to the expectations set by the pricing.
The meat selection was huge too. Too bad free-flowing drinks aren't included in the total buffet price, so Gyu-Kaku still suffers from the same issue affecting some of our other top picks.
That aside, this Japanese buffet was a hit with our team. Reserving a table was easy, the food never stopped coming, and there was little to complain about when it came to either the food or the service.
Customer Reviews
Excellent meat quality and variety
"Absolutely love their lunch options! we ordered beef and pork sets (lower pricing from the wagyu beef) and they were both delicious! There really is something about charcoal grills that really get me excited"—Paula Cheng, Google Reviews
Best place for wagyu
"Definitely the best Japanese BBQ buffet I ever had in Singapore. The wagyu is just incredible! Must try the beef tongue too, very soft and tender. The service is very good. After the meal, can chill and walk at Chijmes, enjoy the night view~."—Richard Lau, Google Reviews
12. Irodori
Best for sashimi buffet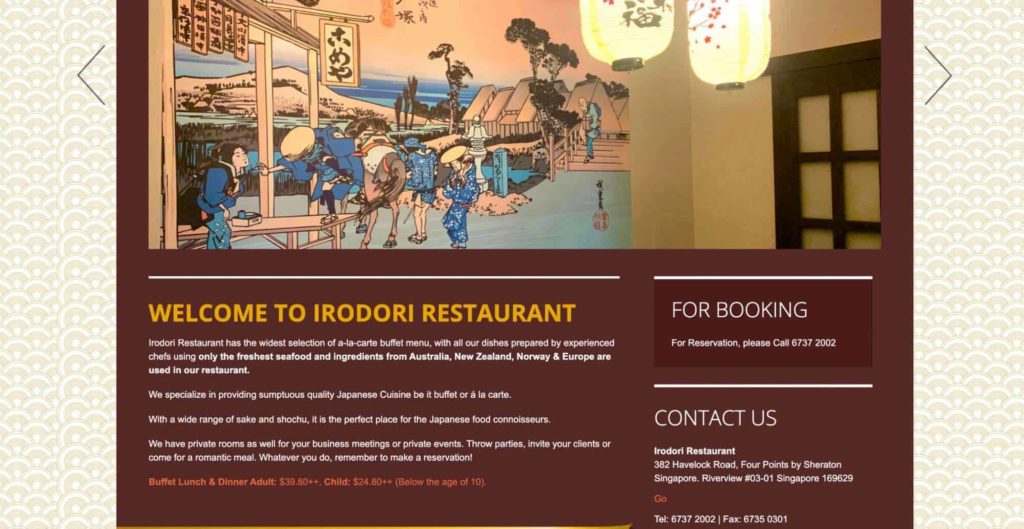 Our experience at Irodori was pleasant and the Japanese buffet had more than enough sashimi to satisfy our cravings. Dining here also offered good value for money, as the price for each guest was pretty affordable, we thought.
Aside from the sashimi, we ordered a la carte meals from the buffet menu such as prawns, Japanese croquette, and beef. A lot of Japanese classics, as you can see.
Refills and service were slow, however. The dining area also seemed a bit cramped, and due to the high volume of customers within the same space, it may have been understandable that the crew had some delays in service.
However, for the price you pay, Irodori is very solid, especially if you're craving sashimi and a lot of other Japanese staples done simply but well.
Customer Reviews
Affordable Japanese buffet
"Eat here. Outstanding. I sat at the bar and watched sushi/sashimi etc prepared with finesse, care and cleanliness. It tasted great. Hot food came out hot and crispy. Service was on point, even when crowd went from 15 to 75+. Where else can u eat a full belly of Japanese food for $40. Get on it. #5starvalue."—Max Drummy, Google Reviews
Meals made with care and freshness
"My new favourite dining place now! Service is great, food is really fresh and yummy. There is a live band (not sure if it is just for tonight)."—Fern Keto, Google Reviews
13. Tenkaichi
Best for sashimi buffet
While dining at Tenkaichi, we were greeted by friendly staff members who tended to us from start to finish, trying to be useful with everything from seating to taking our orders.
We loved how attentive they were to our needs. They were even patient enough to explain how their ordering system works when we pretended to have never run into similar systems before (we wanted to see how they'd guide us through it).
Like some more modern restaurants now, Tenkachi allows guests to order what they want through their phones. We found it highly efficient, and the system was smooth and user-friendly.
Unfortunately, with that plus the food options, it's not surprising that Tenkaichi would charge a premium for their services. It's relatively expensive to dine here, so make sure to consider that if you're on a budget.
And though the food we had on the first visit was good, food quality was inconsistent when some of our staff dined here for a second time. Although they said the service was impeccable again, it's a bit of a shame about the food.
Nonetheless, we still highly recommend Tenkaicho to anyone looking for fresh sashimi to binge on. Our staff members who visited it a second time said that part of their buffet was as good as it was on the first visit.
Customer Reviews
Excellent customer service
"Good service especially the waiting staff Ian, price is reasonable for the quality of food. Ordered the premium set that includes the wagyu selection, they are very generous with their serving!"—Se Leonard, Google Reviews
Sashimi galore!
"Bought the voucher for premium buffet. It comes with wagyu beef options and more sashimi options. Really worth it with the voucher. Do note that drinks and ice cream are not included for the buffet."—Shu Yi, Google Reviews
14. Hokkaido Sushi
Best Japanese sushi buffet
Hokkaido Sushi is one of our go-to places for the best sushi buffets in Singapore. There are so many sushi types to choose from here and all are made fresh!
Another reason why we love Hokkaido Sushi is that the Japanese restaurant offers its buffet menu for delivery! Not many Japanese buffets allow takeaways, so it's a huge bonus that Hokkaido Sushi enables us to enjoy its premium sushi from home.
Aside from sushi, Hokkaido Sushi also offers meat-based meals, soups, and noodles to complement the sushi platters. The price ranges are average, so you're in for a good deal if you're bringing your family and friends along with you.
The reservations system, however, needs improvement. We weren't notified about the breaks during dinner hours, so we ended up having to wait until after the last call for the afternoon before getting seated.
Service was noticeably slow, but most of our orders came all in one go. Overall, still, a solid Japanese restaurant to visit for sushi cravings!
Customer Reviews
Efficient service
"First time trying out Hokkaido sushi. Nice and quiet place. Good ambience. Surprisingly the place was quite packed so reservation is highly recommended. Not too much of a variety but food was of high quality and service was prompt. Love the century egg tofu!! Ordering system through handphone was simple and efficient. 2 pax for around $106 at lunch on a weekday. Definitely value for money."—Pearl Pearl, Google Reviews
Great promotions
"So far the best Japanese buffet i have eaten. Value for money. Sashimi very fresh and wagyu beef cube taste excellent and tender. Now having promotion. UP $75++ and now $55++ per adult. Plus free parking. Service is good and fast. Unlike some Japanese buffet restaurant that play delayed tactics."—J L, Google Reviews
15. EN Dining
Best Japanese sushi buffet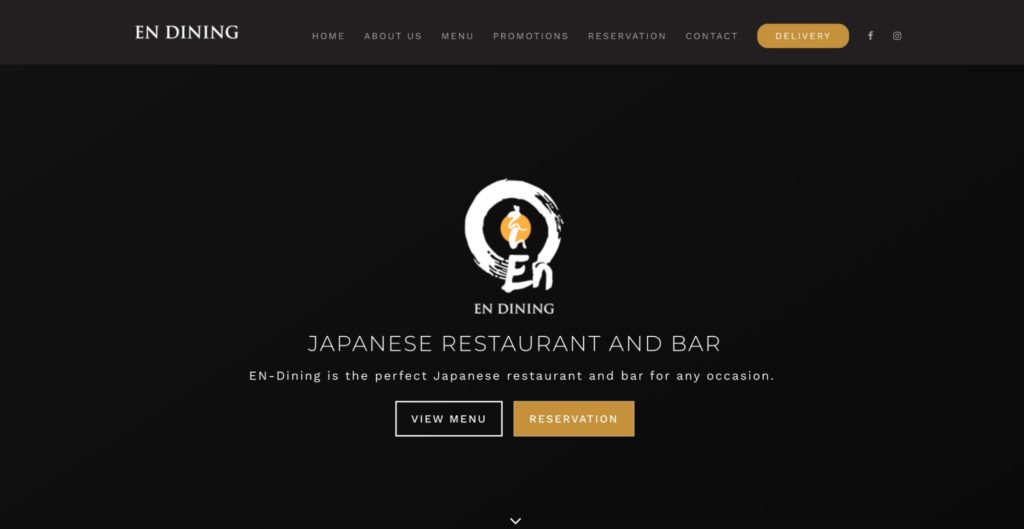 We decided to go a bit more high-end with our Japanese buffet experience by dining at EN Dining. It's a classy Japanese restaurant with tasteful interiors and high-quality seating that gives the place an exclusive vibe to it.
Aside from the polished ambience, we were also greeted by very attentive and professional staff members who did everything they could to keep us entertained and comfortable during our stay.
Initially, we wanted to try out the lunch buffet set, but apparently, it was only available on Saturdays. To make up for the missed opportunity, we decided to come back on a weekend to try it out.
Food quality was consistent and very fresh. The plating was impeccable, and we thoroughly enjoyed the free-flowing sashimi.
Take note that there is a minimum guest requirement per table if you're going for the buffet option. A minimum of two paying guests is required in order to enjoy the buffet spread.
It's a bit of a bummer, especially if you just want to try out the buffet on your own. Despite that, dining at EN Dining is arguably better when accompanied by a friend or two, so it may not be entirely unreasonable.
Customer Reviews
Elegant and tasteful interiors
"We went there during Sat lunch buffet. Food is really nice and high quality! Service is super good and environment is comfy and with private seats! Plan to go back again in 1 months time. Very great good definitely worth the money!! Hope this nice place will last long long"—Yang Lin, Google Reviews
Satisfying meals at a reasonable price
"The food quality is pretty good in general. Would highly recommend the 7 kinds sashimi platter as it is very reasonable for both quality and quantity. They are know for their wagyu slice on rice but I find the truffle pork cheek on rice better and a lot more satisfying. Will go back again."—Jiunn Wang, Google Reviews
16. Daya Izakaya
Best for halal Japanese food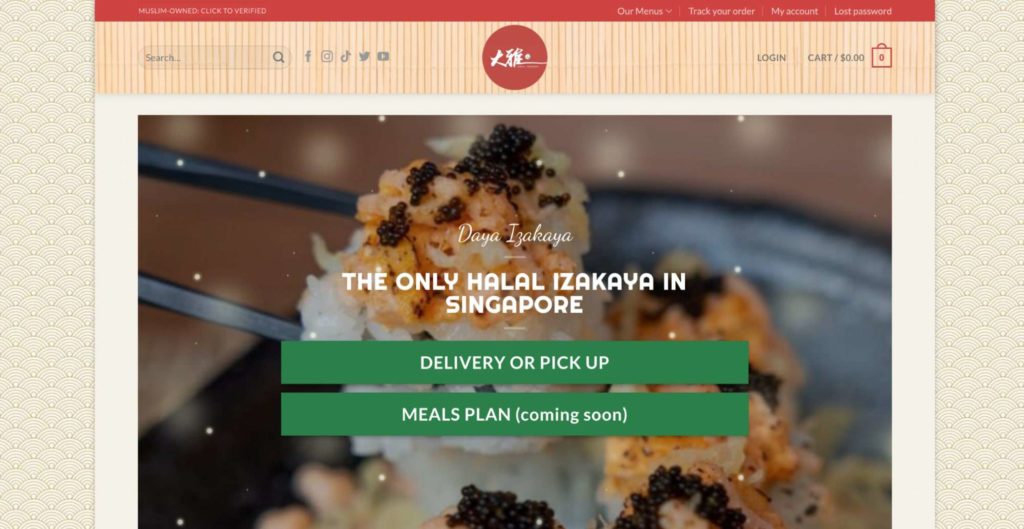 We wanted to make sure we had halal Japanese food in our list, and one of the first restaurants that came to mind for that was Daya Izakaya. It's quite a popular Muslim-owned place that many of our staff have eaten at before.
The restaurant offers ramen, sushi, chawanmushi, and other Japanese delights that taste amazing. Most of it tastes authentic too!
Portion sizes, however, could improve. We didn't want to assume that the restaurant was being stingy, but for the price we were paying, we expected a little more.
Speaking of which, Daya Izakaya is a little pricey compared to other Japanese restaurants out there. It's best to come in expecting to spend a little more than you would for the average Japanese buffet.
Customer Reviews
Great for family gatherings
"Had a family gathering/dinner at this restaurant and the ambience was great. Location a little out of the way unless you're driving. Food was yummy and standard was above average for a halal Japanese restaurant (feedback from non-Muslim family members). Portion was quite generous as well. Didn't manage to take a photo of all the food we ordered but we were satisfied overall."—Fikri J, Google Reviews
Delicious and hearty halal food
"We finished everything! Food was delicious. Well done! The only thing can be better, would be the Ice Cream. $5 ( before GST & SC) for a small scoop seems a bit unjustified."—Dila Shaila, Google Reviews
17. The Ramen Stall
Best for halal Japanese food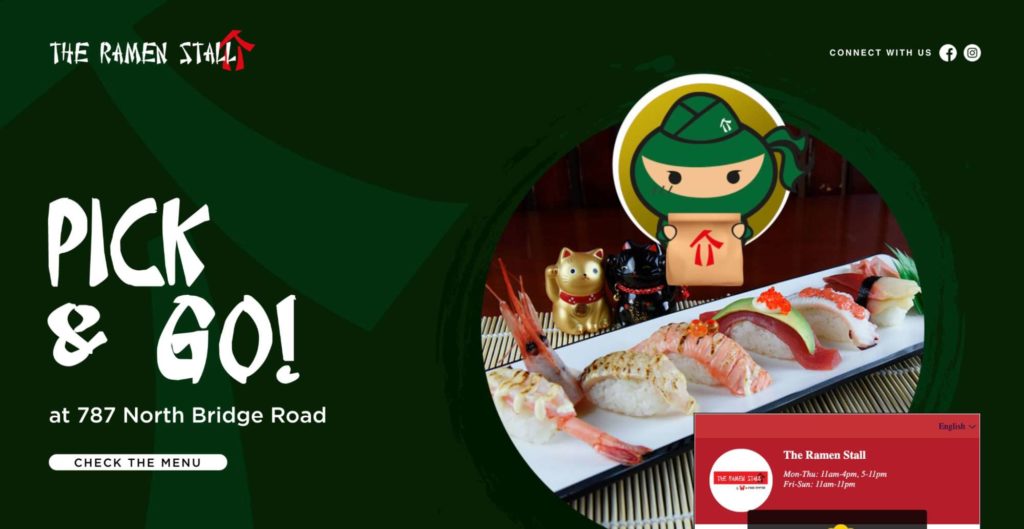 Here's another halal restaurant worth visiting if you love Japanese cuisine. The Ramen Stall is a halal-centred Japanese restaurant that offers creative, comfort-food spins on Japanese favourites – but without the hefty price tag.
Its affordability makes it a solid spot for lunch or dinner after a long day. The ambience is also quite conducive for socialising, which we appreciated when we visited.
The Ramen Stall attracts a lot of tourists and locals alike, though, so it can get pretty crowded. It can get a little cramped during peak hours, in particular, so if you're dining with a lot of friends, it's best to book a table in advance.
Food-wise, the ramen is great, but we noticed inconsistencies with food quality when it comes to other items on the menu. Unless you're only dining here for the ramen, this place may not be your cup of tea.
Customer Reviews
Japanese hospitality at its finest
"Staff was kind enough to hold the food till it's time to break our fast, talk bout Japanese hospitality! Wow! Absolutely rare!
Food was delicious of course! Ramen was served hot! My favourite Okonomiyaki still taste the same and crispy!"—BellyJay 88, Google Reviews
Lots of crowd-favourite halal dishes
"The service was very fast and friendly. There was a digital menu available as well as a physical menu. They have the option of indoor and outdoor seating, and every item on the menu is Halal. The server gave us an excellent recommendation, and we loved it. The drinks were also very refreshing. My wife and I ate lunch here for the price of 30 USD, and it was definitely worth it."—Jason Harris, Google Reviews
18. Hei Sushi
Best for halal Japanese food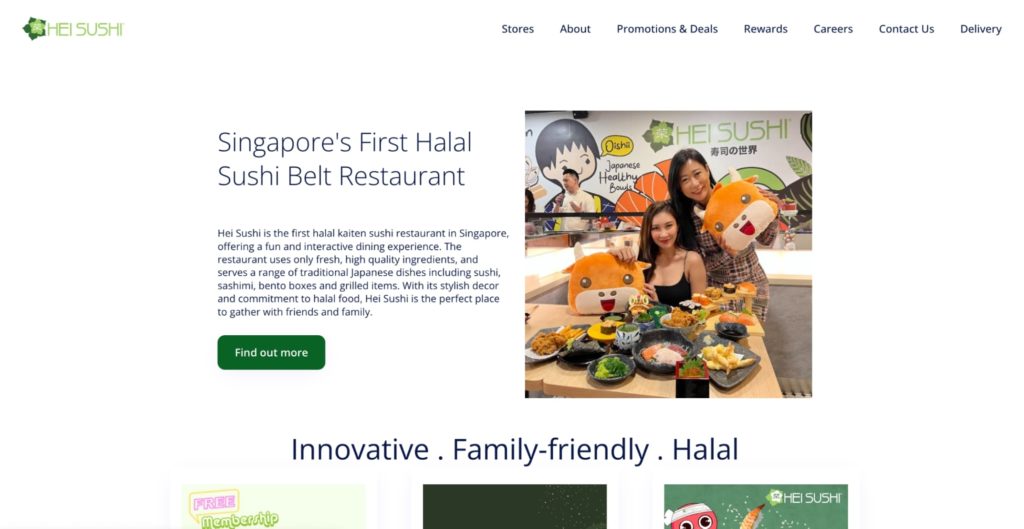 Need a break from a stressful work day? You can try Hei Sushi to fill your tummy with great food to relieve stress!
You can binge on dozens of halal sushi options at affordable prices at this place. We specifically love that Hei Sushi is conveniently located near several stations and within the business district, so getting to it was a piece of cake.
Even for a popular after-work dinner spot, however, service was pretty slow. It was noticeable that the staff was trying to keep up with the orders, so we tried to be more understanding.
On the bright side, you can enjoy Hei Sushi from the comfort of your own home—which is great, except the delivery system is a bit glitchy, and there may be delays.
That aside, the food here is mostly good. It's priced fairly reasonably too as far as halal sushi goes, in particular.
Customer Reviews
Convenient location
"Nearest halal sushi shop and is comveniently located at IMM .. grab and go situation! Yummy and fresh sushi."—Hasriana Sareh, Google Reviews
Delicious sushi and friendly service
"We had such a good time today because everyone loved the delicious food. The comments were, the food was fresh and very tasty. So, THANK YOU Hei Sushi, you have excellent food, great variety and wonderful service! We will definitely return for more!"—Ms Wong, Google Reviews
19. The Landmark Restaurant
Best for halal Japanese food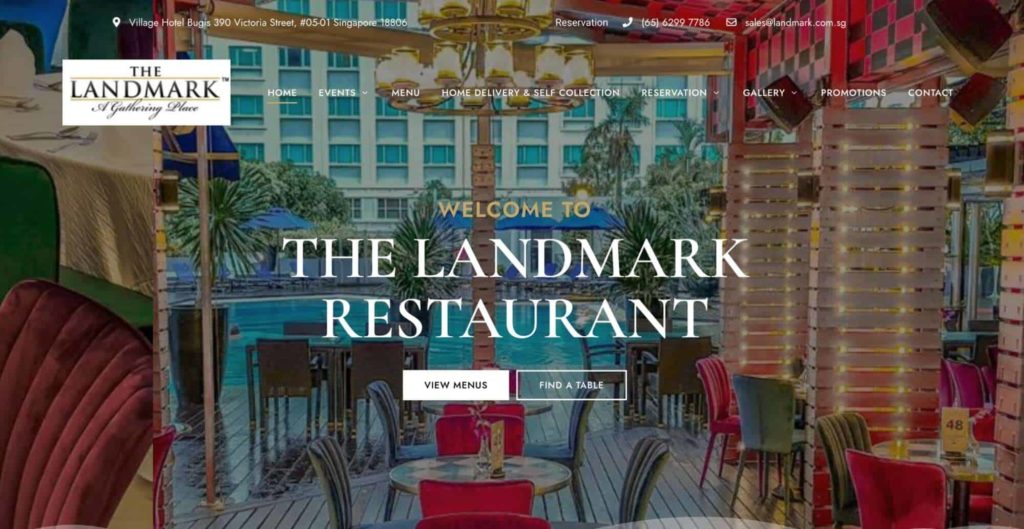 If you're looking to really splurge on halal food, The Landmark Restaurant's notorious international buffet should be at the top of your list. We tried it for ourselves, even if it cost us a lot!
First off, the buffet spread was huge, and you get to choose from Japanese, French, Indian, and more. You're actually likely to find dishes from the world's top cuisines here – though we obviously concentrated on the Japanese section.
To our disappointment, though, there weren't many Japanese food options when we went, save for sashimi and sushi. Some dishes were apparently only available on weekends. Still, taste-wise, everything we tried was excellent.
We should note that sometimes, not all dishes displayed on the menu are served on the date of your reservation. It's a bummer, but there were still many other dishes to try even when we went.
Service was impeccable, and since the restaurant is located in a hotel, there was top-notch hospitality from the staff. It's definitely a must-try for dinner dates, celebrations, or simple gatherings.
Customer Reviews
Lovely hospitality
"Lovely hospitality from the good staff! Despite being so busy, the staff were professional and hardworking. So pleasantly surprised too by the lovely desserts -i loved the red velvet cheese cake and the ondeh ondeh. My sister enjoyed the big black pepper prawns. Value for money. Except it was pretty crowded and abit noisy. But if you are here for the Food, you will Love it."—May Foo, Google Reviews
So many options!
"Celebrated a friend's 40th Birthday at The Landmark Restaurant on 30 Sep 2021. Made the reservation via the Chope app. We were very impressed with how the Assisted Buffet was carried out. All staff were very friendly and helpful. The Beef Rendang and Satay was very tender. The food selection was very fresh especially the Salmon Curry, Black Pepper Prawns, Stir Fried Mussels and Chilli Crab wz Mantou Buns. Compliments to the Chef and team including the F&B Manager and Staff!"—Rozila Abdullah, Google Reviews
20. Wakuwaku Yakiniku
Best for halal Japanese food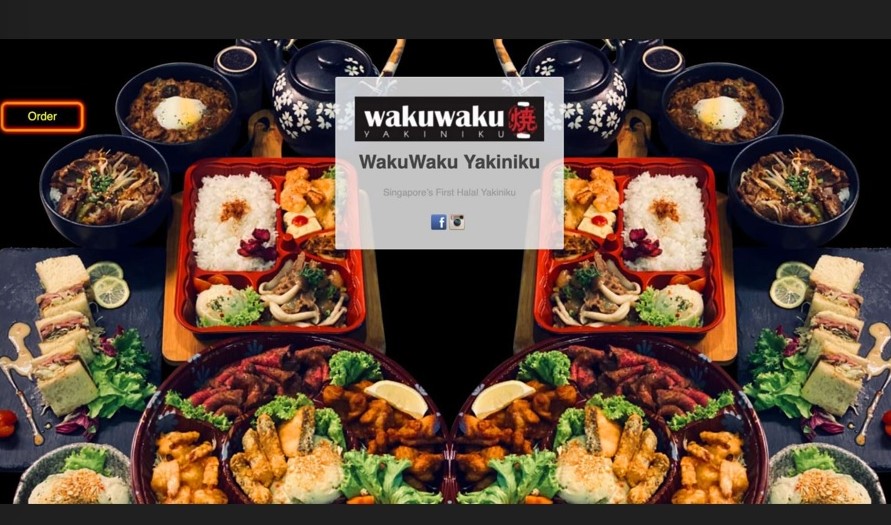 Japanese barbeque places like Wakuwaku Yakiniku usually offer a wide variety of meat options that will satisfy your cravings. Even better, the restaurant is completely halal, so you won't have to worry about ordering anything outside of their bestsellers!
It's pretty difficult to get a reservation here, though, as the place is often crowded. It attracts a lot of regulars, from tourists and locals alike.
Food-wise, the selection was excellent and very fresh. We did think it pretty pricey, however, especially when ordering premium cuts like wagyu.
The ambience was also casual and cosy, but we noted that the place was very smoky due to the heavy grills on each table. Some of us didn't mind, but if you don't like that sort of thing, you won't like it here.
Anyway, we highly recommend Wakuwaku Yakiniku to all the meat lovers out there who want halal options that don't disappoint. Just make sure to book a table ahead of time!
Customer Reviews
One of the best halal yakiniku places
"One of the rare halal Yakiniku restaurants in Singapore. Do check out their meat platter with 5/7 types of beef parts. There are some exotic parts such as beef tongue which is for the adventurous. The sides such as potato croquettes, chicken karaage are worth trying too. They have a strict dining policy which is that reservations are only for 5pm or 6.30pm, and they expect the whole group to be present before being seated. The restaurant occupies 2 floors but the lower floor is more of a delivery area and kitchen, so seats are limited."—Donovan Leong, Google Reviews
Excellent halal meat variety
"Nice place to go to. Food is quite nice and they serve different types of meat. Service is good and the staff are very friendly. Bit pricey though."—Chicken Fried Rice, Google Reviews
FAQS about Japanese Buffets
---
More Dining Reviews
Get a taste of what Singapore's food culture has to offer by discovering great food spots from buffets to sushi here: