6 Places for the Best Japanese Buffet in Singapore: 2021 Picks
We've already done a list of the best Japanese restaurants in Singapore, of course. But we know that might not be enough for those whose appetites for Japanese cuisine is truly bottomless.
Those who'd be more interested in the best Japanese buffet in Singapore, in other words.
So, we went on another restaurant hunt and dug up the best places offering quality Japanese food at a great price on the island. You'd be surprised with how many places of great Japanese buffet in Singapore  we found — we certainly were!
But at the end of the day, it came down to the 6 buffets below. So to see the restaurants vying for the title of the best Japanese buffet in Singapore for 2021, read on!
1. Tenkaichi
BEST FOR: Premium quality and affordable buffet dining
PRICING: Menu
WEBSITE: https://tenkaichi.com.sg/
ADDRESS: https://tenkaichi.com.sg/contact/
CONTACT DETAILS: https://tenkaichi.com.sg/contact/
OPERATING HOURS: https://tenkaichi.com.sg/contact/
Beef lovers, get ready to be amazed by the delights of Tenkaichi! The place is an award-winning restaurant that features Japanese Wagyu Beef Yakiniku as the highlight of their menu.
You can explore a variety of beef selections and cuts from Japan and other countries. Despite being in a buffet setting, they still offer a la carte dishes if you want a solo serving too.
Many consider Tenkaichi to be the best Japanese buffet in Singapore for meat lovers, and it's not hard to see why!
Service Highlights
Different serving options
Venue for corporate events and private gatherings
Stadanrd, Deluxe and Premium buffet
Customer Reviews
With Tenkaichi's years of experience in the industry, they have been dubbed one of the top options for those who want to try the best Japanese buffet in Singapore. Loyal customers say even their a la carte meals arrive quickly, so the place isn't just for pure buffet dining.
Jing Wen Ong commended the staff service and shared the experience on Google Reviews:
"Nice buffet at 1 for 1 deal! We ordered the deluxe buffet. I think it will be better for the premium one, but slightly more expensive. Love the free flow Ben and Jerry ice cream too! All the staff are also fast, efficient and friendly. Worth trying."
2. Shin Minori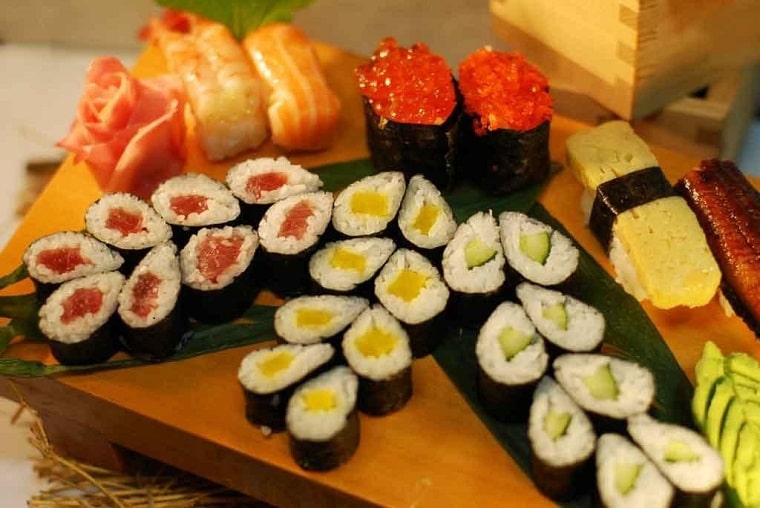 BEST FOR: Broad buffet menu and casual dining experience and those looking for a sushi buffet in Singapore
PRICING: Menu
WEBSITE: http://shinminori.com.sg/
ADDRESS: http://shinminori.com.sg/contact-us/
CONTACT DETAILS: http://shinminori.com.sg/contact-us/
OPERATING HOURS: http://shinminori.com.sg/contact-us/
If you're one to try a sashimi buffet in Singapore, Shin Minori will definitely not disappoint. Shin Minori which means New Harvest, has been living up to its name for years.
The chefs consistently come up with new dishes for an always-interesting, always-creative buffet menu.
For the gourmet food lovers craving something new, this is the place to be! They have a large range of traditional Japanese dishes, including sashimi, sushi, temaki, teppanyaki, tempura, and other well-crafted delicacies that will satisfy even the most finicky Japanese cuisine lovers.
This diversity is the reason it can also be the perfect choice for those who are just starting to explore Japanese cuisine. Either way, it's definitely worthy of being called one of the top candidates for the title of best sushi buffet in Singapore.
Service Highlights
Discounted menu prices
Innovative buffet menu
Free charges for children below 5 years old
Online delivery and takeaway
Customer Reviews
Aside from Shin Minori's main course meals, they also serve high-quality beverages such as sake and shochu, and these are big hits with patrons. They're also praised for providing private rooms for special celebrations and gatherings as well as commendable customer service.
Carlos Barnes praised the menu and servings of the restaurant with this feedback on Google Reviews:
"One of the best Japanese buffet a la card in Singapore. I like this branch much more because tables are much bigger. Quality of sashimi is great and unlimited. No timing. Staff is very nice and friendly. For lunch no need reservations. I strongly recommend this place."
3. Kuishin Bo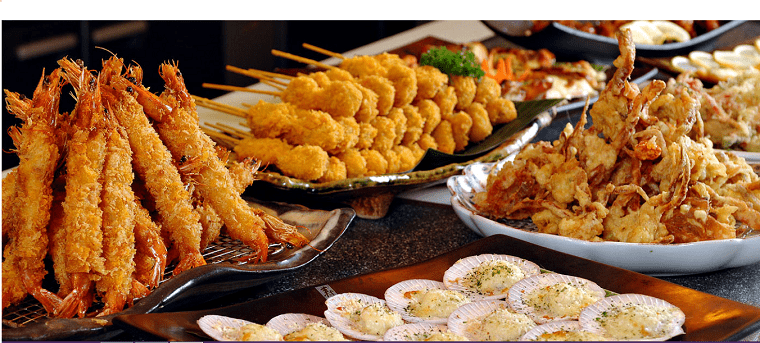 BEST FOR: Authentic and traditional Japanese cuisine
PRICING: Menu
WEBSITE: https://www.kuishinbo.com.sg/
ADDRESS: https://www.kuishinbo.com.sg/?section=15
CONTACT DETAILS: +65-6341-9200
OPERATING HOURS: Lunch at 11.30am-3.00pm daily (last round 2.30pm) / Dinner at 5.30pm-10.00pm daily (last round 9.30pm)
Kuishin Bo is the ideal place for festive celebrations because they have the complete range of dishes most would expect from the best Japanese buffet in Singapore.
They have more than 100 food selections on their buffet setting, so you can choose and try many dishes as much as you want. This makes Kuishin Bo the option for the best Japanese buffet for events and celebrations.
From the top favourites such as tempura, oden, and udon, up to the cheesecake and chocolate fountain desserts, they truly have it all!
Service Highlights
Fun and trendy setting
Online reservations
Special promotions
Customer Reviews
Kuishin Bo is also famous for its one-of-a-kind "special food items" announcement, which is catchy enough for the whole family to sing along to. Patrons say this is the best Japanese buffet in Singapore in 2020 for a fun, relaxed experience.
Constance Goh complimented the overall service of the restaurant and wrote this review on Google Reviews:
"Amazing food with super friendly n attentive kitchen and service staff. Food gets topped up fairly quickly. Wide varieties from appetizers to mains and desserts with special premium food items being served at certain time. Our table was served by a friendly staff, Aunty Liew. Special thanks to Manager Kim Aii Too who arranged a special Birthday cake for our Son. She was extremely Service oriented too, coming by frequently to chat with us and checking on us! I would highly recommend this restaurant for its affordable buffet. It is open for lunch and dinner."
4. Kushi Dining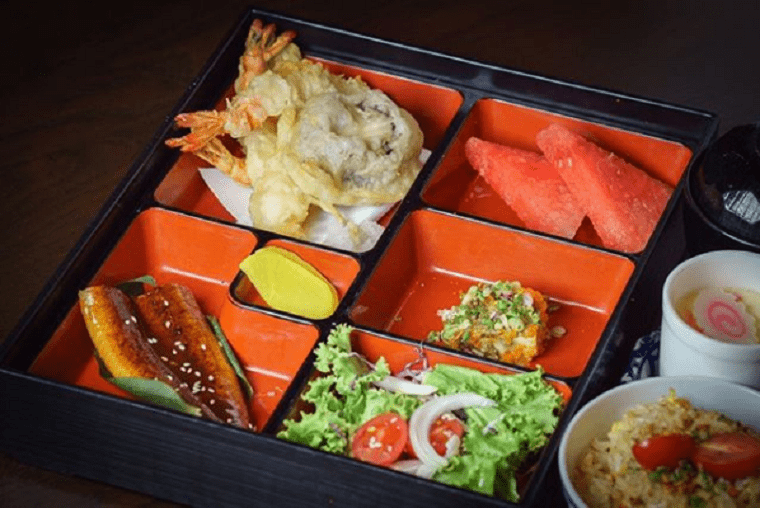 BEST FOR: Organic and original Japanese food concept
PRICING: Menu
WEBSITE: http://kushidining.sg/
ADDRESS: http://kushidining.sg/contact/
CONTACT DETAILS: http://kushidining.sg/contact/
OPERATING HOURS: http://kushidining.sg/contact/
Kushi Dining, a family-owned restaurant, has been serving both locals and tourists for more than a decade. Therefore, many are now acquainted with one of the best Japanese buffets in Singapore.
Satisfied customers have praised their menu for representing the briny, umami taste of the ocean in each dish. This must be because of their organic ingredients, which are sourced from a renowned fish market in Japan.
If you come here, be sure to try their signature dishes, which include the famous lobster soup.
Service Highlights
Combo sets for lunch and dinner
Original dishes
Private functions
Customer Reviews
The growing success of Kushi Dining can be seen in their two successfully launched branches. The different meals and large servings on their menu have captivated the tastes and preferences of many customers, who state that Kushi offers some of the most authentic Japanese food in the country.
Seth Lui featured the restaurant on the blog and stated:
"Expect to indulge in decadent and all the more delicious selection of their cooked food; wagyu beef cubes, lobster porridge, salmon head, tataki and many more. Their sashimi is really fresh and juicy as well, featuring premium thick cuts of salmon belly, swordfish, tuna, tako, amaebi and more. If you are looking for a high quality Japanese buffet, Kushi is the place to be at."
5. Mitsuba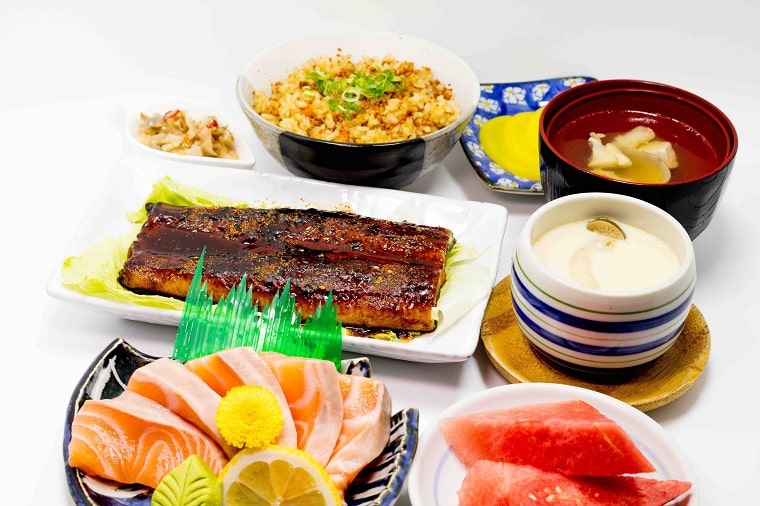 BEST FOR: Affordable but quality Japanese cuisine
PRICING: Menu
WEBSITE: https://www.mitsuba.com.sg/
ADDRESS: 6 Eu Tong Sen Street #03-88 The Central Singapore 059817
CONTACT DETAILS: 6227 0388
OPERATING HOURS: Monday to Thursday (unless it's a public holiday) @ 11.30am – 3.00pm (last order: 2.20pm) & 6.00pm – 10.00pm (last order: 9.20pm) / Friday to Sunday (and public holidays or eves of public holidays) @ 11.30am – 3.00pm (last order: 2.20pm) & 5.30pm – 7.55pm (last order: 7.20pm) & 8.00pm – 10.30pm (last order: 9.50pm)
Mitsuba may not be the oldest Japanese restaurant, but they can compete with many of their rivals because of the exceptional quality and value of their dishes. Their achievements began by serving high-quality but low-cost traditional meals.
As the business expanded, they grew in popularity and are now known for their thick-cut sashimi and sushi. Apart from these, invigorating drinks and desserts are also part of their menu highlights.
Those who are looking for cheap Japanese buffet in Singapore will be pleased to know that Mitsuba has very reasonable prices.
Service Highlights
Buffet and a la carte menus
Special buffet promotions
Online food delivery
Customer Reviews
For easier dining, customers love that they can order Mitsuba's dishes online and have them delivered directly to their place. Also, their promotions have drawn a lot of approbation from customers due to their highly-discounted buffet prices.
Bassoon Lim recommended the food, service, and price and expressed these thoughts on Google Reviews:
"Food: Despite being a buffet, their food standard is really high! Very satisfied with the taste of most of the dishes.
Service: Excellent. Very prompt and very regular at plate clearing, especially with the high volumes of plates being used to serve the dishes.
Price: Great value, I've paid more for worse quality and this goes way beyond that.
Ambience: Warm and inviting. Japanese traditional design." 
6. Himawari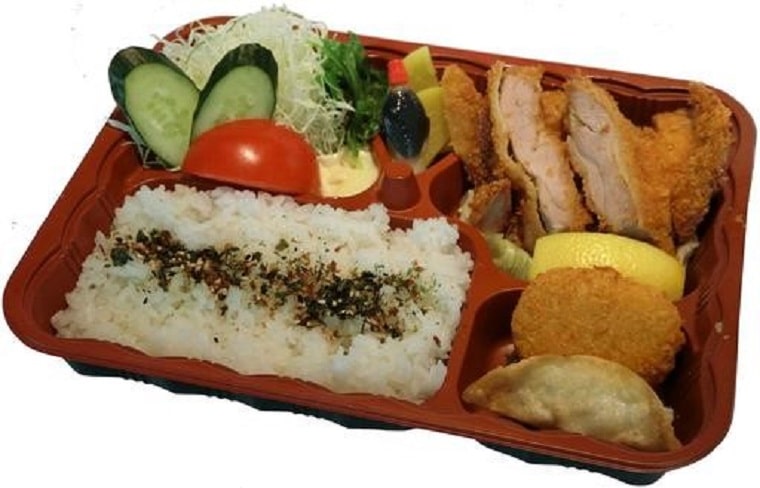 BEST FOR: Different Japanese bento selections
PRICING: Menu
WEBSITE: https://www.himawari.com.sg/en_SG
ADDRESS: 991B Alexandra Road, #01-08/09, Singapore, 119970
CONTACT DETAILS: 6272 1110
OPERATING HOURS: Daily, 11:30am–2:30pm, 5:30–9:30pm
The unique thing about Himawari's buffet setting is that the menu divided into many main categories. This makes it more convenient for you to choose what your preferred dish is.
These sections include party platter, side dishes, bento, rice bowls, maki, sashimi, sushi, and even rice. Each category has plenty of food selections that will surely make an enjoyable dining experience.
They also offer online food ordering if you are tired from a long day of work and you just want to eat at home, relax and rest.
If you're looking for a Japanese ala carte buffet in Singapore, Himawari will be a good option for you as well!
Service Highlights
Daily bento delivery
Wide range of menu categories
Online food shop
Customer Reviews
Customers find Himawari's menu selections to be very diverse as well as authentic. These characteristics have captured the hearts of many patrons and kept them coming back to try more dishes at the buffet.
Gregory Athanasius left this 5 star rated feedback on Google Reviews:
"Himawari's  Japanese ala-carte & buffet with over a variety of different dishes which includes shabu shabu has gain awards and recommendations from local media. During weekends and dinner time could be very crowded. In term of service: waitress & waiter courteous and helpful."
And there you go — the shoo-ins for the title of best Japanese buffet in Singapore!
Next time you try one of these, tell us what the experience was like afterwards. Let us know what dishes you liked best, for instance, and how you fare on places with all you can eat sushi in Singapore!
And if you need still more buffets to sate that impressive appetite, well, give our other buffet lineups a try. We've done a list of the best buffets in Singapore, for example, so you can try a wide range of cuisines at those spots!