14 Services for the Best Elderly Care in Singapore
Sending our parents to an elderly home is a tough reality that some of us have to face. However, if you choose to send your parents to the best elderly care in Singapore, there's nothing to worry about.
Since we know how much you value your parents, we decided to help by offering our list of the services with the best elderly care in Singapore that you can trust. Check out some of the services for reliable elderly care we found below:
Hovi Care
| | |
| --- | --- |
| BEST FOR  | Personalised Services |
| SERVICES | Activity Groups, Social Groups, Brain Training, Rehabilitation, and Home Care |
| WEBSITE | https://hovicare.com/ |
| ADDRESS | 100 Turf Club Rd, Singapore 287992 |
| CONTACT DETAILS | +65 8838 4330 |
| OPERATING HOURS | Monday – Friday, 9:00 AM – 5:30 PM |
Considered one of the services with the best elderly care in Singapore, Hovi Care offers a wide range of services that are designed to improve the well-being and quality of life of the elderly population. Some of its services include home care, activity groups, social groups, and brain training.
More than this, Hovi Care commits itself to personalised care to ensure that the needs of every elderly person are addressed.
With the help of its passionate and dedicated staff, Hovi Care promises that every elderly person in their care is seen to and can be helped to overcome the struggles that come with old age.
Highlights
Personalised care
Professional staff
Affordable services
St. Luke's ElderCare
| | |
| --- | --- |
| BEST FOR  | Centre and Residential Services |
| SERVICES | Nursing, Health Centres, Day Rehabilitation, Dementia Day Care, Personal Care, and Maintenance Day Care |
| WEBSITE | https://www.slec.org.sg/ |
| ADDRESS | Tampines Street 11, #01-13 Block 101, Singapore 521101 |
| CONTACT DETAILS | +65 6786 7688 |
| OPERATING HOURS | Monday – Friday, 7:30 AM – 6:30 PM |
If you're looking for elderly care that offers both residential and in-house care, then consider checking out St. Luke's ElderCare. It's perfect for the elderly who would rather receive therapy and rehabilitation at home.
Among the services offered by St. Luke's ElderCare are nursing, home care, day care, rehabilitation, personal care, maintenance, and many more. Indeed, it has everything that elderly people need, which is why we name it one of the services for the best elderly care in Singapore.
Highlights
Home services
Dedicated caregivers
Rehabilitation programmes
Active Global Specialised Caregivers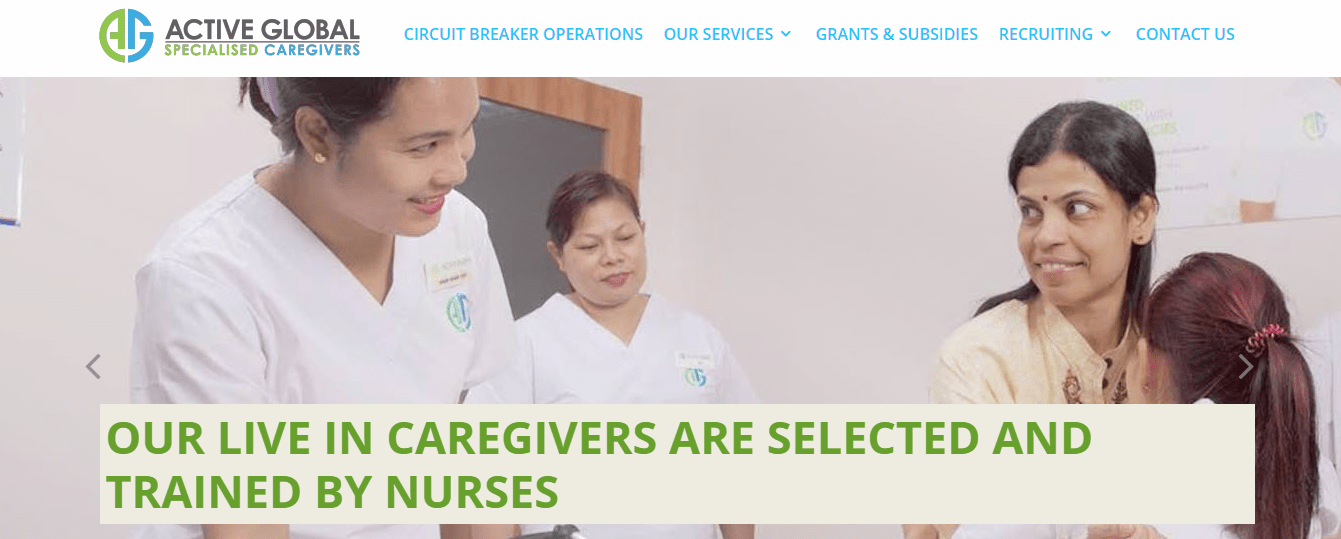 BEST FOR 
Trained Nurses and Caregivers
SERVICES
Live-in Caregivers, Private Nursing, Subsidised Home Care, Home Medical, Home Dialysis, and Physiotherapy
WEBSITE
https://www.activeglobalcaregiver.sg/
ADDRESS
51 Goldhill Plaza, Singapore 308900
CONTACT DETAILS
+65 6536 0086 |

[email protected]

OPERATING HOURS
Monday – Friday, 9:00 AM – 6:30 PM
Active Global Specialised Caregivers prides itself on its professional, competent, and dedicated team of caregivers and nurses who look after the wellbeing of the elderly as if it were their own. It's one of the few elderly cares that offer live-in caregivers and subsidised home care, making it one of the sources of the best elderly care in Singapore.
More than these, it's known for having affordable services to ensure that the elderly in Singapore get access to quality medical care that's mandatory for their age.
If you're not yet ready to leave your parents in the hands of an elderly home, then you may opt for its private nursing service that focuses on the welfare of your parents in the comfort of your own home.
Highlights
Experienced nurses and caregiver
Affordable home care
Subsidised medical care
Touch Home Care

BEST FOR 
Home Services
SERVICES
Home Elderly Care
WEBSITE
https://www.touch.org.sg/
ADDRESS
Blk 162 Bukit Merah Central #05-3545 Singapore 150162
CONTACT DETAILS
(65) 6377 0122 |

[email protected]

OPERATING HOURS
Monday – Friday, 9:00 AM – 6:00 PM
With more than 20 years of experience, Touch Home Care definitely knows the needs of the elderly and how to address them efficiently. Given its positive reputation, it's no secret that it's among the top providers of the best elderly care in Singapore.
It's the ideal option for those who don't want to leave their parents at an elderly home, as Touch Home Care specialises in home services. Its team is composed of health and home care professionals who are capable of doing a lot of things, from medical down to personal hygiene services.
Highlights
20 years of experience
Competent nurses and caregivers
Homage Home Care

BEST FOR 
Free Consultation
SERVICES
Personal Care, Medical Escort, Nursing Care, Home Medical and Home Therapy
WEBSITE
https://www.homage.sg/
ADDRESS
157B Rochor Rd, Level 3, Singapore 188432
CONTACT DETAILS
(65) 6100 0055 |

[email protected]

OPERATING HOURS
Monday – Friday, 9:00 AM – 9:00 PM
Homage Home Care is best known for its personalised and flexible elderly services that cater to the needs of the elderly. Some of the services it offers are home care, nursing care, medical escorts, home medical, and home therapy.
We believe it's among the top options for the best elderly care in Singapore because of its round-the-clock services. You don't have to worry about your parents being left alone at home as its services run 24 hours a day, 7 days a week.
Highlights
Flexible care
Round-the-clock services
The Golden Concepts Pte Ltd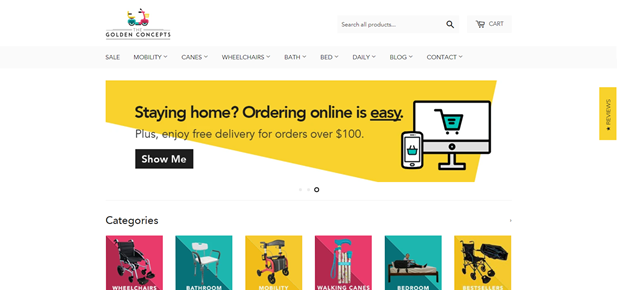 BEST FOR 
Elderly care products
SERVICES
Cushions
Geriatric Chairs
COVID-19 Kit
Daily Living Aids
Dementia Activities
Diapers & Creams
Adaptive Clothing
Mobility
Wheelchairs
Canes
Bath Amenities
Beds
WEBSITE
https://www.thegoldenconcepts.com/
ADDRESS
3 Ubi Ave 3, Crocodile House #05-02B (Rear Lobby), Singapore 408857
CONTACT DETAILS
+65-8657-1657 | [email protected]
OPERATING HOURS
Mon to Fri: 10am to 7pm (avoid lunch hour 1-2pm)
Sat: 11am to 6pm
Sun: 11am to 4pmClosed on Public Holidays
An elderly home is no more than just a normal housing if installed with poorly equipped furniture and uncomfortable items. The Golden Concepts aims to provide the right eldercare products that are needed in each establishment that caters to older people. A visionary that started in 2011, The Golden Concepts was set up to curate only the best materials for better ageing of our elderly.
Mobilisation is the focus of this business, believing that movement is key to ageing well. By maximizing mobility, our seniors will be engaged fully through their years and continue their normal life.
Taking attention to details, they use feedbacks of customers as a means to improve their services, and this is why they have risen up the ranks in the field of elderly care products through the years.
Highlights
Express Delivery
Easily Accessible
One-stop shop
Charis Manor Nursing Home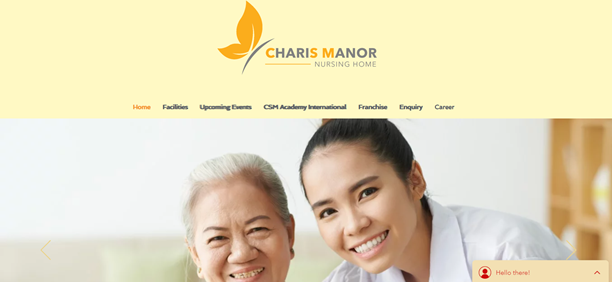 | | |
| --- | --- |
| BEST FOR  | Interactive and fun nursing home |
| SERVICES | Long Term Stay, Respite Care, Day Care, Rehab Center, Dining |
| WEBSITE | https://www.charismanor.com/ |
| ADDRESS | 39 Sims Avenue, Singapore 387412 |
| CONTACT DETAILS | (65) 6741 8566 | [email protected] |
| OPERATING HOURS | Open 24/7 |
Charis Manor is a one of a kind nursing home, having unique features that would help the elderly be more comfortable while in their care. A therapeutic garden is available for them to explore the area of gardening or even to just relax in a breath of fresh air.
It's aim is to make sure the seniors experience a newly profound life, celebrating what has become and what will become. Make sure your parents or grandparents are in safe hands and are assured to be happy, have them be taken care of in Charis Manor.
Highlights
Good Companionship
Healthcare Education Provider
Open for Franchise
O'Joy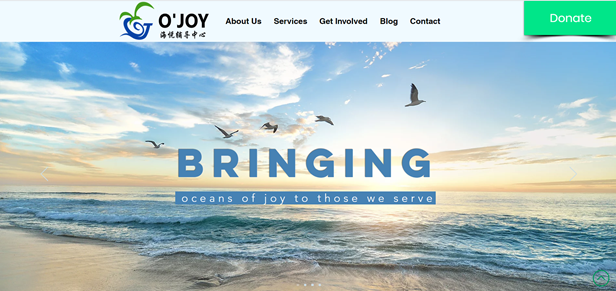 BEST FOR 
Counselling and support for elderly and their families/caregivers
SERVICES
Services for Older Persons, Mental Health Services, Health Oriented Ageing
WEBSITE
http://www.ojoy.org/
ADDRESS
Blk 5 Upper Boon Keng Rd #02-10, Singapore 380005
CONTACT DETAILS
+65 67490190 | [email protected]
OPERATING HOURS
Monday – Friday: 8am – 5.30pm
Saturday – Sunday, Public Holidays: Closed
O'Joy take delight in having taken care of patients, both young and old, and ensuring their happiness and well-being. Since 2004, they have helped over 5000 clients with counselling and over a thousand of elderly benefiting since 2013. They aim to address mental health problems at an early stage to prevent it from becoming worse.
With O'Joy meaning Oceans of Joy, the establishment want to promote a health and happy life for each person and provide a safe environment for anyone who needs it.
Highlights
Attentive staff
Great patient care
Caregiver Asia Pte Ltd

BEST FOR 
Nursing and Elderly Care
SERVICES
Care Companions
Dementia Care
Home Nursing
Medical Escorts
Nurse Aides
Palliative Care
Professional TherapyPregnancy & Child Care
Baby Massage
Babysitting
Confinement Services
Post Pregnancy Care
Pregnancy Wellness
Special Needs (Children)Wellness & Personal Care
Food & Nutrition
Coaching & Counseling
Home Cleaning
Personal Grooming
Therapy (Art, Music)
Yoga/Pilates/Zumba
WEBSITE
https://www.caregiverasia.com/
ADDRESS
51 Goldhill Plaza, #08-08, Singapore 308900
CONTACT DETAILS
6258 6683/+65 6258 6683
OPERATING HOURS
Open 24 Hours
CaregiverAsia is an award-winning, one-stop aggregator of professional healthcare services, offering a wide range of caregiving services to both homes and formal institutions. They have over 12,000 caregivers who are Singapore citizens or PRs.
Be rest assured to receive on-time, trusted, and transparent care, as the caregivers are required to undergo a thorough screening process to ensure that they are qualified to provide the relevant services. Profiles of caregivers are available on the website.
CaregiverAsia's most popular services include home nursing, elder care, babysitting, and medical escort.
Nurses are interviewed to ensure they are equipped with licenses from Singapore Nursing Board and have years of experience in managing Activities of Daily Living and nursing procedures. Caregivers are available 24/7, and services can be booked at any time.
CaregiverAsia's care consultants will match suitable caregivers based on your request so that your loved ones can receive the personalized care they need.
Highlights
Over 12,000 local screened caregivers providing professional healthcare services
Wide range of services available
Services are provided 24/7 and bookings can be made at any time via the website or the call centre
WhiteAngel Caregivers Consultancy
BEST FOR 
Home Care & Nursing
SERVICES
Home Based Caregivers Training
Nursing procedures: Wound and Tube Specialist
Wound Care Products
Home Care Consultation
WEBSITE
https://www.whiteangelcare.com.sg/
ADDRESS
Katong Shopping Centre, 865 Mountbatten Road #01-45, Singapore 437844
CONTACT DETAILS
6100 1701 | [email protected]
OPERATING HOURS
Daily from 0900 – 1800hrs
No matter how experienced a person is, there is still room for improvement. This is why WhiteAngels is committed to helping caregivers improve to be the best in their field.
They first began operating in 2010, but this commitment has yet to change. Doing so has allowed them to guarantee that seniors are in safe hands with the quality service that their caregivers provide.
With WhiteAngel, you're never to worry about high-cost but low quality care.
Highlights
Experienced & Knowledgeable Nurses
Professional Care
Affordable rates
Excellent Services
SilverAlly
BEST FOR 
Eldercare Services for Reasonable Fees
SERVICES
Health Management
Home Nursing
Wheelchair Transport
Therapy for Elderly
Care Plans
Eldercare Products
Home Renovations
Eldercare Advice
WEBSITE
https://silverally.sg
ADDRESS
50 Armenian Street, #04-02, Wilmer Place, Singapore 179938
CONTACT DETAILS
626-515-00
OPERATING HOURS
24/7
SilverAlly offers comprehensive eldercare services at the lowest possible price. Many prefer them since their services can be found in one location.
They have been serving the elderly for more than 20 years. You can count on their caregivers to give careful attention to each and every one of their charges.
They make sure to reduce costs as much as possible so that you won't need to worry about exorbitant fees. Their comprehensive and personalised care will ensure that each of their charges will be attended by them to the best of their abilities.
Highlights
More than 20 years of experience
Fully-committed caregivers
All services in one place
Reduces costs as much as possible
AWWA Rehab & Day Care Centre

BEST FOR 
Rehabilitating Seniors
SERVICES
CREST
DEMENTIA DAY CARE CENTRE
INTEGRATED HOME AND DAY CARE CENTRE
INTEGRATED RESOURCE NETWORK
PERSONAL CARE SERVICE (SENIORS)
REHAB AND DAY CARE CENTRE
SENIOR ACTIVITY CENTRE
SENIOR COMMUNITY HOME
WEBSITE
https://www.awwa.org.sg/our-services/seniors/rehab-and-day-care-centre/
ADDRESS
126 Ang Mo Kio Avenue 3, #01-1929, Singapore 560126
CONTACT DETAILS
Phone: +65 6511 6790
Fax: +65 6552 7520
OPERATING HOURS
Mondays to Fridays: 7.00am to 7.00pm
The AWWA Rehab & Day Care Centre is a facility whose goal is to accommodate the disadvantaged. They especially support seniors, as well as people with physical disabilities. 
Their programme focuses on providing structured rehabilitation to their patients. With their use of centre-based nursing, any sudden needs of their patients can be immediately attended to.
Their caregivers are more than qualified in their work, thanks to their multidisciplinary team. Every day will be a fun experience for their seniors thanks to the numerous activities they have in store.
Highlights
Structured rehabilitation
Multidisciplinary team
Centre-based nursing
Engages seniors in various activities
NTUC Health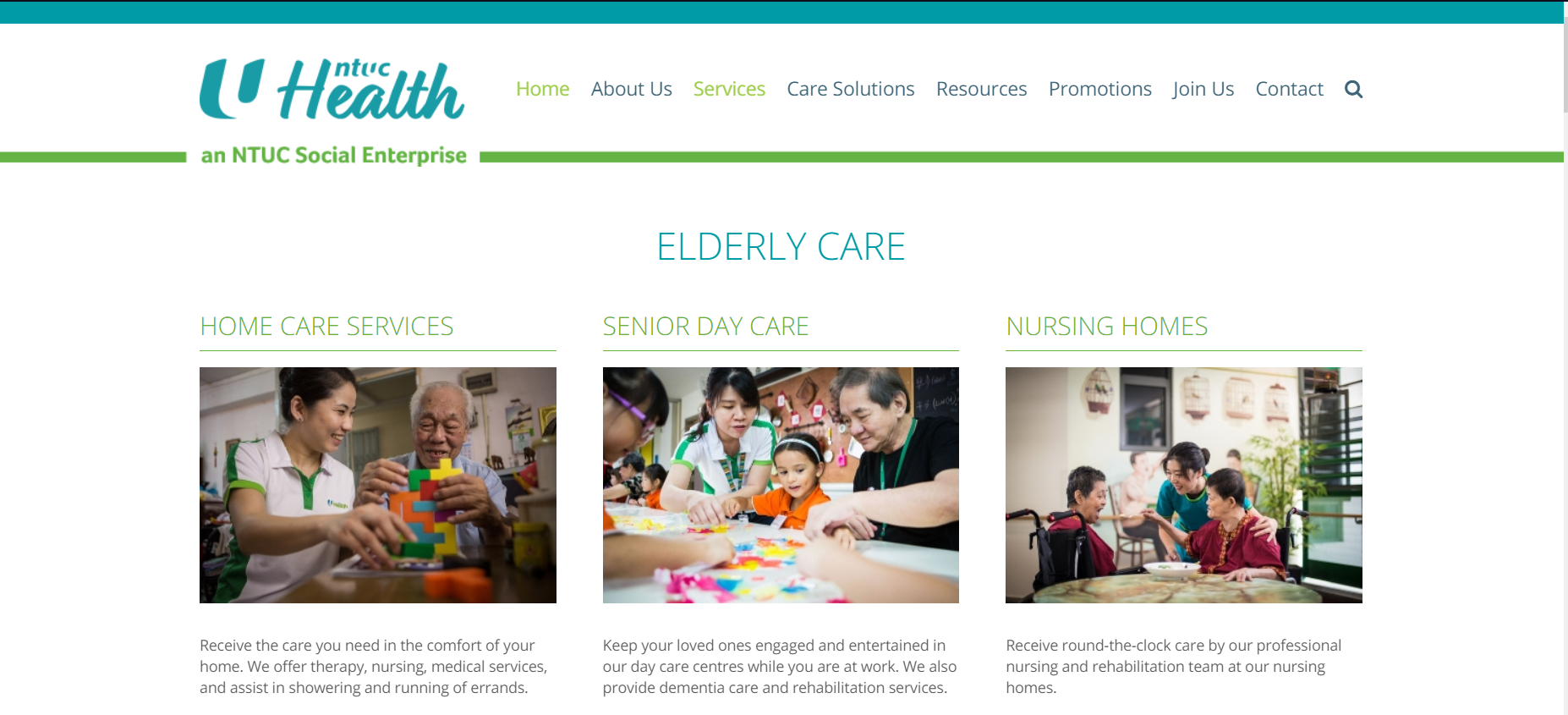 BEST FOR 
Affordable and Essential Care Services for Seniors coupled with Community Support
SERVICES
Elderly Care
Senior Day Care
Home Care
Nursing Homes
Rehab and Wellness
Go Respite
Active Aging
WEBSITE
https://ntuchealth.sg/elderly-care/
ADDRESS
55 Ubi Ave 1 #08-01 Singapore 408935
CONTACT DETAILS
+65 6590 4300
OPERATING HOURS
Operating hours subject to locations and services
Your loved ones deserve to age in a place that feels close to home. That's the experience NTUC Health aims to provide with their elderly care services.
With their home care services, senior day care, and nursing home services, your seniors will be able to live out their days in the environment they're most comfortable with. No matter what you choose, you can expect around-the-clock care from professional aides.
They also have various activities that help keep seniors active and entertained, such as daily exercises, group outings, IT classes, and more. These activities have the additional benefit of fostering a sense of volunteerism and community in the elderly.
Highlights
Professional nursing and rehabilitation team
Around-the-clock care
Active Aging activities available
Extensive community support
Ninkatec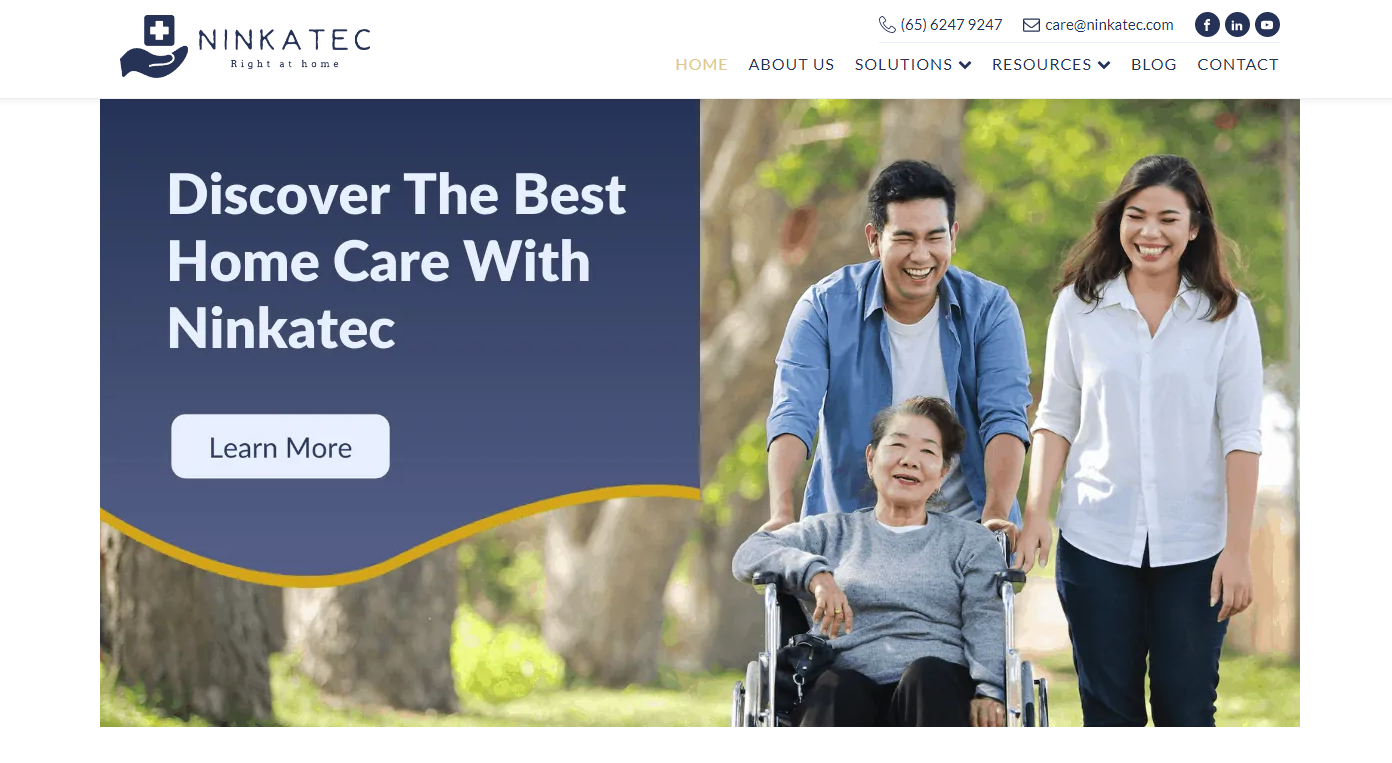 | | |
| --- | --- |
| BEST FOR | Care At Home |
| SERVICES | Care plans, Palliative care, Transitional care, Dementia care, Stroke care, Nursing care, Acute medical consultation, Chronic disease management, Vaccination, Personal care, Assessments, Allied health |
| WEBSITE | https://ninkatec.com/ |
| ADDRESS | 380 Jln Besar, #05-12, Singapore 209000 (Bgain @ Lavender Food Court) |
| CONTACT DETAILS | (65) 6247 9247 | [email protected] |
| OPERATING HOURS | Monday – Friday, 9:00 AM to 6:00 PM |
Ninkatec provides home care for patients to live fulfilling lives by offering cost-effective and personalized healthcare solutions for patients. In the event where an emergency alert is triggered or if any unusual activity is detected from the smart devices, Ninkatec will dispatch the necessary medical response team to attend to the patient.
They provide quality yet affordable home care solutions, the latest technology that quickly updates the medical team and above all, 24-hour monitoring. Around-the-clock access to support is offered by Ninkatec's team of doctors and nurses as they keep in communication with the patient's family.
The best part is that you can get all this starting at $4 a day. Ninkatec even offers both Virtual and Physical, right at home, care. These have different packages where you'll find the one that best suits your needs.
Highlights
Real-time monitoring
24/7 home care services
Affordable pricing
Virtual care available
And with that, we conclude our list of the best elderly care in Singapore. If you've tried out any of their services in the past, don't hesitate to share your experiences with us!
By the way, if you want a personal doctor to look after the health of your parents, then we also suggest checking out our list of the best geriatricians in Singapore. Any of these physicians can help to make your parents as healthy and strong as possible.