Our 5 Favourite Geriatricians in Singapore
Life is short, so it's important to cherish every moment with family. Especially with our grandparents — bringing them to the best geriatricians in Singapore is one way to take care of them so they live as long and healthy a life as possible.
Geriatric specialists help prevent possible diseases or disabilities that may happen due to ageing. Whether for physical or mental health concerns, they provide treatment for long-term care and needs of the elderly.
To help you find the leading clinics that offer reliable and high-quality geriatric treatments, we've researched every option and come up with the best geriatricians in Singapore. Take a look at our list below to see their offered services and procedures.
(Note: This list is in no particular order.)
Age-Link Specialist Clinic
The main senior specialist at Age-Link Specialist Clinic is particularly involved with geriatric treatments for dementia, sleep disorders, osteoporosis. and impaired mobility. They provide clinical, preventive, and remedial management for these conditions.
Aside from these, their best geriatricians in Singapore also treat chronic diseases, geriatric syndromes, and acute illnesses.
High cholesterol levels and high blood pressure are very risky for elders, which is why they provide home-based care services by assigning certain staff members for in-patient cases.
Highlights
Comprehensive rehabilitation program
Home-based care
SingHealth
| | |
| --- | --- |
| BEST FOR | Full range of medical services |
| WEBSITE | https://www.singhealth.com.sg/ |
| ADDRESS | 31 Third Hospital Ave, #03-03 Bowyer Block C, Singapore 168753 |
| CONTACT DETAILS | +65 6225 0488 |
SingHealth offers a full range of medical specialities and services and this includes geriatric medicine. Their clinics are located at some of the largest hospitals in the country such as Singapore General Hospital and Changi General Hospital.
Their best geriatricians in Singapore treat all kinds of elderly conditions and they provide holistic care by absolute prevention and maintenance. Their other expertise such as orthopaedics, rheumatology, ophthalmology, and more can also help with other health concerns.
Highlights
Medicines delivery service
E-services for payment options
Chan KM Geriatric & Medical Clinic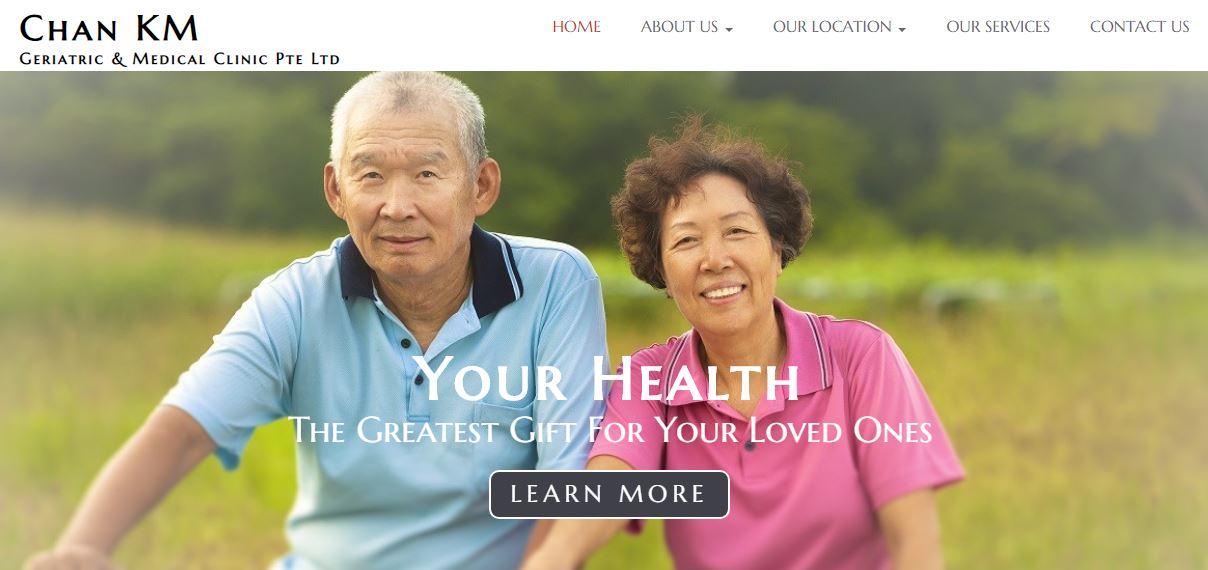 Chan KM Geriatric & Medical Clinic is claimed to have one of the best geriatricians in Singapore because of their international achievements and years of experience.
The clinic offers treatment for common and complex conditions such as hypertension, diabetes, stroke, Parkinson's disease, dementia, arthritis, and more.
If the elder is not capable of visiting the clinic, they have house call services wherein they provide consultations at home as well as visit those who are admitted to nursing homes.
The most impressive thing about them is their home modification service, in which they'll review the home environment and make changes for a safer place.
Highlights
House call service
Rehabilitative services
Equipment source at home
The Geriatric Practice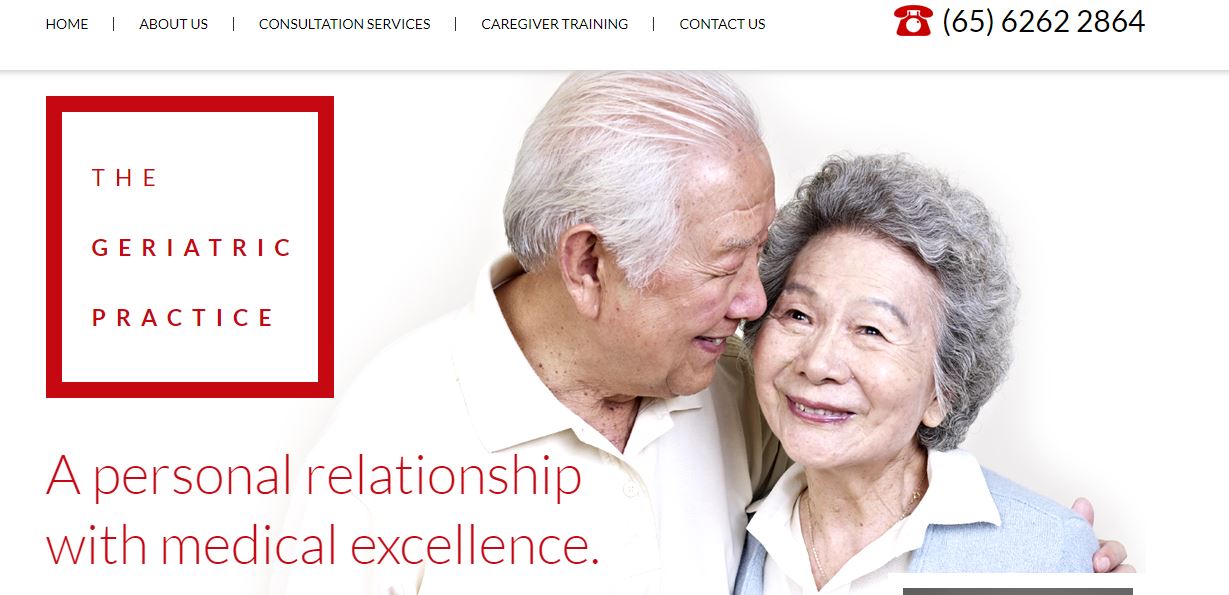 | | |
| --- | --- |
| BEST FOR  | Wide range of geriatric expertise |
| WEBSITE | https://www.thegeriatricpractice.sg/ |
| ADDRESS | 38 Irrawaddy Road, #09-21 Mount Elizabeth Novena Specialist Centre Singapore 329563 |
| CONTACT DETAILS | (65) 6262 2864 |
The Geriatric Practice consists of a team of the best geriatricians in Singapore who have different areas of expertise to provide inclusive treatment for each condition. They specialise in cognitive health, geriatric syndromes, medical assessments and more.
They also provide home care services to prevent further hospitalisations and properly maintain treatment for acute illnesses. Caregiver training is also a part of their services, so you can learn how to personally take care of loved ones at home.
Highlights
Home care services
Advanced care planning
Khoo Teck Puat Hospital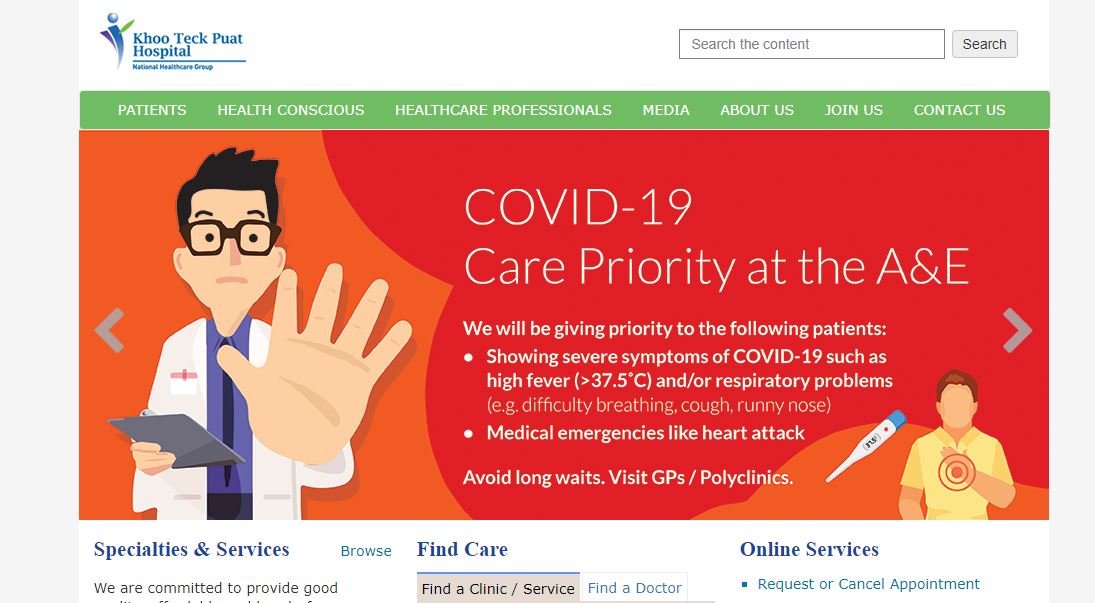 | | |
| --- | --- |
| BEST FOR | Treatment packages |
| WEBSITE | https://www.ktph.com.sg/ |
| ADDRESS | 90 Yishun Central Singapore 768828 |
| CONTACT DETAILS | +65 6555 8000 |
Khoo Teck Puat Hospital offers a broad range of medical speciality services and most of their expertise involves geriatric treatments. Theier best geriatricians in Singapore specialise in geriatric syndromes, memory difficulties, and other medical problems.
With their mobility enhancement, they have a physical therapist who'll initiate a customised exercise program for better improvement.
When it comes to life-threatening diseases, they provide coordinated care, pain control, symptom management, and all kinds of health care services that'll prolong the life of the patient.
Highlights
Eye screening packages
Advanced care planning
Now that you know some of the best geriatricians in Singapore, it'd be nice to visit the nearest one and book a consultation for a diagnosis and regular health maintenance.
Do you already have experience with at least one specialist from our listed options? If so, let us know all about it!
By the way, arthritis and osteoporosis are some of the common chronic pains that elders have so it might be a great help to see these best orthopaedics in Singapore. They specialise in treating foot, knee, and other lower body pains, giving you the proper and necessary treatment.