44 Best Home Cleaning Services in Singapore
Tired of messy and dirty surroundings but still can't find the time to clean your home due to a busy schedule? If so, then you've come to the right place!
We've listed the best home cleaning services in Singapore so you don't have to go through a tiring search process. But before we show you our top picks, we'll first tell you just how much cleaning services should cost to help you avoid overspending.
The Best Home Cleaning Companies in Singapore
Now, let's take a look at our top picks of home cleaning agencies and providers. We tried our best to diversify this list, so you may find experts that clean whole houses while some may only cover portions of a home.
1. Helperoo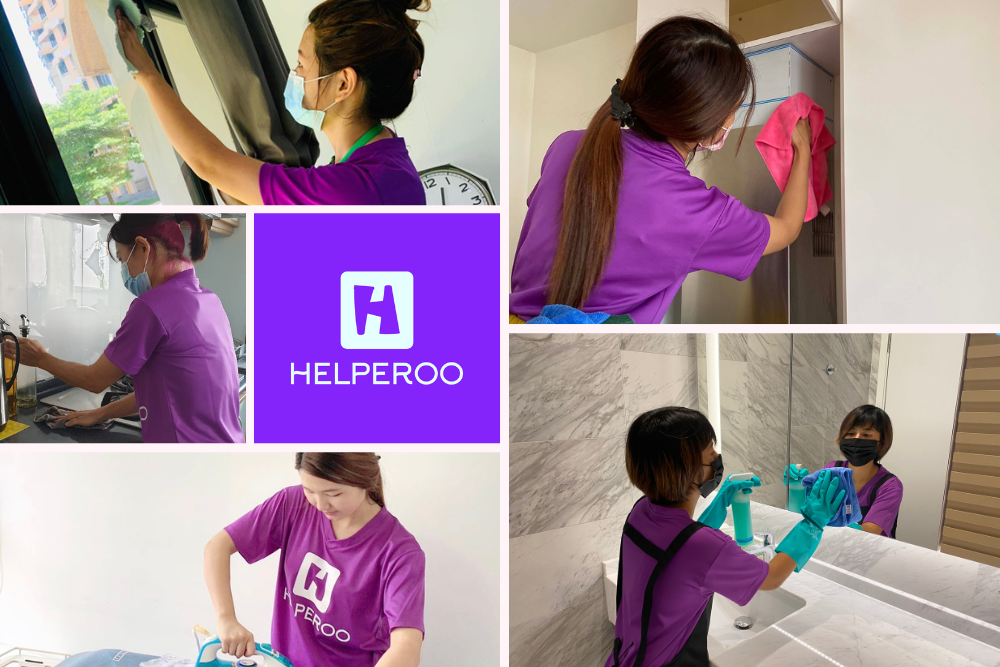 Helperoo is a reliable house cleaning agency that can help you tidy your home!
They have three different types of services: Recurring Cleans, One-Off Clean and Move In/Out Clean. What we like about their Recurrent Cleans is how they give priority for repeating customers and allow them to choose their cleaner for each session.
We find their prices for their services reasonable as they're at the lower end compared to other companies.
One of the other reasons why they're at the top of our list is because they have an app which makes everything convenient.
With their app you can easily book a session, make payments, check you bookings and more!
We, along with hundreds of other clients, can vouch for the quality of their services. They're very thorough and efficient, and they always leave our homes looking spotless!
We loved our first experience with them that many of us have decided to get our homes regularly cleaned by them—that's how impressive their work is.
The only con we can find is that you'd have to provide your own cleaning materials for their general cleaning services. But they do have a prepared list of all they'll be needing from you.
We can't recommend Helperoo enough and we think they'll impress you the way they've impressed us!
Customer Reviews
Here are some reviews from past clients:
"Thank you Helperoo for great service rendered. I arranged for a cleaning service to help clean up my parent's place. The cleaner did a great job in cleaning up the mess. Especially the toilets now look so nice after they have been cleaned thoroughly! Will definitely look to your guys to arrange for regular cleaning at my place!" — Colkek Zonb
"I booked a one-time spring cleaning service for four hours with two cleaners, and they performed an excellent job! They worked to the best of their capabilities for the entire 4 hours and did never slack off. They also gave me some great recommendations for household products and stain-removal advice. Their service has exceeded my expectations!" — Latifa Layla
"Our place is a new development and Helperoo cleaners are always moving in and out of our condo. Managed to get a lady whilst talking to her in the lift. She said their company is servicing a lot of apartments in our condo. Though I wasn't able to get the lady I wanted, the assigned cleaner was also very good! Glad to have her around." — Say Kai De
2. HVAC Engineering
If you're looking for a company that serves quality cleaning services, then look no further way from HVAC Engineering. They offer several cleaning services ranging from Omicron Coronavirus disinfection service to carpet cleaning, duct cleaning, and UV disinfection.
To provide a clean, safe, and secure environment to not only the customer but also the staff, HVAC Engineering dons a strict PPE to the crew. Furthermore, in the case of the Omicron Coronavirus disinfection, they do not only clean the interior surfaces as they also decontaminate carpets and air conditioner filters.
Aside from their outstanding cleaning service, they also have various cleaning-related services. This includes air quality testing, air cleaning, bio-medical waste management, sofa cleaning, mattress cleaning, and mold cleaning.
We highly recommend their service; they have great reviews and are known for their incredible attention to detail. Get the peace of mind you deserve with HVAC engineering's high-quality cleaning service.
Customer Reviews
Gave us peace of mind
"HVAC Disinfection provided complete services for Coronavirus Disinfection and Sanitizations for our retail premises, we were very pleased with the thorough job. This gave us peace of mind to continue to have our premises open, we recommend them to other business owners "- Madura Maha
Great Professionalism
"HVAC showed great professionalism for the disinfection at my office. RK the Ops Manager was meticulous on managing the entire job done at my premises. Highly Recommended." – Gayarthi A.
3.   SureClean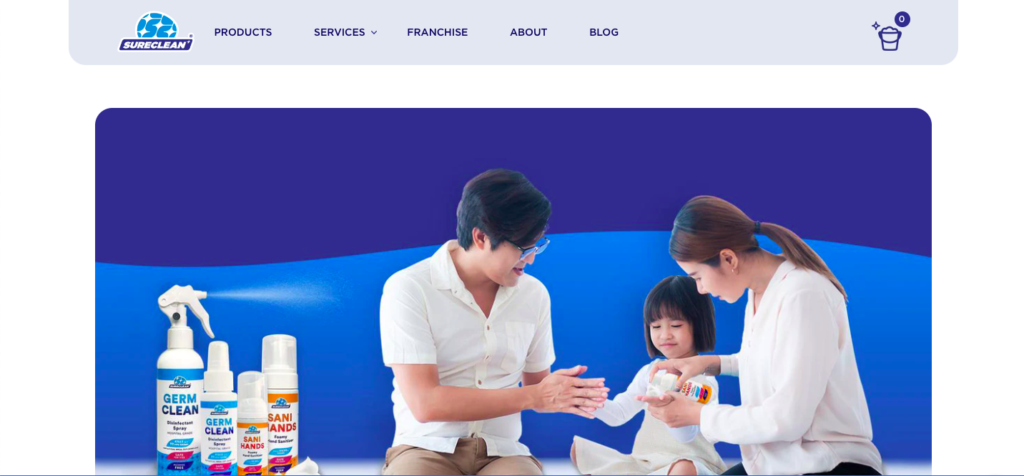 SureClean is the country's leading supplier of hygiene and disinfection products and services, and also a leading hygiene supplier for the local childcare industry.
They've been a trusted hygiene partner since 2013 and have built a neat professional track record.
We like the range of services they offer, which includes Concierge Class Housekeeping Service, Professional Home Cleaning Service, Home & Commercial Disinfection, and Wet or Dry Mattress Cleaning Service.
Their home cleaning service is something we highly recommend.
They do home deep cleaning and what we like about it is how it's completely child-safe. They even have extra protection for babies and senior citizens.
It's also great that they clean every corner of your home—bedrooms, living room, bathroom, and everything else!
We like that booking an appointment with them is quick and easy.
We're also impressed by their workers, as they're all highly experienced and WSQ trained.
Customer Reviews
Here are some reviews from past clients:
"Process to engage them was seamless and easy. Cleaners were professional and thorough with the post renovation cleaning of our place. They even went the extra mile to help move some items out of the way. Highly recommend." — Benjamin Tay
"First time I used SureClean, I was apprehensive but in the end I was delighted. A team of 3 came, they were very fast, efficient and professional. They took as much care as they could and they were very thorough. The even cleaned places which I didn't expect. Interestingly, they left the place neater. All done in 4+ hours. Couldn't have done a better job myself. Will surely recommend." — Mingxiang Guo
4.   Helpling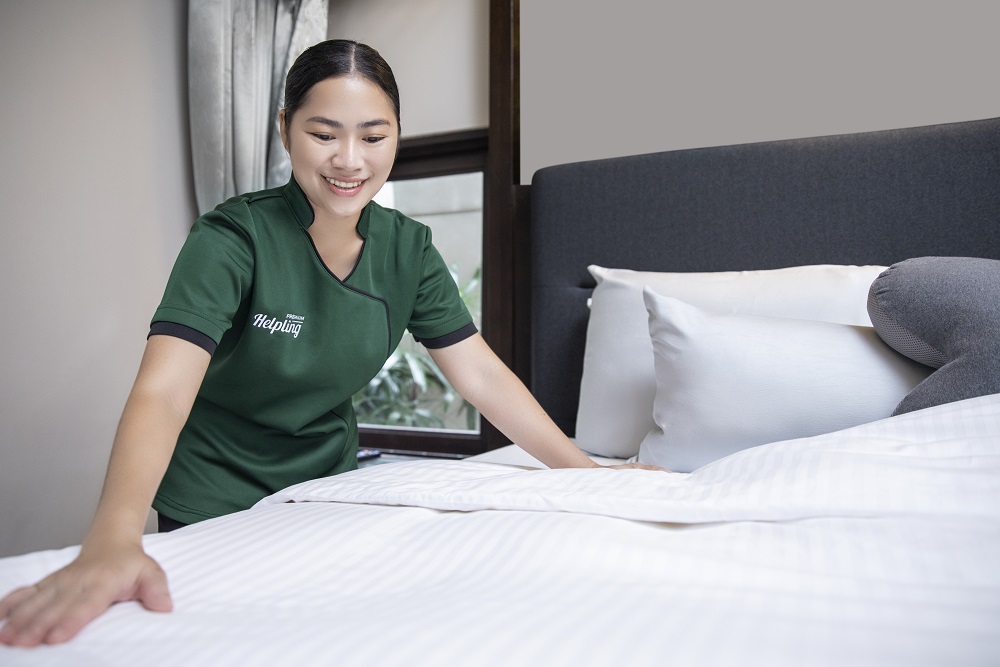 Helpling is an online platform and marketplace that connects their clients with vetted and trained service providers.
Besides going through a rigorous selection process, the service providers undergo housekeeping training during onboarding to ensure each one of them is up to par to provide their clients with a high-quality experience.
To book a service, all clients need to do is to input their postal code, select a preferred schedule and duration, and enter payment details securely online. Payment is only processed after the booking has completed so there are no upfront payments involved.
From just $28/hour, you can engage a highly-rated experienced cleaner and have her clean up your home for you. For weekly or fortnightly bookings, the same cleaner can be assigned to you and you'll even have a dedicated team of home advisors to assist you with any booking issues.
Customer Reviews
Cleaners of Helpling have been endearing themselves to customers for years with their professionalism. They are understanding and friendly, just as these reviews have shared:
"Helpful and very understanding. Efficient and there's no time wasting. [The cleaner] lets me feel safe to handle her tasks in my house to clean and there is no excuse at all. Hope she keeps up the good work." —Jiale
"I was initially hesitant to get external help for my house. However, as it was highly recommended by my mother, I decide to give it a try. The result turned out really good, my house is now super clean and fresh!"—Jerome Branson
5. Cleaning Compare

Cleaning Compare is also among the non-cleaning companies on this list. However, it still deserves a spot on this list because it helps people find the most well-suited cleaners for their home.
All clients need to do is input their name, address, contact details, cleaning frequency, and they'll receive a comparison of quotations from five cleaning companies.
Cleaning Compare also accommodates any size of cleaning service, whether it be for a single room or your whole property. The online platform also caters to all ranges of budget because it has connections with both individual cleaners and large cleaning corporations.
That said, you have to be aware that if ever you choose among its cleaners, you're more likely obligated to sponsor the equipment and products needed.
Customer Reviews
Read these reviews to learn more about why Cleaning Compare belongs in this list:
"If not for Cleaning Compare, I wouldn't have found the best cleaners. I hate having to do consumer research, so it was a huuuge relief to have someone else do it for me haha. Thanks to the guys at Cleaning Compare – they made finding a great cleaner easier than ever."—Austin Lake
"Cleaning Compare helped me find the perfect cleaners for our Singapore office! I didn't know which company to choose because their prices and services all looked the same at first, but when Cleaning Compare drilled down to the differences and details, it made all the difference! Suddenly I could see which cleaner was head and shoulders above the competition! Great comparison site!"—Kellie Lee
6. Whissh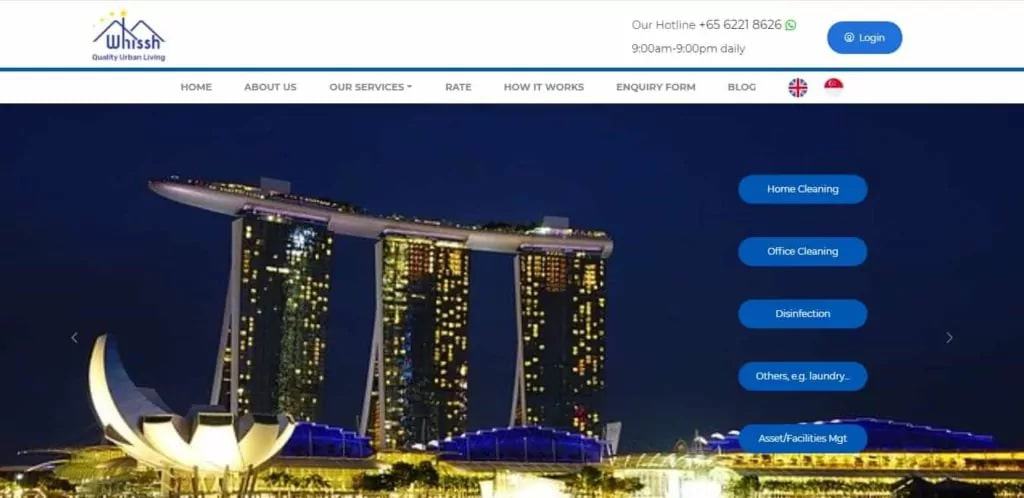 Whissh is an international company serving over 30 countries, including Singapore and the UK. This company does more than just clean because it also offers plumbing, electrical, laundry, and dry cleaning services.
All clients need to do is book online, schedule the cleaning service, and pay through a secure online platform. Whissh will then dispatch a 5-star cleaner to their address.
Intending to improve your quality of life, Whissh provides only certified and highly-trained experts. Its cleaning services focus more on routine and one-time services such as spring cleaning, moving out/moving in cleaning, and anti-microbial coating application.
Aside from service quality and work ethic, Whissh also includes health conditions in its cleaner screening process. With this and an insurance coverage of $250,000, Whissh assures its clients that their homes can stay sanitary and free of potential infectious diseases.
Customer Reviews
Most of the reviews from the company's clients are overwhelmingly positive, which is probably why it also has numerous repeat customers. Here are some customer reviews to tell you more:
"After going through three cleaning services in the past four years, I am extremely impressed with Whissh before and after sales customer service. They were prompt and sincere in dealing with my questions."—Bella Low
"The team that was assigned to my spring cleaning did an outstanding job. I could tell that they were professionally trained from the way they cleaned my kitchen and windows. I was really impressed with the solution used on my bathroom shower screen door, it was super effective that the scums just came off on its own moments after application. Great customer service too. Thanks guys & have a great CNY!"—Albert Ang
7. CleanWorthy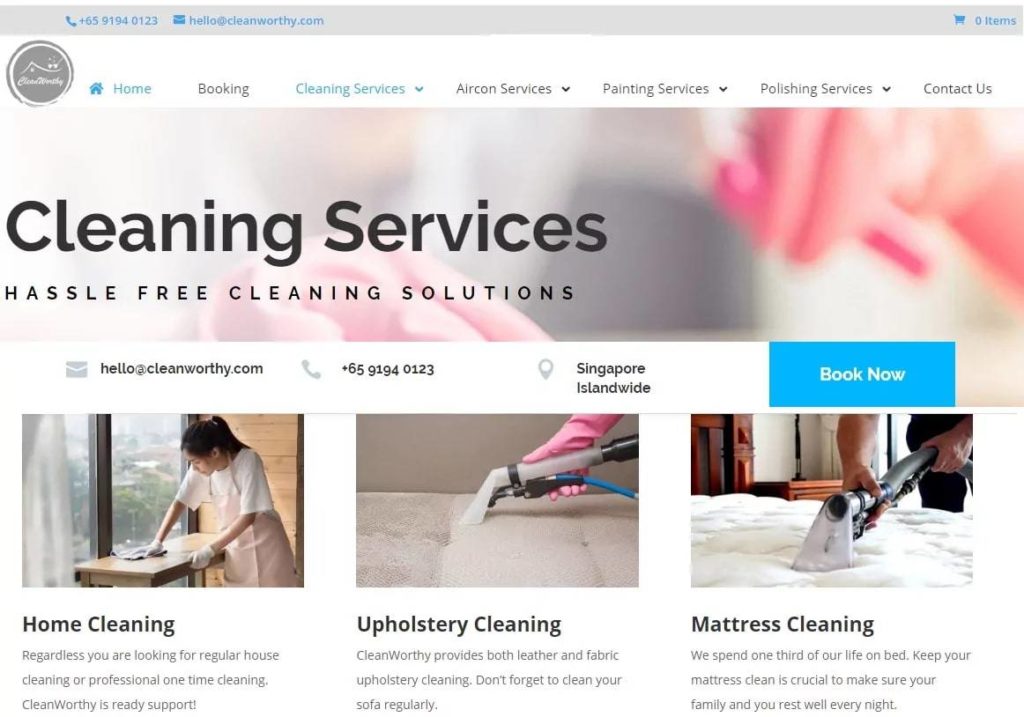 If you're leaning towards regular services, then CleanWorthy may provide you with the best home cleaning services in Singapore. This cleaning company offers weekly and biweekly cleaning so homeowners can focus on other weekly and routine chores.
It is an expert in all types of surfaces, whether it be leather and fabric sofas or marble, granite, or tiled floorings. These surfaces may need special equipment, which CleanWorthy will bring to deliver a hassle-free cleaning service to its customers.
Even if it follows regular and routine scheduling, CleanWorthy still makes sure to remind its clients of its appointments to avoid any miscommunication. To complete its customer's peace of mind, CleanWorthy also checks on its clients as part of its aftercare services.
But since it already provides appointment reminders, CleanWorthy also charges fees for those cancelling or rescheduling within 48 hours of the appointment.
Customer Reviews
With CleanWorthy's Professional service, customers surely feel satisfied, just as these comments have shared:
"Affordable and reasonable pricing as compared to many others who quote me twice or thrice the amount. Prompt response from the team via WhatsApp even after office hours. Ceiling mold was treated, cleaned before anti mold painting professionally and was also given advice on how to maintain. Overall, a hassle free and affordable service with professional quality."—Monica Lee
"They did a great job cleaning my mattress and a chair that I have had for years. This was my first time getting upholstery cleaning done and I'm very satisfied with their performance. Very decent pricing for about 2 hours of hard work!"—Vinh Tran
8. MEIDE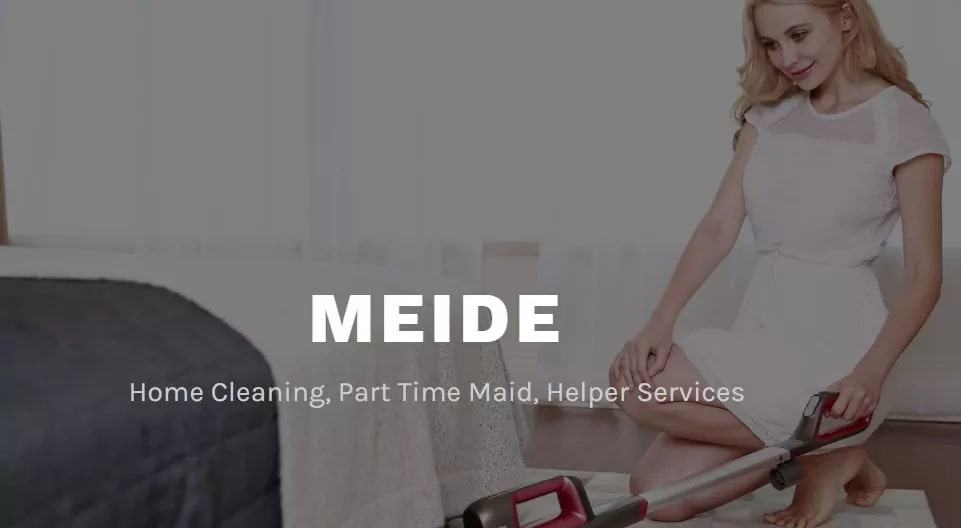 MEIDE is yet another online company that dispatches skilled and experienced cleaners to your home or office. Its rigorous screening process makes sure that only safe and reliable cleaners come to your home.
Aside from cleaning services, MEIDE also offers part-time maid, home helper, and babysitting services. Clients can thus take their much-needed day-offs from all household chores with the help of MEIDE.
The best thing is, no matter the type of service you'll be receiving, the quote will still be $20 per hour for each expert. So, you don't have to worry about paying too much for its array of services.
And even if it only hires individual cleaners, clients can still rely on MEIDE for large-scale post-renovation and moving cleaning services. That said, you should provide cleaning equipment during the session because the individual cleaners will only bring some basic tools.
Customer Reviews
If you want to know more about MEIDE, read these customer reviews who claim that this company provides the best home cleaning services in Singapore:
"Very prompt arrangement from MEIDE to get the part-cleaner in. Cleaner was thorough in her work. I would recommend MEIDE's service."—Lynda Tan
"Engaged Meide for post-renovation cleaning, their 2 friendly helpers were very diligent and did a thorough job clearing the renovation mess and sprucing up my unit.
Recommend Meide, they are really value for money, tried other cleaning companies before who charged higher but had poorer performance."—Jaelyn Lim
9. NIMBUS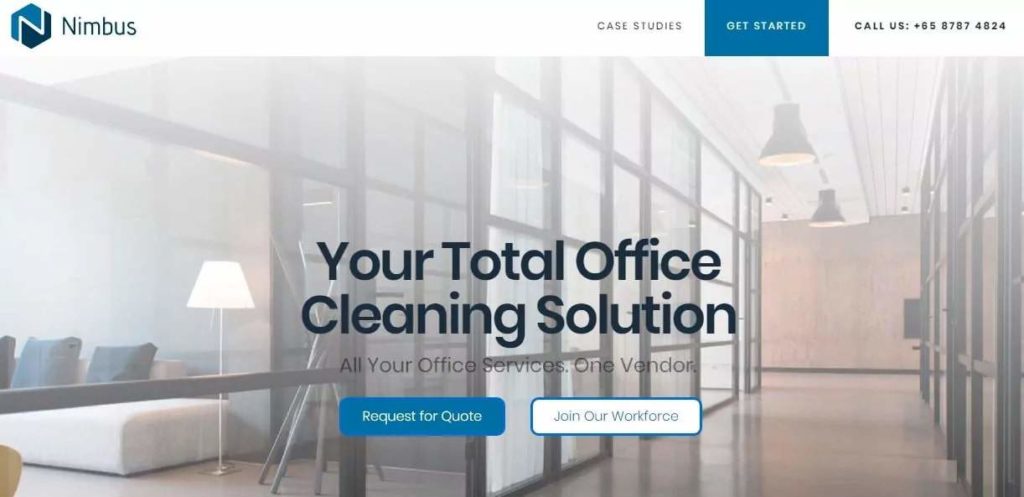 If you have a homey office or an office in your home, Nimbus should be among your top choices. This company offers among the best professional office cleaning services in the country.
It provides training to its workers to ensure they're the best fit for any cleaning service before dispatch. Additionally, Nimbus also safeguards its clients for potential accidents because all of its workers are insured, and certified by Workplace Skills Qualification (WSQ).
Nimbus also maintains customer satisfaction with routine inspections and a responsive customer support team. And should it fail to deliver within its clients' expectations, Nimbus guarantees complimentary cleaning services the next time around.
On top of its cleaning services, Nimbus also offers workspace consultations and recommendations to solve the root problems of an office's messiness. It even offers free consultations to give a taste of what entrepreneurs can get from the company.
Customer Reviews
Nimbus is often praised for its excellent communication skills and quality of services. Here are some reviews to tell you exactly how clients feel about Nimbus' services:
"The Nimbus team is always on the lookout for suggestions to better fit our needs. They have been very involved in our operations from Day 1, always ensuring we have a good cleaning team on duty… glad to have Nimbus working alongside the team!"—Jiahui
"I preferred a single point of contact for my facilities services, and Nimbus was very effective for that. The operations team is responsive, conducts their audit checks with professionalism, and their cleaning crew members are more service oriented and professional than other companies I have used before. Would recommend."—Michelle
10. Fresh Cleaning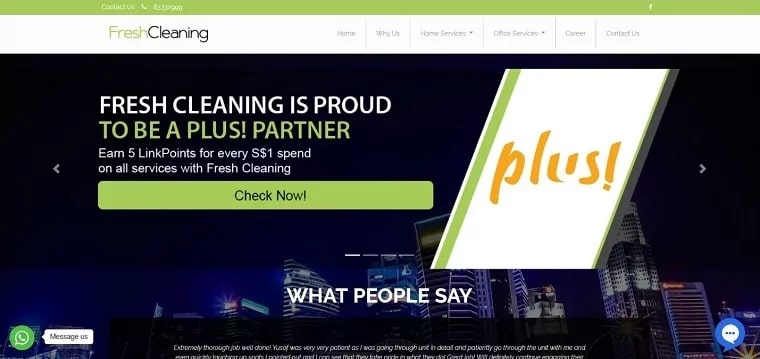 Fresh Cleaning offers all types of home cleaning services Singaporeans need. From routine cleaning to curtain cleaning, Fresh Cleaning only brings the highest quality of work.
To cater to all types of clients, Fresh Cleaning has one-time cleaning as well as weekly cleaning options. Its one-time services include spring, deep, chemical, moving out, and post-renovation cleaning.
It follows such a high standard by conducting weekly/monthly training and exposing its cleaners to the latest equipment and cleaning methods. With this practice, it also has janitorial services that are perfect for commercial, industrial, and post-construction sites.
But what sets Fresh Cleaning apart is that its booking process also includes a free home inspection so its experts get an idea of what to bring and what to do during the set appointment. That said, its 3-step booking process may take longer than others.
Customer Reviews
Customers appreciate just how Fresh Cleaning goes above and beyond with its services. Here are some of the reviews sharing positive experiences with Fresh Cleaning's compassionate and professional services:
"Meticulous cleaning. What was supposed to be a '6 man-hour' job turned into 8 hours as the supervisor (not me!) made sure the hard-to-go stains were satisfactorily removed."—Patrick Toh
"I've been using their weekly cleaning services for more than a year and their staff are consistently hard-working and left my home spotless each time they cleaned. My requests were also always met and the management are all so friendly. I would not hesitate to recommend their services."—Agnes Wang
11. SGcleanXpert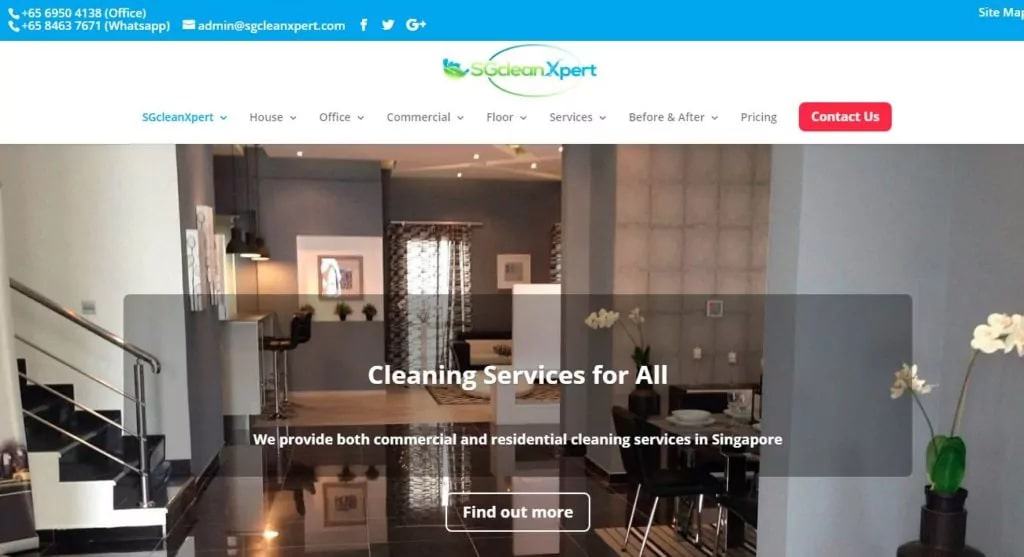 SGCleanXpert is well known for its upholstery cleaning services, but it does more than that. GCleaXpert offers cleaning for the whole house, select rooms, and other more specific tasks like carpet cleaning.
With its convenient online forms and responsive services, this company can even cater to emergency cleaning requests. SGCleanXpert also knows how to handle all types of floorings and surfaces, whether marble, wood, granite, or vinyl.
Another great thing about this cleaning company is that it offers both ad-hoc and routine cleaning services. Their routine cleaning isn't even constrained to just weekly and biweekly services because it also accommodates monthly and quarterly requests.
But what really sets SGCleanXpert apart from its competitors is that it is skilled and experienced in Samak Cleaning. So, even religious Islamic buildings can hire this cleaner for special cleansing.
However, we've also found that this company may not have the best communication skills. So, if you deal with them, just make sure you have a lot of patience and time on your hand.
Customer Reviews
Many of the company's reviews are extremely positive mostly because of SGCleanXpert's dedication and quality of services. Here are some of its 5-star reviews to give you a better insight:
"It is hard to believe the work that they have delivered. We were shocked at first by the amount of detergent, equipment and tools arrived with them. Then we were overwhelmed by the details cleaning, determination and focus that they put on the work. Impressed also by the team spirit where everyone worked at same level."—EE Gardens
"I engaged SGcleanXpert to clean our sofa. The result is amazing. Cleaners are punctual and very polite. The team is very professional and gave us advise on how to maintain our sofa. Highly recommended! Will definitely engage them again."—Jennifer Tam
12. ESP Cleaning Service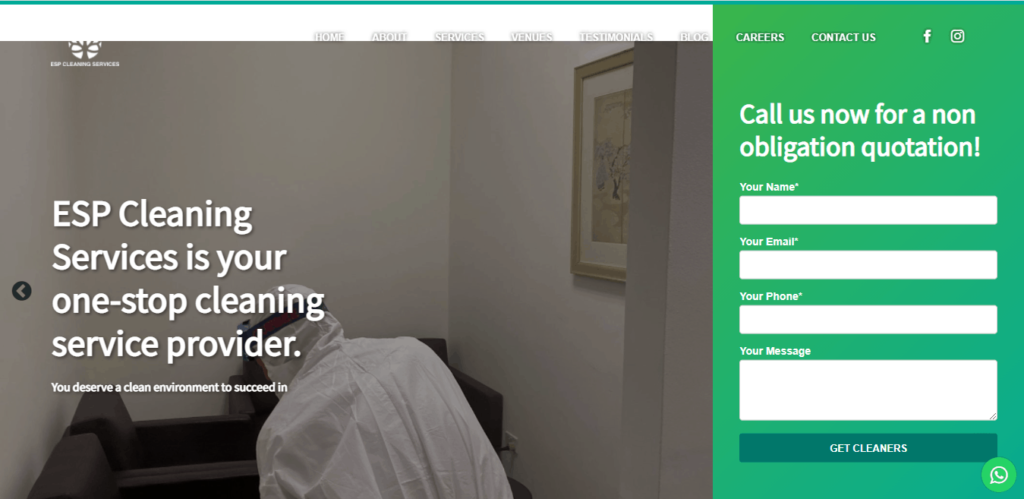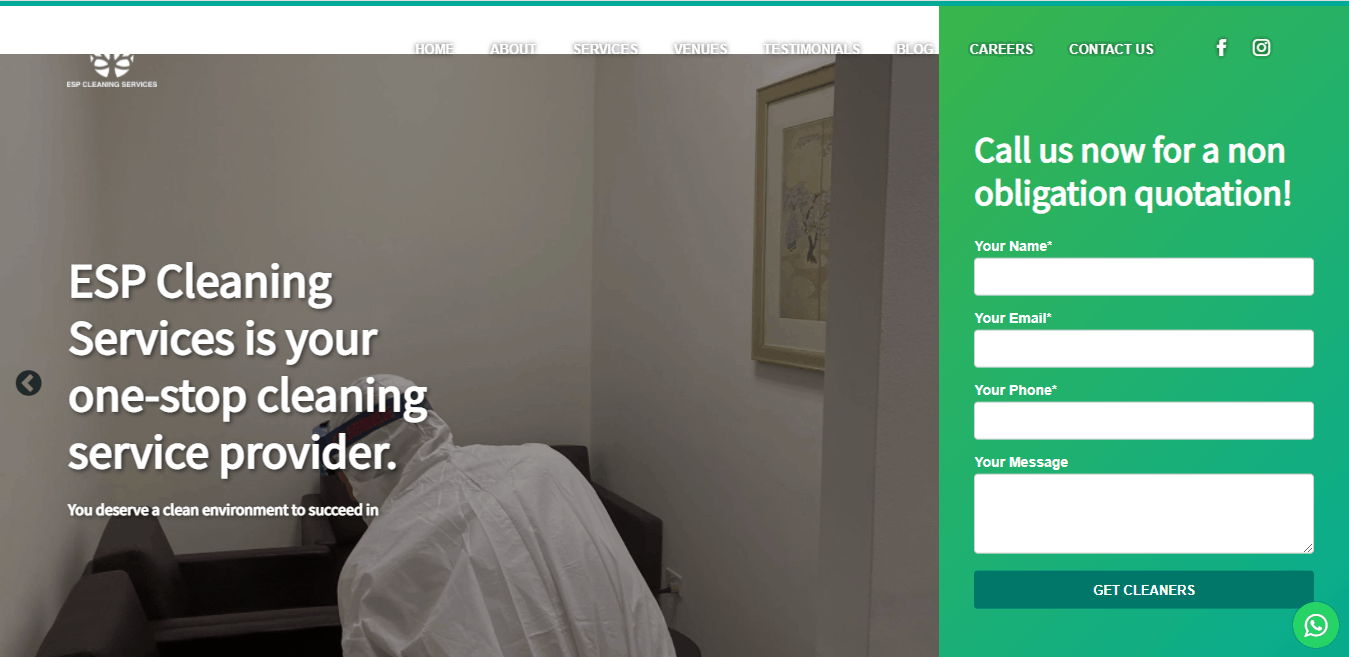 ESP Cleaning Services is yet another all-around cleaning expert as it caters to residential, commercial, and industrial clients alike. When it comes to businesses, it can cater to nursing homes, schools, fitness centres, factories, and warehouses alike.
Its experts work around the clock to provide cleanliness and organization through regular cleaning and periodic cleaning. This cleaning service even does carpet and upholstery cleaning and even dishwashing.
Additionally, it does more than periodic and routine cleaning because ESP also does disinfection services. Its experts even have the skills and equipment to clean air ducts, glass panels, and other high or unreachable areas.
The best thing about ESP Cleaning is that its services are approved by the NEA. As such, it's become a trusted cleaning partner by numerous big names in various industries.
To make all these services accessible to more people, ESP Cleaning is available for contact on numerous platforms. So, potential clients can simply fill out online forms for scheduled cleaning or even call or text for urgent cleaning requests.
Customer Reviews
ESP Cleaning Services may only have a few reviews, but all of these praise it for its professionalism. Here are just some of its reviews to tell you more:
"Polite and kind staffs. The 2 ladies help to push the bulky furnitures around to clean. Some companies do not clean do that. Of course if you want them to push out to clean, don't blame them if anything happen to the furnitures or floor."—Lim Andy
"ESP Cleaning is very professional, and they work hard to address the cleaning challenges that our studio faces. Daniel, Clair and Mia are friendly and responsive to our queries as well. I would recommend this company as a cleaning partner to work with."—Hui Lin Ho
13. Clean & Care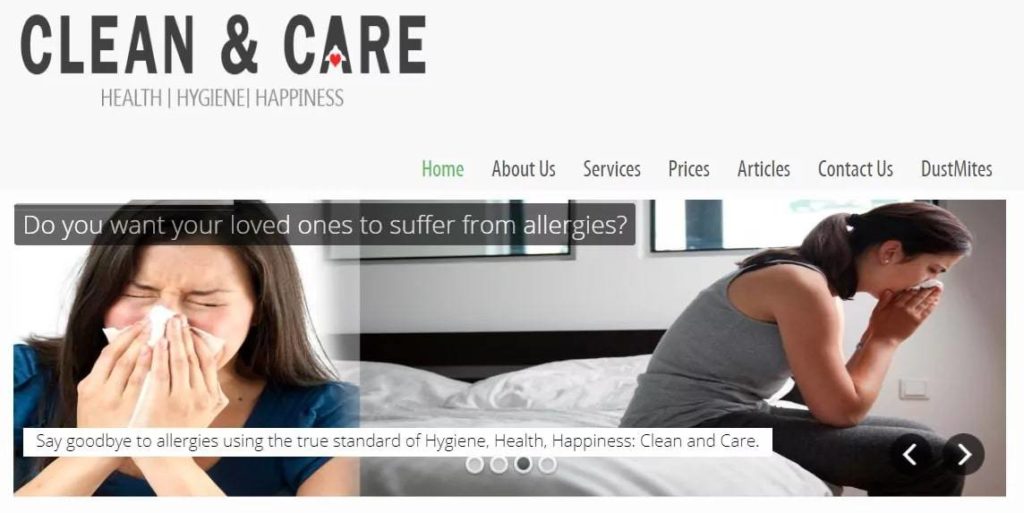 Persian rugs and carpets require meticulous and gentle cleaning, which Clean & Care can provide. So, if you're looking for this level of service, then Clean & Care should be among your top choices.
This company's cleaning expertise lies in dry cleaning, spot and stain removal, and deep cleaning. With health, hygiene, and happiness as its main inspiration, Clean & Care also provides disinfection and sanitation services.
Aside from its sustainable cleaning products and techniques, Clean & Care also uses its deep understanding of clients need to deliver the best home cleaning services in Singapore.
Clean & Care also prides itself on its communication processes and accountability. With its core values, it assures that its clients can reach out to the company to correct any issues.
Customer Reviews
With its deep cleaning services, Clean & Care can remove even bad odours from beds, sofas, and other surfaces. Read these reviews to know more about Clean & Care's guarantees:
"Talking about sanitation and disinfect, Clean Care really does the job. that is the main thing i really need from them. now my sofa r free from bad odour and no longer feel itchy when using it. also those sweat patch is now gone. their deep clean does remove certain stains too. i am happy with them."—Laurant Sia
"Office looks great after the deep cleaning service. Will definitely recommend your services to anyone that needs it"—Nicholas Tan
14. ServisHero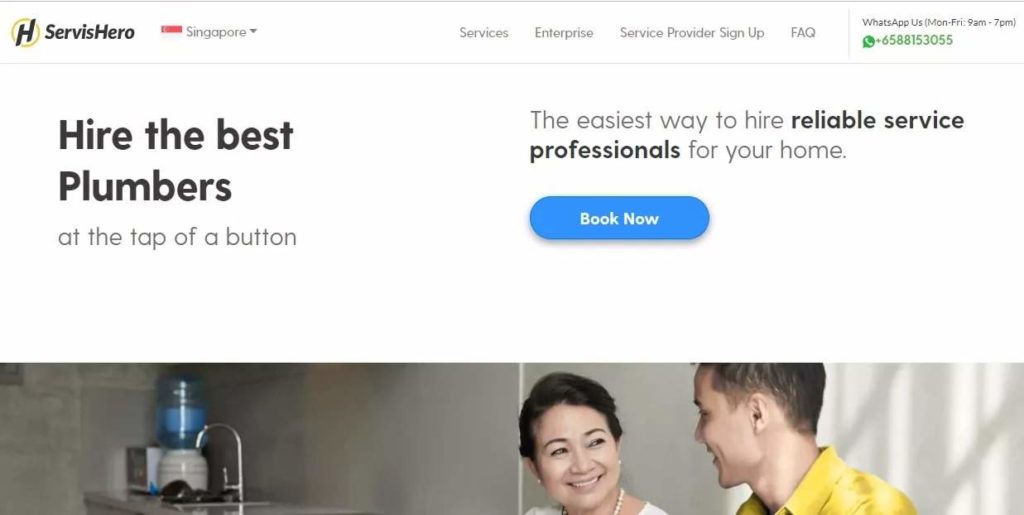 This next entry is yet another type of third-party company to connect you with all types of home helpers. Servis Hero provides the best cleaners, handymen, electrical technicians, plumbers, and many more experts to keep homes as livable as possible.
To bring the cleanliness to another level, Servis Hero even provides disinfection services using professional-grade products. This service even comes with a full inspection and assessment to ensure each case is handled appropriately.
Servis Hero also guarantees to treat its residential customers the way it treats the leading organisations in its client network. It delivers such with excellent technician support and unique home services.
Additionally, Servis Hero also has a mobile booking application that's compatible with all types of smart devices.
However, since it is a third-party company that only do the matching process, your concerns and queries won't be directly handed to the cleaners. There have also been a significant number of complaints regarding no shows.
Customer Reviews
This may technically be a worker network or hub instead of a cleaning company, but clients say it gets the job done quickly. Here are just some of those positive reviews:
"Such convenience. It changes the way I hire cleaners and technicians. I have been using it for all sorts of services. No more asking friends and vetting cleaners myself. Amazing!"—Michelle Yong
"Reliable service. The mobile application is easy to use and handy. Took me less time to find a cleaner than traditional websites. The service centre waas fast to respond as well. Would 100% recommend to family and friends."—Ian Wang
15. Home Sweet Home Cleaning Services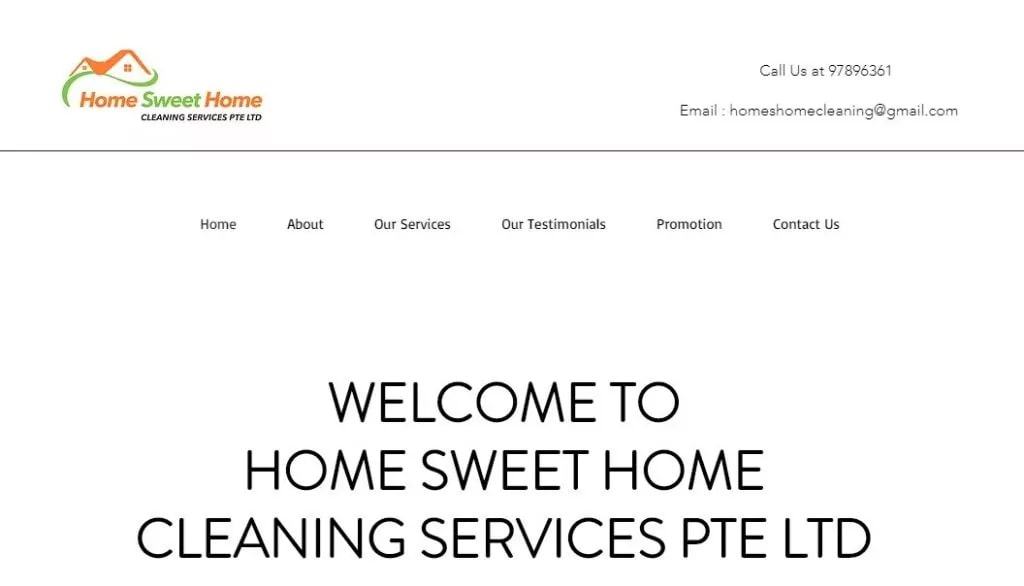 Home Sweet Home is yet another multi-tasking company offering cleaning and handyman services alike. With its dual expertise, Home Sweet Home guarantees that it has the proper tools and equipment for any cleaning service.
It even offers steam sanitation to keep beddings, sofas, curtains, and other soft surfaces free of germs and mites. To add to that, Home Sweet Home can also handle the dismantling and disposal of bulky furniture and appliances.
With these services, Home Sweet Home can help moving clients in all parts of their relocation. However, since it isn't as skilled in moving services as it is with cleaning, it may be careless with some items.
Customer Reviews
Most of the customer reviews reported satisfaction, thanks to Home Sweet Home's quality of services. Here are testimonials from clients who had the best cleaning services on the island from Home Sweet Home:
"Your team did a very good job of cleaning up the house. My dad and family are very pleased with the cleaning. Special mention to the team leader, Julia. She is very good at her job, very thorough and very helpful. We really appreciate the services rendered We will definitely engaged your service again."—Kathleen Koh
"These are professional cleaners and they did a good job on our moving out cleaning. They even arrived a few minutes early. Scheduling cleaning was also convenient. Wish the company can be more flexible with cleaning timing, perhaps when they become a larger business and have more shifts in a day."—Viva Ma
16. Axgee Cleaning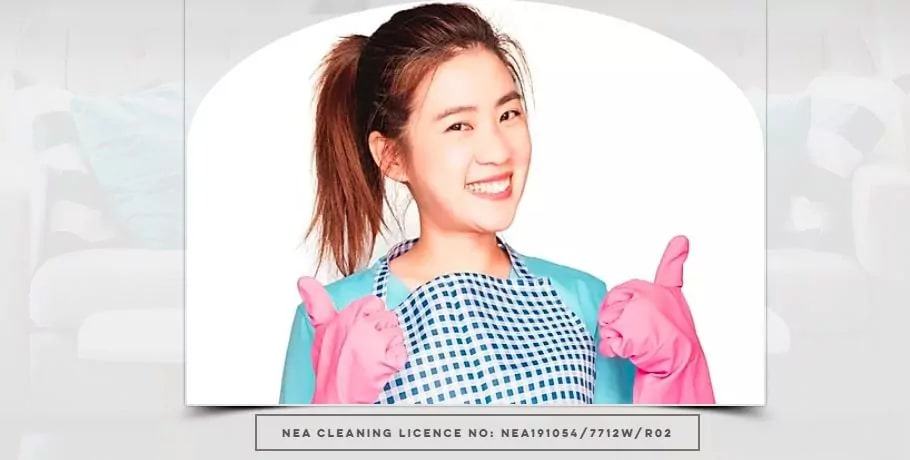 If you're looking for another provider of cleaning and part-time maid services, then Axgee Cleaning should be among your top picks. This company offers ad-hoc, one-time, and routine cleaning services.
Aside from these options, Axgee Cleaning also offers flexibility when it comes to scheduling. So, busy clients may still benefit from its services.
Since it has a license from the National Environmental Agency (NEA) Axgee Cleaning also guarantees safe and sustainable practices when cleaning. It also assures that clients won't take any blame for mishaps at home because Axgee's cleaners are all licensed, insured with WICA, and are properly compensated.
Axgee Cleaning even goes so far as guaranteeing no-imposed commitments and thus doesn't have contracts to trap its clients with year-long services.
But this good choice doesn't come without any consequences because there have also been complaints about Axgee's poor accountability, especially when given negative feedback.
Customer Reviews
Most of its customers have cited Axgee to be a great cleaner with attention to detail and responsiveness. Here are some of the reviews that say the same thing:
"Helpful and understanding staff – James who managed to attend to my last minute order providing me 2cleaners for a reasonable rate though he is aware of my urgency to get have my unit cleaned up. He could have increased his quote knowing my urgency. Honest and professional company."—Priscilla Lim
"The cleaner came on time. Clean the house meticulously. First time for us using this service, will use this again if we need in the future. Recommend this to use. Thank you so much."—Deta Dewi
17. Home Clean Home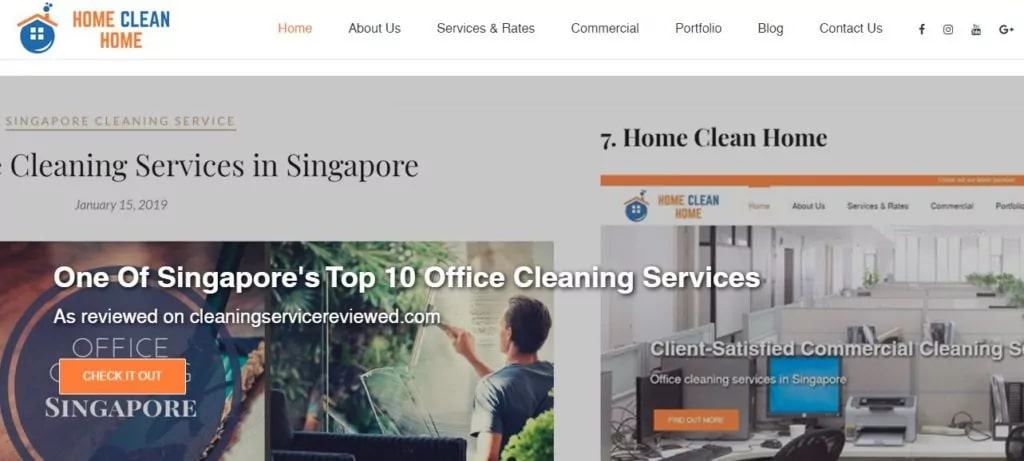 Home Clean Home is yet another all-around cleaning company for anyone around the country. From floorings to high-ceiling curtains, this company cleans all types of surfaces, including leather, fabric, mattresses, and tiles.
To deliver better than its competitors, Home Clean Home also offers exterior cleaning with its pressure jet services. However, since most of these services only happen once in a while, Home Clean Home doesn't cater much to regular cleaning requests.
And while it already has definite cleaning packages, Home Clean Home is more than willing to make a customised cleaning plan for its clients. Thus, anyone can request deep cleaning in select areas of the house.
Even if it cleans all types of surfaces, Home Clean Home makes sure to use colour-coded cleaning towels, thus avoiding any sort of cross-contamination. It also has a detailed inventory list to make sure it cleans all corners and surfaces of the house.
Most of all, it also provides reports, complete with photographs. All of these features allow Home Clean home to provide both excellent cleaning services and customer care.
Customer Reviews
Most clients have praised Home Clean Home for its systematic approach to cleaning projects. Here are some lengthy testimonials to tell you exactly how previous clients have dealt with Home Clean Home:
"This is my first time trying sofa cleaning services and to be frank, I engaged the service, with some skepticism since since stains and accumulated dirt on leather sofas can be stubborn. Yet, the on-site service team took time to demo and manage my expectations on what to expect after cleaning the sofa. I was happy with the final results. I will engage HCH again for cleaning services."—Ivy Lim
"Absolutely stunning service ! The team is really dedicated to provide the best performance, with attention, efficacity and their pricing is unbeatable compare to other local companies ! We had our furnitures in storage for 5 weeks and the deep cleaning has bring us a peace of mind to get back in a sereine new home. Thanks to HCH team !"—Heloise La Harpe
18. Wecare Carpet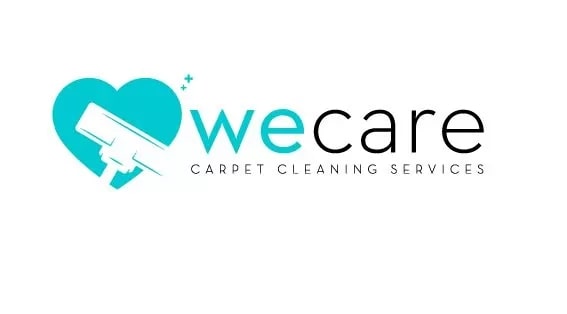 Still looking for those specialising in carpet, mattress, and sofa cleaning? If so, then Wecare Carpet should be in your top choices.
Wecare Carpet uses only professional-grade and high-quality solutions with disinfectant properties. These measures make sure the company leaves your soft cushions free from dust, infectious microorganisms, pests, stains, and odours.
Despite this strong effect, Wecare Carpet guarantees that it only uses eco-friendly products. Thus, it helps keep families and the environment safe from toxic chemicals and fumes.
As a way to check on its clients and their satisfaction level, WeCare Carpet builds strong and long-term relationships with its clients. For this reason, many customers have become loyal customers who continue to be satisfied with the company's services.
Customer Reviews
With its efficient and accommodating nature, Wecare Carpet has received positive remarks from loyal and first-time customers alike. Here are some examples of those flying reviews:
"Very efficient and professional service! Our carpet is so clean and we are glad we have engage Wecare to clean up all our carpet! We can leave our carpet with Wecare at good hand!! Thumbs Up!! Definitely recommend to all my friends!"—Susan Sim
"I engaged Wecare at the last minute but Samuel was very accommodating even though he had a tight schedule. He was polite and professional, both over text and in person, and his great attitude made it very easy for me to communicate and work with him. He did a great job with my studio/office carpet and I would definitely recommend Wecare to my friends! Thanks again Samuel!"—Nurudin Sadali
19. Fuss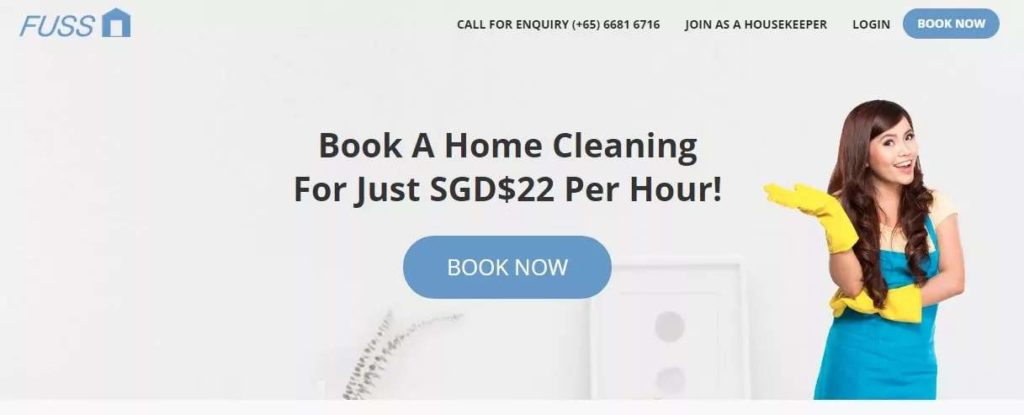 Now if you want cleaning services for your whole home, but are on a bit of a budget, FUSS might help you out. This company offers whole-house cleaning for only $22 per hour of work, which is the same rate even for weekend, evening, or holiday cleanings.
Clients who want to avail its cost-effective services need only book online where they'll input basic details and then wait for a minute for confirmation. Booking and rescheduling are also made more convenient because clients can make their own account on FUSS's website.
To make sure all its clients are satisfied and safe, FUSS conducts a rigorous screening process. During this process, the company checks on the cleaner's competency, experience, and criminal records.
However, if you aren't a fan of late technicians or unexpected rescheduled services, you may find it difficult to work with FUSS.
Customer Reviews
Most of the company's customers offer praise for FUSS's convenient processes and swift responses. Here are some reviews from those who claim to have received the best home cleaning services from FUSS:
"By far the easiest and most covenient way to hire a part time cleaner. Received confirmation in less than an hour. Cleaner was punctual, polite and professional."—Mrs. Seline Chua
"System is very convenient and easy to use. Changes to timing is always flexible and requests are always accommodated. The helper that we chose is very good and at a very reasonable rate. I'd recommend this service to anyone looking for house cleaning services."—Adrian Oh
20. SparkCleanz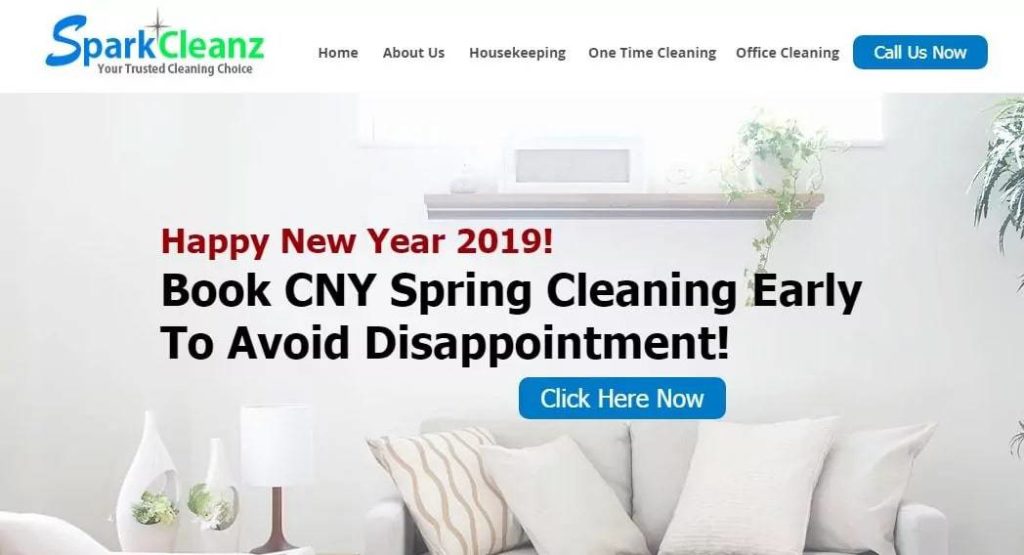 SparkCleanz is yet another cleaning company offering a range of cleaning options. With its trained, skilled, and insured cleaners as well as licenses from NEA, SparkCleanz guarantees that its services are beneficial to all parties involved.
But SparkCleanz's features don't end with its well-trained cleaners because this company also has dedicated customer services. With these qualities, it provides its clients with reliable housekeeping and one-time cleaning services.
SparkCleanz even offers a smaller range of service for those who want to clean specific parts of the house such as carpets, curtains, and air conditioners. It also leaves properties hygienic and sanitary with its disinfection services.
Since SparkCleanz has been in the cleaning business for years, it also knows just how much time it may take to clean a full house. That said, each session has a minimum limit of 3 hours.
Customer Reviews
Most of its customers, such as those quoted below, insist that it's one of the best home cleaning services in Singapore. Read these reviews to know why:
"Booked an end of tenancy cleaning with Sparkcleanz. Aaron and his team were friendly, professional, and focused in what they do. They were very thorough with the cleaning and my flat looked fresh and so sparkling clean after the job was done. Will not hesitate to recommend their services. Keep up the good work and enthusiasm."—Gho Clyne
"Engaged Sparkcleanz for pre-move in cleaning, The team is patience with all my queries prior to my engagement. They are very punctual and efficient. They had did a good job on cleaning the house! Thank you!"—Aileen Lee
21. Sparkx Services Pte Ltd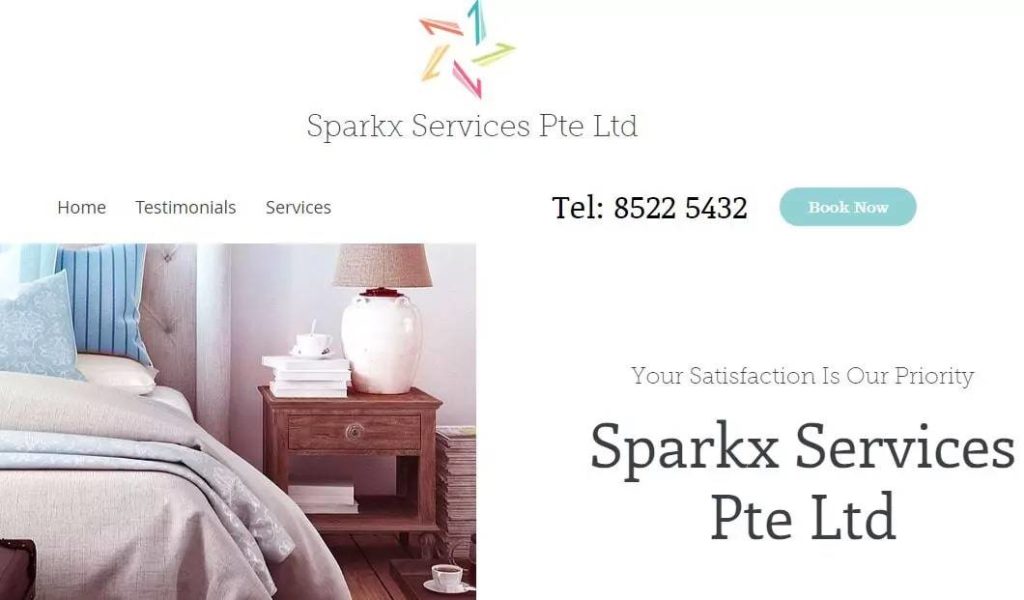 Sparx Services provides tidy, hygienic, and clean surroundings, making its cleaning services as well-rounded as possible. While it focuses on organizing and simple cleaning, it also offers special services such as steaming and disinfection services.
With hundreds of cleaners, Sparx Services can provide daily, fortnightly, weekly, bi-weekly, and monthly options for routine cleaning without feeling overwhelmed. Clients need only specify their schedule and cleaning preferences in Sparx Services' online forms.
Its online forms also ask about cleaner preferences so clients with special requests may also find this company's choosing process convenient. On top of that, Sparx Services offers among the most affordable home cleaning services in Singapore.
However, like the last entry, this company also requires a minimum of 3 hours for its services.
Customer Reviews
Read these reviews to know why customers keep coming back to Sparx Services:
"Hi Ken I just wanted to say thank you to cindy today, the apartment looks lovely and she did all of my ironing, I can finally relax this week, I will message her personally also."—Ms. Nila
22. AuntieClean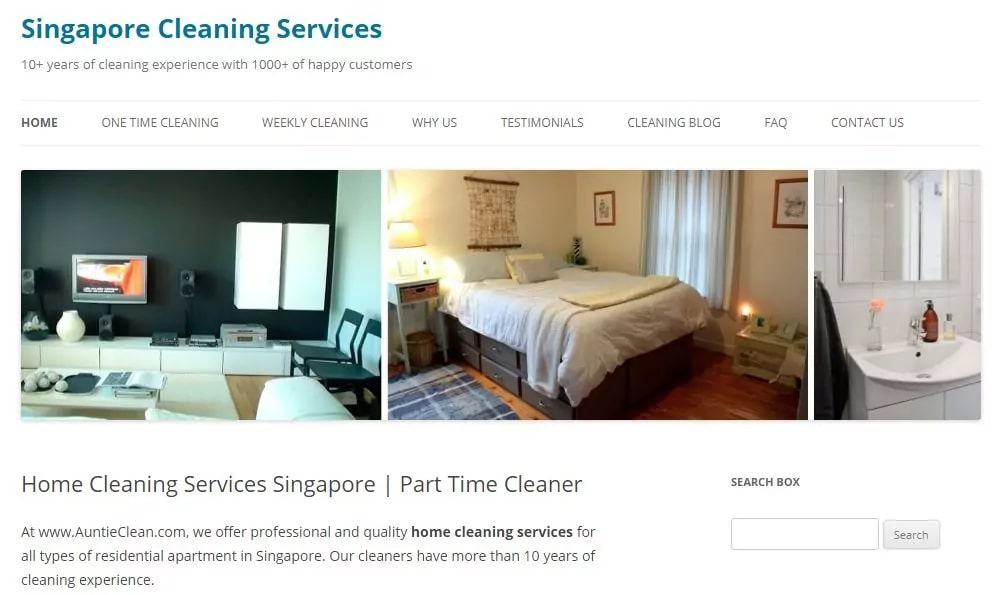 With over a decade of experience in cleaning homes, AuntieClean may just be what every Singaporean is looking for. This cleaning company offers weekly and one-time services but is also open to customisation.
All AuntieClean needs to know is its clients preferred schedule, frequency, and types of cleaning services. The great thing about this company is that allows its clients to change their cleaning requests at any time since there aren't any restricting contracts.
AuntieClean even goes up and beyond with its rubbish removal, dishwashing, and laundry services. Customers can thus rely on AuntieClean for all types of household chores, almost like they would with a maid service company.
Among these best things, however, lies an apparent weakness. Most complaints about this company involved its moving out cleaning services.
Customer Reviews
AuntieClean has gained popularity for its cleaning service and part-time maid services. Here are some comments from long-term clients:
"I been engaging www.AuntieClean.com for more than 6 months. She is punctual, easy to work with, get her job done well and very reasonable rate. What else can i ask for?" —Paul, Bukit Timah
"Called to get my apartment urgently cleaned for an important visit. The staff who answered my call was very professional and the cleaner who came to service my house was very proficient at her work. Will continue to use their service when required and introduce them to my friends!"—Alvin Yet
23. Dryclyn Express Joo Chiat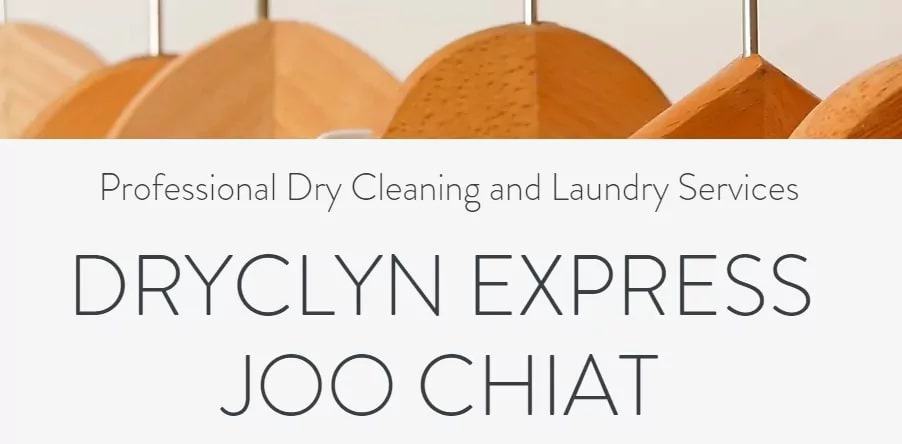 Dryclyn Express is a franchise perfect for cleaning towels, curtains, rugs, and other types of linen that make your house feel like a home. With four convenient and spacious locations on the island, it can thus cater to more clients without compromising the quality of work.
This company prides itself on almost 40 years of experience in the laundry industry. This achievement along with its latest laundry and dry cleaning equipment make Dryclyn Express a viable option for maintaining a clean home.
Dryclyn Express even goes beyond with its free pickup and delivery services. However, you should know that this service is available only to those paying more than $40 for the laundry.
Customer Reviews
With its convenient solutions to laundry services, Dryclyn Express has gained numerous positive reviews online. Here are some of those 5-star reviews:
"Super helpful and friendly service. They go above and beyond! They are very careful to explain any risks and never push a higher price and have even delivered my dry cleaning without an extra charge. Trust them with all of my dry cleaning. Great local spot in Joo Chiat."—Claire Sperling
"I have used them to dryclean our curtains and our carpet. They are very responsive and friendly. He even helped us put the carpet in our room (we had to lift the bed to partially put the carpet under the bed). Would definitely recommend!"—Lee Ching Njoo
24. ART OF CLEANING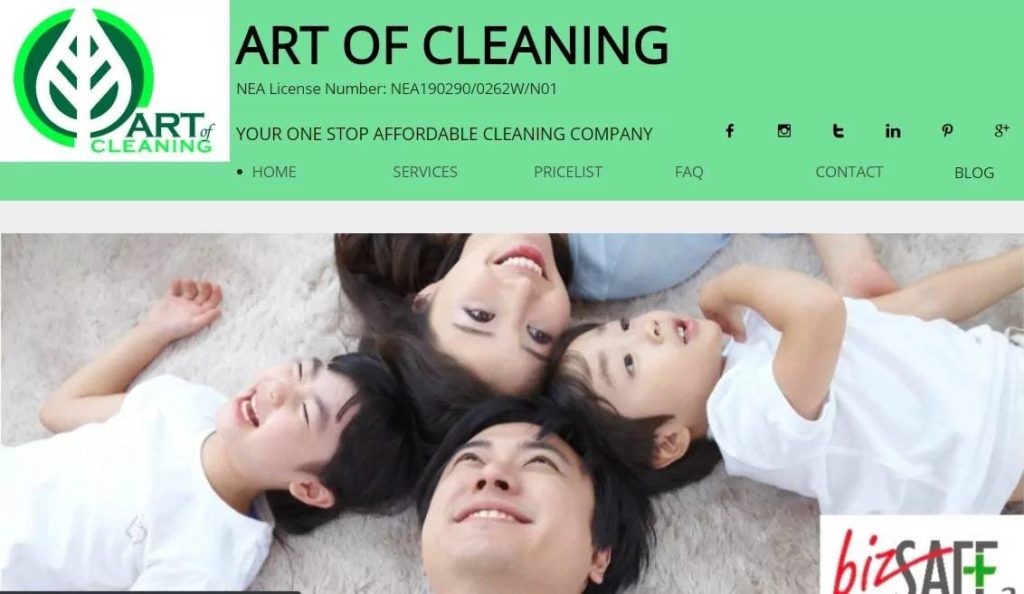 Art of Cleaning offers numerous types of cleaning services for residential and commercial buildings. It offers carpet, sofa, and mattress cleaning as well as customisable full house cleaning services.
Its home cleaning services are available on a routine, ad-hoc, or one-time basis. On some days, Art of Cleaning even accommodates same-day cleaning requests so clients may try this company out for emergencies.
Additionally, Art of Cleaning also has disinfection and sanitation services, which use non-toxic and alcohol-free products. With this feature, it commits itself to practices safe enough to use for the environment and Halal food establishments.
However, Art of Cleaning also has numerous terms and conditions implying minimal accountability to damages or missed stains.
Customer Reviews
Customers have praised this company for its punctuality and responsiveness, just as these reviews have shared:
"From a quick quote to a follow up to book the appointment, Art of cleaning's work has been great. The clean up was thorough and quick as well. I'd definitely use their services again"—Akta Chopra
"I was totally impressed with the move-out cleaning service from Art of Cleaning team. Their team are the best at their job and excellent attitude. They definitely know what they're doing, willing to listen to any instructions if any. They're punctual, professional, flexible and really considerate. They really did a thorough cleaning, I was so happy with the result. The price was also reasonable for the excellent service."—Quynh Phan
25. de Hygienique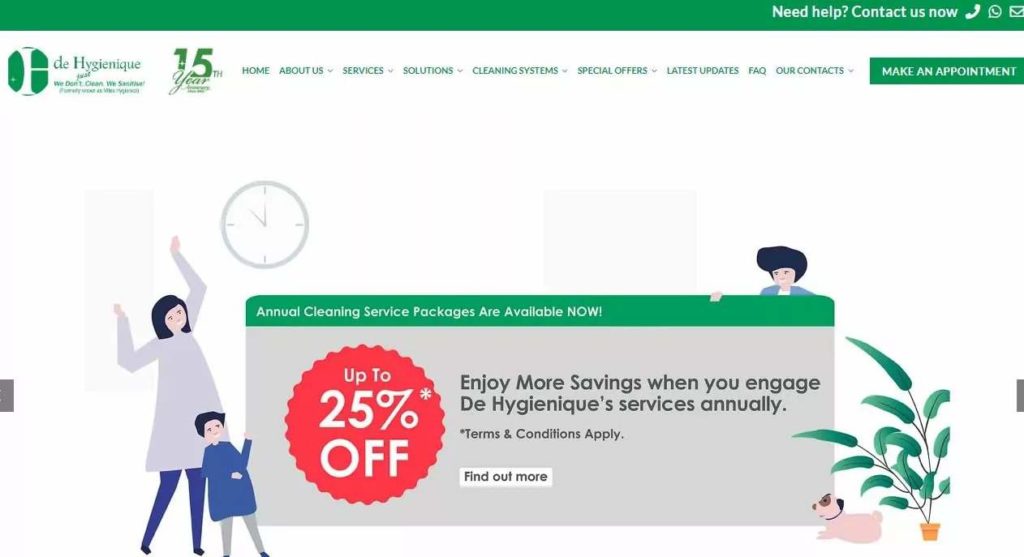 De Hygenique is yet another home and office cleaning company with an added expertise in carpet, rug, and mattress cleaning. This company also guarantees speedy deployment for those in need of immediate help.
Since it has an NEA licence, De Hygenique guarantees to use only chemical-free dry cleaning products. With its NEA-licenced procedures and updated cleaning tools, this company can also clean fabric walls, thus catering to posh homes and hotel rooms.
Despite using sustainable products, it still promises to go up and beyond with its results. While other fabric cleaners only promise to remove dust and stains, De Hygienique goes beyond and guarantees the removal of odours, moulds, and mites.
This cleaning company also offers a special flexi service package, which promises 25% off on all cleaning transactions. This package also allows customers to customise cleaning frequency and scope of services.
Customer Reviews
Since it is an expert in soft surfaces, De Hygenique has become a go-to home cleaner for many Singaporeans. Praises for this company, just like the ones below, focused on the cleaner's efficiency, professionalism, and speedy services:
"Friendly and efficient. I have cats so the use of non toxic cleaning foam is very welcome. Thank you"—Chek Wong
"Our couch was a disaster and they warned us that they might not be able to get all the stains out but they did!!!! It is SO much better. They arrived on time, called beforehand, did a fantastic job. We are very happy with both the service and the outcome."—Michelle Cronin
26. A1 FACILITY SERVICES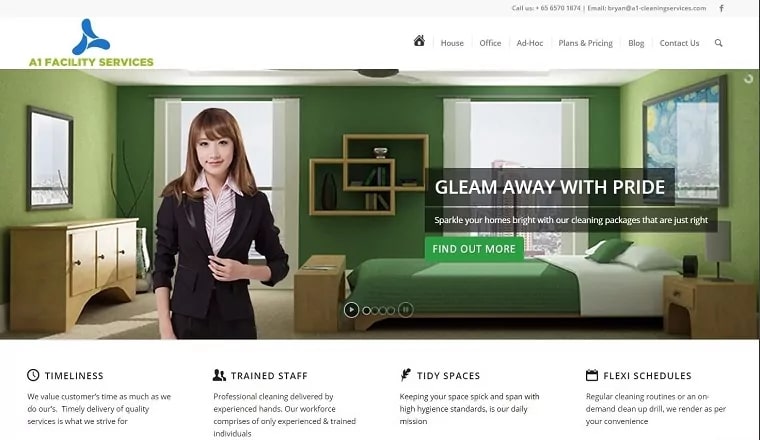 A1 Facility Services prides itself on providing not only clean but also hygienic living spaces. It reaches this goal by providing cleaning services, pest control, and air condition services, making surfaces and the atmosphere as clean as possible.
Its cleaning services are available on a one-time, ad-hoc, or weekly basis. It even offers one-time ironing and dishwashing services for people hosting big house parties.
Its team is composed of more than 100 cleaners to accommodate numerous cleaning requests without compromising the quality or timeliness of work. Besides, all these cleaners were also trained under WSQ and are equipped with NEA-approved equipment and products.
To ensure customer satisfaction, A1 Facility also conduits a 24-hour methodical inspection. The company even sends inspectors for a site visit beforehand so it can prepare accordingly for the appointment.
However, most of its services were made from commercial services. Thus A1 Facility may feel more inclined to put commercial requests at a higher priority than home cleaning.
Customer Reviews
Most of A1 Facility's reviews call the company as hardworking and friendly. Here are just some examples of such positive feedback:
"My helper understands that each client's home has different requirement and gladly adhere to it. Helper is most willing to listen and does the job well with much effort and thoughts. I'm pretty amazed that she speaks really good English and Mandarin. It shows great work commitment and diligence."—Meixian Ho
"Enquired for a spring cleaning for my house, I can say is, the office staffs were pretty responsive towards my request. They also scheduled a site visit, a manager came down to my house for a survey. I was quite impressed ! After that once confirmed, they schedule a session (Deep cleaning) to my requested date. On the actual cleaning day, the cleaning staffs came and were punctual and look very professional. The cleaning process was very meticulous and there was a supervisor leading the cleaning ! Overall, the cleaning was superb. I would really recommend my family and friends to engage A1 facilities ! Keep up the good work ! :D"—Wilson Wu
27. Pressto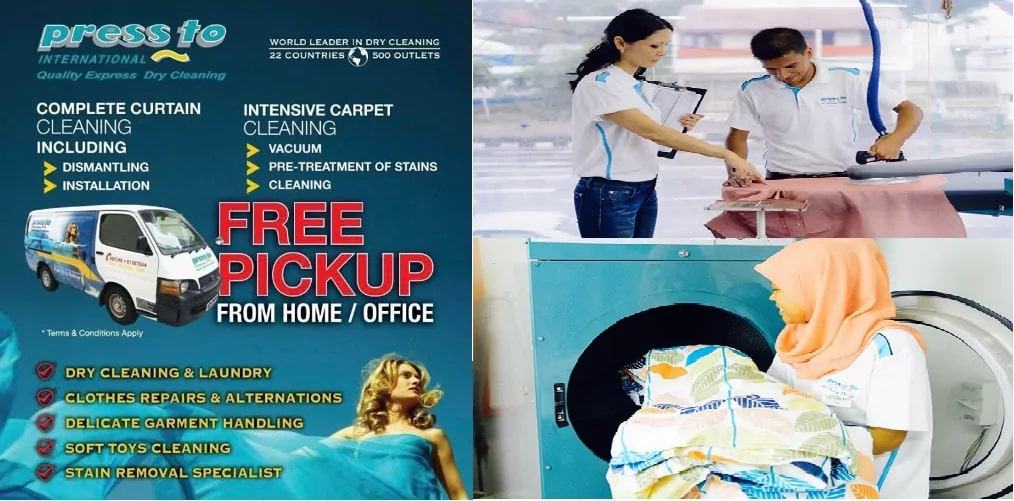 Pressto is among the world's most prominent dry cleaning brands, with locations in 22 countries. Here in Singapore, it has three accessible locations so homeowners can have curtains, rugs, tablecloths, and other household linen cleaned.
This company uses eco-friendly and hygienic cleaning products that can clean all types of dirty, greasy, mouldy, or stained linen. Pressto also impresses its customers with its express dry cleaning offers and pickup and delivery options.
But Pressto does more than just clean fabrics because it can also do alterations and repairs upon request. With such expertise, clients can approach Pressto with requests for add-ons or full re-styling.
However, Pressto is only solely focused on cleaning fabrics. So, if you want to clean your home's floorings, walls, and other surfaces, this company may not be a suitable choice.
Customer Reviews
As a globally-recognized brand, Pressto knows just what customers want and need. Here are reviews to share to you the actual quality of cleaning and customer services Pressto provides:
"Like it says at the bottom of their receipt: they genuinely CARE for not only my garments but they also CARE for me! Pressto Asia's respond rate is so prompt (even better than some 5star hotels). Expectations were managed; no overpromising but they really do everything they can to help my situation which I am so very appreciative :))) I hope they can restore my damaged dress – I'm eager to hear back from Ann @ Pressto Imbi soon. This is my first experience with Pressto Asia but I can guarantee you they have now found a #customerforlife 😀 Thank you very much, Pressto Asia and a special thanks to Young. #bestcustomerserviceaward"—Ru Tony
"The recent rainy days caused molds to grow all over my boy's stroller! As I currently stay in a shop house unit, we fold and leave our stroller in the downstairs and left it over the weekend. Imagine the shock I had when I unfolded the stroller only to find it covered in mold! The staff who attended to me was really patient and friendly. We arranged for their crew to come pick up the stroller from me last Tuesday and they cleaned and sent it back to me on Thursday! Upon receiving back the stroller, I did a check and they really left no spots uncleaned. The person who picked up and delivered my stroller was really punctual as well. It's good to know that after cleaning the stroller they apply a layer of Antimicrobial Shield kills Bacteria and viruses, and it also lasts for 6 months!"—Ronald Wong
28. @bsolute Cleaning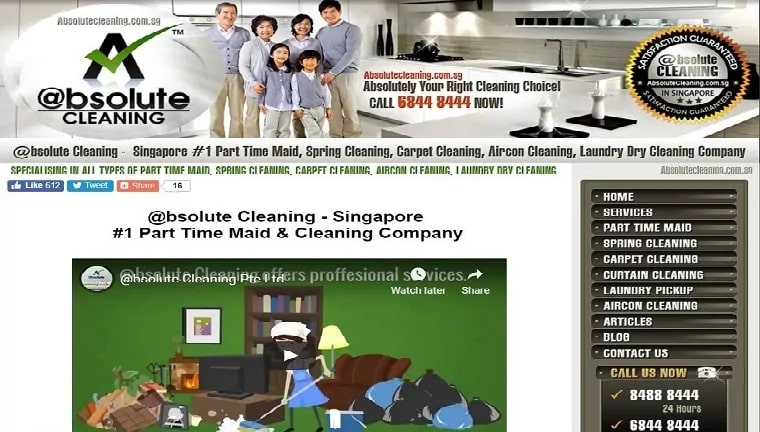 @bsolute Cleaning brands itself as among the leading part-time maid services. Thus, clients can expect a well-rounded approach to cleaning when dealing with @bsolute Cleaning.
As a part-time maid service, @bsolute cleaning offers numerous options for its week-by-week services. Clients can thus choose among thrice, twice, or once a week cleaning services.
As a standard, its well-rounded approach includes rubbish removal, surface dusting and disinfection, mopping, sweeping, vacuuming, and even ironing of clothes. But @bsolute Cleaning's staff can do more than these as it also lets customers customise their cleaning plans.
Since it offers part-time maid services, they don't usually bring cleaning equipment, save for some tools like cleaning cloths. This company also follows a first come first serve basis, so make sure you schedule an appointment early if you plan to hire @bsolute Cleaning.
Customer Reviews
One of the standout qualities of @bsolute Cleaning is its dedication to leaving homes in the cleanest state possible. Read these reviews to know more about why @bsolute Cleaning deserves a spot on this list:
"Very happy and satisfied with the good working attitude of the cleaners named Ei Ei and Pa from Absolute Cleaning. They understand my cleaning requirements and abide to my instructions. My house is always very clean after each session. I would highly recommend them if anyone needs house cleaning. :)"—Sherrone Carmel Tan
"Bought a 2-cleaners-for-4hrs package for spring cleaning. My home was a mess after being locked up for 5months. The cleaning personnel did an amazing job and did overtime (no extra charge) to make sure the house was back to brand new. I highly recommend their services. Very professional & skilled in their work."—Moneesh Prathap
29. ALPHA KLEEN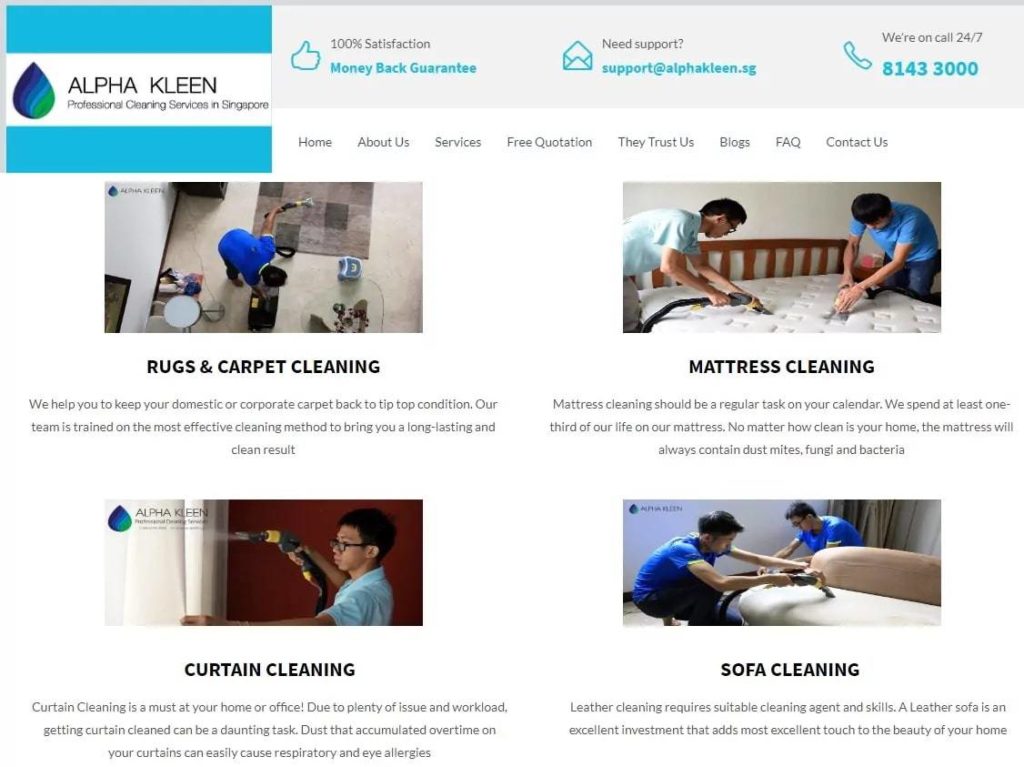 Alphakleen may just be like any other carpet and upholstery cleaning services in Singapore. But with its swift response and fast cleaning process, it offers better solutions to its clients.
Its technicians operate quickly thanks to their years of expertise and their state-of-the equipment. That said, you can also expect for Alphakleen to bring the necessary cleaning tools during your session.
This cleaning company even offers additional tips to maintain curtains, sofas, and mattresses clean even after months of the appointment. And they do this for their clients free of charge.
While its cleaners may not have a sensitive eye for detail, Alphakleen still owns up to possible shortcomings by offering a complimentary session to those who demand follow-up services.
Customer Reviews
Aplhakleen is praised for providing excellent services at the best value for money, just as these reviewers have experienced:
"Absolute live saver with the fantastic job done. They were supposed to knock off and they had really done me a great favor by just showing up. The bed was in terrible condition due to rain, dust and stains, which are very difficult or impossible to clean. However, after the cleaning, majority of the stains are gone. I highly recommend their services to all."—Jeffrey
"I chose AlphaKleen to deep clean my secondhand sofa as they are highly reviewed on Google Maps. Their sales rep told me that the cleaning process will take 40-60mins; but they finished cleaning my sofa in approximately 20mins. After I highlighted to them that there were still some pet hair on the sofa, they told me that it's not possible to completely remove the pet hair. They then proceeded to manually pick them out."—Tryphena
30. Procare Cleaning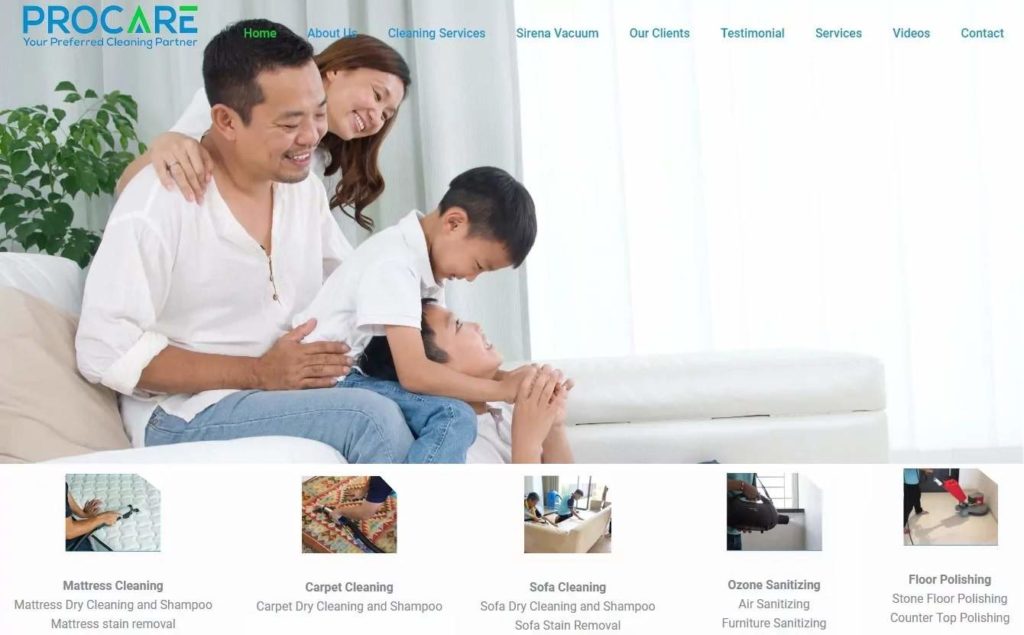 Procare Cleaning lives up to its brand of "Your Preferred Cleaning Partner" by providing all types of home cleaning services with unique technologies. First, it uses water-based vacuum technology for deep cleaning of upholstery and carpets.
Next, it uses chemical-free ozone water to sanitise surfaces you touch and the air you breathe in. It also uses steaming practices to rid toilets, floors, and other surfaces of dust and germs.
With new equipment and training, Procare Cleaning can now provide marble polishing, steam floor cleaning, and one-time cleaning services.
But the thing that separates Procare Cleaning from its competitors is that it is highly responsive, especially when resolving complaints or issues.
Customer Reviews
Procare Cleaning is a reliable company with friendly, punctual, and effective services, at least that's what customers like these have said:
"Fast in response on the consultation and detail and the person who cleaned our bed did his job very well for sure. Our bed actually still in good and well taken care condition but in order to maintain the cleanliness I decided to make appointment with them to clean the dustmite and eliminate the odor (1 sided only) and I've chosen the right service. Our 4 years latex bed mattress now in clean condition and the odor smell that comes from the sweat are totally gone."—Bibiy
"We called for a rug carpet cleaning end of January and they did a fantastic job, They were able to clean and remove the coffee stains, The service people were on time, friendly and did a thorough cleaning. Highly recommended!"—Gen Lumadilla
31. LUKIS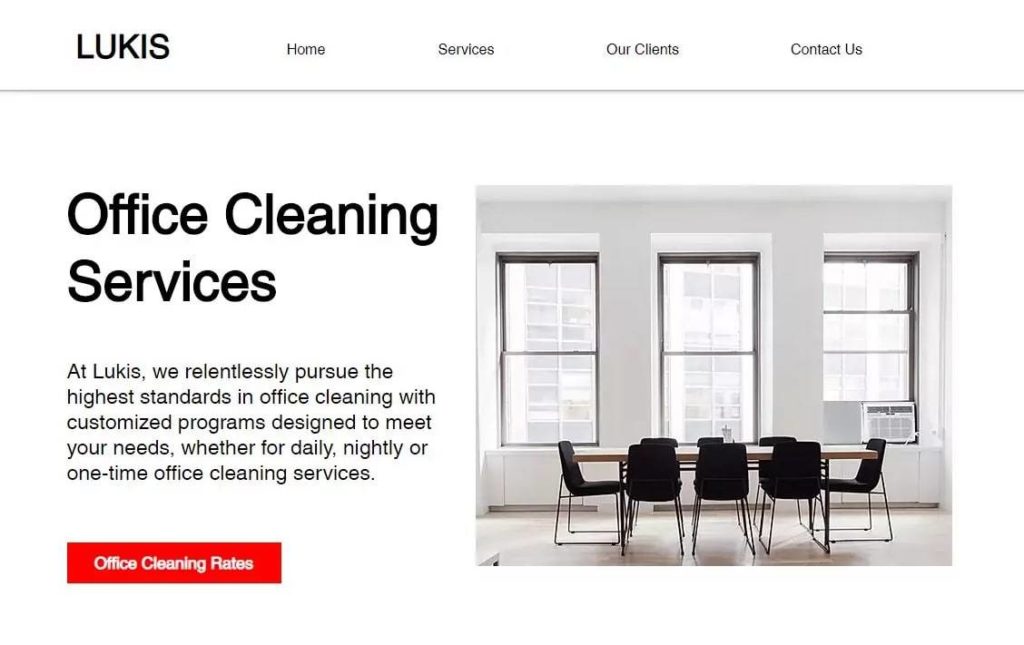 LUKIS is a full-service cleaning company that'll bring all the necessary equipment with them. While it's another cleaning service for offices, it still deserves a spot in the best home cleaning services list for three reasons.
One, its services, such as upholstery, aircon, and carpet cleaning, are also applicable for residential settings. LUKIS even offers pest control services that are effective for numerous types of house pests.
Two, LUKIS offers bespoke cleaning services so clients can easily request customised cleaning packages. With a focus on trust and transparency, LUKIS also provides dedicated account managers to cater to everything its clients need.
And lastly, this cleaning company has almost 200 learners ready for dispatch. So, while there is a threat of being of a lower priority compared to commercial clients, LUKIS might just accommodate your requests.
Customer Reviews
With over 40 years of experience in the industry, LUKIS has also gained a loyal following. Here are some reviews from its clients:
"I just wanted to take a moment to say thank you for the excellent service you provided us every week. It's wonderful to come in every Monday morning to a clean office that you've taken such good care of. I am especially impressed by their prompt responses to all our concern and knowing that anytime we need a little extra help, you're always willing to take care of it without any hesitation."
"I've known the team behind Lukis for a while now, and can assure you that they're reliable and trustworthy. Gary and his team are dedicated and very responsive, and puts customers first. Equipment used are high quality, and staff used are well trained. Highly recommend them and their office cleaning services no matter how big or small your office is!"
32. Eunike Living
On the other hand, Eunike Living focuses entirely on home cleaning services for Singaporeans. It's extremely popular for its ad-hoc cleaning services, such as post-construction, move out, and spring cleanings.
However, it also offers regular part-time cleaning services, which clients can customise to fit their own needs. This cleaning company is also among the few cleaners that offer top-to-bottom cleaning packages.
Eunike Living guarantees that it supervises and continuously trains its cleaners to meet the highest standards in cleaning. Thus, clients can expect Eunike Living's cleaners to work according to the latest trends in the cleaning industry.
This company also commits to using eco-friendly products only. However, you should be prepared to supply the necessary equipment such as vacuums, floor cleaners, toilet cleaners, and buckets.
Customer Reviews
Read these reviews to know exactly what clients appreciate about Eunike Living:
"Prompt and efficient service. Engaged them for spring cleaning for my HDB EA Flat. They did a thorough and wonderful job. Price was reasonable and payment made only after cleaning done. Highly Recommended!"—Matthew Kumar
"Best place for residential cleaning services Singapore. Booked my Sofa/Carpet cleaning by calling on the company contact number. Booking was so easy and their team came right at time. Did a fantastic job and now my Sofa/Carpet both look like new. Thank you."—Rakesh Pihal
33. Complete Services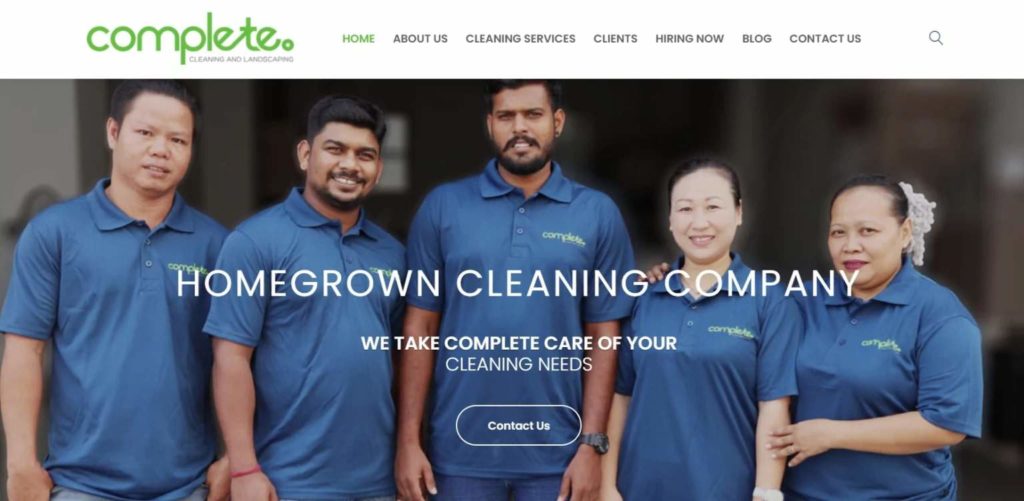 Complete Services can cater to just about any type of residential buildings, from landed estates and bungalows to apartment complexes and condominiums. It offers cleaning services and disinfecting services using only NEA-approved products and processes.
And just as its name suggests, Complete Services can clean not just the interiors, but also the exteriors of the house for overall cleanliness. Its external facades can cater to high-rise condos and low-rise landed properties.
Additionally, it also offers gardening and landscaping services to keep the curbside appeal as neat as the insides of your home. All of its 120 cleaners are insured, and also trained and qualified according to Singapore's WSQ for good measure.
To ensure the safety of all parties concerned during the cleaning process, Complete Services has also secured the necessary permits for operating scaffolding systems and rope systems. All of its cleaners also wear the proper PPE when doing disinfection services.
Apart from its numerous services, Complete Services also delivers transparency in pricing and responsiveness in communication.
Customer Reviews
More than its effective services, Complete Services is also praised for its warm approach. Read these customer reviews for a deeper insight into Complete Services:
"Great friendly and professional service. We used Complete Services for office spring cleaning, which was done to a very high standard. Would certainly recommended them and will be using them again in the future."—
"-Your team were polite
– Cleaning was thorough
– your team check for any stain/spot before cleaning, and show us the after result
– after cleaning your team also advise on the condition (how disty) our carpet were, etc,
– your team also advise us on how to speed up the drying.
Overall i'm satisfied! Thank you."—Nelfy Nag
34. Home Cleaning Services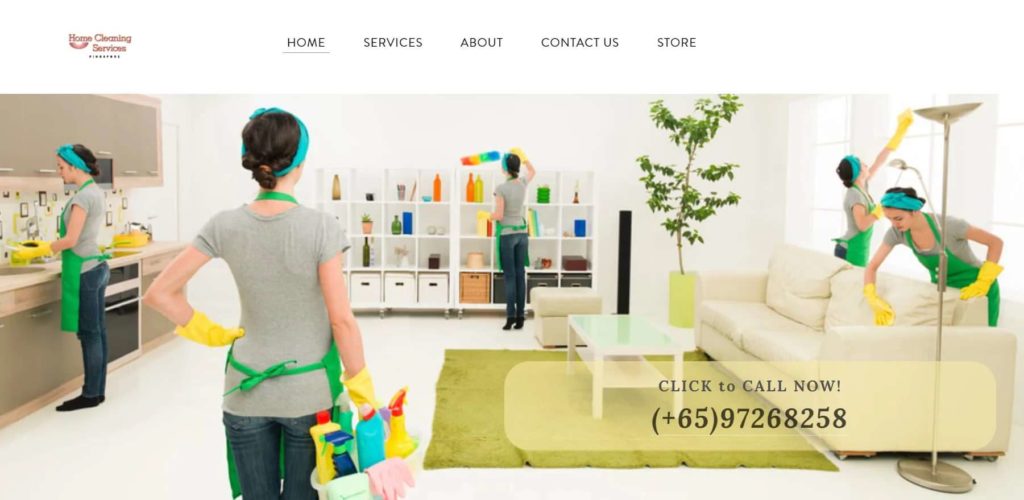 As straightforward as its name is, Home Cleaning Services offers high-quality cleaning services for all types of homes on the island. No frills, just effective cleaning services at non-premium prices.
Its services are usually for one-time or ad-hoc occasions, with end-of-tenancy, post-renovation, spring, and deep cleaning services. Nonetheless, Home Cleaning Services is still available for regular cleaning with personalised instructions.
Home Cleaning Services even caters to religious settings such as churches, mosques, and temples. That said, this cleaning company may also be a viable choice for homeowners who want to incorporate religious cleaning within their homes.
35. Urban Company

Urban Company is an online platform where you can find cleaners by simply specifying what kind of service you need—whether deep cleaning or regular cleaning. Its regular cleaning packages are perfect for routine cleaning, but with a minimum of 3 hours.
With Urban Company's vast directory of providers and convenient booking system, clients can book cleaning, repairs, and pampering services in one go. This multinational company also has a mobile app to make things easier for customers.
Its database of service technicians also includes those who can keep air sanitised and clean with aircon services. Additionally, Urban Company has connections with laundry experts and dry cleaners offering free pickup and delivery.
However, you should know that we've also read complaints about the glitchy mobile app, with unforeseen rescheduling as a result. With how big the company is, Urban Company also has a hard time ensuring consistency when it comes to the quality of work of their cleaners.
Customer Reviews
Urban Company may have a diverse set of services available, but its real strength lies in its convenient booking system. Here are some customer reviews if you want to learn more about the company:
"We engaged Urban Company for moving in cleaning services and they did a fantastic job! The unit is around 830 sqft and was very dirty because the previous tenant never cleaned it…the kitchen and the floor were oily. Gill and his team are super professional. 3 team members and one supervisor came, and they spent almost 7 hours cleaning the whole unit…we felt so sorry and so appreciated… Now the unit is clean and we really enjoy their services. Highly recommend urban company for anyone who's looking for move in/out cleaning services."—Bridget Wu
"I made a booking in less than a minute, really convenient and user-friendly app, plus same day service is amazing!!"—Emma Tou
36. HireMop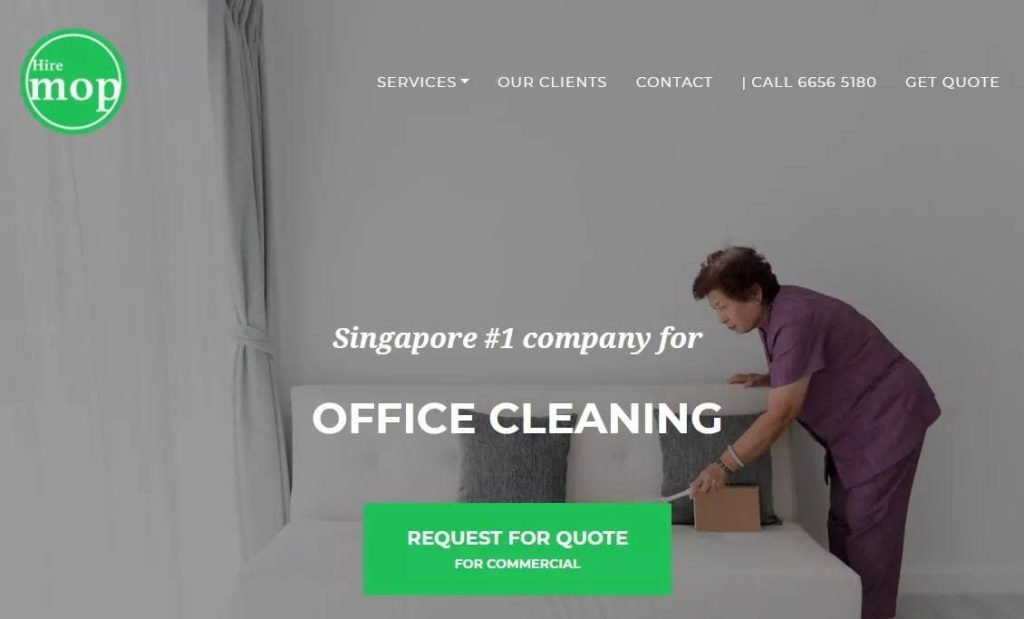 HireMop is yet another trusted cleaning company that's applicable for both routine and ad-hoc cleaning services. Not only does it guarantee to leave your place dustless, but also clutter-free and tidy.
Sanitation services, spring and after-party cleaning, and facility management are just some of the ways HireMop fulfils its service guarantees. It also offers deep cleaning for fabric items like sofas, mattresses, and carpets.
Additionally, HireMop has a high-pressure water jet cleaning system to make a home's exteriors and curbs as clean as its interiors.
To level up customer satisfaction, HireMop uses only eco-friendly products and strictly abides by health and safety standards. But the real deal with this cleaning company is that it offers up to $500,000 insurance protection.
While all of its services are applicable for residential settings, you should also be made aware that HireMop caters mostly to commercial clients. Thus, be prepared to compete with commercial establishments should you choose this company.
Customer Reviews
Read this review to get an insight of what you may receive, should you choose HireMop for your cleaning needs:
"I would also like to use this opportunity to highlight that the cleaner (Madam Toh) whom you assigned to us is indeed a very dedicated & humble individual. She takes initiative & is well liked by us. Moreover, I can trust her to carry out her duties without much supervision. We are satisfied with her cleaning service."
37. Abba Maintenance Services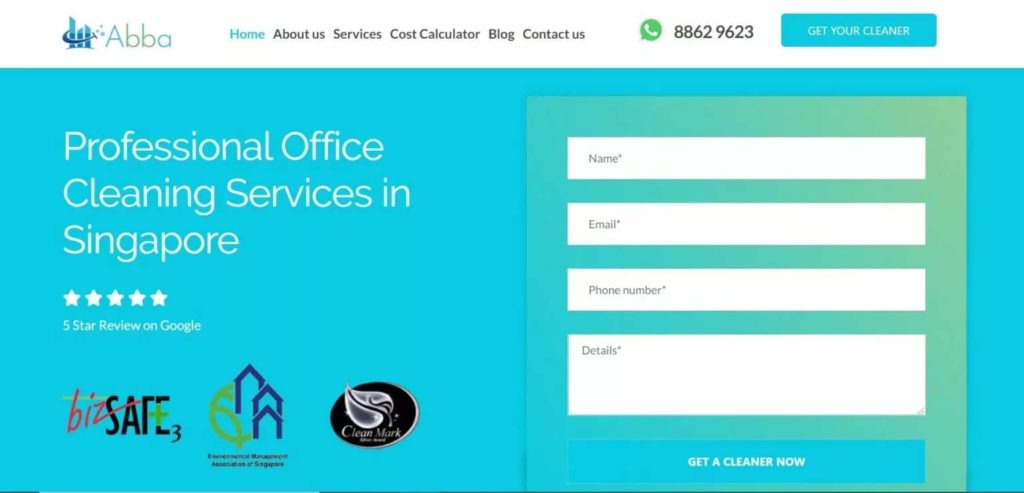 Abba Maintenance Services is yet another office cleaning service company that can also cater to homes and other residential spaces. It offers regular and deep cleaning as well as disinfection services.
This company offers its cleaning services on a routine basis and allows its clients the freedom to choose the duration and frequency. Abba's cleaning can be as short as one-hour sessions and as frequent as seven times a week.
Its workers have undergone Singapore's WSQ to ensure their quality of work is at par with high standards and expectations. Each Abba worker is also covered by insurance to protect all parties from dire consequence should there be any accidents during cleaning.
But the best thing about this company is that it has lots of cleaners waiting, so clients can easily request same-day services.
Despite all of these benefits, Abba Maintenance Services also has its faults, particularly on changing rates with little to no notice to customers.
Customer Reviews
Whether for routine disinfection or one-time cleaning services, Abba seems to find a way to impress its clients. Here are some reviews to share with you some first-hand experiences:
"We have been engaging Abba maintenance for disinfection services for the past 5 months. Reasonably priced for high quality cleaning, my place is as squeaky clean as the day I moved in! Highly recommended."—Yixiang Low
"We have a last minute request for a one-time cleaning services. Glad that ABBA Maintenance came. The team did a pretty good job. Though they took quite a long time ( 6 hours ) but the job was well done. Worth the wait!"—John Gao
38. Singapore House Cleaning

Next on our list is a cleaning company that caters to both residential and commercial properties, which include condos, HDBs, stores, and warehouses. Said cleaning company goes by Singapore House Cleaning, and they offer a wide range of cleaning services that can help bring back the shine in your property.
Not only that, but their team of cleaners are all verified and trusted, as well as adaptable. Regardless of the cleaning service required, these cleaners can rise up to the occasion and provide what the client has requested of them.
Another thing worth noting about Singapore House Cleaning is that their weekly cleaning services are non-committal. Clients are given the opportunity to discontinue their services at any given time.
Finally, their range of services are all reasonable priced, and often more affordable than other offers in the market. Do contact them for more information regarding their cleaning services.
39. HygieneProf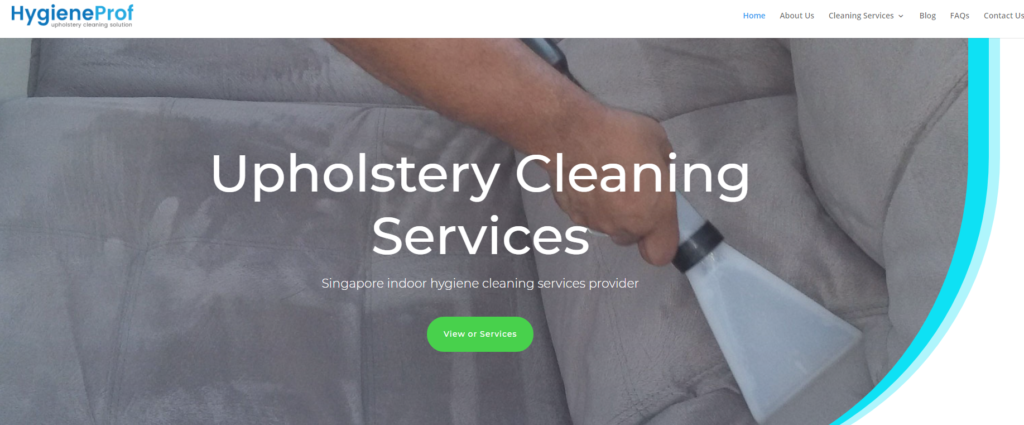 HygieneProf International is a cleaning company that specialises in indoor cleaning services. Some of these services include mattress cleaning, carpet cleaning, and sofa cleaning for both fabric and leather materials.
One of the most noteworthy things about working with HygieneProf is the cleaning company's commitment to using the most advanced cleaning techniques alongside non-toxic cleaning materials. As a result, every job they take on has been meticulously done, leaving clients happy with their services.
it's also worth mentioning that all of their cleaners are trained and vouched for, so clients can rest easy when letting them onto the properties for the cleaning.
40. Lifeline Cleaning

Lifeline Cleaning is a renowned cleaning service company that specialises in commercial cleaning. While they're highly regarded for their office cleaning services, their other offerings aren't lacking either.
One of the reasons they stand out is their team of cleaners, which comprises individuals whose skills and trustworthiness are vouched for by the company itself. Alongside this expert team is the equipment and cleaning products used, all of which are environment-friendly.
Clients who avail of Lifeline Cleaning's services will also find that Lifeline Cleaning cleaners tend to be punctual, highly professional, and thorough in every job that they take on.
41. DomesticOne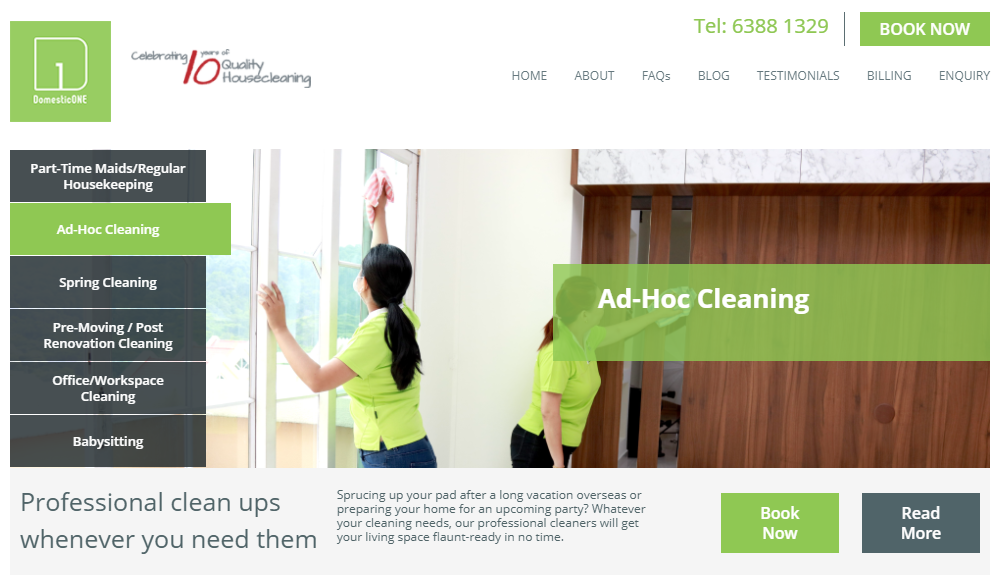 Are you looking for regular cleaning services? If so, then DomesticOne may interest you.
Established in 2006, DomesticOne is a MOM and NEA licensed company with over thirteen years of cleaning experience. The company offers regular housecleaning services alongside one-time cleaning services.
Not only that, but they also have to offer other cleaning options such as Ad-hoc cleaning, spring cleaning, and office and workspace cleaning. For those who are in need of maid services, DomesticOne also has that covered as well.
To finish things off, it's worth noting that DomesticOne cleaners are trained to cultivate a clean and soothing home for customers. They uphold peak cleaning standards, documenting all transactions between helper and client on top of securing insurance for the services.
42. Cleaning Hero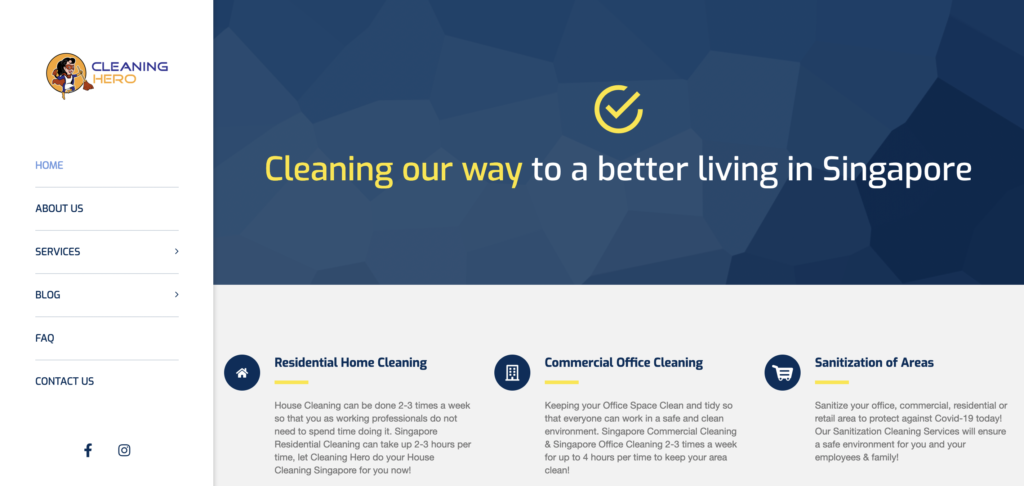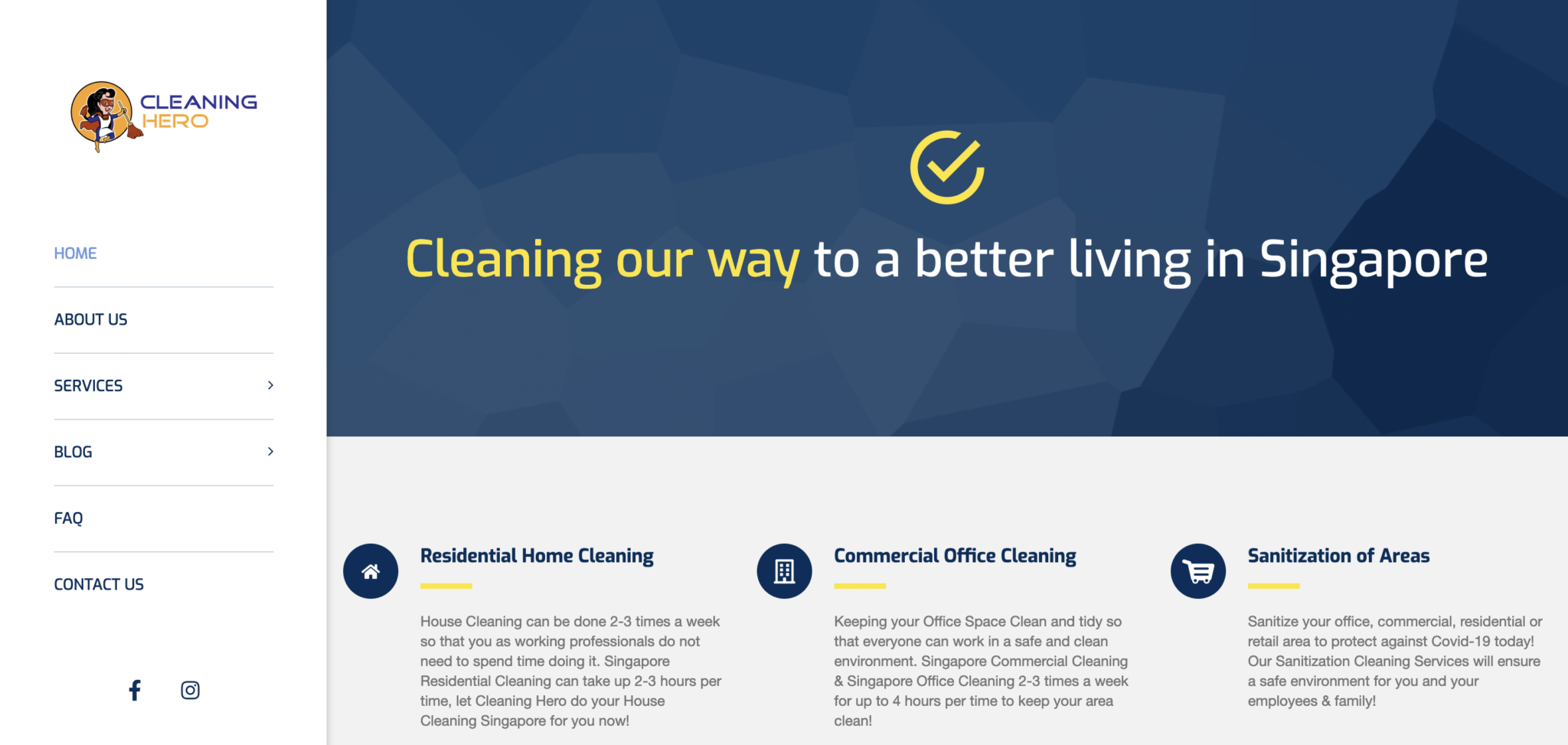 Cleaning Hero functions like your next cleaning agency. They clean houses, apartments, offices, retail areas, and just about any kind of establishment you can think of.
Like most of our entries above, you can expect the usual services such as residential cleaning, spring cleaning, and post-renovation cleaning, among others. Unique to them is their sanitation services, which is ideal to protect your premises from viruses like COVID-19.
We included them on our list because of the flexibility that they offer to clients. You have the the option to book them via a fixed regular contract or simply for one-time cleaning jobs, whichever suits your needs best.
Hence, you won't find any of their rates online since you'll have to contact them to get an accurate quote of the services you require. Just take note that ad-hoc jobs like end-of-tenancy cleaning is generally more expensive than regular cleaning arrangements.
43. Superb Cleaning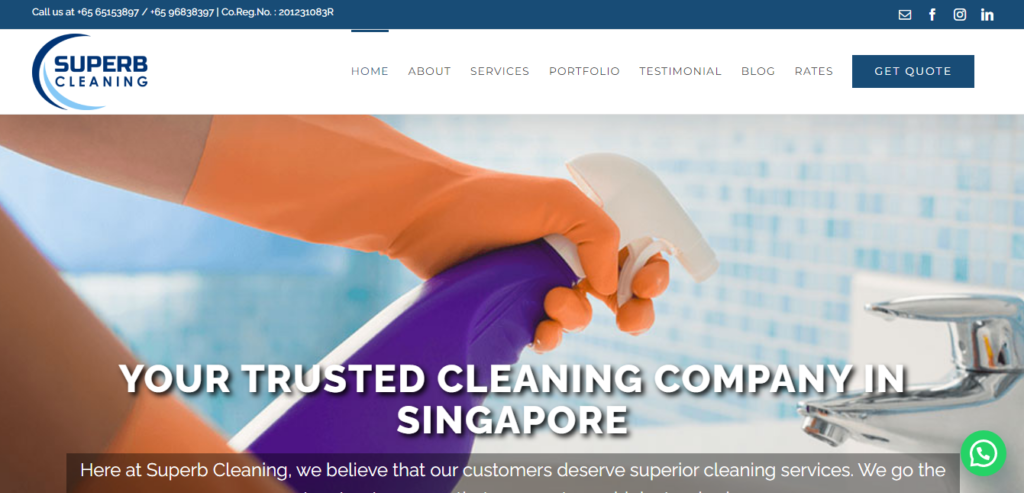 Superb Cleaning is a company that provides professional and personalized cleaning services for both residential and commercial buildings all over Singapore. They are proud to offer cleaning solutions that are effective in whatever setting they are asked to handle and are clean whatever is requested of them such as floors, carpets, and windows among many others.
The company makes it to a point to make use of only high-quality equipment and products that will best suit the needs of the customer's building and to accommodate their specific requests and environment as well.
They also feature and offer the latest methodologies when it comes to cleaning effectively and removing any unwanted insects in different types of furniture such as mites. Among these various procedures, they offer L-lamella which does that and offers other various excellent benefits.
Each expert a client will be dealing with is certified and highly experienced in the field of cleaning since they have over 10 years in the industry. Furthermore, they have affiliated partners that are an excellent network to provide a more comprehensive cleaning experience.
Though there seems to be limited information regarding residential professional cleaning, clients commend them all the same for their accommodating customer service and effective cleaning that has greatly satisfied their needs.
Customer Reviews
Here are some reviews from their clients:
"Cleaning service by Jason and team was good! I will need a quote for half yearly cleaning external windows for the entire office and carpet shampoo."
"Everything was amazing- start to finish! The consultation/quote was quick. The cleaning experience was friendly, efficient, and discreet, as I had movers in our condo at the same time. I had the curtains steamed cleaned in four bedrooms and living area, which were priced very reasonable. The best part is the company uses zero chemicals in the process. Highly recommend!!"
44. Sendhelper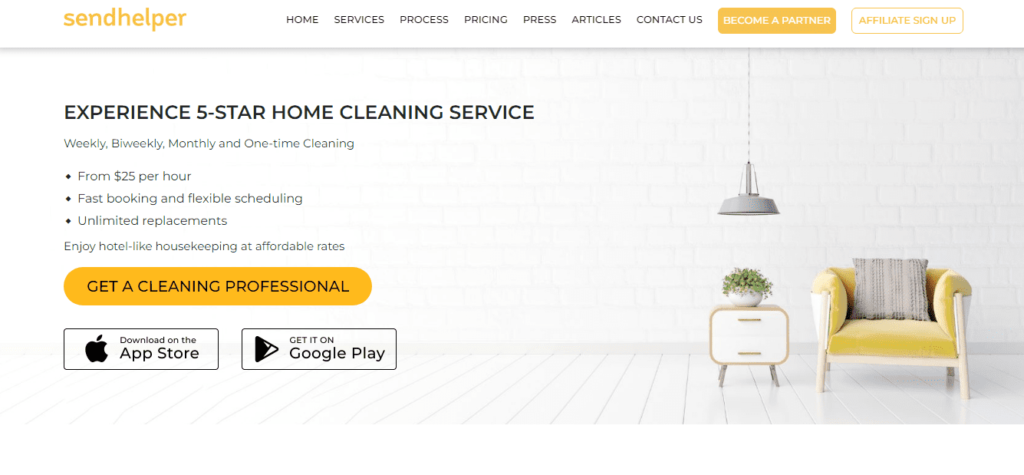 Sendhelper is a company that offers customizable cleaning services for as low as $22 per hour for recurring orders. Duly recognized for their quality services by numerous press releases with companies such as Vulcan Post, Techniasia, and Singapore Business among many others, they continue to deliver their signature cleaning consistently.
We find their services very beneficial for both first-time clients and recurring clients since they can easily avail their services through their very own mobile app for more convenience and monitoring features.
We think their interface and options are adequate in accommodating different function rooms that clients may need their cleaning services for along with other additional services such as pest control and house help services.
Clients can feel at ease with their pricing since they are transparent and are free of all hidden costs along with a very secure payment portal that can accommodate a wide range of payment methods as well.
Overall, due to their fully-insured and vetted cleaners and the cleaning equipment that comes with it, we find their services commendable which we can recommend to clients who wish for a thorough and spotless cleaning visit.
Customer Reviews
Here are some reviews from their clients:
"By far the best home cleaning I've ever had! The cleaner was on-time, professional and left my place spotless!"
"I have been using Sendhelper for aircon maintenance since I moved to Singapore, about two years already. I love the fact I can easily book and coordinate with the guys. All payments are handled in the app and there is no need to exchange cash, waste time booking over the phone. All in all, the service was great, timely and all my receipts are in one place."
Frequently Asked Questions about Home Cleaning Services
---
And that's a wrap for our list of the best cleaning services in Singapore! We assure you that any of these cleaning companies will leave your home as clean as ever.
Do you think we missed any cleaning companies? If so, please let us know so we can also review them and hopefully, add them to this list.
Now if you want someone to do more than just cleaning, you may want to check out our list of the best maid agencies in Singapore! These featured providers are highly rated by the Ministry of Manpower (MOM) and are thus trustworthy enough to handle all aspects of your household.