The 10 Options for the Best Office Cleaning in Singapore
There's no doubt that having a clean and clutter-free office is the key to having productive employees… so if you're looking for trusted commercial cleaners to hire, worry no more because we're here to help you out.
For today's article, we've rounded up the top cleaning companies that offer the best office cleaning in Singapore based on the range of services, pricing, equipment used, and customer reviews.
Before that though, we're going to reveal the average cost of hiring office cleaners to tidy up your workspace. We've included a few questions about office cleaning companies as well, which can be found towards the end of our list.
The Cost of Office Cleaning in Singapore
The first thing you need to establish before hiring office cleaners in Singapore is the approximate number of hours needed to clean your entire office, as most cleaning companies charge on an hourly basis.
Based on our research though, the average hourly rate of cleaning companies in Singapore for commercial work ranges from $15 to $32 daily for an entire week.
If you opt for weekly cleaning schedules, the hourly rate changes to $25 to $45, but it all depends on the scope of work and total number of hours.
In total, the average cost of regular office cleaning will be about $300 to $480 per four weeks, depending on the size of the office and the scope of the work.
As with any type of service, the more work one may require, the higher the costs of cleaning services. It's also generally cheaper to hire office cleaners on a weekly or monthly basis compared to one-time cleanups.
The great thing about cleaning companies is that it's possible to negotiate to get a better rate for the work. It's also easier to negotiate if you have a bigger corporate space or the scope of the work is extensive.
Some small businesses don't like hiring cleaning companies because of the assumption that they will be overcharged, leading them to hire freelance cleaners instead.
But the average rate of freelance office cleaners in Singapore is $90 to $100 per session, which still equates to more than $400 per month.
Here's a better look into the hourly rates of office cleaners in Singapore:
| | |
| --- | --- |
| NUMBER OF HOURS (PER WEEK) | AVERAGE HOURLY RATE |
| 1 to 14 hours | $29 |
| 15 to 17 hours | $24 |
| 18 to 19 hours | $23 |
| 20 to 27 hours | $20 |
| 28 to 34 hours | $18 |
| 35 to 39 hours | $17 |
| More than 40 hours | $14 |
The Options for the Best Office Cleaning in Singapore
Now that you have an idea of how much to shell out for office cleaning services in Singapore, it's time to go over which cleaning companies are worth hiring!
1. APlus Clean Solutions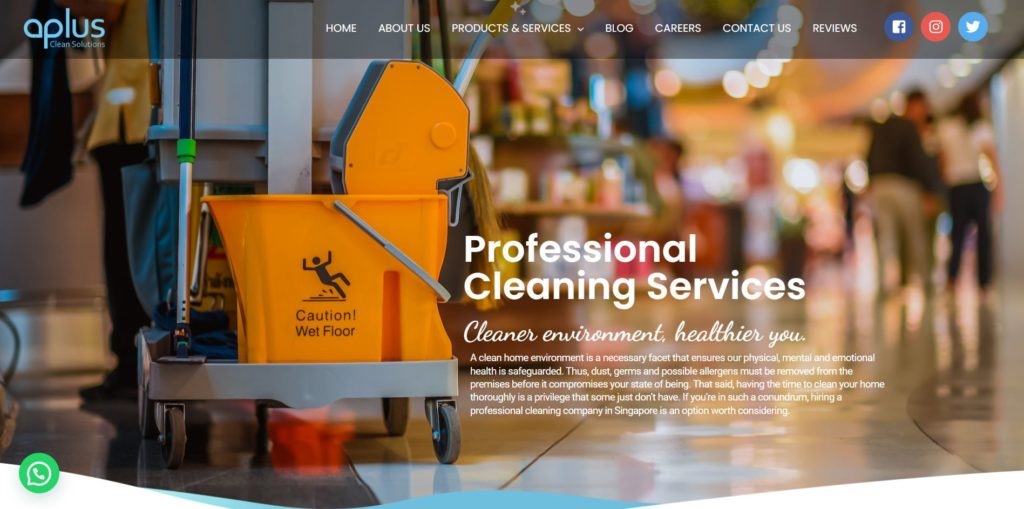 SCOPE OF SERVICES
General cleaning, carpet cleaning, commercial cleaning
WEBSITE
https://apluscleansolutions.com
ADDRESS
5008 Ang Mo Kio Ave 5 #04-09 Techplace II Singapore 569874
CONTACT DETAILS
Tel: +65 8233 6300
Email: [email protected]
OPERATING HOURS
Open 24 hours
Ever since opening its doors in 2014, APlus Cleaning Solutions has been providing top-notch office cleaning services to its clients.
The first thing that we loved about them is their commitment to Mother Earth, as they only use eco-friendly products. So if you want to support a business that cares about their environmental impact, then APlus Clean Solutions is the one for you.
Their cleaning personnel have also undergone rigorous special training and have accredited certification. Their team also designs suitable packages for your office cleaning needs that fit within your company's budget.
APlus Cleaning Solutions also assigns a supervisor to oversee cleaning operations, to give you the assurance of a smooth cleaning process and excellent results. Their service also includes deep extraction washing and COVID19 disinfection.
The company also offers their services to retail stores, medical clinics, grocery outlets, and gyms.
Cleaning personnel are accredited
Uses eco-friendly products
Experienced supervisor oversees cleaning operation
Open 24 hours
2. Peniel Cleaning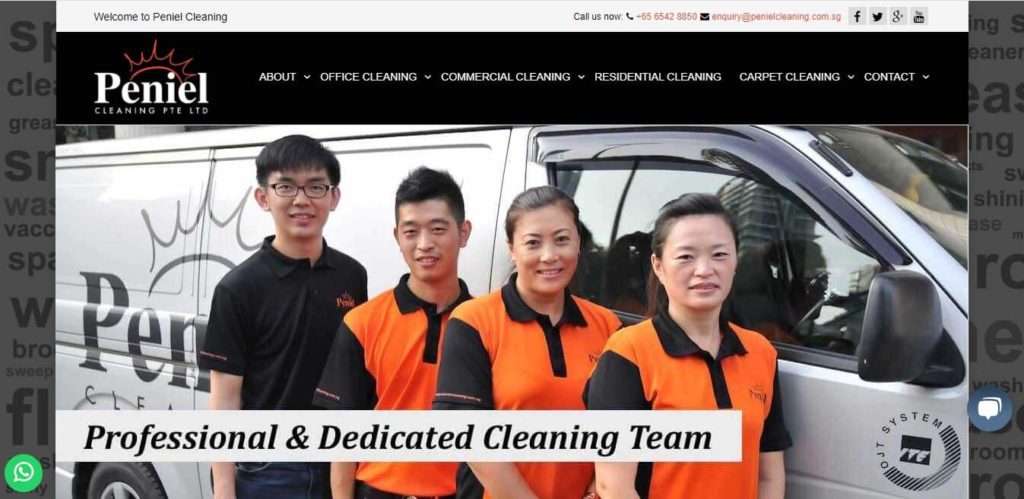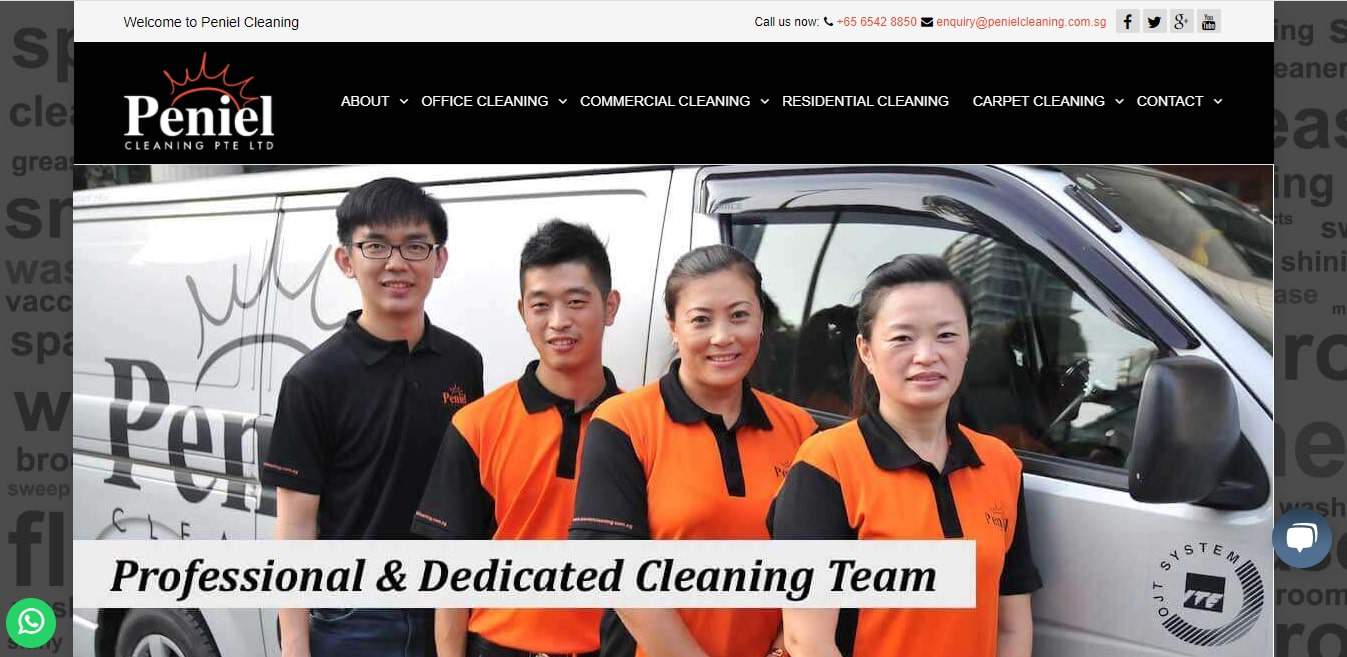 Peniel Cleaning has only been around for a little more than a decade, but it's managed to earn the trust of both homeowners and business owners in Singapore due to its efficient and budget-friendly cleaning services.
Its team is currently made up of more than 200 trained and professional cleaners, allowing it to clean multiple residential and commercial spaces per day. There's no need to wait for a few days for a cleaning team to visit your office.
What's commendable about its office cleaning service is that it's not limited to regular cleaning tasks. You can hire them to clean up after hosting an event, wash floorings and walls, organise your warehouse, dispose of waste, and even prune the plants.
One thing to know about Peniel Cleaning's clientele is that more than half of them are repeat customers, which says a lot about the quality of its cleaning services.
It also comes with a reliable customer service team to make sure that all queries from potential and current clients will be answered immediately. That's why it's among our options for the best commercial cleaning in Singapore.
Large clientele of repeat customers
Services the entire island
Trained and pro cleaners
Extensive commercial cleaning services
3. Home Clean Home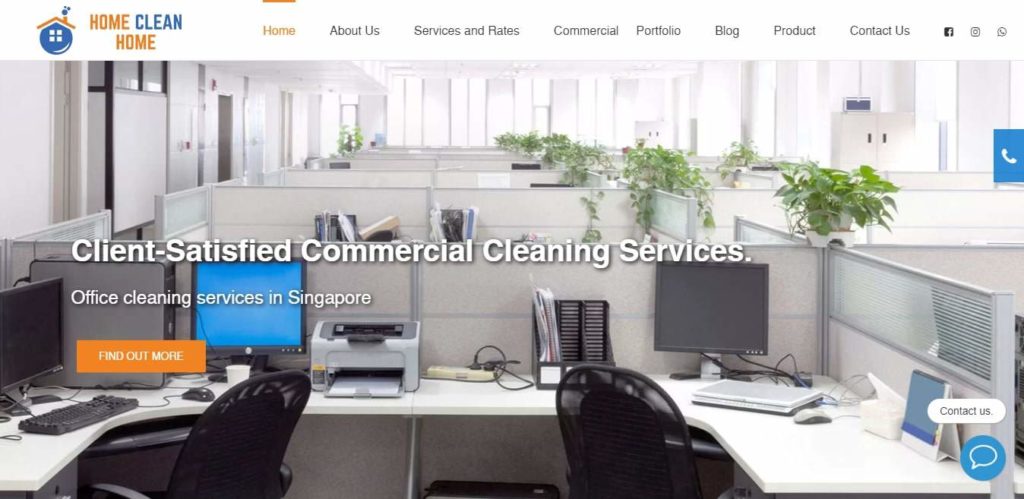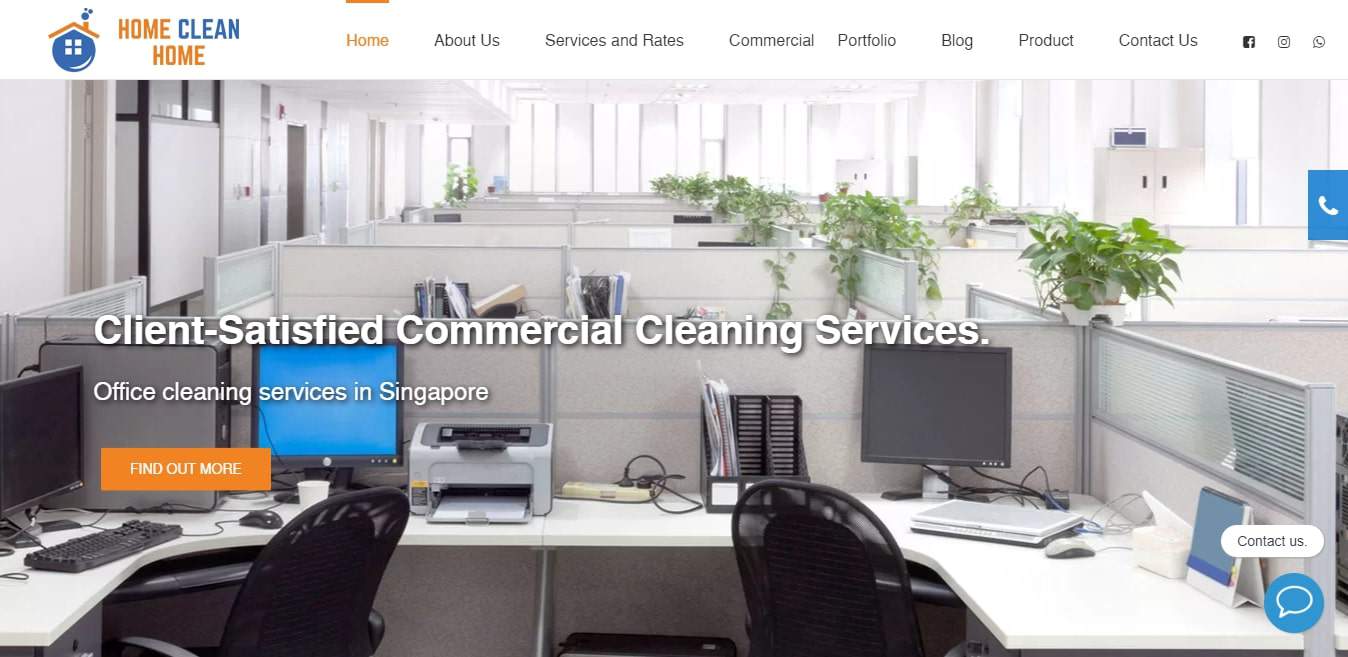 SCOPE OF SERVICES
Commercial cleaning, residential cleaning, disinfection services, curtain cleaning, sofa cleaning, window cleaning, carpet cleaning, mattress deep cleaning, spring cleaning, and outdoor cleaning
RATES
Call their hotline for more details
WEBSITE
https://homecleanhome.com.sg/
ADDRESS
3 Ang Mo Kio Street 62, #04-09 [email protected], Singapore 569139
CONTACT DETAILS
+65 8338 7845


[email protected]

OPERATING HOURS
Monday to Saturday: 10:00 AM – 10:00 PM
Home Clean Home is more known as a residential cleaning company, but we believe that its commercial cleaning services are worth checking out too. We added it here for three main reasons.
First, it's capable of cleaning all types of commercial spaces, including corporate offices, childcare centres, restaurants, and education centres, among others.
Second, its commercial cleaning plans can be customised to meet your budget and preferences. No need to pay for additional cleaning services that your corporate space doesn't actually need.
Lastly, it's a highly reliable cleaning company, so in case you're disappointed with the results, it will send over its cleaning team to clean everything again — free of charge.
Home Clean Home also doesn't surprise customers with hidden and last-minute charges, so the estimate given will be largely close to what will appear on the final bill.
Excellent customer service
Customisable cleaning packages
Licensed and insured cleaning company
IICRC-certified
Complains about punctuality
Customer Reviews
Here are some reviews shared by past clients:
"Absolutely stunning service ! The team is really dedicated to provide the best performance, with attention, efficacy and their pricing is unbeatable compared to other local companies ! We had our furniture in storage for 5 weeks and the deep cleaning has brought us a peace of mind to get back in a sereine new home. Thanks to the HCH team !" -Heloise La Harpe
"I've engaged HCH twice, once in 2019 and once in 2020. They were punctual, friendly and extremely professional. They took the effort to demonstrate how the cleaning process is going to happen and what are the steps involved, to ensure I know what's going to happen and give me a peace of mind. My sofa, curtain and bed definitely smells fresher and cleaner after the cleaning process and I highly recommend Esther and her team's services. They will not let you down." -Keith Tan
4. SQ 1 Development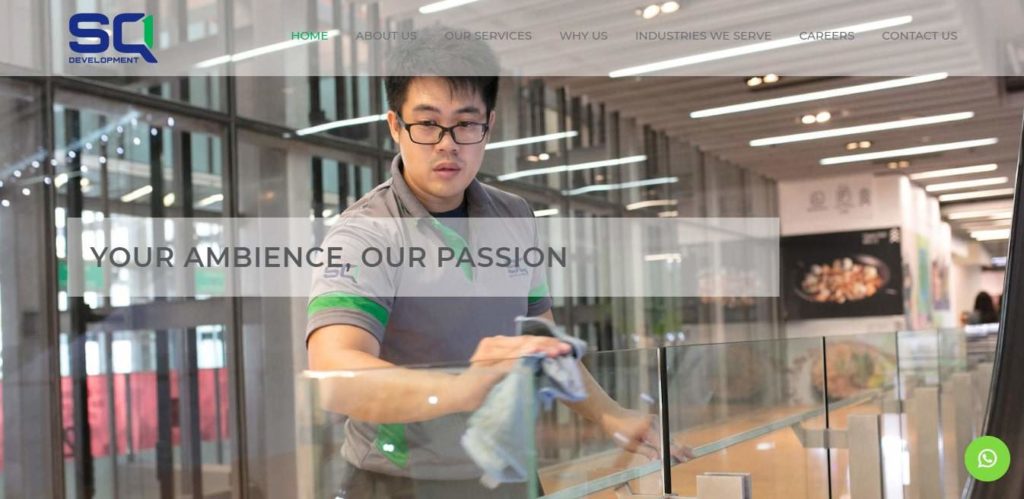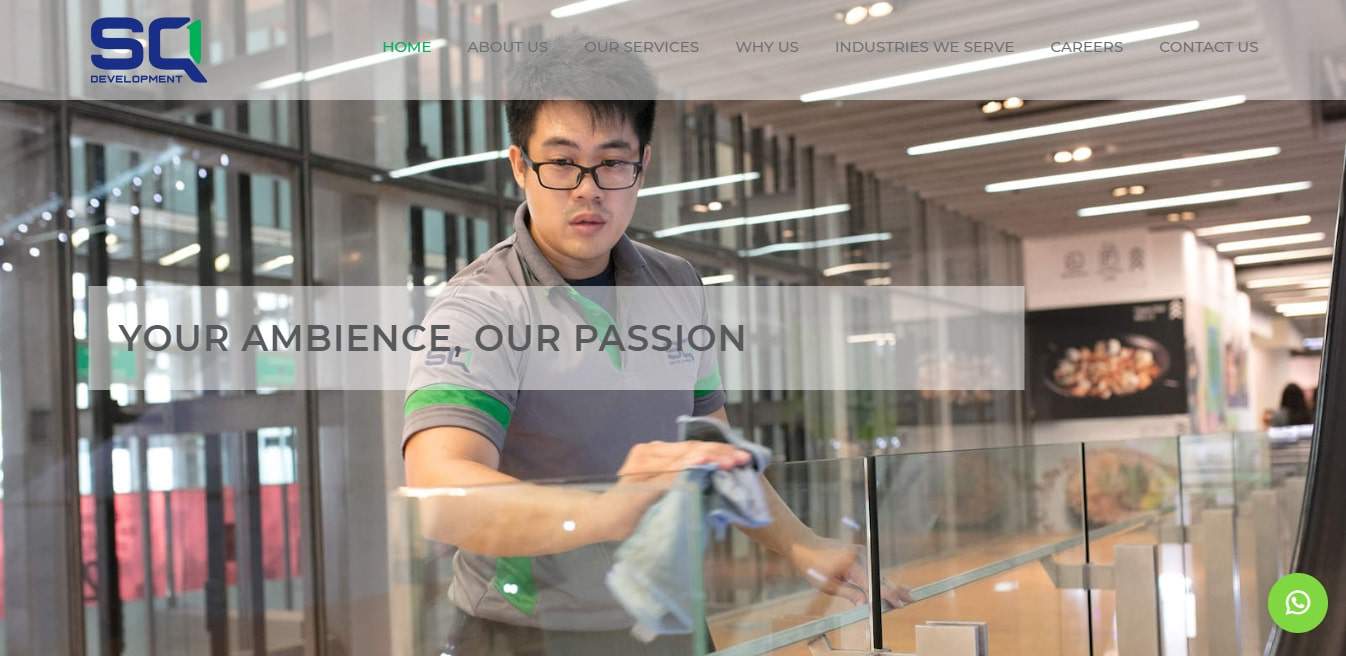 | | |
| --- | --- |
| SCOPE OF SERVICES | Commercial cleaning, residential cleaning, school cleaning, hospital cleaning, pest control, bank cleaning landscaping, and waste management |
| RATES | Call their hotline for more details |
| WEBSITE | https://sq1.com.sg/ |
| ADDRESS | 42 MacTaggart Road, #06-01, Singapore 368086 |
| CONTACT DETAILS | +65 6223 0447 |
| OPERATING HOURS | Monday to Friday: 9:00 AM – 6:00 PM |
Established more than 20 years ago, SQ 1 Development has grown into one of the most trusted office cleaning companies in Singapore, catering to clients from a diverse range of industries.
SQ 1 Development's commercial cleaning services aren't open only to corporate spaces, but schools, hospitals, restaurants, banks, factories, and even shopping malls. It even offers support to these companies in handling non-essential business tasks.
The scope of its commercial cleaning services are quite extensive as well, so they don't end with sweeping and mopping the floors. Its cleaners will clean the glass panel, carpets, parking space, washroom, and even do some landscaping.
More than that, SQ 1 Development uses only non-toxic and eco-friendly cleaning products, so you can make sure that no employee will be exposed to potential harmful cleaning chemicals.
Other cleaning and maintenance services include waste management, painting services, landscaping, hi-pressure washing, curtain cleaning, carpet maintenance, and pest control, among others.
As you can see, SQ 1 Development is an all-around cleaning company, so we think it's a perfect choice if you're in need of other cleaning services.
More than 20 years of experience
All-around cleaning company
Open to all industries
Closed on weekends
Rates are above average
5. A1 Facility Services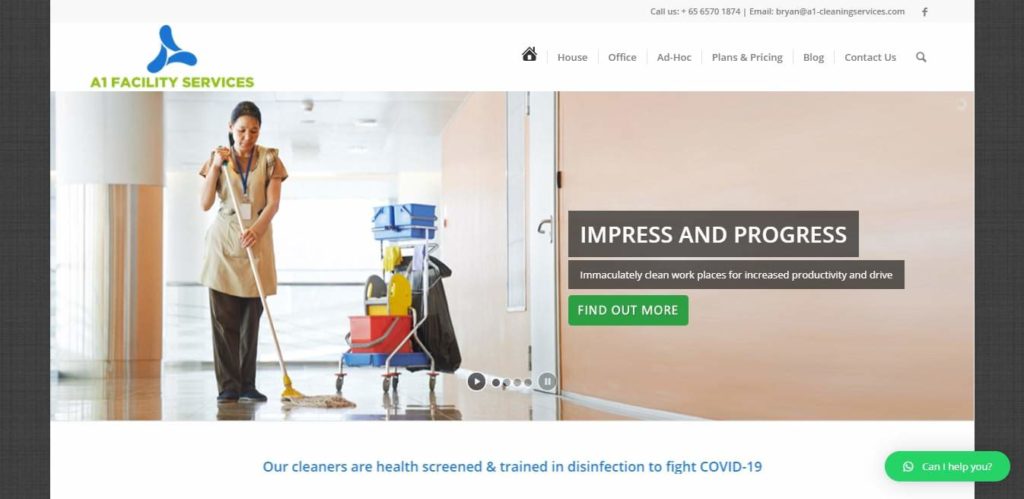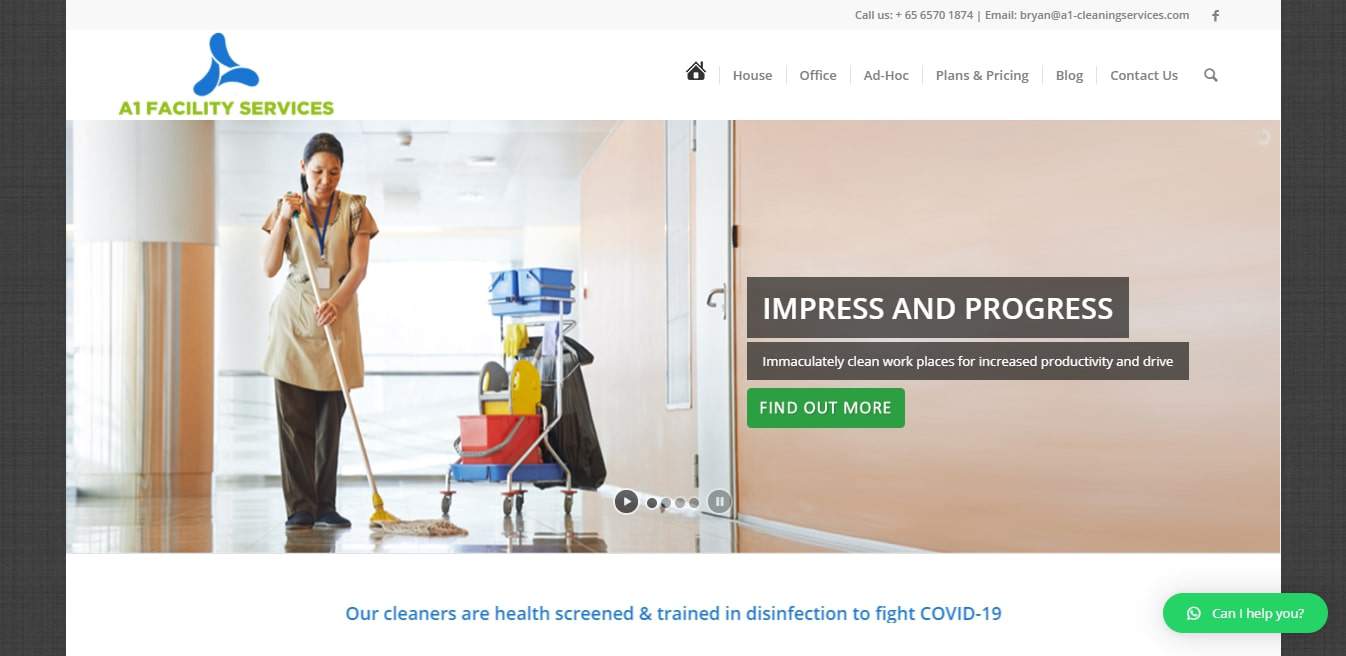 A1 Facility Services is a cleaning company that services both residential and commercial spaces in Singapore. It landed on our list for three reasons:
First, it's a licensed cleaning agency with more than a hundred professionally trained cleaners and technicians who can handle all types of messy situations. Even if you have the world's filthiest office, its pro cleaners can fix that.
Second, it's trusted by prominent names in Singapore, including Kumon, Nanyang Technological University, Uber, Cognizant, Federal Mogul, Delifrance, and Far East Organization, among others.
The third reason would have to be its efficient customer service. Some clients tend to forget how important customer service is, so it's good that a cleaning company like A1 Facility Services makes sure that customers feel that they're taken care of.
If you don't have the budget to commit to weeks or months of cleaning, then try its ad-hoc cleaning service. It's a one-time cleaning service offered at the most budget-friendly price.
For what it can offer, A1 Facility Services is truly a cleaning company that doesn't fall short in any way. It's open to everyone whether you're a short-term or a long-term client.
Trusted by prominent companies
Excellent customer service
Offers ad-hoc cleaning services
Large team of cleaners
Rates of cleaning services lead towards the pricey side
Customer Reviews
Here's what some clients had to say about their experience with A1 Facility Services:
"Well trained staff! Very satisfied with their services. Engaged in their deep cleaning session once and I am very impressed with their standards. Have continued using their weekly cleaning services since then and would definitely recommend them to anyone! Good job." -Hui Bin T
"I'm pleased with A1 as their helpers are WDA trained and have a really good work attitude. My helper understands that each client's home has different requirements and gladly adheres to it. Helper is most willing to listen and does the job well with much effort and thoughts. I'm pretty amazed that she speaks really good English and Mandarin. It shows great work commitment and diligence. :)" -Meixian Ho
6. Office Cleanz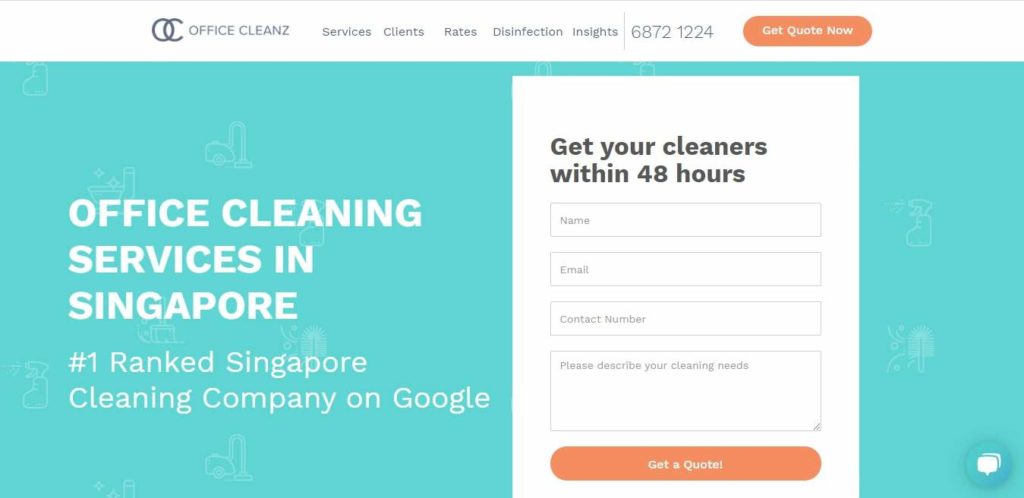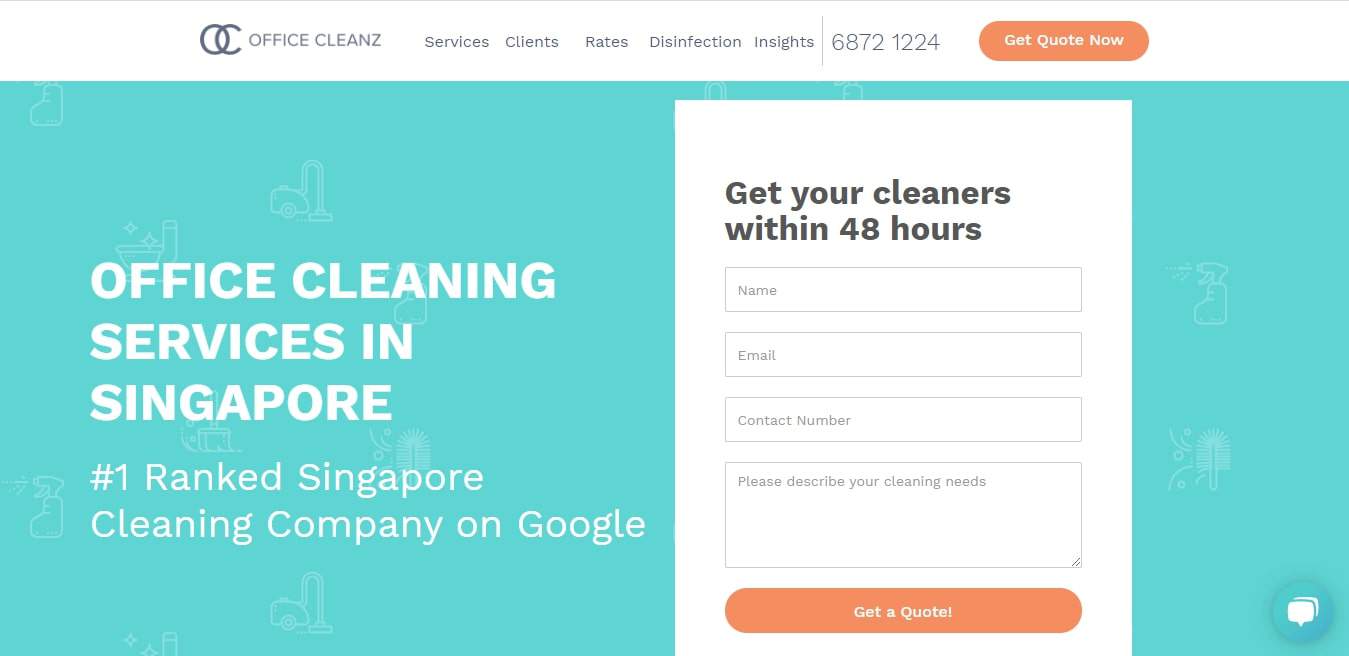 | | |
| --- | --- |
| SCOPE OF SERVICES | Commercial cleaning, tuition centre cleaning, and showroom cleaning |
| RATES | Hourly rate starts at $20 |
| WEBSITE | https://www.officecleanz.com/ |
| ADDRESS | 10 Anson Road International Plaza #16-16. Singapore 079903 |
| CONTACT DETAILS | +6872 1224 |
| OPERATING HOURS | Monday to Friday: 8:00 AM – 6:00 PM |
As one of the few cleaning companies in Singapore that focus on commercial and office cleaning, we couldn't help but include Office Cleanz on our list. There's more to it than this, though.
If other cleaners would take days to arrive at your address, Office Cleanz can do so within 48 hours, so the dust on your desk would no longer have to sit for a few more days.
It's also known as one of the cheapest commercial cleaning companies on the island, with an hourly flat rate that starts at $20. If your space needs a lot of work, you might be able to negotiate to get a better rate.
If your favourite cleaner is unavailable on your preferred date, there's nothing to worry about as it can deploy replacement cleaners islandwide. Its large cleaning staff makes this possible.
Another thing we like about Office Cleanz is the public liability insurance coverage worth up to a million Singaporean dollars. In the event that its cleaners get injured inside your office, you won't be legally liable for the expenses.
Given all these reasons, it's no surprise that it's considered one of the top sources of the best office cleaning in Singapore by many.
Islandwide services
Covered by public liability insurance
Budget-friendly rates
Large cleaning staff
Handles multiple clients every day, so delays may occur
Customer Reviews
An employee from Kim Loan shared the following feedback:
"OfficeCleanz is a great partner for cleaning your office space. Very responsive to your enquiry and flexible to adapt on your time schedule or last minute changes. We appreciate their service very much. Dayang has been our cleaner for a while and she is a very nice person and does very seriously her job. She is always willing to help with a great smile."
Yan Anthea said the following about her experience with one of its cleaners:
"She is responsible and a very hardworking cleaner. Few of our colleagues do give good comments on her hardworking on making sure that everywhere is cleaned properly eg. tables and cupboards are properly cleaned or scrubbed. Due to her inexperience working as a cleaner in the office, she is willing to listen and work according to our requirements. This is her best quality I can find in her."
7. Cleaning Hero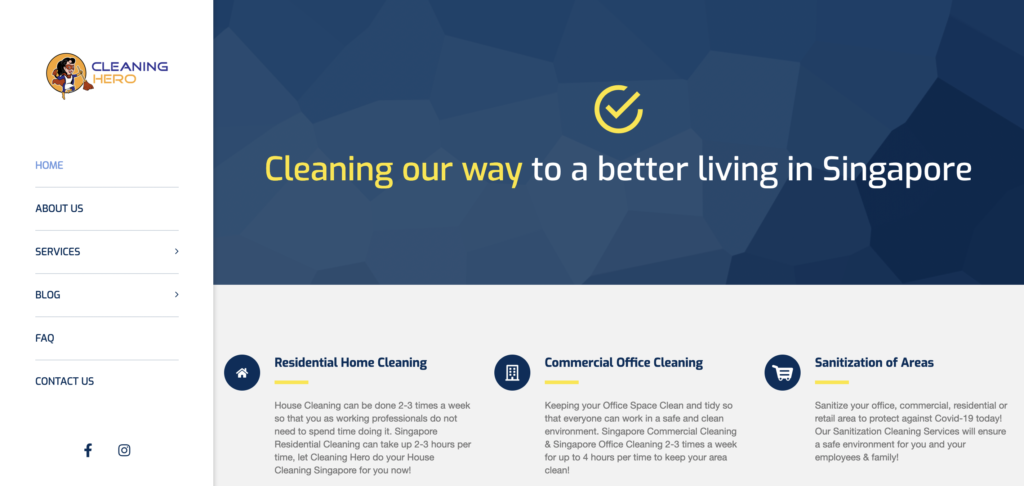 SCOPE OF SERVICES
Residential and Commercial Cleaning, Sanitation of Areas
RATES
Contact for more details
WEBSITE
https://www.cleaninghero.sg/
ADDRESS
18 Sin Ming Lane, Midview City #07-01, Singapore 573960
CONTACT DETAILS
+65 9863 8665 |

[email protected]

OPERATING HOURS
Mon to Fri: 9:00 am – 6:00 pm
Cleaning Hero functions like your next cleaning agency. They clean houses, apartments, offices, retail areas, and just about any kind of establishment you can think of.
Like most of our entries above, you can expect the usual services such as residential cleaning, spring cleaning, and post-renovation cleaning, among others.
Unique to them is their sanitation services, which is ideal to protect your premises from viruses like COVID-19.
We included them on our list because of the flexibility that they offer to clients. You have the the option to book them via a fixed regular contract or simply for one-time cleaning jobs, whichever suits your needs best.
Hence, you won't find any of their rates online since you'll have to contact them to get an accurate quote of the services you require.
Just take note that ad-hoc jobs like end-of-tenancy cleaning is generally more expensive than regular cleaning arrangements.
Comprehensive cleaning services

Regular and one-time cleaning contracts available
Sanitation services available
Rates unavailable online
Closed on weekends
8. Lukis Cleaning Service
SCOPE OF SERVICES
Office Cleaning Services, Carpet Cleaning Services, Disinfection Services, Upholstery Cleaning Services, Pest Control Services, Air Conditioning Services, etc.
RATES
Contact them for more details.
WEBSITE
https://www.lukisclean.com
ADDRESS
8 Burn Road #15-13, Trivex, Singapore 369977
CONTACT DETAILS

[email protected]


+65 67419968
OPERATING HOURS
Contact them for more details.
With over 180 office cleaners and office cleaning specialists, Lukis is one of Singapore's biggest cleaning companies. It is known for its reliability and consistency in delivering services to its clients.
Their services include office general and specialized cleaning services likecarpet cleaning services, disinfection services, upholstery cleaning services, pest control services, and air conditioning services.
As one of the leaders in the cleaning industry, Lukis ensures that both their cleaners and clients are always protected. All parties are covered by up to $1,000,000 public liability insurance.
Lukis has also worked with a couple of well-known companies such as Aesop, Singapore Airlines, Octava, and VaynerMedia. It is also accredited by BizSafe, the Tripartite Standards, and the Singapore Workforce Skills Qualifications.
To know more about pricing, inquiries can be made through their website. Free consultations are available.
Offers general and specialized cleaning services
Quick chat services
Free consultation available
Customised cleaning services
Has people on standby on their company line 24/7
Customer Reviews
Here are some reviews shared by past clients:
"Lukis shown us they have a great sense of responsibility towards their work and their service level towards their clients. I would highly recommend LUKIS to anyone that is looking for a dependable cleaning services provider for their office" – Michi Sin, Yingge Singapore Office Manager

"I just wanted to take a moment to say Thank You for the excellent service you provide us every day. It's wonderful to come in every morning to a clean office that you've taken such a good care of." – Catherine Lee, Hanwha Techwin Regional HR & Admin Manager
9. Anergy Building Services Pte Ltd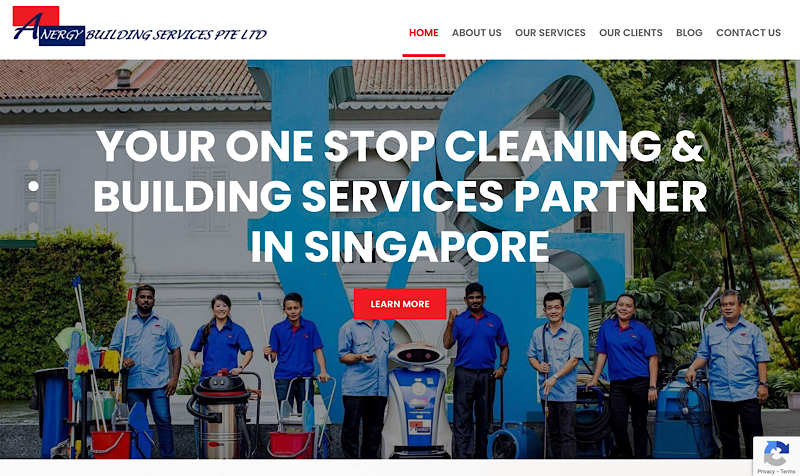 SCOPE OF SERVICES
Residential Cleaning, Commercial Office Building, Industrial Cleaning, Disinfection, External Facade & High Rise Cleaning
RATES
Contact them for more details.
WEBSITE
https://anergy.com.sg/
ADDRESS
30A Hillview Terrace Singapore 669247
CONTACT DETAILS

[email protected]


(65) 6738 4989 | (65) 6738 1231
OPERATING HOURS
Monday to Friday: 9:00 am – 6:00 pm
Established since 1998, Anergy Building Services Pte Ltd has been providing various cleaning solutions in Singapore. They are known to be one of the leading companies in the industry that provides custom cleaning solutions for their clients.
Aside from office cleaning, some of their services include residential cleaning, external facade & high rise cleaning as well as disinfection. They provide these services similar to most cleaning companies.
We like that Anergy Building Services Pte Ltd looks forward with their initiatives and promotes sustainability through its operations. They have already adapted the use of robotic cleaners and relevant technology to aid in their workforce.
To add to this, the company aligns its cleaning strategies with the Environmental Services Industry Transformation Map (ESTIM) by the National Environment Agency (NEA).
So far, the company has worked with some brands including Galmon, Klasmann-Deilmann, and Nu Skin. They have completed projects in office buildings, show rooms, retail stores, embassies, and other establishments.
Over 20 years of experience in the industry
Has work experience in different settings
Uses innovative technology
Has a good reputation and number of workforce
Complies with the standards set by NEA
Has various accreditation
No prices available
Office closed on weekends
Customer Reviews
Here are some reviews from their website:
"On behalf of the MCST, we would like to give praise and appreciation to Team Anergy deployed at Woolerton Park Apartments.
We would like to take this opportunity to thank Anergy Building Services Pte Ltd and your team for the good performance." – Woolerton Park Apartments
"The management would like to inform on the good performance of your cleaner. He is a hard-working cleaner who knows his work well and we have residents praising him for his good cleaning work.Among all the block cleaners, he is recommended to receive the Best Cleaner in River Isles." – River Isles
10. Clean Lab Pte Ltd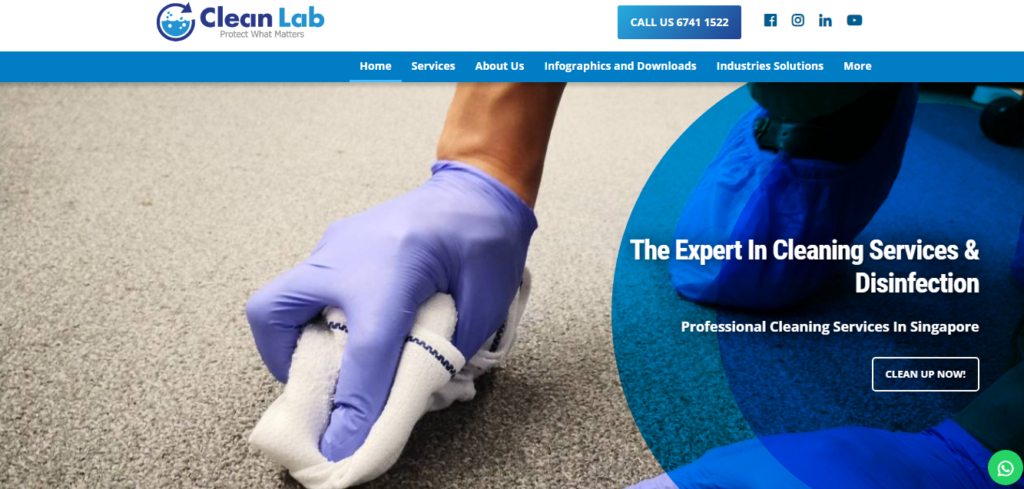 Clean Lab Pte Ltd is a company that offers a wide array of comprehensive cleaning services that accommodates both residential and commercial settings. From gyms, healthcare, hospitality, and preschools, their services are geared to disinfect and protect what matters for clients.
What we find exemplary is their utilization of eco-friendly products which are all evidence and science-based which can assure clients that their solutions are effective yet do not take a toll on the environment.
Their professionals ask what matters to the clients as they pay attention and make sure to ask the requests of the clients so that they can adequately employ the right materials and equipment for the job.
Another thing we find impressive is their approach to cleaning customization in which they make it to a point to create and tailor the needs of the office facility itself and work with the budget that the client gives.
Overall, their past clients highly commend them for their highly specialized services and equally steadfast customer service that is able to apply the same level of professionalism and expertise for every cleaning job.
Eco-friendly products
Customizable services
Speedy feedback
Customer Reviews
Here are some reviews from their clients:
"Recently engaged the service of Clean Lab for my mattress cleaning and sanitizing and the Specialist that came down was very thorough. I was shocked when they showed me the amount of dirt extracted out from my mattress. Will definitely engage their service again and will recommend them to anyone in need of a deep mattress cleaning." – Wei Feng Ng
"Recently i had engaged Clean Lab mattress cleaning service for 2 of my queen size mattresses. I was shocked by the end results when their specialist showed me the amount of dirt accumulated from my mattresses after the cleaning! Would highly recommend Clean Lab to all people out there who require a professional mattress cleaning!" – Irene Tang
FAQs about Office Cleaning Services
---
And those were our picks for cleaning companies with the best office cleaning services in Singapore. If you think it's time for your office to get cleaned, don't hesitate to call any of these cleaners!
If you have a commercial cleaning company in mind you'd like to recommend, drop their names so we can check if they're worthy of being added here.
Thinking about disinfecting your office? Luckily for you, we have a list for that as well. Check out our picks for the best disinfection services in Singapore.