The 10 Best Sofas in Singapore
If you've been thinking about replacing your old, filthy sofa with a brand new one, worry no more because we have you covered. For today's article, we're doing a rundown of the best sofas in Singapore that we think every home should have.
Sofas are one of the first things that visitors notice upon stepping inside your home. That's why anyone trying to make a good impression on visitors should be looking for the best sofas in Singapore!
Anyway, before we move on to our picks, we're going to share a few tips that might be helpful when looking for the right sofa for your home. Knowing these tips will make it easier for you to browse our list later on.
How to Pick the Best Sofas in Singapore
When you're on the lookout for the best sofas in Singapore, the choices are endless and you might end up getting overwhelmed! This is why it's important to know what to consider when looking for a sofa for your home.
One of the first things buyers should look for in a sofa is the measurement. On top of that, the frame, spring system, and cushions are also worth checking out.
Let's discuss each of these points below.
1. Measurements
Before taking home a sofa, you have to check if it's going to fit perfectly inside your home. You wouldn't want one that's either too small or too big, would you?
Obviously, one way to determine if it's of the perfect size is by measuring your room and comparing it with the size of the sofa.
You must also not forget to consider the number of people who are going to be sitting on that sofa. If you live with family members or roommates, make sure that all of you will be able to sit comfortably on it.
2. Frame
Once you've determined if it will fit, it's time to know if it's a durable sofa by checking its frame.
Most of the best sofas in Singapore have frames that are made of wood, so you have to check if the type of wood used is a high-quality one.
Hardwood is a highly recommended type of wood for sofa frames as it's durable and sturdy. You might also want to consider oak and alder for frame wood because both are strong and sturdy, yet cheaper than hardwood.
3. Spring System
The spring system refers to the metal systems that are located at the bottom of the cushion, dictating the overall durability of your sofa.
We recommend looking for a sofa made with sinuous wires as these are the most durable types of springs that run from front to back on the sofa seat.
However, sofas with sinuous wires tend to be more expensive than other models. Of course, getting one comes with the guarantee that your sofa will last for the years to come, so they usually are worth the cost.
Another way of checking if a sofa comes with premium springs is by sitting on it and feeling the force of the spring pushing back. Push on them while sitting: you may even stand on them, if you'd like.
4. Cushions
Another thing that makes or breaks the best sofas in Singapore is the cushion. One rule to follow when looking for a high-quality is to check if it comes with nice, hard cushions.
It's important to check the cushion as it determines how comfortable you're going to be while sitting on the sofa. In some models, the quality of the cushions affect the price of the sofa, so you might want to prepare yourself for that.
It's also worth noting that cushions tend to get soft over time, especially if the sofa's frequently used by a lot of people.
The Best Sofas in Singapore
Now you know what to look for when choosing a sofa for your home, you're probably ready to see which sofas we think are worthy of your attention.
Check out our picks for the best sofas in Singapore below!
1. Bradford II Leather Sofa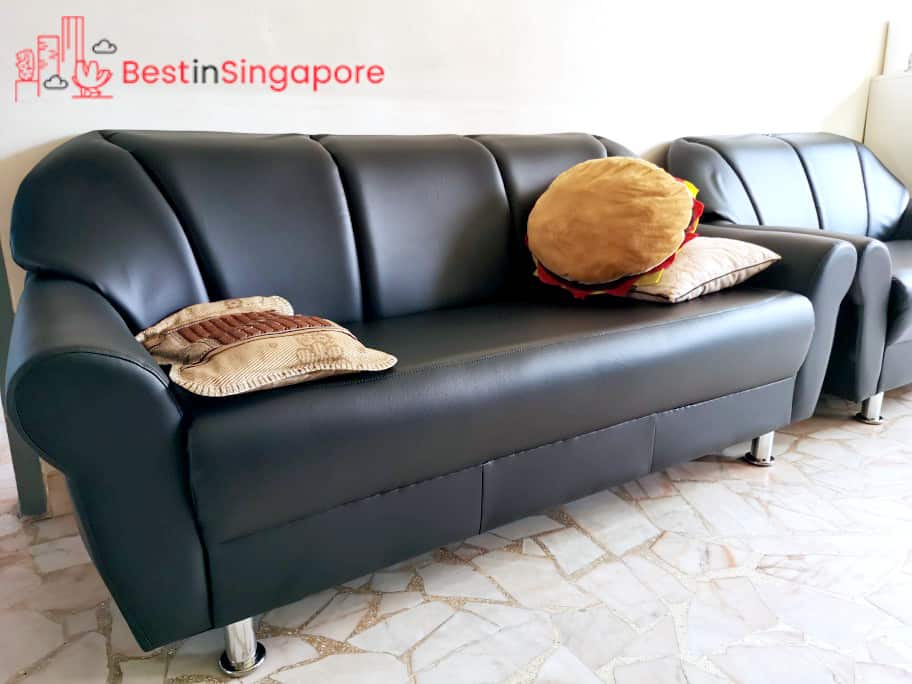 Price: $119.60
If you're searching for a small, affordable sofa that can fit inside limited spaces, then look no further than the Bradford II Leather Sofa. It's a high-quality sofa built by a trusted name in home furniture, proving that you don't need to spend a lot on a durable sofa.
It might be cheaper than the average sofa, but it definitely gets the job done and is made with quality materials too. It comes with a frame made from premium wood, quality cushions and springs, and high-end upholstery.
In terms of measurements, the Bradford II Leather Sofa has a length of 87cm and width of 72cm, so it's quite small. There are larger sizes if you're looking for a bigger sofa, but be prepared to spend more for those.
Pros
Cheaper price
Made with quality materials
Perfect for small homes
Cons
Only for 2-3 persons
No warranty
2. AIDEAL Foldable Sofa Bed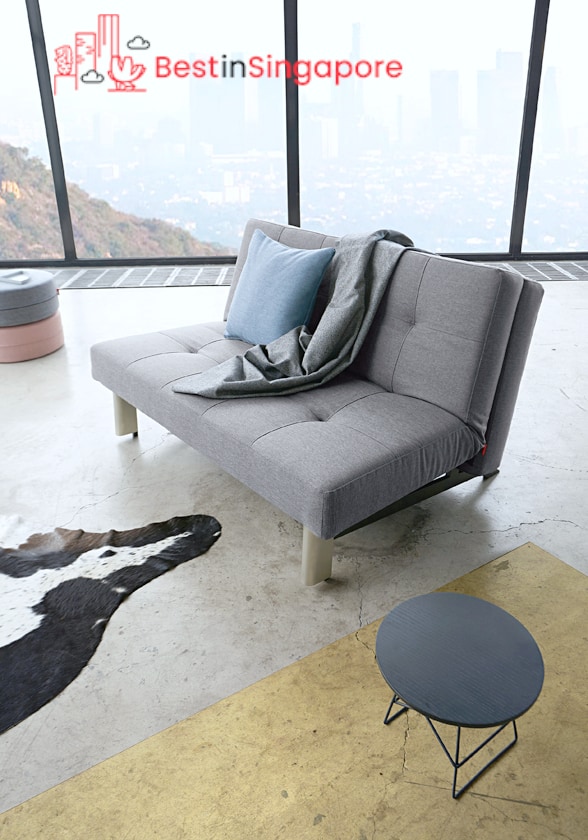 Price: $230.00
The AIDEAL Foldable Sofa Bed is a sofa that also functions as a bed! So, if you're looking for home furniture that will help in saving money, then we recommend checking this one out!
The AIDEAL Foldable Sofa Bed is also highly recommended for people living alone in small apartments as it reduces the need for more furniture. Why purchase a bed when your sofa could double as one, right?
In terms of quality, we can say that the AIDEAL Foldable Sofa Bed is one of the more durable options out there as it uses metal instead of wood for its frame.
It's also made with high-resilience sponge and high-end covers, so we think it's still a great option in terms of materials used.
Anyway, we still consider it one of the best sofas in Singapore due to its modern and sophisticated look that can complement any type of home interior.
Pros
Functions as a sofa and bed
Affordable
High-quality covers
For homes with limited spaces
Cons
Durability is questionable
Uses matal for the frame
3. UMD Designer Sofa
Price: $599.00
Looking for a sofa that complements the style and interiors of your home can get a little difficult. Luckily, there's a sofa known for blending well with all types of home interiors, and that's the UMD Designer Sofa.
For one, the UMD Designer Sofa sports a classic Scandinavian design that blends well with all modern and contemporary home interiors. It comes in 3 different colours: beige, tiffany blue, and grey.
In terms of materials, the UMD Designer Sofa is made with high-resiliency foam and synthetic covers. Its frame, on the other hand, is made with a relatively low-quality type of wood, so we can't really vouch for its durability.
However, other buyers tend to look past that considering that it really blends well with almost every home interior.
Pros
Affordable
Scandinavian design
High-resiliency foam
Cons
Low-quality wood
Durability is questionable
4. HonTop Foldable Sofa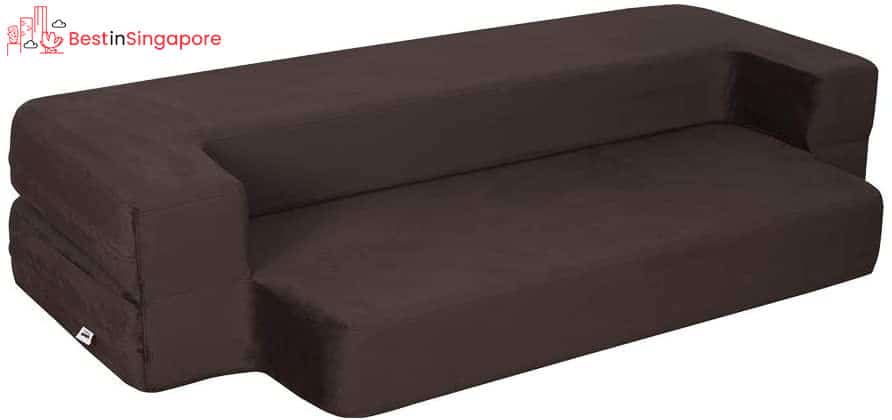 Price: $604.83
The HonTop Foldable Sofa is an 8-inch sofa made entirely of memory foam. It's also a multi-function mattress.
Note that it doesn't come with a frame or legs, so it's definitely not one of your typical home sofas.
Another reason we consider it one of the best sofas in Singapore is the fact it also doubles as a bed, making it an ideal option for those who have a limited budget and limited space at home. It might look big at first, but it's foldable, so it won't eat up too much space when you do want to put it away.
In terms of comfort, we believe that HonTop Foldable Sofa can provide a level of comfort that you've never experienced before — thanks to the fact that it has a memory foam mattress.
Anyway, if you're looking for an unconventional sofa for your home, the HonTop Foldable Sofa comes highly recommended.
Pros
Unconventional design
Doubles as a bed
Memory foam mattress
Cons
Expensive
Sells out quickly
Limited warranty
Customer Reviews
Take a look at what buyers had to say about it:
"This foldable sofa is made with furniture quality foam. Classic looking and looks nice. Just right for me, not too firm or soft and the size is just perfect for me. I like darker colors, it matches with my other furniture. It's quite comfortable as a couch and very comfortable as a bed. It can also be used as a bed for guests when needed or to take naps sometime. It's very useful and the price is great. All my friends said that this sofa bed looks special and stylish."
"I love everything about this lounge. I did not have high expectations when it initially arrived, because the memory foam had not yet decompressed. I purchased this piece for my office/playroom/guest room, and it is perfect. Comfortable to sleep and sit on, convenient to store, great craftsmanship. I do although wish that for the price they would throw in 2 throw pillows. Otherwise, a wonderful piece for a small space."
5. Javier Recliner Sofa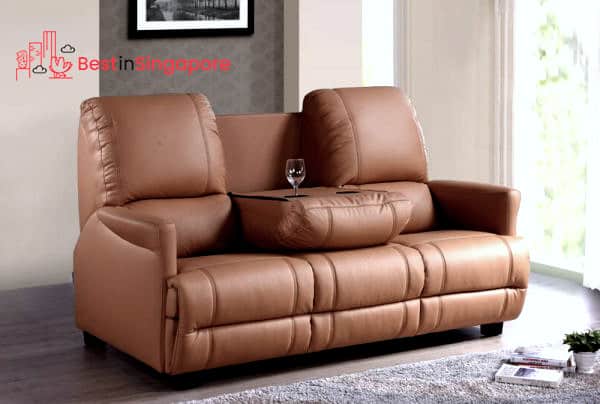 Price: $855.00
If you're willing to spend big bucks on a high-quality and premium sofa, then you might want to check out the Javier Leather Recliner Sofa. It's definitely the most expensive option in our list, but we guarantee that you will get your money's worth, down to the last cent.
For one, the Javier Leather Recliner Sofa is a sofa that can accommodate 3-4 people. It's the ideal sofa for larger families with extra space in their living rooms.
In terms of material, the Javier Leather Recliner Sofa surely doesn't disappoint. Its frame is made of solid wood, while it comes with high-quality leather and high-resiliency foam, making it one of the most durable options in our list.
More than that, it comes with wooden legs that make it even more durable. Getting your hands on it guarantees that you're going to be using it for quite a long time.
It comes with a 5-year warranty too!
Given that it's one of the more expensive options on our list, though, we surely can't recommend it to everyone… but for those with the means, it's a great buy. Treat yourself to a high-quality reclining sofa that can give the level of comfort you've never had before!
Pros
Reclining feature
Made with quality materials
With wooden legs
5-year warranty
Cons
Expensive
Might be too big if you have a limited space at home
6. Chesterfield Sofa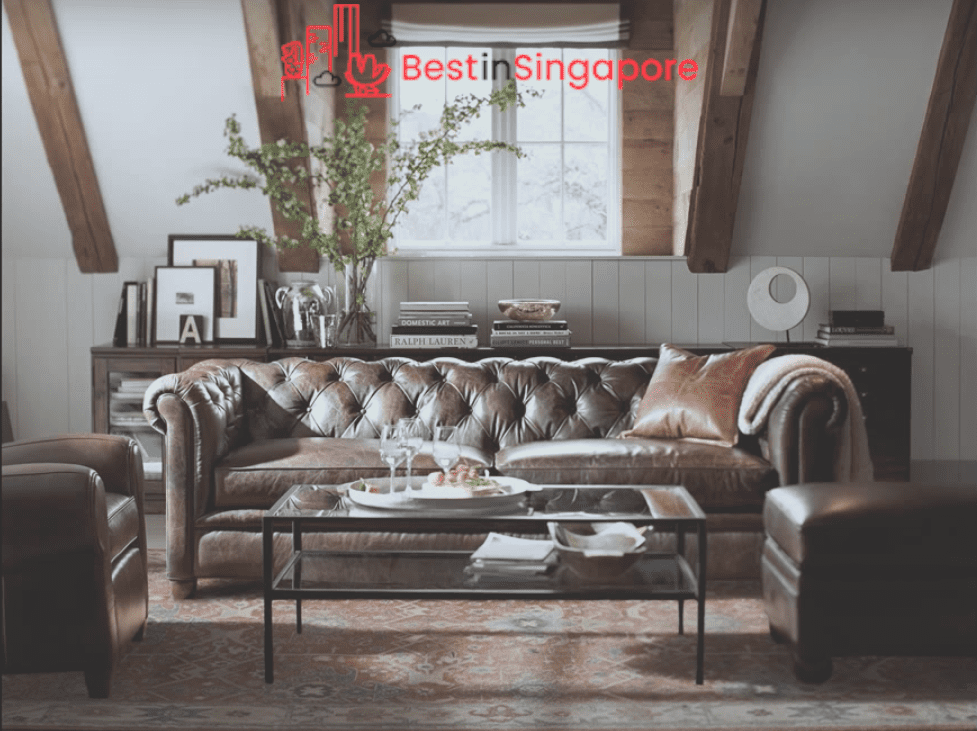 Price: $2,400.00
Chesterfield Sofas are one of the most prestigious brands for more than 200 years. They're representative of tradition, elegance, and functionality.
They're the top luxurious brand that comes to mind when it comes to sofas. Its mixed style of classical, vintage, and contemporary is hard to imitate, so you can rest assured of its quality.
Relax in comfort and style– buy it from Locus Habitat now!
Pros
Classic, timeless style
Built for luxury and sophistication
Cons
May be pricier compared to other sofas
7. Sophie Sofa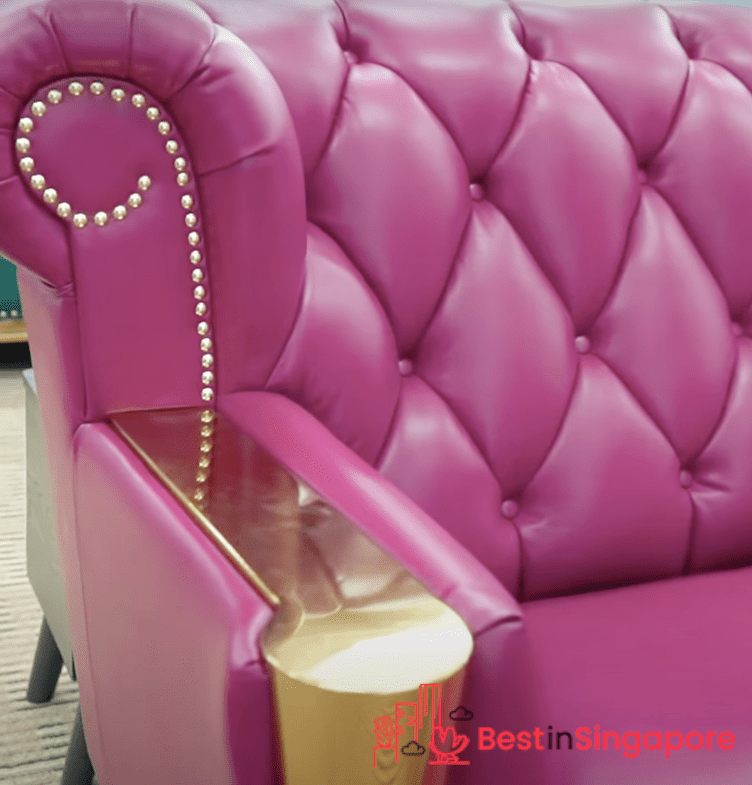 Price: SGD 1,999.00
Check it out on Choice Furniture
The Sophie Sofa offers a stylish and chic seating option for homeowners. The luminous golden legs and armrests accent its burgundy color nicely.
With its plush backrest, comfort won't be an issue. Buy it from Choice Furniture now.
Pros
Trusted by Singapore
Free shipping
Showroom available
Cons
8. Melody L-Shape Storage Sofa Bed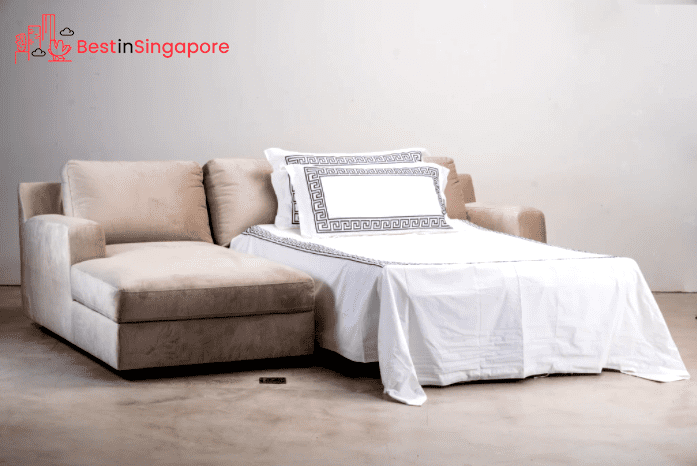 Price: $4,389.00
Check it out on Taylor B. Design
Next on our list is Taylor B. Design's Melody L-Shape storage sofa bed.
The Melody L-Shape storage sofa bed has three main functions: seating space, sleeping space, and storage space. With so many things to do with this sofa, it's no surprise that the sofa is part of the higher end of the price list.
It should be noted, however, that the price is for good reason other than the three main functions. The Melody L-Shape storage sofa bed also offers ample, plush seating space, perfect for homes that house large families. 
The cushion is also to die for as it shapes itself around the occupant, making long-term seating a comfortable choice. Same goes for overnight sleep and long naps.
To top things off, purchasing from Taylor B. Design entails safe checkouts, and the site also accepts major credit cards, PayPal, and Discover.
So, if you're looking for a sofa to bless your home with, why not consider the Melody L-Shape storage sofa bed and all its offerings?
Pros
Offers plenty of storage space
Large and comfortable seating
Cushions made with plush materials
Cons
9. Anson Sofa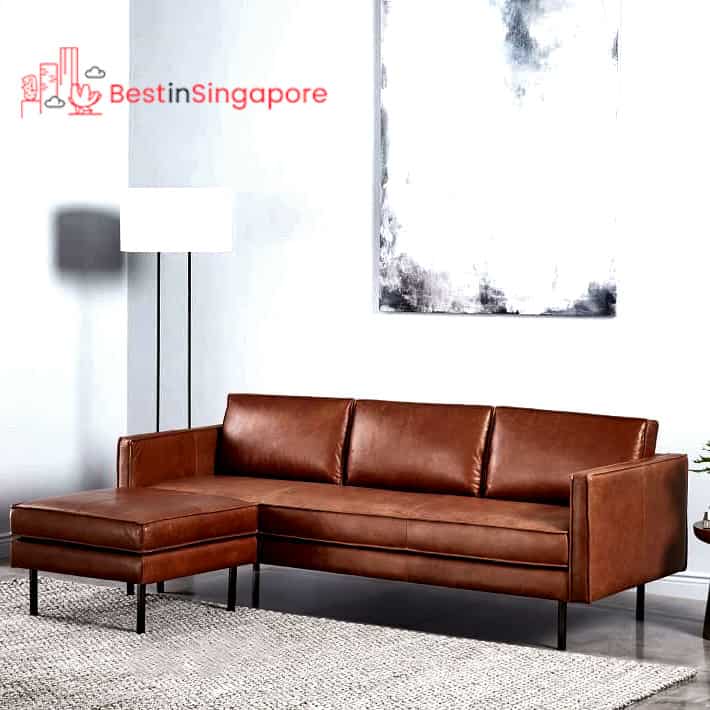 Price: SGD 1,288.00
Check it out on Choice Furniture
The Anson Sofa complements a whole lot of designs for living rooms, which makes it a flexible sofa to use. One great factor about this is that the plush cushioning makes it comfortable to use at longer times, with the armrest cushioned as well.
The sizes available are two-seater, three-seater, and an ottoman, which could be used as an extension to the first two and be made as an L-shaped sofa seat. Available colors include the timeless black, caramel for the vintage feel, and chocolate for the elegancy.
What's more, is that Anson Sofa can be made out of faux leather, or the genuine one. With an additional of SGD 500.00, the genuine leather is used, which makes the sofa sturdier, and more durable.
Assembly is already included when ordering this furniture, too, so there really isn't anything to worry about.
Pros
High quality material and make
Super comfortable
Free shipping
Assembly included
Cons
Weight capacity is unclear
Expensive
10. Aqua L Shaped Sofa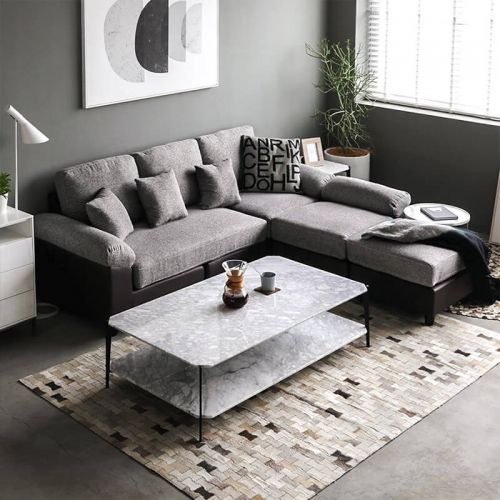 Price: SGD 999.00 – 1068.00
Check it out on Bed and Basics
If you are looking for a quality L-shaped sofa, this product may be the one for you or your family. In comparison to the other products on this list, they offer this sofa in two options, 2130mm and 2400mm.
Aside from this, we also love how customers can choose from 7 different colors— Grey Fabric x Black Leather, Grey Fabric x Brown Leather, Grey Fabric x White Leather, Brown Fabric x Black Leather, Charcoal Grey Fabric x Black Leather, Brown Leather, and Black Leather.
This is a pretty neat range of options for those who have a specific aesthetic for their living room area if you ask us.
Another reason why we prefer them is their bundles You can freely choose if you want headrests, extra covers and if you need help in assembling or not, with specific additional prices of course.
Given its two detachable ottomans, this is the only L-shaped sofa that can be arranged in 8 possible layouts!
Pros
Cushioned armrests
Easy cleaning because of removable covers
Wide seats
Medium firmness
Removablesofa legs
Cons
According to a review, in less than 6 months, the cushion has already deformed 
Delivery may take a while
There you go! That's our list of the best sofas in Singapore! Have you already found the right sofa that you'd like to buy? Tell us all about it!
For more options, you might want to check out our list of the best sofa beds in Singapore. Our list features some of the top sofas on the island made by trusted brands in the furniture industry.