The 8 Best Sofa Beds in Singapore: Best Home Living 2021
Do you want a more comfortable way of watching Netflix and sleeping in your home? If you do, then you should get your hands on the best sofa beds in Singapore today!
Sofa beds are some of the most versatile and functional pieces of furniture that you can ever own. Not only can they give you a relaxing and peaceful sleep, they can also help to fix your posture, especially when you buy the right one.
If you're clueless as to where to find the best sofa beds in Singapore, then consider yourself lucky — we're listing down the ones we think are worth your money.
But before that, we'll give you a few tips on how to pick out the best sofa bed in Singapore for you. That way, it will be easier for you to make your choice later.
What to Consider Before Buying a Sofa Bed
While most sofa beds in Singapore aren't that expensive, it's still not wise to automatically go for the cheapest one just to save some money.
You must remember that cheap items don't have the best reputation in terms of durability — chances are, they will wear out sooner than expected.
That's why you should inspect options carefully, such as by noting the type of sofa bed. On top of this, the mattress, size, and price  are also worth inspecting.
Let's discuss each point below.
1. Type
Believe it or not, there isn't a single type of sofa bed. There are at least 3 common types of sofabeds in Singapore, each of which has its unique features.
The most famous type is the pull out sofa bed in Singapore, which is commonly found in most households. It's primarily designed for sitting because their mattress are pretty thick and comfortable.
However, this type of sofa bed is more expensive than the other two types. If you find one with a durable and thick mattress, then you'll get your money's worth.
If you're planning to use a sofa bed mainly for sleeping, then we'd suggest that you get a daybed type. While built like a sofa, it shares the size of full-sized or standard twin bed, making it easy for you to be comfortable while sleeping.
Lastly, if you're on a tight budget, then go for futons as they're the least expensive option. Commonly found in college dorms, they're easy to carry and hold.
In terms of its mattress, we can't say that they're the most comfortable and durable option out there. Most futons use low-density foam, which isn't ideal for long hours of usage.
2. Mattress
 A sofa bed's quality boils down to how good the mattress is. You wouldn't want to spend hours on your back lying on a sofa bed with a terrible mattress, would you?
The commonly used mattresses in sofa beds are innerspring and memory foam. Both are great options for a mattress, but differ in the material used.
Innerspring mattresses are made from coils while memory foam mattresses are made from visco-elastic foam. If you want maximum comfort while sleeping, then go for an innerspring mattress with a higher number of coils.
On the other hand, if you want support for your back and posture, then we'd suggest that you get a memory foam mattress as they contour to the shape of your back.
3. Size
 Of course, size is something that you shouldn't forget when buying sofa beds. Since they come in a variety of sizes, you have a lot of options to fit the space in your room and the number of people who are going to use it.
To know if a sofa can fit in your room, measure it from the back of the sofa up to the tail end of the sleeping area. When considering the size of a sofa bed, you should always allot extra space for movement and other items.
In terms of the mattress size, a double mattress for a small sofa bed in Singapore might be enough to accommodate a single person. On the other hand, a couple might need a much larger mattress that can accommodate at least 2 bodies.
The Best Sofa Beds in Singapore
Now you know the things you ought to consider before taking home a sofa bed. It's time to move on to our list of the best sofa beds in Singapore!
1. Inndesign Multi Purpose Sofa Bed
Best for Comfort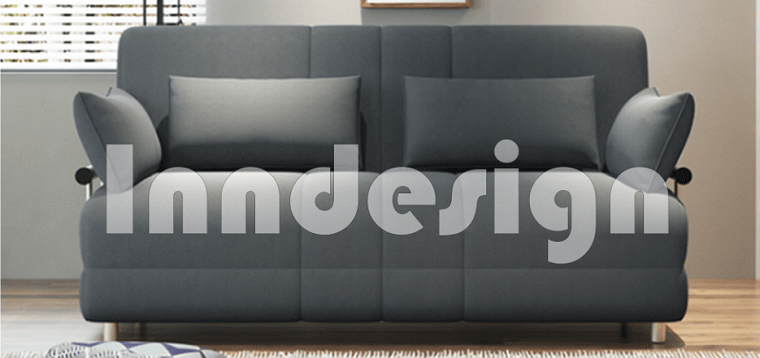 Price: $399.00
Arriving home from work tired and stressed is something that most of us experience. If you want to plop down in a comfortable sofa bed in Singapore as soon as you get home, then check out the Inndesign Multi-purpose Sofa Bed!
In terms of dimensions, it has a width of 77 cm and can extend up to 120 cm, perfect for users with average height. On top of this, it can accommodate up to 3 persons whether it's folded in or folded out.
With its comfortable mattress, all the fatigue and stress from a long day at work will be gone once you're on top of it. Its mattress is ultra soft and contours to the shape of your back, providing you with comfort that you've probably never had even from your own bed.
Unlike most sofa beds, its back support can be adjusted up to 6 levels. Whether you want to be completely flat or want something to lean against, this one definitely has your back!
What we truly love about this sofa bed is that it's designed to pass the test of time. Made from durable and high-quality materials, you won't have to worry about it getting worn out too easily. 
Highlights
2-3 seater
120 cm x 77 cm x  86 cm
Multifunctional
High-quality mattress
Six-gear deformation
2. Furniture Ambasador Viro Sofa Bed
Best for Taller People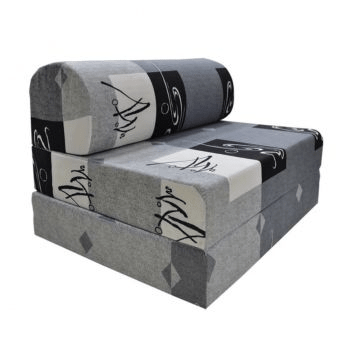 Price: $139.00
If you're looking for the equivalent of a queen sized sofa bed in Singapore with a variety of stylish designs, then focus your attention on the prints of the Furniture Ambasador Viro Sofa Bed. It's one of the most visually interesting options on our list!
It's a 2-seater sofa that can extend up to 190 cm when in its sleeping configuration, making it ideal for taller people with a height of more than 6 feet. The days of struggle over a bed that can't support their entire body will be over!
Unlike most sofa beds, this one's not going to be a hassle come washing day. It has a detachable cover that can easily be removed if you want to wash it.
If you haven't decided where to place it, we'd recommend that you have it inside your guest room. That way, your visitors will be comfortable as they spend the night in your home.
Highlights
2-seater
91 cm x 190 cm x 17 cm
Cool design
Not-too-soft mattress
3. AIDEAL Living Foldable Sofa Bed
Best for Couples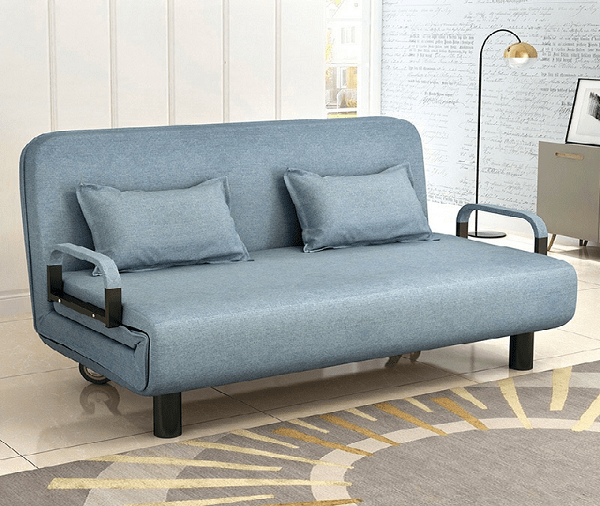 Price: $169.00
Hanging out by the living room will be much more enjoyable when you're resting on the AIDEAL Living Foldable Sofa Bed in Singapore. Perfect for couples and smaller families, it can accommodate up to 2 persons in both its sitting and sleeping positions.
When in its sleeping position, it can extend up to 130 cm, with a width of 120 cm. It has a total height of 78 cm, so it wouldn't take up too much space whichever you place it. In its sitting position it is a spacious comfortable 2 seater sofa bed in Singapore.
Another thing we love about it is that it comes in two colours: royal blue and light brown. You have the liberty to choose which can best complement the interiors of your home.
In terms of durability, we can't say for sure that this one's going to last longer than expected since its mattress is only made from high-resilience sponge. However, if you're not going to use it regularly, then we supposed that it shouldn't be a concern.
Highlights
130 cm x 120 cm x 80 cm
2 seater
Made from fabric and high resilience sponge
Customer Reviews
Looking at its reviews on Lazada, we can say that most buyers were satisfied with it. It has an average of 5 stars based on a number of reviews.
One of the most common comments about it is how easy it is to convert into a bed. You won't have to break every bone in your body just trying to put it in its sleeping position.
Another customer said that his mother loved it because it's covered in soft fabric.
4. MYSEAT Ellis Foldable Single Sofa Bed
Best for People Living Alone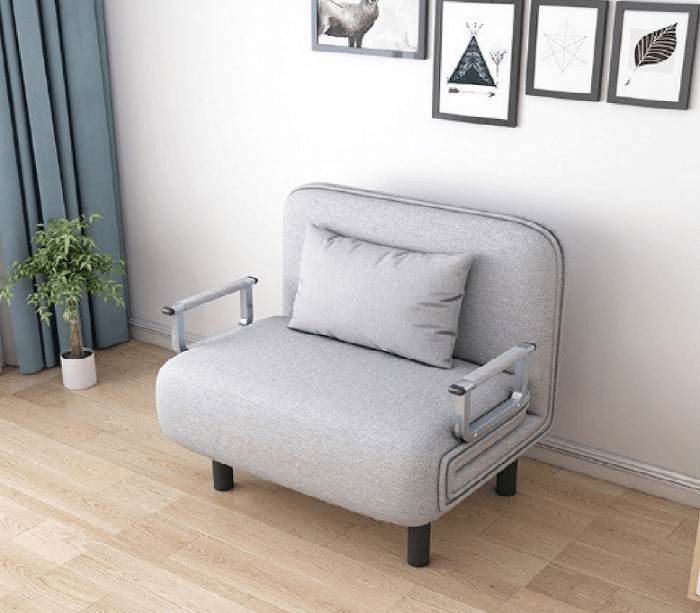 Price: $219.00
Now, this tiny single sofa bed in Singapore is for people living alone with a few extra bucks to shell out. The MYSEAT Ellis Single Sofa Bed is not the cheapest sofa bed in Singapore but we think it's worth the heavy price tag.
If you have a tiny home and don't want furniture that takes a lot of space, then this one's perfect for you. It's a single-seat sofa bed that has an extended length of 190 cm and a width of 150 cm, making it a great option for taller people.
In addition, it features a mattress with a thickness of 10 cm, a lot thicker than most sofa beds out there in the market. It's also made with high-density foam, so you won't have to worry about your body sinking because of an extremely soft mattress.
Speaking of its frame, it's made from durable and sturdy stainless steel that's designed to withstand regular usage and heavy weight, on top of its high quality flannelette fabric. You will definitely get your money's worth when you take home this gorgeous sofa bed!
Highlights
1-seater
Stainless frame and handle
High density foam
Foldable design
1-year local warranty
Customer Reviews
Based on customers' reviews, this sofa bed provides maximum comfort to the entire body and is very easy to assemble! Unlike other sofa beds, this one can be folded in and out in under 5 seconds without the user having to break a sweat.
Another comment says that if they can only spend the entire day on this sofa bed, they would do so! It's so comfortable that you would never want to get up and do other things.
5. Riteng DIY Foldable Sofa Bed
Best for Durability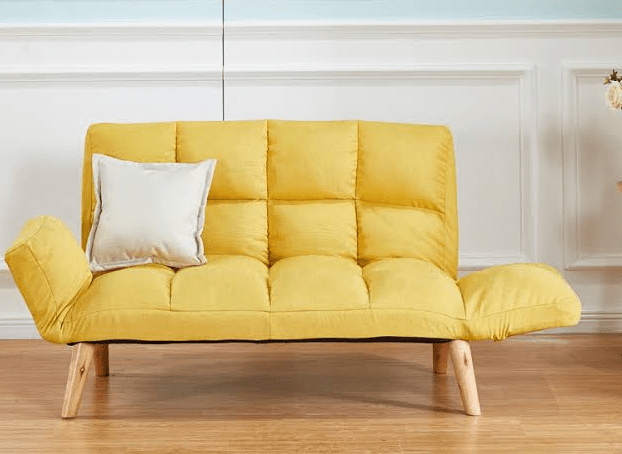 Price: 184.80
If you have ever dreamed about having a strong and sturdy sofa bed, then look no further than the Riteng DIY Foldable Sofa Bed. It's so durable that it can carry the weight of up to 3 adults!
With its foldable frame, this sofa bed won't take up too much space inside your home. However, when it's folded out into its sleeping position, it becomes one large bed that can accommodate up to 3 bodies!
Speaking of its sleeping position, it has a width of 110 cm and a total length of 177 cm. What's more, it can even transform into a tatami when you take out its four legs!
It also has an adjustable arm and backrest that can be calibrated into five levels. There's no need to switch positions just to be comfortable when you can simply adjust its arm and backrest.
Lastly, it features a soft and durable mattress that can offer support to your entire body, from the head down to your toes. So, if you're looking for a sofa bed that can give you so much more, then this might be the perfect one for you.
Highlights
177 cm x 110 cm x 78 cm
2-to-3-seater
Adjustable arm and backrest
Secret pockets
Extremely durable
Breathable material
6. Bed and Basics Massimo Sofa Bed
Best for Huge Houses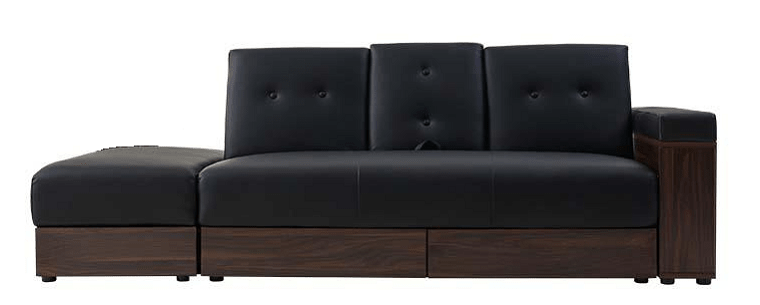 Price: $479.00
For those who have big houses and want a large leather sofa bed in Singapore, then the Bed and Basics Massimo Sofa would be perfect for you! Just a disclaimer, this one's very expensive, and we can only suggest it to those who have money to spend.
Despite its price, you will definitely get what you paid for with this sofa bed. First of all, it also comes with drawers at the bottom wherein your store some of your clothes and personal items.
On its side, there's a shelf where you can store some of the books you're currently reading. That way, you don't have to go all the way to the other room when you're in the mood to do some light reading.
Another thing we love about this sofa bed is that it comes with detachable footrest that can be used either as a separate chair or an extension of the bed. It's up to you how you want to use it and be comfortable whether you're sitting or lying down.
Lastly, the entire sofa bed is covered with high-quality black leather that isn't too warm on the skin. Unlike most leathers, this one will maximise the comfort given to your body.
Highlights
Reclining backrest
Extra storage space
Detachable footrest and armrest
Easy to clean and maintain
High quality leather and mattress
Customer Reviews
Customers who bought it on Lazada mentioned that money spent on this sofa bed was worth it because it comes with features that have never been seen in other sofa beds.
One of the things that most customers loved is the extra cabinet and bookshelf. And despite being huge, it will not really take up a lot of space because it's like having 3 pieces of furniture merged into one.
7. Leonard L-Shaped Sofa / Sofabed / Storage
Best for Saving Spaces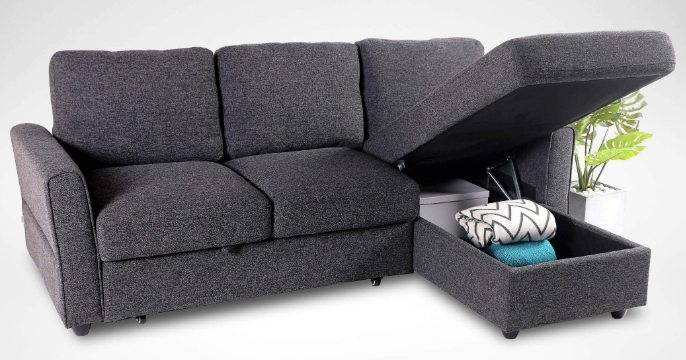 Price: SGD1,148.00
Sure, storage sofa beds in Singapore are probably created to save you some space. Instead of having separate areas for a couch and a bed, they were put together instead. But, did you know that with Leonard L-Shaped Sofa, you can get even more space than what other brands can give you?
Leonard L-Shaped Sofa is not just a couch or bed, it is also a sofa bed with storage in Singapore. Yes, you read that right. Under one of its seats is a pull-out storage box where you can keep your sheets, blankets, or pillowcases.
This is ideal for people who live in small, enclosed spaces so you don't have to add more drawers. Just keep them under your sofa bed and you're all good.
Highlights
3-in-1 sofa: L-shaped sofa + Sofabed + Storage compartment
Backrest cushion covers are removable for washing
Chaise portion can be fixed on either left or right side of sofa
8. Spaceman Slumbersofa
Best for Comfort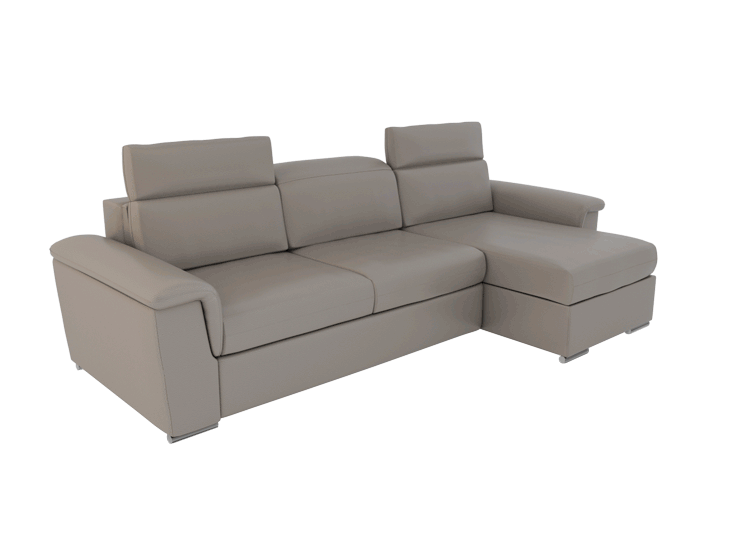 Price: From $2588

If your priority is comfort and style then you will love the unique Spaceman range of real mattress sofa beds.
Spaceman Slumbersofa models offer the comfort of a handmade Italian sofa, combined with the sleep quality of a real mattress. There is a choice of mattresses also made in Italy with antibacterial, anti-mite, hypoallergenic stretch covers.
You can choose from five sizes, compact single to queen, with options like storage chaise (L shape), storage footstool, or extend the sofa with additional seats, you can even make a palatial corner sofa.
These magnificent sofas are made to order in Italy in your choice of over 100 fabrics or 100 cow's leather options, and with some models, you can even customise the design.
Choose a classic sofa design like Slumbersofa Pronto, something quirky like Slumbersofa Slender, the luxurious Slumbersofa Highback with adjustable headrests or the sumptuous Slumbersofa Relax with goose feather cushions. These sofas look and feel so good you wouldn't guess there is a bed inside.
Highlights
1, 2 or 3 seater
Compact single, single+, super single, double and queen sizes
Real mattress
Handmade in Italy
Choice of 100+ fabric and 100+ leather covers
Customisable
Customer Reviews
Customers were amazed that it feels like a real sofa and you can't tell when you look or sit that it will convert into a bed, it amazes their friends.
They also commented on the benefit of being able to customise the design so for a small space you can choose slimmer arms.
And with that, we conclude our list of the best sofa beds in Sg! Say goodbye to sleepless nights and back pain once you get any of these amazing sofa beds. We're pretty sure you're now checking the sites to see if there are sofa beds for sale in Singapore at the moment.
Do you already have a favourite from our list that you'd like to take home with you? Tell us why it's your pick by leaving a comment below!
By the way, since you're here, we think that you would also be interested in our list of the best mattress toppers in Singapore or the best mattresses in Singapore. Any of these will be a great addition to your new sofa bed and definitely help you have a more comfortable and peaceful sleep!