*Photo from Pexels
 A receding hairline is either caused by ageing or an unhealthy scalp, or both. Fortunately, you can try to fix it by using the best hair loss shampoo in Singapore.
The best hair loss shampoos in Singapore keep your hair and scalp healthy. Well-cared for heads are less prone to hair fall… and may even see an improvement in hair thickness, in some cases.
If that's something you'd like, we can help out by giving you a list of the top hair loss shampoos in Singapore right now. Try out these 7 shampoos in your mane to see if you can get it glossy and full again!
1. SMIB


Price: $129.90
BEST FOR

Anti Hair Loss Shampoo Kits

PRODUCTS

Coral Calcium Shampoos for Hair Loss and Scalp Massager

WEBSITE

https://www.smib.com.sg/

 

ADDRESS

69, #08-31 Ubi Rd 1, Singapore 408731

CONTACT DETAILS
[email protected]
OPERATING HOURS

Weekdays, 10:30 am to 5 pm 
The No. 1 shampoo for hair loss in Korea is now available in Singapore and people can't get enough of it. Why? Simple. It works and it's worth your money. 
Their shampoo kits are a godsend for anyone combating hair loss. Plus that scalp massager isn't just a throw-away accessory, it actually helps work in the nutrients on your scalp. (And it's super relaxing too!)
When a product is still positively spoken off online and offline even after the hype, you know it works. And people see that too. 
Service Highlights
Relaxing and Effective Scalp Massager 
Revives Shine and Vitality to the Hair
Leaves the Scalp Cool and Refreshed
Customer Reviews
People of the internet have agreed. SMIB is one of the leading products when it comes to shampoos for hair loss. Starting the hype in Korea, more and more people are now discovering the magic science of SMIB!
"I have noticed that my hair is now thicker and fuller and is growing faster."
"Awesome! It grow back those postpartum hair loss. Baby hair are showing now!"
So, you may want to stay in the shade as much as possible for your mane's sake. And after you've shielded your hair, be sure to get full body protection too, perhaps by trying our suggestions for the best sunscreens in Singapore.
2. Wowo Pure Ginger Shampoo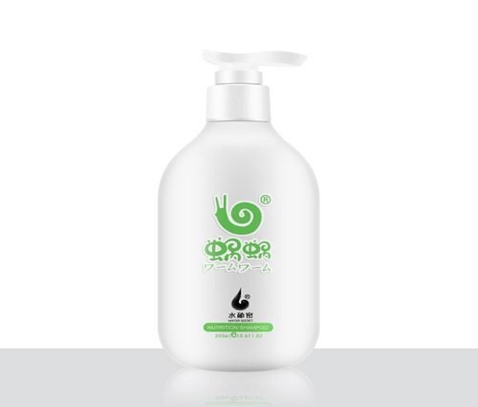 *Photo from Lazada
Price: $24
The first of our top hair loss shampoos in Singapore is Wowo Pure Ginger Shampoo. It's actually multipurpose, though, as it may help with migraines too.
You see, the shampoo is specifically made to soothe headaches quickly. The shampoo also strengthens your strands, encouraging them to grow thicker.
Through the pure ginger extract plus jojoba oil, it also moisturises the scalp to prevent split ends and fragile tips.
Highlights
Revitalises the hair's shine for a glossier mane
Has pure ginger extract that quickens hair growth and reduces hair loss
Contains wheat germ protein to repel ageing plus soften the strands
Especially formulated to relieve headaches
Customer Reviews
Washing with Wowo Pure Ginger Shampoo has softened many users' hair. Here's a review from one user:
"After wash [the shampoo] makes my hair real soft [and] manageable. Satisfied with the product. Will continue to buy. T[hanks]," says James N. via Lazada
3. PHS Hair Science Fortify Shampoo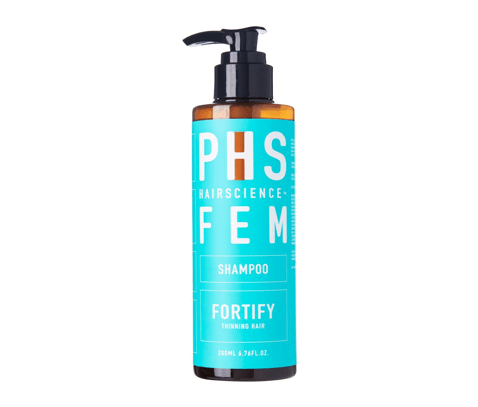 *Photo from Lazada
 Price: $48
PHS Hair Science Fortify Shampoo strengthens from roots to strands. It cleanses intensely by exterminating impurities from the scalp's pores.
Carrying botanical essences, the shampoo nourishes the roots and scalp so the strands can grow healthier. Through stem cell technology, the also shampoo stimulates follicles to enhance hair growth.
Highlights
Deeply cleanses by unclogging follicles
Nurtures the scalp to grow livelier hair
Prevents hair loss by activating the follicles so hair will grow quicker
Special formula that thickens strands
Customer Reviews
Buyers of the PHS Hair Science Fortify Shampoo adore its effects. Many say its fresh feel comforts them while also creating a volume-adding effect in the hair.
An Anonymous Customer via Lazada celebrates the shampoo, exclaiming, "Love the product! Leaves a very fresh feel and it feels puffier."
4. Kerastase Specifique Bain Prevention Shampoo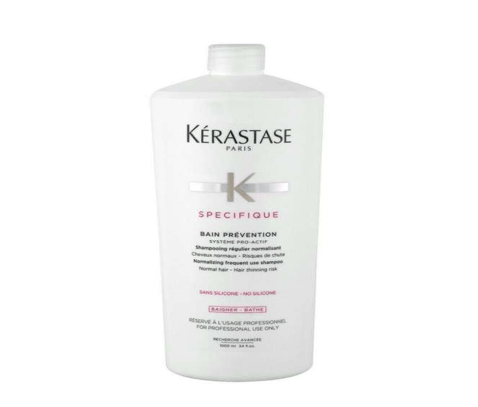 *Photo from Lazada
 Price: $79
Protecting the scalp's wellness, Kerastase Specifique Bain Prevention Shampoo is proven to prevent hair loss. When used more often, its effectiveness is boosted as it pampers your hair's strands.
The shampoo is gentle on the scalp, nourishing the hair follicles so the strands will become healthier. It also encourages circulation, which lets the hair better absorb moisture.
Highlights
Pampers the sensitive scalp with the shampoo's gentle texture
Use more often to stop hair loss and thinning hair
Système Pro-Actif technology – optimises micro-circulation of the blood to diminish hair loss while thickening the fibre for volume
Smoothens the hair immediately
Customer Reviews
The Kerastase Specifique Bain Prevention Shampoo has been received very well by many customers. When they use it, they say it diminishes hair-loss drastically.
According to Jia-Cheng via Lazada, "[The] product works like magic! It literally just reduced my crazy hair loss significantly in just 2 days? Amazing."
5. Growell Shampoo Extra Care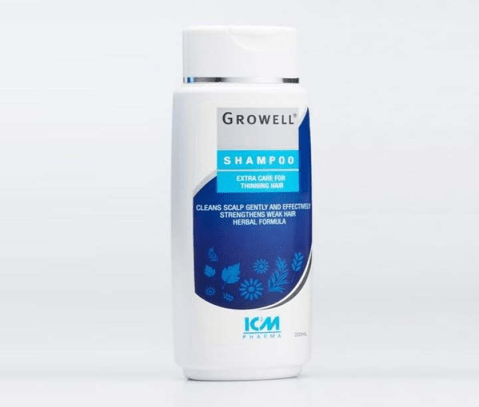 *Photo from Lazada
Price: $14.70
You can fortify your hair with specially-formulated care through Growell Shampoo Extra Care. Every wash improves the hair's volume vividly.
The scalp is infused with essential nutrients by this shampoo, fortifying the strands. Upon washing, the hair is hydrated and repaired through the 7 botanical extracts topped with wheat protein for added rejuvenation to the follicles.
Highlights
Thickens the hair for enchanting volume
Produces silky strands
Specifically created to care for thinning hair by nourishing the scalp
Promotes hair growth through reinvigorating the follicles
Customer Reviews
Being one of the best hair-loss shampoos in Singapore, Growell Shampoo Extra Care has more to it than its benefits. Customers are quick to note the shampoo's pleasant smell upon use too.
6. Shiseido Adenovital Shampoo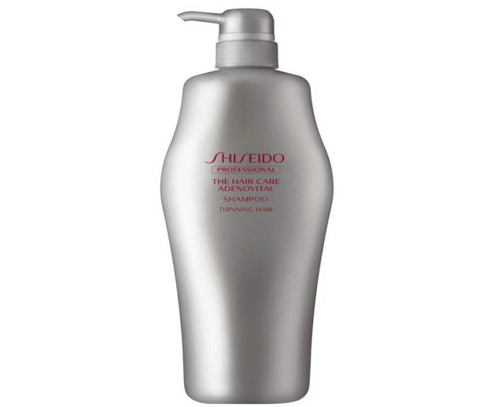 *Photo from Lazada
 Price: $67.00
Using Shiseido Adenovital Shampoo can be a great way to improve hair's lustre. One wash provides total moisture that brings out the strands' inherent shine.
This shampoo is produced to hydrate the scalp, resulting in hair having thicker volume. The shampoo rehabilitates and smoothens the hair even as its nourishing ingredients prevent breakage.
Highlights
Reduces hair loss by nurturing the scalp
Eradicates excess oil for cleaner, silkier strands
Provides long-lasting moisture so the hair stays fresh and manageable with natural lustre
Strengthens hair through an ample supply of nutrients
Customer Reviews
Aside from supplying wellness to their hair, Shiseido Adenovital Shampoo has a special factor that most users like. Its fragrance lasts beyond washing and is praised by users, most of whom say they love the scent.
7. Nioxin System 2 Anti-Hair Loss Shampoo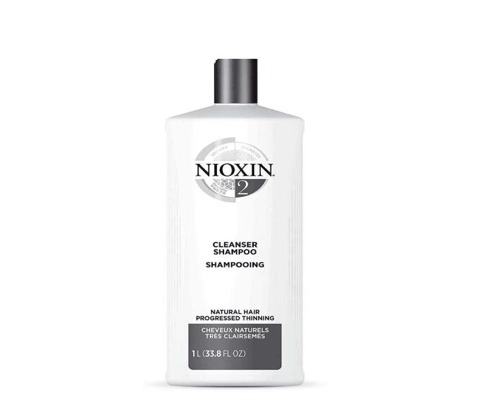 *Photo from Lazada
Price: $33.80
The Nioxin System 2 Anti-Hair Loss Shampoo is a refreshing shampoo that lets users don a "shield" against the sun. When you wash with it, protective barriers engulf your hair and protect it from harmful UV light.
Post-wash, the hair is also regenerated with stronger strands. The shampoo also conditions the scalp to promote its health.
Highlights
Creates a protective layer shielding against UV rays, stopping hair dryness and damage caused by the sun
Removes sebum and fatty acids to prevent an oily scalp
Eliminates natural residues from the hair
Stimulates hair growth to produce thicker strands
Customer Reviews
The Nioxin System 2 Anti-Hair Loss Shampoo works as described, customers attest. Most of them confirm that it leads to a healthier scalp after repeated use, and describe it as one of the best hair loss shampoos in Singapore.
8. Alpecin Caffeine Shampoo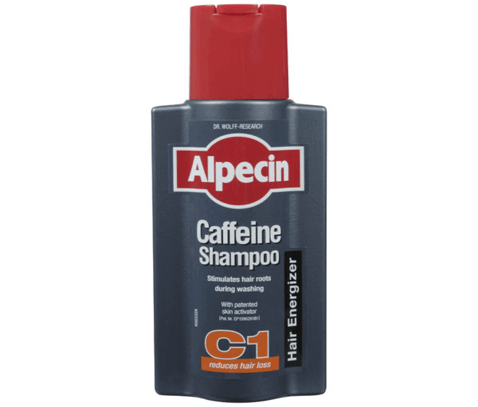 *Photo from Lazada
Price: $16.90
Alpecin Caffeine Shampoo claims to energize the hair for renewed growth. The shampoo conditions the follicles to produce striking volume.
 Mixed with caffeine, the Alpecin Caffeine Shampoo proposes to awaken hair cells' regeneration so the strands will grow faster and with more volume. The ingredient also prevents the hair-loss effects of Dihydrotestosterone (DHT).
Highlights
Prevents hair loss through its caffeine formula, awakening the scalp's ability to regenerate fuller strands
Conditions the hair to provide more volume
Use daily for maximum scalp protection
Frequent usage results in a deeper hair nourishment
Customer Reviews
This shampoo has a lot of fans. They say the Alpecin Caffeine Shampoo truly prevents hair loss. Some users stated, for instance, that it seemed to help them after only a few washes. Others were a little more cautious about confirming that its benefits stacked with repeated use, but most did agree that it had appreciable effects within the first weeks or so of usage.
As you can see, though, there's no shortage of candidates for the title of best hair loss shampoo in Singapore. The 7 we've listed here are the top options if you want to rejuvenate your limp mane.
It's worth noting that most of these shampoos have an element of protection against the sun, though. That's a serious factor in hair loss, particularly in ever-sunny Singapore.