11 Best Hair Loss Shampoos in Singapore: Thick Hair in 2022!
A receding hairline is either caused by ageing or an unhealthy scalp, or both. Fortunately, you can try to fix it by using the best hair loss shampoo in Singapore.
The best hair loss shampoos in Singapore keep your hair and scalp healthy. Well-cared for heads are less prone to hair fall… and may even see an improvement in hair thickness, in some cases.
If that's something you'd like, we can help out by giving you a list of the top hair loss shampoos in Singapore right now. Try out these 7 shampoos in your mane to see if you can get it glossy and full again!
1. SMiB
Price: $279.60 Sale price: $199.90
SERVICES
Hair loss treatment
PRODUCT
Plasma scalp massager, Coral Calcium Hair Loss Shampoo, Coral Calcium Hair Tonic, and Coral Calcium Hair Essence.
WEBSITE
http://smib.com.sg
ADDRESS
69 Ubi Road 1 #08-31 Lift lobby 3
Singapore 408731
CONTACT DETAILS
[email protected]
OPERATING HOURS
Monday – Friday, 2:00 PM – 5 PM
SMiB is a company that provides an innovative range of Korean hair care products focused on helping clients' hair loss problems.
The products they offer have great efficiency and have gone through two years of intensive research and development.
Its efficiency is also backed by clinical test reports including the P&K Skin Research Center report.
Their Coral Calcium Shampoo is one of the best root boosters to help grow hair faster and stronger.
It is free from silicones, 23 harmful chemicals, and it works more when used along with the plasma scalp massager. When used together it enhances scalp metabolism and aids in the absorption of our coral calcium essence.
But if you want to get the most out of their products, we highly recommend getting their exclusive bundles such as their premium starter kits.
It starts at $279.60, however they have an amazing sale right now therefore, for only $199.90 you can obtain their hair loss shampoo, treatment, scalp essence, and plasma scalp massager.
With everything they have to offer, we truly believe that SMiB has one of the best hair loss shampoo in Singapore. They have been backed by thorough research and have great reviews.
Highlights
High-quality hair loss products
Provides exclusive bundles
Highly effective when paired with their other products
Affordable rates
Customer Reviews
My scalp feels thoroughly clean, refreshed, and less itchy
"I was pleasantly surprised to find my scalp rejuvenated and hair texture greatly improved after a few times of usage. I love that SMIB Coral Calcium Hair Care products are made using high grade coral calcium and free from 23 harmful chemicals. It lathers well and smells good. My scalp feels thoroughly clean, refreshed and less itchy. My hair loss issue is significantly improved and my hair is more smooth and manageable now." – Fay Lim
My scalp feels so clean after the shampoo and my hair is alot smoother
"I've been using the whole range of SMIB products for 4 months now. I love all of it! My scalp feels so clean after the shampoo and my hair is alot smoother with the treatment. The massager and tonic has also enabled my hair to grow again after just 4 months! This is so much more effective than the years of hair treatment I had been too. Thank you SMIB!! "  – Laureen Lim
2. Kiierr Hair Growth Products Bundle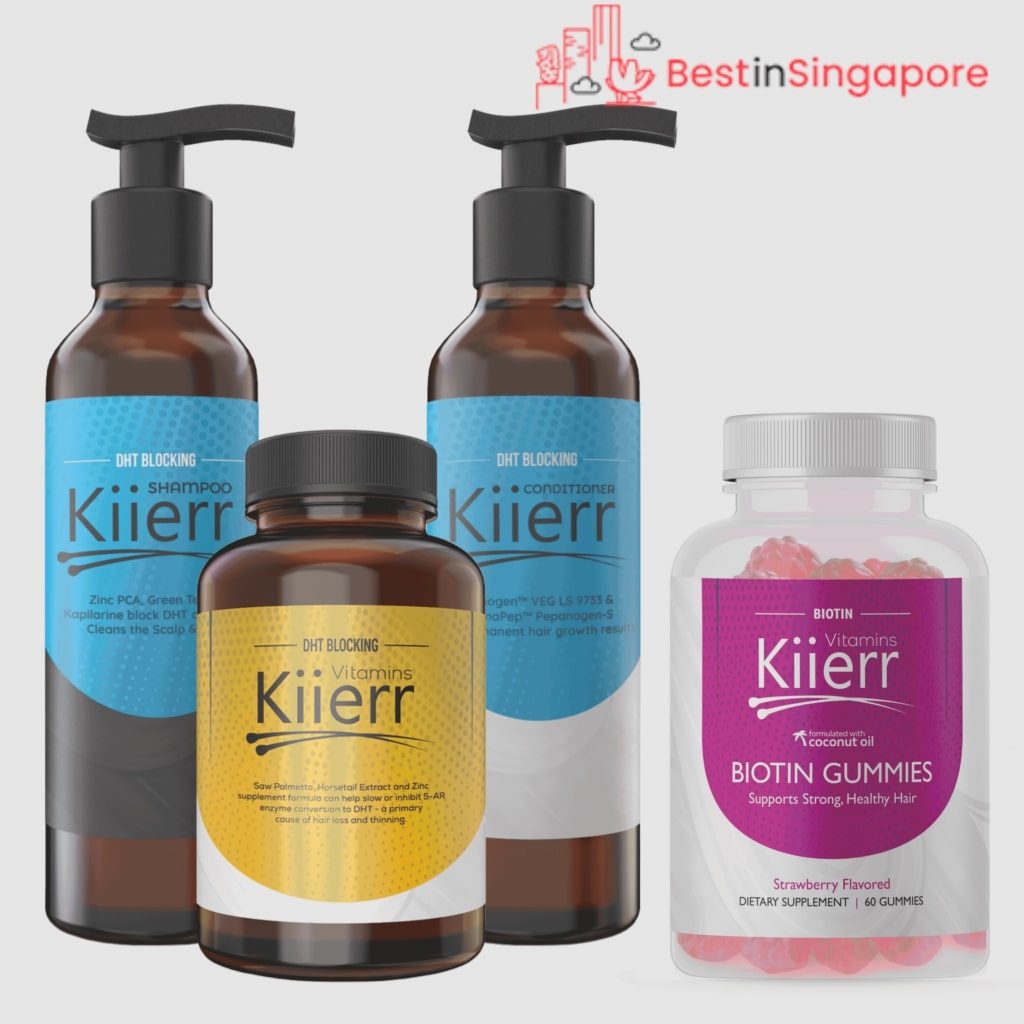 Price: S$99.00 – $199.00
The Kiierr Hair Growth Products Bundle is a combination of some of the best products that Kiierr offers to help you understand and experience the true results that you can get from a real, effective hair growth treatment. It contains a total of three items.
Their DHT (dihydrotestosterone) blocking vitamins improve scalp circulation, blocks DHT, and promotes hair growth. It also includes saw palmetto, horsetail extract, and zinc to help slow down or inhibit 5-AR enzyme conversion to DHT, which is the primary cause of hair loss.
To further improve the effects of their vitamins, the bundle also has the Kiierr DHT Blocking Shampoo for Hair Growth. It blocks enzymes that turn testosterone into DHT and also has proteins for hair health, Vitamin E, Pro-Vitamin B5, keratin, jojoba oil, and collagen amino Acids.
Lastly, it has the Kiierr Conditioner for Hair Growth. It promotes new hair growth using two active ingredients: Trichogen®VEG LS 9733 and DermaPep®Pepanagen-S.
Overall, we can definitely recommend this bundle for people who want products that will help them treat their hair loss, all while not costing as much as other products on the market.
Service Highlights
Is often on sale
Numerous positive customer reviews regarding effectivity
Cheaper when bough in a bundle rather than individually
Customer Reviews
Here's what some people have to say about it:
"I got this cap from a friend who had done lots of research and thought it could benefit me. I was very skeptical at first… but am soooo happy I decided to use it. my hair had started to thin and I noticed that my part was showing much more scalp than before. not sure if others noticed, but I definitely did. still not sure what caused my hair thiRead more about I got this cap from a friend who hadnning but I started using the laser cap about a year ago… after about 6 or 8 months I really noticed a difference. less of my scalp was showing and my hair felt so much thicker and healthier. I also dye my hair (gettin older and don't like the grey) and it seems like the color lasts much longer since i started using the cap. I suspect it's because my hair is healthier?? not sure but I love love love my laser cap and recommend it to everyone around me!!! "
"Bro this laser cap REALLY WORKS! I was thinning some and started taking the laser hat 2 months ago. This is no dye or anything. They told me full results will take 4-7 months. Can't wait til month 7!"
3. Wowo Pure Ginger Shampoo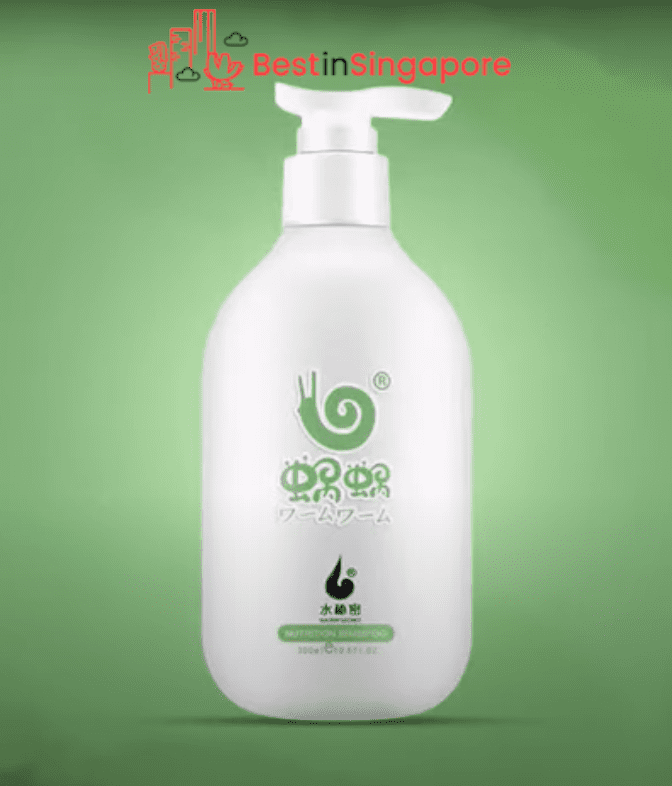 Price: $25
The first of our top hair loss shampoos in Singapore is Wowo Pure Ginger Shampoo. It's actually multipurpose, though, as it may help with migraines too. Talk about a hair loss shampoo in Singapore that beats two birds with one stone!
You see, the shampoo is specifically made to soothe headaches quickly. The shampoo also strengthens your strands, encouraging them to grow thicker.
Through the pure ginger extract plus jojoba oil, it also moisturises the scalp to prevent split ends and fragile tips. Hands down, we think that this is the most natural hair loss prevention shampoo in Singapore.
Highlights
Revitalises the hair's shine for a glossier mane
Has pure ginger extract that quickens hair growth and reduces hair loss
Contains wheat germ protein to repel ageing plus soften the strands
Especially formulated to relieve headaches
Apart from being a hair growth shampoo in Singapore, Wowo Pure Ginger Shampoo has softened many users' hair. Here's a review from one us
"After wash [the shampoo] makes my hair real soft [and] manageable. Satisfied with the product. Will continue to buy. T[hanks]," says James N. via Lazada
4. PHS Hair Science Fortify Shampoo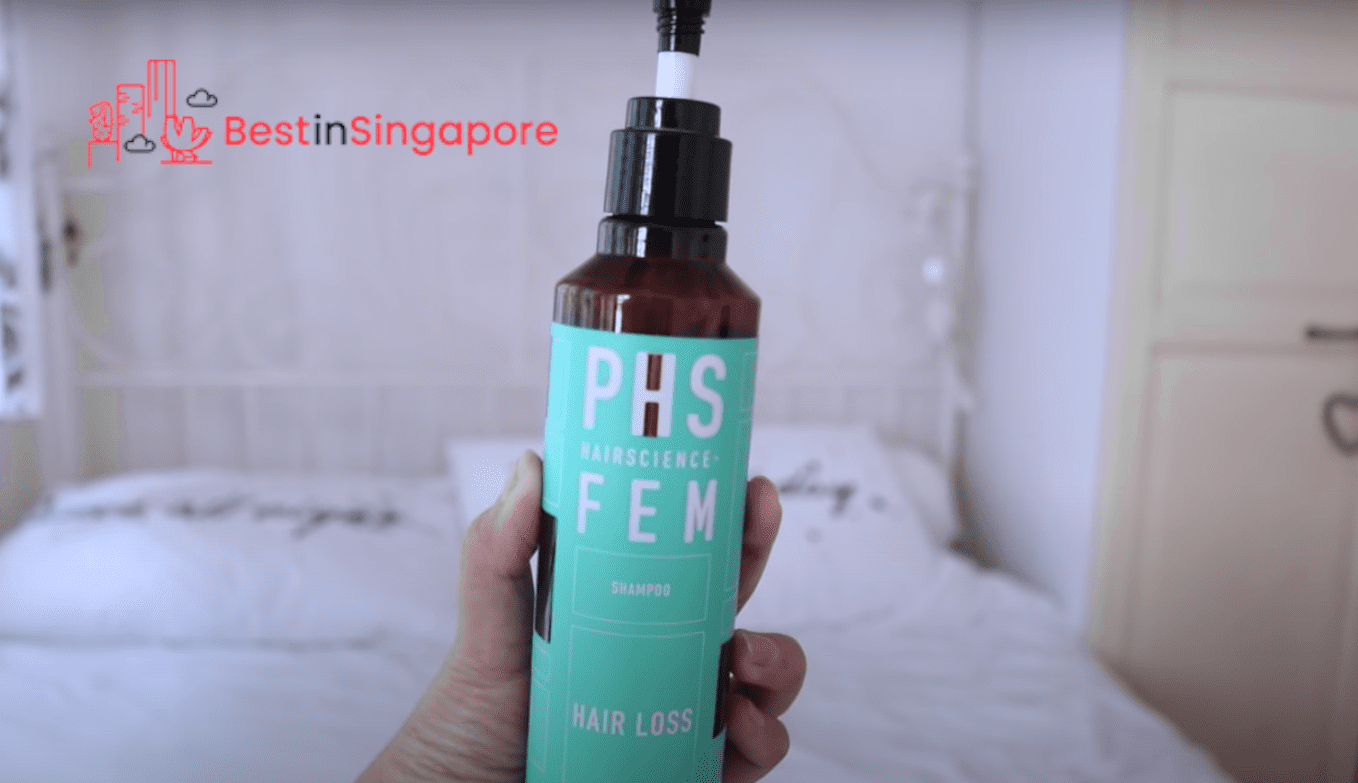 Price: $48
If you want a deep-cleansing shampoo for hair loss in Singapore, you should check out PHS Hair Science.
PHS Hair Science Fortify Shampoo strengthens from roots to strands. It cleanses intensely by exterminating impurities from the scalp's pores.
Carrying botanical essences, the shampoo nourishes the roots and scalp so the strands can grow healthier. Through stem cell technology, the also shampoo stimulates follicles to enhance hair growth.
For revitalising the hair roots and scalp, we think that PHS Hair Science is one of the best shampoo for hair loss in Singapore.
Highlights
Deeply cleanses by unclogging follicles
Nurtures the scalp to grow livelier hair
Prevents hair loss by activating the follicles so hair will grow quicker
Special formula that thickens strands
Buyers of the PHS Hair Science Fortify Shampoo adore its effects. Many say its fresh feel comforts them while also creating a volume-adding effect in the hair.
An Anonymous Customer via Lazada celebrates the shampoo, exclaiming, "Love the product! Leaves a very fresh feel and it feels puffier."
5. Kerastase Specifique Bain Prevention Shampoo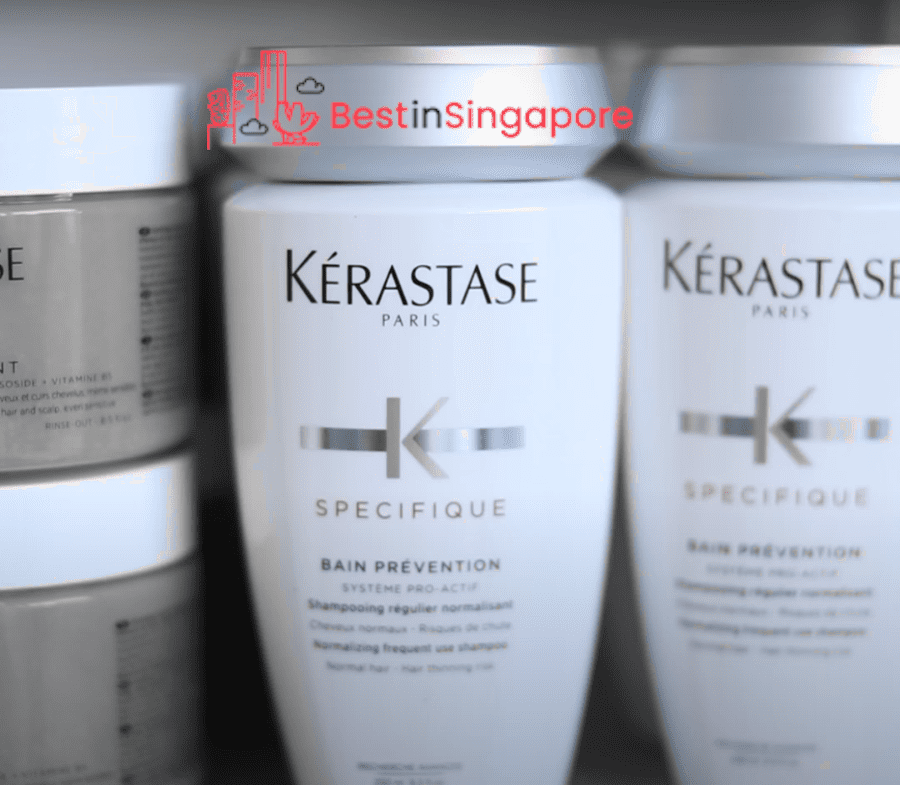 Price: $50.04
If you find yourself asking what shampoo is good for hair loss in Singapore, Kerastase should definitely not be overlooked.
Protecting the scalp's wellness, Kerastase Specifique Bain Prevention Shampoo is proven to prevent hair loss. When used more often, its effectiveness is boosted as it pampers your hair's strands.
The shampoo is gentle on the scalp, nourishing the hair follicles so the strands will become healthier. It also encourages circulation, which lets the hair better absorb moisture.
Overall, this is a good shampoo for hair loss in Singapore that brings moisture to your hair.
Highlights
Pampers the sensitive scalp with the shampoo's gentle texture
Use more often to stop hair loss and thinning hair
Système Pro-Actif technology – optimises micro-circulation of the blood to diminish hair loss while thickening the fibre for volume
Smoothens the hair immediately
The Kerastase Specifique Bain Prevention Shampoo has been received very well by many customers. When they use it, they say it diminishes hair-loss drastically.
According to Jia-Cheng via Lazada, "[The] product works like magic! It literally just reduced my crazy hair loss significantly in just 2 days? Amazing."
6. Melix Summer Rain Shampoo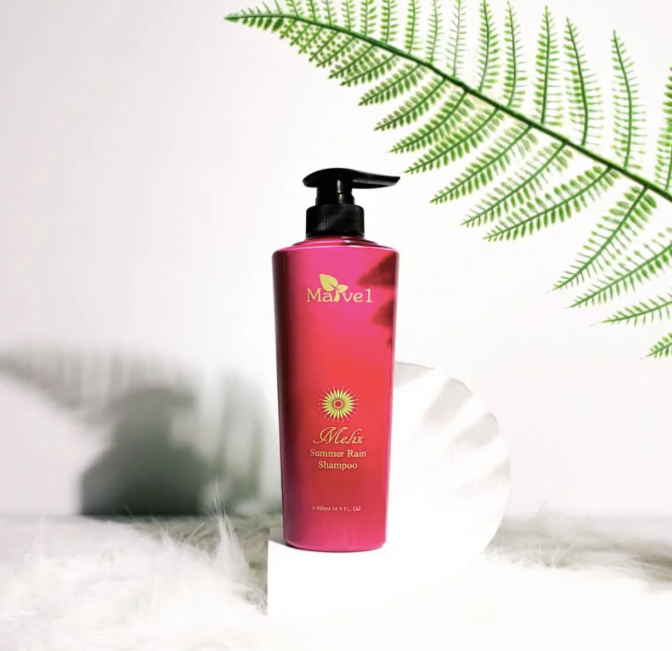 Price: RM118.00
Our hair is our crowning beauty, not only because it is at the top of our heads, but also because it has a significant impact on how we look.
The way one's hair is styled and maintained reflects one's personality and sense of style.
So we must make sure that proper care is being done with our hair as we age.
Good thing that Melix created Summer Rain Shampoo to help with Singaoreans experiencing sensitive, itchy and oily scalp. This shampoo also helps on deep cleansing, balance sebum and deodorizing one's hair.
We have been amazed by its ingredients where it is made out of TIlia Tomentosa Bud, Honey, Papaya, Mango, Pineapple and Rosewood Oil that can truly help in fixing your hair problems.
Highlights
Suitable for sensitive
Itchy and oily scalp
Help on deep cleansing, balance sebum and deodorize
7. Growell Shampoo Extra Care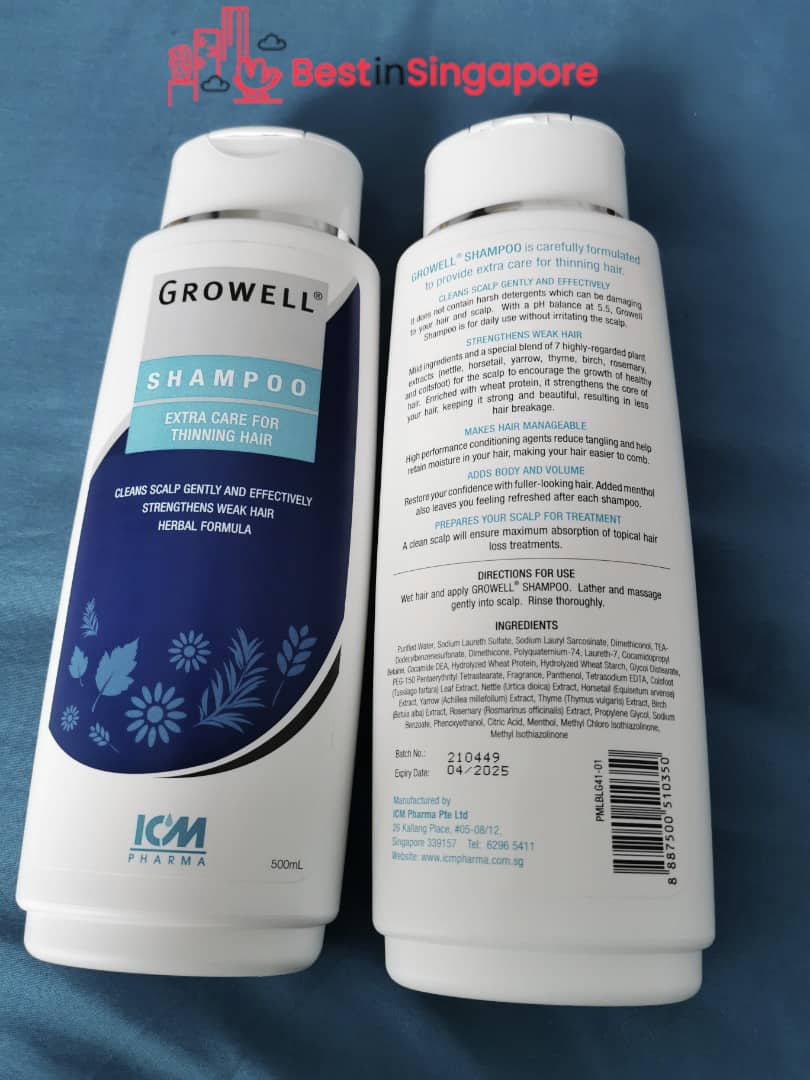 Price: $29.95
If you need an anti hair loss shampoo in Singapore that also gives volumising care to your hair, you should check out Growell.
You can fortify your hair with specially-formulated care through Growell Shampoo Extra Care. Every wash improves the hair's volume vividly.
The scalp is infused with essential nutrients by this shampoo, fortifying the strands. Upon washing, the hair is hydrated and repaired through the 7 botanical extracts topped with wheat protein for added rejuvenation to the follicles.
We think it's the best shampoo for hair fall in Singapore that also gives a silky lustrous finish to the hair.
Highlights
Thickens the hair for enchanting volume
Produces silky strands
Specifically created to care for thinning hair by nourishing the scalp
Promotes hair growth through reinvigorating the follicles
Being one of the best hair-loss shampoos in Singapore, Growell Shampoo Extra Care has more to it than its benefits. Customers are quick to note the shampoo's pleasant smell upon use too.
8. Shiseido Adenovital Shampoo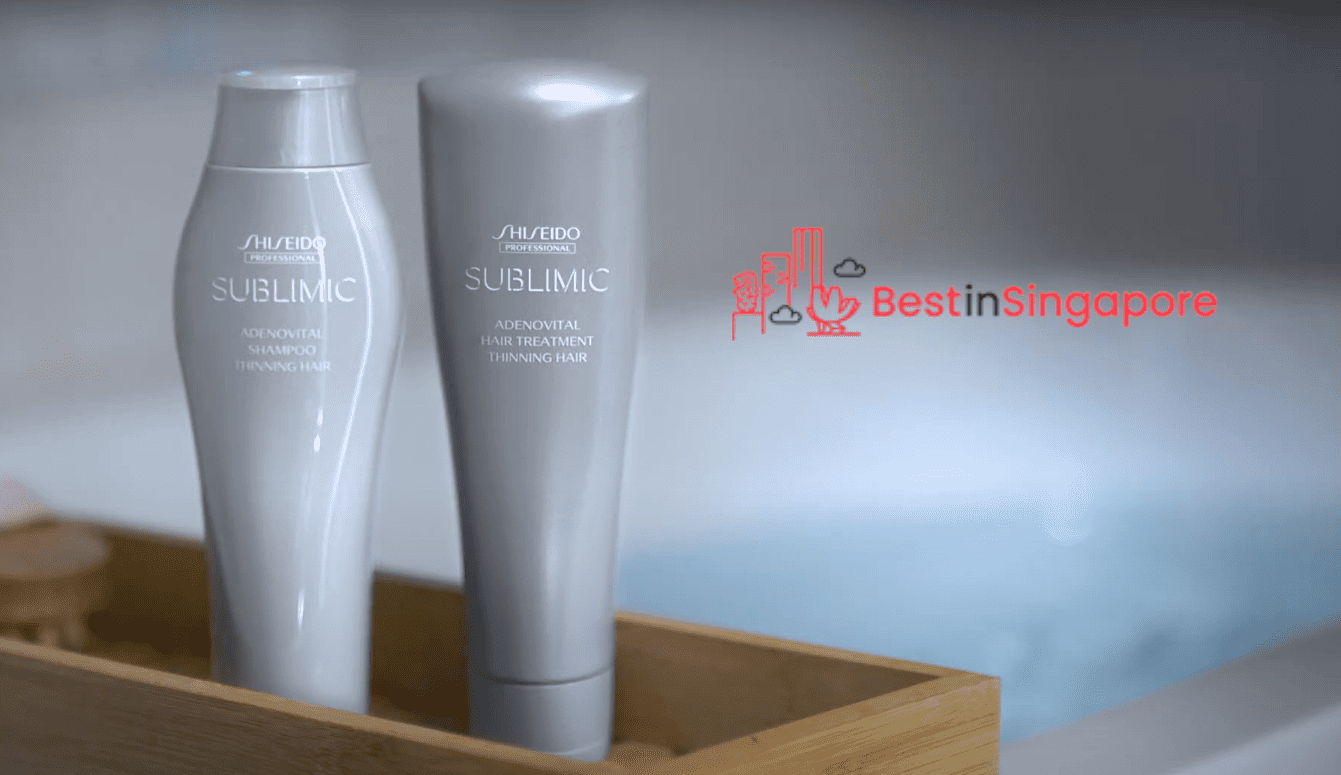 Price: $151.80
If you have the means to splurge on a hair loss shampoo in Singapore, make it Shiseido's Adenovital Shampoo.
Using Shiseido Adenovital Shampoo can be a great way to improve hair's lustre. One wash provides total moisture that brings out the strands' inherent shine.
This hair thinning shampoo in Singapore is produced to hydrate the scalp, resulting in hair having thicker volume. The shampoo rehabilitates and smoothens the hair even as its nourishing ingredients prevent breakage.
Reduces hair loss by nurturing the scalp
Eradicates excess oil for cleaner, silkier strands
Provides long-lasting moisture so the hair stays fresh and manageable with natural lustre
Strengthens hair through an ample supply of nutrients
Aside from supplying wellness to their hair, Shiseido Adenovital Shampoo has a special factor that most users like. Its fragrance lasts beyond washing and is praised by users, most of whom say they love the scent.
9. Nioxin System 2 Anti-Hair Loss Shampoo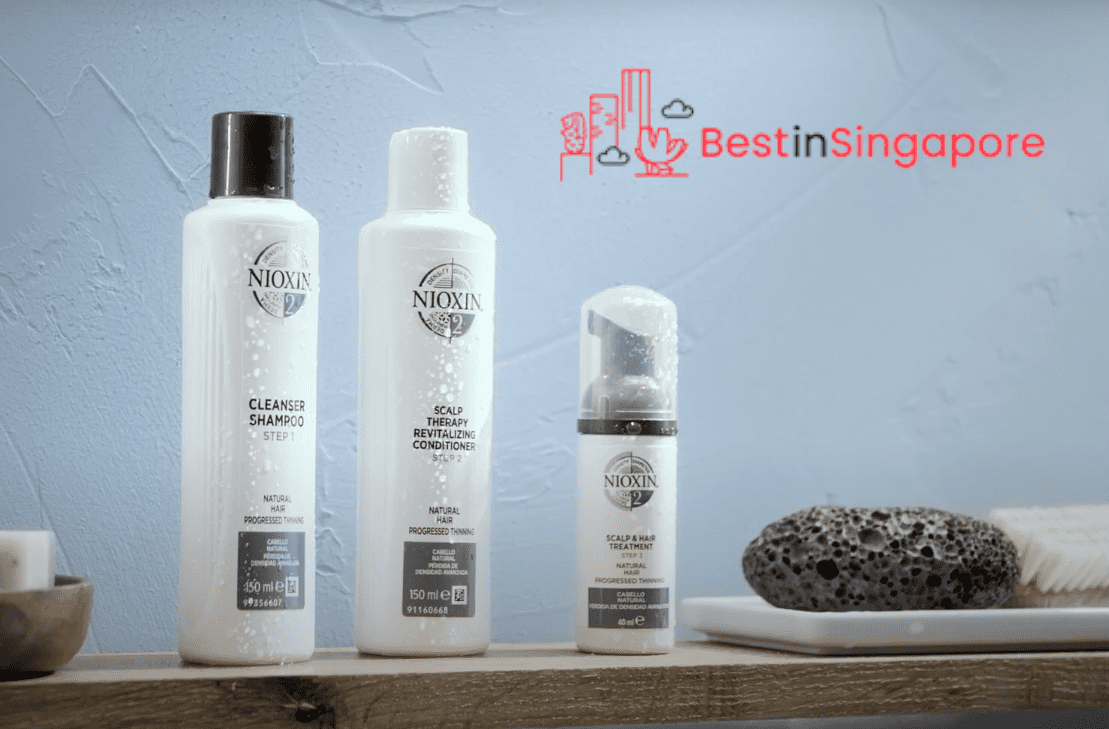 Price: $40.06
The Nioxin System 2 Anti-Hair Loss Shampoo is a refreshing shampoo that lets users don a "shield" against the sun. When you wash with it, protective barriers engulf your hair and protect it from harmful UV light.
Post-wash, the hair is also regenerated with stronger strands. The shampoo also conditions the scalp to promote its health.
Creates a protective layer shielding against UV rays, stopping hair dryness and damage caused by the sun
Removes sebum and fatty acids to prevent an oily scalp
Eliminates natural residues from the hair
Stimulates hair growth to produce thicker strands
The Nioxin System 2 Anti-Hair Loss Shampoo works as described, customers attest. Most of them confirm that it leads to a healthier scalp after repeated use, and describe it as one of the best hair loss shampoos in Singapore.
10. Alpecin Caffeine Shampoo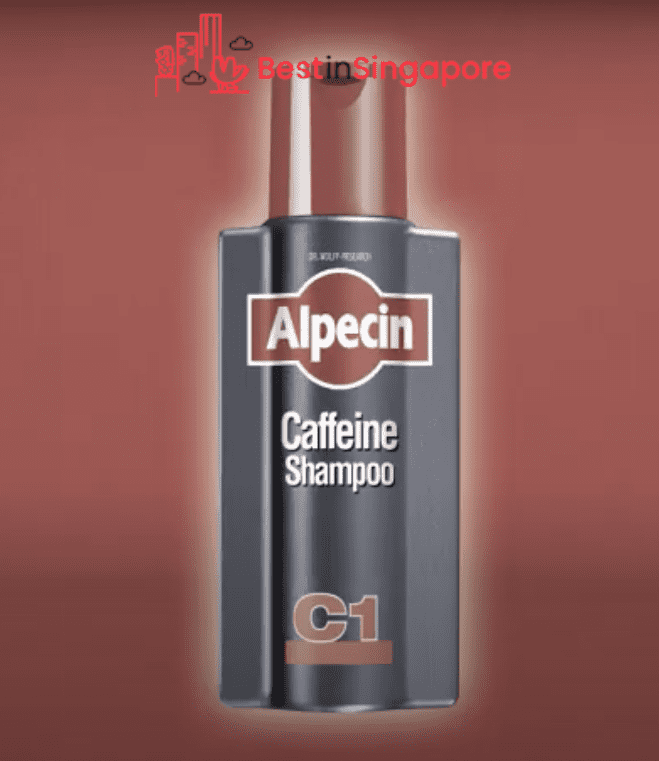 Price: $10.32
Alpecin Caffeine Shampoo claims to energize the hair for renewed growth. The shampoo conditions the follicles to produce striking volume.
Mixed with caffeine, the Alpecin Caffeine Shampoo proposes to awaken hair cells' regeneration so the strands will grow faster and with more volume. The ingredient also prevents the hair-loss effects of Dihydrotestosterone (DHT).
This shampoo is good for all genders but due to the caffeine, it's become one of the most popular hair loss shampoo for men in Singapore.
Prevents hair loss through its caffeine formula, awakening the scalp's ability to regenerate fuller strands
Conditions the hair to provide more volume
Use daily for maximum scalp protection
Frequent usage results in a deeper hair nourishme
This shampoo has a lot of fans. They say the Alpecin Caffeine Shampoo truly prevents hair loss. Some users stated, for instance, that it seemed to help them after only a few washes. Others were a little more cautious about confirming that its benefits stacked with repeated use, but most did agree that it had appreciable effects within the first weeks or so of usage.
As you can see, though, there's no shortage of candidates for the title of best hair loss shampoo in Singapore. What we've listed here are the top options if you want to rejuvenate your limp mane.
It's worth noting that most of these shampoos have an element of protection against the sun, though. That's a serious factor in hair loss, particularly in ever-sunny Singapore.
11. Hår Vokse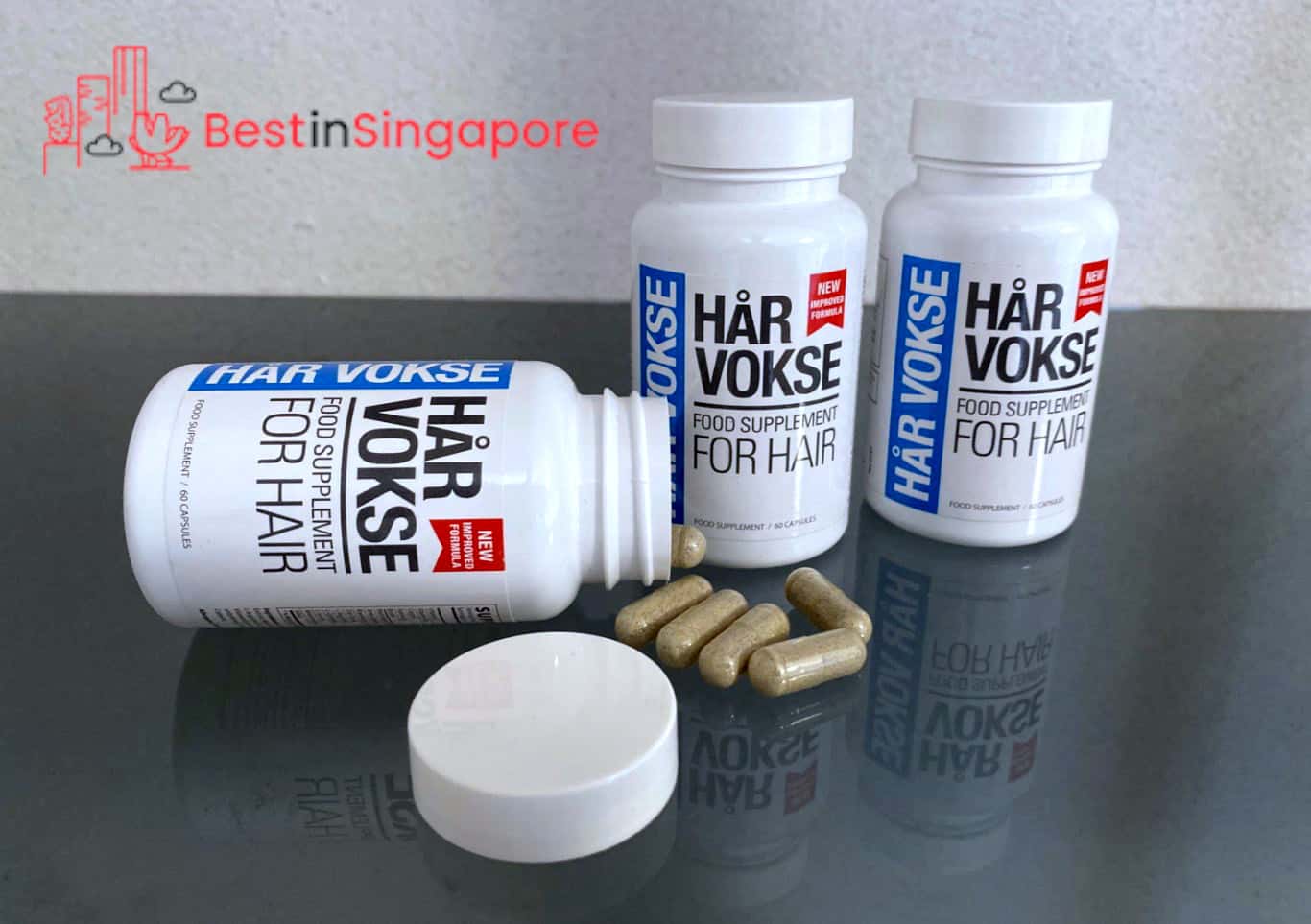 Price: $59.95 USD
Hår Vokse is a lasting, effective hair re-growth solution because it works from the inside out. It does not just tackle the surface of the problem, but it also works to stimulate new growth from within and delivers lasting results.
This product works two ways– first as a protector and second as a regrowth. It gets rid of the sensation of inflammation, fortifies and protects the hair that you already have, helps to promote substantial regrowth, and prevents any further hair loss for the person.
It works on all types of hair at different growth stages. The supplement can help grow hair that has been previously lost from existing hair follicles as well as hair with stunted growth, allowing you to combat hair loss and regain your confidence.
Service Highlights
Customer Reviews
Some customers swear by this product. Here is what people have to say:
"My Hair Loss Nightmare Is Over At Last! Almost all of my hair fell out over the course of one month. I'd always had lots of hair and kept it in a long plait long after I was grown up. Suddenly, in the course of five weeks, I'd lost almost all of it. Due to the stress, I wasn't sleeping, lacked energy, and had trouble concentrating. Then after a few days, I was given a tip by a colleague and thought I'd try. The preparations only contained natural ingredients so at least they couldn't be harmful. It was the Hår Vokse supplement formula. I took it every day and it didn't take that long to work. I started in the autumn and by Christmas new hairs had started to grow. By spring I had new hair – with curls! Today I have a full head of curly hair with only two small patches that do not show. It's amazing!"
"I Couldn't Believe What I Was Seeing! I was always quite proud of my hair, until the day I realized that my hairline was receding. I went from having a full head of hair to a receding, wispy covering that was a shadow of its former glory. Then one day someone told me about this marine protein formula – HårVokse. I am usually pretty skeptical about this sort of thing, but I didn't have anything to lose other than what hair I had left! I figured that if I stuck to the system I might be seeing some results in a few months, however small. And now, I have just completed a 1-month course, 2 supplements per day in addition to using the spray twice a day. The results are incredible! My hair is thicker, fuller, and much healthier looking; friends and family have actually asked me what my secret is! Cutting long story short, I can't recommend HårVokse™enough!"