The 8 Best Hair Loss Treatments in Singapore
Have you been experiencing frequent hair loss or hair thinning? Well, then you might've already tried tons of products but still can't find the best hair loss treatment in Singapore.
Lucky for you, we've already done the tough trial-and-error and research process until we ended up with the best hair loss treatments in Singapore! Each one from our picks caters to specific conditions, so you'll easily find the right one for you!
However, there are things that you must consider when looking for a hair loss treatment. So before we go on to our list, you must learn how to select the right treatment for your hair first.
How to Choose the Right Hair Loss Treatment
Using a hair product that's not suitable for your needs may lead to worse hair — that's why you must be extremely careful while you shop for a hair loss treatment product.
Here are a few of the essential factors that should look out for:
1. Hair Type
The particulars of your hair's condition play a part here. If you have dry hair, then you'd need a product that provides extra moisture and oil to the hair, for instance.
For those who have oily hair, it's much easier to find treatments. That's because you only need to have a good shampoo that can remove oil from your hair.
2. Current state of your hair condition
If your condition has come to a point where there's always a lot of hair left on your comb after brushing, your chosen treatment product must have additional healing and curing elements.
It's advisable to buy one that'll help stimulate the hair follicles and strengthen the scalp. This will reduce hair loss and give you sustainable, healthy hair.
3. Hair texture
Each hair treatment product is made for certain hair textures. Those with straight hair will need different treatment from those who have curly hair.
Your chosen product must be able to treat and nourish your hair texture.
Best Hair Loss Treatment in Singapore
It's now time to see our selected best hair loss treatments in Singapore! We've chosen the most recommended products on the market, catering to common hair conditions and providing essential nutrients for healthy hair growth!
1.  SMiB Anti Hair Loss Coral Calcium Hair Care Premium Set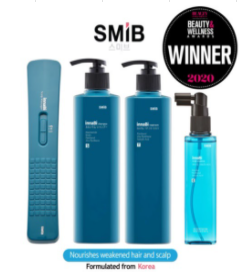 The No. 1 shampoo for hair loss in Korea is now available in Singapore and people can't get enough of it. Why? Simple. It works and it's worth your money. 
Their shampoo kits are a godsend for anyone combating hair loss. Plus that scalp massager isn't just a throw-away accessory, it actually helps work in the nutrients on your scalp. (And it's super relaxing too!)
When a product is still positively spoken off online and offline even after the hype, you know it works. And people see that too. 
Pros
Relaxing and Effective Scalp Massager 
Revives Shine and Vitality to the Hair
Leaves the Scalp Cool and Refreshed
Customer Reviews
Here are some customer reviews to tell you just about how SMiB's products can possibly help your hair growth:
"Hair dropped lesser significantly, scalp soothed after washing and able to last 1 more day with no itch. Will use longer to determine long term benefits."
"After 5 days of usage, my hair has become significantly less greasier and looks fuller even after a whole day. I used to shampoo twice a day because of how oily my hair is when I wake up. Even with twice shampoo by evening, my hair is already flat and oily and I could see my scalp as I have naturally fine and thinner hair than normal. Now I only use this combo once at night, rinse my hair with running water in the morning and by night time it still feels fresh and clean. I highly recommend this to anyone with thin and/or oily scalp."
2.  Shiseido Professional Adenovital Shampoo

Price: $54.83
For those who are struggling with both hair dryness and hair loss, you must try the Shiseido Professional Adenovital Shampoo! It gently cleanses the hair without stripping away the moisture that it needs.
This best hair loss treatment in Singapore helps improve scalp conditions with essential compounds that directly produce hair growth factors. To support enhanced growth, it moisturises the scalp, maintaining stronger and healthier hair.
It can also restore your hair's vitality, making it more resistant to damage and more resilient with added volume. Despite its powerful features, it has a bright and sweet scent.
Pros
Best for dry scalp
Smell isn't overpowering
Makes hair silky
Additional hair volume
Thin nozzle for easy application
Cons
Takes a while to see the difference
Customer Reviews
Many customers have recommended the Shiseido Professional Adenovital Shampoo for more volume and for soothing a dry scalp. They also said that the treatment shampoo leaves their hair feeling refreshed.
A customer left this feedback:
"I've been using this shampoo along with the other Shiseido hair thickening products and I can definitely see a difference in the new growth and thickness of my hair. It takes a while of consistent use, but I really love these products and highly recommend them."
3.   PHS Hairscience FEM Fortify Shampoo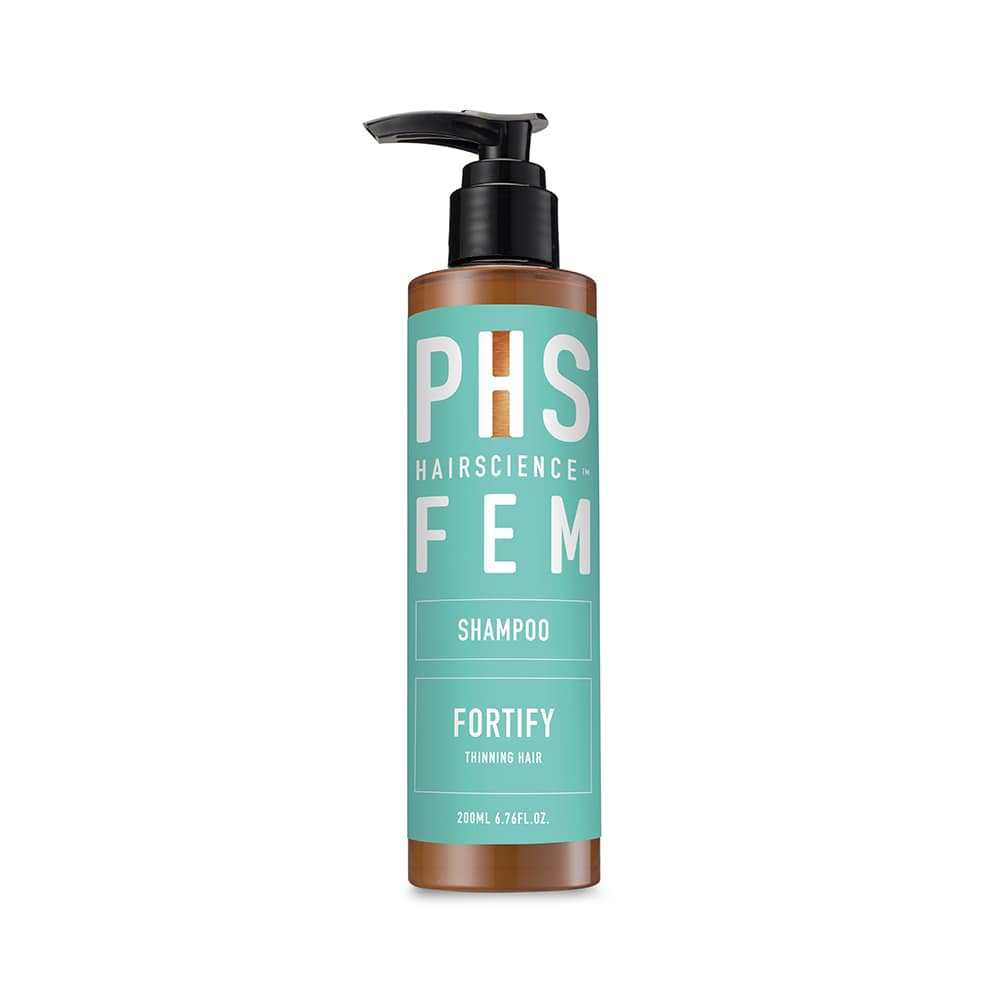 Price: $44.64
The PHS Hairscience FEM Fortify Shampoo is a great option for women who've been experiencing mild/temporary hair loss and thinning. It has all the essential nutrients that can help energise the scalp and reduce hair fall.
To prevent premature hair loss, this best hair loss treatment in Singapore features anti-inflammatory and anti-bacterial elements, providing scalp protection. It's also a gentle cleanser that completely washes your hair without removing the natural moisture.
Aside from these, it offers a minty and cooling effect on the scalp after use. With its active ingredients, you can achieve restored and stronger hair growth that'll last for a lifetime!
Pros
No harmful chemical ingredients
Therapeutic fragrance
Best for sensitive scalps
Itch-free after cleansing
Cons
Applicator can be hard to use
Customer Reviews
Most users shared that they've seen improvements after using the PHS Hairscience FEM Fortify Shampoo. They said that their hair fall was reduced and their hair no longer felt oily afterwards, even on the hottest days.
A customer posted this review:
"I've been using the fortifying shampoo and conditioner for almost 2 months. As a user who had tried multiple hair loss shampoo, this has been one with noticeable results. I do not usually notice, but my hair stylist also highlighted that my hair looks more voluminous and not so oily. The hair tonic is really light on the hair with its more watery texture that feels easily absorbed into the scalp. The shampoo left this minty feeling that makes my scalp feel clean. The conditioner is not super rich and moisturising, but I guess it does its basic job, and my hair doesn't feel dry out. Generally, I felt that the FORTIFY series does help to improve my thin hair issue by cleansing and controlling my oily scalp. It takes a period of usage to see results. I would STRONGLY recommend this shampoo and tonic for people with thin hair. I must admit I really like the smell of the product. It is natural with the herbs used and not like your usual commercial shampoo with artificial smell."
4.   John Frieda Luxurious Volume Core Restore Shampoo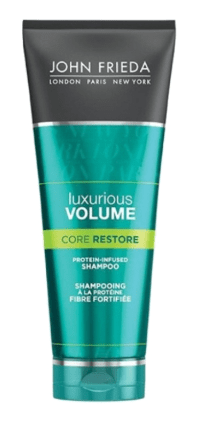 Price: $14.90
To boost hair vitality, the John Frieda Luxurious Volume Core Restore Shampoo strengthens fine strands by giving you the necessary proteins to maintain healthy hair growth.
It's mostly recommended for people with naturally thin hair, for it adds volume while keeping your hair free of harmful chemicals. With this best hair loss treatment in Singapore, you can finally have the freedom to style your thin hair!
Moreover, as it gives your hair protein strength, it also cleans and clears all hair impurities caused by daily exposure to the elements. If your hair gets greasy too quickly, then this can also be a great solution.
Pros
Can be used on colour-treated hair
Awakens roots
Doesn't dry out hair
Cons
Low quantities of sulphates and parabens
Customer Reviews
Customers were delighted with their experience using the John Frieda Luxurious Volume Core Restore Shampoo. They said that their hair became finer, longer, and thicker.
A customer gave this feedback:
"I love how this shampoo feels on my hair! It has a very pleasant scent, like soft perfume, which is refreshing and light. The shampoo does not weigh my hair down and keeps my hair looking glossy and feeling clean. I love the squeeze tube packaging which ensures I get every remaining product out of the tube. The shampoo itself is thick and rich and creates a good lather. It doesn't dry my hair or create flyaways. My hair also felt good to touch. This shampoo is great for everyday use without drying my hair or stripping off the natural oils. The shampoo does give my hair a good amount of volume without making it frizzy."
5.   Bioleaf Premium Anti Hair Loss Shampoo
Price: $45.00
The Bioleaf Premium Anti Hair Loss Shampoo helps balance the scalp's pH levels while locking in moisture to prevent damage like hair loss. By activating the restorative functions of the scalp, it reduces daily hair fall and brings back the natural volume of your hair.
It contains nutrients that energise the hair follicles and straighten the hair roots, protecting your fragile scalp. It also reduces inflamed redness and itchiness on the scalp as well as dandruff flakes.
With a consistent use of this best hair loss treatment in Singapore, you can effectively maintain your hair growth!
Pros
Suitable for all hair types
Hair strengthening nutrients
Unclogs hair follicles
Reduce dandruff flakes
Cons
6.   Moist Diane Perfect Beauty Extra Vital Treatment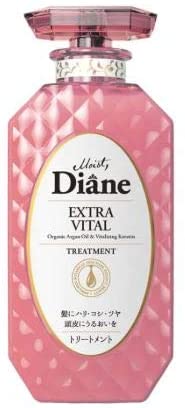 Price: $15.20
The Moist Diane Perfect Beauty Extra Vital Treatment features both strengthening and moisturizing ingredients that provides deep conditioning for the scalp. It rejuvenates weak hair and stimulates the hair growth cycle so you can have thicker, smoother and healthier hair!
It has become one of the best hair loss treatments in Singapore because of its revitalising elements that can make your hair strands strong enough to prevent breakage.
It protects your hair against extreme UV rays, making it the perfect treatment to use during the summer season!  It also has pomegranate compounds that soften the hair and Sakura essence for a lasting scent.
Pros
Stephens and moisturises the hair
Nice fragrance
UV rays protection
Cons
Need to use conditioner for extremely damaged hair
7.   Reternhair PROLONGER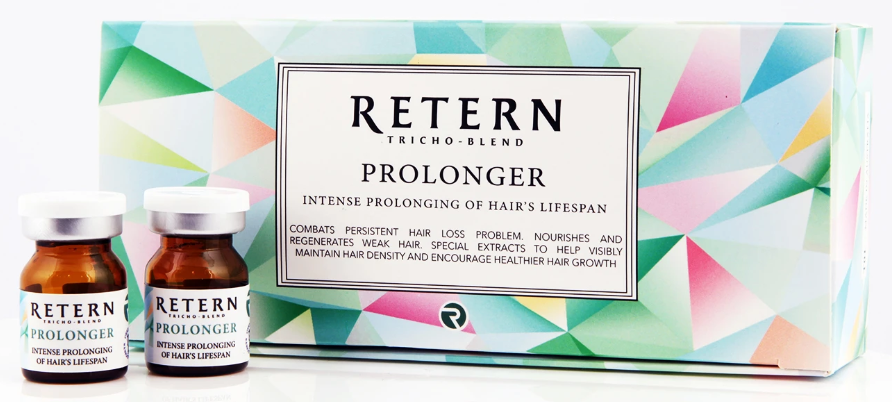 Price: S$199.00
Reternhair's PROLONGER uses another approach when it comes to hair loss solutions. It's goal is to increase your hair's lifespan and reduce hair loss.
Its main components are moringa, biotin, and rosemary extracts; amino acids and all-natural stimulants formulated to nourish your scalp. In addition, these ingredients are all safe for use. Make sure to give this product a try!
Pros
Uses all-natural ingredients
Stimulates hair growth and health
Cons
Uses alcohol as a component so it might dry out your scalp
8.   S.E.P Activator for Hair Loss Treatment

Price: Enquire For More Information
Check It Out on Papilla Haircare
S.E.P, also known as Scalpelectroporation, the latest innovation in the field of hair loss treatments. This non-invasive, needle-free procedure is one of the best alternatives to dermal injections.
You"ll also be relieved to know that this treatment is FDA approved. The treatment poses no damage to the tissues and cells of your skin, making it one of the safest and most effective hair loss treatments today.
If you're interested, contact Papilla Haircare now and see if you qualify for this S.E.P treatments.
Pros
FDA approved
Non-invasive and needle-free treatment
Cons
Not suitable for pregnant women
May require multiple sessions
And that's our list of the best hair loss treatments in Singapore! If we've missed some other great products, you may also share them with us!
And if you also have other hair concerns like existing dandruff flakes, then you may want to see these best anti-dandruff shampoos in Singapore! They're gentle hair cleansers that are suitable for sensitive scalps so you'll certainly find the one that suits your needs the most.