13 Best Hair Loss Treatments in Singapore Reviewed
Have you been experiencing frequent hair loss or hair thinning? Well, then you might've already tried tons of products but still can't find the best hair loss treatment in Singapore.
Lucky for you, we've already done the tough trial-and-error and research process until we ended up with the best hair loss treatments in Singapore! Each one from our picks caters to specific conditions, so you'll easily find the right one for you!
However, there are things that you must consider when looking for a hair loss treatment. So before we go on to our list, you must learn how to select the right treatment for your hair first.
How to Choose the Right Hair Loss Treatment
Using a hair product that's not suitable for your needs may lead to worse hair — that's why you must be extremely careful while you shop for the best hair growth treatment product in Singapore.
Here are a few of the essential factors that should look out for:
1. Hair Type
The particulars of your hair's condition play a part here. If you have dry hair, then you'd need a product that provides extra moisture and oil to the hair, for instance.
For those who have oily hair, it's much easier to find treatments. That's because you only need to have a good shampoo that can remove oil from your hair.
2. Current state of your hair condition
If your condition has come to a point where there's always a lot of hair left on your comb after brushing, your chosen treatment product must have additional healing and curing elements.
It's advisable to buy one that'll help stimulate the hair follicles and strengthen the scalp. This will reduce hair loss and give you sustainable, healthy hair.
3. Hair texture
Each hair treatment product is made for certain hair textures. Those with straight hair will need different treatment from those who have curly hair.
Your chosen product must be able to treat and nourish your hair texture.
Best Hair Loss Treatment in Singapore
It's now time to see our selected best hair loss treatments in Singapore! We've chosen the most recommended products on the market, catering to common hair conditions and providing essential nutrients for healthy hair growth!
1. SMiB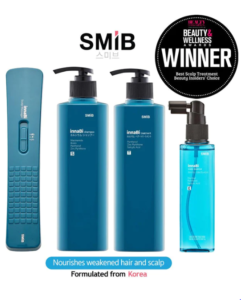 Price: $279.60 Sale price: $199.90
SMiB's Coral Calcium Treatment is a product that have been thoroughly tested through the P&K Skin Research center.
It has been shown to promote rapid hair recovery because of its high-grade ingredients such as coral calcium, biotin, niacinamide, zinc pyrithione and dexpanthenol. 
The product is scalp friendly since it is free from silicones and 23 harmful chemicals. Furthermore, it is known to reduce hair loss and scalp sebum, eases itchiness and calms an irritated scalp. 
Coral Calcium Treatment has been shown to work efficiently with their Plasma Scalp Massager. When both are used they greatly enhance the hair and scalp to absorb essential minerals and nutrients such as Calcium.
If you want to get the most out of their premium products, we recommend trying out their exclusive bundles, especially their premium starter kit. 
It has all the products you need to ensure rapid hair restoration. The starter kit is composed of their hair loss shampoo, treatment, scalp treatment, and even their handy plasma scalp massager. 
Highlights
High-quality hair loss products

Provides exclusive bundles

Free from 23 harmful chemicals

Affordable rates
Customer Reviews
My scalp feels thoroughly clean, refreshed, and less itchy
"I was pleasantly surprised to find my scalp rejuvenated and hair texture greatly improved after a few times of usage. I love that SMIB Coral Calcium Hair Care products are made using high grade coral calcium and free from 23 harmful chemicals. It lathers well and smells good. My scalp feels thoroughly clean, refreshed and less itchy. My hair loss issue is significantly improved and my hair is more smooth and manageable now." – Fay Lim
My scalp feels so clean after the shampoo and my hair is alot smoother
"I've been using the whole range of SMIB products for 4 months now. I love all of it! My scalp feels so clean after the shampoo and my hair is alot smoother with the treatment. The massager and tonic has also enabled my hair to grow again after just 4 months! This is so much more effective than the years of hair treatment I had been too. Thank you SMIB!! "  – Laureen Lim
2.   S.E.P Activator for Hair Loss Treatment

Price: Enquire For More Information
Check It Out on Papilla Haircare
S.E.P, also known as Scalpelectroporation, the latest innovation in the field of hair loss treatments. This non-invasive, needle-free procedure is one of the best alternatives to dermal injections.
You"ll also be relieved to know that this treatment is FDA approved. The treatment poses no damage to the tissues and cells of your skin, making it one of the safest and best hair loss treatments in Singapore today.
If you're interested, contact Papilla Haircare now and see if you qualify for this S.E.P treatments.
Pros
FDA approved
Non-invasive and needle-free treatment
Cons
Not suitable for pregnant women
May require multiple sessions
3. Nuffield Wellness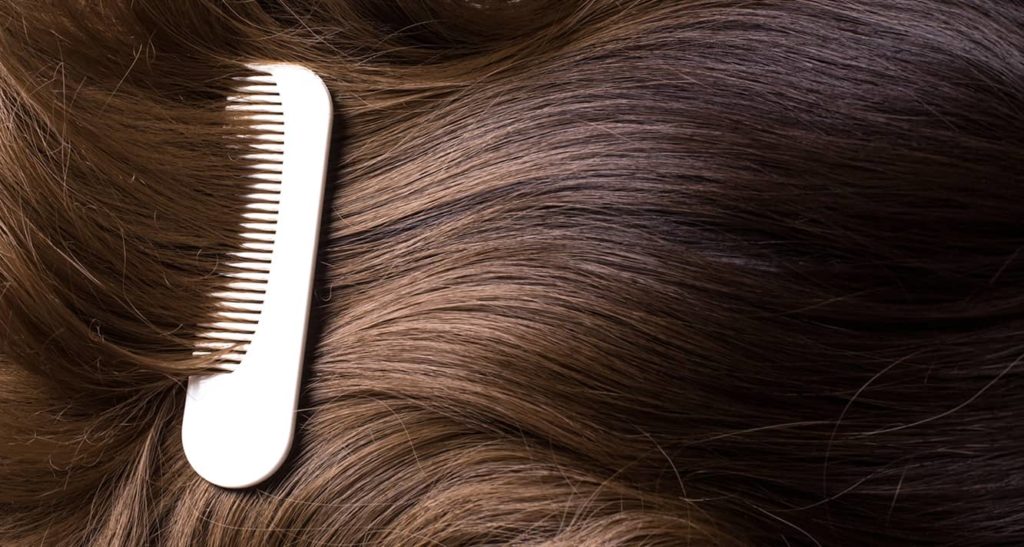 Price: Depends on the service you are getting
Nuffield Wellness is a medispa that provides aesthetic treatments to your face, skin, and even your whole body. What's great about them is that they extend these services to all genders.
There is nothing to be ashamed of when you are losing hair. It is better to ask for help before it gets too late and affects your daily life.
At Nuffield Wellness, you are given a chance to improve your scalp health, relive those itches, and stimulate collagen production for only $99!
Comparing them to others, the active components of their Hair Growth Activa Treatment is available on their website. This allows their clients to see what they are putting on their hair and scalp.
By the way, their treatment does not require any needles hence no injections, is non-invasive and will definitely not damage the skin, can destroy bacteria, is inflammatory, and reduces sebum production by up to 25 percent.
The only catch here is that their rates are not available on their website so make sure to contact them first and know their prices beforehand.
Pros
Extensive range of services
Have two doctors
Customer Reviews
Here are a few reviews from their previous clients:
"I did 3 sessions Morpheus8 in this clinic with very good results. Morpheus8 really helped my skin to recover from the sun damage I have been daily exposed over the past years while playing tennis – almost daily – with no sun protection !! Dr. Sau was appointed for my treatment. She is a good professional, very pleasant to interact with. Morpheus8 is a bit painful but overall bearable procedure. I got a numbing cream, a pain killer and the doctor administered additional injections. Dr. Sau assistants Meixuan and Wendy always accompanied the sessions . They used a special vibration technique to distract my attention from the pain that sometimes emerged. I found this particular nice and caring ! Also, the manager Kim always came personally to check if everything was going. Overall, I felt the doctor and all the staff at the clinic showed genuine care and empathy which is crucial when undergoing such treatments. Also, they followed up with me next day to see if i was ok. Although , they suggested several procedures, there was no hard selling as unfortunately happens in Singapore in many places. The clinic is very nice , clean and give a cozy feeling. Overall, I am very happy with my experience at Nuffield Aesthetics and I can recommend it to anyone looking for cosmetic procedures. It is a nice and trustable place!"
"I have been to many medical clinics seeking advise. But i must say Dr Sau has a vast knowledge on aesthetics, and also in depth knowledge on other skin/body/ hormones related problems that is inevitably interlink to our skin condition. Her explanation was detailed and give you a better idea what you are going for and what to expect. The staff did not hard sell and personally this is the way to run a business in a long term as customers these days will do their homework and eventually choose a doctor and clinic that they are comfortable with. The staff was very professional and excellent product knowledge. I tried their Pico Pigment Laser and it is very effective."
4. Kiierr272Premier-MD Laser Hair Cap – MAX Growth Bundle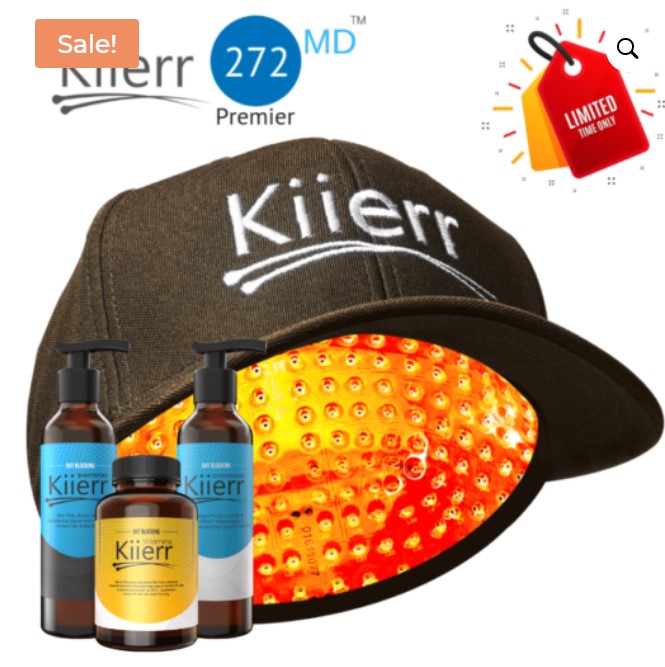 Price: $1,445.00
The Kiierr 272 Premier MD laser hair cap is the premium version of our state-of-the-art laser caps. Its efficacy in hair recovery is evident by the fact that it's used in doctors' offices and hair restoration clinics across the United States.
It has an upgraded battery, which means that it's hard wired for ease of use and consistency of charge, can last up to 3 more treatments per charge, and has extra life at 19,000 hours.
We can definitely recommend this for anyone experiencing hair loss as this laser cap addresses innumerable aging and hair loss challenges that such as, thinning, balding, frail and damaged hair. They effectively reverse hair loss by promoting healthier and thicker hair follicles and revitalizing frail and damaged hair.
The beauty of their laser caps is that they provide these benefits in an easy, portable, and discreet manner – no one would know that you're wearing a laser hair cap unless you tell them!
Pros
Programmed sensor technology. Cap will shut itself off if it falls off your head for increased safety.
No reminder beeps for increased comfort
Enhanced laser panel with individual diode lasers (longer lasting more durable build)
Customer Reviews
Some customers swear by this product. Here is what people have to say:
"It was a seamless, pain-freepurchasing process. Customer service has been GREAT and most responsive in exchanging the small cap for the larger and answering any questions. Highly recommend the company."

"My husband recently started using the Kiierr cap and his hair is already longer but also fuller! I can tell the bald spot is starting to fill in more!"
5. Shiseido Professional Adenovital Shampoo

Price: $38.00
For those who are struggling with both hair dryness and hair loss, you must try the Shiseido Professional Adenovital Shampoo! It gently cleanses the hair without stripping away the moisture that it needs.
This best hair loss treatment in Singapore helps improve scalp conditions with essential compounds that directly produce hair growth factors. To support enhanced growth, it moisturises the scalp, maintaining stronger and healthier hair.
It can also restore your hair's vitality, making it more resistant to damage and more resilient with added volume. Despite its powerful features, it has a bright and sweet scent.
Pros
Best for dry scalp
Smell isn't overpowering
Makes hair silky
Additional hair volume
Thin nozzle for easy application
Cons
Takes a while to see the difference
Customer Reviews
Many customers have recommended the Shiseido Professional Adenovital Shampoo for more volume and for soothing a dry scalp. They also said that the treatment shampoo leaves their hair feeling refreshed.
A customer left this feedback:
"I've been using this shampoo along with the other Shiseido hair thickening products and I can definitely see a difference in the new growth and thickness of my hair. It takes a while of consistent use, but I really love these products and highly recommend them."
6. PHS Hairscience FEM Fortify Shampoo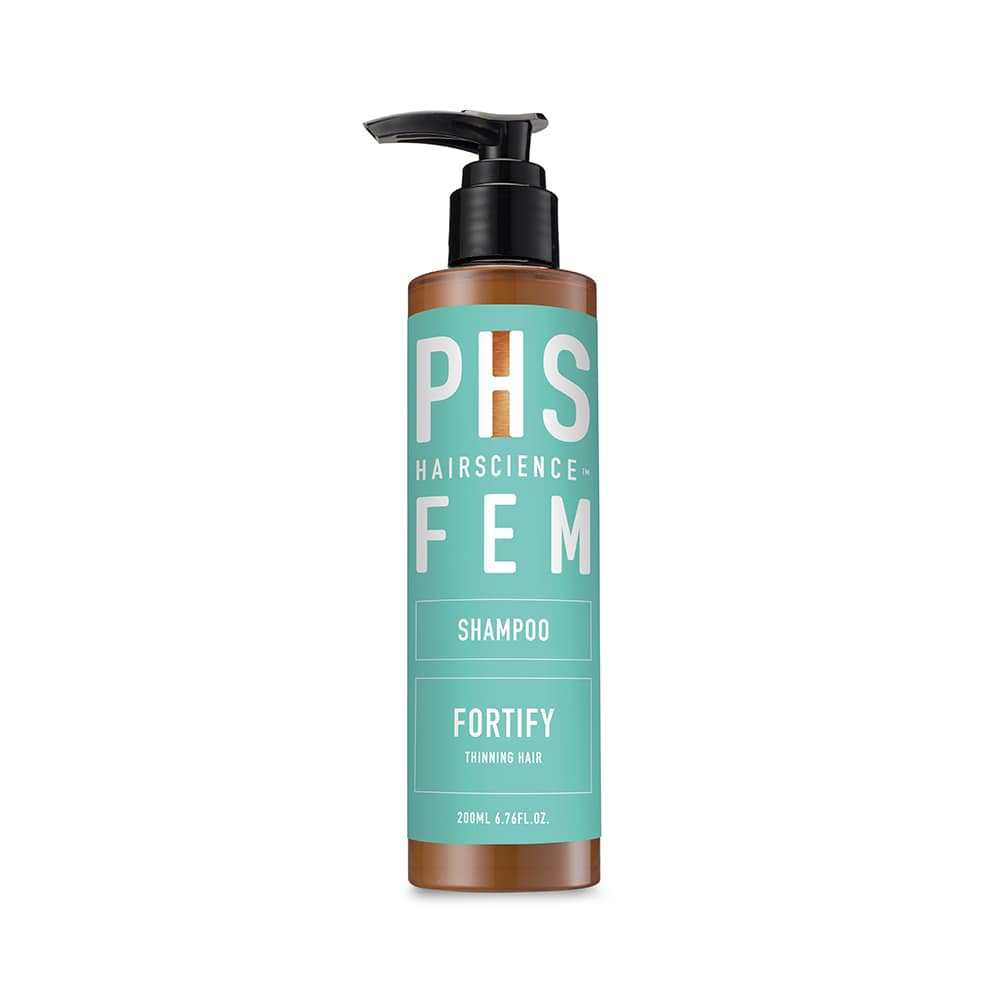 Price: $44.64
The PHS Hairscience FEM Fortify Shampoo is a great option for women who've been experiencing mild/temporary hair loss and thinning. It has all the essential nutrients that can help energise the scalp and reduce hair fall.
To prevent premature hair loss, this best hair loss treatment in Singapore features anti-inflammatory and anti-bacterial elements, providing scalp protection. It's also a gentle cleanser that completely washes your hair without removing the natural moisture.
Aside from these, it offers a minty and cooling effect on the scalp after use. With its active ingredients, you can achieve restored and stronger hair growth that'll last for a lifetime!
Pros
No harmful chemical ingredients
Therapeutic fragrance
Best for sensitive scalps
Itch-free after cleansing
Cons
Applicator can be hard to use
Customer Reviews
Most users shared that they've seen improvements after using the PHS Hairscience FEM Fortify Shampoo. They said that their hair fall was reduced and their hair no longer felt oily afterwards, even on the hottest days.
A customer posted this review:
"I've been using the fortifying shampoo and conditioner for almost 2 months. As a user who had tried multiple hair loss shampoo, this has been one with noticeable results. I do not usually notice, but my hair stylist also highlighted that my hair looks more voluminous and not so oily. The hair tonic is really light on the hair with its more watery texture that feels easily absorbed into the scalp. The shampoo left this minty feeling that makes my scalp feel clean. The conditioner is not super rich and moisturising, but I guess it does its basic job, and my hair doesn't feel dry out. Generally, I felt that the FORTIFY series does help to improve my thin hair issue by cleansing and controlling my oily scalp. It takes a period of usage to see results. I would STRONGLY recommend this shampoo and tonic for people with thin hair. I must admit I really like the smell of the product. It is natural with the herbs used and not like your usual commercial shampoo with artificial smell."
7. John Frieda Luxurious Volume Core Restore Shampoo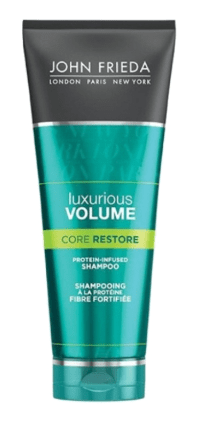 Price: $14.90
To boost hair vitality, the John Frieda Luxurious Volume Core Restore Shampoo strengthens fine strands by giving you the necessary proteins to maintain healthy hair growth.
It's mostly recommended for people with naturally thin hair, for it adds volume while keeping your hair free of harmful chemicals. With this best hair loss treatment in Singapore, you can finally have the freedom to style your thin hair!
Moreover, as it gives your hair protein strength, it also cleans and clears all hair impurities caused by daily exposure to the elements. If your hair gets greasy too quickly, then this can also be a great solution.
Pros
Can be used on colour-treated hair
Awakens roots
Doesn't dry out hair
Cons
Low quantities of sulphates and parabens
Customer Reviews
Customers were delighted with their experience using the John Frieda Luxurious Volume Core Restore Shampoo. They said that their hair became finer, longer, and thicker.
A customer gave this feedback:
"I love how this shampoo feels on my hair! It has a very pleasant scent, like soft perfume, which is refreshing and light. The shampoo does not weigh my hair down and keeps my hair looking glossy and feeling clean. I love the squeeze tube packaging which ensures I get every remaining product out of the tube. The shampoo itself is thick and rich and creates a good lather. It doesn't dry my hair or create flyaways. My hair also felt good to touch. This shampoo is great for everyday use without drying my hair or stripping off the natural oils. The shampoo does give my hair a good amount of volume without making it frizzy."
8. Bioleaf Premium Anti Hair Loss Shampoo
Price: $45.00
The Bioleaf Premium Anti Hair Loss Shampoo helps balance the scalp's pH levels while locking in moisture to prevent damage like hair loss. By activating the restorative functions of the scalp, it reduces daily hair fall and brings back the natural volume of your hair.
It contains nutrients that energise the hair follicles and straighten the hair roots, protecting your fragile scalp. It also reduces inflamed redness and itchiness on the scalp as well as dandruff flakes.
With a consistent use of this best hair loss treatment in Singapore, you can effectively maintain your hair growth!
Pros
Suitable for all hair types
Hair strengthening nutrients
Unclogs hair follicles
Reduce dandruff flakes
Cons
9. Moist Diane Perfect Beauty Extra Vital Treatment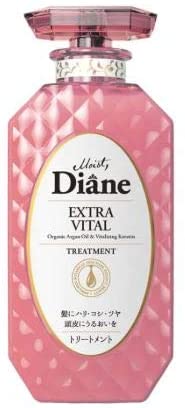 Price: $15.20
The Moist Diane Perfect Beauty Extra Vital Treatment features both strengthening and moisturizing ingredients that provides deep conditioning for the scalp. It rejuvenates weak hair and stimulates the hair growth cycle so you can have thicker, smoother and healthier hair!
It has become one of the best hair loss treatments in Singapore because of its revitalising elements that can make your hair strands strong enough to prevent breakage.
It protects your hair against extreme UV rays, making it the perfect treatment to use during the summer season! It also has pomegranate compounds that soften the hair and Sakura essence for a lasting scent.
Pros
Stephens and moisturises the hair
Nice fragrance
UV rays protection
Cons
Need to use conditioner for extremely damaged hair
10. Reternhair PROLONGER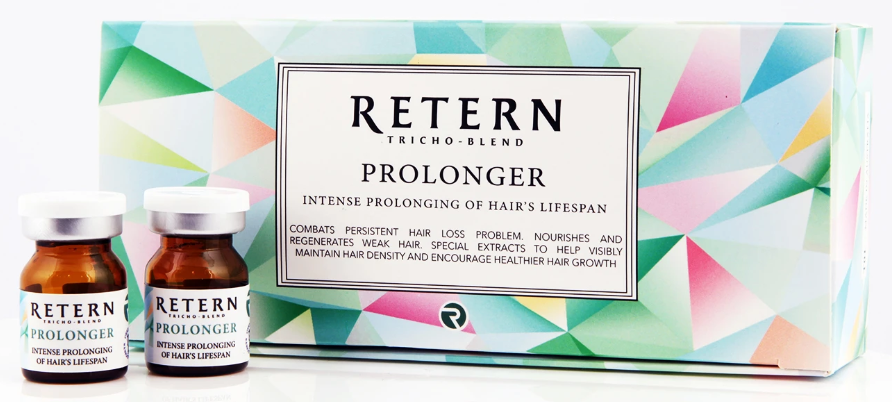 Price: S$199.00
Reternhair's PROLONGER uses another approach when it comes to hair loss solutions. It's goal is to increase your hair's lifespan and reduce hair loss.
Its main components are moringa, biotin, and rosemary extracts; amino acids and all-natural stimulants formulated to nourish your scalp. In addition, these ingredients are all safe for use. Make sure to give this product a try as it has been considered one of the best hair growth treatments in Singapore.
Pros
Uses all-natural ingredients
Stimulates hair growth and health
Cons
Uses alcohol as a component so it might dry out your scalp
11. FLOREVE (IN) YOUTH Natural Anti-Hair Loss Treatment with Keratin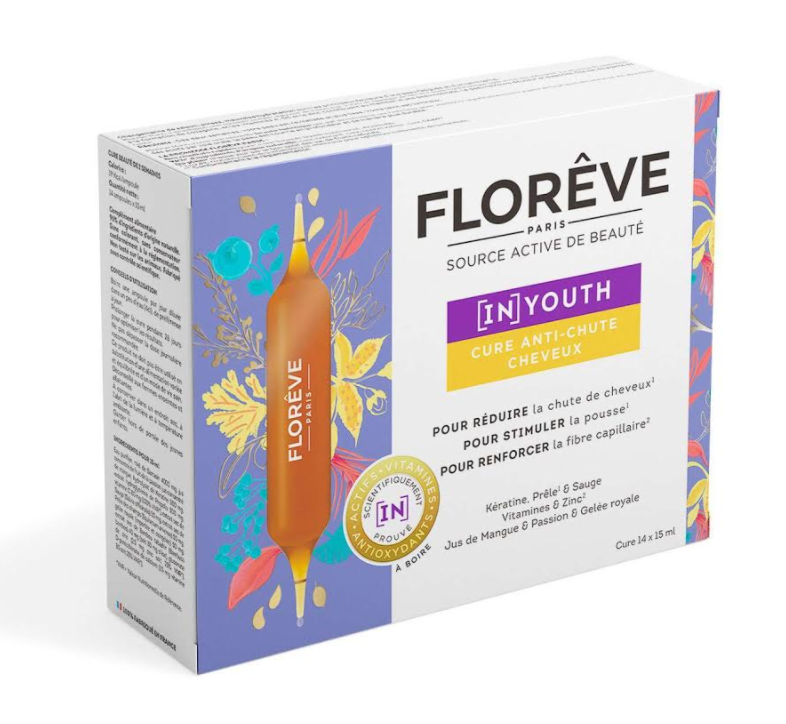 Price: €59.90
FLORÊVE (IN) YOUTH Natural Anti-Hair Loss Treatment with Keratin reduces hair loss, stimulates growth and strengthens the hair fibre. One of the reasons we strongly recommend this product is its needle-free nature.
See, the FLORÊVE (IN) YOUTH Natural Anti-Hair Loss Treatment with Keratin comes in ampoule form meant to be taken once a day for two whole weeks for effects to take place. For those who suffer terrible hair loss, it's recommended that they take the FLORÊVE (IN) YOUTH Natural Anti-Hair Loss Treatment with Keratin for three whole months.
Now, enough with the using advice. Let's talk about the key ingredients in this product. Aside from Keratin, the FLORÊVE (IN) YOUTH Natural Anti-Hair Loss Treatment with Keratin also contains Vitamins C and B5, Zinc, Buckwheat Honey, Royal Jelly, and many more.
These ingredients help protect us from hair loss and stimulates growth one way or another. Combined, these ingredients make for an anti-hair loss treatment that helps people see results within the time frame mention.
So, if you're worried about your hair and would like to strengthen it, try one of the tested and considered to be the best hair loss treatment in Singapore.
Pros
Non-invasive and needle-free treatment

Hair beauty and health benefits
Natural treatment without preservatives, colouring, gluten or hormones
Scientifically tested active ingredients
Quick delivery
Cons
Not suitable for pregnant women
12. TrichoKare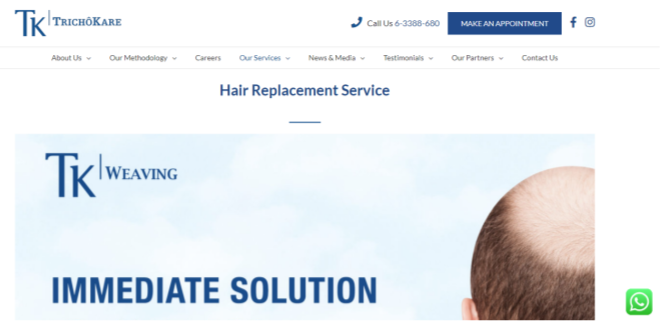 Price: Contact for more information
With TrichoKare, you will surely get a fuller and thicker looking hair instantly! What makes them stand out is that they specialize in providing quality custom-made hair wois for both men and women.
We think they are awesome because they employ non-surgical and non-invasive hair replacement techniques. Therefore, in comparison to other techniques such as hair implant and hair transplant surgical procedures which are painful, theirs is painless, gentle, and effective.
Another reason why we recommend them is the fact that their wigs are ultra-light, breathable, and of course, secure. Plus, your hairline will look natural here!
And by the way, they also provide customised European Herbal Hair Remedies, validated by certified Trichologists, and products formulated by professional herbalists.
Pros
All treatments at TrichoKare are validated by certified Trichologists
Continues to update with the most up-to-date knowledge and the latest treatment methods for the best hair and scalp solutions.
Cons
Price of services are unavailable
13. Hår Vokse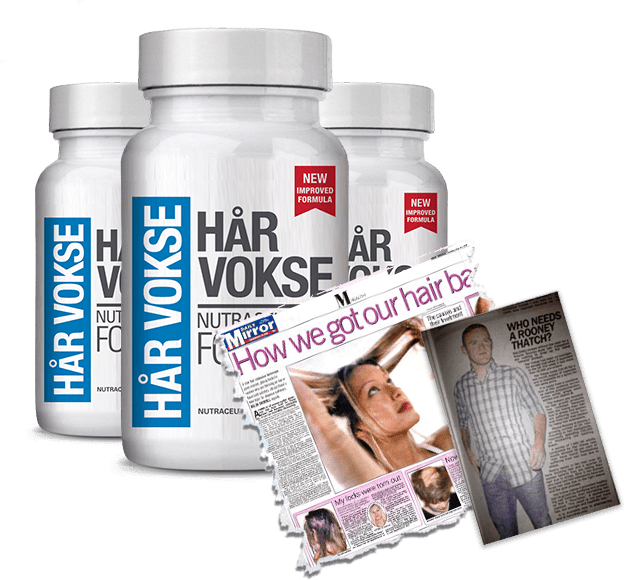 Price: $59.95 USD
Hår Vokse is a lasting, effective hair re-growth solution because it works from the inside out. It does not just tackle the surface of the problem, but it also works to stimulate new growth from within and delivers lasting results.
This product works two ways– first as a protector and second as a regrowth. It gets rid of the sensation of inflammation, fortifies and protects the hair that you already have, helps to promote substantial regrowth, and prevents any further hair loss for the person.
It works on all types of hair at different growth stages. The supplement can help grow hair that has been previously lost from existing hair follicles as well as hair with stunted growth, allowing you to combat hair loss and regain your confidence.
We like that it strengthens hair follicles and is one of the best hair growth treatments in Singapore for men and women.
Pros
Customer Reviews
Some customers swear by this product. Here is what people have to say:
"My Hair Loss Nightmare Is Over At Last! Almost all of my hair fell out over the course of one month. I'd always had lots of hair and kept it in a long plait long after I was grown up. Suddenly, in the course of five weeks, I'd lost almost all of it. Due to the stress, I wasn't sleeping, lacked energy, and had trouble concentrating. Then after a few days, I was given a tip by a colleague and thought I'd try. The preparations only contained natural ingredients so at least they couldn't be harmful. It was the Hår Vokse supplement formula. I took it every day and it didn't take that long to work. I started in the autumn and by Christmas new hairs had started to grow. By spring I had new hair – with curls! Today I have a full head of curly hair with only two small patches that do not show. It's amazing!"
"I Couldn't Believe What I Was Seeing! I was always quite proud of my hair, until the day I realized that my hairline was receding. I went from having a full head of hair to a receding, wispy covering that was a shadow of its former glory. Then one day someone told me about this marine protein formula – HårVokse. I am usually pretty skeptical about this sort of thing, but I didn't have anything to lose other than what hair I had left! I figured that if I stuck to the system I might be seeing some results in a few months, however small. And now, I have just completed a 1-month course, 2 supplements per day in addition to using the spray twice a day. The results are incredible! My hair is thicker, fuller, and much healthier looking; friends and family have actually asked me what my secret is! Cutting long story short, I can't recommend HårVokse™enough!"
And that's our list of the best hair loss treatments in Singapore! If we've missed some other great products, you may also share them with us!
And if you also have other hair concerns like existing dandruff flakes, then you may want to see these best anti-dandruff shampoos in Singapore! They're gentle hair cleansers that are suitable for sensitive scalps so you'll certainly find the one that suits your needs the most.