11 Shops Selling the Best Extendable Dining Table in Singapore
Ever invited family and friends over for a simple celebration and found your dining table too short to fit them? That's when it'd be nice to have the best extendable dining table in Singapore!
This kind of table comes in handy whenever we have guests and we're celebrating special occasions. You can just adjust the length of the table and make it longer whenever needed.
This is perfect for those who rarely have guests or want to maximize dining space. So, if you're one of those, we've got you covered as we found some places where you can get the best extendable dining tables in Singapore — take a look at our list to see different styles and designs and choose which one perfectly suits your taste.
1.  Soul and Tables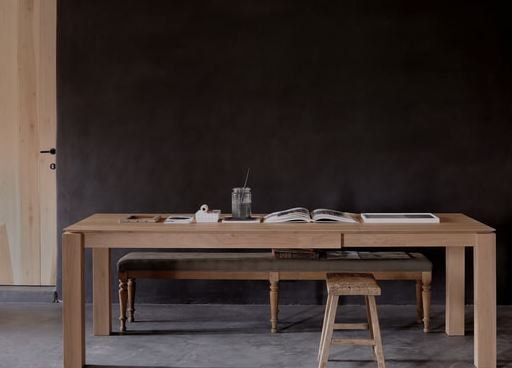 | | |
| --- | --- |
| BEST FOR  | Two different types of functions |
| PRICING | Shop |
| WEBSITE | https://www.soulandtables.com.sg/ |
| ADDRESS | Tan Boon Liat Building, #02-01 & #02-03 315 Outram Road Singapore 169074 |
| CONTACT DETAILS | 92721545 |
| OPERATING HOURS | Daily, 10am–7pm |
Soul and Tables offers a full range of furniture selections for living room, kitchen and dining, bedroom, home office, and even outdoor areas. For their best extendable dining tables in Singapore, they either have a slice or double one.
You can adjust the length of a slice extendable dining table by simply sliding the table hidden below. The double one works by spreading, resulting in a table on top.
Both are perfect for inside and outside use so they're definitely worth buying. They're also available in either oak or teak for a classic style.
Highlights
Sustainable wood furniture
Classic modern style
2.  HipVan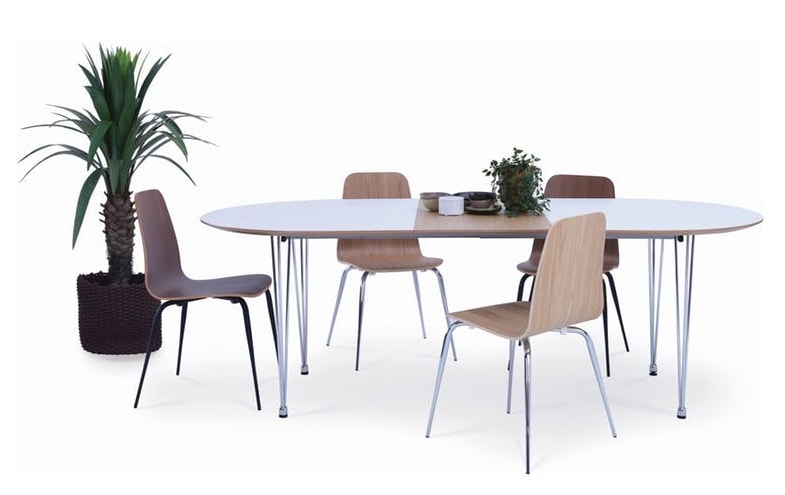 | | |
| --- | --- |
| BEST FOR  |  Variety of texture and finishes |
| PRICING | Shop |
| WEBSITE | https://www.hipvan.com/ |
| ADDRESS | 19 Kallang Avenue, Kallang Basin Industrial Estate, #01-155, Singapore 339410 |
| CONTACT DETAILS | +65 6291 1725 (Calls only) |
| OPERATING HOURS |  Hotline hours: Mon–Sat, 9:30am to 5:30pm excluding PH. |
HipVan is one of the most well-known online furniture shops that creates well-designed furniture and homeware. Their collection consists of sofas, coffee tables, chairs, barstools, benches, mirrors, shelves, shoe storage, and even rugs and mats.
When it comes to their tables, they make a variety and this includes the best extendable dining tables in Singapore. They're available in different colours, finishes, and materials.
Their tables are made with wood, marble, or glass, so you can easily find the one that matches your preferences or interiors.
Highlights
Aesthetic design
Different finishes
Mobile app service
Clearance sale
3.  Nook and Cranny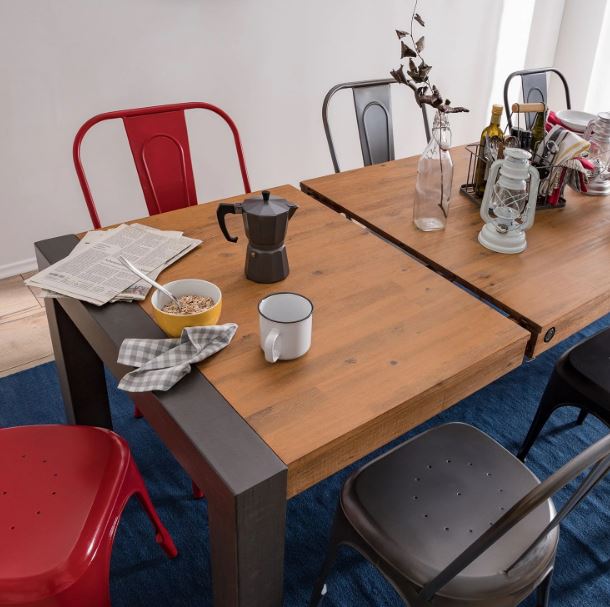 Nook and Cranny feature a lot of furniture collections for living room areas, dining areas, bedrooms, outdoors, and most especially, they have Chinese antique furniture!
Their best extendable dining tables in Singapore are categorized into two types, which have different mechanisms.
There's one with an industrial style. You can easily pull out the hidden additional table with this one.
The other works by spreading the table and the added part is placed on the centre.
So, whether you want a chic or a sophisticated style, they have it all!
Highlights
Package deals
Special promotions
4.  Danish Design Co
BEST FOR 
Stylish dining tables
PRICING
Shop
WEBSITE
https://danishdesignco.com.sg/
ADDRESS
100E Pasir Panjang Road, Century Warehouse #06-03 Singapore 118521
CONTACT DETAILS
+65 62708483
OPERATING HOURS
Mon to Sat – 10am to 6pm
Sun & PH – 12 to 6pm
Danish Design Co is known for their traditional and elegant style that'll add glamour to any setting. Their design and colours are simple, yet they can complement any interior.
For their extendable dining tables, they come in different styles, colours, and shapes. You can choose between wood, marble, or Corian for the materials. As for the style, they have minimalist, industrial, luxe, and more.
You can either shop by style or collection, so if you're very particular with your furniture and you know your preferences, then they might have the best extendable dining table in Singapore for you.
Highlights
Home styling service
Special promotions
5.  Spaceman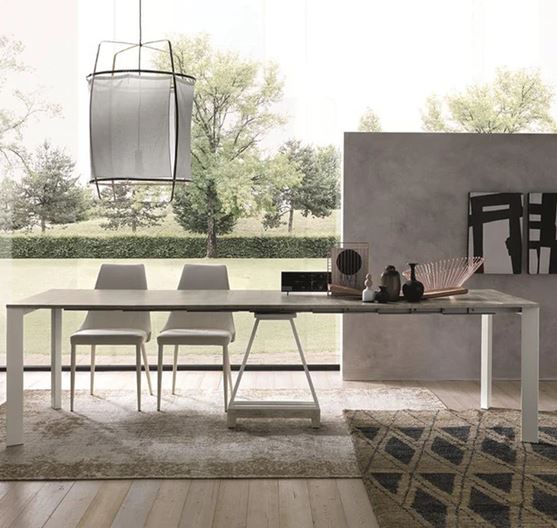 BEST FOR 
Console/dining table, Multifunctional dining table
PRICING
Shop
WEBSITE
https://www.spaceman.com/
ADDRESS
259 Lavender St, Singapore 338793
CONTACT DETAILS
Office: (65) 6527 2271

 

WhatsApp (message only): (65) 8784 3680

OPERATING HOURS
Spaceman are open by appointment, Monday to Saturday 10am to 7pm
Spaceman specialises in designing furniture that'll help maximize the space at home but will not compromise the quality and style. They make a competent range of multifunction tables made with wood veneer, oak, glass, ceramics, or handmade mortar finish!
They take pride in their console tables that can accommodate up to 12 people when expanded.
Unlike other options, their best extendable dining tables in Singapore can be used as a thin and small console when not in use. When it's time to have dinner or lunch, you can just unfold it and it'll automatically transform into a long table.
They offer a lot of curated furniture such as sofa beds and other dining furniture, all made to be space-efficient and convenient.
Highlights
Multifunctional tables
Sofa beds
6. Born in Colour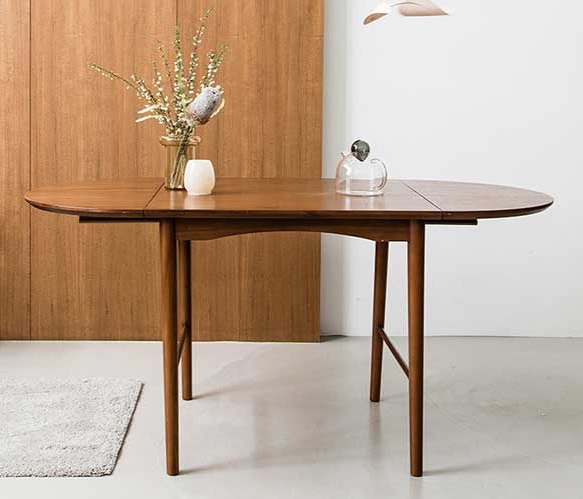 BEST FOR

Classic and contemporary designs

PRICING

Collections

WEBSITE

https://www.bornincolour.com/

 

ADDRESS

201 Henderson Road #07-11/12

 

Singapore 159545

1024 Yishun Industrial Park A #02-31

Singapore 768763

CONTACT DETAILS
[email protected]

 

6988 3308

Yishun

6257 2501 (WhatsApp Available)

OPERATING HOURS
[email protected]

 

Weekdays: 11am – 8pm (Closed on Tuesdays)

Weekends/Public Holidays: 11am – 6pm

Yishun

Weekdays: 11am – 8pm (Wed, Thurs 7pm)

Weekends/Public Holidays: 11am – 6pm
Having dinner with a huge group of people is definitely a fun thing to do once in a while. Afterall, there's no other better way to catch up on your friends and family than sharing a table with them filled with delicious meals and drinks.
With this in mind, you should really invest in an extendable dining table so you won't have to shift tables from time to time whenever you have a guest coming over. 
Born in Colour offers some of the sturdiest and most fashionable extendable dining tables across Singapore. These tables vary in materials and finishing but one thing they have in common is their superior quality that will last you for a long time.
Highlights
Fair prices

High quality materials

Retro and contemporary styles
7. Wihardja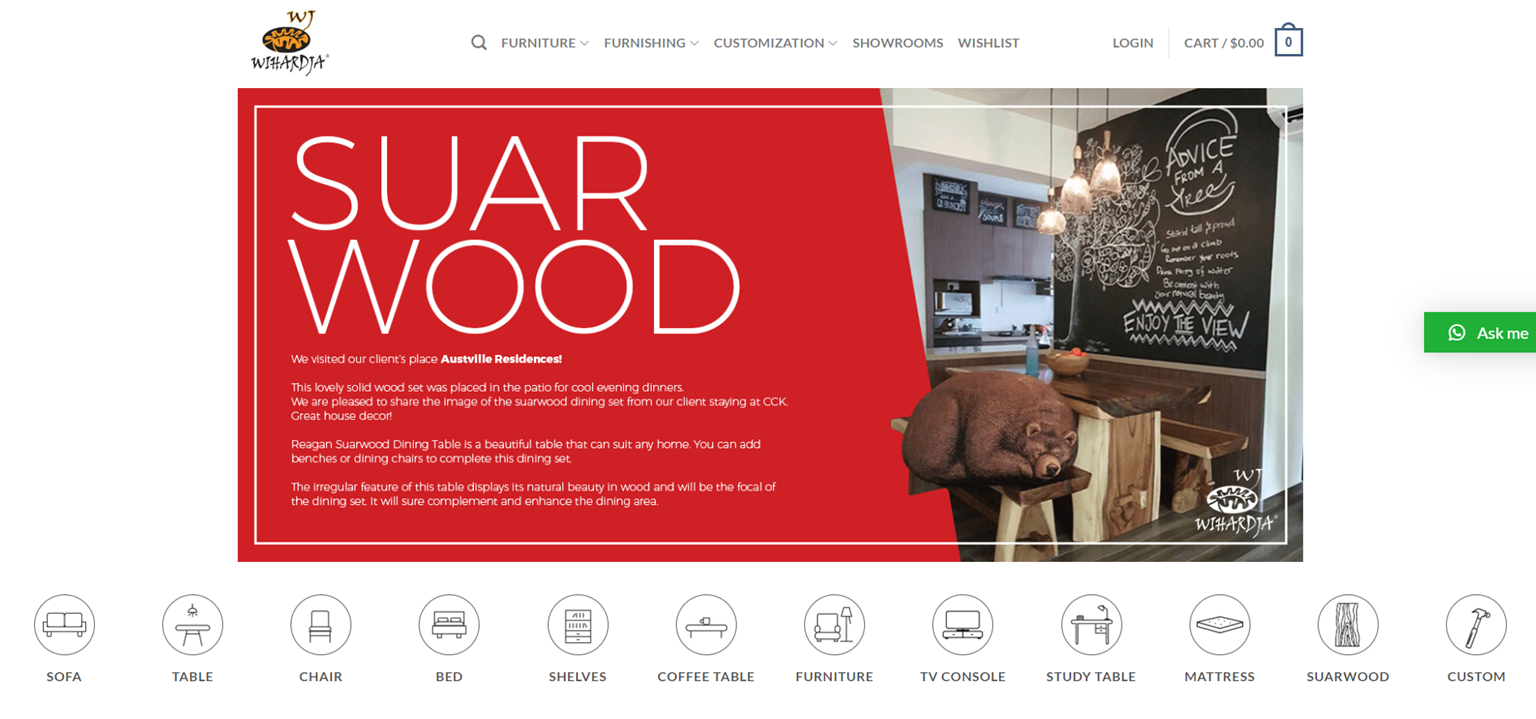 BEST FOR 
Sturdy Wood Fixtures
SERVICES
Furniture selling, Furnishing, Customization
WEBSITE
https://wihardja.com.sg/
ADDRESS
East Showroom -MacPherson
1 Genting Lane, #04-02
West Showroom – Sungei Kadut
24 Sungei Kadut Ave, #04-00
CONTACT DETAILS
https://wihardja.com.sg/contact/
OPERATING HOURS 

East Showroom – Open: 11.30am – 8pm
(Closed on Wednesday)

West Showroom – Open: 11.30am – 7pm
(Open Everyday)
Wihardja is a furniture manufacturer known all over the world. Their team is comprised of expert carpenters and draftsmen with many years of experience in the field, alongside a passion for the craft that has led to the creation of countless amazing designs for their collections.
At Wihardja, the materials often used are teak and suar wood. Both are of high quality and great to use for different kinds of furniture. Notably, extendable dining tables. If you choose one from their selection, you can expect the table to last you a long time.
Highlights
Low Cost Prices
Trendy Designs
High Customer Satisfaction
Customer Reviews
Here are some of the reviews left by Wihardja's customers on their website:
"The showroom provides a variety of furniture for home owners to choose. The environment is cool and quiet. Excellent for making good decisions in purchasing the furniture. The salespersons are friendly and welcoming. Will come again in the future if more furniture is needed." 
"I like the place, spacious and the range of furniture. We were greeted by a pleasant salesperson. She was helpful and patient. Would definitely come back for more and will surely recommend this place to friends. Thank you for the good service." 
"Informative and helpful. Suprised that we could custom made our furniture. Will come back definitely."
8. Mountain Living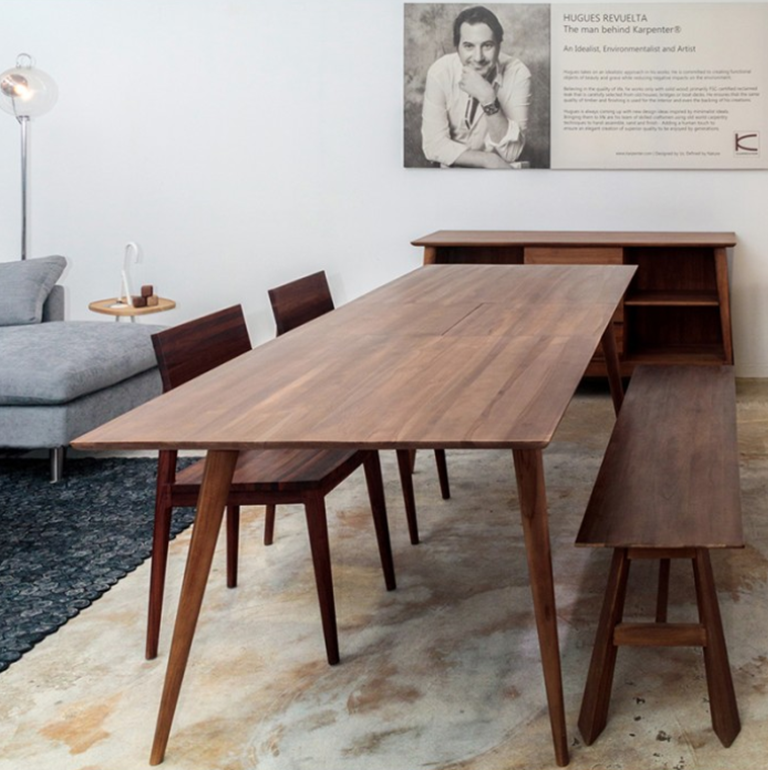 BEST FOR 
Widescale collection
SERVICES
Furniture Design, Furniture Maintenance, Show Room Services
WEBSITE
http://www.mountainteak.com/
ADDRESS
315 Outram Rd, #07-02, Singapore 169074
CONTACT DETAILS
Email: [email protected]
Tel: (+65) 6224 7176
Mobile: (+65) 9100 1987 / 8818 3784
OPERATING HOURS 
 10.30 am – 6.30 pm daily
Find the best furniture only with Mountain Living, Singapore's most popular designer wood furniture store. Having served over 10,000 customers not only in Singapore but also in different places like Taipei and Shanghai, the company boasts collections of premium quality fixtures, thoughtfully-made into simplistic yet elegant designs. Each is purposeful, proving to provide greater benefits and comfort compared to your regular furniture.
If you're looking for a dining table, then Mountain Living's extendable dining tables are a must-try as it features all the best qualities of a dining table, but also offers a way for you to extend its capacity if need be. All of their extendable dining tables have clean, sleek lines and rounded angles, which gives off a light and uncluttered feeling in the room. You may opt for a lighter coloured wood or a darker one, just simply check out the availability of each colour.
And of course, aside from dining tables, you may also check more of their pieces of furniture on Mountain Living's website. Shop based on products, collections, or even designer categories– they'll be sure to give you a long list of options to choose from.
Highlights
Amazing wood quality
Beautiful design pieces
9. Hommage Lifestyle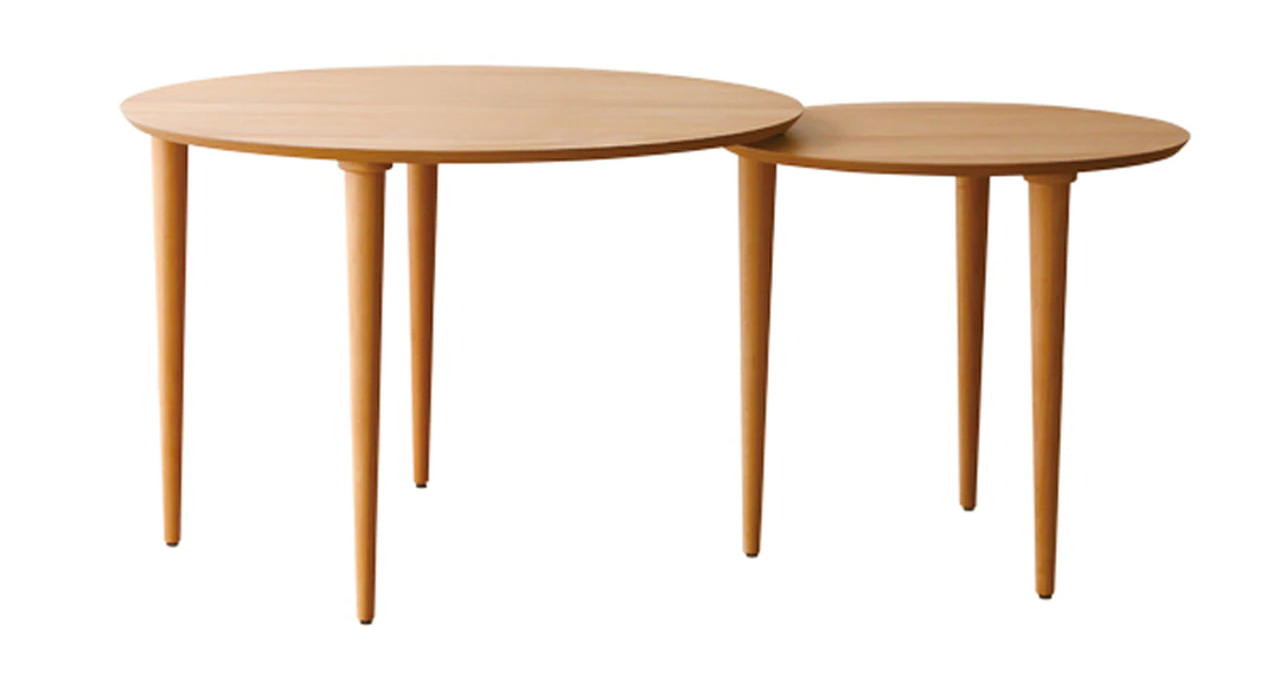 Japan furniture is well-known to be both intricate and ergonomic. If a Japan dining table is what you need, then there's no better place to look than Hommage Lifestyle.
Hommage Lifetstyle is a well-known furniture and wood slab supplier in Singapore. Since they work directly with the manufacturers, you can count on their prices to be at their lowest and most affordable. Check out their website now!
Highlights
Quality Japan furniture
Affordable prices
Furniture made by skilled artisans
Ergonomic design
10. Originals Furniture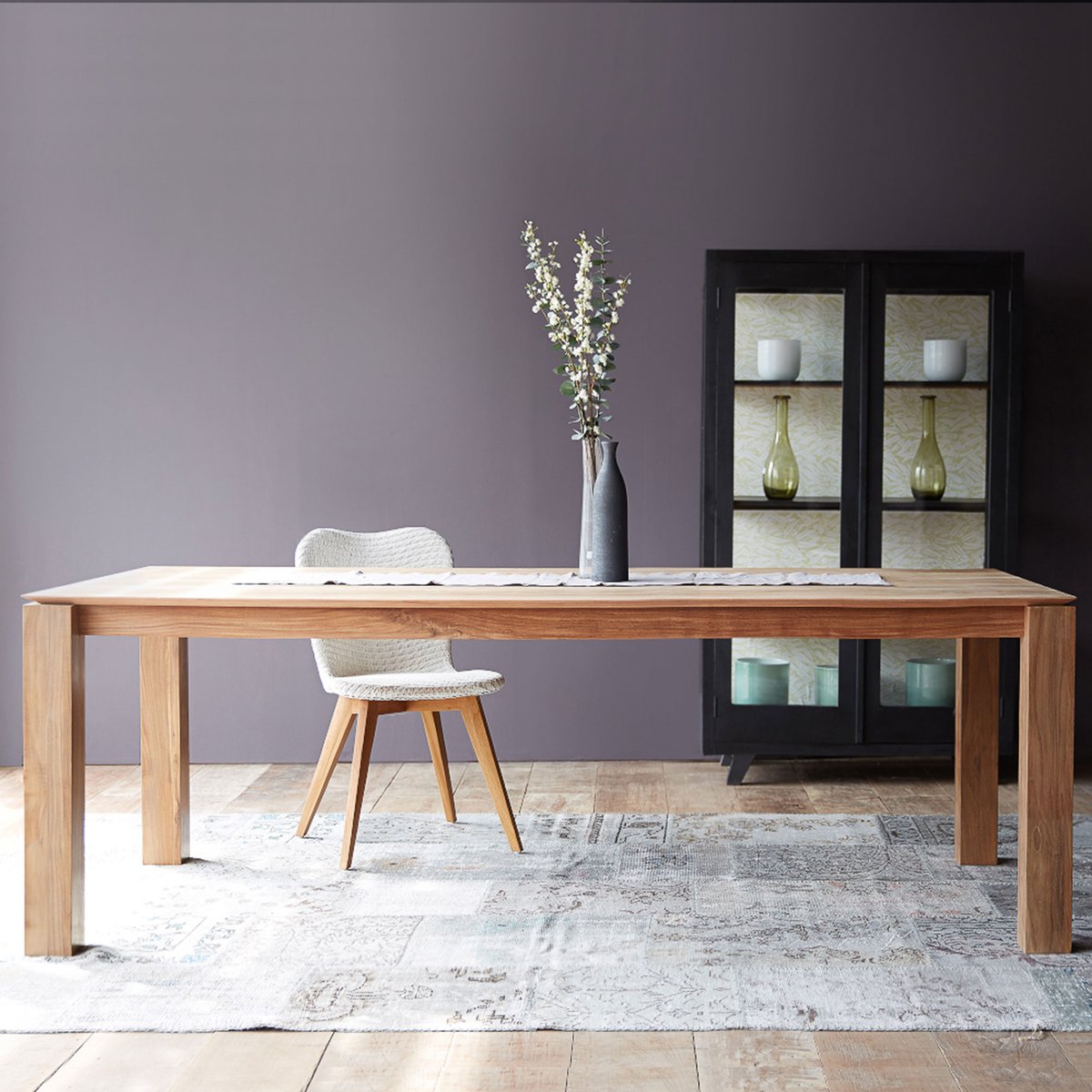 | | |
| --- | --- |
| BEST FOR | Full set of furnitures available |
| PRICING | |
| WEBSITE | https://www.originals.com.sg/ |
| ADDRESS | 1 Bukit Batok Street 22, #05-02/03, Singapore 659592 |
| CONTACT DETAILS | +65 6471 9918 |
| OPERATING HOURS | Daily: 10am–6pm |
If you're looking for a quality extendable dining table, consider buying from Originals Furniture, like their Teak Dining Table. They offer slice extendable tables and has different options to choose from.
You can opt for the 4-10 table, 6-10 table, or the 6-12 table, ensuring that you can get the size you're most comfortable with and what fits your budget. The quality of wood they use is also durable so you don't have to worry about replacing flimsy tables
Don't settle for less, acquire a furniture that can withstand time, purchase an extendable table at Originals Furniture!
Highlights
Easy to maintain
Poettker butterfly extension systems
Different sizes available
11. Boulevard Outdoor Inspirations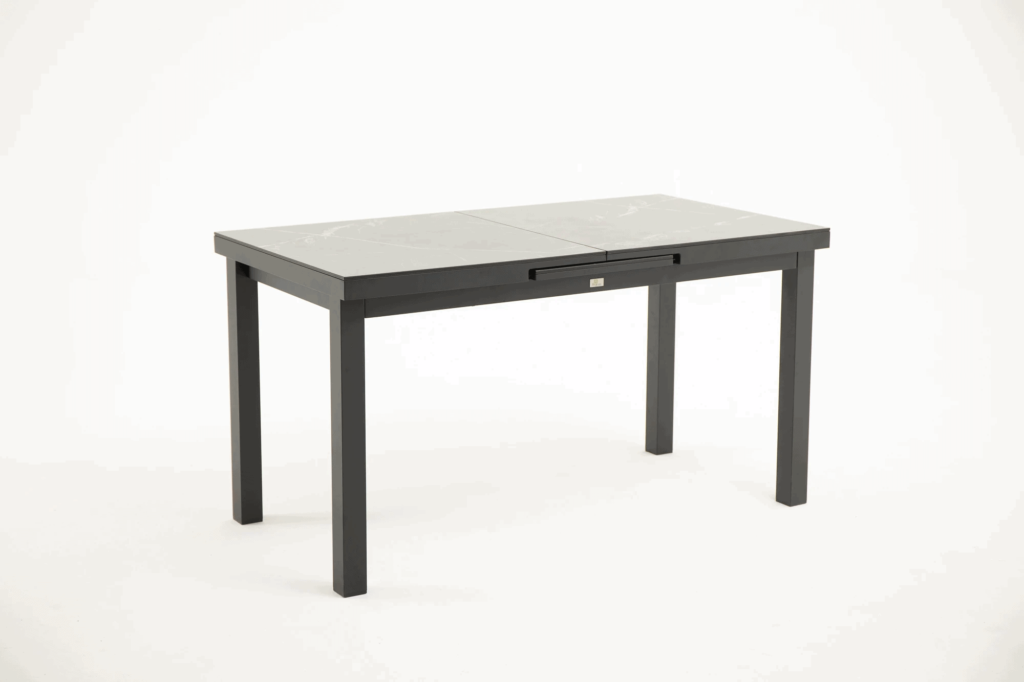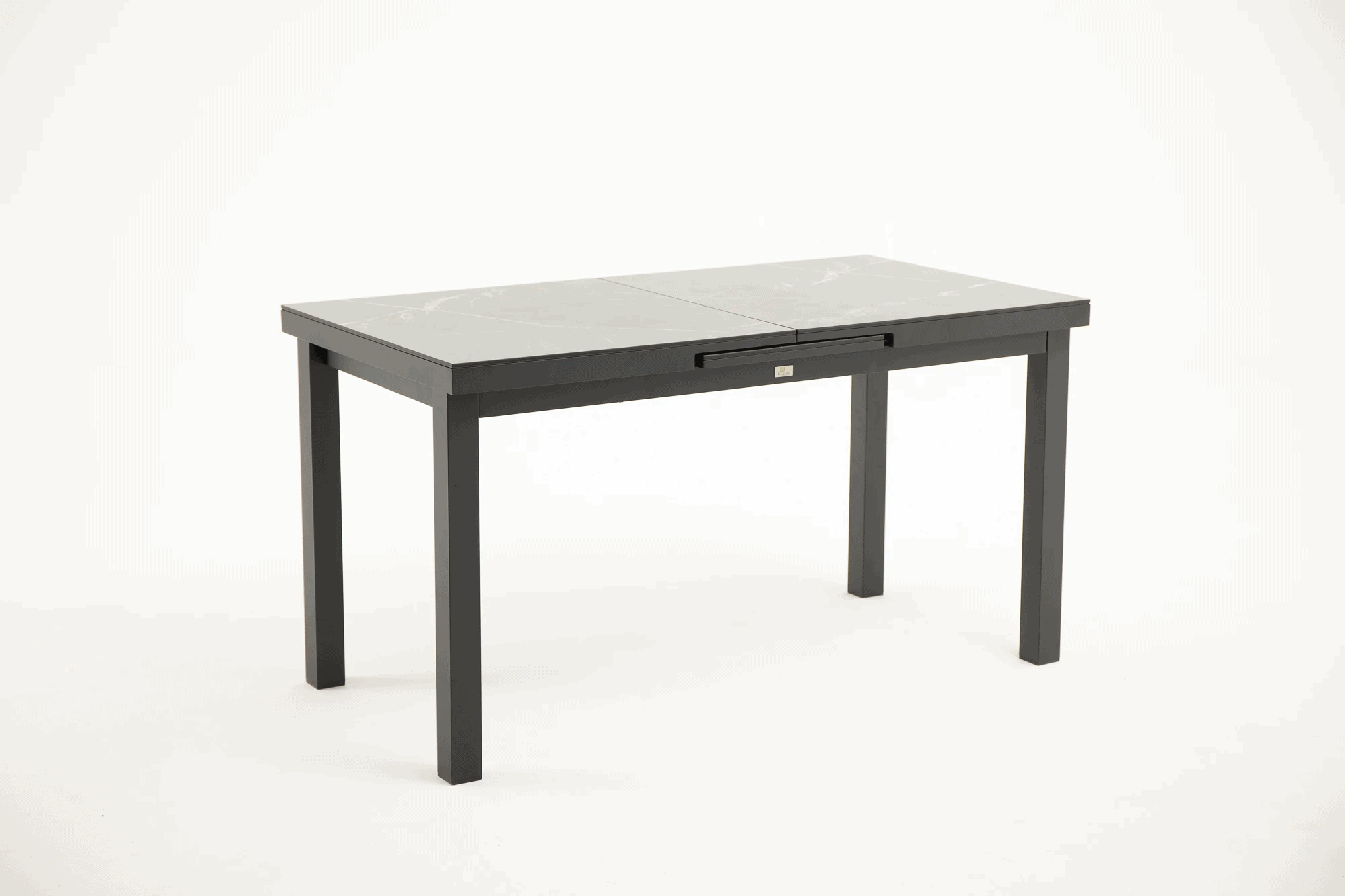 If you like holding gatherings outdoors, you need an extending table that will be able to support that lifestyle. Boulevard Outdoor Furniture's XANTHI Extendable Outdoor Dining Table is one such table you should consider.
This sandy black and stone gray table features lightweight materials, particularly aluminium metals, which can support an impressive weight. Moreover, it's powder-coated to increase its durability, scratch resistance, and corrosion resistance.
The table top, meanwhile, is made with high pressure laminate which gives it low heat conduction and makes it scratch-resistant, fade-resistant, and stain-resistant. It's also easy to clean and maintain thanks to its smooth surface.
The XANTHI Extendable Outdoor Dining Table is an extending table that will be able to withstand the wear and tear of the elements with no issue. Given its durability and ease of use, it can aid you with your outdoor parties for a long time.
Highlights
Powder-coated aluminium frame
High pressure laminate
Easy maintenance
Eco-friendly
That's the end of our list of the best extendable dining tables in Singapore! If you'd like to recommend more shops, let us know, as we might also love them and include them here.
For additional options, you may see these best foldable tables in Singapore. They're also space- and cost-efficient for minimalist and optimal design.