The 14 Best Places to Get Christmas Trees in Singapore
Nothing screams Christmas more than a decked-out tree.
Whether you're planning to get the real deal or faux ones that can pass as genuine, we've got you covered with our list of the best places to get Christmas trees in Singapore! Locations, delivery services, FAQs—we have them all listed in this article.
We know that prices are a primary concern for many so before anything else, let's deal with that first.
The Best Places to Buy Christmas Trees in Singapore
Without further ado, here are our picks of the top places to get Christmas trees in Singapore.
1. The Green Corner by Prince's Landscape
You wouldn't initially think of getting real fir trees in sunny Singapore. But thanks to The Green Corner by Prince's Landscape, your dreams of having one for the holiday season can come true!
They are a retail channel of Prince's Landscape Pte Ltd. Providing gardening needs, top quality plants, and gardening essentials.
There are so many reasons why they earned a spot on our list. Let's go over them.
First, their selection of fresh Christmas trees are native to the Pacific Northwest and grown in the wild mountains of Noble Mountain tree farm, Oregon, USA.
Furthermore, Oregon Noble Fir Christmas trees have a full natural shape with sturdy, layered branches to support heavier ornaments. They have distinct spruce like appearance, and the needles are soft to the touch.
If you don't have time to decorate your tree, you can also purchase ornaments with a prearranged theme of your choice. Their decorations have various themes, including: bear, traditional, horizon, and fairy and butterfly.
Really, the best part of purchasing a tree from The Green Corner is that it comes with free delivery, installation, and disposal. This convenience is something that we'll gladly spend our money on, seeing that not all shops offer all these services at once.
Unfortunately, their fresh trees sell out very quickly. Hence, we highly recommend purchasing a tree early to secure a spot.
As an added bonus, they'll even give you free poinsettias for orders placed before October 31st!
So in sum, they're a good shop if you want attractive and fresh Christmas trees. The combination of quality with convenience is hard to refuse.
Moreover, it's worth mentioning that Prince's Landscape was the first in Singapore to offer fire-retardant coating for Christmas trees. They still offer it today and we're fans, given that its transparent, odourless, non-toxic, non-carcinogenic, and environmentally friendly.
2. Masons Home Décor
Masons Home Décor is a local shop worth checking out. Despite being a furniture shop, they actually have a pretty impressive selection of holiday decor, including for Christmas and Chinese New Year!
As far as their Christmas trees are concerned, they offer hyper-realistic Christmas trees of different types and sizes. Whether you prefer wide or slim trees, you have the option to choose the best one according to your preferences and budget.
And speaking of budget, you can already purchase your tree as early as now to enjoy discounted rates. When you take these discounts into consideration, they easily have one of the most affordable Christmas trees on the island!
While the lack of installation services in this shop may be a drawback for some, the trees themselves have easy-open hinged branches. This feature makes set-up and installation quite fast and easy!
Apart from that, we also like the fact that the shop has a large variety of ornaments and decorations. While there are bundles that you can get along with your tree, we highly recommend checking out their individual products so you can customise your tree.
Delivery charges are waived for orders above $100. Otherwise, delivery fees are fixed at $10 for orders below the minimum amount—still pretty low compared to others!
Customer Reviews
Check out some reviews by customers who purchased trees from Masons Home Décor:
"So pleased with my cashmere 6ft tree which is so beautiful and the best quality purchase ever. The staff is so polite and Ashley even gave great advice to questions I had. What really touched me too was when I had to change my delivery date and they accommodated my request and even went the extra mile to deliver it earlier. I would highly recommend this shop . Thank you Mason's for making Christmas really special this year😊" —Uma Pillai, Google Reviews
"It was a delight visiting their showroom. Everything was just pretty. They have varieties of Christmas trees and a lot of decors to choose from. Ms. Zen was very nice and accommodated all our questions and requests. Will definitely recommend this shop to our friends who are looking for Christmas decorations." —Kim Yee, Google Reviews
3. Tidings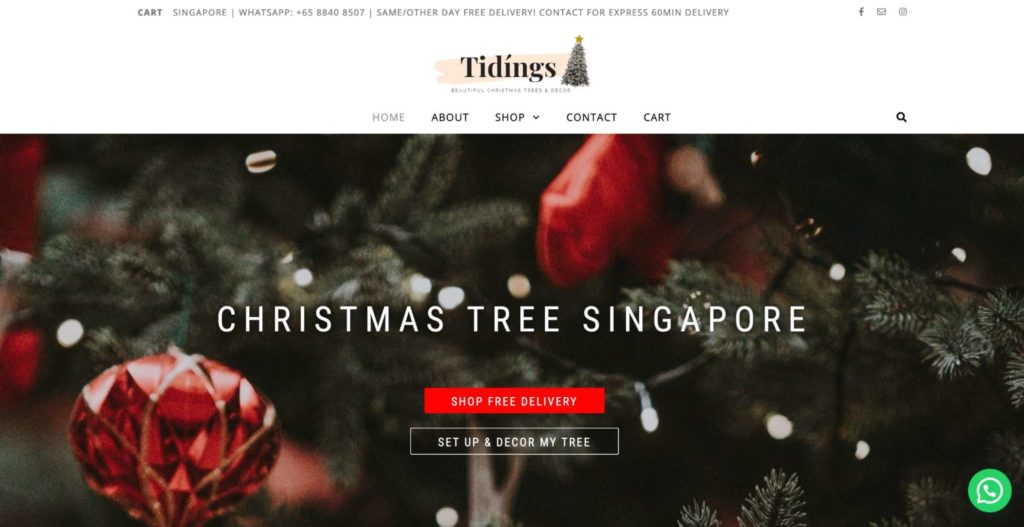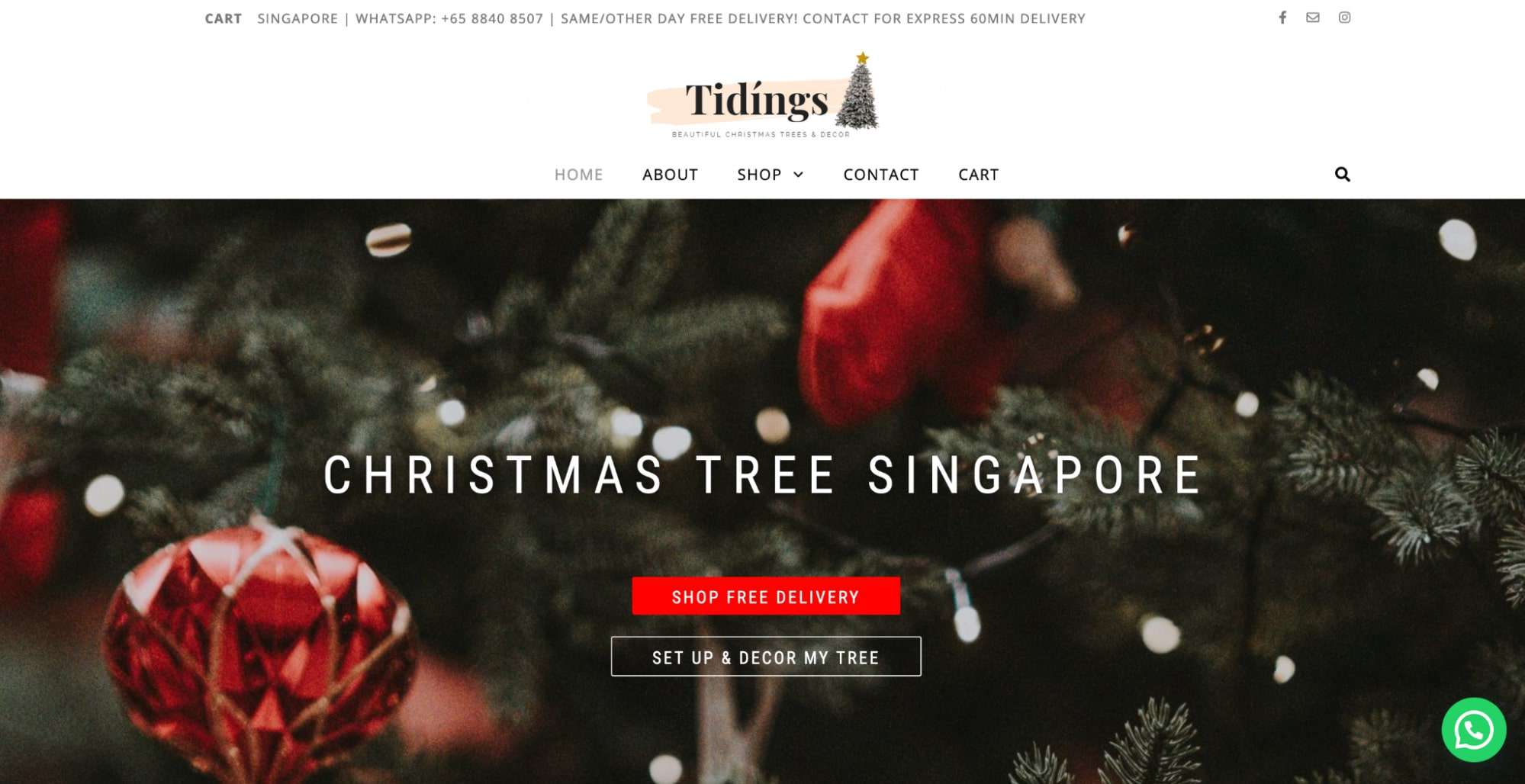 Now, this is something for those with a limited amount of space. Tidings offers fresh and cute Christmas trees that are just 40 cm.
Don't underestimate their trees due to size, as they still boast that fresh pine scent that we love so much about real trees. Pine is also known for its excellent needle retention, so you don't have to worry about fallen leaves that could leave your tree bald even before Christmas!
Of course, having a cute tree also has its own share of drawbacks. This includes the fact that it can't exactly hold heavy ornaments, so you'll have to take it easy when decorating.
It does come with an iron base stand, though, to make sure that your tree stays up all season.
We also love the fact that each order comes with free same-day delivery island-wide. While this service gives you a perfect excuse to buy one at the last minute, be warned that stock is highly limited.
So if you want to have your own mini tree in time for the holiday season, you might want to get one around late November when ordering from Tidings.
Customer Reviews
Take a look at what a previous client said about them:
"Just wanna say the service is great and the decorations on the Christmas tree is beautiful…. Definitely will patronise this shop in the future." —Andric Teo, Google Reviews
4. Sing See Soon
Normally, nurseries and shops around Singapore offer noble fir trees—this species is the most common one in the market. But not Sing See Soon.
Instead, they sell fraser fir trees, which may not be as majestic but are known to be quite sturdy. If you're wondering where they got the trees from, they source them from a nursery in Canada.
Apart from fraser fir trees' good needle retention, their needles also have an interesting trait: they remain soft even after being cut. So, you don't have to worry about pricking your fingers or your kids' while hanging your ornaments.
A cared-for fraser fir tree can also last you about 4 to 6 weeks on average. All these and more make fraser trees an excellent choice for first-time buyers.
While delivery won't take place until late November, you can already pre-order your tree now before they sell out.
Speaking of delivery, you'll have to spend another $30 for delivery costs island wide, unfortunately. Apart from that, you'll also need to pay for disposal and tree stands separately.
Despite these drawbacks, we still think that they're worth considering, especially now that pre-orders are open. With this, you won't have to race with last-minute shoppers to get the tree that you like!
Customer Reviews
Check out a review by Sing See Soon's customer:
"Been here countless times. And today the experience there is still the same. The staff that attended to me is very polite and knowledgeable. Good place to get your gardening needs and wants. Even if you are not buying, its a nice place to go for a short walk." —Daniel Sam, Google Reviews
5. Far East Flora
Far East Flora is a veteran company when it comes to fresh Christmas trees. In case you haven't heard of them, they have a reputation for having one of the widest selections of fresh fir trees in Singapore.
While their 2021 collection isn't out yet, they've carried noble fir and nordmann fir trees of different sizes in the past few years. So, we have plenty of reasons to expect about the same set of trees this year.
Noble fir trees are known for their lush and full shape. Nordmann fir trees, on the other hand, are quite broad in shape and have a subtle scent, making them a great choice for those with allergies.
Far East Flora also typically offers delivery and disposal services. We'll have to keep an eye out for the conditions they've set in place this year, seeing that there's no word on any of these yet.
From what we've noticed in the past though, Far East Flora normally takes pre-orders by the first week of November. Their trees sell like hotcakes, so make sure to visit their Facebook page for updates.
Customer Reviews
Here's what customers have to say about their Christmas trees:
"We bought our Christmas tree! We always get our Noble Fir Christmas tree from Far East Flora. Love the smell of pine from the fresh trees. And they have such a wide selection of flowers, plants and gifts." —Melvin Tan, Google Reviews
"A great place to get your Valentine's roses and other festive plants such as CNY orange tree and Christmas tree." —Tan Yap Hong, Google Reviews
6. Bedok Garden & Landscape
Here's another shop that you should put on your radar. Bedok Garden & Landscape also houses some of the finest fresh trees on the island, sourced all the way from the United States.
In the last few years, they've offered noble fir, premium noble fir, and nordmann fir Christmas trees in different sizes. They also have some of the most affordable fresh trees on the market, so it isn't surprising that they sell out pretty quickly too.
Like most shops on our list, they also offer early-bird prices once they open for pre-orders in November. Hence, we highly recommend making the most of this early-bird promo to enjoy even lesser rates and avoid disappointments.
We've no news yet as to this year's price list and buying guidelines, though. But we'll be watching out for these details as soon as they're ready on their Facebook page.
Customer Reviews
Here's what customers have been saying about their Christmas trees:
"Got a Christmas Tree and it was really smooth process with the workers there. The auntie at the cashier is not helpful and pushing the job of writing the receipts to one of the workers!" —Michael Toh, Google Reviews
"Great service on site! Looking forward to my Christmas tree delivery 😁" —Victor Ma, Google Reviews
7. Oncor Recycled Trees
The main concern that some may have about artificial trees is that they aren't really eco-friendly due to their plastic material. Well, you can say that to Oncor Recycled Trees, which, as you may have guessed from the name, sells recycled artificial Christmas trees!
Every component of their trees is made with 100% recycled PVC plastic, from the leaves and branches down to the stand. The boxes that they're shipped with are also made from sturdy recycled cardboard, which you can reuse to store your trees after the holidays.
Another unique feature of the trees is that they're coated with anti-rust paint. And the best part is that you have the option to choose from among a wide variety of Christmas trees in different sizes and colours.
Regardless of your chosen tree, each one can last you for a minimum of 30 years. Not only that, but their plastic needles are also made with flame retardant material.
With all these features combined, we think that Oncor Recycled Trees should be one of your top choices to enjoy a more sustainable Christmas.
The only major downside is that prices can be a bit steep compared to other local shops. You see, Oncor Recycled Trees is based in China with no physical stores in Singapore.
Still, you don't have to worry about shipping costs as those are already included in your order.
Customer Reviews
Here's what customers have to say about their recycled trees:
"Yes I would definitely recommend Oncor Trees. Recently purchased one and it is amazing. Very full and even nicer than the picture that I saw." —Ricardo Garcia, Facebook
"My family would absolutely recommend Oncor Trees. When shopping for trees this year, we noticed their packaging and the statement that they manufacture their trees using 100% recycled PVC plastic. On top of a very reasonable price and apparent high quality appearance, we made the decision to buy in appreciation for their cause and eco-friendly manufacturing process. We were certainly not disappointed! We choose to flock our trees this year and when handling the individual branches and pine needles to create a more realistic tree form, it was apparent that the quality was much higher than we'd experienced with other trees. We did not lose pine needles and our hands & arms were not irritated by the material. The individual branches were easy to manipulate and bend without fear of breaking. The end result was incredible and beyond what we expected. We recommend 100% and will ourselves be buying from Oncor again." —Tracy Pierce, Facebook
8. IKEA
Ah, IKEA—the land of Scandinavian furniture, Swedish meatballs, and affordable real Christmas trees. Yes, you read that right—IKEA launched fresh Christmas trees last year as part of their special holiday collection, and we're anticipating the same thing this year!
Last year, the trees came in 2 sizes: 5 ft. and 6.5 ft., which cost about $59 and $79 respectively. Compared to our other entries, IKEA's low prices take the cake for the most affordable ones in Singapore.
Of course, that also means that they sell out faster compared to other shops. From what we've heard, the trees sold out within 2 weeks since they launched them in late November last year.
Luckily, IKEA doesn't fall short in their selection of artificial Christmas trees and ornaments, which are restocked regularly. While those aren't available in-store as of writing, we're expecting to see them on display come the third or fourth week of November.
Hence, we highly recommend visiting their shops on those dates if you want first dibs on trees, holiday decorations, and even gifts to give your family and friends!
Customer Reviews
This customer picked up his Christmas trees from IKEA. Here's what he has to say:
"Always good to come back to Ikea. Lots of good ideas. Live Christmas trees too." —Verian De Souza, Google Reviews
9. Henry Christmas
For the rest of the year, Henry Christmas operates as an unassuming bicycle shop. But if you happen to pass by Geylang Road come September, it's pretty hard to miss their shop, which is then converted to a Christmas wonderland covered in dazzling lights.
From the get-go, you can tell that Henry Christmas is a one-stop shop for all your Christmas decorating needs, from trees to ornaments. Not only that, but there are also timber carvings of nativity sets, as well as life-sized Santa or snowman figures.
And because they're a family-owned business, you can also expect pretty affordable prices here, which are considerably less compared to mall stores. We even heard that 4-foot Christmas trees can cost as little as $25!
We're just a bit bummed to know that they don't really offer delivery services, which can make things quite difficult for those with no private vehicles to transport a tall Christmas tree. If that's the case, we highly recommend planning your trip accordingly to avoid hassles.
On top of that, we also suggest buying your decorations early to avoid long lines and huge crowds, as it can get pretty busy in November and December.
Customer Reviews
Check out some comments by happy customers:
"Our 3rd visit in all these years and each time, we purchased our Xmas deco and tree here except for this most recent trip. However they still have a huge selection of Xmas deco and trees here @ Henry Christmas. Nice displays of Xmas decos, and Nativity scenes in-store but unfortunately, no photography is allowed in there." —Eric Chan, Google Reviews
"Actually a really nice selection and a good discount though it doesn't apply to lights and wreaths. The line is a bit long because they need to control crowds, but it makes it a nicer shopping experience inside." —Victor Ma, Google Reviews
10. Vanda Win
Next, we have Vanda Win—a shop that specialises in artificial flowers and plants for all occasions, including Christmas.
Similar to most shops on this list, they have a pretty wide range of Christmas trees in different sizes, colours, and types. We like the fact that their trees are easy to assemble, since the branches are already hinged to the trunk.
What's worth mentioning is that they also carry a bunch of different ornaments, garlands, and decor—perfect for customising your tree.
But if you don't have time for any of that, you can also avail of their pre-decorated Christmas trees, which, compared to others on our list, offers a wide variety of themes and colour schemes. You can check out their website to get a glimpse of designs they've done in the past.
If you decide to take this route, you have the option to ask them to deliver your fully decorated tree right to your doorstep. Alternatively, you can also have your order delivered in boxes, just in case you prefer to decorate your tree by yourself.
We would've liked to see their prices from the get-go, though, as those aren't readily available on their website. Not to worry: you can always ask for a quote at no extra cost.
11. Craftway Floral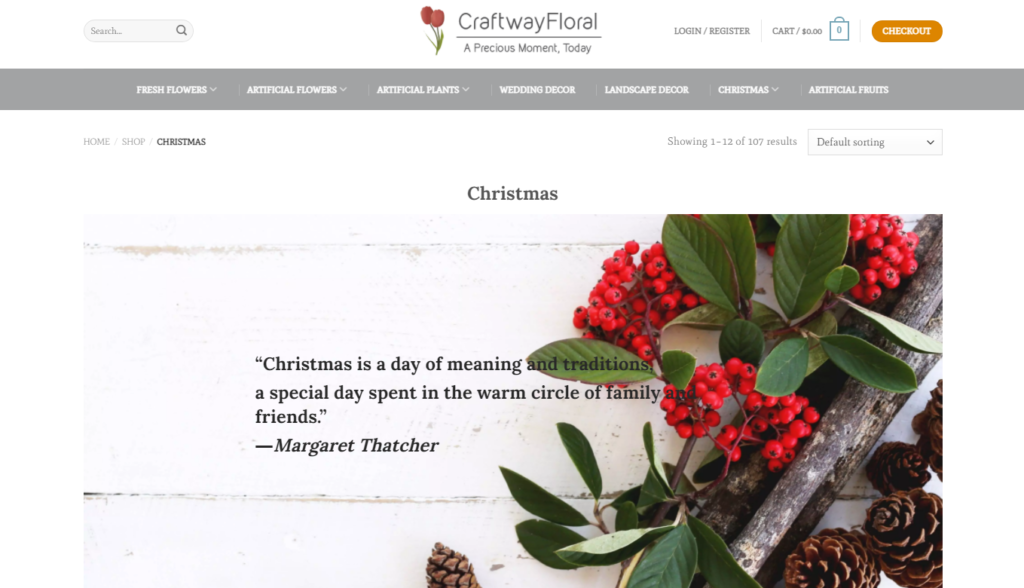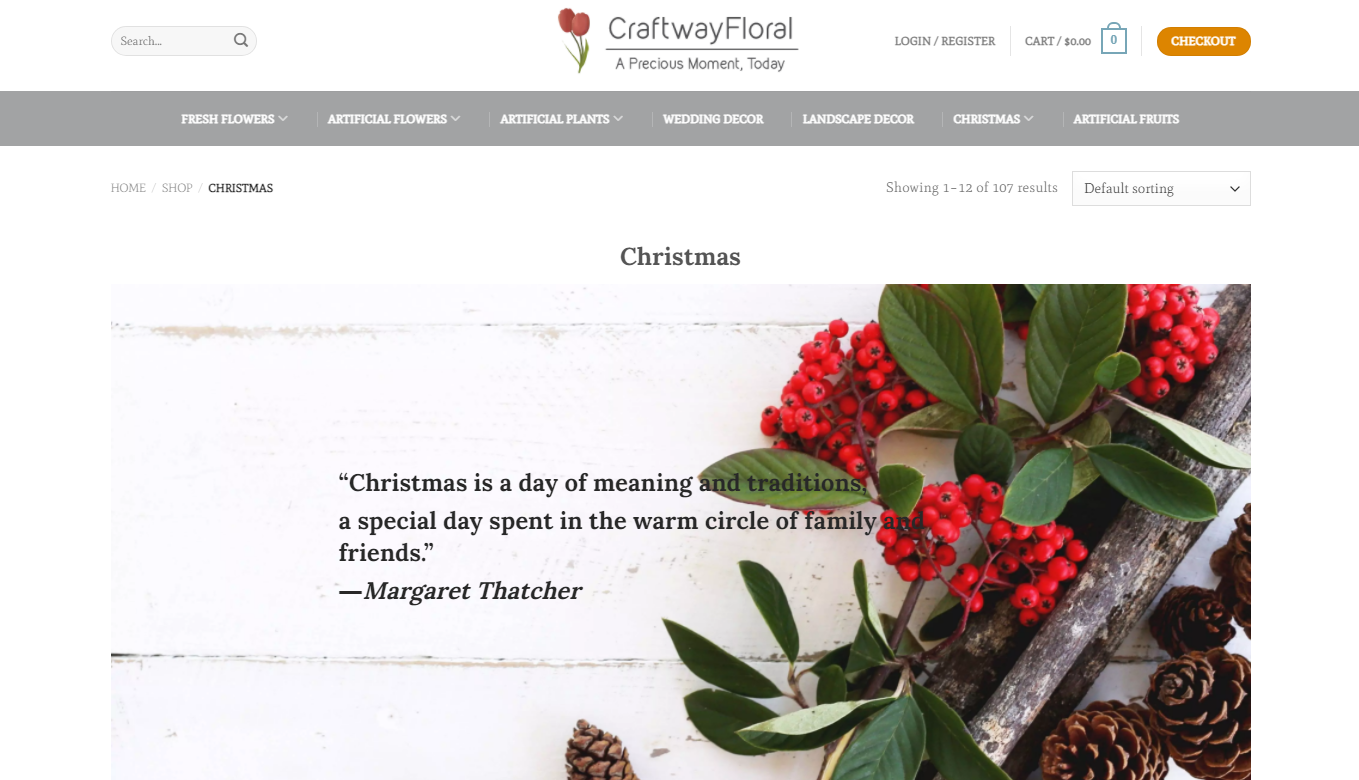 Craftway Floral is one of the longest-standing flower providers in Singapore, having been established in the 1990s. It offers a wide range of flower arrangements that vary in style, many types of flowers, and designs that they guarantee to all be stunning and in the highest quality.
The shop prides itself in their highly skilled and talented florists, who always go the extra mile when providing services for their clients. Aside from designing arrangements, they also offer to deliver flowers, artificial plants, table arrangements for events, and even offer bridal car decorations anywhere in Singapore.
Aside from flower arrangements, Craftway Floral also has a Christmas catalogue, one that features a large selection of Christmas trees and flowers, decorated christmas trees, garlands and wreaths, and even ornaments.
Most of the Christmas trees from Craftway Floral are of the artificial variety, which is perfect for customers looking to own a tree that lasts long and can be reused in the future.
If you're looking for something live, though, there's no need to fret since Craftway Floral also carries Live Nordmann Fir Christmas trees. This tree makes an excellent choice given its exemplary needle retention traits, which gives the owners more space for decorating needs.
Moreover, this tree has no fragrance, so families with members who have allergies need not worry about fits ruining the holiday spirit.
Unfortunately, there are no prices listed online, but customers are free to contact Craftway Floral through phone or email to learn more about the trees available.
12. Candy Floriculture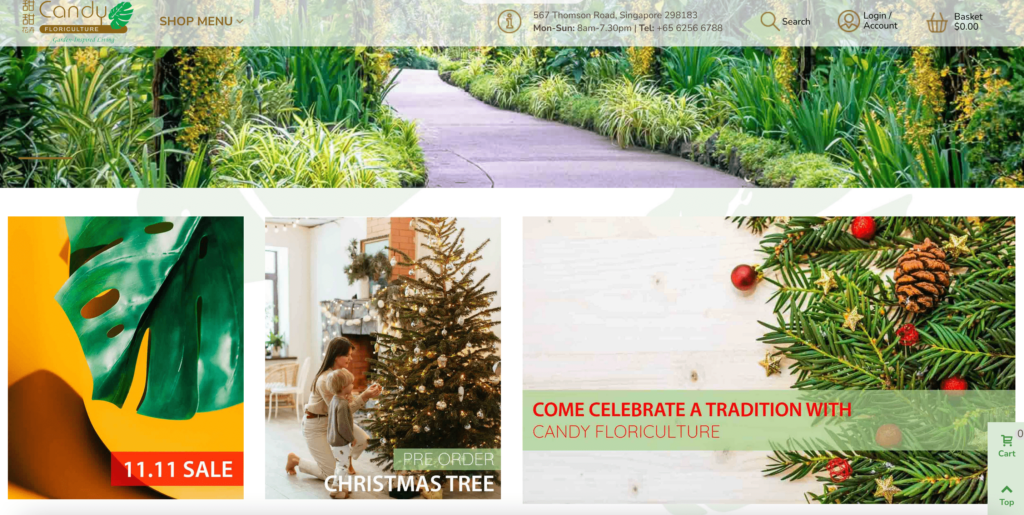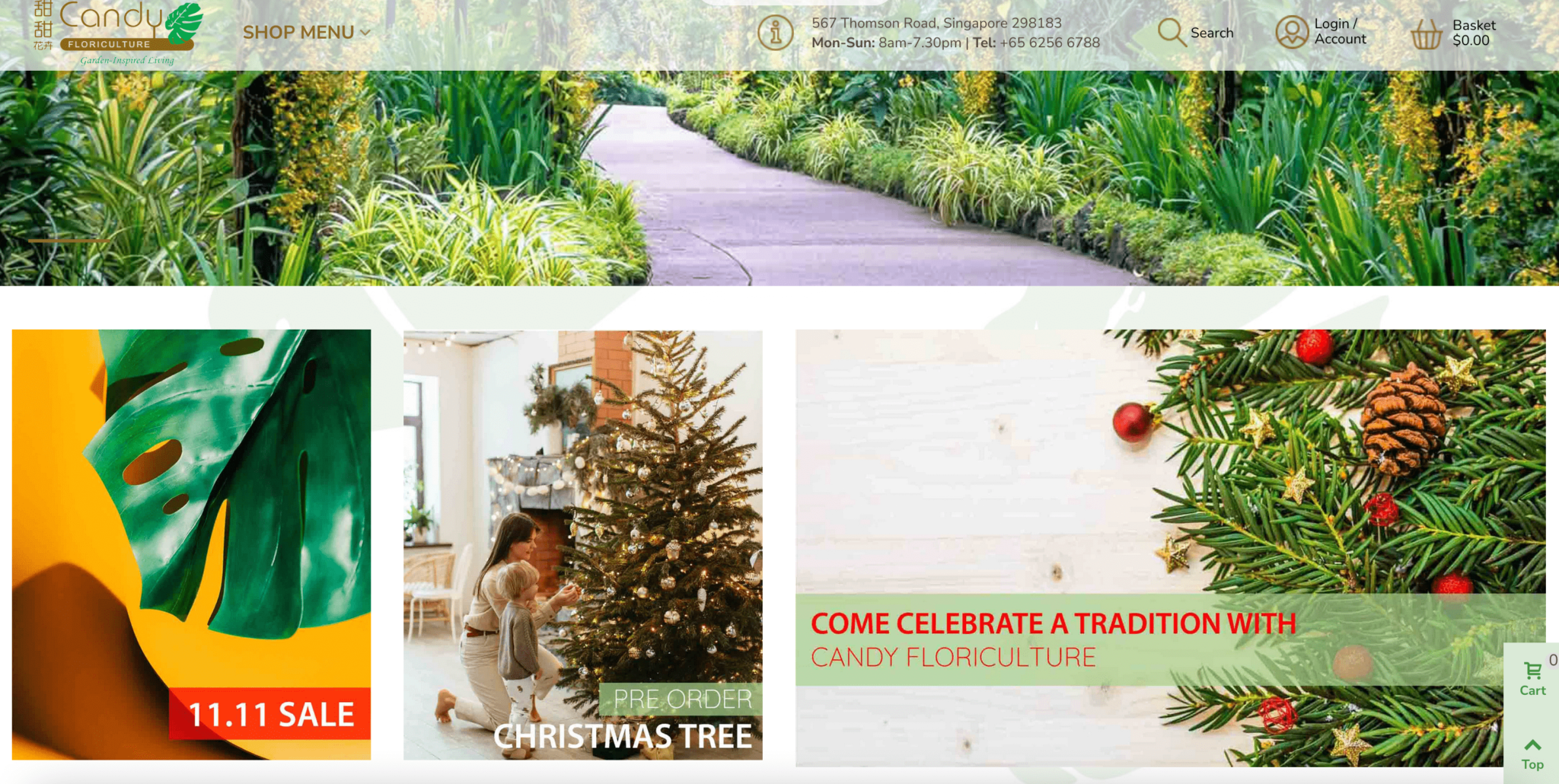 Another option that you can consider if you're thinking of getting real Christmas trees is Candy Floriculture. In their lineup of trees this year, they carry noble fir and nordmann fir trees of different sizes, ranging from 4 feet to 12 feet.
We heard that they imported their trees all the way from North America and Europe, all of which have been cultivated in a pest-free farm. We're glad to highlight them here primarily because of the convenience of collection and disposal of the tree.
With just a few clicks, they'll have your tree delivered right to your doorstep from November 20 onward. On the other hand, you can schedule the disposal of your tree from December 27 until January 10.
But like many things in life, convenience comes with a price. So, expect to pay from $30 to $50 for this service alone, depending on the size of your tree.
We're also a bit disappointed to see that you'll also have to pay for delivery separately. On top of that, their trees don't come with a stand, seeing that you'll have to purchase those separately as well.
These additional costs may mean that they're certainly not the most affordable option out there. But for what it's worth, the high price tag does live up to quality, based on what we've seen in the previous years.
13. Dazzle Decor


There are many reasons why people prefer to buy an artificial tree rather than a natural one. And it's not just because of the lower price and long-lasting fun, there are also some environmental benefits to choosing an artificial tree.
If you don't mind having an artificial tree for your Christmas celebrations, then we recommend checking out Dazzle Decor.
Dazzle Decor is an online store for all your Christmas needs. With its wide range of decorations, artificial christmas trees and other diverse products, they are sure to have just what you need for the perfect Christmas.
The store specialises in artificial Christmas trees and offers customers the opportunity to buy their own or rent a unit. The rental Christmas trees can come pre-decorated, saving customers time during the holidays.
Additionally, Dazzle Decor gives customers the option to have their orders delivered or picked up. Self-collection is done by appointment, while deliveries are often done on the same day or the next.
14. All Events Decor

It's a no-brainer that just from its name All Events Decor provides decorations for all events. Of course, that includes Christmas.
We think that they're one of the best places to get a Christmas tree and other Christmas decorations!
We like that they have different sizes of Christmas trees. They offer standing trees, wall trees, and even mini ones that you can place on the table.
If you want to stray away from the traditional trees, they also offer tree towers with DIY LED lights.
Other than their large selection of Christmas decorations, they also offer them at affordable prices, hence why we highly recommend them as well.
FAQs about Christmas Trees in Singapore
---
And that wraps up our list of the best places to get Christmas trees in Singapore. We hope your holidays are as bright and cheerful as the tree you'll decorate.
Know any other hidden gems that sell amazing Christmas trees? Don't hesitate to let us know your experience!
In the true spirit of Christmas, we didn't forget to write about gift suggestions for your family and friends. Check out our guide for the best gift ideas in Singapore!