The Top 8 Options for the Best Disposal Services in Singapore
Decluttering your whole place in preparation for moving into a new home? Maybe you simply want to do a deep home cleaning for a healthier environment? Don't worry because we've already found you the most trusted companies that provide the best disposal services in Singapore!
If you need help to dispose of your old furniture, appliances, books, clothes, and other stuff, our selected service providers will take charge of them and make sure that everything will be disposed of properly.
Read our list below to know more about their best disposal services in Singapore!
1. Earth Recycling Services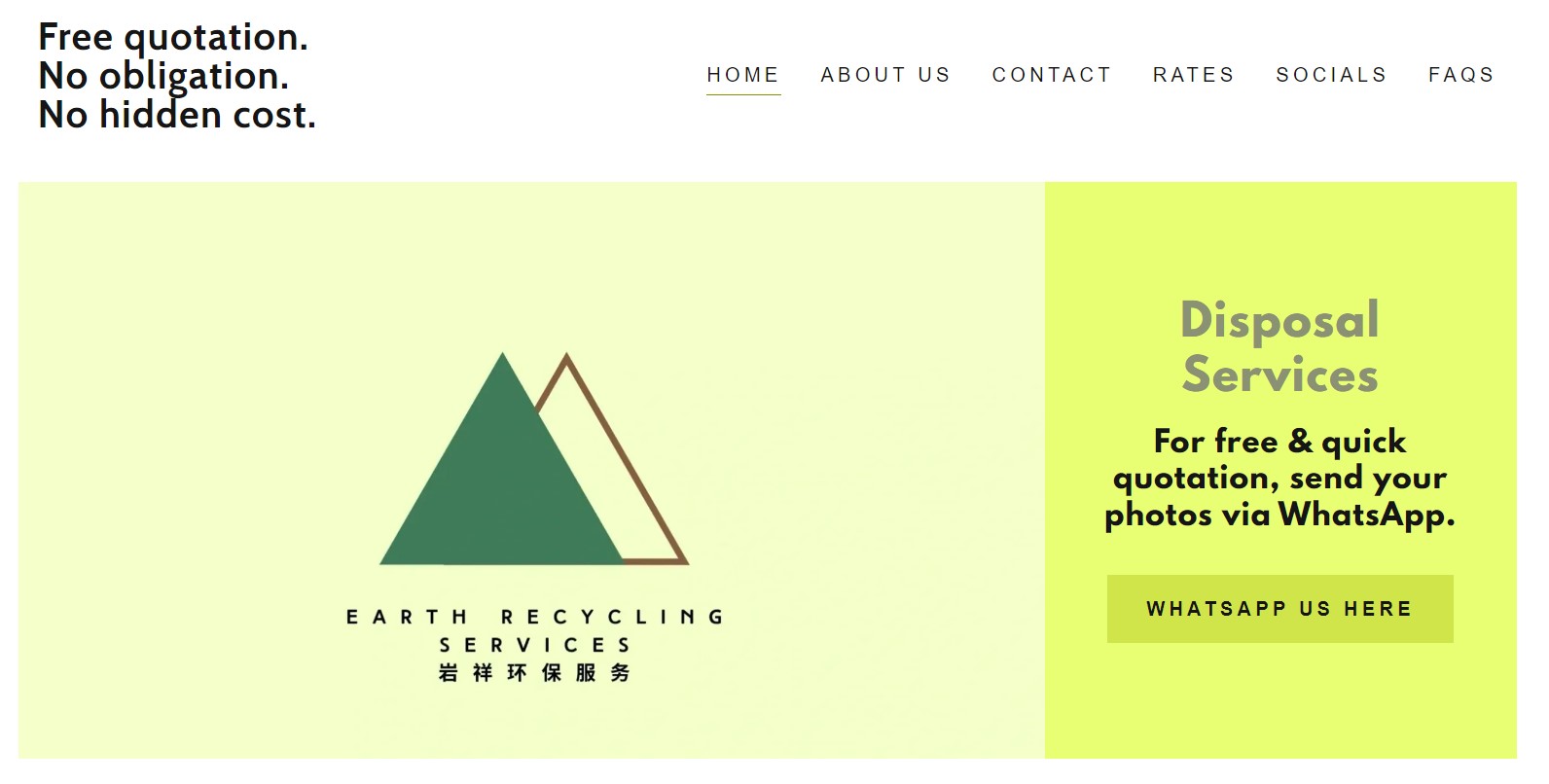 Dispose of bulky items can be quite a challenge for some people. With Earth Recycling Services, you don't have to worry! They provide general waste and bulky items disposal for all residential, commercial and industrial clients across Singapore.
Their team of professionals will ensure safe and efficient removal during the entire process. For instance, items (e.g. storage rack or bed frame) that do not fit through the door will be dismantled on the spot.
Do trust that they will have your back as they offer their services 7 days a week, all year round and their WhatsApp line is available 24/7.
Their range of services also include entire unit clearance for end of lease/tenancy and urgent last-minute removals.
Their key difference from other companies would be their efforts on reducing waste going into landfills. Hence, all collected items will be sorted out manually at their facility. Their workers will dismantle most items and sort them in accordance to recyclable types.
We truly appreciate their quick and free quotation with no obligation policy and there is no minimum quantity for disposal.
Do take note that each of their disposal services starts from $80. Prices are quoted according to quantity and types of items.
Highlights
No obligation and hidden cost
Recycles as much as possible
Types of disposal items are listed on their website
Quick and free quotation
Operates daily
Disposal of furniture, bulky items, and general waste
Customer Reviews
Earth Recycling Services receives consistent reviews on being highly responsive to enquiries. They have also been praised on their punctuality and positive demeanour. Here is what a customer said:
"Best service for bulk item disposal. Prompt response from company via whatsapp. Fast to fix schedule date and time. The contractor staff came punctual with call prior to schedule. They know what supposed to be done. No fuss. Got invoice and smooth payment after job complete. Highly recommended!"
2. Mover Compared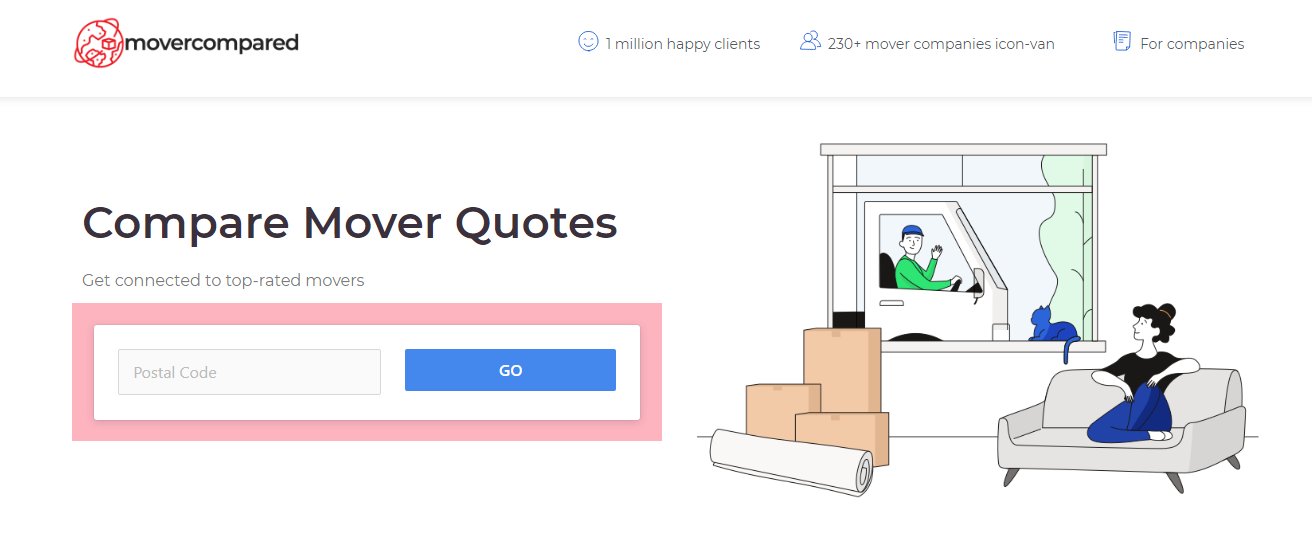 Finding the disposal company that suits one most is difficult as is, given the innumerable choices in the field. This is where Mover Compared comes in.
Mover Compared is one of the best disposal company comparison sites in the market, currently having 15 years plus of experience in the field. When it comes to Singaporean disposal companies, Mover Compared holds over 230 companies in their catalogue, allowing for high researchability.
The companies they work with plus the easy-to-navigate site makes it possible for clients to find the exemplary disposal  services at the best prices, they can even find the companies that offer the lowest price tags based on needed services. 
Highlights
Easy to navigate site
Large company catalogue
Quick quotation
3. Da Engineering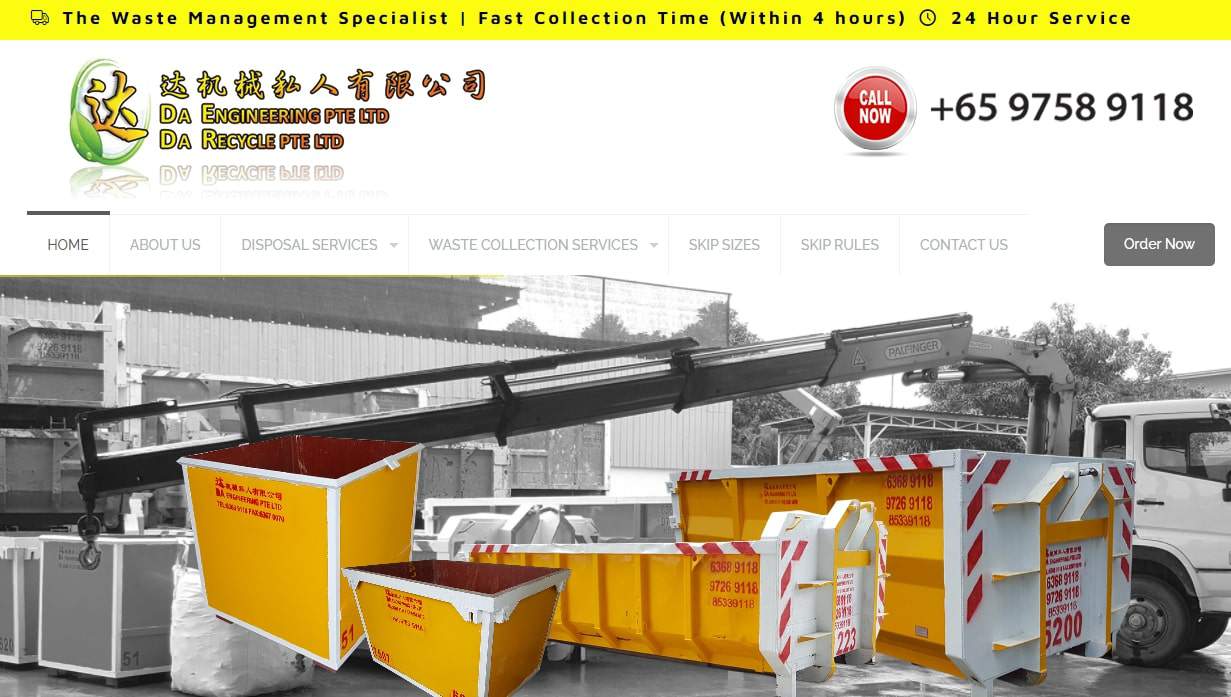 | | |
| --- | --- |
| BEST FOR  | Small to large scale waste disposal services |
| WEBSITE | dae.sg |
| ADDRESS | No.1 Kranji Crescent Singapore 728663 |
| CONTACT DETAILS | (65) 9758 9118 |
| OPERATING HOURS | Daily,   8am–8pm |
Da Engineering offers a variety of waste management services for residential and commercial needs. This includes waste disposal services where they're known for providing hassle-free processes with their experienced team.
They have all kinds of vehicles to remove any type of bulky waste. One of their specialties is their affordable skip hire service, which accommodates all of your disposal management needs.
If you have leftover waste, their Disposal Plant will always be open for you! Through their self-disposal plans, you can use your own transportation to dispose of your wastes at their plant.
There's no need to worry about disposing of large amounts of waste either — they have a forklift or excavator to assist heavy quantities. Moreover, due to their environmentally-friendly methods, they were able to provide the best disposal service in Singapore.
Highlights
Self-disposal plans
Rubbish disposal services
Fast collection time
24-hour service
Customer Reviews
Clients said that the staff and managers were professional and responsive. They said that they were truly able to provide customised services suitable for their needs and preferences.
A customer gave this feedback:
"Mr Lee was very responsive and approachable. The services provided were prompt and efficient and the team has ' can do' attitude, very important in the service industry. Absolute value for money. Would definitely recommend it."
4. Junk to Clear
BEST FOR
Furniture disposal, Products and documents destruction
WEBSITE
https://junktoclear.com.sg/
ADDRESS
8 Kaki Bukit Rd 2, 01-14, Singapore 417841
CONTACT DETAILS
67492306
OPERATING HOURS
Weekdays: 9am–5:30pm

Saturday: 9am–1pm
For those who need furniture disposal assistance, you can rely on the waste management services of Junk to Clear. They offer full-service waste removal for both residential and commercial needs.
If you're organising or deep cleaning your home at the last minute, they also offer priority same-day service where they'll take care of your urgent disposal needs. They deal with the disposal of home appliances, termite-infested furniture, wood waste, etc.
They even offer office documents destruction for security purposes as well as construction debris collection for newly built or renovated buildings. Whether it's home and office junk, they have the best waste disposal services in Singapore for you.
Highlights
Business waste disposal services
Secure destruction services
Same-day service
Free photo-online quotation
Customer Reviews
Junk To Clear has received positive reviews from clients saying that the team was so cheerful, friendly, and punctual as well. They also said that they were so impressed with the efficient and well-managed process.
A client posted this review:
"High review here was right – their response to my query was super quick (within a couple of hours on Sunday night!) and the amount was quite reasonable, and they arrived on time and had done their job in a professional and friendly manner. Highly recommended Junk To Clear for those who have a need, and I will definitely recommend to my friends/colleagues. So amazed by their service."
5. Tidy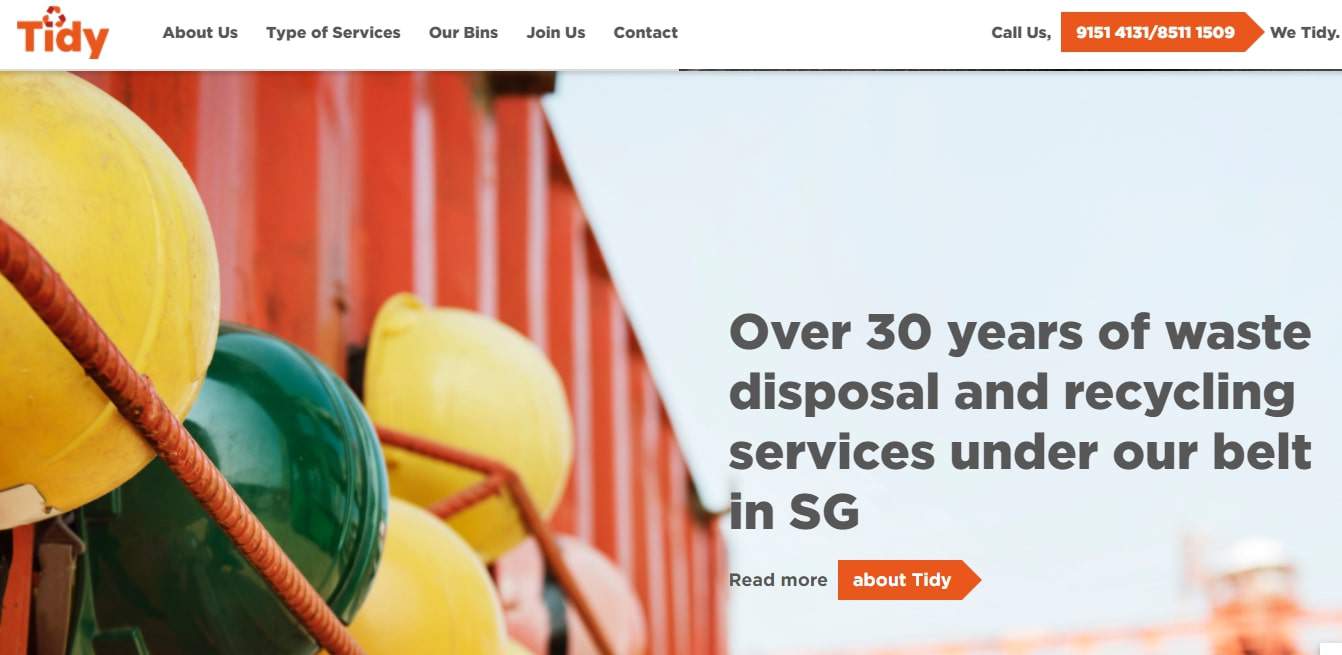 BEST FOR
Renovation waste disposal
WEBSITE
https://tidy.com.sg/
ADDRESS
29, Tuas Ave 8, Singapore 639244
CONTACT DETAILS
+65 9616 6105 / +65 9234 4800
OPERATING HOURS
Monday – Saturday: 7:30am – 7:30pm

Sunday & Public holidays: 7:30am – 4:30pm
Be it for organization-wide reconstruction or home renovation, Tidy has a full range of services and facilities to safely handle all waste.
Their services include disposal of inorganic and organic waste as well as recyclable waste.
They can also help you get rid of old and bulky furniture and heavy home appliances during moving. Confidential product disposal, total disposal, and e-waste disposal are also part of their comprehensive range of services.
They own and operate a large fleet of vehicles, containers, and bins so you can be sure that they can help you with large quantities of waste too.
For those who have additional waste to dispose of, they have an approved facility for the self-dispose process.
They've served many leading companies like Changi Airport Singapore, National University of Singapore, Housing and Development Board, and many more — proving that they indeed have the best disposal service in Singapore.
Highlights
Recycling service
Furniture, electrical, and household waste disposal
Food and general waste disposal
24-hour service
6. Cleanway Disposal Services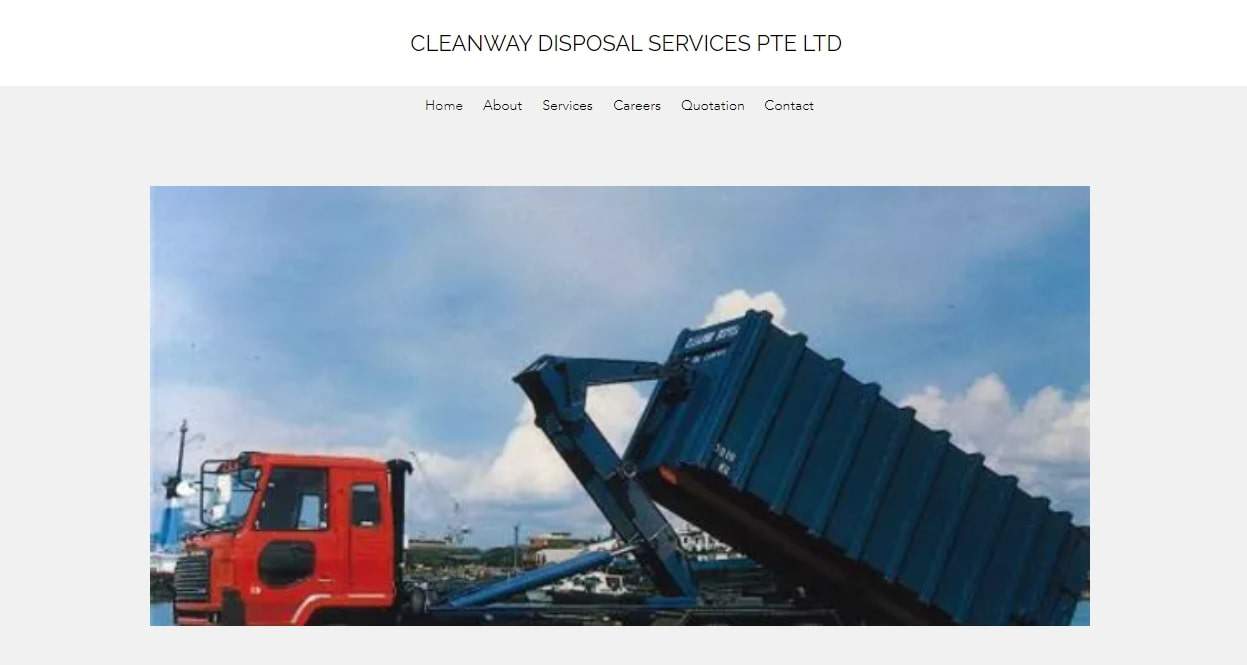 | | |
| --- | --- |
| BEST FOR | Recycling process |
| WEBSITE | https://www.cleanway.com.sg/ |
| ADDRESS | 40 Penjuru Rd Singapore, 609145 Singapore |
| CONTACT DETAILS | +65 6264 4411 |
| OPERATING HOURS | Daily, 8am–5pm |
Cleanway Disposal Services provides high-quality and customised services to meet the specific needs of the clients. Through their trained and experienced team, they're capable of offering extensive services for residential and commercial properties.
They own large trucks that can accommodate any type of large, bulky, and heavy waste. So if you have a bunch of old and damaged furniture, broken appliances, unnecessary documents, and other stuff to get rid of, they have the best disposal service in Singapore for you!
They're also one of the most trusted companies in Singapore that handle proper, sustainable, and safe recycling processes.
Highlights
Garbage dump pick-up and hauling service
Free quotation
7. Vimbox Movers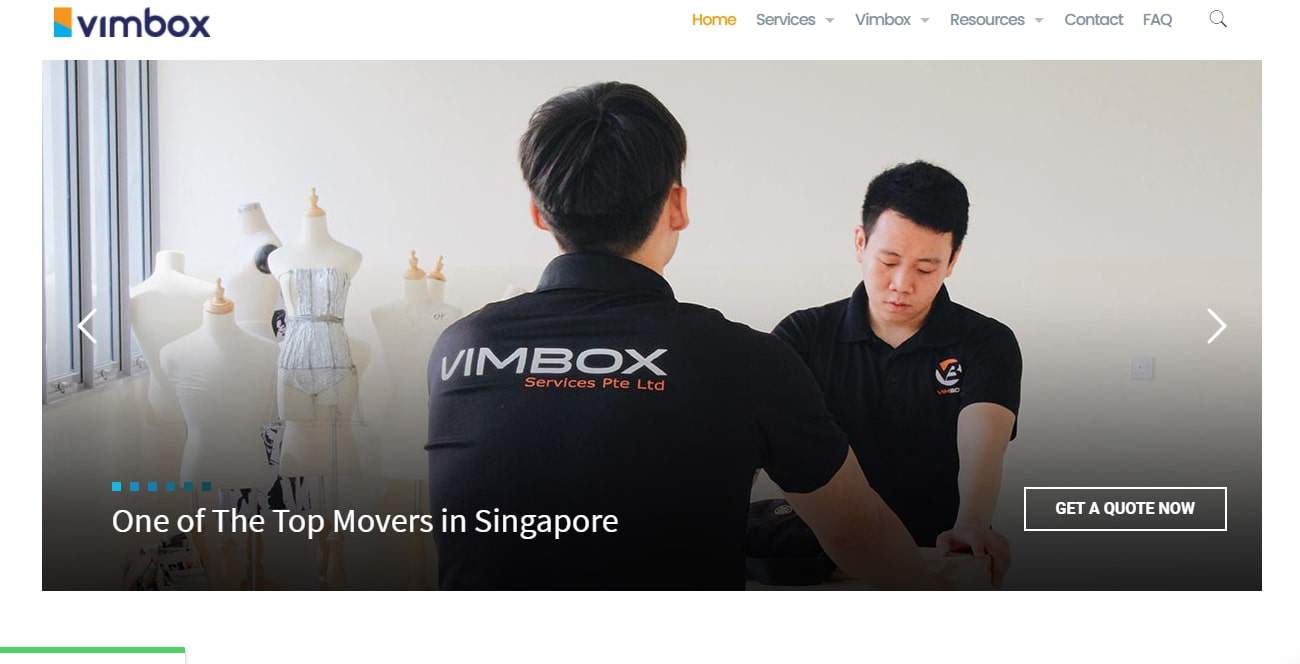 | | |
| --- | --- |
| BEST FOR | Secured document disposal |
| WEBSITE | https://vimboxmovers.sg/ |
| ADDRESS | 10 Kaki Bukit Road 1, #03-08, Singapore 416175, KB Industrial Building |
| CONTACT DETAILS | +65 6339 4439 |
| OPERATING HOURS | Weekdays and Saturdays: +65 6339 4439 |
Unlike most waste management companies, Vimbox Movers offers certificates of destruction, recycling, and pulping for the disposal of your items and documents.
Due to their optimal confidentiality of sensitive documents, most corporate owners prefer their management over other service providers.
They also provide skid tanks at your disposal site and transportation of all of your unwanted items to an approved disposal ground. With their tailor-made services and reliable specialists, you'll surely experience the best disposal service in Singapore.
Highlights
Consultants and one-site specialists
Free quote
8. KGS

BEST FOR
E-Waste Disposal
WEBSITE
https://kgs.com.sg/
ADDRESS
110 Tuas South Ave 3, #02-03, Singapore 637369
CONTACT DETAILS
[email protected]
+65-6250 2096
OPERATING HOURS
Weekdays: 9am–5:30pm
Saturday: 9am–1pm
KGS provides secure data disposal services. Their services include but aren't limited to, e-waste disposal, data/equipment destruction, and secure paper shredding/disposal.
Best of all, they offer collection services for large scale disposals. If you're looking for an e-waste disposal company, KGS is just one call away.
Highlights
Certified disposal company
Secure data destruction
8. Ace Disposal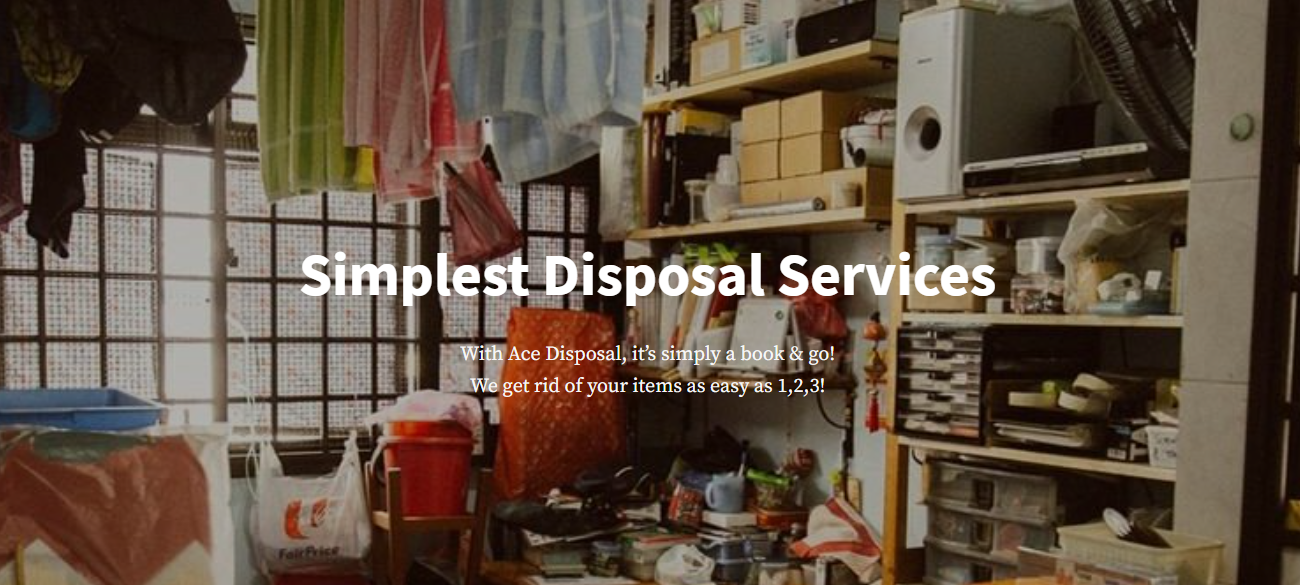 Ace Disposal, as its name suggests, is an ace when it comes to getting rid of items that clients no longer need. It doesn't matter if it's for residential, commercial, or industrial properties.
All you need to do is contact Ace Disposal and provide them a list of the items alongside photos. Plus, the location and details of the pickup. After that, their capable team will do the rest of the job properly.
Highlights
Hassle-free disposal services
Cheap rates
That's our list of companies with the best disposal services in Singapore! If you know of other great disposal service specialists, let us know!
But if you want more disposal service providers instead, take a look at our list of the best waste management companies in Singapore for more options!