The 6 Options for Best Cockroach Control in Singapore
Sometimes, decluttering and cleaning our place regularly is not enough to keep the cockroaches away. In this case, we need an expert who can provide a long-lasting solution to prevent further health risks and property damages.
To help you find a reliable professional, we've gathered the leading service centres known for the best cockroach control in Singapore!
These companies are well-equipped with advanced solutions that can completely remove cockroaches and other pests. With their services, you can save yourself from spending too much on temporary treatments.
Check out our list to know where you can find the best cockroach control in Singapore.
1. Top Pest Control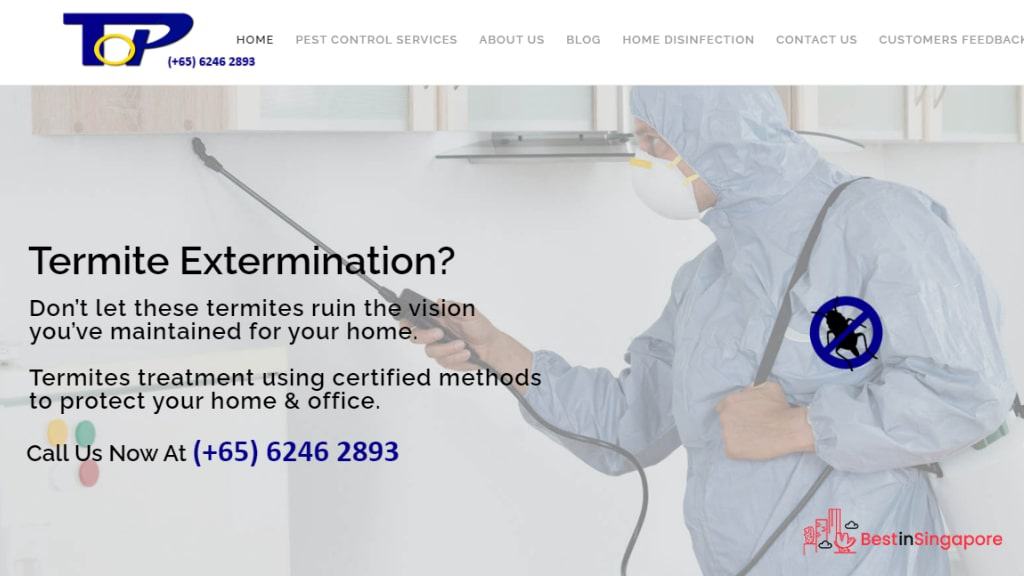 | | |
| --- | --- |
| BEST FOR | Specialised cockroach control and management program |
| WEBSITE | https://www.top-pestcontrol.sg/ |
| ADDRESS | 3791 Jalan Bukit Merah #08-12 Singapore 159471 |
| CONTACT DETAILS | (+65) 6246 2893 |
| OPERATING HOURS | Open 24 hours |
Top Pest Control uses certified treatments that'll help protect your home or office against cockroaches. With their trained experts, they can design a specialised program that suits the type of cockroach control needed for your place.
Over the years, they've handled thousands of cockroach infestation cases and their solutions have always been 100% safe and non-toxic. With their services, there's no need to worry about possible health risks during the control treatment.
They perform a thorough inspection to fully exterminate all cockroaches that are living at your place, preventing them from causing more damages.
Highlights
Commercial and industrial services
On-site pest treatments
Emergency services
Multi-site service agreements
Customer Reviews
Many customers complimented the experienced technicians of Top Pest Control. They said that the team was able to deal with any pest problems and apply effective and efficient treatments.
This is why the company is known for having the best cockroach control in Singapore. A customer posted this feedback:
"Chris attended to my response in the middle of night and he managed to help me diagnose the pest that was giving me a headache. I'm very impressed with his knowledge and professional approach in handling pests. His service has far exceeded my expectations and he even helped me to draft an official report to send to my landlord. I would like to take this opportunity to thank Chris again for his help!"
2. Maximum Pest Management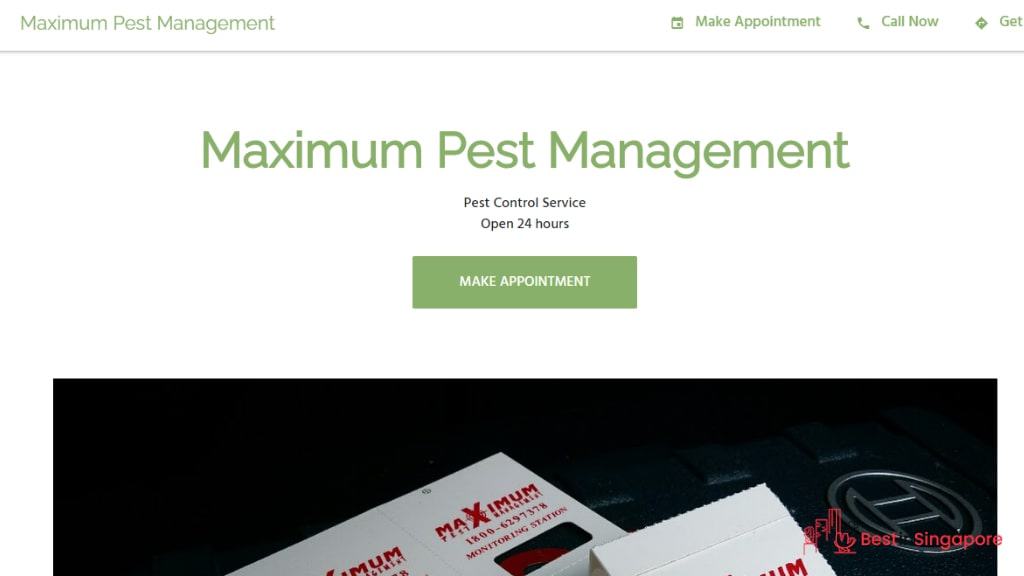 | | |
| --- | --- |
| BEST FOR | Environment-friendly solutions |
| WEBSITE | https://maximumpest.business.site/ |
| ADDRESS | 54 Maude Road #02-06 Singapore 208346 |
| CONTACT DETAILS | 6292 0515 |
| OPERATING HOURS | Open 24 hours |
Maximum Pest Management is fully equipped with nature-friendly treatments that aren't only safer to use but also more effective than traditional solutions.
Most of their products are water-based and proven to be highly effective when managing pest infestations. In line with their environmentally-conscious mindset, they also try to adopt a catch and release approach as much as possible.
Moreover, their services are available for both residential and commercial properties. So if you need to remove the pests in your home or office, they have one of the best cockroach controls in Singapore.
Highlights
24/7 emergency services
Catch and release approach
Customer Reviews
Customers have recommended the services of Maximum Pest Management because of the quick, efficient, and reliable solutions their team offers. A customer wrote this review:
"We were looking for a new pest control company, and came across Maximum Pest. They were hired based on professionalism and promptness of response, from the site inspection, quotation, to scheduling first session and a report log emailed to us after the work is done. A company that's capable and efficient in pest-killing as with E-mails and responses is hard to come by. Definitely recommended"
3. Pesticon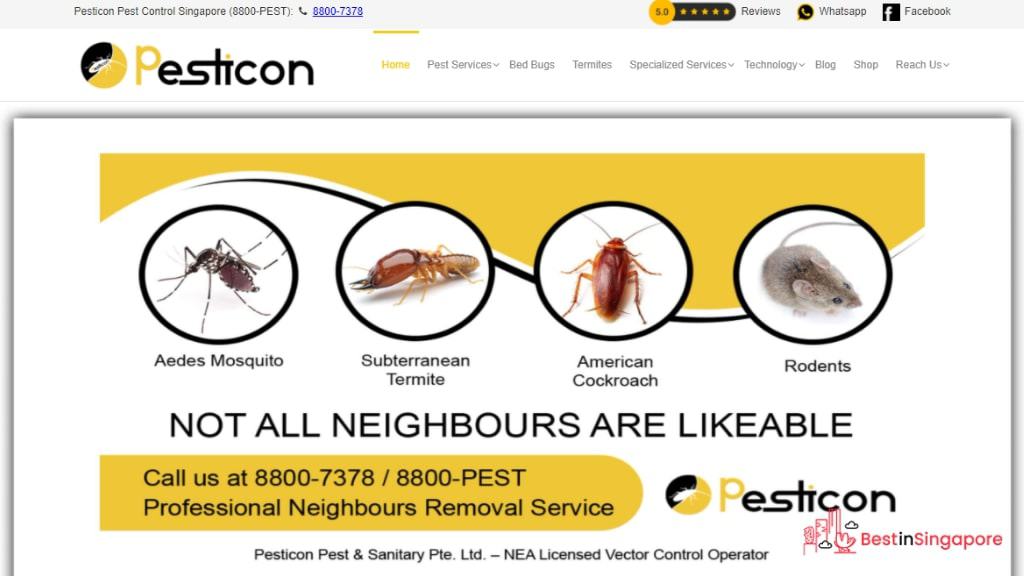 | | |
| --- | --- |
| BEST FOR | Strategic cockroach control management |
| WEBSITE | https://pesticon.sg/ |
| ADDRESS | 59 New Upper Changi Rd, #01-1274, Singapore 461059 |
| CONTACT DETAILS | +65 8800 7378 |
| OPERATING HOURS | Weekdays and Saturdays: 8.00 AM – 8.00 PM |
Pesticon offers comprehensive cockroach control where even cockroach eggs or young roaches can be easily terminated. This way, your place will be completely free from cockroaches!
They use a great combination of integrated pest management and cockroach pesticides for fast and quick removal. They also use long-lasting cockroach baits, like gel and granules, to maximize the longevity of cockroach control.
For heavy infestations, they apply indoor cockroach treatment via misting to reduce the existing ones. Then, they'll deploy cockroach traps to monitor the progress.
Highlights
Maintenance program
Wood protection
Posttreatment follow up
Customer Reviews
Pesticon has received lots of positive feedback from the customers due to their innovative and effective methods and long-term solutions. A customer shared this experience:
"KC is a consummate professional when he came over to assist with the cockroaches problem at our place. He displays empathy as well, taking into account that we have 2 small boys at home, he makes sure to place the poison out of reach of our boys. It's been 5 days after the treatment and we can see the results. Highly recommended."
4. Pentapest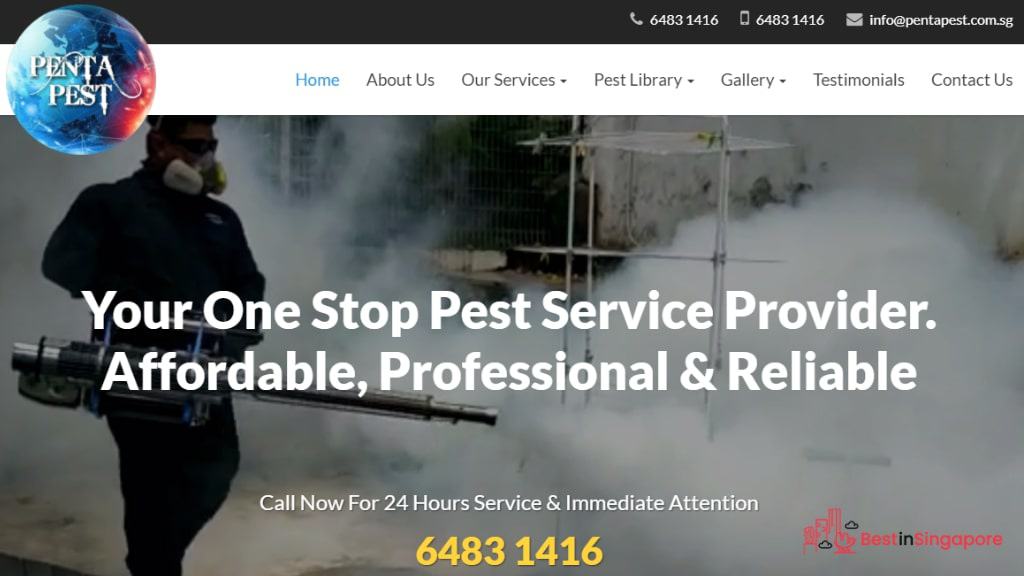 | | |
| --- | --- |
| BEST FOR | Wide range of treatments |
| WEBSITE | pentapest.com.sg |
| ADDRESS | 31 Woodlands Close #04-02 Woodlands Horizon Singapore 737855 |
| CONTACT DETAILS | 6483 1416 |
| OPERATING HOURS | Open 24 hours |
Pentapest is home to dedicated and trained specialists that perform residential, commercial, and industrial pest control management.
This includes their cockroach termination method where they use an eco-friendly approach to remove unwanted pests without harming the environment.
Their services include initial inspections, treatments, and recommendations. They also conduct both exterior and interior barrier treatments for a more effective termination.
Having one of the best cockroach controls in Singapore, they offer a wide variety of treatments like flush out treatment, gel baiting system, granular bait station, WP application, and residual application. With these strategies, you can be sure that your place will be fully protected from cockroaches and any pests.
Highlights
24/7 emergency service
Regular follow up
Monitoring program
Warranty assurance
Customer Reviews
Customers were impressed with the efficient and affordable treatment packages of Pentapest. They also mentioned the professionalism of the staff as well as the consistent follow-up treatments.
A customer left this review:
"After the first pest service in November last year, we noticed a marked improvement i.e. we didn't see cockroaches crawling around the kitchen anymore. Those that we see are only the dead ones. Now after the second pest service, there's no more cockroaches crawling out! Their treatment in solving my cockroach issue is really effective! Thumbs up Penta Pest!"
5. Killem
| | |
| --- | --- |
| BEST FOR | Cockroach flush out program, Government sectors |
| WEBSITE | http://killem.com.sg/ |
| ADDRESS | 48 Toh Guan Rd E, Singapore 608586 |
| CONTACT DETAILS | +65 6896 6607 |
| OPERATING HOURS | Open 24 hours |
Killem is one of the largest providers of pest management services in Singapore. They offer long-term solutions for all types of pest problems, including cockroaches.
They're well-equipped with multiple service vehicles, competent pest control technicians, and high-quality treatments.
They've established a cockroach flush out program that can control an overwhelming infestation and eliminate all pests in an area. The process involves residual spraying chemical treatment called green pesticide.
There's no need to worry about having any chemical residues left after their treatments because they can be washed away easily by cleaning agents.
Other methods they employ are glue strips, caulk gaps, gel bait, roach hotels, cockroach traps, cockroach foggers, Cyper WP, and Boric acid.
They've served residential, commercial, and even government sectors, proving that all industries consider them as a provider of one of the best cockroach control in Singapore.
Highlights
Green pesticides
Flexible and convenient operations
Multiple termination methods
Customer Reviews
Killem has gained high ratings and praise from the customers saying that their treatments showed immediate and long-lasting results. A customer gave this feedback:
"Killem Pest have good and Expert employee to remove the termite & cockroach from my house & office. Killem Pest provide fast service to control pest like cockroach, termite, bed bug"
6. Termibug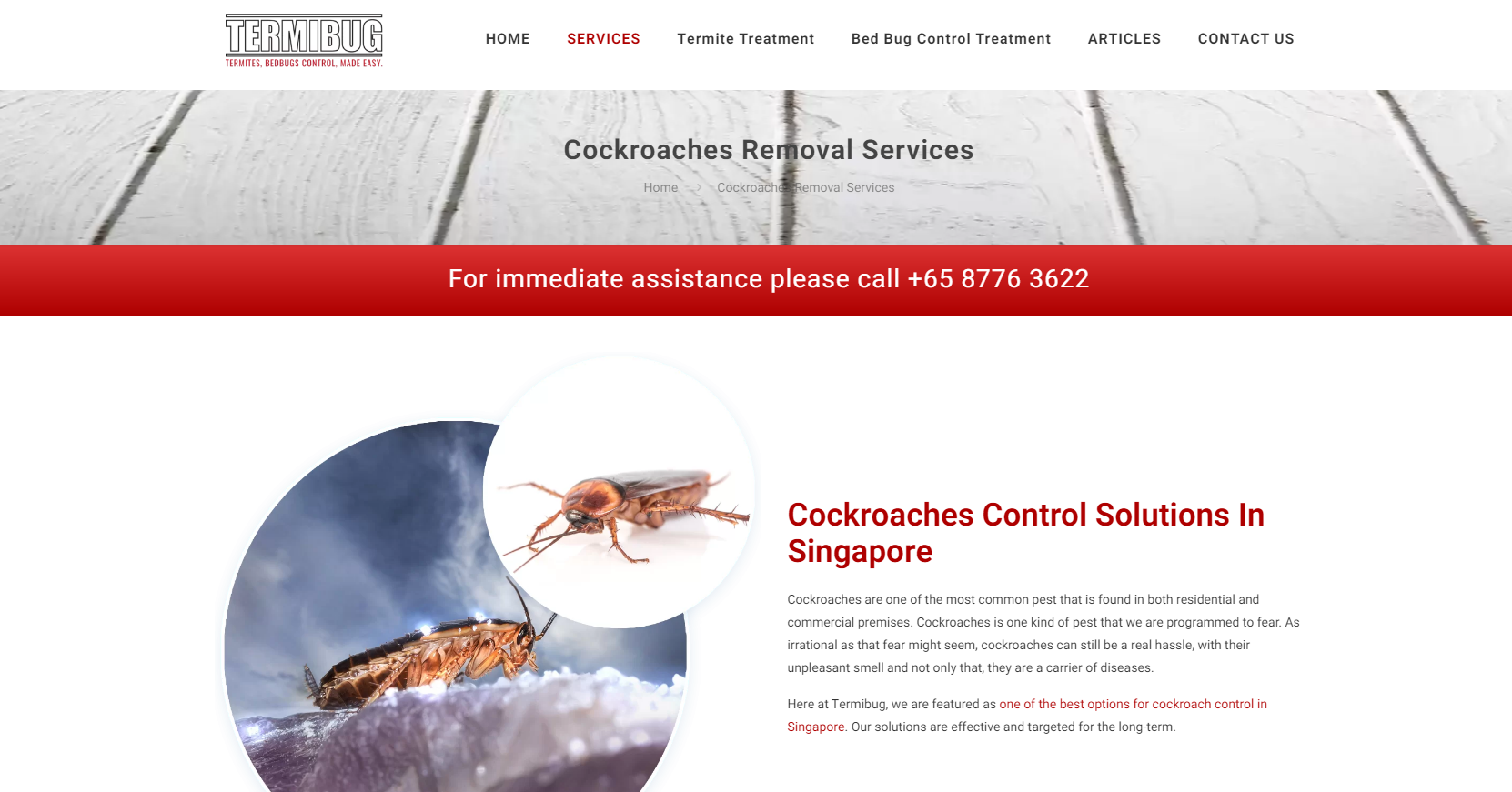 Termibug is a leading pest control service company in Singapore, most known for their reasonably priced, eco-friendly solutions. Not only are they affordable, but also easily reached as well thanks to the 24-hour support hotline they have running.
While Termibug typically caters to residential locations, they have recently started accepting requests for commercial spaces as well. Their team does free consultations and makes a thorough sweep of the area, honing in on the problem spots, before applying targeted treatments to rid the property of cockroaches and other pests.
On the off-chance that the pests do come back, Termibug will happily reapply the treatment for free provided that the area is still under their 90-day warranty. They also perform regular check-ins to ensure that no such thing happens, which helps forge strong relations with clients.
If you're looking for a reliable and affordable pest-control company in Singapore, do check out Termibug.
Highlights
Same day service
Comprehensive warranty
Non-toxic solutions
Responsive 24-hour support
Customer Reviews
Here are some comments from satisfied clients of Termibug:
"Fast and responsive, very smooth communication flow from the office staff to have my appointment arranged. Technicians are knowledgeable and reliable, service was carried out in a very detail manner. Thank you very much."
"We had ants issue for quite sometime now, and been trying DIY products in NTUC to try eliminate the problem but to no avail. Took their yearly ant program it was a lot more affordable. we have no more ants in our home now. Their gel baiting and residual is spot on. Great job guys. 🤝"
"Engaged termibug for my parents home bedbugs issues. Highly recommend to all to use their service. Appreciate the prompt replies and service rendered. now my parents can sleep peacefully at ease."
And that concludes our list of services that offer the best cockroach control in Singapore!
Keep in mind that pests like cockroaches can cause long-term damages if they're not entirely exterminated. Make sure to take immediate action once you've noticed them sprawling around the corners of your place.
If you think you're dealing with other pests beyond cockroaches, you may want to check out the best pest control companies in Singapore to deal with any of your pest problems.