Coming up with a list of your estate's beneficiaries is never an easy task. In this case, it's ideal to seek legal help from the best probate lawyers in Singapore on how to settle accounts and properties fairly without causing any trouble within families.
Searching for the best probate lawyers in Singapore is no easy task as well. That's why we're here to help you with our list of the best probate lawyers in Singapore worth consulting.
Check them out below to see which one can provide the best legal service in terms of settling your will.
1.  PKWA Law

| | |
| --- | --- |
| EXPERTISE | Probate, Conveyancing, Family Law & Divorce, Criminal Law, Intellectual Property, and Banking Finance & Securities |
| WEBSITE | https://www.pkwalaw.com/probate-fees.html |
| ADDRESS | 480 Lorong 6 Toa Payoh #16-01 HDB Hub East Wing, Singapore 310480 |
| CONTACT DETAILS | +65 6397 6100 |
| OPERATING HOURS | Monday – Friday, 9:00 AM – 6:00 PM |
PKWA Law is among the few law firms on the island that provide a wide range of legal services, including probate, criminal law, family law, intellectual property, and many more.
Its legal team will assist clients in drafting a will that ensures their properties will be taken care of for the coming generation.
What's more, PKWA Law's services are considerably cheap. Its fees start at only $1,200, one of the cheapest rates on the island, and that's why we call it one of the top law firms with the best probate lawyers in Singapore.
PWKA Law will also ensure that clients will be guided throughout the entire process, helping them in reviewing plans and measures to undertake.
Highlights
Competitive rates
Experienced lawyers
Customer Reviews
Here are some reviews on Google Reviews left by previous clients:
"We are very happy to have Ms Christina Lim serving us in our Probate. She is very efficient, friendly and competent. More importantly we don't have to wait for our appointment long,  very punctual as per schedule. Wishing her a successful career in PKWA to assist more needy customers."
"I engaged PKWA for my contested divorce both before and after the 3-year mark and had no regrets doing so. Their fees were transparent which made financial planning a lot easier. I would like to especially thank Ms. Charlene Nah and Mr. Jason Mak for their extraordinary help during that trying period of time. Despite the circumstances, I felt that Ms. Charlene was genuinely trying to help. I would definitely turn to them in future for legal advice."
2.  Loh Eben Ong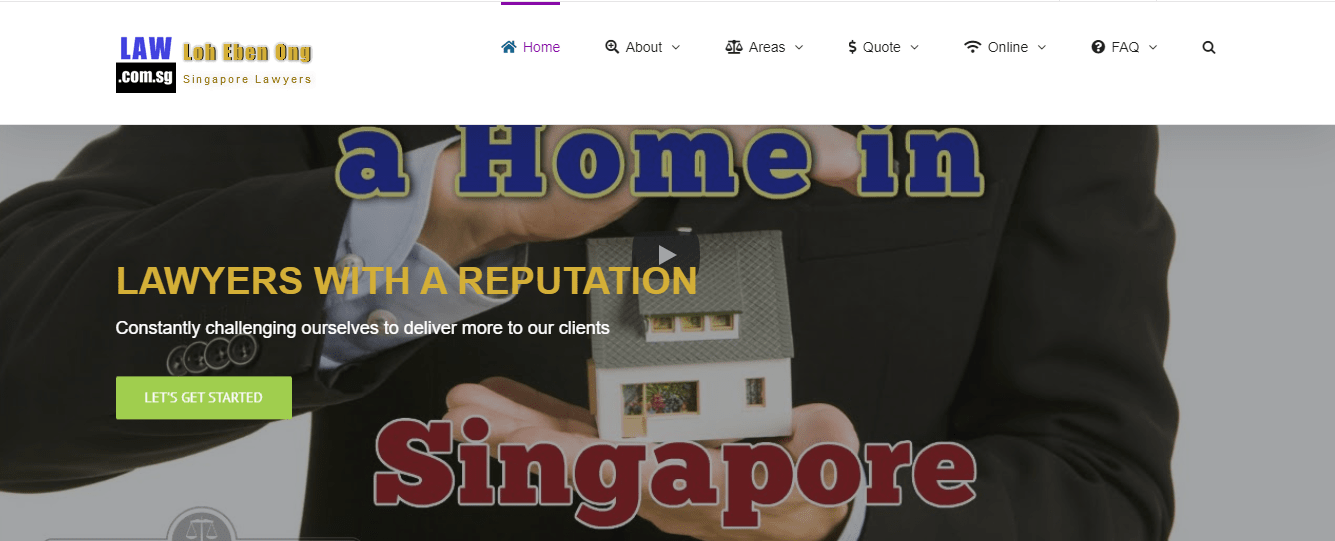 EXPERTISE
Probate, Corporate, Divorce, Property Developments, Employment, Commercial, and Conveyancing
WEBSITE
https://law.com.sg/
ADDRESS
135, #05-11 Middle Rd, Bylands Building, Singapore 188975
CONTACT DETAILS
+65 6338 1810 |

[email protected]

OPERATING HOURS
Monday – Friday, 9:00 AM – 6:00 PM
Loh Eben Ong boasts a legal team composed of professional, experienced, and competent lawyers. Everyone on its team is dedicated to making sure that clients get to secure their properties and financial assets.
We call it one of the best probate lawyers in Singapore because it has over 20 years of experience in dealing with estates, so rest assured that its lawyers fully know what they're doing.
Moreover, getting a hold of its legal services has become easier than before. You may now book an appointment online without additional costs.
Highlights
20 years of experience
Online booking
Affordable fees
Customer Reviews
Customers from Google Reviews recommended their legal services and wrote the following:
"Reasonable and acceptable price (SGD50 as shown on their website) for getting a simple deed poll done by this law firm even though there is another law firm's website who charges SGD40. Phoned them yesterday to make an appointment and did the deed poll at the law firm today. Law firm's admin staff members were welcoming, mild-mannered and also helpful with inquiries. Would recommend Loh Eben Ong. Location wise, the nearest mrt is the Bugis station."
"Excellent & pro service. I was able to quickly and easily arrange notarizing some documents with Mr Eben Ong. He was very considerate and attentive to details, and also happens to be an exceptionally interesting person."
3.  Quick Probate Singapore

If you're looking for lawyers that solely focus on probate law, then consider checking out Probate Law Singapore. It's one of the few law firms on the island that direct their attention to making sure that clients' properties and assets end up in safe hands.
You may consult with its team of reputable and professional lawyers on what you think is the best way of moving forward with your properties and assets, which is why we consider it one of the best probate lawyers in Singapore.
Highlights
Low flat rate fees
Reputable lawyers
Free consultation
4. Ray Louis Law Corporation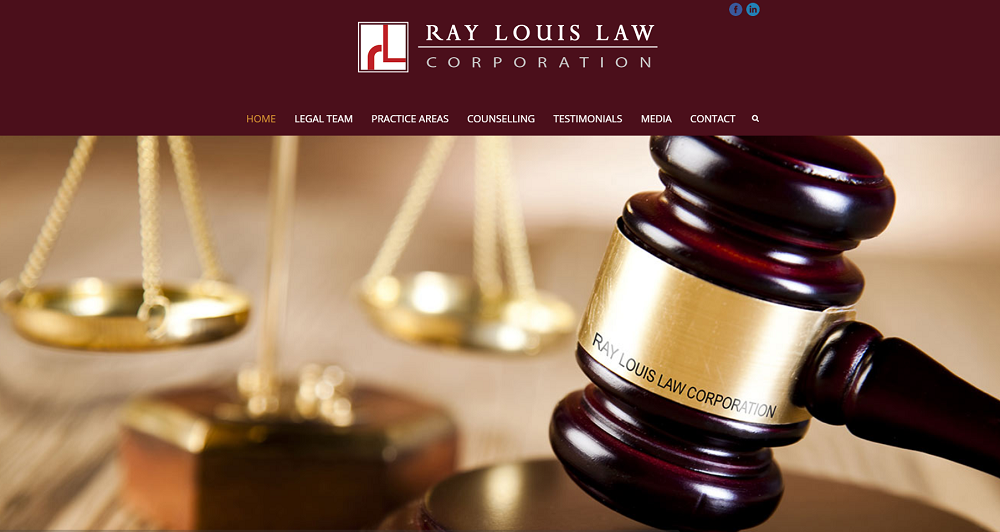 EXPERTISE

Wide range of legal services

WEBSITE
http://www.raylouis.com.sg/
ADDRESS
133 New Bridge Road, #16-08, Chinatown Point, Singapore 059413
CONTACT DETAILS
Mobile: +65-9090 8288
Office: +65-6557 2725
Fax: +65-6532 0023
If you're looking for someone who's well-versed with all the in-and-outs of every rule in the rule book, someone who's always one step ahead and always prepared with backups, then you're lucky to have found Ray Louis Law Corporation!
Ray Louis Law Corporation has a team of professional legal team that has a high rate of winning, so you need not worry about anything else as the corporation is willing to help you in anyway they can.
The corporation is led by Raphael Louis a lawyer who is advocated by the Supreme Court of Singapore. Known to be one of the best in the field, he has proven himself continuously, with the string of thankful and satisfied clients that commend him for his great work.
Their field of expertise include Divorce and Family Law, Divorce Procedure Infographics, Criminal Defense, Accident and Insurance, and Civil Litigation.
Highlights
Transparent fees
Excellent Service
Attention to Detail
100% Effort
5.  IRB Law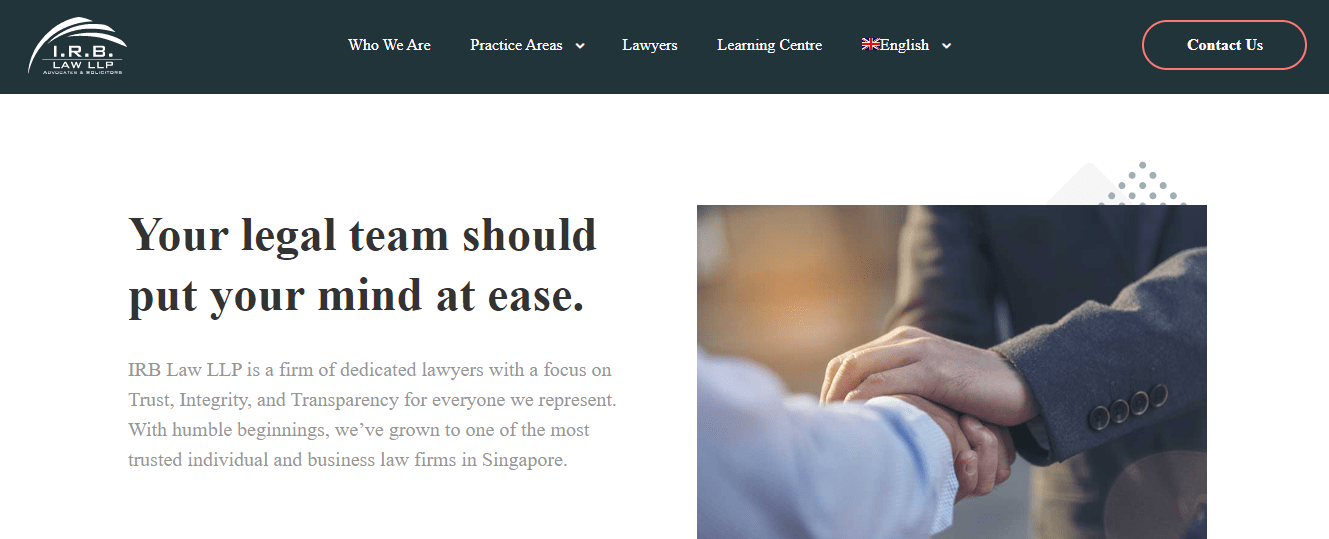 | | |
| --- | --- |
| EXPERTISE | Probate Law, Divorce Law, Employment Law, Custody, Prenuptials, Civil Litigation, and Debt Recovery |
| WEBSITE | https://irblaw.com.sg/ |
| ADDRESS | 117A/119 Jln Sultan, Singapore 199007 |
| CONTACT DETAILS | +65 6298 2537 |
| OPERATING HOURS | Monday – Friday, 9:30 AM – 6:00 PM |
IRB Law has only been around for 6 years, but it's proven that it can keep up with other law firms that have been around longer than them. It offers quality and reliable yet affordable legal services to everyone in Singapore.
It also has a team of professional and experienced lawyers who each have their own specialities. Most lawyers on the legal team are experts in probate and estate law, which is why we consider them one of the top law firms with the best probate lawyers in Singapore.
Highlights
Affordable rates
Personalised legal services
Experienced lawyers
Customer Reviews
IRB Law has been called one of the most affordable law firms on the island. Customers have also noted how excellent its legal services are despite having cheaper rates compared to other law firms.
Here's feedback left by a previous client:
"I would like to express my heartfelt gratitude to Mohamed Fazal Abd Hamid (IRB Law) for your time and effort spent in representing me for my divorce case. I'm so grateful for your passion, dedication, and professionalism in managing my case. Your legal expertise and professionalism went above and beyond my expectations throughout the course of my divorce case. You are a patient, helpful, trustworthy and pleasant lawyer who guided me through this difficult process. I truly appreciate all your advice & the excellent work you did as my lawyer. I wish you continued success in your practice!"
6. Tembusu Law LLC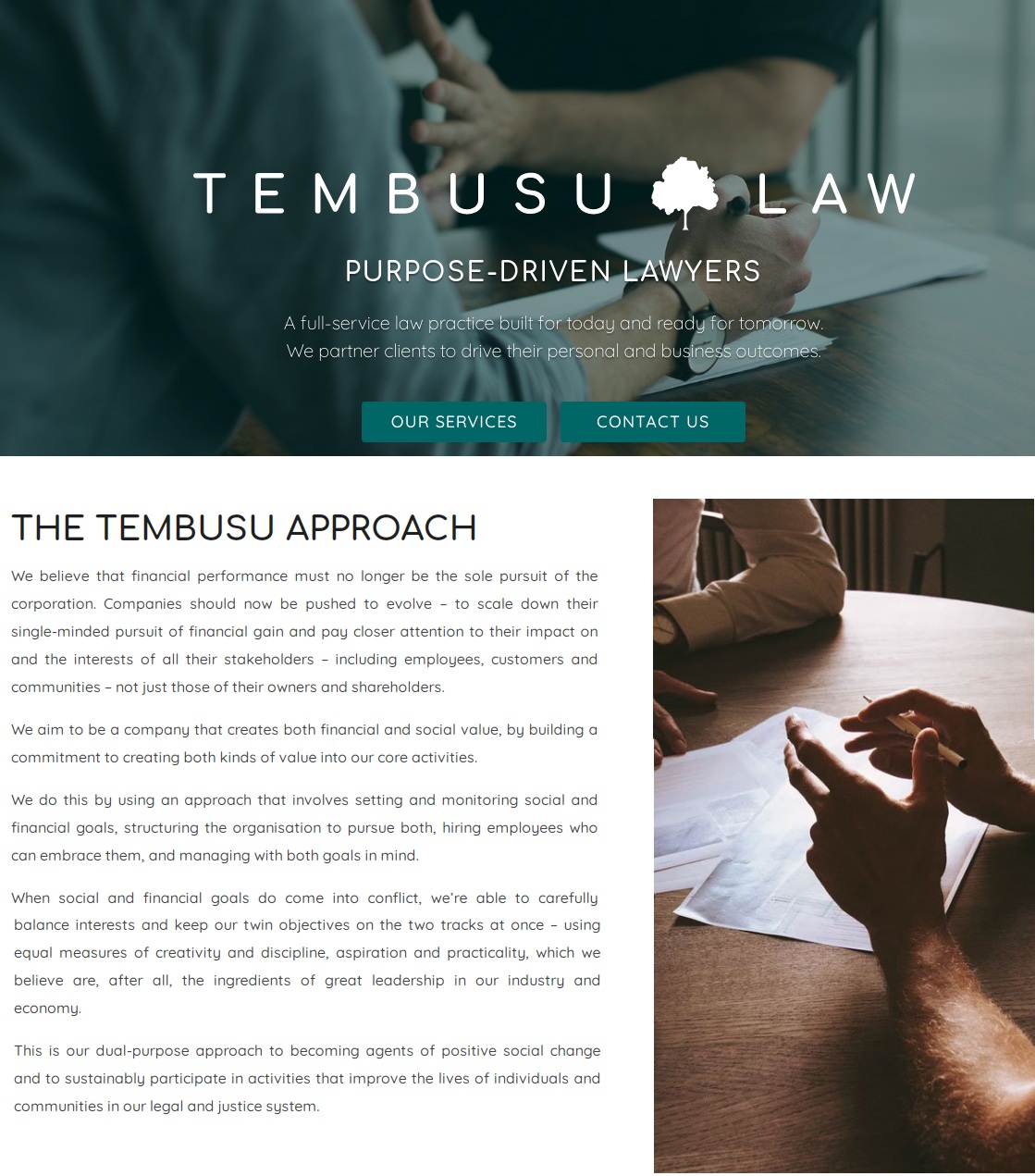 Tembusu Law LLC is known for their full range law services that are custom tailored according to their clients' needs and requirements. 
While each of their clients has a different set of cases, therefore receiving personalized services, the firm guarantees that all of their legal solutions are pragmatic and cost-effective.
The firm accommodates an extensive array of law services including but not limited to Probate & Administration, Family & Matrimonial Law, Civil & Commercial Litigation, Private Equity & Venture Capital, and Criminal Law & Regulatory Offences.
Highlights
Personalized legal solutions

Reputable lawyers

High level of integrity
7. Singapore Divorce Lawyer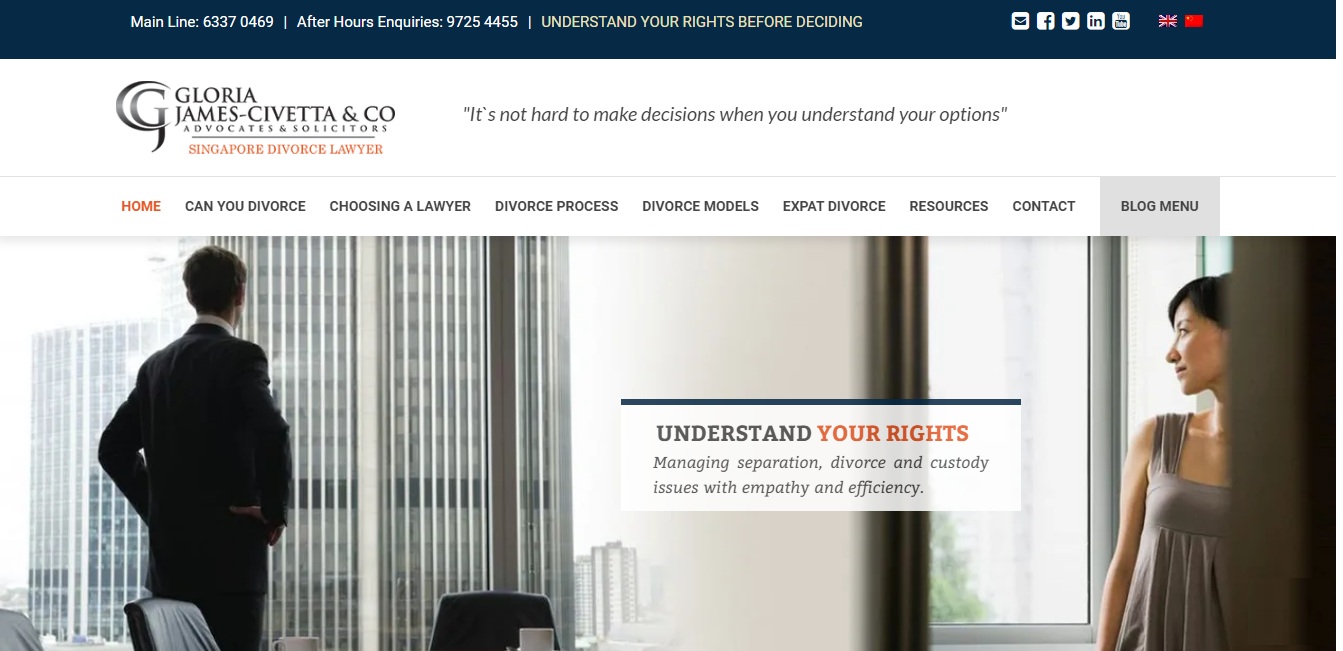 EXPERTISE

Family law, Divorce law

WEBSITE

https://www.singaporedivorcelawyer.com.sg/

 

ADDRESS

3 Church Street #15-04 Samsung Hub Singapore 049483

CONTACT DETAILS

t: +65 6337 0469

f: +65 6337 0463

whatsapp: +65 9725 4455
Singapore Divorce Lawyer takes pride in their team of 10 committed lawyers specializing in family and divorce law. They are experts on resolving complex and high conflict matrimonial disputes.
Their package starts at $1200 with guaranteed prompt response to clients' individual needs and enquiries. The firm promises to provide you with lawyers who will support & guide you from beginning to end.
Singapore Divorce Lawyers makes sure to create sound and strategic representation to obtain the best possible outcome for their clients.
Highlights
Prompt and reliable responses

The only Singapore divorce law firms offering Litigation, Collaborative Law and Mediation.
8. DMO Law Corporation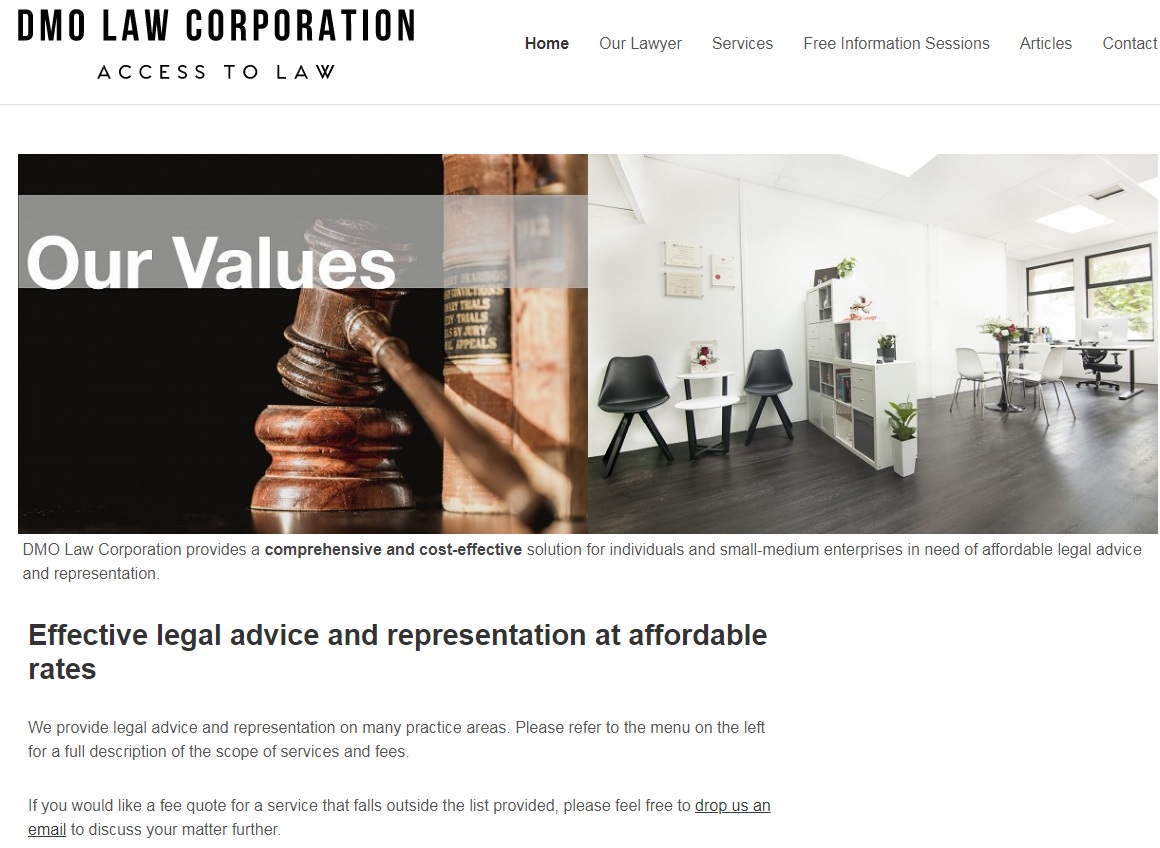 EXPERTISE

Wide range of legal services

WEBSITE

https://www.dmolaw.com.sg/

 

ADDRESS

DMO Law Corporation

5 Coleman Street

Excelsior Shopping Centre, #03-10

Singapore 179805

CONTACT DETAILS

(+65) 8518 4238 |

[email protected]

 

OPERATING HOURS

Mondays to Fridays: 11am to 5pm

Saturdays: 11am to 2pm
Effective and affordable legal services is what DMO Law Corporation is all about. They make sure that all individuals and small-medium enterprises who are in need of cost-effective legal solutions are well represented, hence their extensive range of services and wider reach of clients.
Wills and probate is one of the services offered by the firm and they have conducted more than 450 related cases in just a span of 4 years. DMO Law Corporation strives to complete probate cases in the quickest time possible, roughly just 9 days from the day of initial consultation.
For those who want to seek help from the firm, they offer free consultation to discuss with you and for them to understand the depth of your probate cases.
Highlights 
Affordable rates

Well-experienced in an extensive range of legal solutions
Customer Reviews
Their clients claimed that processing their Grant of Probate has been a lot easier and quicker with the sole help of the firm. Here's one of the many positive reviews given to them.
"I got to know Desmond 5 months back when I had to obtain the Grant of Probate. Desmond provided a clear timeline of the whole process and far exceeded my expectation.
Even after the grant of probate was settled, Desmond answered all my queries and offered advice and assistance promptly.
I strongly recommended DMO LAW CORPORATION to everyone. Thumb up for Desmond."
9. Kith & Kin Law Corporation
Kith & Kin Law Corporation takes pride in their unique range of services that particularly advises individuals, families and family businesses on Succession,Trust, Estate and Mental Capacity matters ("STEM" law matters). 
The firm is composed of various specialists who are constantly in the know of the up-to-date information and insights which they incorporate in all of the legal advice and assistance they give their clients.  
Highlights
Value-based approach

Convenient processes

Highly dedicated team
And that's the end of our list for the best probate lawyers in Singapore. With the help of these lawyers, we guarantee that all your assets will end up in safe hands.
If you know other probate lawyers on the island, don't forget to share their names with us and we might just add them to our roster!
By the way, if you're also dealing with a crisis within the family, we believe that it's ideal to consult with the best family lawyers in Singapore. Any of these lawyers can provide a solution to what you and your loved ones are going through right now.