The 5 Best Immigration Agencies in Singapore
Are you planning on moving to another country? As early as now, you should know that it's a long and stressful journey, and you're going to need all the help that you can get.
To make the process a bit easier, you might want to consider hiring the best immigration agencies in Singapore. These agencies can help you prepare your visa application, advise you on what type of visa suits you, and monitor the progress of your application.
We scouted the top immigration agencies that can increase your chances of getting approved. Check them out below to see which one can best handle your case.
1. Singapore Top Immigration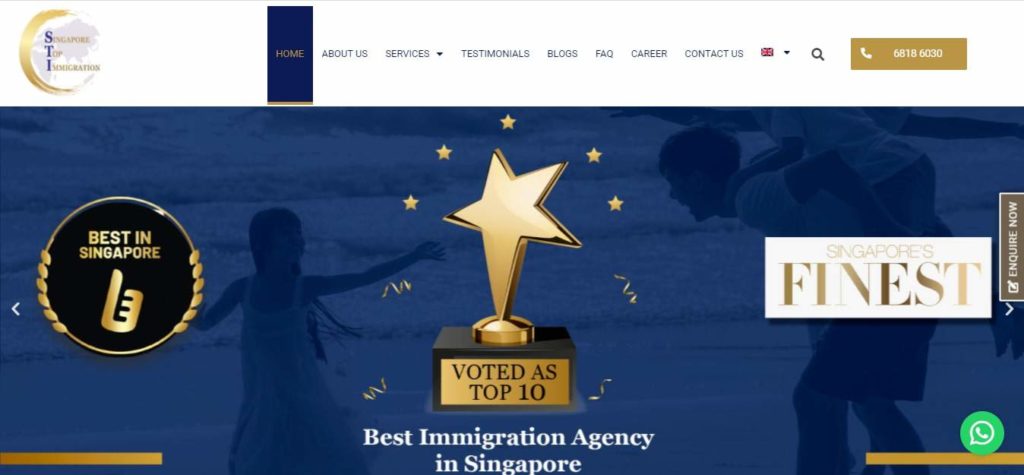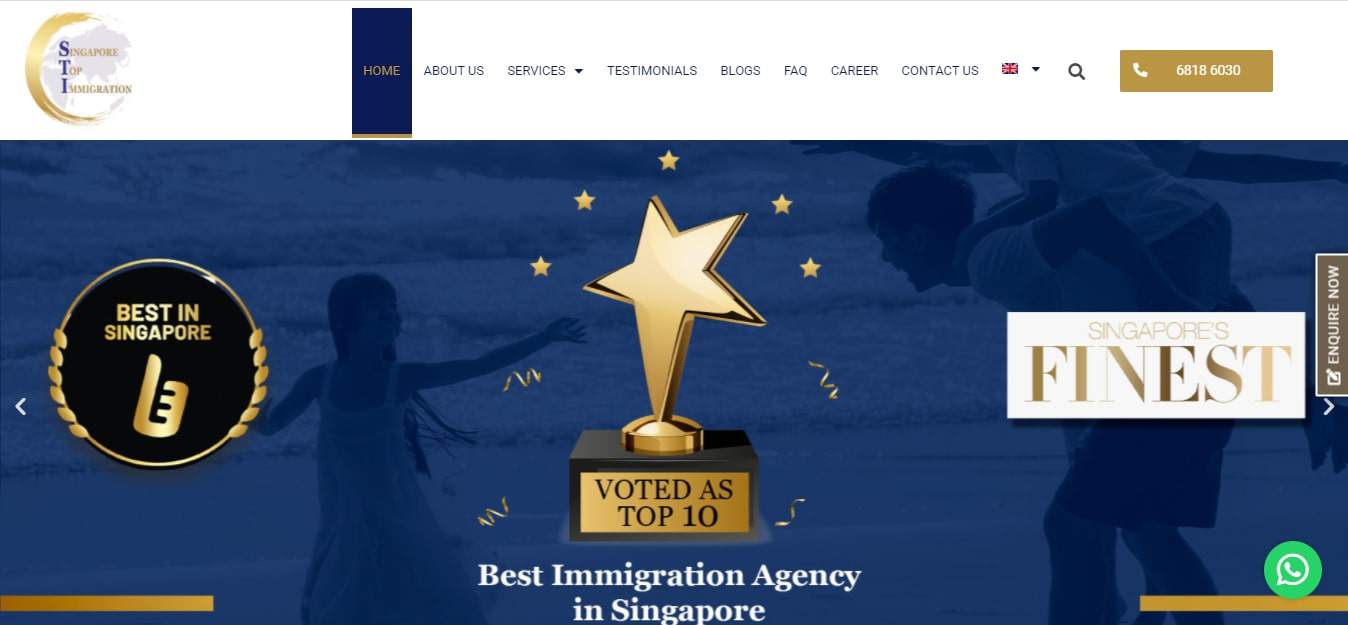 SERVICES
Singapore PR and Singapore Citizenship application
WEBSITE
https://singaporetopimmigration.sg/
ADDRESS
10 Marina Blvd, Tower 2 Level 39 Marina Bay Financial Centre, Singapore 018983
CONTACT DETAILS
+65 8533 3336


[email protected]

OPERATING HOURS
Monday to Friday: 9:00 AM – 6:00 PM
For those who are planning to settle down in Singapore, there's no better immigration agency to turn to than Singapore Top Immigration.
It's only been around for a little over six years, but it's already helped a diverse range of individuals that includes working professionals, entrepreneurs, and even expats. By the way, it's open to everyone on the globe; provided they have a valid pass and/or existing Singapore PR.
It's a common strategy for immigration agencies to brag about their success rate, but Singapore Top Immigration does things a bit different. They let their clients' trust and confidence in them speak for the quality of their services.
Honesty is another thing you can expect from Singapore Top Immigration. It will give the most honest feedback and won't sugarcoat things for you just to get your hopes up.
The thing we like most about Singapore Top Immigration is that its services don't end when its client gets rejected. Its consultants and specialists will even guide clients through the entire process of filing an appeal.
If the appeal still doesn't work out, worry not because Singapore Top Immigration will be there to advise you how to reapply after a few months even then, depending on your profile. That's outstanding commitment, which is why this is one of our top picks here.
Impressive success rate
Helps clients through the appeal process
Accepts clients from every corner of the world
Dedicated specialist to handle different nationalities which is also able handle complicated cases
Customer Reviews
Singapore Top Immigration boasts a perfect 5 out of 5 rating on Google Reviews, which proves that these guys know what they're doing. Here are some of the comments:
We would like to express our gratitude to STI for Handling our PR Application. We worked closely with Ms. Jasmine as my consultant and Ms. Vivien as my specialist. It was so nice to work with them and they supported very well throughout the entire process from Initial assessment until submission. They were both highly efficient and professionally organized. Ms Vivien vetted through all the documents and she was prompt checking all my documents with me prior to submission to ensure all documents and information are in place and suggest me things we need to be doing. Ms. Vivien also displayed great professionalism in answering all our queries and very supportive . A big thanks to both Ms. Vivien and Ms. Jasmine.
They are highly recommended as they are very honest and sincere from the start and they made the entire process smooth .
We have been very pleased with the professional service and recommend Singapore Top Immigration (STI) to anyone who are seeking professional service assistance in their SC/PR application. Looking forward for the positive result. -Manoj Prabhakar
And another,
"I would like to express my satisfaction to Singapore Top Immigration. Thanks to Priscilla (my consultant) and to Josephine (my specialist) that followed me during the submission of my PR application. The service was very smooth, professional and fast. Josephine has been always available for any questions.
I highly recommend Singapore Top Immigration!" -Fabio Giannone
2. One Visa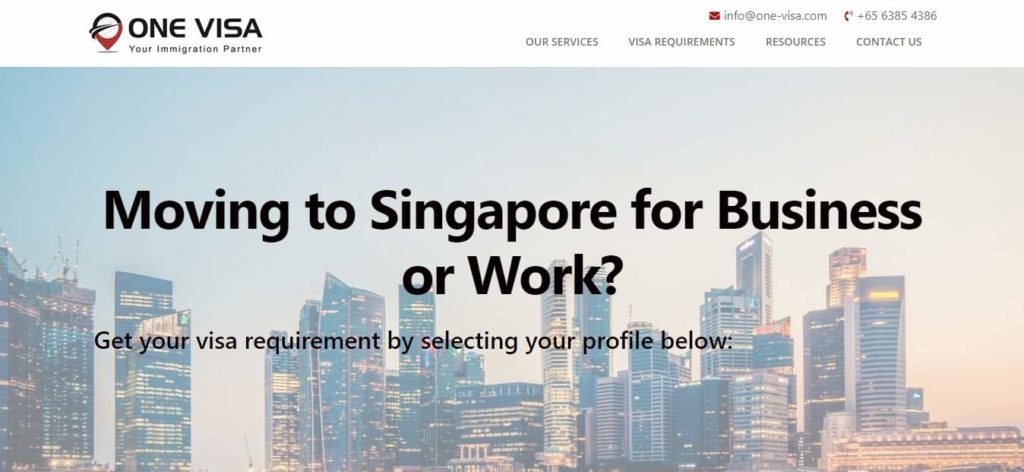 SERVICES
Singapore employment pass, entrepass, personalised employment pass, Singapore permanent resident, Singapore company incorporation, and Singapore work permit
WEBSITE
https://www.one-visa.com/
ADDRESS
114 Lavender Street, CT Hub 2, #11-88, Singapore 338729
CONTACT DETAILS
+65 6385 4386


[email protected]

OPERATING HOURS
Monday to Friday: 9:00 AM – 6:00 PM
Thinking about opening a business in Singapore? If so, One Visa can help you with all the legwork and paperwork involved in starting a business on the island as a foreigner.
A decade into the industry, One Visa has 10,000 visa approvals under its name, proving that its expertise in immigration policy is worth checking out.
Like most immigration agencies, it usually works with entrepreneurs and professionals who are seeking better opportunities outside their home country. It's worth noting that most of its services are catered to those with an impressive professional background.
We like that One Visa constantly goes the extra mile to increase their clients' chances of getting accepted. It does more than just compile and file paper, it advises clients on how to improve their chances of their visas getting approved.
One Visa will also help rejected clients file for an appeal and represent them in court. Worry not though, because as we've mentioned, it's an immigration company with a high success rate.
We also like that it makes sure that any client questions will be answered in less than 24 hours. Its reliable customer support is basically the icing on top of the cake.
Responsive customer service
High success rate
Handles all types of working visa
Customer Reviews
Here are some comments shared by clients online:
"One Visa is the best immigration agency in Singapore. They helped me incorporate my company as well as secure an Employment Pass. The whole team at One Visa is brilliant, knowledgeable and very professional. A big thank you to Cheng, Yue Ying and Mea! Due to covid, the EP requirements went up and my case was a difficult one but One Visa guided and advised at every step and helped prepare the supporting documents. I highly recommend One Visa and will definitely be using their services in the future!" -Ankita Sharma
"Best agency for work passes in Singapore, after my previous EP application was rejected I found out about one-visa and contacted them, Mea explained despite covid and everything else I should be able to get my EP approved. And after all paperwork has been done and application submitted by Mea and Yue Ying my EP was approved in less than 4 weeks. For sure we will use ONE-VISA for our future enquiries." -Admir Bjelic
3. HAO Immigration Consultancy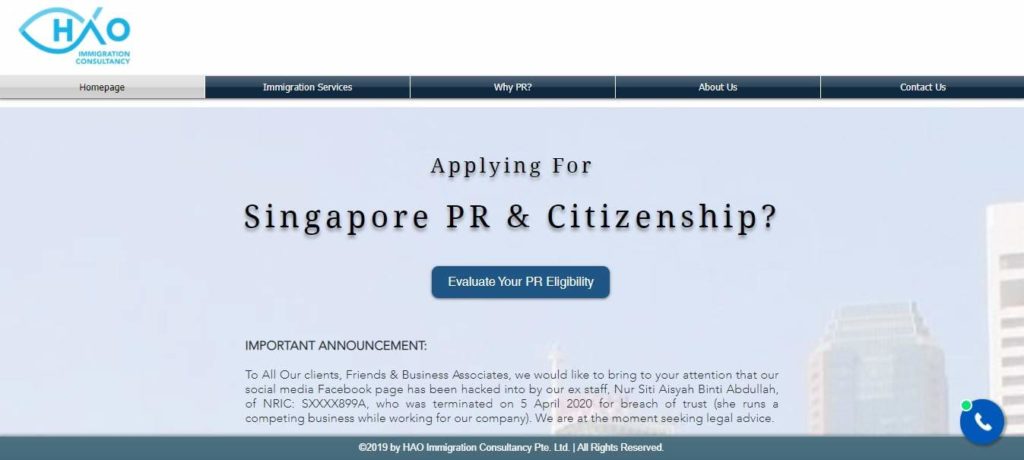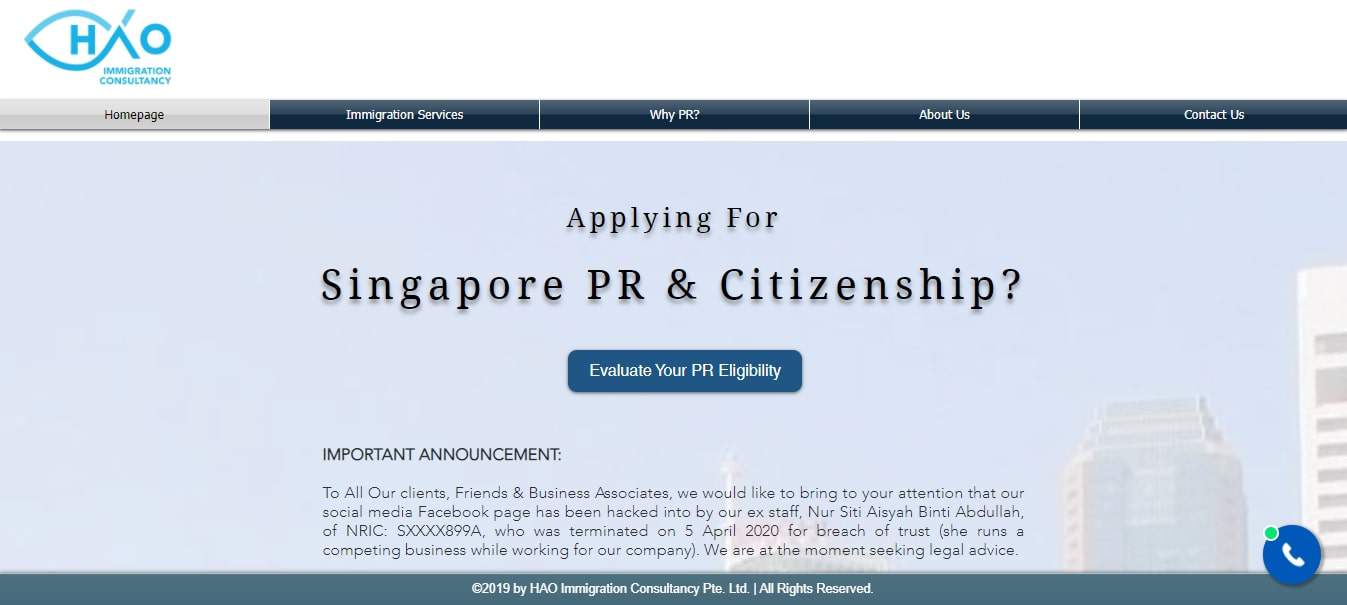 SERVICES
Singapore citizenship application, permanent resident application, and immigration pass and appeal matters
WEBSITE
https://www.haoimmigrations.com/
ADDRESS
883 North Bridge Rd, #02-01 Southbank, Singapore 198785
CONTACT DETAILS
6396 5058


[email protected]

OPERATING HOURS
Monday to Friday: 8:30 AM – 6:00 PM
Saturday: 8:30 AM – 1:00 PM
Instead of opting for immigration agencies that brag about their high success rate, why not go with one that can promise effective immigration solutions under a time-pressured environment? HAO Immigration Consultancy is definitely the latter.
HAO Immigration Consultancy's approach to every customer is as simple as it can get: it tries to understand their needs and goals and then formulates a strategy that increases the chances of achieving those.
As cliché as it may sound, HAO Immigration Consultancy's mission is to make the application process for citizenship and permanent residence in Singapore as convenient as possible.
How? By doing all the legwork.
We admit that it's not as prominent as the other picks in our list, but it has the skills, experience, and expertise to get the job done. And really, results are what you should be looking for in an immigration agency.
HAO Immigration Consultancy is also an agency that thrives on customer satisfaction, so it leaves no stone unturned when it comes to keeping customers happy. It responds to queries fast and keeps rates as budget-friendly as possible.
It has three tiers of immigration solutions that customers can choose from: basic, premium, and family. This allows customers to choose a service that includes only what they actually need without spending money on unnecessary things.
Budget-friendly rates
Open on Saturdays
Excellent customer service
Streamlined application process
Small agency, so limited services
4. OCSC Global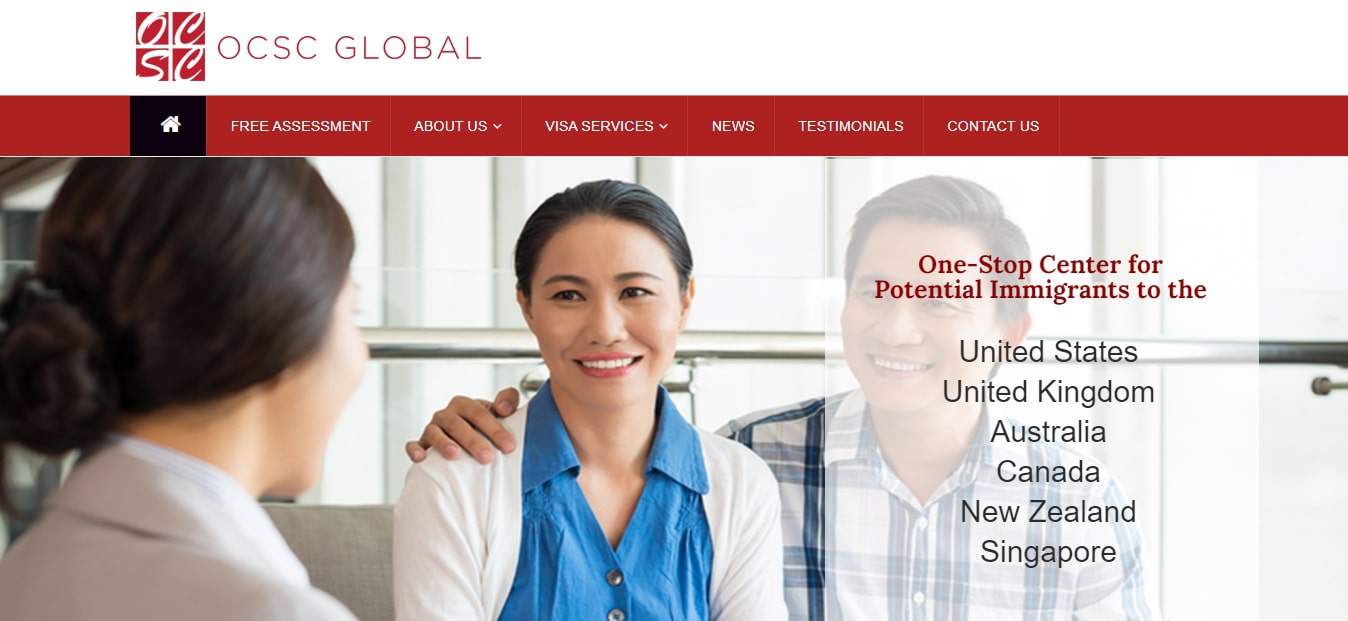 SERVICES
Visa and relocation services to Canada, Australia, New Zealand, United States, and United Kingdom
WEBSITE
https://ocscglobal.com/
ADDRESS
1 Scotts Rd, #26-10 Shaw Centre, Singapore 228208
CONTACT DETAILS
+65 6238 0777
+65 6734 3706


[email protected]

OPERATING HOURS
Monday to Friday: 9:00 AM – 6:00 PM
Are you ready to leave behind your life in Singapore? Well, you may want to consider hiring OCSC Global, an immigration firm that helps locals and foreigners relocate to another country.
The majority of immigration agencies on the island are focused on helping foreigners move here, so we're more than glad to have found one that caters to Singaporeans who want to seek a better life overseas.
OCSC Global is open to those who want to relocate to the United States, Australia, New Zealand, Canada, and the United Kingdom. All these countries are ideal places for immigrants because of the high quality of living.
Aside from preparing and monitoring your visa application, OCSC Global can help successful customers get settled in a new home country. It has worldwide partners that connect customers to accommodation, cleaning services, and even private transportation.
OCSC Global even offers a free eligibility check on its website. Anyone can use it to know if they have the credentials to move to their country of choice.
With overseas branches
Reasonable rates
Extensive visa solutions
With relocation services
Only works with customers with high potential of getting approved
Customer Reviews
Here are some testimonials shared by previous clients:
"Words may not fully express how much delighted I am to have received this great news! I sincerely want to convey my gratitude and utmost appreciation for your diligence and relentless support you have provided me during this tough journey. You are very professional and knowledgeable. I am very pleased and happy on the outcome of my Canada Visa Application and I look forward to moving and starting the new chapter of my life in Canada. Absolutely recommend OCSC Global Pte Ltd if you are planning to migrate to Canada!" -Andi Susanto
"This is the migration company anyone should go for. Everyone is readily available to help whenever there are any doubts. They know what they are doing, the best at it, very honest and willing to do so much more than they're required to if we needed any help. Very responsive, really helped us get what we needed whenever we required help. Thank you OCSC Global !" -Nurshalynn Mohd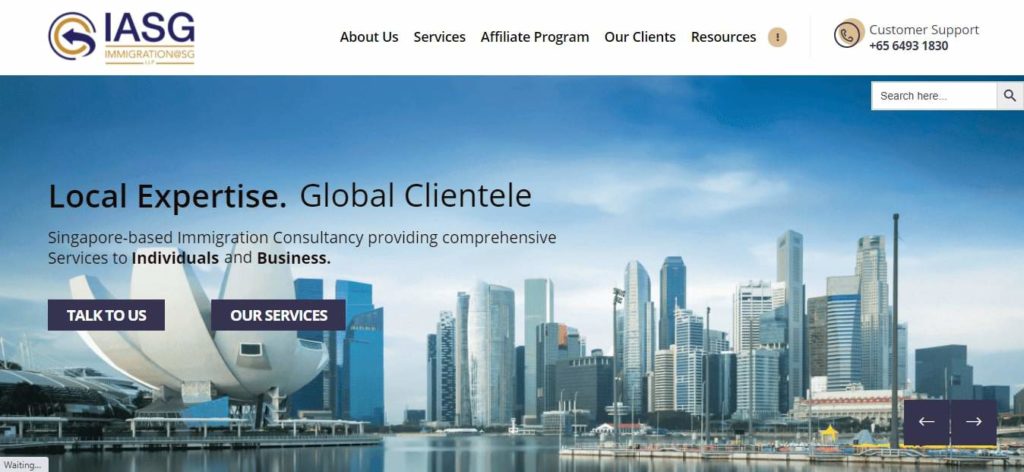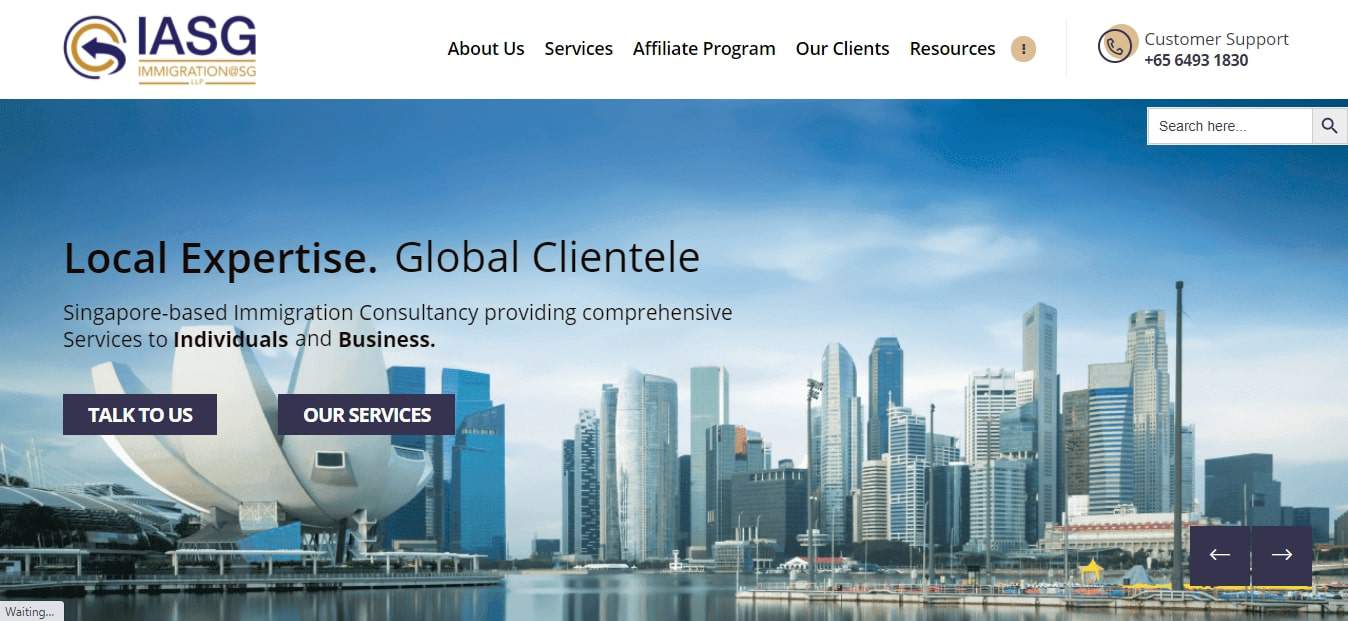 SERVICES
Singapore permanent residence, Singapore citizenship, business relocation, and work pass application
WEBSITE
https://iasg.com.sg/
ADDRESS
1 Raffles Place, Level 26-02 One Raffles Place Tower 1, Singapore 048616
CONTACT DETAILS
+65 6493 1830


[email protected]

OPERATING HOURS
Monday to Friday: 9:00 AM – 6:00 PM
Whether you're planning on relocating your business to Singapore or moving there yourself for work purposes, [email protected] is an immigration agency that you should consider hiring. Here's why it made the cut:
First, its immigration consulting team is composed of experienced officers from various government ministries and professionals from multinational corporations. As a potential immigrant, being handled by such a diverse team works to your advantage as it provides for more eventualities.
Second, there's no doubt that moving to another country takes quite a long time, but [email protected] tries to shorten the process by ditching documents and processes that don't actually help your case.
[email protected] is extremely strict when it comes to compiling and preparing error-free documents, which can get stressful at times on the client's end.
However, that's when you know that it's serious about its work. All your documents and requirements will be under the scrutiny of its legal team before being handed over for application.
[email protected] is experienced in handling complex immigration cases, so it's definitely more than just preparing and filing paperwork. If an immigration agency can successfully defend a tough case, then you know that you're in safe hands.
Free consultation
Can handle complicated cases
Multi-awarded agency
Extensive network of immigration experts
Rates are slightly above average
Customer Reviews
A client named Mark Opao shared this feedback on Google Reviews:
"[email protected] really helped me navigate the PR application process in an orderly manner that's easy to understand and follow. They are really experts in immigration matters and gave me practical advice on how to succeed in my application. Thank you very much to the team and I will definitely recommend them to anyone who plans to pursue their PR / citizenship in Singapore. More power and all the best to [email protected]!"
Another client named Khaled Jamal Eddine posted this:
"Big thanks to Ryhan and Tracy for their professionalism and perseverance in managing our PR application which led to approval for our whole family. They were very structured in their approach by addressing all the aspects of our case, giving big attention to all the small details. Without their strong assistance, I highly doubt we could build a strong case for our PR application that got approved within a year."
Types of Visas in Singapore
Singapore has always been the ideal business and commercial hub in Southeast Asia because of its attractive immigration policies for investors, entrepreneurs, and working professionals
Here are the various working schemes in Singapore applicable for foreigners who want to move here for business and work purposes:
1. Employment Pass
It's a type of work permit applicable for business owners and skilled professionals who want to relocate to Singapore. There's a fixed monthly salary requirement of at least $4,500 to be qualified.
2. Entrepreneur Pass
It's a variation of the employment pass and is meant for business owners who want to relocate their business here in Singapore.
It's only valid for a year but can be extended as long as the business remains in operation. Additionally, your business needs to be at least six months old in order for you to qualify for this working scheme.
3. Personalised Employment Pass
It's a special type of employment pass that isn't connected to any specific employer. This means that a holder will be able to switch jobs without having to reapply for a new employment pass, provided that he isn't unemployed for more than half a year.
The main restriction here is that the holder will not be able to start his own business.
There's a required fixed monthly salary of at least $18,000 in order to qualify for this type of working visa.
4. S Pass
If the previous pass is for highly skilled professionals, this one is meant for mid-skilled professionals with a monthly salary of at least $2,500 overseas.
It's given based on the employer's quota eligibility and the applicant's qualifications. The required documents for these are diplomas and technical certificates.
The pass lasts for a maximum of two years but can be extended as long as the applicant is still employed by his employer.
5. Work Permit for Foreign Worker
It's a working visa for semi-skilled or unskilled foreign workers in the manufacturing, construction, marine shipyard, services, and process sector.
As long as you're from an approved source country by the Ministry of Manpower and 18 years old and above, you can apply for this working scheme.
FAQs about Immigration Agencies in Singapore
---
And with that, we conclude our list of the best immigration agencies in Singapore. Already made a pick? If so, don't hesitate to share them with us.
By the way, if you know other immigration agencies in Singapore worth hiring, tell us their names so we can check if they have the credentials to be included here.
In case your case needs to be settled in court toi, we recommend hiring the best immigration lawyers in Singapore to represent you. Our list features the top immigration policy experts on the island who can increase your chances of getting approved.