The 26 Best Corporate Secretaries in Singapore
If your company has been dealing with more, er, deals than usual, it might be the perfect time to consider hiring the best corporate secretaries in Singapore. Hiring one will lift some of the weight on your main secretary's back as well.
Some of the duties that the best corporate secretaries in Singapore can help out with are promoting corporate governance, keeping track of company's compliance to regulations, keeping records safe, and even scheduling board meetings.
So, if you're interested in hiring the best corporate secretaries in Singapore, worry no more because we have you covered. We made a list featuring the ones worth considering.
Check them out below!
1. Hawksford

BEST FOR 
Leading provider of corporate secretarial and business administration services for companies of all sizes in Singapore
WEBSITE
ADDRESS
16 #32-03 Raffles Quay, Hong Leong Building, Singapore 048581
CONTACT DETAILS
+65 6222 7445 |

[email protected]
Hawksford is trusted by various peolpe to deliver efficient administration and services to large and multinational corporates, FTSE listed companies, and SMEs as well as entrepreneurs, HNW individuals and intermediaries.
Clients are at the centre of everything they do.
They are committed to making every interaction meaningful and productive, and this is the case for all of their institutional, entrepreneurial and high-net-worth clients across the globe. They have helped families to take care of their wealth, entrepreneurs to succeed, multinational companies to operate and transact, and funds to maximise their returns.
Furthermore, their award-winning teams are recognised by peers and industry bodies for their technical skills and impeccable client service.
Hawksford is licensed to act as company secretary in Singapore and their international offices. Our company secretariats and administrators can assist clients with the following:
Assisting clients with understanding and compliance with local regulations
Ensuring compliance with statutory deadlines and procedures
Maintaining the statutory registers
Ensuring that the company files statutory information accurately and on time, including the filing of special resolutions
Safekeeping, updating, and maintaining registers, minutes book, and other statutory records of the company -Providing shareholders and directors with notice of meetings
Ensuring that people entitled to do so can inspect company records
Custody and use of the company seal -Submission of the annual tax return
Maintenance of statutory records
Preparation and filing of annual returns
Advice and implementation of changes to company structure, as required –
Company dissolution and windup
Highlights
Seasoned team of professionals
Has a global reach
Accredited by various organizations
2. J Accounting Services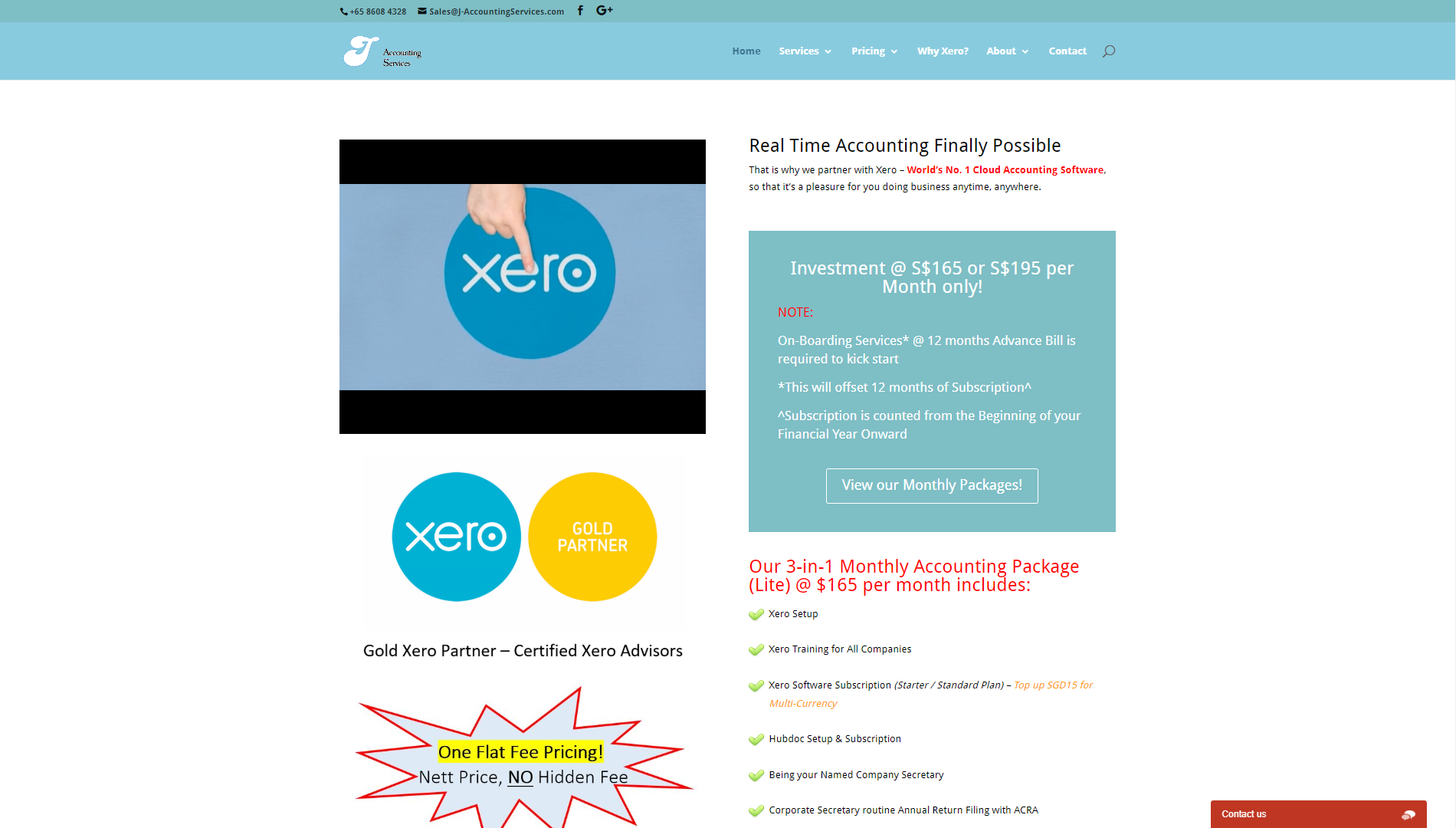 J Accounting Services is a business to business website that is focused on raising tech-savvy accountants. They offer the latest innovations in the business through the form of real-time accounting.
Their team is composed of professionals who have extensively trained to earn their qualifications. Their extensive range of accounting services is sure to cover any of your corporate needs.
They make sure to work closely with their clients to produce the best results. If you're interested, check out their website for more information!
Highlights
Wide range of services
Skilled team of professionals
3.  Reliance Consulting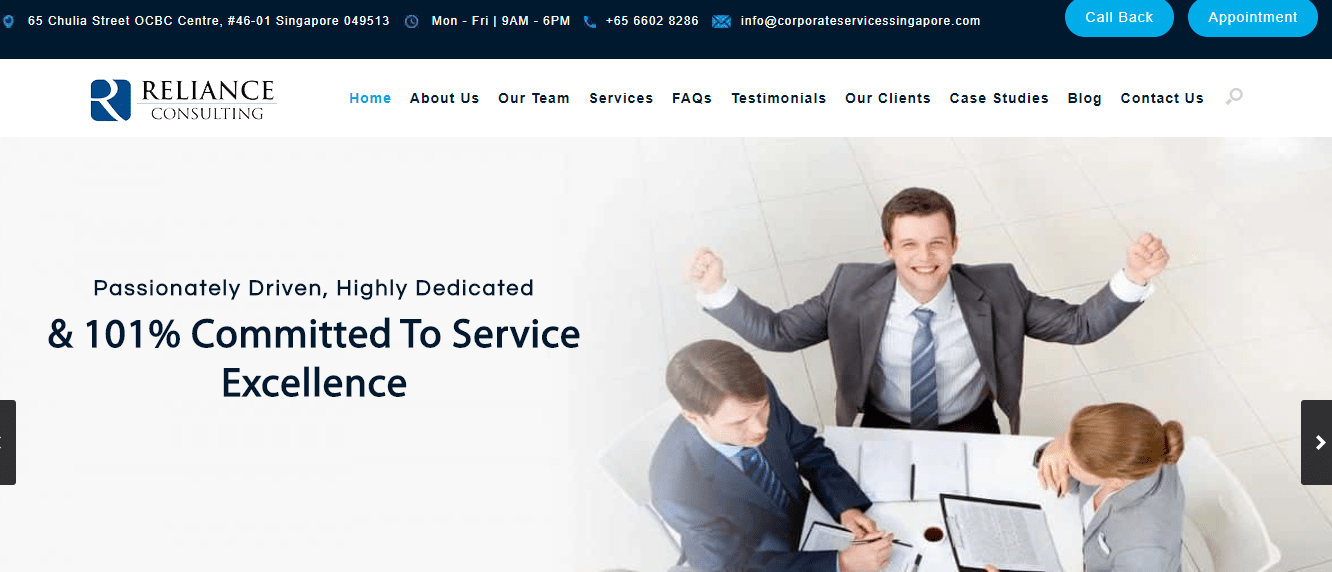 | | |
| --- | --- |
| BEST FOR  | Corporate Services |
| SERVICES | Corporate Secretaries, Auditing, and Taxation |
| WEBSITE | https://www.corporateservicessingapore.com/ |
| ADDRESS | 65 Chulia St, #46-01 OCBC Centre, Singapore 049513 |
| CONTACT DETAILS | +65 6602 828 |
| OPERATING HOURS | Monday – Friday, 9:00 AM to 6:00 PM |
Reliance Consulting is a corporate service provider that aims to help companies deal with taxes, accounting, business regulations, administrative tasks, and more. It's known for being one of the most trusted companies that offer the best corporate secretaries in Singapore.
If your company ever needs help that goes beyond corporate secretarial work, then you're not going to regret hiring the services of Reliance Consulting. It's in partnership with a number of companies from all sorts of industries in Singapore, proving that its corporate services are topnotch.
Another thing we love about Reliance Consulting is that it employs a team of business consultants whom business owners can talk to about how they can improve and promote their brand further.
Highlights
With business accreditations
Competent team of consultants
4.  SBS Consulting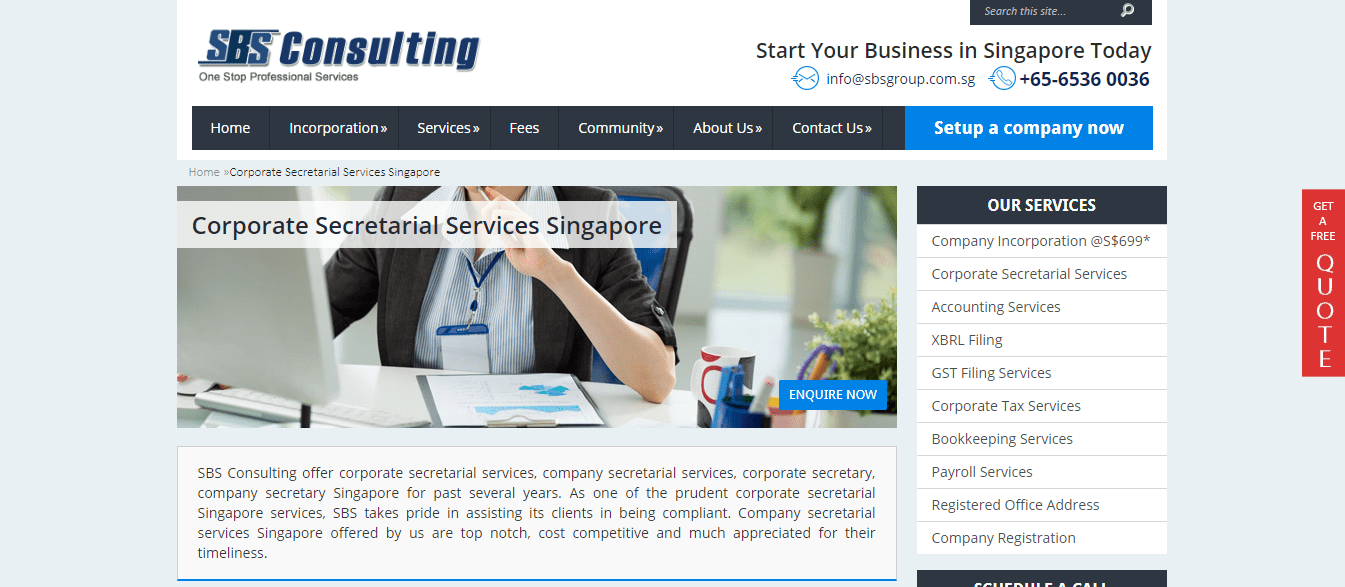 BEST FOR 
Secretarial Services
SERVICES
Corporate Secretaries, Accounting Services, XBRL Filing, GST Filing, Corporate Taxes, Bookkeeping Services, Payroll Services, and Company Registration
WEBSITE
https://www.sbsgroup.com.sg/
ADDRESS
1, #18-03 North Bridge Rd, High Street Centre, Singapore 179094
CONTACT DETAILS
+65-6536 0036 |

[email protected]

OPERATING HOURS
Monday – Friday, 9:00 AM to 6:00 PM
If you're looking for a corporate service provider that specialises in secretarial services, then you'd definitely want to check out SBS Consulting. It's a widely-known company among all sorts of industries for its topnotch, reliable, and cost-competitive services.
One reason we consider it the top option for the best corporate secretaries in Singapore is the wide scope of work included. Some of these are managing shares, arranging general meetings, keeping track of board meetings, and handling activities, among others.
Highlights
Wide range of work
Competitive pricing
Highly qualified secretaries
5.  Rikvin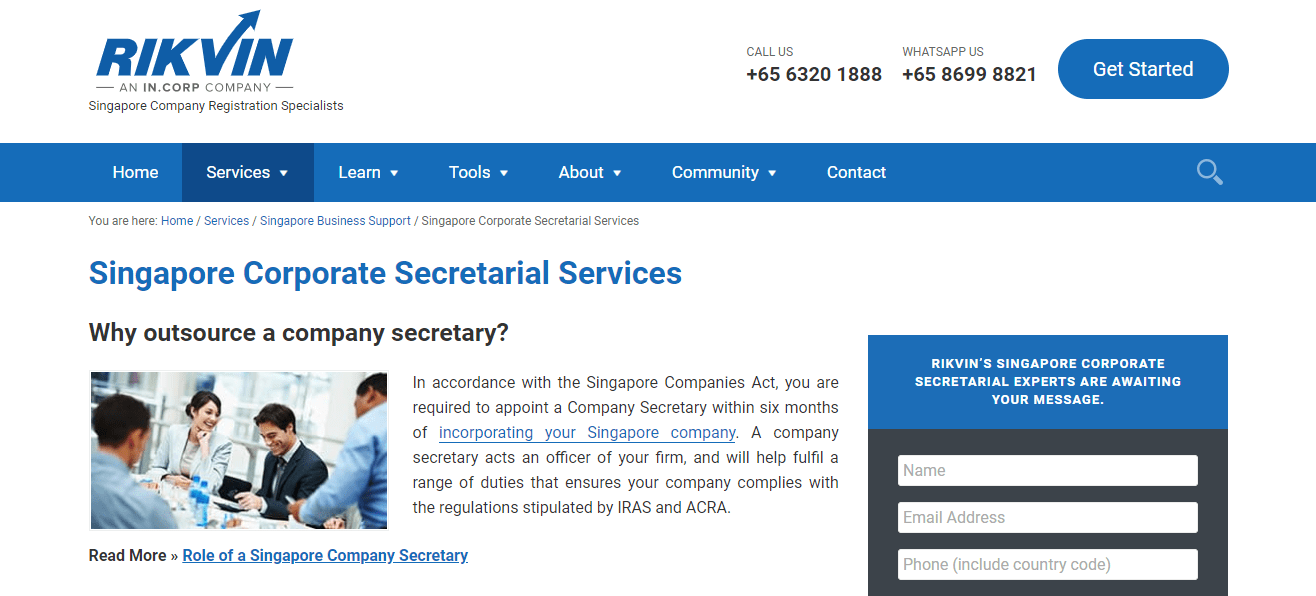 | | |
| --- | --- |
| BEST FOR  | Offshore Services |
| SERVICES | Corporate Secretaries, Company Registration, Tax, Accounting, and Business Support |
| WEBSITE | https://www.rikvin.com/ |
| ADDRESS | 30 Cecil St, #19-08 Prudential Tower, Singapore 049712 |
| CONTACT DETAILS | +65 6320 1888 |
| OPERATING HOURS | Monday – Friday, 9:00 AM to 6:00 PM |
Established in 1998, Rivkin has become a trusted source of corporate support services, from accounting personnel to corporate secretaries.
It boasts a huge clientele composed of the most successful companies on the island, including ACE, EDB, PUB, Orissa International, and Found8.
On top of that, Rivkin employs a team of qualified and competent corporate specialists, auditors, accountants, and secretaries who will make sure that your company's up to date and in compliance with tax rules and other business regulations.
Rivkin is also an accredited MOM employment agency, with a soaring success rate in work pass applications.
Highlights
With business accreditations
Trusted by different industries
Competent employees
Customer Reviews
Here are some examples of feedback posted by satisfied corporate clients:
"Excellent end to end service with a knowledgeable & proactive support team. Set up my company with Rikwin/ Incorp last year and the process was smooth and seamless- with a full suite of service options available.I specifically also like the fact that they diarise and monitor my compliance delivery dates to ensure I don't miss any. I would recommend their service anytime."
"I'm so glad that Rikvin takes care of all our Accounting needs. Their services are awesome. They handled all our business accounting and regulatory details smoothly. It was really a smart choice to have them because they deliver services that are very efficient in terms of complying to all the statutory regulations. It allowed me to have more time in my business operations."
6.  Sleek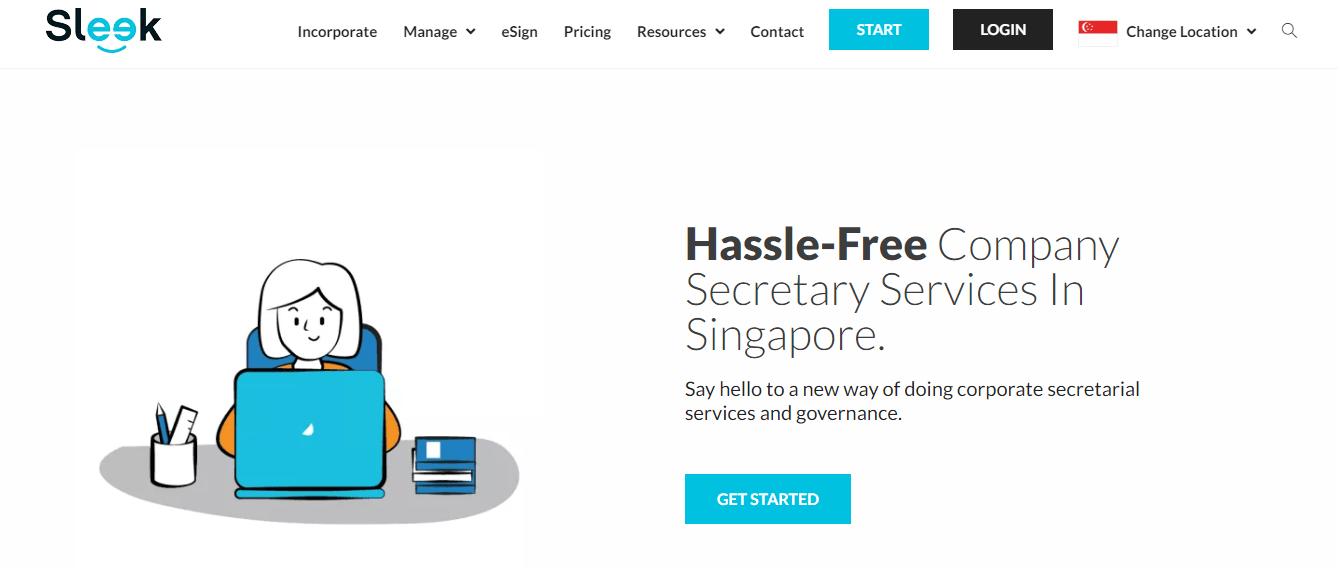 | | |
| --- | --- |
| BEST FOR  | Affordable Rates |
| SERVICES | Corporate Secretaries, Accounting, and Visa |
| WEBSITE | https://sleek.com/sg/ |
| ADDRESS | 28C Stanley St, Singapore 068737 |
| CONTACT DETAILS | +65 6909 2214 |
| OPERATING HOURS | Monday – Friday, 9:00 AM to 6:00 PM |
If there's an option we strongly recommend to startups of any industry, it'd have to be Sleek. It's a corporate service provider that specialises in digital and virtual services, including corporate secretaries, accounting, and even visa filling.
Sleek offers its services for affordable prices too, making it an ideal corporate service provider for small and new companies in Singapore. Expect no complex fees or hidden charges when you hire its services.
Highlights
Virtual services
Competitive rates
No complex and hidden fees 
Customer Reviews
Take a look at what its clients had to say about its services:
"Excellent team in Sleek who made registering our company in Singapore very easy for us, especially considering we were completely new to Singapore and relied heavily on them. The process would have taken so much longer had we not engaged Sleek."
"Definitely worth going with Sleek! I compared them to 4 or 5 alternatives, and they have a great online platform & benefits. But best of all is their team – they went above & beyond to meet my requirements."
7.  Ebos SG Cloud Accountant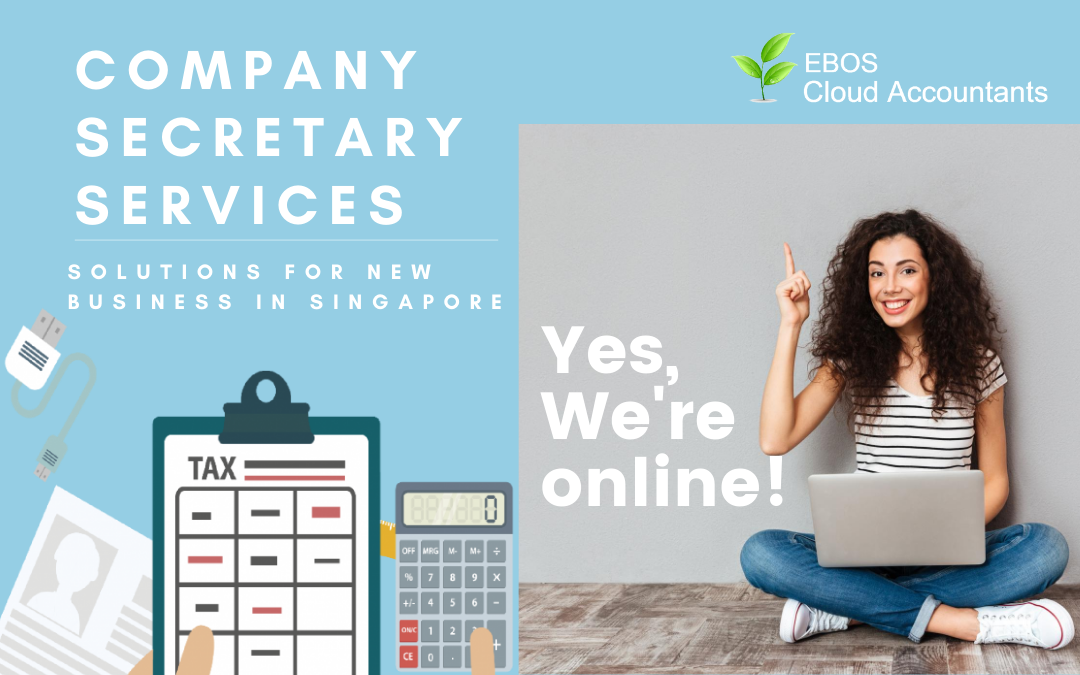 BEST FOR
Secretarial Services / Accounting Services
SERVICES
Business Migration, Corporate Secretaries, Cloud Accounting Services, Cloud Accounting Training, Due Diligence Incorporation, Company Restructuring, Taxation
WEBSITE
https://www.ebos-sg.com
ADDRESS
120 Lower Delta Road #10-09 Cendex Centre Singapore 169208
CONTACT DETAILS
+65-8366 3660 / 9699-6768 | a

[email protected]

OPERATING HOURS
Monday – Friday, 8:30 AM to 5:30 PM
EBOS LLP was incorporated in 2009 to provide essential services for small businesses. In August 2013, EBOS LLP expanded to EBOS SG Pte Ltd and we are one of the 1st Cloud Accountant providers in Singapore.
We provide a wider spectrum of accounting services to companies, helping local and international companies to fulfill regulatory compliance requirements by governing authorities like ACRA & IRAS.  Cloud Accountants can also help you with Cloud Corporate Secretary because we have an in-house Technology Team that is always upgrading our system.
We also partner with innovative Cloud Accounting Solution such as Dashbod, Financio, Quickbook and Xero to bring useful and value for money solution to you.  Since we started with cloud technologies, we have helped our Entrepreneurs and Long Established Companies to grow and build an edge over other business owners in the same industry. We guide you through every stage of your business because we understand that you are READY TO SCALE THE NEXT GOAL.
For more details, please check out EBOS team at Channel News Asia, Radio, Accounting, and Finance Show (Singapore), Tech Hour and Radio Station on our Facebook.
Highlights
Incorporation Specialist – Business Migration
Cloud Accountants
Due Diligence
8. Bestar Services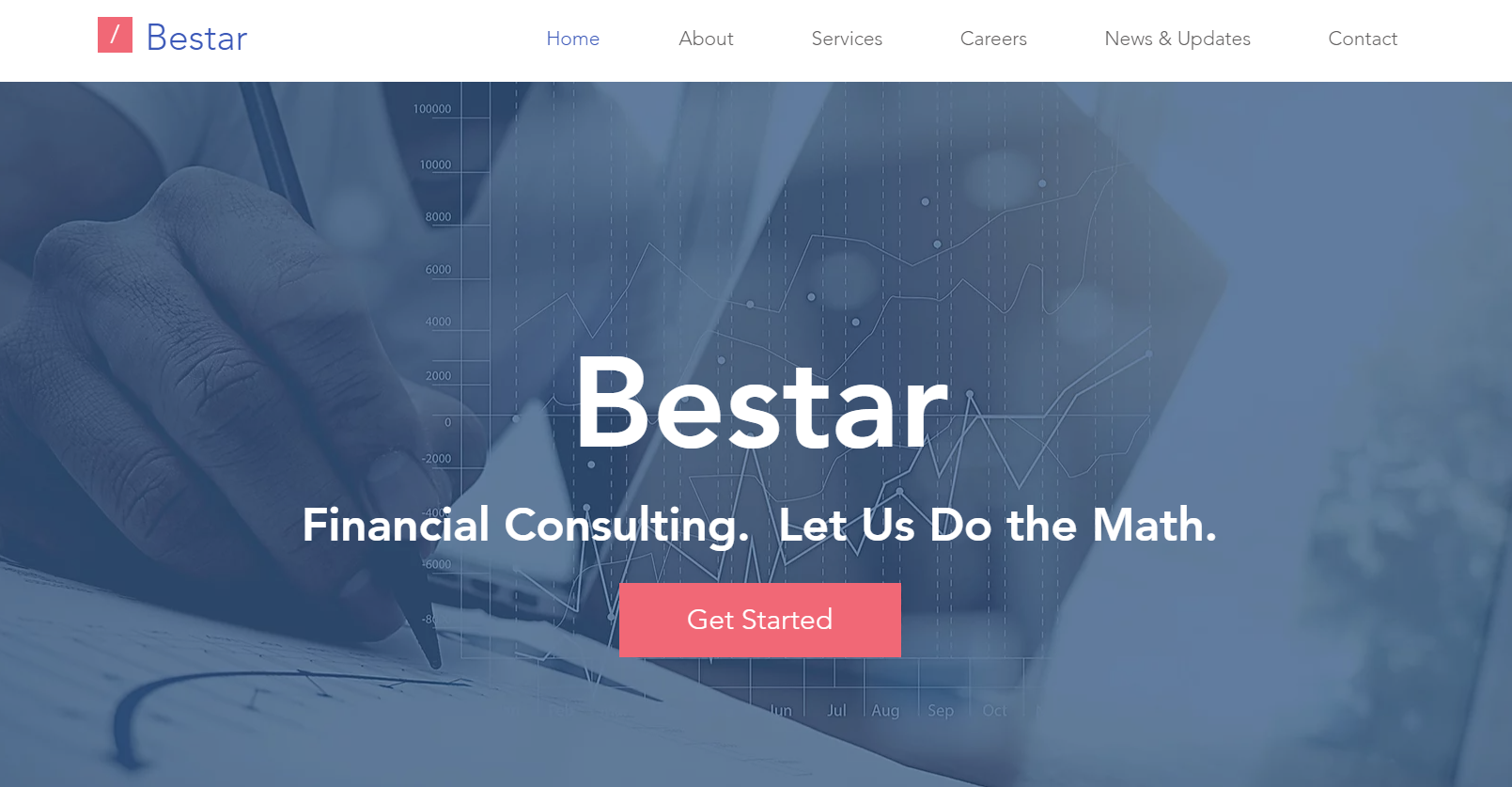 If you're looking for corporate outsourcing company that offers an extensive array of services, then you might like Bestar Services! Some of its services include payroll managing, auditing, consulting, financial advising, HR support, and corporate taxation.
One of its services that we can firmly stand behind is payroll management. It uses a sophisticated, advanced, and cost-effective platform to ensure that employees are paid correctly and on time.
More than this, Bestar Services offers its payroll expertise at an affordable price without compromising the quality of services.
Highlights
Competitive rates
Wide range of services
Web-based platform
9. Leftright Corporate

BEST FOR 
Customer-oriented Business Solutions
WEBSITE
https://www.leftrightcorp.com/
ADDRESS
190 Clemenceau Avenue
Singapore Shopping Centre
#06-06 Singapore 239924
CONTACT DETAILS
Weekdays: 10am – to 6pm
Leftright Corporate proudly calls themselves the goldilocks of business solutions and for good reason. While they evolve and adapt to the newest techniques, they also make sure that they allow their clients to adjust in the process.
Starter businesses won't need to fumble and experiment as they try to understand the current trends in business. With Leftright Corporate, technological innovations can be comprehended and utilised as easy as possible.
Highlights
Focuses on customer satisfaction
Keeps up with the current trends in business
10. JJ & E
BEST FOR 
Business Consulting Services
SERVICES
Corporate Secretaries, Bookkeeping, Corporate Identity and Virtual Office Services
WEBSITE
https://jje.sg/
ADDRESS
10 Anson Rd, #10-11 International Plaza, Singapore 079903
CONTACT DETAILS
+65 6225 2028 |

[email protected]

OPERATING HOURS
Monday – Friday, 9:00 AM to 6:00 PM
With more than 10 years of experience, JJ & E has grown into one of the most in-demand professional service providers in Singapore.
Companies can ask for help in dealing with taxes, complying with business regulations, and even hiring the best corporate secretaries in Singapore.
Some of the other services offered by JJ & E are bookkeeping, virtual offices, printing solutions, accounting, brand identity, and a whole lot more. It's indeed a one-stop company for all your corporate needs.
Highlights
10 years of experience
Competitive pricing
Wide range of corporate solutions
11. W.L.P. Group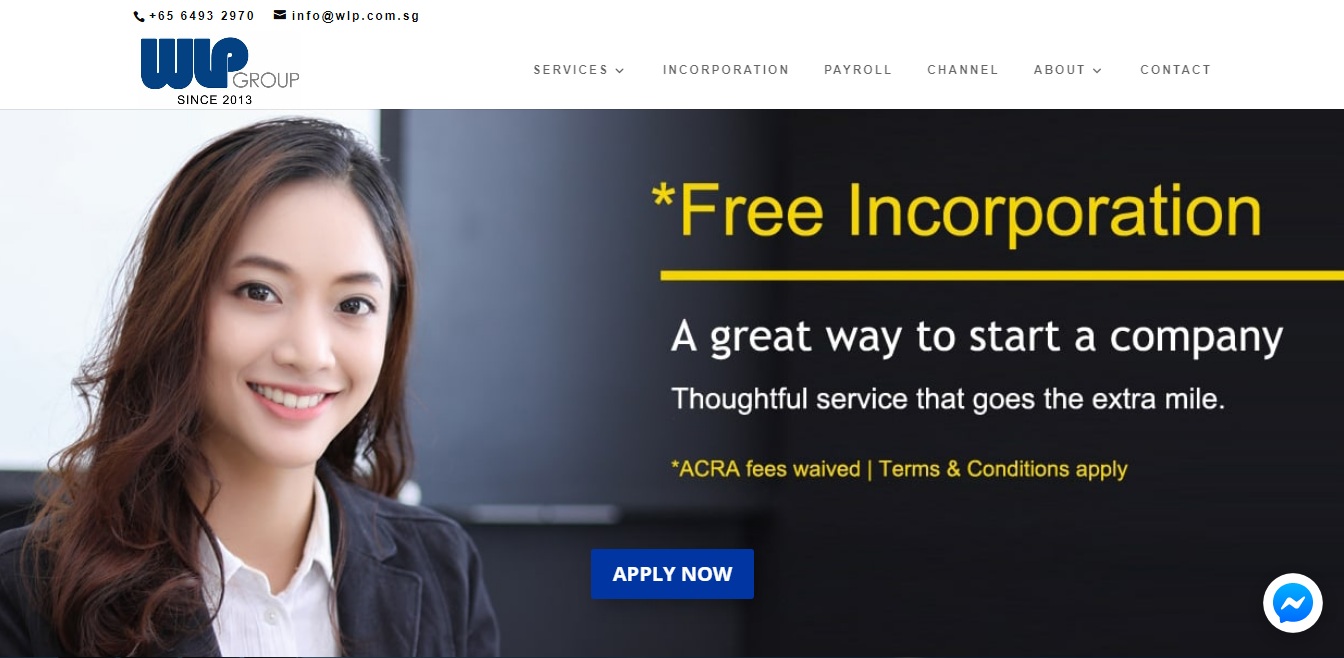 | | |
| --- | --- |
| BEST FOR | One-stop business solution partner |
| WEBSITE | https://www.wlp.com.sg/ |
| ADDRESS | 100 Jalan Sultan, #02-44 Sultan Plaza Singapore 199001 (Strictly by Appointment Only) |
| CONTACT DETAILS | +65 6493 2970 | [email protected] |
| OPERATING HOURS | Open 24 hours |
Whether you are a new business or a growing one, W.L.P. Group is a good business solution partner. It has a vast knowledge on the status of the economy in Singapore as well as the population characteristics. Thus, you are insured that they will provide you with an excellent overview of what it's like to enter business in the city.
In addition to what has been mentioned already, the company is considered as one of the top registration services providers in the country. It will be responsible for setting up the proper documents for registration. Furthermore, it offers free incorporation to its clients.
As for their accounting services, their accountant can prepare financial statements following the ACRA and IRAs requirements. They will also provide advice on your tax responsibility in accordance with the legal boundaries.
Highlights
Team of qualified and experienced accountants
One-stop business solution partner
Free incorporation
12. Corporate Guide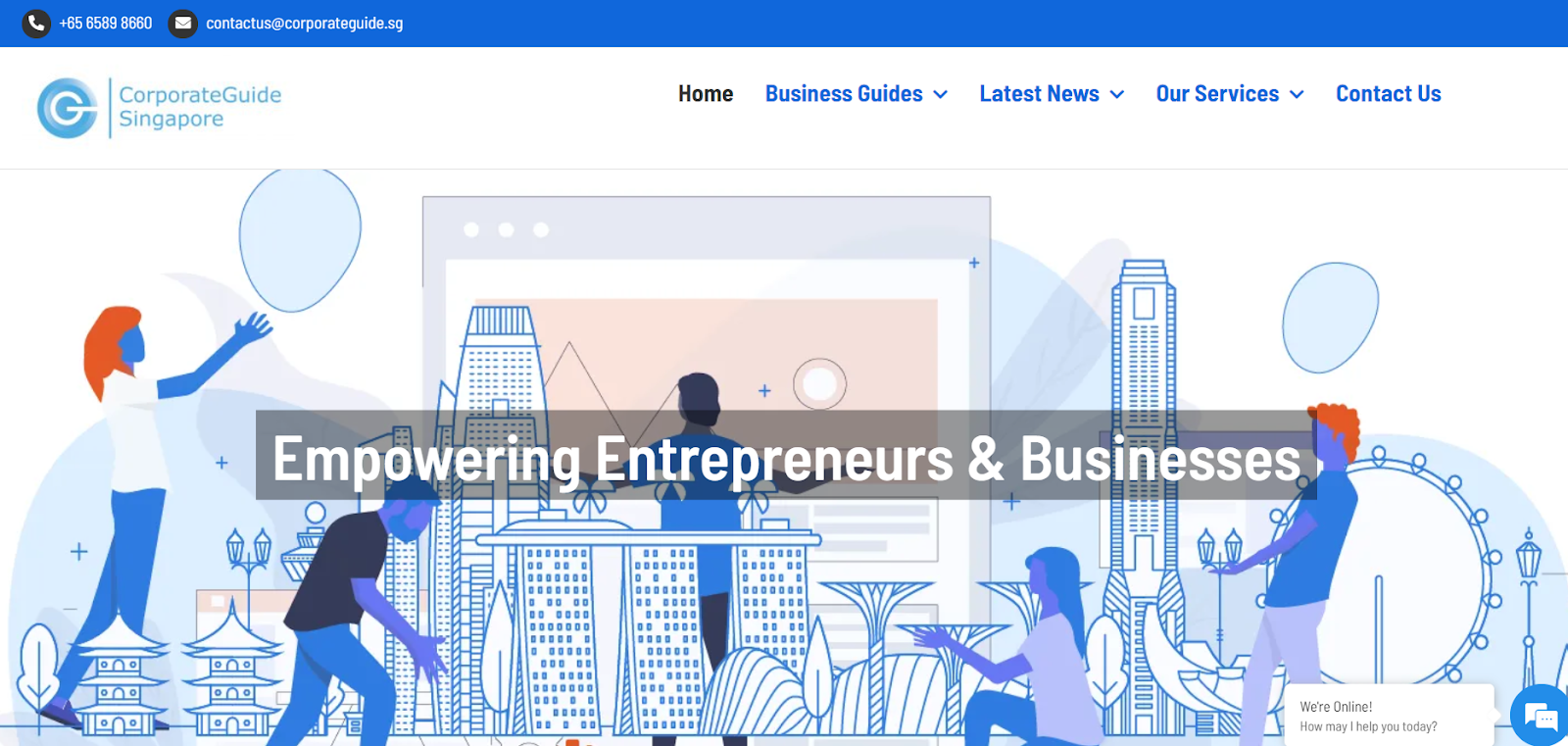 | | |
| --- | --- |
| BEST FOR | Online Guide for Businesses |
| SERVICES | Trademark Filling, Marketing Consult, Business Line & Receptionist, Web&Email Hosting, Corporate Escrow |
| WEBSITE | https://www.corporateguide.sg/ |
| ADDRESS | 531A Upper Cross Street #04-88/89 Singapore 051531 |
| CONTACT DETAILS | (+65) 6589 8660 | [email protected] |
| OPERATING HOURS | Monday – Friday, 9:00 AM to 6:00 PM |
Some entrepreneurs and businessmen might find a few struggles in starting up a business or even managing one. It's a good thing that Corporate Guide is here to help them.
Corporate Guide is an online business and corporation guide in Singapore. They offer guidance in incorporating new companies, trademark filling, marketing, even IT services and many more.
They are also trusted by many different industries. The best part is that all of these insightful services can be availed virtually through online procedures.
Highlights
Wide range of services
Virtual Services
Trusted by different industries
13. Piloto Asia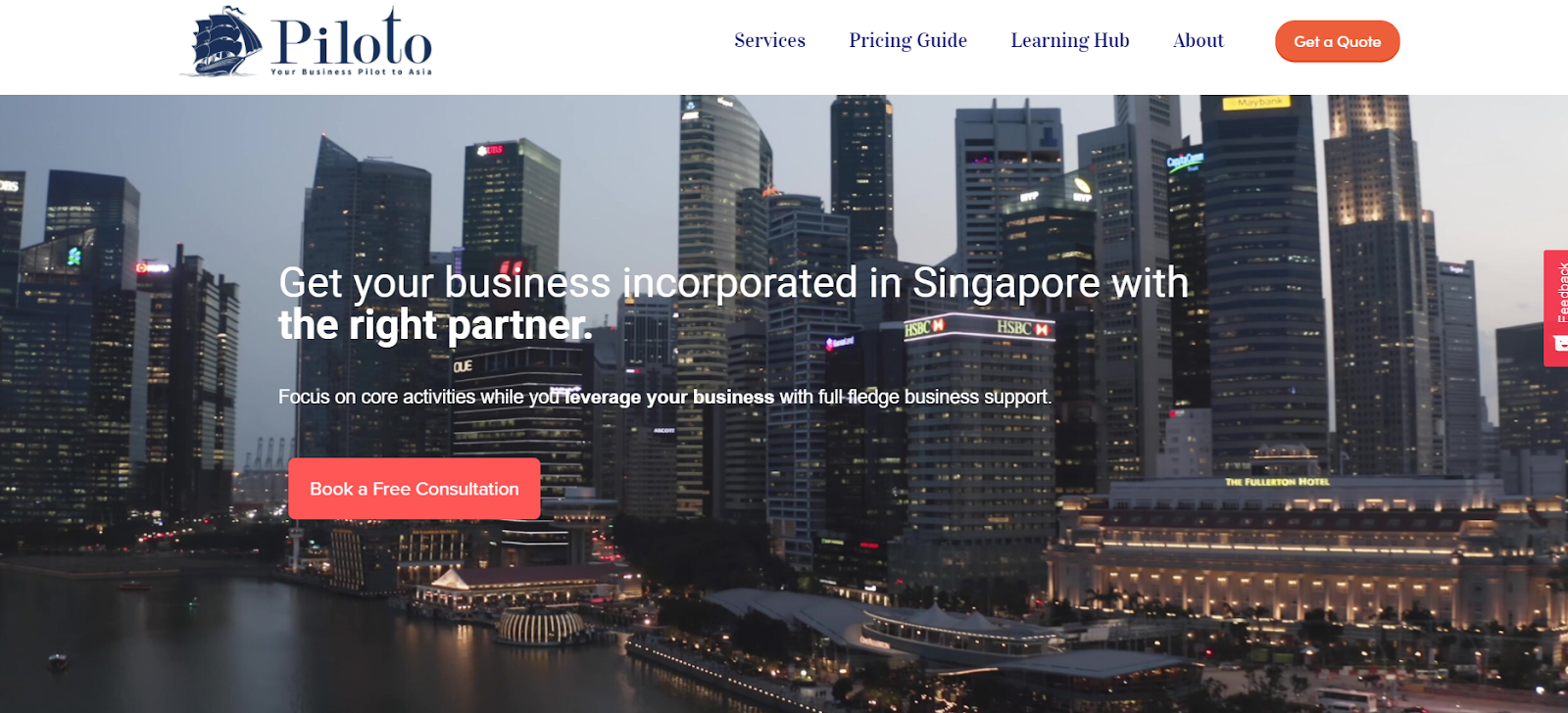 | | |
| --- | --- |
| BEST FOR | International Company Incorporation |
| SERVICES | Company Secretary, Tax & Accounting, Work Visa and Immigration, HR Support |
| WEBSITE | https://www.pilotoasia.com/ |
| ADDRESS | 105 Cecil Street #18-00, The Octagon Singapore 069534 |
| CONTACT DETAILS | (65) 9234 2902 | [email protected] |
| OPERATING HOURS | Monday – Friday, 9:00 AM to 6:30 PM |
The best way to expand an online business is to bring it to international shores. Many foreigners have commended Piloto Asia for their services in incorporating international businesses to Singapore.
They offer many administrative works such as a company secretary, guidance on taxes and tax and accounting as well as Work Visas and Immigration. Their team consist of qualified, knowledgeable members to share and guide with the most extensive knowledge.
Above all, they cater to their customer's needs attentively. Along with their transparent quotations and free consultation, Pilo Asia can get the job done.
Highlights
No hidden charges
Transparent Quotations
Free Consultation
Customer Reviews
"Piloto helped ease through the process of creating a Singapore entity on behalf of an international company as well as applying for an employment pass. Their familiarity and knowledge together with their helpfulness made the entire application straightforward and painless."

"Very professional organisation. As a 'foreigner' to Singapore we do need service like such to establish ourselves in Singapore. Piloto is a perfect advisor and local partners here, which saves us lots of cost and efforts to understand the procedures and the market standard here. We are very lucky to come across Piloto for my business expansion in SG."
14. Sandhurst Consultancy

| | |
| --- | --- |
| BEST FOR | Company Registration Specialist, Accounting Guidance |
| SERVICES | Registration, Financial Accounting, Business Advisory, Detailed Analysis of Requirements |
| WEBSITE | https://www.e-sandhurst.com/ |
| ADDRESS | 77 High Street #03-01 High Street Plaza Singapore 179433 |
| CONTACT DETAILS | (+65) 93802254 / (+65) 63384202 | [email protected] |
| OPERATING HOURS | Monday – Friday, 9:00 AM to 6:00 PM |
Starting a business requires a lot of knowledge and understanding of many factors. Thankfully, with Sandhurst Consultancy you can gain extensive knowledge of all aspects.
They pride themselves in being one of the leading company registration specialists in Singapore. They give advice on many factors such as in taxes and business policies that will give the best benefit to the client.
Their services are also handled by certified and reliable professionals that ensures careful attention on your business' financial records. This is what makes Sandhurst Consultancy one of the top corporate secretaries in Singapore.
Highlights
Qualified Accountants and Secretaries
No hidden charges
Transparent Quotation
Customer Reviews
"Apart from their specialised industry knowledge in the area and region that we are working on, Sandhurst Consultants did a tremendous job in the process of incorporating our company. The procedure was smooth and very straightforward."

"We needed back end support, such as import and export documentation, and other administrative work including accounts and we found all this in Sandhurst Consultancy."
15. JAANIK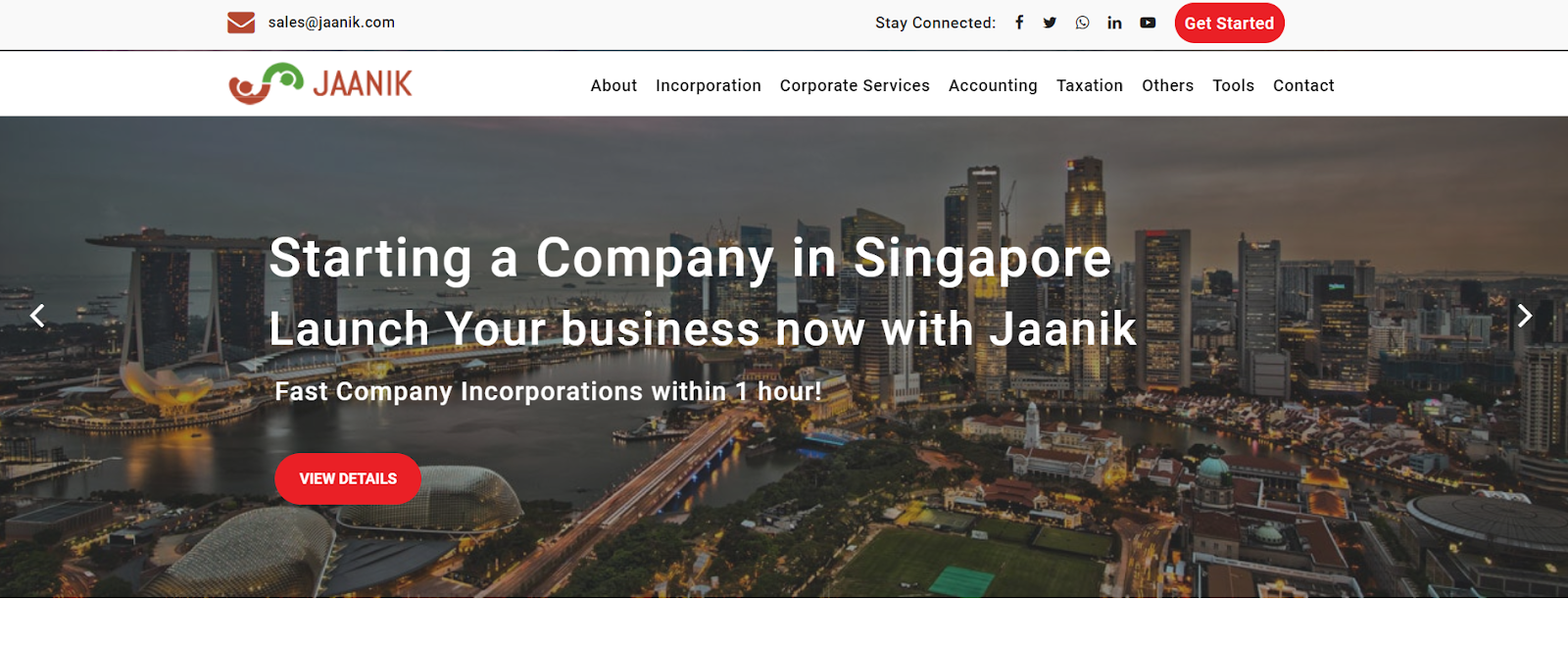 | | |
| --- | --- |
| BEST FOR | Quick Incorporation |
| SERVICES | Singapore Company Incorporation, Corporate Secretarial Services, Accounting/Book keeping & GST, Taxation, Registered Office |
| WEBSITE | https://www.jaanik.com/ |
| ADDRESS | One Raffles Place, #27-03, Tower 1, Singapore 048616 |
| CONTACT DETAILS | (+65) 6909 6323 | [email protected] |
| OPERATING HOURS | Monday – Friday, 9:00 AM to 6:00 PM |
With the amount of administrative work in starting up a company, it can take a long such a long time to process everything. Thankfully, this issue can be resolved with JAANIK.
Jaanik provides such quick turn around time that clients can even have their businesses incorporated within an hour! If you're hesitant with that guarantee, then worry not because the Jaanik Team consists of Accredited Professionals and Chartered Accountants that work efficiently with the best quality.
Clients can get a trustworthy, reliable and credible service with Jaanik. They can get all their requirements met at such an affordable price.
Highlights
Quick turn around time & Responsive
Internationally Recognized
Profesionally Qualified and Experienced
16. FreeIncorp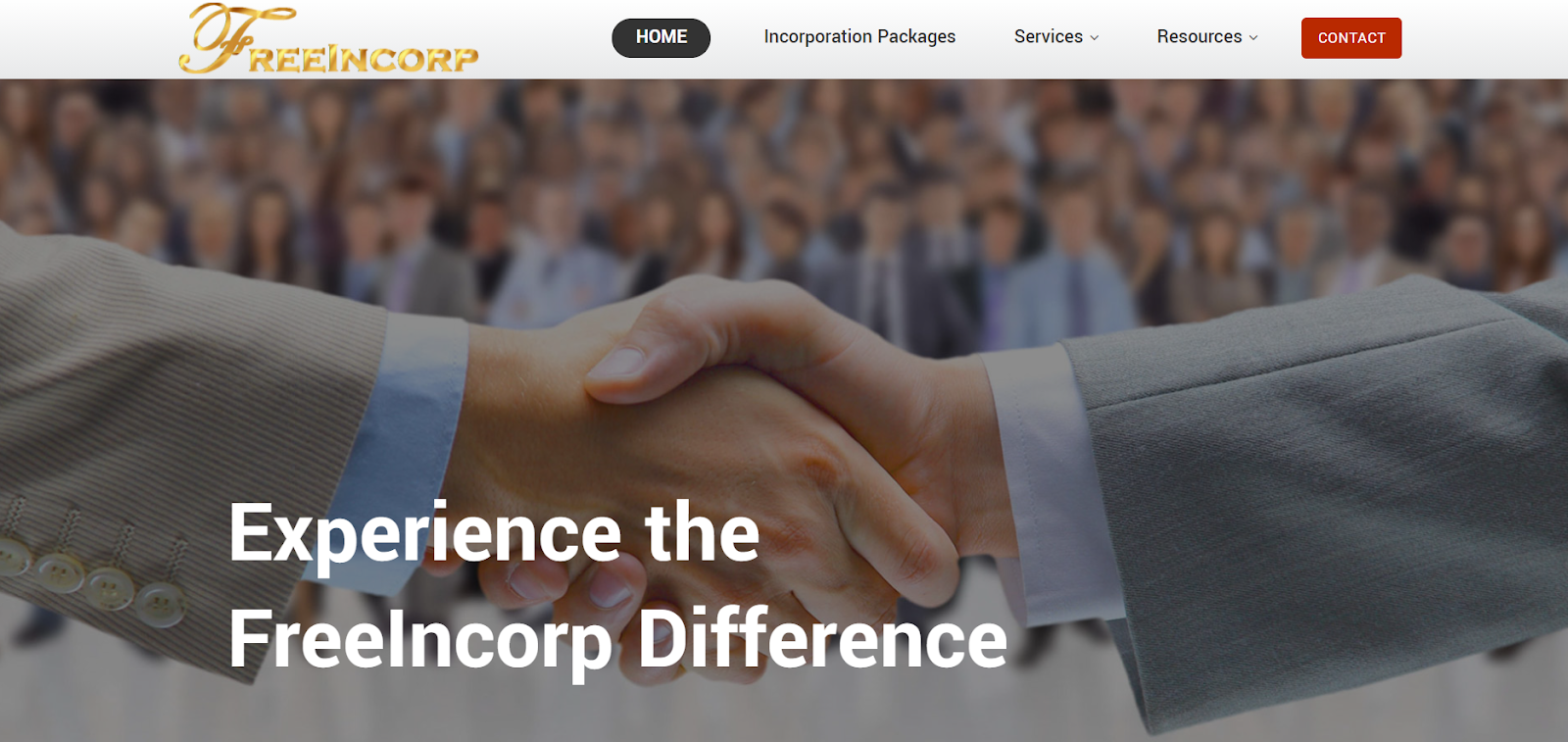 | | |
| --- | --- |
| BEST FOR | Mobile Incorporation Services |
| SERVICES | Annual Compliance Services, Corporate Secretarial Services, Accounting Services, Payroll Services, Striking-Off Services, Tax Services |
| WEBSITE | https://freeincorp.sg/ |
| ADDRESS | 2 Venture Drive, Vision Exchange Singapore 608526 |
| CONTACT DETAILS | 6266 2856 / 8786 9696 | [email protected] |
| OPERATING HOURS | Monday – Friday, 9:00 AM to 6:00 PM |
Incorporating businesses can have a lot of tedious paperwork and processes. With FreeIncorp, they offer services to make incorporation hassle-free with their Mobile Incorporation Services.
Along with this, some businessmen are only free during weekends or holidays. FreeIncorp prioritizes their clients and one of the ways they do this is allowing appointments to be made for weekends, after office hours and even on Holidays.
Along with ensuring that their clients are well taken care of, FreeIncorp is also committed to offering their best incorporation packages to start your business.
Highlights
Highly Competent Professionals
20 years of experience
Appointments for weekends and after office hours
Customer Reviews
Here are some examples of the feedback posted by customers on Google Reviews:
"We are glad we have chosen them for the setting up of our company. good service and at very reasonable prices. will transfer some of my companies over. would certainly recommend my business friends."
17. Bestar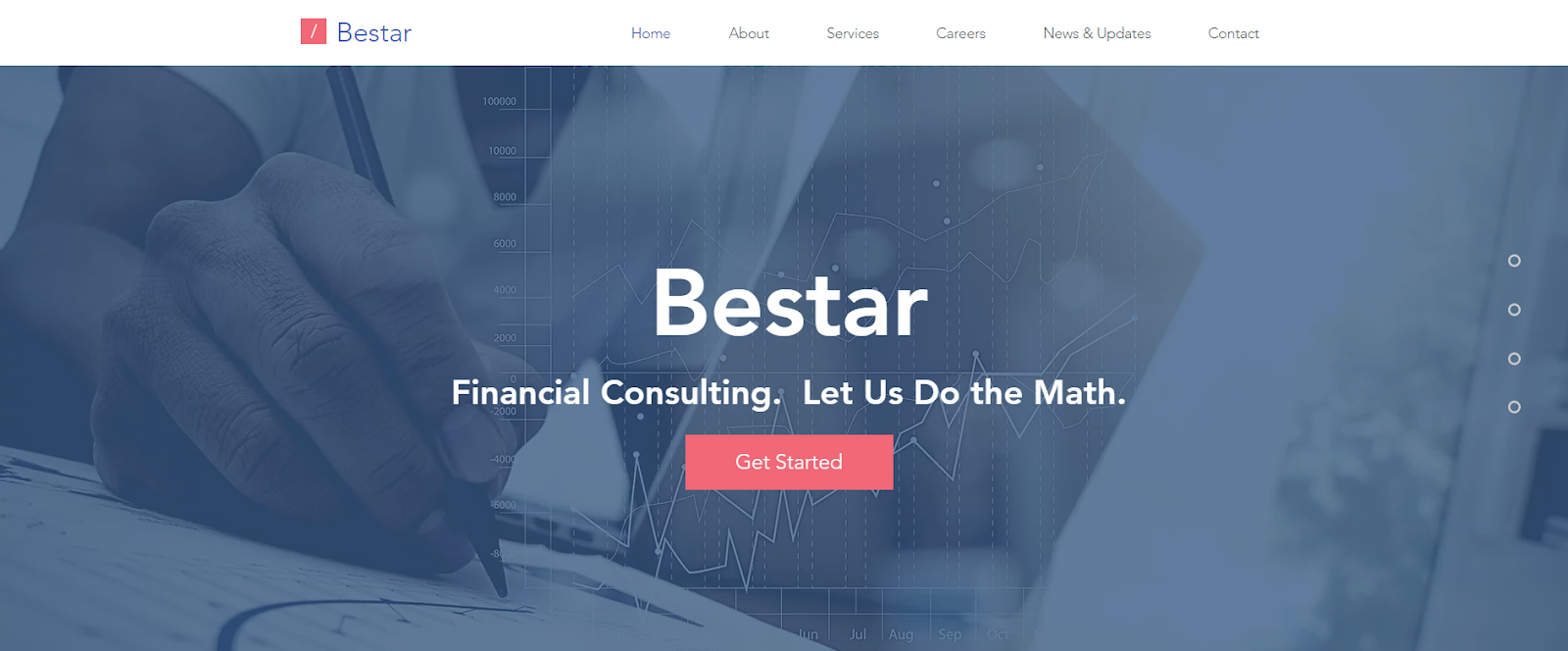 | | |
| --- | --- |
| BEST FOR | Providing services to many industries |
| SERVICES | Singapore company registration, corporate secretarial services, financial advisory, bookkeeping, compilation, tax audt, risk management, payroll outsourcing, IT Audit, IT, software and related services |
| WEBSITE | https://www.bestarcorporation.com/ |
| ADDRESS | 23 New Industrial Road #04-08 Solstice Business Center Singapore 536209 |
| CONTACT DETAILS | 65 6299 4730 | [email protected] |
| OPERATING HOURS | Monday – Friday, 9:00 AM to 6:00 PM |
Starting a business in an uncommon industry can be tough. This is why Bestar prides itself in providing their services for all kinds of industries.
Industries such as consumer markets, automotive, transportation & logistics, real estate, energy & natural resources, media & telecommunications as well as health care! Whichever industry your business falls, Bestar can help you get the job done.
Above all, Bestar provides exceptional client service and makes each one a priority. They value the client's experience so much that they even offer an hour free for consultations on many subject matters.
Highlights
Exceptional client service
Offers services internationally
1 hour Free Consultation
18. Amabel & Associates

BEST FOR
Efficient and Effective Services
SERVICES
Accounting, Corporate Secretarial, Taxation, Human Resources Services, Risk Management & Consultancy
WEBSITE
http://www.amabel-associates.com/
ADDRESS
20 Cross Street, #02-18, Cross Street Exchange, Singapore 048422
CONTACT DETAILS
Phone: +65 6538 7488
E-Mail: [email protected]
OPERATING HOURS
N/A
Amabel & Associates is an established firm that offers a wide variety of corporate services. They are able to cover many aspects of business management.
Their areas of practice range from corporate secretarial services to business and management consultancy. With their well-equipped firm at your service, you can rest assured that they will be able to handle any of your company's needs.
Highlights
No obligation consultation available
Qualified team of professionals
19. Harvest Accounting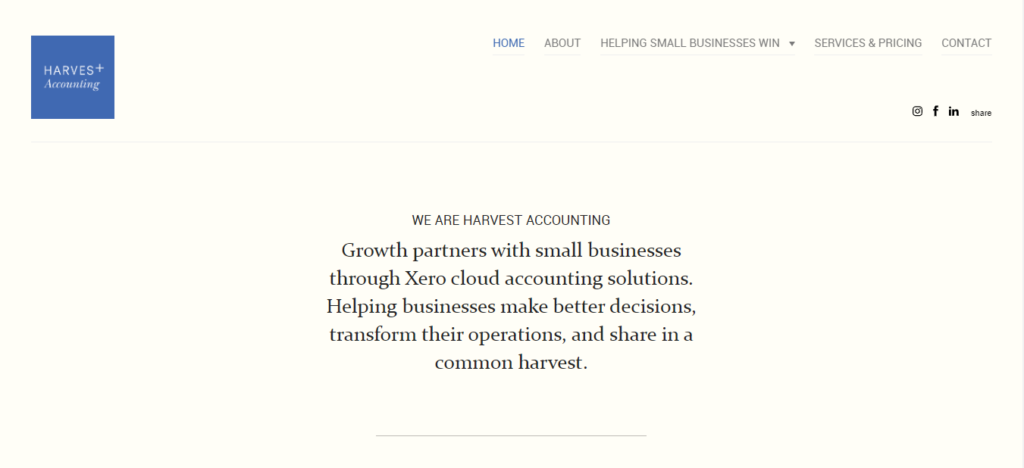 BEST FOR   
Small Businesses
SERVICES
Accounting, corporate secretarial, company incorporation, annual accounts & tax, Xero training and support
WEBSITE
https://www.harvestaccounting.com.sg/
ADDRESS
14 Robinson Road 08-01A, Singapore 048545
CONTACT DETAILS
+65 9821 8195


[email protected]

OPERATING HOURS
24/7
Harvest Accounting is a digital-first accounting firm that is passionate about streamlining workflows and identifying suitable add-ons and technology from the Xero app ecosystem to help small businesses win.
100% of Harvest Accounting's clients are using Xero, which is a cloud-based online accounting solution that can automatically handle tasks that used to take up all of your time. The company also installs Xero add-ons to personalise and fit the app accourding to your business needs.
To further help you out, they also offer corporate secretarial services. Thus, Harvest Accounting can also help with Annual Return requirements, maintain documents, and ensure you're within ACRA standards.
Highlights
Secretarial services for better documentation and filing capabilities
Expertise in Xero and its add-ons
Innovative services
20. IMC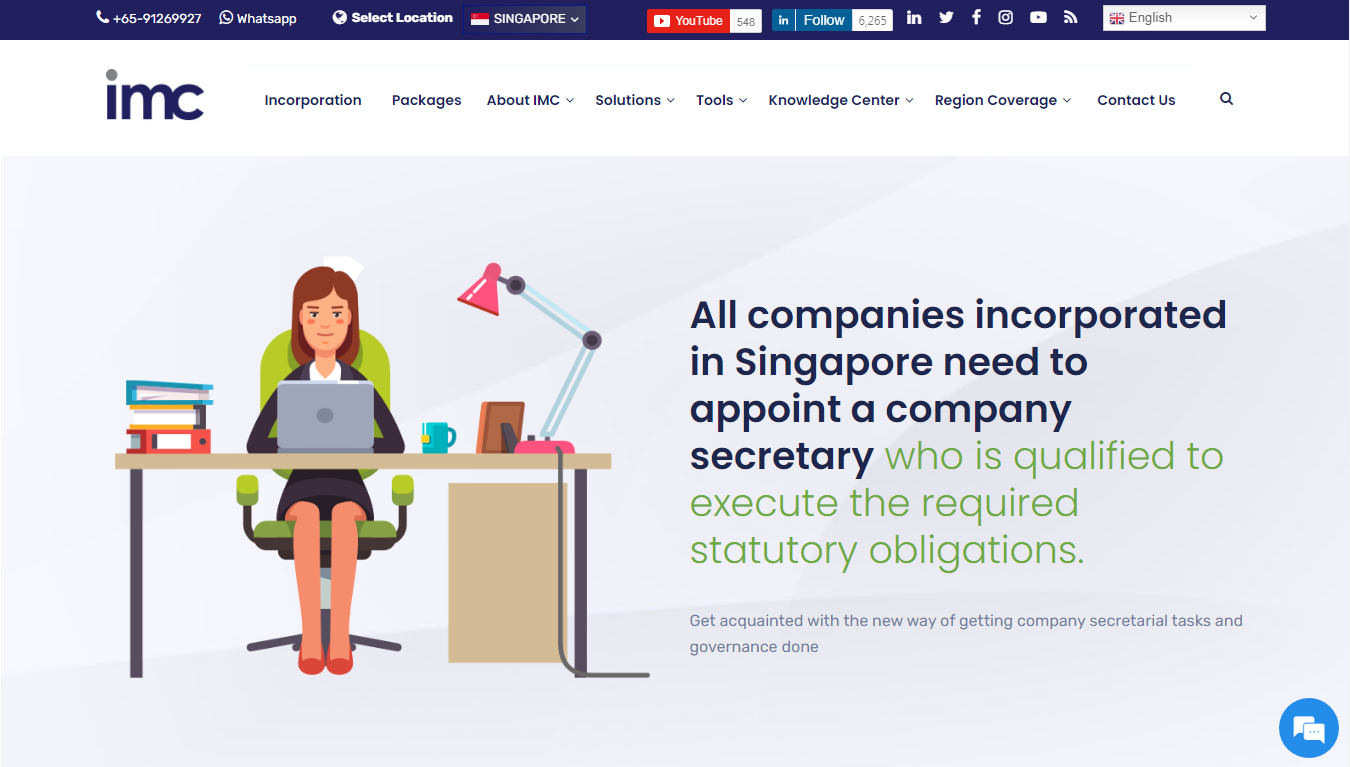 BEST FOR   
Corporate secretaries
SERVICES
Secretarial
Accounting Services
Taxation
Regulatory Compliance
Work Visa
Payroll Services
Trademark Registration
Corporate Finance
Global Trader Programme
WEBSITE
https://intuitconsultancy.com/sg/company-secretarial-services-in-singapore/
ADDRESS
One Raffles Place,
Tower 2,
#19-61,
Singapore – 048616
CONTACT DETAILS
+65-91269927
OPERATING HOURS
24/7
IMC aspires to offer only the best corporate services to all of their clients. Their team of financial experts make it possible by creating tailormade solutions to each of their clients.
They offer a wide variety of solutions, some of which include business setup, tax advisory, accounting and bookkeeping, and more. You can count on IMC to help your company grow with their services.
Highlights
Quality service
Tailormade solutions
Proficient experts
Customer-oriented
21. Lionsworld Business Centre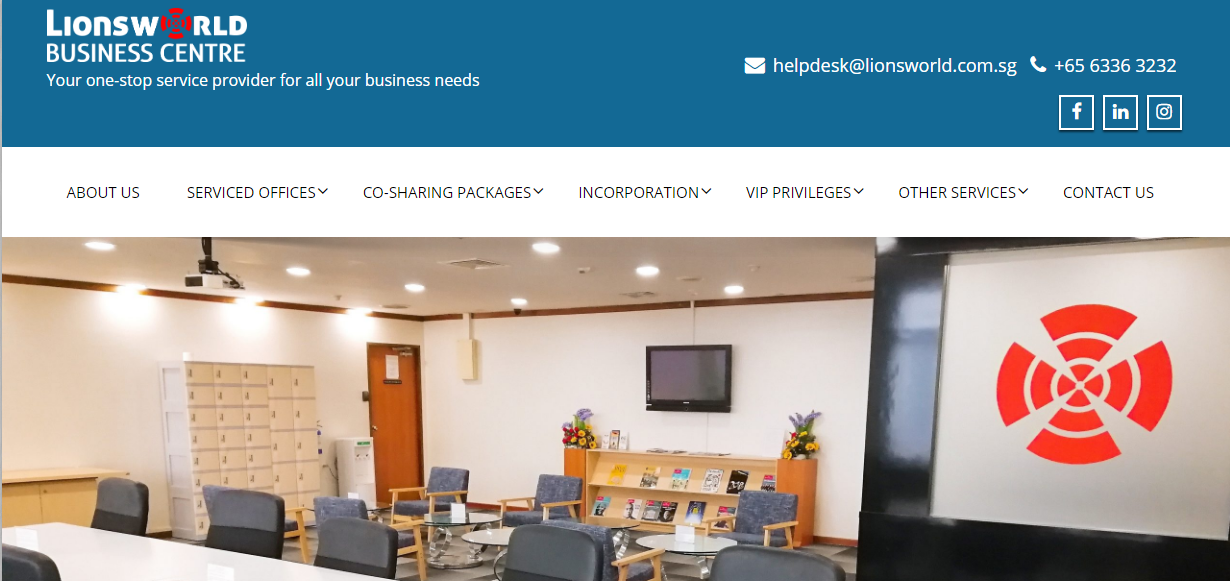 BEST FOR   
Corporate Secretarial Services
SERVICES

Singapore Company Incorporation
Corporate Secretarial Services

WEBSITE
https://lbcweb.sg
ADDRESS
111 North Bridge Road, #21-01, Singapore 179098 (Peninsula Plaza)
CONTACT DETAILS

Tel: +65 6336 3232

Whatsapp: +65 9869 5512

Fax No.: +65 6389 3988

Email: [email protected]

OPERATING HOURS

Monday to Friday: 9am – 5.30pm

Saturday: 9am – 1pm

Sundays and Public Holidays: Closed
Lionsworld is known to many as the one-stop solutions provider when it comes to corporate services. Their many years of experience in the industry make them one of the best. 
Besides corporate secretarial services, they also offer co-sharing workspaces, serviced & private offices, web hosting services, and more. With their help, managing your company will become marginally easier.
Highlights
More than 38 years of experience
Experienced and reliable service
Comprehensive list of services
Convenient and affordable 
22. Gauge

BEST FOR
Taxes and Accounting
SERVICES
Accounting Services, Tax & GST Filing, Sustainability Reporting, Corporate Secretarial Services in Singapore
ADDRESS
19 Cecil Street The Quadrant, #04-00 Singapore 049704
CONTACT DETAILS
(+65) 6811 8997 | [email protected]
WEBSITE
https://gauge.sg/
OPERATING HOURS
Monday – Friday, 9:00 AM to 6:00 PM
Saturday, 10:00 AM to 6:00 PM
The best thing about Gauge is that they always believe in keeping things simple when translating figures into meaningful diagnosis, and that is exactly what they can offer to you as one of the top leading accounting services provider in Singapore.
Gauge's services include: Accounting Services, Tax & GST Filing, Sustainability Reporting, Corporate Secretarial Services in Singapore. And as your accounting services provider and trusted partner, Gauge will assist and equip you with the necessary tools to succeed and address any potential issues before allowing them to surface.
On top of this, their team of experts will assist their clients in gathering essential business solutions to help them grow their businesses. Gauge lets you minimise your problems and maximise your profits.
Highlights
Affordable and competitive pricing
Qualified accountants
Clear and coherent account details
Personalised services
23. Ace Global Accountants

| | |
| --- | --- |
| BEST FOR | Corporate services |
| SERVICES | Company Registration, Accounting, Auditing and Taxation, Immigration / Work Pass, Government Grants & Subsidies, Trademark and Patent Registration, Human Resource Advisory, Legal Services |
| ADDRESS | 133 New Bridge Road, Chinatown Point #10-03 Singapore 059413 |
| CONTACT DETAILS | +65 9061 2851 | [email protected] |
| WEBSITE | https://aceglobalaccountant.com/ |
| OPERATING HOURS | Daily: 9:30am – 6pm |
Ace Global Accountants is known for the conduct of work they provide all of their clients. Aside from the efficiency and effectiveness of their services, they're also professional and prompt, making sure to respond to inquiries within the hour of it being sent.
They have a wide range of services to choose from, including Bank reconciliation, General Ledger Maintenance, Audit Schedule, Cash Flow / Budgeting, Management Reporting, and more.
They are also able to support company registration, company secretary matters, due diligence, merger & acquisition, internal/external audit, taxation, accounting, market valuation, work pass application, trademark/patent registration, web design, and other services.
Additionally, as they are affiliated with a reputable law firm, they are able to support on legal work, sales and purchase agreement for company buyout, commercial litigation, sales and purchase of property, setting up a trust and other services.
Highlights
Corporate advisory
Corporate restructuring
Business process analysis
Tax advisory and planning
Corporate secretarial support services
24. JSE Offices
| | |
| --- | --- |
| BEST FOR | Office spaces, Accounting, Taxation and Administrative Assistance |
| SERVICES | Serviced Office Suites, Dedicated Desks, Virtual Office, Meeting & conference Rooms, Accounting Service, Taxation Service, Company Incorporation, Corporate Advisory, Payroll Administration |
| ADDRESS |  105 Cecil Street #13-00, The Octagon (S) 069534. |
| CONTACT DETAILS | (+65) 6372 6222| [email protected] |
| WEBSITE | https://jseoffices.com/ |
| OPERATING HOURS | Monday – Friday, 10:00 AM to 5:00 PM |
JSE Offices is a one-stop serviced offices provider to help you with all aspects of your growing business, at competitive-rates. Since 2018, JSE offices have been simplifying the ways of running a business with their extensive office and administrative services.
They strive to make things easier for start-ups, freelancers, entrepreneurs SMEs and likeminded individuals. This is why they offer administrative services such as Accounting, Taxation, Payroll, Corporate Advisory and even assist in Company Incorporation.
To add to this, they also offer a wide array of office rentals from full offices to meeting rooms, to even just a desk.
In the end, JSE Offices understand the importance of flexible, low cost office solutions for small business, and having a conducive environment can lead to success. With JSE Offices you can focus on growing your business while they handle the rest.
Highlights
Free consultation
Office spaces available
Company incorporation
Top-notch administrative services
25. Accela

BEST FOR
Financial Services
SERVICES
Incorporation and business setup, Finance services, Corporate secretary
ADDRESS
90 Eu Tong Sen Street #03-02B Singapore 059811
CONTACT DETAILS
[email protected]
+65 8518 8522
WEBSITE
http://www.accelafinance.asia
OPERATING HOURS
Contact for more information
Accela is a world-class firm offering a wide array of corporate solutions for businesses of all sizes. While they're most known for their work in the financial field, Accela also offers corporate secretary services and incorporation and business setups.
Clients will find that Accela is a highly flexible firm boasting a diverse team whose experience allows them to meet the needs of clients from different industries. They're also capable of working with small, local businesses up to large-scale multinational companies.
Aside from their flexibility, Accela is also known for their bespoke services. The firm takes the time to get to know each client before curating services that will benefit them most.
Lastly, it's worth noting that Accela is results-driven. Their team is professional, efficient, and tenacious in their endeavour to help clients grow in their respective fields. 
Highlights
Caters to businesses of all sizes
Personalised corporate services
Flexible bundling – rates are dependent on the package chosen
26. Singapore Incorporation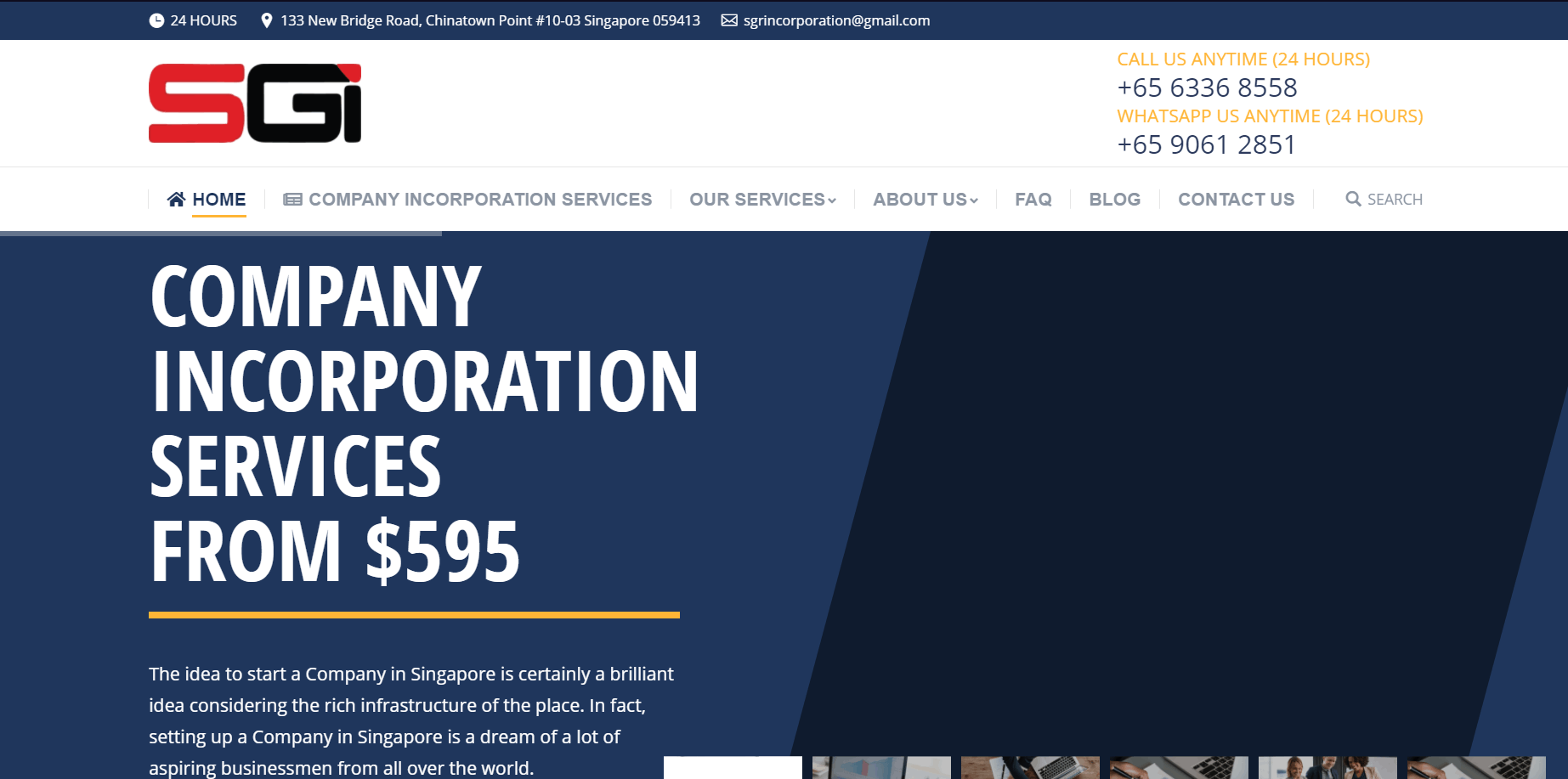 BEST FOR
Personalised Corporate Solutions
SERVICES
Company Audit
Tax and Business Advisory
Accounting and Finance
Resolving Company Secretary Matters
Business Consultancy
Tax Planning and Management
Handling Joint Ventures
Merger and Acquisitions
Corporate Governance Issues
Risk Management
Training and Staff Development
ADDRESS
133 New Bridge Road, Chinatown Point #10-03 Singapore 059413
CONTACT DETAILS
[email protected]
+65 6336 8558
+65 9061 2851 (WhatsApp)
WEBSITE
https://singaporeincorporation.org/
OPERATING HOURS
24/7
Singapore Incorporation was established by one Ms. Thung Sai Fun, who has more than twenty years of experience in the industry. She started Singapore Incorporation with one goal in mind: To offer the people of Singapore customisable corporate solutions.
Currently, Ms. Thung Sai Fun and her team are the driving forces of Singapore Incorporation. The diversity of their skill sets and unique backgrounds allow Singapore Incorporation to offer a complete suite of corporate solutions, which include company incorporation services, company registrations services, corporate secretarial services, and many more.
Aside from the extensive services and expert team, Singapore Incorporation also comes highly recommended for its rates, which is friendly to both big and small businesses alike. This is because Singapore Incorporation prides itself on providing quality corporate services at competitive rates.
To finish things off, Singapore Incorporation is also accessible even to the busiest of businesspeople and entrepreneurs.
The firm accepts calls and messages 24/7. After all, duty never sleeps or waits.
Highlights
Professionally trained and experienced team
Competitive rates
Wide range of corporate services offered
And with that, we conclude our list of the top options for the best corporate secretaries in Singapore. Have you already decided on which company to hire? Tell us all about it!
If you know of other corporate secretaries in Singapore worth checking out, share their names with us, and we'll see if we can include them in our list.
By the way, if you're in need of a team who will handle your employee's payroll, we recommend checking out our list of the best payroll services in Singapore. Our list features some of the most trusted companies that offer payroll and other corporate services!