The 24 Best Corporate Secretaries in Singapore
If your company has recently been incorporated, then you'll need a reliable corporate secretary to handle critical business matters for it. But finding a great one isn't that simple, is it?
Whether you're looking to hire a corporate secretary or planning to replace the one you already have, worry no more because we have you covered. We made a list featuring the best corporate secretaries in Singapore worth considering.
Cost is a major concern for companies, though. So, let's talk about prices first.
The Best Corporate Secretaries in Singapore
Alright, let's dive right into the top corporate secretarial services in Singapore! You can use our notes below to figure out which ones may suit your needs best.
1. Counto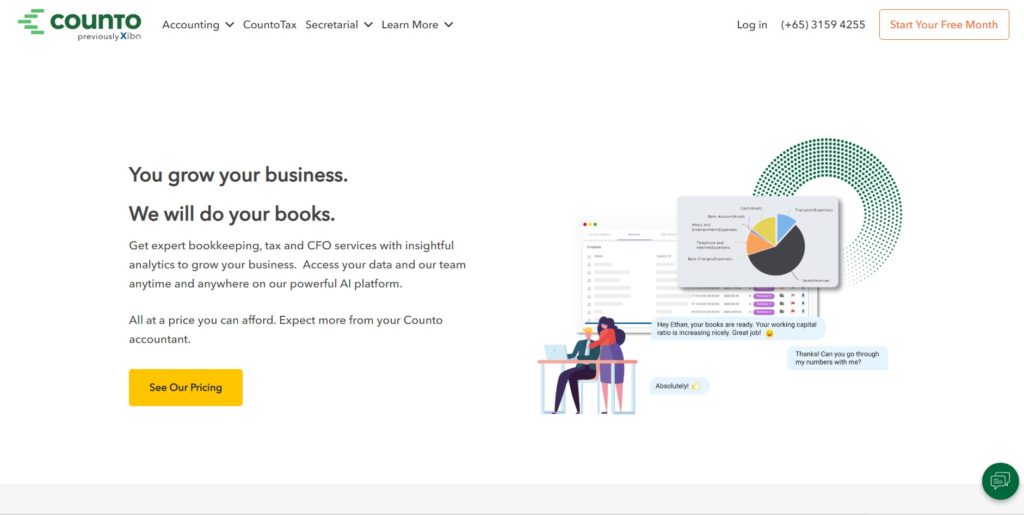 Counto understands the value of your time. This is why they have become one of the best corporate secretaries in Singapore as they comprehend why their tasks are so important, which only motivates their team to do better at their jobs.
They offer three company secretary plans, namely: lite, standard, and unlimited.
If you're in need of the appointment of a local director or corporate secretary, preparation and filing of annual return (inclusive of $60 ACRA fees), and holding of AGM (if required) and filing of annual return, then the lite is perfect for you. However, if you're looking for more, it may be better to get the standard or unlimited instead.
Luckily, their price differences aren't so drastic, only ranging from $30 to $70 apart.
Lastly, their secretariat services work best hand in hand with Counto's other services, such as their tax, incorporation, and virtual CFO.
Customer Reviews
"Good service and team! Definitely recommend Counto… Responses are quick and team is engaged, good stuff!" – Co-Founder of Sustenance
"With queries always promptly replied, this makes us feel at ease as the Counto team is always there to help if we require assistance." – Co-Founder of Aurel Singapore
2. J Accounting Services
J Accounting Services is a team of certified professional accountants who are well-versed in the ins and outs of corporate documentation in Singapore.
Here, you'll enjoy the convenience of getting your company's laundry list of annual filings checked in one place, thanks to their secretarial package. This package includes safekeeping of statutory registers and filing of annual returns, just to name a few.
What's worth highlighting, though, is that they use a cloud accounting system called Xero, which stores all your documents and records electronically—so if you don't want to worry about misplacing documents, they could be the best corporate secretary in Singapore for you.
We're seeing a few drawbacks here, though.
For one, the secretarial package doesn't include some secretarial duties including finding a legal resolution to board meeting matters.
Seeing that they're an accounting firm, you won't see immigration-related services here either. This can be a huge downside for companies planning on hiring foreign workers.
While their fees are relatively high compared to others, they do offer discounts if you prefer to maintain your statutory registers on your own, among other things.
Customer Reviews
Very efficient and prompt
"I love the splendid services provided by J Accounting team. If I could give them seven stars, I would. I reached out to a few companies for company setup. J Accounting was recommended to me and right from the beginning not only was their service the best I experienced in Singapore, they are also very efficient and prompt in answering my queries. Professional and pleasant experience incorporating my company with their nominee director and secretary. The bank account opening service was also very prompt and it went smoothly too. The support J Accounting provided are first class. Isaac, Rebekah and their team members are exceptional. I trust their advice and level of service, and will highly recommend their services." —Jimmy Maldonado, Google Reviews
Always useful and honest
"Choosing an accounting firm is never easy. We had been working with Rebekah, Isaac and their team since we opened our small clinic at Thomson area 2 years ago. We are grateful to have known the J Accounting team. They were very patient, and had taken care of us with their professional skills, knowledge and above all, integrity. They constantly provided us with valuable advice and support, and that is always useful and honest. Many times, we wanted to spend on certain areas thinking that it is necessary for our business. However J Accounting team helped us reduce costs instead, thereby increasing our company profitability and cash flow in the long run. They treat our business like their own, and always think for our best interest. J Accounting team is truly a gem. It is a highly trusted and recommended company." —Vicky Tay, Google Reviews
3. Reliance Consulting
Reliance Consulting started out as Corporate Services Singapore—a firm that provides accounting, payroll, and corporate secretarial services to local enterprises and multinational corporations in Singapore.
As far as their secretarial services go, their packages and fees are categorised according to the size and nature of your business: local SMEs, foreign entrepreneurs, and foreign multinational companies.
All packages cover the basics including keeping and updating of statutory books and registers, providing assistance with the understanding of Singapore's Companies Act, and more.
We find their pricing fair and beneficial for local SMEs who don't need to pay a premium for the same list of services.
But if you think that your company only needs a bit of assistance in certain matters, you can also customise your package to enjoy even lower rates.
They may be a small company but they've actually stood as the corporate secretary for over 400 companies. This tells us that they're quite reliable and organised even with limited manpower.
While they can process employment passes, by the way, their immigration assistance services are quite limited. Hence, you'll have to ask them personally if they can accommodate your requirements.
Overall if you want tailored corporate secretary services in Singapore, they could be a good fit for you.
Customer Reviews
Made the process smoother
"Our company needed a lot of assistance from Reliance Consulting and expected good customer service. We truly appreciate the professional service we received. It has made the process so smoother than anticipated. Highly recommended. Thank you." —Jessica James, Website Testimonials
Reliable, competent, and professional
"Reliance Consulting is reliable, competent, and professional in delivering their expertise and advice. They will ensure all the necessary documentation and requirements are met and fulfilled within the deadline of the authorities. I would highly recommend anyone who needs a one-stop financial solutions for your business needs. Well done Han Siang and staff." —Evelyn Yeoh, Website Testimonials
4. SBS Consulting
If you're on the road to incorporating your company, then we recommend checking out how SBS Consulting can help you out with that. Their company incorporation package can complete the process within 3 days, saving you from the hassles of going back and forth between offices.
Now, what makes this incorporation package particularly special is that it comes with free secretarial services for a year. Of course, you can expect them to handle your company's documents, statutory registers, board resolutions, and more.
We think they're worth considering primarily because of their low rates. You don't often see these services rolled into one affordable package, which makes them a great choice for companies with a budget.
If your company is already incorporated, not to worry, as they also offer standalone secretarial services.
The lack of secretarial packages and immigration assistance services is a bit of a letdown though, which isn't really surprising considering that they're an accounting firm.
So if you want just accounting services, then this is a great corporate secretary in Singapore or you.
Customer Reviews
No hidden costs
"In my opinion, SBS is the best accounting firm in Singapore. They deliver what they promise with speed and accuracy. There are no hidden costs which matter to me. I don't like surprises. They are very professional." —Deng Yahui, Google Reviews
Service and knowledge of staff is excellent
"Overall, my experience with the SBS Consultancy was positive. I get the good response from them on my inquiry. SBS is really helpful in getting my documentation done. I have associated with them from more than year. Service and Knowledge of staff is excellent. I think they are one stop solution for Incorporation to Taxation, Accounting, XBRL Filing in Singapore." —Oi Kok Lee, Google Reviews
5. Rikvin
Established in 1998, Rivkin has become a trusted source of corporate support services, from accounting personnel to corporate secretaries.
Over the years, they built a huge clientele composed of the most successful companies on the island, including Agoda, JLD, Weeloy, Crosspoint Telecommunications, and more. This is an indication that they're reliable and flexible to handle a diverse range of sectors.
On top of that, Rivkin employs a team of qualified and competent corporate specialists, auditors, accountants, and secretaries who will make sure that your company's up to date and compliant with tax rules and other business regulations.
Rivkin is also an accredited MOM employment agency, with a soaring success rate in work pass applications. This makes them a good choice for companies looking to recruit internationally.
If there was one thing we'd like to see more of with Rikvin, it would be a list of packages. We think that this would allow companies to easily compare which set of services fit into their needs.
You can set an appointment with them if you have special requirements through their online booking system. We like their convenient and easy process so we listed them as one of the best corporate secretaries in Singapore.
Customer Reviews
Helped me set-up my company in no time
"I am from Mumbai and was struggling to find the right professional service provider to help me Incorporated my Singapore company and get visa. Rikvin team informed me about all local laws and gave me the right advice and helped me setup my company in no time. They are not expensive also….Thanks a lot to Rikvin Team." —Amarjit Jaiswar, Google Reviews
Highly professional
"I got amazing help from this company, especially from Satish. I have been a client of a big international company for years and got increasingly frustrated with their "one answer fits all" attitude and bad advice. Rikvin's advice was highly professional, Satish helped me immediately, and gave me all the reassurances that my issue will be treated with high professionalism. I can't thank enough Satish and Rikvin for their help. I recommend this company extremely highly." —Brigitte Cukierman, Google Reviews
6. Ebos SG Cloud Accountants
Gone are the days of bulky filing cabinets and endless stacks of documents. Not saying that those are necessarily a bad thing but they can be a little unproductive, especially if files aren't organised well.
If you want to switch to a purely online platform, you can consider Ebos SG Cloud Accountants' services. As you can guess, they specialise in accounting and corporate secretarial services, both of which are conducted through digital means.
That said, you can expect to find your records on the cloud, so you don't have to worry about losing your documents anymore. Furthermore, they don't charge clients for any disbursement fee such as printing and stationery, should you prefer it.
We also like the fact that they charge a standard low rate for corporate secretarial services in Singapore, regardless of the size of your company.
Local SMEs and foreign entities can benefit from this low rate, since their package already includes the basics including maintenance of e-statutory books, annual filings, and even the $60 annual ACRA fee.
Comparing it to other packages, their scope isn't as comprehensive, which can be a drawback for some. However, they also offer several add-ons for a separate price such as the provision of a company seal, changing of company names, among others.
Customer Reviews
Very prompt and efficient
"Ebos has been handling our company's accounts for 3 years and still counting. Very prompt in response and efficient in service." —Pauline Chua, Google Reviews
Extremely helpful and patient
"I was recommended by a friend to try out EBOS and am glad they did not disappoint. From the initial stage of setting up a company to the later stages of accounting and reporting, their team of professional and dedicated staff were extremely helpful and patient in guiding me through the various procedures. I also appreciated their attention to details such as timely reminders on important filing deadlines and prompt response to my numerous enquiries. Their fees are also reasonable and competitive and I would definitely strongly recommend EBOS to anyone who is looking to start a new company or whoever requires expertise in this field." —Gemedge Capital, Google Reviews
7. Bestar
Starting a business in an uncommon industry can be tough. This is why Bestar prides themselves in providing services for all kinds of industries.
The range of industries they cover includes consumer markets, automotives, real estate, energy and natural resources, media and telecommunications as well as healthcare! Whichever industry your business falls in, Bestar can help you get the job done.
On top of their secretarial services, another thing that we can firmly stand behind is their payroll management services. They use a sophisticated and cost-effective platform to ensure that employees are paid correctly and on time.
Above all, Bestar provides exceptional client service and makes each one a priority. They value the client's experience so much that they even offer an hour free for consultations on many subject matters, from drafting of commercial contracts to tax services.
The only thing that's missing is a list of corporate secretarial packages, which would've been helpful to clients who are simply shopping around.
However, you can schedule an introductory call so Bestar can understand your company's needs better, and will adjust your package according to your requirements.
Customer Reviews
Very good team
"I must say I am highly impressed with the services and the way they have
Deal with me. Very good staff very good team with perfect knowledge good people I recommend working with them :)" —Baljit Singh, Google Reviews
Friendly and professional
"A friendly and professional team! I definitely recommend them!" —Andrea Paulsen, Google Reviews
8. Leftright Corporate
Leftright Corporate is a company by founders and for founders. They've been through the pains and hassles of navigating through bureaucracy, which is why they've set up shop to help companies like yours.
From corporate secretarial services to setting up virtual offices, they have a variety of services meant for setting up and maintaining businesses alike.
Speaking of the former, their package covers all the fundamental duties of a corporate secretary including recording and safekeeping of meeting minutes, maintenance of ACRA records, compliance advisories, and more.
Everything is kept and maintained through digital means as well, so you can easily retrieve your files anytime. Your company secretary will also be your dedicated account manager who will be able to help you with all compliance-related matters.
We love the personal touch that they employ in their services. More than that, we think that their pricing scheme deserves a special mention too, as it's one of the better models among all corporate secretarial services in Singapore.
Besides the fact that their prices are among the lowest on our list, you can be assured that there are no hidden fees since their rates are available online. The fee also includes the $60 fee of ACRA's annual return filing.
In addition, at the end of your term, you're also entitled to renew with them at the same rate. No price hike, and no bill shock—no questions asked.
Customer Reviews
Professional and very responsive
"I work for a small distribution company and engaged Leftright this year as our corporate secretary and to assist in striking off another company. The experience so far is excellent. Tim Han Jie, whom we have been working with, is professional, very responsive and a pleasure to work with. Their fees are also very reasonable, definitely a good value for money. We look forward to our continuous work relationship with them." —All All, Google Reviews
Professional and timely response
"I almost missed the deadline to engage a corporate Secretary for my company. Thankfully Rachel & her team reached out to me. Appreciate the professional and timely response from Tim Han Jie too!" —Daniel Koh, Google Reviews
Very helpful in answering questions
"I compared corporate secretary packages from various companies before settling for leftright! Tim got back to me quickly and was very helpful in answering all my questions!" —Meow, Google Reviews
9. WLP Group
Whether you are a new business or a growing one, WLP Group is a good business solution partner. They may be relatively young in the industry, but they've gathered an impressive client list including Tan Tock Seng Hospital, NUS, Balmain, SGH, and many more.
This tells us that they're a trusted name among huge and well-known companies, which is why we had to include them on our list of best corporate secretaries in Singapore.
In terms of corporate secretarial services, they also have one of the lowest rates on this list, making them budget-friendly for SMEs and large companies alike. You have to do a little bit of digging to see their prices, though, and it would've been helpful to see them from the get-go.
Under their package, you can expect the necessary tasks, from maintenance of statutory registers to filing of annual returns.
Compared to other packages on this list, they have one of the most limited sets of inclusions. Thus, you might pay a bit extra if you require certain ad-hoc services such as changing addresses, among others.
We do like the fact that they've established immigration assistance services to help investors and foreign workers stay on the island legally. In fact, they also help foreign nationals to apply for permanent residence.
10. CorporateGuide Singapore
CorporateGuide is literally an online business and corporation guide in Singapore. They offer guidance in incorporating new companies, trademark filing, marketing, and even IT services.
We would've liked to see fixed packages for corporate secretarial services though, as this can be useful for clients to compare and contrast business solution companies. Like most of our entries here, you can expect the basics like completing regulatory requirements and more.
They're also one of the few ones on our list to offer extensive immigration assistance services, which include preparing work passes, as well as permanent resident and citizenship applications.
So whether you're a foreigner looking to open up a Singapore base or a local company planning to hire foreign workers, CorporateGuide is a good option to consider among the many corporate secretarial services in Singapore.
Customer Reviews
Professional and friendly
"We are from Malaysia, and we have been using their service for more than 2 years, they are no doubt a professional and friendly trademark advisor, keep it up :)" —Catherine, Bing Ye Mun, Google Reviews
11. Piloto Asia
Piloto Asia may not have an extensive list of services compared to others but we've found their current lineup to cover the most important ones that a company would need.
From secretarial services to accounting, you can leave all the nitty gritty details to them while you focus on running your business.
There are only 2 packages to choose from: the foreigner package or local package. To know which package is applicable to you, you only need to consider the nationality of your company's director—simple as that.
On that note, we've seen a lot of foreign business owners recommend them for their seamless and streamlined process in helping them expand to Singapore. Not only that, but they also offer comprehensive immigration assistance and bank account opening services.
For these reasons, we highly recommend Piloto Asia to foreigners who are planning to set-up their businesses in Singapore.
We're just a bit disappointed to see the lack of readily available rates on their website. Still, you can give them a call for an obligation-free quote so you can get the ball rolling in choosing the best corporate secretary in Singapore for you.
Customer Reviews
Knowledgeable and superb in answering queries
"We expanded our business from Hong Kong to Singapore, and have engaged Piloto Asia to register the new Singapore company and use other services such as accounting, company secretary and bank account services. Tam and his team are really knowledgeable and have been superb in answering all our queries patiently and quickly. That really gave us a lot of confidence and hence decided to work with them. Thanks so much for your help, much appreciated!!" —Lee Bowie, Google Reviews
Quick and advice is to-the-point
"We expanded our business from Indonesia and registered our new company in Singapore together with a corporate bank account successfully thanks to Piloto Asia's solid and complete advice. Service is delivered quick and advice is to-the-point. Highly recommended!" —Rudy Anto, Google Reviews
12. Sandhurst Consultancy
Sandhurst Consultancy prides themselves as one of the leading company registration specialists in Singapore. They've helped many local and foreign businesses alike establish their presence here.
Apart from their corporate secretarial services, they also give advice on taxes and business policies that will benefit the client.
From what we've seen, Sandhurst Consultancy seems to be a big hit among clients based in Southeast Asia, considering that their account managers are fluent in many languages including Mandarin, Indonesian, and more.
Beyond that, they also assist foreigners with their work pass and permanent residence applications. This makes them another good option for international clients planning to expand to Singapore.
That said, they aren't the most affordable ones out there. Their secretarial fees are on the upper end of the industry average, which includes the most basic services that we've found in many packages.
However, the package does include a bank account opening—perfect for foreign clients. We think that local clients can get the same quality of services at more affordable rates in other companies, though.
So if budget is a concern for you, make sure to take that into consideration prior to engaging their services.
Customer Reviews
Resolves any kind of problem very efficiently
"I can recommend Sandhurst Consultancy to everyone who needs to open a business in Singapore. Mr.Singh and Ms.Maribel are very kind and could answer every question I had for them when I first planned to get started with my business. The whole process seemed to be so simple and easy having them to assist me. It's been a couple of years since I started my business with their help and I can tell that every time I need something and I contact them, they always manage to get back to me very quickly and resolve any kind of problem very efficiently… I think I was actually lucky to get to know them when I first went to Singapore and I am more than happy about their service.I can personally recommend Sandhurst Consultancy…
Hope my review will be helpful to anyone who plans to start a business in SG…" —Paolo Rossi, Google Reviews
Very competent and professional
"Sandhurst consultancy is very amazing. Mr. Singh and Maribel are kind and more important very competent and professional. Making a company with them is a piece of cake and they are very helpful and care a lot of their customer. LG company works fine because of them and they take care of all the accounting and fee perfectly. Thanks Sandhurst!" —Xavier Reiss, Google Reviews
13. Jaanik 
Jaanik strives to provide a flexible and reliable service to their clients. It's one of the first things that caught our eye with them, considering that they're one of the few companies to offer a 24-hour hotline.
In fact, they provide such quick turnaround time that they've had businesses incorporated within an hour! If you're hesitant with that guarantee, then worry not because their team consists of accredited professionals and Chartered Accountants that work efficiently.
You can expect them to comply with Singapore's Companies Act on your company's behalf when you engage their secretarial services. On top of that, you can also have them deal with other matters including work pass assistance and trademark registration.
While they pride themselves on having transparent charges, we would've liked to see their rates readily available on their website and online platforms. Furthermore, they don't charge GST to clients at least, allowing you to save 7%.
Customer Reviews
Reliable, resourceful, responsive
"Reliable, resourceful, responsive are my three R's to love Jaanik. The only person I met beside my would my husband in my visit to Singapore was Anne. She is so positive and articulate that u only take away a new confidence from her. So when I was struggling to get a job she gave me confidence to start my own and helped me till end to achieve that. Thank u Anne. U r more than a consultant; u r a friend now." —Juhi Shrivastava, Facebook
14. FreeIncorp
Incorporating businesses can involve a lot of tedious paperwork and processes. With FreeIncorp, they offer corporate secretarial services in Singapore to make incorporation hassle-free all from the comfort of your home or office, thanks to their Mobile Incorporation Services.
And we can see that this convenience and flexibility applies to their office hours as well. We've noticed that they're one of the very few business solutions companies that extends their hours to weekends, after-office hours, and even on public holidays—that's a huge point for them!
If you're merely trying to fill in the 6-month corporate secretary requirement, then you'll be glad to know that they offer a basic package that's good for 6 months only.
This makes them an excellent choice for companies who don't wish to commit to a full year, and would like to get a taste of their services first before doing so.
While you can find their packages and corresponding prices online, we think it would've been more useful if they also included a detailed list of inclusions. Still, you can reach out to them for an obligation-free consultation.
Customer Reviews
Affordable fees
"Have used many corp sec firms over the last 30 years for my companies. There are premium and reputable ones but you need to pay through your nose like $2k to $3k per annum. Any below $600 per annum are the low end firms with no professionalism, no knowledge or very slow response or no response. Having renewed my contract over last 3 years with this firm, I would say I am very happy with their very affordable fees and most importantly, better than expected services than most firms that I've paid about $600 to $800 per annum. Those business friends and associates I have referred to them said likewise." —Choongyan Lee, Google Reviews
Good service at very reasonable prices
"We are glad we have chosen them for the setting up of our company. Good service and at very reasonable prices. will transfer some of my companies over. Would certainly recommend my business friends." —P Heng, Google Reviews
15. Amabel & Associates
Amabel & Associates is a boutique firm that offers a variety of corporate services. They cover many aspects of business management from corporate secretarial services to succession planning.
Their team of corporate secretaries in Singapore may be small but they're quite the powerhouse. They're accredited by a variety of agencies such as the Institute of Singapore Chartered Accountants, Singapore Institute of Accredited Tax Professionals, and more.
Going into their secretarial services, there are no fixed packages that they offer to clients. While this can be a minor drawback, this means they understand that there's no one-size-fits-all solution.
So whatever your needs may be, you can just set up an obligation-free appointment with them and they'll customise your package accordingly.
They operate mostly as an accounting firm though. Hence, you might find the lack of immigration assistance services a bit disadvantageous—if you need those services, that is.
16. Harvest Accounting
Harvest Accounting is a digital-first accounting firm that's passionate about streamlining workflows. One way they achieve this is by using Xero, which is a cloud-based platform that can handle accounting tasks in real time, as we've mentioned above.
Their corporate secretarial service package in Singapore covers everything from assisting with the annual general meeting to filing annual return requirements. Apart from that, the package also includes a Xero subscription, so you can rest assured that everything will be stored and managed digitally.
And it doesn't stop there. Clients can also make use of the Receipt Bank software courtesy of Dext—a software that gives you all the tools you need to capture, upload, and track your finances.
We think these software inclusions are a huge plus for digital-first companies or those who wish to transition to digital processes. After all, they also offer training services to ensure that you're using the platform correctly.
Like most accounting firms though, you won't find an extensive list of services here apart from the basics. They may not be a good fit for you if you're looking for immigration assistance or branding services, for instance.
Customer Reviews
Highly adaptable, quick to grasp the complexity
"We have stumbled across "Harvest Accounting" while looking for a interim solutions for our Accounting matters. The team was highly adaptable, quick to grasp the complexity of our initial phases, prompt to set up and streamline the processes, able to break down and explain accounting terms in layman terms, able to understand high level overviews and provide tailored solutions. Thankful to have met a great, efficient, responsive and professional team that has a human touch." —Kah Yan Li, Google Reviews
Steadfast and proactive
"Working with Harvest feels like having someone on My Team. Matthew and his team cares about my business, provides very sincere, patient and thoughtful service. They are also steadfast, proactive and would always offer practical advice on corrective measures to make workflows better. This is not something a business owner can get from other accounting firms and for this reason I highly recommend other entrepreneurs to work with them." —Shawn Soh, Google Reviews
17. IMC
IMC aspires to provide hassle-free corporate solutions to clients in Singapore and abroad. From corporate secretaries to payroll assistance, their extensive lineup of services truly makes them a one-stop shop for SMEs, large corporations, and even startups.
We like the fact that they also use cloud-based platforms like Xero when it comes to their corporate secretarial services. This means that you can file your requests round-the-clock and access all your essential documents anytime and anywhere.
Like some of our entries, they don't have fixed secretarial packages, which will depend on the requirements you've set.
Their relatively high starting price doesn't make them the most budget-friendly option out there. If you're merely looking for a corporate secretary to fulfill the most basic tasks, then we think that you might be better off at another company.
However, they do make a good choice for large companies that need help with a lot of things like immigration and payroll assistance. This is proven by their list of big-time clients including Mastercard and Baxter.
Customer Reviews
Completely professional
"We have been taking IMC service more more than a year now. They have been completely professional in their approach and they give us an overall perspective for each query we have." —Mohnish Wadhwa, Google Reviews
Guided in a proper way
"IMC Singapore is one of the best Consultant to set up company in Singapore, they have an excellent team of People who guide you right from the begining to start up new company in Singapore .We were guided in a proper way and all the work was done in a very professional way, they also helped us in opening up company bank account just in two days time." —Saket Brijendra, Google Reviews
18. Lionsworld Business Centre
Here's an option for startups. Lionsworld Business Centre isn't your ordinary corporate solutions company for one simple reason.
Beyond incorporation and secretarial services in Singapore, they actually have serviced offices and co-sharing spaces for rent. Setting up your own private office can be a bit hefty for startups, but we think that Lionsworld offers you a good run for your money.
Depending on your chosen office space and package, you're entitled to a whole bunch of facilities and services for a minimal monthly price.
For serviced offices, you get access to high-speed fibre internet, a dedicated landline phone and fax number, and printing equipment. Lionsworld is also conveniently located in Singapore's CBD area—another huge plus for companies!
And did we mention that there's also complimentary lunch, dessert, and coffee from Monday to Friday?
We think that all these features combined would go hand in hand with their corporate secretarial services, just so you don't have to worry about looking for several service providers.
We would've liked to get a clear picture of their prices for secretarial services in one place though, seeing that their rates are scattered all over their platforms. Still, you can always schedule an obligation-free consultation to finalise costs.
Customer Reviews
No hidden costs
"Good secretarial service, they do everything by properly and professionally. Complete and proper documentation provided to my company. The company also organizes many gatherings and networking events for clients for free! No need to worry about hidden costs, very upfront with all the procedures involved. Been with them for many years, will recommend their services!" —Emil Tan, Google Reviews
Documents were prepared and explained properly
"All the costs involved are stated clearly, all the documents were prepared and explained properly to me. Trust-worthy company." —Joelle Loi, Google Reviews
19. Gauge
Gauge functions like your next accounting and business solutions firm. They help you store and organise records, file annual taxes and returns, and more.
Their range of services isn't as extensive as the others but if you want a no-frills accounting firm that can get the job done, Gauge is a good option.
If there's anything we'd like to highlight about their services though, it would be sustainability reporting. They're one of the very few business solution firms that offer this niche service, which is a mandatory requirement for SGX-listed companies.
Seeing that this type of requirement has only been introduced a few years ago, it's safe to assume that not all companies are familiar with its guidelines. Since there's a lot of technicality involved in this reporting, you can ask them to help you out with this.
Apart from that, they do brand themselves as the preferred choice of SMEs and startups due to their low rates. The lack of packages and rates is a bit of a bummer though, and we're sure that companies would've liked to see these things readily available online as well.
Overall if you want a simple, straightforward, no-frills corporate secretarial service in Singapore, then this is a good match for you.
Customer Reviews
Demonstrated high levels of commitment
"Gauge has accompanied us on our SGX Sustainability Reporting process since 2017. They offered and demonstrated high levels of work ethic and commitment. We would highly recommend Gauge for your Sustainability Reporting needs." —Edward Chen, CFO of IEV Holdings Limited
Offers valuable business advice
"Gauge is the place to go for taxation and accounting services. Stephan and his team have been offering quality services and valuable business advice. I have no hesitation in recommending Gauge services to business owners on their accounting and tax matters." —Ernest Sim, Co-Founder at Grain
20. JSE Offices
Worried about shelling out a huge sum just to have an actual office space? Well, you can put your worries to rest when there are plenty of serviced office suites available in the CBD area.
One of them is JSE Offices—a company that promises affordable office suites, dedicated desks, and corporate advisory services. Their fully-furnished office spaces are perfect for budding businesses that operate on a limited budget.
Everything your business needs is already included when you get a suite or a dedicated desk—high-speed internet access, reception service, 24/7 security, printing and photocopying services, and even free-flowing refreshments.
What we love about them is that plans are flexible to accommodate clients who prefer short-term leases. No need to worry about being tied into minimum commitments since you can rent a desk on a daily basis or an office suite on a monthly basis.
The only downside is that there are no fixed packages when it comes to their corporate secretarial services in Singapore. You'll have to make special arrangements if you have several requirements that you need.
21. Accela 
Accela is a world-class firm offering a wide array of corporate solutions for businesses of all sizes. While they're most known for their work in the financial field, Accela also offers corporate secretary services and incorporation.
Clients will find that Accela is a highly flexible firm boasting a diverse team whose experience allows them to meet the needs of clients from different industries. They're also capable of working with small, local businesses and large-scale multinational companies.
Because of that, that also means that their packages are designed to suit the budget and needs of their clients according to their size.
For instance, SMEs and startups would likely benefit more from their basic package, which includes the most essential secretarial tasks including filing of annual returns and maintenance of statutory registers.
We found their pricing transparent and straightforward—no extras to be wary about. Furthermore, their rates are in the mid-range, which are truly the best corporate secretary in Singapore for SMEs and large companies alike.
22. Singapore Incorporation 
Finally, we have Singapore Incorporation—a firm that aims to provide cost-effective business solutions that's grounded on over 20 years of corporate experience.
While they may specialise in incorporating businesses, they also offer a wide assortment of packages including secretarial services, taxation and auditing, immigration assistance, to name a few.
As far as their secretarial services in Singapore are concerned, there's only 1 package available, which includes a whole bunch of basic and ad-hoc tasks including conducting corporate meetings and making plans for your company's growth.
Normally, we're a bit wary of these kinds of add-ons though, considering that they demand a lot of time and energy. These tasks also aren't normally expected from corporate secretaries either.
So if this is something you're curious about, we recommend clarifying the terms and conditions with them prior to engaging their services.
On the bright side, their hotline is open 24/7, making them accessible to the busiest of businesspeople and entrepreneurs. You can also expect a free initial consultation with them, so maximise it and ask them whatever question you have!
Hands down they're the best corporate secretary in Singapore if you want round the clock service.
23. JJ & E
With more than 10 years of experience, JJ & E has grown into one of the most in-demand corporate secretarial service providers in Singapore.
You can ask them for help in dealing with taxes, complying with business regulations, and of course, handling all secretarial concerns.
Unique to this company is that they provide corporate identity design services for businesses that are just starting out. Apart from logo designing, they also offer printing services for a variety of business essentials like common seals, stamps, letterheads, and more.
As far as their secretarial services are concerned, they offer all the essential services like the preparation of annual financial statements, and monitoring of deadlines. There are a couple of packages, which are arranged according to the duration of their services.
For instance, you can engage their services for a year only, or you can commit to them for 3 years to enjoy lesser rates. These introductory prices are only good for first-time engagements only though, in which they charge a standard rate for existing customers.
There are a couple of additional charges you can expect on top of your chosen package such as a resolution fee worth $50 to appoint them as your secretary and ACRA filing fees. Be sure to check the fine print as this can be a source of confusion for some.
Sadly, they don't handle work passes at all, which can be an inconvenience for companies who are looking to hire foreigners. If this is the case, we won't hesitate to tell you to skip this one.
Customer Reviews
Satisfying after-sales service
"I was referred by my friend and after listening to his positive reviews about the company, I had decided to take their Sevices. And, I was Totally overwhelmed by the response of the team. Not only they ensured timely opening of my company and company account, they had precisely explained each and every clause, charges etc. Even more satisfying is their after sales service. I live in a different country and have to rely on getting my things moving via chat and phone with JJ&E. As of today, my each and every query has been well answered and I am really happy with the professional behaviour and timely revert of my concerns/questions. Highly recommended." —Larry Behl, Google Reviews
Fees are reasonable
"Joanne has been very efficient and helpful. That is why I have been with JJ&E for the past 10 years. I've incorporated a few companies through her and the fees are reasonable." —Colin Chng, Google Reviews
24. Sleek 
If we can recommend a startup to any industry, it'd have to be Sleek. They're a corporate service provider in Singapore that specialises in digital and virtual services including corporate secretaries, accounting, and even visa filling.
At first glance, it looks like Sleek lived up to their name, seeing how streamlined their processes are. All you have to do is to create an account, choose your chosen package, provide company details, and they'll take it from there!
Their corporate secretary service fees are adjusted according to the number of shareholders in your company. Essentially, the more shareholders you have, the more fees you have to pay.
Our favourite thing about them is how insanely affordable their rates are. Regardless of your chosen package, their corporate secretarial rates are among the lowest on our list, making them an excellent choice for small companies with a limited number of shareholders.
While their corporate secretarial services include the basics such as the filing of annual returns and other pertinent documents, they don't include company strike-offs.
We think that this is just a minor setback, considering that strike-off services aren't always necessary, especially for conglomerates and growing businesses. You can avail this service for an additional fee though, just in case your company reaches that point.
Customer Reviews
Extremely helpful and patient
"Thoroughly impressed by the efficiency of the team, and ease of use of the Sleek platform. Oswyn was extremely helpful and patient in guiding us through the entire process, explaining each step clearly and answering all our questions – making the experience seamless and enjoyable. His resourcefulness was definitely appreciated, as well as his prompt responses and updates. Glad we chose Sleek!" —Christine Fernando, Google Reviews
Fast replies and very professional
"Great experience. Fast replies. Very professional. Very supporting. They made everything clear from the beginning. No "surprises". Very kind and thoughtful. Would recommend them to anyone who wants to set up a business in Singapore and start creating without worrying about the "paperwork". Sleek is a great ally to have. Thank you." —Theodora Voutsa, Google Reviews
FAQs about Corporate Secretaries in Singapore
---
Of course, no two corporate secretaries are alike. At the end of the day, what's most important is that your chosen secretary must have a solid foundation of knowledge when it comes to rules and regulations.
They must also be reliable and organised, seeing that they'll be spending a lot of their time keeping your company's officers, directors, and board of directors in the loop on legal matters.
And with that, we conclude our list of the top options for the best corporate secretaries in Singapore. Have you already decided on which company to hire? Tell us all about it!
If you know of other corporate secretaries in Singapore worth checking out, share their names with us, and we'll see if we can include them in our list.
By the way, if you're in need of a team who will handle your employee's payroll, we recommend checking out our list of the best payroll services in Singapore. Our list features some of the most trusted companies that offer payroll and other corporate services!