The 20 Best Payroll Services in Singapore
By Lindsey Tan
Starting up a business demands a lot of things and this includes managing the payroll of every employee. If you don't have the resources to handle this task, relying on an advanced platform that offers the best payroll services in Singapore can be your ideal option!
Searching for the right one where you can fully entrust your transactions and finances is a tough job, though. That's why we're here to help.
We've looked through each service provider until we found the top ones that offer the best payroll services in Singapore. They're highly competent and have accessible rates so you'll certainly find the perfect one for you in our list below!
1. Agile Human Solutions
| | |
| --- | --- |
| BEST FOR  | Human Resources Outsourcing |
| WEBSITE | https://www.agilehumansolutions.com/ |
| ADDRESS | 120 Robinson Rd, Level 15, Singapore 068913 |
| CONTACT DETAILS | 65 3159 4151 |
With 25 years of experience, Agile Human Solutions should definitely be one of your top options for the best payroll services in Singapore. It has worked with small, medium-sized,  and large corporations throughout its years of operation, proving that it caters to the needs of every business type.
Some of its services include corporate immigration, professional employment organisation, talent advisory, and of course, payroll services. So, it will not only provide support for your business but ensure that your employees are taken care of as well.
Highlights
25 years of experience
positive engagement with other countries
Experienced HR professionals
2. SBS Consulting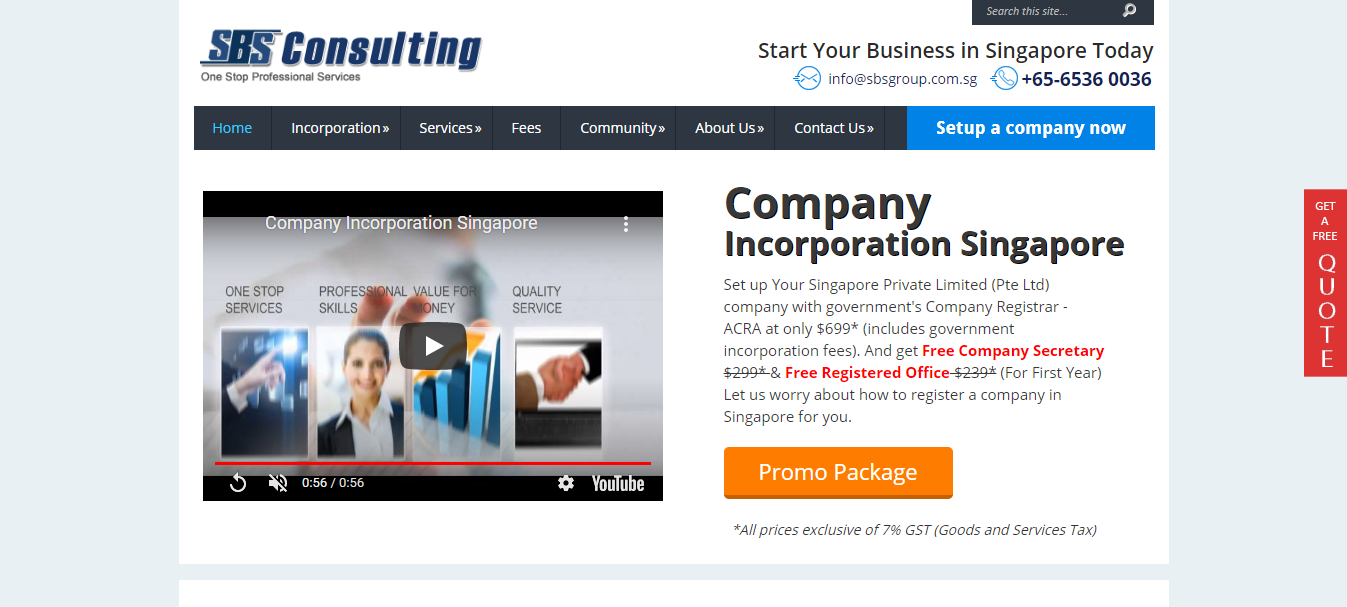 SBS Consulting offers a wide array of corporate solutions such as accounting services, bookkeeping, taxation, GST reporting, and payroll services. Over its years of operation, it has managed to earn the trust of small and huge business in terms of handling some of their human resource operations.
What's more, SBS Consulting boasts a team of professional and experienced accountants, auditors, and HR personnel who will ensure that your employees are paid on time and correctly. It also has an optimized and effective system to process a company's payroll more efficiently.
Above all, SBS Consulting will make sure that your company continues to comply with government rules and regulations. It's indeed the top option for the best payroll services in Singapore.
Highlights
Free quote
Experienced HR personnel
3.  ActivPayroll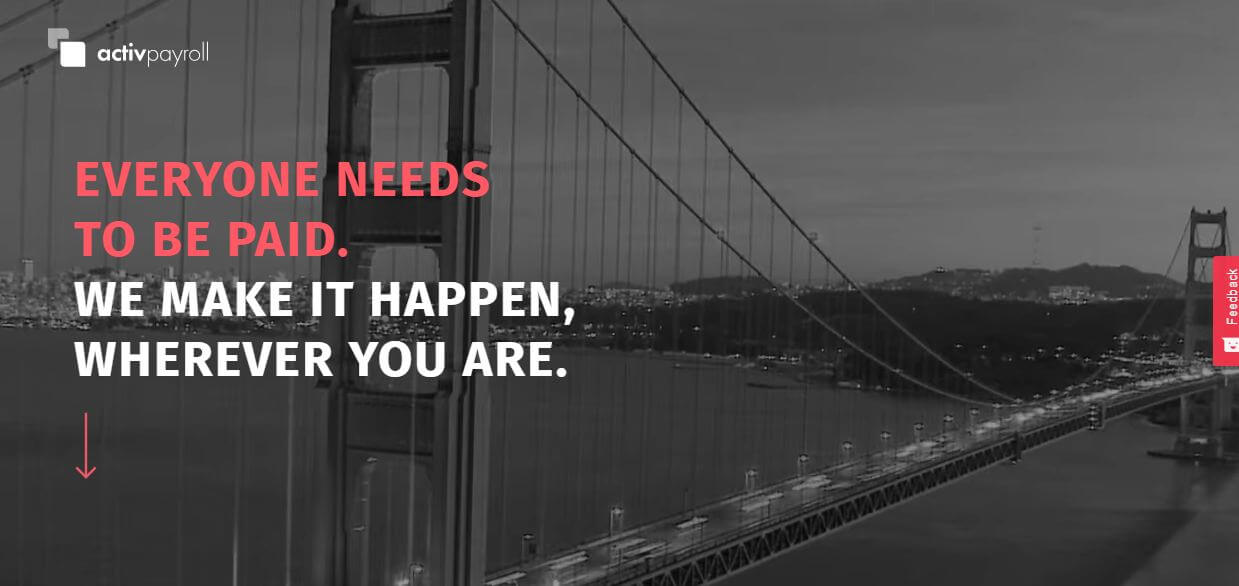 | | |
| --- | --- |
| BEST FOR  | Global business expansion |
| WEBSITE | https://www.activpayroll.com/ |
| ADDRESS | 101 Thomson Road, #27-03A United Square, Singapore 307591 |
| CONTACT DETAILS | 65 6351 9620 |
| OPERATING HOURS | Weekdays: 10am–6pm |
For an advanced payroll system that you can use for your business expansion, ActivPayroll provides global services where you can maximize the efficiency of each transaction and achieve successful expansion goals.
They'll also take care of your employment tax and legislative requirements, which are quite complex to manage if you're going global. They feature advanced applications that serve specific goals and with all of these combined, you can enhance the efficiency of your business operations.
With these features, they truly offer the best payroll in Singapore for international businesses.
Highlights
International payment solutions
Advanced applications
4.  ADP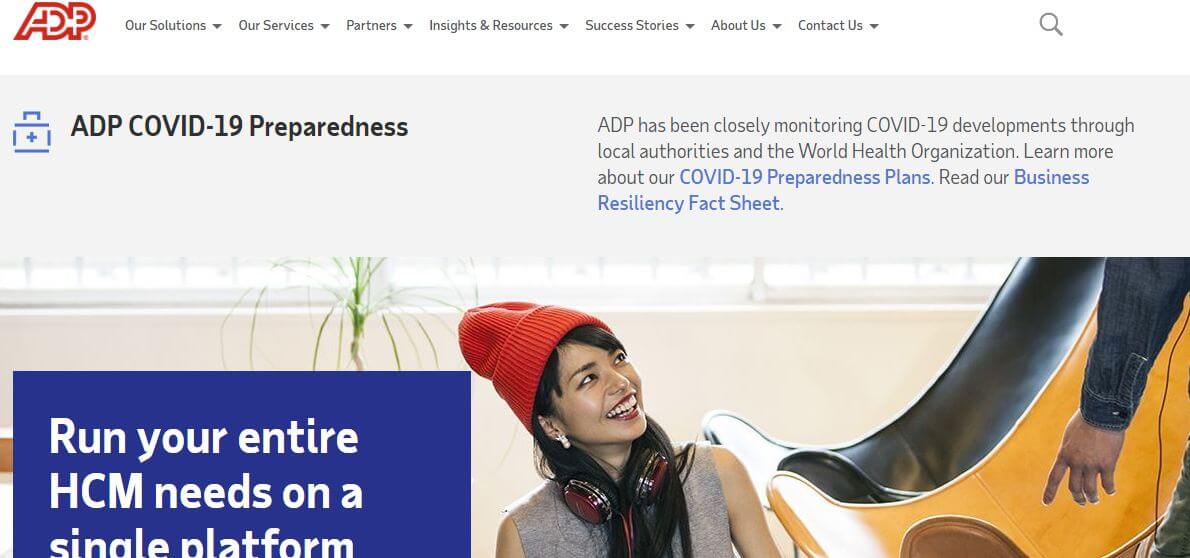 | | |
| --- | --- |
| BEST FOR  | Multi-country payroll system |
| WEBSITE | https://www.adp.sg/ |
| ADDRESS | 78 Shenton Way, Singapore 079120 |
| CONTACT DETAILS | +65 6701 1353 |
Whether you have a small, mid-size, large, or even multinational business, ADP can serve you with the best payroll services in Singapore!
The most notable feature of their platform is that it can be locally managed and centrally controlled at the same time, making it an ideal choice for a multinational business.
With their cloud-based platform, you can access the system whenever and wherever you are, leaving you with secure, accurate, and timely transactions. They also have employee self-service portals for leaves, payslips, and year-end income filling forms.
Highlights
Cloud-based platform
Employee self-service portal
5.  BIPO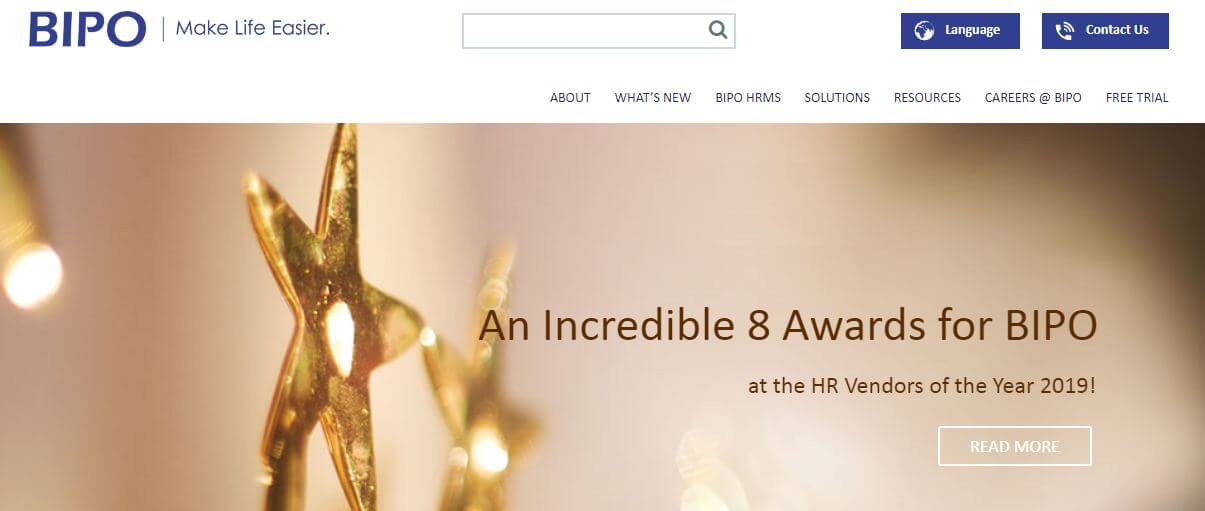 | | |
| --- | --- |
| BEST FOR  | Flexible feature for labour and tax management |
| WEBSITE | https://www.biposervice.com/ |
| ADDRESS | 230 Victoria St, #15-01/08, Singapore 188024 |
| CONTACT DETAILS | +65 6813 0610 |
| OPERATING HOURS | Weekdays: 9am–6pm |
The well-developed HR solutions of BIPO can be accessed through desktop and mobile platforms, making it easier, faster, and more convenient to manage tasks such as payroll management.
On their payroll solutions, they feature various practices of different industries including the labour and tax laws in each country.
With these flexible features, such adjustments will be more time-efficient, resulting in more productivity at work. They've served many established companies, proving that they offer the best payroll services in Singapore.
Highlights
Desktop and mobile platforms
Flexible features
6.  Elements Global Services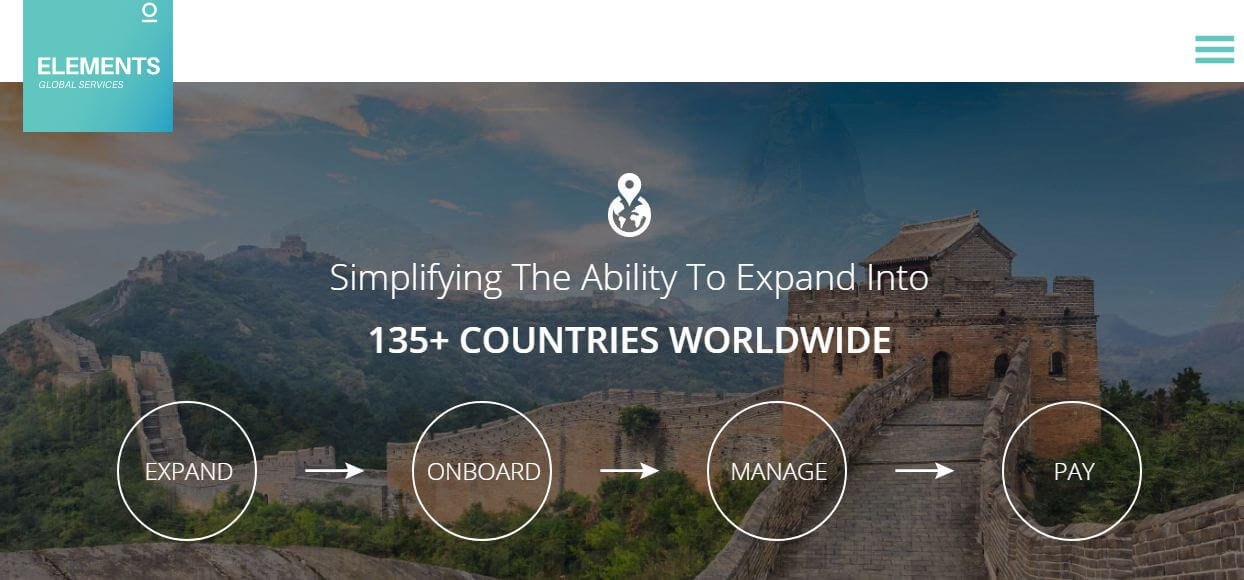 | | |
| --- | --- |
| BEST FOR  | All-around platform |
| WEBSITE | https://elementsgs.com/ |
| ADDRESS | 57 Mohamed Sultan Rd, Singapore 238997 |
| CONTACT DETAILS | +65 6653 7497 |
Elements Global Services have provided exceptional payroll solutions for businesses all over the world. They can help you manage all international employees with regional accounting and tax regulations and ensure that they'll be paid on time with an accurate calculation.
Their payroll platforms feature specialised reports, self-management portals, tax compliance, multilingual capabilities, and more. These are the reasons they're known to offer the best payroll services in Singapore!
Highlights
Dynamic platform
24/7 customer support
7. Singapore Payroll Outsourcing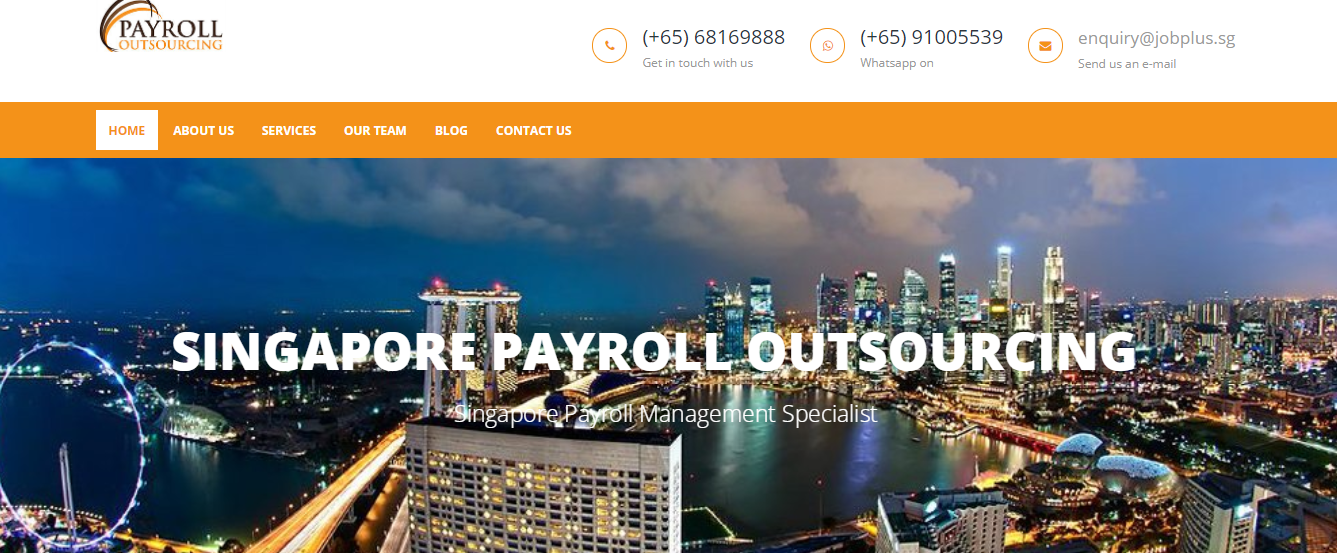 If you're searching for a payroll service that offers a wide range of services, then Singapore Payroll Service is the perfect option for you! Some its services include contact staffing, HR outsourcing, salary processing, salary disbursement, bookkeeping, tax services, & a whole lot more.
More than this, Singapore Payroll Service can assist companies in searching for employees, as its parent company is an employment agency known all over the island.  It's the best option for both start-up and huge companies looking to lessen the workload of its employees.
With their wide selection of services, you will be able to focus on the core of your business without getting distracted.
Highlights
Professional staff
Recruitment services
8. ACE Financial Accounting

With over 12 years of experience, Ace Financial Accounting is definitely a payroll service to be trusted, with clients from both small and medium-sized businesses.
It knows that businesses have different needs, which is why it provides customised accounting advice to accommodate the varying needs of its clients.
What makes it an effective payroll service provider is that it draws inspiration from research and employs only experts in the industry. Some of its services include secretarial services, accounting services, tax services, & audit services, among others.
Highlights
12 years of experience
Customised solutions
Customer satisfaction
9. Felton Management Pte Ltd
Felton Management is a payroll service provider that caters to the needs of start-up companies, which range from accounting services to corporate secretarial services. Its team is composed of experienced and skilled individuals with years of experience under their belts, so rest assured that your company will be in great hands.
What's more, its team is updated with the current tax laws to ensure that client companies comply with their tax obligations. You will be informed of your tax obligations while Felton Management is trying to find ways to cut down your overall tax liability.
Highlights
Experienced team
Wide-range HR and accounting services
10. Payroll Serve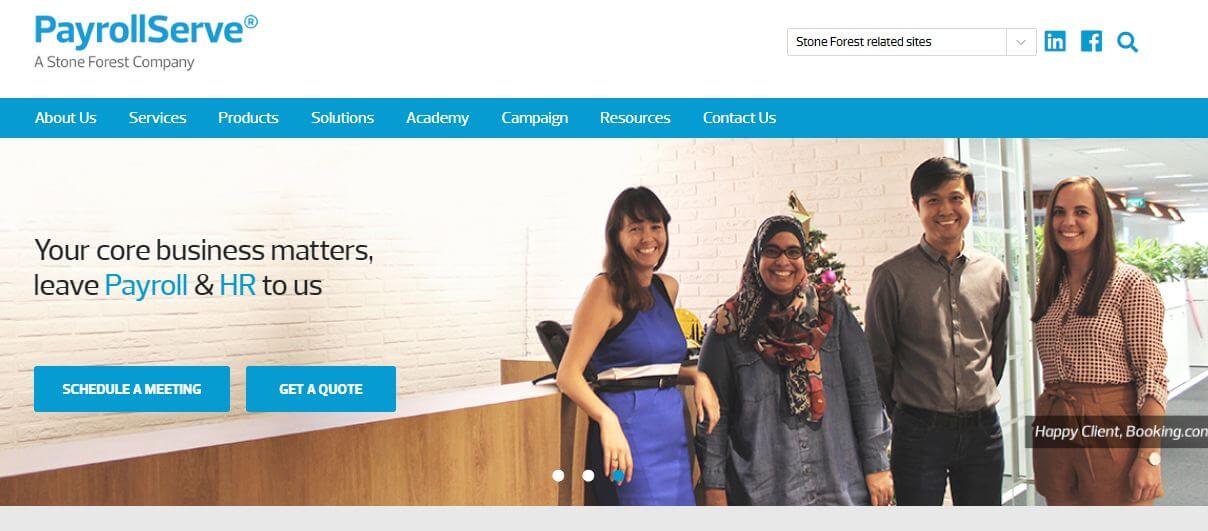 With the payroll services of Payroll Serve, you can rest assured that the calculations are precise, employees are paid on time and all transactions are compliant with strict regulations.
This award-winning company offers a complete set of services including managed leave, claims, work pass, health check, tax filing, and more.
Aside from these, they also provide HR services that involve necessary employment documents and various templates for the company's terms and policies.
They have a total of three payroll system products and each is designed for certain purposes such as the payroll management, HR system, and leave application approval — this is the main reason why they're known to have the best payroll services in Singapore.
They offer their solutions to foreign and local business, startups, small and large corporations, and different industries. So regardless of the type and size of your company, you'll be able to access their services.
Highlights
All company types, sizes, and industries
Full range of payroll and HR services
11. Ideal Corpserve Pte Ltd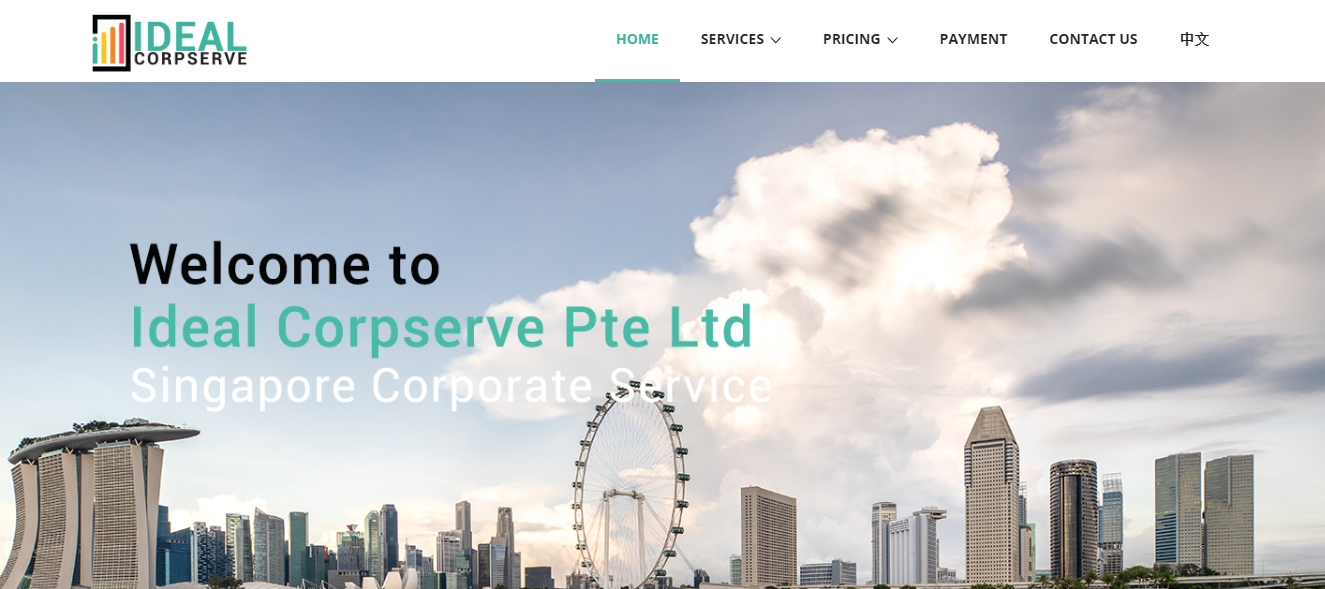 Ideal Corpserve makes the workload of its clients lighter by doing many of the tasks essential to growing their business, such as payroll management, recruitment, work pass administration, accounting, filing of taxes and ad hoc HR & Admin process outsource etc.
One of its goals as company is to allow the leaders of companies to focus on the functions of their business and not worry about anything else.
Ideal Corpserve is a company worth hiring for its affordable rate, experienced professional staff, quality service and customer centric solutions.
Highlights
Quality Service & customer-centric solutions.
Experienced professionals
Competitive rates
12. Bestar Services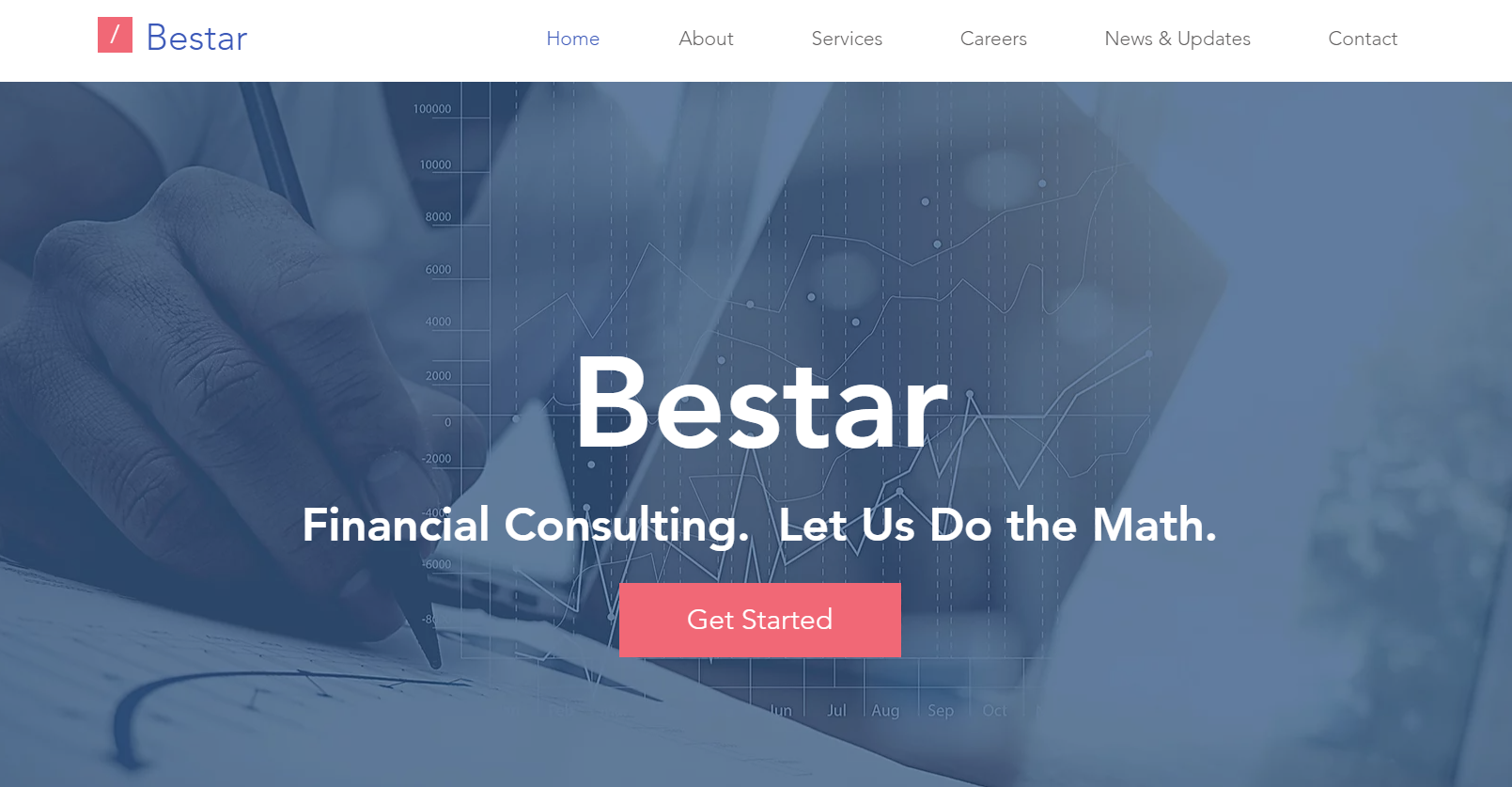 If you're looking for corporate outsourcing company that offers an extensive array of services, then you might like Bestar Services! Some of its services include payroll managing, auditing, consulting, financial advising, HR support, and corporate taxation.
One of its services that we can firmly stand behind is payroll management. It uses a sophisticated, advanced, and cost-effective platform to ensure that employees are paid correctly and on time.
More than this, Bestar Services offers its payroll expertise at an affordable price without compromising the quality of services.
Highlights
Competitive rates
Wide range of services
Web-based platform
13. Alchemy

BEST FOR 
Professional HR Practitioners
WEBSITE
https://apl.com.sg/
ADDRESS
2 Kallang Avenue, #08-19
CT Hub @ Kallang, Singapore 339407
CONTACT DETAILS
65 9846 9989 | [email protected]
Alchemy Private Limited has been working diligently to deliver high-quality services to all companies in Singapore. Their main aim is to take away your worries so that you can focus on your business and managing your human capital.
With the help of their payroll expertise, Alchemy strives to provide accurate and compliance payroll services at an affordable price. They offer enhanced HRM Softwares to cater to your needs and it is a cloud-based with app features such face recognition for verification, e-payroll, e- attendance, e-leave, e-claim, and more!
Highlights
Cost-Effective and Time-Saving
Compliance with Government Regulations
Enhanced Security
14. Info-Tech Systems Integrators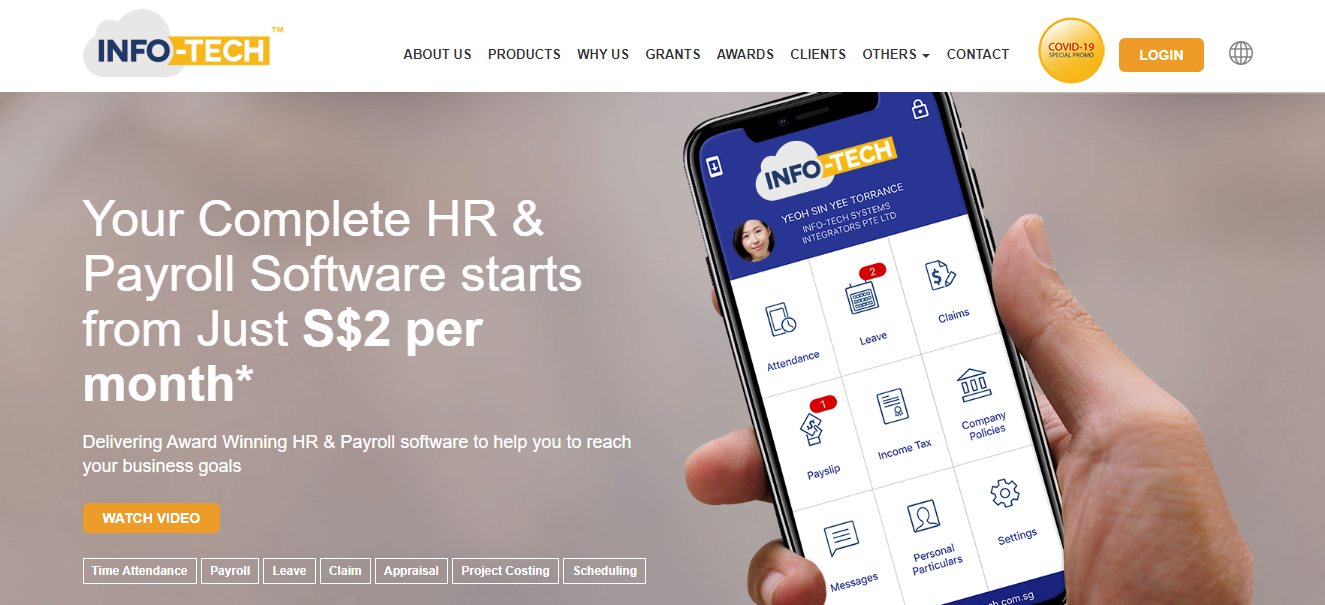 | | |
| --- | --- |
| BEST FOR  | Professional HR Practitioners |
| WEBSITE | https://www.info-tech.com.sg/ |
| ADDRESS | 30 Kallang Place, #07-14, Singapore 339159 |
| CONTACT DETAILS | +65 6297 3398 | [email protected] |
Info-Tech System Integrators has been helping companies manage their payroll for 21 years now, providing them with cost-effective software that makes everything easier and more convenient than it already is.
With this, for instance, your HR staff no longer have to manually keep track of your employees' movements (from absences to leaves) because the software takes care of everything!
To make it even better, Info-Tech System Integrators offers it systematic payroll software for as low as $2 a month! Imagine having software that makes managing payroll easier without having to spend thousands of dollars. Well, you have that with Info-Tech!
Highlights
Cost-effective software
Affordable software
15. JM Management & Accounting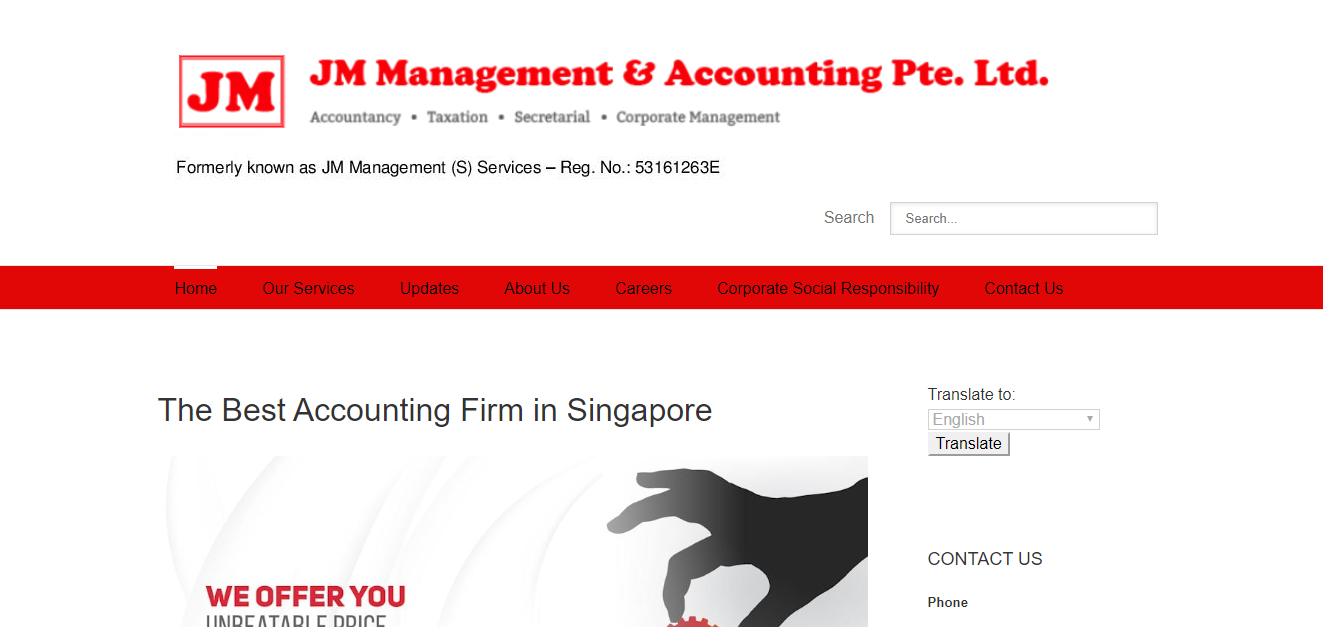 JM Management & Accounting is one of the leading firms that offer corporate solutions to small and big companies in Singapore. Some of its services include secretarial services, virtual office address, accounting and bookkeeping services, auditing, taxation, and of course, payroll services.
It also caters to a wide variety of industries, including food and beverage, insurance, media and advertising, photography and videography, travel agency, and a whole lot more.
Its also known for offering its services for a much lower price compared to its competitors. Despite this, it promises to never compromise the quality of its services.
Highlights
Competitive rates
Trained team members
16. Liberte Consulting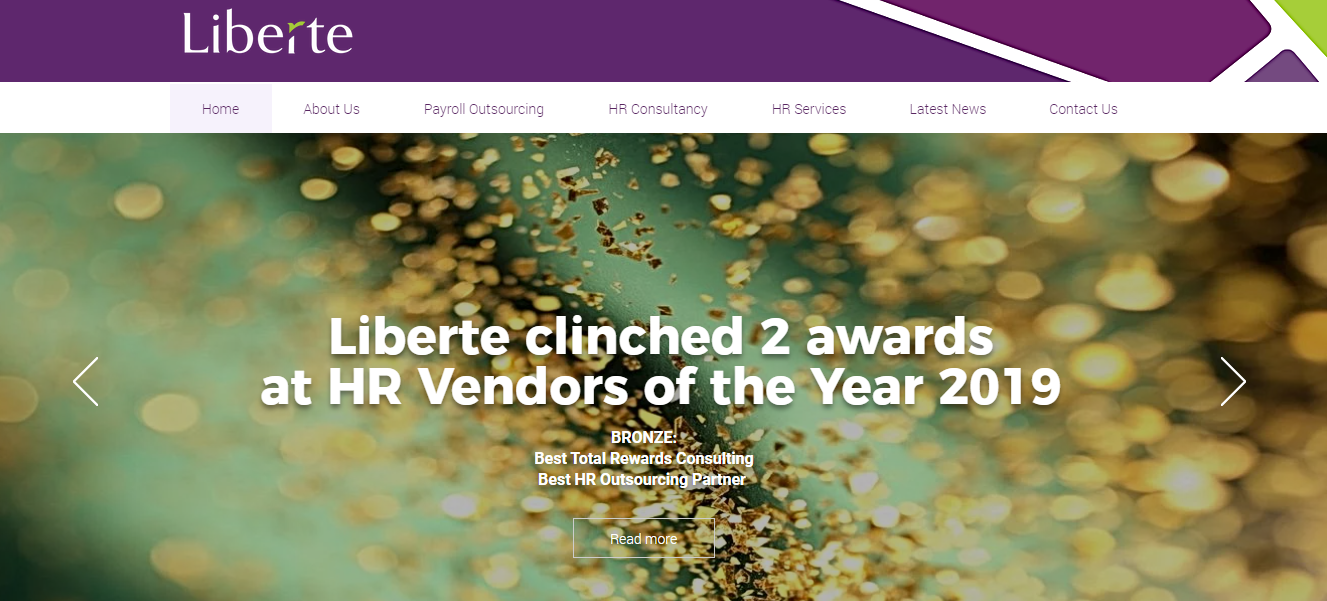 If you want to lessen the workload of your human resources team, then you'd definitely want some help from Liberte Consulting. It provides HR outsourcing services to companies in Singapore to allow their human resources team to focus on more pressing matters.
Liberte Consulting also has an efficient payroll platform that can handle HR functions more effectively, so rest assured that your money's not going to waste. It also has a team that will keep your company up to date with the changes in tax policies and legislation to ensure your company's compliance.
Highlights
Affordable and flexible
Efficient payroll system
17. AYP Group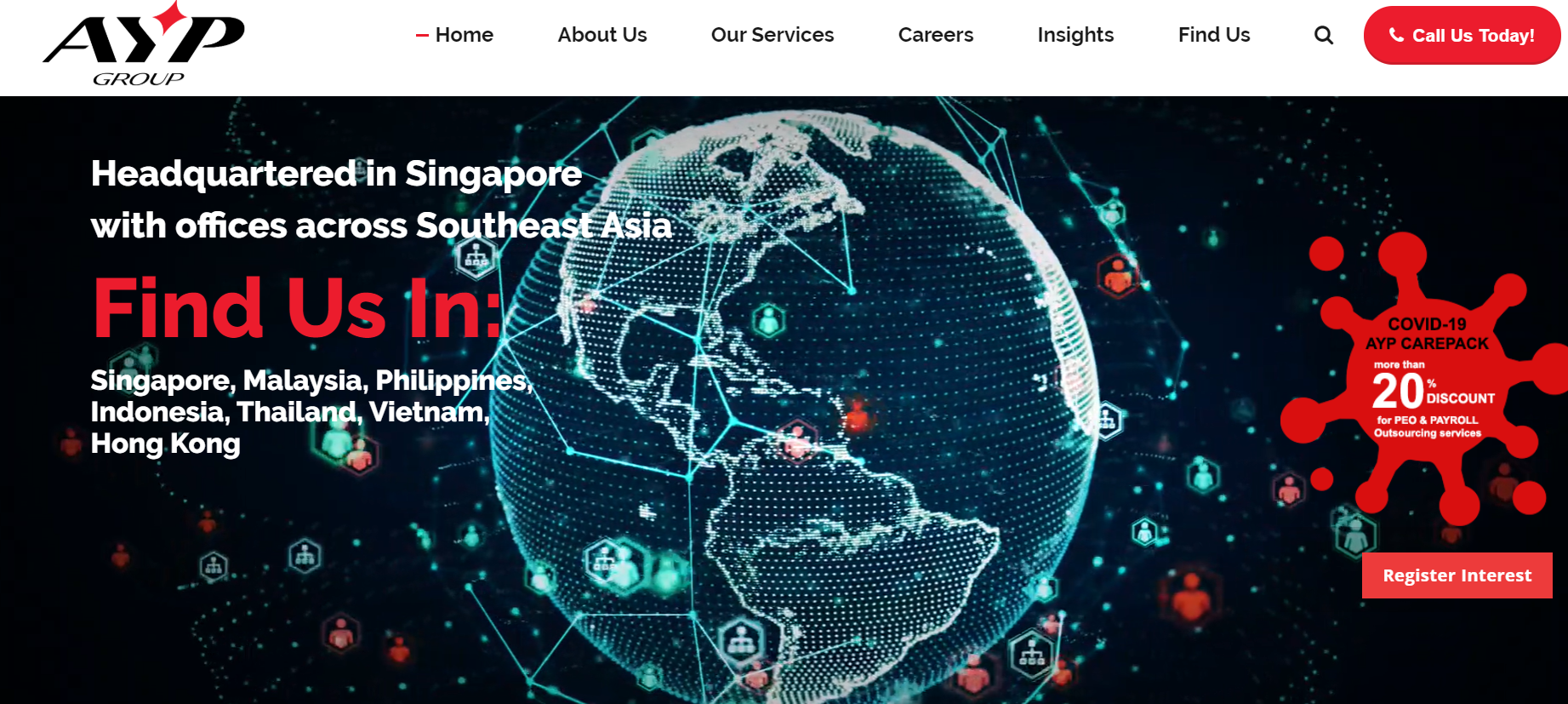 The AYP Group operates on three (3) principles: Simple, Swift, and Secure yet again. Secure stands for the group's dedication to providing a straightforward and hassle-free service.
With that being said, AYP is known for 3 core services, two of which can help you with any and all payroll needs. These are their Payroll Outsourcing Management and JuzTalent, the latter of which is the group's HRMS Solution option.
So, if you're interested in a group that's committed to not only growing continuously but helping their clients do the same, then the AYP Group should be your first pick for payroll services.
Highlights
Professional Employer Organization (PEO)
Payroll Outsourcing Management
JuzTalent (HRMS solution)
18. Accounting Solutions Singapore

Accounting Solutions Singapore truly encompasses everything that their name stands for. Entrepreneurs who are establishing or have established a presence in the world of business will find that managing their organisations will be much easier with Accounting Solutions Singapore by their side.
This is because the company offers extensive accounting and payroll services to all of their clients, allowing entrepreneurs to focus on other parts of their business.
The payroll services that Accounting Solutions Singapore has to offer is as comprehensive as it gets, including salary items' calculations based on company policies and Singapore statutory requirements. Aside from that, their team will make sure that every data is accurate, making for on-time filing for their clients.
Highlights
Transparent Pricing
Quality and Efficient Services
Competent Team
19. Oaktree Cloud Solutions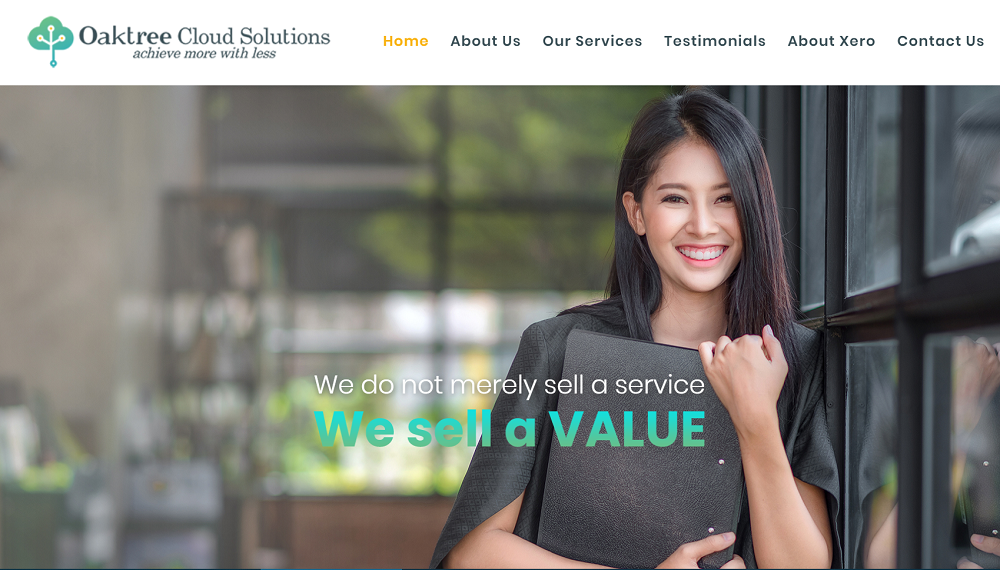 Formed by experienced CPA Cloud accountants, Oaktree Cloud Solutions is your best bet when it comes to payroll services.
They have already mastered the art of using technology to reduce the amount of work imparted on paper works and various manual labors. Oaktree Cloud Solutions believes that efficiency and faster methods that don't compromise the quality of works are essential in building a business in the 21st Century world where innovation is prominent.
With Oaktree, you can never go wrong and can rest easy knowing that they can provide you the best service when it comes to numbers in business.
Highlights
Retail and eCommerce Specialist
Xero Adviser Certified
Professional Service
20. Info Tech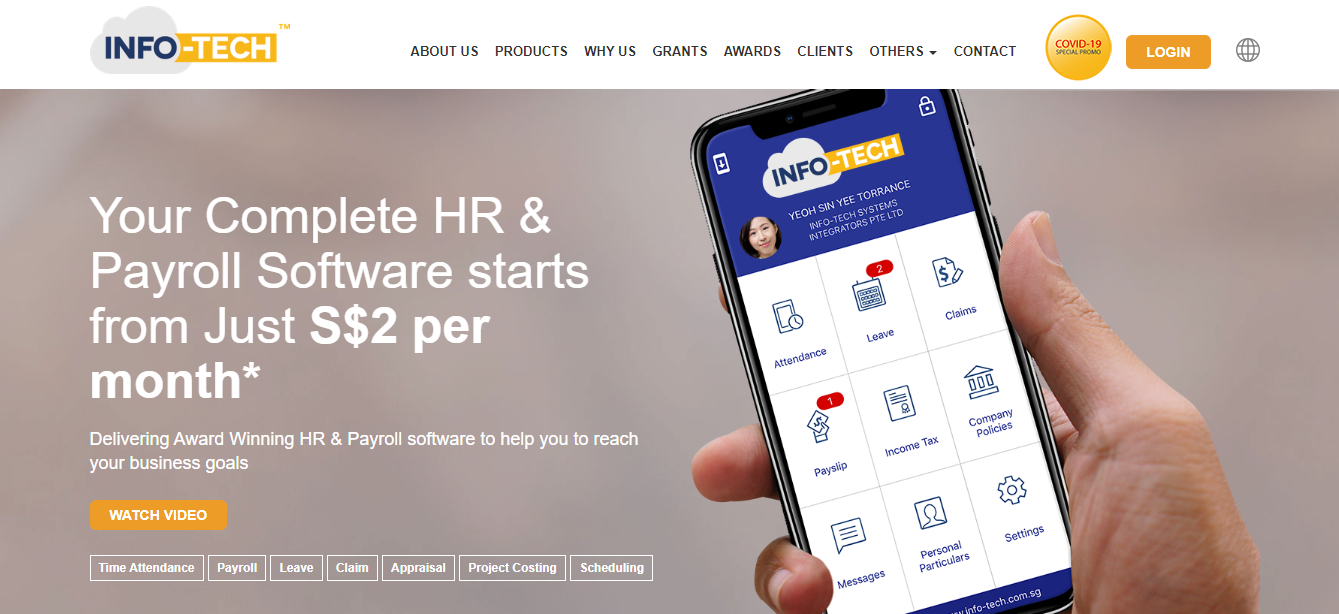 Info-Tech is a next-generation global technology company with over 25 years of experience in Singapore, currently operating in their offices in countries such as Singapore, Malaysia, Hong Kong & India.
The price of their award winning HR & Payroll software starts at as low as $2 a month. It is easier to use since it is readily accessible at the tip of your fingers, thanks to its first mobile app with complete HMRS & Payroll Software.
Their app features include fingerprint/face recognition for verification, e-payroll, e-project costing, and more! These are the reasons why they are awarded for their excellency in offering best payroll services in Singapore.
Highlights
User friendly and Comprehensive HR Software
Dedicated & Aggressive Management
Well Organised Company
That's it for our list of the best payroll services in Singapore! If you know of more options, tell us more about their services as we may also add them to our list.
To help you with managing more business operations such as monitoring negotiations and keeping track of every transaction, see our list too of the companies that do the best bookkeeping in Singapore. Some of them also provide payroll solutions, so you might also be interested in those selections.