Our 12 Picks for the Best Payroll Software in Singapore
Payroll is a complex matter you have to figure out to avoid tax penalties and employee dissatisfaction. But if you're getting tired of making spreadsheets, why not just use the best payroll software in Singapore?
Here, you'll find a list of the top software programs and applications for your business. We also answered some FAQs, so be sure to read until the end of the article.
But before anything else, we'll first share with you tips on how to choose the best payroll software that's suitable for your business.
Accounting Software Vs. Payroll Software
Accounting software only shows your company's transactions, with payroll accounted only as another outflow. Details on the payroll, such as how much each employee is getting, may be excluded in most accounting programs.
If you already have accounting software, you may also already have payroll software integrated to your system.
Here are just some of the accounting programs that may have payroll services as an add-on:
Quickbooks
Wave
XERO
Freshbooks
Sage
However, payroll as an add-on tends to have limited features since it would only include the financial side of things, excluding the HR side of it.
On the other hand, some payroll programs are also readily compatible with free accounting software. So, having a payroll software then integrating it to an accounting program may be a better option for you.
How to Choose the Best Payroll Software
The following factors and features are what you should consider before making a deal with your prospective payroll software provider or developer.
1. Number of employees
Payroll software can cost more if you add more employees overtime. Some even have a cap for maximum employees.
So, make sure you're getting payroll software that can accommodate your projected HR growth within the year.
2. Accessibility
Payroll software can come as online websites or as desktop applications. If you choose online software, you'll be able to access it anytime, anywhere, using any device.
On the other hand, if you choose a desktop application, you can only access it on one device. So, if you're more of a dynamic person, we suggest you find online payroll software that's also mobile-friendly.
3. Security
Given the last factor, you should also ensure that you'll only be dealing with a safe and secure network. Imagine if your employee's account numbers and your business's finances were leaked; what a disaster, right?
So, ask your potential provider about its software security for good measure. Make sure they have data encryption, firewalls, and multi-step verifications before anyone can access crucial files.
4. Payroll frequency
The more frequently you use your software for payroll, the more you may spend. If you're a new business, you may still be deciding on what payroll frequency best suits your company.
So, make sure you purchase payroll software with a flat rate for whatever payroll frequency you may have.
5. Add-ons
Some add-ons may include computing and reducing the taxes for you, accounting for employee hours, and factoring in supplemental wages like tips and commissions.
Additionally, there are also software programs that provide year-end or quarter-end reports complete with financial analysis. So if you want that but don't have time to build an accounting department, make sure your payroll software offers summary reports and analysis.
Some add-ons you may find from payroll software may already be an automatic feature in another software. So, make sure you get software that can accommodate all your desired features as default.
6. Interface and system
You'll be paying for payroll software to make things easier for you, right? So, you wouldn't want to get software with an ugly interface and alienating instructions and controls.
Acquire software that you can easily understand. You can also opt for one that's easily customisable to suit your specific needs.
7. Support
Last but not least, you should only get payroll software from a company that you can easily reach via phone or email. The developing company should be able to answer should you encounter problems with your software.
Aside from being easy to reach, the company's support team should also be easy to understand. The better their team is with communicating, the more likely it is that you'll be able to follow their techy instructions and resolve your issue.
To check all of these features, you can read their website and reviews, ask for recommendations, or choose from our list! You can also ask for free trials, if there are any, so you can test out the software before committing to it.
How Much Do Payroll Services Cost
Usually, payroll software has a basic flat rate and additional rates per additional employee. Some may even charge more for more frequent payroll activities.
| | |
| --- | --- |
| Type of expenses | Price range |
| Base fee | $10-$150 per month |
| Additional cost | $4-$15 per employee per month |
You should know, by the way: some payroll services also brand themselves as free but you may find yourself paying more for additional features.
The Best Payroll Software for Your Business
Now that you know how to choose payroll software and how much it should cost, it's time to choose one. Here are our picks for the best payroll software programs in the country.
1. BrioHR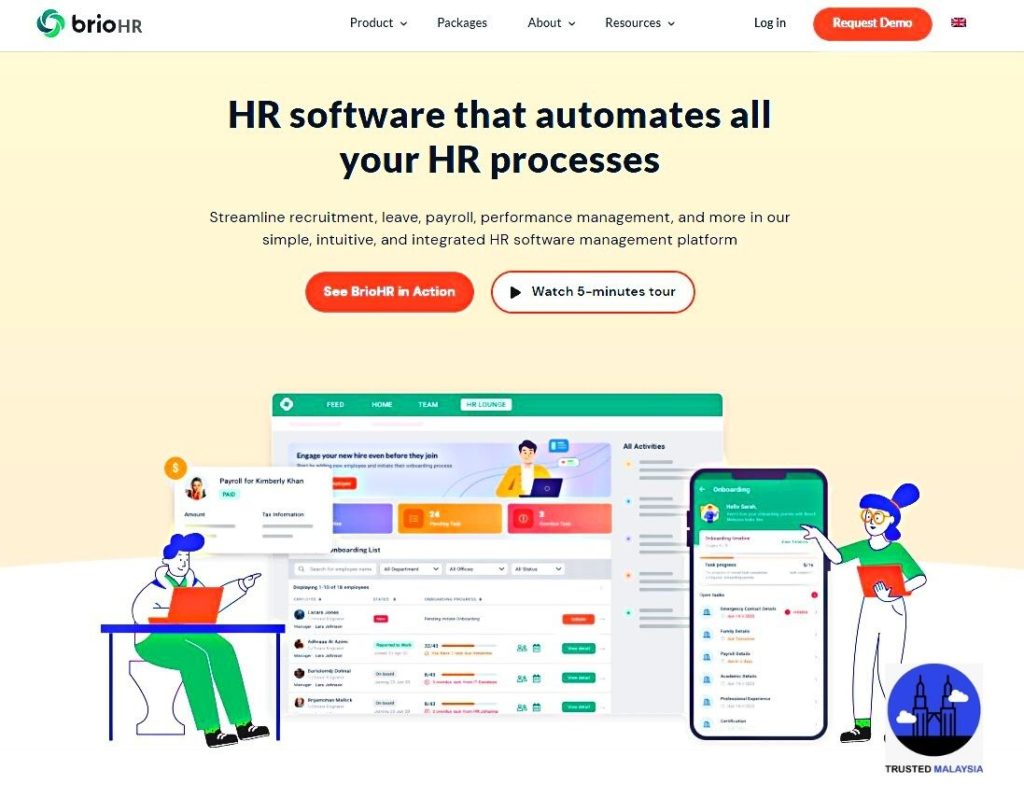 | | |
| --- | --- |
| SERVICES | Software provider |
| PRODUCTS | Payroll, leave and time off, digital employee profile, performance management, new joiner onboarding, timesheets, expense claims, reporting & analysis, and recruitment & applicant tracking software. |
| WEBSITE | https://briohr.com |
| ADDRESS | 160 Robinson Road #14-04 SBF Centre Singapore 068914 |
| OPERATING HOURS | Monday – Friday, 9:00 AM – 6 PM |
BrioHR is a software provider that offers easy-to-use and intuitive software that has enabled HR teams and business owners from over a thousand organizations to focus on the important things.
Their HR software is recognized for being comprehensive and an all-in-one software, able to automate repetitive tasks and engage employees for maximum efficiency.
Aside from that, they also have an amazing payroll software available in Singapore and Malaysia. It automatically calculates all salary-related data saving you the hassle and time of manually checking them.
Expect a detailed payroll history and individual payroll information when using their payroll software. Additionally, the payslips are securely stored on BrioHR's platform and everything can be referred to with a click of a button.
What we liked about BrioHR is that they don't randomly drop hidden fees and they also offer a free demo of their BrioHR software. They also provide first-class customer support and secure payment methods.
See BrioHR's software and get a free trial.
User-friendly software
Great customer communication
No hidden fees
Customer Reviews
User-friendly interface, helpful support system, and values money
"User friendly interface, helpful support system, value for money. Still developing many new features and they do listen to user feedback. Worth a try, if you are looking for a holistic solution." – Shereen Kaur Sandhu
Easy-to-use and highly effective
"Great HRIS platform, especially so for companies with staff mainly in Asian regions. Convenient, easy-to-use, and highly effective. Team is extremely receptive to feedback and highly supportive." – Benjamin Toh
2. Payboy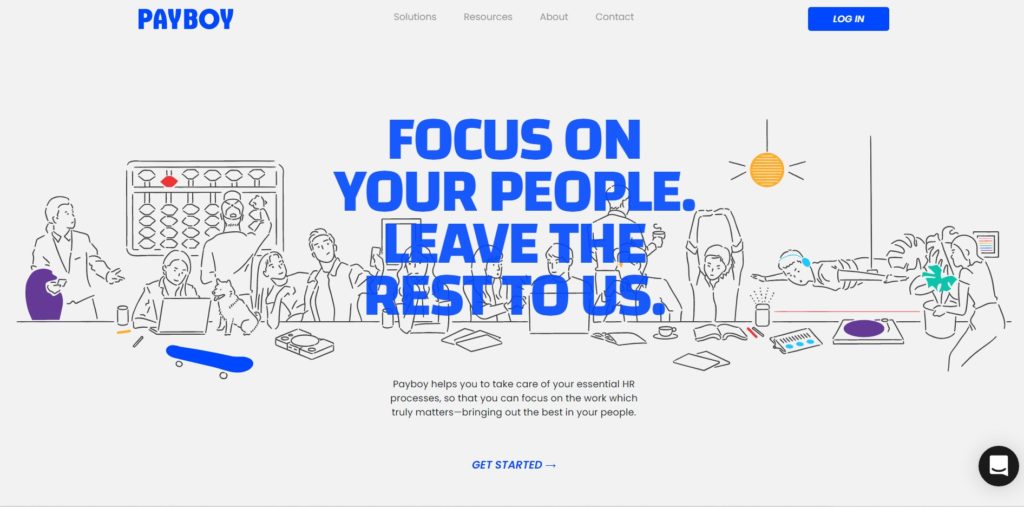 BEST FOR
HR solutions
SERVICES
Payroll Processing
Leaves Management
Claims Management
Time Attendance
Shift Scheduling
Appraisal System
Project Costing
Applicant Tracking
Inventory Management
Training Management
WEBSITE
https://payboy.biz/
CONTACT DETAILS
+65 6513 1175
PRICE
Contact for more details
Payboy is a payroll software that can be downloaded on personal computers or used online. The most significant advantage of the software is that it offers all the necessary features for calculating payments to employees with respect to their different types of remunerations.
It has been designed both for employers and employees, with each side benefiting from the presence of this software. Employers are able to manage payments in an easier way, without having to spend time doing calculations manually.
On the other hand, employees may access their salary information at any time, not just at payday. They can also see how much money they have left until next payday arrives and how much they will receive every week after taxes are added up.
We can recommend Payboy as it simplifies the monthly processing of payroll for organizations by giving them access to pay stubs, tax reports, and employee information. With Payboy, businesses can be sure that they are fully compliant with the law, saving them time and money.
Simple and easy-to-use interface

Compliant with Singapore's payroll-related legislation

Comprehensive system
Covid Safe+ Management module for ART tracking
Integration with other HR software is still in development
3. QuickHR
SERVICES
Payroll management, leave management, claim management, timesheets & attendance, scheduling & shifts, mobile & tablet apps, biometrics, performance appraisals, applicant tracking system, learning management system, reports & analytics, and employee database software.
WEBSITE
quickhr.co
ADDRESS
60 Paya Lebar Road, #07-38 Paya Lebar Square, Singapore 409051
CONTACT DETAILS
+65 6908 8158
[email protected]
OPERATING HOURS
Monday – Friday, 9:00 AM – 6 PM
Seeking one of the best payroll softwares in Singapore? Try out QuickHR and be mesmerized by their cost-effective and robust integrated management system available for businesses of all sizes in the global market.
They started in early 2013 with the goal of replacing traditional server-based Human Resource Management Software (HRM) with HRM in the cloud, making it accessible anytime from anywhere. QuickHR was developed to make this idea a reality.
Today they are capable of providing not only a magnificent HR management system but also a variety of management systems including their payroll management system which has been well-received by their previous clients.
Some key features their payroll software has is their seamless integration. Its system, which is designed with CPF formulas, auto SDL deductions, Bank GIRO, and CPF submission functions, provides detail-oriented data and analytics such as monthly payroll summary and year-to-date summary.
In addition, they liked how it is tailored for any payroll schedule and work arrangement thus giving you tons of options and flexibility on your payroll needs. It is fully capable of catering full-time, part-time, and freelance employees. It can also  be used for different payment periods or pay cycles (monthly, bi-monthly, daily and even ad-hoc payroll)
Flexible payroll software
Seamless integration
Enhanced data security protection
Prompt customer support
Customer Reviews
Quick HR has been a game changer for our company!
"Quick HR has been a game changer for our company! Their easy-to-use HR platform has streamlined our HR processes, saving us time and money. Their customer support is also top-notch – always quick to respond and provide helpful solutions. I highly recommend Quick HR to any company looking to simplify their HR management." – Bharathkumar Kilari
I recommend QuickHR if you are looking for a comprehensive HR Suite.
"The customer service in Singapore office is really responsive and helpful. Once you get used to it, it is easy to operate. I recommend QuickHR if you are looking for a comprehensive HR Suite. Thanks Team QuickHR keep up the great work." – Lewis Taylor
4.   Ramco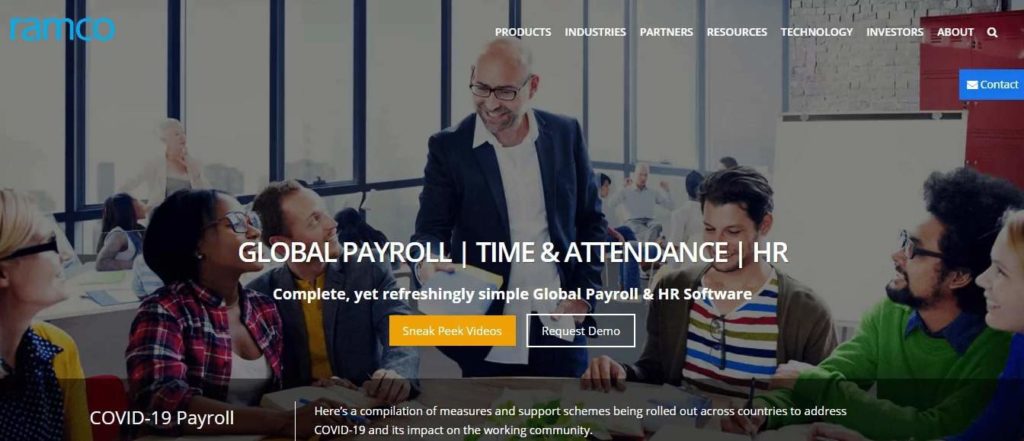 | | |
| --- | --- |
| BEST FOR | Wide range of services |
| SERVICES | HR services, payroll system, and time and attendance |
| WEBSITE | https://www.ramco.com/ |
| PRICE | Message for a quote |
Trusted by MNCs from over 35 countries, Ramco is an international enterprise providing HR payroll, logistics, and management services. This company brands its payroll software as an accessible and universal online solution to HR.
Despite being a large and global company, it still stays up-to-date with local monthly statutory arrangements. Ramco maintains this level of information by partnering with in-country vendors and internal experts.
Ramco also guarantees that once clients buy its product, they'll receive all features, nothing more and nothing less. Its software is also very collaborative and connective to other third-party accounting applications.
Aside from being entirely accessible, Ramco's payroll software also has a minimalistic design. This ensures user-friendly software.
To further enhance customer experience, Ramco also delivers excellent customer support, thanks to its chatbots and process automation.
Wide range of company services
Excellent customer support
One-time-big-time purchase with complete features
In-country partnerships and payroll experts for real-time info
Compatible with other third-party programs
Reliant on third-party for law updates
5.   PAYDAY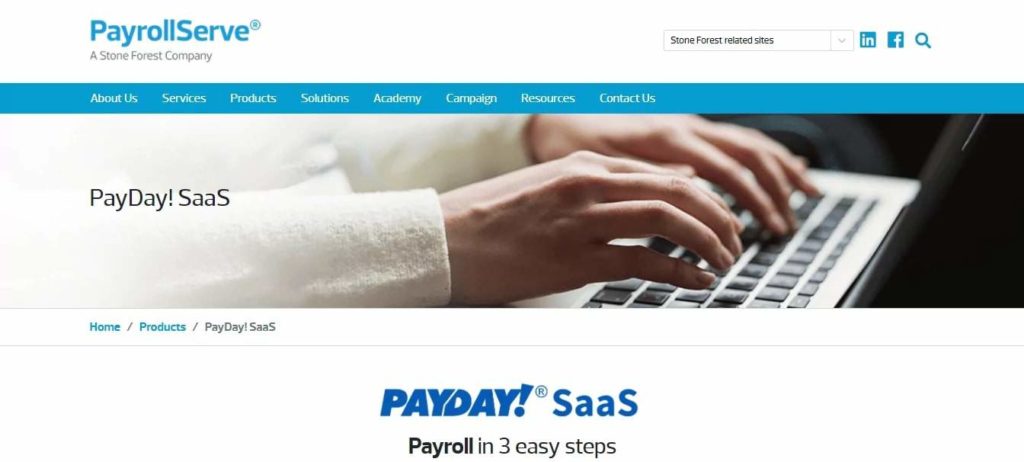 Payday is yet another example of payroll software made specifically for SME owners who have little to no experience in handling payroll. StoneForest developed this software to add to its existing payroll services.
Payday has three forms: offline software, online SaaS and HRMS (HR Management Solution). Among the three, HRMS tracks everything from employee efficiency to payroll transactions.
With Saas and the Payday software, clients can track payroll information, set reminders, print reports for government submissions, and evaluate their payroll transactions. It also has automatic updates and back-up restorations that'll protect and secure your data.
Another thing that sets this software apart from others is that it offers customisable HR letter templates. With all of these features, Payday has won Best Payroll Software in 2015.
Additionally, employers can also use this software to easily integrate their payroll into their accounting software. However, this third-party integration is only available to their partner, XERO.
Three types of payroll software
Preparation and tracking of government forms
Automatic back-up restoration and updates
Award-winning software
30-day free trial
Additional HR tools like letter generator
Maximum of 50 employees
Compatibility limited only to XERO
6. Singroll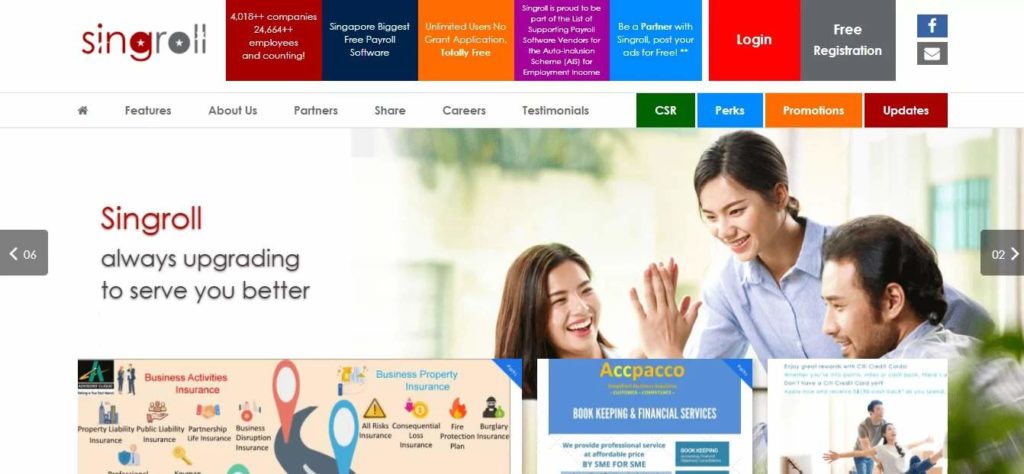 | | |
| --- | --- |
| BEST FOR | Wide assortment of services for free |
| SERVICES | Payroll system, employee management, permits and licenses, cpf, reports, and information updates |
| WEBSITE | https://singroll.com/web/ |
| PRICE | Free for small businesses |
Singroll is a payroll service made for small businesses, made by fellow SME owners. It caters to over 4,000 companies and makes up to 8,000 payslips, complete with comprehensive reports.
But clients aren't the only things Singroll has in an abundance of because it also has numerous special features.
Aside from the usual tracking of absences and itemized payslips, Singroll also allows scheduling, loan tabulations, company announcements, and work permit management.
One of the best things about this software is that it has fast and easy signup and free registration. Once employers set up their payroll system, employees can easily make their accounts on the website.
Despite housing many companies on its site, Singroll still assures data security and privacy with the help of data encryptions, firewalls, and 2-step authentications. However, if you don't really like accepting cookies, then you may have a problem with this online payroll software.
Loan, leave, and certification tracking
Very wide assortment of features
Includes comprehensive reports
Unlimited free usage with no hidden charges
Cookies on site
Very large client network
7. Frontier EHR
SERVICES
HRMS System:
Personnel Management
Payroll Management System
Leave Management System
Claim Management System
Talent Management System:
Applicant Tracking System
Performance Appraisal System
Learning Management System
On-The-Job Training Management System
Onboarding & Offboarding System
Performance Improvement Plan (PIP)
Workforce Management System:
Time Attendance Management System
Casual Labour Management
Timesheet Management System
Time Off Management System
Other Solutions:
Survey Management System
Travel Management System
Products:
Payroll Software
WEBSITE
https://www.frontier-ehr.com/
ADDRESS
60 Paya Lebar Rd, Singapore 409051
CONTACT DETAILS
+65 6391 0921
OPERATING HOURS
Monday – Friday, 9:00 AM – 6 PM
If you're looking for a software that automates the management of complicated payroll requirements, then you're in luck. Frontier EHR offers several management systems and payroll software that complies with differing multi-country payroll needs.
Chua Weng Foo, the founder of Frontier EHR, has over 20 years of experience in technology and educational leadership positions. While Eric Teong, Frontier EHR's co-founder and COO, is the driving force behind their research and development.
The HR payroll software is a product they have designed to manage complicated corporate payroll computations with ease and precision. Their payroll software's smooth interaction with other modules such as leave, claims, and attendance makes it a complete and all-inclusive payroll software solution for small and large businesses.
We greatly endorse Frontier EHR's payroll software. It is cloud-based and includes various unique features that make handling employee-specific payroll components such as basic salary, allowances, and deductions easier.
Employee Self-Service feature
Auto-generated payslips
Smart-verification queries that are pre-built and ready to use.
Monthly variable pay data is collected quickly and automatically.
Cloud-based payroll software
Customer Reviews
Nice and Conducive
"We have been searching for an elaborate HRIS to integrate our HR processes and this is when we found Frontier eHR! Thanks to Pansiri, she was patient enough to walk us through the demo and also to recommend vendors for our Attendance module. Employees have found the app really helpful in applying for leave and claims on the go. With Frontier, payroll and claims processing time have been shortened, making our HR team more productive."- Melissa Wee
Friendly and Highly Professional
"It is important for us to receive prompt and cost effective support with the various HR services that we need from time to time. We know we can count on the team to be there for us, after having worked with them for close to a year now. They have proven to be obliging and accommodating. We look forward to their continued support as we enter the second year of our collaboration." – Jacelyn Lee
8. SME Payroll
| | |
| --- | --- |
| SERVICES | HR management system, SafeEntry solutions, and remote work solutions |
| PRODUCT | Payroll Software |
| WEBSITE | https://smepayroll.com |
| ADDRESS | 2 Kallang Pudding Rd, #05-11 Mactech Building, Singapore 349307 |
| CONTACT DETAILS | +65 6837 2336 |
| OPERATING HOURS | Monday – Friday, 9:00 AM – 6 PM |
If you're looking for a software that automates the management of complicated HR and payroll issues, then SME Payroll might be the one for you. They offer a variety of solutions including HR, SafeEntry, and remote work solutions.
SME payroll has been trusted by over a thousand brands including some of the top market leaders such as Del Monte, Daiso Japan, Omron, Petron, and Hyundai. They also have a mobile app with a fingerprint biometric feature making it safe to use.
Among the several features their software has, we particularly liked their remote work solution which is a very progressive solution to implement. It includes a social distancing tool, communication tool, visitor management tool, remote working tool, and an incident management tool which is almost every answer you can think of regarding a remote work solution.
We highly recommend SME Payroll software. It is a cloud-based software that includes various unique features that make it easier to handle employee-specific payroll components.
Great customer service
User-friendly software interface 
Software has a mobile app
Customer Reviews
Very easy to use
"SMEPayroll is very easy to use software and can be handled even by those who have less computer knowledge. Also the support team is also there for support at any time and the way they interact with the clients is really nice" – Virender Singh
Tech support is fast, efficient, and helpful
"We are using Smepayroll from last few years.The support of the help desk is quick and to the point and the people are always willing to go the extra mile to help and advice.We are very happy with the SMEPayroll software and feel that the tech support provided is fast, efficient and helpful. Personally i want to thank Mr Amandeep Singh for his dedication to the clients relationship and best ever support even he is overseas and who always take stand for his company." – Eileen Yeo
9. Omni
| | |
| --- | --- |
| SERVICES | HR management system |
| PRODUCT | Payroll software |
| WEBSITE | https://omnihr.co/ |
| ADDRESS | 6 Raffles Blvd, #03-308 Marina Square, Singapore 039594 |
| CONTACT DETAILS | +6583873704 |
| OPERATING HOURS | Monday – Sunday, 24 hours |
Omni is one of the best companies that provide HR management and payroll software in Singapore. They offer several HR solutions through their software including recording employee records, onboarding, recruitment, performance, time-off, attendance, payroll, documents, and e-signatures.
They also have an employee self-service function. Having an employee self-service function has been proven to improve org efficiency and save valuable working time so it is a great addition to the software's features.
Among the several features their software has, we particularly liked their documents and e-signature feature. Chasing for documents and signatures on-site can be a handful especially if some of your workers are constantly on the move. With their document and e-signature function, you can easily upload and collect e-signature as seamlessly as possible.
We highly recommend Omni for their high-quality payroll software. They have great rates, and excellent reviews and they have a variety of price ranges making them a flexible range for your needs.
LGBTQ+ friendly 
Professional and dedicated success managers
Free Demo (No credit card required)
Customer Reviews
Nice and Conducive
"What an amazing solution; it helps me automate my HR processes and it is so easy to use. We can customize based on our business requirements. The pre and after sales support have been great, the team at Omni goes above and beyond to help us. 100% recommend it to anyone that's looking for a modern HR software." – Octavia Lim
10. Whyze
| | |
| --- | --- |
| SERVICES | HR management system, workforce management system, COVID-19 assistance package, and business intelligence tool. |
| PRODUCTS | Payroll Software |
| WEBSITE | https://whyze.com.sg |
| ADDRESS | 315 Alexandra Road #05-01Sime Darby Business Center (Next to IKEA)Singapore 159944 |
| CONTACT DETAILS | Telephone: +65 6838 0161Fax: +65 6392 2867Email: [email protected] |
| OPERATING HOURS | Monday – Friday, 9:00 AM – 6 PM |
Whyze is your one-stop service provider when it comes to HR and payroll solutions. Leveraging the latest technology, Whyze continues to aid companies to focus on their ventures by taking care of their HR solutions.
They have a team of experts that are attuned to confront changes since they are uniquely positioned to deliver value for the small and medium markets. Appointed as a [email protected] Go Digital Vendor, they offer 3 pre-approved packages such as the human resource management system, workforce management system, and COVID-19 assistance package.
Expect a seamless user interaction with their Whyze Mobile app, it is incorporated with a face-recognition function that auto-records photos and temperatures. With their COVID-19 assistance package that only comes at 900$ a year, you can enjoy several features including eLeave and location tracking.
Whyze has proven over the years that they're one of the most reliable HR and payroll providers in Singapore. They have great rates and excellent customer service. Contact them if you want to try out their Payroll software demo version to get a feel of their amazing product.
Contactless face recognition (Software feature)
14 years of experience
Cloud-based software
Centralized HR data
SME package doesn't have the mobile app feature (Pre-Approved Packages WhyzeHR)
11. Swingvy
| | |
| --- | --- |
| SERVICES | HR management system |
| PRODUCTS | Payroll Software |
| WEBSITE | https://www.swingvy.com |
| ADDRESS | Suntec Tower 5, #17-00, 5 Temasek Blvd, Singapore 038985 |
| CONTACT DETAILS | [email protected] |
| OPERATING HOURS | Monday – Friday, 9:00 AM – 6 PM |
Swingvy is a software company provider with a mission to create a workplace where work empowers people. Believing that great businesses always put people first, they prioritize recruiting, cultivating, and retaining good people.
The HR software they offer has several features such as the unique secure log-in per employee. This customized dashboard has personal HR information, company information, a visual organization chart, an employee directory, a shared company calendar, company news, and events feed.
You can purchase the payroll with the features of the HR hub, claims, and leave at $5 dollars monthly. The payroll and time feature can be purchased as add-ons wherein the payroll is at $5 dollars and the time & attendance software is at $3 dollars.
Swingvy has established itself as one of Singapore's most dependable HR and payroll service providers throughout the years. They have reasonable prices and provide good customer service. If you want to test out their Payroll software demo version to get a feel for their fantastic product, contact them.
You can make your own plan
PSG approved
Great customer support
Doesn't integrate with QBO
Customer Reviews
Makes HR work much easier than before
"I've been using Swingvy for the last few years and their cool UI/UX makes HR work much easier than before. Love their design!" – 김선유
Easy to use and very intuitive interface
"Easy to use and very intuitive interface. Highly recommended if you are looking for a cloud HR solutions"  – Nicol Chng
12.   Talenox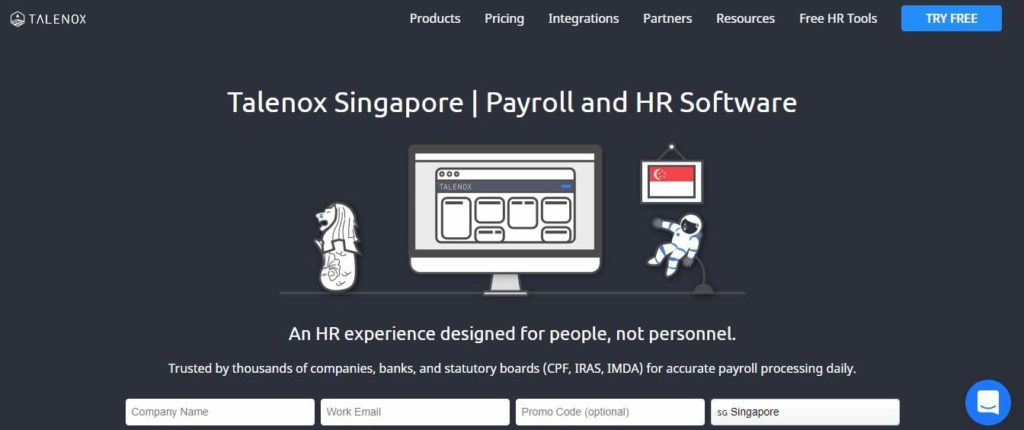 BEST FOR
Unlimited free plan, integrated HR tools
SERVICES
HR services, payroll system, employee's information database, and employee leave tracker
WEBSITE
https://www.talenox.com.sg/
PRICE
Basic plan: free
Advanced plan: $40/month for first five employees
Talenox is yet another example of online payroll software that's perfect for SMEs from all around the world. Although this might be an online and international company, it still guarantees to stay up-to-date with its client's local tax regulations through local connections.
The software has a built-in calculation system where it can easily compute salary given absences and overtimes. It also accommodates numerous payroll structures with the choice for monthly or weekly scheduling.
This company also does collaborations with local banks. So, its clients can easily export their files to banks and financial institutions thanks to Talenox's configuration.
Additionally, Talenox is also compatible with numerous accounting books like XERO, Quickbooks, and Deputy. For free software, Talenox does provide various benefits.
Aside from being the best payroll software in Singapore, Talenox also offers HR services. These include customisable employee profiles with information synchronization and data migration to a secured website.
Integrated HR tools
Unlimited free software
Bank and financial institution compatibility
Smooth integration to three accounting software brands
Limited to simple payroll features
Limited to monthly and weekly scheduling
Frequently Asked Questions
---
Do you know any other software programs or sites offering payroll services? If so, you can leave us a note so we can also expand our list.
If not, then that's it for our list of brands offering the best payroll software in Singapore! Just keep in mind the different factors you should consider before choosing one payroll software brand.
But if you figure you don't want to handle your payroll by yourself, then you can instead check out our list of the best payroll companies in Singapore. These companies will also handle everything, from tracking hours to ensuring tax compliance.