The 13 Best Accounting Software in Singapore
Do you want a more convenient way to keep track of your business's financial records? If so, maybe now's the right time to start using the best accounting software in Singapore.
With the help of the right accounting software, you can avoid calculation errors, easily determine and monitor cash flow, and be constantly updated on invoice reports. All of these things help to bring out the maximum potential of a business.
That's why we're here to help you out by sharing our picks for top accounting software that businesses of all sizes on the island should check out. Before that though, let's go over the different types of accounting software available here in Singapore
Types of Accounting Software in Singapore
Most businesses in Singapore use a form of accounting software to easily streamline and monitor their financial records. As there are different types of businesses, there are also different types of accounting software to accommodate their specific needs.
Here are some of them:
1. Spreadsheet
Spreadsheet is commonly used by small businesses and organisations with an extremely low number of financial transactions. It's not the most advantageous option out there, but it should be enough to record and monitor occasional business transactions.
It's an inexpensive (sometimes free) accounting software with a flexible system that can be configured based on your needs.
You need to be careful when using a spreadsheet because it's more prone to error, since it's easy to make mistakes while writing down financial information, which will lead to inaccurate financial statements.
2. Commercial off-the-shelf software
Commercial off-the-shelf software is one of the most prominent accounting software types used by businesses of all sizes all over the island.
What makes it an excellent choice is that it can be configured to accommodate the specific needs of a business, and contains several layers of error detection to prevent the entry of incorrect financial data.
More than that, it can produce standard reports that can be modified to suit the needs of the user. There are hundreds of commercially-available software options out there, with some catering to specific industries and added features to address the demands of their markets.
The installation of commercially-available software is a lengthy and complicated process that requires a consultation, though. Oftentimes, you'd need on-site staff to make sure that it's working properly.
3. Enterprise Resource Planning Software (ERP)
Enterprise Resource Planning Software is considered one of the most painfully expensive accounting software types out there. It's usually acquired by large corporations with complex business structures.
Despite its cost, ERP software can integrate all financial information for every part of your organisation into a single database. It can eliminate the issues that come with using independent department-specific software that can be used by other department
4. Custom accounting software
If your accounting needs can be accommodated by either commercially-available or ERP software, then what you need is custom accounting software made specifically for your business or organisation.
It's not a popular route because most custom accounting software tends to be buggy, and sometimes requires more maintenance than the readily available ones.
The Best Accounting Software in Singapore
Now that you know the different types of accounting software in Singapore, it's time to see which ones we think are worth spending money on for your business.
1. Highnix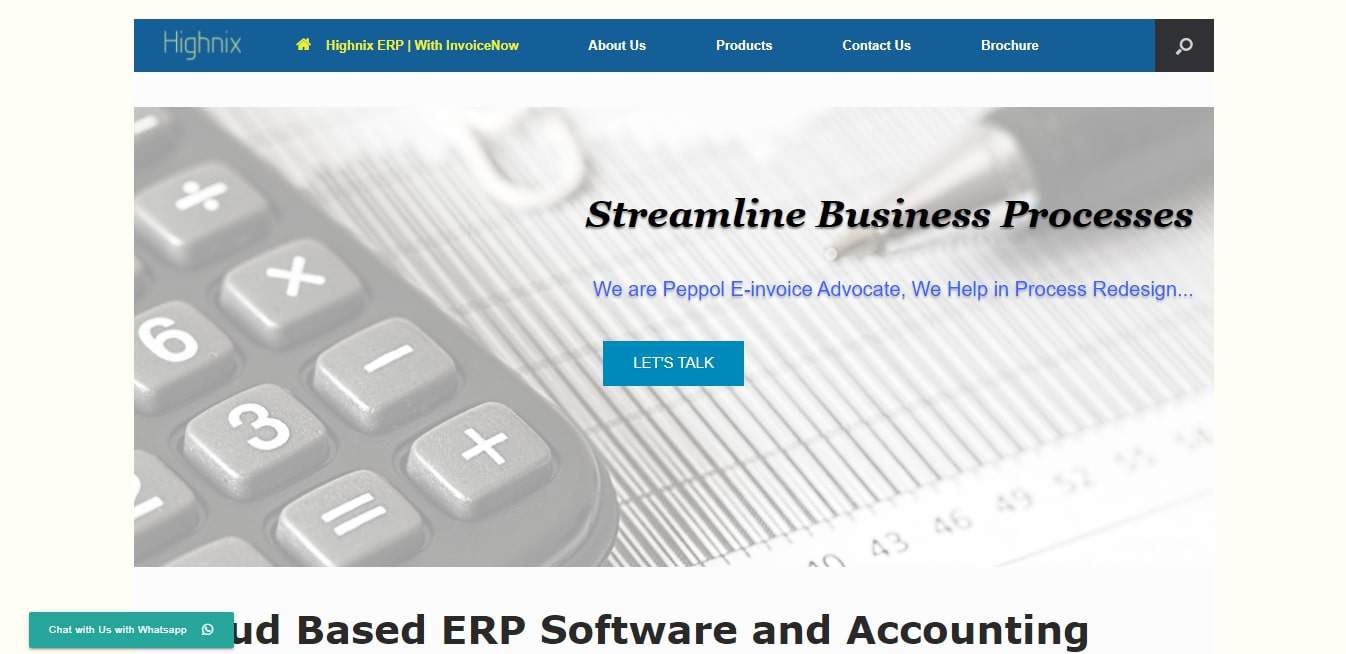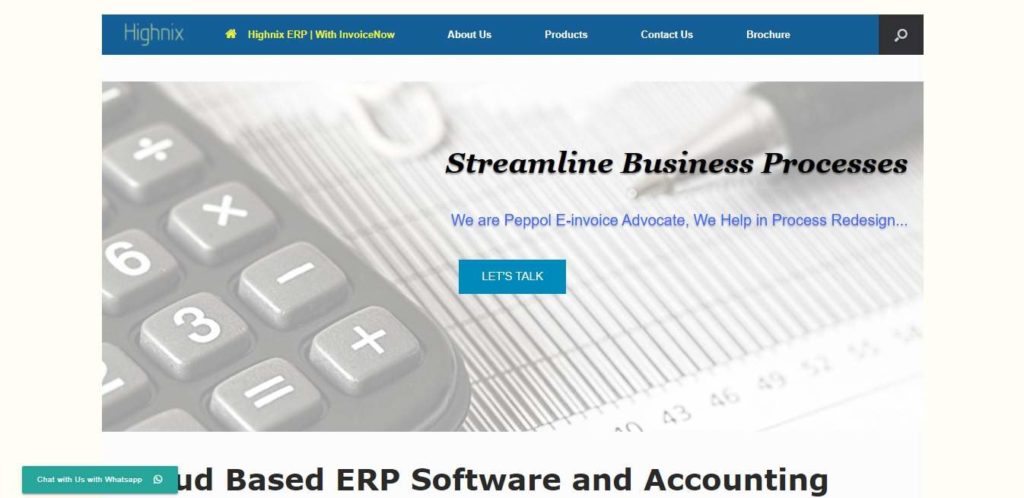 | | |
| --- | --- |
| BEST FOR | SMEs and start-ups |
| FEATURES | Inventory and sales management, human resource, payroll, leave management, point of sale, and customer relationship management |
| PRICING | SaaS License starts from $90 per month. With inventory management starts at $120 per month. Both come with a 6 months subscription waiver. Permanent license ERP starts from $4,040 with government's subsidies. |
| WEBSITE | https://www.highnix.com/ |
Highnix offers a variety of accounting systems and cloud-based enterprise resource planning software to start-ups and SMEs all over the island. It aims to simplify accounting processes and accelerate corporate procedures.
If there's one thing to know about Highnix, it's that it's compliant even with the most stringent government regulations. Its systems have been listed on the Inland Revenue Authority of Singapore and come with automatic reminders to fix your tax dues.
Another thing SMEs like about its accounting software is its integration with third party applications that allow businesses with multiple departments to exchange data with each other easily, reducing data inaccuracies in the process.
Highnix is the perfect accounting software choice if what you're after is a faster and shortened payment cycle for your business. Its accounting systems come with a Peppol ID registration and Dynamic Paynow QR Code.
Any of its accounting systems work on Linux, Windows and MacOS. You can even access them through smartphone, tablets, and other mobile devices.
Flexibility is another thing that businesses can enjoy with Highnix's accounting software as there are two types of license plans to choose from. The perpetual license allows system customisation, while the subscription license fits the limited needs of small businesses.
PSG pre-approved full cloud ERP System
With two types of license plans
With security and data backup
Works with Windows, Linux, and MacOs
Some accounting software are high-maintenance
Customer Reviews
Here's some customer feedback posted on its website:
"We have been using spreadsheets as our main tool to record sales orders, generate Sales POs and Customers' POs. At the end of each month, our accounting staffs have to stay late till late night during month end close. With Highnix, we have eliminated most of the unproductive tasks. Our sales from China, Taiwan and Singapore can be captured real time without having to send to Taiwan for processing. We can switch between Chinese and English interface as we like." -Kevin Woo, Tensky International
"Highnix has helped us to implement the cloud system which resolved our long term issues of tallying sales, purchase, inventory and accounting data at different offices. We have used it since 1 Jan 2014. Our sales offices in Shenzhen, Hong Kong and Singapore are now in sync. Thanks to Highnix." -Sean, Managing Director
2. Sage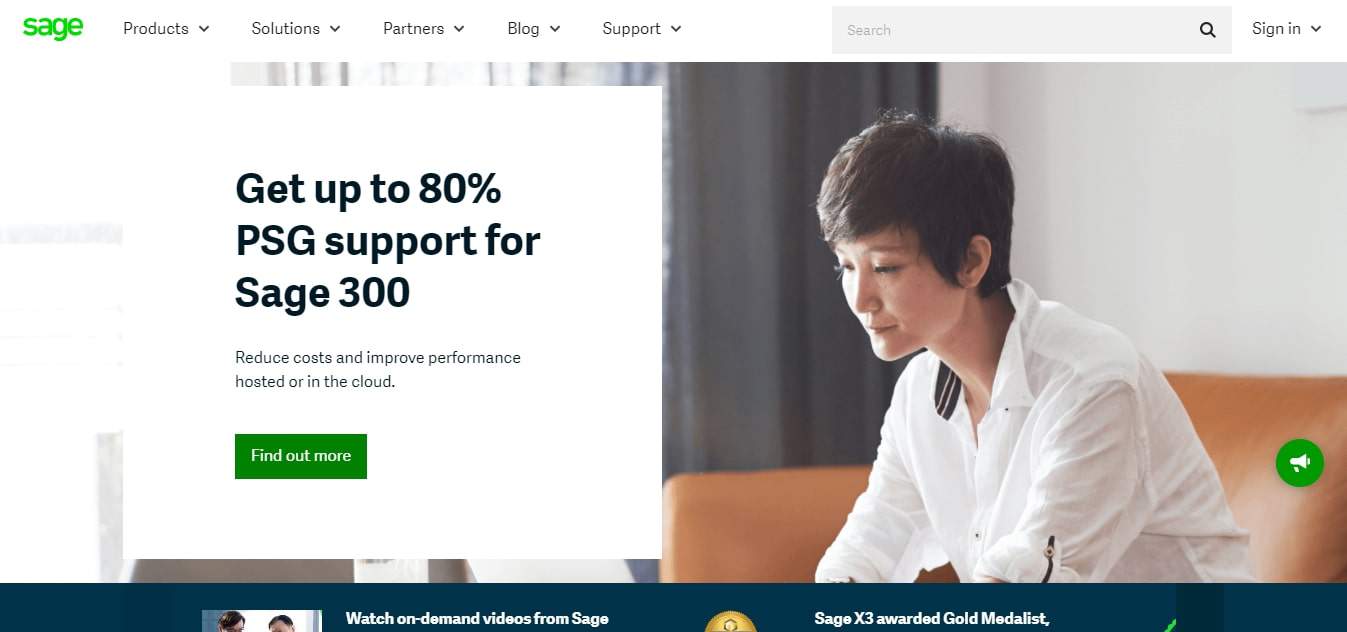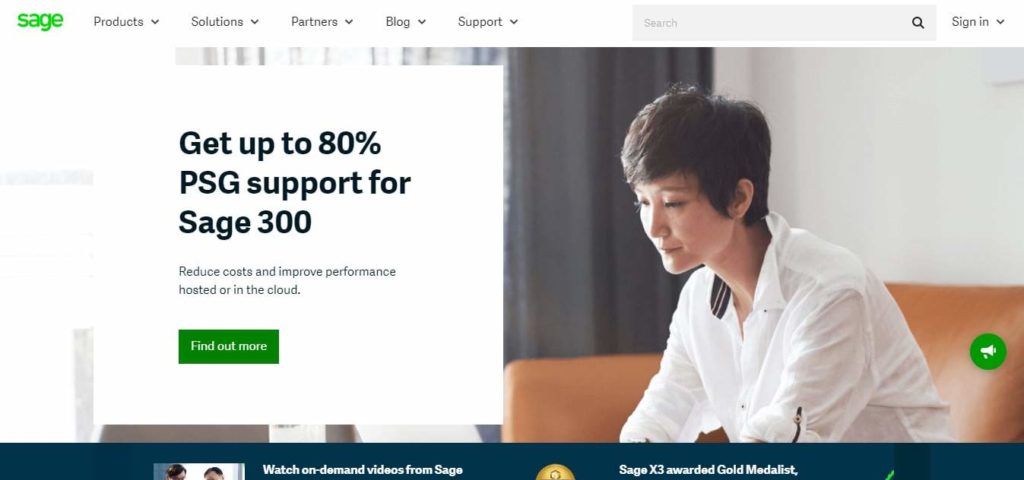 | | |
| --- | --- |
| BEST FOR | Small and medium businesses |
| FEATURES | Accounting and finance management, payroll services, business cloud accounting, human resource solutions, and customer relationship management |
| PRICING | Starting from $12 per month |
| WEBSITE | https://www.sage.com/en-sg/ |
Sage has been repeatedly recognised by many renowned entrepreneurs because of its award-winning business solutions that provide efficient management of accounting operations. It earns a spot here for two main reasons.
First, Sage caters to both small and medium-sized businesses. Instead of offering the same accounting software for these two, it came up with separate accounting and payroll systems suitable for their specific needs.
Second, its user-friendly accounting software is designed to reduce the administrative workload of small businesses, allowing employees to spend more time on enhancing brand development.
Your financial data, along with Sage's accounting software, is stored securely in a cloud, within a remote server and computer, which means that you will be able to access your data even on your smartphone.
Other notable features of Sage's accounting software include easy tracking of accounts receivable and payable, fast connecting of bank feeds to tally bank statements, inventory management, and sales invoices, among others.
For their simple and easy-to-navigate interface and multiple features, Sage's accounting software is something that small and medium businesses should never pass on.
Unlimited transactions
Automatic backups
Works on any devices
Affordable subscriptions
Caters mainly to small and medium businesses
Customer Reviews
Sage was able to earn the trust of many customers because of its competent capacity and affordable pricing. Here's a review from one of its users:
"One thing we really appreciate about Sage 300cloud is that it supports a large volume of data, a factor that we anticipate for the near future, and it comes at a reasonable price too."
3. Xero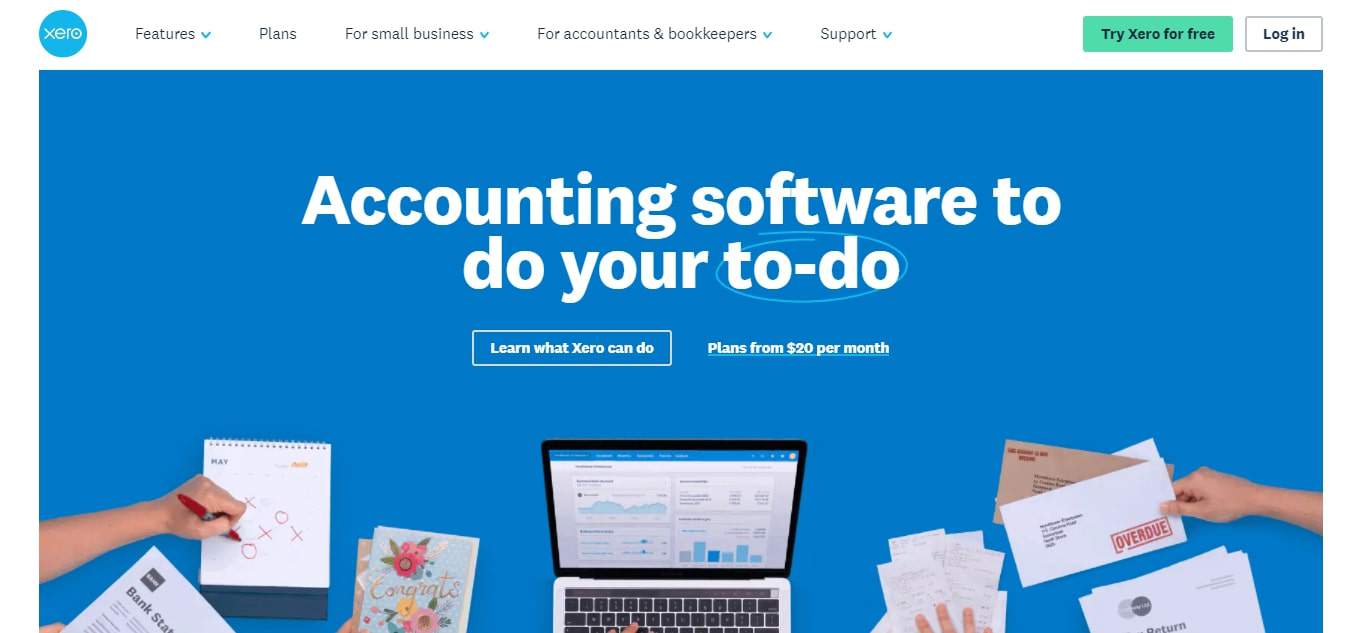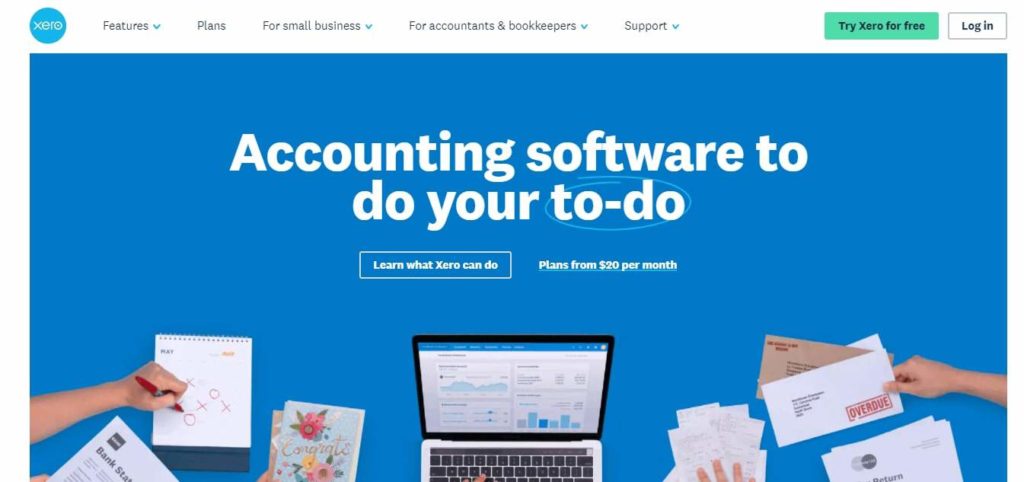 | | |
| --- | --- |
| BEST FOR | Small business and freelance accountants and bookkeepers |
| FEATURES | Pay bills, claim expenses, bank connections, accept payments, GST returns, send invoices, track projects, bank reconciliation, payroll management, and multi-currency accounting |
| PRICING | Starting from $20 per month |
| WEBSITE | https://www.xero.com/sg/ |
Xero has well-designed and highly functional accounting software that can automate all your business transactions, providing you with absolute accuracy and security. Here are other reasons it ended up on our list:
Through its accounting software, it's now possible to send invoices, track projects, manage payroll, and purchase your orders with one click on your smartphone. Gone are the days of managing all business transactions using your personal computer.
To help your business have a healthy and consistent cash flow, Xero lets you connect to the invoicing network launched by the Infocomm Media Development Authority of Singapore. This will make your invoicing process faster and more convenient.
In order to attract more entrepreneurs, Xero offers a free 30-day trial where users can enjoy all of the features of its accounting system. After the trial is over, users can decide which plan works best for their business.
However, if you're convinced that it's the right accounting software for your business, you're free to cancel your membership anytime without being charged anything.
Finally, the best thing about this accounting software is that it includes updated calculations for a hassle-free IRAS tax filing, removing the stress of calculating your own taxes. This is why many local businesses call it one option for the best accounting software in Singapore.
Free 30-day trial
24/7 online customer support
User-friendly interface
Some plans have confusing terms, so make sure to read carefully
4. Smart Cursors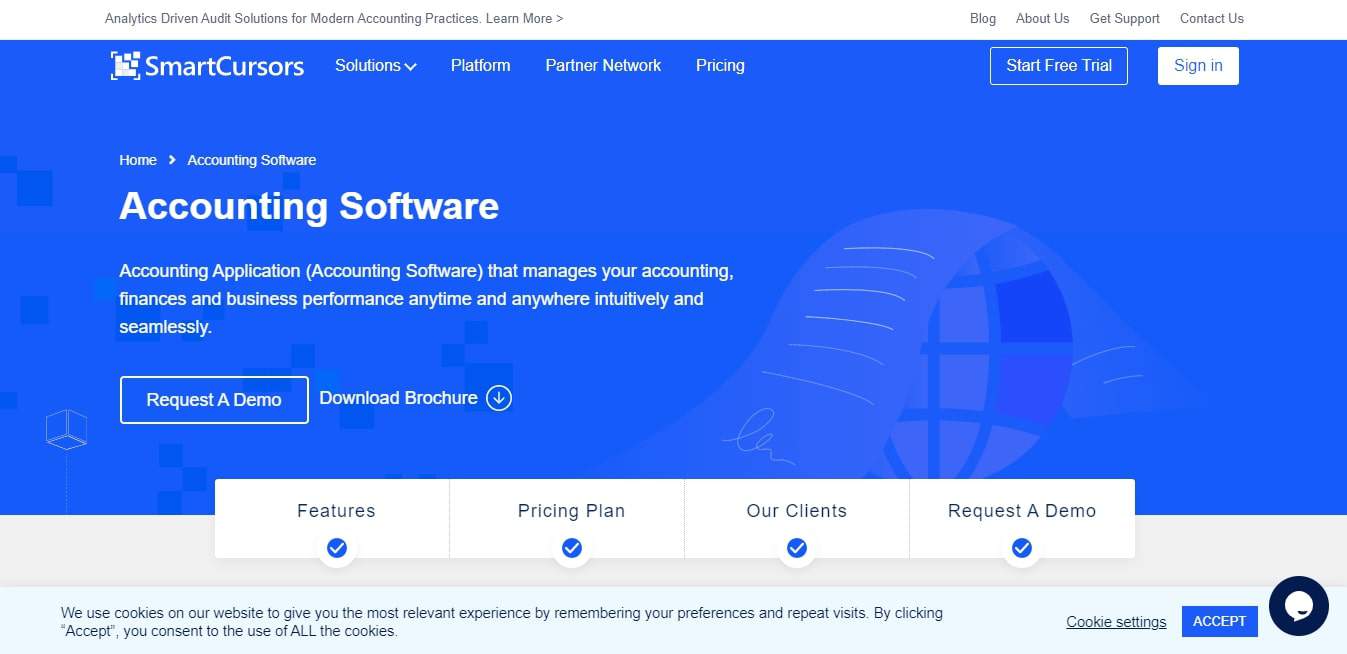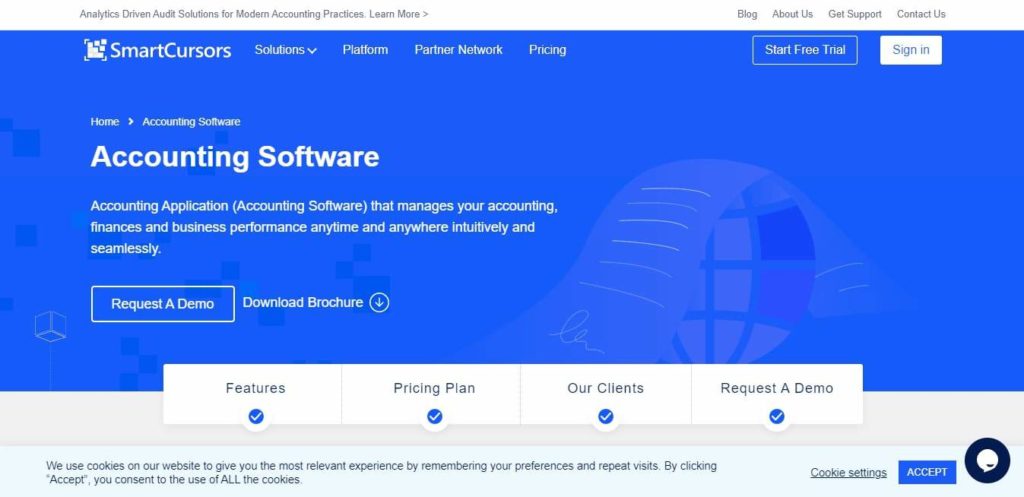 | | |
| --- | --- |
| BEST FOR | Multi-entity businesses |
| FEATURES | Multiple entities, customer management, vendor management, cash flow management, and multi-currency platform |
| PRICING | $30 to $100 per month |
| WEBSITE | https://smartcursors.com/ |
Smart Cursors is accounting software that manages the finances and business performance for less than $50 per month. It's mainly recommended to multi-entity organisations, but it also has accounting systems fit for single entity businesses.
Speaking of multi-entity organisations, Smart Cursors makes it easier to manage financial transactions of multiple entities through a single platform. There's no need to be constantly in touch with other departments given that you're all using the same accounting platform.
Another notable feature of Smart Cursors is the customer management platform that allows your team to access real-time data on the customers invoice, credits, discounts, and receipts.
On top of that, with an add-on context-based analytics dashboard, users can access real-time data on the customers, vendors, and bank balances and transactions. These dashboards deliver valuable insights to your team, enabling them to make smarter decisions.
Smart Cursors's single entity accounting platform costs $30, while its multi-entity platform is priced at $100. Obviously, it's a great choice for medium businesses, as long as there are no more than five entities in your organisation.
Multiple entities in a single platform
Modern cloud storage
Access to real-time context-based analytics
Multi-currency platform
5. FreshBooks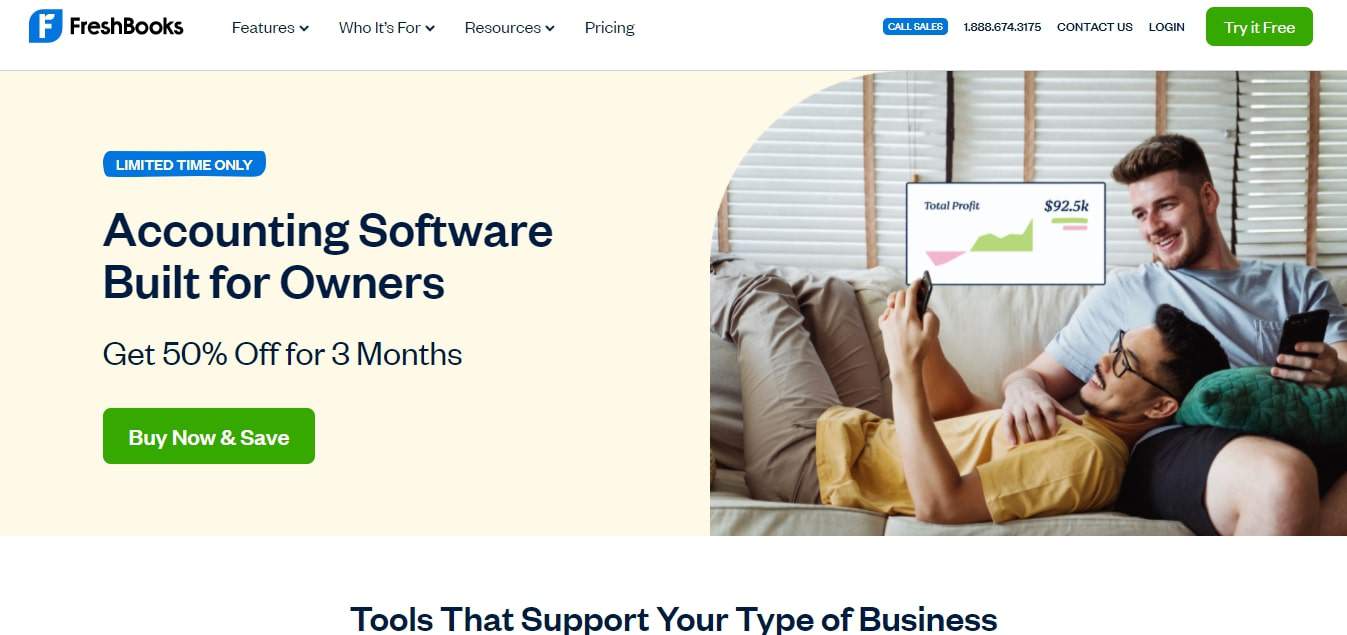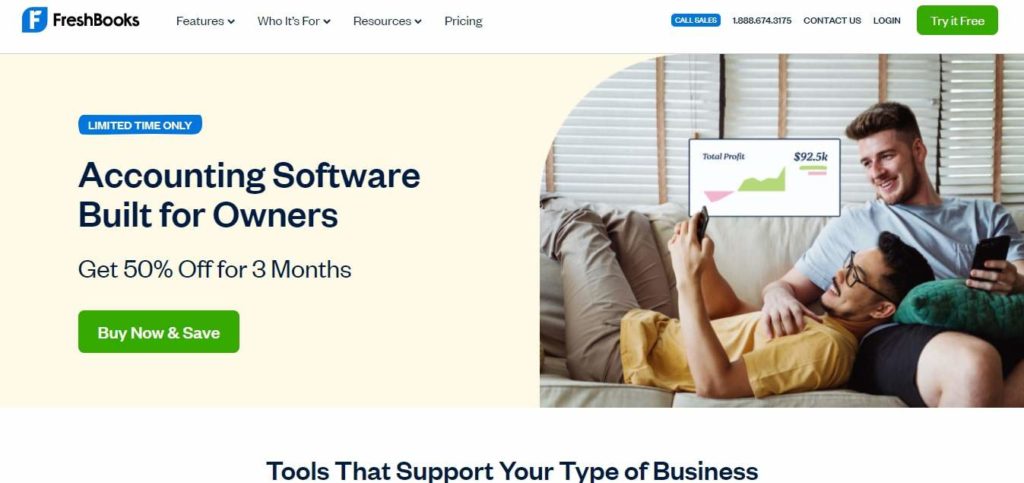 | | |
| --- | --- |
| BEST FOR | Freelancers, self-employed professionals, business with employee, and business with contractors |
| FEATURES | Easy invoicing, expenses organisation, time tracking, project tracking, faster payments, double-entry accounting, and proposal software |
| PRICING | Starting from $6 per month |
| WEBSITE | https://www.freshbooks.com/ |
Founded in 2003, FreshBooks has grown into its status as trusted accounting software not only in Singapore but across the globe. It has more than 24 million users from over 160 countries, which says a lot about its quality.
If most accounting software are made for either start-ups or large corporations, FreshBooks is made for both freelancers and self-employed professionals as well. There are affordable accounting packages suitable for the budget of contractual individuals.
Some of its features include project tracking, invoicing, time tracking, double-entry accounting, and proposal software, among others. Its customisable accounting plans allow users to add more features that would further help their businesses.
There's no better option for you if you want accounting software that speeds up the entire payment process. By using FreshBooks, you can receive your payment 11 days faster through credit cards, so no more running after clients for checks.
Additionally, FreshBooks integrates with more than 100 applications to streamline your business operations and make it easier for you to connect with partners and customers.
For as low as $6, it's among the cheapest accounting software we could recommend to local businesses and employees. To make this even better, you get a 50% discount for the first three months!
Budget-friendly plans
Customisable plans
30-day guarantee
50% on the first three months
Open to freelancers and businesses
Its cheapest plan can only bill five clients
6. ABSS (formerly known as MYOB)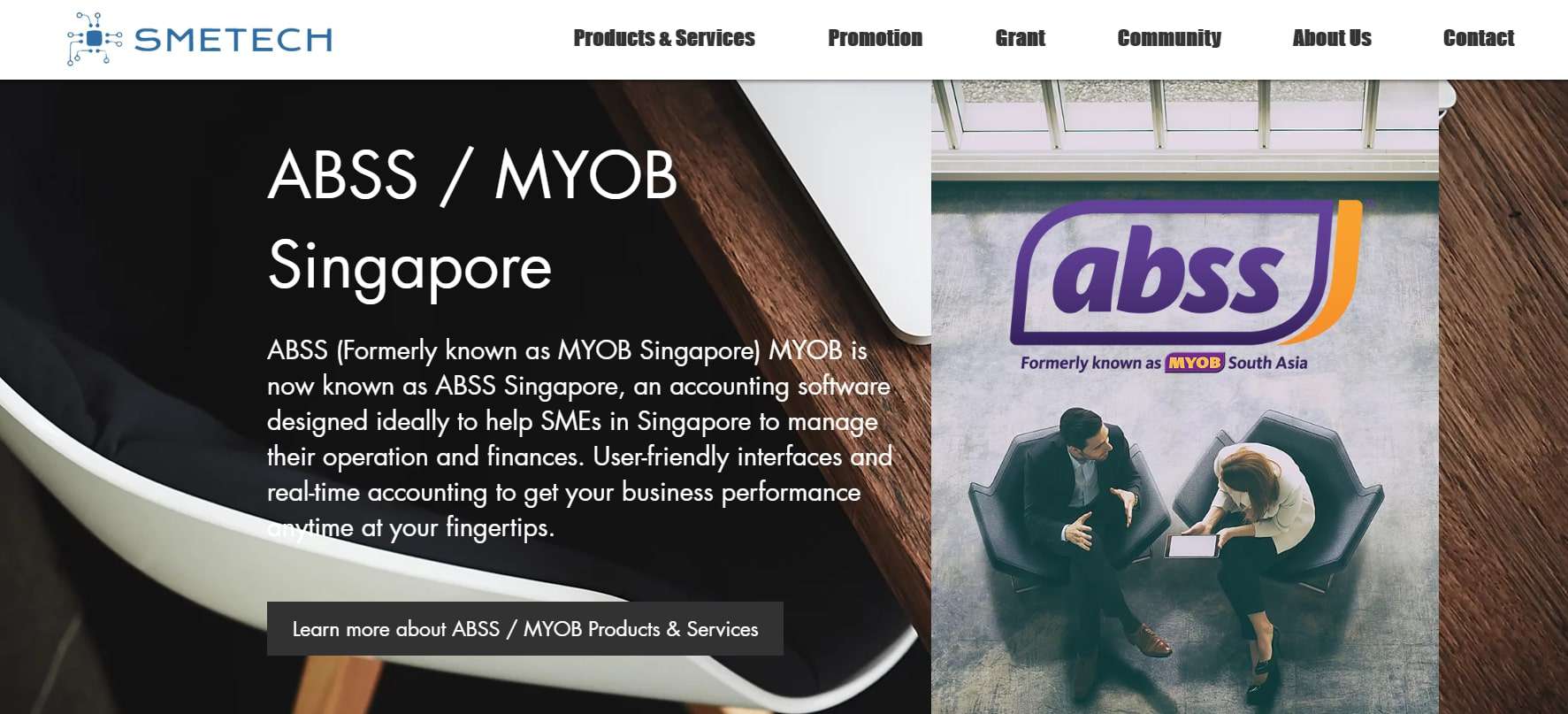 | | |
| --- | --- |
| BEST FOR | Small and medium-sized businesses |
| FEATURES | Accounting systems, payroll management, invoicing, debt and credit tracking, inventory management, financial reports, multi-currency accounting, and job costing |
| PRICING | Starting from $680 |
| WEBSITE | https://www.smetechsg.com/ |
Formerly known as MYOB South Asia, ABSS is among the most popular accounting software in Singapore, helping small to medium-sized businesses simplify their daily operations and increase employee efficiency.
ABSS has remained the top choice for Singapore companies from all types of industries due to its user-friendly interface, multi-user capability, flexible features, and compatibility with any operating system.
It's versatile accounting software: no matter whether you're a part of the SME sector, business owner, freelance accountant, sales manager, or self-employed professional, you'll find that it has everything that you need.
Compared to our other entries, though, it's not subscription-based accounting software. You will have to purchase its license, which ranges from $680 to $1900, so it may be the perfect choice if you're after a lifetime software license.
Lifetime license
User-friendly interface
7. Edulabs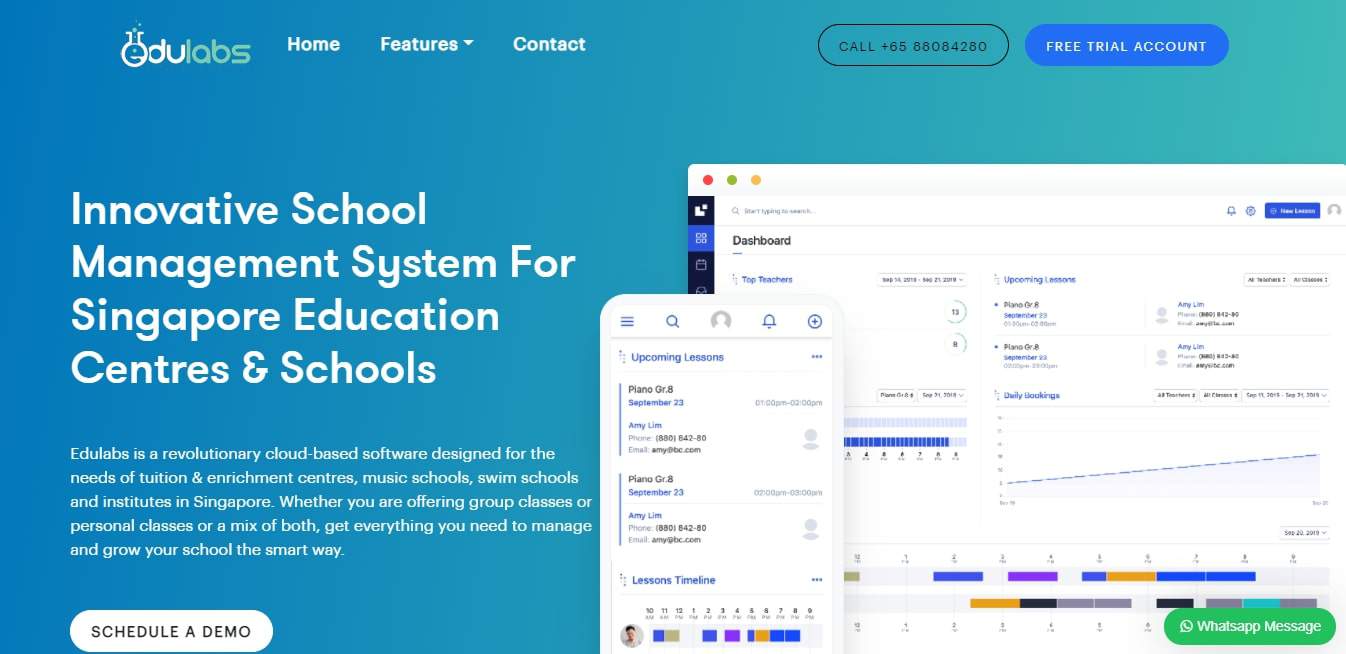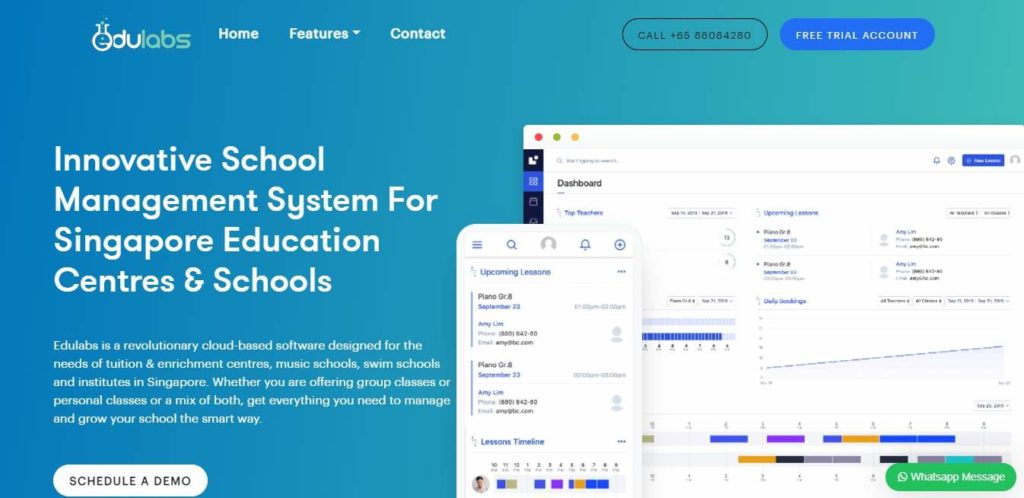 BEST FOR
Tuition and enrichment centres and other learning institutions
FEATURES
Student and user management, lessen scheduling and attendance, invoicing, payroll management, and progress reports
PRICING
Get in touch with them for more details
CONTACT INFORMATION
(+65) 8808 4280


[email protected]

WEBSITE
https://www.edulabs.com.sg/
Edulabs is a management system established for tuition and enrichment centres all over the island. It's cloud-based software designed for accounting needs of any education institution, may it be for music, physical education, art, or other categories.
Obviously, what makes it unique from our other picks is the fact that it's made for educational institutions in Singapore, not businesses and organisations. It's among the few accounting software options for schools, so we couldn't help but add it to our picks.
With the help of Edulabs, you can monitor expenses, keep track of students' attendance, manage teachers' payroll, create lessons, communicate with students and their parents, and even generate end-of-day closing summaries.
Another notable feature of Edulabs is the unlimited number of users it can accommodate, allowing schools to include all students, parents, teachers, and support staff.
Generally, teachers and admins spend days or weeks planning a month's worth of lessons, but its lesson scheduling feature can make that task easier. It can auto-generate lessons for an entire class for the entire school year in minutes!
All in all, Edulabs would be a great choice for any academic institution in Singapore looking for an accounting system that can lessen the workload of their teaching staff and improve the learning experience of their students.
Can auto-generate lessons
Unlimited number of users
User-friendly interface
Ideal only for educational institutions
8. Autocount Accounting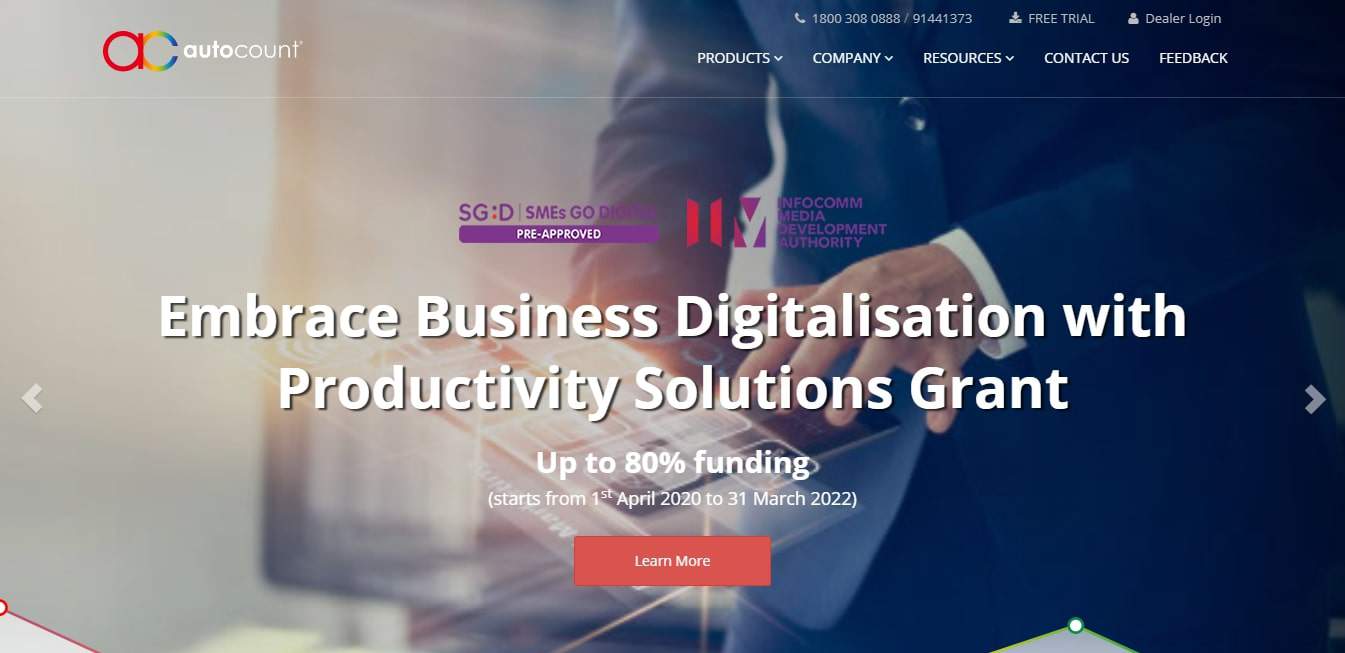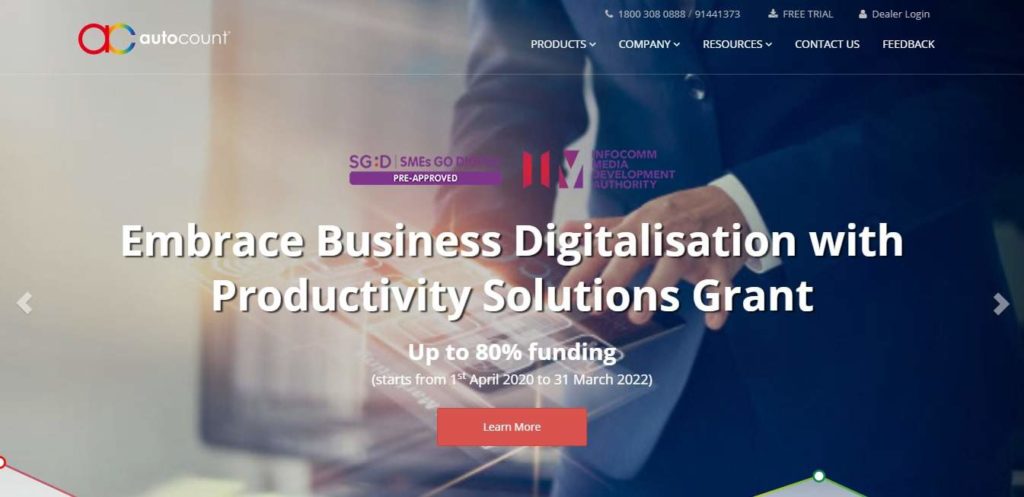 Founded 20 years ago, Autocount Accounting has been empowering local businesses by providing them with accounting software that turns unnecessary business processes into an efficient and convenient streamlined procedure.
Autocount Accounting's most prominent accounting software is the AutoCount POS, which is made for business in the retail and food and beverage sector. It's software that integrates inventory control, sales, purchase, and other accounting modules.
When it comes to tax-related transactions, business owners have nothing to worry about because it's fully compliant with statutory requirements. There will also be a complete list of tax codes that users may view anytime.
Additionally, the AutoCount POS is customisable, so if your business needs more features beyond standard reports and inventory tracking, you're free to add more features to keep up the pace of your daily operations.
There's also dedicated customer support that can answer all your questions immediately, any time of the day.
Dedicated customer support
Extensive service network
Competitively priced packages
Doesn't include payroll management
9. GnuCash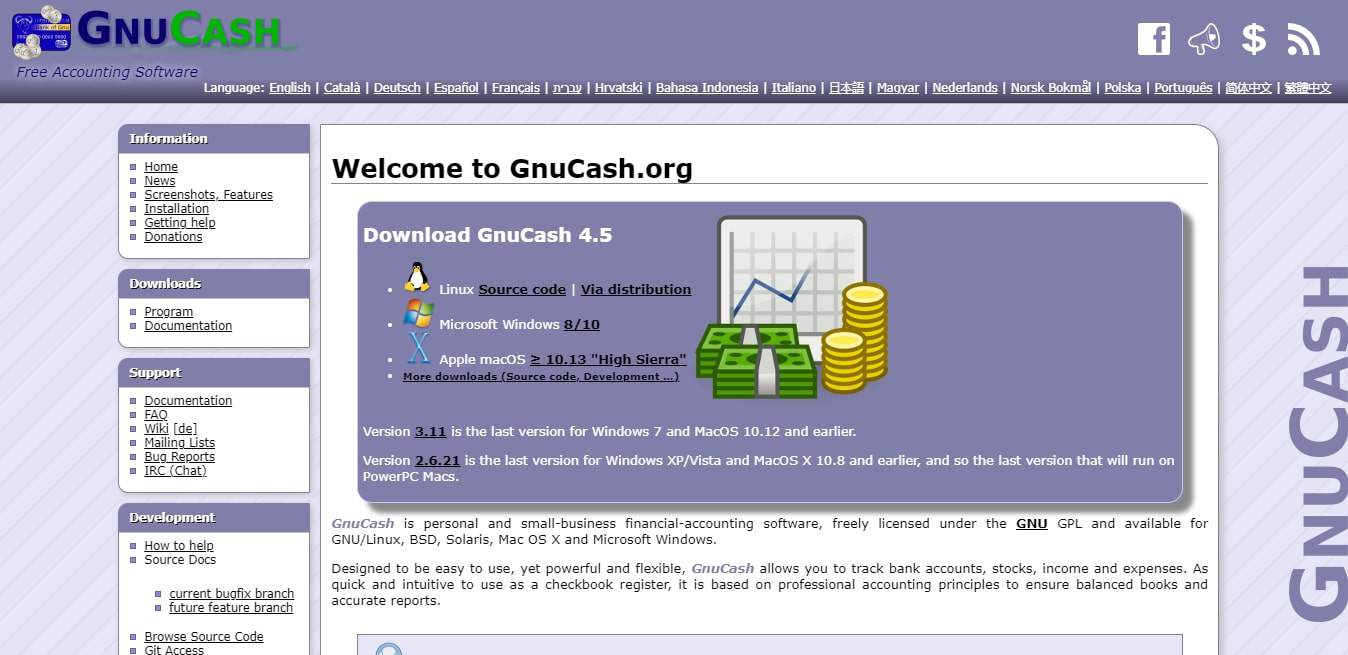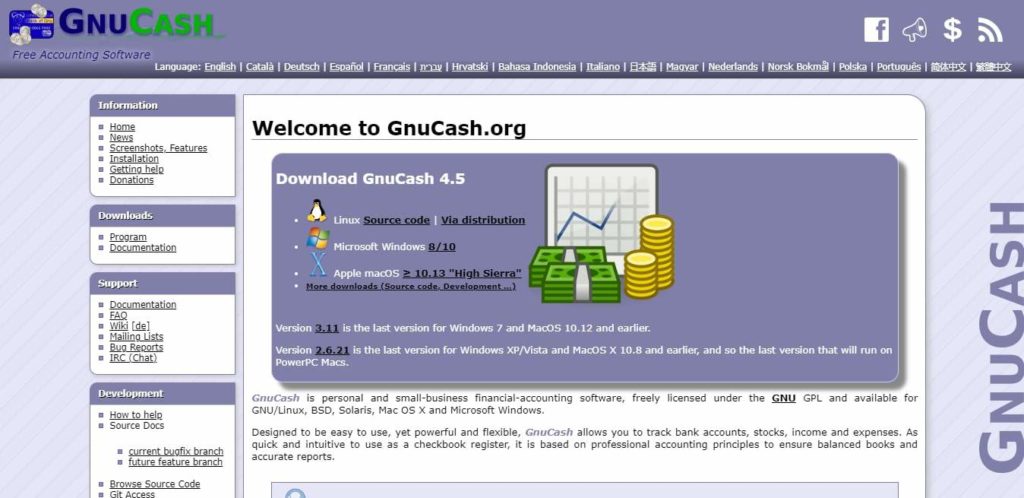 | | |
| --- | --- |
| BEST FOR | Freelancers and small businesses |
| FEATURES | Double-entry accounting, stock accounts, reports and graphics, transaction matching, scheduled transactions, and financial calculations |
| PRICING | Free |
| WEBSITE | https://www.gnucash.org/ |
GnuCash is free accounting software built for personal and small-business accounting needs. It's not as fancy as our other picks, but it's a decent option and can get the job done considering that users don't need to pay anything.
It features a user-friendly interface designed with flexible features where you can keep track of business expenses, stocks, income, and bank accounts.
There aren't a lot of features that make it stand out from other accounting software, but it's one of the most user-friendly ones we've encountered, which is good news for users who aren't that technologically competent.
You won't have any trouble getting used to how it works as it's with a checkbook-style register, a familiar interface for managing financial transactions. You can even split transactions, view multiple accounts in a single window, and manage multiple currencies.
As one of the best accounting software options in Singapore, it's accessible through all desktop operating systems and even on older versions of the Windows OS such as Windows XP/Vista and 7.
Free
User-friendly interface
Compatible with all OS
Can only handle small accounting operations
10. Quickbooks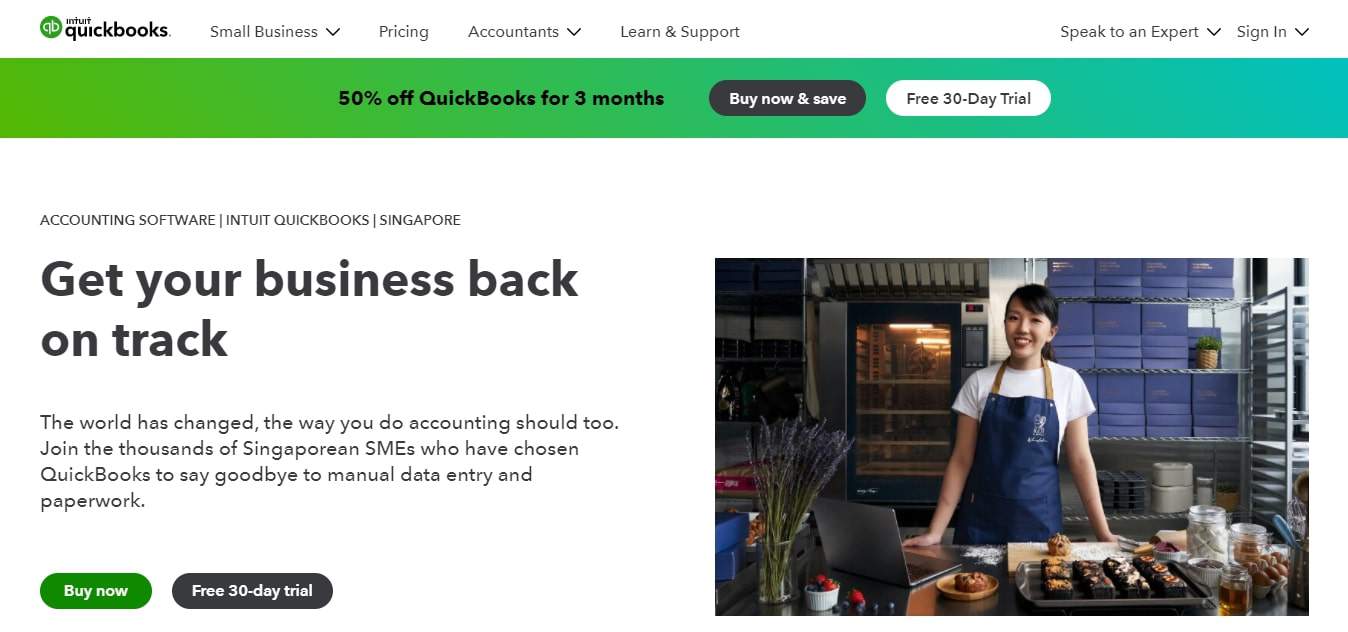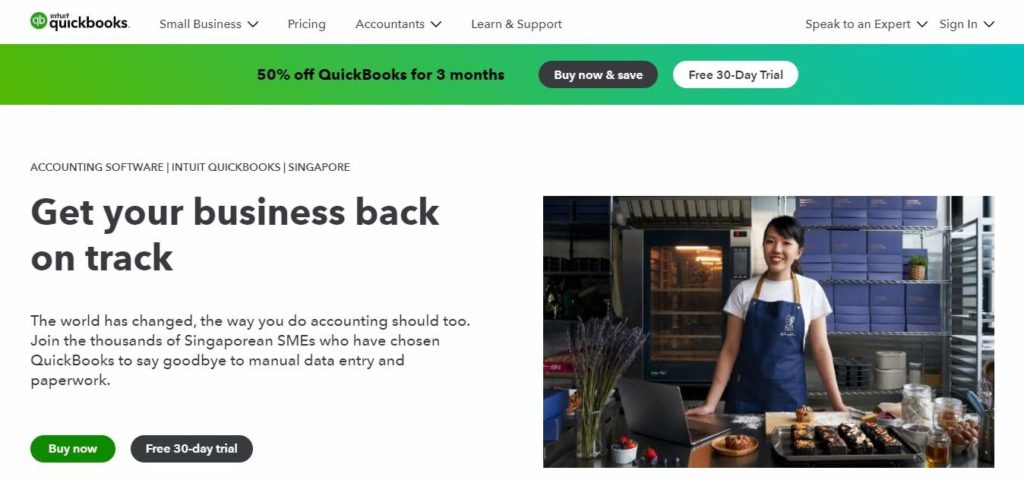 BEST FOR
Small and medium-sized businesses
FEATURES
Cloud accounting, invoicing, project profitability, accounting reports, and inventory management
PRICING
Starting from $11.50 to $23.54 per month
CONTACT INFORMATION
877-683-3280
+65 8001 204 517
WEBSITE
https://quickbooks.intuit.com/
Quickbooks is accounting software that helps business owners manage their finances, monitor inventory, and gain business insights all in one platform. We included it here for two main reasons.
First, it's among the most budget-friendly accounting software suitable for small businesses in Singapore, with a price that ranges from $11.50 to $23.54 per month.
Second, all accounting plans, regardless of their tier, come with essential features that all businesses need to enhance their daily operations, such as expenses tracking, unlimited invoices, secure cloud storage, and customisable reports, among others.
One thing most users like about Quickbooks is that they can immediately find a particular transaction because it comes with organised categories. As every expense is stored on a cloud database, users can easily cam every entitlement.
Quickbooks is a great option if you're seeking flexible accounting software. Users can degrade or upgrade their plans any time, depending on the needs of their business.
So, whether you're just starting your business or already thinking about expanding it, Quickbooks will have your accounting needs covered!
Flexible plans
Affordable accounting software
Free customer support
With a free 30-day trial
Not designed for large-scale accounting operations
11. Bevootech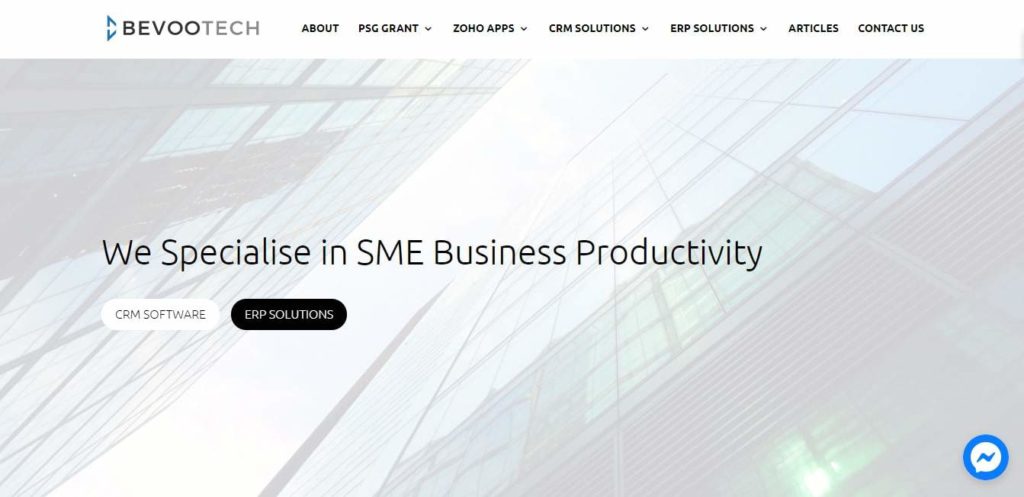 BEST FOR
Small and medium-sized businesses
FEATURES
Invoicing, bank reconciliation, bookkeeping, inventory management, audit trail reports, multi-currency transactions, tand accounts consolidation
PRICING
$3,509.35
CONTACT INFORMATION
+65 8687 8143


[email protected]

WEBSITE
https://bevootech.com/
Bevootech is an accounting software developer that helps businesses improve with the power of CRM solutions and customised business software. It may have a wide selection of business software, but its accounting software is the one that stands out.
For one, it's IRAS-accredited software designed mainly for accounts and inventory management, making it easier for small businesses to track expenses and monitor stocks.
Additionally, it comes with a user-friendly interface with features that would be easy for anyone to learn, so even those who aren't technologically literate won't have a hard time using it.
Other features of Bevootech's accounting software include real-time management dashboards, financial reporting, multi-currency transactions, goods and service tax computation, and loss computation, among others.
However, it's not the cheapest accounting software out there, costing more than $3,000 for a license. It's not subscription-based software though, so you'll have the license as long as your business is running.
IRAS-accredited
User-friendly interface
Lifetime license
Multiple accounting features
Pricey, not subscription-based software
12. Chronos Agency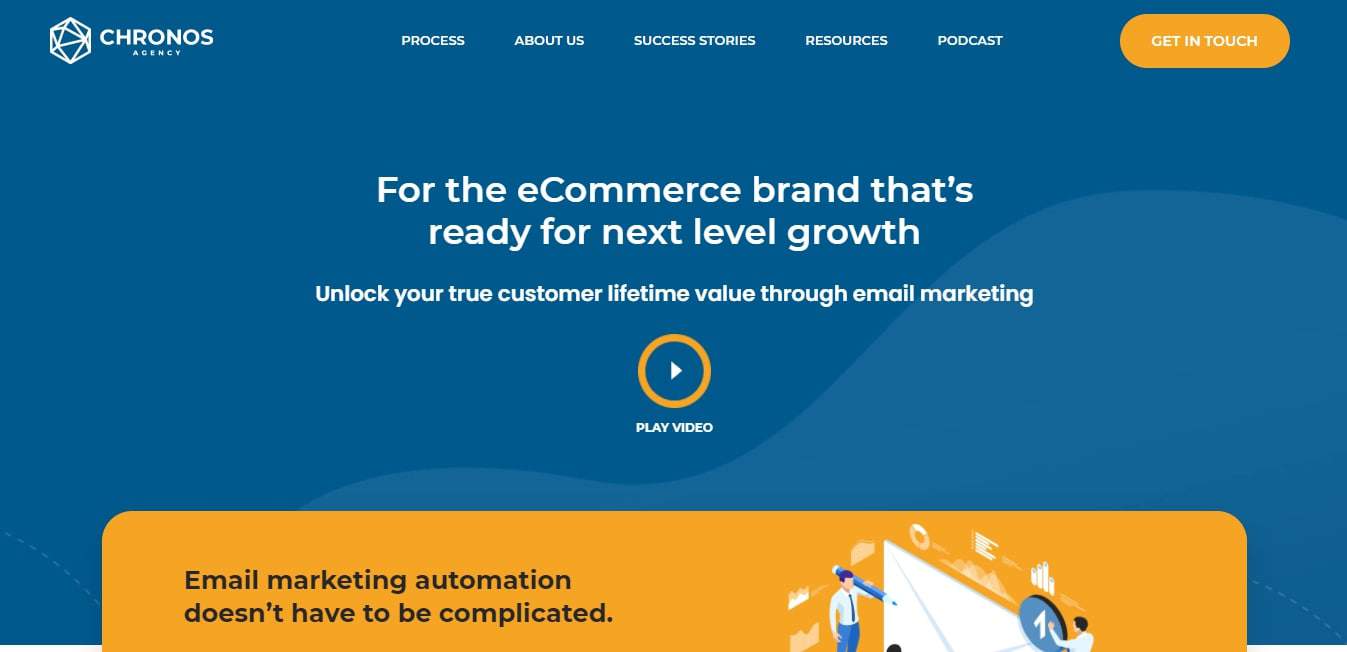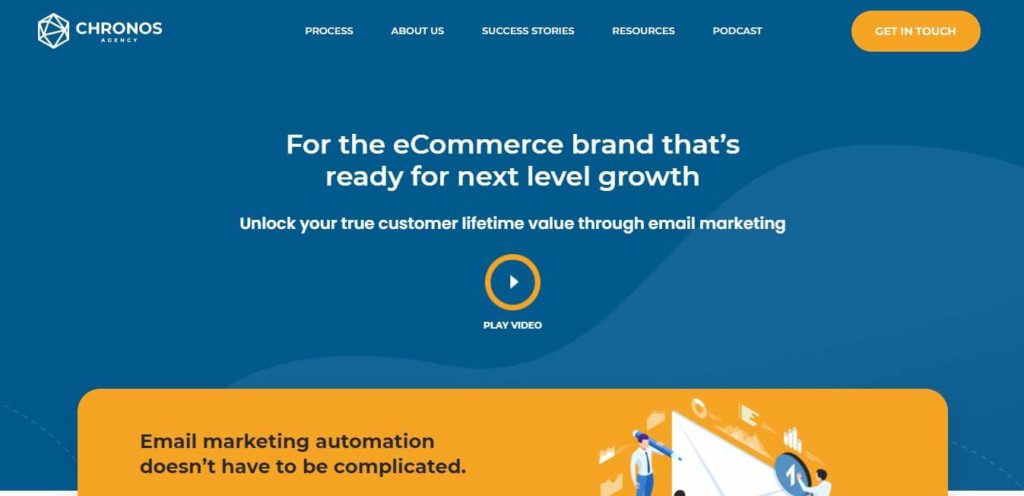 | | |
| --- | --- |
| BEST FOR | eCommerce businesses |
| SERVICES | Accounting and digital marketing |
| PRICING | Get in touch with them for more details |
| ADDRESS | 22 Sin Ming Lane #06-76 Midview City Singapore 573969 |
| CONTACT INFORMATION | [email protected] |
| WEBSITE | https://chronos.agency/ |
| OPERATING HOURS | Monday to Friday, from 9:00 AM to 6:00 PM |
Chronos Agency isn't technically an accounting software nor a software developer, but we still added it here as a bonus because it provides marketing and accounting services for businesses in the eCommerce industry.
Unlike other agencies, Chronos Agency employs an outside-in approach for its services. It houses a team of strategists, tech experts, creatives, copywriters, and accountants who can handle all of your marketing and bookkeeping needs.
There are hundreds of marketing and accounting agencies scattered all over the island, but what makes Chronos stand out is its radical approach. It may not always go with the popular, but it's sure that that's what's going to help your business.
In line with that, it comes highly recommended if you're looking for someone to help your business grow in a unique and unconventional way. You won't be disappointed though, as it's generated a 20% to 30% revenue boost for its customers.
Some of the brands that put their trust on Chronos include Primal Harvest, Lumen, Beautifily, Lava Art, Forchics, ChargeASAP, and TurboTorp, among others.
Personalised support
Positive track record
Excellent customer service
Customer Reviews
Here's what its customers had to say about:
"Chronos turned my online business around after figuring out the root causes. They boosted my revenue from email marketing from 5% to 15% (highest was 41%)! Probably the best email marketing team in Asia, I highly recommend and thank them for their work!" -Tyler Jordan
"We've been working with the Chronos team for our email marketing for more than 2 years now and their results are amazing! 20%+ of our revenue every month is the result of their great service. Amazing team!" -HR Meshyl
13. SkyBiz Financial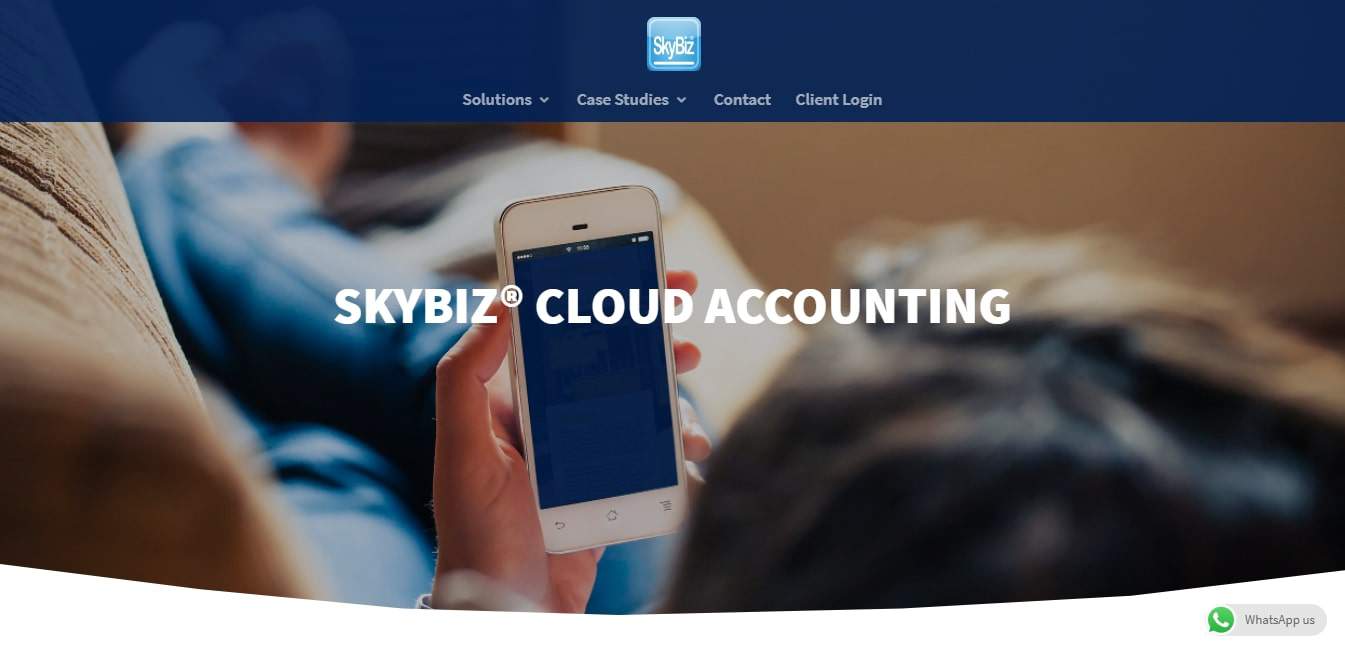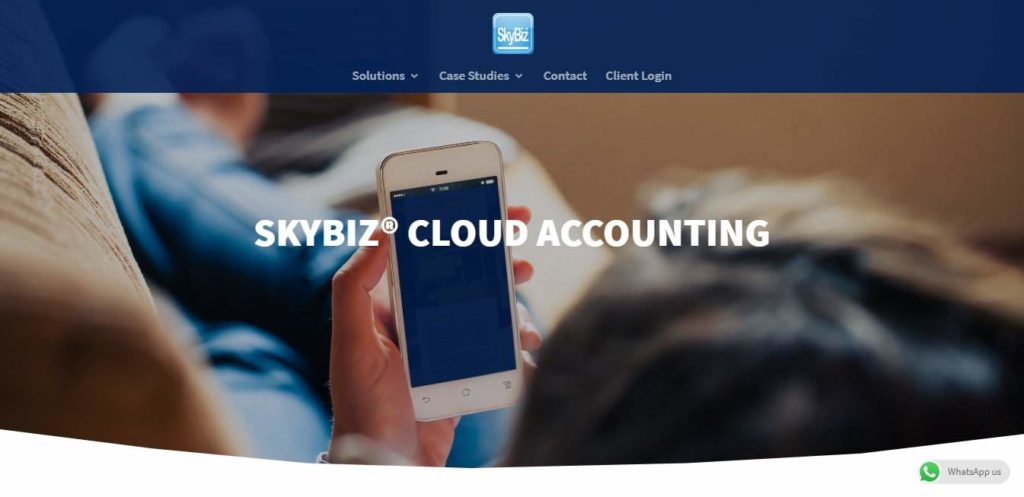 | | |
| --- | --- |
| BEST FOR | Small and medium-sized businesses |
| FEATURES | Full-set accounting, invoicing and quotation, bank statement reconciliation, multi-currency accounting, inventory management, sales journal, general ledger, and department accounting |
| PRICING | Starting from $49 per month |
| CONTACT INFORMATION | (65) 6513 0867 |
| WEBSITE | https://www.skybiz.sg/ |
If you're looking for accounting software that can be used by anyone in your team, then look no further than SkyBiz Financial. It's tagged as one of most user-friendly accounting software in Singapore, so there's no way we're not adding it here.
The problem with most accounting software is that users spend more time learning how they work than actually using them. However, that's not going to be a problem with SkyBiz Financial because its features can be quickly learned by anyone.
When it comes to financial reports, this accounting software will make sure that you're always on top of everything. Some of the reports it generates include sales report, supplier purchase, inventory, income statements, and accounts payable.
We admit that it's not the fanciest accounting software out there, but it can help users get more job done through its minimalist and simple interface. According to customers, they've noticed an increase in productivity once they started using SkyBiz.
It can also be used on your smartphone or tablets, making it easier for you to track finances and manage inventory even without a computer.
Cloud-based accounting
Reasonable pricing
User-friendly interface
No complicated features
FAQs about Accounting Software
---
And that's the end of our list of the best accounting software in Singapore! If you'd like to suggest more options, share them with us as we'd like to know more about their features as well!
Also, you might be interested in these best bookkeeping services in Singapore. Some of them also offer high-quality accounting software where you can record and organize all transactions.