The 36 Best Digital Marketing Agencies in Singapore
As you launch your startup or expand your business horizons, it's essential to constantly reach your targeted audience and capture their interest. For that, you should consider getting help from the best digital marketing agencies in Singapore.
With the strategic skills of such marketing specialists, more and more people will be informed about your services. Digital marketers can also ensure that your brand gets the exposure it deserves on the Web.
So to help you gain more potential customers, here's our list of the best digital marketing agencies in Singapore! We've listed renowned companies that create innovative and refreshing marketing concepts that'll make your business soar higher than its competitors.
1. Alexander PR Group by Marie Alexander
Incorporated in 2004, Alexander PR Group has developed media, public relations, and advertising campaigns for an array of companies– from huge corporations to SMEs. Because of this, they are one of the most effective ROI Business Development agencies in the country.
They've also been developing brands for a wide range of clients: some of which are Fashion, Interior, Luxury, Beauty, Hospitality and Lifestyle. As a result, the company has great relationships with celebrities and media personalities not only in Singapore, but also around the world.
Availing of Alexander PR Group's services is an excellent choice you won't regret. It's like placing your company in the spotlight– staying agile and getting ahead of market trends.
Highlights
Most Effective ROI Business Development
Business and Branding Development
Public Relations
Creative Production
Celebrity/KOL Branding
Digital Development
2.

Wordsmithery
With their dynamic team of creatives, copywriters, marketing experts and web & app development natives, Wordsmithery helps their clients discover why branding is important, which guides the company on what to focus on for successful marketing.
By combining research data and expertise to formulate digital strategies, Wordsmithery provides effective customer service that's oriented to digital business growth. The agency's marketing may seem slow, but success is guaranteed with this approach.
Wordsmithery always makes sure that they establish and maintain open lines of communication– so they work closely with their clients. By providing frequent updates, clients are reassured that their progress is on track.
Highlights
Social Media Marketing
Web Development
Search Engine Optimisation
Reputation marketing
Mobile App Development
Graphic Design
3.

OOm
While helping businesses of all sizes with their digital marketing since 2006, OOm has continuously developed their competency when it comes SEO, SEM, Social Media Marketing, and more. One of the things they've come to value in their line of work is client transparency.
OOm believes that having a connection with the client is important. Therefore, they do not see themselves as a hired digital marketing agency– they're more like a marketing partner.
In doing what's best for their clients, they will dig deeper for ideas rather than just agreeing to what the client thinks and decides. Trusting your brand to one of the most reliable digital agencies in Singapore will surely bring you to success.
Highlights
Google Marketing Solutions
SEO Solutions
Social Media Solutions
China Digital Solutions
Creative Solutions
Technical Solutions
4.  Carbon Interactive
For over a decade of service, Carbon Interactive has been helping various enterprises establish an impressive presence on digital platforms. They've done work for many local institutions such as Singapore GP, The Shilla Duty-Free, Sentosa, ST Engineering, and more.
Whether you need to enhance your brand image or publish user-friendly websites or campaigns, you can rely on their services. they're one of the best digital marketing agencies in Singapore.
Highlights
Website development
Effective marketing campaigns
5.  Convertium
Convertium can help you gain quantifiable results from owned, earned, or paid media. They practice different types of digital marketing strategies to plan and manage concepts to attract an increased number of customers.
Their clients are some of the most well-established companies in Singapore such as Bank of Singapore, Singapore Economic Development Board, NTUC Income, Marina Bay Sands, and more!
Their range of specialties is one of the reasons many consider them to be the best digital marketing agency in Singapore.
Highlights
Website development
Custom applications development
6.  Digirine
| | |
| --- | --- |
| BEST FOR  | Digital advertising |
| WEBSITE | https://digirine.com/ |
| ADDRESS | 10 Anson Road #27-15 International Plaza (Beside Tanjong Pagar MRT) Singapore 079903 |
| CONTACT DETAILS | [email protected] |
| OPERATING HOURS |   |
DIGIRINE uses goal oriented strategies to help you achieve your marketing goals, whether it is generating leads or awareness. With over 8 years of digital marketing experience, find out what it takes to hit your KPIs.
They have served clients from various B2C and B2B companies. They include Sports Hub, Virgin Active, Konica Minolta, Creative Technology and more.
Highlights
Digital Marketing Services that match their budgets
KPI Oriented Strategies
7. Healthmark SG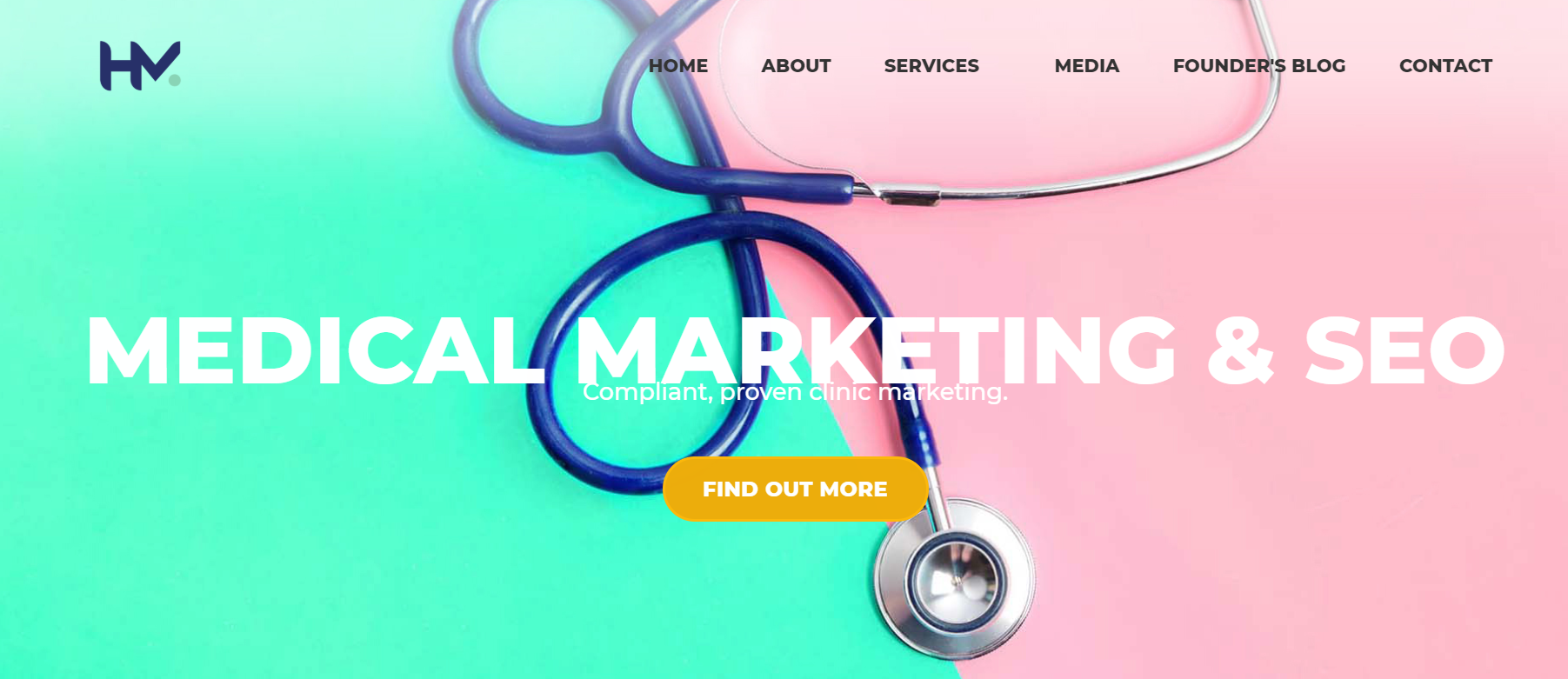 BEST FOR 
Medical SEO & SEM
WEBSITE
https://healthmark.sg/
ADDRESS

31F, 9 Temasek Boulevard, Suntec City Tower 2, Singapore 038989

CONTACT DETAILS
Phone : +65 6559 6135
WhatsApp : +65 9007 5432
Email: [email protected]
OPERATING HOURS
Mon – Fri: 8:30am – 7:30pm
Sat: 8:30am – 3:30pm
Pioneers in the field of medical marketing, Healthmark is known industry wide as medical regulations experts with a strong grounding in knowing how to rank clinic websites from brand new all the way to the top of Google. They have been featured in magazines like Forbes, Prestige and Digital Journal.
Founded by ex-clinic owners, Healthmark has worked with a variety of medical specialists ranging from gastroenterologists, ophthalmologists, gynecologists, aesthetic doctors and more. Their nuanced insights into the ever-evolving medical industry allows them to craft bespoke marketing campaigns for doctors to make an immediate impact in their chosen medical niche.
As a company that advertises themselves as having "premium prices", if you're looking for a discount option then you might want to go somewhere else. For those willing to invest in the long-term digital presence of their clinic & brand – Healthmark stands out as Singapore's premier medical digital marketing option.
Highlights
Regulation-safe advertising
Niche specific SEO
Believes in results over fluff
High standards
8. Brew Interactive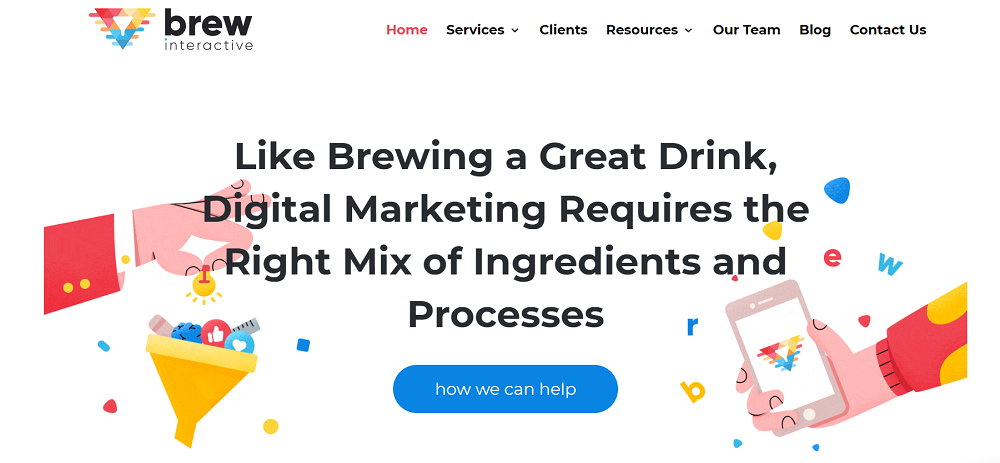 BEST FOR 
Inbound Marketing
WEBSITE
https://brewinteractive.com/
ADDRESS

111 North Bridge Road, #08-19, Singapore 179098

CONTACT DETAILS
+65 6814 2952 | [email protected]
OPERATING HOURS
Monday – Friday: 9am–6pm
Saturday – Sunday Closed
Brew Interactive first opened their doors to the public in 2009. With more than a decade's worth of experience in the industry, the company is now recognised as one of the leading marketing agencies in all of Singapore, with clients like Qatar Airways and Oppo under their belt.
With Brew Interactive, collaboration is of utmost importance. They believe that the key to meeting clients' needs is by actually working alongside them to co-create designs and strategies.
They're known for the following services: Lead Generation, Social Media Marketing, Content Marketing, and Digital Reputation Management. They offer more than that though, so if you'd like to more know, make sure to coordinate with them and have your expectations be exceeded.
Highlights
End-to-end digital agency
Unparalleled Expertise
No client is more important than you
9. Digital M

| | |
| --- | --- |
| BEST FOR  | Digital Marketing |
| WEBSITE | https://digitalm.sg/ |
| ADDRESS | Peninsula Plaza 111 North Bridge Road #24-02, Singapore 179098 |
| CONTACT DETAILS | 6702 1709 | [email protected] |
| OPERATING HOURS |   |
From the powerful and very responsive website designs, social media marketing and mobile application development to e-commerce, Digital M offers all of their services with flair and finesse. Together with the best experts in their team, they create strategies and plans on how to make their clients experience growth in a short amount of time.
The Digital M team is always keen when it comes to delivering their very best. They are directed by a set of values to ensure that they remain consistent when it comes to their customer service and work. 
Highlights
Search Engine Optimisation Services
SEO Expert
10. Strategic DigitaLab

As a digital marketing agency, their goals are to make plans on how to successfully market their clients' company. But every agency have different approaches towards their clients. An example will be Strategic DigitaLab.
The Strategic DigitaLab offers a step by step process in their marketing solutions. They start by understanding their clients, the business and the objectives. They approach every brief with audits, research and tools by ploughing through the competitors' marketing ecosystem and the trending landscape. This enables them to come up with a strong strategy in their marketing solution.
The agency's process of formulating a marketing strategy can be a little bit different and strenuous but in the end, it will all be worth it, especially after you see your company rise up.
Highlights
Account-Based Marketing
Lead Generation
Branding Awareness
Growth Hacking
Social Media Marketing
Content Marketing
Performance Marketing
Web Development
Mobile App Development
Search Engine Optimisation
Search Engine Marketing
11. 2Stallions Digital Marketing Agency
As a digital marketing agency based in Singapore and Indonesia, 2Stallions provides business strategy, digital strategy, user experience design, design services, social media marketing, and technology services to their clients. They continuously strive to learn new techniques and methods to better serve their clients.
From strategy to execution, they create customized websites and web applications that produce great results. They use multi-channel marketing campaigns to generate better brand awareness, engagement, and conversions.
It is not shocking to know that some of their clients are still well known today. If you're looking for the best digital marketing agency, you should give 2Stallions' website a visit. Their reviews are incredible, showing how reliable they are when it comes to their work.
Highlights
Creative Services
Web & Mobile Development
Digital Marketing
Additional Services
12. Hashmeta
BEST FOR 
Social media marketing
WEBSITE
https://hashmeta.com/
ADDRESS
30A Kallang Place #11-08/09 Singapore 339213
CONTACT DETAILS
+65 6205 5931 |

[email protected]

OPERATING HOURS
Weekdays: 9am–6pm
If you're currently enhancing your social media marketing, Hashmeta might be the perfect choice for you, as they provide goal-oriented solutions on all social media channels. Inbound, content, and influencer marketing are also part of their services.
They specialise in initiating campaigns designed to gain attention and build relationships through posting interactive content on Facebook, Instagram, Twitter, and other social media platforms. They do advertising, monitoring, and media reports to keep track of their progress.
They've worked with many established companies like PayPal, Bosch, DBS, Fujioh, AIG, and more — proving that they're indeed one of the best digital marketing agencies in Singapore.
Highlights
Wide range of marketing services
Social media campaigns
13. First Page Digital
First Page Digital creates targeted SEO strategies that maximise your website's potential, resulting in better online exposure. Their methods of marketing has already helped hundreds of brands become well known and stand out over their competitors.
Because of this, they pride themselves to be one of the largest digital marketing agencies in the country. Using their powerful digital marketing strategies, their technical and content professionals will optimise your site to promote your business' growth, exposure, and brand authority.
They do believe that no two businesses are the same, which is why they tailor each strategy to your brand's unique requirements. With their team of strategic, technical and creative specialists, they can assure you that they will drive your brand to success.
Highlights
Singapore's Largest Digital Marketing Agency
SEO Services
Pay-per-Click Advertising
Conversion Rate Optimisation
Social Media Marketing
14. Clickr Media
BEST FOR 
Small business solutions
WEBSITE
https://www.clickrmedia.com/
ADDRESS
2 Alexandra Road #06-04 Delta House Singapore 159919
CONTACT DETAILS
+65 6566 9556 |

[email protected]

OPERATING HOURS
Monday to Thursday: 9:30am–6:30pm

 

Friday: 9:30am–6pm
Clickr Media caters to a variety of digital marketing services such as email marketing, blog marketing, online market research, web development, and more. Their team consists of well-experienced professionals with media and technology backgrounds.
They also have specially curated solutions for small businesses including digital ads, landing pages, and banner designs that'll help you reach a larger audience without going over your estimated budget.
Highlights
Design and development services
Whole set of digital marketing services
15. Disruptive Digital
The Disruptive Digital Team prides themselves on being dedicated to their client's online businesses and making it succeed digitally. They provide digital marketing services from strategies up to delivery.
With proven results, they make sure that their clients are provided the best customer service they deserve. They adjust to a client if needed, as they believe that one size does not fit all.
To cater to every client's specific needs, the Disruptive Digital team utilizes everything they to dig deep into the heart and soul of the business– one of the key factors that makes a business successful. Grab this opportunity and check out Disruptive Digital now!
Highlights
Social Media Marketing
Search Engine Optimization
Advanced Web Analytics
Email Marketing
Pay Per Click Management
Content Marketing
16. Reed Tan Digital
Content is where search begins. Using content to drive searches is still one of the better and efficient ways to establish a great online presence and drive business leads.
Since 2009, Reed Tan Digital has been driving effective lead generation campaigns for SMEs in Singapore through content marketing, social media and search advertising. The founder of Reed Tan Digital has also been featured on Strait Times for his business in 2013. If you need a surgical approach in your business, they are one of the best lead generating digital marketing agencies in Singapore.
Reed Tan Digital also shares a wide variety of brain picking content which may be useful for your business.
Highlights
Google Ads Campaign
Search Engine Optimization
Social Media Marketing
17. Boopin
| | |
| --- | --- |
| BEST FOR  | Digital Marketing |
| WEBSITE | http://Boopin.com |
| ADDRESS | 59 New Bridge Road, Level 3 , Singapore 059405 |
| CONTACT DETAILS |   +65 91881824  | [email protected] |
| OPERATING HOURS |   |
Composed of experts from various backgrounds– namely technology, product design and business strategy– the Boopin Team helps ambitious companies differentiate themselves against their competition in the digital business.
Their techniques and strategies can help your company become successful digitally. As a leading advertising company in Singapore, they have connections all over the world that can help further a company's marketing campaigns.
Rest assured knowing that their services will never disappoint you. Becoming huge in your market in the future will not be a problem.
Highlights
Media Strategy & Buying
Programmatic
Digital Marketing
Digital Marketing –  China Market
Social Media
Influencer Marketing
Web and App Development
Search Engine Optimization (SEO)
AdTech and Analytics
18. Smmile
The Smmile team prides themselves on being a fast and responsive team that not only understands their customers' requirements, but also executes projects efficiently and professionally.
Since 2012, Smmile has been helping businesses creatively with their marketing campaigns. With experience backed by years of creative marketing, design, and digital solutions, they guarantee that they will fulfill any client's integrated marketing needs.
Isn't this enough proof of their skill? The Smmile team will certainly take care of your business once you hire their services. Give their website a visit and lead your business to success!
Highlights
Search Engine Marketing
Search Engine Optimization (SEO)
Social Media Marketing
Digital Lead Generation
Marketing Retainer
Sales Landing Pages
Company Website
eCommerce Website
Website Maintenance
19. SGSEO
| | |
| --- | --- |
| BEST FOR  | Search Engine Optimization (SEO) and Search Engine Marketing (SEM) |
| WEBSITE | https://singaporeseo.agency/ |
| ADDRESS | 35 Kallang Pudding Road #07-14 Singapore 349314 |
| CONTACT DETAILS |   +65 8687 8143  | [email protected] |
| OPERATING HOURS |   |
SGSEO, a Singapore based company, works with local and regional businesses. Unlike some Digital Marketing agencies, they only provide SEO and SEM services.
This is due to their discovery that SEO and SEM services are most essential when it comes to facilitating both the short term and long term growth of businesses. They have proven this through their experiences in the industry.
SGSEO prides themselves on being customer oriented– they always prioritise their clients in every transaction they do. Working with them is highly recommended, for they're a team who is willing to accommodate your preferences while helping you along the way.
Highlights
Search Engine Marketing
Search Engine Optimization (SEO)
SEO Reseller
20. Notion Age
| | |
| --- | --- |
| BEST FOR  | Digital Marketing |
| WEBSITE | https://notionseo.com/ |
| ADDRESS | 1 Kallang Junction, Vanguard Campus Level 6, Singapore 339263 |
| CONTACT DETAILS |   +65 64388303  | [email protected] |
| OPERATING HOURS | Monday – Friday 9:30am – 6:30pm |
Founded in 2001, Notion Age has since then become one of the leading digital marketing agencies and top notch SEO/SEM companies in Singapore. They help their clients boost their businesses digitally with the appropriate creative solutions and marketing strategies.
The Notion Age team consists of SEO/SEM experts and experienced online marketers, all of which are dedicated and passionate while providing the finest quality work. Their marketing campaigns will surely meet every clients' standards.
They believe that by setting high expectations for themselves, they'll be able to deliver excellent services to their clients. Notion Age guarantees exceptional results that will surely be worth their client's investment.
Highlights
Premium SEO Services
SEM & Pay Per Click Search Advertising
Content Creation & Marketing Services
Email Marketing & EDM Blasting Services
21. E-Alchemists
| | |
| --- | --- |
| BEST FOR  | SEO & SEM Traffic |
| WEBSITE | https://e-alchemists.com/ |
| ADDRESS | 65 Chulia Street, #46-00 OCBC Centre, Singapore 049513 |
| CONTACT DETAILS |   +65 90115755  | [email protected] |
| OPERATING HOURS | Monday – Friday 9:30am – 6:30pm |
The E-Alchemists team takes pride in being systematic and responsive when it comes to providing SEO services. Their team of SEO experts consistently prove that they can exceed their client's expectations.
With E-Alchemist's services, clients saw traffic grow week after week– making them happy with the results. There also boosts on their leads and business.
Every step they take is thorough and more importantly, effective. This only proves how E-Alchemists is the best as a reliable provider of SEO services.
Highlights
22. Media One
| | |
| --- | --- |
| BEST FOR  | SEO marketing campaigns |
| WEBSITE | https://mediaonemarketing.com.sg/ |
| ADDRESS | 4B Craig Road, Singapore 089664 |
| CONTACT DETAILS | (65) 6789 9852 |
| OPERATING HOURS | Weekdays: 9:30am–6:30pm |
As we all know, effective SEO marketing can bring your business to new heights. This is why many enterprises are using this strategy to boost commercialism and earn potential clients.
To help you achieve a successful website, Media One offers advanced SEO marketing strategies. This is an award-winning agency that creates authentic campaigns with a goal of long-lasting results.
As they offer cost-effective campaigns, they'll give you real-time and transparent reports and guaranteed rankings, making them one of the best digital marketing agencies in Singapore.
Highlights
SEO service packages
Economic rates
23. HOCUZ Digital
Serving clients since 2019, HOCUZ Digital has been providing efficient services non-stop. They use in-depth research to help clients make informed decisions that will achieve the results they want.
The HOCUS Digital team assists businesses in integrating their digital presence with existing channels in Singapore. They take pride in being organized and consistent– it's no surprise how their past clients have been recommending them as well.
Their satisfied clients are enough proof that acquiring their services in the future will surely bring success to your company. Don't waste time– contact the right people to do your marketing for you!
Highlights
Digital Branding
Social Media Marketing
Website Design
Content Creation / Planning
SEO / SEM
Influencer Selection and Coordination
24. Rioks
Rioks Corporation is a Singapore based marketing consultancy that handles B2B industries, SaaS product marketing, and E-commerce. Besides working locally, they also provide marketing consulting services internationally.
From their humble beginnings in 2012, they have become one of the leaders in the industry when it comes to strategic marketing planning, inbound marketing strategies, and search engine optimization campaigns. They can be counted on as a reliable provider of effective strategies.
They offer various services, from social media and marketing campaigns to custom-made web applications. Rioks Corporation also assists their clients in marketing technologies & automation, making their future marketing and campaign projects more effective.
Highlights
Marketing Department on Outsource
Account Based Marketing
Industry-specific Marketing Solutions
25. ClickTRUE
Unlike other Digital Marketing agencies, the ClickTRUE team focuses on SMEs. SME owners blindly take their chances with digital marketing– only to end up with bad experiences with other agencies.
ClickTRUE is sick of seeing money go down the drain with bad marketing, which is why they're more focused on helping SMEs. They believe that traffic and likes aren't enough. You also need to have strategies and techniques to achieve better results in marketing.
Their credibility comes from their 20 years of digital experience in the industry– rich experiences in digital marketing and case studies from happy clients. There is no doubt that working with them will surely bring you closer to success.
Highlights
Specializes in Search & Conversions
18 years of Online Experience
26. Mediatropy Digital Agency
Founded in 2011, Mediatropy is a Singapore digital agency with the goal to be innovative in everything that they do. With a specialty in luxury and hospitality, Mediatropy is praised as one of the award-winning independent agencies in Singapore.
Their team of 20 digital artisans share the belief that anything is possible, with passion and creativity being the keys that unlock brand potential.
Their main objective is to continuously evolve with the new media. They believe that the quality and integrity of their work is above all else. With their partners, they strive hard to make an impact on their clients. For them, their success is also the success of their clients.
Highlights
Strategy
Media Planning and Buying
Creative Production
Content Production
Web Development
SEO
27. Athena Media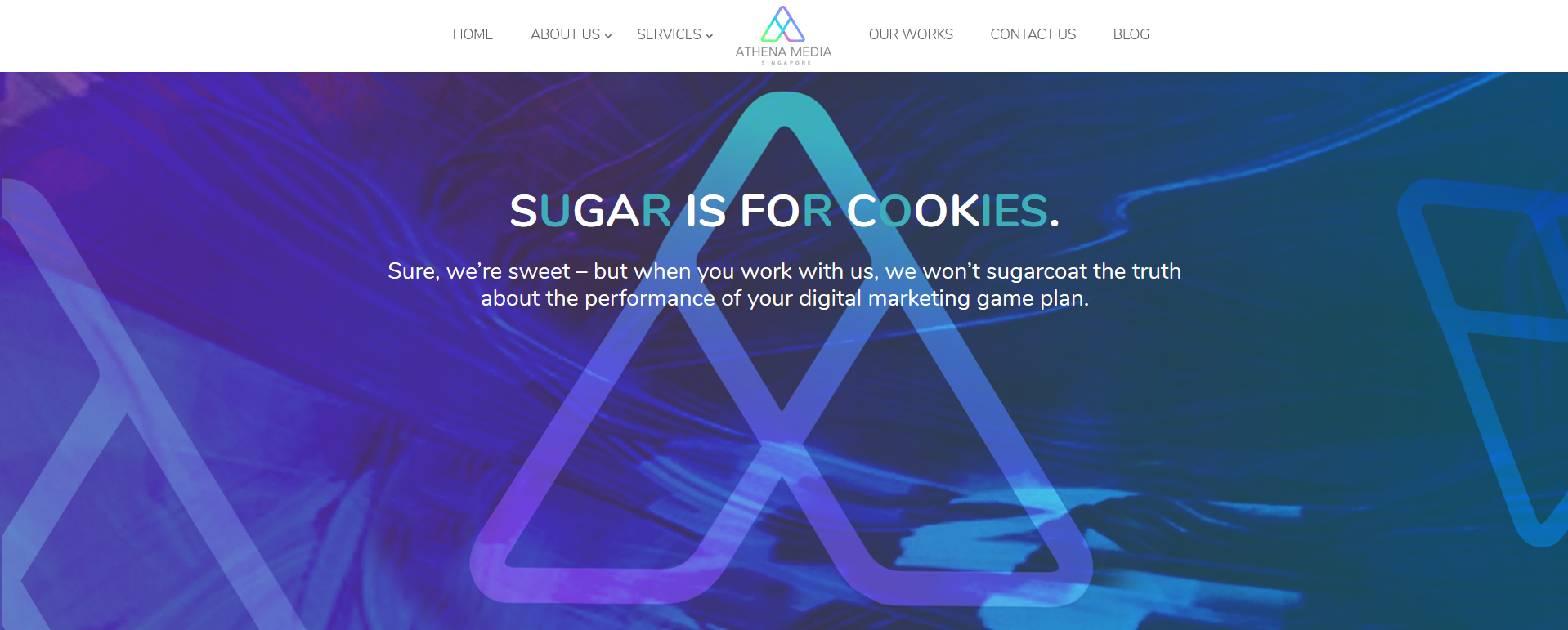 Athena Media is not like most digital marketing agencies. They do their best to fulfill their client's needs. They care about your success, not just their bottom line.
For them, a successful project uses the right marketing strategies and emphasizes your brand's unique aspects. They'll increase your business' online presence and ensure that your brand is one that commands attention.
They're known for doing excellent work. Clients have been known to return time and time again for their exceptional services.
Highlights
Design Services
Marketing Services
28. Lion & Lion Digital Marketing
| | |
| --- | --- |
| BEST FOR  | Integrated Digital Marketing |
| WEBSITE | https://lionandlion.com/ |
| CONTACT DETAILS | (+603) 2711 0485 I [email protected] Media is not like most digital marketing agencies. They do their best to fulfill their client's needs. They care about your success, not just their bottom line. |
Founded in 2012, Lion & Lion is an award-winning, integrated digital marketing agency operating in Asia. They focus on transparent and measurable results through a data-driven and strategically-led approach to digital marketing.
Their mission is to help clients with strategic, impactful digital marketing, and to create an organisation where talented people are motivated by helping businesses grow. They believe that the growth of their clients and their people is connected – and they believe that the success of their company is a result of this connection.
With their years in the industry, they've already established themselves in the region with offices in 5 major cities. This includes Kuala Lumpur, Jakarta, Hong Kong, Singapore and Taipei, alongside a growing portfolio of clients including The Coca-Cola Company, Google, Danone, L'Oréal, Dairy Farm, and more.
Highlights
Strategic Digital Marketing
29. SEO Agency

| | |
| --- | --- |
| BEST FOR  | Digital Marketing |
| SERVICES | Web Design, Facebook Marketing, LinkedIn Marketing, Youtube Advertisement, Reputation Management |
| WEBSITE | https://www.seoagency.com.sg/ |
| ADDRESS | 144 Robinson Road #20 Robinson Square, Singapore 068908 |
| CONTACT DETAILS | (+65) 6270 2193  |  [email protected] |
| OPERATING HOURS | Monday – Friday, 9:00 am – 6:00 pm |
SEO Agency was founded in 2011, since then becoming one of the largest digital marketing agencies in Singapore that specialise in Search Engine Optimisation. Thanks to their teamwork, technical expertise, and creative style, they are able to consistently provide full-service solutions to their clients.
One of their greatest advantages is staying up to date with the latest technological developments. This allows them to easily adapt to their client's needs and offer solutions that are at the forefront of the industry.
SEO Agency remains one of the companies that stay ahead with their digital marketing techniques. With their passion for all things digital, they continuously build their extensive knowledge and deliver great results.
Highlights
Marketing Agency
Web Design
30. Ence Marketing Group
Ence Marketing Group is an agency that ensures your company's visibility and success through amazing digital marketing. Through years of experience, they've already mastered the art of integrating and personalising marketing strategies for each company, to achieve optimal results.
The team in Ence Marketing consists of dynamic members with different areas of expertise when it comes to marketing, so you know that every one plays a significant role in ensuring the growth of your business– all aspects will be thoroughly taken care of.
Services offered at Ence includes Affluence Public Relations, Potent Public Relations, Eminence Events, Decadence Design, and Valence Digital Marketing.
Highlights
Integrated marketing approach
Generates great leads for business
Multi-channel approach
31. Heroes of Digital
BEST FOR
Social Media Marketing
WEBSITE
https://www.heroesofdigital.com/
ADDRESS

44 Kallang Place, #06-09, Four Star Building,
Singapore 339172

CONTACT DETAILS
+65 6802 3658
OPERATING HOURS
Mondays – Fridays: 9am to 6pm
Excluding Public Holidays
Heroes of Digital is not your ordinary agency. With a team of highly skilled digital marketing specialists, they go far and beyond in making sure that the strategy implemented on your brand or company is built from facts and data, ensuring almost maximum results.
They offer a wide range of services from search engine optimization, to digital marketing and even website design.
Have Heroes of Digital aid you with long-term growth and stellar marketing plans for the future, all within your specified budget. Contact them now for free quotation and advice!
Highlights
Google Ads
SEO
Social Media Marketing
Website Design
32. Absolute Digital
Absolute Digital is one of Singapore's top, multi-award winning digital marketing agencies. They are skilled in using the latest techniques and methods when it comes to pushing your brand forward.
Their team is composed of passionate experts who are all driven to create excellent results. To continue producing the best outputs, they make sure to work closely with their clients in bringing brand ideas to life.
Make your brand stand out from the rest– contact Absolute Digital now.
Highlights
Best in Singapore awardee
Top Digital Marketing Company awardee
33.

East Side Mafia
| | |
| --- | --- |
| BEST FOR | Digital Marketing/ Digital Response/ Landing Page Optimisation |
| WEBSITE | https://eastsidemafia.com/ |
| ADDRESS | 31 Rochester Dr, Penthouse Singapore 138637 |
| CONTACT DETAILS | [email protected] | +65 3163 5710 |
| OPERATING HOURS | Everyday |
East Side Mafia is a leading eCommerce website design agency in Singapore, known for using techniques that are unusual for a company in their industry. They not only create designs from scratch, but also make sure that their work piques the interest of the client company's target audience.
To achieve the customer's goals, they use processes like social media integration, google analytics, email marketing, and website search engine optimisation.
They're definitely one of the best in the field, thanks to their high-quality work and low priced services. If you want to grow your business fast, you should definitely consider availing of their services.
Highlights
Secure Payment Integration
No Ridiculous Pricing
Mobile ecommerce ready
34.

MIU
BEST FOR
Branding
WEBSITE
https://miu.sg/
ADDRESS
477A Changi Road
Suite #7 MIU HQ
Singapore 419893
CONTACT DETAILS
https://wa.me/6588500813
[email protected]
OPERATING HOURS
N/A
MIU is a company focused on helping businesses build their brand. They pride themselves on offering quality, innovative services.
With their help, your business can connect to its intended audience. Contact them now!
Highlights
Free quote and consultation
Transparent and accountable services
35. AWANDKO
BEST FOR   
Multidisciplinary agency
WEBSITE
https://www.awandko.com/
ADDRESS
33 Ubi Ave 3, #08-08B Vertex, Singapore 408868
CONTACT DETAILS
+65 8905 5057


[email protected]

OPERATING HOURS
Monday to Friday: 9.00am – 6.00pm
AWANDKO is a multidisciplinary agency that uses its staff's expertise in design and marketing to help improve businesses. They can handle everything from building a remarkable brand to marketing you to your desired audiences.
They can design just about any material your company may need for promotions. These products and materials include posters, brochures, logos, and websites.
They even offer video productions and outsourcing for campaigns to market your business. AWANDKO also offers copywriting and editing services to make sure all your materials are easy to understand.
Highlights
Expertise in marketing, design, and web development
Search engine, social media, and email marketing
Video productions for marketing
36. Elavan August Media

Elevan August Media is here to help you out with your marketing media needs, as a brand new face in the industry. While they're a young company that was established in 2019, that doesn't deter them from showcasing their expertise in their field.
They are a team that is transparent with their clients, opting to be realistic and honest when it comes to their business. Their team offers their services for an affordable price, so don't hesitate to talk business with them and rely on them.
They are not just any service provider– they are a team that you can trust as business partners. They are a group of committed business workers ready to help you fulfill your needs.
Highlights
Cancel anytime subscription
Free marketing consultation with actionable tips
Your trusted business partner instead of a service provider
And that's the end of our list of the best digital marketing agencies in Singapore! Have you worked with any of these marketing specialists? If so, then we'd love to hear about your experience with them!
As you build your ideal concepts with your chosen marketing team, by the way, you may want a productive and positive environment that can boost motivation and creativity. So, you might also want to see our list of the best coworking spaces in Singapore to keep the ideas coming!