The 54 Best Digital Marketing Agencies in Singapore
Launching a startup or expanding a business means looking for ways to attract audiences and capture their interest. In order to do this, you need to ask for help from trusted and reliable digital marketing agencies.
Luckily for you, we've already taken care of that. We scouted the entire island and made a list of the best digital marketing agencies in Singapore that can help your business grow by widening its reach on the Internet.
Before we get to that though, we're going to reveal how much it'd cost to hire a digital marketing agency in Singapore. We've also answered a few of the most pressing questions about them.
The Best Digital Marketing Agencies in Singapore
Now that you have an idea of how much digital marketing services cost, let's jump right into our picks for the best digital marketing agencies that can provide those services.
Check them out below to see which digital marketing company complements how your business is being run.
1. BDSA Pte Ltd.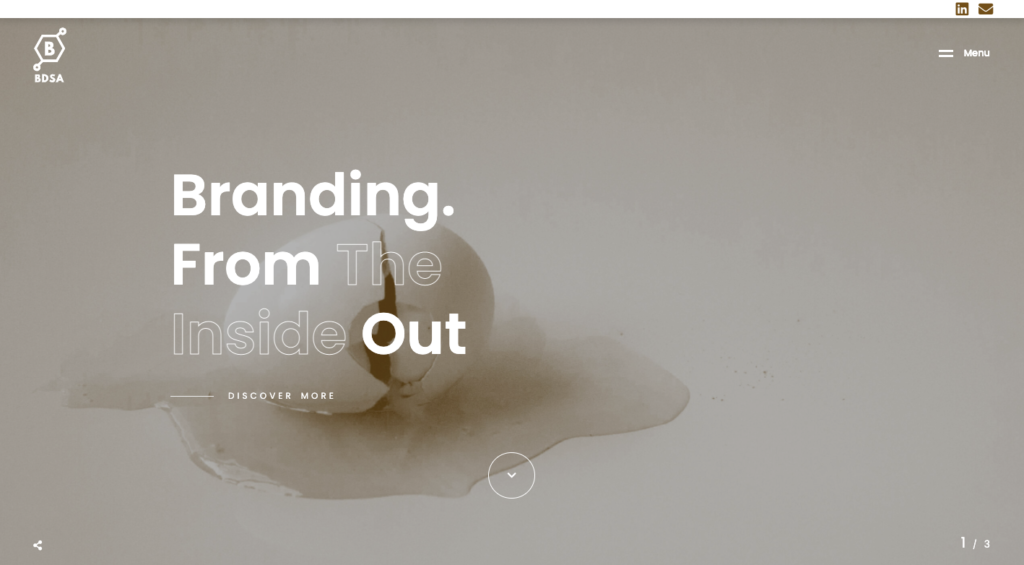 BDSA Pte Ltd. believes that branding lies in its foundations – that looks are nothing if a brand has no substance. While many other 'branding' agencies in Singapore focus largely on visuals, this company stands out and does it differently.
Corporate branding is an unquestionable component of any successful business strategy in an era where a strong online presence is critical to attracting and retaining a large consumer base.
At BDSA, a 3-step process is being used in order to assist SMEs like you build your brand from the inside out into the global market.
WIth their values of perfection, transcendence and reciprocity, there is no doubt that you and your brand are in safe hands.
We can definitely agree that no one is perfect, right? But we can never stop someone to strive to attain perfection in all of the things they do. This is what BDSA is.
They see to it that you deserve nothing less, they go the extra mile to help all of their clients even beyond branding and they are genuinely sincere to their clients. They ensure collaboration is there in order for a project to be successful since they give value to your time and effort.
2. Incepte
Incepte was founded in 2005 and it was in 2012 that they established their digital marketing agency. Ever since they have helped numerous brands across the globe grow.
Facebook and Instagram are two of the most used applications. They specialize in these and will assist you to get more traffic, and possibly, sales!
We love how they are aware that every business needs different tactics in order to catch the attention of their target audience. With their team analyzing your Facebook account, they will give you the appropriate solution.
Alongside Facebook marketing, it would be better if you also try Instagram Marketing since these two applications come hand-in-hand.
Instagram is more about posting consistent quality photos, it would not hurt to read, and maybe get, their photography service for you to have high-quality images that can leave an impact to your viewers.
3. Aii Develop Digital Solutions
Unlike other companies, Aii Develop Digital Solutions offers customized marketing strategies and effective solutions at a preferred price. With their various digital marketing packages, you can be sure that your online presence is optimized to attract more customers.
We also have more good news! For all visitors of this website, you will be eligible to receive a free two months SEO service if you sign up for their 12-months SEO plan. This is worth at least $1,700 (please note that terms and conditions apply).
In this offer, they will deliver useful strategies that increase your site traffic and search engine rankings. You will enjoy the benefits of 100% White Hat SEO, technical SEO audit, on-page and off-page optimization.
What people like about them is their reputation for providing top-quality digital solutions. Another thing customers appreciate about them is their level of transparency in pricing and are committed to responding swiftly and effectively to any concerns or requests.
4. OOm
While helping businesses of all sizes with their digital marketing since 2006, OOm has continuously developed their competency when it comes SEO, SEM, Social Media Marketing, and more. One of the things they've come to value in their line of work is client transparency.
OOm believes that having a connection with the client is important. Therefore, they do not see themselves as a hired digital marketing agency– they're more like a marketing partner.
In doing what's best for their clients, they will dig deeper for ideas rather than just agreeing to what the client thinks and decides. Trusting your brand to one of the most reliable digital agencies in Singapore will surely bring you to success.
Customer Reviews
Here are some comments shared on Google Reviews:
"I had recently approached OOm for their expertise in digital marketing as well as their assessment on our company's website health. They had pointed out exactly where we need to improve and why SEM & SEO as the main priority. there is no pushy sales talk – instead they engaged us from a professional consultant manner. Thanks! By the way, i am interacting with Wei Ming and Kelvin."
-Troppers 111
"Approached Oom in 2019 and have been working with them for one and a half years to date. They have been very patient and understanding towards my needs and have tweaked my adverts accordingly to cater to changing situations. Their strategist and account manager team have also been very professional in their advice and have catered to my adverts timely. Would not have cleared my past 2 years awards without their dedicated effort. Will certainly recommend them, thank you Felicia, Seb and Veronica!"
-Calvin Lim
5. Carbon Interactive
With more than 15 years of experience, Carbon Interactive has grown into one of the best digital marketing agencies in Singapore. We added it to our list for two main reasons.
For one, it's worked with some of the most prominent names in Singapore, including Din Tai Fung, Disney Interactive, Sentosa, Chanel, Kipling, Hong Leong Finance, One Faber Group, and even Singapore Institute of Technology.
Carbon Interactive's diverse client base means that it's open to working with businesses of all sizes and industries. Younger companies can even hire it in order to come up with strategies to stand out on different online platforms.
Another thing we like about this digital marketing agency is the long list of services, ranging from social media marketing down to search engine optimisation, allowing business owners to hit their overall objectives using different marketing strategies.
Basically, it's a digital marketing agency that business owners can trust whether they need to create a unique online brand or publish user-friendly websites.
6. Digirine
Another relatively young digital marketing agency is Digrine, having been around for only eight years. It uses goal-oriented strategies to help businesses achieve their marketing goals, whether it's to generate leads or reach potential customers.
Digrine is a small digital marketing agency, so it's incapable of handling large-scale digital marketing projects. It may not be the perfect fit for large businesses, but startups will definitely benefit from its budget-friendly rates.
Speaking of rates, Digrine proves that business owners don't need to shell out thousands of dollars in order to gain access to effective digital marketing strategies.
We highly recommend it to small businesses and startups who want to slowly step into the world of digital marketing. After all, there's no better way than to start with something small.
7. Healthmark SG
Pioneers in the field of medical marketing, Healthmark is known industry wide as medical regulations experts with a strong grounding in knowing how to rank clinic websites from brand new all the way to the top of Google. They have been featured in magazines like Forbes, Prestige and Digital Journal.
Founded by ex-clinic owners, Healthmark has worked with a variety of medical specialists ranging from gastroenterologists, ophthalmologists, gynecologists, aesthetic doctors and more. Their nuanced insights into the ever-evolving medical industry allows them to craft bespoke marketing campaigns for doctors to make an immediate impact in their chosen medical niche.
As a company that advertises themselves as having "premium prices", if you're looking for a discount option then you might want to go somewhere else. For those willing to invest in the long-term digital presence of their clinic & brand – Healthmark stands out as Singapore's premier medical digital marketing option.
8. Digital M
Digital M is composed of a team of professional digital marketing and SEO experts, specialising in producing engaging websites and generating leads. We added it here for the following reasons:
First, it has one of the cheapest prices for a digital marketing agency in Singapore, starting at only $788 per month. This rate already includes what most businesses need, such as internal link building, content creation and optimisation, and technical SEO.
Second, its SEO experts are fluent in both English and Chinese, making it easier for your business to reach audiences internationally. A testament to its SEO expertise is when most of its keywords rank first on Google in less than three months.
We'd recommend trying Digital M out if what you're after is organic growth that doesn't take years, basing on what it's done for its customers so far.
9. Strategic DigitaLab
As a digital marketing agency, Strategic DigitaLab's primary goal is to produce plans on how to successfully market its clients' companies with the help of unique but effective digital marketing tools.
Strategic DigitaLab offers a step-by-step process in its marketing solutions. Every marketing campaign starts by understanding the clients, how their business works, what they want to achieve in the long run.
Another thing we like about it is how its team approaches every brief: by studying the competitors' marketing ecosystem and tending landscape. This allows them to come up with a strong strategy in their marketing solution.
What it can promise to its customers are digital marketing solutions backed up by insight and intelligence to ensure return-of-investments as soon as possible. It may be one of the most expensive agencies on the island, but it knows how to make your money count.
10. 2Stallions Digital Marketing Agency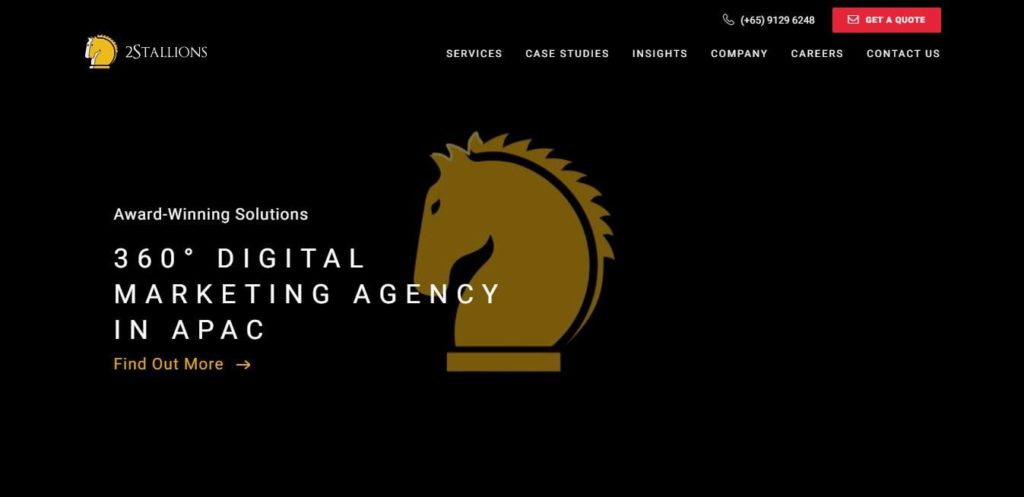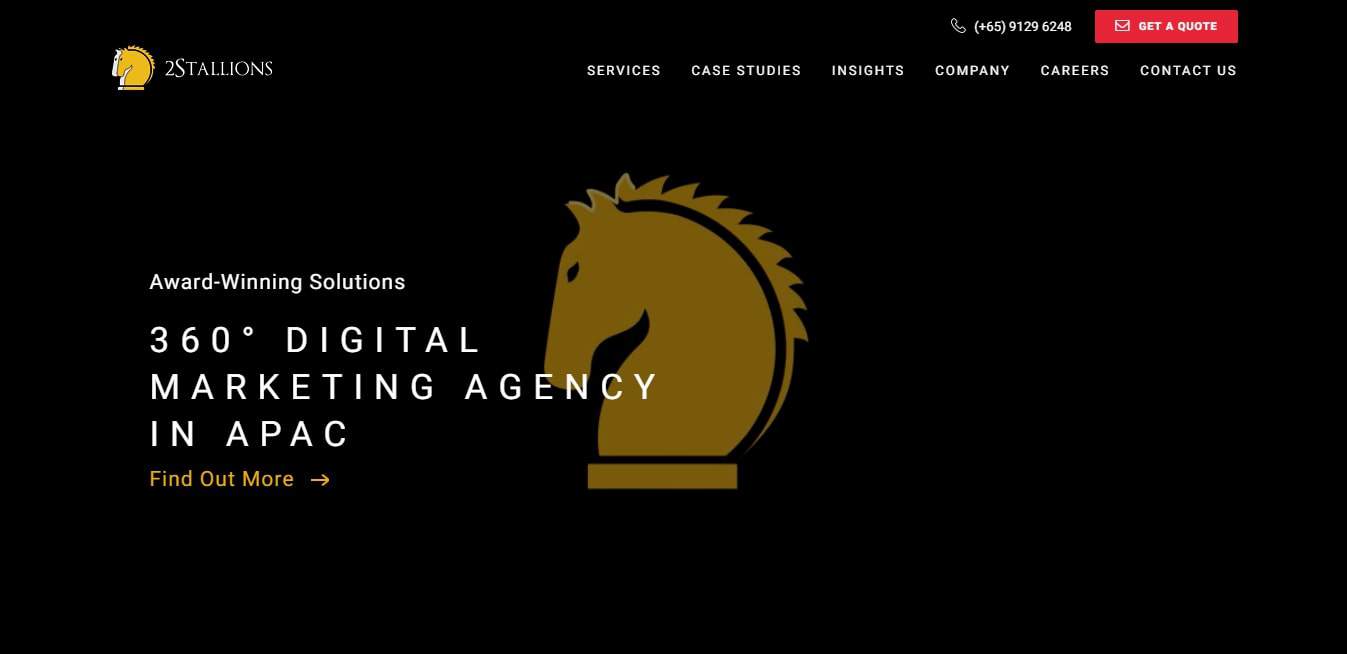 As a digital marketing agency based in Singapore and Indonesia, 2Stallions provides business strategy, digital strategy, user experience design, design services, social media marketing, and technology services to their clients. They continuously strive to learn new techniques and methods to better serve their clients.
From strategy to execution, they create customized websites and web applications that produce great results. They use multi-channel marketing campaigns to generate better brand awareness, engagement, and conversions.
It is not shocking to know that some of their clients are still well known today. If you're looking for the best digital marketing agency, you should give 2Stallions' website a visit. Their reviews are incredible, showing how reliable they are when it comes to their work.
11. Hashmeta
If you're currently enhancing your social media marketing, Hashmeta might be the perfect choice for you, as they provide goal-oriented solutions on all social media channels. Inbound, content, and influencer marketing are also part of their services.
They specialise in initiating campaigns designed to gain attention and build relationships through posting interactive content on Facebook, Instagram, Twitter, and other social media platforms. They do advertising, monitoring, and media reports to keep track of their progress.
They've worked with many established companies like PayPal, Bosch, DBS, Fujioh, AIG, and more — proving that they're indeed one of the best digital marketing agencies in Singapore.
12. First Page Digital
Considered one of the top-rated digital marketing agencies in Singapore, we couldn't help but include First Page Digital to our picks. Here's why it made the cut in the first place:
First Page Digital creates targeted SEO strategies that maximise your website's potential, resulting in better online exposure. Its unique marketing strategies have already helped hundreds of brands become well known and stand out over their competitors.
In line with that, it prides itself to be one of the digital marketing agencies on the island with an extensive clientele that includes enterprises, mid markets, and small businesses coming from all industries.
Using their powerful digital marketing strategies, its technical and content professionals will optimise your site to promote your business' growth, exposure, and brand authority.
First Page Digital believes that no two businesses are the same, which is why they tailor each strategy to your brand's unique requirements. With its team of strategic, technical and creative specialists, we can assure you that it will drive your brand to success.
Customer Reviews
First Page Digital carries a near-perfect rating of 4.9 out 5 on Google Reviews. Take a look at what clients had to say about it:
"We can't recommend FPD highly enough. Bingming and the team are proactive, transparent, knowledgeable and patient, always providing great advice and actionable recommendations. We are seeing tangible results from our SEO campaign and look forward to an ongoing partnership."
-JustCo Australia
"These guys know what they are doing. After engaging a few other SEO agencies over the past few years, FirstPage Digital was much more responsive. Most importantly my website ranking did increase on a monthly basis. Monthly articles written by Amanda were awesome and managed to deliver what we wanted. Big Shout Out to Sean Ho for his responsive replies even late at night. Last but not least would like to thank my account manager Asher for introducing me to such a great team."
-Esmond Liu
13. Clickr Media
Established in 2009, Clickr Media provides a variety of digital marketing services such as email marketing, blog marketing, search engine optimisation, online market research, web development, and even video and sound production.
The range of its digital marketing services are a perfect match for both small business and large enterprises. It's team is made up of creatives, marketers, writers, and tech experts, so its services cover all corners of the digital landscape.
We'd recommend it a bit more to owners of small businesses and startups though, as it offers curated solutions such as digital ads, landing pages, and banner designs. These three are helpful in reaching a wider audience without going over the estimated budget.
It's worth noting that it's quite younger than our other entries, but it's already handled huge brands such as Estee Lauder, DHL, No Signboard Holdings, and Allergan, among others.
14. Disruptive Digital
According to client reviews, Disruptive Digital's marketing team is known for going the extra mile to make sure that all clients reach their business goals. It's primarily why it landed on our list of the top digital marketing agencies in Singapore.
It doesn't believe in a one-size-fit-all solution, so every client will be provided with a personalised marketing strategy that complements what their business's needs in order to increase sales and reach a wider audience online.
Based on its clientele, Disruptive Digital works more often with small businesses than mid-markets and large enterprises. However, this doesn't imply that it's incapable of helping the latter two.
Its long list of digital marketing services is already enough indication that it can cater to every client's specific needs.
It can build a stronger online presence for your company through content marketing and web design, while finding ways to maximise profits through web analytics and conversion rate optimisation.
Regardless of how small or big your business is, these digital marketing services are significant for it to grow and continue growing.
15. Reed Tan Digital
For more than a decade, Reed Tan Digital has been driving effective lead generation campaigns for SMEs in Singapore through content marketing, social media and search advertising.
It's headed by its namesake Reed Tan, a digital marketing expert who's been featured on Strait Times for his marketing expertise back in 2013. He's known for using a surgical approach when it comes to digital marketing, generating more leads for his clients.
Reed believes that content is where search begins, so he focuses on creating engaging content to establish a wider online presence for his customers and drive business leads.
Aside from the typical digital marketing services, Reed shares a wide variety of brain picking content on his websites that may be useful for any business. These marketing tips can be accessed by anyone free of charge
16. Boopin
Boopin is a digital marketing agency with a far-reaching international influence, with subsidiary branches in Abu Dhabi and Shanghai.
It's composed of digital marketing experts coming from different backgrounds, such as technology, product design, and business strategy. Its diverse marketing staff enables it to cater to the needs of mid-sized businesses and large enterprises.
Boopin's global influence makes it a perfect choice for companies who want to enter the international market. Its rates are definitely higher than most local digital marketing agencies, but we believe it's because it targets mostly huge corporations.
As such, Boopin offers a digital marketing service that centers on capturing the Chinese market, considering that it's one of the largest digital markets in the world.
Other digital marketing services include social media marketing, influencer marketing, search engine optimisation, website development, and mobile app development.
If you're a business owner keen on making your brand known globally, then you'd want to seek out the expertise of Boopin.
17. Smmile
Established in 2012, Smmile has been helping businesses build a stronger online visibility and reach a wider audience. It's a digital marketing agency backed by years of creative marketing, design, and digital solutions.
Its digital marketing team prides itself on being quick and responsive when it comes to understanding the needs and goals of every client. As a result, each marketing campaign is launched efficiently and professionally.
Another reason Smmile ended up on our list is the fact that its digital marketing services are fitting for businesses of all sizes and industries. It's worked with businesses from every corner of the island, which is why we strongly recommend it.
Isn't this enough proof of how it can bring your business to the next level? Smmile will certainly take care of your brand should you decide to hire it.
18. SGSEO
If you're thinking about using search engines to promote your brand, we recommend taking a look at what SGSEO can do.
SGSEO is a Singapore-based digital marketing agency that works with local and regional businesses. Unlike the other entries here, it offers only search engine optimisation and search engine marketing, obviously.
It's reasoning behind focusing on search engines is due to its team's discovery that SEO and SEM services are most essential when it comes to facilitating both the short-term and long-term growth of businesses.
Its digital marketing services may be limited, but wouldn't it be better to hire a digital marketing agency that focuses on the strategy you want for your business?
Aside from its extensive knowledge in search engines, SGSEO is known for being a customer-oriented agency, so it prioritises the concerns of clients in every project.
Choosing to hire it as a digital marketing agency wouldn't disappoint anyone, for they're a team who's willing to accommodate your preferences while helping you along the way.
19. Notion Age
Founded in 2001, Notion Age has since then become one of the leading digital marketing agencies and top notch SEO/SEM companies in Singapore. They help their clients boost their businesses digitally with the appropriate creative solutions and marketing strategies.
The Notion Age team consists of SEO/SEM experts and experienced online marketers, all of which are dedicated and passionate while providing the finest quality work. Their marketing campaigns will surely meet every clients' standards.
They believe that by setting high expectations for themselves, they'll be able to deliver excellent services to their clients. Notion Age guarantees exceptional results that will surely be worth their client's investment.
Customer Reviews
Here are some comments shared on Google Reviews by clients:
"Our experience working with Notion Age has been awesome. It provides a clear and detailed plan for our website. Communication is timely and always on point. The results are realistic. Jack and the team have achieved the online goals that we've planned for. It's timely that we've found them, as a start-up company, getting online exposure is needed for our growth. We were told that SEO requires patience and the results are more than we've expected. The campaign contributes a lot to our growth. We're grateful for Notion Age. Highly recommended!"
-Vivian Lin
"Notion Age's SEO has done a fabulous job of pushing my business forward. They will keep you informed along the way and are always there to offer assistance. If you're looking for ways in making your business grow, contact them, they are experts in SEO"
-Annie Li
20. E-Alchemists
E-Alchemists is another digital marketing agency that focuses on search engine optimization and search engine marketing. It stands out from other SEO-focused agencies based on these reasons:
First, it approaches digital marketing as a science. It will take a deep technical look into your website to determine areas of improvement and plan an optimisation campaign, which will eventually lead into regular traffic to the front page.
Second, it boasts 580% of organic traffic boost in less than four months, so it can help your business achieve its goals in less than a year, without using digital marketing tools other than search engines.
E-Alchemists is the right digital marketing agency for you if you want to rely solely on the power of search engines. Its rates are cheaper too, proving that there's no need to go broke in order to build a stronger online presence.
Customer Reviews
Take a look at these comments posted on Google Reviews:
"E-Alchemists has been an amazing partner in building an online search presence for my company. Because of their SEO work, we've gotten loads of qualified leads regularly. I highly recommend their service to any business looking for an increase in traffic and a steady stream of qualified leads that are ready to do business."
-Christel Goh
"I used to think I had a pretty good handle of what SEO was about. That was until I met Joseph who really 'schooled' me on the nuances. He took time to provide deep insights into how we could improve our search presence and boost qualified traffic. If you're looking to get started on the right foot with your SEO, I encourage you to reach out to Joseph. He's an honest, competent and very accommodating provider."
-Eugene Cheng
21. Media One
Media One is a full-service digital marketing agency that offers a wide range of marketing services, including social media marketing, search engine optimisation, content writing, email marketing, web development, and brand management, among others
In terms of successful campaigns, Media One doesn't fall short. In its over a decade of experience, it has helped more than 2,000 businesses in Singapore, proving that local brands have their faith on its team.
Another reason it ended up on our picks is the fact that it's open to brands of all sizes and industries. It's even created separate strategies to help both small businesses and large enterprises based in Singapore.
Because it offers cost-effective campaigns, its marketing team will give clients real-time and transparent reports and guaranteed rankings. It helps business owners be aware of how the strategy is benefiting their business.
It's worth noting that it's also one of the most decorated digital marketing agencies in Singapore, so it's only loved by clients but industry leaders as well.
Customer Reviews
Here's what clients had to say about their experience with Media One:
"Absolutely loved the pitch given by Annie when I first engaged Media One over a year ago. She was one of the most professional people we came across and through her, we were convinced that Media One was the right company for us to go with. After engaging them, Annie has always been swift in her replies, striving to solve/answer any query we may have. No regrets hiring Media One and would do so all over again!"
-Eugene Seah
"This is by far the most transparent agency I've worked with. Huimin is professional and provides us updates timely. She spends time walking us through any questions that we have and works with us to ensure our timeline and budget is met. Sebastian was also helpful in ensuring that we were able to achieve our targets during our Facebook campaign and provided insights from his experience as well as advice on how we can do better. In general, the team we deal with from Mediaone is forthcoming in their dealings and willing to help. I enjoy my dealings with them."
-Huang Huiling
22. HOCUZ Digital
Established in 2019, HOCUZ Digital is one of the youngest digital marketing agencies on our list, but we're sure that it's worthy of its spot here.
For one, it's already earned the trust of a long list of prominent brands, including Mr. Sapola, Ambroven, Signature Kitchen, Triton, Ban Leong, The Dive Company, and JNA Real Estate, among others.
On top of that, it's open to working with companies from all sectors as well, from food and beverage down to finance and insurance. It specialises in digital branding, so it's a perfect choice for small and new brands that want to build a strong online presence.
Its client based is definitely smaller than our other picks, but it's slowly growing due to the recommendations of its current customers. It takes pride in being organised and consistent, which is the characteristic that its clients use to promote it to other companies.
23. Rioks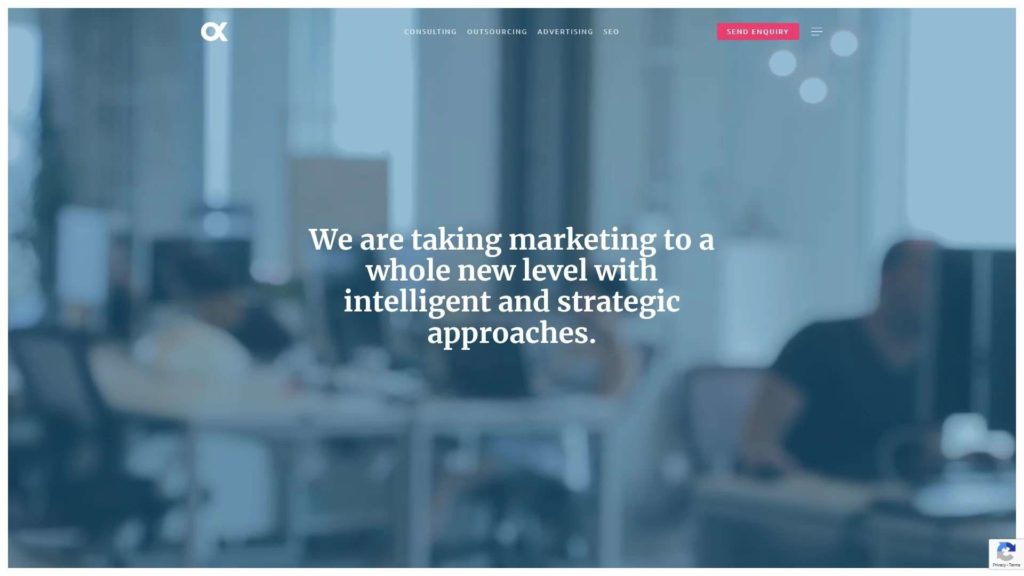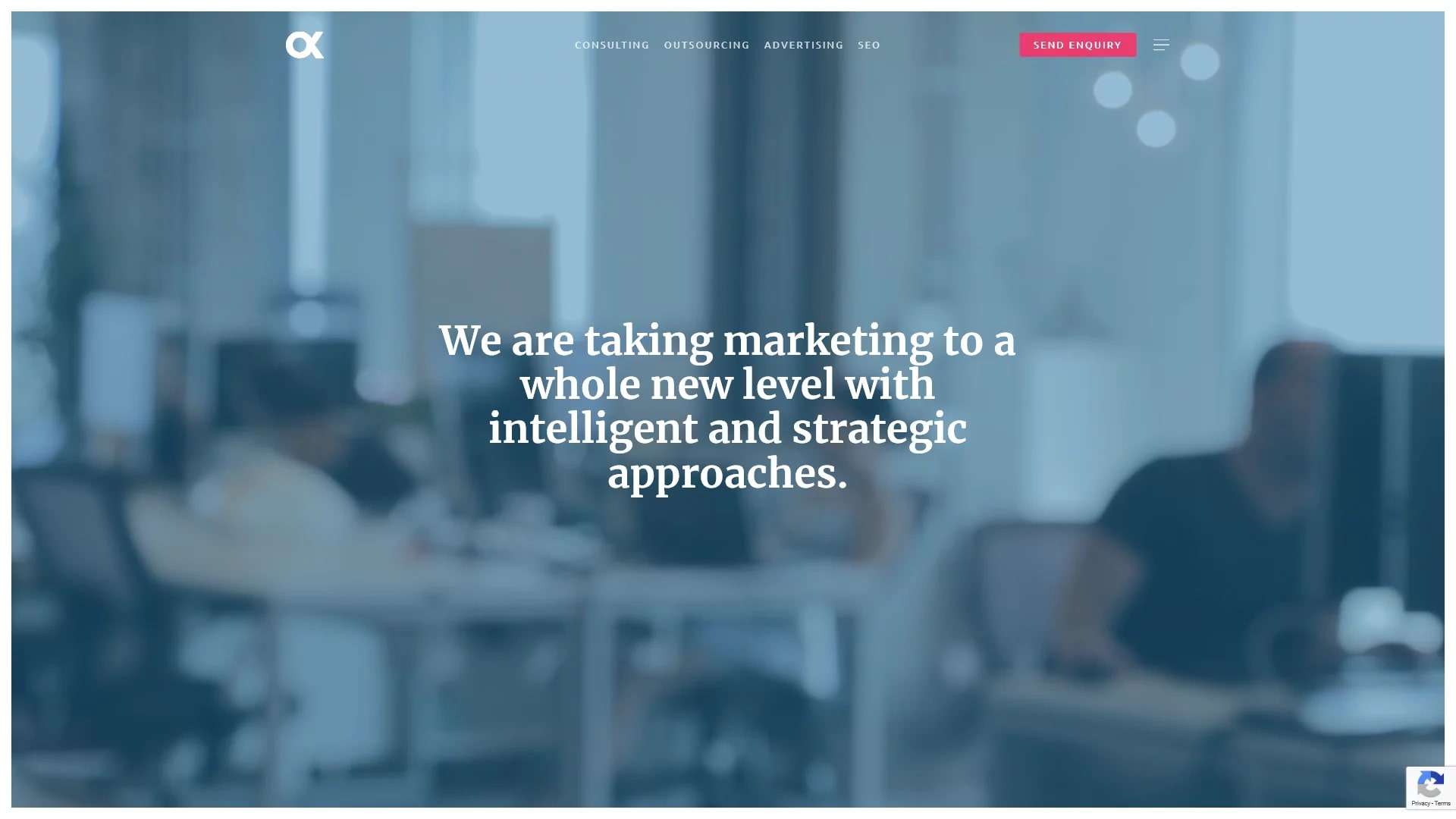 Rioks Corporation is a Singapore based marketing consultancy that handles B2B industries, SaaS product marketing, and E-commerce. Besides working locally, they also provide marketing consulting services internationally.
From their humble beginnings in 2012, they have become one of the leaders in the industry when it comes to strategic marketing planning, inbound marketing strategies, and search engine optimization campaigns. They can be counted on as a reliable provider of effective strategies.
They offer various services, from social media and marketing campaigns to custom-made web applications. Rioks Corporation also assists their clients in marketing technologies & automation, making their future marketing and campaign projects more effective.
24. ClickTRUE
Unlike other digital marketing agencies, the ClickTRUE team focuses on SMEs. SME owners blindly take their chances with digital marketing– only to end up with bad experiences with other agencies.
ClickTRUE is sick of seeing money go down the drain with bad marketing, which is why they're more focused on helping SMEs. They believe that traffic and likes aren't enough. You also need to have strategies and techniques to achieve better results in marketing.
Their credibility comes from their 20 years of digital experience in the industry– rich experiences in digital marketing and case studies from happy clients. There is no doubt that working with them will surely bring you closer to success.
Customer Reviews
Here are customer reviews posted on its website:
"clickTRUE is professional in engaging our stakeholders and they have invested a lot of time helping us in optimizing our campaigns to match expectations. They are quick and put the client's interests before theirs. It was seamless working with clickTRUE as they are real solutions providers. Not the typical agency who goes by hour-sheets."
-Jacqueline Goh, Schneider Electric
"clickTRUE is a very result oriented marketing partner which helps us to achieve business goals. They provide practical solutions through a structured and logical methodology. A smart marketing partner for any revenue driven business."
-Daren Kang, NTU
25. Nytelock


Nytelock is a digital marketing firm known for its innovative, forward-thinking members who create personalised campaigns for clients of all sizes. The agency is completely remote, with 20+ employees working on various time zones.
Given its remoteness and the diversity of its team, Nytelock is capable of catering to clients not only in Singapore, but in other countries as well, making Nytelock an excellent choice for those who need to boost their presence online.
Now, Nytelock has a select few services to help their clients accomplish such a feat. You will find that their scope of services typically has three options to choose from: a small business starter kit that is fixed at $299; an Essentials pack that begins at $749; and lastly, a Complete pack of digital solutions that starts at $999.
As previously mentioned, Nytelock specialises in personalised campaigns. Regardless of the industry that you're a part of, or the size of your service, Nytelock can confidently work with you in reaching more audience and potential clients in the online space, in the hopes of your business growing thanks to their services.
26. Mediatropy Digital Agency
Founded in 2011, Mediatropy Digital Agency is a full-service digital marketing agency with a reach in digital markets in Hong Kong, Bali, and Shanghai. It's a digital agency worth considering if you want to brand out from the domestic market to gain foreign audiences.
As one of the few agencies that specialise in luxury and hospitality, Mediatropy has definitely stood out from its competitors. It's even considered as one of most prominent independent marketing agencies on the island.
When it comes to marketing services, Mediatropy can execute almost any type of campaign, including brand strategy, web development, content creation, creative production, and even media promotion.
Its marketing team is composed of 20 digital artisans who share the belief that anything is possible, with passion and creativity being the keys that unlock brand potential.
Mediatropy's main objective is to continuously evolve with the new media and take advantage of it to bring growth to its customers. This is why it's managed to stand out from its competitors.
27. Cleverly
Formerly known as Athena Media, Cleverly is not like most digital marketing agencies. It's marketing strategies are focused on interactive media marketing and system development services for businesses of all sizes, from any type of industry.
Since it focuses on system development, we'd say that it's a great choice for new businesses that don't have a website or any form of online presence. Its web design team can develop interactive and engaging websites that can catch anyone's attention.
Another notable feature of Cleverly is that it operates 24 hours a day, seven days a week, allowing customers to receive updates any time of the day. It's one of the few digital marketing agencies that do this, actually.
In terms of clients, we're not surprised that it's handled campaigns for well-known brands such as G-Shock, Crystal Jade, K-Gloss, Casio, Nanyang Academy of Fine Arts, and Montfort Care, among others.
For what it can do, Cleverly is a digital marketing agency worth considering if you create an online presence built on accessibility. It can not only put your business out there, but make sure that it leaves an impression to whoever comes across it.
Customer Reviews
Here's what customers had to say about Cleverly:
"Very professional and provide valuable feedback and insights about how digital marketing works. Able to break down technical terms into layman terms and make it easy to understand. Great customer service, prompt and responsive on my queries. Definitely my first choice to work with!"
-Huisi Mah
"Having a good understanding of current Digital Marketing Demands, they have also proposed very relevant strategies to meet our marketing objective. Good customer service to follow up closely on our ads campaign. I will surely work with them again."
-Kah Hui Chng
28. Lion & Lion Digital Marketing
Founded in 2012, Lion & Lion is an award-winning, integrated digital marketing agency operating in Asia. They focus on transparent and measurable results through a data-driven and strategically-led approach to digital marketing.
Their mission is to help clients with strategic, impactful digital marketing, and to create an organisation where talented people are motivated by helping businesses grow. They believe that the growth of their clients and their people is connected – and they believe that the success of their company is a result of this connection.
With their years in the industry, they've already established themselves in the region with offices in 5 major cities. This includes Kuala Lumpur, Jakarta, Hong Kong, Singapore and Taipei, alongside a growing portfolio of clients including The Coca-Cola Company, Google, Danone, L'Oréal, Dairy Farm, and more.
29. SEO Agency
SEO Agency was founded in 2011, since then becoming one of the largest digital marketing agencies in Singapore that specialise in Search Engine Optimisation. Thanks to their teamwork, technical expertise, and creative style, they are able to consistently provide full-service solutions to their clients.
One of their greatest advantages is staying up to date with the latest technological developments. This allows them to easily adapt to their client's needs and offer solutions that are at the forefront of the industry.
SEO Agency remains one of the companies that stay ahead with their digital marketing techniques. With their passion for all things digital, they continuously build their extensive knowledge and deliver great results.
Customer Reviews
Take a look at these comments from business owners about their experience with SEO Agency:
"Choosing SEO Agency as our digital marketer is one of the best decisions that I have taken as a business owner and I am not looking back ever since. They deliver more than promised and within 3months many of our critical keywords are showing in the first page of Google search.Being a new company this is a applaudable milestone for us. All thanks to our account manager Desiree who deserves a special mention!. She has been very committed from day one of our meeting. She laid realistic goals and achieved them in no time. Thanks Desiree 🙂 I am impressed with your dedication in getting our website noticeable."
-Rafi Bravo
"Remy and his team are dedicated, efficient and professional. You can see that they are really passionate about what they do. It's always a pleasure to work with Remy as he is polite and gives good friendly SEO advice. He also tries his best when we run into constraints. I will recommend SEO Agency to anyone who seriously wants to rank up efficiently on Google search."
-Pasta Fresca
30. Ence Marketing Group
Ence Marketing Group is an agency that ensures your company's visibility and success through amazing digital marketing. Through years of experience, they've already mastered the art of integrating and personalising marketing strategies for each company, to achieve optimal results.
The team in Ence Marketing consists of dynamic members with different areas of expertise when it comes to marketing, so you know that every one plays a significant role in ensuring the growth of your business– all aspects will be thoroughly taken care of.
Services offered at Ence includes Affluence Public Relations, Potent Public Relations, Eminence Events, Decadence Design, and Valence Digital Marketing.
31. Absolute Digital
If what you're after is a full-suite digital marketing agency, then we recommend checking out Absolute Digital. We added it here because it offers everything that small to medium-sized enterprises look for in a digital marketing agency.
It targets almost every aspect of digital marketing by providing a wide range of services, which include search engine optimisation, social media marketing, web design and development, corporate branding, and even logo designing.
It's a great match for small business because it specialises in corporate branding and content production, both of which are crucial in making a brand stand out on the Internet.
Another notable thing about Absolute Digital is that's accessible any time of the week, even during weekends. It's one of the few digital marketing agencies that operate from Monday to Saturday.
Its clientele includes business from all sorts of industries, including dental, beauty, finance, education, retail, and even logistics, so it's open to working with clients from any sector.
Customer Reviews
Absolute Digital has a near-perfect rating of 4.9 out of 5 on Google Reviews, making it one of the top-rated digital marketing agencies in Singapore. Here are some comments shared by clients:
"Many thanks for everything you have done to design my company website. It created a lot of compliments from my clients. Your It manager was very helpful and was impressed with your team professionalism and work attitude. I was apprehensive to change my company website after having bad experience with some website companies. I'm very pleased with your service and will highly recommend you to my business associate."
-William Tan
"TOP notch services rendered from the team. Definitely a cut above the rest of the companies that I have engaged beforehand. Everything was delivered promptly & up to my standards. For sure, I will go the extra mile to spread their services to all my friends & business owners! Well done, press on!"
-Larry Teo
32. East Side Mafia
East Side Mafia is one of the leading eCommerce website design agencies in Singapore, known for using marketing techniques that would be considered unusual for a digital marketing agency.
If there's one thing that makes it worth hiring, aside from its web development expertise, it'd have to be its ridiculously affordable rates. It's a perfect choice for small businesses and startups that don't have a huge budget for marketing.
East Side Mafia describes itself as a digital marketing agency that hates mediocre results, so it only employs qualified and experienced digital marketing specialists and designs. It shows through its work too, boasting a 96% client success rate.
However, be prepared if you have to wait in line to get a hold of its services. Its waiting list has gotten longer recently due to the influx of new business clients coming from referrals, proving that its current customers admire its work.
It's definitely one of the best in the field, thanks to their high-quality work and low priced services, so we couldn't help but add it to our picks.
33. MIU
MIU is a digital marketing agency that focuses on branding, digital strategy, and communications. It may look like a small agency on the surface, but it's capable of handling PR problems commonly faced by large corporations.
In fact, more than half its clientele is made up of large enterprises, while small businesses are only at 10%. It only proves that it's a digital marketing agency trusted by established and successful companies.
In terms of industry focus, MIU handles mostly businesses from the advertising and eCommerce industry, which make up 60% of its client base. It's open to working with brands from any industry though.
Compared to our other picks though, MIU is a lot younger than most of them, having only five years of experience under its name. It's worth keeping in mind that experience doesn't always equate to quality work, so that's why we stand behind it.
Customer Reviews
Here are some comments shared on Clutch.com by clients:
"Thanks to MIU Creative Agency's efforts, the website has drawn consistent viewership, traffic, and leads. The general feedback of its design was positive. The team kept an open line of communication and knew exactly what their partner needed from the get-go."
-Geetha Mukunnan
"MIU Creative Agency effectively helped the client. They provided an organized content plan for brand awareness and the digital channels were optimized. They showed ownership to provide social media and market research that was beneficial to the campaign effectively. They went the extra mile.
-Suresh Kuttaiyan
34. KPI Media
Let KPI Media apply battle-tested strategies and hyper-target your audience with their proprietary technology on Facebook, Instagram, LinkedIn, and Twitter.
Before every campaign, they work with their clients to determine two targets: a realistic target and a stretched target. If they achieve the realistic target, they will charge based on scenario 1 – as seen on their retainer calculator.
At the end of the day, advertising has a ton of factors that may affect performance. So if ever they do not meet both targets, they will only invoice you for 50% of the base retainer.
Customer Reviews
Here's what some people have to say about KPI Media:
"KPI Media has broad experience in working with clients from diverse industries. Delivering results is of utmost importance with every engagement, and they have always exceeded our expectations."
"Our Search ads are crushing and this dude's amazing. Our customer acquisition cost is lower than ever before and we're ready to raise more money to scale Noah into the SEA market. KPI Media has been the perfect media partner to help us achieve our performance goals."
35. AWANDKO
Established in 2015, AWANDKO is a multidisciplinary digital marketing agency that specialises in creative and content production, ranging from SEO-friendly articles to engaging web designs. It earns a spot here for two reasons:
First, its marketing team is composed of talented web designers, videographers, writers, video editors, app developers, and marketing specialists.
On top of that, it can do what most businesses look for in a digital marketing agency, from building a remarkable brand down to reaching your target audience online. It's basically a one-stop digital marketing company.
AWANDKO can also design just about any material your company may need for promotions. These products and materials include posters, brochures, logos, and websites.
As of writing, some of the brands it's worked with are Agilent, National University Singapore, Cognizant, Digital Alchemy, Avidor, and Calvary, among others. You can also be included in this list of successful names if you choose to hire it to market your business.
36. Elavan August Media
As a brand new face in the field of digital marketing, Elevan August Media helps businesses of all sizes in their marketing needs. It's an agency that only started in 2019, but that doesn't stop it from showcasing its digital marketing expertise.
Elevan August Media calls itself a digital marketing agency built on ethical marketing, so clients can expect it to be transparent at all times. It chooses to be realistic and honest when it comes to the goals of the brands it's handling, but that doesn't mean it won't do anything to achieve those.
Another thing we like about Elevan August Media is the budget-friendly services, which can be expected from a young digital marketing agency trying to build its portfolio. It can be a perfect choice if you're running a small business with a small budget for marketing.
However, since it's a new digital marketing agency, it may not be capable of handling extensive and large-scale digital marketing companies that large businesses need.
We still highly recommend it to businesses that are looking to expand their reach by entering the digital market.
Customer Reviews
Here's what previous clients had to say about their experience with Elavan August Media:
"I knew Elevan August through a friend's referral. We have been working together for 5 months. It was my first time engaging digital marketing services. The cost was a little more than what I had initially planned to invest, but they were able to show us the value and the results far exceeded my expectations. Look forward to growing my business with them."
-Victor Lai
"I hired Elavan August Media in my previous job to help us acquire potential car buyers with FB ads. An absolute pleasure to work with and they went out of their way to show us the value of the work they were doing. We not only managed to make very remarkable improvements in our sales over 6 months, but we also increased our team size from 5 to 11 salesmen! Thank you team Elevan August! Highly recommended :)"
-Velda Ho Wei Ting
37. Conversion Hub
Building up one's presence online often requires the outside help of digital solution experts, and when it comes to wide array of services and extensive background, Conversion Hub is one of the top choices.
For the last couple of years, small and renowned entities alike have chosen Conversion Hub as their aid in digital transformation.
Understandable, given the fact that the firm has a proven track record of delivering results to clients belonging in different industries. Some to name are Samsung, Bayer Healthcare, Microsoft, HSBC, National University of Singapore, and even the Singaporean Prime Minister's Office.
Aside from the track record, what we and people like the most about Conversion Hub is its flexibility. The firm, with its diverse team of experts with various specialisations, takes the time to get to known each client they're working with.
Doing so allows them to carefully curate services that will benefit the clients most. This applies to all of their offerings, from digital marketing training to cloud products to enterprise consulting.
38. Digital Marketing Buzz
If you're looking for a one-stop shop for digital marketing services, particularly SEO, then Digital Marketing Buzz should be part of your selection. This firm was established in 2007 with the goal of providing high-quality, personalised digital solutions to all clients.
Since then, Digital Marketing Buzz has consistently done so, adapting their services and growing their team to accommodate the ever changing needs of Singaporean clients. While the firm is most known of their local SEO services, they are also adept in delivering results for website development, social media marketing, and app development.
Clients in need of branding help need not look further either. Digital Marketing Buzz also offers strategic branding as well as content marketing to further clients' reach in the digital space.
39. iMedia Consulting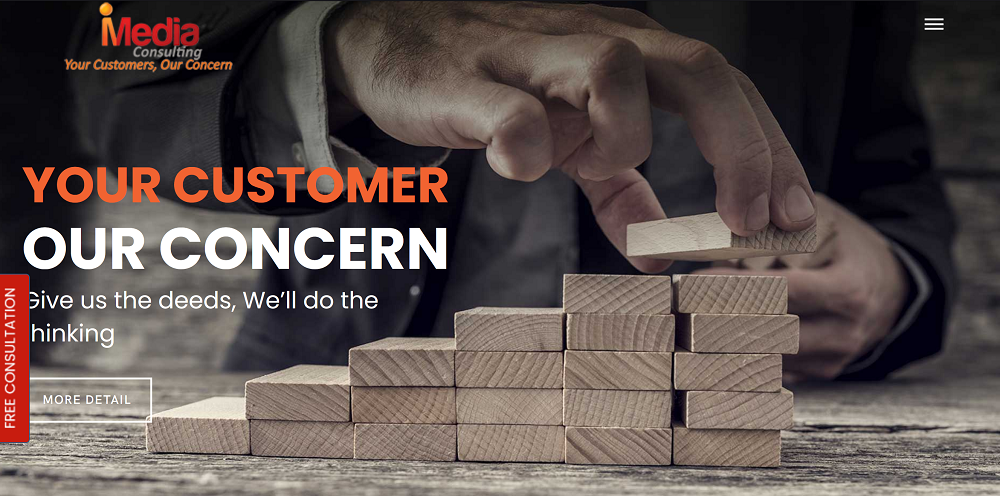 iMedia Consulting is an agency that has been taking care of its clients' needs for top-class marketing insights since it first began operating in 2013. The iMedia Consulting team is one of the most professional and diverse teams in the market, featuring skilled and talented individuals whose expertise lies in various marketing sectors.
Thanks to the diversity of the iMedia Consulting team, the firm has been consistently and competently working with corporations in various industries. While working with iMedia Consulting, These corporations saw astonishing improvements in their digital presence which ultimately translated to increased sales.
These improvements are all thanks to iMedia Consulting's expertise and diligence in their work. The firm and its team are known to take their time getting to known each client, resulting in crucial information being gathered.
This information typically consists of the intricacies of a specific brand, the company's goal, its target audience, and potential competitor. All of these are then used to curate marketing solutions that allow the clients to thrive and grow in the digital space.
40. Upsell Asia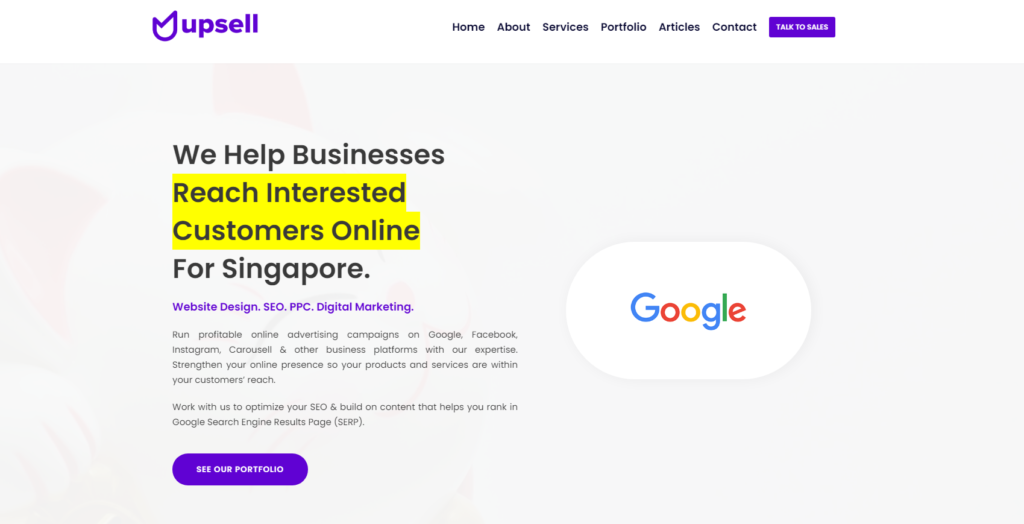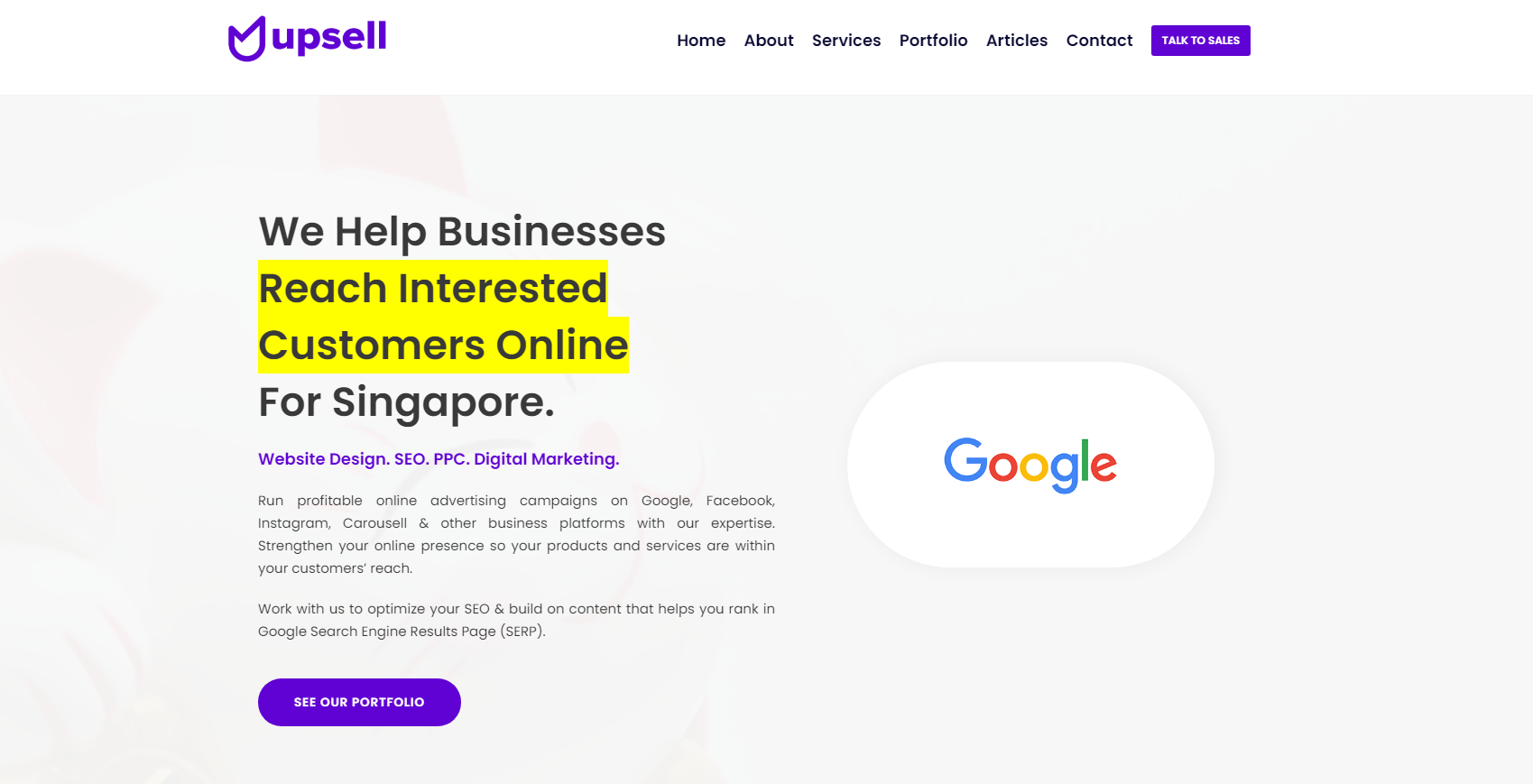 Up next on our list of best digital marketing agencies in Singapore is Upsell Asia, a web design and online marketing agency that specialises in creating personalised solutions for their clients. The agency is known for working with clients from various industries, crafting solutions that enable these clients to boost their visibility in the digital space.
Now, one of the reasons why Upsell Asia is on this list is its team. The diverse skill sets and expertise of the collective group make it possible for Upsell Asia to deliver results without one person burning out or handling matters that don't fit their speciality.
See, this is one of the most common mistakes made when acquiring digital marketing services: People believe that one person can do it all. And while that is possible, it often leads to less than stellar results, which could have been avoided had the person hired a competent team in the first place.
With that said, another reason why we like Upsell Asia is their cost-effectiveness. They know that each client has different budgets for campaigns; however big or small the budget is, Upsell Asia will make it work, and create campaigns that draw people into the clients' businesses.
Lastly, we also find it fascinating how meticulous Upsell Asia is, which works well in their cost-effectiveness. With every client, they make thorough plans from the first consultation, ensuring that everything is prepared once campaigns go live.
41. Next Level SG Pte Ltd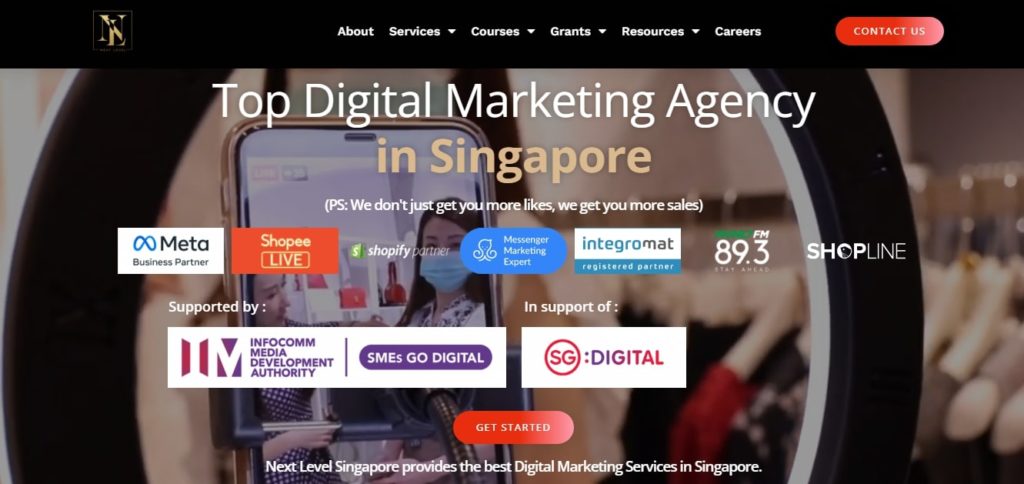 Next Level SG Pte Ltd is a digital marketing agency that provides its clients with a wide range of online marketing solutions that is commonly needed by various businesses to make an impact online. They also offer training for individuals who would like to jumpstart a career in digital marketing that is not only comprehensive but also convenient and immersive.
We find their approach to be interactive and innovative in a way that by making use of Social Sales strategy, they can enable businesses to engage with the company in a variety of ways online.
Another thing we find exemplary is that they make an effort to get to know clients through consultation sessions in order to better develop strategies that are unique and personalized specifically for the said client and their business.
From Messenger Chatbot Marketing to Lead Generation campaigns, they employ only experts for the job who has not only the right training but also possess a diverse background of experience in the field.
Overall, with a comprehensive balance of both the technology and the experts to implement it, we highly recommend them for clients in the country looking to jumpstart or further their business on various online platforms.
42.   Heroes of Digital
Heroes of Digital refuses to be an ordinary digital marketing agency. It landed on our list of the best digital marketing agencies in Singapore for three main reasons.
First, it's made up of highly skilled digital marketing specialists who'd go far and beyond in ensuring that the strategy implemented used on your brand is built from facts and data, ensuring almost maximum results.
Second, it's the only digital marketing agency on the island with its own proprietary technology to help small to mid-sized enterprises receive better ROIs from digital marketing, so it knows how to go the extra mile for its customers.
Lastly, its digital marketing approach is unlike what other agencies use. It adopts a data-driven approach with an integrated marketing strategy and machine-learning technology.
Heroes of Digital offers a broad array of services too, ranging from search engine optimization to web design and development. It has basically everything that a business of any size needs in order to increase online visibility.
Customer Reviews
Here's what local clients had to say about their experience with Heroes of Digital:
"We have been with Heroes of Digital on and off for almost 2 years and will always find yourself going back to them even as we tried exploring other agencies. We appreciate how Nick and Tarry ensure that we get the most results out of our budget and respond promptly to our every requests. We can always count on Heroes to help deliver consistent quality leads, knowing that our campaigns are closely monitored for the best results. Thank you to the team!"
-Skin Belief
"HOD was highly recommended by a friend who worked with HOD before. We also had negative experiences with other agencies where our budget was mismanaged and we didn't see significant ROI. Under HOD's care, our brand and web store saw an increase in reach and online presence. During the Covid-19 circuit breaker period, we tapped the ever growing home-workout community to expand our search campaigns. HOD optimised the campaigns, which really helped to maximise reach to our target audience and this resulted in a dramatic 3 fold increase in our online sales channel."
-Bods Be Inspired
43.   Alexander PR Group by Marie Alexander
Established in 2004, Alexander PR Group has created media, public relations, and advertising campaigns for companies from all sides of the industry, such as food and beverage, fitness, interior design, medical, and beauty, among others.
As a result, it has built strong and great relationships with celebrities and media personalities not only in Singapore, but around the world as well. It's even been nominated for several international marketing and public relations awards.
It's a digital marketing agency that specialises in branding and communications, so it's ideal for startups that want to create a unique online presence. It's open to working with businesses of all sizes, from small enterprises to established corporations.
If what you're after is experience, then there's no better option than Alexander PR Group. It has directed thousands of photoshoots, launched hundreds of campaigns, hosted several events, and produced close to a hundred lifestyle shows.
Based on how local and foreign companies see Alexander PR Group, we can say that hiring it is an excellent choice that business owners will never regret. It's like placing your company in the spotlight, making sure that you're ahead of both competitors and market trends.
44.   Let's Goo Social
When it comes to digital marketing, no size fits all, which is why we need to find a firm that can carefully craft digital solutions that will fit our brands' needs.
Here is where Let's Goo Social comes in.
Let's Goo Social is a renowned digital marketing firm offering a full suite of digital marketing services. These services include SEO, email marketing, social media marketing and management, web development, and many more.
Now, it's worth noting that Let's Goo Social doesn't do things the regular way. Instead, they take the time to study the client's brand before moving worth with any digital solution. This way, both time and money are saved, and Let's Goo Social's clients blossom under the right marketing solution.
The firm has consistently done so since the time of its inception. But it wouldn't be where it is today if it weren't for its talented team comprising marketers and developers with years of experience and numerous skills under their belt.
So, if you're ready to see exemplary results borne from actionable insights and innovative and data-driven content, then look no further than Let's Goo Social.
45. Vintedge
Vintedge is made up of a group of professional talents with in-depth knowledge, skillsets, and working experience in digital marketing and technology implementations. These individuals are well equipped to provide best of breed solutions that best fit into clients' project requirements and achieving their marketing goals.
Aside from that, Vintedge also has extensive experience implementing bespoke solutions on different technology stacks covering Microsoft .NET, Java and PHP, as well as infrastructure services with Amazon Web Services and Microsoft Azure.
Their work has been proven to be effective, especially if we take into consideration their strong credentials in providing marketing automation solutions for large organisations and government agencies.
All in all, if one were looking for a firm with a complete suite of digital marketing options, ready to take on their brand and curate solutions for it, then Vintedge makes an excellent starting point.
46. Miron Digital
Next on our list is a digital marketing agency whose main mission is to integrate human analysis with a data driven approach to help brands grow in the digital space. The agency is known as Miron Digital, and it has been serving Singapore for a few years now.
Miron Digital works with brands from a wide range of industries, including but not limited to fitness, education, and engineering. With its main mission in mind, Miron puts a lot of focus on Search Engine Optimisation or SEO, Search Engine Marketing or SEM, and Google Ads.
See, regardless of the service chosen, clients can expect Miron to put in a lot of time and effort into the process. This is because Miron Digital believes both are required to see the highest ROI.
But before anything else, it's worth noting that Miron Digital offers a free SEO Audit, which usually amounts to the $400 dollar range. This way, the client can catch a brief glimpse of the strategy and what Miron has to offer for growth in the digital space.
47.   Wordsmithery
Wordsmithery is made up of a dynamic and experienced team of creatives, copywriters, marketing experts and web and app developers, so it's not a one-trick pony of a digital marketing agency.
More than helping businesses reach more audiences, it primarily aims to educate customers as to why marketing and branding is important for all businesses these days.
By combining research data and expertise to formulate digital strategies, Wordsmithery provides effective customer service that's oriented to digital business growth. Its marketing strategies may seem slow, but success is guaranteed with this approach.
One thing to know about Wordsmithery is that it maintains a healthy and open line of communication with its business clients to make sure that both sides are on the same page at all times.
It may not be as huge of a digital marketing as our other picks, but it understands what most business owners need in order to be successful, especially those running a small business and newly established startup.
48.   Elixus Agency
Next on our list is Elixus Agency, a multi-national full scale digital marketing agency that's a member of the Ematic Group ecosystem. Ematic Group and, by extension, Elixus Agency endeavour to provide tailored made approaches of the growth marketing stack to make it successful.
Elixus Agency may hail from Malaysia, but it has unfailingly served clients from different countries in the past. The agency has built up a reputation for the quality of its service as well as its professionalism.
Clients of Elixus Agency can avail of three main services: Performance Marketing, Social Media Marketing, and Web Design and Development.
Elixus Agency makes it a point to consult with each client before formulating any plan or solution, ensuring that their team is well aware of the client's brand and what it entails — the client's goals, offerings, and target audience.
This dedication to communication makes it possible for Elixus Agency to work efficiently, no matter how tight the deadline is. Moreover, many clients in the past has praised the agency for its tailored work, having helped numerous clients in their growth trajectory.
49. D'Marketing Agency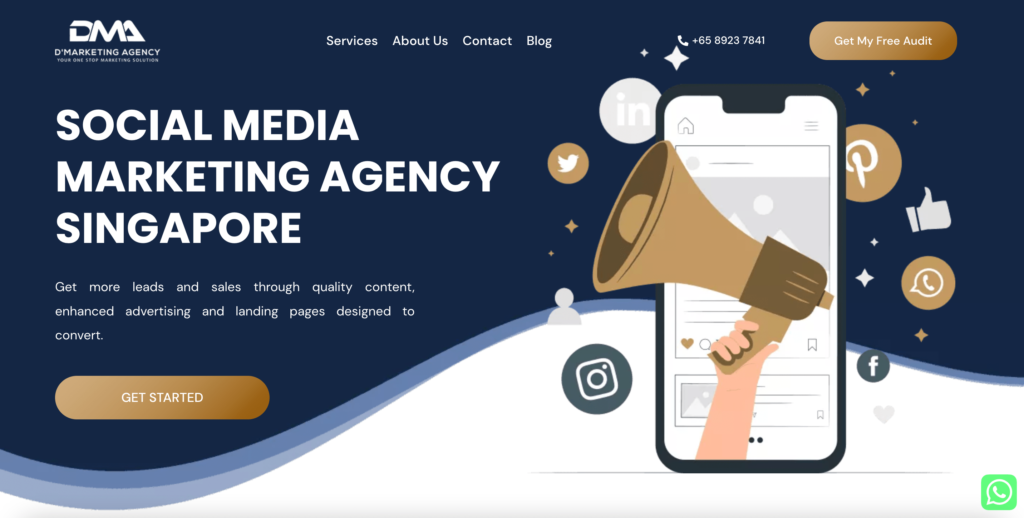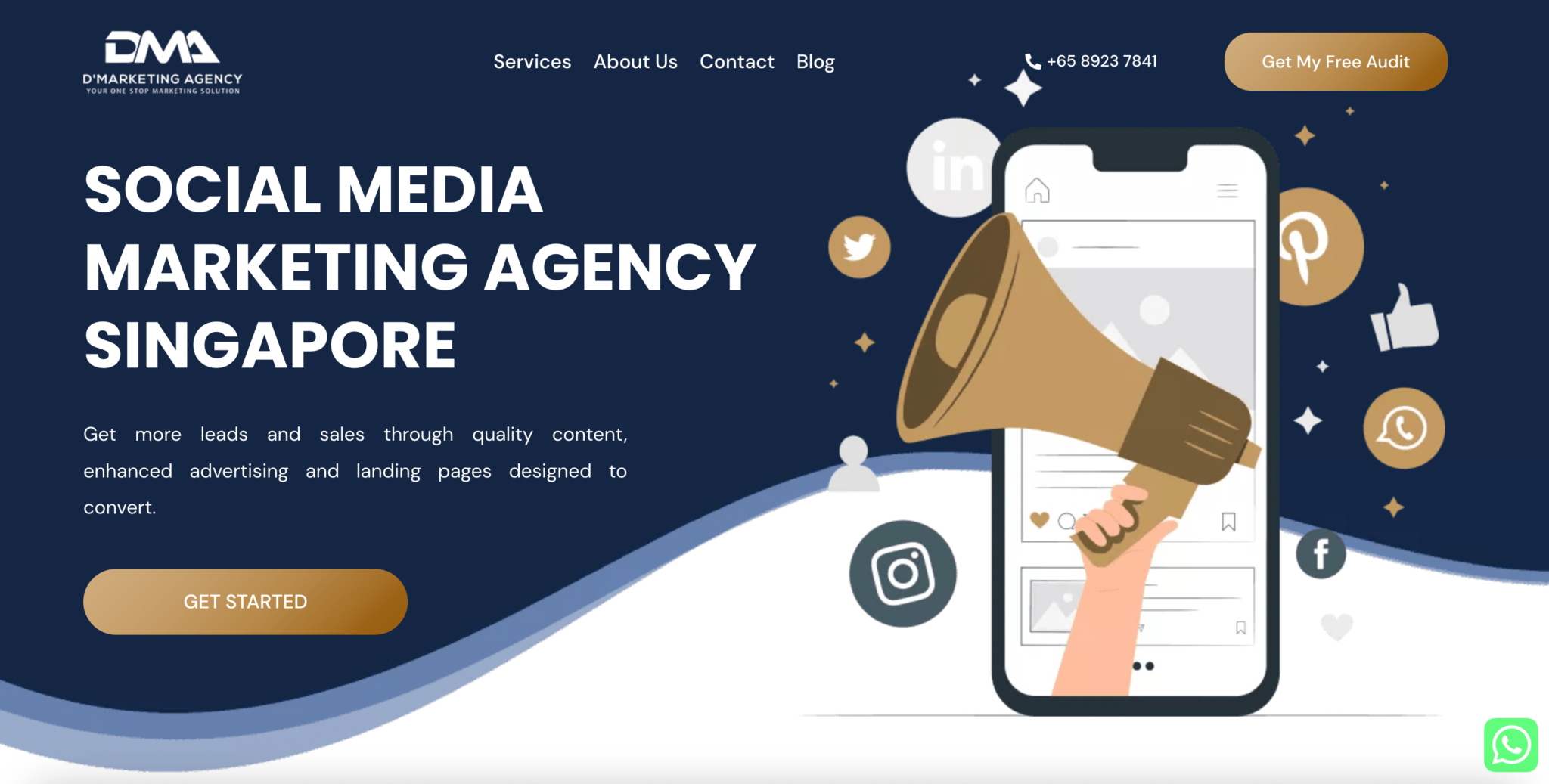 D'Marketing Agency functions like your next digital marketing firm, covering all sorts of services like SEO, lead generation, social media marketing, content marking, and more. They made it to our list (again) because of two main reasons: a satisfaction guarantee in place and a free digital marketing audit.
First, they're one of the very few digital marketing agencies that offer satisfaction guarantees to clients. If you choose to engage their services, they'll offer you a refund if they don't generate results for you within 90 days.
We think that this gives you extra assurance that they're confident in their work.
As mentioned, they also offer free digital marketing audits to potential clients. Just reach out to them with details of your business, and they'll get back to you with a comprehensive audit of your website's online presence and SEO ranking.
And if digital marketing isn't your thing, then don't worry—they'll meet with you to break all those down so you can come up with an informed decision.
50.   Convertium
Founded in 2001, Convertium is a relatively new digital marketing agency, but it's managed to earn the trust of huge corporations such as Lexus Asia Pacific, Marina Bay Sands, Singtel, Contact Singapore, and Harley-Davidson Asia Pacific.
For business owners who are after agencies with a positive track record, then we strongly recommend checking out what this one has to offer. There's more to it than its prominent clients, though.
Convertium stood out from other digital marketing agencies because of its unique focus on user-first thinking and design, so its team studies and observes the behavior of the potential target audience of its business clients.
It's made up of a large team of digital marketing experts as well, including copywriters, SEO specialists, web designers, and web developers, among others.
Convertium may be younger than most of our picks, but it's equipped with the appropriate skills and mindset to bring your business to the next level.
51.   Brew Interactive
Brew Interactive first opened its doors to the local and foreign businesses in 2009. Armed with more than a decade of experience, it's now recognised as one of the best marketing agencies in Singapore, handling huge brands like Qatar Airways and Oppo.
As a digital marketing agency, it prioritises collaboration with business clients. Its team is made up of pro and experienced marketers who believe that the key to meeting clients' needs is by closely working with them to co-create designs and strategies.
Brew Interactive is known for the following services: lead generation, social media marketing, content marketing, search engine optimisation, digital advertising, and digital reputation management, among others.
Through its wide range of services, business owners will be allowed to choose and try which marketing strategy works best for their company. Multiple strategies mean multiple ways to attract an audience and increase sales.
It can offer more than these though, so if you'd like to know more, make sure to coordinate with them and have your expectations be exceeded.
Customer Reviews
Here's what clients had to say about their experience with Brew Interactive:
"The platform went live within a short period of time. End users praise the ease of use of the platform. Brew Interactive provided quick service with high-quality work. They are communicative and display good project management skills. Overall, the client appreciates the efficiency they emanate."
-Senior Brand Manager, Hasbro Turkey
"The platform went live within a few months. Brew Interactive delivered a quick service with quality work. They're communicative, accommodating, and hardworking. Customers can expect a team that works well with other businesses, striving to move projects forward."
-Managing Director, FoodServiceDirect.com
52.   Neu Entity Pte Ltd
Neu Entity Pte Ltd is a brand agency that helps businesses make an impact online by providing full-time creative and marketing services. They continue to link themselves with ethical businesses thanks to an innovative system that is effective in today's scenarios.
We find it very fitting that their services are always tailored to a client's individual needs, and this is especially visible in the method they take. They use the NBX technique to learn the ins and outs of the business so they can make simple decisions with a lasting impact.
We believe clients won't have to worry about service speed regardless of the company's situation because this strategy allows them to make all deliverables ready on time.
In keeping with this, they also provide ad-hoc projects for companies who require one-time operations, such as executive reports, corporate website design, and marketing campaigns.
To top it off, their former clients have praised their portfolio and wide range of partners for being dependable and efficient in every project. It's no surprise that they're associated and have received multiple honors for their constant services.
Customer Reviews
Here are some reviews from their clients:
"It's been great working with the Neu Entity team for the past year. They are hardworking and efficient, responsive and timely. They are truly a one-stop shop and we look forward to our continued relationship." – Zee Zheng
"Wonderful, trustworthy, immensely creative, and delivers… Digital designer, artist, collateral, and web property star." – Chauncey Kupferschmid
53.   Pivot Tree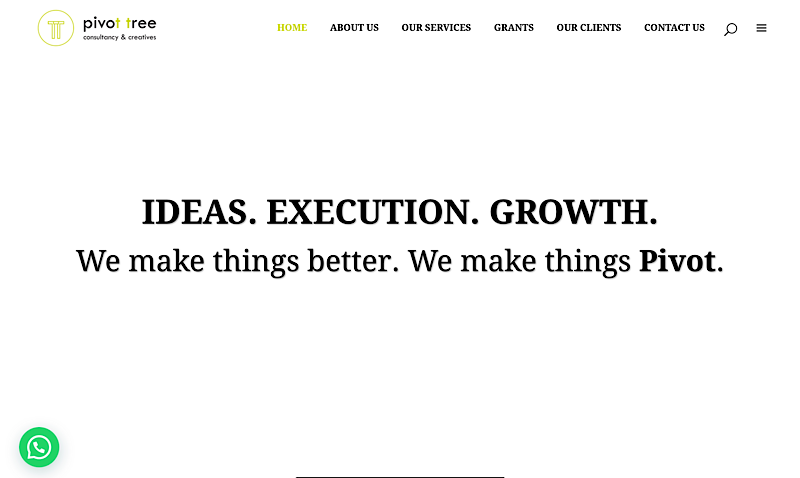 Pivot Tree is a digital marketing agency based in Singapore established in 2020 which seeks to improve the business growth of its clients. They are known to be one of the fastest-growing digital marketing agencies in the industry.
The agency works with SMEs and MNCs in providing various services such as SEO, web & app development, and corporate branding. We like that they have a number of services to offer and are able to accommodate enterprises of all sizes.
So far, they have worked with Yusen Logistics, Clarins, Poke Theory, and other reputable companies. The past clients that they have worked with show their capability in digital marketing.
Their portfolio is also visible on their website. They are able to showcase a good number of their previous works as a testament to their services.
To add to this, Pivot Tree is not confined within Singapore. They have other offices located in Malaysia, the Philippines, and Vietnam. In just a span of two years since its inception, they are now catering the international market.
Customer Reviews
Here are some Google reviews from their previous clients:
"Initially discussed a 1-month Social Media Content Creation. They were easy to work with that we extended an extra 6 month. A special shout out to Chang Boon!" – Rachel Tan
"Pivot Tree is the best consultancy in the Singapore. I would recommended everyone." – Tom Cuarran
54. Infonic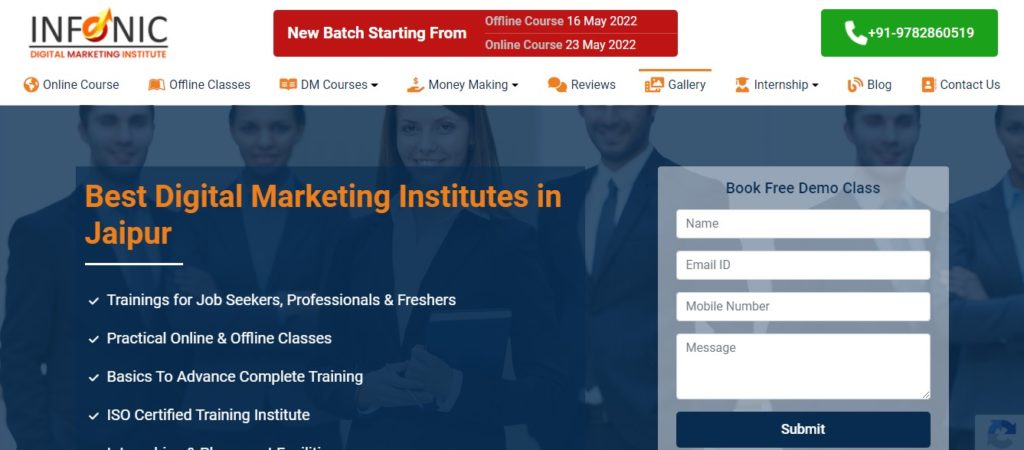 Infonic is a digital marketing institute that offers training for those who are interested in digital marketing. If you are just starting up and want to make sure that your business will be a success, we believe that their classes will help you.
If you want to venture into social media marketing, they are the only company that will teach you the basics and make you focus on Facebook Ads, Instagram, and LinkedIn as these three are the top priority for this type of marketing.
Aside from this, we love how they offer both online and offline classes. If you are not from Singapore but want to start a business there, you can simply attend their training and learn how to market your shop in the most appropriate manner.
What makes us like them more is that if you are not taking their classes. they can give you a 30-minute quick session wherein an expert will tell you the different benefits of learning how to digitally market a business.
The only catch here is that they do not offer solutions. So if you are looking for a company that can manage your business in terms of digital marketing, this may not be the one for you.
FAQs about Digital Marketing
---
And that's the end of our list of the best digital marketing agencies in Singapore! Have you worked with any of these marketing specialists? If so, then we'd love to hear about your experience with them!
As you build your ideal concepts with your chosen marketing team, by the way, you may want a productive and positive environment that can boost motivation and creativity. So, you might also want to see our list of the best coworking spaces in Singapore to keep the ideas coming!