14 Firms for the Best Business Consultants in Singapore
If you've been struggling to manage an effective strategy to maintain positive progress on your business, we may have the answer: you should seek help from the best business consultants in Singapore.
These consultants specialise in understanding the goals of an enterprise, providing practical solutions to problems, and extending social networks. With their knowledge, you'll be able to improve productivity, grow your business as you vision it to be, and aim for even higher goals.
Whether it's a startup or an established company, having a good management consultant would be an excellent help. So, here are some of the leading firms with the best business consultants in Singapore.
1.  Discovery SME Business Coaching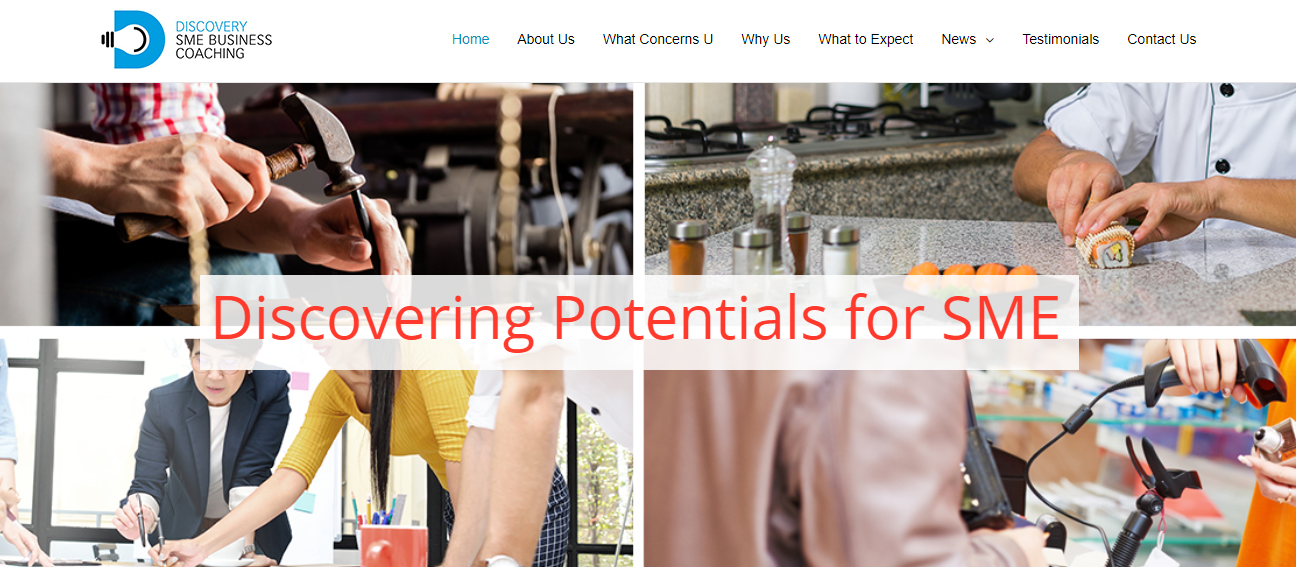 Discovery Business Coaching is a renowned coaching firm that specialises in small businesses. What makes them an excellent choice for those who are at a loss and in need of help is their team of coaches.
Much like the people they coach, Discovery Business Coaching's team comprises professionals who have once walked the path of SME entrepreneurs. They know how gruelling the career may be at times and this experience, alongside their expertise as coaches, allow them to confidently help clients work their way through a clearer career goal.
Another thing worth noting about Discovery Business Coaching is that they offer a solid timeline to address any and all concerns clients may have. This includes clarifying one's vision, creating a solid work plan, and even holding clients accountable for whatever mishap they may have experienced throughout their careers.
Discovery Business Coaching offers honest, personalised coaching that undoubtedly guides their clients to a proper, more formidable path towards a successful future. 
Highlights
Specialises in coaching small business owners
Offers coaching, mentorship, and advice in sessions
Custom-tailored coaching sessions
Customer Reviews
Learn more about what Discovery Business Coaching has to offer through these testimonials.
2. Sandhurst Consultancy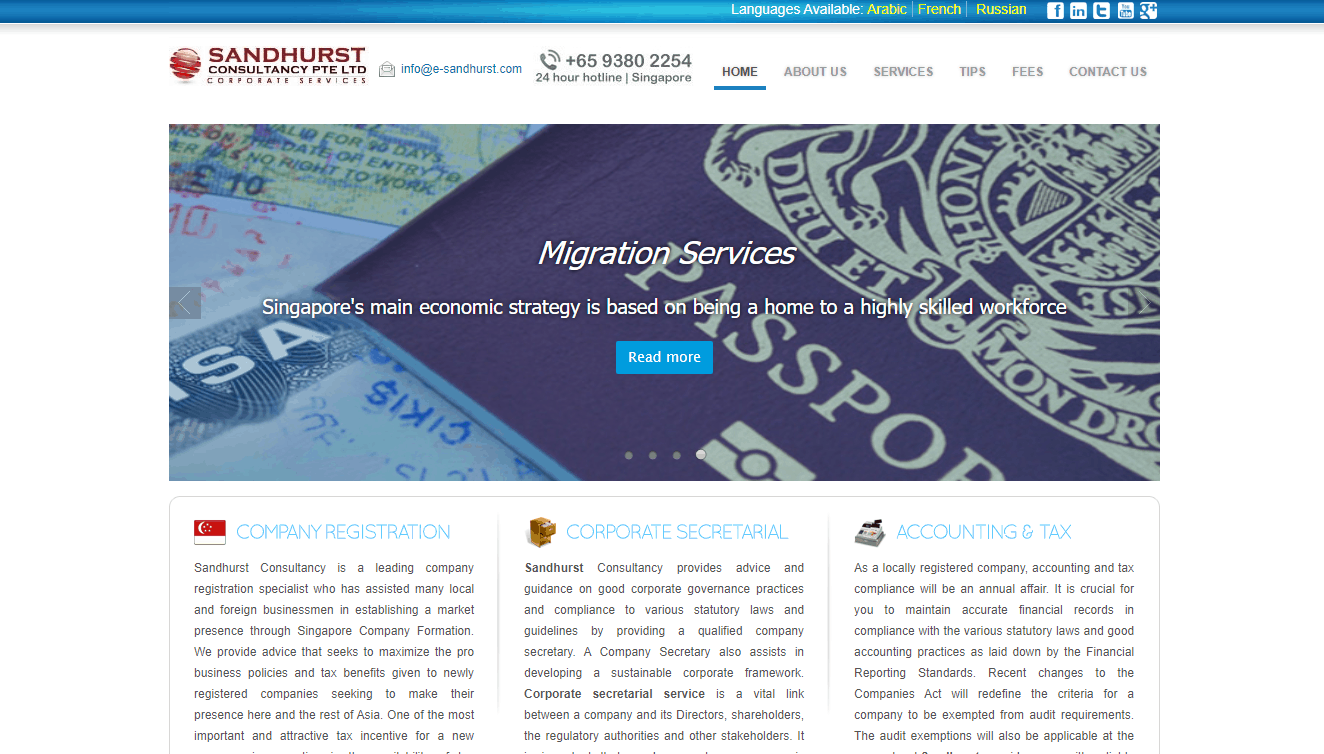 | | |
| --- | --- |
| BEST FOR  | Secretary and accountant services |
| PRICING | Fees |
| WEBSITE | https://www.e-sandhurst.com/ |
| ADDRESS | 77 High Street #03-01 High Street Plaza Singapore 179433 |
| CONTACT DETAILS | +65 6338 4202 , +65 9380 2254 |
| OPERATING HOURS | Weekdays: 9am–6pm |
Sandhurst Consultancy offers assistance for complicated business processes such as formation/setup, registration, and financial accounting, as well as business advisory.
They help startups and small and medium enterprises build and maintain a progressive performance in the industry.
Their experienced specialists incorporate companies and make sure that all the guidelines and restrictions have complied with the law. They also provide assistance when writing the books and filing the taxes.
Most firms offer incorporation services or accountancy services only, but this firm has the best business consultants in Singapore who offer both.
Also, you can get a quote on their site so you can figure out early one how much they'll cost as consultants for the services you need.
Highlights
Detailed analysis of requirements
GST registration
Business process outsourcing
Payroll and accounting services
Tax advice
Customer Reviews
Through their decades of providing extensive and reliable support to many businesses, Sandhurst Consultancy has gained the trust of many entrepreneurs and have proven that they can contribute to the success of any business venture.
A client shared this experience:
"I can recommend Sandhurst Consultancy to everyone who needs to open a business in Singapore. Mr.Singh and Ms.Mar
 ibel are very kind and could answer every question I had for them when I first planned to get started with my business. The whole process seemed to be so simple and easy having them to assist me. It's been a couple of years since I started my business with their help and I can tell that every time I need something and I contact them, they always manage to get back to me very quickly and resolve any kind of problem very efficiently… I think I was actually lucky to get to know them when I first went to Singapore and I am more than happy about their serviceI can personally recommend Sandhurst Consultancy…Hope my review will be helpful to anyone who plans to start a business in SG…"
3. Healy Consultants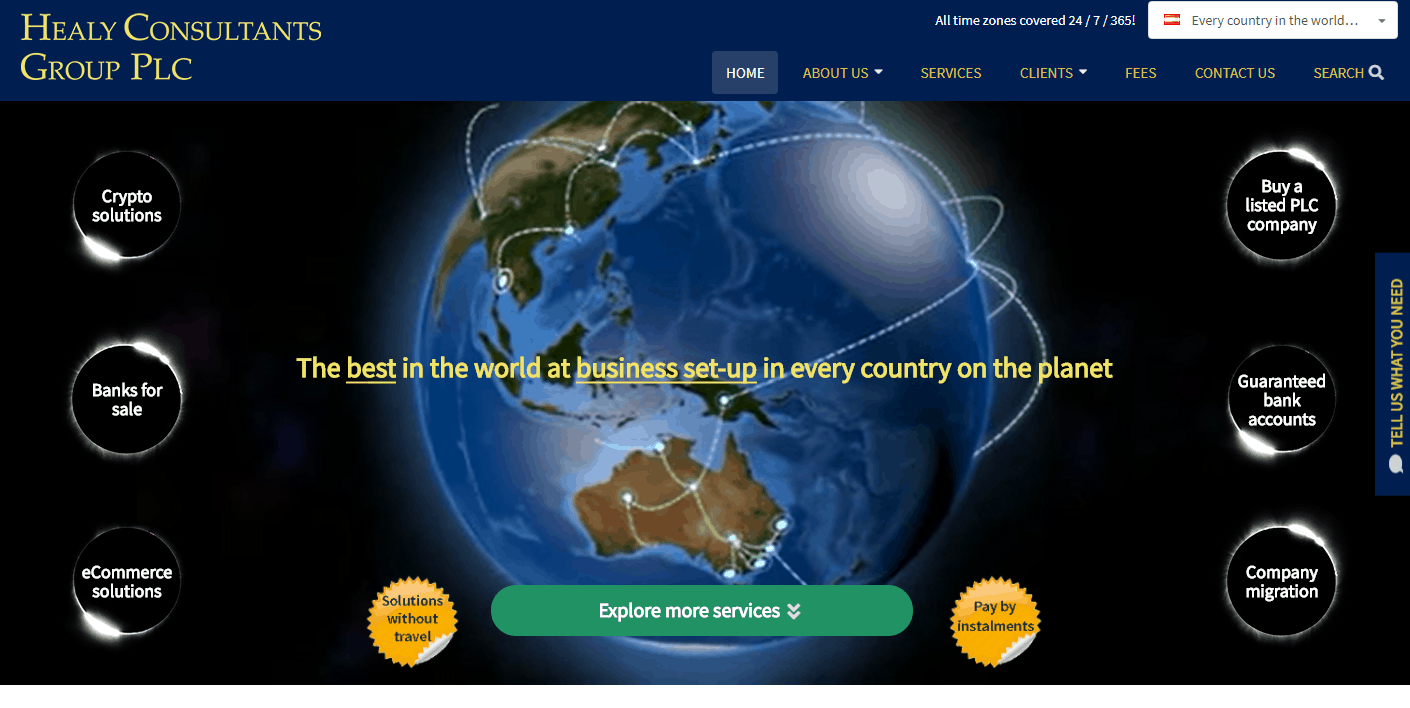 | | |
| --- | --- |
| BEST FOR  | Corporate consulting in Asia and globally |
| PRICING | Fees |
| WEBSITE | https://www.healyconsultants.com/ |
| ADDRESS | 491B River Valley Rd, Singapore 248373 |
| CONTACT DETAILS | +65 6735 0120 |
| OPERATING HOURS | Weekdays: 9am–6pm |
Healy Consultants has been serving clients from both local and global businesses for over a decade. Their consultants' group is led by some well-known specialists who have worked with prominent businesses across the world.
They have an exclusive and wide range of professional services offered at accessible rates. This includes global company registration, corporate bank account opening, assistance on stock exchanges and raising corporate finance, relocation and migration, and search engine marketing.
Their best business consultants in Singapore also provide advisory on marketing strategy, website development, mergers and acquisitions, global trademark, etc.
For the novice entrepreneurs, they offer a comprehensive guide with necessary information about many strategic decisions.
Highlights
Global corporate banking solutions
Financial services and solutions
Country comparisons
Tax and accounting services
Property investment advice
Search engine marketing
Customer Reviews
Clients mentioned that Healy Consultants was able to deliver results and services that met the needs and requirements of their business. Here's a review posted by one of their clients:
"I have used the Healy Consultants Group multiple times for the appointment of a resident non-executive director in Australia. Their process is thorough, fast, and comprehensive. The fees for their services are the best I've found for the great quality service and responsiveness to clients. I would recommend their services in full confidence."
4. Martech ISO Consultancy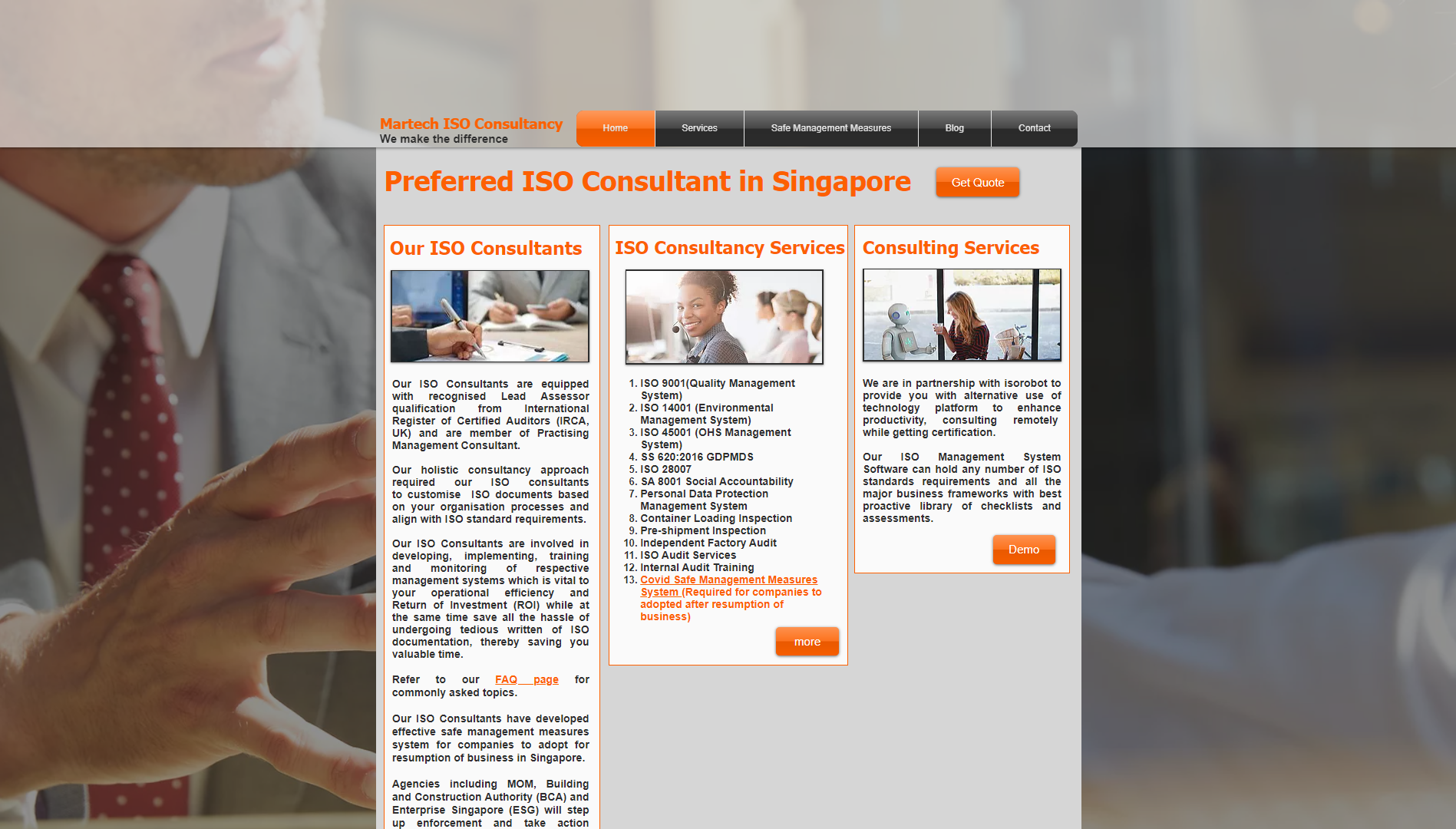 Martech ISO Consultancy is one of the most preferred ISO consultants in Singapore. They offer a wide variety of consultancy services.
Their ISO consultants are more than qualified.– they are recognised Lead Assessors by the IRCA and they are members of the Practicing Management Consultant. With Martech ISO Consultancy, you'll be able to make the best business decisions for your company.
Highlights
ISO consultants are recognised as Lead Assessors by the IRCA
Holistic consultancy approach
5.  Intellect Minds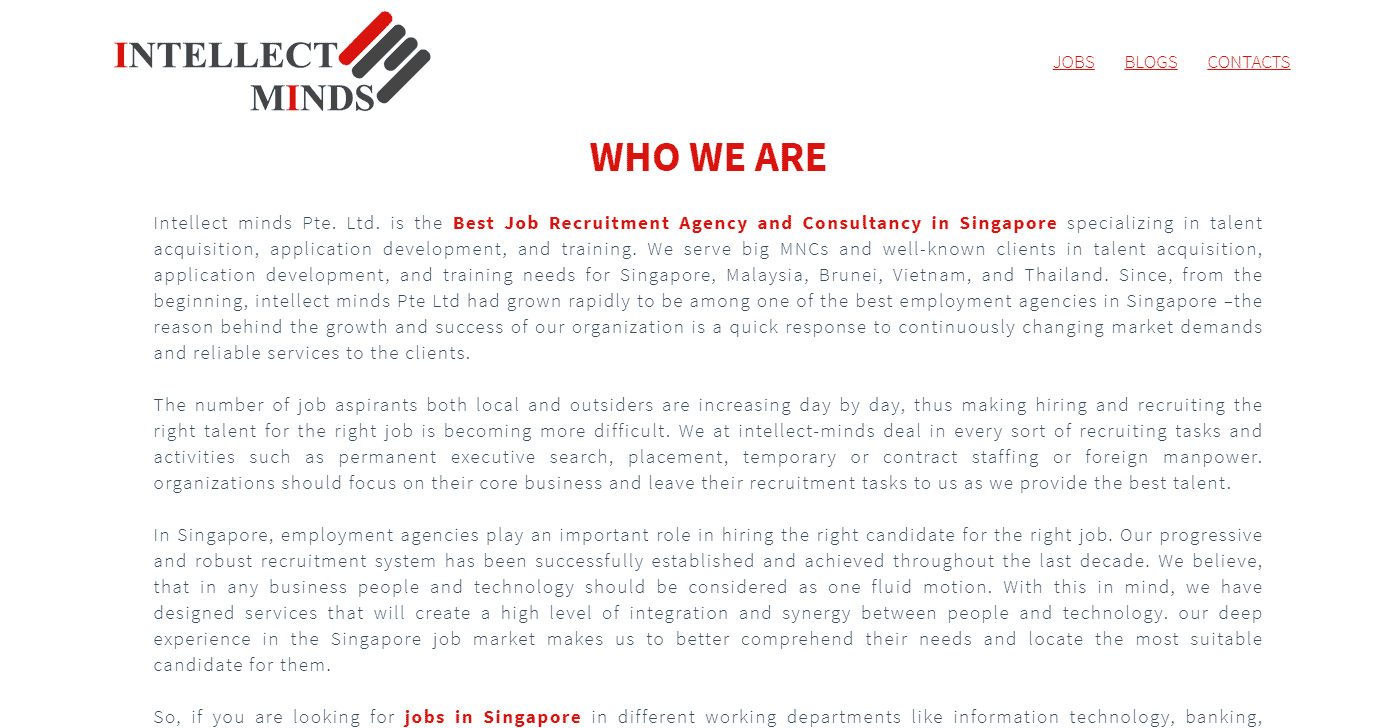 | | |
| --- | --- |
| BEST FOR  | Consultancy and employment services |
| WEBSITE | https://www.intellect-minds.com/ |
| ADDRESS | 51 Anson Road #05-51 Anson Center Singapore, 079904 |
| CONTACT DETAILS | +65 – 6222 0421 / 9016 / 6703 |
| OPERATING HOURS | Weekdays: 9am–6pm |
Intellect Minds is known for being one of the reasons behind the growth and success of many enterprises in Singapore.
Through talent acquisition, application development, and training services, they were able to meet changing marketing demands and exceed the expectations of their clients.
Their best business consultants in Singapore specialise in technology consultancy where they help develop, implement, and manage solutions including digital automation, cloud and security projects, and so much more.
These technologies provide fast and accurate assistance, boosting the productivity of the employees and letting them focus on the core of the business.
Apart from this, you can also depend on their industry knowledge and allow them to find the right people for your business. They've provided staffing and consultancy services for different departments such as information technology, banking and finance, etc.
Highlights
Business analysis and development
System engineering
Website design services
Employment services
6.

Bluebox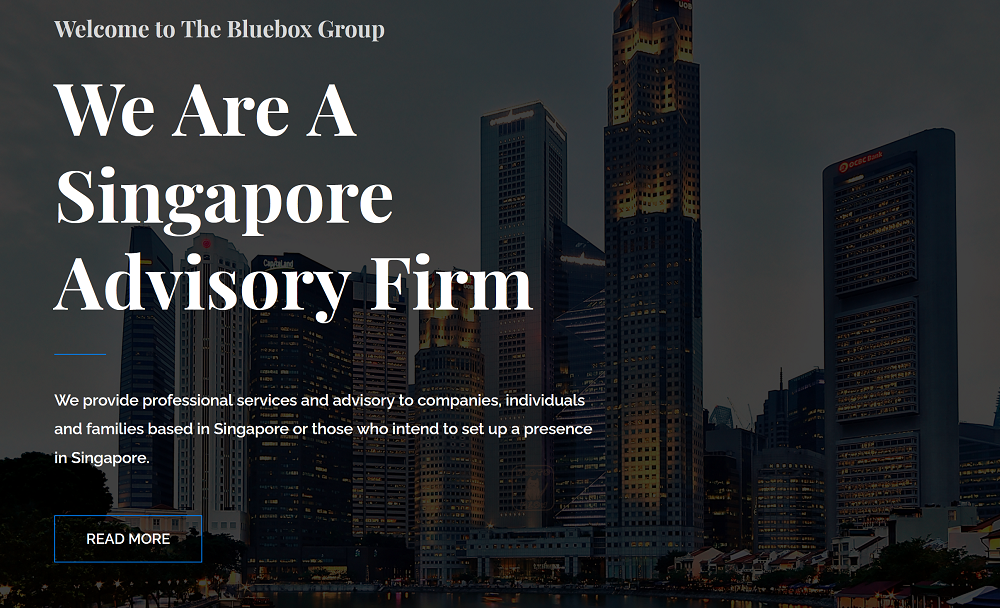 BEST FOR 
Comprehensive Services
WEBSITE
https://blueboxglobal.com/
ADDRESS
Consulting and Advisory
10 Marina Boulevard
Level 39 Marina Bay Financial Center
Singapore 018983
+65.68185757Accounting and Corporate Secretarial
89 Short Street, Suite 09-08A
Golden Wall Center
Singapore 188216
+65.62244225
CONTACT DETAILS
Consulting and Advisory
+65.68185757Accounting and Corporate Secretarial
+65.62244225

 

 

OPERATING HOURS
N/A
Bluebox is a company that offers boutique, high-quality services to their clients. Their primary focus is on entrepreneurs, high growth businesses, and investors who are based in Asia.
After forty years of working in the industry, they've now expanded their corporate services to consultancy services, investor services, and more. You can count on Bluebox to provide the best tax consultancy services you may need.
Highlights
Almost 40 years of working with SMEs
Personalised Services
7. Etereo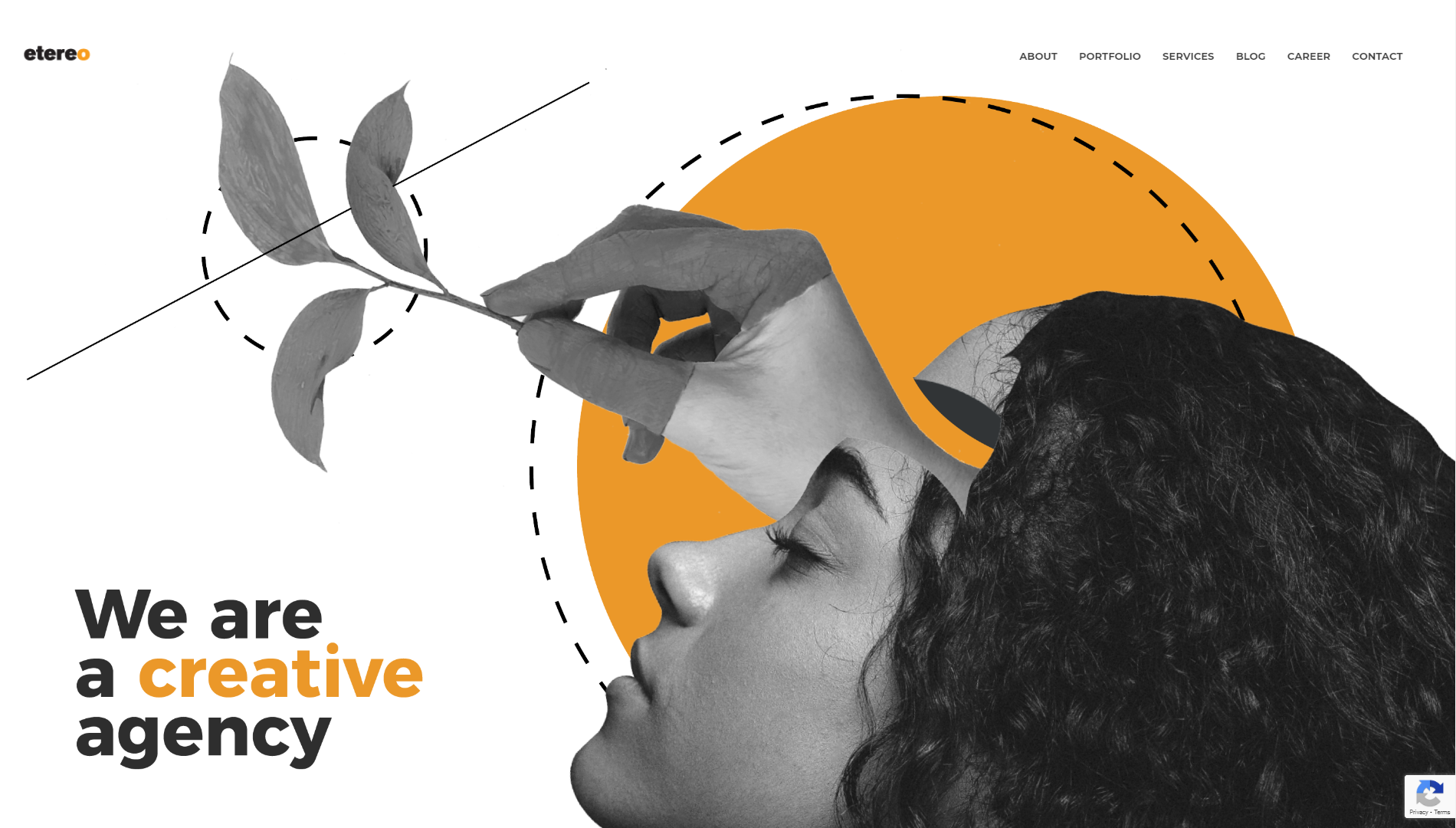 Etereo is a creative agency that specialises in branding, digital marketing, and content creation. They believe that through branding, it creates a strong brand with consistency in assets and communications, and this is the basis for any successful marketing campaigns.
They take a personalised approach to their clients to ensure that their clients develop to their fullest. Etereo will work together with you to create unforgettable experiences for your brands and products.
Highlights
Tailor-made approach and services
Works closely with their partner
8. Jadeways Solutions

Jadeways Solutions is the best partner for entrepreneurs. They're focused on utilising online and offline marketing methods to achieve more sales.
Its founder, Franziska Grobler, has extensive experience in retail and brand marketing. With her help, you'll be able to know the best way to make your company stand out.
Highlights
Extensive marketing experience
Excellent communication skills
9. Bizsquare Management Consultants

BEST FOR 
One-stop Business Consultancy
WEBSITE
https://www.sgsmeloans.com.sg/
ADDRESS
3 Gambas Cresent,
Nordcom One #06-15,
Singapore 757088
CONTACT DETAILS
(65) 91834413
[email protected]
OPERATING HOURS
Monday, Wednesday: 9 AM-7 PM
Tuesday: 9:30 Am-7 PM
Thursday, Friday: 10 AM-7 PM
Closed on Saturdays and Sundays
Businesses don't always know what to do after their company gets off the ground. Fortunately, Bizsquare will help you decide on the next course of action you should take.
Their specialty is helping SMEs secure funding. With their partnerships to multiple trustworthy banks, they will guide you on where to steer your business next.
Highlights
Helps raise funds for SMEs
Partnered with multiple banks
10. WLP Group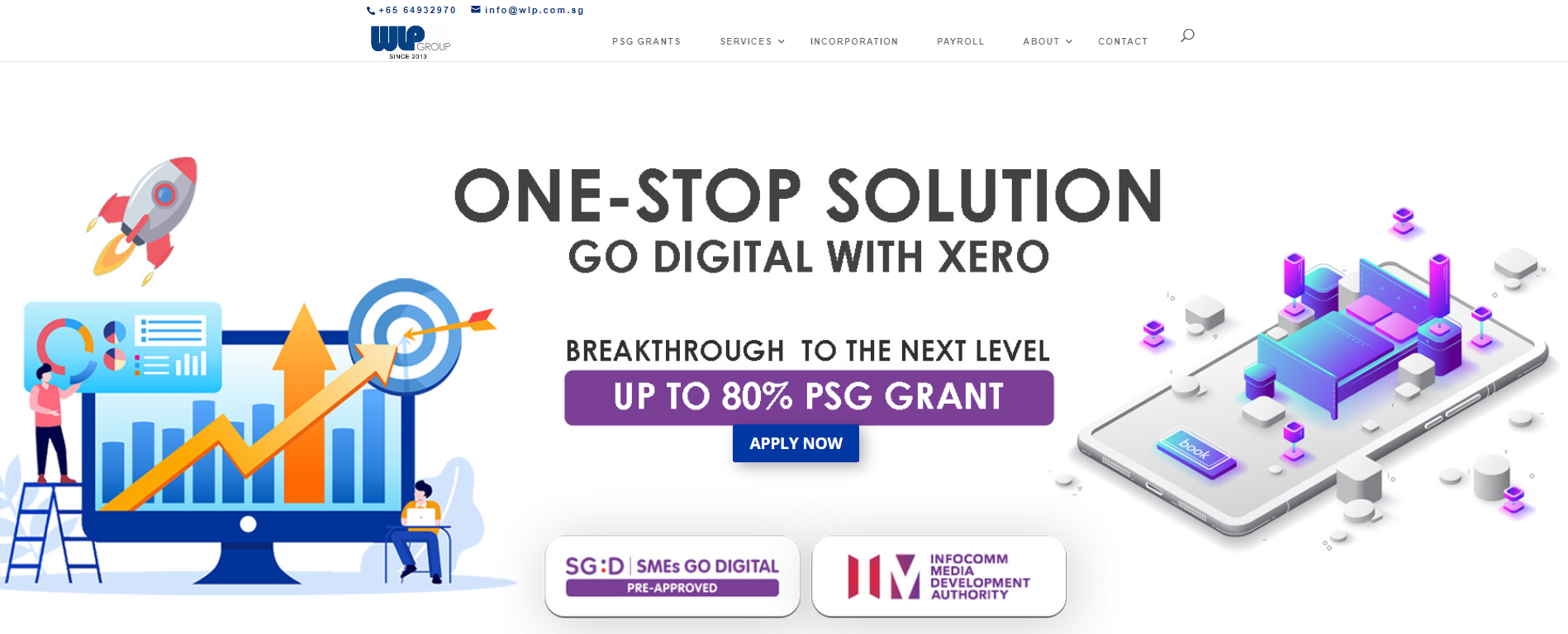 BEST FOR 
Wide range of services
WEBSITE
https://www.wlp.com.sg/
ADDRESS
100 Jalan Sultan, #02-44 Sultan Plaza
Singapore 199001
(Strictly by appointment only)
CONTACT DETAILS
+65 64932970
[email protected]
OPERATING HOURS
N/A
WLP Group provides a wide range of services to their clients, making them a one-stop solutions provider. From business accounting to payroll outsourcing, they are more than capable of assisting you,
Their experienced team of professionals are ready to help you any time. After working with clients from various industries, you can rest assured that they will be able to help you with any problem you may have.
Highlights
Free consultation available
Experienced team of qualified professionals
11. Boston Consulting Group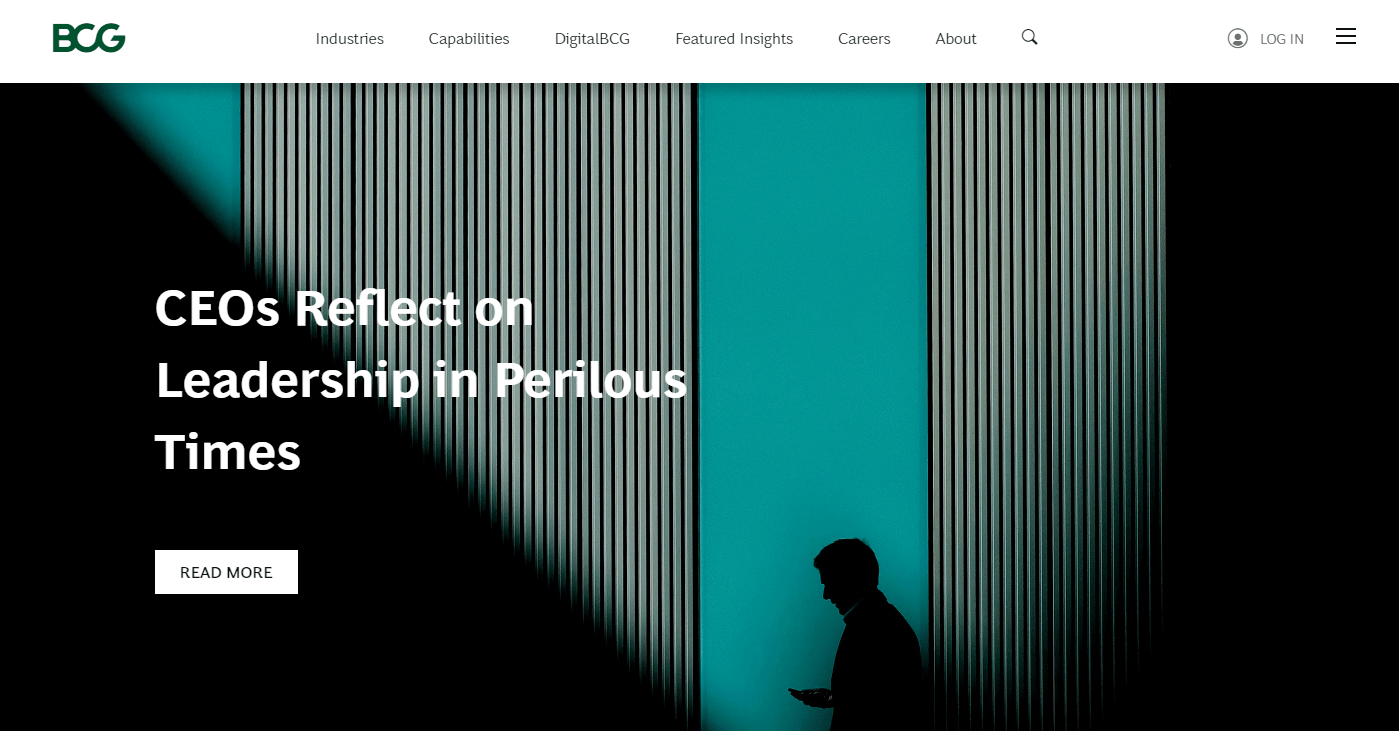 | | |
| --- | --- |
| BEST FOR  | Innovative consultancy services and strategic approaches |
| WEBSITE | https://www.bcg.com/ |
| ADDRESS | 50 Raffles Place, #44-02/03 Singapore Land Tower, Singapore 048623 |
| CONTACT DETAILS | +65 6429 2500 |
Being one of the oldest firms in the industry, Boston Consulting Group has partnered with many leading companies, helping them to overcome challenges and exploring business opportunities. Compared to other firms, they use both manual and digital capabilities to deliver successful results.
When it comes to management consulting, you can rely on their innovative strategies, marketing and sales advisory, post-merger integration assistance, and operations services.
Their best business consultants in Singapore have worked under various industries including education, retail, insurance, healthcare, media and entertainment, automotive, public sector, telecommunications, and many more.
Rather than following traditional business processes, they encourage a transformative process that'll help an organization go beyond even their initial goals. Therefore, they also introduce digital approaches to unearth the full potential of a business.
Highlights
Digital services
Management changes
Corporate development and finances
Client learning programs
International businesses services
12. Global Link Asia Consulting
Global Link Asia Consulting is a consulting firm that offers a wide variety of supporting services, from incorporation to consultancy services.
With the aim to partner with clients in every stage  of business development, Global Link Asia Consulting provides clients with ONE-STOP services including: 
Overseas incorporation services, especially in Singapore, offshore (BVI, Belize, Seychelles), the United States, Australia, Hong Kong, Thailand, Vietnam,  etc
Tax – accounting services (monthly, yearly, specialized tax consultancy services)
Retail QuickBooks license and QuickBooks training services
Payment solution consulting service, especially PayPal consulting service
Website design and domain service
Other supporting services such as Trademark registration, Call forwarding services, etc
Highlights
Customer-Centric culture
Professional, supportive, and no hidden fees
One-stop services
High quality at reasonable prices
Technology oriented
Private and Confidential
13. Linkflow Capital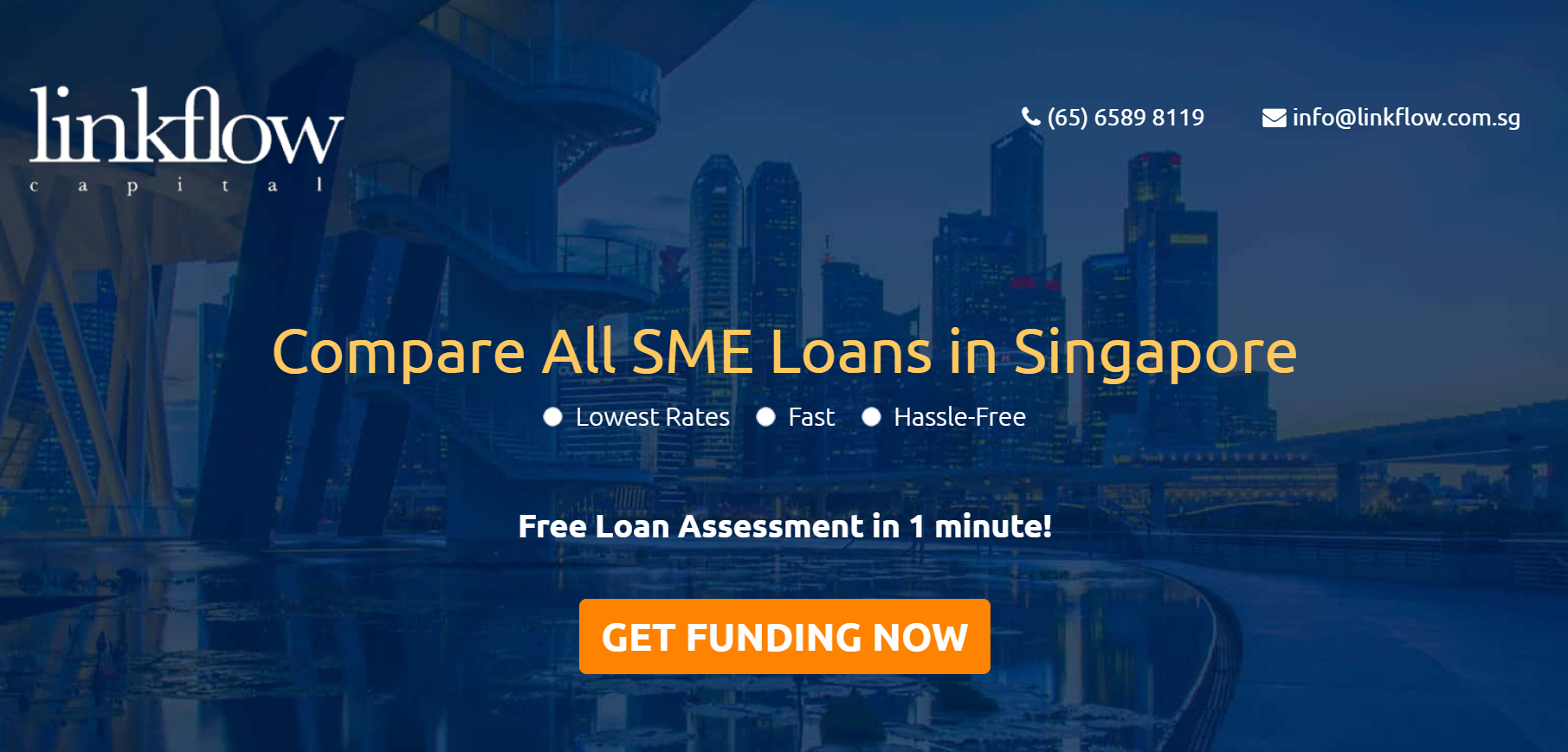 | | |
| --- | --- |
| BEST FOR  | SME loan consultancy services |
| WEBSITE | https://smeloan.sg |
| ADDRESS | 150 South Bridge Road, #02-10A, Singapore, 058727 |
| CONTACT DETAILS | 6589 8119 |
| OPERATING HOURS | Weekdays: 9am–7pm |
Linkflow Capital is one of the most established and reputable SME financing consultancy in Singapore.
Assisting SMEs with business financing since 2012, the consultancy firm has helped hundreds of businesses secure SME loans and banking facilities. Their consultants have deep domain knowledge and experience in the areas of finance and business loan facilitation. 
With a vast network of banking partners and financiers cultivated over the years, Linkflow Capital offers deep insights into the SME financing landscape to the clients they serve. With a well-diversified clientele across a wide spectrum of industries, Linkflow Capital can craft customized financing solutions tailored to each business' situation and requirements. 
Highlights
Corporate finance solutions
Commercial loan facilitation
SME loan comparison
SME working capital loan advisory
Business loan syndication
SME financing consultancy
Customer Reviews
Clients mentioned that Linkflow Capital was able to deliver results while providing a professional and pleasant service experience. Here's a review:
"I am happy with the service of the consultant who exceeded my expectations. He has been most professional, providing me with useful insights and quality advice. I would gladly recommend Linkflow Capital to anyone looking for a professional who knows their stuff and can deliver." 
14. SBS Consulting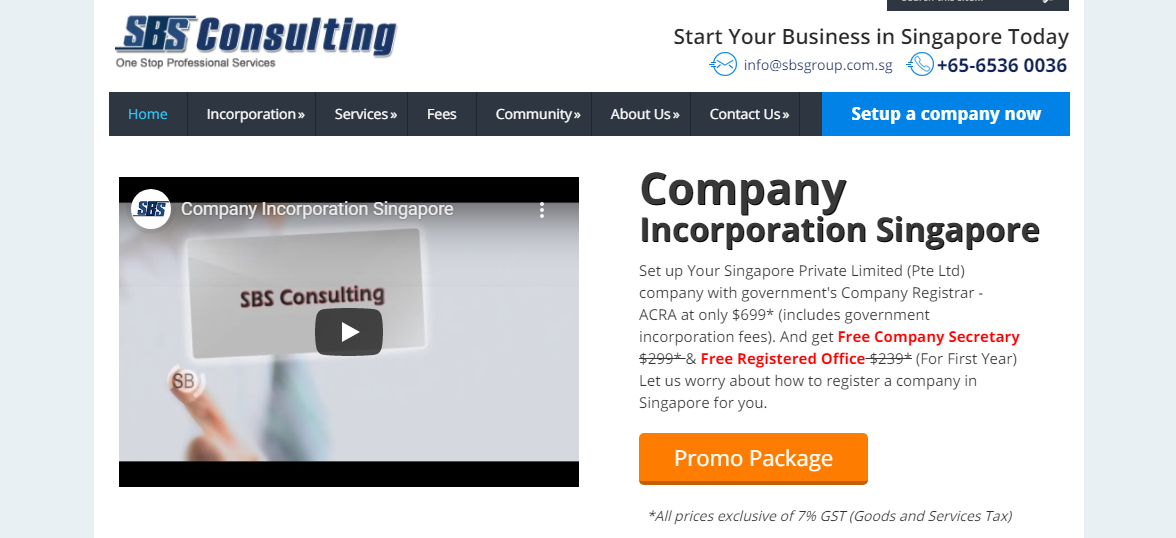 | | |
| --- | --- |
| BEST FOR | Corporate services |
| WEBSITE | https://www.sbsgroup.com.sg |
| ADDRESS | 1, #18-03 North Bridge Rd, High Street Centre, Singapore 179094 |
| CONTACT DETAILS | (+65) 6536 0036 | [email protected] |
| OPERATING HOURS | Monday – Friday, 9:00 AM to 6:00 PM |
SBS Consulting offers a wide array of corporate solutions such as accounting services, bookkeeping, taxation, GST reporting, and payroll services. Over its years of operation, it has managed to earn the trust of small and huge business in terms of handling some of their human resource operations.
What's more, SBS Consulting boasts a team of professional and experienced accountants, auditors, and HR personnel who will ensure that your employees are paid on time and correctly. It also has an optimised and effective system to process a company's payroll more efficiently.
Above all, SBS Consulting will make sure that your company continues to comply with government rules and regulations. It's indeed the top option for the best payroll services in Singapore.
Highlights
Free quote
Experienced HR personnel
Transparent fees
Accessible online services
Choosing the most suitable consultant for your company is a major decision that'll affect the overall performance of your business. Therefore, make sure to take your time picking one. We hope that you can find the right one from our list of the best business consultants in Singapore.
Also, if you need more staff to deal with the overgrowing tasks and projects, the best corporate secretaries in Singapore can help ease the heavy workload. Check out that other list of services to further improve your business operations!