9 Best Lunch Boxes in Singapore for Adults and Kids
Whether it's for the kids' or for your own use, you should use only the best lunch boxes in Singapore. It's what keeps your nourishment fresh, after all — so why skimp on it?
For many, a lunch box is essential. This may be due to the user's dietary concerns or budget (as it's usually more practical to pack a lunch than eat out).
Whatever your reasons for needing a lunch box, we have you covered. Below, we've listed the best lunch boxes in Singapore that can keep your food warm and fresh for a long time.
1. Zojirushi SL-NCE09 Ms. Bento Lunch Jar
Best for Compact-Yet-Spacious Design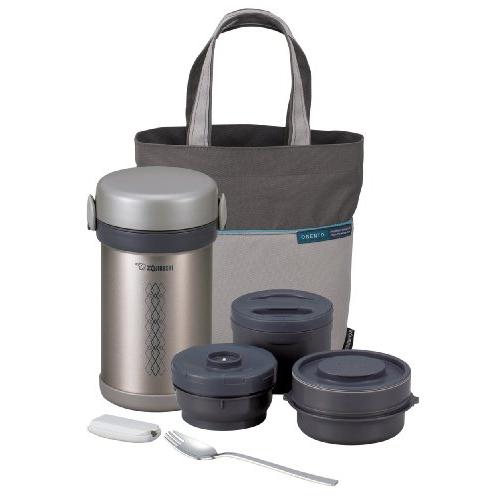 Price: $67.00
If you're looking for a compact lunch box in Singapore, this one's for you. Don't be blinded by its simple design — you can store plenty of different dishes with the Zojirushi SL-NCE09 Ms Bento Lunch Jar!
It includes a total of three microwaveable food bowls for both hot and cold food storage. The vacuum-insulated design keeps the food warm throughout the day.
Moreover, a convenient carrying bag for travel is also provided so you can easily bring it along anywhere and anytime.
If you've always liked to prepare main courses for lunch, then this could be the best lunch box in Singapore for you!
Highlights
Vacuum-insulated
Stainless steel
Easy to clean
Customer Reviews
Most buyers loved the Zojirushi SL-NCE09 Ms. Bento Lunch Jar because of the sizes of the containers and the impressive insulation as well.
Some of them did admit that they had slight concerns with the soup bowl's gasket. Nevertheless, they still recommended the product as a great buy, overall.
An Amazon customer shared this feedback:
"I've been using this for a while now, and I like it very much. I need a leakproof lunchbox because I carry mine in my backpack. These containers are a decent size, and the thermal jar does keep temperature very well. I like the little spork that comes with the set, and the carry bag has plenty of space for a piece of fruit, extra napkins, or a drink. It's not a huge bag, but you can fit some nice extra goodies in there next to the jar. My only complaints are the gasket on the soup bowl (which has of late started popping out of the top and causing my food to leak) and the size, which is small for me. I carry this to my evening classes and late workdays, and it's certainly not enough to hold a full dinner. Of course, it is just a lunchbox, but if you're looking for something to hold enough food for the long haul, I'd try a Mr. Bento.
This is overall a well-made product that I would recommend. I've carried this around for almost a year and have only just now begun to have issues with parts, so this is a tough bit of kit and it's worth the extra cash. Definitely a step up from neoprene and plastic ware sadness; bonus points for keeping your nice meal away from work's icky community fridge!"
2. Zuzuro Insulated Lunch Box
Best for Larger Size and Capacity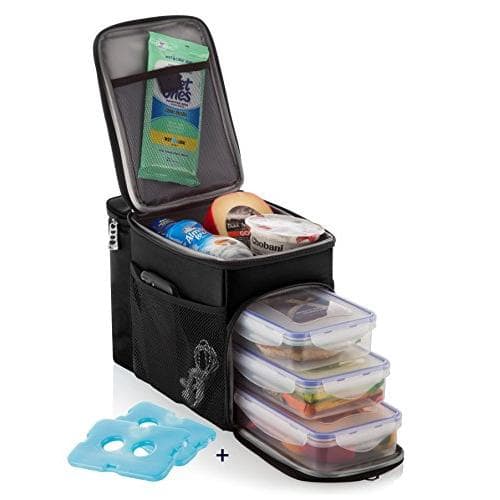 Price: $139.77
Are you looking for a thermal lunch box in Singapore that you can also use for picnics or short-term trips? The Zuzuro Insulated Lunch Box may just be your best pick, in that case.
It carries three wide containers in which you can store different kinds of meals. There's also a top compartment where you can hold some snacks and other treats.
Additionally, two bottle holders are also placed at the back and easy-to-access side pockets for extra small items.
All compartments are well insulated and highly durable, thanks to its super-thick and strong polyester material.
You can easily carry the cooler box easily, as it has adjustable and detachable padded shoulder straps. On the whole, if you're currently planning short-distance travel, this might be the best lunch box in Singapore.
Highlights
Various compartments
Microwave- and dishwasher-safe
Easy to carry
Customer Reviews
Customers were delighted by their purchase of the Zuzuro Insulated Lunch Box. They've complimented its durability as well as its multifunctional design.
A reviewer from Amazon wrote:
"Love this product, it's light weight, durable, lots of compartments/pouches to carry stuff. I use this daily for my work. The three food containers are great, easy to care for and hold the right amount of food item for me. The two thin refreezable ice blocks keep my food for cold up to 8 hours. The drink compartment is very well appreciated, I bring a vitamin water and water bottle to work, and then it can be used to put my 20 ounce coffee mug in to take home in the evening, very handy.. The included shoulder strap is very useful as well. I would highly recommend this to others, and I would buy again when needed."
3. Yoice DFH16 2L/3 Tier Electric Lunch Box
Best for Automated Heating System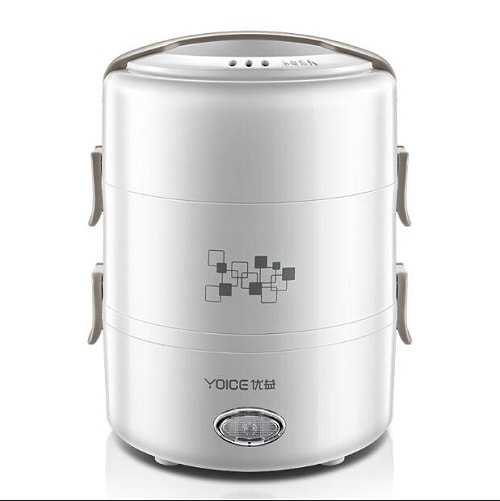 Price: $42.80
What's better than a thermal lunch box? Well how about a lunch box in Singapore with its own built-in automatic heating setup? If this sounds cool to you, then you should take a look at the Yoice DFH16 2L/3 Tier Electric Lunch Box.
This is an excellent choice and the best lunch box in Singapore for those who are going on long hours of travel. After all, it makes rewarming food on-the-go possible.
This electric lunch box has three layers and is also built with stainless steel material. It offers 8 major functions that include three-dimensional heating for your meal.
After you've arrived at your destination, you can simply warm up the food with just a few button clicks.
Highlights
2L capacity
Rapid heating
24-hour smart appointment
99-minute timing
4. Rubbermaid LunchBox
Best for Fruits and Snacks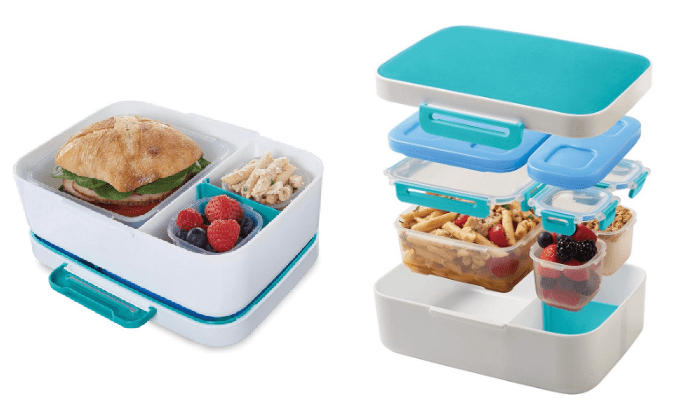 Price: $39.90
For minimalist yet functional design, the Rubbermaid LunchBox contains three compartments in one smart package.
The BPA-free containers are tightly secured with a silicone and airtight seals, so there's no need to worry about possible leaks. You won't have to place it in an additional carry bag.
The containers keep food warm and fresh. This is the ideal companion to bring for light snacks and treats.
Highlights
Leakproof
Easy-to-access latches
Microwave, freezer, and dishwasher safe
5. GRUB2GO Bento Box
Best for a Simple and Eco-friendly Solution
Price: $59.77
Interested in Japanese-styled lunch boxes? Well then, you'll probably want to take a look at the GRUB2GO Bento Box.
If you prefer to carry a much simpler lunch box where you can fit in a fair amount of food, this product has 2 main compartments — with utensils and holder included.
It might not have special features unlike some of the other options on this list. However, you can be sure that your food and snacks will be kept fresh and warm as though it's an insulated lunch box.
It also has leakproof lids and an integrated vent system.
Highlights
BPA-free and non-toxic
Dishwasher, microwave, and freezer safe
Customer Reviews
Many customers consider the GRUB2GO Bento Box to be one of the best lunch boxes in Singapore due to its sleek style, and easy-to-clean, well-insulated containers.
Some said, nonetheless, that they wished it had a tighter seal. This was a minor quibble, though.
An Amazon customer left this feedback:
"The product is sleek and functional. My son always complained about the moisture from his fruit getting to his other food. We bought the box with the insulated carrying case that is designed really well. There's room for juice box and chips. There's a nifty spot for the silverware on top and the band keeps everything snug. My husband was even checking out the lunch carrying bag. I'd love to see another design as well, one with split compartments so I have room to send three different types of food!"
6. Yumbox Panino Tray 4 Compartment
Best for Colourful and Fun Illustrations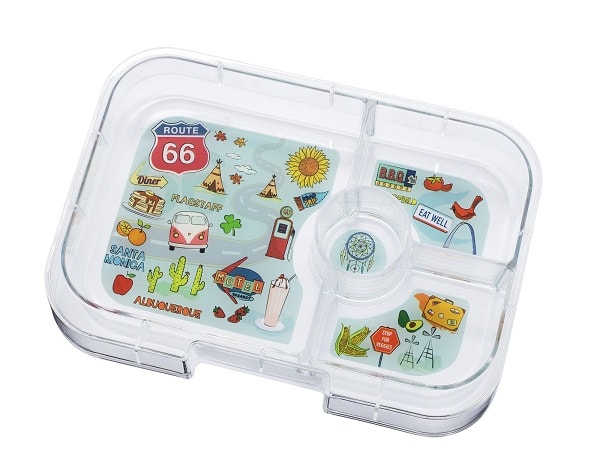 Price: $26.00
If you're looking for a lunch box in Singapore with compartments, this one's for you. The Yumbox Panino Tray 4 Compartment is another bento-styled food container but it's mainly designed for kids. It has a colourful and playful theme that'll certainly brighten up their mood.
With its leakproof suction seal lid, you can store yoghurt, custard, fruit, and other snacks without worrying if they'll get mixed up with items in other compartments.
It also fits inside a standard-sized lunch bag in Singapore. To ensure toxic-free food storage for children, it's BPA-free and built with food-safe materials.
Highlights
Lightweight and compact
Removable and dishwasher safe container
Customer Reviews
The Yumbox Panino Tray 4 Compartment was praised by customers because it's much more efficient to use for multi-component meals than buying separate snack storage. However, some of them were not quite impressed with the leak-proof feature.
Nonetheless, they say that it's still worth buying. An Amazon customer wrote this review:
"We love our Yumbox lunch boxes. I pack lunch for 4 kids each day. I was concerned about the amount of garbage that we would generate as well as wanted to save money over buying individual snack packs of items. I purchased this extra tray to have on hand just in case and am so glad I did. We currently have 4 Yumboxes and 2 Bentgo Kids in rotation and I love them all."
7. Omiebox Insulated Bento Box
Best for Kids' Healthy Meals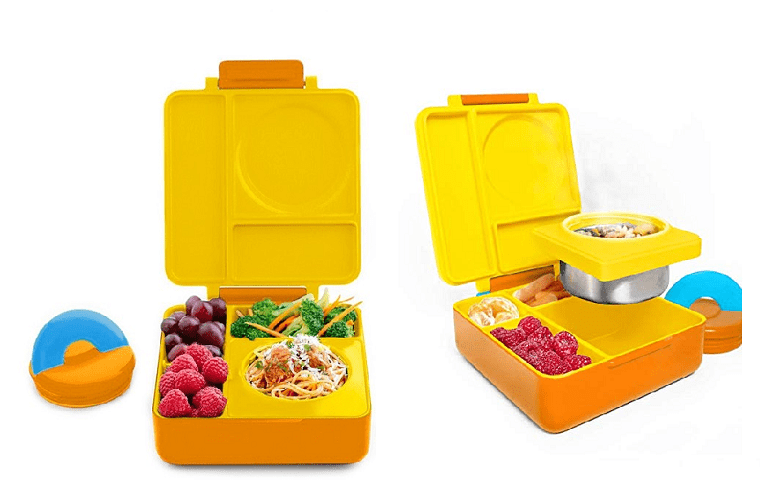 Price: $59.00
For the kids to enjoy a full meal together with some fruit and snacks, the Omiebox Insulated Bento Box is the best lunch box in Singapore to have!
Similar to the Yumbox, it also has 4 compartments — but this one has a vacuum-insulated bowl that can keep the main course warm. You can pack spaghetti, soup, rice, and more!
The side compartments are insulated as well, so the fruits will still be fresh when the box is opened. In this way, you can give your kids a truly well-balanced meal.
Highlights
Vacuum-insulated bowl
Larger compartments
Customer Reviews
Customers stated that they admire the overall quality of the Omiebox Insulated Bento Box. The only complaint was that it could be slightly heavy to carry.
A customer from Amazon gave this review:
"I was a little skeptical buying this but was beyond satisfied with the lunchbox after I received. This is a very high quality lunchbox; the plastic is highly durable. It maybe a little heavy for preschooler to carry (the heaviness is from the thermo container), but the entire idea of sectional lunchbox works perfectly. This is one of the products that I strongly recommend to friends."
8. PACKIT
Best for Chilled Snacks

Price: $29.90
Got some delicious chilled snacks from the fridge and hoping to bring them to school or to work without them defrozing? That is totally possible with Packit! Their 2020 Freezable Snack Box Bag has gel-lined walls to store chill fresh snacks and a 12oz (340ml) drink for hours (depending on external temperatures).
It also comes handy as it is designed as a rectangular shape container that allows for carrying a small container or small bottle. With its new buckle handle clips, you can simply attach it onto totes, backpacks, strollers, etc.
With this new lunch box of Packit, there's no need for you to leave your favorite snack sitting at home. Now, you can have it served perfectly chilled even on the go.
Highlights
Compact and lightweight

Made from nontoxic poly canvas; food-safe lining

Affordable
9. Carl Oscar – BentoDISC™
Best for Kids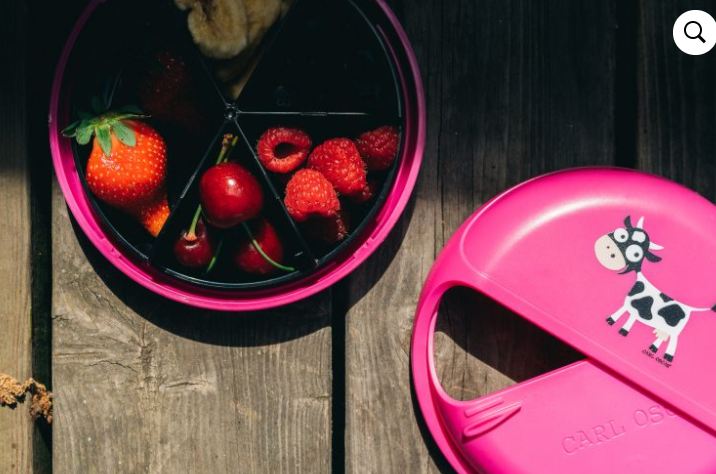 Price: $39.90
Check It Out On Our Signature Store
Feeding kids can be a little tricky sometimes. Using the BentoDISC™ by Carl Oscar can make your child's eating habits fun!
This fun container comes in a circular shape with different bright colors and fun art to choose from. Within this is a rotational disc with 5 partitions to store your food, and the best part is that it can spin, making it fun for the kids to eat.
Highlights
Fun lunchbox for kids
Easy to disassemble and wash
Different designs and colors available
Customer Reviews
"I am a mum with 2 kids. When I bring them out for activities, I had to carry 2-3 boxes to segregate their food. This Bentodisc really comes in handy! With the compartment design it doesn't just solve my issue, the kids get excited to spin the disc and enjoy their meal."
"I have been using it for a week and so far it seems sturdy. Was able to pack the kid's lunch and still had room for food if needed. Easy to clean and the inside material could be wipe down easily."
Since they cater to many different purposes, you'll surely find one that'll suit your needs. If you've already picked one of these, though, share it with us by leaving some comments below.
By the way, given the everyday morning rush due to work or school, you may also want to check out our list of the best pressure cookers in Singapore. This will help you prepare your meal and have it done in no time!