The 5 Best Airtight Containers in Singapore for Food Storage
The best airtight containers in Singapore can help with storing leftovers from the night before.
If you're looking for some to use at home, you're in luck: we're here to list the best airtight containers that can keep food fresh until consumed.
Whether you want something to store your spices in or a plastic lock bento for your packed lunch, we've found the best airtight containers for their storage. The ones listed here come in a variety of materials as well.
And to help you make your choice, we've set up a quick guide on how to pick a great airtight container. That way, you'll have a better idea of how to choose one from among our own picks.
So, let's not dawdle shall we? Let's dive into the world of airtight containers right now!
How to Choose Airtight Containers
There are plenty of factors that need to be looked at when considering airtight containers for your kitchen. Shape, size, material, longevity — all of these are important factors when picking something that will store food.
Of course, it's a no-brainer that you need to choose food-safe material, but remember plenty of food storage containers have been busted for having toxic materials within the plastic, so it's better to be safe.
And we've listed down the perks of each material for storage as well as its disadvantages. We'll also go over some of the other things you should consider when buying a container.
Materials
There are different types of materials that can be used for food storage. From glass to plastic, they vary in effectiveness in storing food.
These materials have their own advantages and disadvantages when it comes to food storage, so let's check them out below:
Glass
Glass is a pretty addition when storing spices, grain, cereals, candy, and more. It's also better for storing oven-ready meals in the fridge.
Glass is quite versatile, as you can use it in refrigerators, freezers or ovens (some glass, anyway), microwaves, etc. It's durable, scratch-free, easy to clean, has no smell, and suffers no food-staining either.
It's also ideal for storing hot food and acidic food. However, take into consideration that it's not lightweight, so using it as storage for packed meals can be inconvenient.
It's also relatively easy to break unless you're using tempered glass. That may be yet another consideration if you have to tote the container around all day.
Plastic
Plastic is ideal for packing lunches and ready-to-eat meals, as well as liquid food. It's one of the more versatile materials for food storage; however, it has a limit on how long you can keep it in a microwave.
Kid-friendly, and lightweight, plastic comes in a variety shapes and sizes. If you must use plastic, you should always use BPA-free ones for your food storage.
Plastic containers also have a tendency to stain, especially the cheaper ones.
Acrylic
Acrylic mimics glass, but has the advantages of plastic containers. They're convenient, shatterproof, moldable, and save plenty of space.
However, this is only a good choice for dry goods or cold food. Glass is still better at being heated… and acrylic is less environmentally friendly, which may be a consideration for you.
Shape
Take into consideration the shape, as it can affect the utility of the container.
For instance, if you're using several of them, you want shapes that are easier to stack, such as rectangular and square containers. Round containers are a little difficult to store in limited spaces since the odd shape makes it less feasible to fit them into different corners.
Size
Always buy your airtight containers in bulk with different sizes. It proves useful, especially when you need to store powders, grains, liquids, and more.
Whether you need something small for the spice rack or larger ones for stocking meals in the fridge, make sure to get one or two of every size.
From storage of powdered condiments to serving as lunch boxes, they'll prove useful in the long run.
Other Factors
When picking an airtight food container, look for those with lids that have silicone gaskets and snaps on all four corners. When the silicone on the lids cracks or becomes loose, it's also a good indicator to replace the containers pronto.
Also see if they become stained easily, or warp underneath heat or the cold. It's easier to see those because they're indicators of containers that are compromised.
The Best Airtight Containers in Singapore
Now that we know the tips and tricks to picking airtight containers, as well as the types, let's go to the list of the best airtight food containers in Singapore. These vary in size, shape, and material, as you'll see below!
1.   Glad Matchware
Price: $6.40
Limited Stocks In Shopee, Buy Now
Glad Matchware is a good, reliable airtight storage container that comes cheap. This container is perfect for storing lunches, or freezer meals right off the bat.
It's also top-rack dishwasher-safe so you can pop these babies there and leave them to clean. The best part is the set of interlock, airtight lids: easy to use and fairly sturdy.
They're basically stackable, organized, and convenient. They're also microwave safe for when you want a hot meal that's ready to serve.
These features have put them squarely on the list of the best airtight containers in Singapore for food.
Pros
Lightweight
Matching lids
Stackable
Cons
2. OXO Good Grips POP Container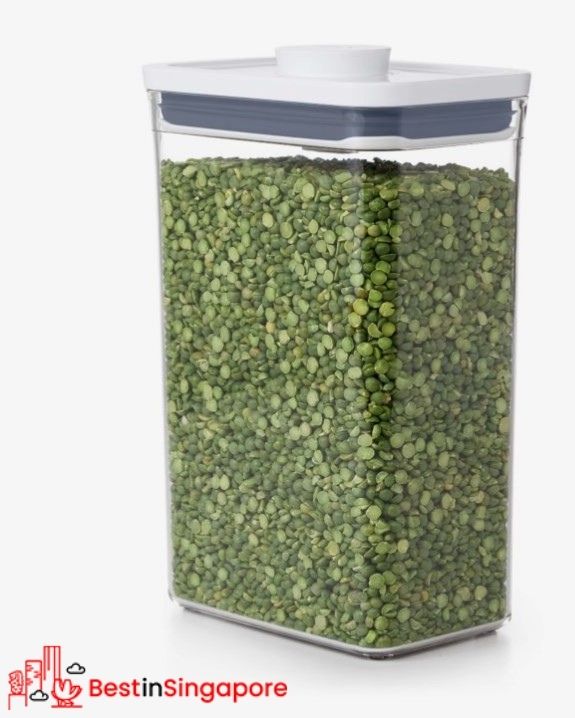 Price:$17.82
Limited Stocks At Amazon, Buy Now
OXO Good Grips presents an amazing airtight container: it has a pop-up button that serves as a handle to lift the lid. It has a modular stacking system for easy storage, as well as being shaped with corners to maximize space-efficiency.
The containers' corners are also mildly rounded for easier pouring, though. The POP Containers are available in 11 different sizes to help with your storage needs.
The lid can also be taken apart for easier washing. They're recommended by many users everywhere, which makes them one of our picks for the best airtight containers in Singapore.
Pros
Pop button seal
Comes in a variety of sizes
Very light and portable
Cons
The lid is not perfectly airtight
Customer Reviews
Here are some reviews from Amazon about the this amazing product:
I have been storing my flour in several layers of plastic shopping bags for years. That kept it nice and fresh, but it was always a pain in the butt every time I had to bring it out. Literally having to untie three layers of shopping bags. So, I searched Amazon for a "5 pound flour container" And came across this OXO 4 quart big lid container.
I am very pleased with the quality of the lid. It unscrews into two pieces so you can wash it well.
And the container is a perfect size for 5 pounds of flour.
-Robert
My wife recently asked why most of my purchases I review have 5 stars. Well, the answer is simple. 5 stars means I have done the research and read dozens of reviews, both positive and negative, and have come to the conclusion that I will purchase that product again without hesitation. That goes for the OXO container.
4 stars mean that I really like a product, but there's a chance I might purchase from another manufacturer. What really sold me on this container is how fresh it has kept my Keurig coffee cups. Now, you might be wondering why K cups would go bad. The answer is, I use San Francisco Bay K Cups. Instead of the normal plastic container most K Cups come in, SF Bay Cups have a biodegradable paper liner.
This means the coffee will dry out and lose all that freshness if not kept sealed properly. After a week of use and s two week vacation, I've returned home to the same fresh coffee I left. That is because the OXO sucks out a good bit of air when closing and prevents external air from permeating the container. This makes for a three week old K cup as fresh as the day I opened the packaging.
This will hold two bags worth of K Cups, or about 10 Cups with plenty of room to spare. Sealing and opening the container is ridiculously easy and I would venture to say much easier than other products I've tried. This means it's good for guys like me, ladies, young kids, and possibly even older adults with arthritis.
I'll post some negative comments on this product when I find one. Until then, this container is efficient, easy to use, has a pleasant appearance that's not an eye sore in the kitchen, and works remarkably well. My next venture will be with varying sizes, other dried goods and eventually I'll see how it does with fruits and vegetables.
-Michael
3. Oggi 4-Piece Acrylic Canister Set with Airtight Lids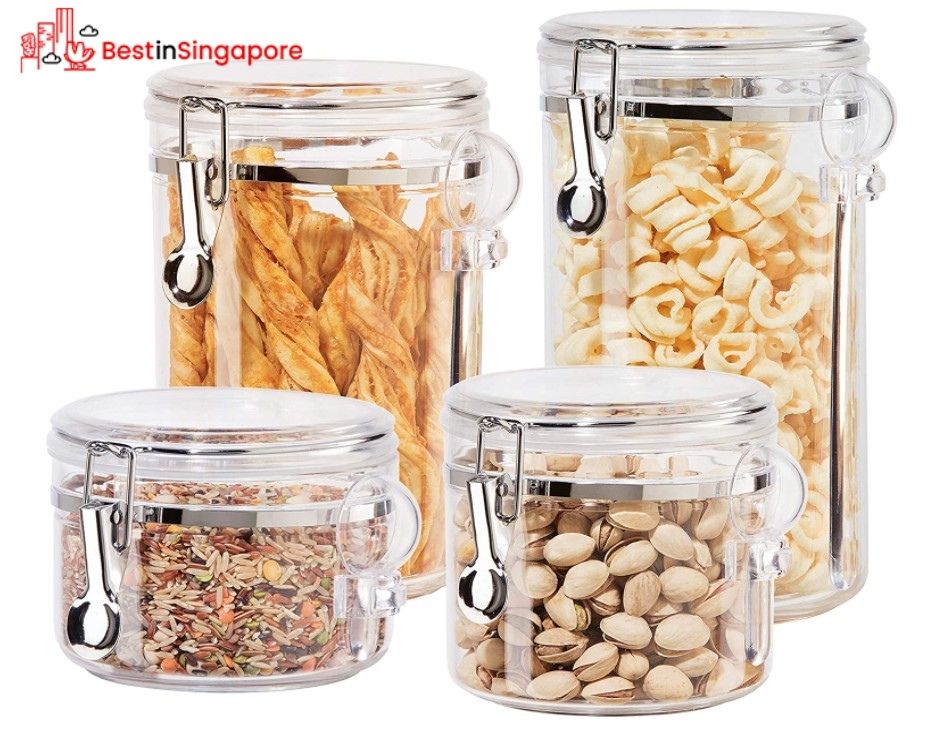 Price:$32.99
Limited Stocks in Amazon, Buy Now
Oggi's airtight containers are ideal for storing cookies, sugar, flour, spices and other kitchen staples. Their lids are designed with silicone gaskets to make them airtight, and they pop right open when the lock is pulled down.
Acrylic gives them the appearance of glass, but also maintains portability. They're good for storage, but be reminded that these aren't takeaway containers.
They come in different sizes to fit your kitchen storage needs.This makes them some of the best airtight containers in Singapore for food.
Pros
Comes in different sizes
Affordable
Acrylic material
Cons
Difficult-to-clean lids
Clamps can be a hassle
Customer Reviews
Here are some reviews from Amazon about this amazing product:
These are a nice balance of weight, price, and appearance. I'd considered doing glass canisters, but didn't relish the idea of weighty glass filled with flour and such, especially since mine are just above eye level. Too heavy and I'd probably have something broken by end of year!
An amazing final touch to my pantry renovation.
-Dione Basseri
I paid full price ($23.49 in March of 2017) and never accept discounted or free products or coupons for reviewing things. If the product works as intended, doesn't have any defects or flaws, and is priced fairly then I give the item five stars.
I use these for powdered sugar, brown sugar, chocolate chips and flour. They get used fairly regularly and sit out on the counter most of the time. They have remained crystal clear and in great working condition. The seal works as it should–I don't know its its truly "airtight" but we have not had any problems with ants getting into the sugar. This isn't going to keep your brown sugar from getting hard, but it does delay the process better than keeping it in an opened bag.
It would be nice if the scoops were labeled as to how big they are–like in tablespoons–but that's my only complaint so far.
-JWB
4. Rubbermaid Brilliance Pantry Airtight Food Storage Container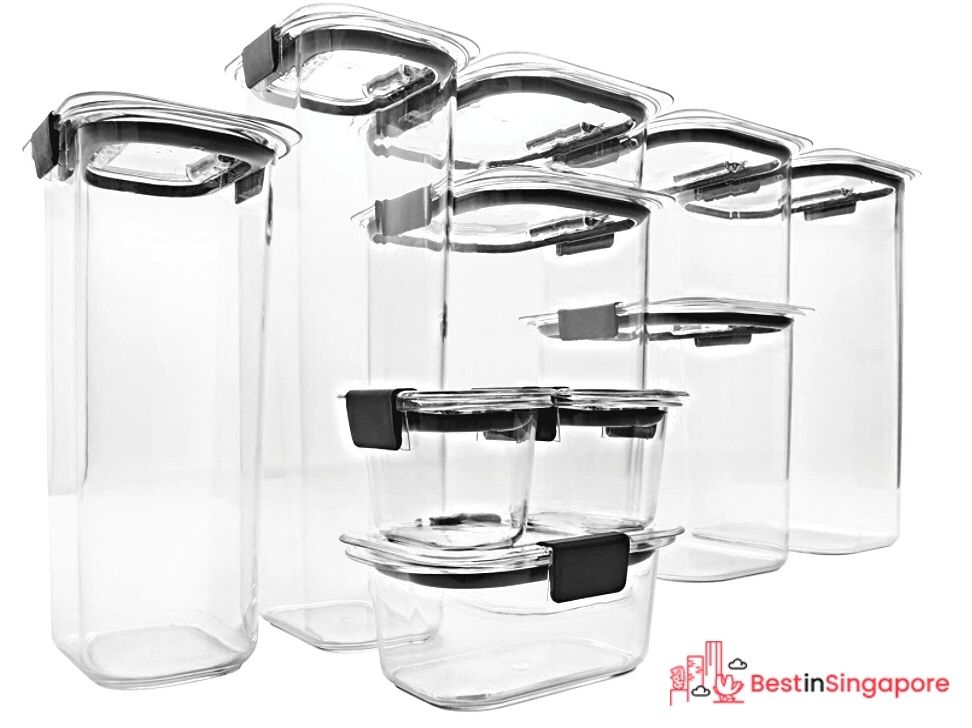 Price:$124.99
Limited Stocks At Amazon, Buy Now
Rubbermaid offers these airtight containers for your kitchen that are 100% airtight and leak-proof. With a modular design, these containers stack perfectly on top of one another to save space within your pantry.
The best part is that they're stain-resistant, BPA-free, odor-resistant, and dishwasher-safe. This 10-piece set is a definite must-have in your kitchen.
Rubbermaid has proven time again that they're the leading contender in kitchen paraphernalia, and they've proven it once more with this set of containers, most users agree. This puts them in this list of the best airtight containers in Singapore.
Pros
Different sizes
Lightweight
Stackable
Cons
Not completely odor-resistant
Customer Reviews
Here are some reviews from Amazon about the this amazing product:
Update: On my second set and I still love them. They're addicting. Still no complaints.
Original:
I've been wanting pantry storage containers for the longest time. I was determined to buy the Oxo set. After reading the reviews of the oxo set and this one I decided to go look at the oxo containers in person.
One reviewer mentioned that the oxo set does NOT work if flour gets on the rubber stopper. After looking at the containers I can see how this would happen. I have a set of the regular Rubbermaid food storage containers and they are the hands down best storage containers I've ever had. So I figured why fix what's not broken.
These containers are the BOMB y'all. I can't believe I was thinking of paying twice the amount for the Oxo ones now. These things seal so nice. They are STURDY. They wash well. They are pretty close to perfect. I really think these are more visually appealing compared to the button on top of the oxo ones.
As you can see from my pictures they stack well and make my pantry look so clean. I just moved into an apartment from a house so I wanted to make sure all my food items were sealed tightly in case of bugs. These have met my expectations and then some.
I will FOR SURE be buying another set and giving these out as gifts. They are really that nice.
I highly recommend these. Save your money, skip the Oxo and grab these instead.
-Family of Love
These are wonderful containers! I used to use OXO branded ones, but they made my cereal stale and brown sugar hard sooner than Ziploc bags. So I only kept flour, rice, and white sugar in OXO containers. I have been using these Brilliant containers for a couple of years and these are durable and keep their air-tightness. Best air-tight containers among those I have tried. I mainly use them in the freezer and refrigerator for garlic, chopped up onions, grapes, strawberries, cookies, cake slices, donuts, you name it. They keep all my groceries and baked goods fresh for a long time. This set is a bargain since one large container costs almost $20. I bought this set to store chips, crackers, and brown sugar, the ones OXO did not do a good job on before.
One downside is that these are not as easy to open as the OXO ones (I am guessing that means the air cannot get through). However, once you get used to it, it is not so difficult.
-Rena M.
5.   Anchor Hocking 10-Piece TrueSeal Storage Set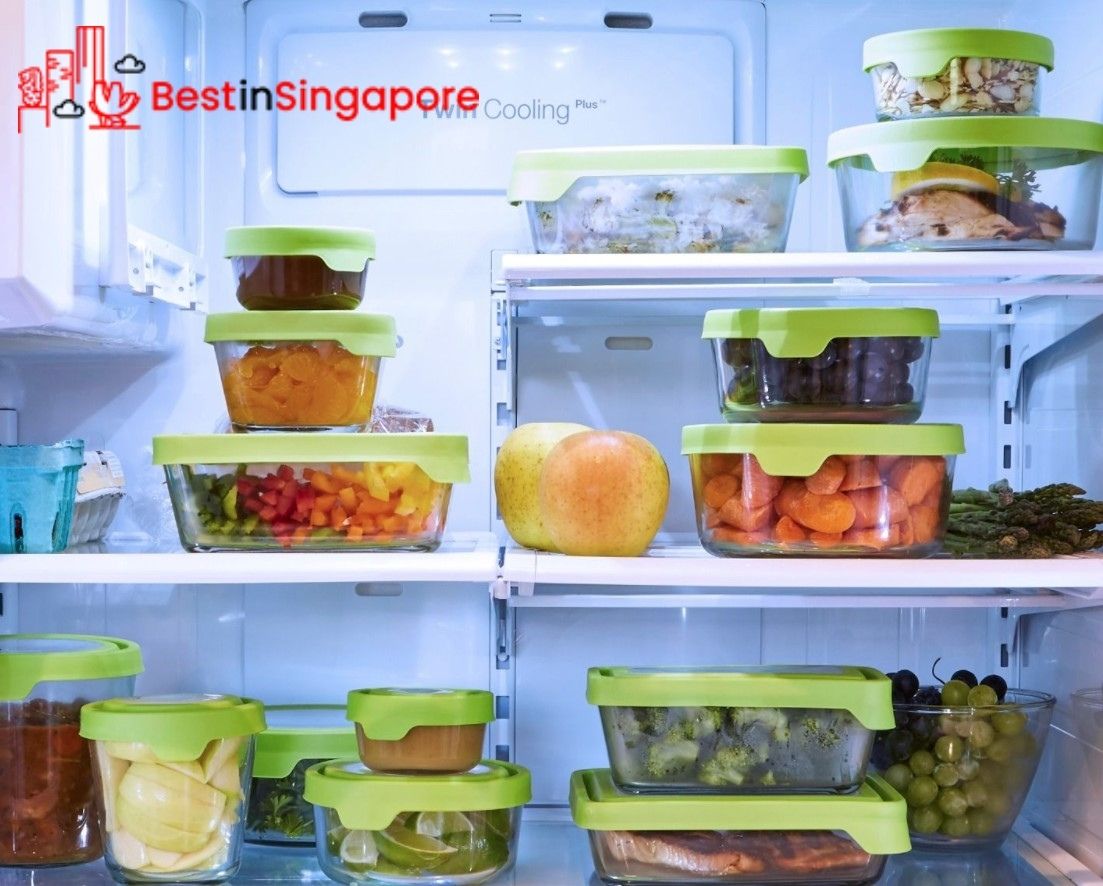 Price: $49.33
Limited Stocks At Amazon, Buy Now
Anchor Hocking is one of the best contenders when you're looking for the top airtight containers. Though pricier than most of the choices previously listed, they back it up with the great quality of their containers.
The tempered glass is guaranteed microwave-, oven-, freezer-, as well as dishwasher-safe for ease of cleaning. The TrueSeal Lids are designed to prevent spilling and leaking.
Another perk is that the average container lasts longer than most airtight containers — for over 5 years — and the company will also back up its warranty as well.
Anyway, durability and ease of cleaning are why they're included in the list of the best airtight containers in Singapore. They're pretty good-looking in either your kitchen or fridge too!
Pros
Easy-clean glass base
Can withstand microwaves
Prevents leaks
Cons
Customer Reviews
Here are some reviews from Amazon about the this amazing product:
Like many others I bought these to replace my plastic storage containers. They arrived just fine no cracks or chips. They seal up well and didn't spill any water even when held upside down and shaken. That was my little test for them. So no worries about them leaking in my lunch bag. I also bought the Pyrex 1072164 Storage 18-Piece Round Set. The Pyrex set has just simple plastic lids and I did the same water/shake test with them, they didn't spill a drop either. The Anchor Hocking lids are made from a flexible plastic or rubber and seem to seal up a bit better then the Pyrex. So they may be your choice for longer term storage. Here is the interesting part, the Anchor Hocking and Pyrex bowls are the same size and you can swap the lids if you want. So, if you buy or have one set and you like the lids from the other just order the lids from the manufacturer. Then you can swap at your leisure.
-Joseph S. Sowden
I had a bunch of those plastic snap-lock containers (all plastic) where the snap edges started to break and not snap properly.. I ended up throwing them all away and bought some of these Anchor Hocking glass containers – the difference between these and the plastic snap-lock containers is significant.. the lids secure easily and you can press down on the center to eliminate the air in the container.. the glass is nice and thick. I would highly recommend these!
-Brett
And our list of the best airtight containers in Singapore comes to an end. We hope this list helps you with your kitchen storage and the like.
Did we miss a great option, though? Tell us its name and what makes it great in the comments below!
Check out our other kitchen product roundups too! Do you need an electric stove for your kitchen, for instance? Then head over to the list of the best electric stoves in Singapore and check out our picks for those.
Or, if you need a sodastream for those nights where you're craving soda, check out the best sodastreams in Singapore for that! Whatever you're looking for, we should have done a roundup of the top options for it already!