The 5 Best SodaStreams in Singapore Reviewed
Wouldn't it be nice to take a sip of refreshing sparkling water after a long day at work? If you think so, then you probably want the best SodaStream in Singapore — with it, you can instantly make a homemade soda drink whenever you want one!
Soda Stream models have become the top picks on the soda drink-maker market because of their compact design and high efficacy. These models let you have your favourite carbonated drink with eco-friendly and energy-saving processes.
Still, picking one SodaStream from among the many options can be a challenge. If you're not quite sure on which one to buy, we'll go over some essential factors that you need to consider, then go over our list of the best models in Singapore.
Things to Keep in Mind When Buying a SodaStream
All SodaStream products are well-designed and completely safe to use. But if you're looking for a specific style, capacity, or other features, here are some things that you need to consider first.
1. Carbonation Style
This is the most important feature to look out for because some soda makers contain specific gases that may be harmful to our health or offer a limited lifespan of the soda's fizziness.
CO2 is the common gas type used on home soda makers as well as commercial sodas. It may carry a little safety risk if not used properly or if you overcharge the bottle with too much carbonation so make sure to follow the manual instructions strictly.
With the electric models, they don't use CO2 canisters: they have internal motors for the carbonation process.
2. Carafe Material
Soda makers mostly have reusable plastic carafes where you will pour the water into. Check first if it's BPA-free to prevent harmful chemicals during use.
It's usually recommended to use them for around two years before replacing them. If you use the bottle for a longer time, it may cause the soda to leak or to lose carbonation at a faster rate.
There are also soda makers that feature glass carafes. Unlike plastic bottles, they don't have an expiration date because they don't break down easily and they're safer to use.
They also create less waste and impact on the environment.
3. Total Capacity
You should also consider the capacity of the carbonator and the bottle. The carbonator capacity will determine how much soda you can make rather than the number of uses.
Full-sized canisters typically contain 30 to 60 litres. However, this will still depend on how carbonated you make your drinks.
With the bottle capacity, you'll know how much of your drink you can make at once. Larger bottles are perfect for special occasions while regular-sized bottles are good for daily use.
4. Operation Method
Soda makers work in either manual or electric process. The electric ones mostly have a single carbonation setting while the manual soda makers offer various carbonation processes.
So if you have a preferred carbonation setting, then you'd need a manual one.
5. Approved liquids
Most soda makers only work with water where you can carbonate a plain and warm water then add your desired flavour. It'd be better to choose one that can carbonate juices, alcoholic beverages, and other types of drinks.
Best SodaStreams in Singapore
As you take note of these considerations, let's now see which ones are the best SodaStreams in Singapore. We've carefully selected each item and all of them serve fizzy and tasty sparkling drinks that you'll definitely enjoy!
So take a look at our list below to know more about their features and prices!
1.   SodaStream Fizzi

Price: $190.34
The SodaStream Fizzi is a cordless and electric home soda maker: you can have a fresh sparkling drink with just a touch of a button! You can create healthy drinks, soft beverages, and even tasty cocktails with this best Soda Stream in Singapore.
It features a 1L glass bottle, making it an environment-friendly choice. You can also control the carbonation settings so you can add your desired level and flavour.
Highlights
Electric type
1L bottle
60L carbonator capacity
Suitable for water, cocktails, and more drinks
Customer Reviews
Many customers recommend the SodaStream Fizzi and complimented the customisable settings. They also shared that they were able to drink 3 to 4 glasses of sparkling water each day, thanks to the high capacity of carbonators.
Here's a review from a customer:
"My Fizzi is great! The sparkling water it produces is phenomenal with or without flavoring. My grandmother and I have drunk 3 liters every day since we got it a week ago. It takes a little experimenting to get your preferred level of fizz but I've found pressing the button 10 times slightly quickly without holding it down produces the same level of fizz as a supermarket soda(I used a 1 liter bottle for this). All in all, I don't regret my purchase one bit and wholly recommend this for lovers of the sparkle."
2.   SodaStream Source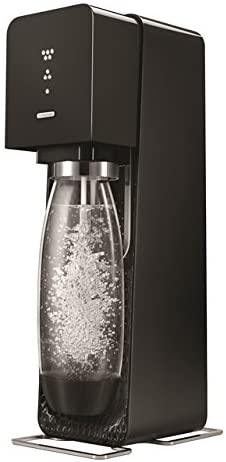 Price: $472.17
Being an award-winning sparkling water maker, the SodaStream Source is known for its elegant and detailed design. On this model, you can see the carbonation level through an LED indicator so you can easily set up your preferred style.
You can choose between light, medium, or heavy fizz. It has snap-lock bottle insertion and a speedy process that means that in less than 30 seconds, you can have your carbonated drink. This is the best soda stream in Singapore for those who love to host and entertain.
Highlights
Electric type
9-litre carbonator capacity
LED carbonation level indicator
1L reusable CO2 cylinder bottle
3.   SodaStream Spirit One Touch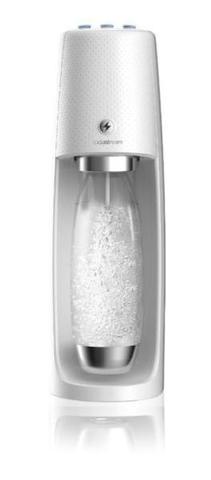 Price: $298.00
The SodaStream Spirit One Touch is the most similar to the original SodaStream's machine but this one features a slimmer design. It also offers great carbonation consistency, giving you a refreshing drink.
With this best Soda Stream in Singapore, you can have a healthier drink with fizz but less sugar or even no sugar at all!
Highlights
Electric type
60L carbonator capacity
1L BPA-free bottle
LED fizz indicator
4.   SodaStream Spirit

Price: $179.00
If you prefer to have a manual one, the SodaStream Spirit is the ideal choice for you. It doesn't need batteries or electrical cord work, making it the best SodaStream in Singapore to bring during travel.
It's also another award-winning model where you can have your sparkling water within a few seconds. It can also compliment any modern kitchen interior!
Highlights
Manual type
60L carbonator capacity
1L BPA-free and reusable bottle
Quick snap-lock
Customer Reviews
Customers loved the various soda syrups that they can try with the SodaStream Spirit. They also said that it has excellent carbonation consistency. A customer gave this feedback:
"The SodaStream spirit has changed the way we drink bubbles. It has replaced the need to buy individual bottles of soda water and mineral water. We have bubbles 'on tap' whenever we need, quickly refilling a bottle and placing it in the fridge to cool. Best purchase ever, backed up by the delicious range of soda syrups by the Soda Press Company. Our favorites are the Blonde Cola, Original Ginger Ale, Grapefruit and the Kombucha with live probiotics."
5.   SodaStream Spirit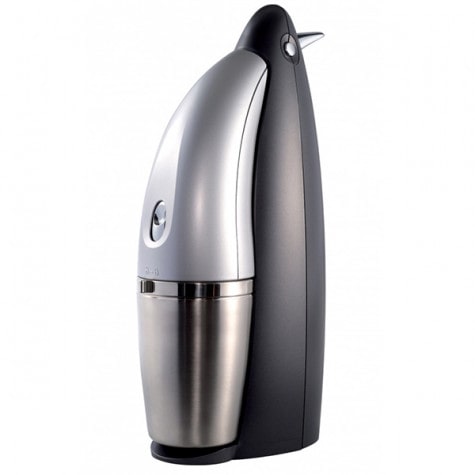 Price: $95.00
Unlike other options, the SodaStream Penguin comes with a unique design and two reusable glass carafes. You can make sparkling water and delicious cocktails with this best SodaStream in Singapore.
There's also no need for batteries or electricity to operate, making it convenient to use and energy-efficient as well.
This is the best soda stream in Singapore for those who are conscious of reducing waste and want convenient use at the same time.
Highlights
60L carbonator capacity
20oz glass carafes
Fizz-preserving lids
And that's our list of the best SodaStream in Singapore! Have you already tried one from our selections? If you have, then we'd love to hear about your experience with it!
And if you'd like to further enhance the quality of your drink, take a look at these best water filters in Singapore! They keep your water clean and safe by eliminating bacteria as well as existing odour.