The 6 Best Luggage in Singapore
If you're planning to travel halfway across the world, then getting the best luggage in Singapore is a good idea. Travel luggage should be durable enough to endure banging and lightweight enough to be carried… With the right luggage, trips should be so much smoother!
We've looked around for the best luggage available, but before we get to the list, we've set up a good guide on what to look for in travel luggage. Factors like weight, size, and portability are covered, to help you pick a good option later on.
So let's try to see which is good for you! Let's start with our guide to buying travel luggage — although feel free to leap to the list of the best options if you feel you already know how to do this.
How to Buy Travel Luggage
There are plenty of travel luggage options to go around. The best one depends on how much you travel or how long you'll be staying in your destination.
Simply put, the best travel luggage is the one that addresses the needs and problems of certain travelers.
We've covered the most important factors that need to be kept in mind: wheeled or carried, weight and size, materials and durability.
Wheeled or Carried?
There are people who think wheelies are better than carry luggage due to convenience. That's true in a sense, because wheelies are ideal for those who will stay in their destinations for long periods of time, or those who often travel.
Backpacks are good for those who are light carriers and don't want to lug anything heavier than that. And backpacks are also good for those who will stay at a place for a short while, which makes them very convenient to those travelers.
Materials and durability
There are plenty of benefits to hard-shelled luggage. It's rainproof, anti-theft and sturdier than the typical luggage case.
Usually, hard-case luggage is made of ABS (acrylonitrile-butadiene-styrene), which is the lightest material used for hard cases, but less durable than other options.
Polycarbonate is harder but more expensive. Aluminum is the toughest but it makes the luggage weighty.
Anyway, hardshell luggage is great if you're concerned with protecting your belongings. The disadvantage of a hardshell is that it's harder to squeeze into tiny spaces.
Luggage made out of soft material is either made of polyester (which is the cheapest choice), cordura nylon (which is soft and light) and can show dye brightly, or ballistics nylon (which is durable and can be cleaned).
Always check if the cloth is thick if you're concerned with the durability, usually by checking the denier rating. The higher the number, the thicker the cloth.
Many experts say that people who often travel should get something within the 500-2,000 range in terms of denier. This should ensure pretty good durability already.
Weight and Size
Weight and size is a primary concern for those who travel a lot. You'll need something that's easy to lug around.
The fact that there are also weight restrictions to air travel, whether domestic or international, adds to this. Generally, though, you'll have to compromise: tougher luggage tends to weigh more than less durable options.
The Best Luggage in Singapore
Now that we know the tips and tricks to picking the ideal luggage for you, let's go to the list of the best luggage in Singapore. We've picked the ones available and have a good range of options here in terms of size, cost, and type.
Let's start with this one:
1.   Eagle Creek Packable Daypack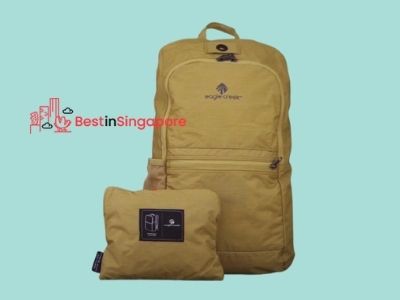 Price:$56.00
Limited Stocks At Shopee, Buy Now
Eagle Creek is a popular pick for those who enjoy duking it out in the wilderness. Their Packable Daypack is a great choice for when you want a light bag during those short vacays out in the mountains or the woods.
You can also bring this bag when you go backpacking in a foreign city, because of its two-way lockable zippers and two central lock points. It's an anti-theft product — talk about convenience!
Speaking of which, the pack-in pockets also allow this backpack to be folded in on itself, making it easier for storage. You don't have to worry about sweating in hotter climates, since this backpack is highly breathable and allows an optimal amount of airflow for proper ventilation.
This bag can last long and comes with a lifetime warranty, making it one of the best luggage in Singapore.
Pros
Anti-theft
Lightweight
Easy to store
Cons
13 inch size can't fit a laptop
Customer Reviews
Here are some reviews from Amazon about this amazing product:
You have to put anything re: these sort of bags in context. They are really designed to fold up as the main trait of the bag, and that necessitates a lot of different compromises. So… it does in fact zip into a small pouch-it uses the front small pocket as its storage pouch. It is a SMALL bag, so check out the dimensions. I can get a 15" MacBook Pro into the backpack inside a slipcase, but only barely, and not much else will go in…. anything bigger than that, such as any other company's 15" will definitely not fit, if you are thinking of using this as an occasional bag to throw a computer in. This bag is also going to have a short life if you carry heavy stuff like that in it, but again, that is Part of the deal for a bag that folds into a small pouch. The front pocket is a nice feature that not all of these sort of bags have. There is a water bottle holder. The shoulder straps are pretty thin and flimsy, but they have a tiny bit of padding, about as good as you are going to get with this sort of thing… don't expect much here, or from any similar bag that goes into a pouch.. The bag is fairly snazzy looking and doesn't look like some sort of crappy parachute material camping thing. The fabric itself has some weight to it, and is not transparent. This is going on vacation with me from now on for sure! This is great for if you are doing the all in one travel backpack thing, and want a nice looking little around town bag that won't take up much room in your big pack.
-Techie Gal
I tossed this sweet little backpack in my carry on for a 10 day trip to Europe and I used it everyday. It's light as a feather, comfortable, and perfect for holding a water bottle, rain jacket, hat, sunglasses, wipes, etc. I never had to check it at museums. I just lengthened one strap and wore it as a cross body bag. The toggle clasp on the zipper is a nice addition as it would certainly slow down any pick pocket activity. Now that I'm home, I use it everyday for my dog walks because it's so comfortable. AND it's machine washable.
-Heidi
2.   Travelpro Maxlite 5-Softside Expandable Spinner Wheel Luggage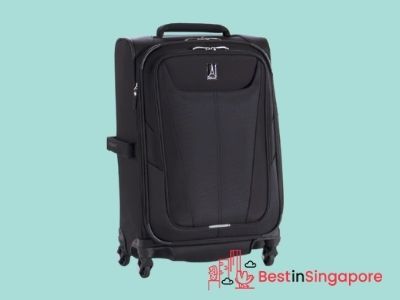 Price:$369.20
Limited Stocks At Amazon, Buy Now
Travelpro's luggage has always been a top pick for so many travelers due to the functionality and size. But we've chosen Maxlite-5 to be the definitive choice for many due to its durable and lightweight design, as well as spacious insides.
This is the definitive choice for someone who is a frequent traveler over long distances. It has a telescoping airline-grade aluminum handle that can stretch up to 32 inches, and has impressive flexibility, as well as a low center of gravity.
This suitcase is made out of polyester that's coated in Dura Guard, making it stain- and water-resistant.Surprisingly, this large case only weighs about 9 pounds, making it a breeze to meet weight limits at airports.
The slew of good reviews for this product only confirms that it's one of the best luggage in Singapore. We like the roominess and durability of it in particular!
Pros
Large size
Durable and water resistant
Flexible, telescoping handle
Cons
Has a tendency to tip over
Customer Reviews
Here are some reviews from Amazon about this amazing product:
I already had the Travelpro 20" carryon, which I had bought for international travel, but it was too small for longer domestic trips. Enter the Maxlite 5 21" carryon. If you think the difference in size is only about 1", read on:
When deciding to purchase a carryon, it's important to distinguish the difference between overall size and case size, as this bag is actually 2" taller than the international model – it's also 1" deeper. That may not seem like a lot but this bag carrries 46 liters in volume, up a full 5 liters from the smaller bag. It's also lighter: my little international carryon weighs in @ 6.7 pounds (it's a maxlite 4,) and this puppy weighs in at a mere 5.4 pounds.
This bag has a large outer pocket as well as a smaller compartment. The inside has a full-size zippable mesh pocket as well as a side pocket for odds and ends. The handle is comfortable and extends to 4 positions, (only the two taller positions lock fully in place, ie both lock "up" as well as "down",) and for easy handling there are two cushioned handles, one at the top and one on the side. In addition, the bag is expandable – nice, because we always seem to come home with more than we started with.
Even though this bag is ridiculously light, it seems sturdy enough, and my experience with TravelPro is their bags last. By the way, TravelPro has it down with their wheels, which are small and unbelievebly maneuverable. I was tempted to get the 25" rollaboard for the extra space, but in the end didn't, because that model only has two wheels. I'm done with two wheelers – just not as easy to handle. These 4 wheelers have spoiled me.
I believe Travel Pro makes the best bags for the money. They are of a quality build and are well designed. I used buy Victorinox exclusively. No longer: These come very close to that level of quality for a fraction of the price.
-Brian Whistler
PROS:
Compact size meets international carry-on luggage airline requirements (Asiana Airlines for me did not bother checking)
Compact size allows it the ability to be stored under most bigger airplane seats or in the overhead compartment
Light-weight and easy to carry
4-wheels contains the benefits of a 2-wheel luggage, but also allows it to be easily pushed, pulled, or rotated around areas like through airport or aisle of the plane while boarding
4-wheels spins 360 degrees, allowing effortless movement and steering without sticking
Handle is adjustable to different heights
Handle is rubberized and has a contour design for comfort and grip
Plenty of storage pockets including one in the front and a pouch on the inside to include essentials
Zippers are heavy duty and contains a locking mechanism to be easily used in conjunction with TSA locks
Top and side carry handles allows the luggage to easily be lifted and carried in any situation
Inside storage compartment contains 2 straps to keep clothing or other essentials in place
Expandable compartment above main storage allows maximum packing capacity by expanding the top portion
CONS:
Side handle only on one side of the luggage
Front storage compartment has only one zipper, making use of a TSA lock impossible
-Slim
3.   Samsonite Aeris Spinner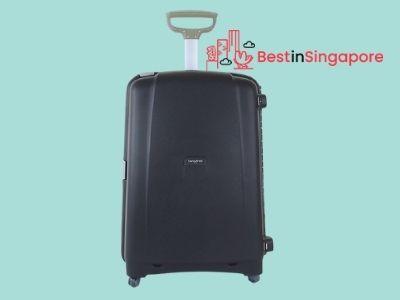 Price:$345.00
Limited Stocks at Lazada, Buy Now
Samsonite is also a top brand for luggage, and our pick among the bags they offer is the Samsonite Aeris due to its durability and its three-point locking system for extra security.
It's common knowledge that a few airport baggage handlers can be quite careless when it comes to handling your luggage — much to the frustration of several passengers.
But this tough cookie can withstand getting knocked over or tossed several times: the secret lies in the sturdy polypropylene, which acts as a shock absorber. It's also scratch-resistant, so you don't have to worry when it gets scraped on the conveyor belt.
If you want something that will last for a long time, then the Aeris should be your top pick. Its many valuable features make it one of the best luggage in Singapore.
Pros
Durable
Long, extendable handle
Three-point locking system
Cons
Customer Reviews
Here are some reviews from Lazada about the this amazing product:
I've long been a fan of Samsonite, having bought a 2 wheel predecessor to this case many years ago (over 15 years ago in fact). In that time it has done the job perfectly, kept my belongings secure, and lasted many holidays both domestic and abroad. That old one is still going strong now.
I decided to buy a new one as I wanted a 4 wheeler that is easier to roll about, and because the one I had was so old it didn't have a TSA lock (so could be a pain when travelling to the USA, for example).
This new case does little to change what they got right 15+ years ago. A good, sturdy casing with strong hinges and good quality locks. Having the 3-lock system (main combination lock and 2 additional ones at the corners on the same edge as the main lock) has always been a feature I've loved on this case and I'm glad to see they've improved the side-locks to make them sturdier still and also to make it easier to tell if they are locked/unlocked (as on my old case I'd have to get really close to see the lock/unlock symbols). All 3 locks allow you to 'locate' the lock first (so the case is slightly open still) and then close it under pressure if the case is very full.
The extendable handle is strong, easy to operate, and has a deep enough indent that you don't need to worry about catching your knuckles when closing it down (like I would often do on my old case). 
Inside there is a separator so that the two parts can be filled independently and then the case closed without any issues.
Would I buy again? Yes, definitely! Technically, I just have! 😉
-amazonian
I love Samsonite gear and this suitcase is no exception. Wonderful locking mechanism and so easy to move around even on reasonably deep carpet. Handy organisers inside and takes a knock without getting badly marked. My favourite business suitcase for years.
-IT Manager
4.   CabinZero Classic 44L Flags Edition Travel Cabin Bagro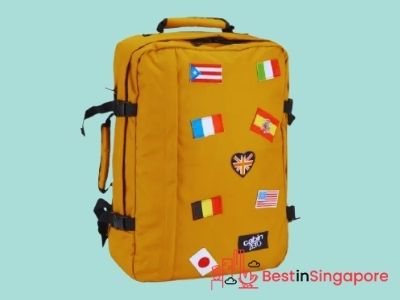 Price:$119.00
Limited Stocks In Shopee, Buy Now
Cabinzero is one of the best backpacks designed for traveling across countries. Its large and spacious 44L design won't weigh you down on your travels.
It comes with top and side handles to make it easier to carry, and also has lost and found tags built in.
The best part? You can register this bag online on Okoban.com once you receive it, since the site is connected to several airline bagging systems. That makes it easier to locate when it's been misplaced.
Their sturdy, YKK zippers are designed to be lockable for added security, although the lock isn't included and must be bought separately.
This makes it one of the best luggage in Singapore. It's easy to track, roomy, and easy to wear!
Pros
OKOBAN tracking feature
44L capacity
Minimalistic design
Cons
Customer Reviews
Here are some reviews from Amazon about the this amazing product:
Very pleased with this order which arrived well packaged and several days ahead of the estimated delivery.
The bag is excellent and great value from this seller. For more details about the features of the bag visit the brand's website. Of note the colour is more a dark green with tan coloured buckles and straps- black tan is what cabin zero call this colour combination.
-Amanda M.
Absolutely fantastic. This is my third Cabin Zero bag (not because they've broken but other family members wanted one!) so lightweight and they hold so much.
-Wendy
5.   WORLD POLO Lightweight Luggage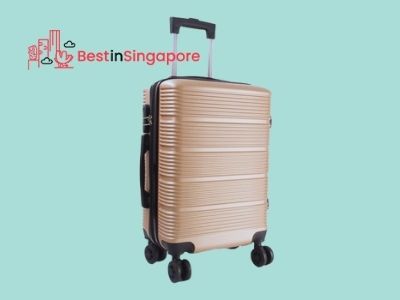 Price: $34.90
Limited Stocks At Shopee, Buy Now
WorldPolo's Lightweight Luggage is the most affordable on the list, but it doesn't compromise on quality at all. Compared to other brands, it's a lot cheaper, and is one of our budget picks.
Its hard-casing matches even the options that are leagues higher in price, and it's lightweight enough to be stuffed with a lot of clothes and still make the weight limit. It has a combination lock, as well as a scratch-resistant design.
It has multiple interior compartments that can accommodate tiny bottles and toiletries. These features have put it squarely on the list of the best baby carriers in Singapore.
Pros
Only weighs 2.7 kg
Affordable
Scratch-resistant
Cons
6.  TWO-TONE ABS EXPANDABLE LUGGAGE WITH ANTI-THEFT ZIPPERS SPINNER WHEELS AND NUMBER LOCK
Price: $45.00 – $55.00
Limited Stocks At Luggage Outlet, Buy Now
Durability and security are two of the most essential features a luggage bag should have– fortunately, Luggage Outlet's Two-Tone ABS Expandable Luggage has both. This practical and prominent bag has numerous features that make it suitable as any traveller's companion.
With numerous front case options and two tone color scheme you can easily spot this product from afar, making it easy for you to find your luggage after inspection. Moreover, the black rear casing also makes accumulated dirt less visible.
Its safety features include a number combination lock and anti-theft double coil zippers. The main casing, meanwhile, is made of scratch-resistant ABS casing which not only makes it durable but also more secure.
Finally, it comes in sizes 20 and 24 inches, so you can choose one that will fit your travel needs. Given its many, many features and affordable price, the Two-Tone ABS Expandable Luggage is a product worth considering.
Pros
Scratch-resistant ABS main casing
Multi-level retractable trolley handle
Rubber-cushioned hand grip
Number combination lock
Anti-theft double coil zippers
Expandable (25% more packing capacity)
Spacious interior
Large zippered mesh pocket
Elastic straps to keep clothes securely fastened
Smooth 360-degree spinner rubber wheels
Cons
Only 20 and 24 in sizes available
Comes with Non-TSA number combination lock 
And our list of the best luggage in Singapore comes to a close. We hope this list helped with your search for a great luggage to help you when traveling overseas or domestically.
Did we miss a great option, though? Tell us its name and what makes it great in the comments below!
And if the only place you want to travel to is the gym, head over to the list of the best gym bags in Singapore and check out our picks for those.
Do you prefer duffle bags for travelling instead? Check out the duffle bags in Singapore for that! Whatever you need, we probably have a roundup of the top options in Singapore for it!