The 8 Best Gym Bags in Singapore under $100
Have you been searching for a great gym bag that can carry all your stuff all the way to the gym? Consider yourself lucky as we're listing the best gym bags in Singapore today!
With the right gym bag, you don't have to worry about storing your extra clothes and gym equipment inside because there's enough space for everything. The gym bags on our list are durable, stylish, and offer great value for your money.
Before going over the gym bags we found, though, we'll first give you tips on how to pick out the proper gym bag. That way, you won't regret buying one that won't be able to cater to your needs as an active gym goer.
Let's start, shall we?
Factors to Consider Before Buying a Gym Bag
Gym bags come in different shapes and sizes. It would be advisable to get one that's large enough to store all your gym clothes and equipment.
So, the size would have to be the first one you should consider to ensure its functionality. The structure, material, and versatility of the gym bag are also worth noting.
Let's go over each of these points below:
1. Size
If you're going to store more than just gym clothes and equipment inside your gym, then we suggest that you go for a much larger one. With a larger gym bag, you can also fit other stuff like shoes, a protein shaker, and even your water bottle.
A larger gym bag is also ideal if you're going straight to school or work after gym. Having a larger gym bag allows you to store your school or work things inside.
On the other hand, if you only carrying gym essentials, wallets, and car keys to the gym, then a smaller gym bag would suffice. It's also ideal for people who don't spend a lot of time at the gym.
2. Structure
Duffle bags are the classic form of gym bags since they're large enough to fit all your essentials. However, organising your things will be a bit hard since they only have one large compartment to store all your stuff in.
If you want your gym items to be organised, then we recommend that you choose a gym bag that has multiple compartments, mesh pockets, and a water bottle pocket.
Unlike duffle gym bags, tote and shoulder gym bags are better for organising since they have multiple compartments.
The only downside with tote and shoulder gym bags is that the space is limited. Thus, they'd be better for people who don't like carrying a lot of stuff to the gym.
3. Materials
The materials of a gym bag can make or break its durability. Nobody wants to spend their hard-earned money on something that may not even last.
Gym bags are usually made with leather, canvas, and nylon because these materials are proven to be durable. Since leather can get a bit heavy, it's not ideal for people who carry a lot of stuff and do a lot of walking.
On the other hand, if you want a more stylish and hip gym bag, then go for the canvas ones. What's more, they can also double as regular bags that you can use every day, not just for the gym.
Out of all three, we think nylon gym bags are the most durable. On top of having a sleek design, they're mainly waterproof, making nylon the ideal material.
4. Versatility
As we've mentioned earlier, there are some who hit the gym right after school or work. Of course, you don't want to bring in a bag that looks too awkward inside a school or office setting.
So, you should also look into how a gym bag can be used beyond the gym. If you want to get the most out of your money, pick the one that can double as a work or school bag.
The Best Gym Bags in Singapore
Now that you know what to look for in a gym bag, it's time to move on to our list of the best gym bags in Singapore. We hope that by the end of this list you will have chosen which one perfectly complements your lifestyle.
Best for Regular Gym Goers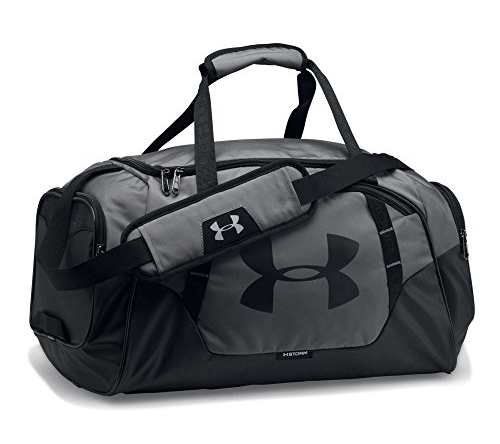 Price: $38.50
If you want a gym bag in Singapore that can last for a long time, then look no further than the Under Armour Undeniable 3.0. It may be a small and compact gym bag, but it can definitely handle storage of your gym essentials and clothes.
What we truly love about this gym bag is that it's lightweight and easy to carry. If you're going to work after hitting the gym, this one would be perfect for you.
In addition, this gym bag is made with water-resistant nylon, so you won't have to worry about your things getting wet when it suddenly rains. It also features a tough, abrasion-resistant bottom and side panels, and more.
Highlights
Water-resistant
Padded grab handle
Made with durable materials
Large vented pocket for laundry and shoes
Customer Reviews
One of the recurring comments about the Under Armour Undeniable 3.0 is that it has the ideal size of a gym bag, not too small and not too big. Customers love that it has enough space to carry all their gym equipment while not being too hard to carry.
Another customer commented that it can hold even his office items on top of his gym equipment. Even his 2 shakers and 4 boxes can fit inside.
2. Nike Brasilia Medium Training Bag
Best for Maximum Comfort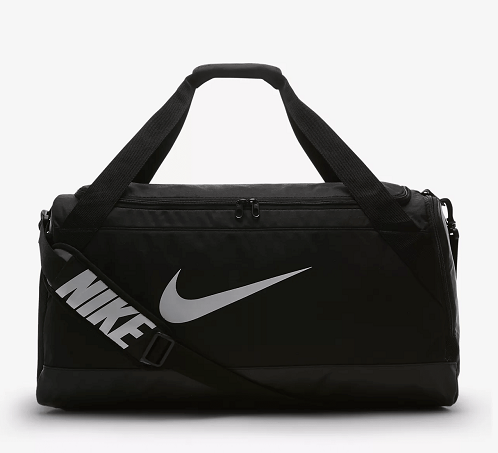 Price: $65.00
There's no denying that Nike is one of the most trusted names in sports, so it's no surprise that one of their gym bags ended up on our list. Here's the Nike Brasilia Training Bag, and we think it's amazing!
Unlike other duffle bags, it has multiple compartments to keep your gym essentials organised. There's also a separate compartment for your footwear and wet clothes to keep them away from your clean and dry items.
Another thing that makes this duffle bag great is its ventilated compartment, preventing the build-up of bad odour. In addition, it's made with water-resistant polyester that can keep your items dry at all times.
Lastly, the shoulder straps are removable and adjustable, allowing you to choose how you want to carry it.
If you're one to pack plenty of things and want all your stuff in order, this may be the best gym bag in Singapore for you.
Highlights
Durable
Water-resistant finish
Large and ventilated compartments
3. Overboard Classic Waterproof Gym Bag
Best for Overall Value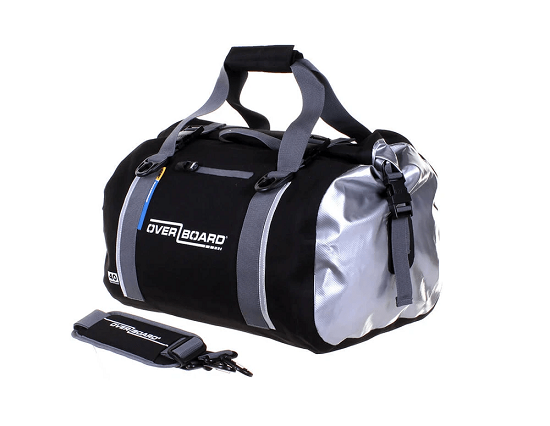 Price: $91.20
Boasting a capacity of almost 40 litres, the Overboard Classic Gym Bag is perhaps the largest gym bag on our list. It's definitely not the cheapest option out there, but it's worth your money.
On top of being waterproof, it also has protection against dust, dirt and sand, making it one of the few gym bags that have this unique feature. It also has large internal compartments that can house all your gym equipment and even your work-related stuff.
The Overboard Classic Waterproof Gym Bag is also the most durable gym bag on our list. Made with high-quality nylon, it's sturdy and can withstand everyday usage.
Highlights
Waterproof finish
Multiple compartments
Sturdy and durable
With front light reflective strips
40-litre capacity
4. Matador Transit30 Gym Bag
Best for Lightweight Design
Price: $95.00
The Matador Transit30 may be more known as a travel bag, but we believe that its features make it a great choice for a gym bag as well. If you have extra money to spare, then consider getting your hands on this one.
Since its mostly used for travelling, it's extremely compact and lightweight. One of its unique features is that it can fit inside your palm when packed up.
If you worry about zippers getting easily busted, consider this gym bag different. It features durable dual-train zippers that don't break after multiple uses.
With 30 litres of capacity, it can carry all your gym and post-gym essentials. However, it doesn't have a lot of compartments to keep your stuff organised.
Despite this, its large capacity makes up for that for the majority of buyers. What's more, it's designed with the highest-quality materials, making it one of the toughest gym bags out there.
Highlights
Lightweight yet durable design
Waterproof finish
Dual train zipper
Water-resistant zippers
30 litre capacity
Customer Reviews
Buyers who purchased it via Lazada mostly gave it a 5-star rating, proving that it's the ideal bag for both gym and travelling.
A customer on Lazada commented that he loves how perfect it is for travelling because of its large compartments while sporting a lightweight and compact design. He adds that he's surprised every time he sees that there's always enough space to store more stuff inside.
5. OEM Outdoor Waterproof Gym Bag
Best for Male and Female Gym Goers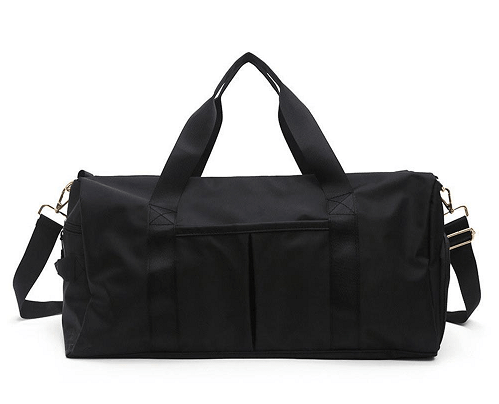 Price: $14.77
Since gym bags tend to lean towards the expensive side, we made sure to include an option that doesn't hurt your budget. Here's the OEM Outdoor Waterproof Gym Bag, and we believe it's a steal considering that it's only $14!
It may be the cheapest gym bag on our list, but it's definitely not the weakest. It's made with high-quality water-resistant nylon that's strong enough to carry all your gym clothes and essentials.
Another thing we love about this gym bag is that it has separate compartments for dry and wet stuff. There's a space for your wet gym clothes to prevent your clean clothes from getting dirty and smelly.
And have we mentioned that it has a total of 6 multipurpose pockets? It's definitely the gym bag that can keep your stuff in place and in order.
We also love its gender neutral design, so it's not just the best gym bags for men in Singapore but for all genders as well.
If you're going straight to the school or office after working out, this may also be the ideal gym bag for you. Not only is it sleek and lightweight, it also has a convenient design ideal for people who walk all the way to the office.
Highlights
24-litre capacity
Made with water-resistant nylon
Convenient design
Multifunctional pockets
Customer Reviews
Buyers who got this via Lazada were surprised that this gym bag turned out to be a great one. Considering its low price, they weren't really expecting a durable and high-quality bag. Still, they were happy that they were able to score a dependable gym bag for a low price.
Owners also praised the large compartments and multiple pockets. Some even said that it's perfect for work because it keeps their gym and work things away from each other.
6. Under Armour H-Storm Backpack
Best for Carrying Small Items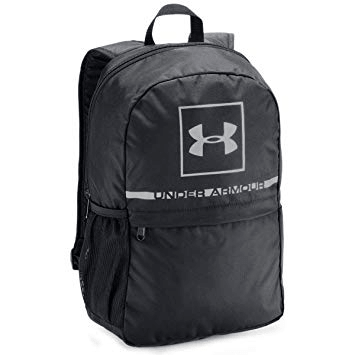 Price: $165.64
Since Under Armour is one of the most reliable brands in gym bags, we couldn't resist including another one of their products in our list. The Under Armour H-Storm Backpack is perfect for people who don't like using duffle bags, in particular.
Like all the other Under Armour bags, this is is also made with water-resistant polyester and nylon. What's more, you don't have to worry about this bag breaking easily because it's made with premium materials that can endure regular usage.
However, we think this gym bag is only ideal for people who don't bring a lot of stuff to the gym. It has a limited compartment space that can fit only the most important gym essentials like clothes, water bottle, and shoes. This is also the best gym bag in Singapore for those looking for one with a waterproof finish.
On the other hand, the Under Armour H-Storm Backpack can also double as a work bag. You can bring this one to the office even if you're not going to the gym that day. One of the most versatile sports bags in Singapore that we've seen!
Highlights
17-litre capacity
Waterproof finish
Large main compartment
Adjustable shoulder straps
7. LOQI – KRISTJANA S WILLIAMS INTERIORS Silver & London Weekender
Best for its Reversibility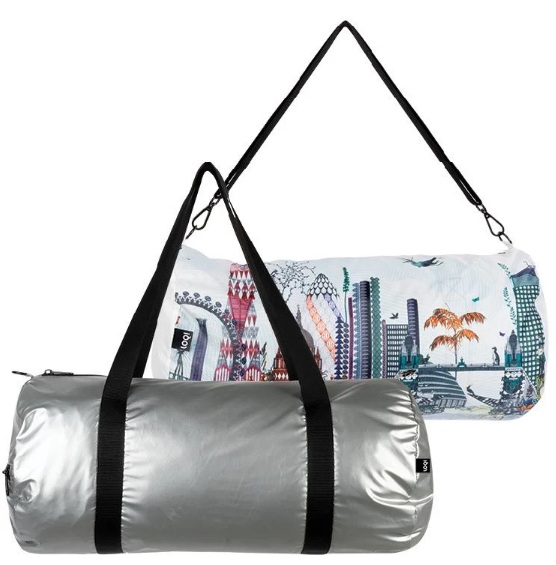 Price: $49.99
Who says gym and fashion cannot coincide? With Kristjana S Williams Interiors, you will definitely never go out of style. This gym bag is made of polyester material designed with picturesque exterior.
Should you feel the vibe of being neutral for the day, you can simply flip it inside out as it is totally reversible.
This gym bag is also water resistant so you can bring it to beach yoga classes and you will not have to worry about it getting anywhere near the waters. It also has easily accessible side pockets for your locker keys or gym pass.
If you want to lug all your gym essentials while still looking effortlessly chic, this could well be the best gym bag in Singapore for you!
Highlights
Water-resistant

Comes in various designs

Adjustable and removable strap
8. Luggage Outlet Outdoorsy Trainer Gym Bag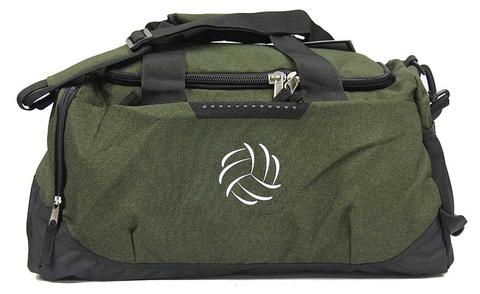 Price: 25.90
Now, if you're looking for a lightweight gym bag in Singapore that still has the capacity to carry all your belongings, then the Outdoorsy trainer gym bag from Luggage Outlet may be a great choice.
This gym bag has the dimensions of 48cm x 28cm x 21cm and weighs a light 580 grams. With this big space, it can hold up to 28 litres of belongings.
Luggage Outlet also understands that a trip to the gym doesn't mean you'll only bring fitness equipment and clothes. So, this Outdoorsy trainer gym bag has more than a big compartment to dump in your belongings.
This gym bag also has a ventilated shoe pocket, internal pockets, and a large front compartment, you can arrange your belongings in such a way that they won't get jumbled together.
This durable bag is also at a reasonable price of $25.90. The best thing is that you won't have to pay shipping fees because Luggage Outlet does free shipping around Singapore.
Highlights
Well-ventilated shoe compartment
Numerous pockets for organization
Free shipping within Singapore
Lightweight
And with that, we conclude our list of the best gym bags in Singapore! Any of these options will be a great help in improving your workout sessions.
Do you already have a favourite from our list that you'd like to try? Tell us why it's your pick by leaving a comment below!
If you're also searching for a new gym membership to go with your new gym bag, feel free to read our list of the best gym memberships in Singapore! All of them will help you get back on track and achieve the body that you've always wanted to have!