12 Best Backpacks in Singapore less than $300: 2021 Guide
Backpacks have always been a safe option when travelling, going to school, or even for work. That's why investing time and money to look for the best backpack in Singapore is worth it — they're versatile enough for most situations!
That said, different backpacks in Singapore are still designed with for different uses. Add the variations in styles and you know it may very well take you a long time to find the best backpack in Singapore for you.
To make the search easier and much simpler, we've listed down some things that can help you decide which one to buy.
Factors to Consider When Buying a Backpack
Have you ever noticed how we spend too much time in the department store or online shopping just to find the ideal backpack?
And despite long hours of contemplation and reviewing backpack brands in Singapore, we may still end up with the wrong one!
Usually, it's because we don't know the features to look for. Therefore, it may be of use to learn the factors to consider before choosing a backpack in Singapore.
1. Type of Use
First of all, why do you need a backpack? Are you preparing for the new school year or a new job? Perhaps you're searching for a reliable backpack to accompany you while you travel the world, even.
Regardless of the reason, you should know that there are specific backpacks that are mainly designed for a certain purpose.
For the students and professionals, it'd be great to consider one that's portable and lightweight but sturdy and large enough to carry heavy books or a laptop. Make sure that once you wear it, it'll be easy for you to carry too.
If you're going on an adventurous outdoor trip such as hiking or camping, look for the one with plenty of compartments so you can store all your gear and other essentials. Most great outdoor backpacks in Singapore are lightweight, waterproof, and durable. They can help you go longer distances and explore nature with fewer hassles.
2. Capacity
As mentioned, a backpack must be able to carry all the things that you need. The standard capacity for school backpacks in Singapore is 15-40 litres, which is enough to carry loads of books and even a laptop.
For a backpack that's going to be used for short vacations trips, 40-75 litres would be fine. This would be good for storing more clothes and other stuff.
As we all know, travel backpacks or the ones used for hiking and extreme activities require even larger capacity. 75-100 litres is the perfect range for long out-of-the-country vacations.
3. Other Features
We sometimes forget that the smallest details complete the big picture. So take note of every feature that goes into a backpack.
The best materials include nylon, leather, and polyester. A lightweight, waterproof, and weather-resistant fabric must also be considered.
That ensures it can withstand harsh conditions and last for a long time.
You should also check if the zippers are of high-quality and weather-resistant. See if you'll be able to open and close the backpack without any difficulties.
Padded and fully adjustable straps make your backpack more comfortable to wear and also give strong support.
The Best Backpacks in Singapore
Now that you know which type, capacity, and features should be in a backpack, take a look at our comprehensive list, which contains the best backpacks in Singapore. 
1. Targus Newport Backpack
Best for Students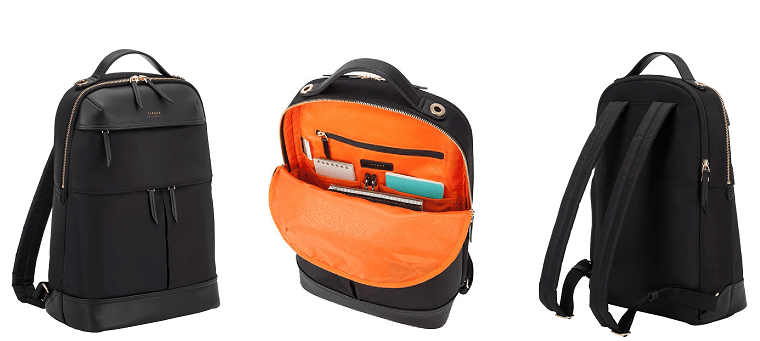 Price: $111.60
When the vacation nears its end, students start to search for the right backpack to accompany them for the new semester. There are few better than the Targus Newport Backpack then.
This backpack opts for a minimalist yet efficient design. It features several compartments, specifically made for a laptop, daily essentials, and even travel items.
This Singapore backpack is also known as an anti-theft bag due to its hidden pockets where you can keep your valuable items. There are also front zippered pockets that come in handy when you need to immediately access your stuff.
The shoulder straps are highly adjustable and a top handle is also included for comfortable carry. It's made with leatherette and weather-resistant nylon, making the build more durable.
Highlights
12 x 17.99 x 5.25 inches (dimensions)
99 x 16.25 inches (laptop compartment size)
15L capacity
Leatherette and nylon material
Adjustable straps
Anti-theft bag
Water-resistant
Customer Reviews
Many customers loved the stylish and practical design of the Targus Newport Backpack. They also mentioned that it's very lightweight and durable.
Some wished for a wider front zipper so they could more easily go through the compartment. Nevertheless, they were still satisfied with the overall capacity of the bag and named it one of the best lightweight backpacks in Singapore.
An Amazon customer gave this feedback:
"I was looking for a quality, professional backpack that wasn't too large. This tote/backpack fits the bill. I can fit a 15″ laptop, wireless over the ear headphones, power cord, USB adapter, track ball, cell phone, notebook and small crossbody bag in it. It's sleek and professional looking and it's well made. I'm rough with bags and this one is holding up well. I would purchase again and have recommended it to others. I get compliments on it often. I love the small back zippered pocket which is great for holding my keys and ID badges."
2. XD Bobby Bizz
Best for Work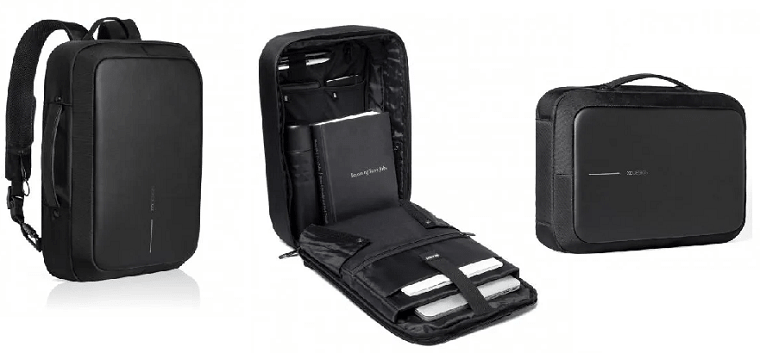 Price: $120.00
Are you currently preparing for your upcoming business trip? If so, then you should consider bringing the XD Bobby Bizz with you!
This model works as a backpack or a briefcase, opting for a more professional look. You can also be sure that your laptop and important documents are absolutely protected due to its integrated zinc alloy lock.
The special feature of this bag is the USB charging port function, so you can charge your device while you're on the go. It's also designed with a metal frame that provides strong support to hold everything inside.
Similar to the previous option, it also has hidden pockets where you can store your cards and other travel essentials. All the above are the main reasons why we think that this is one of the best laptop backpacks in Singapore. 
Highlights
11 x 16.1 x 3.9 inches (dimensions)
62 x 14-15 x 0.98 inches (laptop compartment)
62 x 11.81 inches (tablet compartment)
12L capacity
Water-repellent fabric
Cut-resistant design
Padded backstraps
Two handle straps
Customer Reviews
Despite the relatively small capacity, many reviewers still claimed it as the best backpack in Singapore for professionals. They said that the anti-theft features and dual function are pretty impressive.
Backpacks Global published a review about the XD Bobby Bizz and wrote:
"Nothing can ruin a day quicker than finding out that the possessions you value so much, documents you've been working so hard on, and a laptop that cost you thousands of dollars; has been stolen by a thief. The Bobby Bizz Anti-Theft Backpack and Briefcase does more than just keep your valuables safe from shock and the elements; it has the most useful features we've seen in an anti-theft backpack of its kind. Plus, you no longer have to spend extra money on a briefcase because this bag is a 2 in 1. At such a great price, this backpack is worth much more but it's so affordable, there's no reason you shouldn't get yourself one today."
3. Deuter Futura Vario 50 + 10
Best for Outdoor Adventures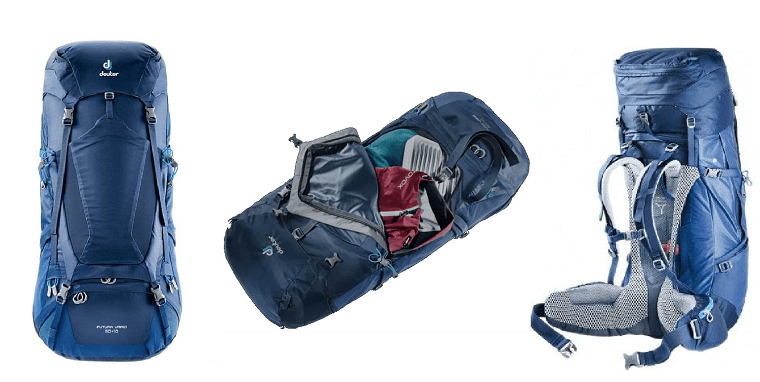 Price: $407.55
 With just one glance on the Deuter Futura Vario 50 + 10, you can immediately see that the bag is meant for sporty users. It's particularly designed for long hours of hiking, trekking, and other outdoor activities.
It has all the features that you need during extreme ventures. This includes the Aircomfort system that offers absolute ventilation while being exposed to great heat.
As you can see on the back, it also evenly distributes weight with its padded hip belt. That provides a comfortable fit.
Moreover, the top lid is adjustable for more extensive storage. Rain or shine, you'll be sheltered by the removable rain hood attached to the bag. This is a great feature if you're looking for waterproof backpacks in Singapore.
It also has several compartments where you can store all the clothes, food, gear, and other items you need for a whole trip.
Highlights
92 x 13.38 x 12.59 inches(dimensions)
50L capacity
Polyester and polyamide material
Adjustable straps and storage
Tear-resistant and lightweight design
Ventilation support
Attached rain hood
Customer Reviews
Reviewers complimented the sturdy, portable, and convenient design of the Deuter Futura Vario 50 + 10. Section Hiker posted this review:
"First off, the Deuter Futura Vario 50+10 carries really well, with a thick pre-curved hip belt that hugs the hips but won't bruise them if you have to carry heavier gear. While it is ventilated, it has a very modest curved back which promotes a more upright posture, doesn't interfere with packing, and doesn't pull you backward and off-balance. That's a real plus. Finally, the pack is surprisingly slim in terms of width and depth so it moves more like a sport utility vehicle and less like a moving truck. Comfort, balance, and maneuverability….pretty much what you'd expect from a German company like Deuter Packs."
4. CabinZero Classic 44L
Best for Travels Abroad

Price: $109.00
 If you're looking for the best black backpack in Singapore for all-around use, you need to consider the CabinZero Classic. As you travel, excess bag weight will only cause discomfort… and that's why the CabinZero Classic 44L is designed with an ultra-lightweight material. It also has top and side handles so you can carry it however you like.
Since there's a tendency for items to be lost during trips, it features a built-in lost-and-found tag. Just register the tag on Okoban.com and it'll be automatically linked to the baggage tracing system.
It might seem small at first glance but it has spacious storage where you can place a lot of clothes and travel essentials. It also has zip pockets for direct access. 
It has lockable zippers too. This will secure your bag against unwanted access. Overall it's a great choice if you want a business backpack in Singapore that's on the larger side. 
Highlights
1 x 14.6 x 7.9 inches (dimensions)
44L capacity
Polyester fabric
Airmesh shoulder straps
Compression straps
Lockable zippers
Tracking tag
Water-resistant
Customer Reviews
Most customers praised the light, compact, and chic design of the CabinZero Classic 44L. They were also impressed by its high-quality build despite the affordable price.
Though there are concerns about the lack of sufficient compartments, they said that the large main storage makes up for it. The Occasional Traveller gave this review:
"This was my first CabinZero ever! I carried it first on a long weekend to Koh Samui and a week in South Sumatra, as well as the whirlwind trip to San Francisco. Side compression straps helps control the bag size, useful when you are carrying fewer things in the bag. It stops the bag from sagging outwards, which is both aesthetically and ergonomically pleasing. You can see that it's somewhat waterproof – the water does seep into the material but it does pool as well. I had someone spill an entire cup of coffee on this bag once and I needed to wash it, but my stuff was mostly intact and dry."
5. Timbuk2 Forge Pack Tote
Best for Light Travels

Price: $75.90
The Timbuk2 Forge Pack Tote is convertible into a backpack, giving you 2 options for carrying it. This is one of the main reasons it's the perfect pick for the weekend or short vacations.
It features 2 side slip pockets where you can put your water bottles, a front zip pocket for easy access, and small hidden pockets for cards, keys, etc.
This pack tote has padded shoulder straps at the back and reflective zipper pulls. There's also a vista loop to attach blinky bike lights.
It also has a laptop compartment in case you need to do some work while on vacation. With its versatility in style, it can truly be the best backpack for ladies in  Singapore!
Highlights
6 x 15.4 x 4.3 inches (dimensions)
13 inch (laptop compartment)
22L capacity
Polyester material
Lightweight
Padded shoulder straps
6. Jansport Superbreak
Best for Daypack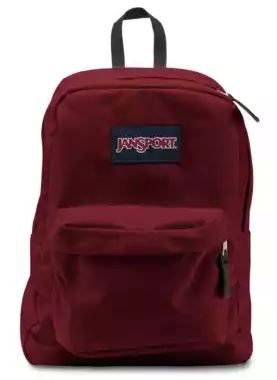 Price: $57.84
 Jansport is a well-known brand that produces high-quality and long-lasting backpacks. And that being said, you can never go wrong with their classic item, which is the Jansport Superbreak.
The iconic style includes ultralight design and two main compartments, ideal for everyday use. The padded shoulder straps are adjustable and there's also a handle on the top.
It's also available in multiple colours, leaving you with many options to choose from. Because of its classic and timeless design, it's considered one of the best backpacks in Singapore! 
Highlights
7 x 13 x 8.5 inches (dimensions)
25L capacity
Polyester material
Padded and adjustable shoulder straps
Two compartments
Durable
Customer Reviews
The Jansport Superbreak has received a lot of positive responses from many customers. They particularly mentioned the excellent durability of the bag.
A customer from Influenster wrote:
"I have this in a colourful spotty design (not blue crest). I think I've had this for about 10 years now and it's showing no signs of wear and tear at all and I use it frequently, often for heavy loads and often in the rain. I am amazed at the durability of this bag. Highly recommend the brand"
7. Skip Hop Zoo Pack Kids
Best for Kids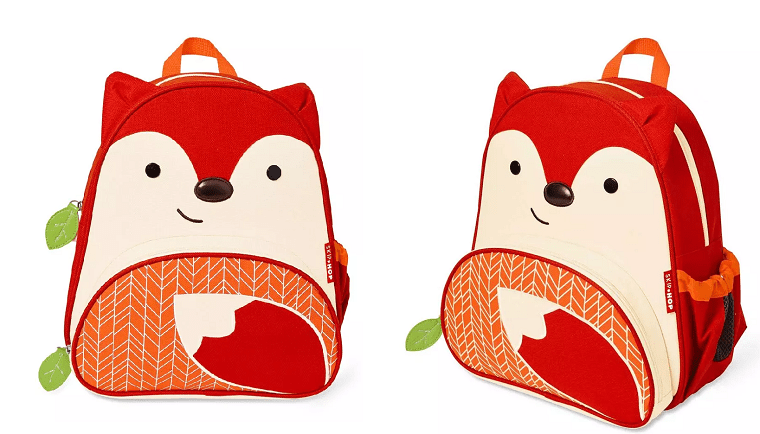 Price: $37.90
Looking for a backpack that your kids would love to wear? The Skip Hop Zoo Pack Kids is the best backpack in Singapore that you can give to your kids!
Just from the cute animal design of the bag, you can be sure that they'll like it. Aside from this, it's also made with durable material so it can last for the whole school year.
It features mesh side pockets so you can put juice boxes or water bottles in it. Snacks and other essentials can be stored in the insulated front pouch.
In the main compartment, you can place some books, a pencil case, and more items. There's also a name tag included inside the bag so anyone who picks it up in case of it being misplaced can identify the owner.
There's no need to worry about discomfort for your kids either because the shoulder straps are padded and adjustable.
Highlights
Not suitable for 3 years old and below
11l x 5w x 12h inches (dimensions)
Phthalate-free
Insulated front pouch
Adjustable bottle pockets
Adjustable and padded shoulder straps
Easy to clean lining
Customer Reviews
Most parents shared that their kids liked the Skip Hop Zoo Pack Kids and had fun while wearing it. They also said that the compartments are extremely helpful and the build is quite durable too.
A customer posted this feedback on the brand's official website:
"Second one I purchase; this one for a gift. The quality is great, washes well, fits a lot for its size, the bottle holder accommodates most water bottles, and you can't beat the design of this line."
8. HP 15.6 Odyssey Backpack
Best for Carrying Laptops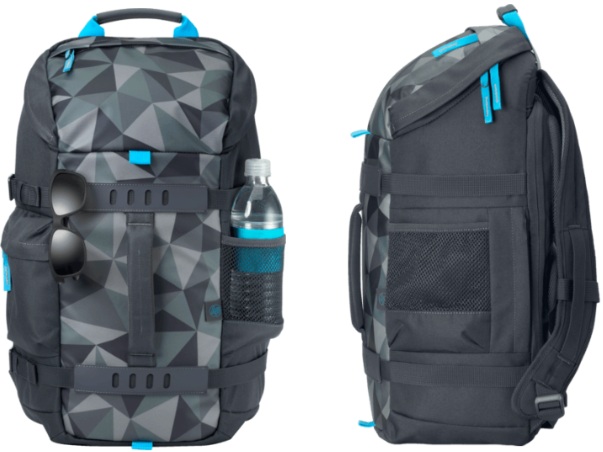 Price: $95.90
The HP 15.6 Odyssey Backpack provides dedicated laptop and tablet storage, comfortable padding, and endless straps and pockets — all with a unique geometric pattern. 
Running under the rain while carrying your gadgets with you won't be a problem because it is made from fabric treated with water-resistant coating to help protect your items from damage.
It also has an RFID-blocking pocket to protect the data encoded on credit cards and passports against electronic hacking.
Want to enjoy some upbeat music while strolling? That's possible without having to entirely take out your devices. A small opening, typically on the side, allows you to run cable through for device charger or audio headset.
Most importantly, HP 15.6 Odyssey Backpack is designed to make room for multiple items due to its large compartment without feeling and looking bulky.
Highlights
Easy access pockets

Water resistant

Expandable water bottle pocket

Multiple interior and exterior pockets
9. Lotuff Leather Backpack
Best for Travelling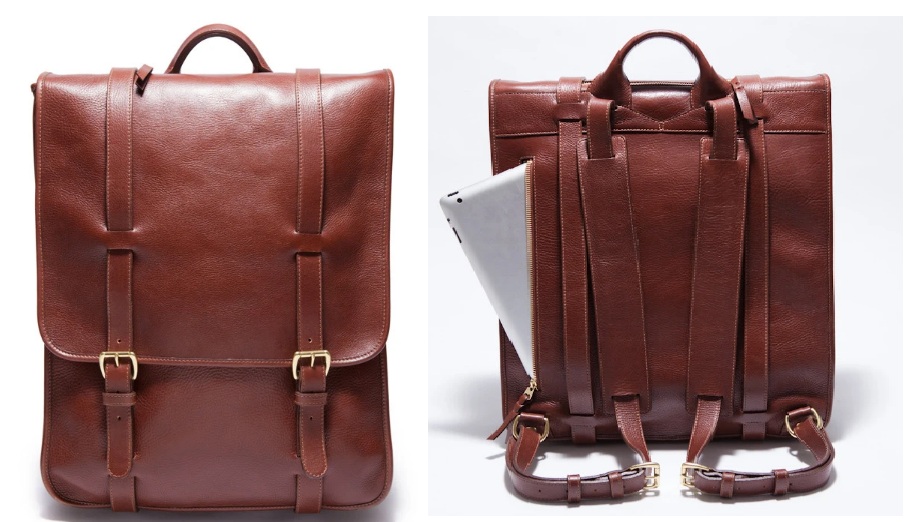 Price: $1,300.00
Lotuff's Leather Backpack is one part backpack, one part briefcase handcrafted in New England.
The best backpack for business commuting or travel, this piece has a double-gusset construction. It also has a zipper pocket in the back allows you to store valuables, laptops, and tablets right against your back.
While the collection is categorized under men's backpack, the design is clearly suitable as well for women. This leather backpack in Singapore is also practical as you can match it with any type of outfit and still be able to look fashionable.
Highlights
Fully leather buckle-closure backpack design.

Six-inch top zipper pocket for passport, keys, or phone storage. 

Hand-selected, tumbled, vegetable-tanned leather

Double-gusset construction with three vertical interior compartments.
Customer Reviews
A lot of customers were very delighted with how the backpack was designed. Not only does it bring convenience, but it also gives such a high fashion sense. They claim that both men and women will truly enjoy this product.
"When thinking about a backpack, many women may turn the other way- opting for a more feminine piece. However, ever since I set my eyes on this backpack, I knew i was making the right decision! It is a magnificent piece and one that attracts positive reactions from both men and women. it is spacious enough to fit all of the daily essentials (for those commuting to and from work) while always being in style. i travel often for work, and this particular backpack has been ideal for those sometime stressful moments. it is comfortable and the leather is EXQUISITe (soft and strong). if you are considering to purchase this backpack, think no more. it is an investment that you will love time and time again. thank you Lotuff for such a wonderful piece and service!"
10. CamPro Black
Best for Photographers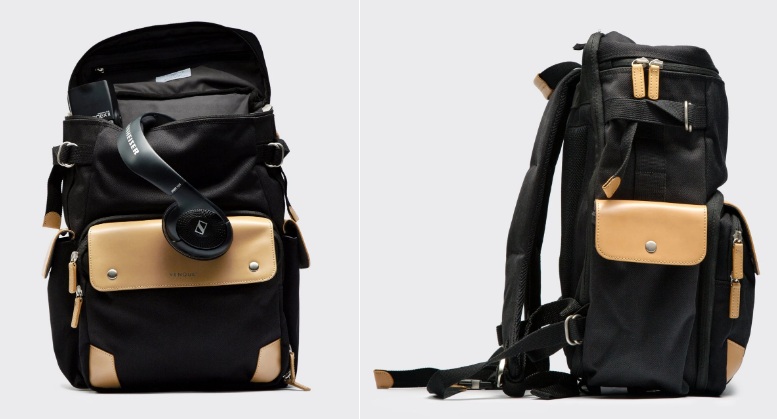 Price: $199.00
If you are a photographer who is consistently on your feet, taking street and landscape photography, you should really invest in a bag that will keep your cameras and other gadgets in safe keeping whilst also keeping you comfortable.
CamPro Black is best recommended for photographers as it is an urban-inspired backpack that also functions as a camera bag. 
Campro is perfectly designed for those who demand more in style; convertible and functional, it's the ultimate backpack to carry all your gear in one place.
It can store as much as 4 cameras among other accessories and still won't look bulky, thanks to its wide top and main compartments. It also has both chest and waist straps to support your back especially when walking long distances.
Highlights
Three Ways Of Carrying 

Fully Equipped / Half Equipped

Full Daily Backpack

15.7″L X 7″W X 12.1″H
Customer Reviews
CamPro Black is one of the crowd's favorites when it comes to durability and capacity. Cameras are truly bulky and to handle more than one of such items truly shows how impressive this backpack is. Here's one of the many positive feedback CamPro Black has received.
"The backpack exceeded all my expectations! It is so beautiful and I will be using it as a regular bag as well as a camera bag. Going to Costa Rica next week and can't wait to try it out for real! Thank you for making such fine quality bags!!
11. Shimoda
Best for Photographers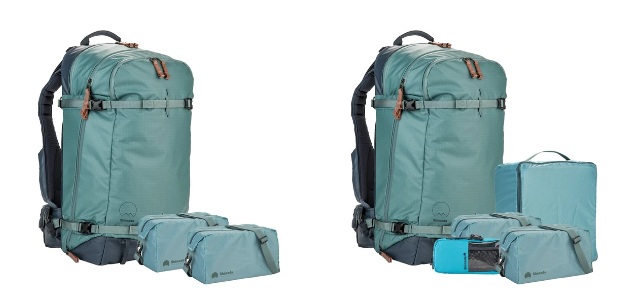 Price: $677.01
Shimoda Designs is an adventure camera bag company designed as a reaction to real world adventures rather than those imagined from a comfortable office environment. Shimoda founder Ian Millar is a lifelong explorer, snowboarder and product designer known for developing some of the most innovative camera bags in the world.
 Shimoda is his new venture which represents the culmination of all his experiences and utilizes the most advanced materials and technologies available to minimize the pain, fatigue and suffering that comes with foul mountain conditions. Shimoda products are a direct reflection and reaction to the outdoor lifestyle that Ian and his adventure photographer friends love so much.
Shimoda is a brand meant for photographers who never say no to fun and adrenaline.
Established by a lifelong explorer, this bag was innovated to make the most out of every adventure. We're talking about accessibility, safety, and comfort across different outdoor conditions unmatched by any other.
Chase that escapade of your dreams then, shutterbug.
Highlights
Adjustable harness

Dual and easy access

Configurable front panel

Convertible pouch compatible with tripods

Weather-resistant nylon shell

Waterproof Splashguard™ YKK® zippers
12. Rucker 3.0
Best for Ergonomic Lumbar Support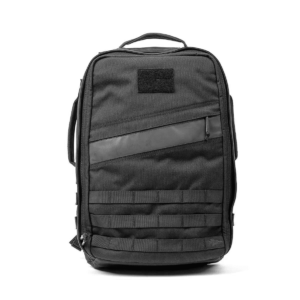 Price: $215
The Rucker 3.0 is one of the best backpacks to consider if you're looking for a reliable rucking companion. It features an ergonomic design that aims to minimise the strain of carrying a backpack for long periods of time.
The lumbar padding on the body of the backpack as well as the padded straps and handles all work to cushion your back and shoulders comfortably. Meanwhile, its Frame Sheet allows you to carry heavy loads with less discomfort.
Rucking during the rain won't be an issue either thanks to its water resistant material. Moreover, it has grommet drain holes included in the bottom for easier draining and drying.
With the Rucker 3.0's next-level comfort design, you can even wear it while you're shirtless. It can help you overcome any challenge as you ruck without being a burden in the process.
Highlights
Ergonomic back support

Hi-vis reflective stripe across the front
Ruck Plate compatible
Highly water resistant
Bottom grommet drain holes
And with that, we have our list of the best backpacks in Singapore! Any of these bags can make it easier for you to get through the day by securing your valuables, so we hope you found something you like among them. If you've been wondering where to buy these backpacks in Singapore, we hope you didn't miss the links we provided!
If you have more options in mind, though, share them with us. We may consider including them in our list too!
For bags that you can use at the gym or camping sites, you might be interested in seeing these best duffle bags in Singapore. They come in different styles and sizes, so they'll surely match your active lifestyle!