The 6 Best Greek Restaurants in Singapore
Greek food is one of the best cuisines in the entire world, so we can't blame anyone who suddenly develops a craving for it. In an attempt to satisfy your cravings, we've come up with our list of the best Greek restaurants in Singapore worth checking out.
So, if you're clueless as to where to find the best Greek restaurants in Singapore, worry no more because we have you covered. Check out our list below to see which Greek restaurant is close to you right now!
1. Bakalaki Greek Taverna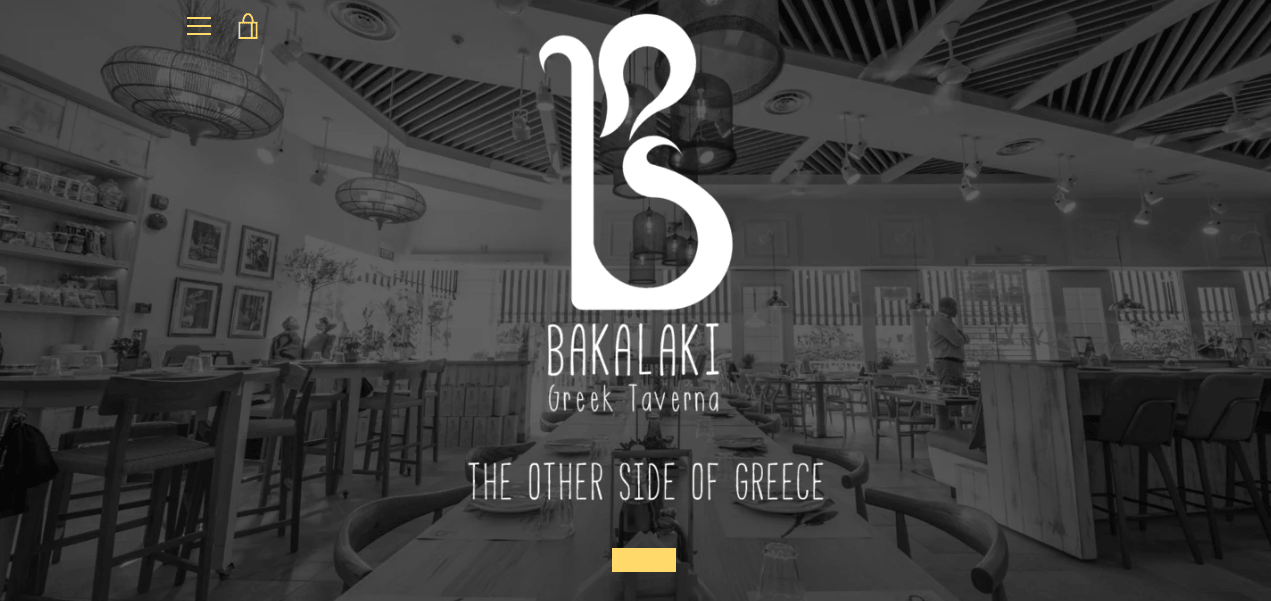 | | |
| --- | --- |
| BEST FOR | Authentic Greek Cuisine |
| MENU | Click Here |
| WEBSITE | https://bakalaki.com/ |
| ADDRESS | 3 Seng Poh Rd, Singapore 168891 |
| CONTACT DETAILS | +65 6836 3688 |
| OPERATING HOURS | Monday – Sunday, 12:00 PM – 10:00 PM |
If you're looking for one that uses traditional ingredients, then Bakalaki is the perfect option for you. As a restaurant, it aims to bring the tastes and flavours of Greece to the shores of Singapore through authentic Greek cuisine.
Of course, it wouldn't be one of the best Greek restaurants in Singapore if not for its team of professional and skilled chefs who hail from Greece. Each chef has years of experience and knowledge in Greek cuisine, so rest assured that customers will only get to taste the best that Greek food has to offer.
Some of the food it serves are patates tiganites, tzatziki, keftedes, dolmades, briam, moussaka, and a whole lot more. You may also opt for delivery services if you don't have the time to drop by the restaurant.
Highlights
Experienced chef
Traditional ingredients
Delivery and takeout
Customer Reviews
Here's what frequent customers have to say about its services:
"The best restaurant in Singapore, no exaggeration. Every meat dish is succulent, we especially love the lamb chops and beef skewers. You must order the spicy feta dip. Nice selection of Greek wine as well. Altogether with a cozy, clean Mediterranean ambience, a must go for a wonderful date night."
"Loved the food here. It was super delicious. The lamb chops were fantastic. It was definitely a good experience for me. Not only were the food good but the service was superb! Friendly staff and we were given free dessert! Really must try to eat here at least once in your lifetime!"
2. Alati Divine Greek Cuisine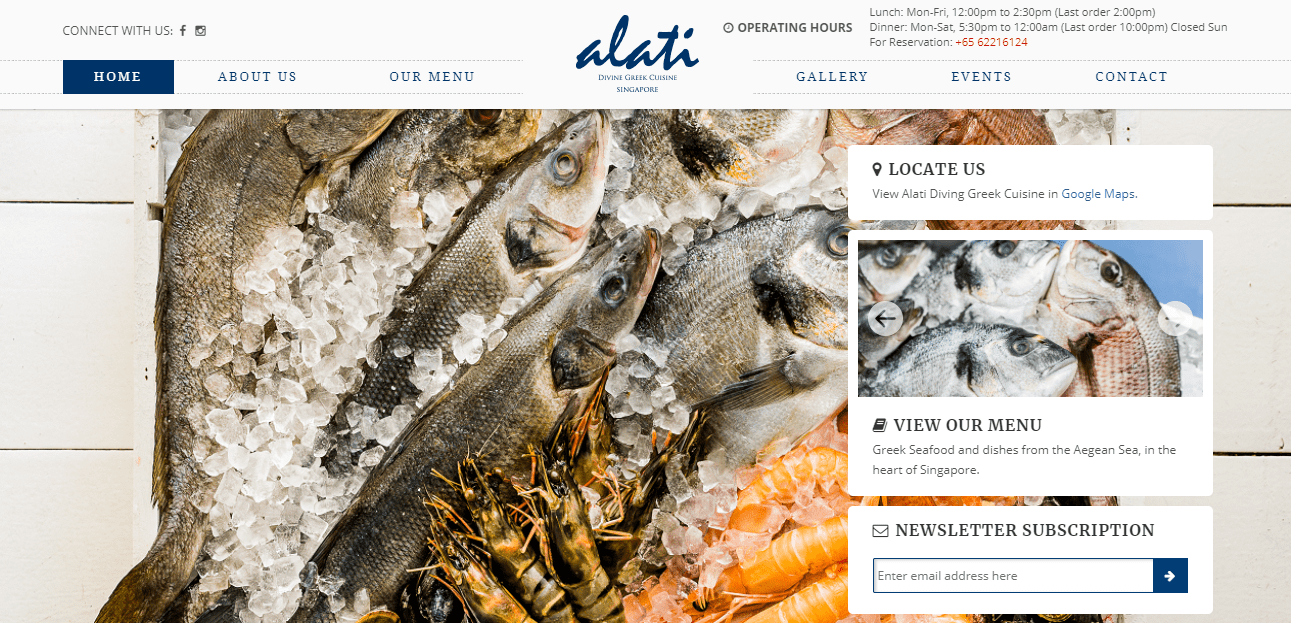 Alati Divine Greek Cuisine is the ideal option for those craving Greek seafood. It's one of the few restaurants in Singapore that serve seafood directly from fisherman in the Aegean Sea — which is why we call it one of the best Greek restaurants in Singapore.
Customers can enjoy the following dishes when dining in Alati Divine Greek Cuisine: taramosalata, Athenian salad, bakaliaros, landenia, garides saganaki, garides grilled, fagri, milokopi, and a whole lot more.
Alati Divine Greek Cuisine is also open to delivery if you have a sudden craving for Greek food but can't find the time to visit their restaurant.
Highlights
Fresh seafood
Delivery services
Customer Reviews
Alati Divine Greek Cuisine has received heaps of praise from its customers. Here are some of the comments:
"A very nice Greek restaurant. Strolled through the neighborhood and stumbled upon this place. The interiors remind you and make you feel like you are in Santorini. The food here is delicious and authentic! The seafood at this place is so fresh. Though the price is on the Higher side, the taste does it justice."
"I had the lamb chops for mains & I've tried lambs everywhere in & out of Spore! It's slightly crisp on the outside & done just right tender succulent on the inside! Perfect! My perfect lamb chops now! The mint cream sauce went so well with the lamb!! I had to ask for seconds! Perfect! Thanks Chef! Service was very attentive & polite! Saw a salt baked fish on the way out at a table… will definitely try that next time! I'm coming back with more friends for sure! Thank you!"
3. Blu Kouzina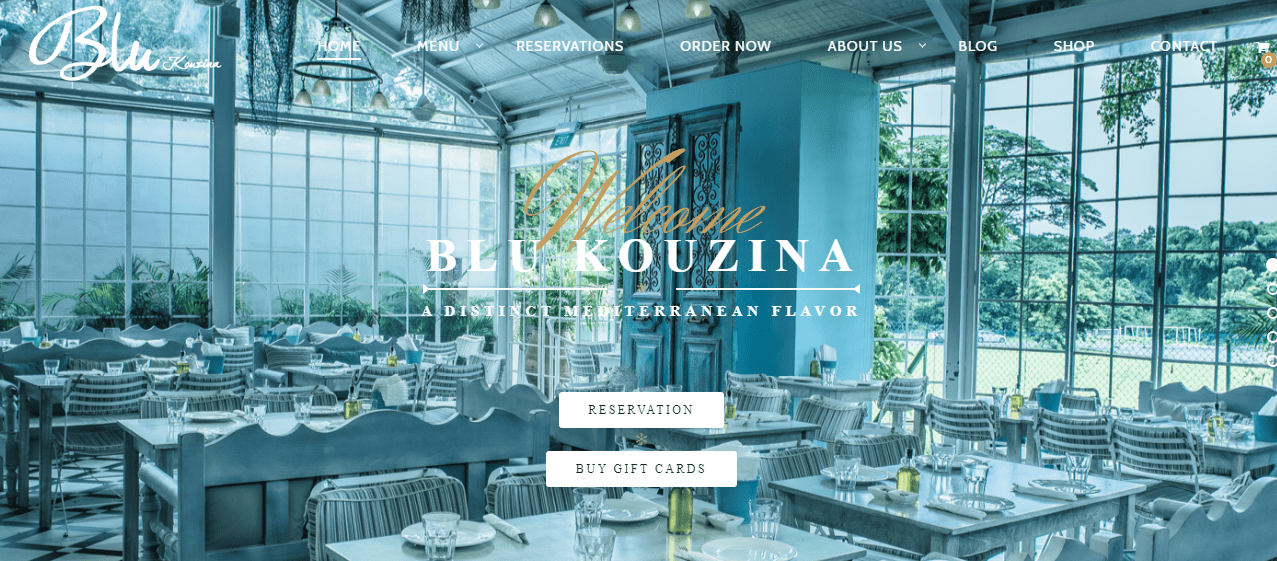 We highly recommend BluKouzina for people who haven't tried Greek cuisine before because there's a lot of food selections on the menu. It's the perfect site to get your first taste of authentic Greek food made by professional and skilled chefs.
What's more, all of its dishes are infused with organic extra virgin olive oil harvested directly from Greece, which makes their dishes even more authentic. Its dishes also come with huge servings because they're meant to be shared.
BluKouzina also serves Greek wine that complements every dish on their menu. So, if you're fond of drinking wine while eating, then this one's the best option for you.
Highlights
Extra organic olive oil
Authentic Greek food and wine
Online reservation
4. Mykonos on the Bay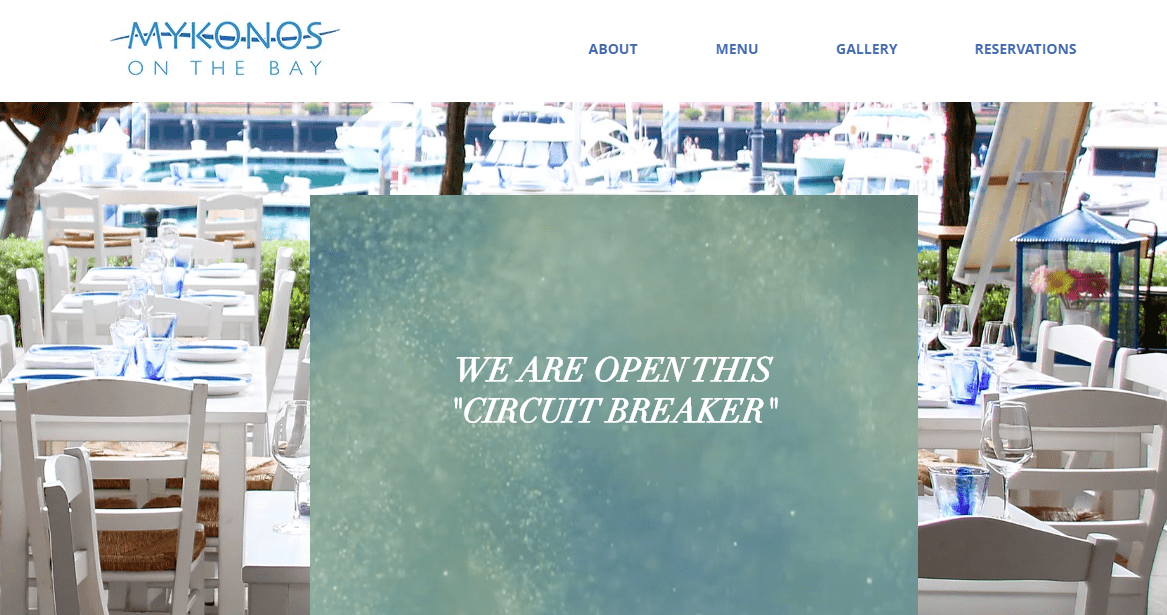 At Mykonos on the Bay, customers can enjoy a seaside view while enjoying authentic Greek cuisine.
What's more, every dish served is handcrafted by its professional and experienced Greek culinary team using only the finest and freshest ingredients — which is why we name it one of the best Greek restaurants in Singapore.
Some of the dishes served by Mykonos on the Bay are elies, moussaka, grilled seafood and meat, taramosalata, shrimp and cheese saganaki, and many more. If you're dining with a vegetarian, there are also a few dishes served for them.
Highlights
Skilled chefs
Seaside view
5. Aryaa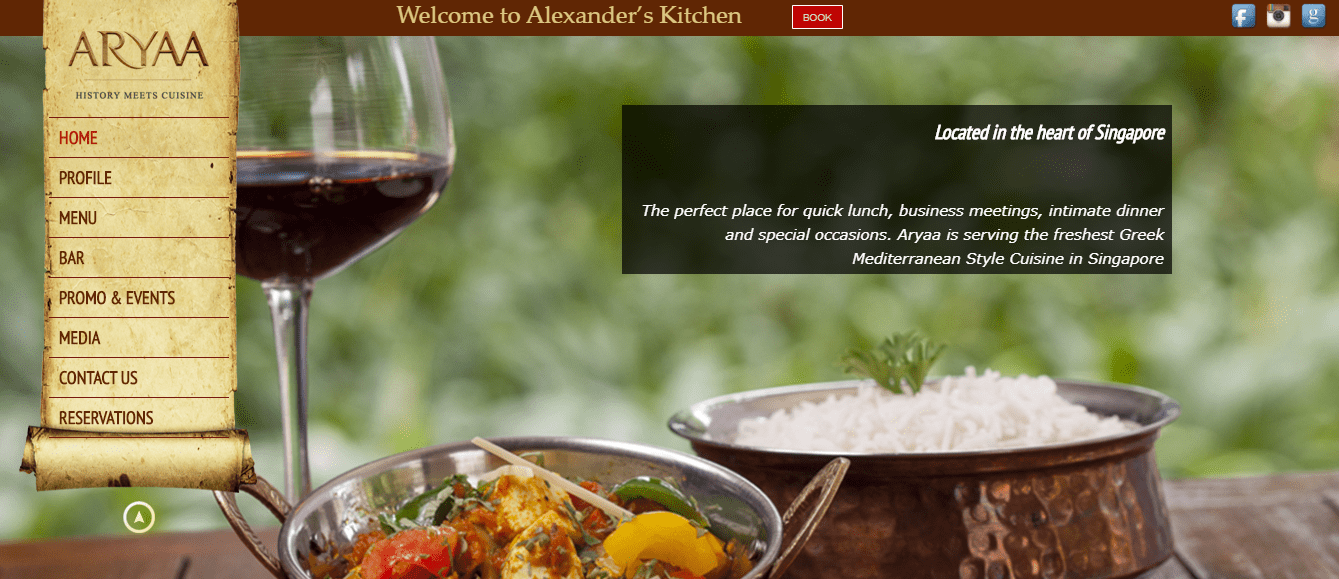 BEST FOR
Fusion Greek and Indian Cuisine
MENU
Click Here
WEBSITE
http://thearyaa.com/
ADDRESS
7500E Beach Rd, #01-201 Diners Building, Singapore 199595
CONTACT DETAILS
+65 62916009 |

[email protected]

OPERATING HOURS
Monday – Sunday, 12:00 PM – 10:30 PM
It's no secret that Aryaa is one the most famous and best Greek restaurants in Singapore. Its concept as a restaurant is to integrate traditional Greek and Indian cuisine for the modern taste buds of Singaporeans.
In terms of variety of dishes. Aryaa surely doesn't disappoint. It offers an extensive selection of Indian and Greek dishes that go perfectly with an array of authentic Greek wines.
Above all, Aryaa ensures that customers get to enjoy delicious meals without draining their wallets. It will prove that great Greek cuisine doesn't have to be expensive.
Highlights
Indian and Greek fusion
Authentic Greek wines
Affordable food
6.  Pano Kato – House of AnLi


Next on the list is Pano Kato, a stylish restaurant that serves a wide range of Greek Mediterranean dishes suited for individuals and families alike. They take pride in serving home cooked meals that are simple and unpretentious, yet incredibly delicious.
All of their dishes are made with the best and freshest ingredients available, with some even imported from parts of Europe. Gluten-free and vegan options are also available for those who want it.
Diners can enjoy their meals in the restaurants bright and airy restaurant. Their warm and tropical ambience is also perfect for organisations and families looking for a place to dine together.
If you're interested in eating at Pano Kato, you're more than welcome to book a table through their website. Those who prefer to stay indoors have the option of ordering for food delivery.
Highlights
Stylish restaurant with airy environment
Wide selection of family-friendly dishes
Made with natural ingredients
Gluten-free and vegan options available
And with that, we conclude our list of the best Greek restaurants in Singapore. If you've tried out a dish from any of these restaurants, don't hesitate to share its taste with us!
By the way, if you've also been craving Japanese food, you might want to check out our list of the top restaurants with the best ramen in Singapore. We guarantee that any of these restaurants can satisfy your ramen fix!