20 Cake Delivery Services in Singapore for all Events (2021)
A celebration isn't complete without a cake, but what do you do if you've forgotten to bring one to an event? Well, fortunately for you, we've listed down the best cake delivery services in Singapore!
Luckily for us, we have no shortage of shops to go to for cake delivery in Singapore. Whether you need a centrepiece for a birthday, a festival, or any gathering of sorts, there's a cake shop near me and you in Singapore capable of delivering the goods.
We've listed the ones we've found to be most worth your dollars. For your next cake cravings or celebrations, here are the shops with the best cake delivery services in Singapore.
Note: Due to the COVID-19 pandemic, some of the cake stores in our list have changed policies, operating hours, and the like. Where there's been a notable change we could confirm, we've noted it for the bakeries below.
1. Oscar's Cakes
Need a delicious, Instagram-worthy same day cake delivery in Singapore? If so, Oscar's Cakes is one of the best cake delivery services in the island for that.
Oscar's Cakes started out as a father and son business venture, with Oscar preparing the cheesecakes and his son managing the delivery using his bicycle. The team has since grown from their humble beginnings 20 years ago. 
Cheesecake connoisseurs will love their homemade gourmet cakes, available for delivery to anywhere and everywhere in Singapore. They also offer a wide range of flavours, from classics to novelties.
If you want tried and tested flavours, then go with their signature cakes. For people with more adventurous palates, try out their Durian cheesecake or The Yuan Yang Coffee & Tea.
Service Reviews
Free delivery island-wide
Same-day or next-day cake delivery in Singapore
Wide variety of cake flavours
2. The Durian Bakery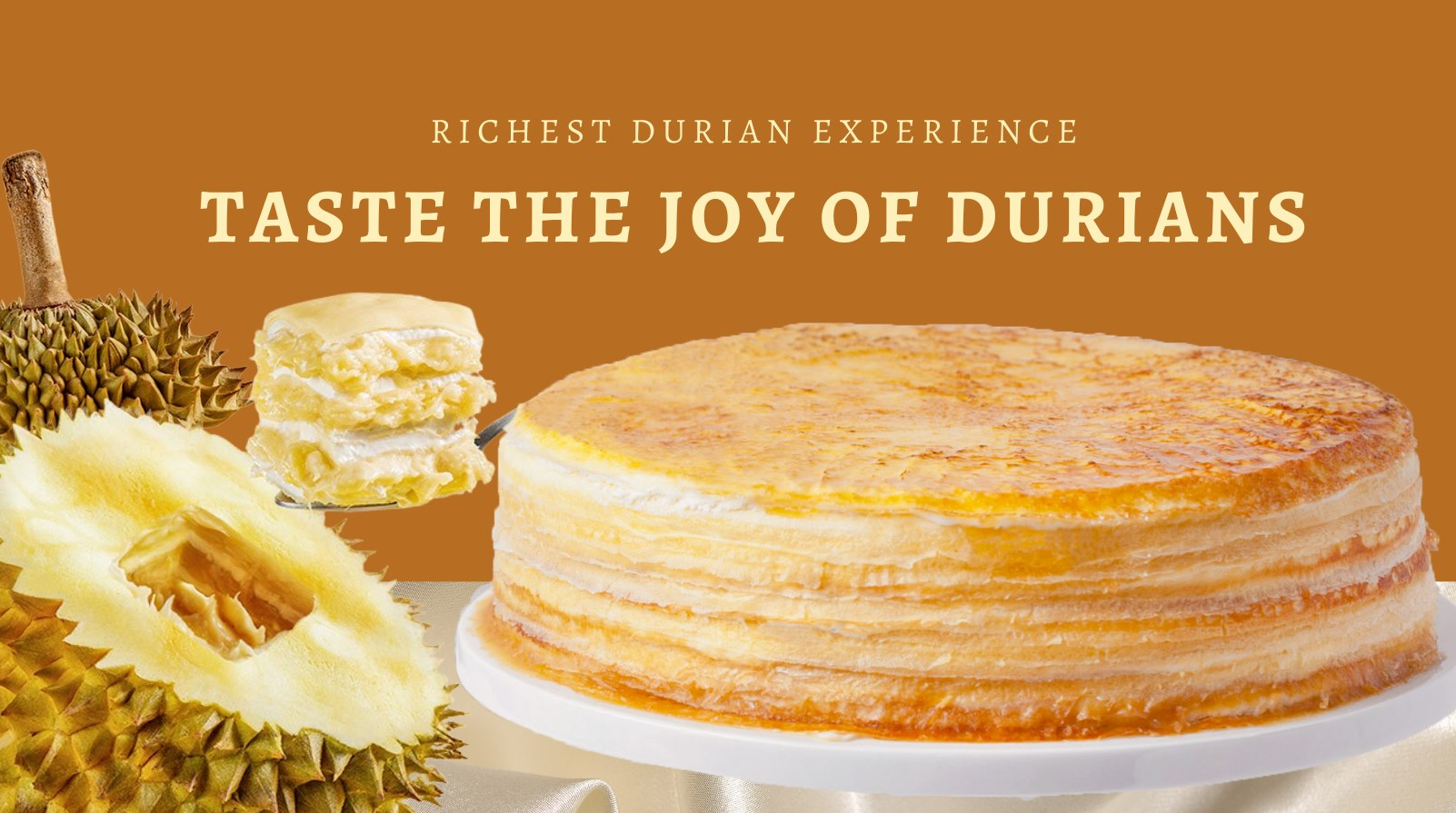 If you're looking for desserts that won't have you feeling guilty about your health, then the first shop on our list may pique your interest.
The Durian Bakery is an establishment known for the wide array of Durian cakes and patisseries it has to offer. These desserts are carefully made with the highest quality ingredients, one of which is the most nutritious flour blend.
As for the Durian itself, The Durian Bakery procures the freshest variety of black gold and old tree musang king durians from its very own plantation in Tiger Hill. As Durian aficionados, The Durian Bakery team is committed to researching and using the finest bunch, so customers need not worry about quality.
To top things off, The Durian Bakery team is headed by Chef Heng, who graduated from Le Cordon Bleu at 28 years old and went on to work for another 20 years as the Head Pâtisser of a reputable local hotel. With Chef Heng's expertise, The Durian Bakery steadily crafts delectable desserts that simply couldn't be missed. 
Service Reviews
Free delivery island-wide
Uses the freshest and finest ingredients
Delivery available every day
3. Rainbowly

BEST FOR

Healthier Choice Watermelon Cake, Pinata Cakes, Fruit Bouquet Arrangements & Chocolate-coated strawberries

AVERAGE PRICING

Starts at $89

CAKE OPTIONS

Watermelon cakes & Fresh Fruit Arrangements

DELIVERY FEE

Contact for more details

SAME-DAY DELIVERY

Yes, with specified time slots

PAYMENT OPTIONS

Enquire for more information

CONTACT INFORMATION

Email: [email protected]

Phone: 69002188

ADDRESS

11 Sin Ming Road, Thomson V Two, 575629

By Appointment Only

OPERATING HOURS

10:00am – 6:00pm daily
Looking for creative birthday cakes alternatives in Singapore with a healthier edge? The team at Rainbowly offers photo-worthy all-natural fresh fruit arrangements that will make a unique centrepiece at any birthday celebration!

Established in 2013, Rainbowly provides customers with a wide range of quality fruit gift baskets. Their products are commendable as they are all made fresh daily using the highest quality ingredients for their edible bouquets. 
They are a much-needed addition to the booming floral industry in Singapore specializing in fresh fruit bouquets and chocolate-dipped strawberry arrangements. Their assortment of freshly made gifts is just what it takes to create those extra special moments of goodness filled with healthy tasty treats and lots of smiles.
Check out their Instagram worthy watermelon cake if you're looking for a sinless gorgeous treat that's gluten-free and vegan friendly!
Service Reviews
Healthier choice cake alternatives

Every order is freshly prepared on the day 

Raving 5 stars reviews

Unique one of a kind gift option
Customer Reviews
Rainbowly is considered by customers to be among the very best  in Singapore for their healthier choice fruit cakes. Take a look at what a few of them have to say!
"From ordering online, to making changes to the message, the customer service was fantastic!  During delivery they even asked if they can call the recipient directly to check if he is home to receive the item.  The final item when delivered is as beautiful as what they had shown on the website.  Totally impressed with them and the careful handling of the customer.  Highly recommended and definitely going to buy from them again!"
"It was my first time ordering with Rainbowly and I must say it's the best experience. The team is so well trained and instantly makes you feel supported with their guidance. Their products are so well curated and each one is unique from the other. I ordered the all about you and each strawberry was intricately decorated and well picked. The customer support staff know very well how to suggest the best options to go with the item. Prompt delivery. Overall 100/100."
"Really loved the service as well as the products! Have bought twice, first being the strawberry pot and now the 2 fruit bouquets for my dearest mummies. They were so thrilled to receive it and was awed by the presentation and the idea of putting pretty and delicious fruits together! A great gift idea!"
4. Honeypeachsg Bakery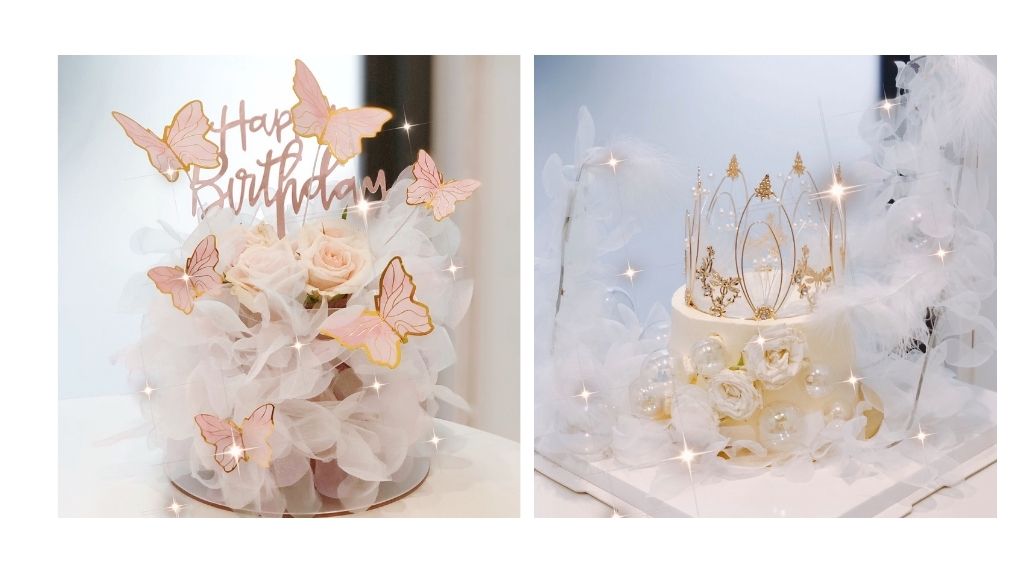 There are cakes, which makes almost everybody smile, and then there are unique and customised cakes, which will make everybody break into a song and dance. Everyone loves one-of-a-kind cakes that are delivered in Singapore, and no one does that better than Honeypeachsg Bakery.
Honeypeachsg Bakery started as a small online business in 2019 and barely two years later, here they are with a physical shop open 7 days a week, creating customised cakes and cupcakes for almost all occasions.
They are most known for their fairy cakes, which feature magnificent butterfly decor, decadent frosting, and edible glitter.
We highly recommend them because they can customise creations for you and have your cupcake delivered Singapore-wide. They create cakes and cupcakes for all occasions – Gender reveal, wedding, longevity cakes, and even gender reveal cakes are their specialities.
Service Reviews
Free / $9.90 islandwide delivery in Singapore

Cakes are moist, cottony soft and just the right amount of sweetness.

Top-rated reviews bakery
5. Susucre
Susucre is known for their creative and thoughtfully-designed cakes. They're also among the best cake delivery services in Singapore for customised cakes.
Customers can avail of their custom dessert tables to impress guests with European-inspired cakes and desserts. More importantly, patrons are sure that their cakes actually taste as good as they look.
For people with allergies or dietary restrictions, Susucre will work with you to find a suitable cake too. They can make vegan and nut-free cakes upon request. 
Their impeccable design, coupled with customers' ability to customise their cakes, make Susucre one of the best options for cake delivery in Singapore.
Service Reviews
Additional cream tarts and cupcakes
Options for vegan and nut-free cakes
Customised European-inspired cakes
Customer Reviews
Susucre is considered by many customers to be one of the best cake delivery services in Singapore for their impressive designer cakes. Take a look at what a customer named Abigail E. has to say about their cakes:
"Annina and the team crafted us the loveliest three-tiered wedding cake, pulling together our chosen colour theme and flowers in such an elegant and artistic way. We had both hand-painted watercolour flowers, and utterly life-like ones sculpted out of fondant on our cake, which looked utterly spectacular. Working with them was a breeze, and the cake arrived in perfect condition at the time we specified."
6. Ugly Cake Shop
Ugly Cake Shop doesn't actually make ugly cakes–it just means that they value high-quality ingredients over flashy, unhealthy ones. For example, they reduce sugar content in all their baked goods and prefer buttercream to fondant.
As a result, the flavours are balanced and the cake is healthier for you! This makes them one of the best cake delivery services in Singapore for the health-conscious.
Note that they also have special cakes for various needs. For people with dietary restrictions, they can also make your cakes without eggs, dairy, or nuts upon request.
Most importantly, they donate a portion of their earnings to feed undernourished children in Timor-Leste. Not only will you enjoy their delicious and artisanal cakes, but you'll also help those in need as well.
Note: Circuit Breaker has caused them to suspend order receipt, but they may be opening again soon. Keep an eye on their Facebook page to stay informed.
Service Reviews
No artificial ingredients
Vegan, nut-free, and Halal-certified cakes upon request
Part of their proceeds are donated to the nutritional fund of kids in Shalom School in Dili, Timor-Leste
Customer Reviews
For their fuss-free ordering process, well-balanced flavours, and kind service, customers have given Ugly Cake Shop 5-star ratings on Google Reviews. Take a look at what Tiffany C. wrote:
"Ordered a 7-inch, frosted on the side, Juliana (salted caramel) cake for my mom's birthday. The ordering process was fuss-free, and the cake was a lot more delicious than I'd expected! Will be back."
7. Whyzee
Whyzee houses a huge collection of specialised cakes and cupcakes perfect for any celebrations and occasions–especially birthdays! They have a variety of cake types and flavours for all your preferences. 
For the slightly health-conscious ones or those with strict healthy lifestyles, you can avail their vegan cakes. Otherwise, you are free to enjoy their delectable ganache cakes and cheesecakes.
Need to order a cake at the last minute? Whyzee also offers express delivery services guaranteed to have your cake delivered in no less than one hour!
This makes Whyzee one of the best go-to online cake delivery in Singapore for those instant get togethers and celebrations.
Whyzee also creates seasonal cakes for specific holidays or special events like Valentine's Day, Mother's Day, Christmas, etc. If you need cake and you need it quickly, Whyzee is one of the best cake shops in Singapore for you.
Service Reviews
Express cake delivery
Vegan, nut-free, and Halal cakes upon request
Customised cakes available
Customer Reviews
Whyzee makes sure that they make any celebration more fun and delightful with their selection of artisanal cakes. Check out this positive review from a satisfied customer:
"It was my colleague's birthday yesterday. I contacted Whyzee via whatsapp and placed a chocolate cake order online nearly noon for delivery to office before 5pm. Their response is super fast and delivered the cake in good condition timely. Candles and birthday tag provided. Wording on cake was perfectly done as well. My colleagues and I love the texture of the cake and we will definitely recommend and order again. Thank you!"
8. Patisserie G
Eating desserts is an indulgence, and no one knows this better than PatisserieG. To satisfy any kind of craving, they sell pastries and cakes of all sizes and different flavours. 
If you decide to order cake online in Singapore with Patisserie G, we suggest that you go for their bestselling chocolate dome cake, The G-Spot. It is available in individual pieces (S$19 each) or a petite 18cm dome for sharing.
Larger sizes are also available for special events and gatherings.
Whether you need something sweet and filling or just want to satisfy your sweet tooth, PatisserieG is one of the best cake delivery services in Singapore for the job.
Note: They have a temporary menu in accordance with Circuit Breaker. You can check out their special menu on their website.
Service Reviews
Whole cake and cake slices options
Full course meals available
Regular promotions for added savings
Customer Reviews
Customers not only love the cakes and desserts, but the Patisserie G cafe as well. Their tasty treats are matched by a quiet and cosy space with excellent customer service.
While their confections are on the pricier side, the quality of the cakes and pastries are worth every cent. Check out these rave reviews for one of the top cake shops for the best cake delivery services in Singapore:
"Patisserie G is a pastry lover and minimalist's dream. The cakes are incredibly easy to eat, not too sweet and flavourful at the same time, perfect for Singapore's hot and humid weather. Even my husband who is anti-sweets loves the cakes here. Oh yea, and definitely the BEST croissant I've ever had in Singapore."
"Love the freshness and new ideas from this  fantastic eatery. 6*'s!! A must try."
9. Sooperlicious
Sooperlicious has been supplying halal cakes since 2009. They want to make cakes as fun and delicious as possible, so you can be sure that they can bring your craziest cake ideas to life.
They offer a wide variety of cake designing options to cater to any requests. Aside from customised cakes, they also offer gourmet cakes, image-printed cakes, and sculpted cakes.
Plus, they keep their cakes as affordable as possible to be accessible to more people. Overall, Sooperlicious offers one of the best cake delivery services in Singapore for creative cake designs.
If you are looking for fun designs that are halal-certified, Scooperlicious could just be the best cake in Singapore for you.
Service Reviews
Halal-certified cakes
Budget-friendly prices
Customisable birthday and celebration cakes
Customer Reviews
Lots of happy customers commend Sooperlicious for their delicious cakes and beautiful designs. In fact, check out this particular glowing customer review:
"This was my 2nd time ordering from Sooperlicious Cakes. The first was an Elmo 3D cake, it was perfect! This time, a Super adorable penguin ??.

I must say that Sooperlicious is the go-to place when you need a 3D cake, the customer service is nothing but professional and friendly. Very detail oriented and they really do listen to what you want and definitely deliver!

Taste wise, the chocolate is rich but not to the point where it feels "heavy" or loaded with sugar, Hope I make sense. It's very moist and the vanilla cream was light but flavourful. ?  ?  ?  ? 

Thank you for making 2 of my nephew's birthday a Super memorable one! Will definitely order from you in the future! Thank you for the hard work and effort! ❤️❤️❤️"
10. P.Osh
P.Osh upholds traditional baking techniques, putting as much attention and care into their products as possible. Plus, they care about their patrons' well-being, so they use only natural and premium ingredients.
They're particularly known for their delectable brownies and cheesecakes. Their cheesecakes are available in different sizes, and you can buy their brownies per piece or as a whole cake.
Besides those, they also offer various baked goods such as cookies, cupcakes, dark chocolate, and their bite-sized Crumbs. Indeed, P.Osh is one of the best cake delivery services in Singapore that can satisfy your cheesecake or brownie cravings.
You can be sure that P.Osh bakes their goods with love and passion. Through the years, P.Osh has been supporting charities and good causes, selling their products at close-to-cost prices for fundraising.
Service Reviews
Supports fundraising efforts and charitable causes
Offers Halal cakes
Customised brownies and cheesecakes
Customer Reviews
People love their chewy brownies and tasty cheesecakes and so, they're highly rated on Google Reviews. Take a look at what a customer named Yan Q. wrote:
"The staff is friendly and helpful! They have the best brownies in town. Would highly recommend anyone that love brownies to try. You can even customize your own wording on the brownies for birthday or anniversary :)"
11. Happy Oven
Happy Oven is one of the few existing traditional bakeries left on the island. Their traditional cakes and confectioneries are sure to take you to a trip down memory lane to your childhood days.
That said, they've made some concessions to modernity too. For example, they've grown their cake selection to include new flavours and designs throughout the years.
Aside from cakes, they've also been able to provide greater varieties and amounts of patisserie. This has helped them cater to the increasing demand for them to do catering for personal and corporate events.
If you want to experience the best birthday cake in Singapore that is reminiscent of your cakes from childhood, you will be happy with Happy Oven.  Happy Oven is indeed one of the best cake delivery services you can order from.
Service Reviews
Can provide catering for personal and corporate events
Express cake delivery
Extensive range of fruity, savoury, and chocolate-based products
Customer Reviews
Their flavourful cakes have received a lot of compliments from clients on Facebook. In fact, take a look at this recommendation from a customer named Carolyn Marianne S.:
"Ordered the Ondeh Ondeh Cake recently, and it was a crowd pleaser! Everyone loved it, not too sweet, and not too much cream, it was good with those who don't like cream too. The coconut topping on the cake was very generous, and it tasted really fresh!"
12. The Patissier
The Patissier combines traditional French baking with exciting flavours. Since they opened and started offering cake delivery in Singapore in 2000, they've established a loyal customer base for their handcrafted cakes and pastries.
They have a large selection of cakes and desserts for any occasion, with their bestselling cake being the Passion Fruit Meringue. Because they are very meticulous with each cake they make, the average lead time for their cakes is 2 days or more.
They have a membership program you can avail to get exclusive discounts and promotions. However, you can order cakes even without a membership.
For the best French-inspired cakes and pastries on the island, The Patissier is your best pick among the best cake delivery services in Singapore. And if you're looking for a cake shop that uses eco-friendly packaging in their Singapore cake delivery, The Patisser will easily be a favourite.
Service Reviews
Eco-friendly packaging
Membership programme for discounts and promotions
Meticulously-designed cakes
Customer Reviews
Customers of The Patissier have left many positive reviews for their consistent high-quality cakes and timely service. Because of this, many consider them to have one of the best cake delivery services in Singapore.
Check out this review from a satisfied customer named Isaac Y.:
"I don't know whether they are the best cake shop in Singapore, but I do know I never really needed to find another one after learning about them. I've tried different cakes for different occasions, and they have never disappointed me. Most importantly, they are my go-to cake shop for my grandma's birthday cakes and they have never disappointed the family. Their 2kg cakes are even more gorgeous and no less detailed than their smaller cakes."
13. Naomi Kitchen
All the products made in Naomi Kitchen are baked using quality ingredients with emphasis on freshness. This makes them one of the top options for the best cake delivery services in Singapore, quality-wise.
Having started from a tiny food stall in 2010, they have since then established multiple shop outlets and a large loyal customer base. Besides birthday cakes, they have also branched out to make customised cupcakes, wedding cakes, corporate cakes, and other themed cakes and desserts.
One of their most famous cakes is the money-pulling cake that can be customised for any occasion. Currently, they only accept online orders for cakes through their hotline or email.
Aside from cakes, they also offer a variety of cookie flavors such as sea salt cookies, pomegranate cookies, coffee butter cookies, salted egg cookies, and more. You can buy them through their official Shopee and Lazada stores.
Note: Naomi Kitchen's Pasir Panjang and Serangoon branches have permanently closed. For cake orders, you may contact them through email, phone, or their Facebook page. 
Service Reviews
Corporate gifts and pastries
Custom birthday cakes and cookies
Customer Reviews
Whatever your request is, Naomi Kitchen is sure to come through with a fantastic-looking customised cake. In fact, take a look at these positive customer reviews from happy clients:
"I have countless of customised cakes from Naomi Kitchen over the years and I am a satisfied returned customer. They always fulfilled my requirements in terms of designs and taste."
"their cakes are tasty, full of ingredients.n yet not too sweet… cake design able to accommodate to what I want… my kids loved their cakes so much…. recommend their mixed fruits flavour… loads of chunky fruits…. lychee raspberry also nice… sweet with tinge of sour ness…  mango, strawberry shortcake also with chunks of fruits inside… will  order again to try all their other flavours…"
14. Edith Patisserie
Edith Patisserie is a locally-owned bakery that was first established in 2013, specialising in layered cakes, brownies, and tarts. Since then, they have continued to bring new flavours and original cake designs for all types of celebrations.
They also accept customised cake orders for birthdays, weddings, and corporate events. They also offer a variety of cake toppers to really make your cakes pop out even more.
For those who want to buy their cakes in large quantities, they also offer wholesale bakes for businesses, cafes, restaurants, and caterers. Their wholesale cakes are made by their licensed catering kitchen, so you can be sure that quality is always there with quantity.
Service Reviews
Layered cakes, brownies, and tarts
Customised cakes 
Vegan and gluten-free cake options
Wholesale cakes available for businesses
Customer Reviews
Edith Patisserie has one of the best cake delivery services in Singapore for their innovative and original cake designs and flavor. Take a look at what these customers have to say about ordering from Edith Patisserie:
"Gin Tonic Cake. That's right! If you wanna get high on eating a cake, this is the cake you need to get. Nicely decorated and texture of cake is good. Love that the Gin tasted really strong. What a lovely birthday cake I got from my friends!"
"Was on the hunt for a matcha cake for a friend and came across this place. Oh my days was their dark chocolate matcha cake gorgeous. It looked great and tasted even better. The texture was so tender, and the matcha bitterness was beautifully balanced with the sweetness of the dark chocolate."
15. Ciel Pâtisserie
Ciel Pâtisserie has one of the best cake delivery services in Singapore for French pastries and sweets. They offer different types of cakes from gateaux to mon chéri cakes, as well as tarts and quiches.
The pâtisserie is owned and operated by the owner, Chara Lum, who studied at the renowned French Culinary Arts School. After graduating, Chara decided to open up her own shop to share what she learned through her sweet creations.
True to the name, each cake is meticulously baked and crafted so that each bite tastes like a piece of heaven. Ciel Pâtisserie takes pride in only using the freshest and finest ingredients for their cakes and sweets.
Note: Due to the large volume of online orders, Ciel Pâtisserie encourages customers to place an order at least 5 days in advance to be properly accommodated. 
Service Reviews
Great selection of sweets and treats
Delicate and decadent French-style baked goods
Open daily from 11 AM to 8 PM
Customer Reviews
Ciel Pâtisserie believes that cakes don't have to be fancy or expensive in order to be good. As such, customers flock to their cakes for being high-quality at reasonable prices.
Check out these reviews raving about their cakes and pastries:
"Lovely selection of pastries here in this small cafe. Reasonable price. Surprised to find this quality here out of no where. I tried the lemon merengue and chocolate almond tart. I wish the chocolate filling was little more dense not like a chocolates pudding. But I love their crunch shells. Don't go too late because they usually sell out by 5pm."
"Loved the cakes that I bought from here. The prices in general are affordable at about 4.80 each for the normal flavours and 7 for the unique ones. Like the earl grey cake I bought in particular as the sponge was really most and the cream cheese outer layer was superb. Would go again to buy more :)"
16. Whips Cupcakes
Whips Cupcakes operates on the belief that using the finest ingredients can produce the finest cakes. And so, many customers have come to love Whips Cupcakes's large selection of specialty cupcakes.
These cupcakes are offered in different flavours such as chocolate, strawberry, cream cheese, pandan, and more. In addition, you could opt for delectable toppings like M&Ms, marshmallows, nuts, and lots more.
They also offer customised cakes and cupcakes for birthdays, weddings, corporate events, and other occasions. They even rent out cupcake tiers, stands, and other display sets to make your dessert table pop out.
Service Reviews
Large selection of cupcake flavours and toppings
Creative cake designs
Customised cake and cupcakes
Customer Reviews
Whips Cupcakes is famous for their whimsical and creative cupcake and cake designs, perfect for kids' birthday parties. Take a look at these reviews from satisfied parents:
"Ordered cupcakes for daughter's wedding on 6 Jan '18. Worked with Kim on my special order. The cupcakes were simply outstanding. Everyone was enjoyed it.'Thank You' again Kim couldn't have done it without your help."
"Just ordered a custom made, fondant cake for my daughter's 3rd birthday at school. I was in love with the finished product. Milk chocolate flavor is yummy, not so sweet too! Just right for our taste. Reasonably price compare to others in the market. Highly recommended! Great job!"
17. Monice Bakes
Monice Bakes claims the title of having the "best customised cakes in Singapore" at affordable prices. Aside from their fantastic-looking cake designs, they pride themselves with only using the best ingredients.
Since they only use the best ingredients, you can be sure that their cakes are free of artificial flavors and preservatives. They also use less sugar than traditional cakes and promote their cakes as healthier options
They can make a variety of cakes for all types of occasions, all handcrafted according to the clients' preferences. Since they only make cakes per order, you can be sure that each cake is freshly baked and absolutely delicious.
Can't decide on what type of cake to order? Try out their "Surprise Me" Cake option, which starts at S$40, and receive a surprise cake of higher price value!
For all your customised fondant cake needs, Monice Bakes is definitely your pick among the best cake delivery services in Singapore.
Service Reviews
Less sugar and no artificial flavorings or preservatives
Affordable price range
'Surprise Me' cakes available for fuss-free ordering process
Customer Reviews
Whether you specifically ordered a customised cake or ordered a "Suprise Me" cake, Monica Bakes is sure to come through with a delicious and visually-appealing cake. Check out these glowing customer reviews about their cakes:
"Ordered a "Surprise Me" cake for the first time and it was so beautifully crafted, it did not disappoint me. Everyone was impressed with the design of the cake. Love the Matcha flavour: rich but not very sweet! Will definitely order again next time! Monice is friendly and very responsive to my texts, really appreciate her efforts in making the cake!"
"Monice easily responds to your queries. The cake is so pretty and it taste delicious. The sweetness is just right. My husband likes it and he rarely appreciates cakes so I was happy that he praise it… Thank you so much"
18. Bob the Baker Boy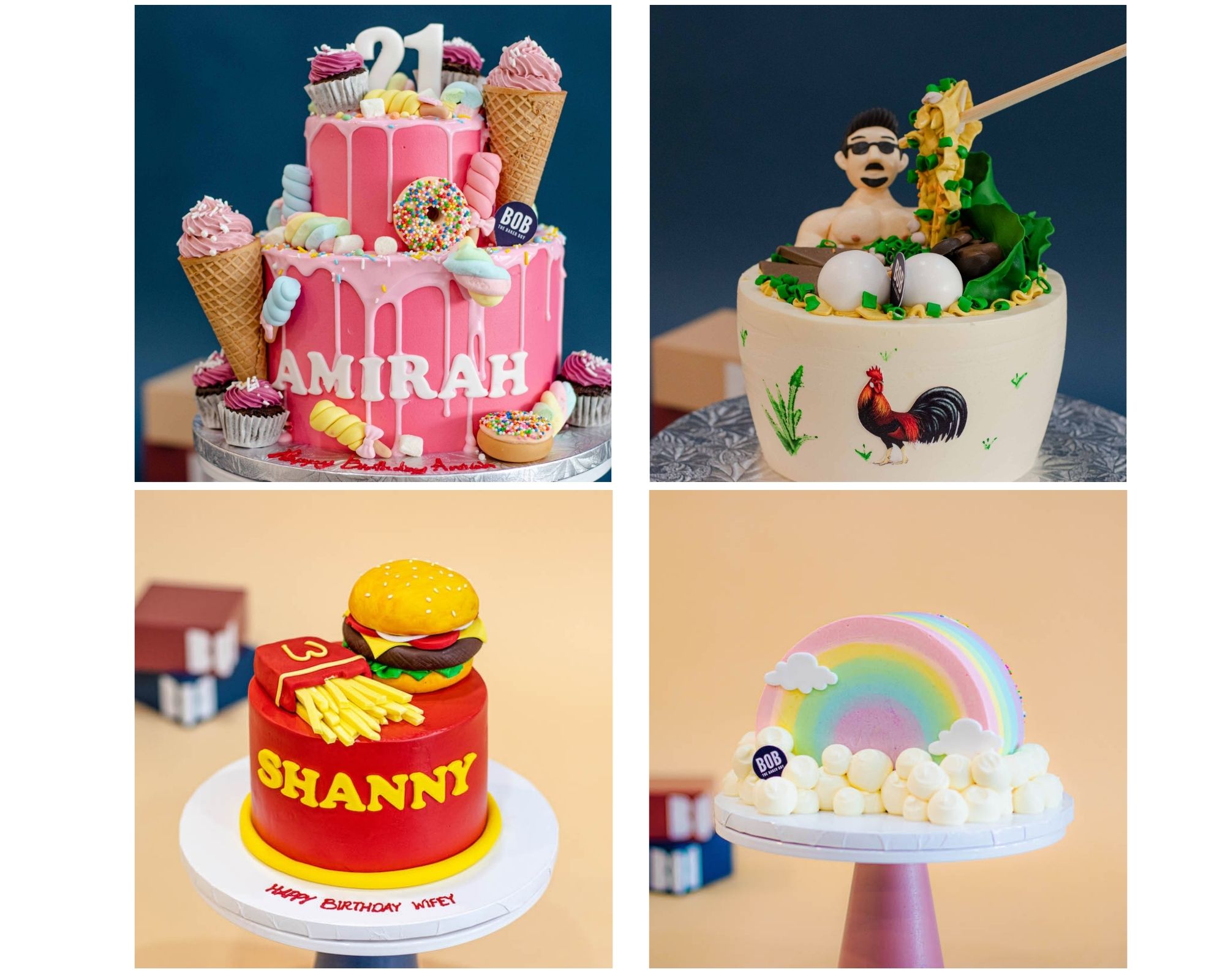 Aside from making delicious cakes, Bob the Baker Boy also aims to make diabetic-friendly cakes by using healthier ingredients and less sugar. Despite using less sugar, they guarantee that the cakes will still be sweet enough to satisfy your sweet tooth.
They boast a sizable collection of customised cakes of all sizes for every occasion. For those who just want to try their cakes, they also offer pre-made cakes for delivery.
If you want to make your dessert table one of the highlights of your party, you can avail of their full dessert table package, which includes everything from the desserts to the set-up of decorations. 
Service Reviews
Customised cakes 
Diabetic-friendly cake options
Full dessert table package
Customer Reviews
Bob the Baker Boy has one of the best cake delivery services for low sugar content cakes. As such, they cater to a bigger audience of health-conscious cake-lovers. 
Take a look at what satisfied customers have to say about the quality and taste of their cakes:
"The customized cake was not only the most beautifully and artistically styled piece of art but inside was also the most delicious moist and spongy Belgian chocolate cake we have ever had Our guests all raved about how heavenly the cake was with the lower sugar content and no fondant used on the exterior Thank you Carlyn for the meticulous coordination and consultation with us and the Baker boys for executing it to perfection We will be back"
"We ordered a Belgium chocolate cake online from Bob the baker boy for a birthday celebration The quality of the cake was too good Also the delivery of the cake was smooth and prompt Highly recommended Kudos to you guys we loved your cake"
BEST FOR
Fruit Tarts
AVERAGE PRICING
$22 – $45
CAKE OPTIONS
Tart and Tart Platters
DELIVERY FEE
Nationwide delivery – $12
SAME-DAY DELIVERY
No
Please place your orders at least 3 days before.
PAYMENT OPTIONS

Payment details via PAYNOW will be sent to confirm the order

CONTACT INFORMATION
OPERATING HOURS
Tuesday – Friday: 11am–7pm
Saturday – Sunday: 11am–5pm
Wunderfolks is known all over Singapore for their delectable tarts. They offer chocolate, lemon meringue, and mixed fruits. Each batch is created fresh daily and done in limited quantities to control the quality.
In case you want to try their tarts at a smaller amount, you can purchase their mini tart platter so you can also taste all the available flavors.
For events like birthdays or anniversaries. Wunderfolks accepts customized tarts. Simply talk to them about the design you want and they'll try to it at the best of their abilities.
Service Reviews
Healthier tarts
Delicious but not too sweet
Baked fresh daily
Customized designs
Customer Reviews
Read this very detailed feedback by Lee Xin Li, a satisfied customer:
"Delicious Fruit and Chocolate Tart
Ordered their half & half tart which consists of a Fruit Tart plus Chocolate Tart for my mum's birthday.

The packaging itself features an adorable bear rolling the tart crust that they make in house.

The Chocolate Tart was rich but not too sweet, just nice for my sister and myself. My mum still finds it a little strong. It goes very well with a cup of coffee, a latte or black coffee which plays up its caramel-like flavours. I enjoyed it a lot.

The Fruit Tart is even better, it is favourite of the family. Both flavours are very competently done. The crust for both pies was just nice too : not too tough but firm enough and has a nice buttery fragrance to go with the fruits or chocolate.

The price range is around 45 SGD for a 9-inch tart. They also offer smaller tarts for order and walk-ins. However, they can get sold out pretty quickly on a busy weekend."
20. Baker's Brew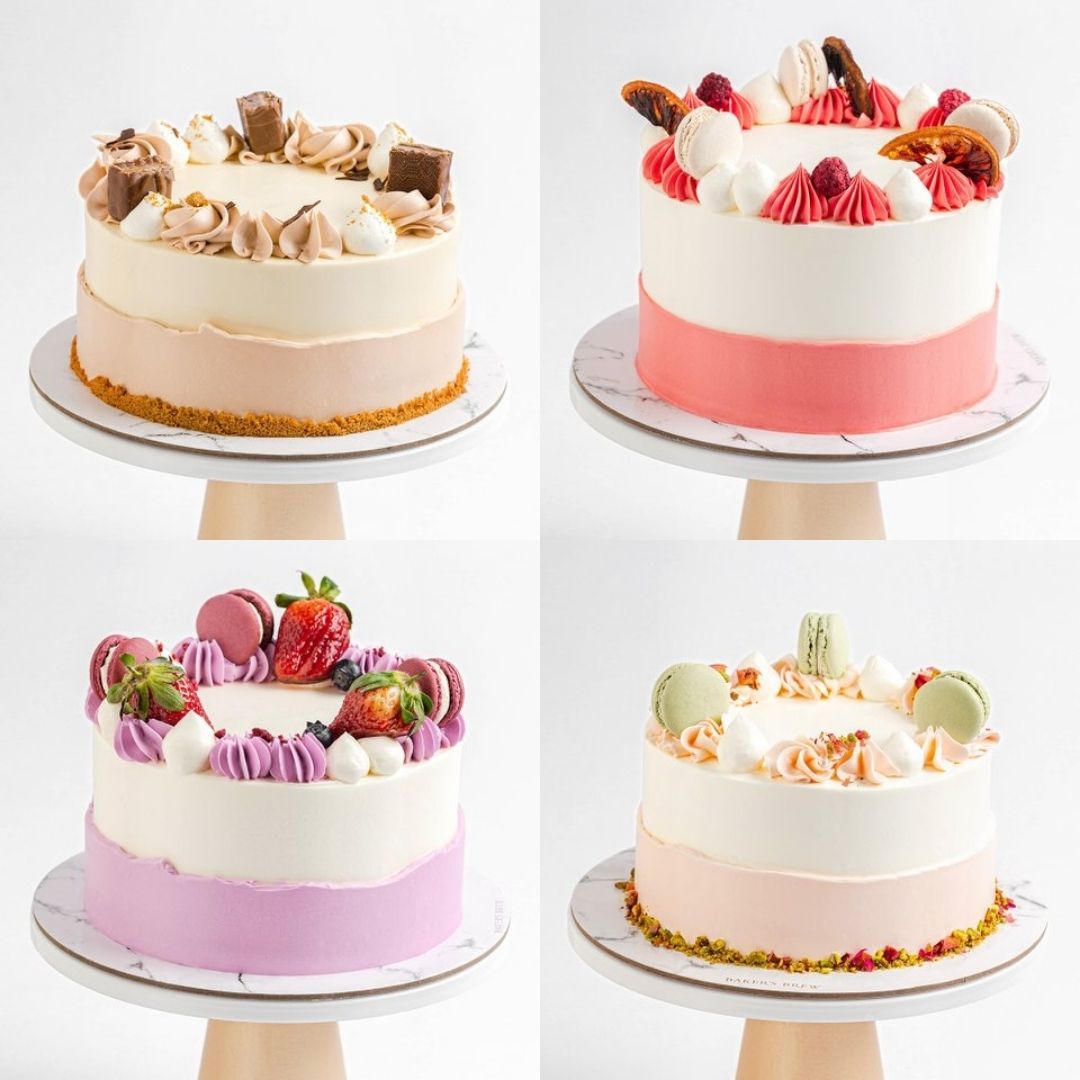 BEST FOR
Signature Pastry Box
AVERAGE PRICING
$20.80 – $78
CAKE OPTIONS
Classic Cakes
Bespoke Cakes
Cupcakes
DELIVERY FEE
Island-wide delivery is $15
SAME-DAY DELIVERY
Not available, 3-day notice is needed
PAYMENT OPTIONS
Major credit cards, cash
CONTACT INFORMATION
[email protected]
+65 8877 8870
OPERATING HOURS
Monday – Sunday: 10:30am-8pm
Another bakery to consider for cake delivery is Baker's Brew. They offer celebratory and customized cakes that are as gorgeous as they are delicious.
Aside from that, though, other pastries and treats are available to buy at Baker's Brew. Cupcakes, loaves, mooncakes and dessert boxes of varying flavours are definitely recommended to try with their cakes.
What's more, they have multiple on-site locations, all provided with state of the art equipment and professional chefs. It's also one of the many reasons customers love about them: the accessibility.
Consider asking Baker's Brew to create you a fantastic cake for whatever event you may need it. They're readily available to accept requests. Just head on to their website to send a form or contact them for specifics.
Service Reviews
Creates bespoke cakes
Fruit-based cakes and treats
Offers baking classes
Other desserts available
21. Joey Cakes & Pastries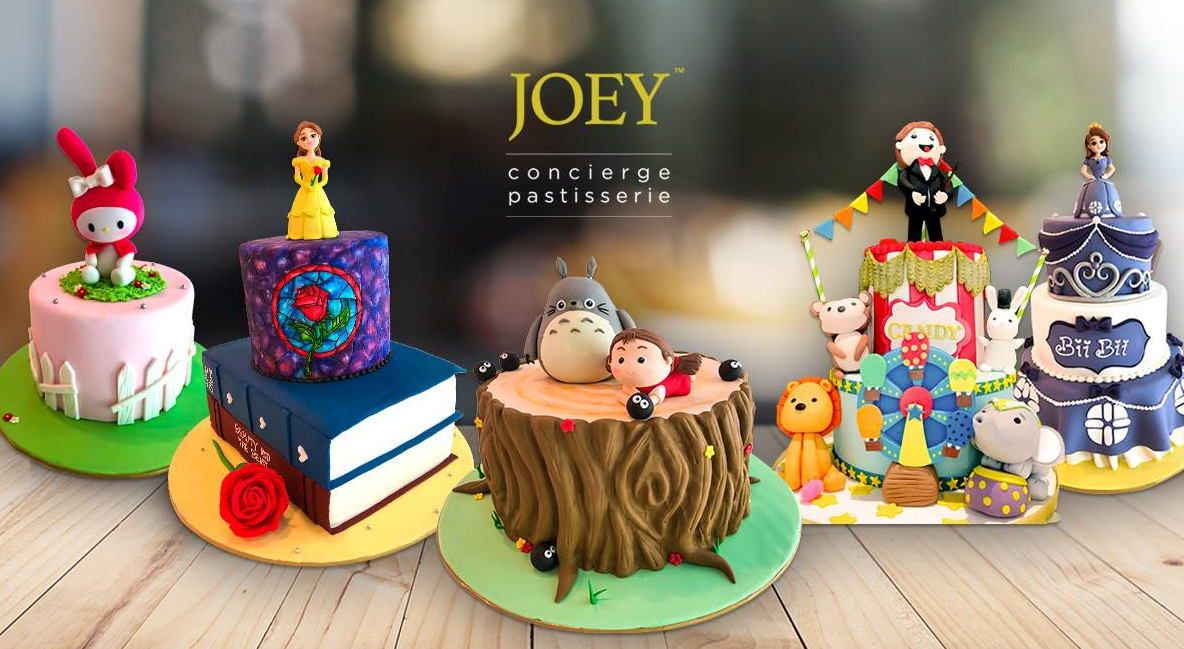 BEST FOR
Halal Cakes and Desserts
AVERAGE PRICING
$28 – $118
CAKE OPTIONS
Durian Pastry
Signature Cakes
Photo Print Cakes
Artisan Cakes
3D Cakes
DELIVERY FEE
$10
SAME-DAY DELIVERY
Yes
PAYMENT OPTIONS
Major credit cards, PayPal
CONTACT INFORMATION

3157 3627
9830 1010

OPERATING HOURS
10AM – 8PM
Next on our list is a dessert shop that makes an excellent choice for customers looking for Halal options.
Joey Cakes and Pastries is considered one of the best halal cake delivery services in Singapore for quite some time now. The shop's catalogue features a wide array of cakes and pastries, including the shop's Signature collection, artisan cakes, photo print cakes, 3D cakes, and even Durian pastries. 
As previously mentioned, Joey Cakes and Pastries is halal-certified, so there's no reason to worry when perusing through the shop's offerings.
It's also worth noting that Joey Cakes and Pastries provides island-wide cake delivery services every day of the week. Customers also have the option to specify the date and time, given an additional fee. 
Service Reviews
Halal-certified desserts
Delivers seven days a week
Durian pastries available
And that's it for our list of the top places to call for the best cake delivery services in Singapore! If you've tried any of them, let us know in the comments below!
Did we miss anything in our list? Share it with us in the comments below!
Should you want your cake delivery in Singapore to go with a beautiful bouquet of flowers, you may want to check out our list of the top florists for a flower delivery in Singapore. Whatever momentous occasion you're celebrating, flowers and cakes are sure to make it even more special.