The 10 Places for Best Dry Cleaning in Singapore
When we see a bunch of piled up clothes, it's a little bit stressful to think that we don't have enough time to deal with them. This is where it would be useful to know the top providers of the best dry cleaning in Singapore.
The best dry cleaning services give us flexible options for cloth pickup, delivery, and the like. Aside from this, they also offer services such as ironing, curtain or carpet dry cleaning, and many more.
To explore more of these services, here are the top options for the best dry cleaning in Singapore. These are the ones who will help you manage all your laundry tasks and keep up with your hectic schedule!
1. Cleaning Compare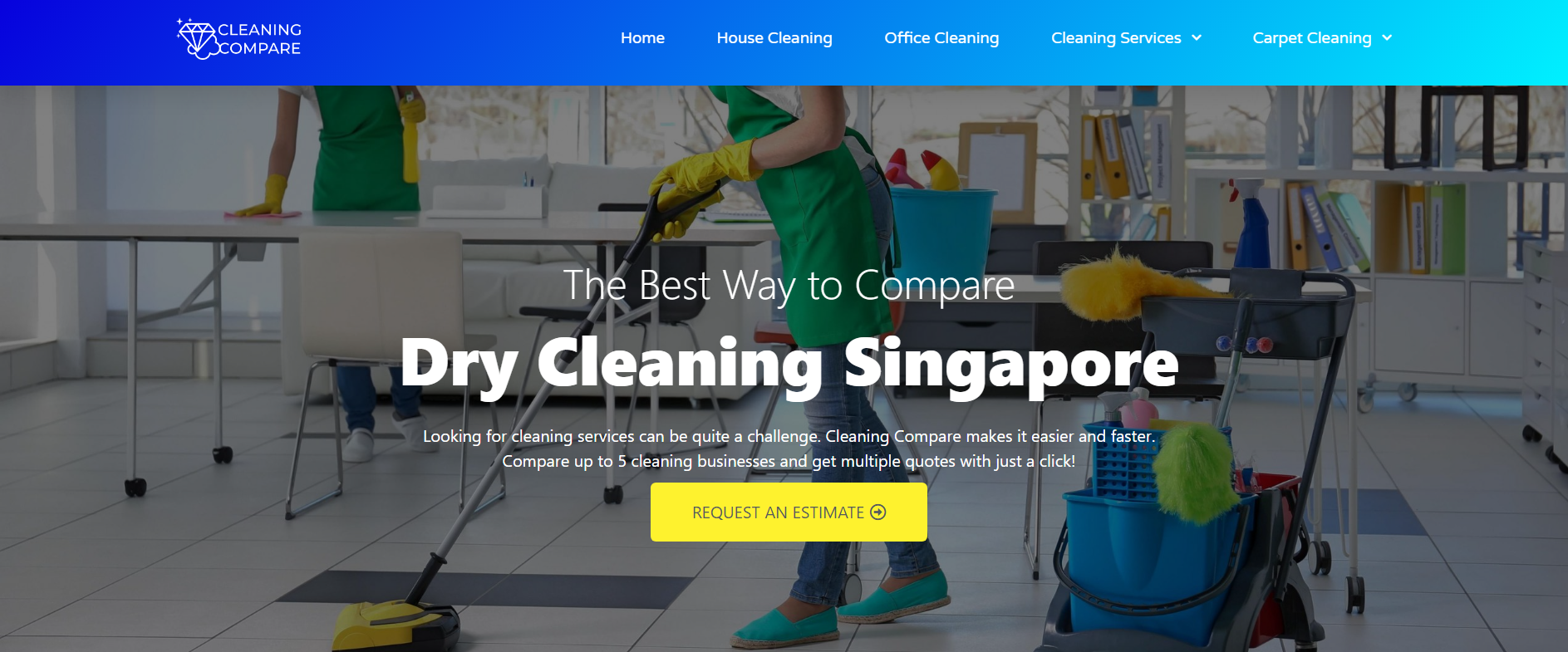 Cleaning Compare can connect you to a wide array of cleaning companies worldwide. Whether you want an independent cleaning service or a trusted franchise, you can compare their prices and services on their site.
You don't even need to wait a long time for an estimate. Once you're done filling up our form, you get sent a price list and you can compare cleaning service prices as soon as possible.
 We also like that Cleaning Compare acts like a portal to recognised companies so whenever you wonder "Is there a dry cleaning near me?" you're bound to find one with this site.
Highlights
Reasonable rates
Helps you look for the best professionals
Gives you a wide range of options
2. A&B Professional Dry Clean & Laundry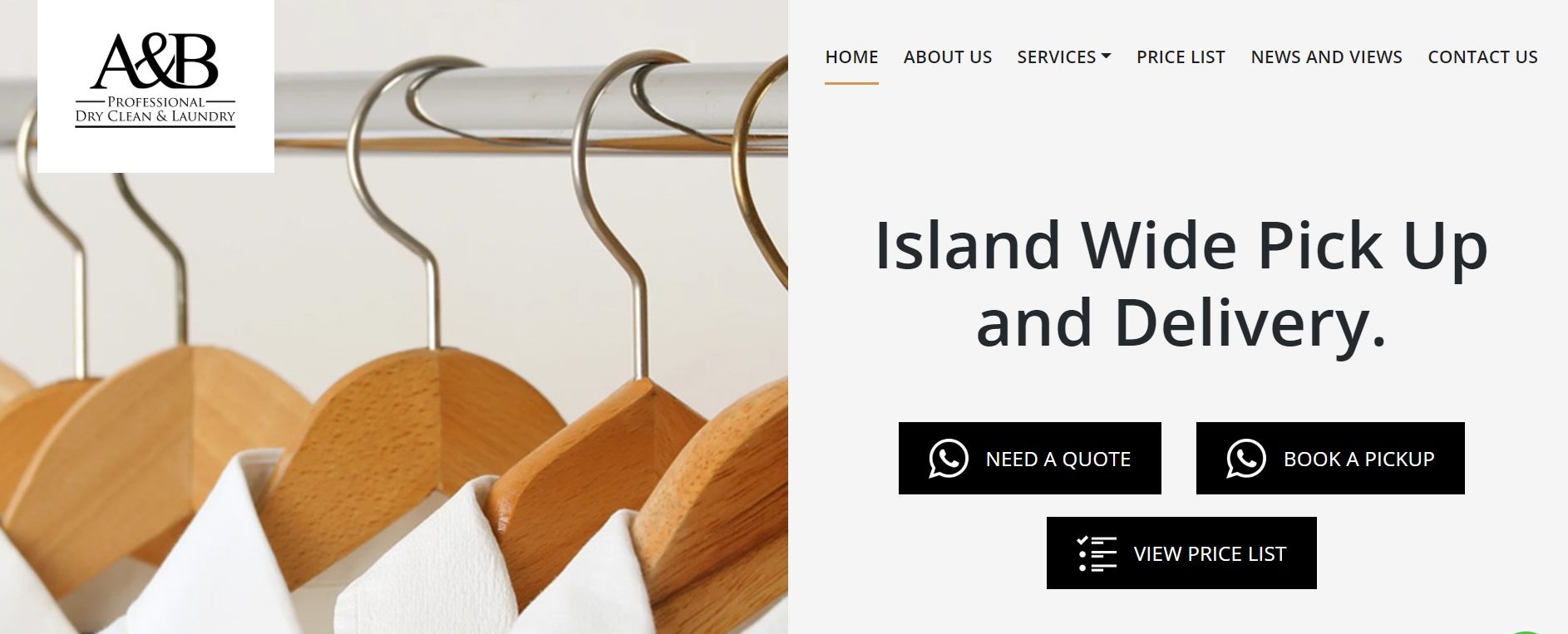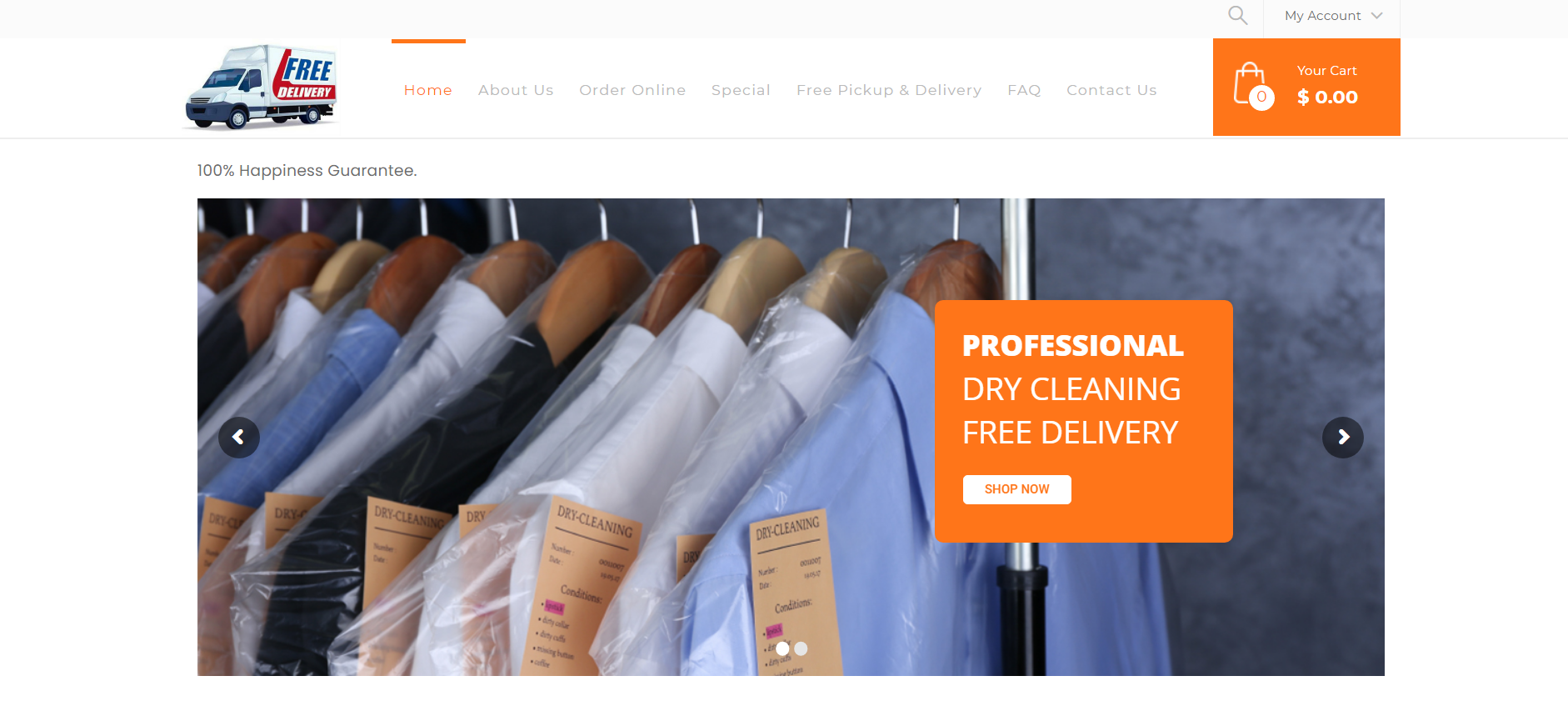 If you want dry cleaning services in Singapore that make things really simple and easy for you, you must consider A&B Professional Dry Clean and Laundry.
With the hustle and bustle of life, A&B Professional Dry Clean & Laundry understands that having your clothes and household items washed can simply be too much for your already packed schedule. With their pick up and delivery services however, your life just got a whole lot easier!
Their drivers will get your items to be washed and return them to you once they're squeaky clean. They also do island wide pick up and delivery so no need to worry about dry cleaners near me and you, they will service us all. Now you won't have to worry about penciling in when you can have your things washed, because they can do it all for you!
Highlights
Quick Turnaround Time
Reasonable Prices, High Quality
Has Occasional Discounts
Customer Reviews
A&B Professional Dry Clean & Laundry is loved by many for the quality of their work as well as their team's efficiency.
A customer from Google Reviews recommended their services and wrote:
"Good laundry service! Driver very polite!"
3.  Astoria Dry Cleaning Services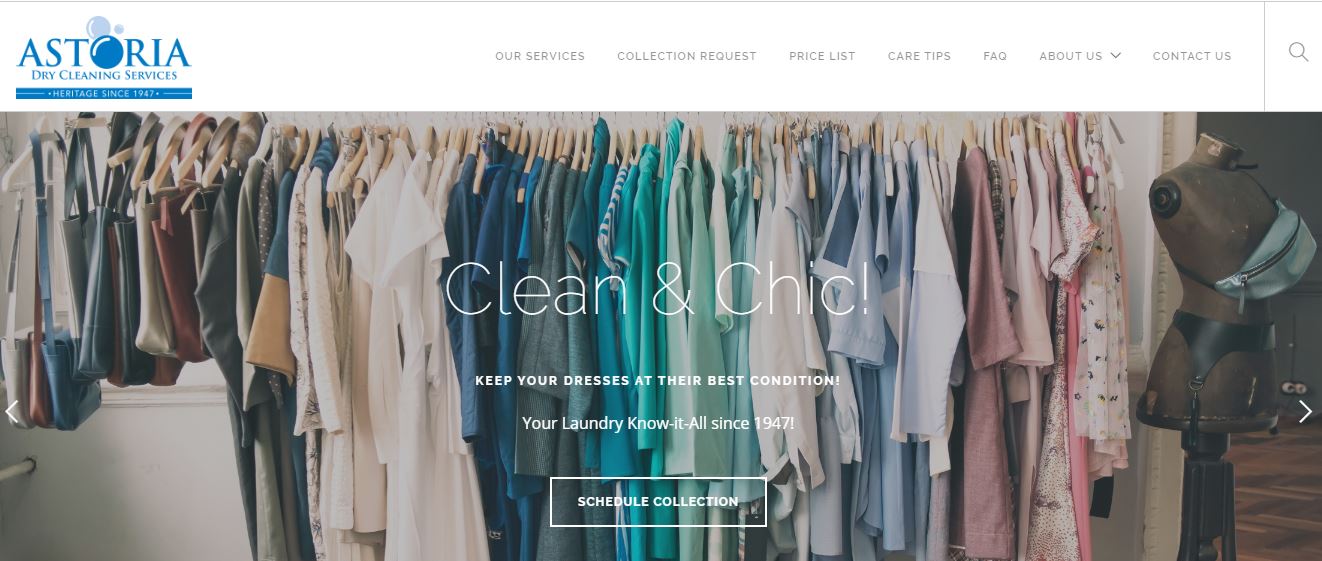 Being in the laundry industry for several decades, Astoria Dry Cleaning Services has become one of the leading services for dry cleaning in Singapore that cater to high-end clothing labels and even government establishments.
They offer laundry, dry clean, pressing, as well as a bag or shoe cleaning and restoration. When it comes to their dry cleaning services, they use different kinds of solvents for certain fabrics to effectively treat stains, proving they indeed offer the best dry cleaning in Singapore.
Highlights
Free collection and delivery anywhere
Free return of clothes
4.  KnocKnock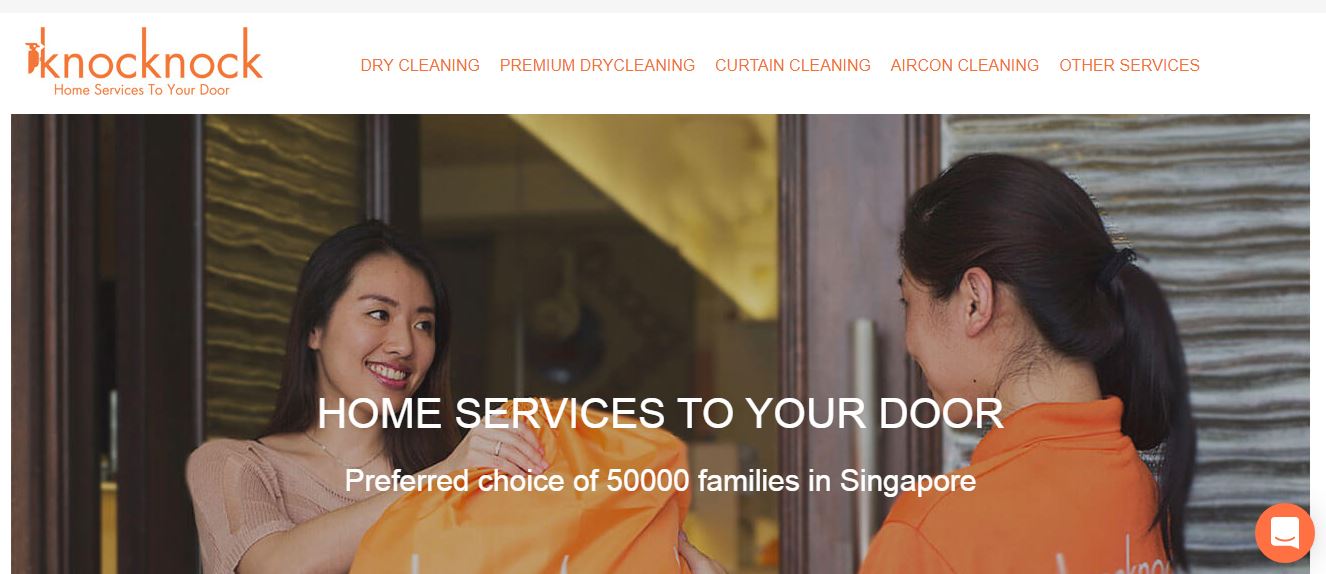 Dry cleaning sometimes gets a bad rap for not being eco-friendly so if you want dry cleaners in Singapore that are environmentally friendly, this one's for you. KnocKnock is known for its eco-friendly laundry techniques that'll dry clean and take extra care of your suits.
Apart from their best dry cleaning in Singapore, they offer a complete range of services, which include cleaning your sofa, curtain, carpet, mattress, aircon, and even general house cleaning.
Pest control is also part of their services to keep your place protected from any harmful pests. They've also made it easier for you to acquire their services as they have a mobile app where you can book a collection online and manage the time of pickup or delivery anytime and anywhere you want.
Highlights
Special promotions for first orders
Mobile app service
Customer Reviews
Most customers were pretty satisfied with the full set of dry cleaning services of KnocKnock. They mentioned that the staff were very professional and reliable as they provide absolutely fresh and clean clothes.
A customer from Google Reviews recommended their services and wrote:
"Pretty convenient set of services for anyone living in Singapore.
Much easier to deal with Knock knock than with 6 different providers of A/C cleaning, mattress cleaning, laundry and dry cleaning. Would definitely recommend to get them out"
5. Fresh & Clean Laundry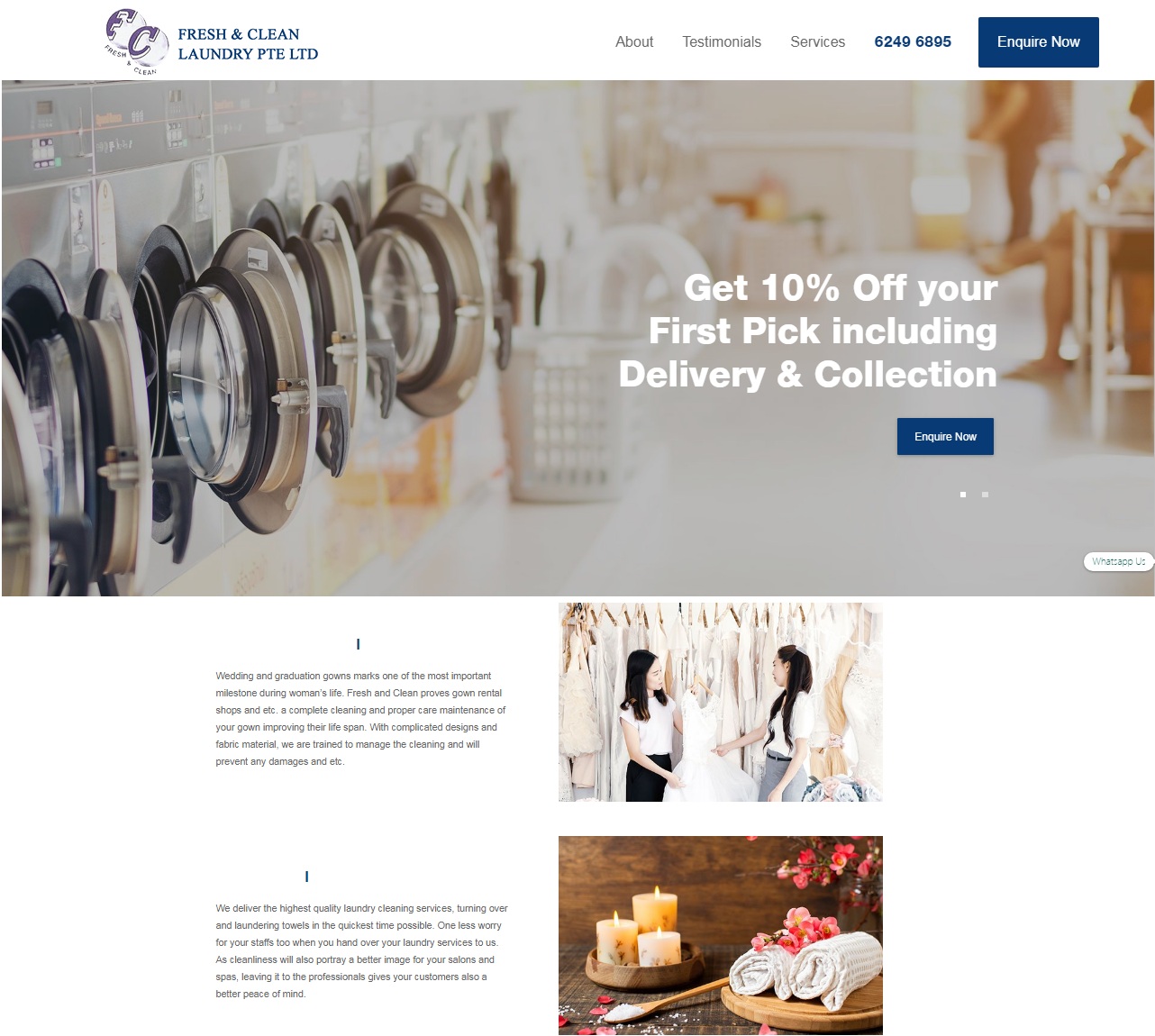 Best For
Latest laundry and dry cleaning machines
Services
Table Linens

 

Corporate Uniforms

Gowns

Curtains

Towels

Carpet

Website
http://www.freshnclean.com.sg
Address
5 Yishun Industrial Street 1
#01-23 Singapore 768161
Contact Details
+65 67504781

 

Hours of Operation
N/A
Founded in 2014, Fresh & Clean Laundry continues to provide locals with quality laundry and dry cleaning to this day. They offer their excellent services to numerous restaurants, spas, gyms, hotels, and homes all around Singapore.
Their shop uses the latest technology when it comes to cleaning, as well as the best cleaning materials. You can count on their responsible staff to keep your items clean and tidy.
What made us include them in our list of best dry cleaners in Singapore is that on top of clothes, they also dry clean towels, curtains, carpets and other household items. 
Highlights
10% discount for first time clients
Professional laundry service
Affordable pricing
Customer Reviews
I got them to help with my mums flat after the HIP upgrading works which was really messy.The cleaners were friendly,obliging and were very patient with my 77 year old mothers requests.Would recommend anyone to use Fresh and Cleans services! – Nanan Wang
6.  Presto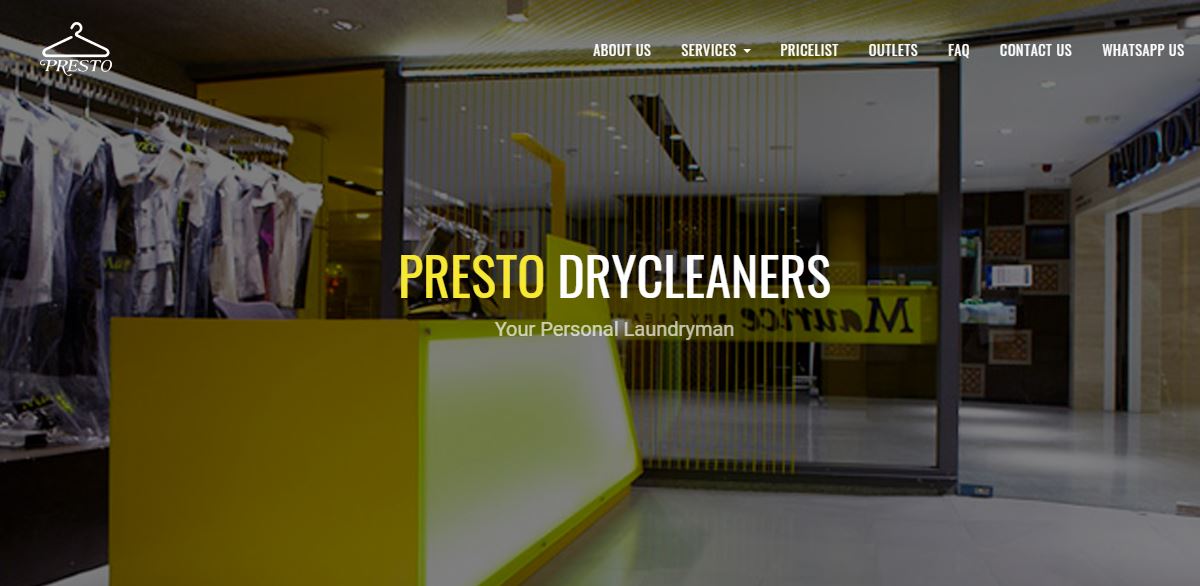 BEST FOR 
Efficient delivery and pickup schedule
PRICING
Rates
WEBSITE
https://www.prestodrycleaners.com.sg/
ADDRESS
Locations
CONTACT DETAILS
+65 6354 3277
OPERATING HOURS
Monday to Friday, 08:00AM to 05:00PM
Saturday, 08:00AM to 12:00PM
(Excluding public holidays)
Presto is one of the most-mentioned dry cleaning services in Singapore, for they provide a broad range of services including dry cleaning, leather and suede cleaning, stain removal, sewing or mending, alteration of garments, and many more. They also manage curtain and sofa covers.
Having numerous outlets islandwide, they indeed offer the best dry cleaning in Singapore. They also offer a faster turnaround with their same-day delivery or super express service.
Highlights
Open daily
Same-day delivery service
7.  Fresh and Clean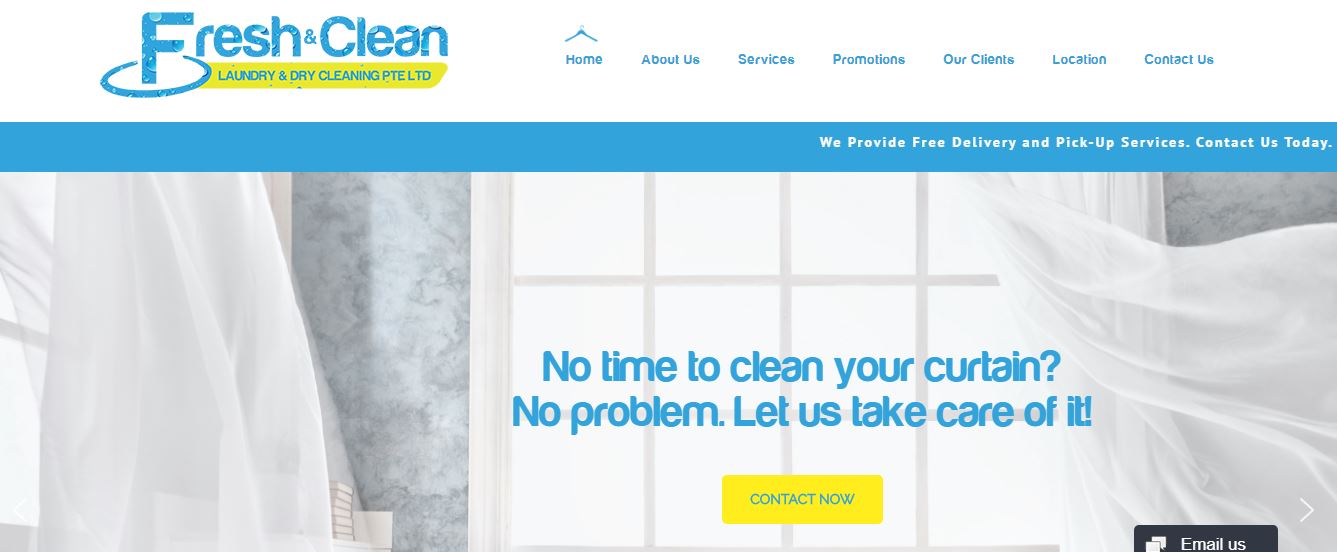 Fresh and Clean provide laundry and dry-cleaning services for your clothes and apparel with fair charges. This involves business attire, costumes, gowns, casual wear, curtains, and corporate requirements.
They also offer express service in case you need your clothes or other garments to be cleaned urgently, which is one of the reasons why they're considered to offer the best dry cleaning in Singapore.
For the loyal customers, you'll love their discounted promotions and will surely keep coming back for more perks!
Highlights
Express service
Special promotions
Customer Reviews
Customers find their service to be very convenient and practical, for they're open even on the weekends. They also talked about how Fresh and Clean is well-equipped with several washing machines, letting them finish a lot of work within a day.
A customer loved their services and posted these compliments on Google Reviews:
"One of the rare dry cleaning places that opens almost every day of the year, the service is fast and the price is very competitive. The staffs is friendly even though its a terrible Sunday to work in. Place is quite ulu considering it is in the woodlands industry estate. Place is well equipped with countless number of washing machines, there is a aroma of freshly clean clothes in the vicinity."
8. Laundrymart Somerset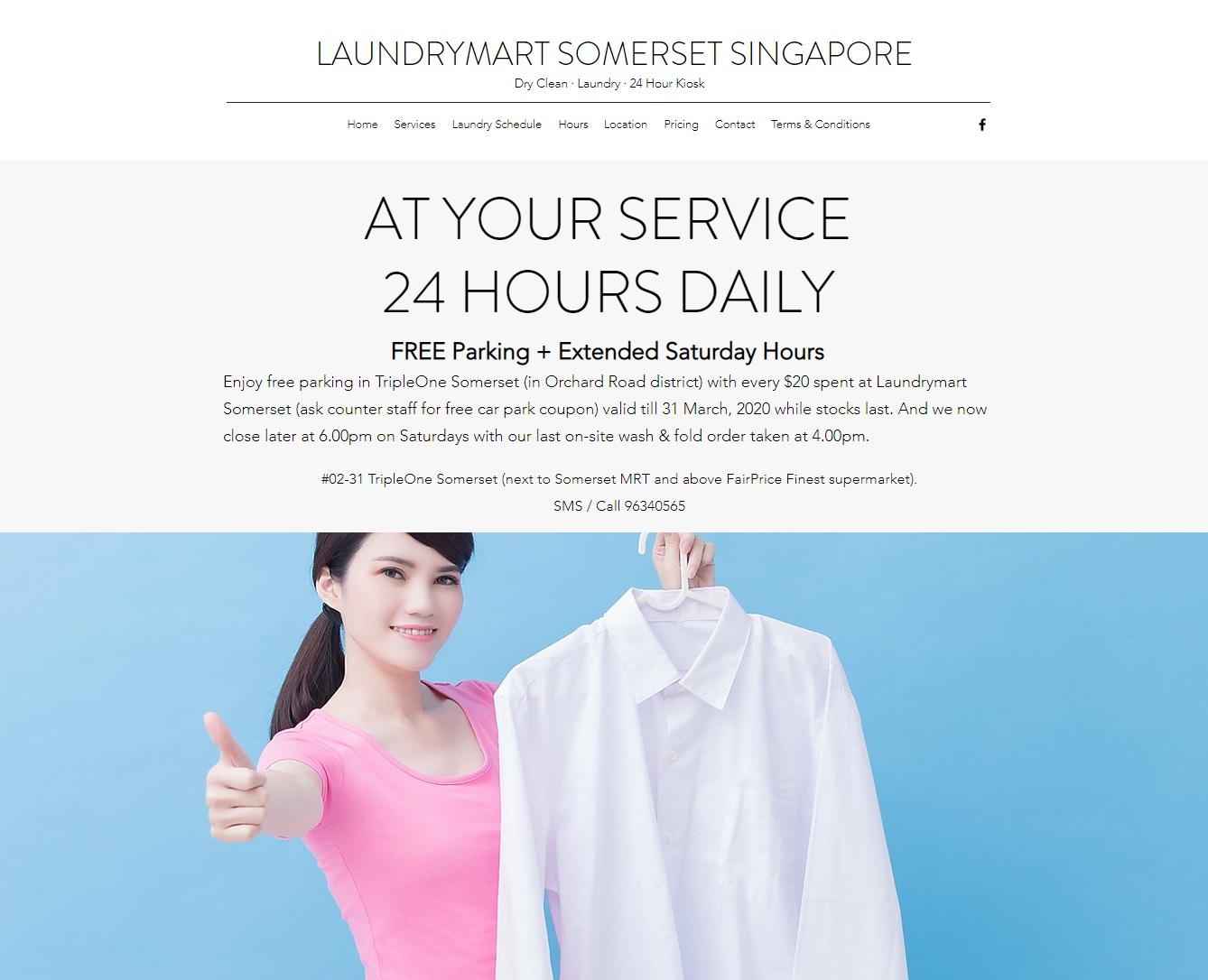 BEST FOR

Professional Services

SERVICES

2 HOURS WASH & FOLD, ANY TIME DRY CLEANING & LAUNDRY, 1 DAY EXPRESS DRY CLEANING & LAUNDRY SERVICE

WEBSITE

https://www.singaporedrycleanlaundry.com/

ADDRESS

#02-31, 111 Somerset Rd, TripleOne Somerset, Singapore 238164

CONTACT DETAILS

9634 0565 |

[email protected]

 

OPERATING HOURS

Monday

Open 24 hours

 

Tuesday Open 24 hours

Wednesday Open 24 hours

Thursday Open 24 hours

Friday             Open 24 hours

Saturday Open 24 hours

Sunday Open 24 hours
At Laundrymart Somerset's professional services, you can have your garments dry cleaned any time of the day, all days of the week. You can use their drop-off and pick-up kiosk (with credit card payment) for convenient dry cleaning and laundry service any time most convenient for you.
They also provide 1 work day express service where you can drop off your laundry and pick it up on the same day. These services are very suitable for those customers who don't have the luxury of time to run their errands frequently.
Laundrymart Somerset is definitely your go-to for general dry cleaning services in Singapore that offer express cleaning.
Highlights
On-Site Express Service

24 Hours Kiosk for Drop-Off and Pick-Up

For Urgent Dry Cleaning & Laundry
Customer Reviews
Here's what one of their clients posted on Google Reviews.
"Didn't expect to find a laundry store in Orchard Road area that wash clothes inside their store. Took me about 2 hours to get clothes wash, dry and fold. Convenient above NTUC in TripleOne Somerset. They also do dry clean. Staff is friendly. Mall a bit quiet but easy to find next to Somerset MRT. "
9. Cloud Story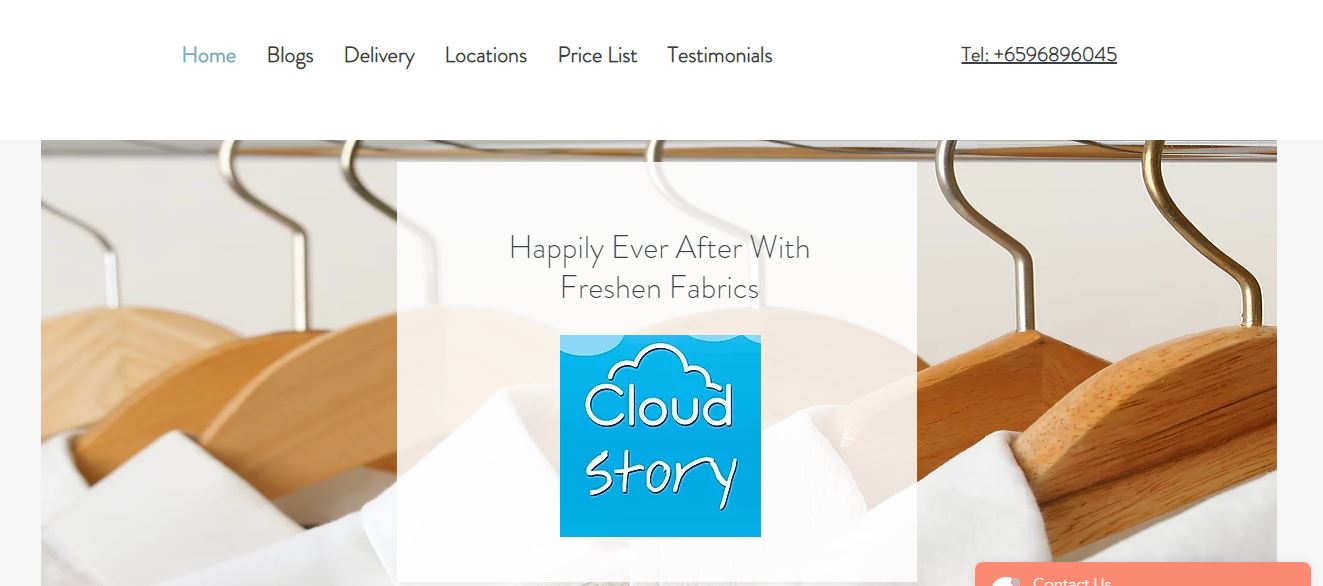 If you're getting ready for a grand celebration and you have no idea how to properly wash or iron your outfit, then you should take a look at the services of Cloud Story. They have a fully-packed dry cleaning service, as they manage gowns, costumes, and more.
Curtains, carpets, mats, as well as leather care, are all part of their service range. To be more convenient, they also provide collection kiosks around the island so you can go to the nearest one and leave or pick up your clothes.
Hands-down, one of the best dry cleaning services in Singapore as they also offer ironing for clothing.
Highlights
Speciality in colour preservation of clothing
Business opportunity for laundry agent
Customer Reviews
Many customers say that the pickup and delivery service of Cloud Story has been a great help for their hectic schedule. That's why they're one of the services for the best dry cleaning in Singapore.
A customer left this feedback on Google Reviews:
"Laundry and dry cleaner store near my house. Since I always finish work after 9pm, their 24 hour drop off and pick up machine has been a great help. But do noticed that some of the bulky items like comforter can only be picked up during opening hour 9.30am-9pm. They have started their laundry / dry cleaning pick up & delivery service.
Love it!!!"
10. Eazihome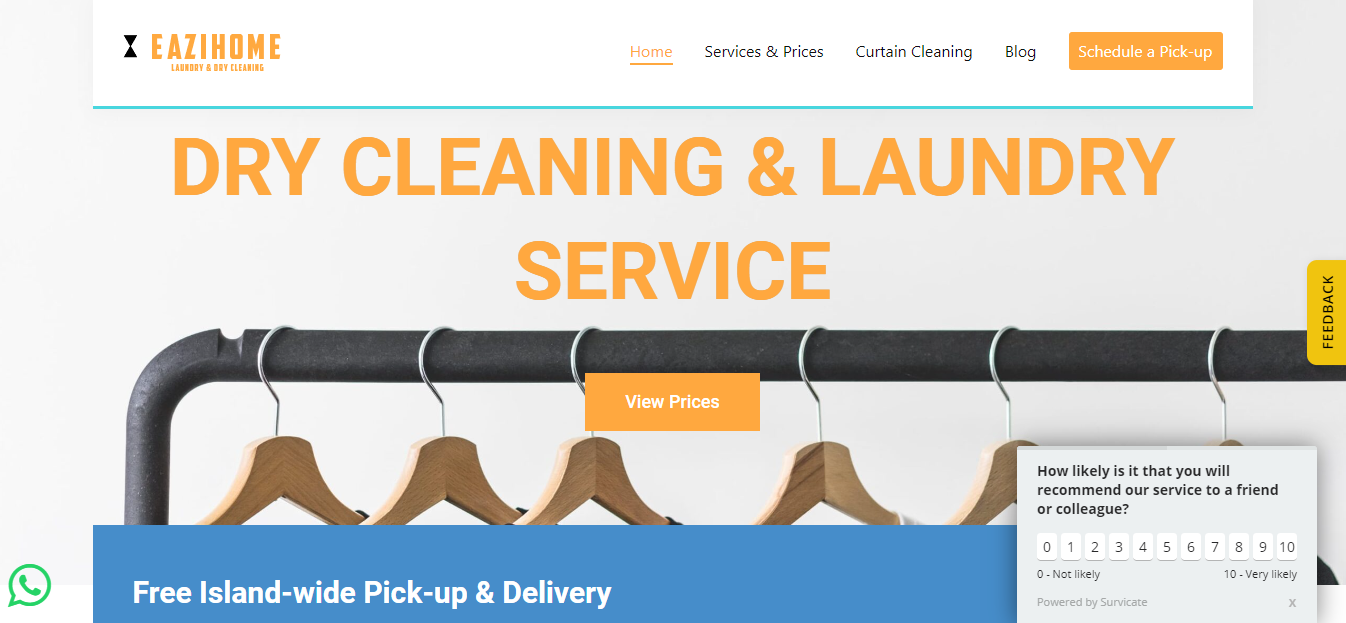 BEST FOR

Dry Cleaning and Laundry Services

SERVICES

https://eazihomelaundry.com/prices/

WEBSITE

https://eazihomelaundry.com/

ADDRESS

Buangkok

 

275D Compassvale Link, Buangkok MRT Exit B, Opposite NTUC FairPrice, Singapore 544277

Bukit Batok

Blk 159 Bukit Batok Street 11, #01-186, Singapore 650159

CONTACT DETAILS

+6591686865 | +6591691185

 

OPERATING HOURS

Open everyday from 10:00AM-7:00PM
Eazihome is a dry cleaning and laundry shop located in both Buangkok and Bukit Batok. They offer various services, being able to clean a wide range of clothing and household items.
Not only that, they have options for customers to either have their items picked up or delivered to their homes. Their outstanding and affordable services bring more ease to the lives of customers. 
Highlights
Affordable prices

Cleans clothing and household items

Pick-up or delivery option
Customer Reviews
Here's a review from one of Eazihome's clients:
"Engaged them for home curtain cleaning and delivery, reasonably priced and hassle-free, can visit home after working hours too. Highly recommended for home owners who are looking to have their curtains cleaned for festive season!"
Here's another one:
"Better service than the one in Compasspoint and charge way cheaper. Would definitely come back!"
And that's a wrap for our list of the best dry-cleaning in Singapore! Have you already figured out which one has the most accessible and convenient services? If so, share with us your thoughts as we'd love to hear them from you!
For more options, see these best laundry services in Singapore! They also offer dry cleaning, carpet and curtain cleaning, and more, so you'll certainly love our picks!