16 Best Personal Loan Interest Rates in Singapore for 2021
Personal loans in Singapore always come in handy, especially when you're about to purchase something big like a home or car. However, you should only borrow money from the best lenders for personal loans in Singapore.
Since we want to make your research easier, we did the work ourselves and compiled the best options for personal loans in Singapore for you! Check them out below.
1. Lendela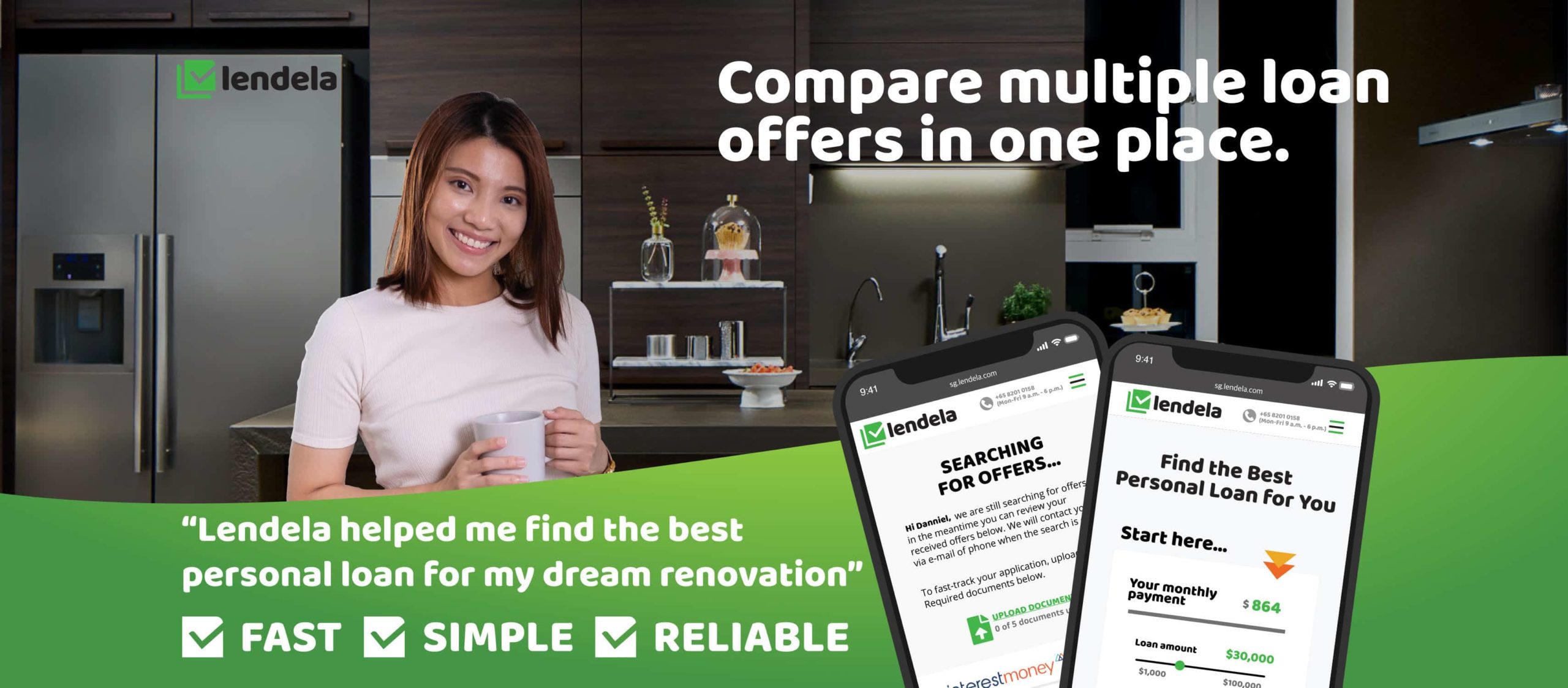 BEST FOR 
Multiple Personalised Offers
SERVICES
Debt consolidation
Cash loan
Wedding loan
Student loan
Quick loan
WEBSITE
https://sg.lendela.com/
ADDRESS
Lendela Pte. Ltd. (UEN: 201801220D)
Funan
109 North Bridge Rd, #07-21
179097 Singapore
CONTACT DETAILS
OPERATING HOURS
(Mon-Fri 9 a.m. – 6 p.m.)
One of the hardest parts of getting a loan is finding the best money lender in Singapore, as well as monitoring the progress of your application. Fortunately, Lendela solves those problems, ensuring that your cash loan in Singapore is not only accepted, but also processed as fast as possible.
Lendela takes pride in their unique Fintech platform– which allows clients to find the best loan offers for them without any hassle. Transparency is part and parcel of their services, where they ensure that you are immediately informed of any prospective offers from their partnered lenders.
Best of all, you can count on them to be with you every step of the way. They will make sure that you not only know all of your choices, but also end up with a Singapore personal loan that suits your lifestyle and budget. No matter the type of loan you need, Lendela is sure to find the right one for you.
The requirements so you can apply include:
18 – 70 years old
Minimum monthly income of $1,200
Salaried Singaporean / PR / EP holder
Highlights
Personalised offers
Multiple Lenders
Full Customer Support
Easy Online Comparison
Customer Reviews
Here's what a few of Lendela's satisfied customers had to say:
"My experience was excellent. Staff by name Ben helped me through the process patiently and promptly that made my personal loan sg process easy. Appreciate!"
"Very proactive following up on the status and outcome of the application. Prompt and friendly sales rep. who shares best available solution to aid your application needs."
2. HSBC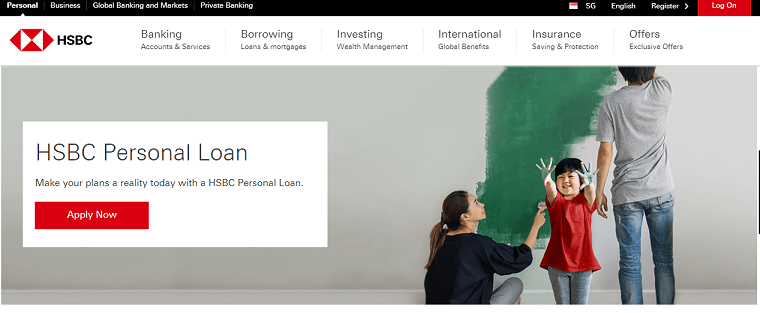 | | |
| --- | --- |
| BEST FOR  | Banking, Investments, and Borrowing |
| SERVICES | Loans, Mortgages, Debt Consolidation, and Home Loans |
| WEBSITE | https://www.hsbc.com.sg/ |
| ADDRESS | Singapore |
| CONTACT DETAILS | +65 6227 8889 |
| OPERATING HOURS | Monday – Friday, 9:30 AM – 5:00 PM, depending on the branch |
HSBC is a bank known all over the world, and that's why it's at the top of our list for the best options for personal loans in Singapore.
If you plan to take a loan from them, you can be entitled to a personal loan in Singapore valued at anywhere from one to 8 times your monthly income, which is significantly more than most banks can offer.
Some of their personal loan packages have the longest repayment terms (up to 7 years), depending on the conditions.
HSBC also has the fastest approval time. If you sign up online, you can sometimes get approval in not more than a minute!
To be eligible for their personal loans, you have to be between 21 to 65 years of age, and earn at least SGD30,000 annually. Contact them now to find out more about getting the lowest interest rate for personal loans in Singapore.
Highlights
Fast approval
Online application
Loan of up to 8 x your monthly salary
3. United Overseas Bank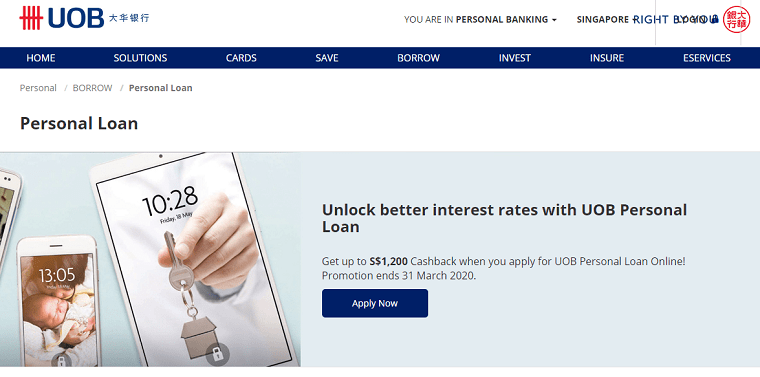 | | |
| --- | --- |
| BEST FOR  | Banking, Insurance, Borrowing, and Investment |
| SERVICES | Personal Loan, Balance Transfer, Debt Consolidation Plan, and Car Financing |
| WEBSITE | https://www.uob.com.sg/ |
| ADDRESS | 80 Raffles Place, 1 UOB Plaza, Singapore 048624 |
| CONTACT DETAILS | +65 1800 222 2121 |
| OPERATING HOURS | Monday – Friday, 9:30 AM – 4:30 PM |
 If you're looking for a bank offering personal loans in Singapore with a good interest rate, then look no further than United Overseas Bank. They offer a wide range of services that include banking, borrowing, investment, and even insurance.
What we like about this one is that it lets customers choose the repayment period of their loans, most ranging from 12 to 60 months. Some even get cashback of up to $1,200 when they choose 36, 48, or 60 months.
What's more, you get to control your monthly finances effectively because of their fixed monthly rates. Unlike other banks, you will not be shocked with your monthly dues!
As long as you're over 21 and under 60 years old and earn an annual income of at least SGD30,000, then you're pretty much eligible for their personal loans. It's not a surprise to know that they have been considered one of the best personal loans in Singapore for 2021. 
Highlights
Low interest rates
Easy approval
Cashback promos
Long repayment periods
4. POSB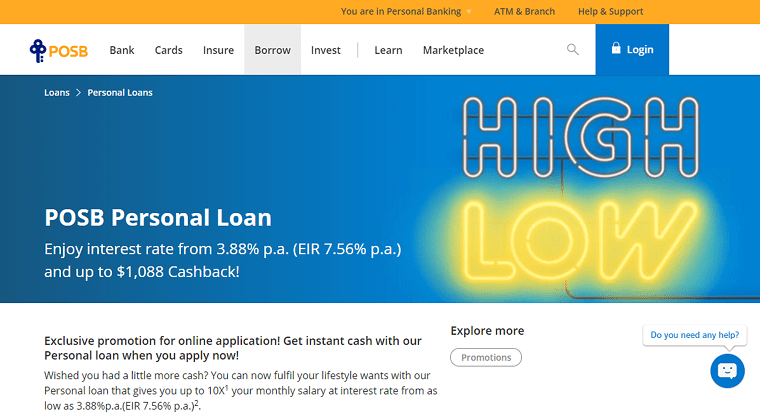 | | |
| --- | --- |
| BEST FOR  | Banking, Insurance, and Borrowing |
| SERVICES | Personal Loan, Home Loans, Car Loans, and Education Loans |
| WEBSITE | https://www.posb.com.sg/ |
| ADDRESS | 107 Lor 1 Toa Payoh, # 01-266, Singapore 310107 |
| CONTACT DETAILS | +65 6339 6666 |
| OPERATING HOURS | Monday – Friday, 11:00 AM – 7:00 PM |
 Sometimes, we just need a little help from a personal loan bank in Singapore to get things started. And maybe, the help we need is POSB, one of the most trusted banks in personal loans in Singapore.
With low interest rates and cashback of up to $1,088, POSB's personal loans are perfect for people who need money immediately. If most banks can take up a day to disburse personal loans, POSB can provide personal loans immediately!
What we truly love about their packages is that everyone is entitled to their promotions. As long as you apply for their loans online, you're automatically entitled to a cashback!
Whether you're using the loan to get your own home or for an emergency, POSB will definitely have your back. And this is why we considered them to be one of the best licensed money lenders in Singapore for 2021. 
Highlights
Low interest rates
Fast approval
Cashbacks
Promo for new customers
5. CIMB Bank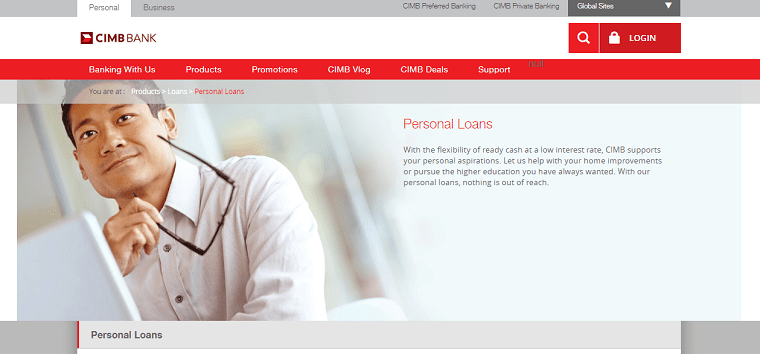 | | |
| --- | --- |
| BEST FOR  | Personal and Business Loans |
| SERVICES | Personal Loans, Property Loans, and Overseas Property Loans |
| WEBSITE | https://www.cimbbank.com.sg/ |
| ADDRESS | #03, 270 Orchard Rd, 02, Singapore 238857 |
| CONTACT DETAILS | +65 6333 7777 |
| OPERATING HOURS | Monday – Friday, 10:00 AM – 8:00 PM |
 If you think that applying for a personal loan is hard, wait until you see how fast your application can be approved with CIMB Bank. Known as one of Singapore's most trusted banks, it offers a wide rage of loan packages including education, home, and debt consolidation plans.
On top of their low interest rate, what makes CIMB Bank a worthy bank is their unwavering support to all their customers. Each loan plan is designed to help everyone pursue their dreams without inhibitions.
Highlights
Easy approval
Low interest rates
Loans for all purposes
6. I-Credit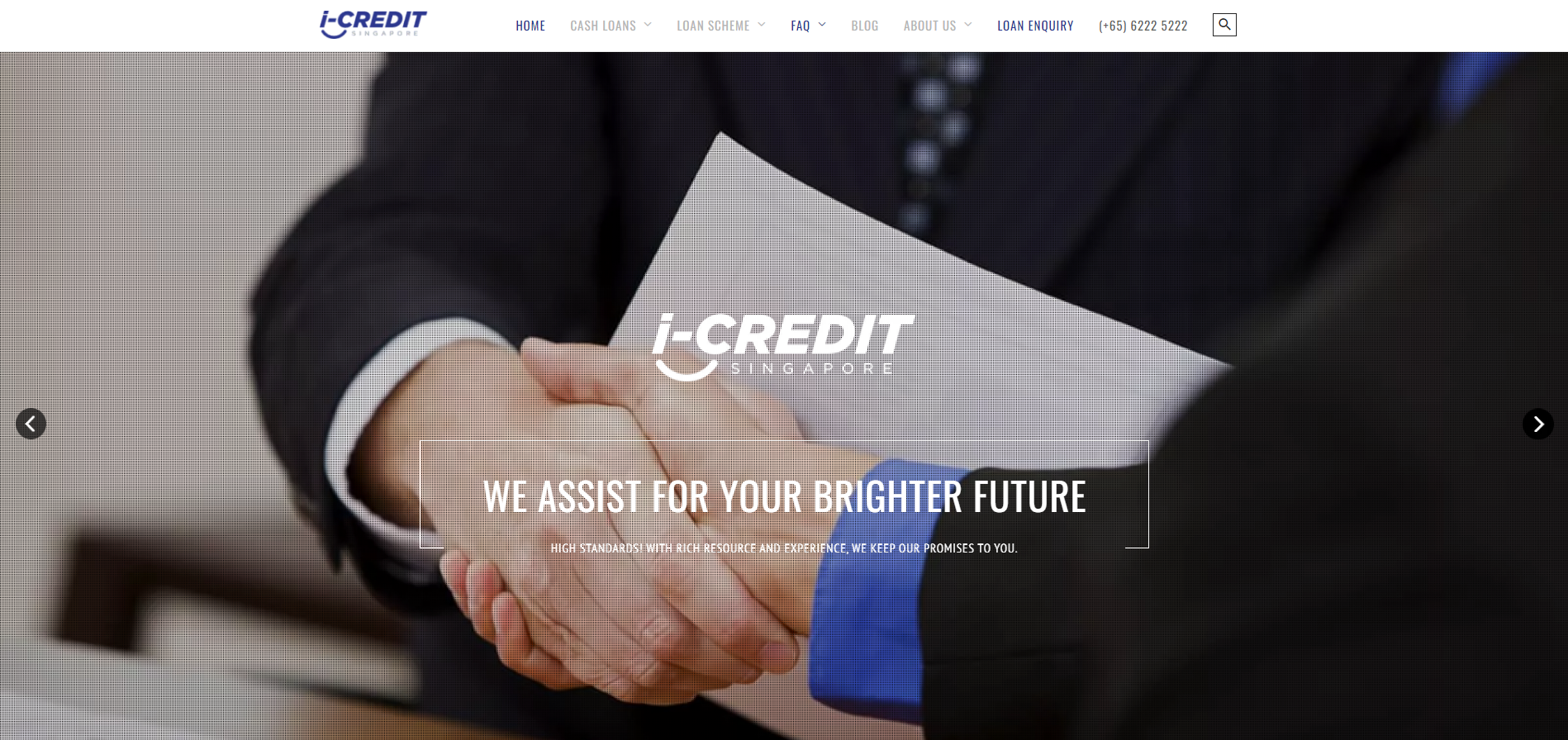 BEST FOR
Flexible Solutions
SERVICES
Personal Loan, Payday Loan, Secured Loan, Marriage Loan, Education Loan
WEBSITE
https://www.icredit.com.sg/
ADDRESS
82 Lorong 23 Geylang #05-02, Atrix Singapore 388 409.
CONTACT DETAILS
+65 6222 5222
OPERATING HOURS
Monday to Friday: 11:00 am – 8:00 pm
Saturday & Sunday: 11:00 am – 4:00 pm
Closed on Public Holiday ("open on selected" call to check)
Established in 2009, I-Credit's goal is to assist you with your finances– may it be recovering or taking the next step. With this in mind, they offer various personal loans that can be customised to fit any of your needs.
Their professional staff delivers services that are not only reliable but also transparent at all times. You can count on them to help you choose the loan option that is best suited for you.
Highlights
Competitive interest rates
Fast loan approval decision
Easy repayment methods
7. Best Credit
Best Credit Pte Ltd is a licensed moneylender in Bukit batok. They were formally known as Cing Dien Credit and was established in 1985. 
With more than 30 years of experience, they can provide clients with not only loans but also advice on what is the most suitable type of loan for them. The decades have given Best Credit wealth and knowledge in understanding any of their client's needs and concerns, tailoring every loan aligned to these two factors. 
Highlights
Tailored loans aligned to the client's needs

Quick loans
8. Quick Credit

Quick Credit Pte Ltd (formerly known as Reliahome Associate which was incorporated on 1st December 2001 and then change to Reliahome Associates Pte Ltd on 15th December 2002). With the years of experience behind them and the countless repertoires of clients under their belt, they have learnt a lot about each and individual specific needs for money lending facilities.
They have re-designed and re-package our money lending facilities to meet client requirements at an affordable rate. They believe in the quote "It's Your Finance, It's My Credibiity."
Highlights
Licensed moneylender

Quick and easy loan process
Customer Reviews
Here's a review from one of Quick Credit's clients:
"I have seek help from quick credit a few times. They are very professional. They listened and understand the hardship one is going through. Karman is very helpful. She assisted within her limit and explained In detailed manner. When in need, I know Quick Credit is always there for my family needs. Thank you Karman Wong and team 🙏"
Here's another one:
"Before entering the shop, I have my doubts in regards to moneylenders. But the service provided is very professional and they are willing to listen and can feel that they are keen to help me get the best rates. Hopefully I will not get myself to a bad money situation again but if there is, AP will definitely be one of my top choices. Many thanks to the manager of AP (didn't manage to get his name)."
9. EasyFind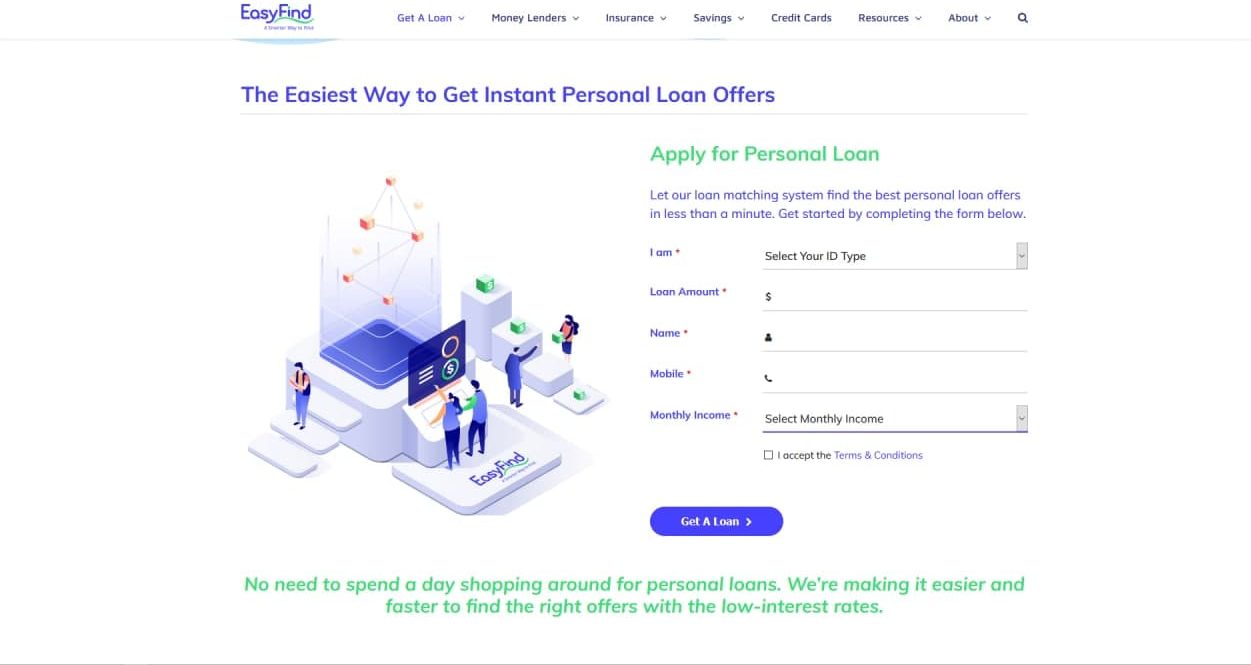 EasyFind is a Fintech loan-matching platform that allows users to easily find the best loan offers within seconds. All users need to do is note down the necessary details, like loan amount and monthly salary, and EasyFind will do the rest.
Aside from loan matching, EasyFind also provides loan and buying guides for those who come on their site. Anything that needs clarifying when it comes to general information regarding personal loans, they can address.
Highlights
Easy-to-navigate site
Quick searches
10. KBB Credit
BEST FOR
Reliable lending services
SERVICES
WEBSITE
https://kbbcredit.sg
ADDRESS
111, #01-35 North Bridge Rd, Peninsula Plaza, 179098
CONTACT DETAILS

+65 6255 6998

OPERATING HOURS

Tuesday
11am–9pm

Wednesday
11am–9pm

Thursday
11am–9pm

Friday
11am–9pm

Saturday
11am–6pm

Sunday
11am–6pm

Monday
11am–9pm
Founded in 2010, KBB Credit has unfailingly provided the people of Singapore with excellent customer service and the most flexible money lending programs. 
Regardless of the specifications of one's money problems, KBB Credit can lend a hand (and money) in no time. They achieve such a feat with the help of knowledgeable loan consultants who make it a point to note the clients' needs before offering them a program that can solve their problems. 
Highlights
Various loans available
Personalised loan plans
11. Soon Seng Credit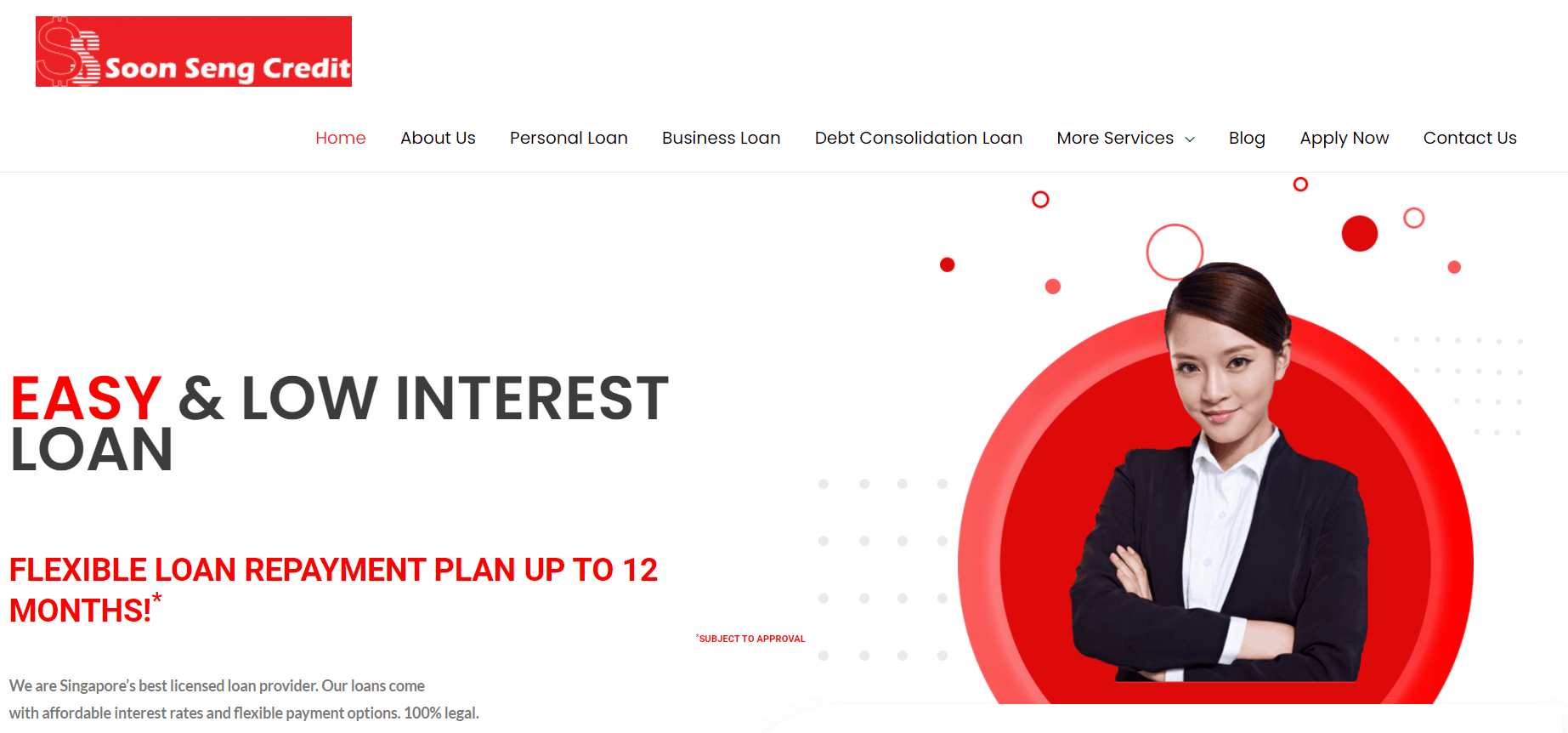 BEST FOR 
Professional service and Loan rates
SERVICES
Personal Loan, Business Loan, Debt Consolidation Loan, Grab/Gojek Loan, Renovation Loan, Wedding Loan, Medical Loan, Personal Loan For Foreigners, Bridging Loan, Study Loan
WEBSITE
https://soonsengml.com
ADDRESS
1 Park Rd, #01-21, People's Park Complex, Singapore 059108
CONTACT DETAILS
Email : [email protected]
Tel : 6226 8860
OPERATING HOURS
11.00am – 8.00pm (Mon to Sat)
Sun: 10.30 to 5pm
Closed on Public Holidays
The subject of loans and lenders typically means tricky business for the regular person. After all, there are so many factors that need to be considered when applying for loans.
Fortunately, there is one lender that strives to make it as simple as possible for the people of Singapore. That lender is known as Soon Seng Credit.
At Soon Seng Credit, the ""best"" loan is one that has been carefully tailored to meet the clients' needs. The experts at Soon Seng Credit always take the time to talk to each client, learning more about the situation, their needs, and current financial capacity and credit before moving forth with the loan options.
Aside from the tailor-fit loan options, Soon Seng Credit has also been commended for offering personal loans to both Singaporean residents and foreigners alike.
To close things off, it's worth noting that the team at Soon Seng Credit works tirelessly to accommodate all clients. They always keep in mind the company's policy, which is to work with honesty in mind.
As a result, clients can expect detailed explanations regardless of the loan they apply for. This way, the company policy is adhered and clients can know what to expect when working with Soon Seng Credit.
Highlights
Offers loans for residents of Singapore as well as foreigners
Prompt and professional responses
No hidden fees
Hassle-free loan application
12. Cash Direct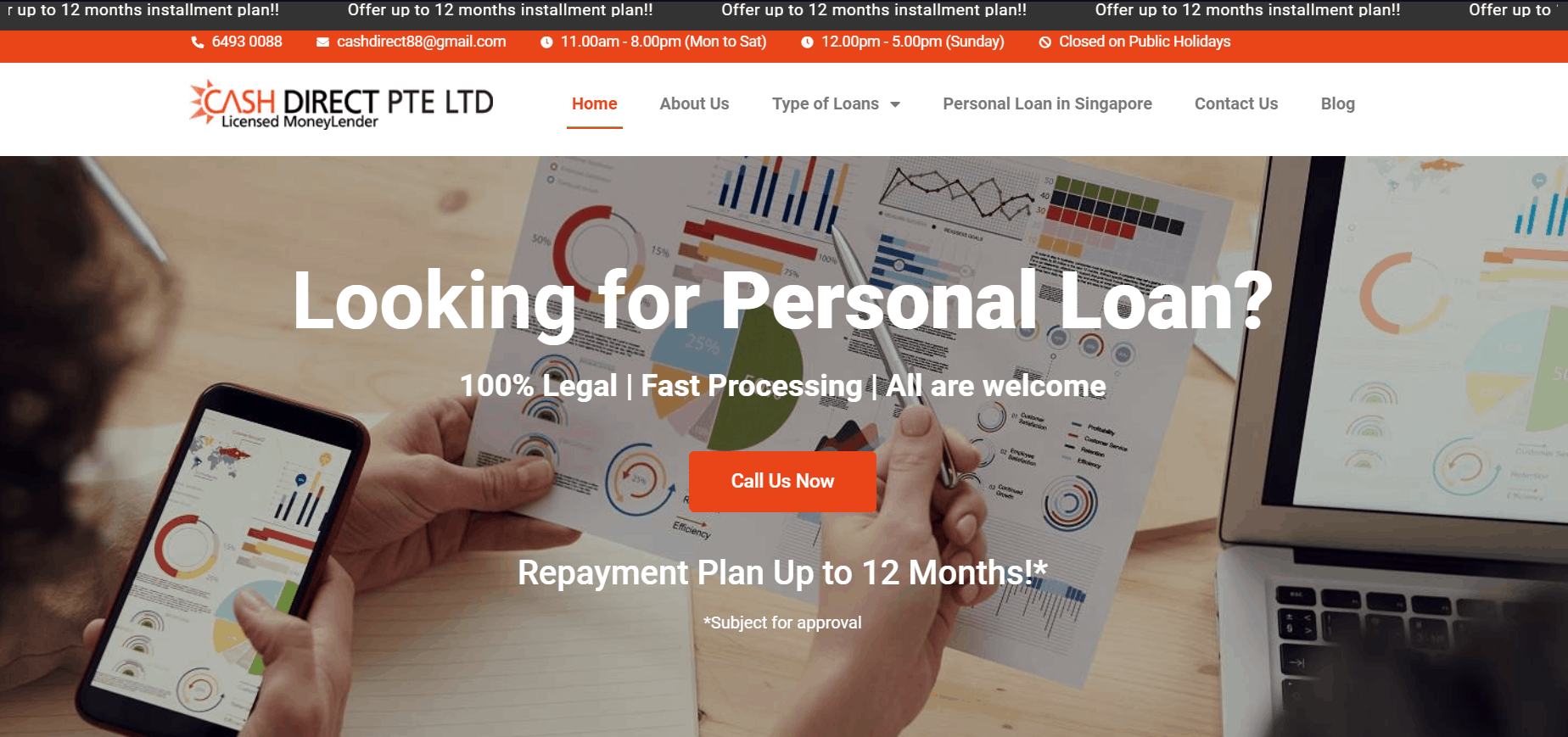 BEST FOR 

One-stop loan solutions

SERVICES
Foreigner Loan
Business Loan
Payday Loans
Debt Consolidation Loan
Grab/Gojek/Taxi loan
Bridging Loan
Renovation Loan
Medical Loan
Wedding Loan
Study Loan
WEBSITE
https://www.cashdirect.sg/
ADDRESS

Vision Exchange, 2 Venture Drive #01-21 Jurong East Central, 5 mins walk from Jurong East MRT Station Exit B, Singapore 608526

CONTACT DETAILS
Tel: +65 6493 0088
Email: [email protected]
OPERATING HOURS
Sunday: 12–5pm
Monday – Saturday: 11am–8pm
Cash Direct was established as a small company to help the people of Singapore through financial difficulties. Since then, they've expanded and now offer a multitude of loaning services aside from personal loans.
From business loans to wedding loans, and even bridging loans, rest assured Cash Direct can assist you.
If you're considering employing their services, you can easily do so thanks to their convenient location. You can also apply for the loan in their website, in case you're unable to head to their address.
With their fast loan processing, they need only your basic details and the amount you're trying to loan, the rest will be checked after.
Highlights
No unnecessary requirements
Competitive interest rates
Urgent cash lending
13. QuickLoan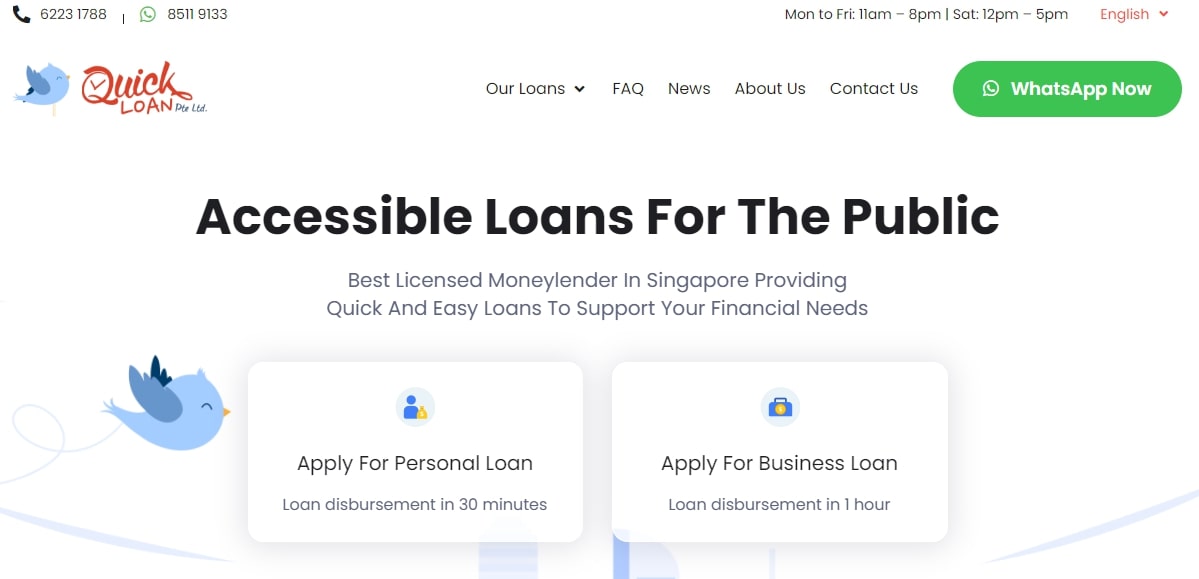 BEST FOR

Personal Loans

SERVICES
Personal Loan, Foreigner Loan, Business Loan
WEBSITE
https://www.quickloan.com.sg/
ADDRESS

International Plaza

10 Anson Road
#01-15 Tanjong Pagar
Singapore 079903

CONTACT DETAILS

Email: [email protected]

OPERATING HOURS

Mon – Fri : 11am – 8pm

Sat           : 12pm – 5pm 

Closed on PH
QuickLoan Pte Ltd is a licensed moneylender located in Singapore's CBD area that provides customers with quick loans and low interest rates.

Unlike traditional banks, their application requirements are less stringent to accommodate more people. Moreover, their loan packages come with flexible repayment plans that can be adjusted according to a client's job.
QuickLoan's staff is welcoming and attentive to any client that approaches them, going above and beyond to find the perfect loan plan that suits their client's needs. With their knowledge of the current rates and developments in finance, they'll be able to provide the loan with the best rate for you.
Individuals and businesses alike rely on QuickLoan time and time again given their excellent loan packages and accommodating staff. Feel free to book a free consultation if you're interested in getting a personal loan from them!
Highlights
Offers free consultation for all services
Accommodates locals and foreigners
Excellent customer service
14. Credit Master

| | |
| --- | --- |
| BEST FOR  | Money Lending |
| SERVICES | Personal Loans, Wedding Loans, Education Loans, Car Loans, and Health Loans |
| WEBSITE | https://www.creditmaster.sg/ |
| ADDRESS | #01-50 Park Rd, People's Park Complex, Singapore 059108 |
| CONTACT DETAILS | +65 6748 1338 |
| OPERATING HOURS | Monday – Sunday, 11:00 AM – 8:00 PM |
 If you're not into borrowing money from banks, then make sure that you find a legitimate money lender, just like Credit Master. It's one of the most trusted money lenders on the island that offer easy cash and personal loans.
Whether you need the money to pay off your tuition or to get yourself a car, Credit Master can provide flexible payment plans with low interest rates. As long as you're over 21 years old and can provide proof of stable income, your application will pretty much be approved.
Unlike personal loans from banks, the ones offered by money lenders are less strict and allow customers more time to pay. Imagine having someone that doesn't pressure you to settle everything immediately!
Highlights
Licensed money lender
Fast disbursement
Flexible repayment methods
Easy approval
Customer Reviews
Here are some praises that Credit Master has received:
 "Service is very efficient. Beautiful loan officers. Jeremy and Claudia are very friendly and explain the best way for me to save money which other places would not help you with. Fast and high amount of loan approval! Always Come to them to get loans." 
"Best place to come when you need a loan. Sharlene and Jessica are always helpful when i'm here to apply for the loan. Good customer service and very professional. They are very transparent with their loan and interest. Thank you Creditmaster!" 
"The staff are very friendly and professional. Thanks Jessica for explain to me the about process clearly. She even gives me a cup of tea. Overall, credit master is trustworthy money lender. They provide very good service."
15. SWIFT CREDIT

| | |
| --- | --- |
| BEST FOR | Money Lending |
| SERVICES | Personal Loan, Business Loan, Pay Day Loan, and Foreigner Loan |
| WEBSITE | https://www.swiftcredit.sg/personal-loan/ |
| ADDRESS | 1 Sophia Road, #01-37 Peace Centre, Singapore 228149 |
| CONTACT DETAILS | +65 6684 4129 | [email protected] |
| OPERATING HOURS | Monday – Saturday : 11am – 7pm (Sundays & Public Holidays by Appointment Only) |
Similarly, Swift Credit is a  non-bank based lending institution that offers personal loans. Licensed with the Registrar of Moneylender, Swift Credit sure is equipped to provide cash for whatever your need is.
Known for fast processing of loan application, Swift Credit boasts that waiting time for approval will only take 5-10 minutes, as long as all the required documents are provided. When your application is approved, you may get your cash, fast and easy!
Highlights
Easy approval

Fast processing

Affordable rates
Customer Reviews
Here are some thoughts previous customers of Swift Credits have said about the company:
"Had been to a few moneylender so far but swift Credit loan packages are the best as well as their good services".
"Nice company to deal with, easy access location with fast approval. Staff was kind enough to clearly explain the loan terms to me. In addition, they also offer very good repayment schemes"
"Went around checking different lenders; this is the one with the best rates and monthly installment."
16. Goldstar Credit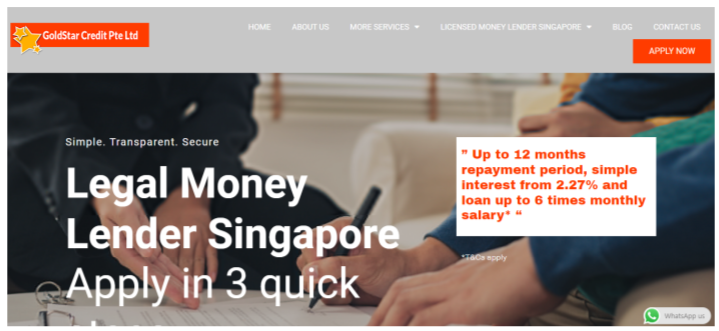 BEST FOR
Legally Lending Money
SERVICES
Personal Loan
Business Loan
Payday Loan
Debt Consolidation Loan
Medical Loan
Bridging Loan
Renovation Loan
Grab//Gojek/TAxi Loan
Wedding Loan
WEBSITE
https://goldstarcredit.co/
ADDRESS
1187 Upper Serangoon Road (Hougang Central) #01-21, The Midtown Singapore 533971
–
Blk 190 Lorong 6 Toa Payoh (Toa Payoh central), #01-576 Singapore 310190
CONTACT DETAILS
Tel: 6384 0088
Email: [email protected]
–
Tel: 6252 0088
Email: [email protected]
OPERATING HOURS
11.30am – 8.00pm (Mon to Sat)
10.00am-5.00pm (Sunday)
–
11.00am – 7.45pm (Mon to Sat)
10.00am-5.00pm (Sunday)
As the living cost in Singapore progressively rises with each passing year, more and more people are finding it harder to produce the money for daily luxuries, shopping and eating out as such, while living on paycheck to paycheck. Good thing, GoldStar Credit is a licensed money lender in the country that offers cash loans that are available on the spot.
We love how they devise the best outcomes for their clients. With them, you will be offered relevant and tailored financial solutions for your financial needs.
Another reason why we recommend them is because of how incredibly affordable their interest rates and monthly repayments are.
From study loans to mortgage loans to car loans and most commonly, personal loans, they have it. In no more than 10 minutes, you will receive the best personal loan in Singapore.
Highlights
Has 2 office locations
Do not ask for any collaterals or guarantors
Provides cash loans even to those with bad credit scores
Customer Reviews
Here are some reviews from their previous customers:
"Miss Vanessa is professional in assisting me with all the documents. And it is super fast. Thank You."
"Fast n smooth transaction n friendly… Nice to meet them..thank you very much with the offer given..😊"
"Fast and efficient and approachable staff that helped me to solve my debt issues. Recommended"

 And with that, we end our list of the best options for personal loans in Singapore! Not a lot of banks and money lenders have great reputations in terms of loans but you can definitely trust the ones on our list!
How about you? Have you tried borrowing money from anyone from Singapore? Tell us your experience by commenting below!
By the way, if you want to get more money on top of your personal loan by selling your car, then check out our list of the best car dealerships in Singapore! These will definitely help you earn more money by introducing you to great dealers and buyers!