The 15 Best Mortgage Brokers in Singapore
Looking for the perfect home in Singapore that comes at a reasonable price is a long and complicated process, but one can get by with help from the best mortgage brokers in Singapore.
More than helping borrowers find the home that matches their financial situation, the best mortgage brokers can also help in arranging all the paperwork needed in securing a mortgage in Singapore.
Another benefit that comes with hiring the best mortgage brokers in Singapore is that the entire application process can be cut down by more than half, allowing borrowers to focus on other important matters.
Anyway, we've compiled some of the best mortgage brokers in Singapore for your convenience. Check them out below.
1. Mortgage Master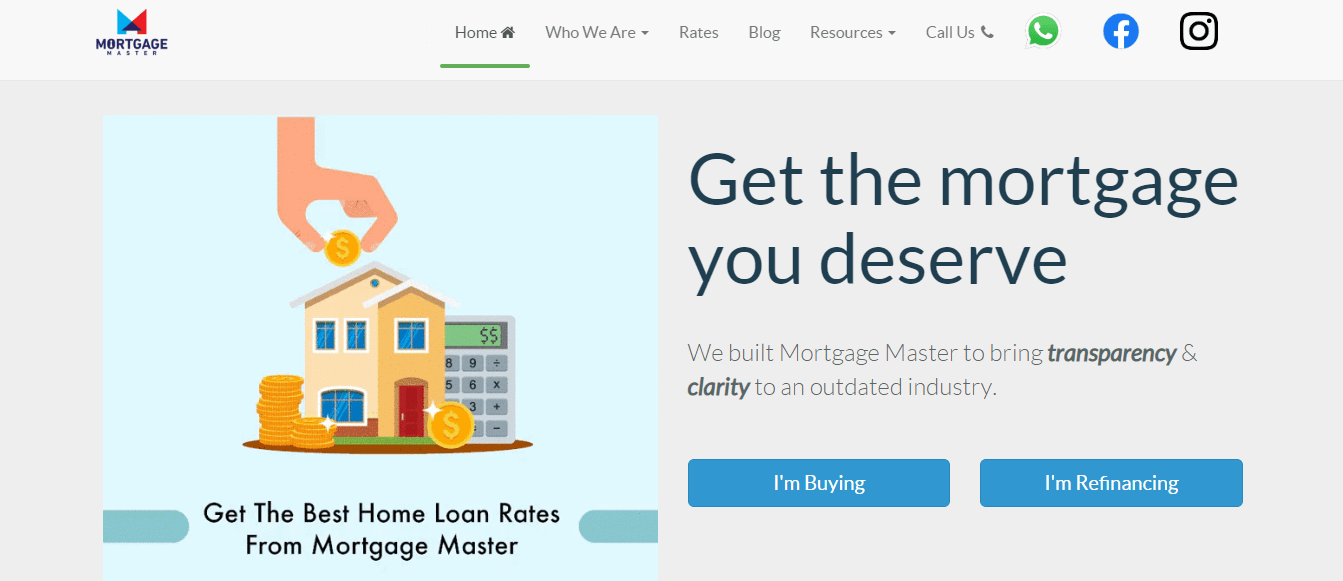 | | |
| --- | --- |
| BEST FOR | Fast Services |
| SERVICES | Residential Property and Commercial Property |
| WEBSITE | https://www.mortgagemaster.com.sg/ |
| ADDRESS | 39A Jln Pemimpin, #02-00C, Singapore 577183 |
| CONTACT DETAILS | +65 6974 7673 |
| OPERATING HOURS | Monday – Saturday, 10:00 AM – 7:00 PM |
With more than 50 years of experience in the industry, Mortgage Master has helped thousands of Singaporeans locate their ideal home with reasonable rates. Hiring its mortgage brokers means that customers won't have to do as much work as when they're searching for mortgages on their own.
As one of the most trusted real estate brokers in Singapore, Mortgage Master promises every client that its team will find the best home loan with the lowest rates.
It's one of the few companies that have access to low, unpublished rates offered by banks in Singapore, given only to reputable mortgage brokers.
Highlights
50 years of experience
Quick services
Access to unpublished rates
2. Dollar Back Mortgage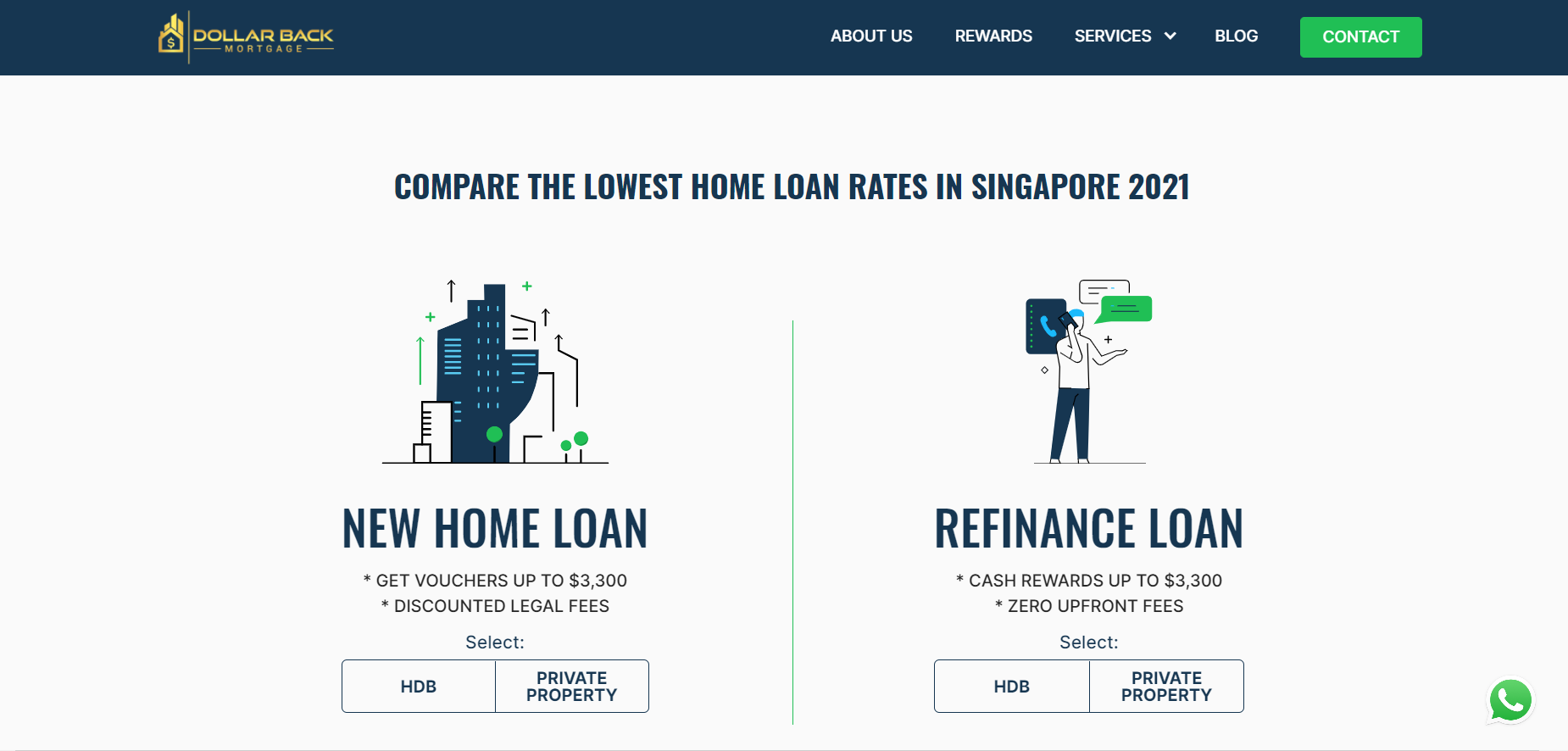 BEST FOR
Mortgage Advising
SERVICES
NEW HDB BANK LOAN
NEW PRIVATE PROPERTY LOAN
REFINANCE HDB LOAN
REFINANCE PRIVATE PROPERTY LOAN
HOME EQUITY LOAN
IPA HOUSING LOAN
PROPERTY CONVEYANCING
WEBSITE
https://dollarbackmortgage.com
ADDRESS
Singapore
CONTACT DETAILS
[email protected]
+65 9816 4855
OPERATING HOURS
Mon – Fri: 10am – 8pm
Sat: 10am – 5pm
Sun & PH: Calls Only
Dollar Back Mortgage is focused on not only offering the best mortgage rates, but also educating their clients in making the best informed decision. They offer a wide range of loans, as well as property conveyancing.
They employ only the most proficient and knowledgeable managers for their team. With their help, you're sure to get the best possible loan for the property you plan to purchase.
Highlights
Offers the best home loan rates
Knowledegable managers
Best service and guidance
Partnered with many reputable banks
3. PropertyGuru Finance

BEST FOR
Home Financing and Mortgage Advice
SERVICES
Private property loans
HDB bank loans
Refinancing
Commercial property loans
WEBSITE

www.propertyguru.com.sg/mortgage

ADDRESS
1 Paya Lebar Link, #12-01/04, Paya Lebar Quarter, Singapore 408533
CONTACT DETAILS
Call or Whatsapp +65 8769 5300
OPERATING HOURS
Monday – Friday, 9:00 AM – 9:00 PM
Saturday, 9:00 AM – 1:00 PM
PropertyGuru Finance is more than just a broker. Get expert advice from Singapore's most experienced mortgage brokers, supercharged by PropertyGuru's sophisticated screening technology and algorithms.
Join thousands of home buyers and owners to find opportunities beyond just immediate savings:
Smart now: They help Home Buyers find the best housing loan for their financial needs and apply effortlessly, best mortgages and rates guaranteed.
Smart always: They monitor the market for Homeowners daily and notify them immediately on the best time to refinance home loan, switch and save based on their goals.
Highlights
Get objective and personalised advice – no fees, no commitment required!
In partnership with all major banks to bring you the best rates and optimal home loan savings.
They provide mortgage calculator and the use of other technology to simplify your road to home ownership.
Rated 4.9 stars by customers on home loan application process and experience.
Customer Reviews
Some Google Reviews from their happy clients:
"I would recommend these guys for anyone looking to buy a property in Singapore. They made my first purchase a breeze. Rachael from "property guru finance" was very professional right from the start. From giving the right advice about the process, helping to get an IPA to finally getting the bank loan approval, everything was done in a timely manner. Once you know what you want and how much you want to invest, these guys make the rest a very pleasurable and hassle free experience. Well done and keep it up guys!"
— Ashish Satapathy, Successfully obtain an IPA and new home loan.
"The consultation with Property Guru Finance was really useful when I was trying to refinance my hdb flat. Our advisor Mr Axel Koh was knowledgeable and provided clear explanations and detailed refinancing plans to help us kick start our journey. Axel was also very helpful in helping us liaise with our preferred bank and also recommended a trustworthy law firm which helped us save lots of time. Overall, a really good first experience for me and my husband and I will recommend his service to anyone who is interested in learning more about HDB refinancing."
— Tan Si Ying, Refinancing
4. Mortgage Wise

| | |
| --- | --- |
| BEST FOR | Top 10 Lowest Rates |
| SERVICES | Private Property, Executive Condo, HDB, and Commercial Property |
| WEBSITE | https://www.mortgagewise.sg/ |
| ADDRESS | 10 Anson Rd, 29-02 International Plaza, Singapore 079903 |
| CONTACT DETAILS | +65 6221 1089 |
| OPERATING HOURS | Monday – Saturday, 8:00 AM – 10:00 PM |
If you're looking for a reliable mortgage broker, then you might want to check out Mortgage Wise. It's known for housing some of the wisest and best mortgage brokers in Singapore, all of whom have years of experience under their names.
Mortgage Wise can assist with securing mortgage for all types of properties, not just residential homes. Some business owners even ask for their help in finding a commercial lot that would be perfect for business.
Another reason we trust Mortgage Wise is that it offers some of the most updated rates. It receives special deviated rates in real time from its partner banks because of the amount of business it refers.
Highlights
Updated rates
Comprehensive rate comparison
No hidden fees
Customer Reviews
Here's some of the feedback posted by their current and previous clients:
"I contacted MortgageWise after considering several options for refinancing our home. After several conversations, Alvin quickly offered me the best option available, connected me with an experienced mortgage banker and made sure everything settled well. Alvin is very honest, prompt in answering whatever question and doubt in mind. I'm very lucky to have his support and will definitely engage him for any future transaction."
""Melissa was the consultant assigned to me and the exchange with her was seamless. Firstly, she was very responsive, usually responding within the hour. Which also meant she was extremely hardworking. Secondly, she was very knowledgeable in her field and able to offer the right options for my home loan from various banks. Finally, she gave great advice even if it did not profit her. Overall, it was an awesome experience enlisting Melissa's help and I would definitely engage her help or MortgageWise's help in the future."
5. Mortgage Consultancy
| | |
| --- | --- |
| BEST FOR | Lowest Home Loan Rates |
| SERVICES | Private Property, Commercial Property, and Property Loans |
| WEBSITE | https://www.mortgageconsultancy.com.sg/ |
| ADDRESS | 47 Kallang Pudding Road #09-08 The Crescent @ Kallang, Singapore 349318 |
| CONTACT DETAILS | +65 8556 5271 |
| OPERATING HOURS | Monday – Saturday, 8:00 AM – 7:00 PM |
Mortgage Consultancy is more than willing to help clients maximise their home loans by offering mortgage options with low, unbiased rates. It's made up of a large team of the best mortgage brokers in Singapore who know how to secure the best rates for any type of property.
Its team of mortgage brokers will look for different mortgage options with rates that fit your budget, all to ensure that you're not going to be forced to spend beyond your means.
Mortgage Consultancy is proud to say that all its mortgage brokers are experts in researching and scrutinising home loan packages for the benefit of their clients. Rest assured that you're going to be in safe hands with them.
Highlights
Expert mortgage brokers
Lowest rates
Customer Reviews
Take a look at some of the comments posted on Google Reviews:
"Mortgage Consultancy offers the lowest home loan rates at 1.7%+ for fixed rates and 1.9%+ for variable rates. And also help me, a homeowner, to choose the best mortgage package by listing all the pros and cons of all loan packages offered by all the different financial institutions. It saves me all the time and trouble to get my best mortgage loan easily."
"As a young homemaker, Mortgage Broker Singapore has been a great help to me by helping me save the hassle and time from seeking banks and providing me with the lowest unbiased rates. The consultants have been very helpful and professional in helping me manage my finance and loans. I truly recommend them to every homeowner in need!"
6. KeyQuest Mortgage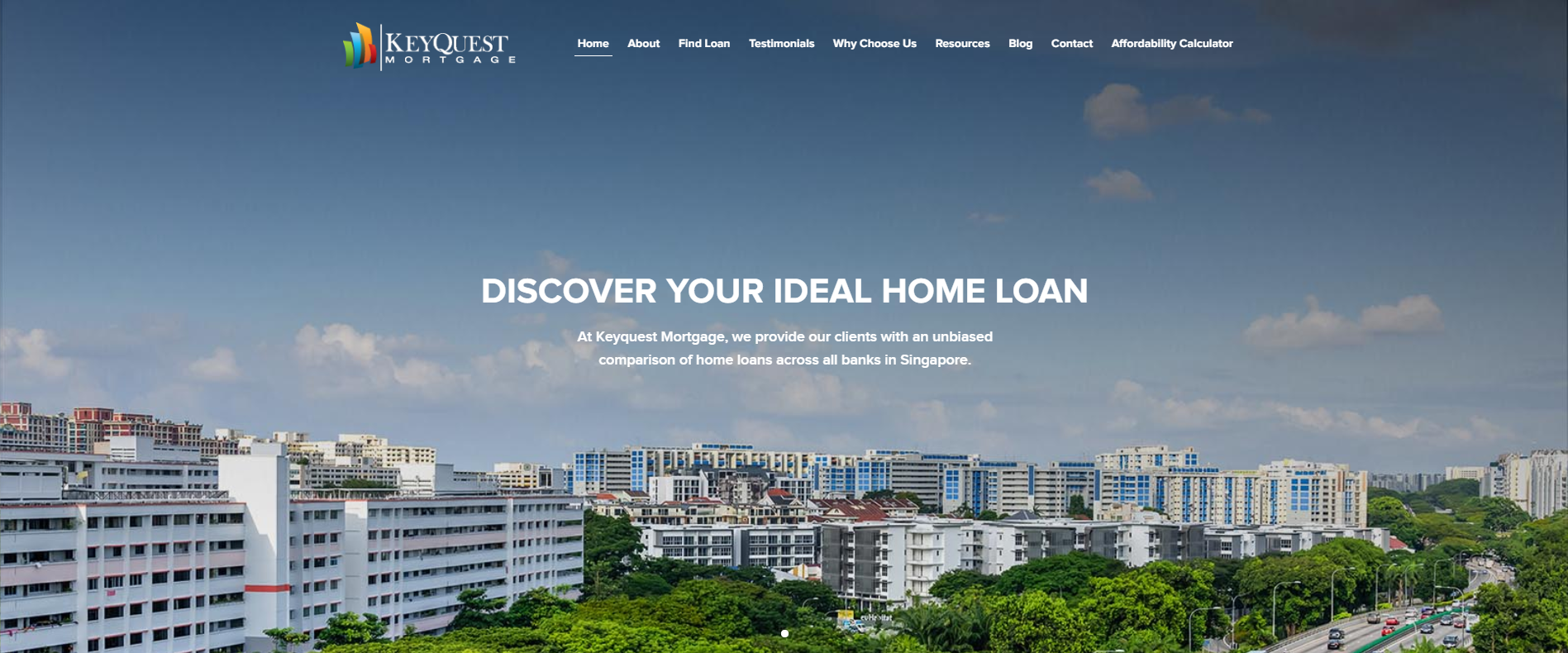 KeyQuest Mortgage is a mortgage advisory with more than six years of experience. They're well-known for finding the best mortgage solutions for their clients.
Their team is more than willing to help, offering unbiased advice for any of your mortgage needs. You can rest assured that KeyQuest Mortgage will always put their customers first above all.
Highlights
No service charges
Lowest interest rates
Personalised services
Free evaluation
Hassle-free application process
7. Redbrick Mortgage Advisory

| | |
| --- | --- |
| BEST FOR | Wide Range of Services |
| SERVICES | Residential Properties, Commercial Properties, Home Construction Loans, Bridging Loans, International Home Loans, and Equity Loans |
| WEBSITE | https://www.redbrick.sg/ |
| ADDRESS | 24 Peck Seah St, #03-00, Singapore 079314 |
| CONTACT DETAILS | +65 9169 9662 |
| OPERATING HOURS | Monday – Saturday, 9:00 AM – 6:00 PM |
Redbrick Mortgage Advisory offers a wide array of services to cater to the needs of the growing population of people looking for properties in Singapore.
Some of its services are home renovation loans, residential property loans, commercial property loans, bridging loans, and more.
Redbrick Mortgage Advisory is in partnership with a long list of local banks, including Citibank, HSBC, CIMB Bank, Maybank, DBS, and more, so rest assured that you're going to find the best property with reasonable interest rates here.
Highlights
Fast application process
Low interest rates
Huge team of mortgage brokers
Customer Reviews
As one of the renowned companies with the best mortgage brokers in Singapore, Redbrick Mortgage Advisory has received praise from clients:
"Charlene Chan was assigned as my mortgage advisor .She is passionate , professional with her advisory service. She is very patient with all my queries and answers my questions even after working hours. With her professional guidance and clear instruction, I really made my first refinancing experience worry free. Thank you for your great service ,Charlene! I would definitely recommend her to my friends if they need refinance service."
"I would like to comment on Steffi Tam for a job well done. When I reached out to her recently to refinance my mortgage, she was very prompt to introduce an attractive package to me, and kept me updated on changes in the banks' spreads as the market was moving quite rapidly. Based on her recommendation, I was just in time to secure a loan with very attractive spreads. Steffi also provided me with ample support with the sign-up process. I have been recommending her service to friends and family!"
8. Home Loan Whiz
| | |
| --- | --- |
| BEST FOR | Low Floating and Fixed Rates |
| SERVICES | Home Loans, Refinancing, Home Equity Loans, Conveyancing Lawyers, and Overseas Loans |
| WEBSITE | https://homeloanwhiz.com.sg/ |
| ADDRESS | 6001 Beach Rd, #22-01 GOLDEN MILE TOWER, Singapore 199589 |
| CONTACT DETAILS | +65 6631 8980 |
| OPERATING HOURS | Monday – Sunday, 9:00 AM – 8:00 PM |
Home Loan Whiz is a home mortgage company that offers an extensive range of services, including home loans, refinancing, home equity loans, overseas loans, and even conveyancing lawyers!
It takes pride in its team of professional mortgage brokers who can provide the right advice to clients hoping to find the best mortgages in Singapore. It's also supported by major and trusted banks on the island, so rest assured that its services are legit.
On top of that, Home Loan Whiz doesn't charge clients with any service or hidden fees! All you have to pay at the end of the day is the mortgage itself.
Highlights
Quick response
No hidden fees
Supported by banks
Customer Reviews
As a source of the best mortgages in Singapore, Home Loan Whiz has received tons of praise from its huge clientele. Here are some of them:
"Thank you Lorraine for the help rendered with our refinancing. Am really appreciative of the responsiveness toward our queries. Lorraine was able to provide different options and allowed us the chance to identify the loan that was most suitable to our circumstances."
"This is the second time I have worked with them, especially with Wayne. I was introduced to Wayne through a personal contact 4 years back and he has been most patient and supportive to explain the pitfalls and advantages of when selecting a mortgage support bank. Its not only about the lowest rate available in the market, but also what are the other aspects to keep in mind when selected a mortgage."
9. Home Loan Singapore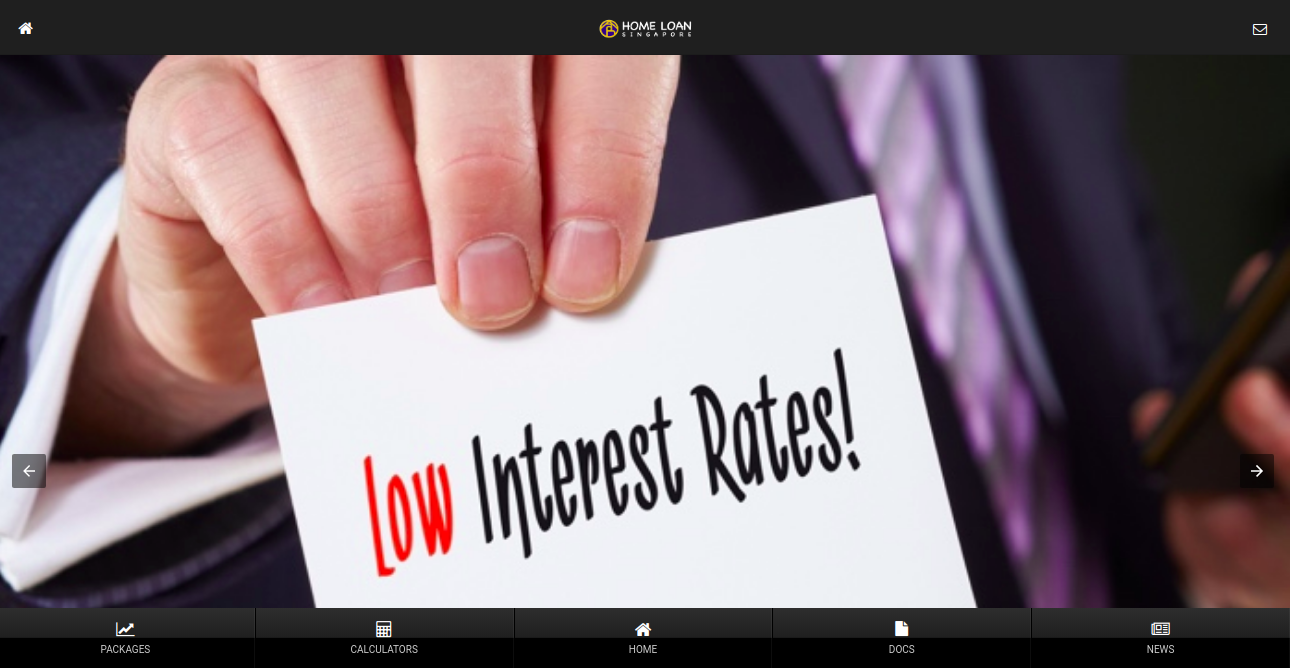 | | |
| --- | --- |
| BEST FOR | Free Mortgage Consultancy |
| SERVICES | Valuation, Documentation, Package Comparison, TDSR loan calculation, LO Evaluation |
| WEBSITE | http://www.homeloan.com.sg/ |
| ADDRESS | 82 Lor 23 Geylang, #04-09, Singapore 388409 |
| CONTACT DETAILS | (+65) 9009 1898 |
| OPERATING HOURS | Monday – Sunday, 10:00 AM to 6:00 PM |
Thinking about loans and comparing packages to find the best offer can be stressful if done alone. If this is your case then Home Loan Singapore can be of help.
Home Loan Singapore can give extensive knowledge comparing deals to make sure you get the best one at the lowest rates. They also provide services in calculating the right figures and documentation. They even give free mortgage consultancy.
Overall, Home Loan Singapore emphasizes on customer care and helps thoroughly understand which deal is the best for you.
Highlights
Excellent Service
Updated Rates
Lowest Rates Guaranteed
Customer Reviews
Here are some reviews left by previous clients:
"Highly recommended as Bright helps you to look for the best home loan for your needs. He can also help you to calculate the maximum loan you can take on before you start looking for a house."
"I am a pilot and because of my flying routine gathering info, comparing deals and arranging the refinancing process is very troublesome for me. He helped me with document preparations, guide me through cpf websites and explained clearly the pros and cons of the packages. He made the refinancing process smooth and pain-free for me and ensuring I got the best deal all the time. I highly recommended his honest and helpful service."
10. Mortgage Supermart Singapore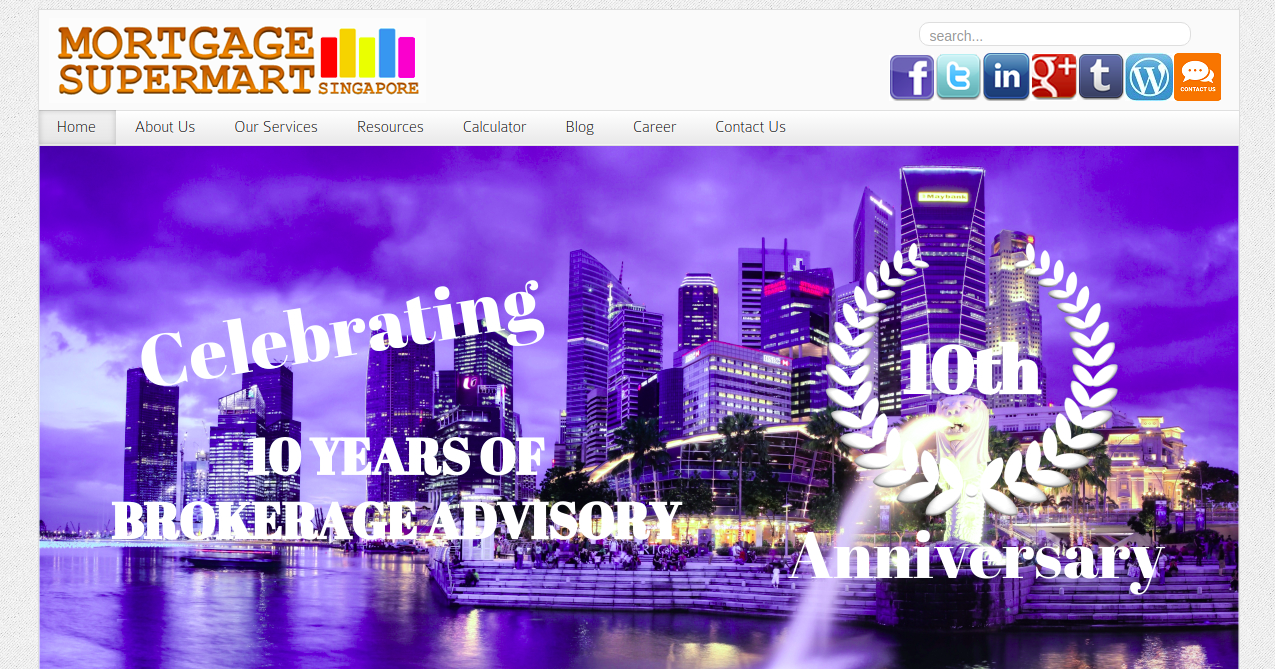 | | |
| --- | --- |
| BEST FOR | Alternative Lending Solutions |
| SERVICES | Residential HDB and Private Property Home Loans, Commercial and Industrial Property Loans, International Overseas Property Loans, SME Small Business Loans, Alternative Mortgage Lending |
| WEBSITE | https://www.mortgagesupermart.com.sg/ |
| ADDRESS | 105 Cecil Street #16-01, The Octagon Singapore 069534 |
| CONTACT DETAILS | (+65) 9171 0456 |
| OPERATING HOURS | Monday – Friday, 10:00 AM to 7:00 PM | Saturday, 10:00 AM to 1:00 PM |
Mortgage Supermart has been Singapore's leading independent finance broker since the last decade. It has earned its name for handling thousands of client applications where they saved up to 60% on interest.
Mortgage Supermart also stays true to its name since it prides itself in always finding alternative lenders. They have around 30 banks and lenders in their panel and surely they will find the one that works for you.
With Mortgage Supermart you will save your time and money and this is why it is one of the top in our list.
Highlights
Independent Expert Advisory
Widest Selection
Alternative lenders
11. Home Loan Whiz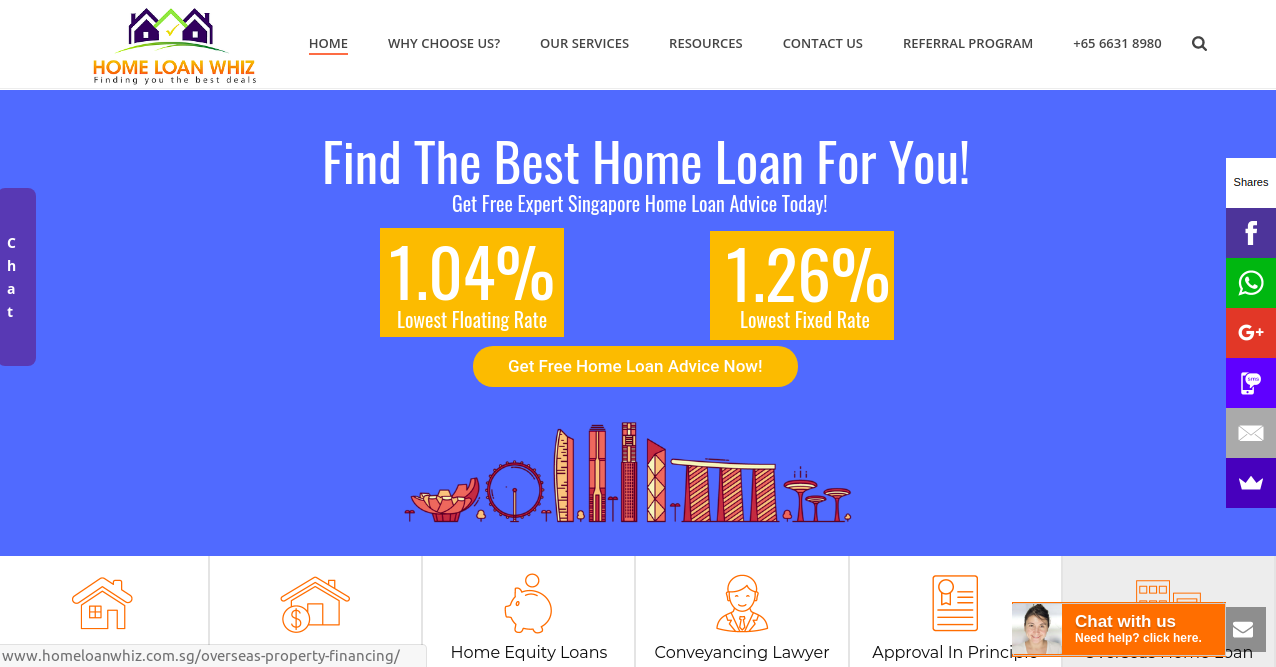 | | |
| --- | --- |
| BEST FOR | Unbiased Comparison for Deals |
| SERVICES | Refinancing, Home Equity Loan, Mortgage Insurane, Total Debt Servicing Ratio, Overseas property financing, Business loans, Commercial property, Personal loans |
| WEBSITE | https://homeloanwhiz.com.sg/ |
| ADDRESS | #22-01 Golden Mile Tower 6001 Beach Road Singapore 199589 |
| CONTACT DETAILS | (+65) 6631 8980 | [email protected] |
| OPERATING HOURS | Monday – Sunday, 9:00 AM to 8:00 PM |
Understanding loans can be stressful with all its complexities. Which is why Home Loan Whiz is here to ease this knowledge into their clients and guide them along the way.
Not only do they offer free consultancy, but they're also quick and responsive. Above all, they give unbiased comparisons and have no hidden fees.
Home Loan Whiz is reliable, resourceful and responsive. This is why they are considered to be one of the top mortgage companies in Singapore.
Highlights
Responds within 24 Hours
Free consultation
No hidden fees
Customer Reviews
Here are some reviews left by previous clients:
"I have been a customer with Home Loan Whiz for 6-7 years since my first purchase. They have been serving me with a prompt and positive attitude. They have provided valuable advice during my first purchase and advised more than an extra miles things to look out for. I did not refinance my first property as they advice me properly as I had intention to sell my property then. Great recommendation for my next property too. What is most important to me is they gave a thorough explanation and they will think of customers first."
"I didn't have time to check the rates with all the banks and decided to try HomeLoanWhiz. Lorraine provided me with excellent customer service which excels my expectation and I would definitely recommend them to my friends/ relatives."
12. MortgageKaki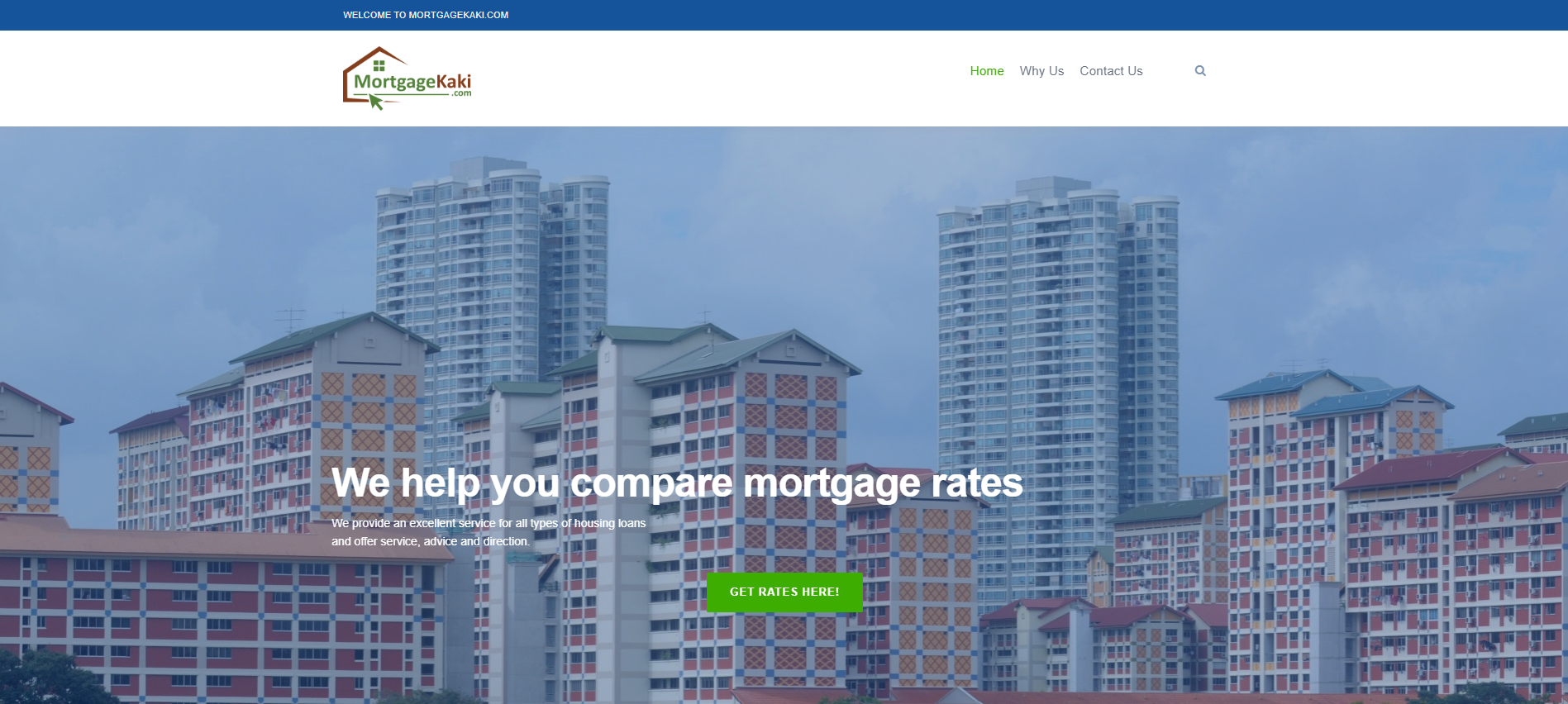 BEST FOR
Mortgage Specialists
SERVICES
Mortgage Broker
WEBSITE
https://www.mortgagekaki.com/
ADDRESS
623 Aljunied Rd #06-02 Aljunied Industrial Complex, Singapore 389835
CONTACT DETAILS
+65-8931-0374
[email protected]
OPERATING HOURS
N/A
MortgageKaki are mortgage specialists that offer mortgage solutions to their clients. They believe that providing the best pricing, speed and service will help alleviate the problems in the housing market.
They aim to simplify the backend processes included in the housing market. With MortgageKaki as your partner, your mortgage is sure to be processed smoothly.
Highlights
Receiver of the SG Startup Founder Grant
Accurate and best rates
13. David & Partners
| | |
| --- | --- |
| BEST FOR | Expat Mortgages |
| SERVICES | Residential Properties |
| WEBSITE | https://davidandpartners.sg/ |
| ADDRESS | 50 Raffles Place, 19f, Singapore 048623 |
| CONTACT DETAILS | +65 6256 5285 |
| OPERATING HOURS | Monday – Saturday, 10:00 AM – 8:00 PM |
If you're an Australian expat looking for a home in or thinking about moving to Singapore, then you're going to like the services of David & Partners. It's been helping Australians find a home in Singapore and abroad for more than 25 years now.
David & Partners employs a team of the best mortgage brokers in Singapore that will help clients search for a lender that can offer the best possible price. All clients need to do is sit back, relax, and wait for updates.
Highlights
Discounted interest rates
Experienced mortgage brokers
14. EasyRates


If you're looking for low mortgage interest rates, EasyRates can help you find them. Their goal is to help their clients find the best packages based on their individual needs.
With their connections to numerous banks in Singapore, finding the right home loan for you is possible. They also provide professional advice, free of charge, alongside their services.
Their services don't just end at connecting you to the right bank. They can also monitor your mortgage for you and notify you when it needs to be refinanced.
If you're interested, you won't need to wait after contacting them since they will get in touch within 24 hours. Given their prompt and extensive services, EasyRates is no doubt a company anyone looking for a mortgage broker should consider.
Highlights
Lowest floating and fixed rates
Fast and Effective services
Transparent process
Free expert consultation
15. Roshi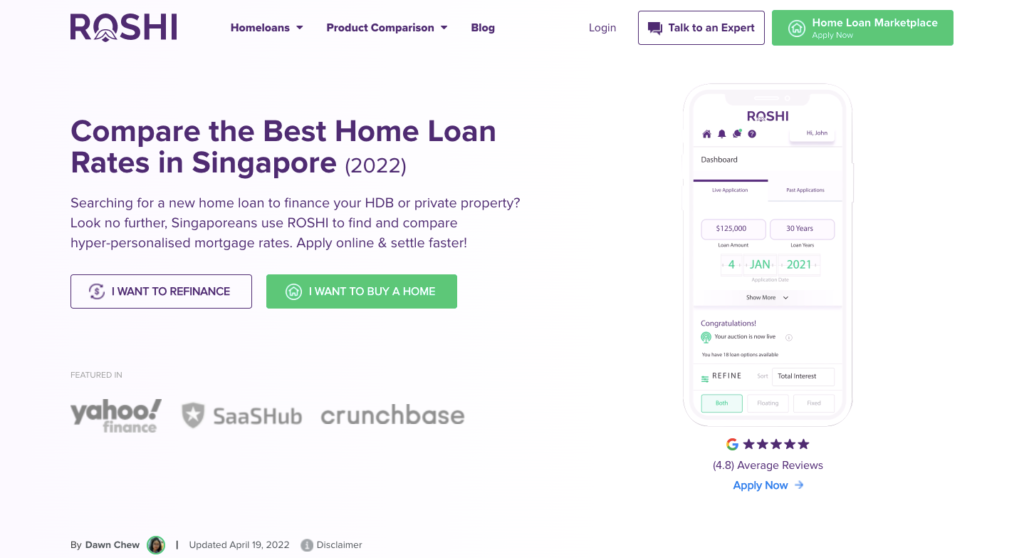 Roshi is a group of like-minded financial revolutionaries here to assist you in mastering all of your money moves. As a financial comparison disruptor, they offer Singapore a first-to-market real-time home loan bidding platform, the most recent price checkpoints, simple comparison tools, and expert insights to answer all money questions.
Their simple comparison functionality enables you to confidently master product comparison. Their database contains over 500 products from more than 50 providers, allowing you to easily sort and compare products to find those that fit your budget, spending habits, and lifestyle.
Their dedicated team of financial revolutionaries and money experts is here to assist you in understanding and mastering tricky financial jargon, crunching the numbers, and identifying better ways to spend and save.
They are a change agent in the financial marketplace; by developing and adding innovative tools to their platform, they aim to provide consumers with smarter ways to learn about, compare, and select financial products. Large corporations come to them for information on consumer trends and behaviors.
With a commitment to providing you with free services, they are always transparent about how we generate revenue. This is accomplished through the use of website advertising, product sponsorships, affiliate commissions, and brokerage fees.
Whether you're a student, first-time home buyer, investor, or retiree, they are there here to help. Their mission is to master all of your money moves.
Highlights
Customizable loan options, updates, and strategies in real-time directly on their platform
Uses innovative tools to their platform as they strive to provide consumers with smarter ways to learn about, compare and choose financial products
Anyway, that's it for our list of the best mortgage brokers in Singapore. If any of these brokers caught your attention, share with us your reasons for liking them!
And once you've found the perfect home, looking for the best renovation contractors in Singapore should be your next agenda. Luckily, we have a list of that for you!