7 Best Rice Cookers in Singapore: Perfect Rice Everyday!
Tired of cooking rice that ends up mushy or burnt? If so, the best rice cooker in Singapore can save you from undercooked or overcooked rice and help you have that perfectly cooked meal.
These days, rice cookers are no longer designed solely to cook rice, though. Most of the best-sellers include dynamic settings that serve other types of rice and even help you master different recipes!
But given the countless options, how can you know which rice cooker in Singapore is most suitable for you?
As it is, we'll help you out with that too. We'll provide a list of the best rice cookers in Singapore here, yes, but we'll also answer some of the questions first-time rice cooker buyers ask.
FAQs When Buying Rice Cookers
There are a lot of questions to ask when you've never bought rice cookers before. Let's start with the one most people ask first:
The Best Rice Cookers In Singapore
In any case, you now know what to consider when looking for the best rice cooker in Singapore. Let's go find the right cooking companion for you with our list of the best ones on the island!
1. Zojirushi NS-TSQ18
Best for Overall Value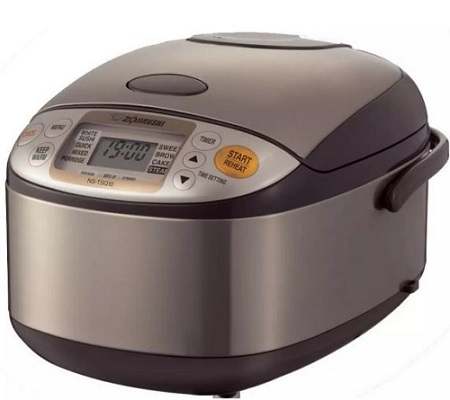 Price: $238.00
If you're looking for the best rice cooker in Singapore for different types of rice, you'll find this interesting. The Zojirushi NS-TSQ18 is a multifunctional type that features Micro Computerized Fuzzy Logic Technology. This means that it provides multiple cooking functions, adjusting the settings according to your chosen recipe.
It offers a multi-menu setting that includes settings for white rice, brown rice, quick rice, mixed rice, sushi rice, porridge, and steam and cake. With these several dishes, you'd surely have an exciting meal every day!
Moreover, it has a reheating function that comes in handy whenever you need a quick lunch or dinner.
This rice cooker is designed with a clear-coated stainless steel exterior and a thick inner cooking pan for durability. Its neutral colour can also match any kitchen interior. Many of us agree that this is the best rice cooker in Singapore to go with any kitchen design. 
Highlights
1-litre capacity
Stainless steel
Multi-menu setting
Reheating function
Detachable and washable inner lid
1-year local warranty
Customer Reviews
The Zojirushi NS-TSQ18 received a lot of compliments because it's easy to operate and convenient to clean. A customer even compared the cooked rice to restaurant-quality rice.
This is why they claimed it to be one of the best rice cookers in Singapore. Based on some reviews, they've also noticed the longer cooking cycle that includes the soaking and steaming time, which is very reasonable.
An Amazon customer wrote this feedback:
"I have had this rice cooker about a month and, already, it is my favorite appliance (surpassing my Vita-Mix blender). I had just returned a cheaper rice cooker that did not have a porridge setting. Most mornings now, I wake up to steel cut oats, millet or amaranth cooked on porridge setting, ready exactly when I am ready to eat in the morning. I know this sounds dramatic, but this rice cooker has really improved my mornings by a fairly great factor. I used to soak, stir, burn (on stovetop), add water and usually make myself late trying to get these breakfast grains ready. The porridge setting grains have a little extra water, for my taste, but I just use my strainer and 'ta-da". I eat, I clean the easy-to-clean non-stick pot and I breathe. I also make brown rice, forbidden rice, wild rice, quinoa regularly (most days) and they have turned out perfectly. No more burning, no more sitting around waiting for the rice to be done….it just goes to warming mode automatically. If this cooker was more convenient, but the rice wasn't great, I wouldn't be happy. If the rice was perfect, but you had to go though some convoluted process, I wouldn't be happy. As it is….happy."
2. Tiger JAX-S18S
Best for Festive Gatherings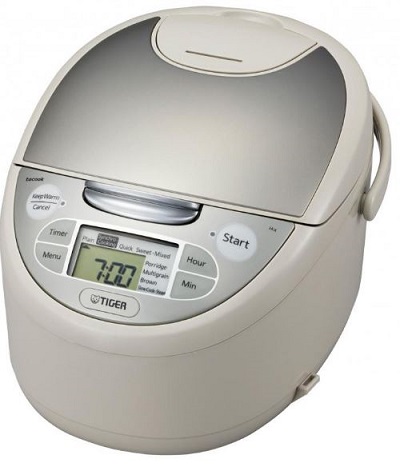 Price: $353.00
The Tiger JAX-S18S is another dynamic rice cooker in Singapore that lets you cook two dishes at once with its "Tacook" synchronised cooking function.
You can now prepare both rice and a side dish at once, which saves you time to cook other meals (or do other things!). Hence, it'd be the best rice cooker in Singapore to use during family gatherings or holiday season.
If you're worried that the side dish flavours might get mixed up with the rice, you can rest assured that it won't happen. The cooking plate is designed to prevent side dishes from affecting the rice texture.
For flawlessly cooked rice, it produces heat from the upper lid, side area, and bottom. With its Microcomputer technology, it constantly adjusts the temperature to cook the rice perfectly.
With its multiple cooking settings, you can cook plain, mixed, sweet, and multi-grain rice, as well as porridge. Hands-down this is one of the best rice cookers in Singapore for 2021for its durability  and quality!
Highlights
8-litre capacity
9 computerised cooking menu settings
25 recipes in the cookbook.
Easy to wash
1-year local warranty
Customer Reviews
Most customers were satisfied with the Tiger JAX-S18S's performance. Many even say that it's among the best rice cookers they've ever used, especially for families that eat rice daily.
A customer from Amazon shared this experience:
"The cooker is sturdy, looks sleek and the functions are easy to use. I've managed to get through the basics easily. I have been using it every day to cook rice, and to steam/keep warm other foods. So far so good. Perfect rice every time! The unit comes with a cooking plate which is not available in my old unit. No more bits of rice stick at the bottom of my keep-warm dish anymore. The plate is just very practical. I have used the cooking plate to steam fish as suggested in the recipe book that came with the unit. The fish came out moist and tender. I would thought the temperature would have overcooked the fish, I was so wrong. I started steaming veggies and mushrooms, and I love it! I found myself a gem!"
3. Philips Avance Collection HD3175/62
Best for Larger Capacity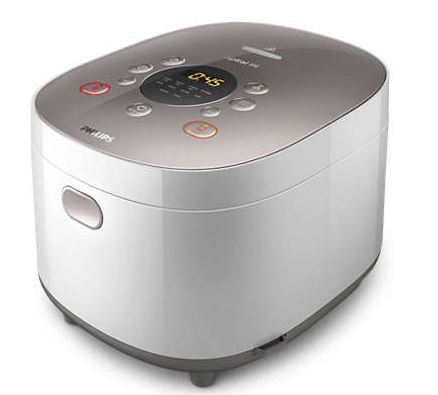 Price: $225.86
When it comes to smarter and top-notch technology, the Philips Avance Collection HD3175/62 is a great choice a rice cooker in Singapore. It features patented heating technology that has a fragrance-retaining valve so you can have a bowl of well-cooked rice whenever you like.
It's built with a copper coating that helps to ensure balanced heating. The sloping design of the lid also provides more comfortable use.
It features a total of 10 menu settings, including a "My favourites" category. This is where you can store a maximum of 3 cooking programs so you can instantly select one of them while you're cooking. 
Highlights
4-litre capacity
Copper coating
10 main menu settings
Fragrance-retaining
2-year international warranty
Customer Reviews
Most buyers praised the Philips Avance Collection HD3175/62 for its fast cooking cycle and large capacity. However, they also said that you might need to control the amount of water when using it to cook smaller amounts of rice — this is, after all, a cooker designed for larger meals.
In spite of that, they still commend it as possibly the best rice cooker in Singapore. This was due to the fragrant rice it produced and its cooking capacity.
A Lazada customer gave this review:
"Easy to use with the pre-programmed settings. Rice were cooked slightly faster than my current rice cooker and it has a much richer Thai rice aroma which was achieved by the valve technology. You will have to control your water amount to achieve this. Being 4L, this rice cooker is considered large for a small family of 5. You can only achieved better rice outcome if the rice is more. Due to the size of the pot, with lesser rice, the rice are being spread out thinner, resulting in more contact with the blaze pot which caused the rice to be drier. Thus control of water to rice ratio is still key. Even with the bigger size challenges, the rice still turned out very well cooked and family enjoyed it very much. It will take up kitchen top space."
4. CUCKOO – Pressure Multi-Cooker CH10
Best for Multiple Functions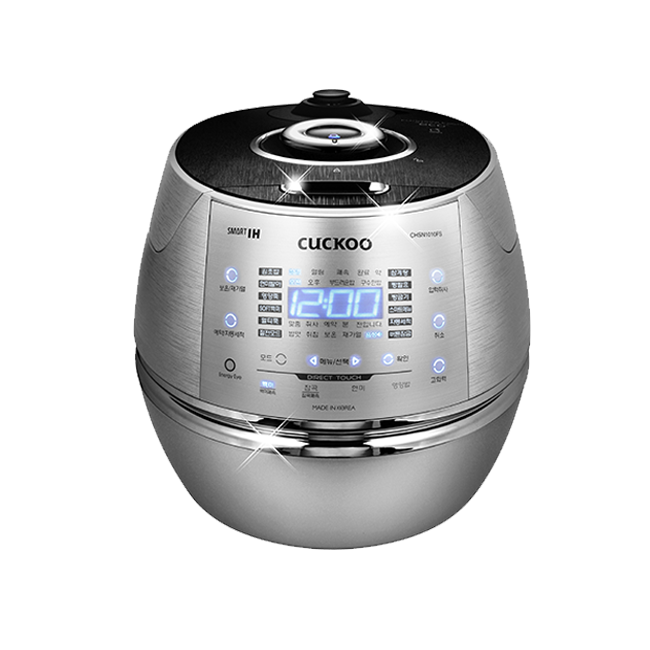 Price: $799.00
CUCKOO has released yet again another groundbreaking appliance you'd definitely need to get your hands on. The pressure multi-cooker CH10 is one of the most highly advanced product they've come up with, having a voice navigation, auto steam sterilisation, and an energy eye sensor function all in one.
It also has 18 different cooking settings to choose from! You can cook sushi rice, brown rice, mixed rice, porridge, and you can even use it to steam other ingredients like fish and vegetables. Not only that, it is also an oven and a slow cooker if you need it to be.
Although it's not the cheapest rice cooker out there, CUCKOO's CH10 definitely makes up for it with its high quality specifications, being a well-rounded machine you can use not only to cook rice, but for other kitchen needs as well. Buy now and try for yourself, one of the most amazing rice cooker released just yet. 
Highlights
High Pressure Point for Cooking ( 1.9Bar Pressure level)
22 safety feature
IN & OUT Fully Stainless Steel Inner Pot
Auto Steam Sterilisation
Multilingual Voice Navigation
Energy Eye Sensor Function
Safety Lock
Detachable Cover
Night Voice Volume Reduction
Customer Reviews
The pressure multi-cooker CH10 is something customers seemed to love and praise. It's deemed by many as that one-stop solution for any of your cooking needs.
It's easy to operate, time saving, and very much worth its price. This is why we believe that the CH10 is one of the best rice cooker there is in Singapore. If you'd want to check the reviews, then read what a customer had left as a feedback on their website:
"I use my CH10 a lot because I can't cook without it! It's equipped with the latest technology so cooking is made really simple!!! I'm so amazed."
5. Panasonic SR-DF101
Best for Affordability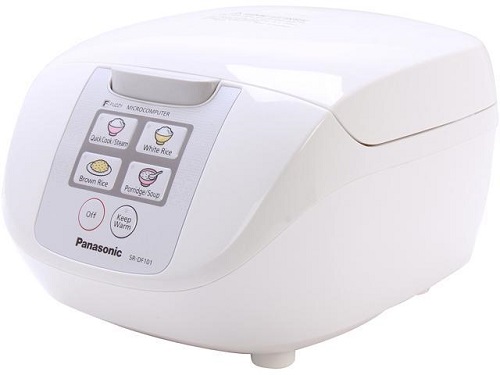 Price: $74.00
Compared to others, the Panasonic SR-DF101 is definitely a rice cookers in Singapore on the economical side. However, don't make the mistake of thinking you should expect low quality.
It features advanced Fuzzy Logic Technology that offers precisely cooked meals. It also has 6 pre-programmed menu settings, including white and brown rice, quick-cook, steam, porridge, and soup.
For easy opening, it's designed with a push-button lid release. Meanwhile, the inner lid design offers you efficient cleanup.
If you have a smaller kitchen area (or a smaller budget!), this compact model just might be the best rice cooker in Singapore for you. We ourselves love it! 
Highlights
1-litre capacity
6 pre-set cooking options
Keep warm feature
1-year local warranty
Customer Reviews
Buyers were mostly delighted with the Panasonic SR-DF101. They said that it cooked rice very efficiently and also did porridge well.
According to their reviews, however, they have concerns about the condensation on the lid and the water that gathers at the back of the rim. On the other hand, they said that these were also fairly easy to resolve.
An Amazon customer posted this review:
"We've used this for several years now. Super easy to use for plan white rice or congee/porridge. We've had to replace the metal container and rice scoop as they worn out, but it wasn't hard to find the replacements. The only thing we don't like is that there's no place to easily collect and toss out the condensation on the lid when you open the lid after cooking. The water pools in the back of the rim and we have to wipe it, which isn't hard, but we've been spoiled with our old rice cooker where the water would flow into a small compartment that you can take out and drain out the water."
6.  RK6041 Tefal Mini Pro Fuzzy Logic Rice Cooker 0.7L
Best for Induction Heating, Compact Design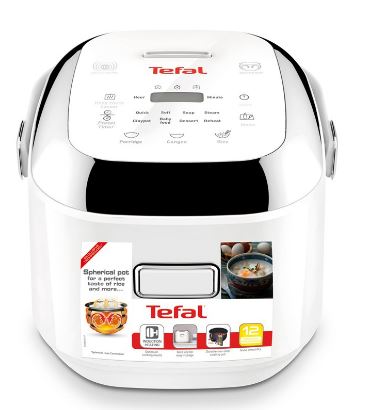 Price: $199.00
Next on our list is one of the most highly regarded rice cookers in the market today. The RK6041 Tefal Mini Pro Fuzzy Logic Rice Cooker 0.7L works to bring tasty, convenient, and versatile meals into the user's life. 
The rice cooker comes with an induction heating technology that allows for better cooking performance. Moreover, the spherical shape that the pot comes in results in excellent heating circulation and, subsequently, optimum cooking performance.
Through its Fuzzy Logic Technology, it also makes automatic adjustments to the time and temperature, so there's no need to worry about uneven results.
You can try different recipes with its 12 cooking programs and in case there's food leftover, you can instantly reheat it anytime. It also has a sleek white finish and compact design, both of which are great if you have a cramped kitchen.
All of these features are what makes this Tefal model one of the best rice cookers in Singapore. Its capacity might not be that high, but we think it's sufficient for a small family.
Highlights
0.7L capacity
12 cooking programs
Multi-layer inner pot for durability
Keep warm up to 24 hours
Recipe book included
2-year warranty
7. Tiger JKT-S10S
Best for Larger Capacity, Induction Heating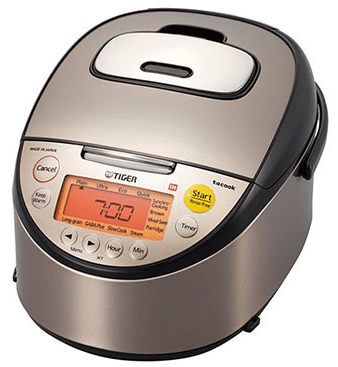 Price: $830.00
The Tiger JKT-S10S is another induction heat rice cooker, but this one has a bigger capacity of 1 litre, compared to the previous model.
Aside from the induction heating system that enhances the texture and flavour of the rice, it also has the trademark feature of the brand, which is the "Tacook" synchronised cooking function. With these two features, you can prepare 2 perfectly cooked dishes at the same time.
It also features a multi-layer ceramic coated inner pot for durability. No wonder it belongs to the list of the best rice cookers in Singapore — almost everything that you've been looking for in a rice cooker is in this model. 
Highlights
1-litre capacity
12 computerised cooking menu settings
25 recipes in the cookbook
Removable lid
1-year local warranty
Customer Reviews
The Tiger JKT-S10S has gained a lot of positive responses from owners. Many do agree that it's a bit too pricey for most, but argue that what it offers in value is hard to argue with as well.
An Amazon customer shared these thoughts:
"I've been a fan of Tiger rice cookers for years! My last Tiger was also an Induction Heating cooker and I will never go back to anything else. We are pretty picky about our rice and only eat Tamaki short grain rice and the rice that comes out of my IH Tiger rice cooker is so much tastier than any other type of rice cooker. We have a lot of potluck dinners with my family and we can definitely taste the difference. My brother is a sushi chef and had to borrow our rice cooker for a party and even he mentioned to me how much better the rice that came out of our cooker was in both taste and texture. The only reason we bought this new one was because the spring in the lid of my old one has gone kaput and the lid won't stay open. Still cooks my rice perfectly…but though this was a good opportunity to upgrade and I'm glad I did. We tried using the "tacook" plate tonight with some teriyaki meatballs on top along with the rice underneath and both came out perfectly. I'm excited to try making bread next as I'm sure anything that comes out of this rice cooker will be fabulous. If you're not too picky about your rice, then you can definitely go with a cheaper rice cooker…but if you LOVE rice and eat it often (we eat it almost daily) and are willing to pay a bit more for superior rice…then I would definitely recommend Tiger's Induction Heating rice cooker."
That's it for our list of the best rice cookers in Singapore! As you can see, we've covered a fair number of options, so you should be able to find one that fits your needs.
Did we miss out a great cooker, though? If you know of an excellent one that we must add to our list, share it with us, and let us know why it's a good choice for you.
Also, in case you belong to the camp that likes to partner rice with fried food (we're in this camp ourselves!), you're probably concerned about how to make your meal a bit healthier. If so, check out our list of the best air fryers in Singapore.
With these, you can enjoy fried treats in a healthier way. Pair them with perfectly-cooked rice from your new rice cooker for best results!